Are you wondering if Switzerland is worth visiting? I'll share my opinion in our Switzerland review below!
Switzerland is unquestionably one of the top destinations in Europe for travelers.
From its breathtaking mountains and lush valleys to its renowned cities such as Zurich and Geneva, the country has something to offer everyone.
Our family recently took a trip to Switzerland with our toddler, and the experience was unforgettable.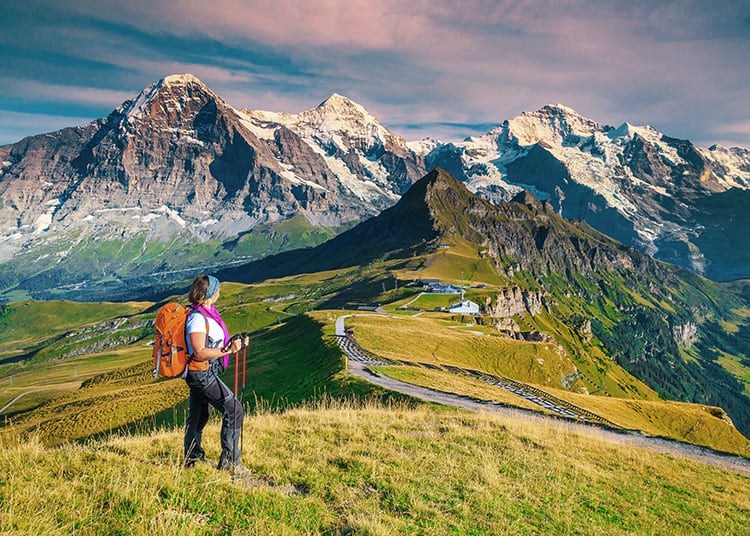 We also have relatives who live in Switzerland, and their insider point-of-view allowed us to gain an authentic perspective of everything Swiss.

So is Switzerland a good place to visit? If you're still on the fence about visiting Switzerland, our advice is simple: go! You won't regret it!
The country offers an incredible mix of natural beauty and city life while still maintaining its status as one of the safest destinations in Europe.
But let's have a look at 20 great reasons to visit Switzerland (to prove that this country is worth visiting, despite it being one of the most expensive countries to visit).
20 Reasons to Go To Switzerland
Is Switzerland a good vacation spot? Here are 20 reasons why you should visit Switzerland!
1. Breathtaking Alpine Scenery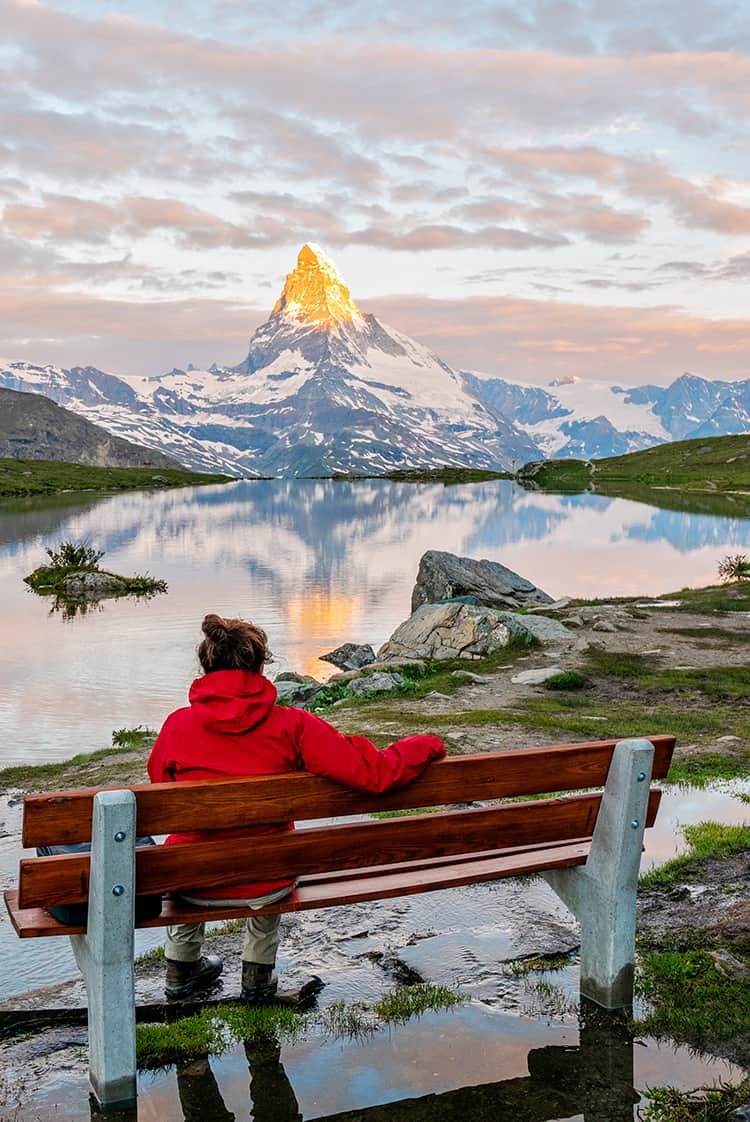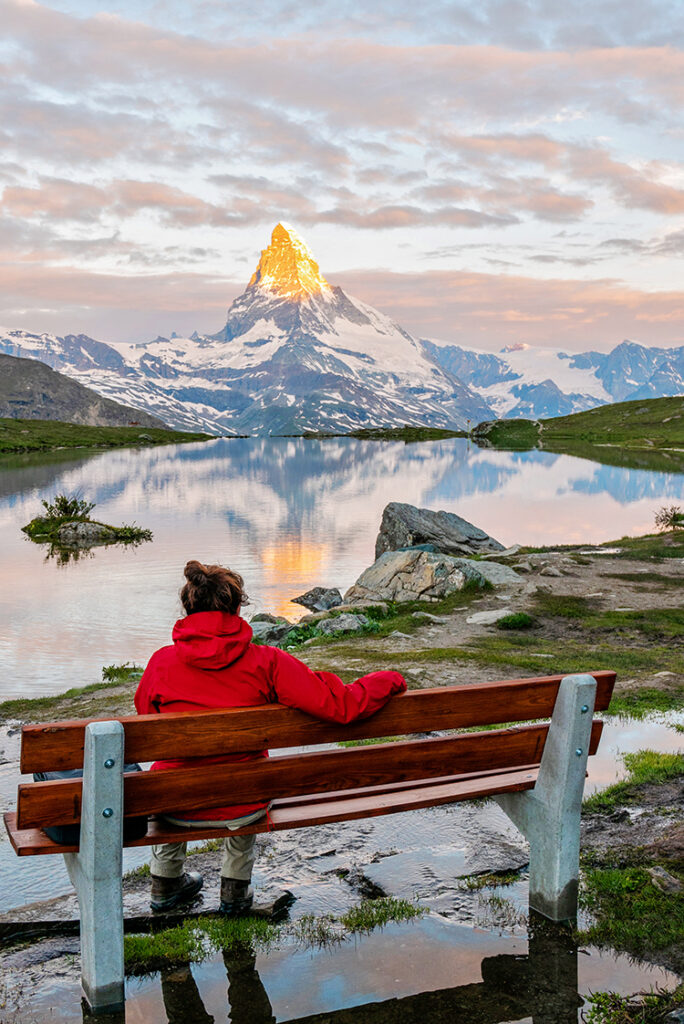 Is Switzerland a good vacation spot for nature lovers? For sure!
The Swiss Alps have long provided an unbeatable setting for travelers looking to explore the outdoors. We highly recommend you include the Matterhorn, Jungfrau, Titlis, and Mt Pilatus in your itinerary.
The Matterhorn (one of the most beautiful places in Switzerland) is notable for its unique pyramid shape and is one of the most photographed mountains in the world.
Meanwhile, the Jungrau offers a challenging hike with amazing views from its summit, while Titlis boasts a cable car ride with incredible panoramic views of some of Switzerland's most beautiful lakes.
Finally, Mount Pilatus has been dubbed as "the dragon" due to its mythical legends and provides hikers with a unique exploration of the region's natural beauty.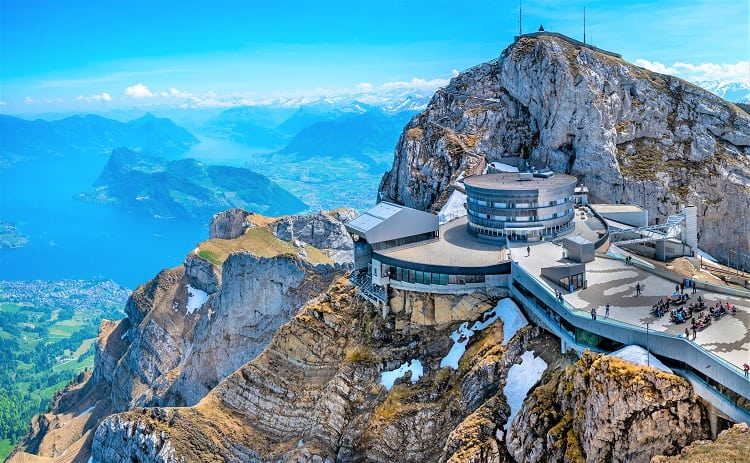 No matter which peak you choose to explore, these majestic mountains will capture your heart with their awe-inspiring grandeur!
---
2. Charming Architecture From Medieval to Modern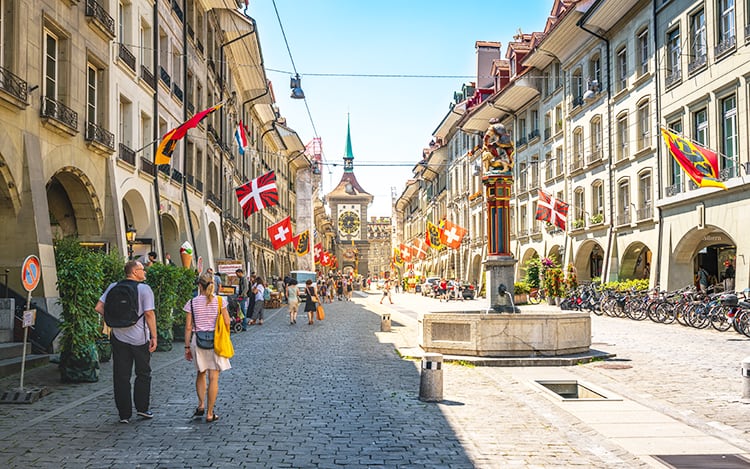 Switzerland is a land of enchanting views and interesting architecture.
Travelers to Switzerland are often charmed by the way that medieval architecture sits side-by-side with modern, making every city and town a unique visual experience.
The streets are lined with both old and new, offering an ever-changing view of the country.
From ancient churches to modern skyscrapers, Switzerland has something for everyone!
Whether you're looking for a cultural history lesson or just some beautiful views, Switzerland will not disappoint – its charm lies in its ability to integrate old and new in an effortless blend.
---
3. Some of the Best Skiing and Snowboarding in Europe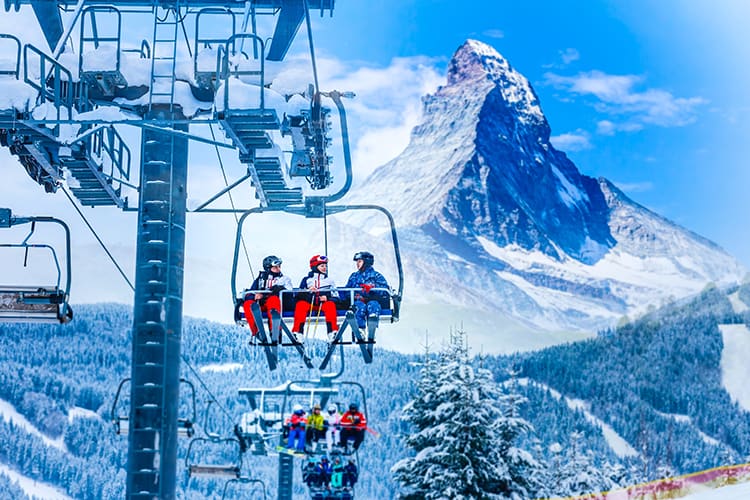 Is Switzerland worth it if you love winter sports? Switzerland is a paradise for adventure travelers looking to ski and snowboard!
With its highest winter sports area in the Alps at Zermatt, you can enjoy year-round skiing.
The world-famous St. Moritz offers some of Switzerland's best intermediate terrain, while Verbier is one of the premier ski resorts for off-piste skiing.
Whether you are looking to experience a classic winter holiday at a ski resort or take on a thrilling off-piste adventure, Switzerland has something for everyone!
The ski season runs from mid to late November and extends till late April. Looking for a winter getaway to Switzerland? Read our post on where to visit in Switzerland in December.
---
4. Many UNESCO World Heritage Sites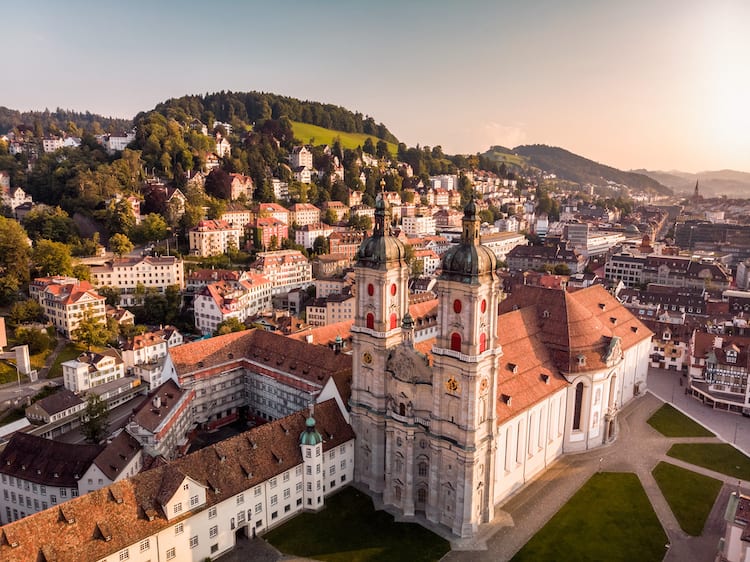 Is Switzerland a good holiday destination if you love history? Switzerland is a country full of incredible UNESCO World Heritage Sites.
From the Abbey of St Gall in St. Gallen to the Prehistoric Pile Dwellings Around the Alps, there is something for everyone.
But if you're looking for something truly unique to explore, make sure you don't miss Monte San Giorgio – nicknamed "the wooden mountain" because it's covered in lush forests and foliage.
It's one of the oldest sites in Switzerland and provides a spectacular natural landscape that cannot be found anywhere else.
And lastly, on our list, today is the Old Town of Bern, the entire Old Town is a UNESCO world heritage site – how great is that!
---
5. Some of the World's Best Health Spas & Hot Springs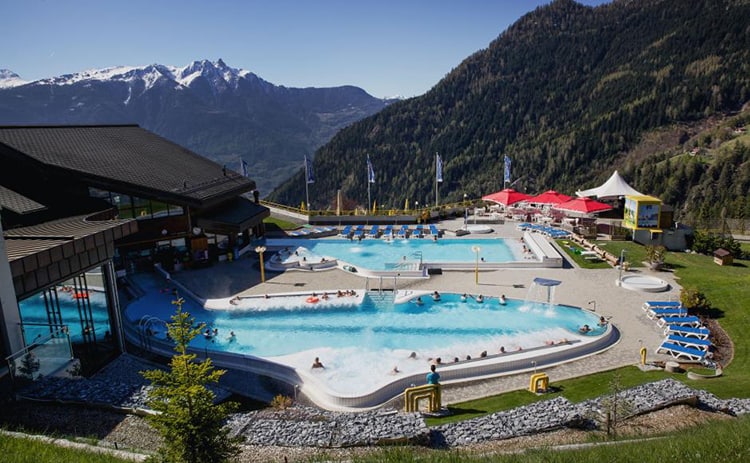 Switzerland is known for its stunning natural landscapes, but it's also home to some of the world's best health spas.
From Zurich's Thermalbad & Spa to Termali Salini & Spa in Locarno and Bogn Engiadina in Scuol, travelers who love health and relaxation will be sure to find a spa that will meet their needs.
For those looking for something truly unique, Mineral Baths & Spa Rigi Kaltbad offers an incredible experience with thermal baths surrounded by alpine meadows and forests.
So if you're looking for a place to recharge your batteries and relax, Swiss hot springs are the perfect destination!
---
6. The Stunning Railway Journey from Zermatt to St Moritz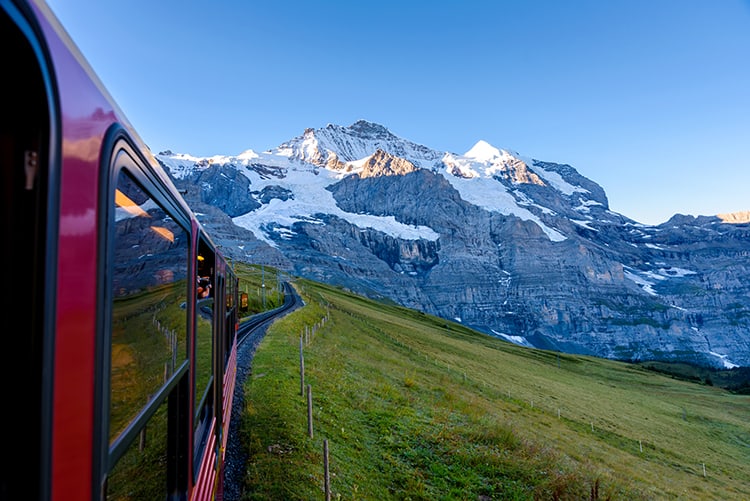 The Stunning Railway Journey from Zermatt to St Moritz is a must-do for any traveler visiting Switzerland.
The "Glacier Express Train" that connects the two towns has been world-renowned for its spectacular views, crossing 291 bridges, passing 91 tunnels, and traveling through gorgeous valleys and mountain ranges.
From the panoramic coach seats, you will continually be enchanted by what lies outside – beautiful snow-capped mountains, glacial lakes, and lush green pastures; together with a few tunnels, it's an experience unlike any other.
Another fantastic train that you can take is the Bernina Express, which is particularly fantastic if you want to stop and explore.
---
7. Multicultural Cities with a Vibrant, Cosmopolitan Atmosphere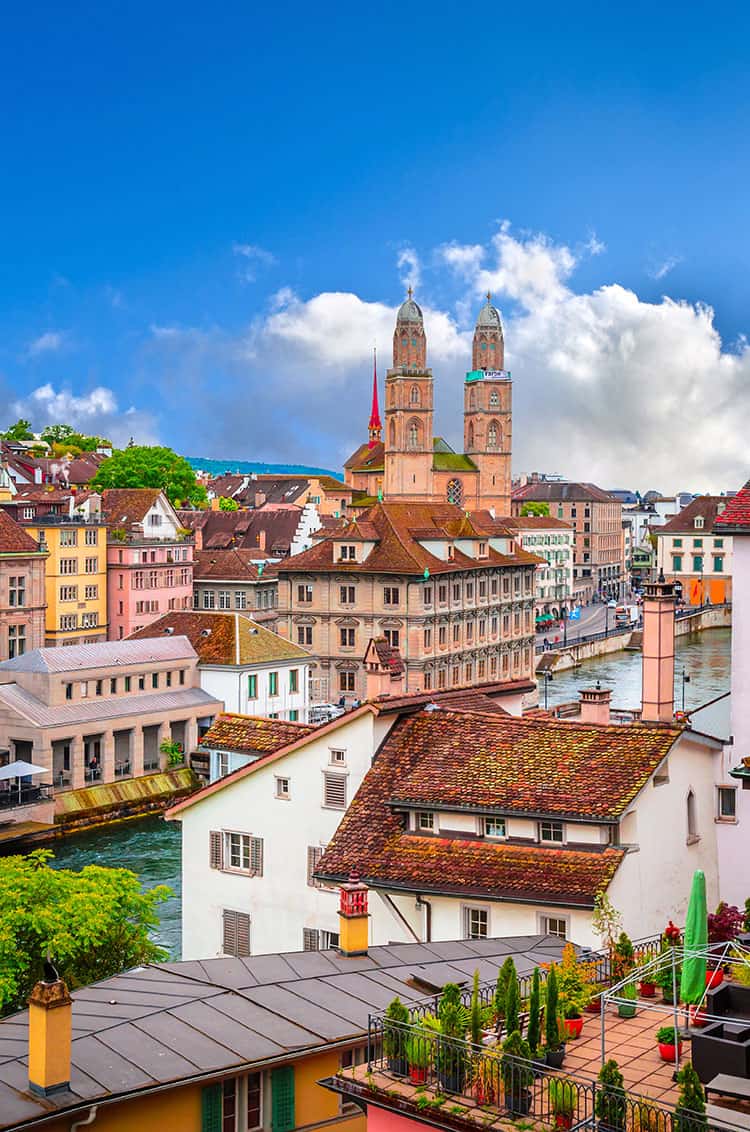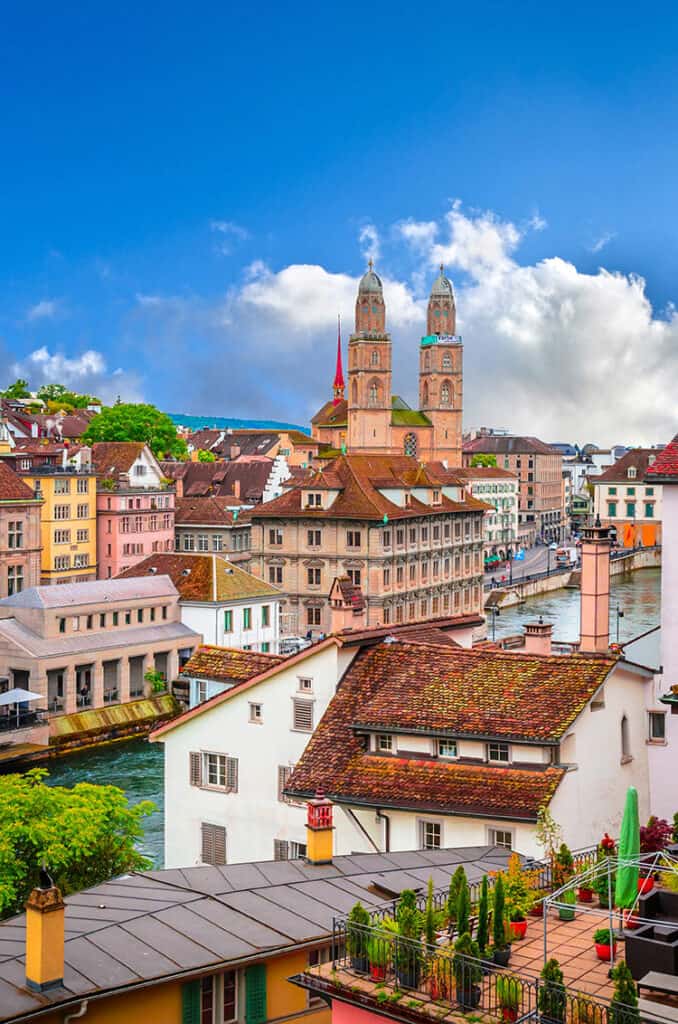 Nestled in the heart of Switzerland, Zurich, and Geneva have become renowned for their multicultural atmosphere and vibrant cosmopolitan culture.
From Zurich West, a trend-setting pocket of bright lights and colorful urban culture, to the culturally diverse city of Geneva, travelers will be captivated by Switzerland's many unique offerings.
Whether it's exploring the beautiful architecture and breathtaking landscapes or indulging in local cuisine, both cities are sure to provide an unforgettable experience.
When visiting these beautiful cities in Switzerland, visitors can expect to be immersed in a truly unique cultural experience.
---
8. Highly Efficient Public Transportation System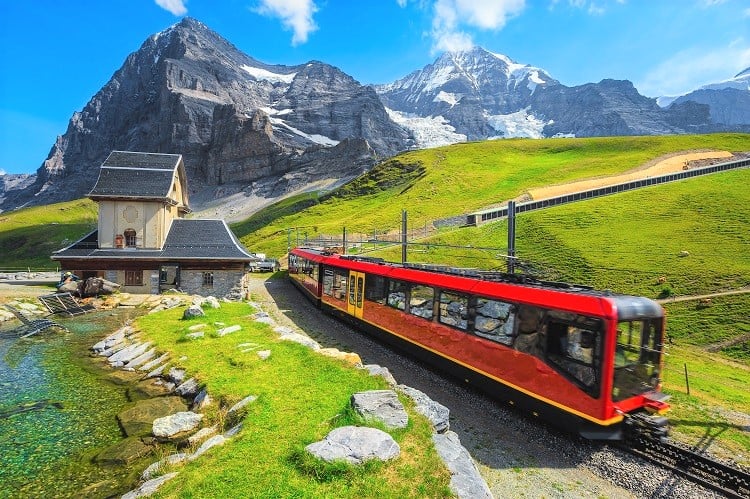 Traveling in Switzerland is a breeze!
With an efficient transport system, it's easy to move from place to place without breaking a sweat.
Moreover, there are scenic train rides that make your journey even more enjoyable. Travelers get the chance to take in the stunning Alpine views from the comfort of their seats.
What we highly recommend you do is grab a Swiss Travel Pass that allows unlimited travel on train, bus, and boat. It also includes entry to 500+ museums and up to 50% discount on many mountain excursions.
---
9. Abundance of Stunning Hiking Trails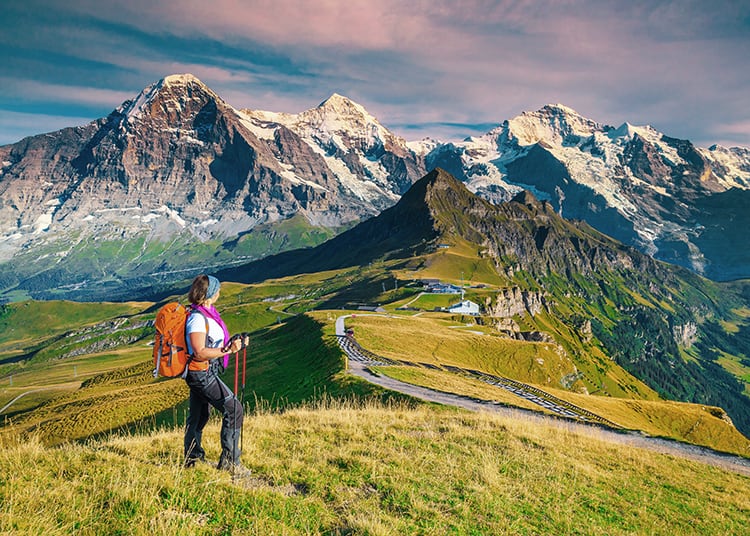 Is Switzerland nice to visit in the summer? It sure is a perfect time to visit! There are plenty of places to visit in Switzerland in summer, where you can go for a swim, a boat ride or a nice hike.
Hiking in Switzerland is an incredible experience! The alpine hills around Lucerne are perfect for anyone looking for a bit of adventure.
From the incredible views to the peaceful atmosphere, there's something special about this area that will stay with you forever.
And if you head out to Interlaken and Grindelwald, don't miss the Eiger Trail – it offers some of the best views in Europe.
For a real challenge, try the Hornliweg hike near Zermatt – it's certainly not for the faint-hearted!
Finally, be sure to take on at least one of the Aletsch Glacier Panorama Trails, which is located not too far away from Zermatt!
Hiking here promises to be an unforgettable experience!
---
10. Crystal Clear Lakes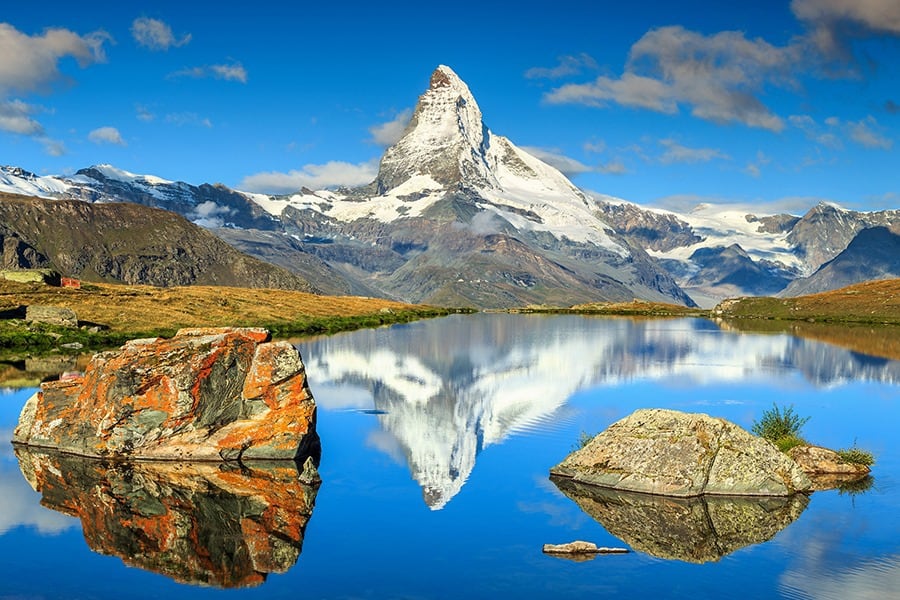 There are many good reasons why Switzerland is so beautiful, one of which is its natural beauty. Switzerland is home to some of the most picturesque lakes in all of Europe.

Oeschinensee has been touted as one of the clearest and most beautiful alpine lakes in Switzerland.
The lake is surrounded by panoramic views, with snow-capped mountains surrounding it like a ring for an unforgettable experience.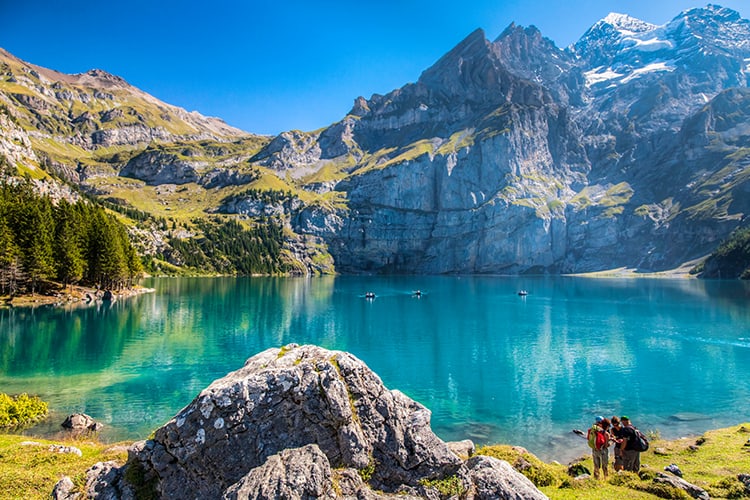 Blausee near Kandersteg is known for its crystal clear water and lush greenery, making it perfect for swimming and picnicking.
Lake Brienz's deep blue waters stretch around the jagged peaks of the Swiss Alps, making it an ideal spot to kayak, sail, or take a leisurely boat cruise.
Bachalpsee is located high up in the Swiss Alps and boasts stunning views from its vantage point above Grindelwald Valley.
Riffelsee near Zermatt offers visitors an idyllic alpine setting complete with snow-capped Swiss mountain peaks as the backdrop.
Last but definitely not least is Lake Geneva with its dazzling blue waters surrounded by charming countryside villages and vineyards – an ideal destination for a day trip!
---
11. Fairytale Mountain Villages and Towns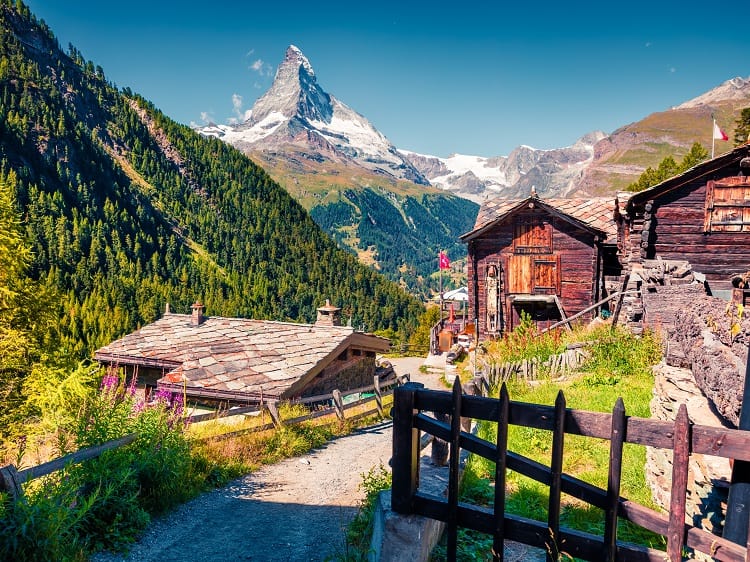 Switzerland is a land of fairytale mountain villages and picturesque towns, the kind you used to read about in books when you were little.
From Zermatt to Wengen, Gimmelwald to Sion, Lauterbrunnen, and more, the country is full of stunningly picturesque villages that will take your breath away.
These quaint alpine towns have something for everyone.
Enjoy traditional Swiss hospitality at one of the many cozy guesthouses or spend an afternoon exploring the cobbled streets and ancient churches.
With breathtaking views around every corner, a visit to Switzerland's mountain villages promises a dream-like experience that you'll always remember!
If you love the idea of visiting a Swiss village, you will enjoy our post on the best villages to visit in Switzerland.
---
12. Impressive Castles and Churches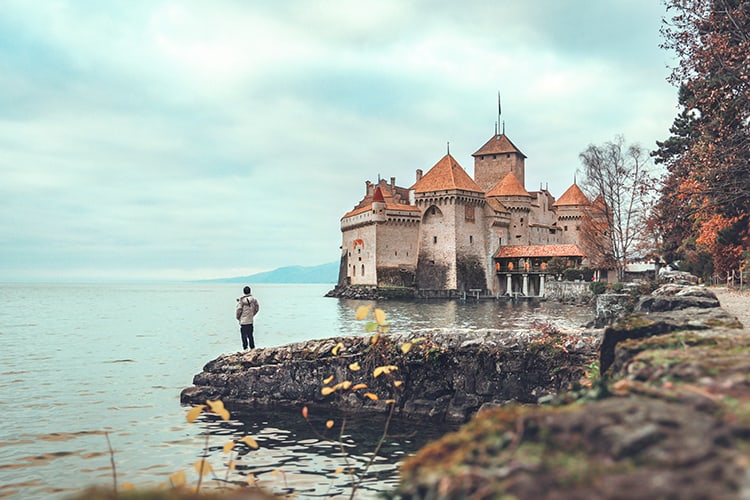 Switzerland is a country steeped in history and culture, making it the perfect destination for travelers with an appreciation of those things.
One of the greatest examples of that is its famous castles and churches, which are a must-see when visiting.
From the Castello di Montebello in Biasca to the beautiful Church of Saint Peter and Paul in Mürren.
The medieval Aarburg Castle is utterly enchanting, perched on a rocky outcrop overlooking the majestic Aare River.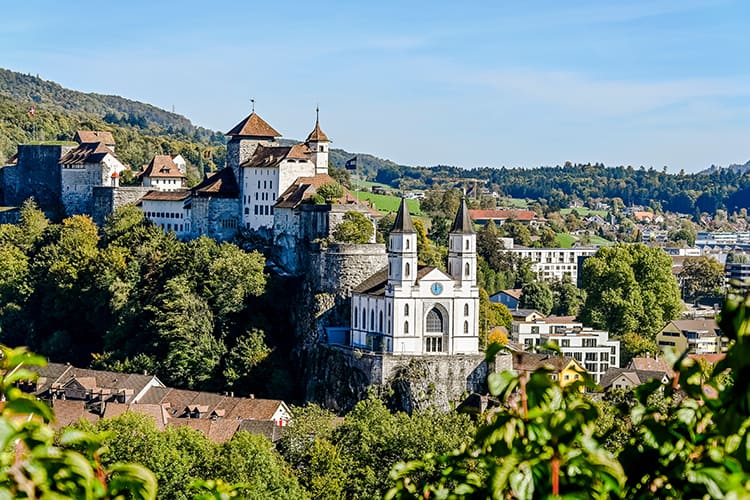 Chillon Castle, situated on Lake Geneva, provides breathtaking views from its rocky home. With stunning architecture and enchanting ambiance, it's Switzerland's most visited historic building.
And that is just to mention some of my favorites from Switzerland, there are so many more to explore!
You can see the Chillon Castle if you follow our Switzerland Itinerary for 5 days.
---
13. Delicious Swiss Chocolates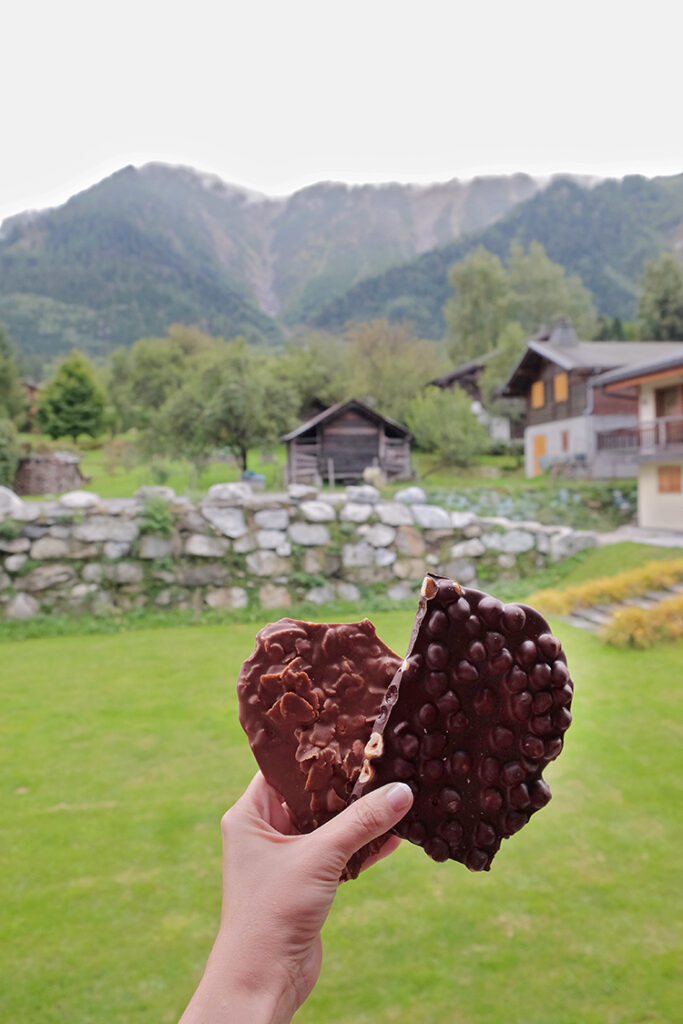 Swiss chocolates are a must-have for any traveler to Switzerland.
From the iconic Lindt truffles to specialty artisanal bars, Swiss chocolate provides an indulgent and unique experience unlike any other.
The variety of flavors available means that there's something for everyone – whether you like sweet, nutty, creamy, or tangy there's something to suit your taste buds.
A great place to experience the best of Swiss chocolates is at the Lindt Home of Chocolate Museum in Zurich.
---
14. World-Renowned Swiss Cheese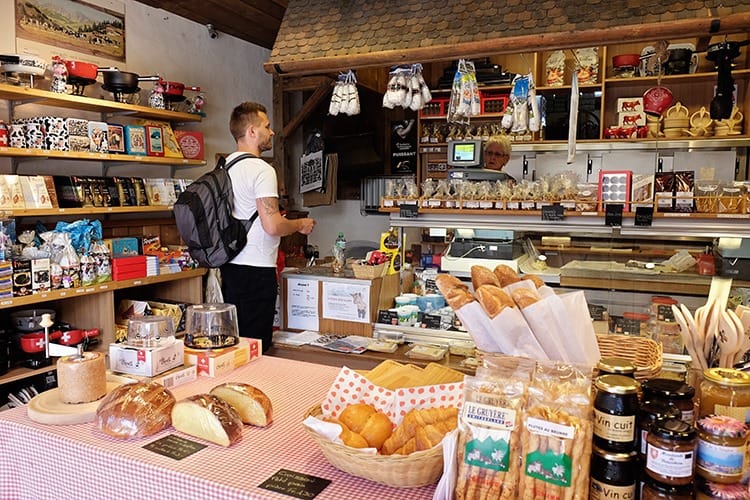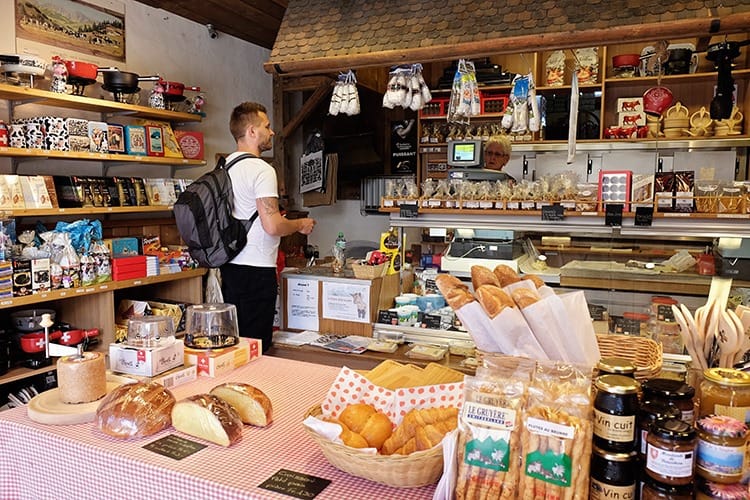 Want to know what Switzerland is known for? Switzerland is often associated with its world-renowned cheese, and for good reason!
From the nutty Gruyère to the creamy Raclette, Swiss cheeses are among the best in the world.
For travelers interested in trying out Switzerland's iconic cheese, there is no better place to visit than Gruyères.
Located in the Fribourg region of Switzerland, Gruyères is home to some of the finest artisanal cheese makers around.
Tours of local farms are available so you can see firsthand how each cheese is made and aged.
You can also try some samples during your visit and purchase a few wedges to take home as souvenirs.
Experience for yourself why Swiss cheeses have made such an indelible mark on the culinary landscape!
---
14. Popular Festivals and Events To Attend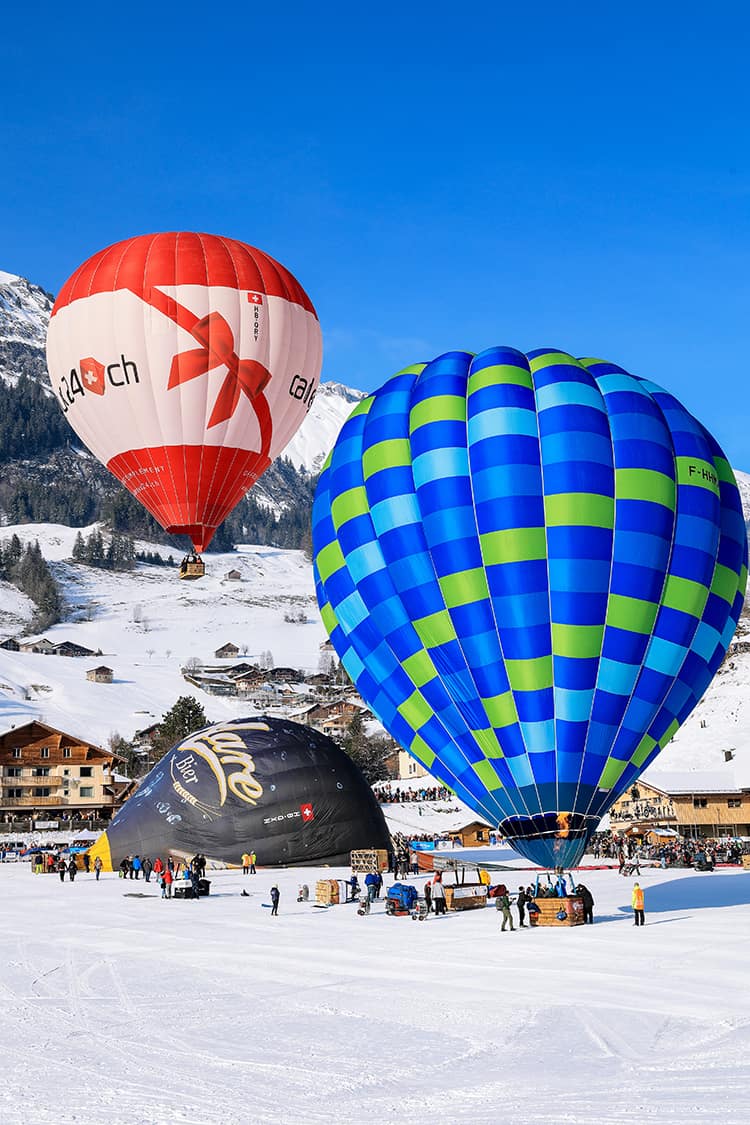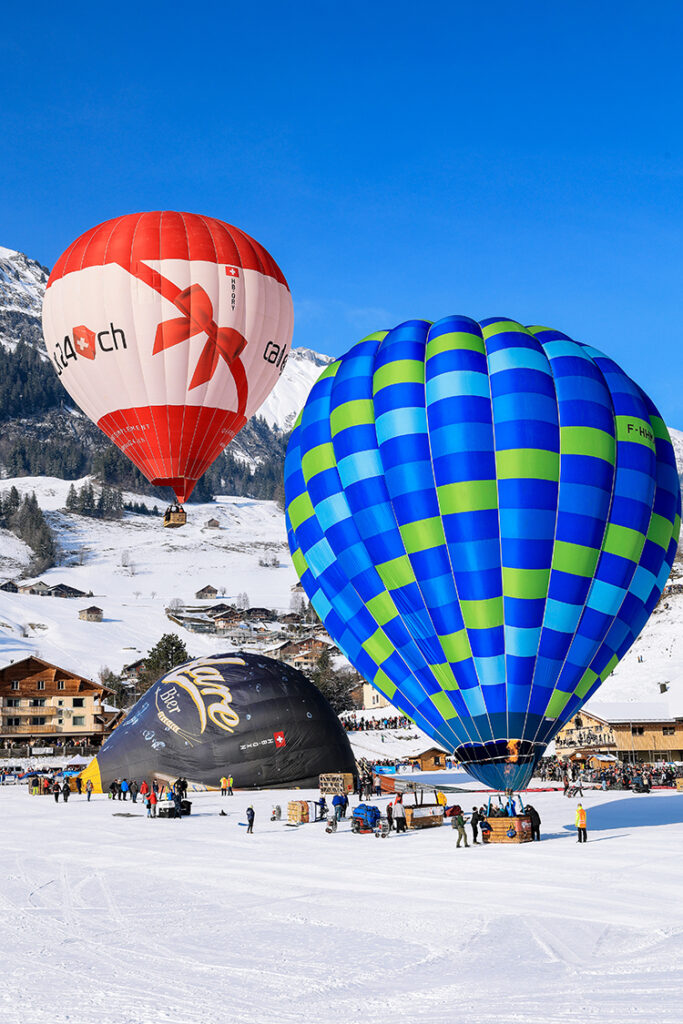 Switzerland is an incredible country for travelers. Not only are there breathtaking views of the Alps, but there are also several popular festivals and events that attract people from all over the world.
In January, the Grindelwald Snow Festival showcases some of the best international snow sculptures, while Basler Fasnacht (Carnival of Basel) in March features colorful parades with masqueraders in elaborate costumes.

You can also take part in the International Hot Air Balloon Festival or visit the Zurich Festival for a combination of musical fireworks, dancing, and food.
And that is just a mention of some of the festivals, there are many more!

No matter when you visit Switzerland, there's sure to be something exciting going on.
---
15. It is One of the Safest Countries in Europe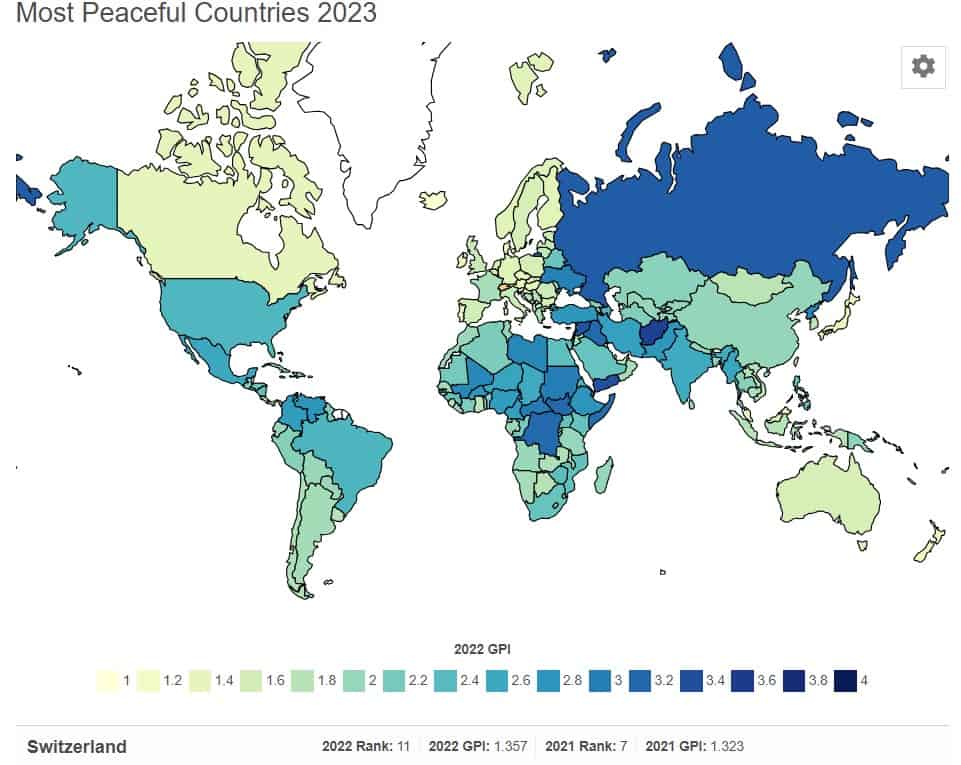 Switzerland is a great destination for solo travelers and families with small children.
It has the 11th-highest ranking on the Global Peace Index, making it one of the safest countries in the world for travelers.
In addition to its excellent security measures, Switzerland also boasts a fantastic health system with hospitals that provide top-notch care.
While medical treatment is not free for tourists, seeing a doctor is easily accessible.
All of this makes Switzerland an ideal place to travel for those who want adventure without compromising on safety and security.
---
16. Beautiful Glaciers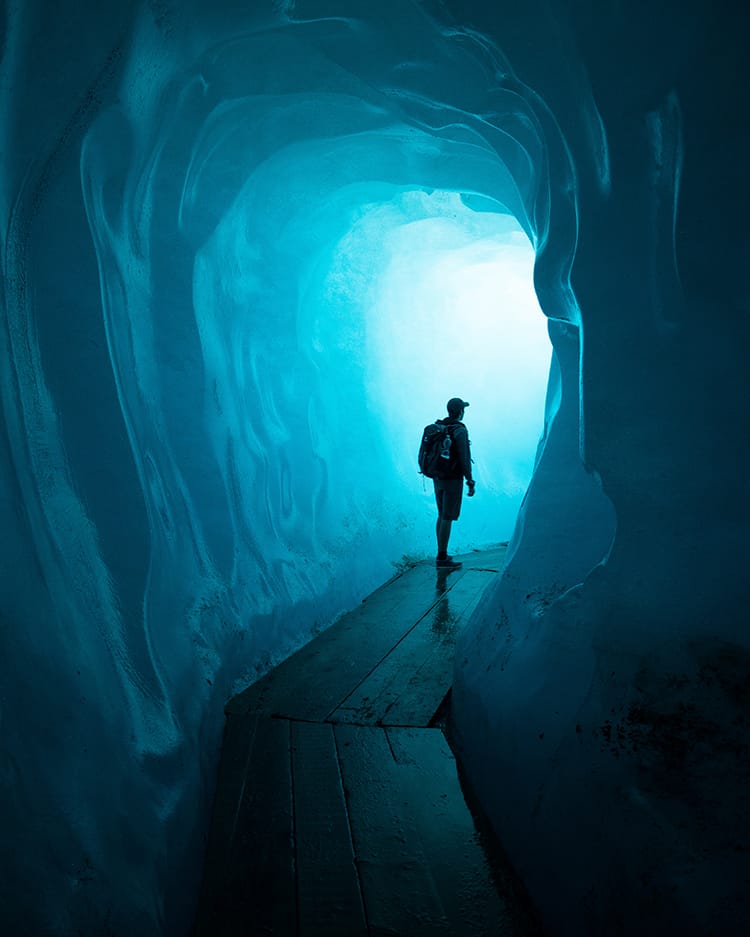 Switzerland is home to many beautiful glaciers, and a visit to this country wouldn't be complete without seeing some of them.
Whether you're looking for the thrill of witnessing a massive glacial wall or want to experience snowshoeing and skiing in a winter wonderland, Switzerland has it all.
The Aletsch Glacier is the longest glacier in Europe, and the Gorner Glacier offers incredible views from high up on the mountain. We love the walk through the Rhone Glacier.
The glaciers are also an ideal place for those wanting to go hiking and explore nature's awesomeness.
---
17. Yummy Traditional Swiss Cuisine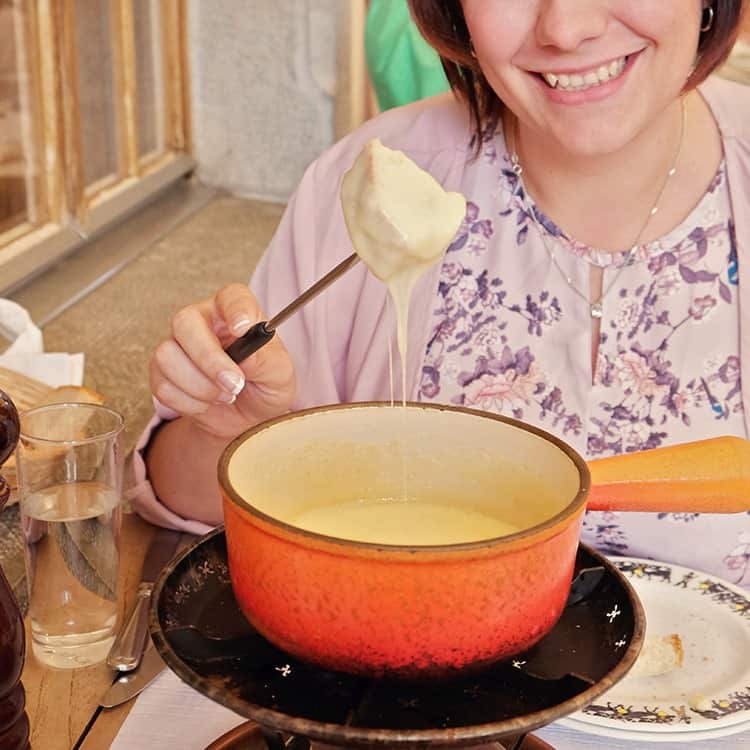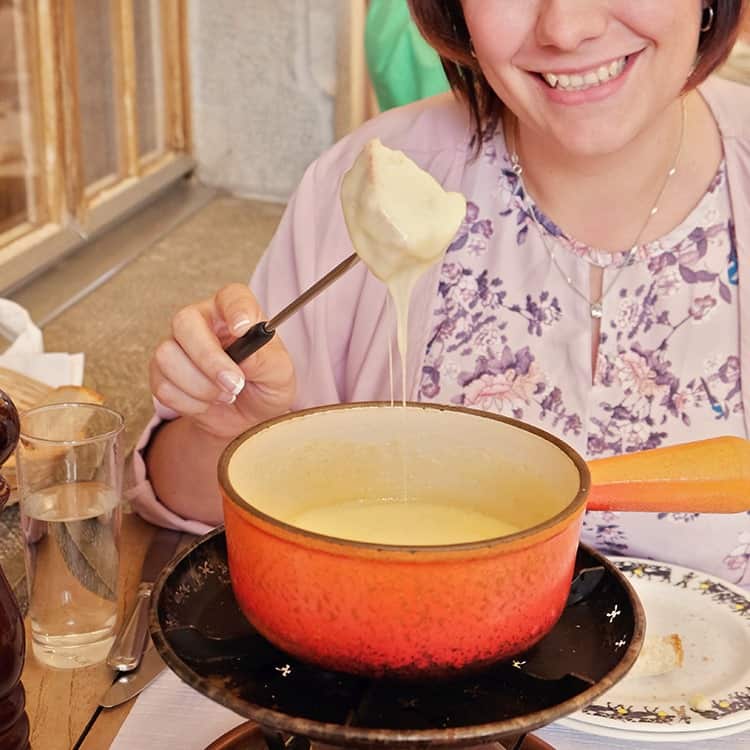 Traditional Swiss cuisine has something for everyone!
For those looking for classic dishes, look no further than fondue, Rösti, and raclette, three hearty and delicious meals that will have you wanting seconds.
If you want the traditional Swiss experience, try the veal cordon bleu – it's a delicious blend of fried veal and ham in a creamy cheese sauce.
For those with an adventurous palate, why not try some air-dried beef or dried meat?
The texture of these dishes is unique, and if you don't believe us (which we know you won't!), just take a bite! You won't regret it.
---
18. Must-See Unique Waterfalls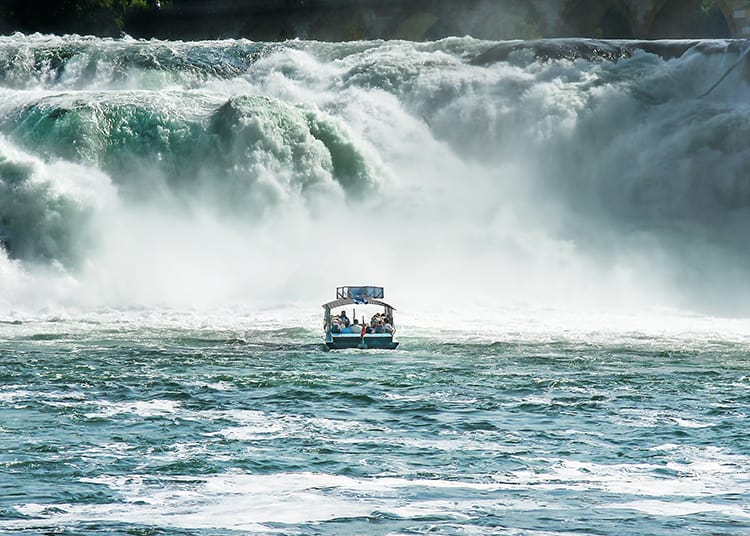 Switzerland is a beautiful country with some of the most mesmerizing waterfalls in the world.
From thundering cascades to romantic plunges, there are plenty of breathtaking waterfalls to explore in Switzerland.
A few of the most spectacular ones include Rhine Falls, Trümmelbach Falls, Staubbach Falls, and Reichenbach Falls.
Each one offers its own unique experience with its own stunning beauty and they all make for a great way to spend an afternoon while traveling in Switzerland!
---
19. Paradise for Wildlife Lovers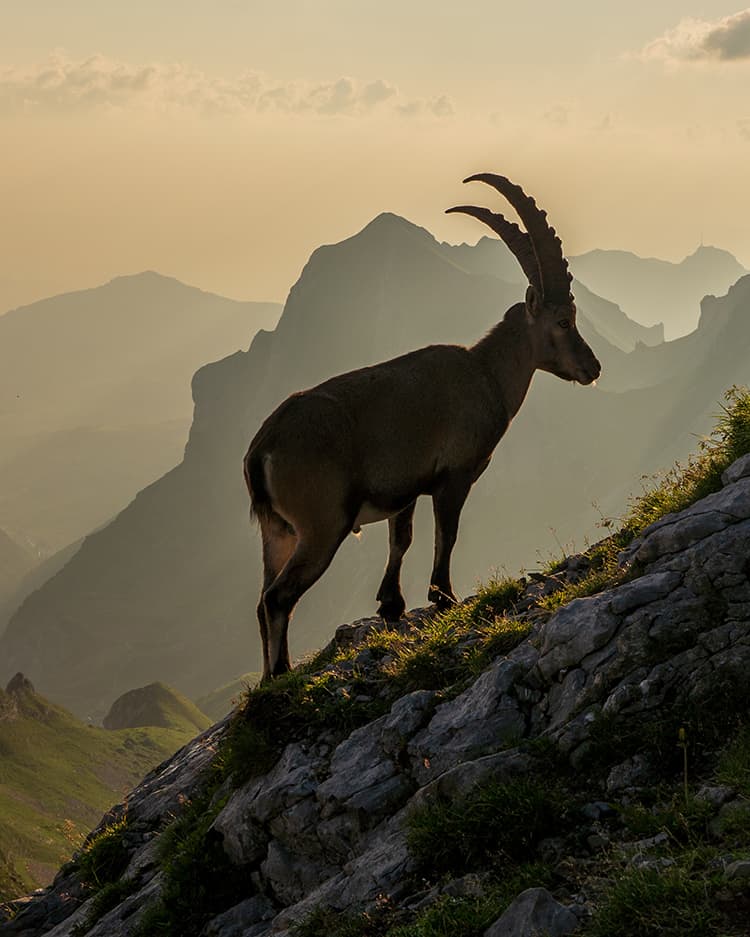 Switzerland is a paradise for wildlife lovers!
Among the most popular animals in Switzerland are the charming Charmois, mischievous Marmots, majestic Alpine Ibex, stately Red Deer, and elusive Wild Board.
You can easily spot these beautiful creatures in their native habitat by going on one of the many guided nature tours or hikes.
So grab your camera and get ready to explore this amazing country and its incredible wildlife!
---
20. Magical Christmas Markets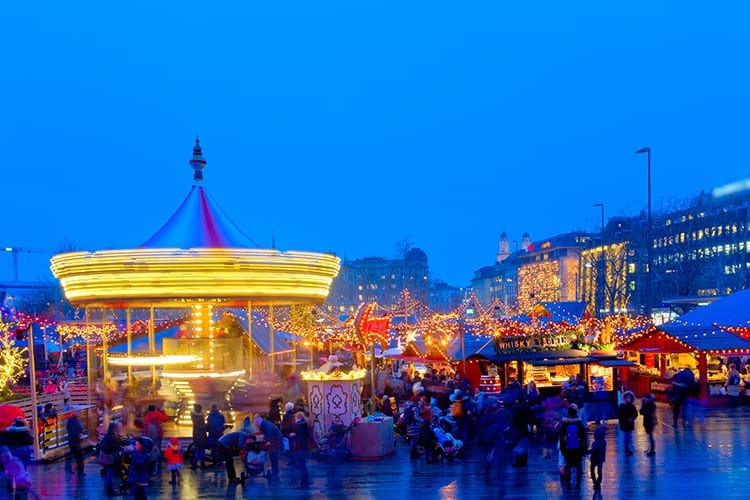 Is it worth visiting Switzerland in the winter?
Switzerland is an ideal location for travelers looking to explore some of the best Christmas markets in Europe.
From Bern to Zurich, here are just a few of Switzerland's spectacular Christmas markets:
The Christkindlimarkt in Basel is known for its handmade decorations and traditional stalls;
The Christkindlmarkt at Lake Geneva is home to artisan goods and delicious local specialties; and
The Winterzauber market in Lucerne!
Whether you're looking for unique souvenirs or just some wintery fun, Switzerland is one of the best destinations in Europe to visit during December.
---
Is Switzerland Worth Visiting? Final Thoughts
So is Switzerland worth visiting – despite how expensive it can be? You bet it is! And I hope we have convinced you why you should visit Switzerland at least once in your lifetime!
From the fresh mountain air of the Alps to the serene lakes and stunning views, Switzerland has it all.
The country is filled with different cultures, delicious food, and plenty of opportunities for adventure. So if you're looking for a place to escape from your everyday routine, a trip to Switzerland may be just what you need.

For those who have yet to experience the beauty of Switzerland firsthand, we hope this post has encouraged you to take the leap and explore all that this incredible destination has to offer.
Is Switzerland a nice place to visit with kids? For sure! There are so many fun things you can do with the kids from train rides, to boat rides, to museums, to toboggans, mountain scooters, alpine playgrounds, and more!
Let your inner wanderlust take control and make sure to read our Switzerland travel guide to start planning your trip.

Happy travels!
Read More About Switzerland: