Have you been wondering about visiting Switzerland in June? I've got you covered!
Europe is a continent full of wonders and a place that has captivated minds and imaginations for centuries.
From the warm Mediterranean climates to the frozen tundras of the north, Europe has something to offer every traveler.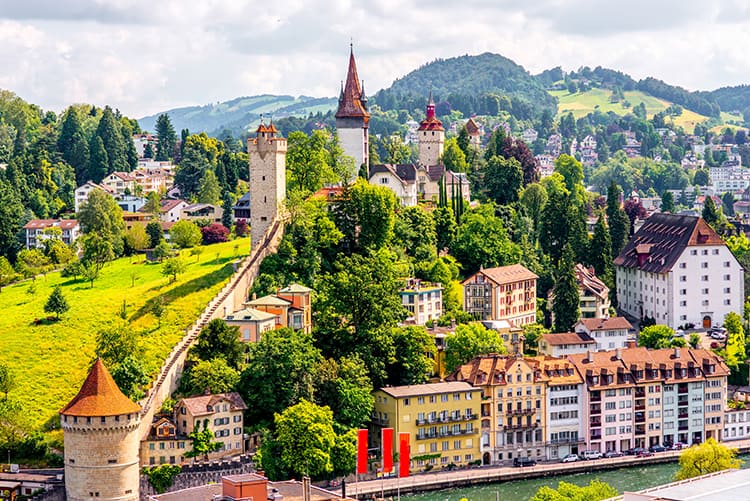 Our family embarked on a three-month journey through Europe that included visiting Switzerland. So if you are planning on a trip to Switzerland in June this is the perfect post for you!

June in Switzerland is known for its mild weather and beautiful landscape, with the Swiss Alps towering over many of the cities.
Whether you're looking for a romantic getaway, an adventure vacation, or some quality time with the family, Switzerland in June is sure to provide plenty of activities and sites to explore.
Keep reading to find out what attractions are popular during this time of year and all about the June weather in Switzerland!
---
Typical Weather in Switzerland in June
If you are traveling to Switzerland in June you may be wondering if June is the best month to visit Switzerland.
June is the start of summer in Switzerland, and with it comes favorable weather conditions with warmer weather and temperatures and longer days.
Days are usually dry and sunny, making for clear views of the mountain peaks and rolling countryside.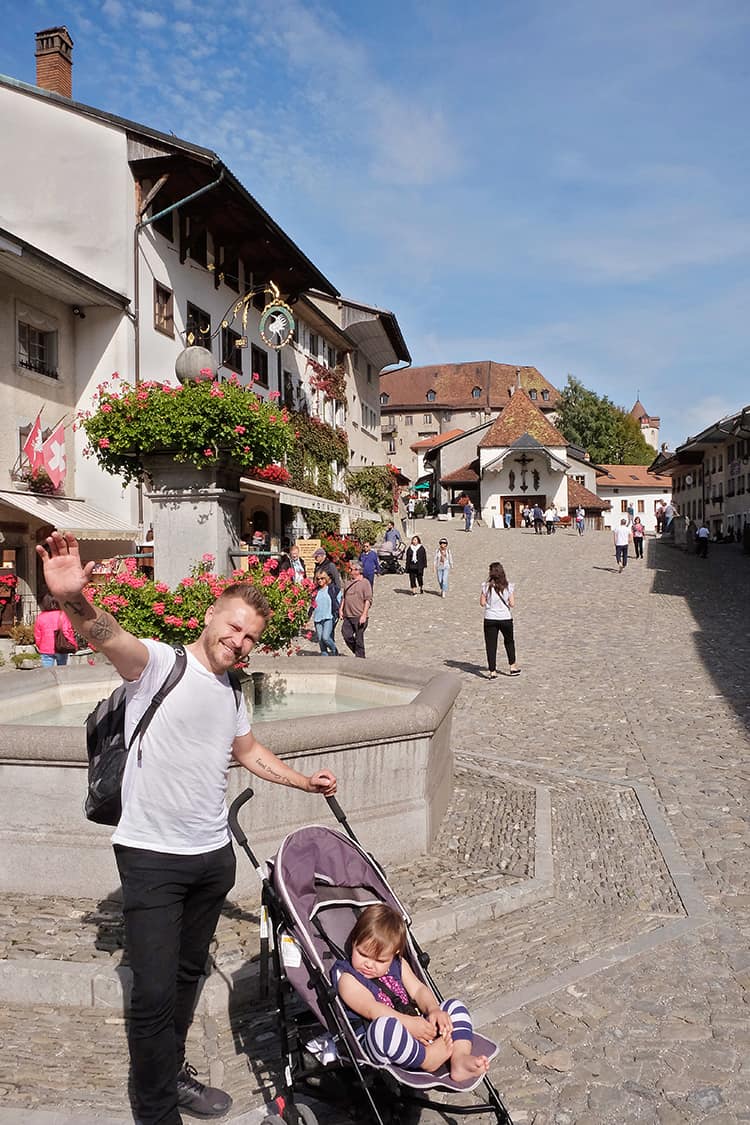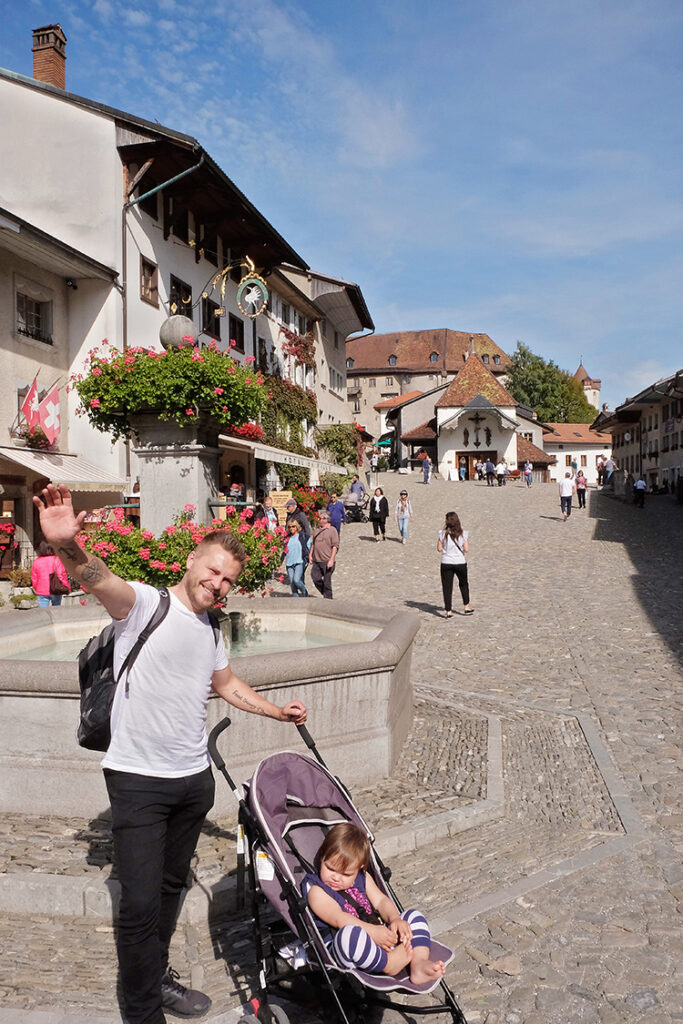 Temperatures range from cool to warm during the day, rarely too hot but perfect for activities like hiking. At night temperatures can cool down quickly so be sure to pack a jacket!

Swimming opportunities are plentiful in Switzerland during June as lakes, rivers, and small streams become warm enough to swim in.
If you seek a different kind of adventure, most outdoor pools open their doors around this time as well.
Take a dip or simply relax on one of the many beaches that line the Swiss lake shores with family or friends!
Average temperature in Switzerland in June
Switzerland's climate and average temperatures in June vary depending on elevation.
In the lowland cities and towns, temperatures are typically moderate, ranging from the mid-60s Fahrenheit (around 17°C) during the daytime to the mid-50s (13°C) at night.
Higher up in the mountains, however, temperatures can drop quite a bit lower, as much as 10 to 15 degrees cooler than the lowlands.
Humidity is usually low in both areas thanks to the dry alpine air.
Does it rain a lot in June in Switzerland?
June is typically a wet month in Switzerland, with an average of 11 days of rain across the country.
While this may not sound like much, overall precipitation can be very high. Generally speaking, the eastern part of Switzerland receives more rain than the west.
So yes, it does rain quite a lot in Switzerland in June!
What is the weather like in the Alps in June?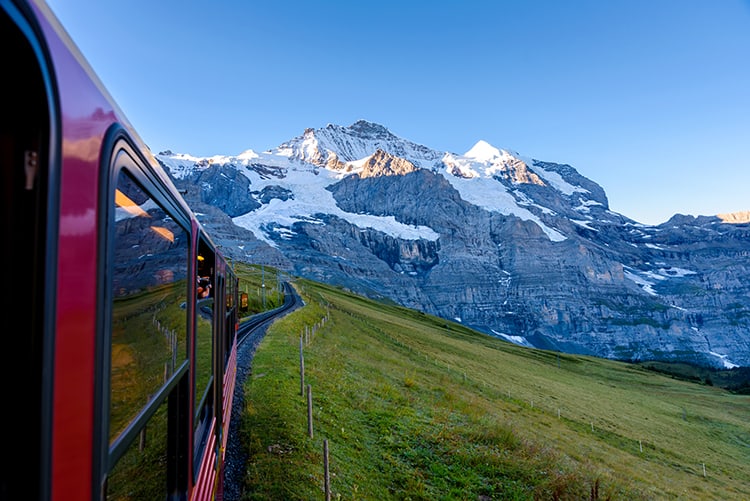 The Alps in June are a sight to behold! For most of the day, the sun is shining and the temperatures are mild, hovering between 8 and 20°C.
Despite the warmth, there may be some rain showers during the afternoons and cool breezes from time to time.
With low humidity levels in the air all around, it's an ideal climate for outdoor activities like hiking and biking.
June therefore is a great time to enjoy your summer vacation in the Alps!
---
Things To Do in Switzerland in June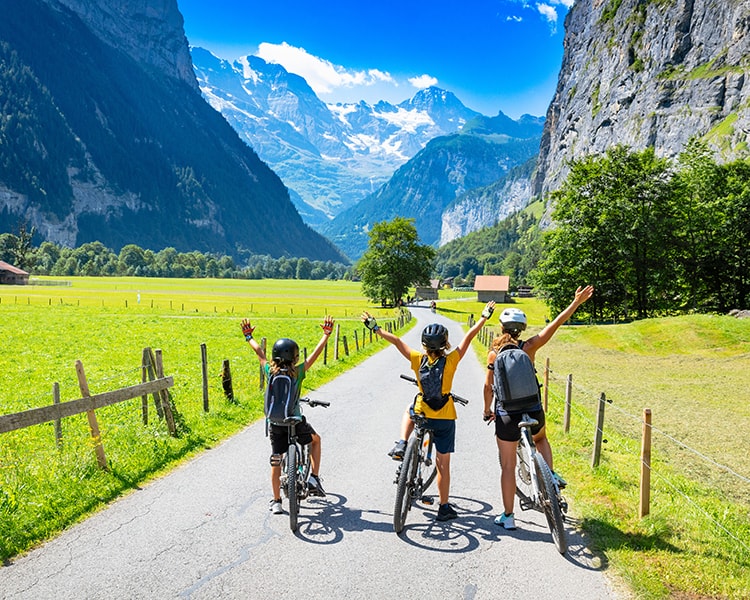 Switzerland is a beautiful country with tons of activities to do during the month of June! Here are five top things to do in Switzerland in June:

1. Go on a scenic hike: With its towering Alps and balmy days, June is the perfect time for a long hike through Switzerland.
You'll be able to take in views of vast meadows, snow-capped peaks, and crystal-clear blue lakes as you hike along the trails.
There are numerous scenic hiking routes to explore like Gorge du Chauderon, Via Alpina, Mont Bre, Grindelwald, and Rochers de Naye.
2. Have a picnic by Lake Lucerne: There's no better way to spend an afternoon than by picnicking near Lake Lucerne.
Spend your day lounging around the lake's edges eating cheese, and baguettes, and sipping on Swiss wine as you watch the sun setting over the lake. You can even take a dip to cool off!
3. Take a tour of Bern: Bern is one of Switzerland's most charming cities and it has a lot to offer visitors in terms of sights and attractions during the month of June.
From visiting art galleries and museums to strolling through quaint cobblestone streets, there's always something new to discover in Bern!
4. Visit Jungfrau Mountain: This iconic mountain is one of Switzerland's most popular destinations for visitors who want to experience stunning views from atop one of Europe's highest peaks!
On clear days, you can see as far as Germany and France from the Jungfrau summit!
5. Enjoy Swiss festivals: Every year in June, towns across Switzerland come alive with their local festivals which usually involve plenty of traditional music, folk dances, food stalls offering delicious dishes and drinks, crafts markets where you can purchase some unique souvenirs for your friends back home and much more!
No matter what you decide to do when in Switzerland in June, make sure to have the best travel insurance for Switzerland before you travel so you can enjoy the best things to do in Switzerland!
---
10 Best Places to Visit in Switzerland in June
We have put together the 10 best Switzerland places to visit in summer to help you when creating your travel itinerary.
For each place, we have included a few activities and ideas for you to do in each destination. From mountain hikes to outdoor pools, city walks, and more!
1. Zurich in June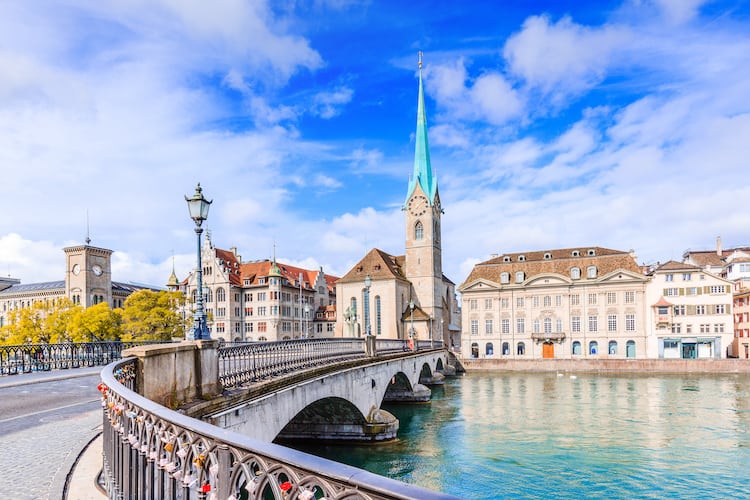 Enjoy a leisurely afternoon exploring the old town, where you can find charming cobblestone streets and beautiful architecture. Take a boat ride on Lake Zurich and admire the breathtaking Swiss Alps on the horizon.
There are plenty of hiking opportunities in the area, as well as cultural experiences like museums and galleries to explore.
To explore more of Switzerland from Zurich, our Switzerland 7 day trip is perfect to help you plan and explore more of Switzerland.
Plus, there's no shortage of lively festivals during this time of year that make Zurich come alive with music and art. With all these options, you're sure to have a wonderful time!
A top summer activity in Zurich is visiting the outdoor pools, like those on or near Lake Zurich. Flussbad Oberer Letten is a great option.
For a panoramic view of the city, head to the Uetliberg Lookout Tower where you can see all of the city and its surroundings.
2. Montreux in June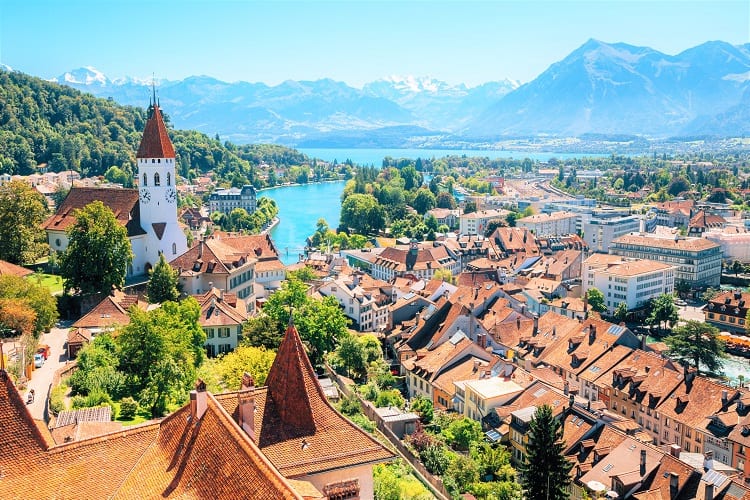 Montreux, Switzerland is a picturesque destination filled with stunning views of the Swiss Alps and Lake Geneva.
Hiking enthusiasts can explore nearby trails such as Gorge du Chauderon, Via Alpina, and Rochers de Naye.
During summer in Montreux, you can enjoy various water sports on Lake Geneva, like paddle boats and kayaks. When you are not enjoying the water sports you can simply relax on the beautiful Lake Geneva shore.
Other activities that you can easily fill your days with activities ranging from historical tours to outdoor adventures. Take a boat ride on Lake Geneva or explore the Chateau de Chillon for a glimpse into Montreux's past.
Enjoy some of the best food and wine in Switzerland as you stroll along the Rue du Simplon Promenade. And don't miss out on experiencing Montreux's world-renowned Jazz Festival for an unforgettable evening of music and entertainment!
3. Lugano in June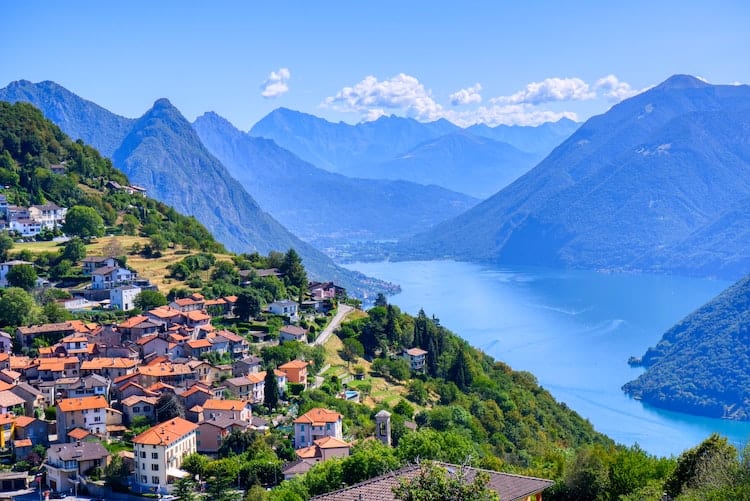 Lugano, an Italian-speaking city in Switzerland, is a great destination for visitors looking to experience culture and beauty.
In June, the days are long and the sunshine's warmth makes it a perfect time for outdoor activities. The lakefront promenade of Lugano offers stunning views of the lake and mountains beyond.
Take your time strolling through or grab a bite to eat at one of the many restaurants and cafes. The city has a lovely lido and public beach, perfect for cooling off in the lake and beating the heat.
For a thrilling adventure, take cable cars up Monte San Salvatore for spectacular panoramic views.
History buffs can explore churches like Santa Maria degli Angeli or visit the city's iconic public fountain.
4. Zermatt in June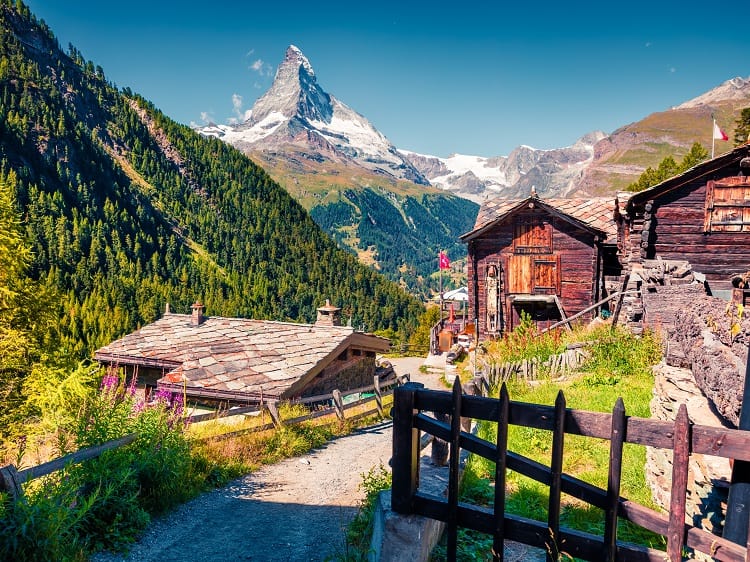 Zermatt is located in the Swiss Alps and is one of the most beautiful Swiss villages. Visitors are greeted with breathtaking views of majestic mountains, lush meadows, and pristine rivers.
Start your day with a cable car ride to the Klein Matterhorn for stunning panoramic views of the city below.
Then explore the cobblestone streets full of boutiques and restaurants that offer traditional Swiss cuisine.
Visit the Matterhorn Museum to learn about the town's history. Admire the Findeln Chapel and the English Church, sacred landmarks in Zermatt.
In the evenings, take a tranquil boat cruise on Lake Riffelsee or head to one of many cozy bars and pubs for an evening of live music and drinks.
Zermatt is also a popular summer destination for hiking and mountain biking with trails suitable for all levels. Don't miss the Five Lakes Walk Trail, where you can enjoy stunning lakes reflecting the Matterhorn.
5. Lucerne in June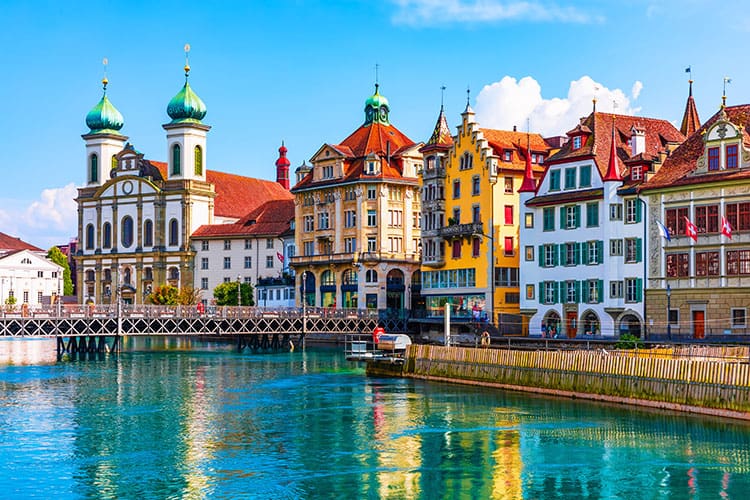 June in Lucerne is a special time for travelers! The weather is warm but not too hot, and there are plenty of outdoor activities to enjoy.
This charming town is also rated by many travelers as the most beautiful place in Switzerland!
Take advantage of the mild temperatures and explore the city's charming cobblestone streets and picturesque lakeside views.
Enjoy a boat tour on Lake Lucerne to take in the sights, or bike along the lakefront trail.
Adventurers can hike one of the nearby mountain trails for amazing views!
For a day trip out of Lucerne, head south through the gorgeous countryside to Rapperswil-Jona. If you need to rent a car for your day trip, here is the best car rental in Switzerland.
If you are looking for a slightly longer trip from Lucerne, here is our 4 days in Switzerland itinerary to help you plan.
The lake has hundreds of offerings of water-based activities, such as boating, swimming, fishing, canoeing, paddle boats, kayaking, and much more.
There is access to public beaches in many areas, which allows visitors to spend the day at the lake however they wish.
6. Bern in June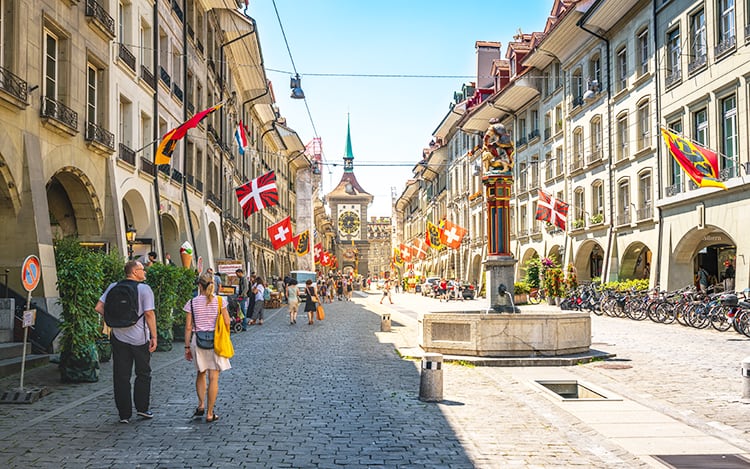 June is the perfect time to visit Bern, Switzerland! The days are warm and sunny, making it ideal for exploring the lakes and countryside.
Plus, the city comes alive with outdoor music festivals and live theater performances.
Take a stroll through Old Town to discover medieval architecture or explore one of the museums tucked away in cobblestone alleys. Here is a great walking tour that you can book.
In summer, locals and tourists enjoy swimming in the clear Aare River or you can cool off in Bern's free public pools.
Active individuals can explore Bern's green areas on the popular Aare River cycle trails. Take the funicular to the Gurten mountain peak for exceptional views of the city and the Bernese Oberland Alps!
7. Geneva in June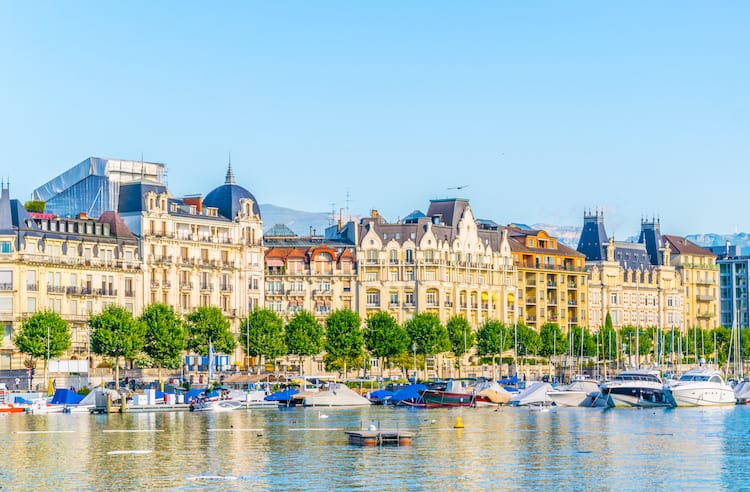 June in Geneva is the perfect time to explore its stunning outdoor attractions!
With nearly 300 days of sunshine each year, visitors can look forward to beautiful weather while enjoying some of the city's most beloved sites like the colorful flower clock in Jardin Anglais, made with over 6,500 flowers!
Don't miss the iconic Jet d'eau Geneve, a giant water jet that shoots 140m into the air. Afterward, stroll along the harbor and admire the
During summer in Geneva, there are plenty of activities to enjoy. You can swim in the refreshing waters of the Rhône River at Plage de Rhône.
Head up to the top of Mount Saleve for breathtaking views, or take a leisurely stroll along the banks of Lake Geneva.
If you prefer to relax and indulge in the famous fondue, head to Bains des Pâquis. Here, you'll find sections of Lake Geneva, water structures for kids, a restaurant, and diving boards.
If you wish to travel out of Geneva, this 5 days in Switzerland itinerary is the perfect starting point for exploring Switzerland in June.
8. Basel in June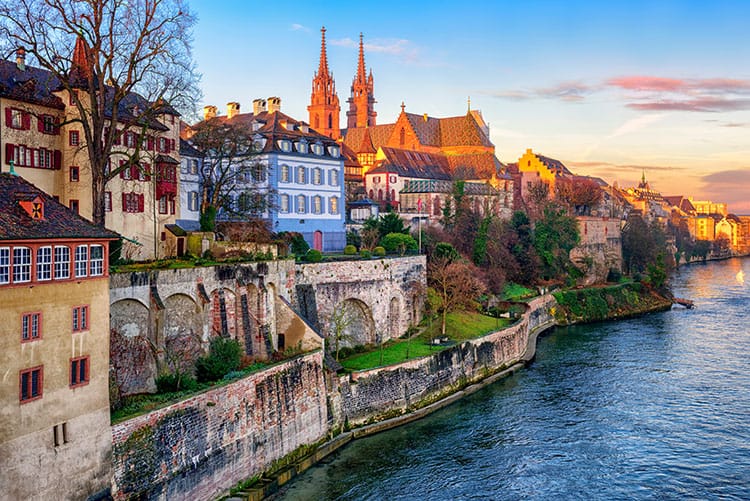 Basel, Switzerland is a vibrant city in the summertime. June is especially lovely, with its mild temperatures and beautiful days perfect for exploring the city's many attractions.
From taking a stroll through Basel's Old Town and soaking up the historical sights to enjoying fresh local cuisine in one of its many restaurants.
If you're looking for an outdoor adventure to enjoy the summer climate of Switzerland in June, take a hike up St. Chrischona, or explore the famous Rhine River on a guided boat tour.
9. Interlaken in June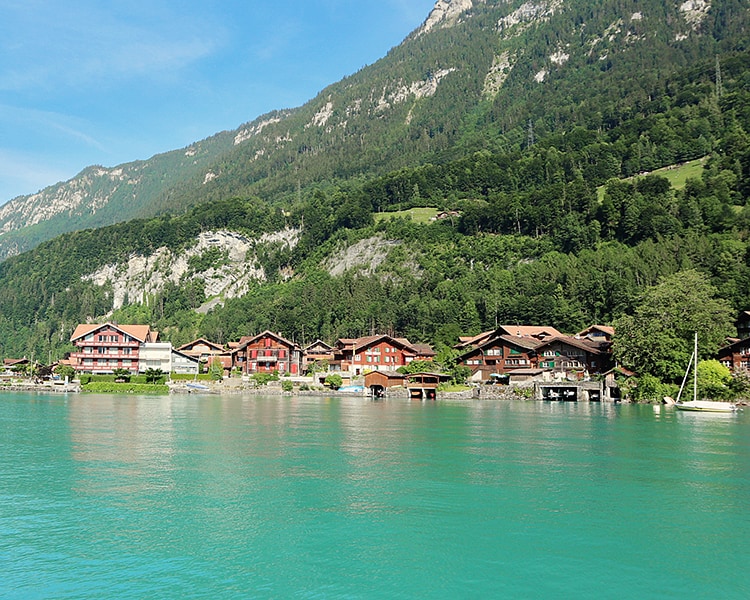 Interlaken, the picturesque Swiss town nestled in the Bernese Oberland, is a great destination for adventurers and tourists alike.
In June, visitors can take advantage of mild temperatures and plenty of sunshine perfect for sightseeing and outdoor activities. Enjoy a leisurely stroll through the cobbled streets of Old Town Interlaken or around the beautiful Lake Brienz or Lake Thun.
Take a refreshing swim or enjoy kayaking, canoeing, and stand-up paddleboarding on these beautiful blue lakes in the lovely weather.
If you would like to enjoy a hike to take in the stunning views and natural beauty, be sure to discover the numerous hiking trails.
Experience the easier Rugen trail or the more challenging Harder Kulm trail, you can even take the funicular up! Enjoy breathtaking views of the lake, mountains, and town. Grindelwald, a short train ride away, is a hiker's paradise with many gorgeous mountain trails.
For an extra special experience make sure to visit nearby Lauterbrunnen Valley for breathtaking waterfalls and some of Switzerland's most spectacular scenery!
Do not miss a visit to the enchanting Oberhofen Castle and stroll through its colorful gardens with stunning views of Lake Thun.
10. Lauterbrunnen in June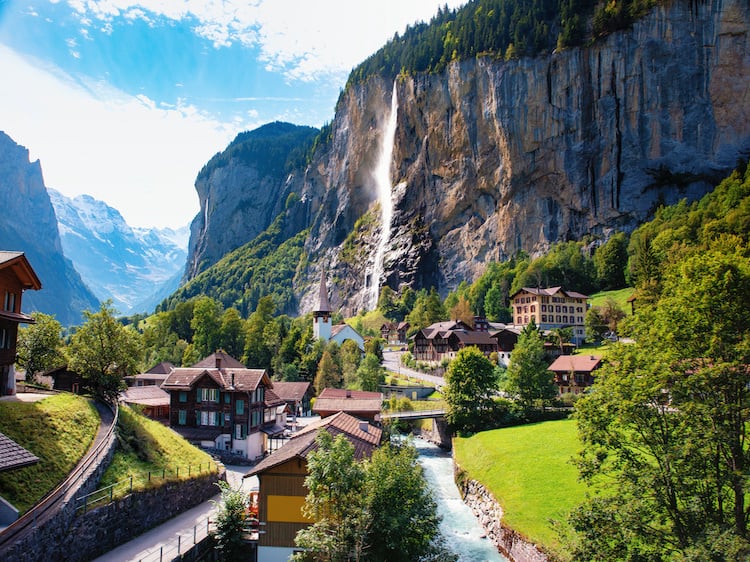 Lauterbrunnen is a stunning village in Switzerland surrounded by alpine meadows, dramatic waterfalls, and charming mountain trails.
June is the perfect time to visit Lauterbrunnen because of its great weather and many activities available for travelers.
Visitors can enjoy an array of exciting outdoor activities such as paragliding, horseback riding, and hiking through the lush mountains.
The town also offers unique experiences like rock climbing on sheer cliffs and enjoying local delicacies at quaint restaurants.
---
Popular Events in Switzerland in June
Every year, Switzerland is host to a variety of popular music events and festivals.
Ascona Jazz Festival: In Ascona, late June the town hosts the lively Ascona Jazz Festival.

Fête de la Musique: If you love experiencing a variety of music, every June, musicians from around the world perform in the streets of Lausanne and Geneva under the Fête de la Musique umbrella.
All musical styles, from classical to rock, pop, and world music, are represented.
Eidgenössisches Jodelfest: Every year, Eidgenössisches Jodelfest showcases Switzerland's top yodellers in a different city during the last week of June. It's a four-day event you wouldn't want to miss!
---
What to Wear in Switzerland in June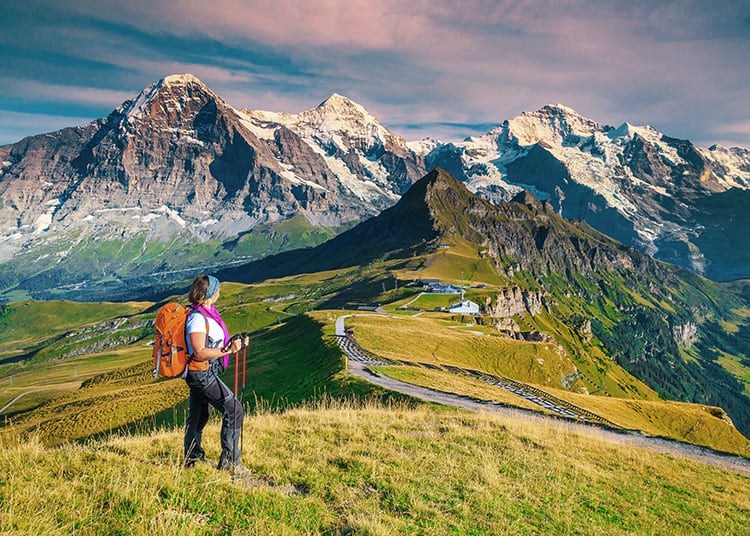 When packing for a trip to Switzerland in June, one of the most important factors is to consider the June weather in Switzerland to help decide what to wear and to ensure you have the best time.
Packing layers is key to staying comfortable throughout your trip due to the warmer temperatures that start in June.

For women, it's best to pack items such as light summer dresses and shorts for days when the weather gets warm; but also bring along jeans and long-sleeved tops for those cooler days.
Don't forget a cardigan or light jacket for evenings. And, of course – you can never go wrong with a classic raincoat!
If you are visiting during this time of year for hiking or outdoor activities, make sure you have some sporty clothing as well as sturdy shoes.

Men should bring along shorts and t-shirts that can be worn in layers in order to adjust easily to changing temperatures. Jeans or pants are also necessary for both warmth and style.
As with women's fashion, men should definitely not forget a light jacket or jumper along with some comfortable shoes.
For more adventurous activities like hiking, it is important that men have appropriate outdoor wear such as breathable running clothes and sturdy hiking boots.

No matter where you plan on going during your stay in Switzerland in June, whether it be city sightseeing, mountain hikes, or lake exploration, by taking these tips into account while packing ahead of time, you will be sure to be prepared no matter the weather!
If you are planning on venturing to the Alps in June, it's important to pack clothes that are warm and waterproof.
Layer up with items like a lightweight fleece, a waterproof windbreaker, or an insulated vest. Choose breathable fabrics and comfortable shoes for long days of walking.
Don't forget sunglasses, sunscreen, and a hat for your trip as you can get sunburned easily at high altitudes or even when out and about in the city or hiking the trails!
---
Visiting Switzerland in June: FAQs
Here are some answers to some of the most commonly asked questions about Switzerland in June.
1. Is June a good month to visit Switzerland?
June is a great month to visit Switzerland! The weather is warm and sunny, ideal for long hikes in the Swiss Alps or exploring the beautiful Switzerland cities.

June is also the start of the tourist season, so prices are relatively low and attractions are open compared to the peak summer season.

Plus, it's usually dry and bright, making it easy to take in all of Switzerland's beauty without worrying about rain.
2. Is it cold in Switzerland in June?
Switzerland is known for its cold and snowy winters and is loved by many winter sports enthusiasts, but don't let that fool you!

June in Switzerland is actually quite pleasant, with the average high temperature ranging from the mid 40s to 60s Fahrenheit.

There's a lot of sunshine in June making it an ideal summer vacation spot for those who want to avoid the heat.
3. Do the Swiss Alps have snow in June?
Yes, the Swiss Alps do have snow in June. While it's usually not as plentiful as in winter months, the higher elevations of the Alps may still have a small amount of snow covering.
4. Is Switzerland better in June or July?
Switzerland is best visited in June as the temperatures are mild and cooler than in July. This makes it more enjoyable for outdoor activities like hiking and sightseeing.

June is not high season, so you can expect fewer crowds and better prices on accommodation.
5. Is Zurich hot in June?
It doesn't get extremely hot, but the occasional very warm days can reach up to 28°C (82°F), so if you're planning a trip, it's worth remembering to bring shorts and light clothing.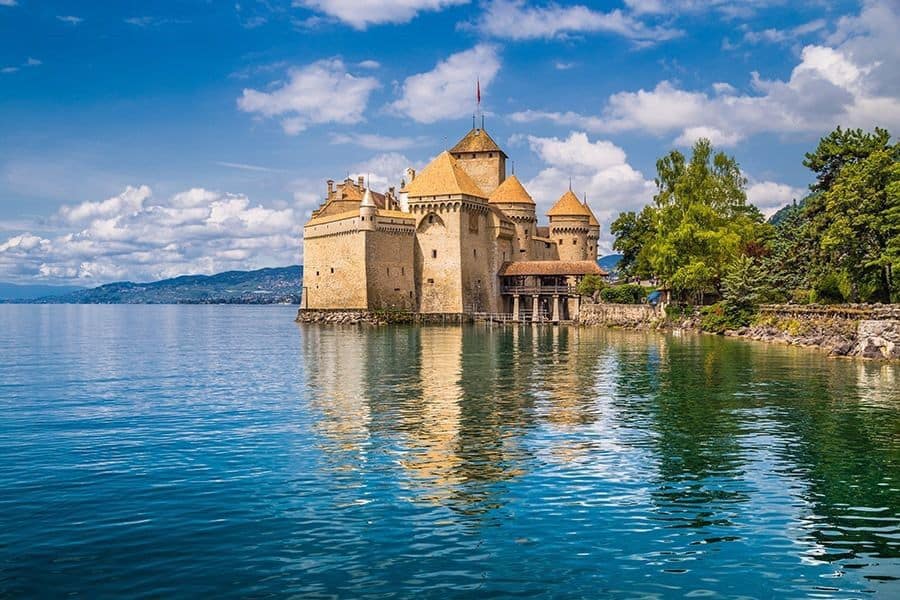 6. How many hours of daylight does Switzerland get in June?
Switzerland enjoys long summer days in June, with the average day seeing roughly 15 daylight hours.

Sunrise occurs around 5:30 am and sunset is usually at 8:30 pm, giving plenty of time to explore the many stunning natural wonders that Switzerland has to offer.
7. Can you swim in Switzerland in June?
Yes, you can swim in Switzerland in June! The lakes and pools reach temperatures of up to 25°C during the summer months, making them perfect for water activities.

Plus, there are plenty of picturesque beaches on the banks of Lake Geneva and other beautiful spots for swimming. So don't forget your swimming gear when you travel to Switzerland in June!
8. What season is June in Switzerland?
June in Switzerland is the beginning of summer, with temperatures ranging from mild to hot. The days are bright and sunny, making it a great time for outdoor activities such as hiking or biking.

Evenings can still be cool so don't forget a jacket!
9. What is the humidity in Switzerland in June?
June in Switzerland has a moderate humidity, ranging between 50-70%, depending on the region.

Regions in northern Switzerland generally have higher humidities than regions in southern Switzerland. This is because of the greater influence of nearby mountains and the Mediterranean climate.

Humidity in June usually remains comfortable due to a large number of sunny days and pleasant temperatures.
10. Is June a good time to hike in Switzerland?
June is an ideal time to go hiking in Switzerland, with long days and mild temperatures making it perfect for exploring the breathtaking alpine scenery.

The hiking trails tend to be quieter than at other times of the year.
---
Final Thoughts: Traveling to Switzerland in June
Switzerland in June is a fantastic time for travelers of all ages – we know this from experience!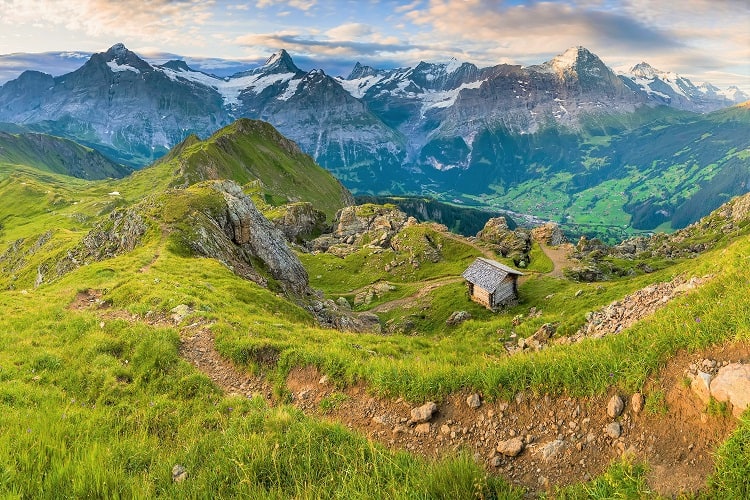 Our family thoroughly enjoyed our trip to Switzerland, with visits to the iconic Zermatt, the bustling city of Zurich, and Lugano near the Italian border.
The scenery was breathtaking and we found something interesting around every corner.

We'd highly recommend making Switzerland your next June holiday destination; you won't be disappointed!
And we hope that is post has helped you put together your Switzerland travel plans.
With its stunning natural beauty, friendly locals, and plenty of activities for everyone it's sure to become one of your favourite memories.