Switzerland is undoubtedly one of the most beautiful countries in the world.
With its breathtaking mountains, crystal-clear lakes, charming villages, and stunning architecture, this Alpine wonderland is a feast for your senses.
But, with so much beauty comes the desire to know: Why is Switzerland so beautiful? Wonder no more.
We'll explore why Switzerland is such a stunner and what makes it one of Europe's most popular destinations.
From spectacular, rugged mountains to outstanding architecture across Swiss cities, let's embrace all that makes Switzerland a lovely country.
7 Reasons Why Switzerland Is So Beautiful (The Most Scenic Places in Switzerland)
One of the reasons why you should visit Switzerland is because it is one of the prettiest countries in the world.
It's hard to pinpoint the most scenic places in Switzerland. It's hard to pinpoint the most scenic places in Switzerland.
However, critical aspects of the country's landscape, nature, and buildings make it, unlike any other place on Earth.
1. Stunning Mountains
One of the most iconic features of Switzerland is its majestic mountains. With the Swiss Alps covering more than 60% of the country, it's no surprise that its statuesque mountains draw you in.
The snow-capped peaks and rugged terrain make for some of the world's most spectacular views and climbs. And the best time to see them covered in snow is December in Switzerland and even January!
Whether hiking, skiing or just taking in the breathtaking scenery, you're in for a treat. You should check out the Matterhorn; it's one of the most beautiful mountains in Switzerland.
Interesting fact: The Matterhorn is the iconic mountain you see on the Toblerone chocolate bar.
2. Pristine Lakes
Switzerland is also home to some of the most beautiful lakes in the world. The Switzerland weather in June is the perfect time to experience the many lakes.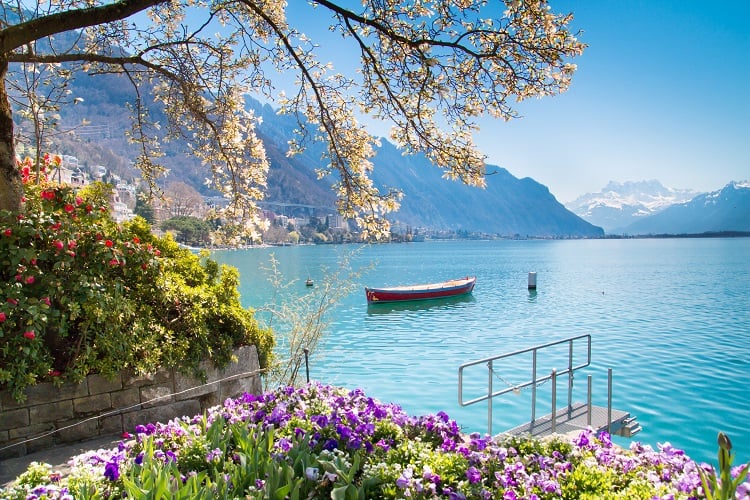 The picturesque mountains mentioned earlier surround the pristine waters of Lake Geneva, Lake Zurich, and Lake Lucerne, offering some of the best Switzerland views you can get.
Whether you're taking a boat tour, going for a leisurely swim, or just relaxing by the calm shores, Switzerland's lakes are a must-visit destination.
Tip: Click here to book your panoramic yacht tour in Lucerne to enjoy a boat tour of its calm, blue waters.
Want to see all three of those lakes in one itinerary? Our Switzerland for 5-days itinerary includes visits to all three of those lakes.
3. Deep Valleys
Switzerland is not just about mountains and lakes but also about the valleys between them. The Lauterbrunnen Valley, for example, is one of the most beautiful valleys in Switzerland.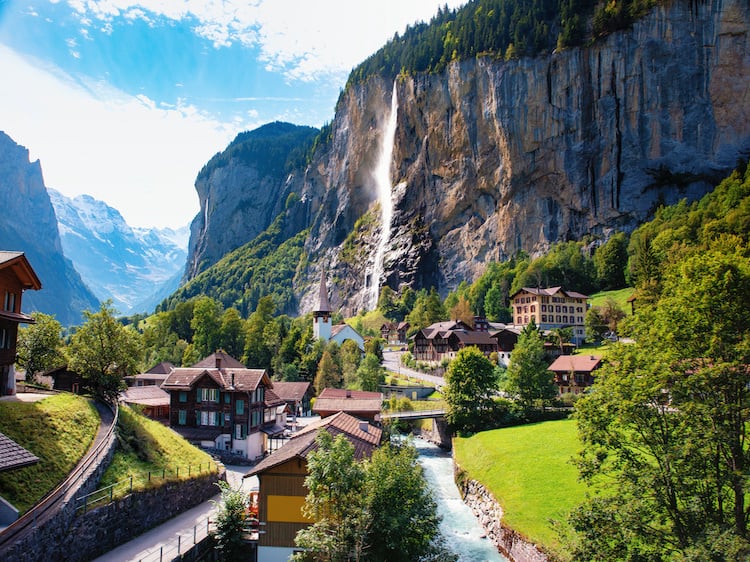 With its cascading waterfalls, verdant fields, and quaint villages, you can't help but fall in love with the area, especially if you're a nature lover.
The Engadin Valley, on the other hand, is located in the Graubünden Canton and is known for its stunning mountain vistas and crystal-clear lakes.
Engadin Valley is also perfect for skiing and snowboarding, so you'll have fun in this snow paradise.
You know, when you hear (or read) "deep valleys," you may think of something negative because it reminds one of life's adversities.
But that's not the case here. In fact, the only negative thing you could come up with is leaving behind the bountiful beauty when you depart to other scenic Switzerland sites.
Tip: Check out what is the best time (season and month) visit Switzerland.
4. Awe-Inspiring Views
Regarding views, Switzerland has some of the best in the world.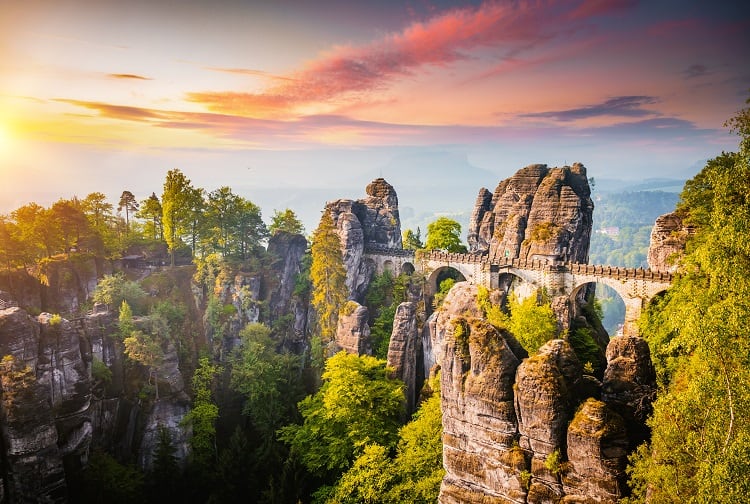 You could be taking in panoramic views from a mountain peak or admiring the cityscapes from a rooftop terrace; Switzerland has a view for every taste.
Undoubtedly one of the best views in Switzerland is from the Matterhorn, one of the most iconic mountains in the world.
The view from the top is nothing short of breathtaking, and it's no wonder why so many people flock to Switzerland to see it.
5. Prettiest Village
Switzerland is also home to some of the prettiest villages in the world. For example, the mountain village of Grindelwald enchants you with its storybook charm.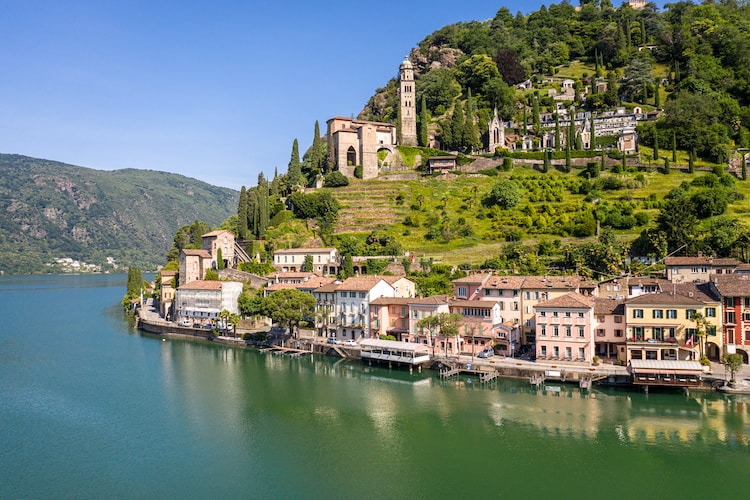 The village is so pretty; it looks like it's straight out of a children's novel or postcard.
With its quaint chalets, flower-filled balconies, and stunning views of the surrounding mountains, Grindelwald offers you the crème de la crème concerning Swiss scenery.
Not only is Grindelwald the most beautiful village in Switzerland, but it's also one of the prettiest places in Switzerland.
This is a dreamy place to escape your city's hustle and bustle with the kids.
Tip: Traveling with family for a much-needed break from the hustle and bustle of life? Check out our guide to planning a great family vacation.
6. Prettiest City
Look: we're not trying to start World War III. But we'll try to be neutral here, which is one of many things Switzerland is known for.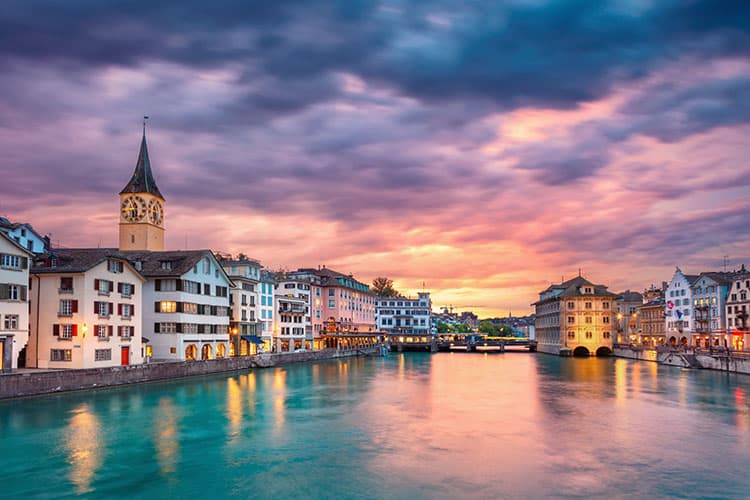 When it comes to the prettiest city in Switzerland, it's hard to pick just one. But if you really need to know, it's Lucerne.
You'll find its stunning location on Lake Lucerne, surrounded by the majestic Swiss Alps. It provides you with a picture-perfect backdrop of the city's beautiful medieval architecture.
It's no doubt Lucerne is home to arguably the best scenery in Switzerland. Other cities are gorgeous, but Lucerne outshines them all.
7. Ground-breaking Architecture
Switzerland's architecture is renowned for its beauty, precision (must be that German influence), and functionality.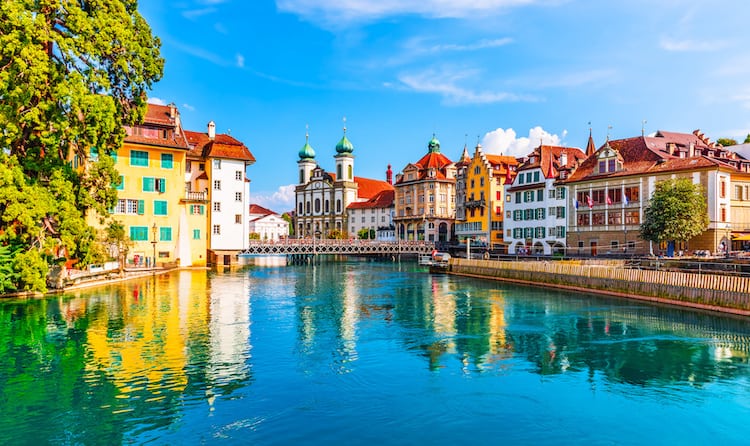 From medieval castles to modernist buildings, Swiss architects have perfected the art of blending aesthetics and practicality.
The use of high-quality materials like wood and stone, and the attention to detail, add to the charm of Swiss buildings that you can't help but be swoon by.
With many cities like Zurich and Geneva undergoing architectural modernization, the new designs are a blend of traditional elements and contemporary aesthetics, showcasing the country's commitment to preserving its rich cultural heritage while moving forward into the future.
Switzerland's architecture is a testament to the country's commitment to quality and excellence in all aspects of life.
FAQs:
Which Part of Switzerland is the Most Beautiful?
Ooh, that's a tough one. That's like asking an ice cream lover which ice cream flavor's their favorite!
But honestly, it's a tossup between the mountainous Jungfrau region and the picturesque Lucerne area.
Is Switzerland the Prettiest Country?
This is another tough question. While Switzerland is undoubtedly a stunning country, beauty (or pretty, in this instance) is in the eye of the beholder.
What is so Special About Switzerland?
Apart from its otherworldly beauty, Switzerland's combination of natural beauty, political and economic stability, general prosperity, and high standards of living make it a rather special and unique country.
Final Thoughts on Beautiful Switzerland
There's no doubt that Switzerland is a country of unparalleled beauty and natural wonders. But it's something you must see for yourself (no pressure).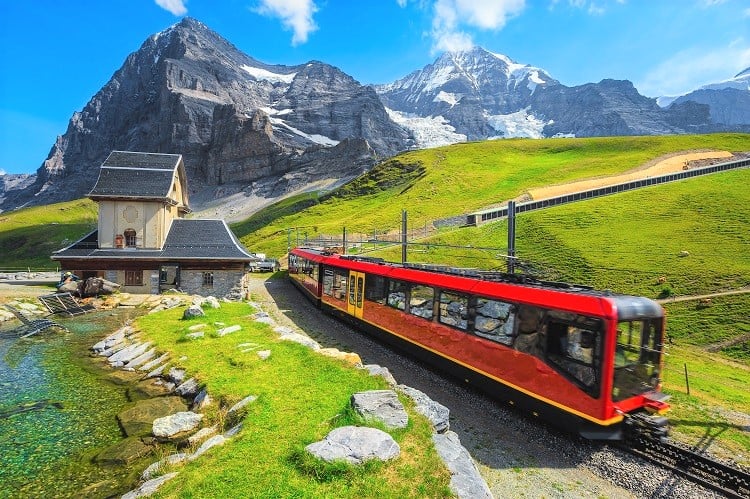 From its stunning mountains to the crystal-clear lakes, the beautifully charming villages to the elegant cities, Switzerland has something for everyone—including you.
Further Reading
If you'd like to take up our suggestion of seeing Switzerland in all its grandeur, why not read our complete Switzerland travel guide to prepare for your trip to Switzerland? Seeing is believing, after all.
Check out some of our other blog posts about Switzerland: