Have you been wondering about visiting Switzerland in December? I've got you covered!
Switzerland is a beautiful country, nestled high in the Alps and home to breathtaking views of snow-capped mountains.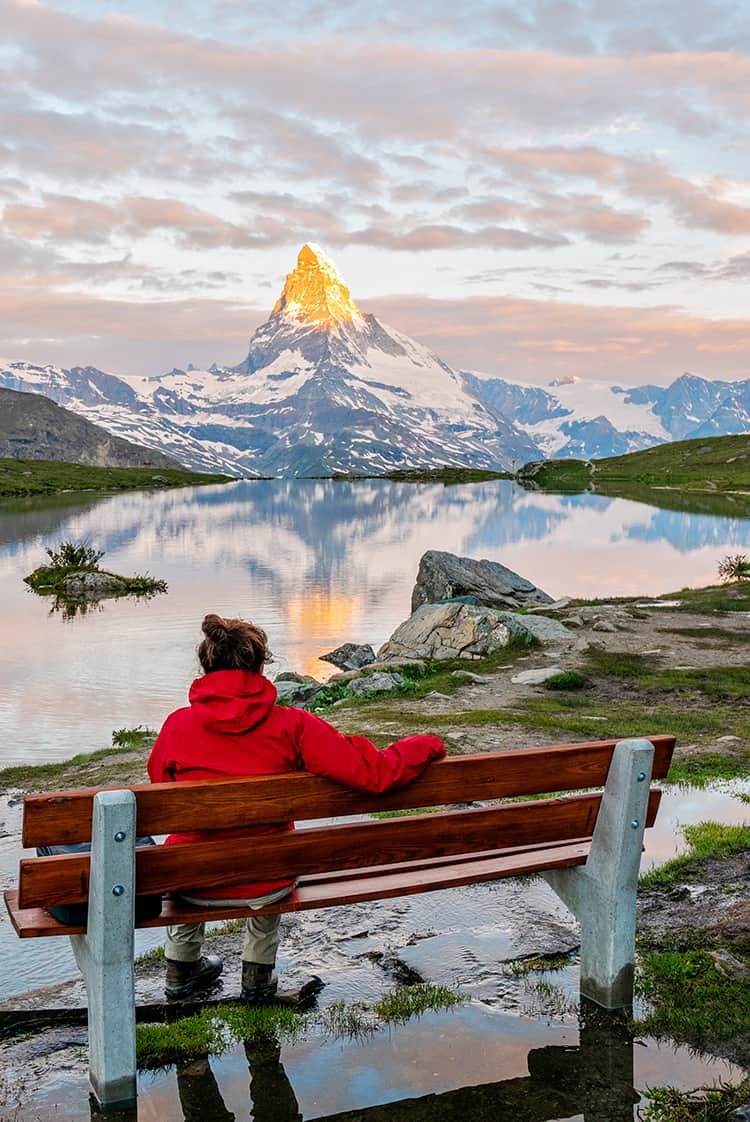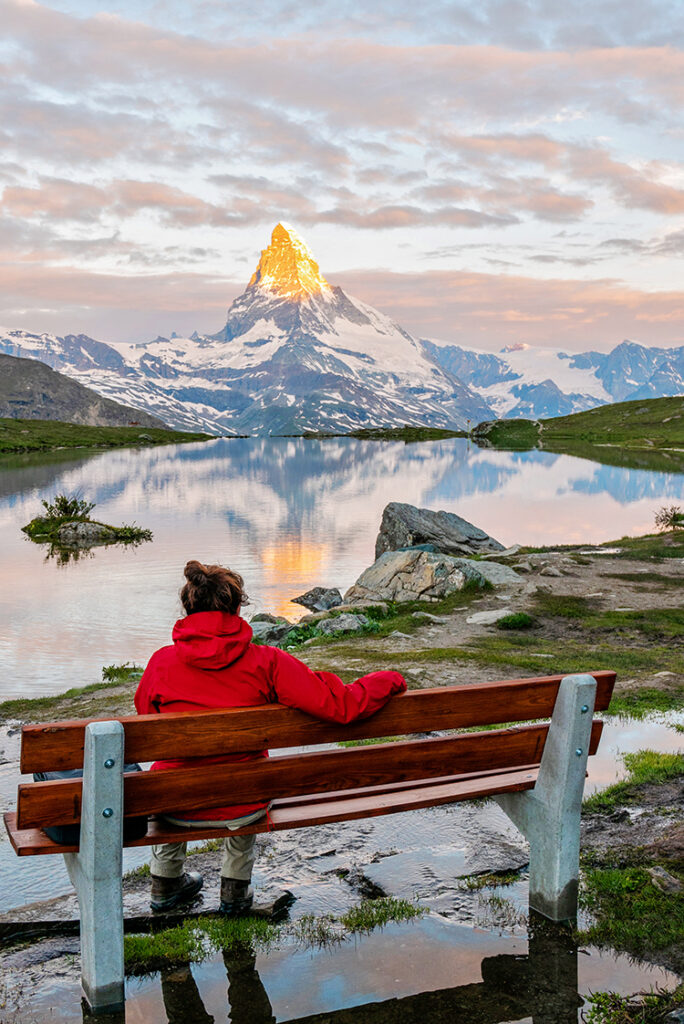 During the winter months, Switzerland is especially magical with plenty of winter activities like skiing and snowboarding on offer, as well as charming Christmas markets to explore.
Whether you're looking for a cozy ski resort or an exciting city break, Switzerland has something for everyone in December.

At Wanderlust Storytellers, we believe that your travel experience should be unique and tailored to you.
In this complete guide to visiting Switzerland in December, we have even included our selection of the best cities in Switzerland and Christmas markets in Switzerland in December!
So if you need help to plan a trip to Switzerland be sure to read on to learn more about this incredible place and find out why it just might be the perfect destination for your winter getaway!
Typical Weather in Switzerland in December
You may be wondering if December is the best time to visit Switzerland.
The month of December is the start of Winter in Switzerland which means that the weather in Switzerland is usually cold and wet.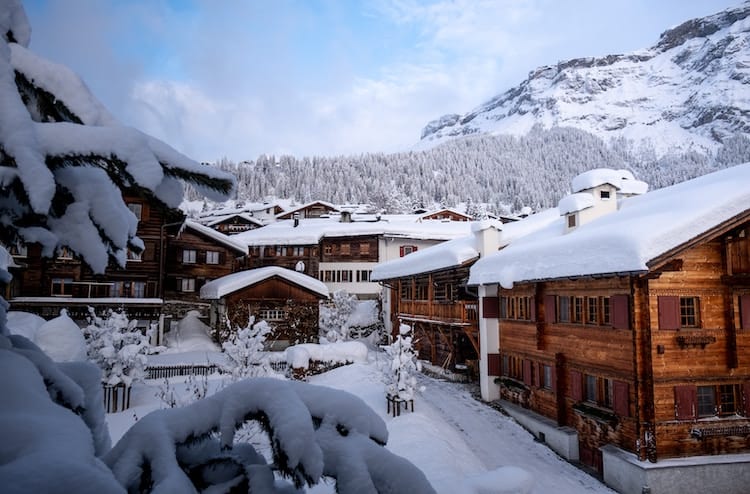 Days are short and temperatures rarely rise above 10°C (50°F). Heavy snow in cities and towns is uncommon but higher areas such as the Alps will receive some snowfall, making it suitable for skiing and other winter activities.
On a typical day, you can expect cloudy skies, temperatures around 2-3°C (35-37°F) during the day, and possibly some rain or snowfall.
The sun will be out for a few hours a day, but most of the daylight hours will have cloud cover.
Does It Snow in Switzerland in December?
Switzerland is a beautiful country known for its mountain-filled landscape and snow-white peaks.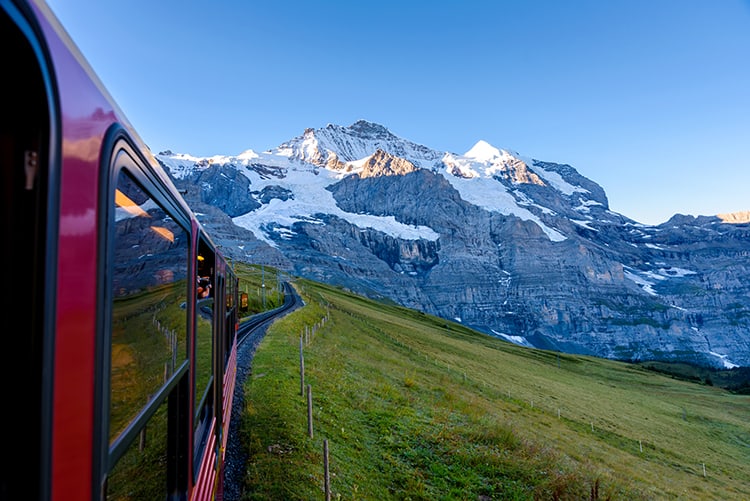 The amount of snowfall varies depending on altitude but generally, you can expect to see plenty of powdery white snow throughout the season.
Average Switzerland Temperatures in December
Temperatures in December can drop as low as -20°C during the night, with an average temperature of 4°C during the day.
The lowland cities and towns in Switzerland experience mild temperatures compared to the higher elevations, which are much cooler.
For example, Zurich, located at an altitude of 407 m (1337 ft) has an average high temperature of 14°C and an average low of 6°C in December.
If you travel just a few kilometers up into the Alps mountains, temperatures drop significantly. In Zermatt for instance (located at 1605m or 5268ft), December's average high temperature drops to 0°C, and its average low dips to -6°C.
As you continue to climb even higher into Switzerland's alpine regions, temperatures get even colder!
---
Christmas in Switzerland
Just like Like everywhere else in the world, Switzerland's Christmas is on December 25.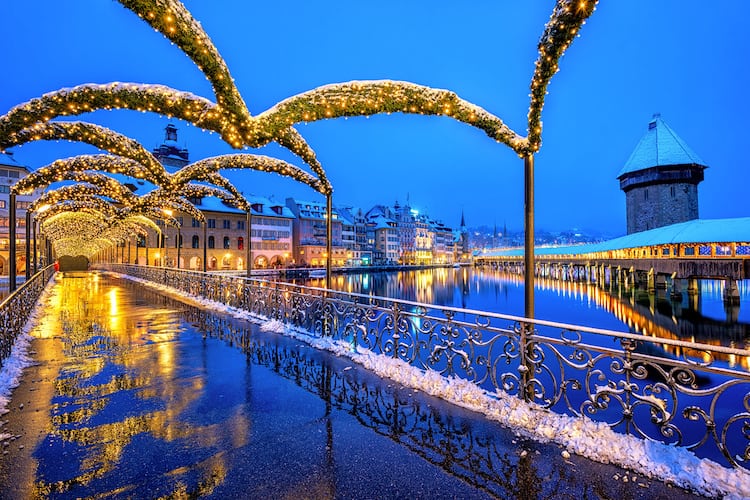 However, for the Swiss, the main Christmas celebration takes place on December 24, known as Heiliger Abend.
Heiliger Abend: December 24
Heiliger Abend, or Christmas Eve in Switzerland, is a time for celebrating with loved ones.
The decorated Christmas tree, often freshly cut by hand, remains hidden until after dinner and is then revealed, adorned with apples, bells, snowflakes, and festive sugar cookies.
Many families still light candles on the tree, creating a memorable moment.
The Nativity story is retold, followed by singing the favorite alpine Christmas carol, "Stille Nacht". The night ends with the excitement of hunting for hidden presents, which are usually simple and practical gifts.
It is also common to attend Midnight Mass, filled with joyful bell ringing and carol singing.
Christmas Day: December 25
On December 25th, families gather around the Christmas tree for more gift exchanges.
In Switzerland, Christmas Day marks the start of the winter sports season when many families will head to local ski resorts or mountain chalets to enjoy tobogganing, skiing, ice skating, Nordic skiing, and bobsledding!
The chilly day of winter sports ends with a traditional Swiss dinner of fondue or raclette.
What to Expect if You Are Visiting Switzerland for Christmas
Visiting Switzerland for Christmas would be a holiday of a lifetime. The country is renowned for its winter wonderland, with festive decorations and plenty of activities to do in the snow.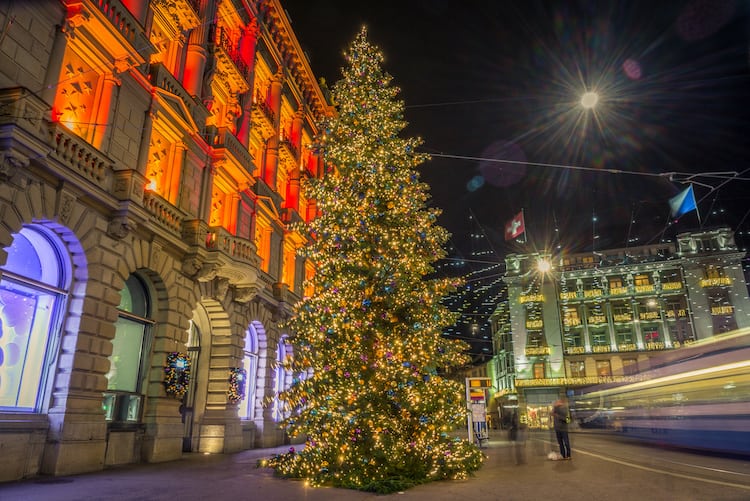 The Christmas Markets are one of the most popular traditions that draw people in from all over the world. Think wooden chalets selling traditional wares, festive treats, and mulled wine.
There's usually an ice rink and local carolers singing traditional songs, as well as parades through town centers.
To make sure you get to experience the best of Alpine Christmas celebrations, head to one of Switzerland's many mountain towns like Jungfrau Region or Zermatt which are particularly stunning at this time of year.
You'll find more magical decorations, gorgeous views from the peaks, and lots of opportunities for skiing and snow sports in resorts like Leukerbad or Gstaad.
10 Best Christmas Markets in Switzerland
If you are heading to Switzerland in December visiting a Christmas market is a must!
With so many winter wonderland towns in Switzerland in December you are spoilt for choice and every market will be magical.
Below we have 10 of the best Christmas Markets in Switzerland to help you decide where to visit in Switzerland in December. Most markets start from mid to late November and last into January.
1. Barfüsserplatz and Münsterplatz Market in Basel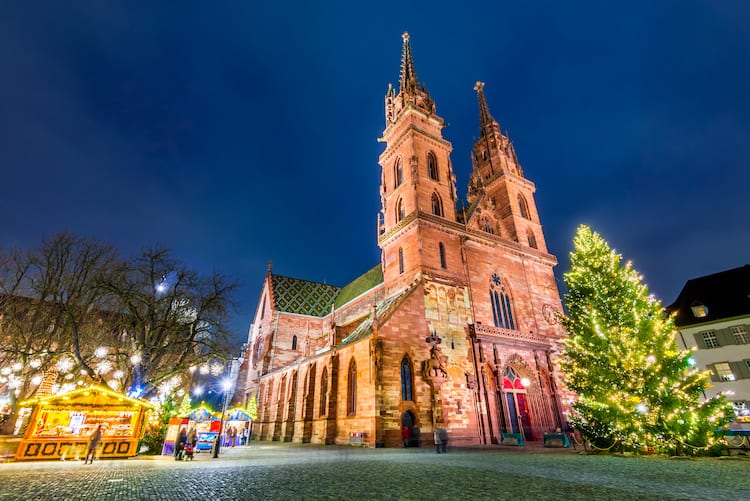 Located in front of the historical cathedral of Basel, this Christmas market is considered to be the largest and prettiest Christmas market in Switzerland.
The Basel Christmas Market is a great opportunity to explore and experience the history and culture of Switzerland. With more than 150 traditional wooden stalls, visitors can shop for handmade Christmas decorations, local delicacies, and toys.
2. Weihnachtsmarkt in St. Gallen
The St. Gallen's Christmas market offers an assortment of handmade crafts ranging from wooden toys, and silk scarves to colorful lanterns which can all be found within the city's beautiful Baroque Cathedral Square.
Visitors can also enjoy mulled wine along with some delicious local treats while listening to live music performances throughout the night.
3. Montreux Noël Christmas Market
Located at the foot of the majestic Alps on Lake Geneva, Montreaux's enchanting Christmas village features specially lit and decorated wooden chalets.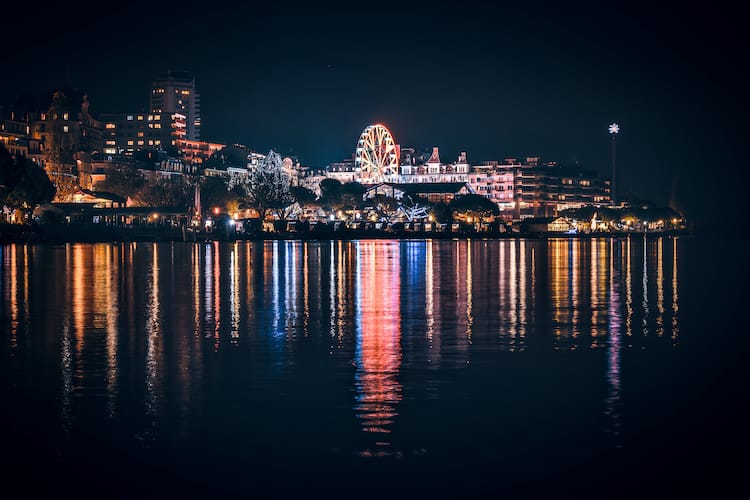 Meet Santa Claus at his house atop Rochers-de-Naye mountain, explore crafts and countless gift ideas at Christmas Market stalls along the lakeside promenade, or celebrate Christmas at the legendary Chillon Castle.
4. Chur Weihnachtsmarkt
Located in eastern Switzerland's lovely old town centre it is one of the biggest markets in Switzerland with over 150 stands.
Here you can find all kinds of souvenirs or Swiss cheese specialties as well as traditional beauty and decorations like snow globes or candles made from beeswax in their stalls lining up along Main Street and Old Town Hall Square.
5. Rudolf's Christmas Spectacle
This picturesque city on Lake Lucerne holds a variety of markets with craft stalls selling hand-made gifts such as wood carvings, pottery, glassware, jewelry, and more during this festive time of year.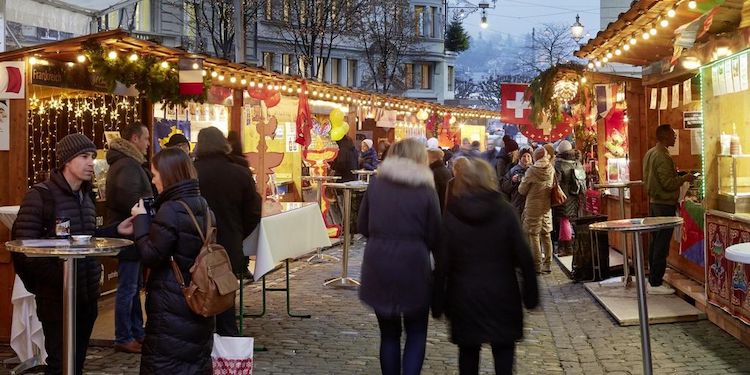 Visitors can also enjoy a romantic ride around town on horse-drawn carriages to enjoy its mesmerizing views.
6. Christkindli Market in Appenzell
This charming country-style Christmas market located in Appenzell offers shoppers a chance to purchase homemade gifts or try out some regional dishes while taking part in their festive activities throughout December such as ice skating shows or visits with Santa Claus himself!
This Christmas market is only on the second Sunday of December so be sure to visit this one if you are in the area around this date!
7. Christmas Markets in Bern
Bern boasts three main Christmas markets and three smaller events scattered across the city.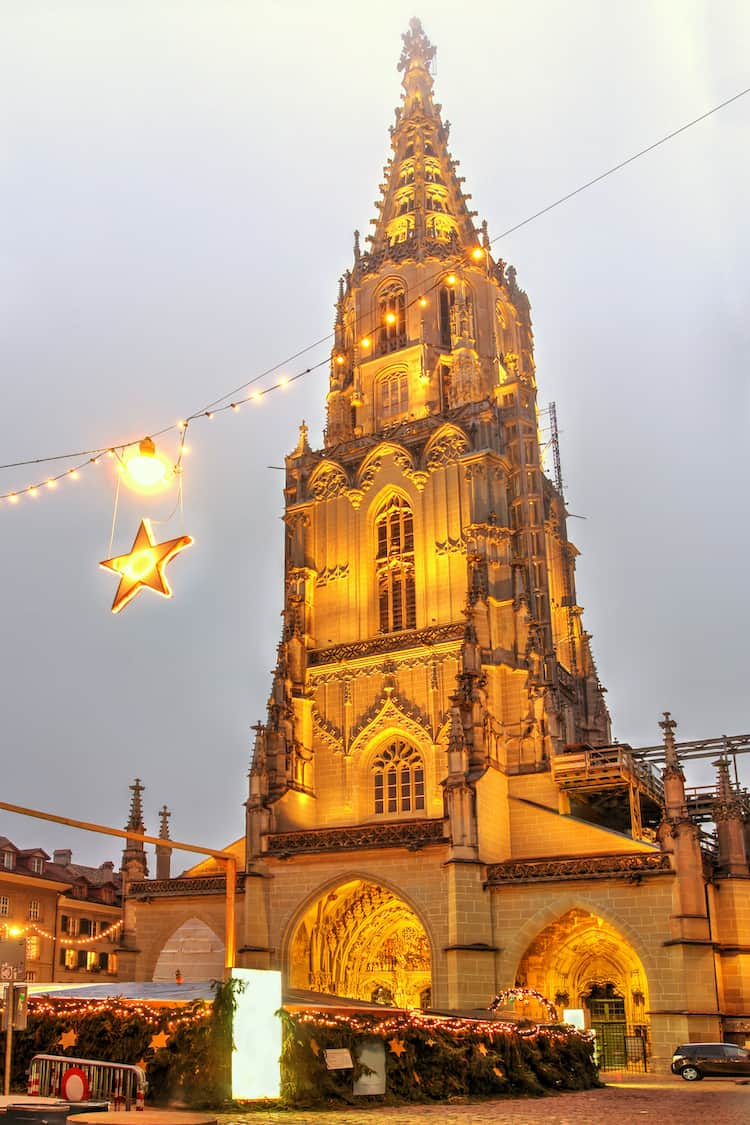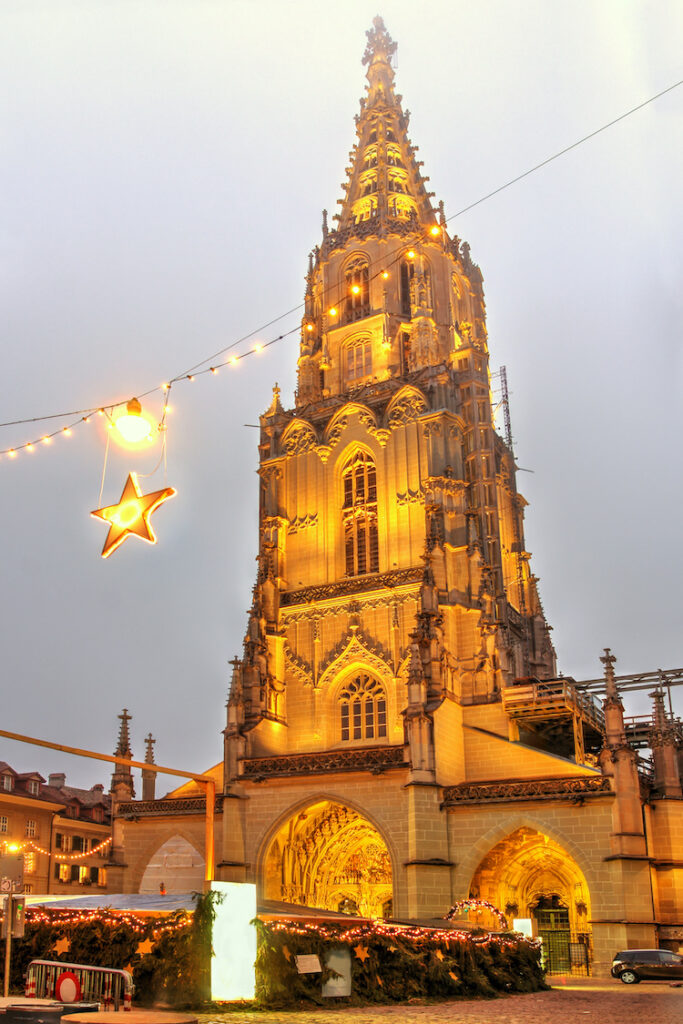 For a traditional experience, visit Waisenhausplatz Christmas Market. For a popular option, check out the main market in front of Bern Minster.
And for an upmarket, designer village-style market, head to Berner Sternenmarkt.
Each market has varying opening dates and times, running from November 23rd to December 29th, 2023 (closed on Christmas Day).
With over 80 vendors selling everything from paintings and hand-knit sweaters to jewelry and confectionary among other things.
8. Weihnachtsmarkt in Zurich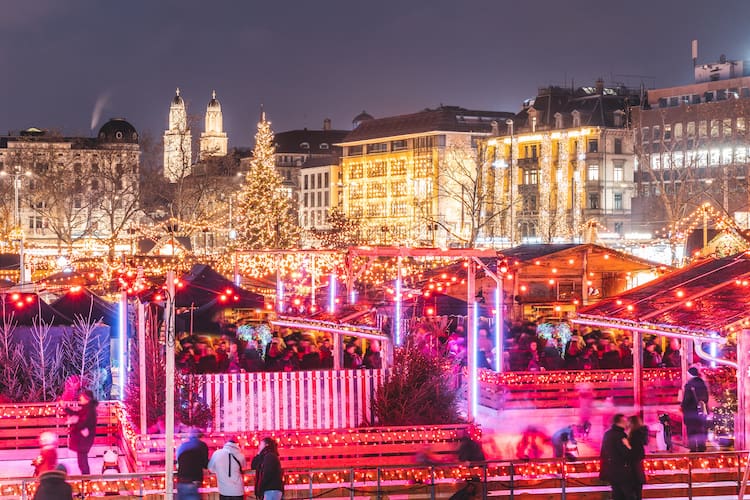 Zurich offers a variety of Christmas markets to suit every taste. Enchanting gift options await visitors at beautifully decorated stands.
Whether it's the oldest market in the Old Town, the urban "Wienachtsdorf" Christmas village near Bellevue, or the Christkindlimarkt next to the sparkling 15-meter Christmas tree at Zurich Main Train Station, there's something for everyone.
The Christmas markets in Zurich and the surrounding Lake Zurich region are inviting and diverse, ensuring each visitor finds their favorite spot.
9. Zermatt
This world-renowned ski resort that sits at the foot of Mt Matterhorn hosts one spectacular Christmas village with over 100 stalls featuring food specialties from across Europe such as raclette or roast chestnuts alongside traditional artisans selling crafts by local artists who illustrate alpine traditions each year.
10. Bô Noël Christmas Market in Lausanne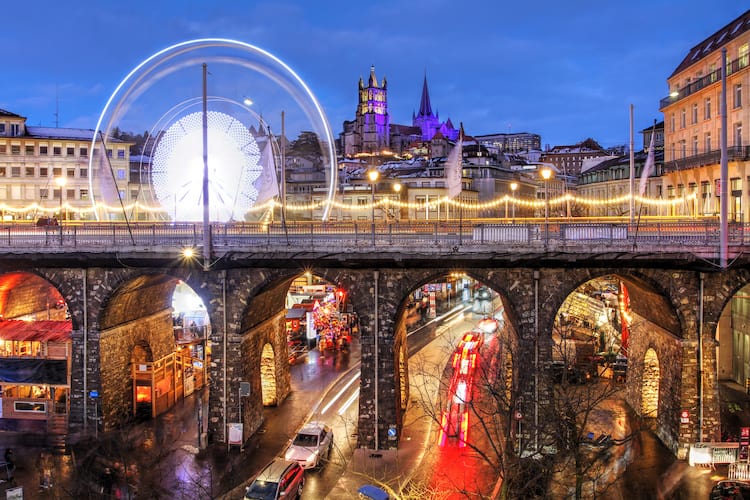 One of the biggest Christmas markets in Switzerland, this picturesque market is located in the city and takes place annually from mid-November to late December.
There are hundreds of stalls full of handmade crafts, festive food and drinks, and a huge selection of decorations for sale.
10 Best Places to Visit in Switzerland in December
Wondering where to visit in Switzerland in December or what are the best villages in Switzerland?
Below is a list of where to go in Switzerland in December to make sure you get the best Swiss experience in Winter.
1. Zurich in December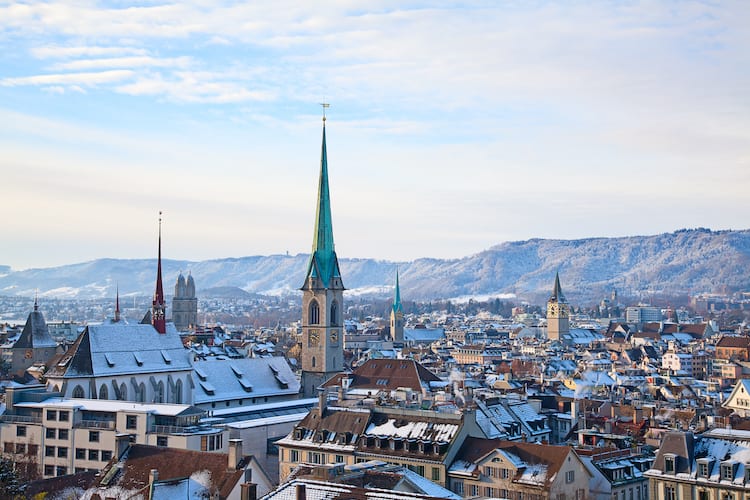 Zurich is a wonderful destination with plenty of winter activities and tours to enjoy in December. Head over to the Old Town for traditional markets, mulled wine stands, and a festive atmosphere that really puts you in the holiday spirit.
Get in the holiday spirit with a festive, private Christmas tour. Explore Zurich's wintertime charm on the Magical White Christmas in Zurich Walking Tour
Finally, don't forget to visit the Swiss National Museum where you can learn about Swiss history and culture.
2. Davos in December
With its crisp white snow and top-notch winter activities Davos is a great place to visit in December.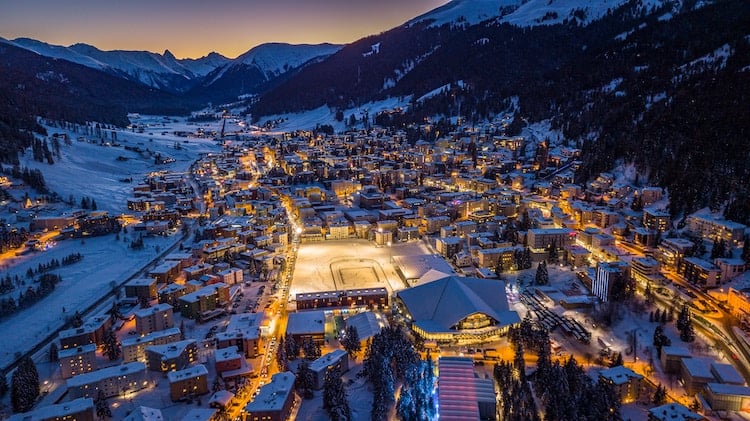 One of the best things to do in Davos during the winter months is to Explore the city or hit one of the many ski slopes with a private lesson for some winter fun. You may also want to check out the nearby Chalet Oberland for stunning views of Davos and further outdoor adventures.
Be sure to take out travel insurance for Switzerland especially if you will be enjoying the winter sports options!
3. Saint Moritz in December
December in St. Moritz is an amazing time of year. The snow-covered peaks provide some of the best skiing and snowboarding opportunities in the world.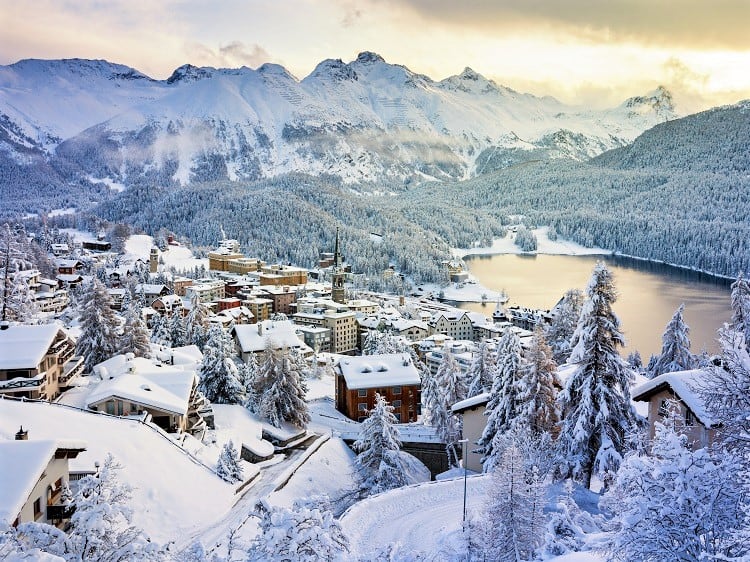 If you're looking for a unique tour experience, there are several companies that offer a guided walking tour through one of the city's oldest neighborhoods.
The tour takes visitors along narrow cobblestone streets with stunning views over Lake Saint Moritz and lets visitors discover why this area has been famed as a winter holiday destination for centuries!
4. Zermatt in December
Zermatt is a charming alpine village nestled at the base of the Matterhorn and it's a great place to visit in December!
The crisp, white snow makes for a beautiful winter wonderland. There are plenty of activities in Zermatt that are perfect for the cold months. One activity you won't want to miss is skiing on one of four ski areas, with 200km of groomed pistes including beginner slopes and challenging black runs.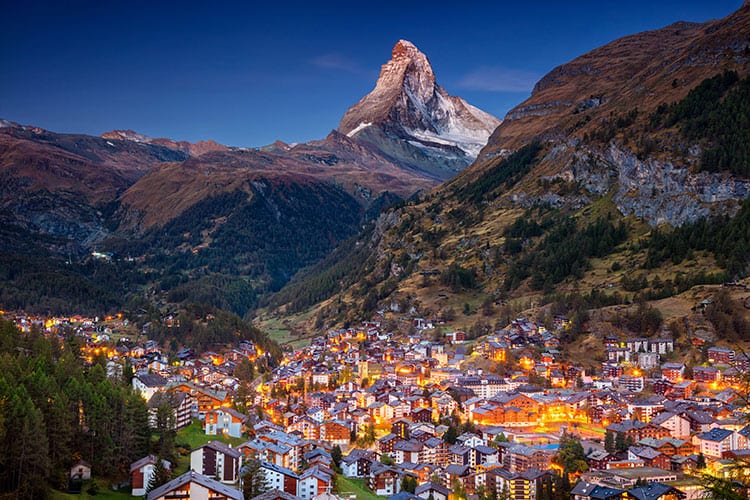 If skiing is not your activity of choice, you can take the cable cars to the Matterhorn Glacier Paradise and enjoy the spectacular views from the viewing platform.
5. Lucerne in December
Lucerne is a beautiful city at any time of the year, but in December it is particularly picturesque. With winter snow blanketing the famous bridges and churches, coupled with the warm glow of holiday lights, this Swiss city takes on a magical atmosphere.
For those looking for fun activities to do while in Lucerne during December, there are plenty of options.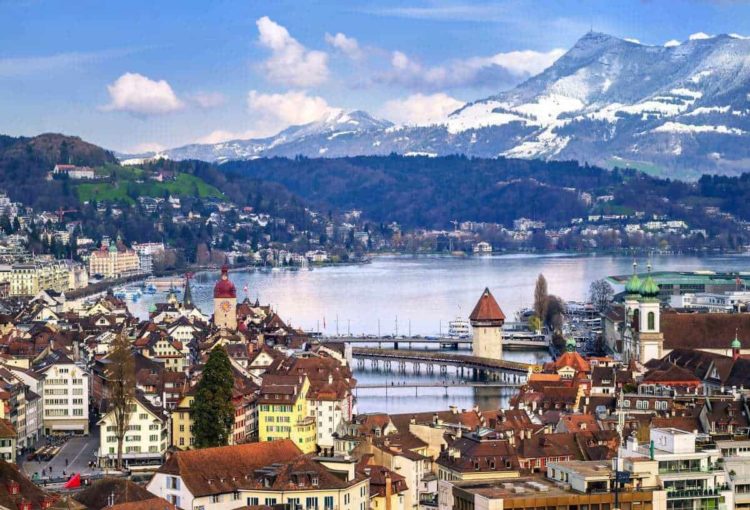 The Christmas market sits nestled between the lakeside promenade and the old town walls and provides great shopping opportunities for souvenirs or decorations for your home.
If you are in Lucerne for a few days be sure to check out our 4-day itinerary from Lucerne.
6. Bern in December
One of the best experiences to have in Bern is a tour of the old town of Bern, taking visitors through centuries-old cobblestone streets and historic buildings.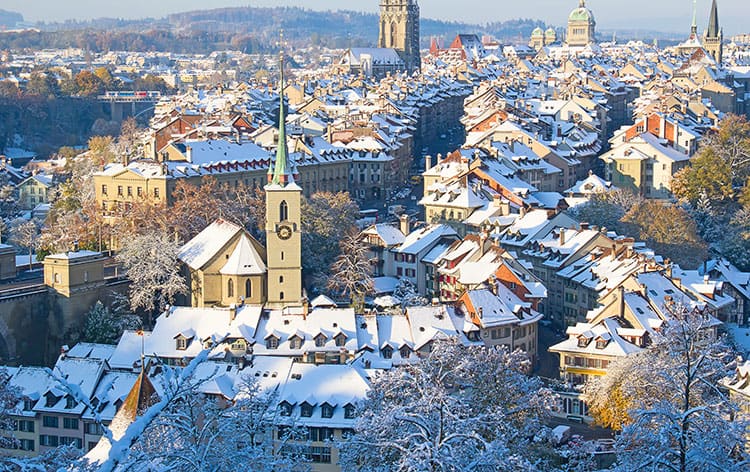 Other popular attractions include exploring the Swiss Alps for skiing or snowshoeing, visiting world-class museums like Kunstmuseum Bern, or simply strolling through major squares like Bundesplatz.
No matter what you choose to do in Bern during December, you'll be sure to find plenty of festive fun!
7. Geneva in December
Geneva in December is an amazing destination for those who want to experience all the winter wonder that the city has to offer. Other great things to do include taking a boat ride on Lake Geneva or visiting some of the city's impressive museums, such as The International Red Cross and Red Crescent Museum.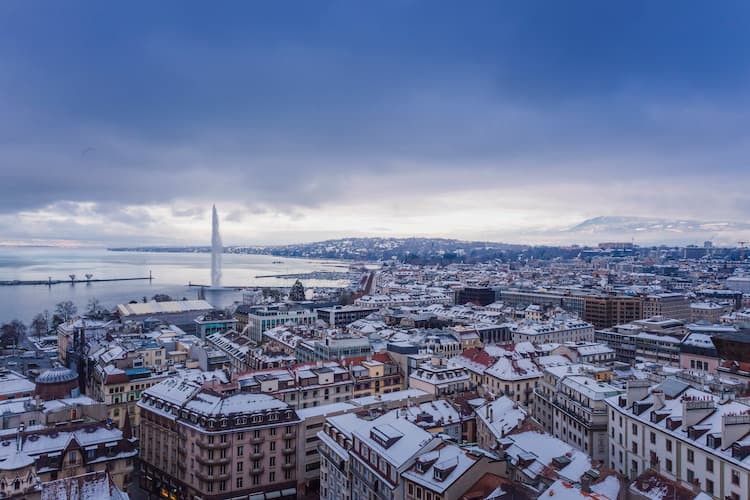 For chocolate lovers, be sure to book the Chocolate Flavors Walking Tour of Geneva and taste your way through award-winning chocolates and pastries!
Looking for more ideas? Here is a 5-day itinerary from Geneva for longer stays!
8. Basel in December
Basel is one of the most exciting and beautiful cities to visit in December.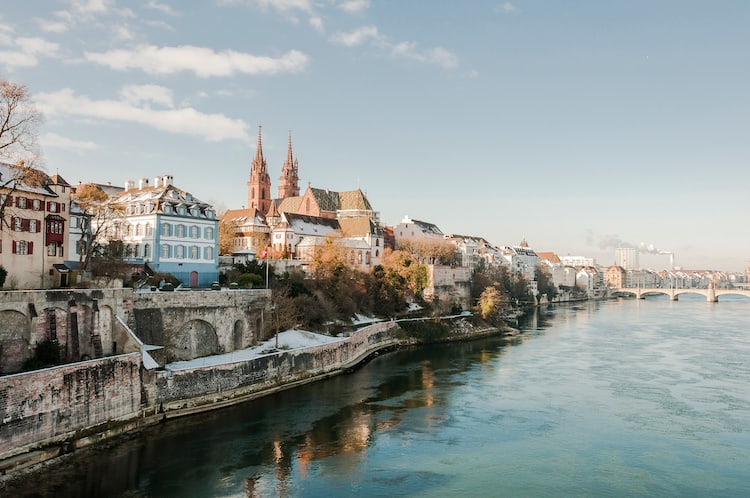 With its incredible art scene, charming old town, and stunning views of the Alps, it's easy to see why this city is such a popular destination.
One of the best things to do in Basel during winter is explore the Christmas markets with a guided tour. The Christmas markets here are full of unique decorations, tasty treats, and handmade gifts that make for an unforgettable experience. Many tours will also include stops at local bakeries and historic churches like Grossmunster.
9. The Jungfrau Region in December
In the Jungfrau region of Switzerland, December is an ideal time to explore the magical winter wonderland and its numerous activities.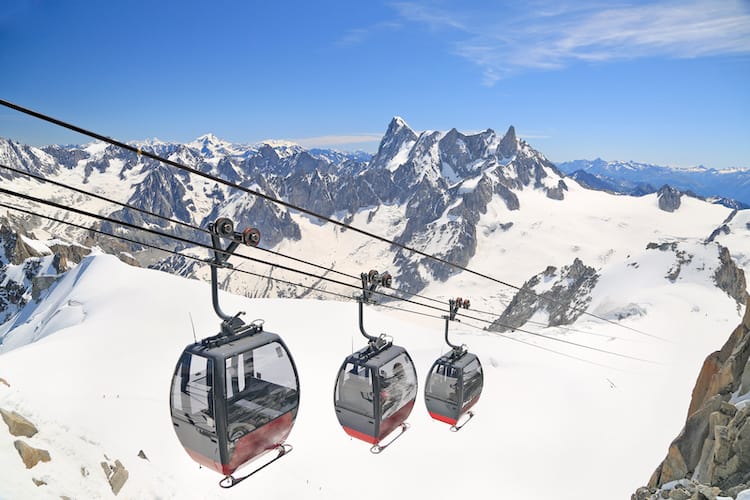 Take a cable car ride to Schilthorn and enjoy the stunning views of the Swiss Alps. For those looking for something more adventurous, try snowshoeing from Interlaken to explore the peaks and valleys of the Swiss Alps or on a snow sled Winter Alpine adventure in the nearby mountains.
10. Engelberg in December
Engelberg is an amazing destination for winter adventurers. In December, visitors can enjoy a range of activities in the Swiss Alps, including skiing and snowboarding down the slopes of Mount Titlis.
For those looking for a unique experience, there are organized tours that provide a chance to explore Engelberg's crystal-clear mountain lakes and stunning views.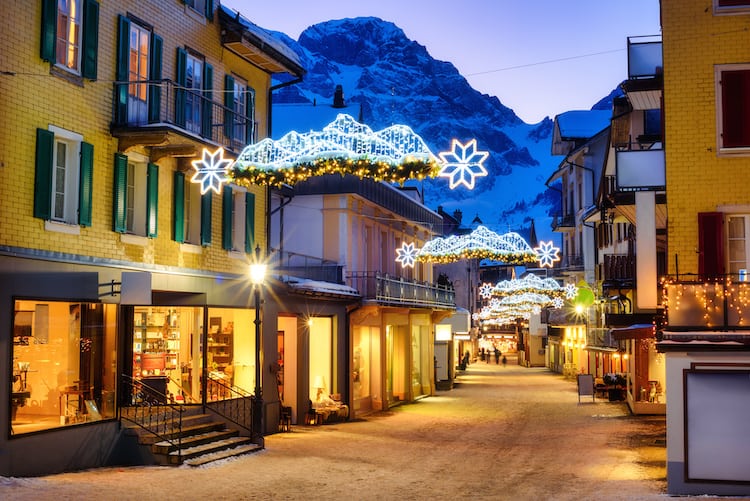 The town also boasts plenty of cozy restaurants and cafés with traditional Swiss dishes.
There are so many beautiful places in Switzerland to visit and if you want as many as possible we recommend that you rent a car in Switzerland to get around!
What to Wear in Switzerland in December
When traveling to Switzerland in December, make sure to bring warm layers that you can easily mix and match.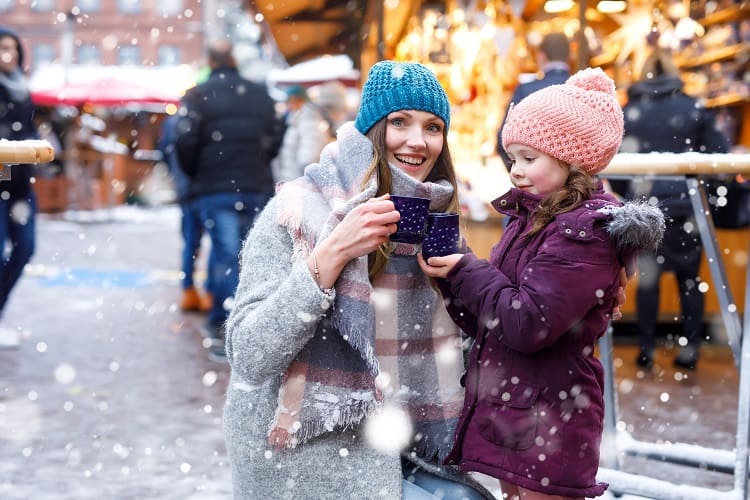 Men and women should pack sweaters, a good coat or heavy jacket, and some long trousers or jeans.
If you are heading to the slopes to ski, a good ski jacket, trousers and gloves is a must.
Make sure to also pack in comfortable shoes for navigating the hilly cities when you are out and about exploring.
For women, if you pack dresses or skirts, a good pair of thick tights is definitely one item you should not travel without!
Don't forget your scarf and hat as temperatures can drop quite low! A good pair of gloves is also great for keep the hands warm.
FAQs About Visiting Switzerland in December: FAQs
Here are some answers to some of the most commonly asked questions about Switzerland in December
1. Is December a good time to go to Switzerland?
Yes, December is a great time to visit Switzerland for anyone looking for outdoor fun or cozy winter vibes!

It also features as one of the best cities to visit in Europe in December. Known for its breathtaking mountain views, crisp air, and winter activities like skiing, snowshoeing, and sledding, it's the perfect time of year for adventure seekers.

Plus, as the holiday season approaches, there are plenty of charming Christmas markets to explore.
2. What is the coldest month in Switzerland?
In Switzerland, the lowest temperatures typically happen in December to February, with January being the coldest month. It's also the time when Switzerland experiences the highest snowfall levels.
3. What is the weather like in Zurich at Christmas?
In Zurich, December is winter with an average temperature of 2°C (35F). The highest temperature is 4°C (39F) and the lowest is -1°C (30F). Zurich receives one hour of sunshine per day in December with a constant 60% cloud cover throughout the month.
4. Does Zurich have snow in December?
Yes, Zurich can have snow in December. The city sees an average of 3 inches during the month. It typically starts to snow in November and continues until April.
5. Is Switzerland worth visiting in Christmas?
Absolutely! A Swiss Christmas has its unique charm. With stunning alpine views and the scent of glühwein (mulled wine) filling the air, there's plenty to do and see in Switzerland during the holiday season.

Many cities are decorated with festive lights and markets selling local handmade crafts, so be sure to explore some of them if you visit during this time.

There are also a variety of winter activities such as skiing, sledding, ice skating, or snowshoeing that you can enjoy! No matter what you decide to do, Switzerland is a beautiful place to visit in December.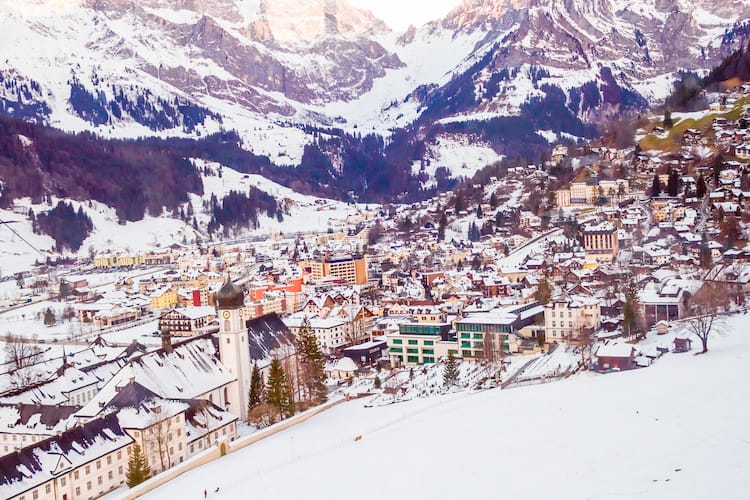 6. Is Switzerland too cold in December?
Switzerland temperature in December can certainly be cold, but there are plenty of activities that you can enjoy despite the weather!

If you are looking for a winter wonderland, consider skiing or snowshoeing through the snowy mountains.

In addition, many cities have beautiful Christmas markets to explore and enjoy the festivities of the season. No matter what your plans are, make sure to pack warm clothing and accessories – temperatures can drop well into the single digits (Celsius) in some areas!
7. What part of Switzerland is best for Christmas?
Christmas in Switzerland is a magical experience. While Zurich and Geneva may come to mind, consider heading to the Alps for an extraordinary holiday season! The mountain towns and villages in the Swiss Alps offer stunning holiday scenes. Explore the iconic alpine peaks, covered in snow, and adorned with sparkling lights and decorations.

The small village of Zermatt is especially popular for its festive atmosphere and Christmas markets featuring handmade crafts, local food, and caroling performances. You'll find plenty of fun activities here like skiing, sledding, ice skating, and more!
8. Is Switzerland cheap in December?
Switzerland is not a particularly cheap destination in December. Prices are generally higher during the winter months due to increased tourism, ski season, and other winter activities. However, it can still be a budget-friendly destination if you plan ahead and take advantage of deals on flights and accommodation.

Many cities have discounted rates during the off-season, so you can find some great discounts if you look around. Additionally, if you plan your trip carefully and avoid the more expensive regions like Zurich or Basel, you can save money on meals and sightseeing too.
9. What is the prettiest town in Switzerland for Christmas?
One of the most beautiful towns in Switzerland during Christmas time is Zurich. The city's annual Christmas market, known as Christkindlimarkt, is a must-see event hosted in the city center.

With over 200 stalls, visitors can enjoy traditional Swiss dishes such as fondue and raclette, while browsing through market stalls selling handmade gifts and decorations.

Stroll along the streets of the old town to take in the festive atmosphere and admire Zurich's snow-covered rooftops. Explore the charming cobblestone alleyways and shop at some of Zurich's best boutiques for unique gifts.
10. Is everything open in Switzerland in December?
The answer is yes! Switzerland is a great winter holiday destination in December. The ski season has already started, giving you plenty of options for skiing and snowboarding.

You can also enjoy cozy mountain villages, Christmas markets, lake boat rides, and tobogganing. With its stunning natural scenery, it's no wonder that Switzerland is such a popular December destination!
---
Final Thoughts: Traveling to Switzerland in December
As you can see, Switzerland is a great place for a winter getaway in December.
Not only is it beautiful and the perfect place to take in snowy scenes, but it also has plenty of activities and sightseeing opportunities.
From Davos with its skiing and snowboarding activities to Lucerne's lakeside Christmas market to Basel's stunning views of the Alps, you won't be disappointed with whatever you choose to do!
So if you are looking for a winter holiday destination this December, make sure Switzerland is on your list!