Embark on an unforgettable journey with this 5-day Switzerland itinerary, exploring the enchanting towns of Montreux and Lucerne.
Immerse yourself in the captivating beauty of Lake Geneva, explore the charming lakeside town of Montreux, and finally, venture along the Golden Pass scenic railway into the heart of the Swiss Alps, where Lucerne awaits with its mountainous landscapes.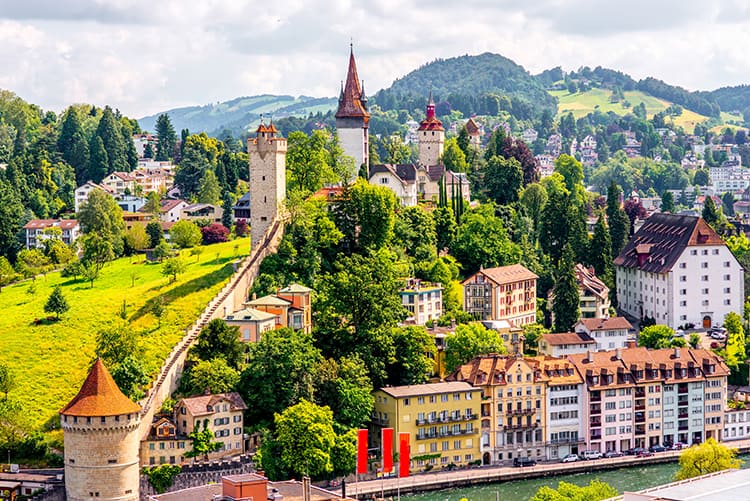 Having spent extensive time in Switzerland over the years, this itinerary is based on my own experience doing this exact route during my most recent visit.
Tip: The route is entirely using public transport and would benefit from a Swiss Pass.
Switzerland Itinerary: 5 Days from Geneva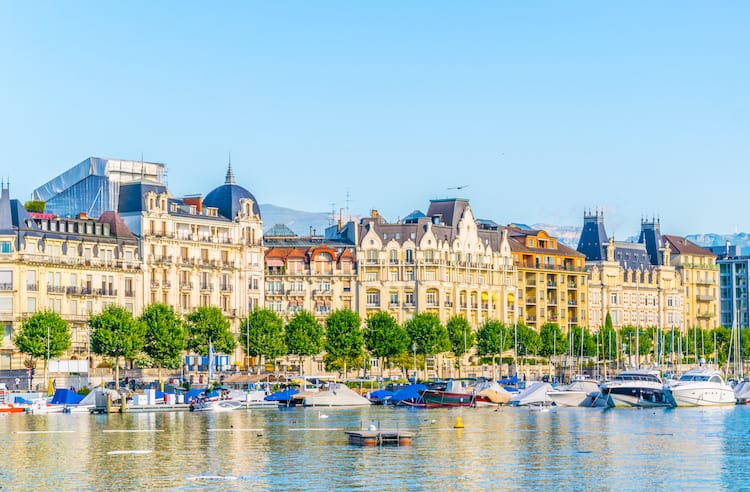 For this itinerary, you will start in Geneva (one of the most beautiful cities in Switzerland).
Here is a quick overview of your trip:
Day 1 – Arrive in Geneva, Travel to Montreux (Via Lausanne)
Day 2 – Full Day in Montreux
Day 3 – Golden Pass Train Journey (With a Stop in Interlaken)
Day 4 – Lucerne
Day 5 – Day Trips From Lucerne, Depart from Zurich or Bern
Day 1: Arrive in Geneva, Travel to Montreux (Via Lausanne)
This 5-days itinerary in Switzerland assumes that you are flying in and out of Switzerland and will be using public transportation to get around.
Geneva is one of the cheapest airports in Europe to fly into so that's where we'll begin the journey.
Unfortunately, there's not a lot to do in Geneva, but if you have time to spare, I recommend checking out the St. Pierre Cathedral, you can go inside for free and you can climb the tower for 5 Swiss Franc.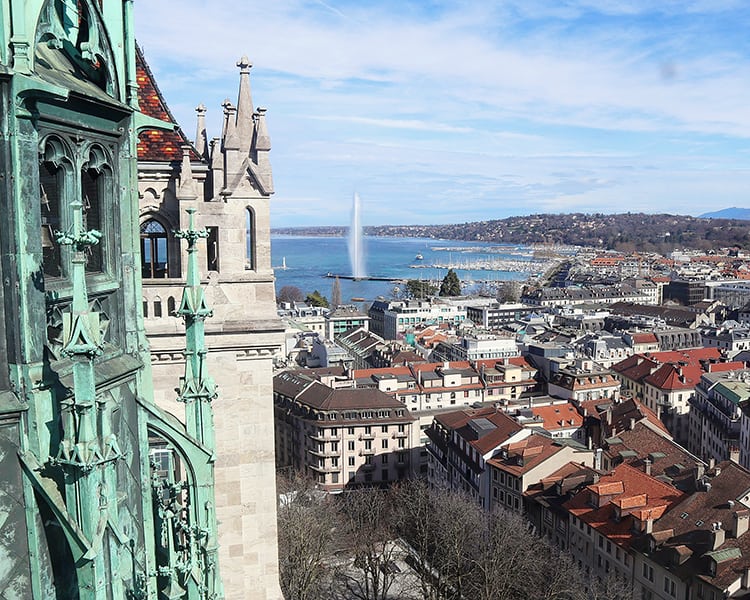 How to Get From Geneva to Montreux (Via Lausanne)
There are several ways to get from Geneva to Montreux, the easiest and fastest is using the train, this takes around 1 hour and costs around 25CHF.
However, if you are willing to pay a little more, instead of going around the lake, you can head straight across using the Lake Geneva ferry service.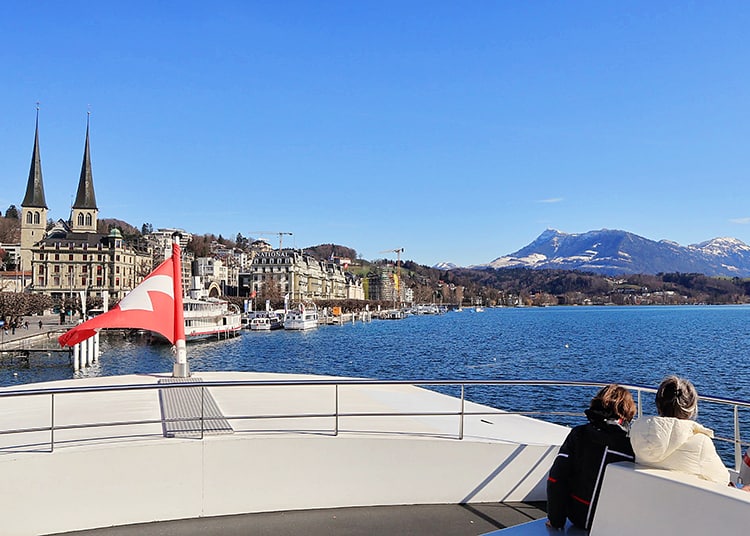 You won't be able to go straight from Geneva to Montreux on a ferry, you'll need to change in Lausanne.
But instead of hopping off one ferry and straight onto another, I recommend aiming to fit in an hour or two for exploring Lausanne.
Keep in mind that the boat trip is far more expensive than the train, you'll end up paying more than twice as much, so it's not for those on a budget.
Things To Do in Lausanne
If you do manage to stop in Lausanne, here are some attractions to check out during the afternoon:
1. Explore the Old Town (Vieille Ville)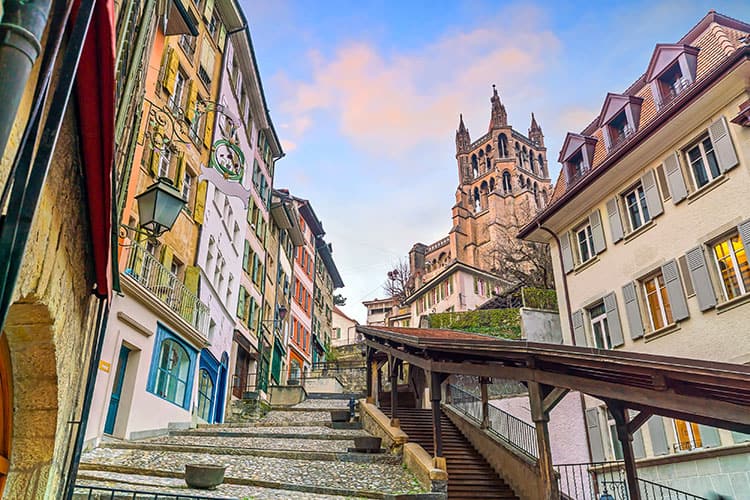 Take a walk through Lausanne's charming Old Town, filled with narrow streets, historic buildings, and quaint shops.
Don't forget to stop by at the Gothic Lausanne Cathedral which offers the best views from the tower.
2. Visit the Olympic Museum
Lausanne is most famous as the home of the International Olympic Committee so there are several landmarks around the town recognizing this as well as the Olympic Museum which has interactive exhibits showcasing the history, achievements, and memorabilia of the Olympic Games.
Remember that we are only spending a few hours in Lausanne, you will need to make your way to Montreux, where you will spend 2 nights.
Where to Stay in Montreux
After Lausanne, head to Montreux and check in to your accommodation where you'll be spending the next two nights.
It's only small so everything is within walking distance, plus all hotel stays come with free use of public transport thanks to a local scheme.
For your stay, we recommend you stay at the super popular Eurotel Montreux.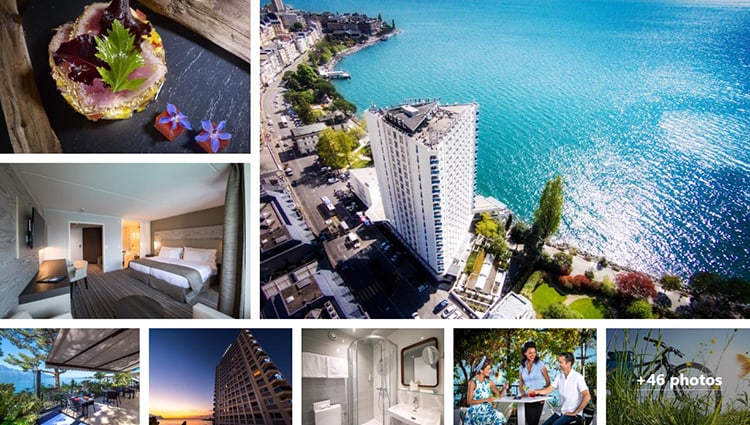 Centrally situated, Eurotel Montreux offers luxurious 4-star accommodation with spectacular views of Lake Geneva and the Alps.
It's the perfect choice for a summer escape, providing an ideal setting to enjoy all that Montreux has to offer, with sights, restaurants, and a train station close by.
---
Day 2: Montreux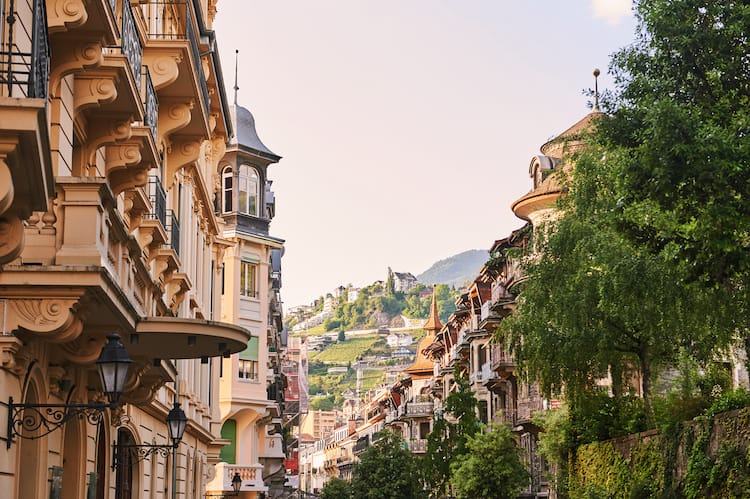 Today, you'll be waking up in Montreux, a charming small town on the shore of Lake Geneva renowned for its breathtaking scenery and cultural events such as the Montreux Jazz Festival.
The town is captivating to explore all year round, but it holds an extra charm in the summer – which is why we recommend it on our list of the top places to visit in Switzerland in summer.
Things To Do in Montreux
Here are some of the top things to do in Montreux:
1. Walk along the Lakeside Promenade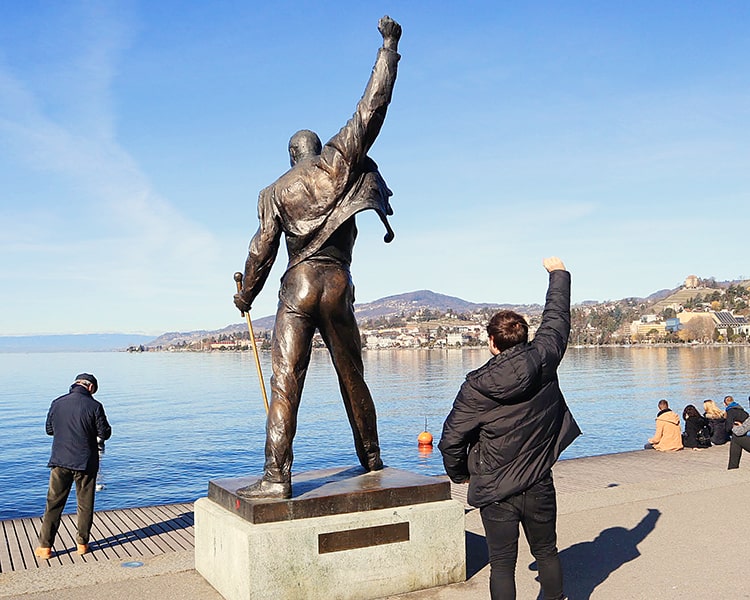 The promenade is lined with flowers, palm trees, and sculptures. Look out for the statue of Freddie Mercury, one of Montreux's most famous past residents.
2. The Queen Studio Experience
As well as living in Montreux, Freddie Mercury recorded siz queen albums there at Mountain Studios.
Today, there is a museum dedicated to Queen at Casino Barrière de Montreux. It includes memorabilia and information about the band and is free to visit.
3. Relax on This 2-Hour Riviera Cruise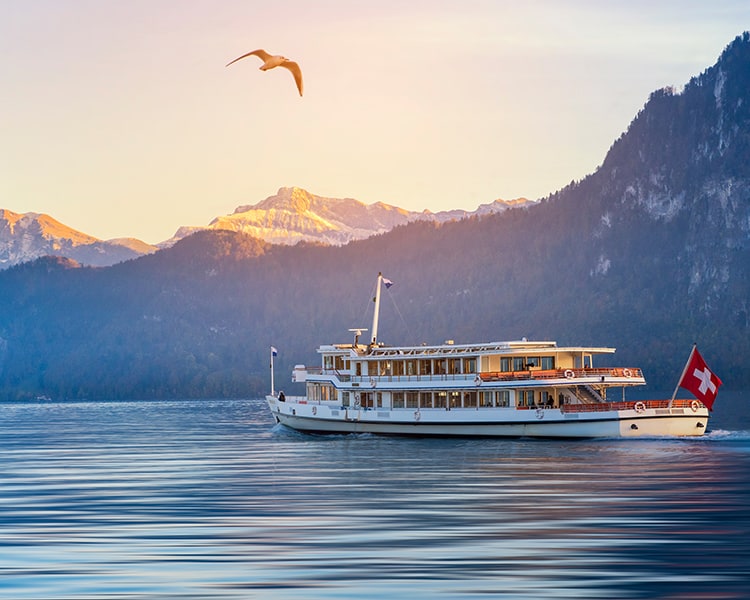 Immerse yourself in the scenic beauty of the Swiss Riviera with a 2-hour paddle steamer boat ride.
Admire striking views of Lake Geneva, the Swiss and French Alps, and Chillon Castle.
4. Visit Chillon Castle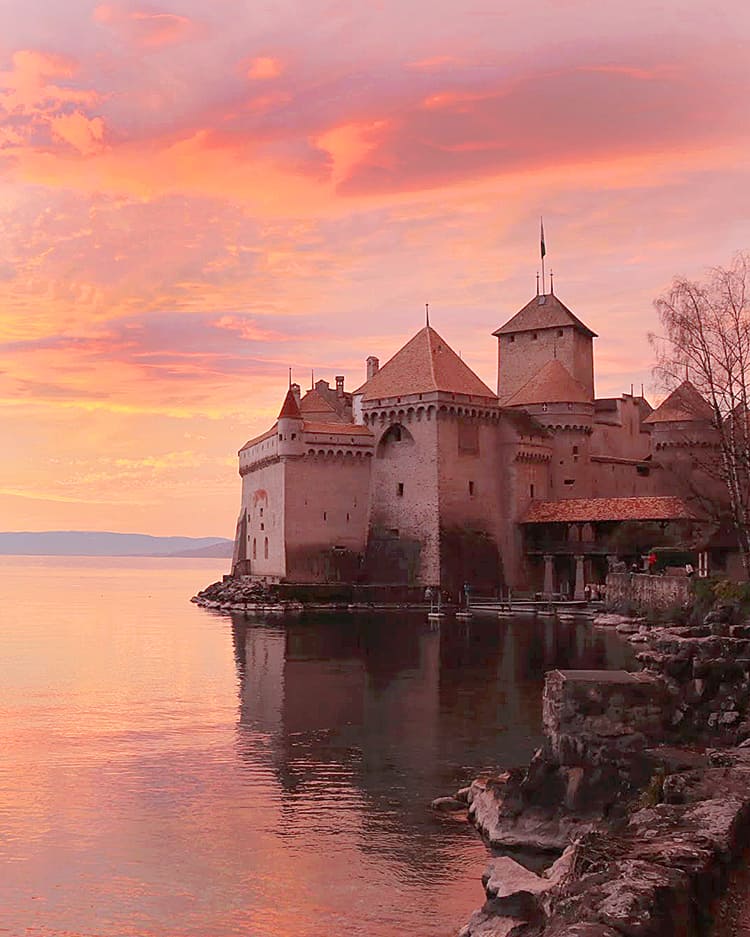 Chillon Castle is a medieval castle built on a tiny rock island just off the shore of Lake Geneva. It's one of the most-visited historical sites in the whole country.
Save this gem until the end of the day so that you can enjoy the view of the sunset behind the castle.
However, the last entry is either 5 pm or 6 pm depending upon the time of year so arrive before this to be able to visit the castle.
Make your life easier and grab your entrance ticket online here.
---
Day 3: Ride the Golden Pass Train (via Interlaken)
Today, you're going to ride the Golden Pass, one of Switzerland's iconic scenic train journeys.
Thanks to an upgrade in 2022 which allows the train to jump between tracks (yes – this is true), there are now only two legs to this journey. Montreux to Interlaken then Interlaken to Lucerne.
I recommend leaving Montreux on the 9:35 am train which runs year-round (this is your only option in off-peak season between December and June so you can't miss it).
The first leg takes around 3hrs15 so you'll arrive in Interlaken in the early afternoon.
Things To Do in Interlaken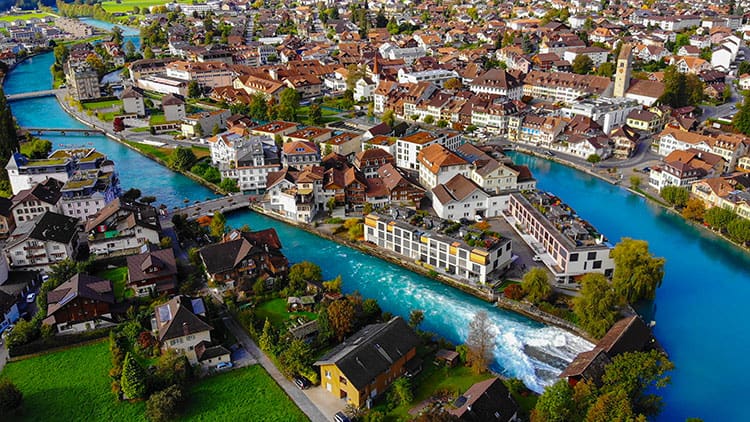 Interlaken is a beautiful little alpine town in the Swiss mountains, nestled between two stunning lakes, Lake Thun and Lake Brienz.
It's known as the adventure capital of Switzerland where you can do paragliding, rafting, bungee jumping, and more.
With only a short stop in the town, you won't have much time for any of these, however, you can still spend time exploring the town's charming streets and enjoying the quaint Swiss atmosphere.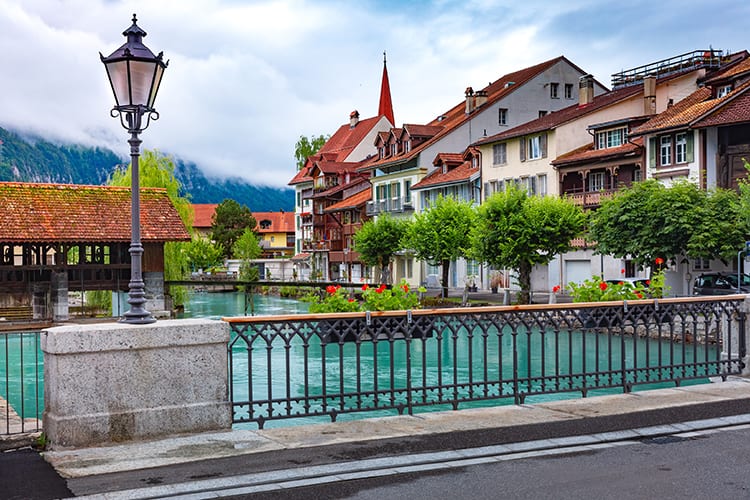 There are numerous cafes and restaurants within walking distance of the train station where you can grab a bite to eat on your layover.
Traveling From Interlaken to Lucerne
The second leg of your journey, from Interlaken to Lucerne, takes 2 hours with trains departing every hour at 4-past the hour until the final service at 20:04.
Judge for yourself which one you'd like to take based on how much time you want in Interlaken.
Where To Stay in Lucerne
Whilst there are several luxury resorts around Lucerne, this is a jam-packed itinerary so it's best to stay in Altstadt (Old Town) where you'll be within easy reach of everything.
This area contains most of the city's historical buildings and iconic landmarks.
You need to book for three nights here in Lucerne.
Grand Hotel National Luzern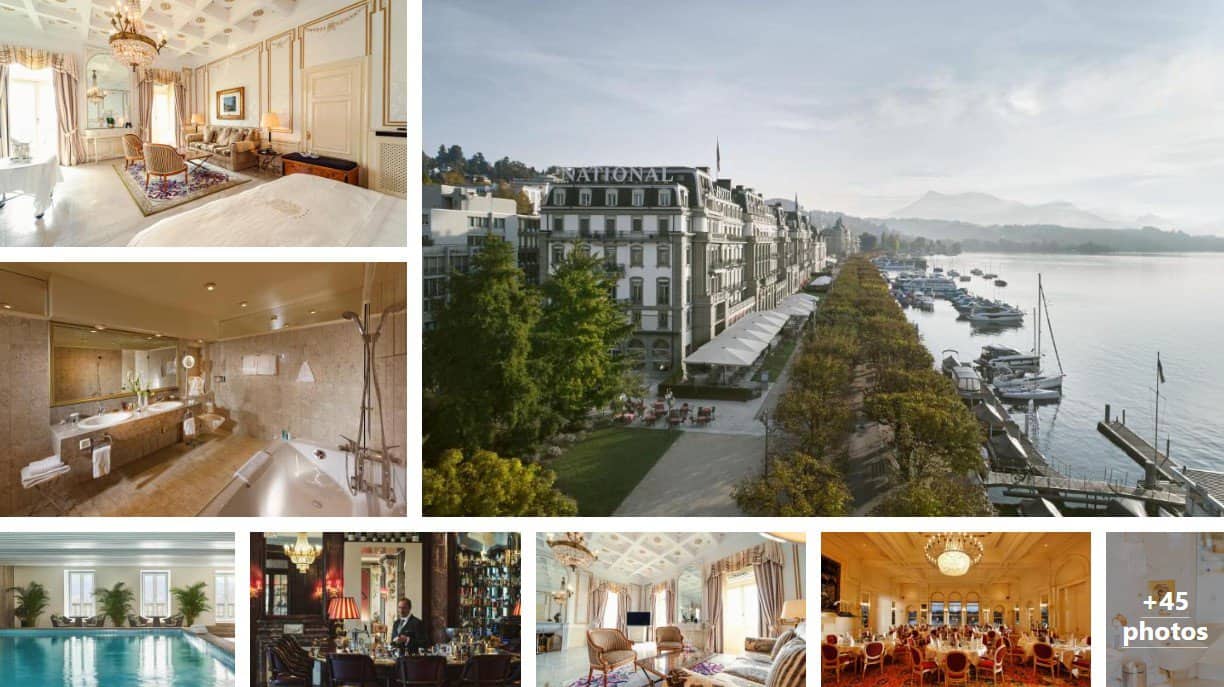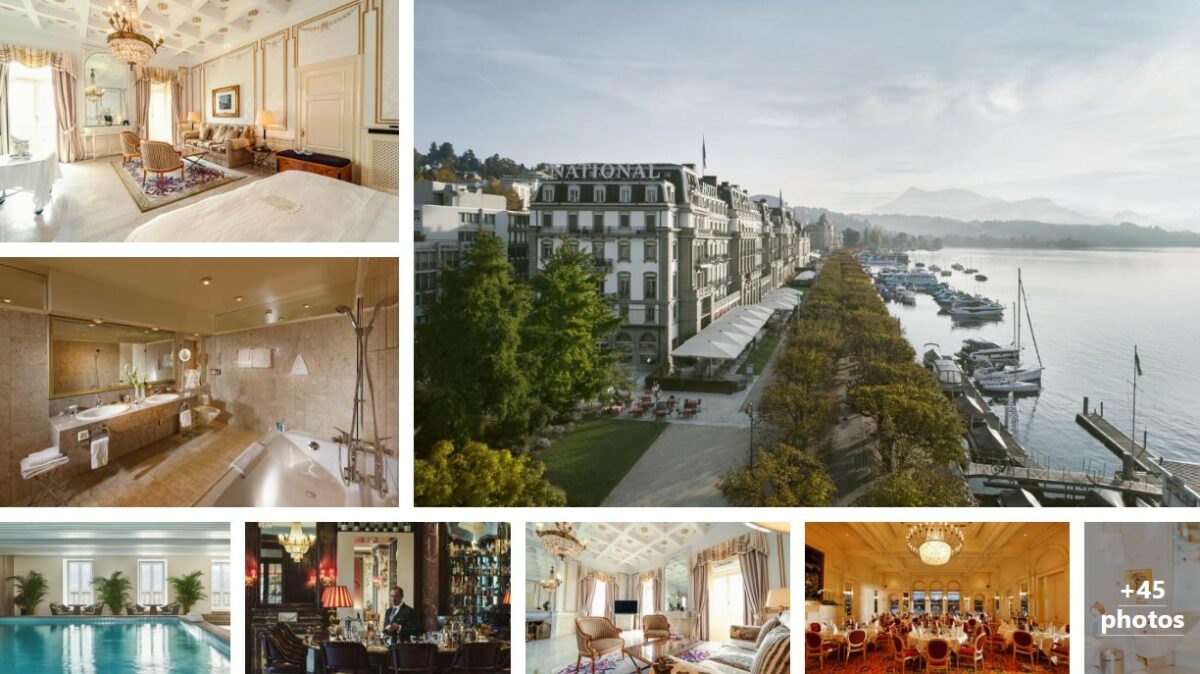 If you're willing to splash out a little more for a super comfortable stay, then consider the 5-star Grand Hotel National Luzern which has been designed to the highest standards with Italian marble floors and silk-style wallpaper to name a few.
---
Day 4: Lucerne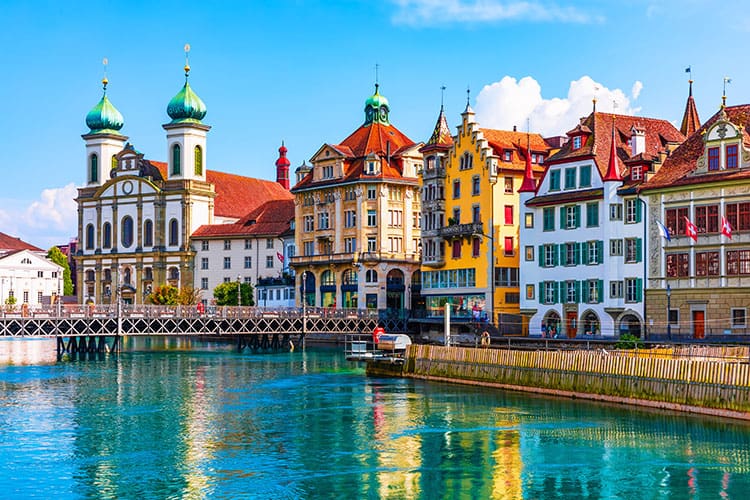 After a busy day of travel, you'll be waking up in Lucerne and will have the whole day to explore. It's a beautiful city found in the heart of Switzerland on the shore of Lake Lucerne.
All around, the city is surrounded by stunning mountain peaks which is why it's sometimes referred to as the gateway to the Swiss Alps.
Things To Do in Lucerne
Here are the best things to do in Lucerne:
1. Free Walking Tour
The best way to discover any city in a short amount of time is with a guided tour from a local.
Free Walk Lucerne offers free walking tours at 11 am every day except Tuesday and Thursday. If it's not running today, you'll have time to fit it in the next day instead.
Although this is a free walking tour, the model is for you to leave a tip according to what you think the tour was worth.
The tour should take you to some of Lucerne's top landmarks, but if you'd rather discover these for yourself, make sure to stop by Chapel Bridge (Kapellbrücke), a famous wooden bridge with a tower that dates to the 14th century.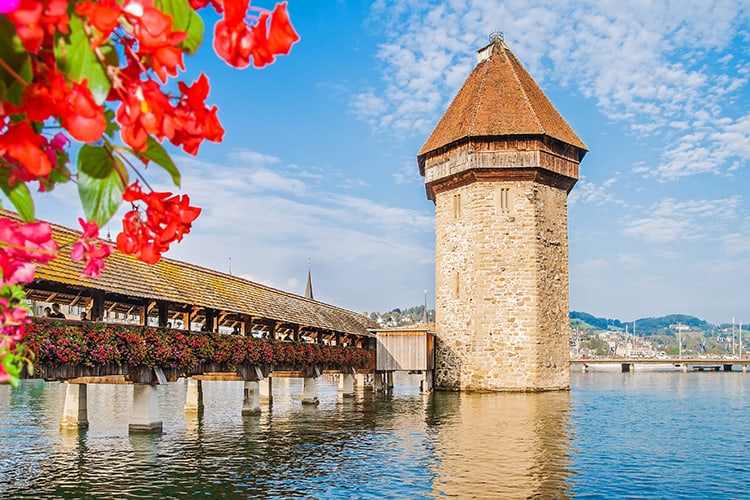 And the Lion Monument which is a moving sculpture carved into a rock face to commemorate the Swiss Guards who lost their lives during the French Revolution.
2. Explore the Old Town (Altstadt)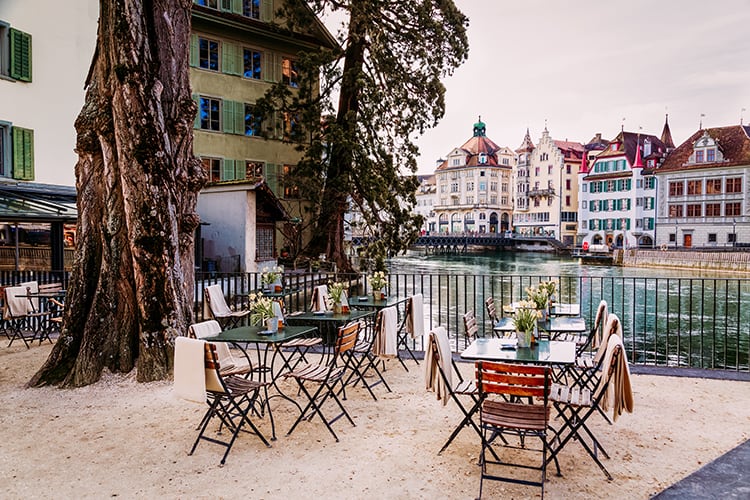 Take a stroll through Lucerne's charming Old Town, with its narrow cobblestone streets and well-preserved medieval architecture.
Explore the colorful buildings, boutique shops, and small cafes.
Don't miss the opportunity to visit the charming Weinmarkt Square and the Rathaus (Town Hall).
3. Swiss Museum of Transport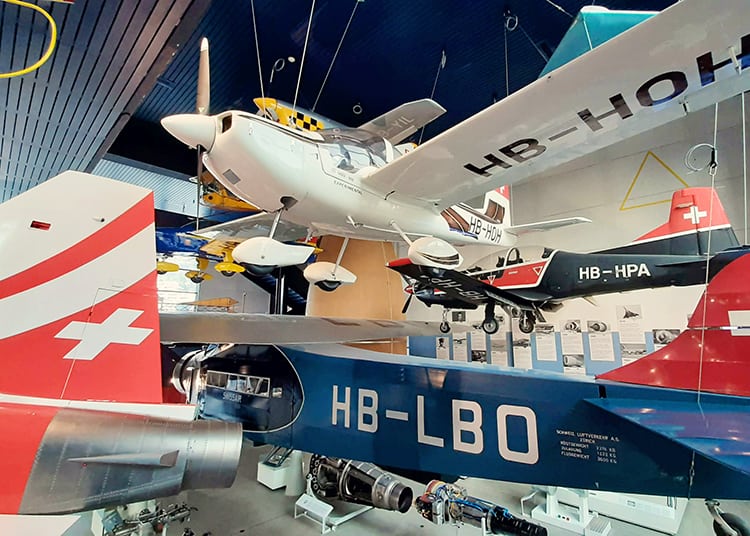 The Swiss Museum of Transport in Lucerne is a fascinating museum that showcases the history and development of transportation in Switzerland.
Exhibits include everything from vintage cars and trains to airplanes and even space rockets.
This is a great family-friendly attraction that people of all ages can enjoy. There are interactive displays, simulators, and fun activities to keep you entertained.
---
Day 5: Day Trips From Lucerne, Leave from Zurich or Bern
On your second day in Lucerne, it would be a good idea to take a day trip up one of the nearby mountains.
You have two options to choose from:
Option 1: Mount Rigi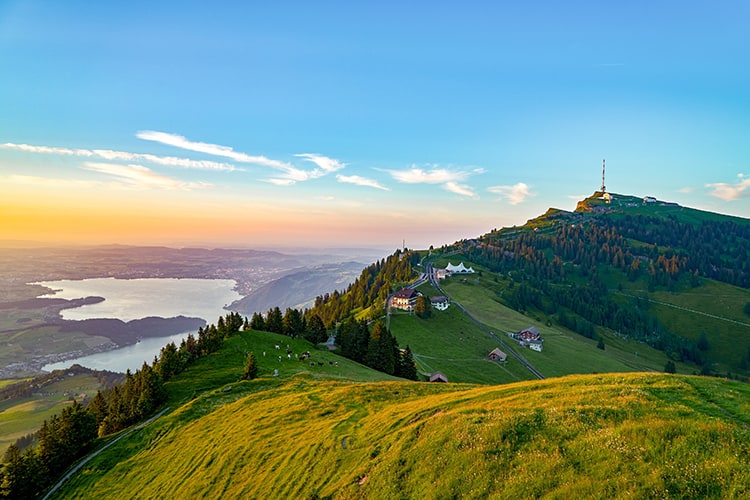 Mount Rigi is easily accessible from Lucerne.
Not only does it have incredible views and leisurely hikes for all abilities, but there are several hotels up there that have spa facilities.
To reach the summit, catch a boat from Lucerne to Vitznau and then take the cogwheel train up to Rigi Kulm which is the best viewpoint with panoramic views.
In total, it takes around 2 hours to reach Rigi Kulm from Lucerne, but make sure you check the latest timetables to plan your trip.
You can return the same way, however, some people choose to catch another train to Rigi-Kaltbad and return via the cable car.
If you want to make life super easy for this last day, then I highly recommend you book this 7-hour tour which includes the scenic boat cruise, the cogwheel train, and cable cars.
Click here to book your tour to Mt Rigi from Lucerne.
Option 2: Mount Pilatus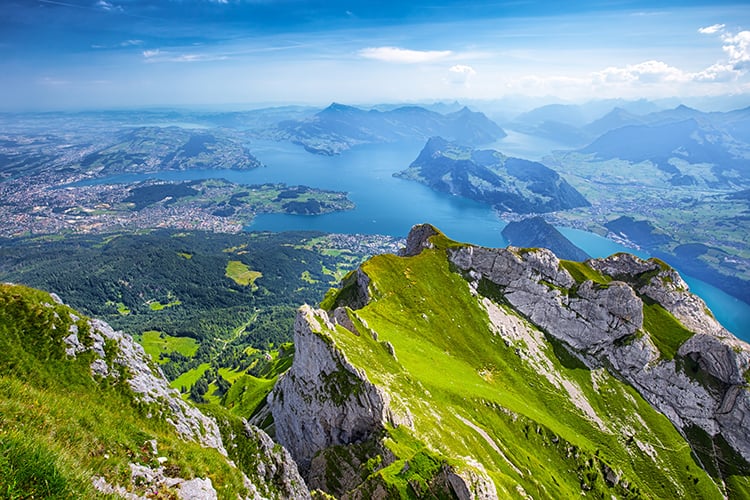 Mount Pilatus is known for its rugged peaks, deep valleys, and picturesque landscapes.
It's more adventurous than Rigi, not just in terms of getting there, but also in terms of the activities at the top. It's a popular destination for hiking, climbing, and paragliding.
The easiest way to visit Mount Pilatus from Lucerne is to take the 15-min bus to Kriens and then take a cable car up the mountain.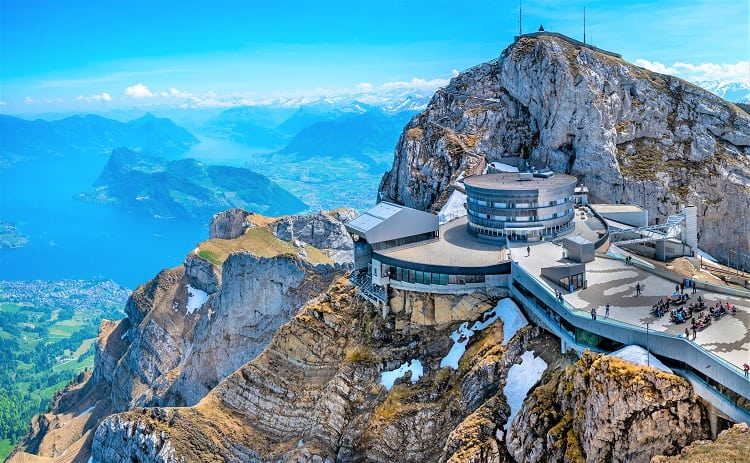 Alternatively, you can take the train or ferry to Alpnachstad and then go up on the cogwheel train. This option is only available during peak season.
Many people like to go up on the cable car and down on the cogwheel train, this is known as the Golden Round Trip. You can get a ticket to do this by yourself on Get Your Guide, or you can take a guided tour.
---
Getting Home From Lucerne
Lucerne doesn't have its own airport, but luckily you're now close to both Zurich and Bern which have lots of international flights.
To finish your trip, head straight to the airport of your choice (Zurich is much easier to reach):
Lucerne to Zurich Airport: Zurich Airport has a railway station with regular direct trains from Lucerne that take around an hour.
Lucerne to Bern Airport: To reach Bern airport, you'll first need to catch a train from Lucern to Bern Hbf which takes around 1hr20. You'll then need to take the S-Barn to the airport which takes another 30 minutes.
---
FAQs About Visiting Switzerland in 5 Days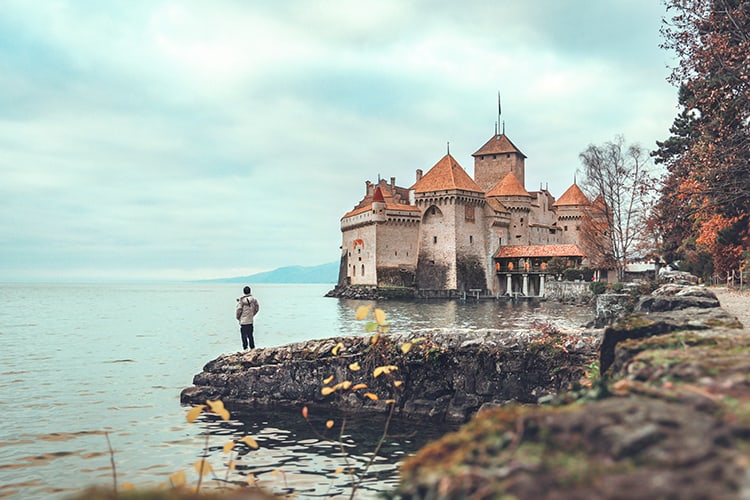 Here are some answers to some of the most commonly asked questions about traveling around Switzerland for 5-days.
1. Is 5 days enough in Switzerland?
Yes, 5 days in Switzerland is enough time to get a taste of the country and see a good number of attractions, but you'll only have time to make a few stops and it will leave you wanting to come back again.
2. What is the best time of year to visit Switzerland?
The best time to visit Switzerland for good weather is between April and October, however, you may want to avoid July and August if you don't want it to be overcrowded.

Switzerland is also great for Winter sports, the season for this tends to be between December and March.
3. What is the best way to travel across Switzerland?
The best way to travel across Switzerland is using the railways. Switzerland has an excellent network of public and private trains that are well-connected and faster than driving.

If you are traveling by train, a Swiss Travel Pass would be helpful.
4. Do they speak English in Switzerland?
Although Switzerland's four official languages are German, French, Italian, and Romansh, English is widely spoken, especially in the tourist areas you are likely to be visiting.
5. Is it better to rent a car in Switzerland?
Switzerland is a small country, so the best way to travel within the country is by train or bus.

However, if you wish to have more freedom and independence to travel without worrying about a timetable, then renting a car in Switzerland is a great idea.
---
Final Thoughts On Our 5-Day in Switzerland Itinerary
In conclusion, this Switzerland 5 days itinerary begins in Geneva and includes overnight stays in Montreux, a charming town on the bank of Lake Geneva, and Lucerne, a city with plenty of activities and day trips.
You'll also get to see other towns in Switzerland such as Lausanne and Interlaken.
After more itineraries? We also have a 4 days in Switzerland itinerary which is a fast-moving itinerary to see some of the most beautiful highlights in Switzerland.
Guest Blog Post Written by Kieran from Got My Backpack.
Further Reading:
Here are some of our other blog posts that you might be interested in when you plan your vacation in Switzerland: