Have you been wondering about visiting Switzerland in August? I've got you covered!
Switzerland in August is the perfect time to explore this beautiful European country's majestic mountains and glistening lakes and is the perfect destination for nature lovers.
Whether you're looking for some serious trekking or a leisurely lakeside stroll, August is a great time to visit Switzerland. With so many amazing mountain hikes and picturesque lakes, you're sure to fall in love with this stunning country.

But why should you trust our article? We understand exactly what it takes to make an unforgettable trip – from planning the perfect day hikes to visiting the most spectacular hidden spots we have done it all!

So if you're looking for an exciting adventure in August, look no further than Switzerland!
Keep reading and find out why visiting this incredible country is one of the best travel decisions you'll ever make!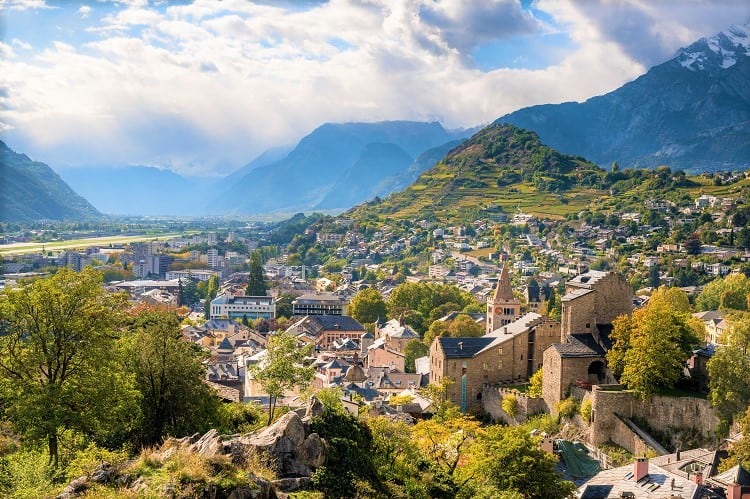 ---
Typical Weather in Switzerland in August
Planning a trip to Switzerland in August means you will definitely want to consider the Switzerland weather in August to get the most out of your trip!
you may be wondering if August is the best month to visit Switzerland.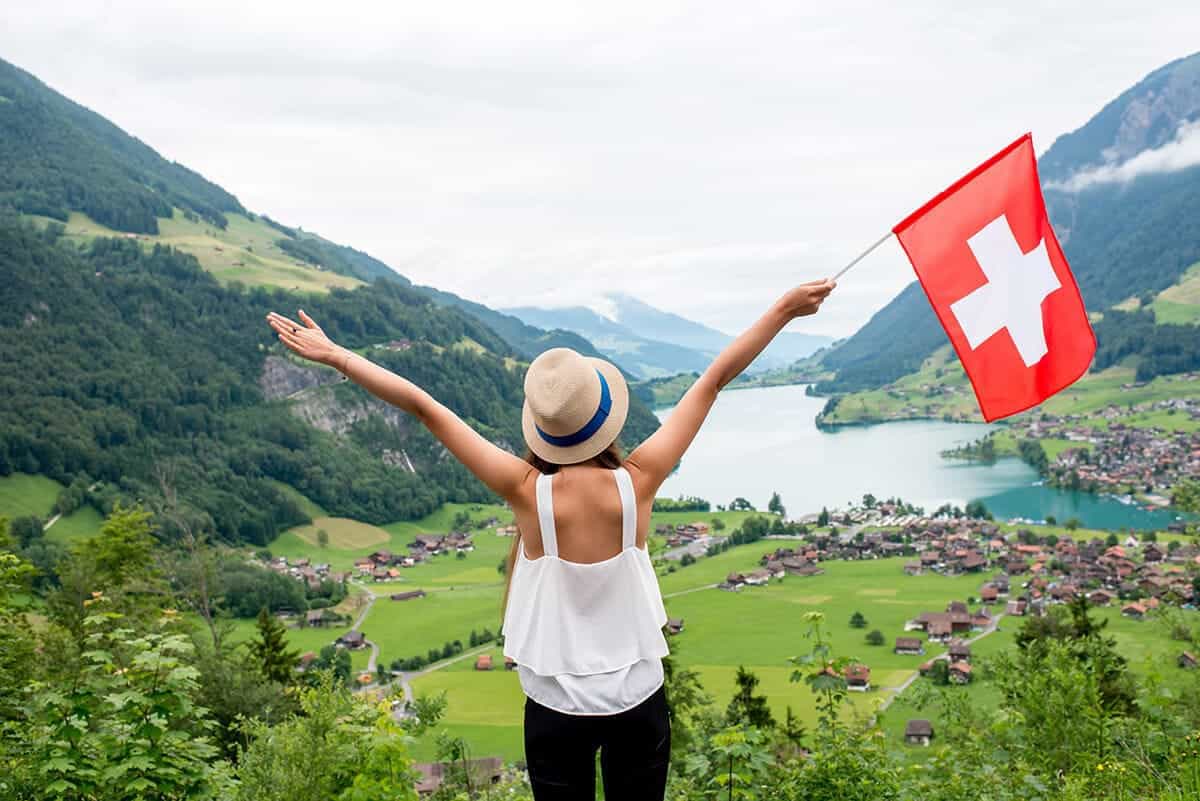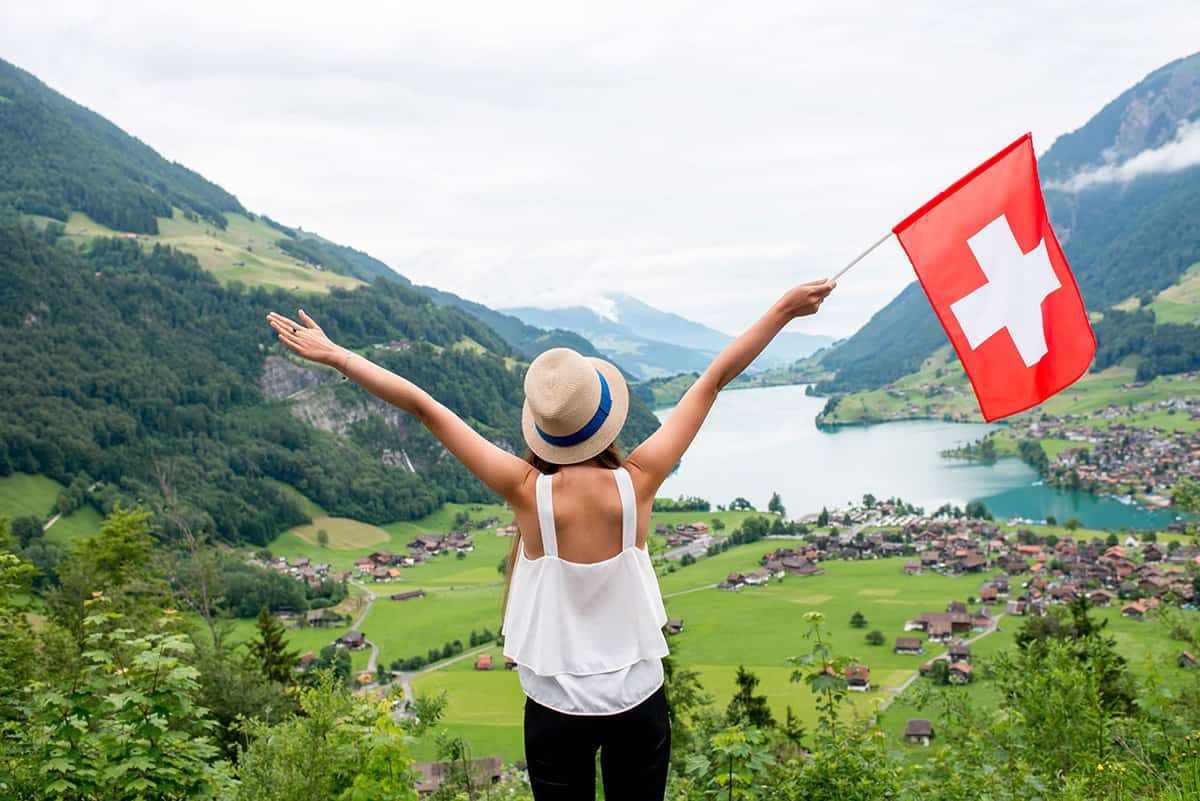 August marks the end of summer in Switzerland, bringing favorable weather with warmer temperatures and longer days.
August weather in Switzerland may feel hot for some city travelers but with the much warmer temperatures, it is the perfect time to take advantage of the many swimming opportunities in the lakes, rivers, and small streams.
The warmer air and water temperature mean that they are perfect for taking a dip in to cool off – which is exactly what many of the Swiss locals do to enjoy the Swiss summer days!
Average temperature in Switzerland in August
Switzerland's climate and average temperatures in August vary depending on elevation.
Lower-lying areas can reach highs of 95°F (35°C) in summer, while average August temperatures in Geneva, Lugano, and Zürich hover around 73°F (23°C).
In contrast, the higher altitudes like Zermatt in the Alps have an average August temperature of 48°F (9°C).
Humidity is usually low in both areas thanks to the dry alpine air.
Is Switzerland rainy in August?
In August, there are not many rainy days and you can expect 3-8 days of rain in Switzerland. If you want to be prepared you can bring your umbrella to avoid getting caught in the rain on a rainy day!
What is the weather like in the Alps in August?
The majestic Alps in August are an absolutely breathtaking spectacle! Picture this: the sun gently casting its warm glow, while temperatures range from a delightful 8 to 20°C.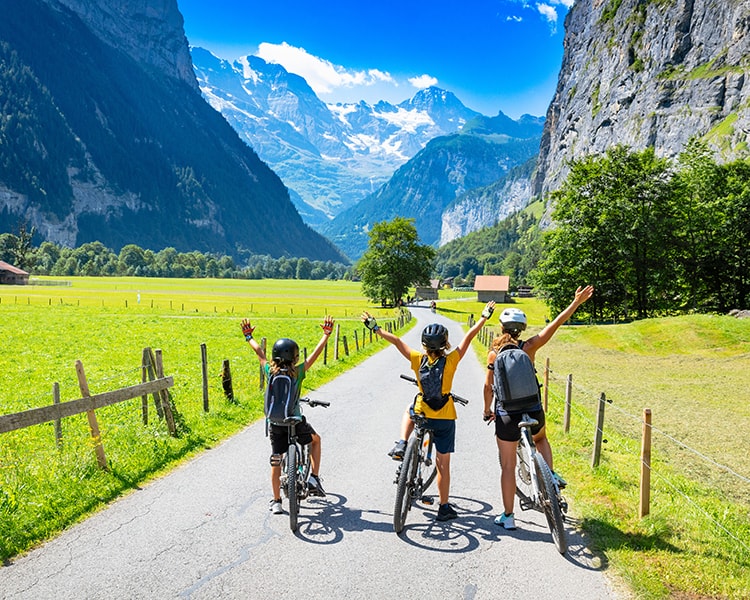 Don't be surprised if occasional rain showers arrive in the afternoon or a refreshing cool breeze whispers through.
The crisp air, coupled with low humidity, creates the perfect ambiance for thrilling outdoor adventures like hiking and biking.
---
Things To Do in Switzerland in August
Switzerland is a beautiful country with tons of activities to do during the month of August! Here are our top 7 things of what to do in Switzerland in August:

1. Hiking in Switzerland: There are numerous scenic hiking routes to explore like Gorge du Chauderon, Via Alpina, Mont Bre, Grindelwald, and Rochers de Naye.
August is the perfect time to explore the majestic Swiss Alps. With long days for trail adventures, pleasant temperatures, and blooming wildflowers, it's ideal for appreciating Switzerland's beauty while hiking its trails.
You'll enjoy stunning views of meadows, snow-capped peaks, and crystal-clear blue lakes as you hike. Keep an eye out for alpine wildlife like ibexes and marmots!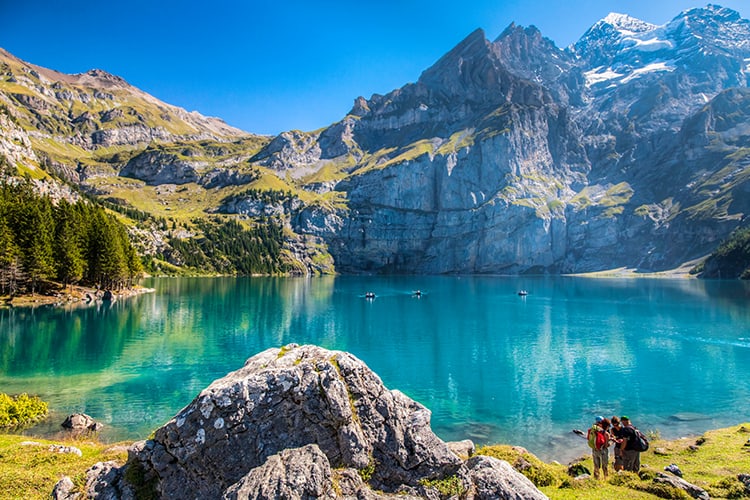 2. Visit the many lakes in Switzerland: During the warm summer months of August, spending the day at one of the many lakes in Switzerland is a popular activity.
From watersports such as kayaking, paddle boarding, and sailing to merely relaxing and picnicking, the lake shores provide plenty of opportunities to explore, relax, and take in the breathtaking alpine views from any number of vantage points.
Whether you're looking to get wet and active or just soak in the scenery and enjoy some Swiss hospitality, spending a day at the lakes of Switzerland is sure to be a highlight of your summer holiday.
3. Enjoy snow activities: Switzerland's glaciers offer year-round snow, allowing for skiing and snowboarding even in summer. Head to the Theodul glacier above Zermatt for snow activities during the summer!
4. Explore some glaciers: The Alps boast over 5,000 majestic glaciers, including the year-round snowy summit of Glacier 3000 near G. In August, don't miss other stunning glaciers like Zermatt Gornergrat, Saas Fee – Hohsaas, and Trift Glacier & Suspension Bridge!
5. Enjoy the summer festivals in August: Every August, towns in Switzerland burst with life during their local festivals. Celebrations are filled with traditional music, folk dances, delicious food stalls, crafts markets, and more! Get unique souvenirs for your friends back home.
6. Go on one of the iconic Swiss train rides: There are a number of train rides to do in Switzerland in August.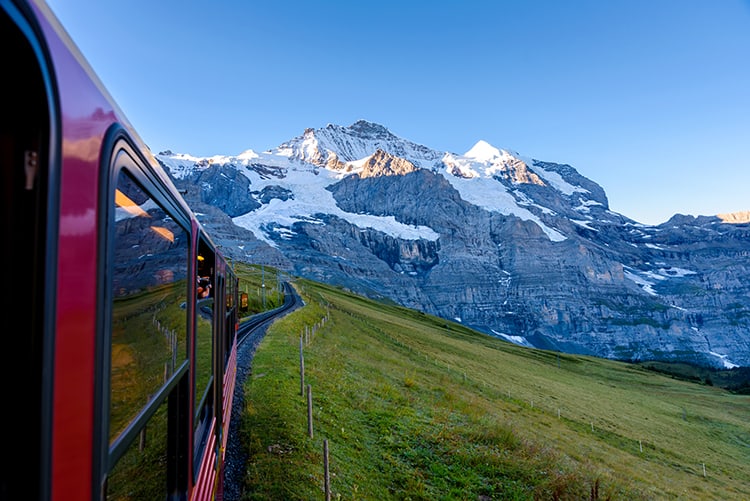 One of the most iconic is the Glacier Express also known as the 'Slowest Express Train in the World', although arguably the most scenic. Others include Bernina Express, Jungfraujoch, Golden Pass, and the Grand Train Tour of Switzerland.
7. Visit some of the most popular destinations: Visit many of the many stunning villages and cities across Switzerland as well as the many top attractions.
No matter what you decide to do when in Switzerland in August, make sure to have the best travel insurance for Switzerland before you travel so you can enjoy the best things to do in Switzerland!
If you plan on hiring a car to explore this beautiful country make sure to get the best car rental company in Switzerland when booking!
---
10 Best Places to Visit in Switzerland in August
Wondering what are the best Swiss places to visit in summer when visiting Switzerland in August?
Find below the top 10 places detailing where to go in Switzerland in August to help you when creating your travel itinerary.
For each place, we have included a few activities and ideas for you to do in each destination. From mountain hikes to outdoor pools, city walks, and more!
1. Zurich in August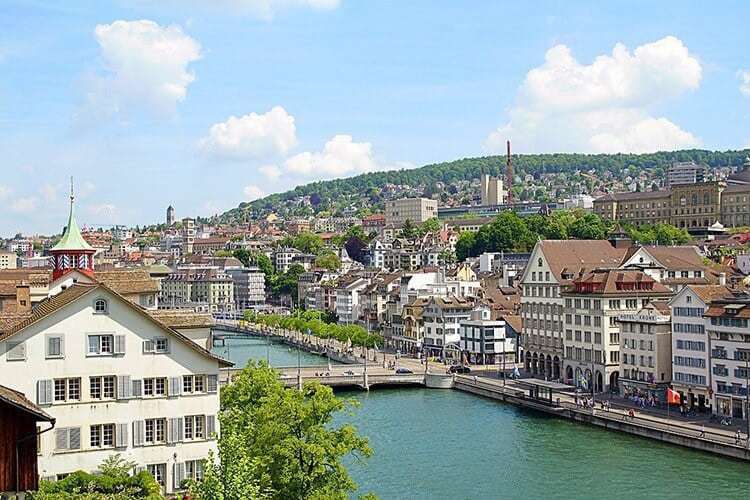 August is the perfect time to explore Zurich for its beautiful, sunny weather.
There are plenty of outdoor activities that visitors can do, such as biking along the lake, going on a hike in Uetliberg, kayaking in Lake Zurich, or exploring the nearby Rhine Falls.
Additionally, there are numerous cultural attractions to visit like the Fraumünster Church or the Kunsthaus Museum.

For those looking for guided experiences in Zurich, there are many tours available from walking tours to day trips.
Some of these tours include a food tour of Zurich's Old Town, a boat tour around Lake Zurich, or a train ride up to Mt Pilatus.
Fancy planning your own trip from Zurich around Switzerland, use our 7 days in Switzerland for the perfect trip!
Enjoy a city tour with a cruise to see the top sights and enjoy some yummy tastings at the Lindt Home of Chocolate. Or take a day trip to Jungfraujoch to take a breathtaking journey through the Swiss Alps on a cogwheel rides railway.
2. Montreux in August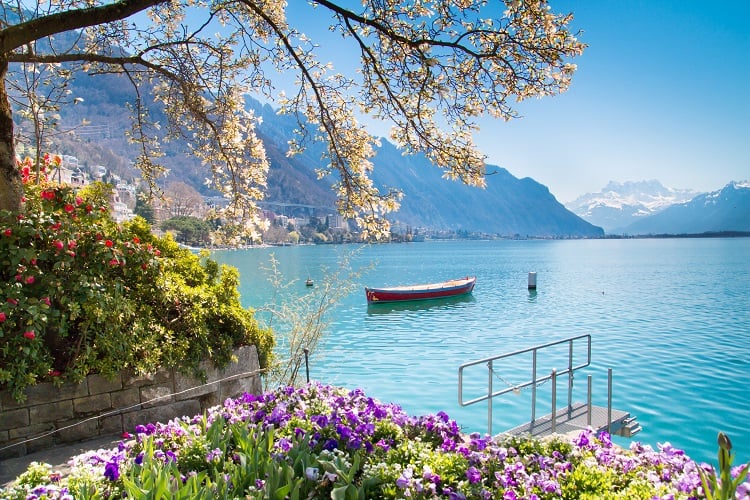 Montreux in August is one of the best times to explore this beautiful Swiss city!
Nestled in the foothills of the Alps and along Lake Geneva, it's a stunning place to visit. There are plenty of lakeside activities, like swimming, sailing, and kayaking, as well as various attractions such as a tour of Chillon Castle.
For a guided tour, join one of several Montreux walking tours which will take you around the city and show you all its highlights.
The picturesque streets are filled with lively cafes and boutique shops that make for a truly memorable experience.
Experience the scenic beauty of the Swiss Riviera on a 2-hour paddle steamer boat cruise. Enjoy breathtaking views of Lake Geneva, the Swiss and French Alps, and Chillon Castle.
3. Lugano in August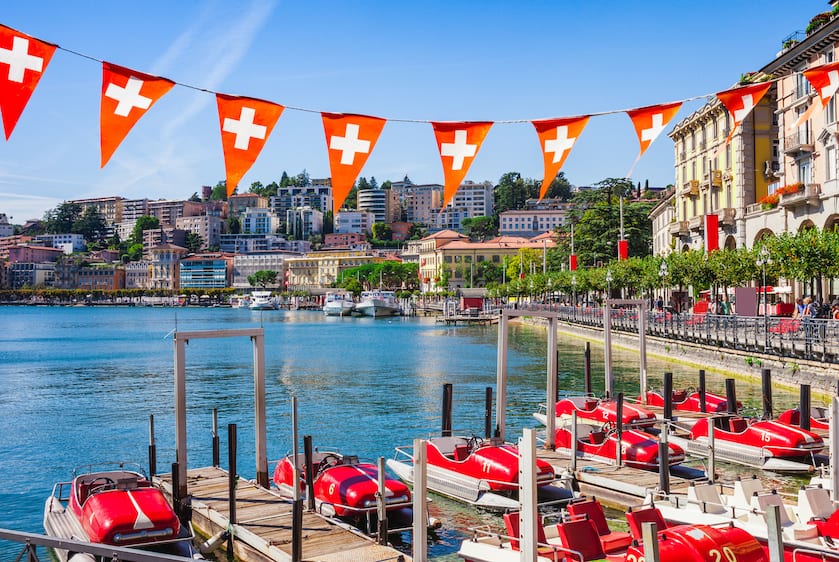 Lugano, on the Italian border, is a beautiful destination in August, perfect for outdoor activities and sightseeing.
Its lakeside location provides spectacular views from the many hiking trails and biking routes that the city has to offer.
Lugano also has several cultural offerings like art galleries and historic monuments like the Cathedral of San Lorenzo and the Church of Santa Maria degli Angioli.
If you're looking for an even more immersive experience, you can book a guided tour to explore the city's main attractions, including the medieval walls and towers surrounding the old town.
Whether you want to take it slow or explore at your own pace, Lugano is a great place to visit in August.
History buffs can explore churches like Santa Maria degli Angeli or visit the city's iconic public fountain.
Discover the treasures of Monte Brè on a delightful full-day tour. Enjoy a cruise on Lake Lugano and a funicular train ride to the peak.
For a thrilling adventure, take cable cars up to Monte San Salvatore for spectacular panoramic views.
4. Zermatt in August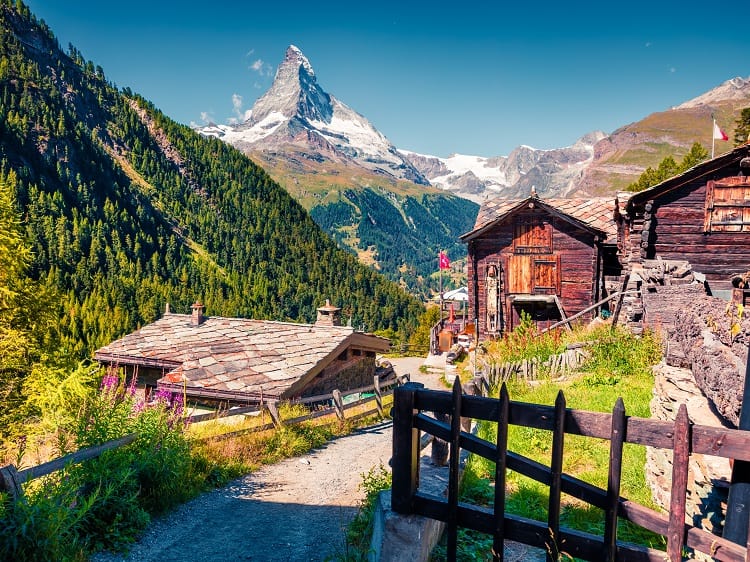 Zermatt is one of the pretty Swiss villages to visit in Switzerland, especially in August.
Not only is it situated at the base of the Matterhorn, but there are plenty of outdoor activities to do such as skiing, hiking, and paragliding.
Additionally, there are some great tours available that will take you around Zermatt to explore some of its historical sites and breathtaking natural beauty. You can even start your day with a cable car ride to the Klein Matterhorn for stunning panoramic views of the city below.
There's also plenty of great food available in the city – from cheese fondue to chocolate bars.
With so much on offer, Zermatt is a fantastic destination to visit for an unforgettable summer vacation!
5. Lucerne in August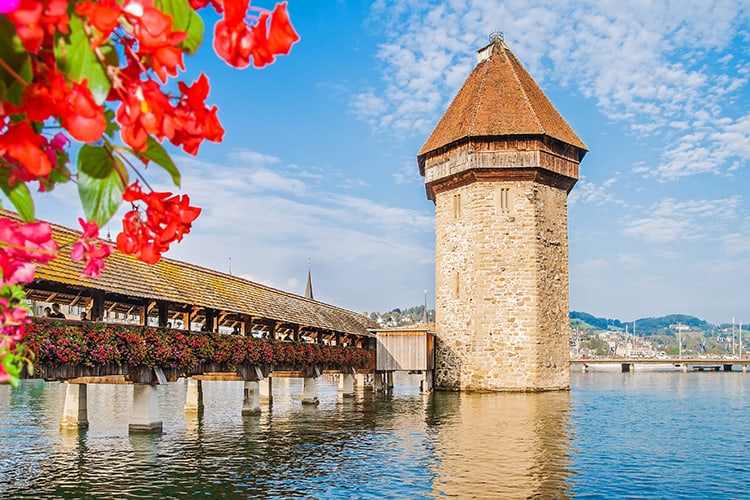 Lucerne, Switzerland is a stunning destination that offers an incredible range of outdoor activities and cultural experiences in the summer.
August is a great time to visit Lucerne for its warm days and mild evenings, perfect for exploring the city's sights.
Take a boat ride on Lake Lucerne and admire the Swiss Alps in all their glory or hike up Mount Pilatus or take a cable car to take in views from 2,100 meters above sea level.
Visit the Old Town to explore its centuries-old buildings and cobbled streets or discover the Lion Monument – a symbol of Switzerland carved into a rock wall.
You can also take a tour of the town to learn about its history and attractions – like the Hofkirche Church – while taking in a beautiful lakeside view.
You can even plan 4 days in Switzerland with our detailed itinerary that starts in Lucerne.
Experience a unique blend of boat, rack railway, and cable car travel to Rigi. This diverse tour in central Switzerland is perfect for a half or full-day adventure.
6. Bern in August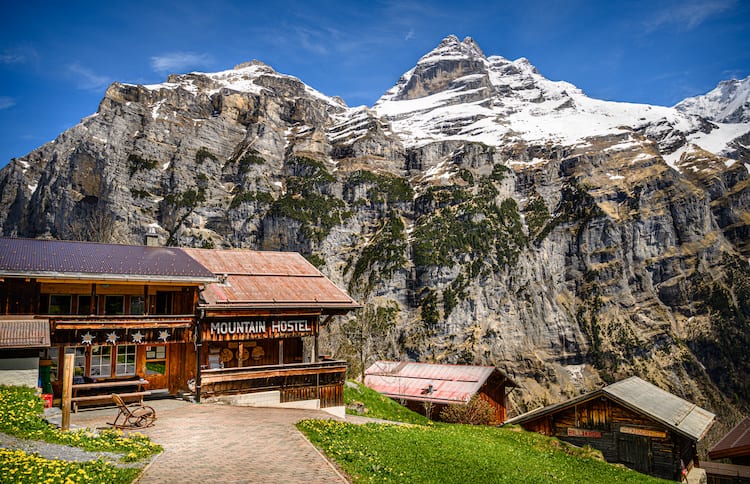 Bern has tons of wonderful things to do in August, from exploring its historical sites and lush parks to hiking up the nearby Alps.
Tour the iconic Zytglogge clock tower, witness its inner workings, and enjoy a delightful puppet show.
Tourists can take advantage of outdoor activities like biking along the Aare River or sailing down Lake Thun.
If you're looking for something a bit more structured, consider joining a guided tour of Bern's old town or heading out on a day trip to the Plaine Morte Glacier.
There are also plenty of great restaurants and bars to check out for some evening entertainment. No matter what you decide to do, Bern in August is sure to be an unforgettable experience!
7. Geneva in August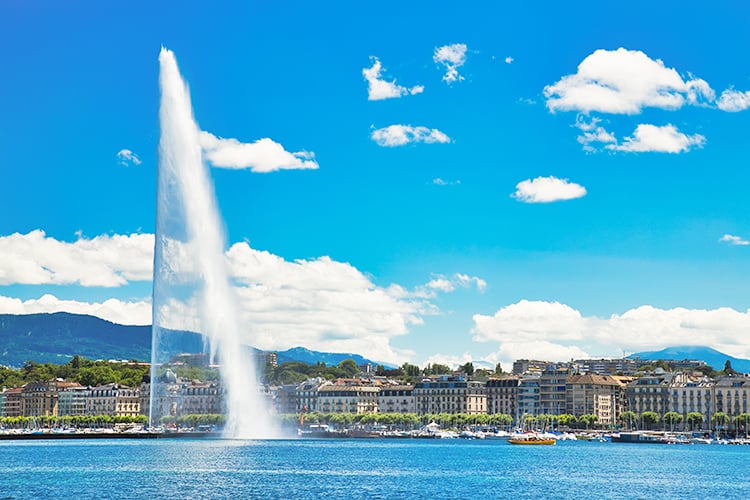 Geneva is a wonderful city to visit in August, and the best way to experience it is by joining one of its many tours.
Whether you're looking for a guided tour of Old Town, or a scenic cruise on Lake Geneva, there are plenty of options to choose from.
There is also the opportunity to take a guided tour through the vineyards in nearby Lavaux, where you can learn about Swiss viticulture.
Zurich is also relatively close if you're looking for an additional day trip destination! Be sure to check out this 5 days in Switzerland itinerary starting off in Geneva.
8. Basel in August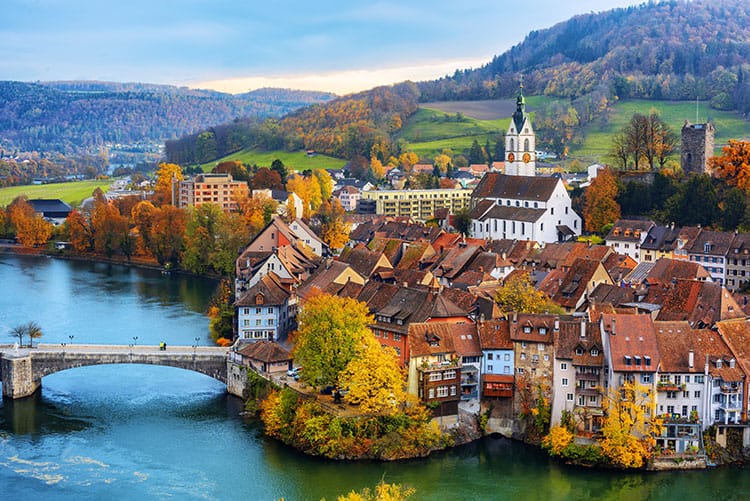 Basel is one of the must-see Swiss cities in August and provides the perfect summer getaway!
With the warm temperatures, tourists can enjoy outdoor activities such as hiking or swimming, but there are also plenty of guided tours of Basel and cultural attractions to appreciate.
The city boasts beautiful architecture and art galleries, as well as a variety of shops and restaurants to explore.
If you're looking for some adventure, consider signing up for a stand-up paddleboard lesson on the River Rhine – it's sure to be an incredible experience.
No matter what your interests may be, Basel Zurich is an ideal destination for travelers looking for a unique summer vacation.
9. Interlaken in August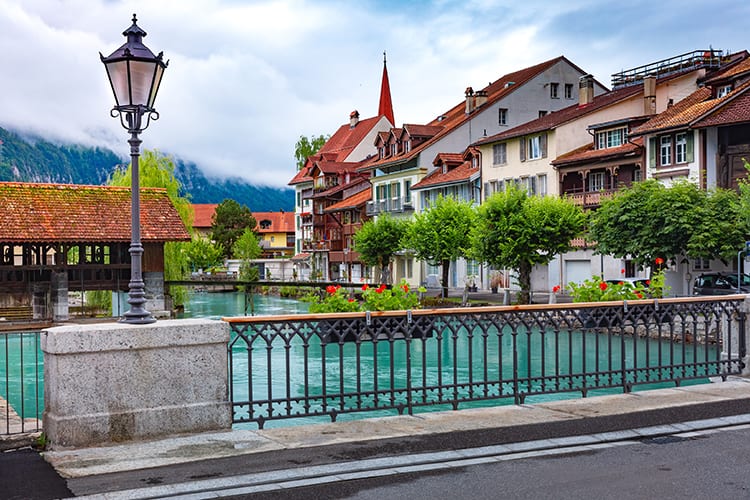 August in Interlaken is an amazing time of year for many reasons. One of the biggest draws is the stunning natural beauty that surrounds the city: the lush green hills, crystal clear lakes, and towering mountains.
There are a number of outdoor activities to enjoy, including kayaking, fishing, paragliding, and hiking trails. For those looking to explore the town itself, there is a unique mix of traditional culture and modern attractions.

The local market in Interlaken's downtown area is a great place to get a feel for the city and take home some souvenirs.
There is also an annual music festival held every August that draws visitors from all over the world.
If you're seeking something more adventurous, you can join one of the city's popular mountain biking tours which offer incredible views of the area's spectacular landscape.
If hiking is more your thing, you can experience the easier Rugen trail or the more challenging Harder Kulm trail or you can even take the funicular up!
Enjoy breathtaking views of the lake, mountains, and town. Grindelwald, a short train ride away, is a hiker's paradise with many gorgeous mountain trails.
10. Lauterbrunnen in August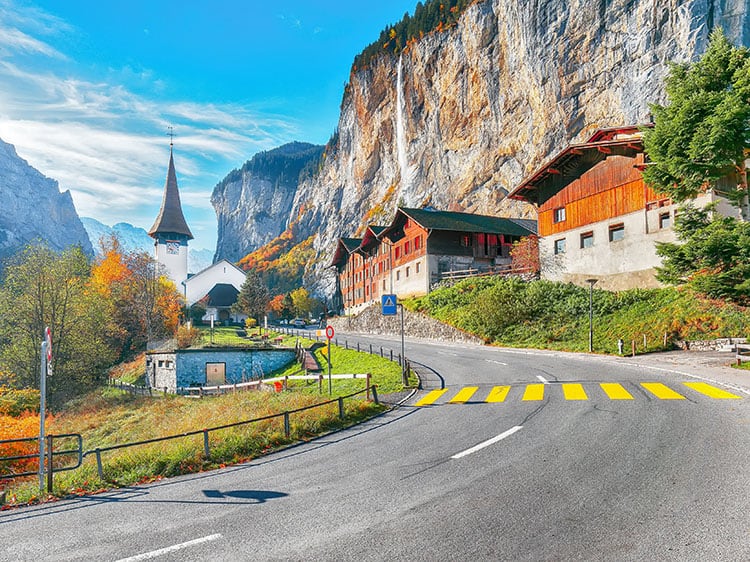 Lauterbrunnen is a perfect destination for an unforgettable summer holiday and is considered by many as the prettiest place in Switzerland.
In August, you can take part in many activities and explore some of the most spectacular places Switzerland has to offer.
Take a cable car ride to the Schilthorn summit, indulge in some of the best views of the valley, or take a romantic boat ride on Lake Brienz. If you're feeling adventurous, don't forget to try paragliding above the picturesque Eiger mountain range.
For those looking for more organized tours, there are several tour companies offering guided walks, hikes, or bike rides through some of Lauterbrunnen's most beautiful trails. Take a day hiking trip to Innerwengen or a fondue cooking class!
Enjoy your time here and soak up the incredible Swiss scenery!
---
Popular Events in Switzerland in August
Every year, Switzerland is host to a variety of popular music events and festivals. And with August being the peak of the summer season there are so many events and festivals to choose from.
Menuhin Festival: Enjoy top classical performances at the Menuhin Festival in Gstaad from mid-August to early September.
Swiss National Day: The national day is celebrated with fireworks, folkloric shows, and parades on August 1st. Festivities are particularly vibrant near the Rhine Falls near Schaffhausen and the Rütli meadow along Lake Lucerne.
Locarno International Film Festival: The Locarno International Film Festival, held for eleven days in early August, is a prestigious European film festival.
Lucerne Festival ("Sommer"): The Lucerne Festival, held from the second week in August to the first week in September, is a top classical music event in Europe. The festival's choirs and ensembles attract tens of thousands of attendees.
Zürich Street Parade: For techno and dance enthusiasts, head to Zürich in mid-August for the lively street parade.
Alpabfahrt/Désalpe: To experience traditional Swiss culture, head to Switzerland's scenic Alpen villages from late September to early October. During Alpabfahrt season, experience cows in flower headdresses and jangling bells, guided from mountain pastures to valley farms. Enjoy oompah bands, yodellers, fairs, and farmers' markets for a lively atmosphere.

---
What to Wear in Switzerland in August
When packing for a trip to Switzerland in August, considering the weather conditions is crucial. Pack layers to stay comfortable during the warmer temperatures.
If you're visiting this time of year for hiking or outdoor activities, bring breathable clothing and sturdy shoes. If you plan on heading to the Alps don't forget to pack waterproof clothing!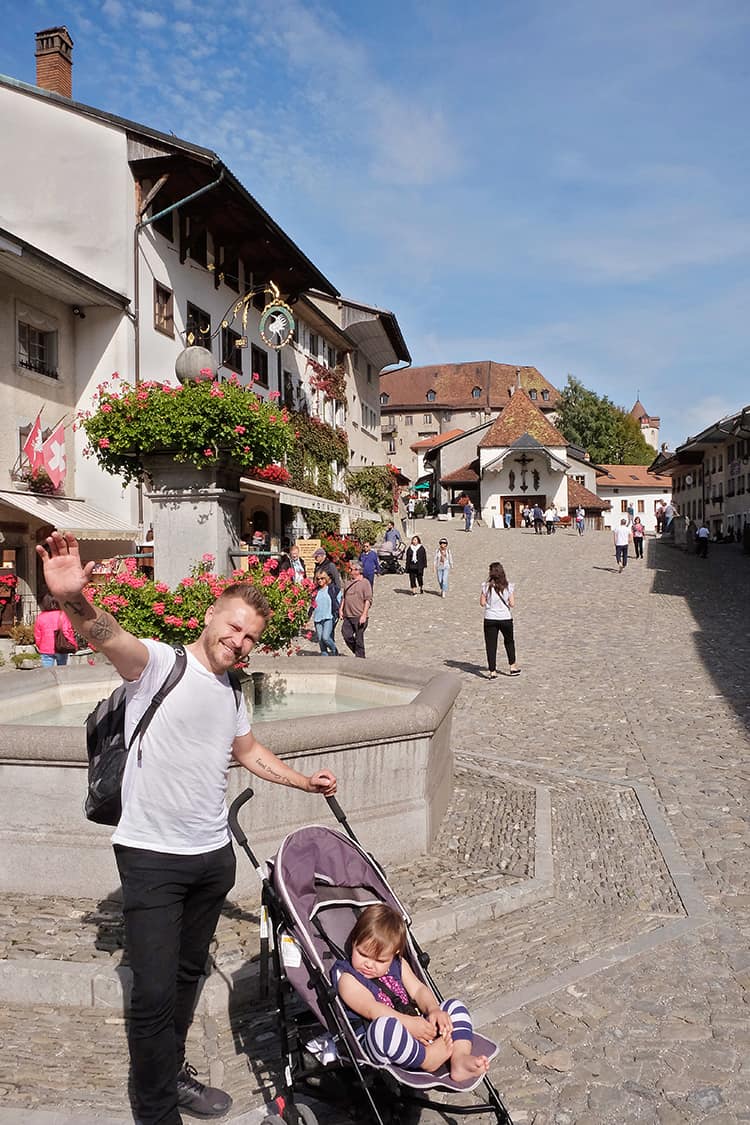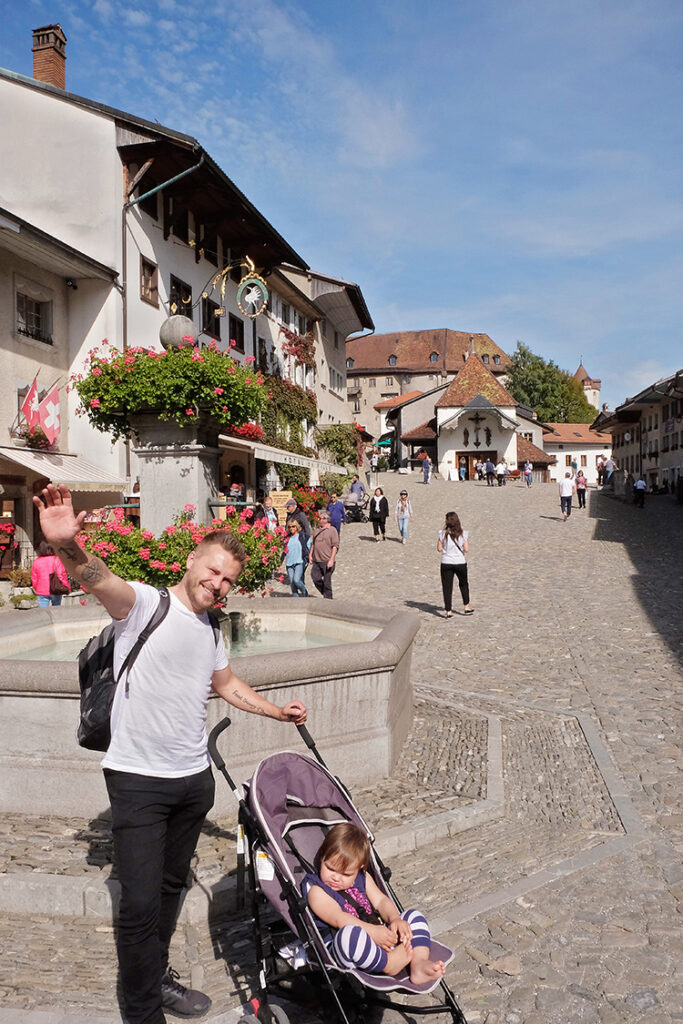 Layer up with a lightweight fleece, a waterproof windbreaker, or an insulated vest.

For men, it's important to pack versatile clothing options for changing temperatures. Bring along shorts, T-shirts, jeans, or pants for both warmth and style. Don't forget a light jacket or jumper and comfortable shoes.
Women should include light summer dresses and shorts. For cooler days, it's advisable to bring jeans, long-sleeved tops, and a cardigan or light jacket for evenings.

Remember to pack your swimming costumes for when you take a dip in the cool Swiss lakes or streams! And of course, bring sunglasses, sunscreen, and a hat the sun is strong during the summer season!
For many, Summer is considered the best season to visit Switzerland!
---
Visiting Switzerland in August: FAQs
Here are some answers to some of the most commonly asked questions about Switzerland in August.
1. How crowded is Switzerland in August?
During the peak summer season in August, Switzerland can become quite crowded as travelers come to experience its breathtaking views. Despite this being a popular time to visit, Switzerland is still a great place to visit in August. There are plenty of outdoor activities and sights to explore and enjoy, and with proper planning, it is possible to avoid the crowds.
2. Is Switzerland better in July or August?
The best time to visit Switzerland is July. The mild temperatures and long days make it a great month to explore the country. Plus, the summer months offer some of the most stunning views of the Alps.

In August, the temperatures are usually higher however the days start to become shorter. So if you're looking for an enjoyable trip with fantastic scenery, July is your best bet for the best weather!
3. Is Switzerland too hot in August?
Yes, the climate in Switzerland in August can get very hot, with temperatures averaging around 25°C (77°F). It's normally even hotter in the low-lying cities, such as Geneva and Zurich.

In the mountain regions, it can still be quite warm during the day but usually cooler at night and in the early morning.


4. Is Zurich crowded in August?
August Zurich is popular and crowded. Peak season, from mid-July to early September, sees accommodations filling up quickly.

Tourist attractions will have more visitors, making your experience less enjoyable without proper planning. Fortunately, there are less crowded activities and sightseeing opportunities even during peak season.
5. Is there snow in Switzerland in August?
The answer is no, there is no snowfall in Switzerland in August. The temperatures are mild and with lots of sunny days. The Alps however tend to be capped with snow throughout the year.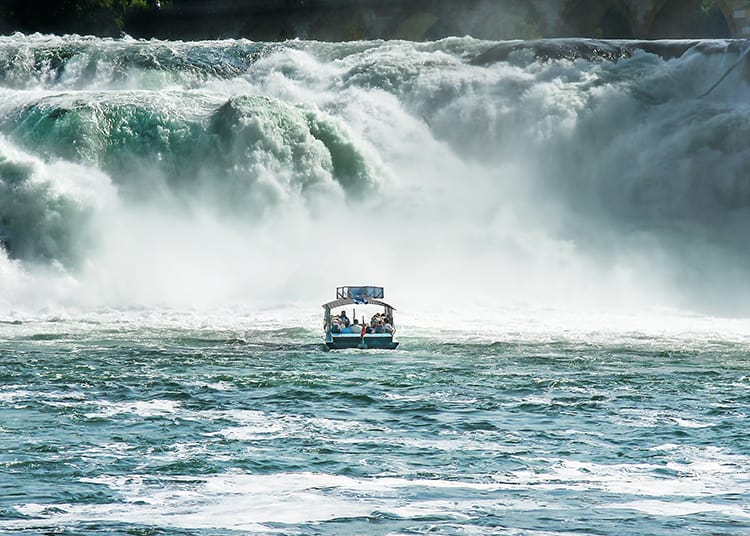 6. What season is it in Zurich in August?
August in Zurich falls on the cusp of late summer and early fall making it the warmest month in the year. Temperatures tend to range from a high of around 26°C (79°F) to a low of 13°C (55°F), with light breezes throughout the day.

It is generally sunny and pleasant, perfect for exploring parks, and gardens and taking in views of the lake. Rain is possible, but less likely than in other months.
7. Is there snow in Jungfrau in August?
Jungfrau lies in the Swiss Alps and is covered in snow all around the year, the region does not experience snowfall during the summer months. It's known for its snow-capped peaks and winter activities like skiing and snowboarding.
8. What is Geneva like in August?
Geneva in August is filled with sunshine and provides a relaxing atmosphere for visitors. The warm weather makes it the perfect time to enjoy the outdoors. You can find plenty of activities to participate in such as outdoor concerts, festivals, and hikes around Lake Geneva or through the nearby mountains.
9. Is Interlaken cold in August?
Interlaken is an extremely popular destination for those looking to experience the majestic Swiss Alps. August is generally a warm month in Interlaken, with temperatures ranging from 15-25 degrees Celsius (59-77 Fahrenheit). Over the course of the day, temperatures can vary depending on how high up you are in the mountains; overnight is usually a bit cooler than during the day.
10. Is August a good time to visit Lucerne in Switzerland?
August is an ideal time to visit Lucerne, Switzerland. The mild summer weather with temperatures around 25°C makes it perfect for enjoying popular festivals and city events. Nearby mountains and lakes offer a range of outdoor activities in a pleasant climate..
---
Final Thoughts: Is August a Good Time to Visit Switzerland?
August in Switzerland is a great time of the year to explore the country. From the picturesque alpine meadows and lakes of Zermatt to the thrilling heights of the Jungfrau mountain and the blue expanse of Lake Lucerne, our list of where to visit in Switzerland in August will ensure that you have a great time.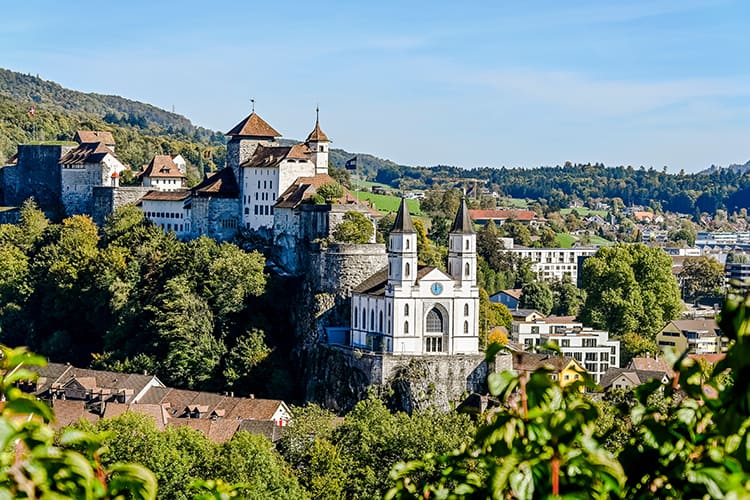 As travel bloggers who have traveled extensively throughout Switzerland, we can attest that August offers a variety of experiences. Whether you're looking for adventure or relaxation, August is an excellent time to visit Switzerland.
Whether it's exploring small villages high in the mountains or shopping in Zurich, make sure you take some time out during your trip to experience all that this beautiful country has to offer!