Switzerland in the Summer is stunning. The snowcapped mountains become lush and bright green inviting you for amazing outdoor hikes.
This European country has so many amazing places to visit in the summer. These Switzerland summer destinations offer a whole range of outdoor activities, from hiking, to enjoying the lakes or swimming in some rivers.
If you are looking for a European summer vacation, then be sure to have a look at this list of the 15 most beautiful places in Switzerland in summer that are worth a visit.
15 Best Places to Visit in Switzerland in the Summer
This travel guide listing the best places to visit in Switzerland for the summer will help you plan the most amazing summer vacation to this European destination.
From the must-see places in Switzerland in summer where you can enjoy and sample some of Switzerland's finest food and wine to the most scenic city in Switzerland or the best things to do in Switzerland in the summer – this list covers all of them!
1. Montreux
– Contributed by Bulgarian On The Go –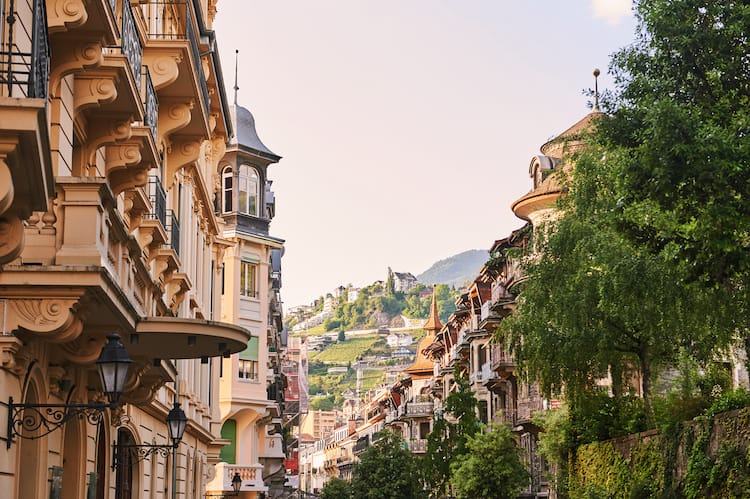 The first destination on our list of the best places to visit in Switzerland in the summer is Montreux.
Montreux is one of the most exciting places to visit in the summer.
The main reason is very simple – the Montreux Jazz Festival. This is the second-largest jazz festival in the world and it takes place annually in early July on the Lake Geneva shoreline. It's become so popular that around 200,000 people visit it every year.
The summer in Montreux also allows for many water sports in Lake Geneva, such as paddle boats, canoes, kayaks, and even water skiing.
Even if you're not a fan of water sports, you can still take advantage of the beautiful Lake Geneva shore and enjoy a day at the beach.
For all hiking lovers, there are quite a few hiking routes near Montreux which are worth exploring. Some ideas for hikes include the Gorge du Chauderon, Via Alpina, and Rochers de Naye.
Do not forget to add the Chillon Castle, the statue of Freddy Mercury, and the Queen's Studio to your itinerary of things to do in Montreux.
The town is incredible to visit in any season, but it's additionally special in summer due to the wide variety of activities provided during this time of the year.
---
2. Zurich
– Contributed by Dymabroad –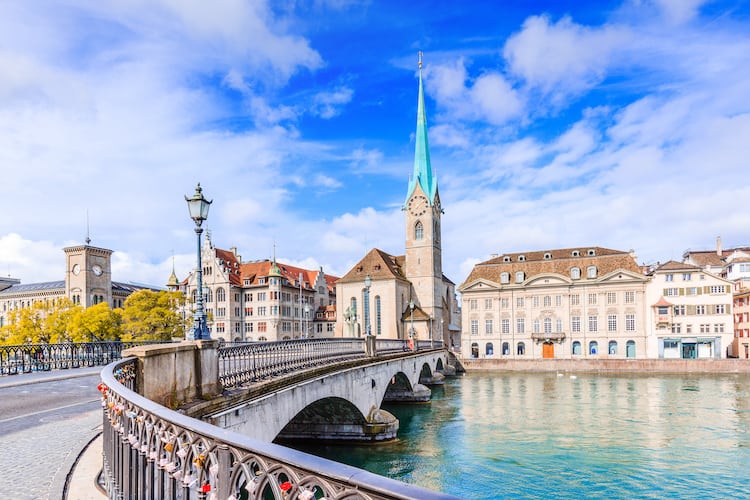 Is Zurich worth visiting in summer? Absolutely!
One of the best places in Switzerland to visit in summer is the city of Zurich. This is the largest city in the country and there are a lot of things that you can do in the city during summer.
One of the best summer activities in Zurich is to check out the outdoor pools in the city. There are several pools on or next to Lake Zurich. For example, a nice one is Flussbad Oberer Letten.
Furthermore, you can go to Film am See, which is an open-air movie theater.
Besides that, hiking is a great activity to do in Zurich during summer. There are beautiful hills with nature that surround the city.
Also, it can be great to go to the Uetliberg Lookout Tower when you do this. This is an observation tower from where you can get a panoramic view of the city and its surrounding.
Also, the Zürcher Theater Spektakel takes place during summer. This is a performing arts festival during which you can see all kinds of performances at various venues in the city. For example, there are live theater shows at this festival.
Zurich is definitely one of the best cities in Switzerland and one of the best places to go in Switzerland in summer.
---
3. Lucerne
– Contributed by Travels In Poland –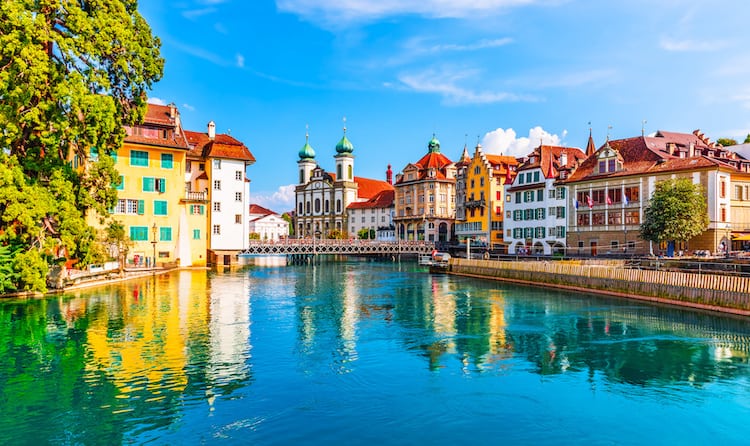 Lucerne is one of the most beautiful and popular summer destinations in Switzerland. With the base of the Swiss Alps, Lake Lucerne offers amazing water and mountain-based activities for visitors.
Lucerne, located in central Switzerland, is the largest city on the lake and is located at the northern tip of the lake is a great city to visit when visiting the lake.
The city offers a range of amenities, a beautiful old wooden walking bridge, a small city feel, and numerous amenities.
The quaint villages and small cities sprinkled around the lake can be accessed by boats that make numerous daily crossings across the lake.
One of the towns, Weggis, has high-end luxury hotels and spas, though this is also true for other cities on the lake.
Viztnau is also a great destination as it offers a cogwheel train up to Rigi Mountain, a popular destination for hiking. Campgrounds can be found in the cities along the lake, and visitors should not be surprised to see RVs lining up at each site.
The lake has hundreds of offerings of water-based activities, such as boating, swimming, fishing, canoeing, paddle boats, kayaking, and much more.
There is access to public beaches in many areas, which allows visitors to spend the day at the lake however they wish.
One of the best parts of Lake Lucerne is the hundreds of lakeside cafes, restaurants, hotels, spas, and much more.
Travelers can simply pick and choose a beautiful city to visit along the lake, and they can easily find fine Swiss dining and beautiful views.
Besides visiting the lake, you can also head for the mountains. Mount Pilatus is only a 15-minute bus ride away and the summit is easily reached via cable cars and a gondola. The mountain has snow-capped peaks even during the summer season. On a clear day, you can enjoy panoramic views over the Alpine peaks and lakes.
Lucerne is called the heart of Switzerland for a reason and is well worth a visit if you haven't been.
---
4. Gruyères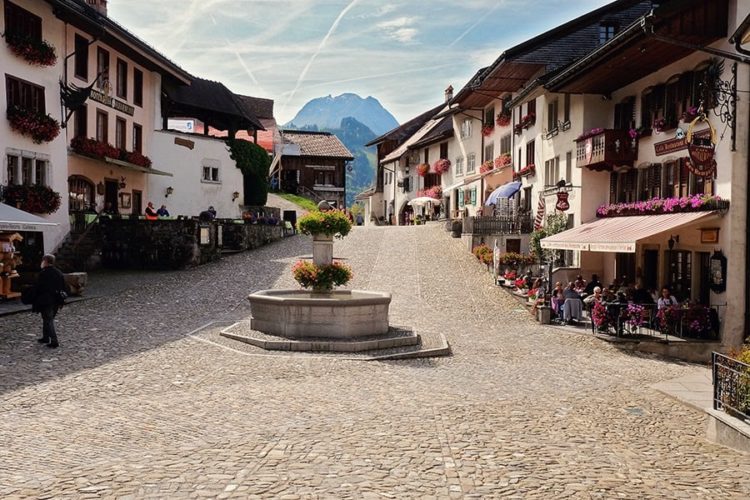 So if I asked you: what is Switzerland known for? I bet some of you might think about chocolate and Swiss cheese. And this little town is about both, making it the best village in Switzerland.
Gruyères is a beautiful walled Medieval town packed with tons of charm. Whilst there are many things to do in Gruyères during the day, you'll love walking along the cobblestone streets.
This quaint town has few shops and homes which makes the experience of visiting this town one of the must-see places to see in Switzerland in summer.
Gruyères is known for its cheese which is used in a number of gourmet dishes around the world. Be sure to try the village specialty dish, known as Moitie-Moitie, which is a dish made with the popular Gruyères and another locally sourced cheese named Vacherin from the Fribourg area.
It is also known for the HR Giger Museum where you can see paintings and sculptures of many alien movies that have been made.
There is also the Medieval Gruyères Castle that you can explore and visit – the views from up on that level are spectacular!
For all those chocolate lovers, the Cailler Chocolate Factory is accessible with a short 5-minute walk from the Broc train stop and well worth a visit.
Enjoy a tour of the factory, relax at the café, and grab some delicious souvenirs from the chocolate shop on the way out.
---
5. Lugano
– Contributed by The World In My Pocket –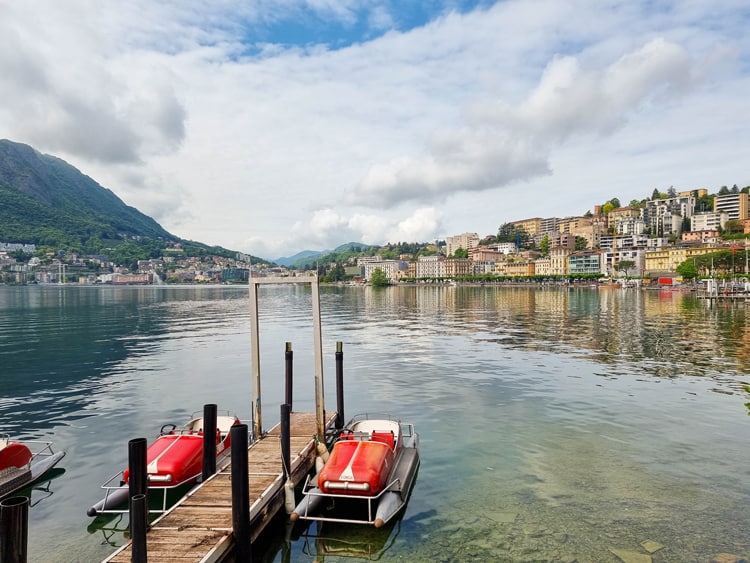 Lugano is a fantastic summer destination in Switzerland.
The Swiss city, located on the shores of the lake with the same name, has a certain Mediterranean feel that is best enjoyed during the summer months when the days are long and terraces open until late in the evening.
There are plenty of things to do in Lugano in summer. The city has a wonderful lido, as well as a public beach where you can cool off from the heat, by swimming in the lake.
For nature enthusiasts, going up Mont Bre to hike and admire the panorama of the Swiss and Italian mountains is a must. At the top of Mont Bre you can enjoy a drink with a view from the outdoor terrace of the restaurant there, which has a 360 panorama of the lakes and mountains below.
There are plenty of trails here as well that can take you all the way to Italy.
In summer in Lugano, you can also enjoy a relaxing time by hiring a pedalo boat to explore more of the lake at your own pace. The boats are very cute, in the shape of old race cars.
Even if you are going to Lugano on a day trip, this city is so worth visiting in summer.
On a side note, did you know that you could easily reach Italy for a day trip if you are staying in Lugano? Lugano is the closest Swiss city to Milan and you can easily reach it on a train – which will only take 1 hour 15 minutes.
---
6. Interlaken
– Contributed by Megan Starr –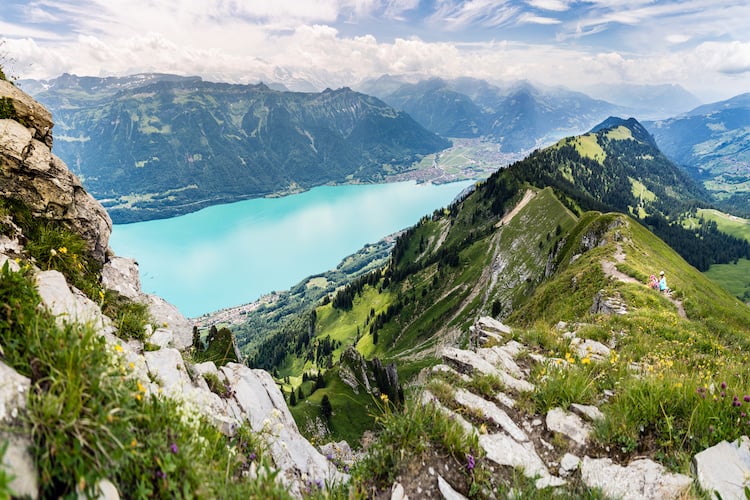 Interlaken is a fantastic summer destination with a plethora of activities to choose from. You'll never be bored!
There are many great hiking trails to explore the area's natural beauty. Try the easier Rugen trail or the more challenging (though completely doable) Harder Kulm trail for breathtaking views over the lake, mountains, and town.
Grindelwald, just a short train ride away, is a paradise for hikers with many gorgeous mountain trails.
For less strenuous options, stroll on the lakeside of beautiful Lake Brienz or Lake Thun. You can also jump in the water for a refreshing swim.
Kayaking, canoeing, and stand-up paddleboarding on these blue lakes are fun activities to take advantage of the beautiful weather.
If you are a thrill-seeker, Interlaken is one of the most stunning places to go paragliding, an activity offered both in winter and summer!
And don't miss out on visiting the enchanting Oberhofen Castle and strolling through its colorful gardens, with unhindered views of lovely Lake Thun.
Interlaken also hosts some great summer music festivals. Check out the Greenfield rock festival, and the International Trucker and Country Music Festival, or head to nearby Spiez for the Seaside Festival, featuring different genres of music from both Swiss and international music stars.
For all these reasons and more Interlaken is one of the best places to visit in Switzerland!
---
7. Lavertezzo
– Contributed by Together In Switzerland –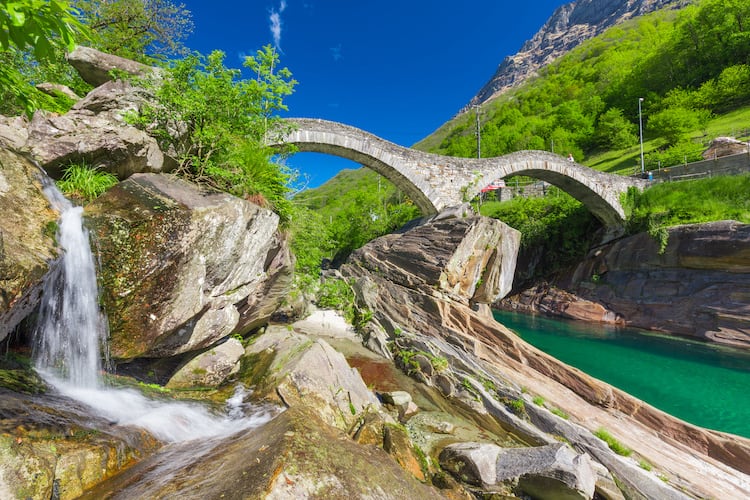 Switzerland in Summer can be truly magical, such as when visiting the mountains in a combination with a lake or river for swimming.
A recommendation of one of the best places to visit in Summer is Lavertezzo, a dreamy little location in the Ticino Canton.
Pack your sun cream, sunglasses, and your swimwear as you will want to dip into the stunning crystal clear waters at Lavertezzo. The river flows through the Verzasca Valley, a popular spot with locals and a few tourists who make the visit. You can visit by car, but the easiest is with the local public bus that stops right in the area.
As well as swimming in the waters at Lavertezzo, you can hike along the river's edge either North or South through the forestry area and past the local houses.
During Summer it is very idyllic to relax and take your time in the area, so bring yourself a picnic full of delicious treats.
It's very rural in the area, but the Ponte dei Salti double arch stone bridge is a top highlight even for locals.
If you're a daredevil, join the locals by jumping off this bridge directly into the deep but clear waters below. It's about a 4-meter drop so it's not for those scared of heights!
From Lavertezzo, you can also consider combing the day with a visit to either Ascona or Locarno. Both are located at Lake Maggiore where the Verzasca valley and river end.
---
8. Lausanne
– Contributed by Passion for Hospitality –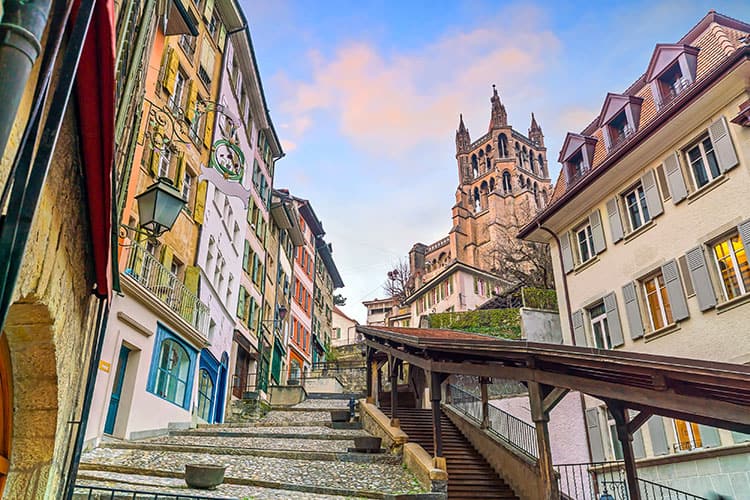 Lausanne, Switzerland's fourth largest city is not only considered to be one of the most beautiful cities in the country but has also enjoyed global recognition as the Olympic capital since 1994.
This important title makes Lausanne one of the most reputable and significant locations in the sports world and the summer months are a perfect time of year to enjoy several sporting events.
From Cyclotour du Léman, a popular cycling race that runs along the Swiss and French shores of Lake Geneva to the Ladies Open Lausanne, and of course Lausanne Triathlon, one of the most anticipated sport events not to be missed!
Apart from being a sporting capital, Lausanne is located in a widely popular wine-growing region which is a UNESCO World Heritage site as well.
Wine lovers are guaranteed to enjoy some of the most prized wine varieties paired with a highly relished local cuisine.
Lausanne boasts a myriad of wonderful experiences throughout the year and the summertime is a perfect season to enjoy its rich cultural program which combines exciting theatre performances with dance, music, and circus.
---
9. Maggia Valley
– Contributed by G-Extreme Travel –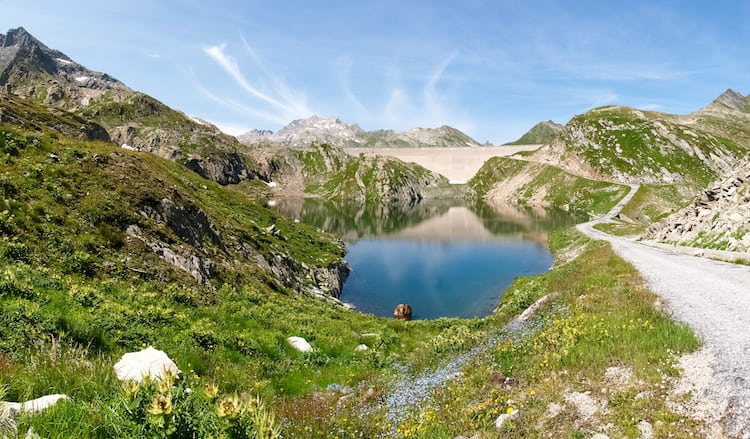 Switzerland is known for its majestic mountains, stunning lakes, and pristine valleys. While the country offers a wide range of outdoor activities year-round, nothing beats exploring Switzerland in the summertime.
One of the best places to experience the best of what Switzerland has to offer is Maggia Valley. It is located in the southwest corner of the country, close to the Italian border.
Maggia Valley is best known for its awe-inspiring waterfalls and lush green mountain valleys.
The best way to experience this paradise of nature is to go on a hike. You can explore trails along the river or venture out onto one of the many peaks in the region. You'll be rewarded with views of the valley, beautiful streams, and waterfalls cascading down the mountains.
Switzerland is well known for its traditional dishes such as fondue, raclette, and rosti… but in this majesty valley, you'll encounter the Grottini Ticinesi, a place made of traditional rustic stone huts, that serve delicious regional dishes like pizzoccheri, polenta, and other deliciousness!
Here you can sample some of the best local food while enjoying an amazing view of the mountains.
Besides spectacular views and delicious food, Maggia Valley has something for everyone in terms of activities. Many of the trails are suitable for families, while others are more challenging and best suited for experienced hikers.
Maggia Valley is a true gem for visitors looking to experience Switzerland's best in summertime (and not only).
From its stunning waterfalls and lush green mountains to its delicious restaurants and wide range of activities, there is something for everyone in this valley.
So if you're looking for a summer getaway that offers something special, then Maggia Valley should definitely be on your list.
---
10. Vevey
– Contributed by Life Part 2 And Beyond –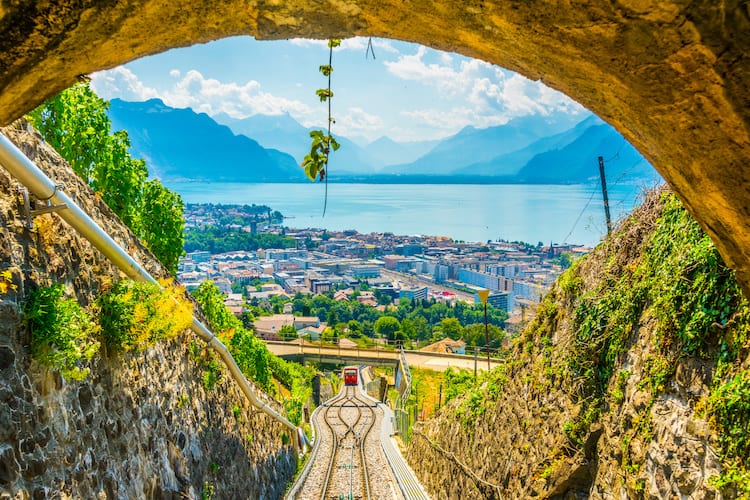 The lovely town of Vevey lies on Lake Geneva's north coast. It's a beautiful place to visit during the summer months.
You can take a swim in the lake, a boat trip, a pedalo, or a kayak, or simply relax by the water's edge. And don't forget to take that Instagram photo of Vevey's iconic giant fork that sticks out of the water.
Then explore the old town and lose yourself in its cobbled streets. If you're there on a Tuesday or Saturday, be sure to visit the farmers market in the Grand Place.
Visit Vevey in August and enjoy the entertainment from the Street Artists Festival.
And did you know that Charlie Chaplin lived in Vevey for the last 20+ years of his life? His old house is now a fascinating museum about Chaplin's life, and there's an interactive movie studio showing his movies too. A trip to Chaplin's World is a must on any visit to Vevey.
Just on the edge of town is a funicular that takes you up to Mont Pelerin. From the mountain top, there are great views of Vevey, the lake and the mountains and some great summer hiking options. All trails are clearly marked.
---
11. Geneva
– Contributed by Global Travel Escapades –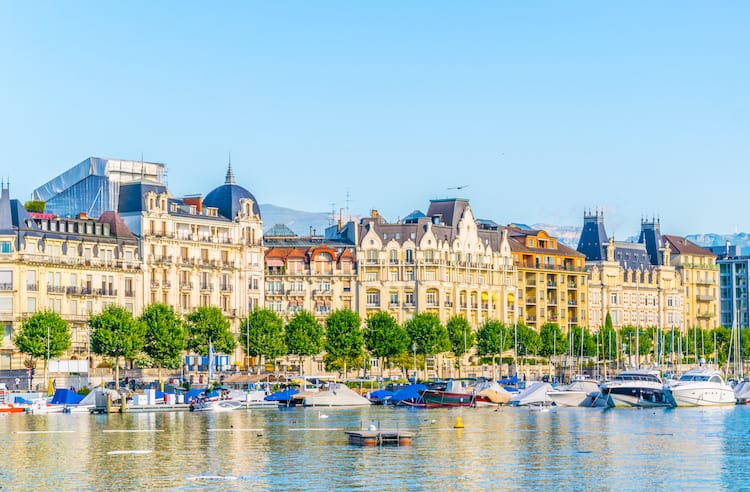 Is Geneva worth visiting in summer? One of the best places in Switzerland to visit during the summer is the gorgeous city of Geneva.
During the summer, the city experiences a pleasantly mild climate, with temperatures usually around 77-78F (25-26C) – ideal for soaking up the sun!
You can find plenty of activities to enjoy around Geneva during the summer. For example, you can cool off by swimming in the refreshing and clear waters of the Rhône River at Plage de Rhône.
Alternatively, if you prefer to lounge around and indulge in some of the region's famous fondue, head on over to the Bains des Pâquis! Here, you will find several areas of Lake Geneva that have been sectioned off, water structures that kids can play on, a restaurant, and even a few diving boards!
Lastly, you won't want to miss seeing the iconic Jet d'eau Geneve. This giant water jet propels water a whooping 140m into the air!
Afterward, you can stroll along the harbor and admire the colorful flower clock in Jardin Anglais which is believed to be created out of over 6,500 flowers!
So, if you've dreamt of swimming in Switzerland's clear blue waters, then consider a visit to Geneva!
---
12. Zermatt
– Contributed by Destination Checkoff –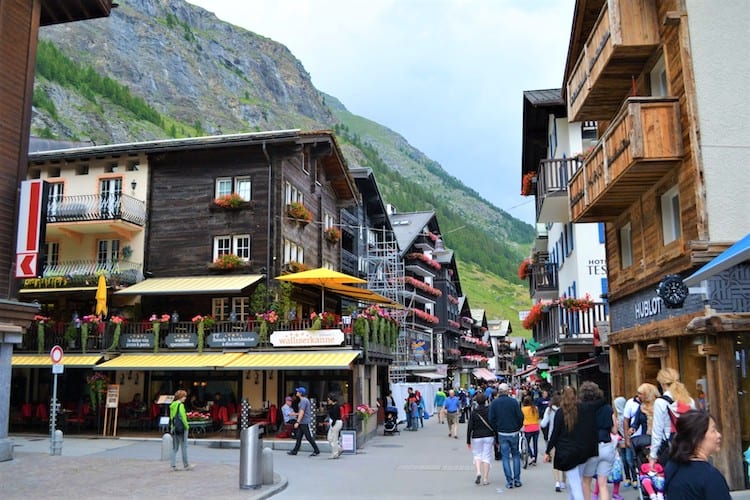 Zermatt is a year-round destination and has plenty of activities and sights to enjoy in the summer. The biggest draw of Zermatt is the Matterhorn mountain at 4478 meters towering above the town.
During the summer, take the 30-minute cog railway to Gornergrat for some epic views of the Matterhorn mountain from the Gornergrat observation deck at 3089 meters.
Zermatt is a popular summer destination for hiking and mountain biking. There are several trails here for all levels of hikers and mountain bikers.
Hike the Five Lakes Walk Trail for some stunning scenic lakes and reflection of the Matterhorn in the lake waters.
Zermatt town is a nice place to walk around and explore the shops and restaurants.
To learn about the history of Zermatt make sure to visit the Matterhorn Museum. The Findeln Chapel and the English Church are sacred places to admire in Zermatt.
Every summer in August, the Folklore festival celebrates the Swiss culture with a huge parade that features a variety of traditional Swiss music, dance, and costumes.
In Zermatt town, you will find charming boutique hotels with spas offering great relaxation after a day of hiking or summer adventures.
There are several restaurants offering delicious Swiss cuisine as well as international cuisine.
---
13. Ascona
– Contributed by The Discovery Nut –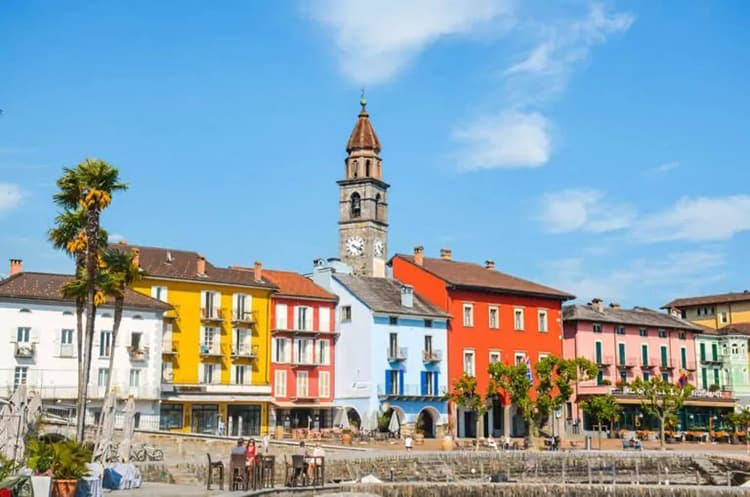 Located along the shores of Lake Maggiore in Southern Switzerland, Ascona is a perfect summer destination if you are looking to enjoy the Mediterranean flair, enjoy boat rides, and take a couple of hikes in the nearby Valley Maggia.
This cute town sits near the Italian border in the Canton of Ticino, the only Italian-speaking canton of Switzerland that's located less than 2 hours away from Milan.
Ascona boasts a colorful old town with a prominent clock tower, small stores, and gelato shops along the cobblestone streets.
If you spend a couple of days here, you might think that you have just stepped into Italy: the cobblestone streets of Old Town Ascona are lined with boutique shops and gelato stores where you can buy a tasty treat on a hot summer day.
Ascona makes a perfect stop on your Switzerland itinerary and the best part is that it's less discovered than some of the most popular destinations in the region like Lugano and Lake Como which receives the majority of visitors.
Whether you want to go hiking, explore the medieval architecture of Old Town Ascona, or spend a few days enjoying the lake, you will have a great time here.
---
14. Bern
– Contributed by Paul from Paul Marina –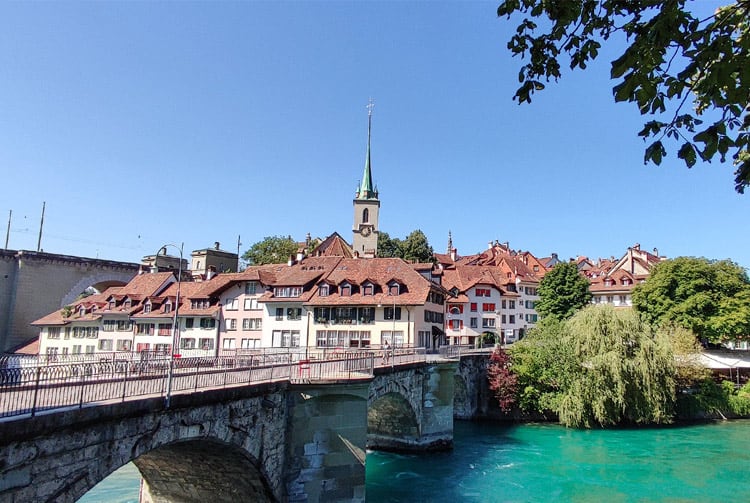 Bern, the capital of Switzerland, is located at the heart of the country. The medieval city was founded more than 800 years ago at the bend of the Aare river.
The turquoise blue waters, and cute houses with clay-colored roofs as a backdrop, enthrall most visitors with their unique beauty.
Architectural marvels and the top attractions of Bern can be explored on a stroll through the well-preserved old town.
A popular summer activity is swimming in the crystal clear Aare river. Locals and visitors from all over the world just tuck their belongings into a dry bag and jump into the refreshing waters.
Floating down the river is a relaxing unique experience, and you get to see the city from a different angle. Families with kids will appreciate the free public pools in Bern to beat the hot summer heat.
The open-air grocery market at the Bärenplatz has seasonal local fruits in the summer and the adjoining flea market is a treasure trove worth exploring.
For those looking to get active, the cycle trails along the Aare river are popular and a great way to explore the green areas of Bern.
The funicular to the Gurten mountain peak takes one closer to various hiking trails. Exceptional views of the city and of the Bernese Oberland Alps can be expected here!
---
15. Lavaux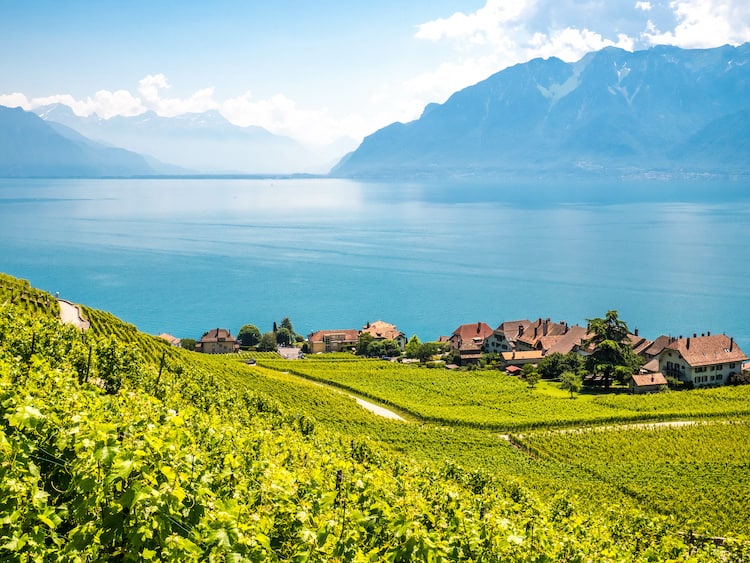 Visiting Lavaux, the wine region of Switzerland, make this one of the best places to visit in Switzerland during summer months for any wine lover.
The region of Lavaux is known for its terraced vineyards that stretch along the northern shores of Lake Geneva for over 30 km's.
Lavaux is not just for wine lovers though. Lavaux has some of the best things to do in Switzerland in the summer.
You can explore the 800 hectares of magnificent terraced vineyards on foot or by bicycle. And if wine is your thing, be sure to take part in a wine tasting in the many wine cellars and sample the best wines that Switzerland has to offer.
When you travel through the region of Lavaux, there are many charming pintes (mini-restaurants) that you can stop at to enjoy the local produce and food.
---
FAQ About Switzerland Summer Destinations
Find below answers to some of the most frequently asked questions.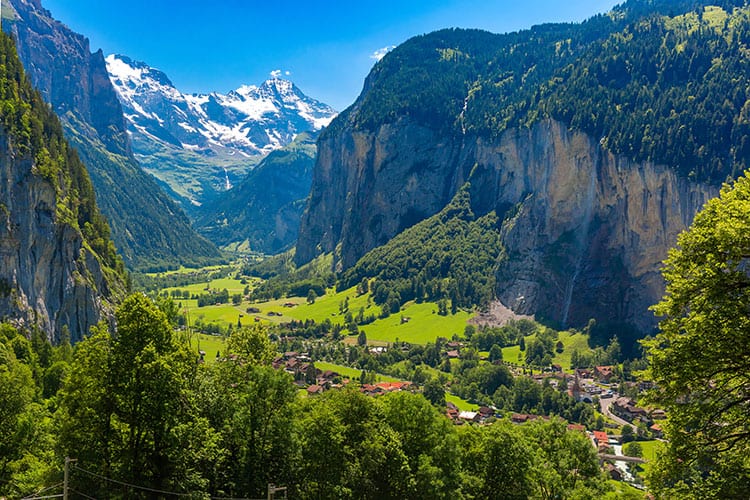 1. Is it worth visiting Switzerland in Summer?
Yes. Europe is wonderful in the summer and with many Switzerland places to visit in summer, it is definitely worth visiting.
2. When is summer in Switzerland
Summer is from the months of mid-June to late September. The temperature range during the summer months ranges between 65° – 82° F (18 to 28 °C) making it a very comfortable temperature to enjoy the many activities and places Switzerland has to offer.
3. What is Switzerland like in the summer?
Switzerland in the summer is really beautiful. The sun is out, hiking trails are open, and the many lakes around Switzerland are warm enough for swimming.
The summer weather is great for exploring the lush green hills and mountainsides by foot or bicycle.
4. Is Switzerland crowded in summer?
As you can imagine, summer in Switzerland will be one of the busiest times next to the Swiss ski season so be prepared for crowds if you travel during the high season of June through to the end of August. If you still want great weather but want to avoid the crowds, visit during the months of April – May or September – October.
5. Should you visit Geneva or Zurich in Summer?
Geneva and Zurich are two of the best cities to visit in Switzerland in summer. Both cities have warm climates during the summer months with hot and sunny weather.
Geneva tends to be drier than Zurich, although it is a little more humid, so if you want to try and avoid summer showers, Geneva may be best.
Final Thoughts
Switzerland is one of the most beautiful countries in Europe, and it is a true dream to visit if you love nature, outdoor activities, and gorgeous towns and villages.
We hope that this list of where to go in Switzerland in summer is a great guide to help you put together your list of Switzerland summer destinations.
If you want more ideas for the best places in Switzerland in summer be sure to read our Switzerland Travel Blog Posts for more inspiration.
Tip: Check out our blog posts: