Visiting Europe in the winter may not be on the top of your travel destination list, but many of the cities listed here are full of festive cheer, from the sparkling nights that light up the streets to the many Christmas markets that run over the December months.
Add the winter weather and many options to keep warm, like Gluhwein (mulled wine) from Germany to velvety thick hot chocolate in Italy, and you feel like you are in a Winter Wonderland!
To ensure we had the best destinations on our list, we reached out to other travel bloggers to find out which city is their favorite during December.
Make sure to check out our post on the best cities for weekend trips in Europe for q quick weekend trip!
Here is Our List of the Best European Cities to Visit in December
To help you make sure that you experience a magical time this December, we put together a full list of the best European cities to visit in winter.
If you have more than a few days for your trip to Europe in December, why not visit more than one of these cities – or maybe even try out a cruise that stops at some of these festive destinations?
Okay, let's get straight into it shall we?
1. Barcelona, Spain
– Recommended by Carley from Home to Havana –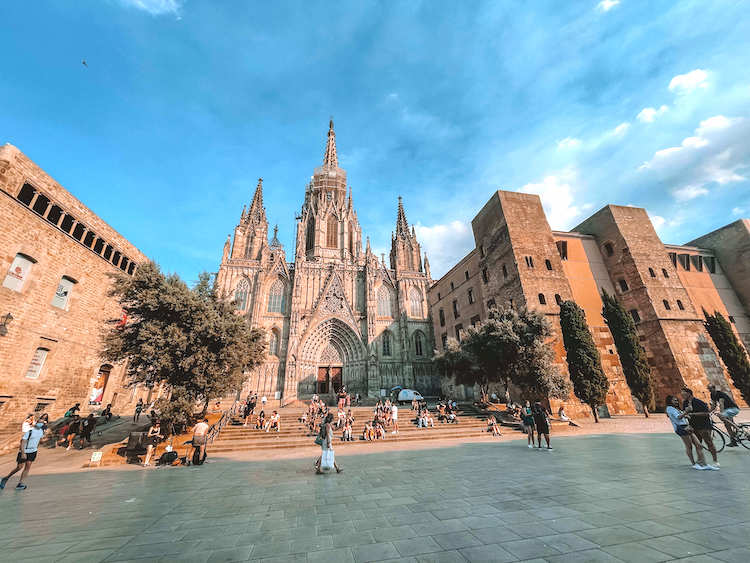 With its enviable position along the Mediterranean Sea, Barcelona never gets too chilly or wet, making it the perfect city in Europe to visit in December if you are after warmer weather.
Not only is it a great time to visit weather-wise, but it is also one of the cheapest months to visit Barcelona.
During December, you can also see many fun markets and festive activities dedicated to celebrations such as Christmas, Carnival, and New Year's Eve.
Visitors will enjoy strolling the sunny streets of the Gothic Quarter and El Born neighborhoods and making the most of a city with markedly fewer tourists while enjoying pleasant weather in this highly walkable city.
Start your Barcelona itinerary from Park Guell or Castell Montjuic, both of which will give you enviable views of the entire city and the sea in the distance while still easily accessible from the rest of the city.
You'll be able to take in some of the biggest attractions in Barcelona without being overwhelmed by the onslaught of visitors in the summer. However, it would be best if you still planned on booking tickets ahead for the most well-known sites like Sagrada Familia.
December is also the perfect time to enjoy a tapas crawl to some of the best tapas restaurants in the city. Many are spread throughout the El Born neighborhood and are easily walkable in just one evening.
Try the warm dishes like patatas bravas, bombas, and fried seafood, and finish the evening with churros and hot chocolate. Though churros are generally a breakfast dish in Spain, who could think of a better way to end a brisk Barcelona evening?
If you are traveling with kids, you can also find some additional ideas of what to include in your itinerary on our Spain with kids blog post.
---
2. Berlin, Germany
– Recommended by Wanderlust Storytellers –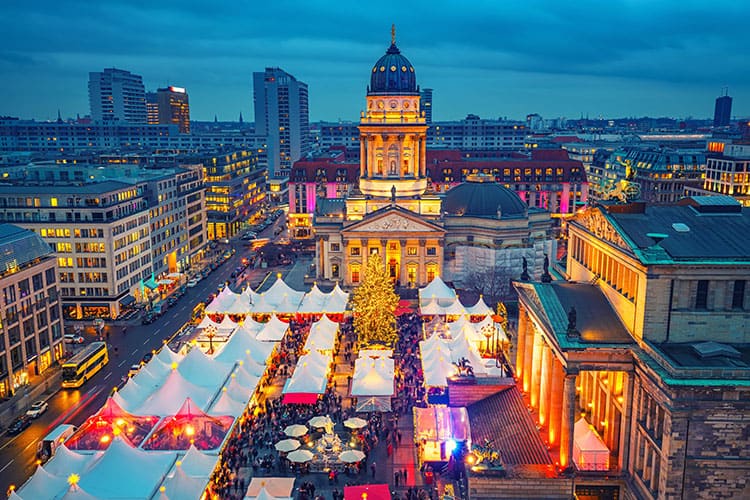 Berlin is the place to be and arguably the most fascinating and diverse capital city in Europe. People flock there not only for its unrivaled party scene but also to experience and learn more about its troubled past.
December is a perfect time to visit Berlin as the city comes alive with festive joy, from Christmas markets, beautifully decorated Christmas trees, and yummy mulled wine.
Some of our favorite Christmas markets to visit is at:
Alexanderplatz
Gendarmenmarkt; and
Potsdammer Platz
Besides festive activities, there are heaps of other fabulous things to do in the city. If you aren't afraid of heights and are ready to see Berlin from above, head up into the sky in the Weltballon (World Balloon).
If you'd rather be on dry land, then a trip to Tempelhofer Feld (Tempelhof field) is a must. Located on the edge of the inner-city ring, it used to be an operating airport until it closed in 2012. Now the landing strips and the rest has been turned into a haven for city dwellers and wildlife. It's the perfect place to get sporty.
Locals, young and old, like to go cycling, rollerblading, and wind skating, yes, you read that correctly. There's even a skate park and a mini-golf area.
If it's raining outside, heading to one of Berlin's many museums is a fantastic idea. If you are traveling to Berlin with kids, that are majorly into dinosaurs, then the Naturkunde Museum (Natural History Museum) is the place to be.
There is a life-size dinosaur skeleton in the museum's great hall and many interactive zones throughout; your kids will have fun for hours, and you will also.
Another great interactive museum is the Technik Museum (Technology Museum). This houses life-sized boats and planes in its interior and has trains you can explore on the grounds.
Berlin is a very green city with a whole host of parks to explore, and don't worry, the kids will also be entertained on one of the 1850 playgrounds strewn across the city. It also has around 1000 ping pong tables that anyone can use, so don't forget to pack your ping pong bats; older kids will love it.
---
3. Edinburgh, Scotland
– Recommended by Sam and Natalia from Something of Freedom –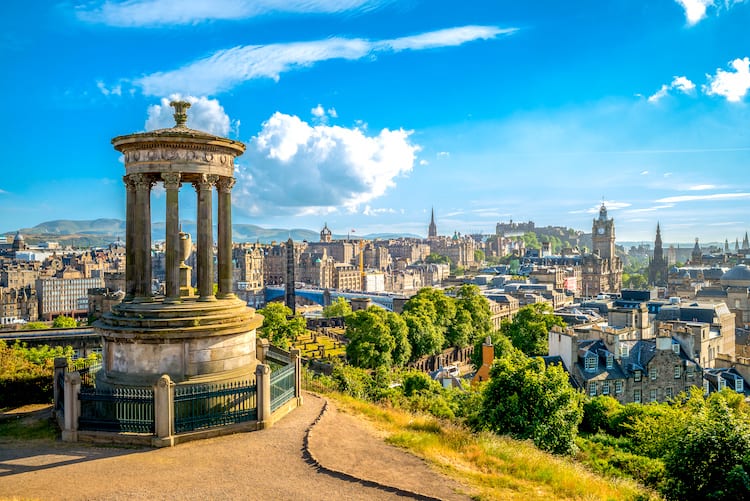 Edinburgh is truly a magical place to visit in December, with Christmas lights illuminating the city as you walk down the streets.
The city is home to a large Christmas market at the East Princes Street Gardens, where you'll find plenty of festive cheer. There are a variety of Scottish and German food stalls, Santa's Grotto, an ice rink by George Street, and much more!
Another great spot to visit is the city's botanic gardens, decorated with Christmas lights. Displays vary yearly, with previous displays including a Winter Light Trail, Laser Garden, Christmas Cathedral, and more!
Many events in the city make it a great place to visit in December, so you'll have plenty of things to do during a day in Edinburgh. With so much going on, it's the perfect place to get into the Christmas spirit!
As well as all of the above, another great thing about visiting Edinburgh in December is that it's outside the main tourist season. This means it's not as crowded as during the peak summer months, although the Christmas market does mean there are still some other tourists.
If you happen to be in the city on New Year's Eve, don't miss the amazing fireworks display at Edinburgh Castle to kick off the Hogmanay celebrations.
---
4. Bern, Switzerland
– Recommended by Daria from The Discovery Nut –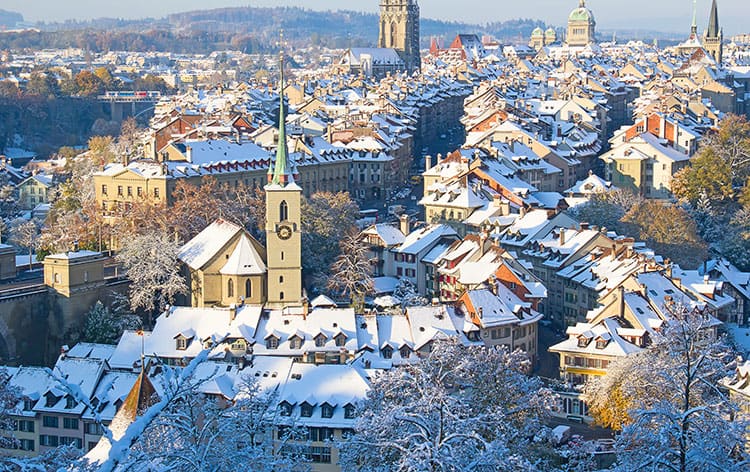 The capital of Switzerland, Bern, is a cozy town with cobbled-stone streets and medieval architecture. Bern is a UNESCO World Heritage Site and one of Switzerland's best places to visit.
Traveling in December to Switzerland is a great time to visit Bern thanks to its proximity to the Bernese Oberland, one of the country's top destinations for winter sports.
Many winter sports events occur in the region, with many snowboarders, skiers, and mountain climbers coming here. The area has close to 350 cross-country skiing trails and many alpine villages like Murren, where you can see traditional Swiss architecture.
Even if you don't ski or snowboard, you can still try winter hiking and snowshoeing, which make for fun winter activities.
Here are a few ideas of what to see in Bern before heading to the mountains.
Walk around Old Town Bern to explore its architecture or take a walking tour with one of the local guides to learn about Bern's history and visit some of the highlights like the Zytglogge clock tower.
If you don't feel like driving to the mountains, you can also arrange a helicopter tour to the Swiss Alps to enjoy the incredible view of one of the most prettiest cities in Switzerland and scenic places in Europe.
---
5. Paris, Fance
– Recommended by Gabriel Glasier of Chef Travel Guide –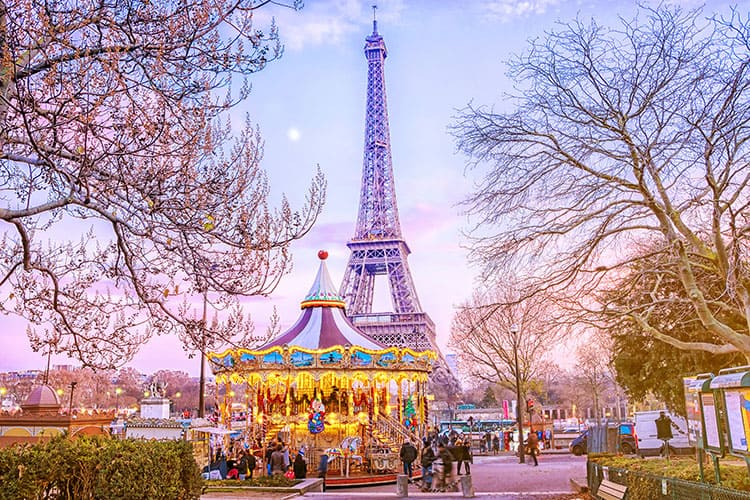 December is one of the most magical times to visit Paris as the hoards of tourists have left and a sense of peace and tranquility takes over the city's bustling markets and famous landmarks.
Christmas lights get strung across Paris, making the city of lights even more brilliant.
If you want to experience a completely different side of Paris, this is the perfect time to visit the city while the streets are quiet and the city is dressed up for the season.
There are so many things to do in December, including visiting one of the many Christmas markets around the city of Paris, like the Village de Noël at the base of the Eiffel Tower.
You can also shop for chocolates and sweet treats at Galeries Lafayette Gourmets, which has stalls from the best chocolate makers, pastry chefs, and confectioners in Paris.
A highlight of any trip to Paris in December is walking the Avenue des Champs Elysées, lit up with millions of lights with the stunning backdrop of the Arc de Triomphe.
If you are looking for something to do that is less holiday-focused, you can check out one of the city's famous museums, including the Musée du Louvre, when there is no line, and you relax and enjoy the exhibits.
You may even get lucky, and Paris could be blanketed with a thin layer of snow, making visiting in December more memorable.
Further Reading:
---
6. Prague, Czech Republic
– Recommended by Veronika from Travel Geekery –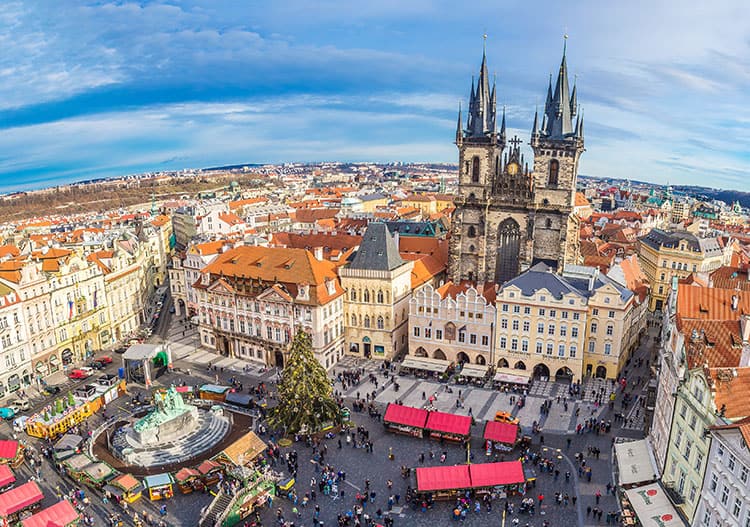 Prague in December just screams the Christmas atmosphere. The whole city dresses in festive colors, lights hang above the streets, and shops are filled with people.
For a visitor like yourself, it's just the most magical time to visit and the most beautiful European cities to visit in December!
Prague's Christmas markets are the main draw. The large Christmas market at the Old Town Square is where most of the action is, sometimes a little too much. Avoid special ceremonies such as the first lighting of the Christmas tree if you don't like crowds.
Luckily, Prague features many other more intimate markets and scores even higher on the Christmas atmosphere. One such market takes place at the Prague Castle grounds. If you visit later in the day, say after 4 pm, you can wander around without the crowds.
Náměstí míru in the Vinohrady district houses another charming Christmas market, popular among ex-pats and Czechs alike.
Whichever Christmas market you pick, you'll be able to warm yourself up with mulled wine and mead, sausages and other grilled meat, and sweet treats such as the famous chimney cake Trdlo.
If you enjoy winter activities, you can ice skate in town too. The most central ice skating rink can be found at the Ovocný trh Square, just a few steps away from Old Town Square.
Of course, there are plenty of cafés and restaurants to hang out at once your body temperature drops. You can choose from a traditional style or go for a more modern café with all the modern ways of preparing coffee.
If you go to one of the restaurants of the Lokál chain, you'll be able to taste some traditional Czech food at high quality and reasonable price.
---
7. Gothenburg, Sweden
– Recommended by Hannah from That Adventurer –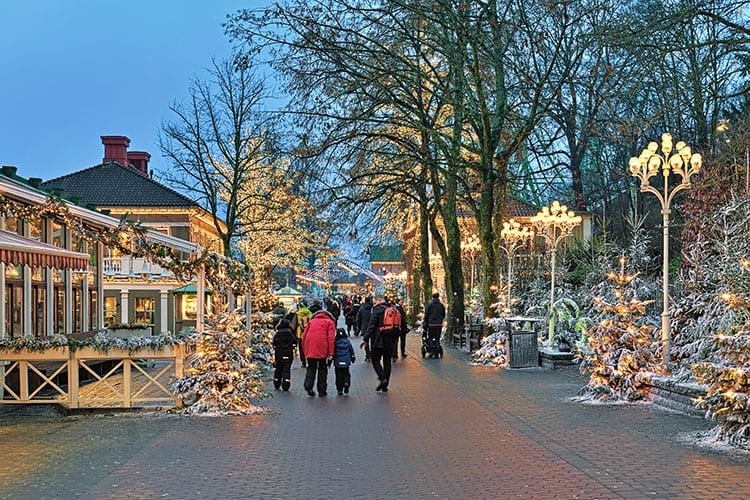 Gothenburg in southern Sweden is the perfect city break in Europe in December.
From fika and mys (a Swedish tradition about taking time to slow down, relax, and eat delicious food), to a wintery trip to the archipelago and one of Europe's best Christmas markets, Gothenburg has everything you need for a fun December trip.
The main reason to visit Gothenburg in December is for the Gothenburg Christmas Market! The market is held in Liseberg Amusement Park and is the perfect blend of Christmas festivities and a theme park.
The Christmas market isn't full of stalls selling cheap look decorations. Instead, it's full of snow, ice skating, glogg (a Swedish mulled wine), Father Christmas and the elves from his workshop, arcades, rides, hot chocolates, and Christmas carols blaring from the speakers across Liseberg amusement park.
It's super fun and will get even the biggest scrouges in the festive spirit!
Further, there's no better time than winter to experience fika in Sweden by enjoying some cafe hopping. Some of the best cafes with cozy vibes include A43 Coffee, Alkemisten, Tony's Coffee Bar, and Cafe Sirius.
When the sun is shining in December in Gothenburg, heading out to the southern archipelago is a fantastic day trip. The Gothenburg archipelago is made up of more than 20 islands.
There are charming fishing villages, beautiful nature and beaches, seals, fishing, and more, all a short ferry ride from the city.
---
8. Strasbourg, France
– Recommended by Sydney from A World in Reach –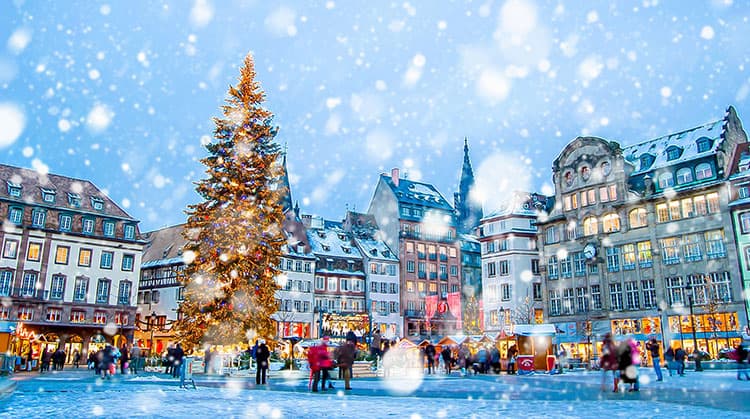 If you're planning a trip to Europe in December, consider a stop in Strasbourg, France. This Alsatian city claims itself as the capital of Christmas and transforms into a magical Christmas wonderland during the holiday months.
When visiting Strasbourg in December, the highlight of your trip will be experiencing the Christmas markets. Strasbourg is home to France's oldest markets, and there isn't just one – the markets are scattered across the city.
More than 300 stalls in the city's prettiest squares and surrounding its magnificent cathedral will be found. The city's streets are decked out in bright Christmas lights, and you'll find Christmas trees around every corner.
If you have a few days to spend in Strasbourg, you should plan to experience more than just the Christmas festivities.
Check out the Strasbourg Cathedral, home to an incredible astronomical clock. Wander around the city's historical center, La Petite France, and admire the quaint cobblestone streets and half-timbered houses.
Since the Alsace is one of France's best wine regions, make sure to spend an evening hanging out at a wine bar. Black & Wine is a great wine bar to sample Alsatian Wine, and the attached Hotel Hannong is the perfect place to stay in Strasbourg.
Lastly, don't forget to include some day trips in your itinerary. There are some gorgeous towns to explore close by! Our post on the best Alsace villages will help you pick the ones that tickle your interest the most!
---
9. Bruges, Belgium
– Recommended by Sarah from Cosmopoliclan –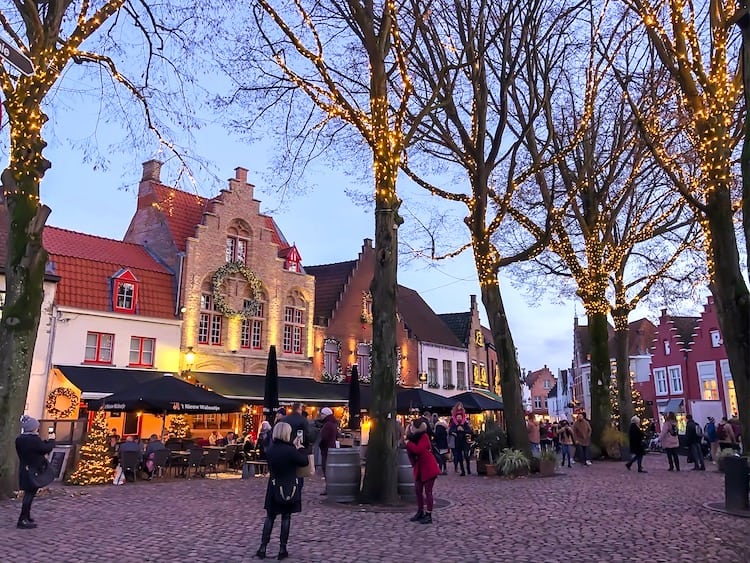 Bruges is known for being one of the most romantic cities in the world. In December, this medieval gem transforms into a winter wonderland and looks even more postcard-pretty.
Although chances are slim that the enchanting decor of gingerbread houses and cobbled streets will be covered in snow, the city sure looks more atmospheric than any other time of the year.
That's because visiting Bruges in December allows you to experience the Christmas market. With decorated trees, twinkling lights, handmade winter gifts, an intriguing light and experience trail, and the magically lit ice-skating rink at Minnemeers, Bruges sure knows how to wow its visitors.
Not only is celebrating Christmas in Bruges a truly unique experience, but it's also a mouth-watering one. From chocolate-topped Belgian waffles to spicy speculoos biscuits and from one-of-a-kind Belgian Christmas beers to heart-warming mulled wine, the number of food options is downright dazzling.
Admire the festivities at Grote Markt from the top of the Belfry or snuggle up under a blanket on a horse-drawn carriage as you discover the city's most interesting sights and monuments.
Conclude your visit to the Bruges Christmas market in one of the chocolate boutiques that line the elegant streets: the lavishly decorated end-of-year gift boxes are just as irresistible as the pralines inside
---
10. Budapest, Hungary
– Recommended by Trijit from Budget Travel Buff –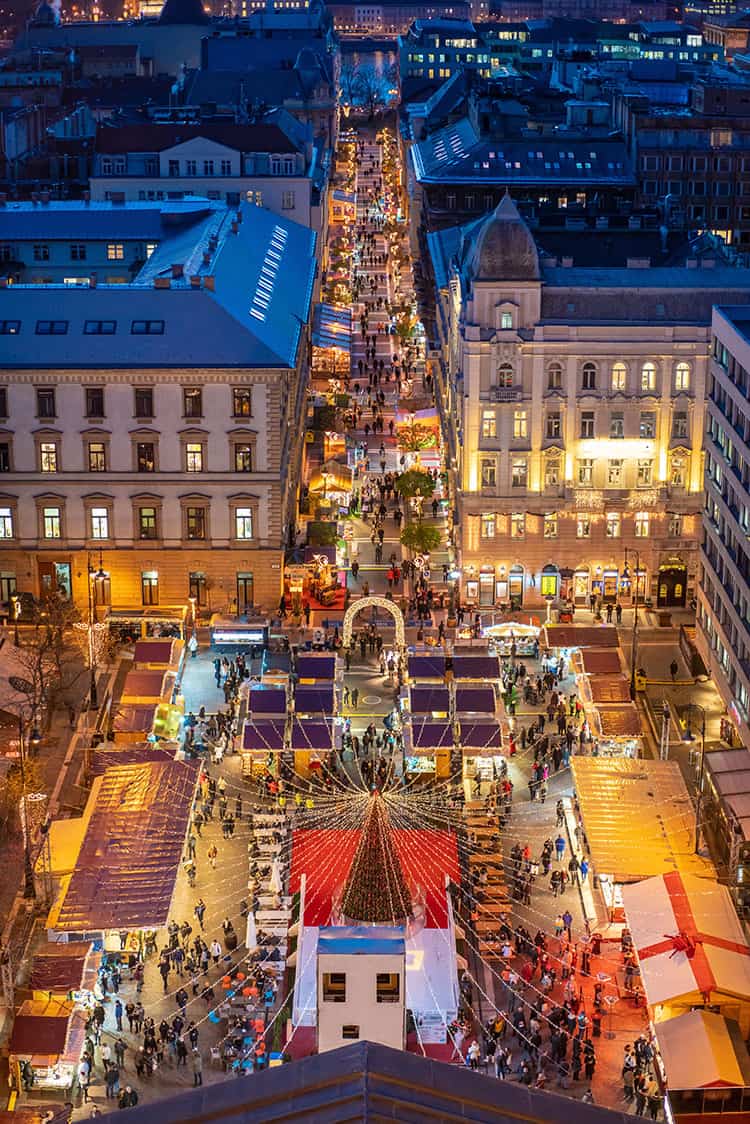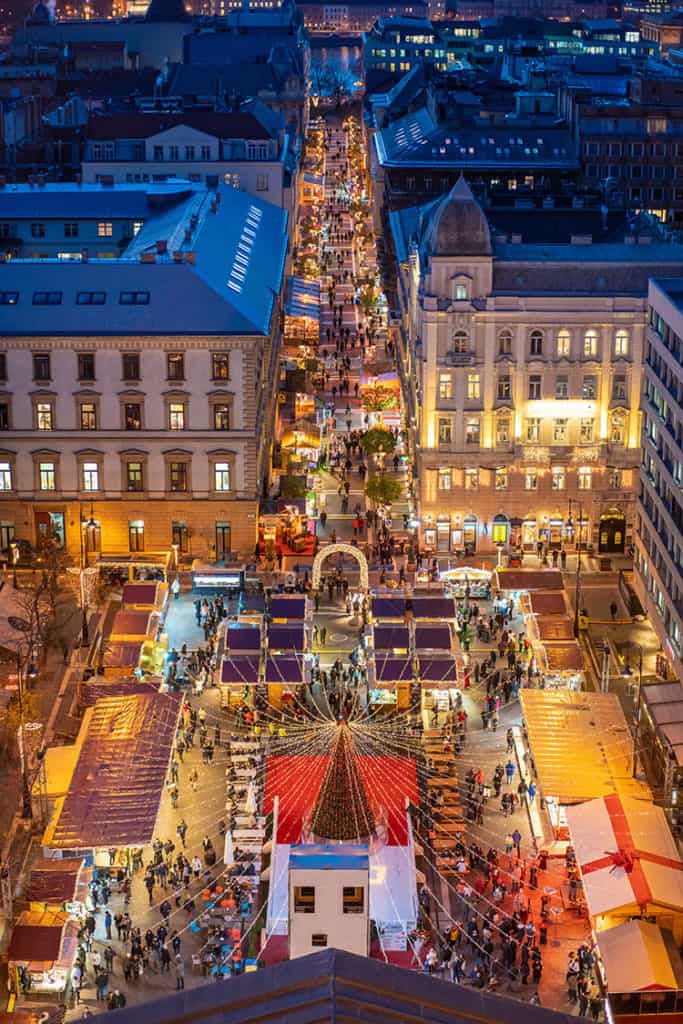 Budapest in December offers more winter charm than most places on the globe. Although it is chilly and snowy in the Hungarian capital, the city is also in a joyful mood.
Budapest has many festive activities in December, including enchanting winter markets, warm thermal baths, and fun Christmas celebrations. Hungary is one of the most affordable countries in Europe.
If you plan to celebrate your Christmas without breaking your bank, Budapest is the city for you. The city's numerous bridges, tall churches, and imposing Parliament building are frequently covered in a light dusting of snow throughout the month, further enhancing the festive spirit permeating the streets.
While traveling to Hungary in the winter, you must visit Budapest's Christmas markets. The biggest holiday market in the city is located on Vörösmarty Square. Get lost among the countless twinkling Christmas lights, sip mulled wine while browsing the wares, and enjoy the renowned poppy seed strudel or chimney cake.
The beautiful Christmas lights and decorations surrounding Budapest's main streets are among the city's most breathtaking sights in December. Explore the shops and streetlights along Deák Ferenc Street and Andrássy Avenue, decorated with sparkling fairy lights and art.
The public bathhouses in Budapest, with their naturally spring-fed water rich in calcium, magnesium, and fluoride, are among the most well-liked tourist attractions. The Szechenyi Baths are the most popular with both visitors and residents. It has three outdoor heated pools and a collection of lovely yellow buildings.
Budapest is a fantastic destination for foodies. Hold Utcai Piac is the place to go if you're seeking cheese, cold cuts, fish dishes, or eateries serving traditional or unusual cuisine.
---
11. Salzburg, Austria
– Recommended by Paul from Paulmarina-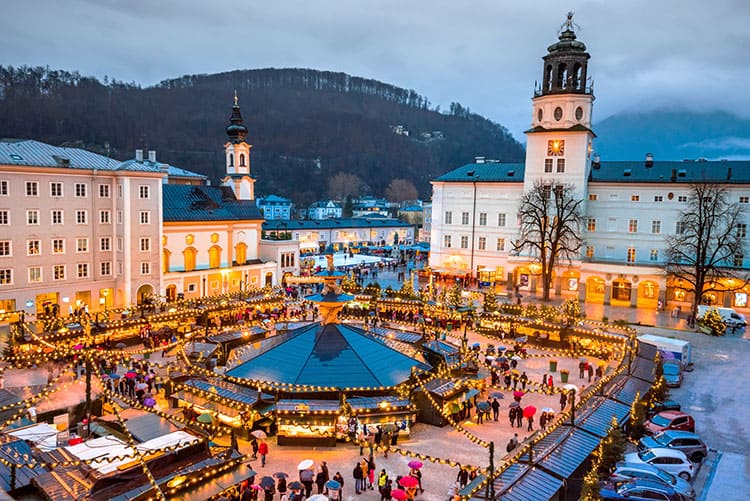 Salzburg is a dreamy place in the Austrian alps. The city is known to be the birthplace of Mozart. Today, you will find that the city offers a lot more for lovers of culture and art.
Especially December is one of the most romantic times to be in Salzburg. Imagine Christmas lights adorning alleys surrounded by baroque architecture and snowflakes falling over the Christmas market in the city center.
You are holding a hot cup of spiced mulled wine in your hands, taking in the sweet melody and aromas of the advent period. The castle on the hill looks magical too, and you can get a wonderful view of the city from Abbey hill.
A horse carriage ride with your family will surely be one of your trip's highlights. Afterward, you warm up in a heated Restaurant "Stube" (room) with a spiced goulash soup and some Austrian wine.
Salzburg makes for a great base if you love winter sports. You will find plenty of skiing slopes nearby.
The city even sets up an ice skating area in the city center, and you can skate in the city with snowflakes and dimmed warm light creating a special, memorable atmosphere.
Lastly, there are plenty of magical destinations to visit on a day trip from Salzburg, so make sure to add some of those to your itinerary.
Discover Salzburg city if this is where you want to be this coming winter.
---
12. Helsinki, Finland
– Recommended by Pamela from The Directionally Challenged Traveler –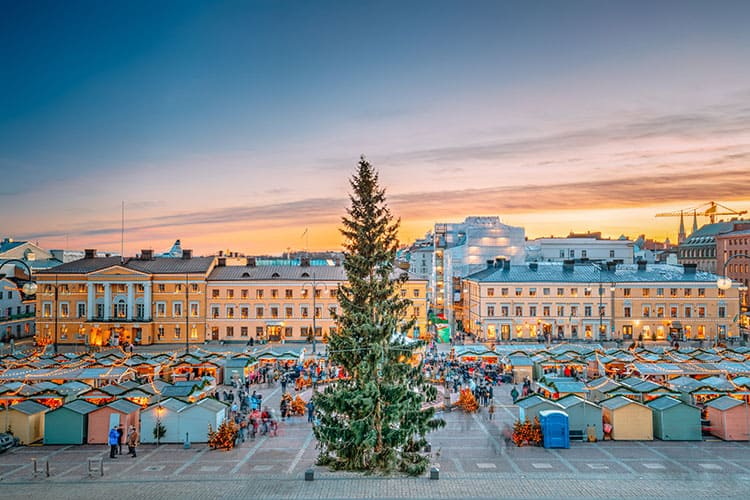 One of the best places to visit in December in Europe is Helsinki. Travelers often overlook the capital city of Finland because of its smaller nature. Home to only about 600,000 people, the city is small compared to other cities like London or Paris.
The size of the city makes it perfect for exploring. The city is compact and walkable. Since you're visiting in December, be sure to bring snow-friendly shoes.
Our favorite thing in December is visiting the oldest and most popular Christmas Market at Senate Square. The Christmas market typically runs until 22 December. There, you can purchase a variety of quality Finnish crafts and gifts and try various traditional foods.
Since it snows a lot in Finland, they compact the snow on the ground instead of icing and clearing it. If you wear shoes with treads, like hiking boots, walking on the snow is fine. There are also plenty of cafes and small shops worth popping into if you're cold.
You can always enjoy a traditional Finnish sauna as well. Sauna is an integral part of Finland's culture. There are public saunas like Loyly available for visitors to use.
While the daylight is limited, there are plenty of ways to spend one day in Helsinki. One of the best things to do in the winter is to catch both sunrise and sunset!
The sunrises around 9 AM and sets around 3:30 PM, making it easy to catch some incredible views.
Head to Cafe Regatta for a hot chocolate, freshly baked pastry, and a gorgeous view!
Enjoy the cozy atmosphere of the city, decorated in warm Christmas lights glistening off the snow. You won't be disappointed if you enjoy the quaint city of Helsinki in December.
---
13. Vienna, Austria
– Recommended by Lyubomira from Bulgarian On The Go –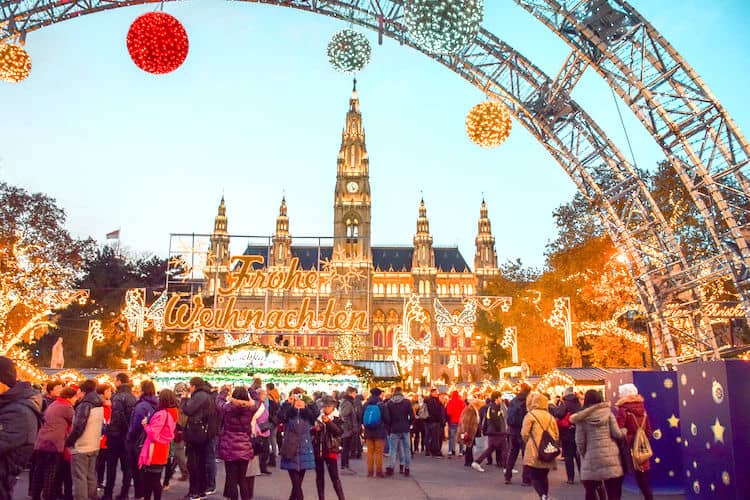 Christmas markets. Mulled wine. Ice skating wonderland. These are just three of the things that make Vienna one of the best places to visit in Europe in December.
The Austrian capital may be among the best cities to visit a Christmas market, simply because there are more than 15 of them.
The most beautiful Christmas markets in Vienna are the one in front of the Rathaus (City Hall), the one in front of Karlskirche, and the one in front of Schönbrunn Palace. Be sure to try the mulled wine or some punch and taste some of the delicious food being offered.
Visiting the Viennese palaces is a great way to warm yourself up in this cold December weather.
No matter the season, the Schönbrunn Palace and the Belvedere Palace always welcome visitors. With its preserved interior and exterior, Schönbrunn will take you back to when the Habsburgs were in rule, and this palace served as their summer residence.
Belvedere, on the other hand, has been turned into an art museum. This is where you can see the infamous painting by Gustav Klimt – The Kiss.
Another great thing to do during the wintertime in Vienna is to enjoy its rich museums. Whether you're interested in history, art, music, or nature – there's something for everybody.
And last but not least – there's nothing better to end the day than having a glass of punch on a terrace overlooking the city of Vienna.
One can visit a few Christmas punch terraces from mid-November till the end of December, such as The Ritz Carlton, Palais Coburg, Klyo Punch Terrace, and Hotel Lamee.
---
14. Talinn, Estonia
– Recommended by Alex from Just Go Exploring –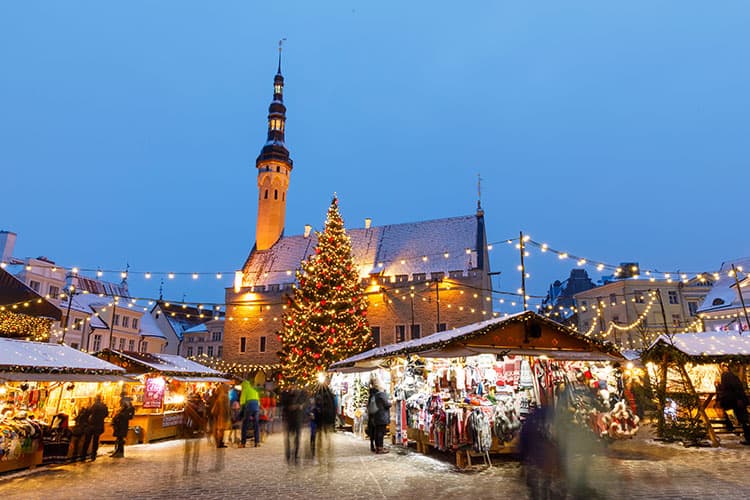 Visiting the old city of Tallinn feels like stepping into a fairytale. Estonia's medieval capital is a stunning destination year-round; however, in December, the city feels particularly magical.
Tallinn's central Town Hall Square, in the heart of the Old Town, is the focal point for the city's famous Christmas celebrations. These are steeped in traditions that go back hundreds of years.
Every December, this large medieval market square is transformed into one of Europe's best (and most traditional) Christmas markets. Traders come from all over Estonia and the wider Baltic region to sell handmade gifts, including Christmas decorations, ornaments, candles, knitwear, cookies, and mulled wine.
It's a perfect place to pick up a unique present for friends and family back home.
The square is decorated with thousands of lights and an enormous Christmas tree. Tallinn's residents claim that their city invented the tradition of placing a Christmas tree in its central square and that the city has done so every year since 1441!
Tallinn's best views can be enjoyed from the city's defensive walls, which encircle the Old Town and are among the largest and strongest in the world. Also, don't miss the iconic viewpoint from the top of Toompea Hill.
The city's beautiful old buildings, picturesque cobbled backstreets, cozy warming cafes, and ornate castle towers and turrets – all covered in a thick blanket of snow – give December in Tallinn timeless magic that you will remember forever.
---
15. Amsterdam, Netherlands
– Recommended by Dymphe from Dymabroad –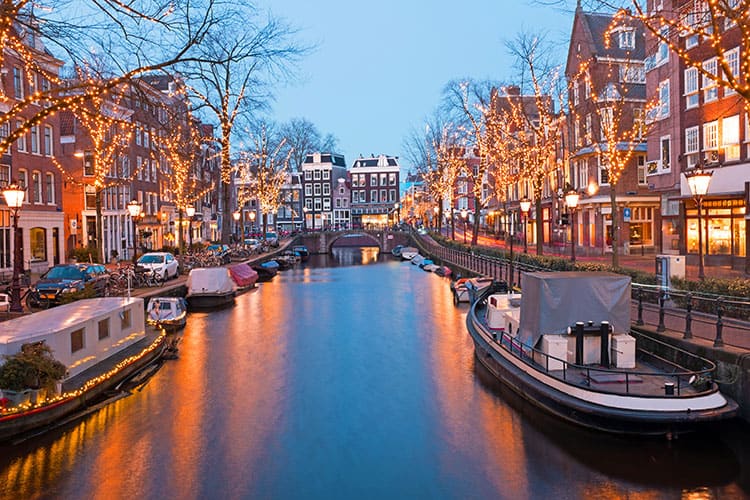 One of the best European cities to visit in December is the city of Amsterdam. This is the capital of the Netherlands, which is known for its canals, architecture, art, and nightlife.
In December there is a lot to do and see in the city. A great thing to do is to explore the Christmas markets of the city. You can find these at various places in the city, such as Rembrandt Square and Museum Square.
You can have delicious foods at the Christmas markets, including the famous Dutch snack "oliebollen", and shop for various items, including Christmas gifts.
Another great activity during December is going to the Amsterdam Light Festival. This is an event that takes place throughout the city, and it features light displays.
For example, beautiful light displays at the canals and some of the city's sights can be seen. You can see these light artworks for free by walking in the city at night.
Also, doing a canal cruise is great in December. Especially when it is snowing outside, the picturesque canal houses in Amsterdam are wonderful to see.
Another fun activity is to go ice skating in the city. In December, you can find several ice rinks in Amsterdam, such as a large ice rink in front of the Rijksmuseum.
Further Reading:
---
16. Copenhagen, Denmark
– Recommended by Charu from Travel with CG –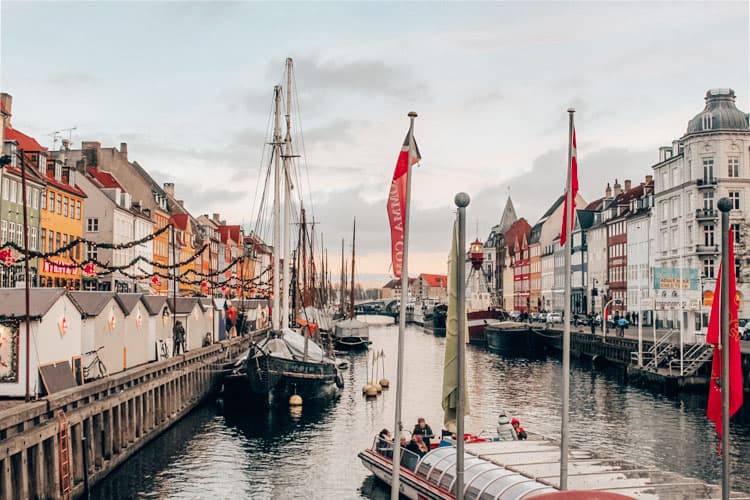 Denmark is one of the best family cities to visit in Europe with kids, and Copenhagen is a wonderful destination in December.
Home to the concept of hygge, countless twinkling lights, and charming Christmas markets, it is a destination that feels like an enchanting winter wonderland come December.

One of the best things to do during Christmas in Copenhagen is to wander around its winding cobblestone lanes. Kronprinsensgade off Købmagergade gets a makeover with a canopy of twinkly lights and is a must-visit in the city center. Besides, there are Christmas markets on nearly every corner offering all the holiday spirit and joy.

Tivoli Gardens, the city's largest amusement park, is another unmissable spot in December. Although it is a landmark that is enjoyable throughout the year, over half a million lights, festive stalls, and decor make it all the more special. D'Angleterre Hotel, with its gigantic advent calendar in the heart of the city, is another highlight during this time of the year.

Since Copenhagen can get cold in December, make sure you stop and savor Gløgg, the Danish version of mulled wine, at any of the markets. Nyhavn, the colorful harbor of the city, is particularly lovely, with stalls lined up on both sides of the canal. Another Danish Christmas treat to try is æbleskiver.

Lastly, if visiting Copenhagen during the first half of December, coincide your trip with Saint Lucia Day. Unlike traditional celebrations, the city of Copenhagen gives this parade a twist as several illuminated kayaks float through the canals. Witnessing them paddle through the Christmas markets is truly surreal!
---
17. Venice, Italy
– Recommended by Lucy from Lucy Lives Here –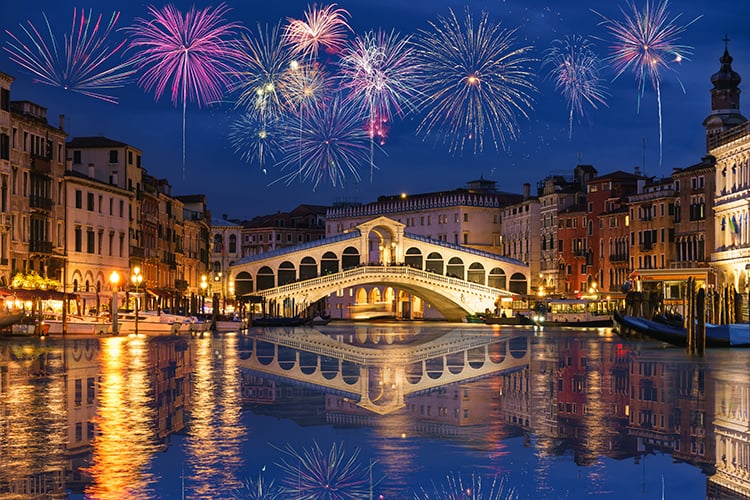 Why visit Venice in December? The biggest reason is the lack of crowds. Hundreds of thousands of tourists spill into the streets of Venice during the summer months. In winter, the crowds are gone, and everything feels way more magical.
Venice also looks beautiful in the winter. Not only will you fall in love with the gorgeous canals, but now you will see them lit up with Christmas decorations.
The cold temperature is also a great reason to visit the oldest coffee shop in Venice, Cafe Florian. Everyone from Charles Dickens to Lord Byron has dined here, showing how old this city is!
Order the hot chocolate. Expect rich, smooth, molten chocolate served from the daintiest cup and saucer, which perfectly complements the sophisticated, shabby chic interior. This is a little bit of old-fashioned decadence you can't miss!
If you head to Venice for Christmas, why not extend your trip and stay till New Year's Eve, where you can experience a magical celebration with fireworks to say goodbye to the year?
---
18. Reykjavik, Iceland
– Recommended by Wanderlust Storytellers –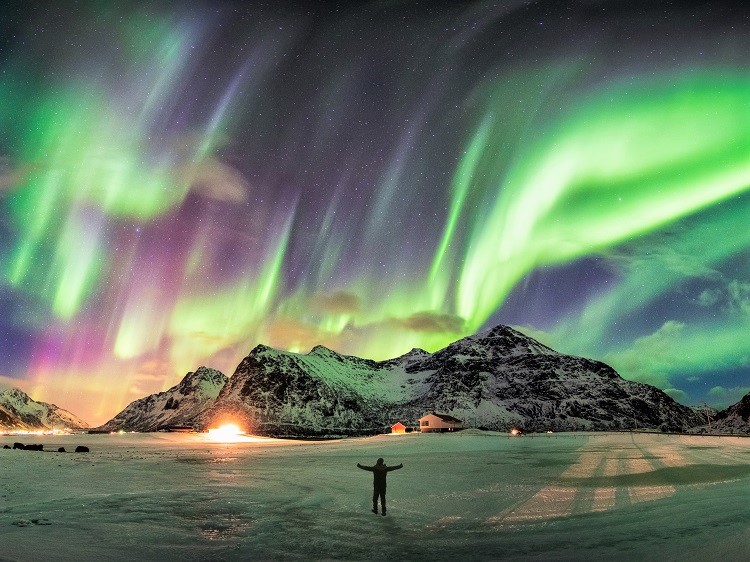 Reykjavik is often overlooked when deciding where to travel for a European City break in December. However, the city of Reykjavik is breathtakingly beautiful, and if you bundle up, you can enjoy the Northern Lights, geothermal hot springs, and fascinating history without the fuss!
Boasting surreal landscapes and fascinating natural phenomena like the Northern Lights in Iceland, you will surely have a memorable trip.
With Iceland's location at the top of the world, the country has become the best spot to view the full wonder of the Northern Lights.
The Northern Lights are a beautiful sight in the sky at night. When viewing them at night, they seem to be pure magic. They are largely seen from September to April, so visiting in December is a good time if the Northern Lights are top of your list of things to do and see.
The best way to experience the Northern Lights is on tour, where the experts will know what to look for and when to expect it. The most popular tour is the Northern Lights Bus Tour from Reykjavik.
---
19. Krakow, Poland
– Recommended by Kami from My Wanderlust –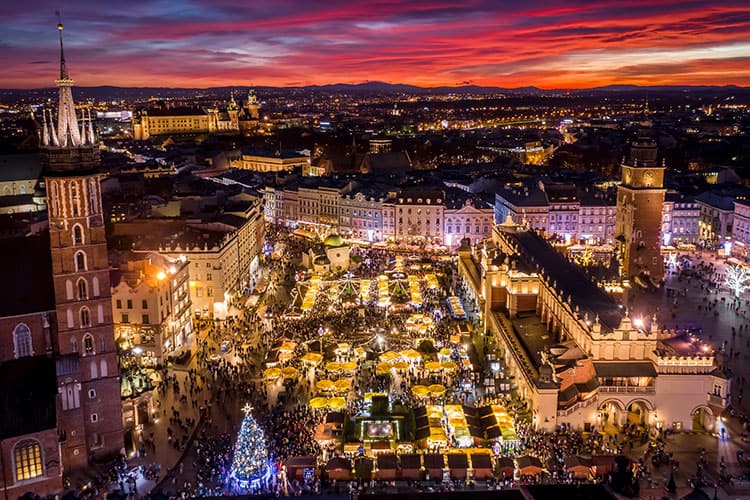 Krakow, the second-largest city in Poland, is a perfect destination for winter holidays. While it is pretty awesome all year long, December is a special month when it's worth visiting Krakow.
Besides all the usual things to do in Krakow that you can enjoy, that's when the city offers some unique Christmas activities, like the annual Krakow Nativity Scene Contest.
The local tradition of creating spectacular, multi-story, handmade nativity scenes dates back to the 19th century but to save the tradition, in 1937, the first contest for the most beautiful nativity scene took place.
Ever since each year in December, the contest takes place, and that's where you can see the most spectacular Christmas creations. The contest takes place on the first Thursday of December, but afterward, you can admire the works throughout the month in one of the city's locations (recently, it was Krzysztofory Palace).
Besides the contest, December brings the Christmas market to the Main Square of Krakow. You can do some unique shopping there, try local food, get warm with mulled wine and, of course, enjoy the jolly atmosphere.
The whole city is decorated with Christmas lights and decorations that make the city looks magical. Strolling around the charming Old Town in the winter evening is a wonderful experience.
When you have enjoyed all the Christmas activities there are some wonderful day trips from Krakow that you can do to make the most of your time in this city.
---
20. London, England
– Recommended by Claire from Tales of a Backpacker –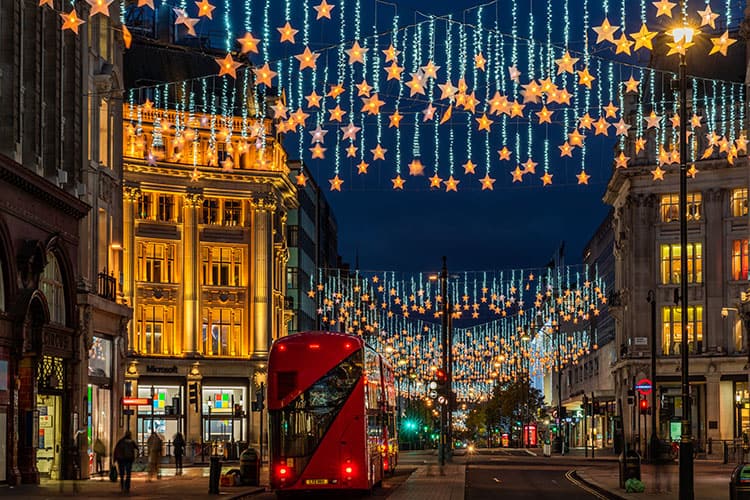 London is a fabulous city to visit in December, and visiting London in the winter is a completely different experience from the warmer summer months.
For a start, it is quieter, which is a good thing! The cold and generally wet weather puts off many tourists. However, the Christmas period is wonderful, with many gorgeous Christmas decorations around the city.
Shops and entire streets are in full-on Christmas mode, with colorful lights and intricate displays that are a spectacle in themselves. For more Christmas fun, head to London Winter Wonderland in Hyde Park, which has fairground rides and a Christmas market.
If you want to do some Christmas shopping, there is nowhere better than London.
As well as big named brands and the usual high street shops, you can find independent boutiques and all sorts of unique Christmas gifts in places like Carnaby Street and Camden market. Several Christmas markets also pop up around the city, such as South Bank Centre Winter Market and Leicester Square Christmas Market.
On clear, crisp winter mornings, there is nothing better than a walk along the Thames to take in the famous London landmarks or walk through Richmond Park where you can spot deer that roam free.
If the weather is poor, make the most of the incredible museums in London, many of which are free to visit, or warm up with a pint in a cozy traditional pub.
However, don't let a bit of rain (or an occasional snow flurry) put you off exploring the outdoors; just come prepared with plenty of layers and a waterproof coat and shoes!
Further Reading:
---
21. Maastricht, Netherlands
– Recommended by Exploring the Netherlands –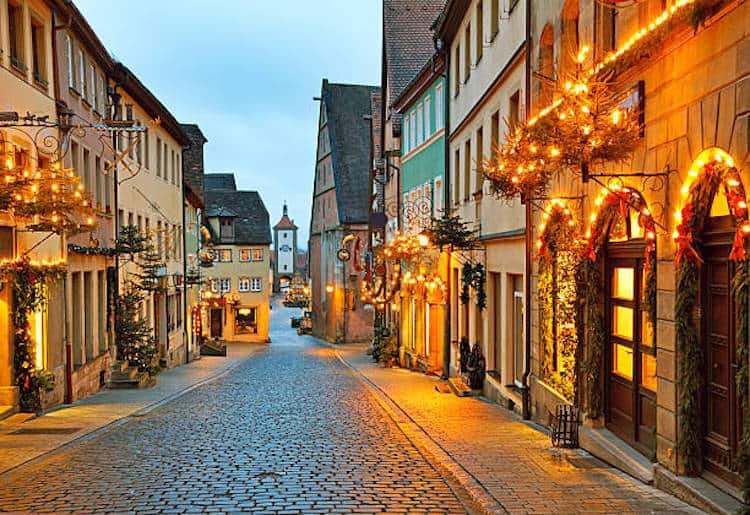 One of the best places to visit in December in the Netherlands is Maastricht, as this beautiful Southern Dutch city is home to the most famous Christmas market in the country.
Each December, Maastricht becomes a real winter wonderland, with the main festivities held at the emblematic Vrijthof Square. This traditional market attracts thousands of locals and tourists each year, who enjoy the numerous Christmas stalls and attractions.
There's a skating rink, a giant slide, a merry-go-round, a Christmas train for the kids, and of course a Ferris wheel from the top which you will have the loveliest views of the city.
At the Christmas market do not miss to try the local specialties: oliebollen (sugar-dusted deep-fried dough balls), poffertjes (miniature pancakes), bratwurst (grilled sausage), and smoked salmon.
And when you have enough of the Christmas magic, get lost in the narrow cobbled streets, ambling from one little square to the next.
Visit the lovely Basilica of St. Servatius, the oldest still-functioning church in the Netherlands, and its Treasury.
If you are interested in contemporary art, you will for sure appreciate the local art museum – The Bonnefanten. Cross the medieval St. Servatius bridge to visit Wyck, the hipster neighborhood of Maastricht – lovely concept stores, small cafés, thrift shops, and galleries.
---
22. Dublin, Ireland
– Recommended by Wanderlust Storytellers –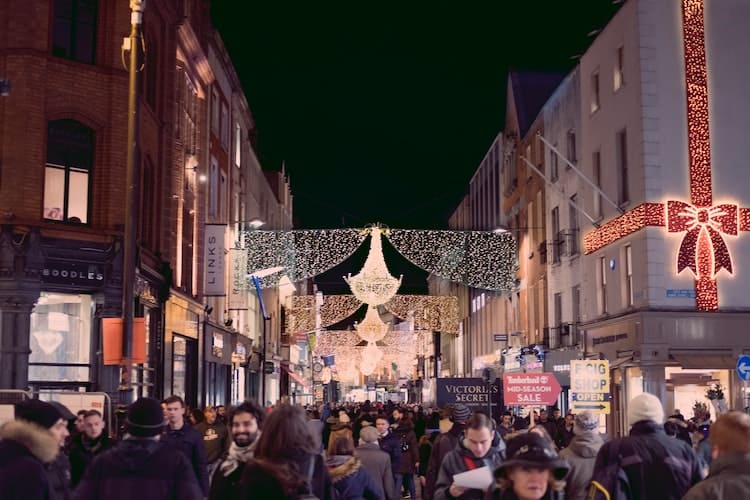 There is a stunning culture of friendliness in the city of Dublin. The beautiful design of the city mimics the breathtaking rolling green hills on the outskirts that surround the area, making Dublin on the top of many people's bucket lists.
One of the most popular things to do when in Dublin is to visit the Guinness Storehouse, located in the heart of St. James' Gate Brewery. The inside of the building is designed to look like a pint of Guinness making it the largest pint in the world! This tour is also great for kids as you will learn all about the Irish brewing history and the Guinness family.
If history is your thing, head to Dublin Castle to learn all about prehistoric Dublin. There are over 800 years of Irish memories within its walls and encompasses some of the most pivotal events in all of the country's history.
If you are in Dublin for a few days be sure to head out on a day trip or two. One of the best day trips is a tour of the Wicklow Mountains. Another spectacular trip is a tour of the natural wonders, the Cliffs of Moher, which are not only breathtaking but so amazing to experience as they have been used for film shoots like Harry Potter.
Visiting Dublin in December is a truly magical experience because not only do you get to enjoy the usual sights and sounds of the city, you can also enjoy one of the many events that happen over December.
Book a ticket for the Wild Lights hosted by Dublin Zoo each year. The theme changes each year but the event brings to life stories through illuminated giant colorful lanterns.
Go on a Pantomime Bus tour. This interactive, theatrical Christmas ride goes from Dublin city center to Phoenix Park.
Go ice skating at one of the many ice skating rinks that pop up over December and January.
Stroll through streets to view the wonderful Christmas lights and displays. If you want to see the best light displays, you can even book a Christmas walking light tour with one of the locals.
Shopping in Dublin is always great and over December you can enjoy shopping at the Christmas markets that pop up.
---
23. Cologne, Germany
– Recommended by Stephanie from The Unknown Enthusiast –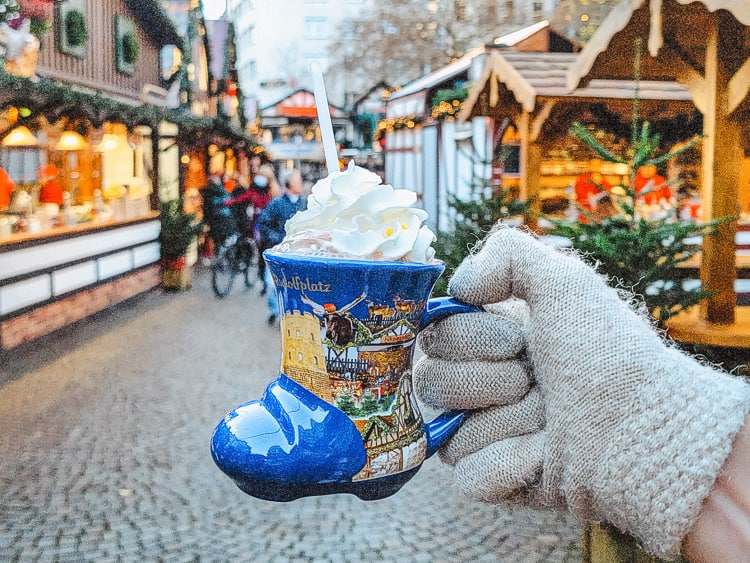 Cologne, Germany, is one of the best European cities to visit in December for no reason other than the truly fantastic Cologne Christmas market that runs through the month.
While Cologne is a much more modern city than others in Germany, the theming around its many markets is top-notch.
The main market in Cologne is in the shadow of the Cologne cathedral (one of the tallest cathedrals in the world!) and is referred to as the "Dom" market. You can find a massive Christmas tree, a blanket of lights radiating overhead from the stalls, and nightly musical performances.
The Angel market has women dressed up as angels walking around, stars in the trees, angel decorations everywhere, and themed angel mugs.
The Heumarkt and Altmarkt share a woodland theme: rustic stalls lined with garland, woodland scenes in corners, a blacksmith shop, and mugs with gnomes.
St Nicholas Market is located in a square near a castle, with timbered stalls, a Santa sleigh, and an adorable boot-shaped mug.
The Harbor Market unsurprisingly has a strong nautical theme, and the Gay Market showcases bright, neon colors and flashy decorations.
Between the lights, the decorations, the mugs, the food, and the theming, you'll quickly be in the holiday spirit in Cologne!
---
24. York, England
– Recommended by Sinead from York With Kids –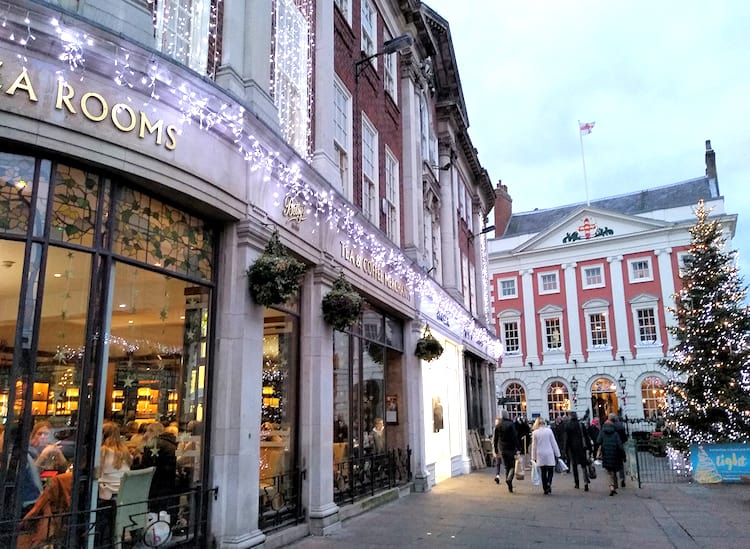 The historic city of York in northern England is a magical place to visit in December. Illuminations, enormous decorated Christmas trees, and colorful festive-themed window displays bring life and sparkle to the city.
Many of York's historic buildings, such as Micklegate Bar, are festooned with lights in December. York Minster, the largest Gothic cathedral in northern Europe, hosts candlelit carol services and traditional Nine Lessons and Carols services.
Several city center hotels and the famous 100-year-old tearoom, Betty's, offer winter-themed afternoon teas.
If you are spending Christmas in York, you can also experience a traditional British pantomime at one of the city's three theatres.
York's historic houses, including Georgian-era Fairfax House or the Victorian Mansion House, are elaborately decorated to show how Christmas was celebrated in the past.
In addition, York's pedestrianized city streets play host to the St Nicholas Fair, a six-week-long Christmas market consisting of over 100 wooden chalets. The chalet stalls include locally produced food and drink and locally made artisan crafts; it is a perfect location to pick up an unusual and quirky Christmas gift.
Weary shoppers can recharge with a hot mulled wine or creamy hot chocolate in front of a log fire at Thor's Tipi. This huge canvas tipi is specially erected yearly in York city center and is a focal point for winter gatherings and festive celebrations.
---
25. Lisbon, Portugal
– Recommended by Jenifer of The Evolista –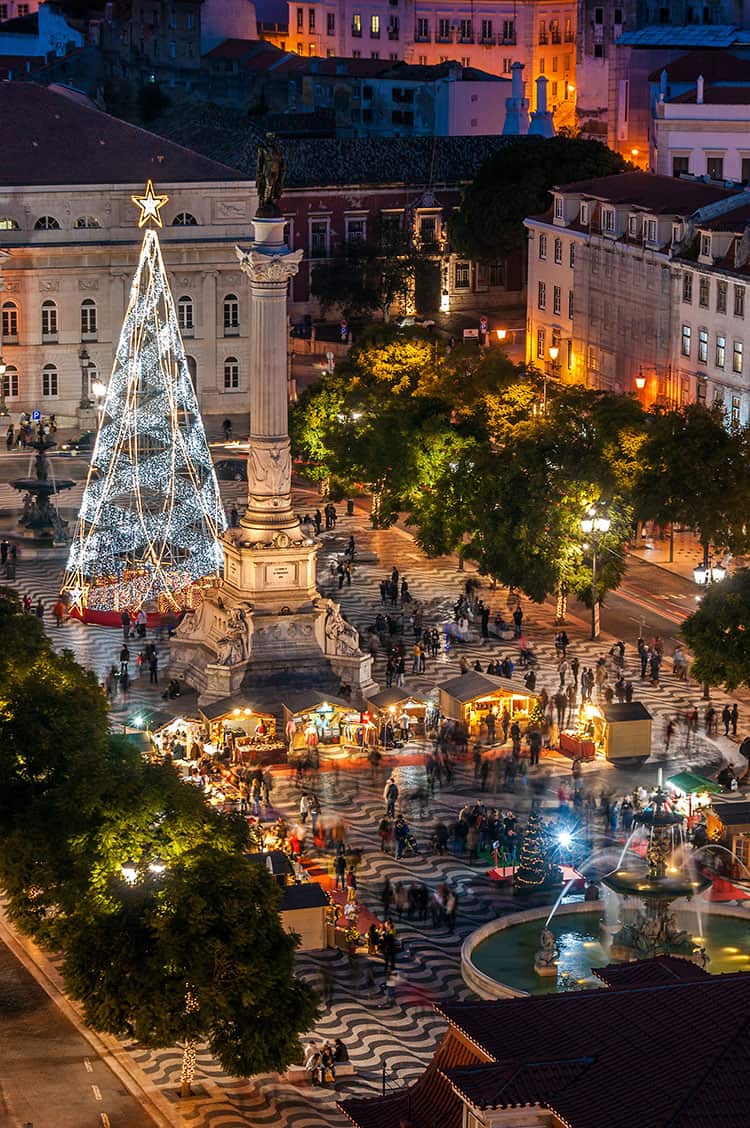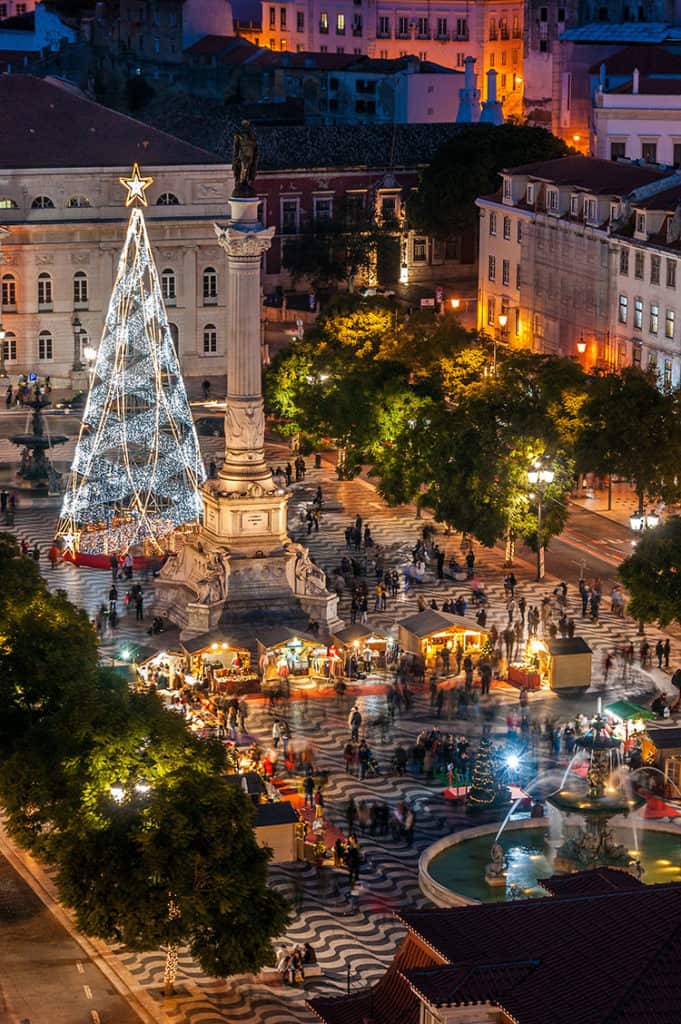 Lisbon is one of the best European cities to visit in December. The weather is better, prices are cheaper, and crowds are thinner than in many other European places.
You'll be able to ride the iconic Lisbon Tram 28, enjoy views from the lively Alfama neighborhood, visit Jeronimos Monastery in Belem, and enjoy Lisbon nightlife like a local.
And Lisbon is a city that comes alive during the holiday season. One of the most exciting events in December is Wonderland Lisboa, a must-visit holiday market and fair.
If you have kids in tow, they'll love the huge Ferris wheel, ice skating rink, Christmas train, and Santa's village. The Christmas market has 60 stalls with food and handicrafts from local artisans.
For another more traditional Christmas market, head to Campo Pequeno where you'll find 140 local artisans selling gifts produced in Portugal. Try Broas Castelares, traditional Portuguese holiday cookies, and Pastel de Nata, the famous Portuguese custard tarts.
Make your way through the pedestrian shopping area along Rua Augusta. It's beautifully adorned in holiday lights leading to Praça do Comércio, home to the tallest Christmas tree in Europe. And on New Year's Eve, there's a huge celebration featuring live music and an incredible fireworks display at midnight.
With all of the holiday festivities and so much to see and do, spending 2 days in Lisbon in December is the perfect place to get into the holiday spirit.
---
FINAL THOUGHTS
That is the list of the 25 Best Cities to Visit in Europe in December.
I hope that we have helped to narrow down some easy options of where you can visit for a city break in December in Europe.
Feel free to pin this pin to Pinterest so you can find this post easily in the future!