Are you looking for the best travel accessories for kids? The type of accessories will make that family trip easier? The type of gear will help your child be comfortable in transit?
We have traveled extensively with our three children. We have experience traveling with a baby, a toddler, a preschooler, a grade-schooler, and a teenager! Yep, we have tackled all the stages! So to help out other parents, we have compiled a list of products that we found to be truly helpful.
Now the children's travel accessories on this list here are aimed at pre-schoolers (3-5), grade-schoolers (5-12), and teenagers (12+). If you have a baby, I highly recommend that you hop over to our baby travel gear guide, and for those with toddlers, you will love our best travel gear for toddlers guide and the best plane toys for toddlers.
But let's get on with what you all came here to find. Here is our favorites list of all the best kids travel accessories and gear that we have handpicked.
Tip:  Check out our new travel journal for kids here.
Best Kids Travel Accessories for Planes and Cars
Without further ado, let's get straight to the best travel gear for kids. We will start off with the most important items – the essentials for the planes and the cars!
1. BubbleBum Inflatable Booster Car Seat
What better way to start this comprehensive list than, in our opinion, the best inflatable booster car seat for your kid! BubbleBum offers this fantastic product in three color options – Pink Chevron, Irish Shamrocks, and Black.
It works best for kids of 4 to 11 years of age and weighing between 40 and 100 pounds. (You can find a whole range of other travel booster car seats here.)
The booster seat is narrow, lightweight and foldable! Which makes it perfect for travel.
We find that the booster seat is perfect to help our little one be comfier in the car, train and planes. You can also use it on the dining room table to help lift them up where needed too. 
Important to note that the booster seat is NOT FAA approved, so you will need to stow it on take-off and landing in the plane. 
The BubbleBum booster car seat meets and exceeds US and EU safety regulations – it has been crash-tested when inflated as well as deflated. It contains more memory foam than air, which allows it to maintain structural integrity and stability during a crash.
>>> YES! This seat will be super helpful – Buy it now!
______________________
2. Kids Travel Pillow & Blanket Set or Kids Travel Neck Pillow (depending on age)
According to the age of your kid, you can choose either of the following two travel accessories.
Roamwild offers 'Tux' Armrest Buddy, which is a set of a pillow and blanket. Its unique design allows you to transform any armrest into a pillow for your kid, making it an excellent travel accessory. It doubles as an exciting penguin toy and packs up really well. It is best suited for kids up to 3 years of age.
>>> YES! My child would love this – Buy it Now!
You can get the Travel Neck Pillow from RESTCLOUD for slightly older kids, aged 3 to 10 years.
It is available in two colors – blue and pink. Your child can use it during flights and road trips to ensure an uninterrupted, deep sleep.
>>> YES! My child would love this – Buy it Now!
______________________
3. SSAWcasa Seat Belt Pillow for Kids
If you are traveling with your child in a car, you should consider getting the Seat Belt Pillow offered by SSAWcasa. With this fantastic accessory at your disposal, your child will be so much more comfortable in the car – it also helps stop the seat belt from cutting into the neck as well!
It is filled with PP cotton and has a soft suede cover, which makes it extremely comfortable. We especially liked how easy it is to remove and wash.
>>> YES! This is fabulous – Buy it Now!
______________________
4. Wapwap Travel Pillow for Kids (for Younger Kids)
The next recommended accessory on this list is slightly different from the other travel pillows, in the sense that it is an inflatable footrest.
For those of you who will be traveling on an airplane with a young child, these pillows are absolutely invaluable! Once inflated, you place it in the leg space in front of your child and it creates a little bed for them.
It has been a gamechanger for us as it means that our daughter can sleep comfortably in her own space, rather than all over me (which means that I can get more sleep too).
It has passed several CPSIA tests and is made from high-quality PVC. Important to note that it is not FAA approved, so you can only use it once you are up in the air. You might also find that some air hostesses might ask you to pop it away (but we mostly get away with it so definitely worth trying).
>>> YES! This is brilliant – Buy it Now!
______________________
5. MZTDYTL Car Backseat Organizer
MZTDYTL offers a pack of two car backseat organizers. Each of these organizers can hold a touch screen tablet, water bottles, as well as various other kids' toys, books, and other objects. Each organizer has a three-compartment mesh bag.
It measures 24 inches by 16 inches, which is large enough to cover the back of most standard front seats. You will appreciate how easy it is to attach these to your vehicle's front seats.
>>> YES! This is really handy – Buy it Now!
______________________
Best Travel Accessories for Kids [Sleeping-Related Products]
Next up we have some brilliant products for those of you who still have young kids. These two products help to create a more comfy sleeping environment for little sleepers.
6. AmazonBasics Portable Window Blackout Blind Shades
Some of us (including our kids) are light sleepers. We need a quiet, dark room in order for our brain's to shut down for sleep. But often hotels or Airbnb's just have the pretty useless curtains that wake you up at the break of dawn.
These AmazonBasics Portable Window Blackout Blind Shades is fabulous for those type of kids. It is lightweight and easy to pack. It has velcro edges, and suction cups that allow you to stick it onto any window. It has been made to fit various window sizes.
Made from 100% polyester, it can effectively block out harmful UV rays and sunlight. Such a fabulous product!
>>> YES! This is will help my child sleep better – Buy it Now!
______________________
7. The HiccaPop Toddler Travel Bed (for Younger Kids)
When it comes to kids travel gear for young kids, this Toddler Travel Bed from HiccaPop is a must-have. It can fit all standard sheets of crib size and does not have any squeaky noises.
The sheet neatly tucks into the inner mattress and its guard rails to ensure that your kid does not roll out of it while asleep. It comes with a lifetime warranty as well, so you need not worry about quality issues.
It is fabulous for when you don't want to pay the extra $$$ for a bigger hotel room. It is also great for kids who feel more secure in strange places when they sleep close to their parents. It can also be beneficial if they know it is 'their' bed that goes from one place to the next – it creates more comfort and security in comparison to adjusting to new beds all the time.
>>> YES! This is really handy for my child – Buy it Now!
______________________
Kids Travel Products to Help Keep Your Child Safe
Safety is one of the main concerns when it comes to traveling with kids. So it only makes good sense that we talk about which products we have used to help keep our kids safe during trips.
8. Jolik Child Motorcycle Safety Harness
Do not let the name of this product fool you. While it is called a motorcycle safety harness, it can also be used as a walking helper, baby feeding seat belt, airplane harness, and others. It is a really handy product to have!
It can be used for kids aged 2 to 12 years and weighing no more than 99 pounds. It comes with a 1-year money-back guarantee. We especially liked the reflective patch on it to ensure the child's safety at night.
Fabulous for scooter heavy destinations such as Thailand, Bali, Vietnam etc.
>>> YES! This is really handy for my child – Buy it Now!
______________________
9. Speedo Kids Classic Swim Vest
Speedo offers the Classic Swim Vest for kids in seven vibrant color options. It comes equipped with UV50+, which effectively blocks the harmful UV rays of the sun. You will appreciate the full front zipper and the safety strap with buckle.
We recommend the medium size for kids aged 2 to 4 years and weighing 33 to 45 pounds. Or the large size for kids aged 4 to 6 years and weighing 45 to 60 pounds.
Absolutely essential for beach or pool-style holidays.
>>> YES! My child needs this – Buy it Now!
______________________
10. ALEADER Kids' Slip-on Quick-Dry Water Shoes
Heading to a destination where the beaches are covered in rocks or coral? To help keep your child's feet safe, you should get a pair of slip-on, quick-dry water shoes.
It is available in 16 vibrant colors. With a synthetic sole having holes and an open upper mesh, it drains water quickly and provides excellent traction on wet and slippery surfaces.
Not exactly what you are after? Try our guide on the best water shoes for kids to find some other options.
>>> YES! This will be handy for our next beach holiday – Buy it Now!
______________________
11. Kina ID Safety Wristbands
One of the biggest reasons for young parents not wanting to travel with toddlers is safety. Kina offers safety wristbands for kids in three variants – a set of six bands for boys, a set of six bands for girls, and a set of 12 bands.
You can write important contact information on this reusable band to ensure your child's safety. Such a fabulous idea for when you visit crowded attractions or even when you visit a theme park!
>>> YES! This will help ease my fear about safety – Buy it Now!
______________________
Kids Travel Luggage and Organisation Options
Next, we want to look at luggage. Luggage is important and it changes with age. We find that when it comes to carry-on bags, the combination of a backpack/luggage on wheels is best for young kids, whilst a backpack-style bag is perfect for older kids.
Luggage that is fun and fits with the child's interests can really add to the whole excitement level of the whole trip, so I suggest it is worth the few extra dollars to get a 'cool' bag.
12. MyGreen Lightweight Canvas Backpack (Older Kids) or Yodo Zoo Kids Rolling Luggage (Younger Kids)
Kids get a great sense of freedom and responsibility when they get their backpacks. For older kids, we recommend the canvas backpack that comes in 15 different styles.
>>> YES! This bag is fabulous – Buy it Now!
Younger kids will love the three-way accessory from Yodo, which can be used as a backpack, luggage, and handbag. It comes in two size options and four style options for each size.
The bag also has backpack straps, which means that when the little one gets tired of dragging it around, you can easily chuck it on your own back.
>>> YES! This bag is perfect – Buy it Now!
You can also find a list of other great children's suitcases on wheels here.
______________________
13. YAMIU Travel Shoe Bags
I know this comes across as a boring item, but considering how dirty and muddy kids' shoes can get, I never travel without dedicated shoe bags for their shoes that go along on the trip!
YAMIU offers a pack of travel shoe bags to keep pairs of shoes organized while traveling. You can choose from zipper and drawstring style bags. Select a pack of two, four, or ten bags, as per your requirement.
It is made of nylon and is waterproof. Moreover, it comes with a lifetime warranty.
>>> YES! Grab some shoe bags now!
______________________
14. ARMRA Unique Luggage Tag
Who says luggage tags are only for adults? ARMRA offers unique luggage tags that your kid will love! Choose from the A Style 3-pack or the Flower 1-pack. Each of these tags comes with a string and a screw connector.
You can write your name and a contact number on the notecard to ensure easy and quick tracking. My kids love this sort of stuff and I'm sure yours will too.
>>> YES! Grab some luggage tags from Amazon
______________________
15. Bagail 6 Set Packing Cubes
Bagail offers an excellent set of six packing cubes to classify and organize your items effortlessly. Packing can be a hassle, especially for kids, because there is so much to take. Toys, books, clothes, medicines, and more.
They are also useful if you have a few kids, we have a different color cubes for each child and then when they share a suitcase it is easier for them to keep track of their own stuff.
You can choose from 15 different, vibrant color options. Each bag in this set is made of high-quality nylon fabric and features top-notch zippers. The collection contains two packs each of three sizes.
These are just normal cubes, but if you want to save space it might be worthwhile to invest in some compression cubes. Here is our guide on the best compression packing cubes.
>>> YES! Grab some packing cubes from Amazon
______________________
Super Useful and Essential Children's Travel Accessories
Next up, we have some essential children's travel accessories. Here is a list of some fabulous buys!
16. Furry Smile Disposable Rain Ponchos for Kids
Unless you are traveling to a destination where (and when) there is no possibility of rainfall, it will not hurt to get a pack of disposable rain ponchos for your kids from Furry Smile.
These ponchos are available in several exciting colors and designs. We especially liked these ponchos because they provide ample space for your kid to move and play while wearing it.
If you would like to find a rain poncho for yourself, we have a great guide to help you find the best rain poncho here.
>>> YES! We might need these – Buy them Now!
______________________
17. Mosquito Repellent Bracelet Band Pack
Pesky mosquitoes and other insects can prove to be a nuisance for you and your kids while traveling. The easiest and safest way to tackle these bugs is to wear a mosquito repellent bracelet band from iCooker.
It is made from a combination of essential oils that are known to have insect-repellent properties. The pack of 12 bands costs only ten bucks, making it an excellent travel accessory for your kids.
>>> YES! We might need these – Buy them Now!
______________________
18. Collapsible Silicone Water Bottles
Baiji Bottle offers a pack of two collapsible silicone water bottles, each having 20 oz capacity. It is made from food-grade silicone, making it taste, stain, and odor-resistant. What makes these bottles special is that they can be laid flat, rolled up, or folded when empty.
We especially liked the fact that 10% of all profits from the sale of these bottles go to dolphin rescue and protection programs.
>>> YES! These are Essential – Buy it Now!
______________________
19. HUANUO Universal Travel Adapter
One of the essential accessories to have in your luggage is a universal travel adapter, especially if you plan to travel abroad. HUANUO offers, in our opinion, one of the best universal travel adapters you can find out there. It covers more than 180 countries and has four powerful USB ports as well.
It is lightweight, portable, and effortless to use. And it is backed by a lifetime warranty.
The older our kids get the more we realize that they need their own travel adapters to charge up their tablets or phones. So they now each have one that they are responsible for.
>>> YES! These are Essential – Buy it Now!
______________________
20. RFID Travel Passport & Document Organizer
This one is for you, but essential for when you have kids.
Keeping your documents organized pays huge dividends throughout, especially while traveling. RFID's Travel Passport & Document Organizer lets you keep credit cards, money, passport, pen, and other important documents in an organized and secure manner.
It is made from high-quality, water-resistant nylon fabric. And a lifetime warranty and 100% satisfaction guarantee back it. You can also find a wider selection of other recommended multiple passport wallets here.
>>> YES! These are Essential – Buy it Now!
______________________
Best Entertainment-Type Kids Travel Gear
Now the older the kids get, the more important entertainment becomes and of course it changes with the years as well. Here are some of our favorites:
21. Apple iPad
Although it cannot be classified as a travel accessory by definition, Apple's iPad makes for one of the most effective means to keep kids engaged while traveling. Your kid can enjoy playing games, reading books, watching educational videos, and much more on the iPad.
Of course, you could go with a cheaper option and get a tablet, but we have tried out so many tablets and they just never compare in speed and functionality the same way an iPad does.
Plus tablets just tend to have issues (with 3 tablets we got to a day where they just refused to switch on and we had to take them apart to reconnect wires – WAY too much hassle on a trip!)
If your kids are older these will be worth their $$$ as it will help them kill time in transit, on the plane etc.
>>> YES! I want to invest in one of these – Buy it Now!
______________________
22. iClever Kids Headphones
Headphones are crucial. Our kids are much happier during road trips when they can listen to their own style of music. They also use it during flights as well – so much better to have comfy headphones that fit properly.
You can choose from three color options – Pink, Black & Blue, and Blue & Yellow. It features an in-built, volume-limiting mechanism to cap the sound level at 94 decibels.
Your child can use this pair of headphones with all standard mobile and tablet devices that have a 3.5mm auxiliary jack. It is backed by a 45-days money-back guarantee and an 18-month replacement warranty.
>>> YES! Buy it now from Amazon
______________________
23. OUR MOMENTS Parents Bundle
One of our personal favorites in this list is the Parents Bundle from OUR MOMENTS. It is a pack of two decks containing 200 thought-provoking conversation starters. Who says that traveling with kids cannot be fun? You can use this card game to educate your kid in a fun and exciting way.
The next road trip you take with your kid can be full of exciting conversations with this game. If you are not satisfied with it, you can return it within 30 days for a full refund.
>>> YES! This is such a great idea – Buy it now
______________________
24. Xenvo Pro Lens Kit
Our next recommendation is suitable for older kids who can safely handle a mobile phone and click pictures. Xenvo's Pro Lens Kit, which includes a TruView 0.45x Wide Angle Lens, a Clarus 15x Macro Lens, a GlowClip Mini Rechargeable LED light with charging cable, a TruGrip Lens Clip, DuraCase, and a cleaning cloth.
It just adds a bit of fun to taking photos which is fabulous.
>>> YES! Buy it now from Amazon
______________________
25. HP Sprocket Plus Instant Photo Printer
How wonderful would it be if you could take instant prints of beautiful pictures you click while traveling? You can do that by getting the Sprocket Plus from HP, the thinnest photo printer.
It is the size of a smartphone, making it portable and ideal for travelers. It comes with ten sheets of HP Zink Photo Paper. You can quickly print photos by connecting your phone to it through Bluetooth.
We find that our kids love taking photos on the trip, but lose interest in them by the time we get home. I think this is a fabulous way to keep the excitement high, print out some photos and even add them to a little travel journal.
>>> YES! This is so cool – Buy it now from Amazon
______________________
26. My Travel Journal
Yes, we have created a super fun travel activity book that will make all the difference on your next family adventure.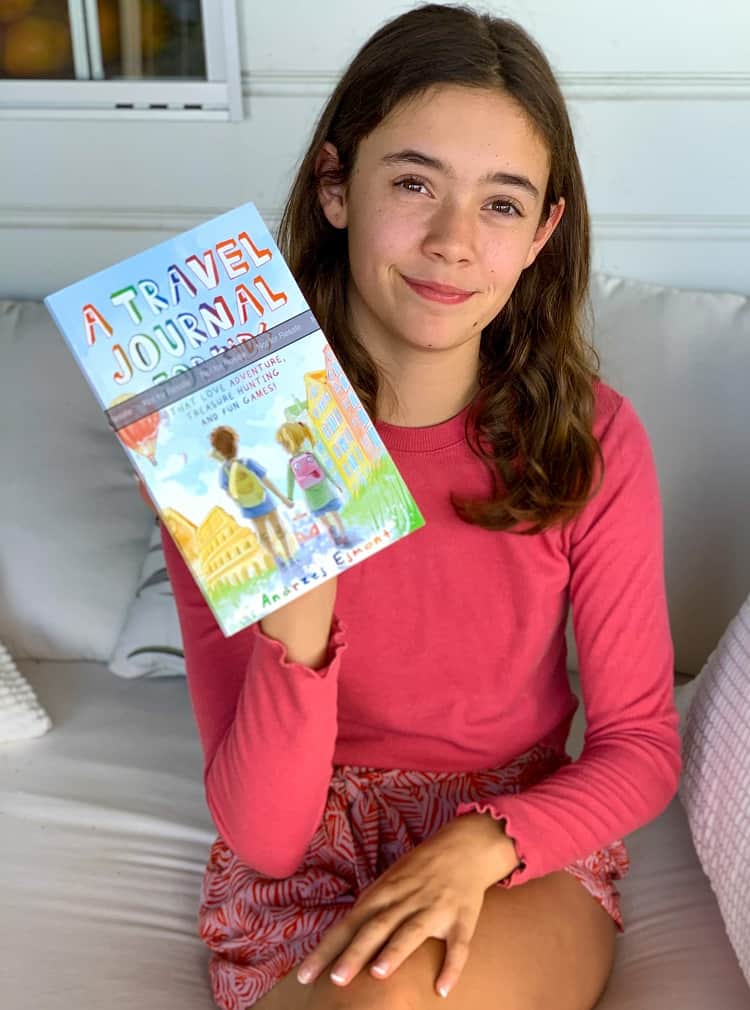 It contains space to draw, color, write, and collage – making it a beautiful scrapbook when complete. It is available in the hardcover version only.
>>> Click the link and get your copy of the "A Travel Journal for Kids" on Amazon now:
______________________
28. World Traveler Coloring Book or The Travel Activity Book for Kids (Depending on Age)
We believe that a book is one of the best travel accessories you can find for kids.
For kids aged 10 and up, you can get the World Traveler Coloring Book. It contains 30 travel destination sites and nine finished examples. It is beginner-friendly, so your kid need not be a good artist to use this book.
>>> YES! Buy it now from Amazon
For younger kids (aged 6 to 10 years), we recommend the Travel Activity Book. It consists of word searches, coloring, mazes, spot the difference, and many more fun activities.
>>> YES! Buy it now from Amazon
______________________
29. Brainbox All Around The World
MindWare offers the Brainbox All Around The World, a fun and fast-paced game of concentration for young kids. One or more players can play this game. Its compact size and straightforward gameplay make it an ideal game to carry while traveling.
We especially liked the fact that it is made from recycled material.
>>> YES! This looks like fun – Buy it now
______________________
30. Briarpatch Travel Scavenger Hunt Card Game
The next time you go on a road trip with your child, consider having the Briarpatch Travel Scavenger Hunt Card Game on deck. It takes your child on a fun ride where they hunt for objects found on the cards.
It includes 54 cards and can be played by two or more players of ages 7 and up.
>>> YES! Buy it now from Amazon
______________________
31. Knock Knock On-The-Go GamePad
Knock Knock offers the On-The-Go GamePad, consisting of 12 sheets each of 5 different games along with instructions. It is an effective way to breeze through seemingly long hours of flight or car travel.
Each of these five games is suitable for ages 7 and up. All your child needs with this paper gamepad is a pencil, and he will be good to go!
>>> YES! Buy it now from Amazon
______________________
Final Words on the Best Kids Travel Products
Now that you have gone through our favorite 30 of the best kids' travel accessories be sure to select those products that best meet your requirements. We have tried our best to include a wide range of kids' travel products that are suitable for various age groups.
When it's all said and done, you as well as your kid should have a good time traveling! So now it is time to go and stock up on some travel gear for yourself and then you are ready!
Till next time, travel safe and have fun!
Tip: You might also be interested in checking out which are the best long flight accessories.
______________________
* Disclaimer: Wanderluststorytellers.com is a participant in the Amazon Services LLC Associates Program, an affiliate advertising program designed to provide a means for sites to earn advertising fees by advertising and linking to amazon.com, amazon.uk, amazon.ca and other Amazon sites.  Thank you for reading our best children's luggage buyers guide!