If you happen to travel often then you might already be aware of the plethora of travel items that make a person's life easier on the road.
But many-a-times we remain unaware of such heaven-sent products that make journeys a breeze. That's why we have done our own hunt and research to bring you some of the best travel accessories for men.
These 35 items on this list are nothing short of a miracle and should be on all men's packing list.
So buckle up and give it a read!
Our Pick for The Best Travel Accessories for Men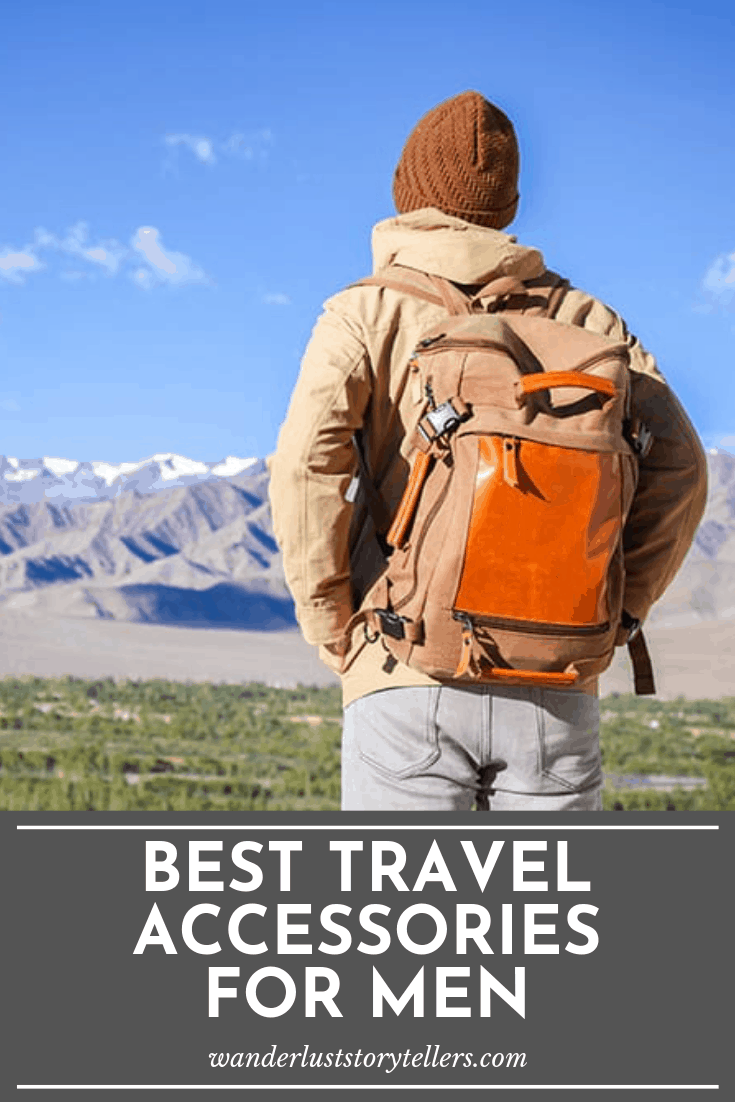 Here is our list of, in our opinion, the best men travel accessories, starting with some fabulous travel luggage for men.
In this set, you get 2 sleek looking hard case suitcases that can make carrying your luggage the most convenient job ever.
The suitcases have TSA locks that make sure that your possessions stay extra secure.
And the organization is terrific as well, taking care of all your amenities when you are out and about.
Moreover, it has fluid 360-degree motion and a grippy lightweight handle that make it almost effortless to have those long walks at the airport.
>> Click here to check the price.
_____________
The Road Runner Carry On features a water-resistant hard shell, ultra-quiet 360 degrees spinner wheels, and comes with a convenient front pocket with a laptop sleeve.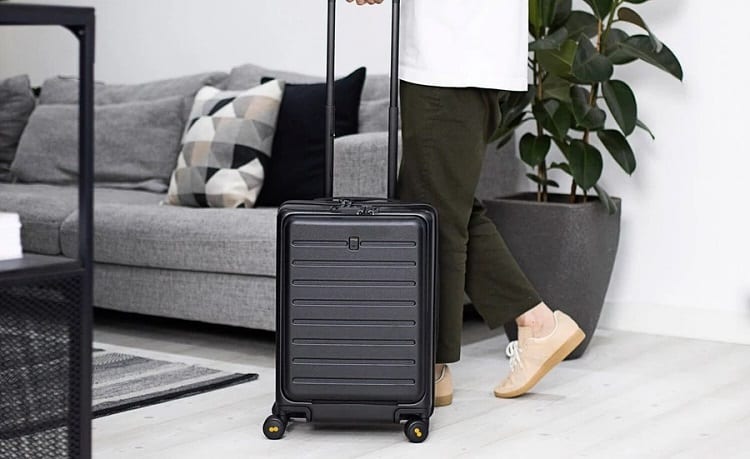 Most of the hard shell suitcases I have found do not have a front pocket, so this one is perfect for frequent travelers who need easy access to their laptops.
I love the dual TSA-approved locks which give me peace of mind that my laptop will be safe in the overhead bin.
>>Click here to check out the prices and here to check out the full range of products – Make sure to use this Special Code WANDERLUSTSTORY and SAVE 10%.
_____________
Re-emerge refreshed with this awesome package. Yes, it's happening. The world is reopening, and everyone is going back to school or back to work. Good thing we have you covered.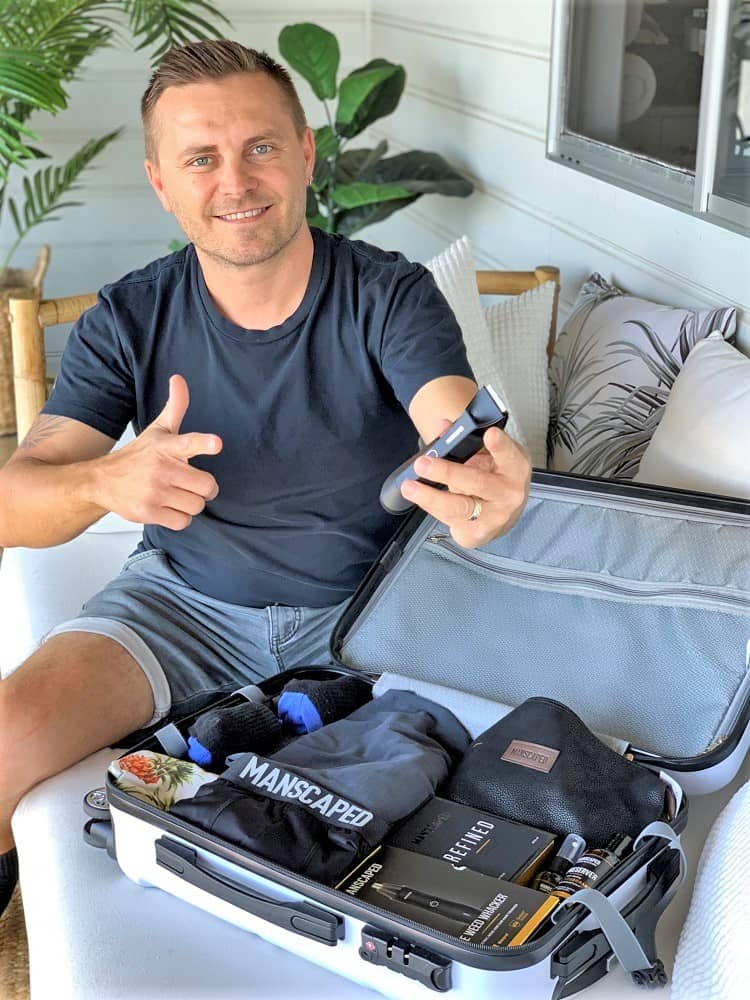 This the Perfomance Package 4.0 you can get rid of your (or your honey's) caveman status with the right tools for even the hairiest of jobs.
Inside this package, you'll find their brand new Lawn Mower® 4.0. Trimmer. Their 4th generation trimmer features a cutting-edge ceramic blade to reduce grooming accidents thanks to their Advanced SkinSafe™Technology, a new multi-function on/off switch that can engage a travel lock, AND is waterproof!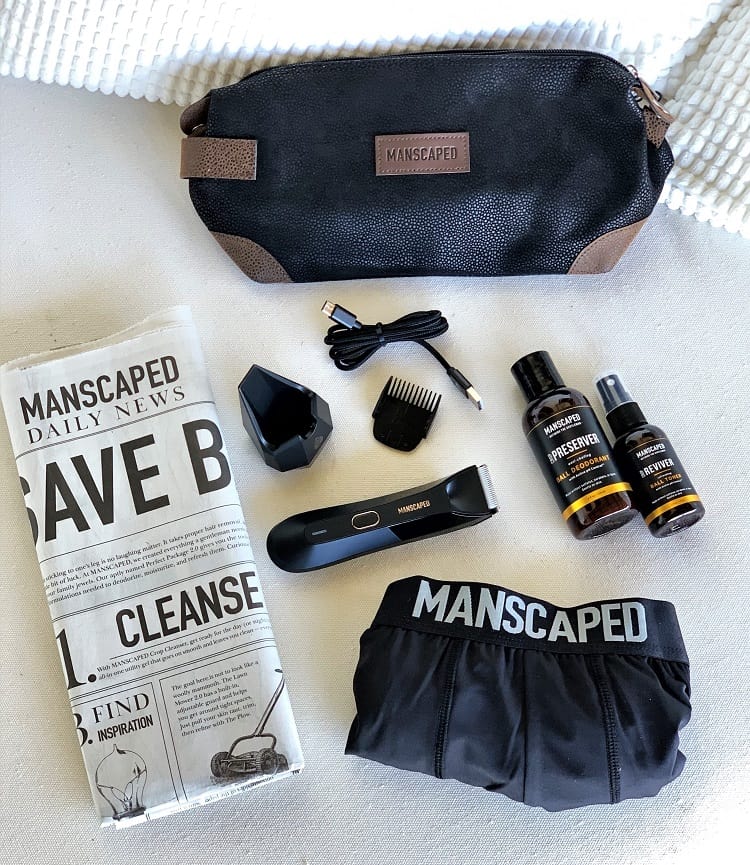 The Performance Package 4.0. also includes the Weed Whacker — this nose and ear hair trimmer provides Proprietary SkinSafe™ Technology which helps prevent nicks, snags, and tugs in those delicate holes.
Seal the deal with MANSCAPED's liquid formulations including the Crop Preserver™ ball deodorant and Crop Reviver™ball toner.
MANSCAPED even threw in two free gifts – the MANSCAPED™ Boxers and the Shed Travel Bag!
_____________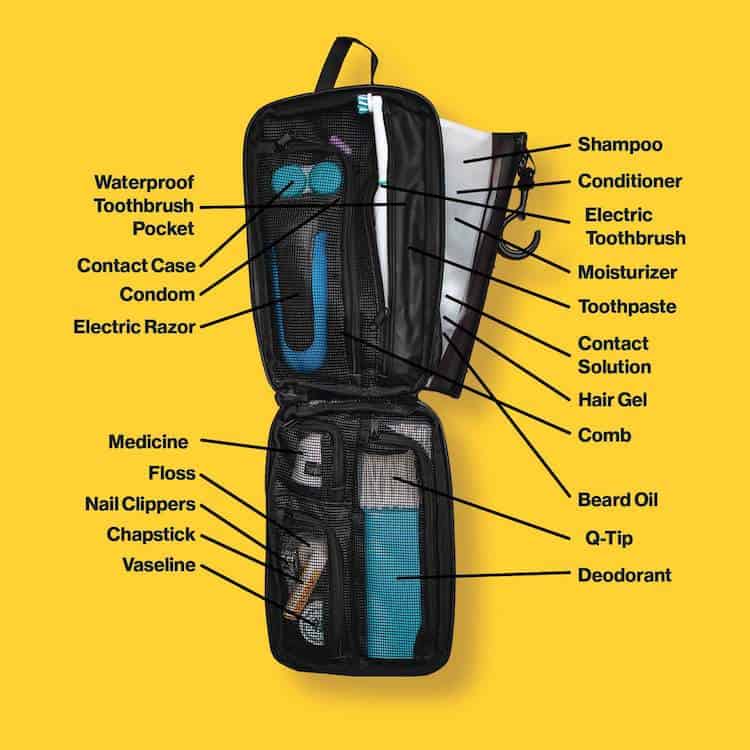 The Explorer PLUS™ toiletry bag is perfect for travelers – pack a ton while staying compact. Tons of pockets to keep organized & sanitary…like keeping your toenail clippers off your toothbrush.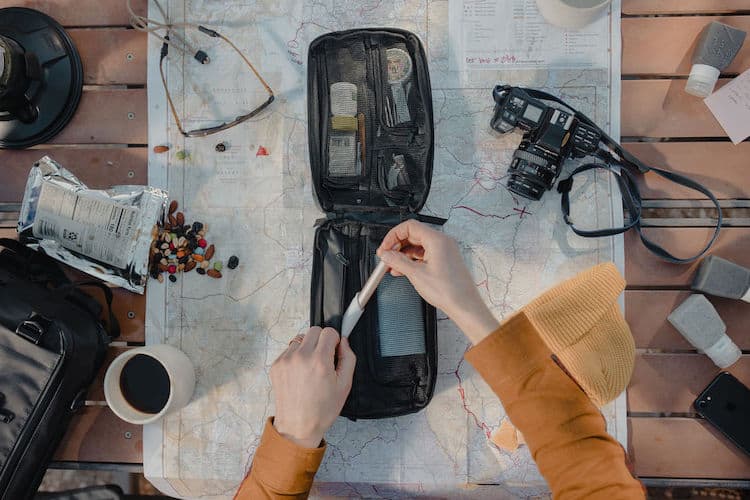 These bags are trusted by travelers worldwide. It comes with a hideaway adjustable strap that turns your bag into a portable vanity. A fleece pocket to stowaway a first aid kit, cords, or valuables.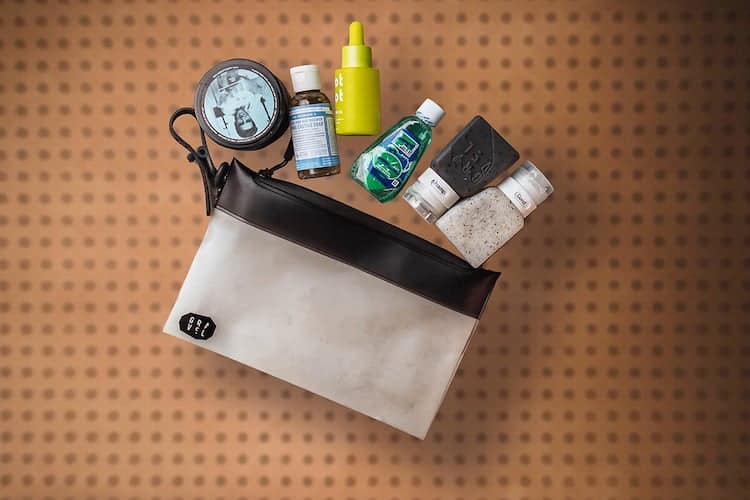 Included is a clear, removable, & water-resistant TSA compliant pouch. Quickly remove it for easy passage through airport security. Travel tested materials with Gravel's lifetime warranty to back it up making it the best toiletry bag on the market.
>> Click here to check the price.
_____________
This duffel bag is highly durable because it is made from 16 ounces heavy-duty 100% cotton canvas.
It can also keep your items safe from the harsh treatments at the airport since it has high-quality plastic cushioning at the bottom.
There are several capable zipper pockets as well as expandable storage so space will never be an issue, especially if you carry a lot of electronics.
Moreover, carrying it is also easy because it has grip handles and a removable shoulder strap.
>> Click here to check the price.
_____________
There are many travel backpacks that you can find online but the reason why we decided to choose this one because it meets all the requirements without breaking the bank.
This bag has all the features you will need on your next trip. It can comfortably fit all of your electronics even if your laptop is on the bulkier side.
The organization is also pitch-perfect and you don't need to worry about it giving up on you because of the quality material choice.
>> Click here to check the price.
_____________
If you are not a backpack person, then this offering from AmazonBasics is the perfect thing for you.
It might not have the fancy USB port like the previous entry but it has all of the other requirements in check and retails for a lovely low price.
In this bag, you get several zippers and a lot of storage space to conveniently store all of your handy items when you are on the go.
>> Click here to check the price.
_____________
Any heavy traveller understands the importance of travelling light and this shoulder bag will help you achieve this dream.
This high-quality bag can store your clothes comfortably without even a hint of wrinkles showing up and can fit all amenities.
It's also extremely long-lasting and has a sleek professional look, so you can even use it at work when not travelling.
>> Click here to check the price.
_____________
If you consider yourself to be hip and trendy, then this sling shoulder backpack will steal your heart.
There's no denying that it has lesser storage space, so, if you are looking for only that, try some of the other backpacks we have listed here.
But besides that, it gets the job done and looks extremely hip with a huge variety of color options. It also has an extra pocket to store things like your wallet, cards and other amenities.
Tip: Check out our top 10 best sling backpack reviews here.
>> Click here to check the price.
_____________
Adidas needs no introduction and if you want to stay in style with a posh and hip outlook than this sackpack is the one thing that'll suit you.
There's a huge variety of color options available and since it's Adidas, you won't ever have to worry about it giving up on you.
There are also 3 exterior pockets that make it stand out from other similar sackpacks, and makes it more functional.
>> Click here to check the price.
_____________
Every packer knows how annoying it is to store shoes in your luggage. To solve that we have brought to you this set of 2 shoe bags from YAMIU.
It's the ultimate men's travel organizer because they are waterproof, flexible, and more importantly, will keep your shoes safe and separate in your luggage with no possibility of damage.
>> Click here to check the price.
_____________
It can get rather complicated to get proper toiletries when you're visiting a completely foreign place. Also, no matter which type of a backpack you choose, bringing along your own toiletries from home has more problems than solutions really.
Hence, a backpack with a lot of storage pockets is not going to help you out of this predicament in any way. However, the hanging Toiletry bag from Vitelli has been specifically designed to help you out with just this.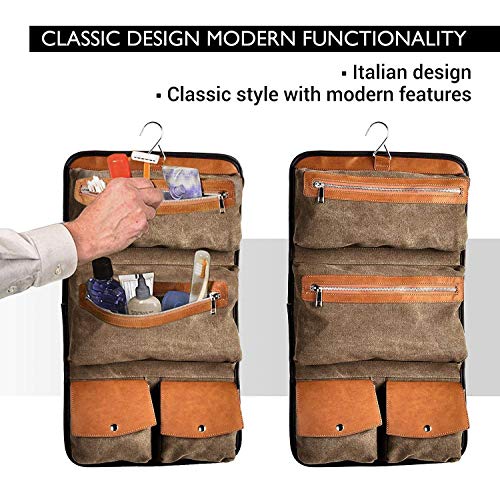 As Vetelli specializes in 'high quality, high durability' toiletry travel kits, this travel bag might just be your new favorite go-to for storing all your personal effects while on the road.
In terms of storage, the space in the bag is big enough to house every one of your essential items while still staying as good as new under the wear and tear of travelling.
>> Click here to check the price.
_____________
We pray that you never have to cough up the exorbitant charges for extra luggage and to help you get rid of the anxiety, you need to know about this Luggage Scale from Etekcity.
It's high quality, durable and has a digital screen to get the job done conveniently.
Moreover, it can also measure ambient temperature so you never have to worry about freezing or getting heat strokes. Truly, it is one of the most important men's travel essentials.
>> Click here to check the price.
_____________
A luggage lock is a quintessential men's travel gear. There are many kinds of travel locks that you can find online or offline but this one is one of the most equipped ones we have ever seen.
It has a highly durable cable lock that is made from a high-density alloy. The cable is convenient because it can fit through skinny places and also keep it safe.
Moreover, the lock has a 3-digit combination that can also be conveniently reconfigured on a whim.
>> Click here to check the price.
_____________
Don't let your passport get damaged while you are travelling heavy. This convenient and handsome wallet from GDTK can keep your passport free of wear and tear also double as a wallet when you are on the go.
And if you are not a person who goes with all black, then don't worry because these wallets come in a variety of gorgeous colors that you'll fall in love with. If you are traveling with your wife and kids, you will probably prefer picking up one of these family passport holders so that you can keep everyone's passports safe.
>> Click here to check the price.
_____________
If you are planning to gift a man in your life who loves to travel, then this one of the best travel kits for him.
This 20 count set has got all of your toiletries covered ranging from oral care products and shaving tools to Q-tips and grooming items.
And all of this comes at an extremely affordable sub-$20 price. The best part? This kit is entirely TSA-Approved, so, you don't have to worry about those pesky airport check-ins with this.
>> Click here to check the price.
_____________
This men's travel pouch takes all the anxiety away from travelling in a crowded environment because now you can have your precious items such as wallets and accessories safe from thieves.
It has theft insurance and a lifetime recovery service for lost items that covers items worth up to $250.
Moreover, it has an RFID block that protects you from electronic pickpocketing and makes travelling alone a little safer.
>> Click here to check the price.
_____________
Tired of travelling with long flight hours and not getting plenty of rest? Zamat's offering has got you covered.
This breathable & comfortable neck pillow is amazing for 2 reasons. One is because it has the most comfortable fabric that we have ever seen and another reason is that it gives all-around neck support.
Plus, you also get a top-notch 3D Eye mask, so now, you can finally sleep easy! You can find more fabulous travel items for long flights here.
>> Click here to check the price.
_____________
This pair of headphones from Bose needs no introduction. If you have been even slightly interested in the world of headphones, then you already know about the superstar QC35 II.
It has arguably the best noise-cancellation, one of the best audio profiles and surely the best fit we have ever seen.
And as a bonus, it can also be controlled with Alexa voice commands.
>> Click here to check the price.
_____________
Looking for a fabulous but cheap shaver that you can take with you on the trip? This shaver is great as you can use it with batteries, so no need to drag along cords and worry about another converter plug.
The shares has a wide floating foil for close comfy shaving and also features a precision trimmer for sideburns and moustaches.
The electric razor is washable and comes with the batteries that you will need.
>> Click here to check the price.
_____________
One of the most important traveling essentials for men is a power bank and in that regard, Anker needs no introduction.
It's the maker of some of the most portable, durable and high capacity power banks in the entire industry.
And this 10000MAh powercore is no exception either. So, make this yours and never worry about a dying phone gain.
>> Click here to check the price.
_____________
This wireless speaker from EWA stole our hearts because of how adorable and convenient it is to carry.
It has a pretty impressive sound quality and bass for its size and the best part is that you can even hang it on your backpack or belt with its included metal hook.
Moreover, you get a 1-year warranty and a 30-day no-risk guarantee, making it one of the most attractive men's travel accessories that we have used.
>> Click here to check the price.
_____________
If you happen to travel internationally a lot, then you'll find this product to be heaven-sent. This travel adapter will have you covered in any country imaginable. It has all of the types of sockets, namely, A, C, G and I, and covers almost all of the countries in the world.
It also has 4 USB ports so you can charge all of your electronics at once. And it also has a lifetime warranty, so you can't go wrong!
>> Click here to check the price.
_____________
For an extremely affordable price, you can get these attractive set of 2 towels from Wise Owl Outfitters and finally make your travel toiletry set complete.
Since these come with a travel pouch, you can conveniently carry these with you in your next trip.
The fabric is soft and incredibly absorbent but if for some reason you are not satisfied with the quality, then don't worry. Because these have a 100% money-back guarantee.
>> Click here to check the price.
_____________
These attractive looking caps from Mommy Jennie will be perfect for you if you are deciding to visit some tropical country or plan to walk around in the sun.
The design is simple and comfortable, and the color selection is fantastic. And if for some reason, you don't like it after you buy it, they do free return or refund without asking any questions!
>> Click here to check the price.
_____________
This set of 6 high-quality organizer packets from Bagail will make your next trip a lot more hassle-free and will make packing a piece of cake for you, especially if you use a rucksack.
There are various sizes in the set to take care of all your amenities and it is made from top quality materials.
And don't worry if it breaks on you because these come with a lifetime warranty. You can also compare these packing cubes against other popular brands in our best packing cubes buyers guide.
>> Click here to check the price.
_____________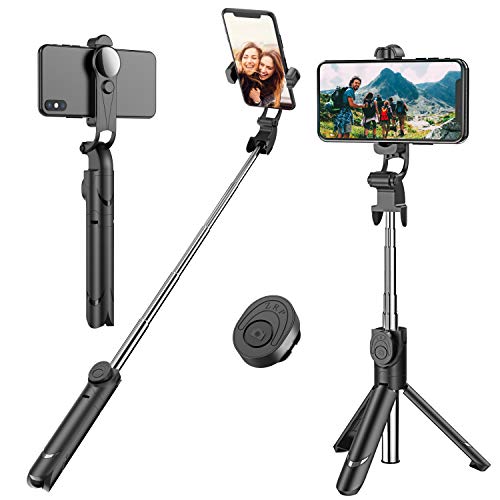 This gadget from Erligpowht will make your travel vlogs and photographs professional-looking and even more gorgeous. The tool works as a selfie stick, a tripod and even has a detachable wireless remote so no one gets left out in a group photo.
And moreover, it's compatible with all the major smartphone brands like Apple and Samsung.
>> Click here to check the price.
_____________
A rain poncho can save your life in the most unexpected situations. This high-quality and good-looking rain poncho can save you from getting wet when you are travelling.
And if you are worried that it'll be a little disorganized and messy to carry around with you, then don't worry because it comes with its own travel pouch.
>> Click here to check the price.
_____________
It is a nightmare sometimes to just lay down on a beach sometimes but this product from BEARZ will surely help you with that.
This small pocket blanket comes in an easy-to-carry pouch, so that, you can lay down wherever you want on the beach and also quickly collect and retreat.
There are several attractive color options available and the blanket is also water-resistant, sand proof and puncture-proof. You can compare this blanket against other popular brands in our best beach blanket buyers guide.
>> Click here to check the price.
_____________
If you are into adventure filming or want to make memorable and interesting clips then this affordable GoPro like a camera from ASAKO is right up your alley.
It can record 4K footage at 25 fps or 2.7K footage at 30 fps, which is plenty for any travel vlogging or adventure film.
It has in-built WiFi and HDMI connectivity and can record up to 100 feet depth in water. Moreover, it covers you with two 1050 MAh batteries, each of which can give you up to 90 minutes of action.
>> Click here to check the price.
_____________
This excellent drone from Holy Stone can record 1080p footage with a 120-degree FOV and even has WiFi connectivity capabilities.
It has a follow me mode as well and can be in the air for about 15 minutes in a single charge. Moreover, you can control it in a range of 500m and it can be easily manoeuvred with easy landing and takeoff features.
>> Click here to check the price.
_____________
If you think ponchos don't suit your style then look at this handsome rain jacket from Columbia that has a sleek look and a smooth fit.
It has a softshell exterior and a mesh lining for protection and breathability. Moreover, you get a stowaway hood and the cuffs are adjustable.
And the attractive color options are sure to steal your heart! You can also find a bigger selection of the best men's travel jackets here.
>> Click here to check the price.
_____________
This stylish looking bracelet will double as a handy toolbox of screwheads and wrenches whenever you are on the go.
It's a cool looking band that can help you in the most unexpected situations where you might need to fix something on the go.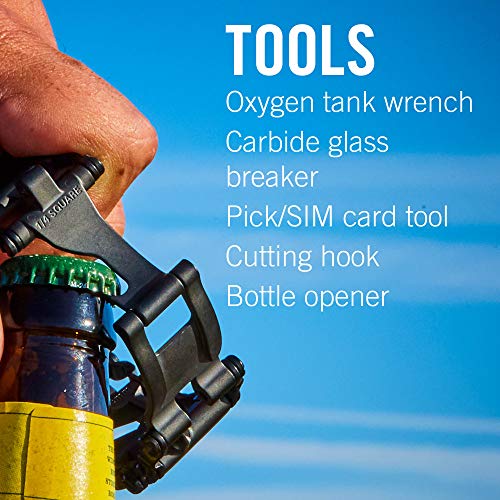 And if you are worried about its quality then rest assured because it has a 25-year limited warranty!
>> Click here to check the price.
_____________
If you like being adventurous on your outings while still being casually attractive and comfortable, then this footwear is right in line to be your next most favorite thing.
Starting from the comfortable and durable rubber sole to the PFC free materials that are used to make its structure, everything about this sandal is about comfort and better traction.
Surely, if you love to hike or walk during your trip, this will be your new best friend.
>> Click here to check the price.
_____________
So when you're going for a nice long camping and trekking trip, you might not know what type of ground surface or terrain you will encounter. The risk factor of slip and fall injuries due to lack of proper footing gets all the greater when you're not equipped with the right footwear.
In our opinion, if you're not sure of the terrain you will be traversing, it's always safe to go for shoes that have all-terrain traction like the Jungle Moc from Merrell Men. In the category for must-have travel items for camping and hiking, the Jungle Moc Slip-on Shoe effortlessly ticks all the boxes in our checklist for being one of the best traveling shoes.
This shoe consists of one unique feature which makes it such a big fan favorite among adventurers, and that is the M Select Fresh tech that the shoe is lined with. This feature prevents the sweat and moisture from your feet to affect the freshness of your shoes.
It has small antimicrobial agents which penetrate and disrupts the reproduction of the odour-causing microbes in the shoe, thereby keeping your feet fresh and cool for a very long time.
Tip: You might be also interesteding checking out which are the best compression socks for flying.
>> Click here to check the price.
_____________
Conclusion on the Best Men's Travel Accessories
So, that'll be all for this list.
In this piece, we gathered up some of the best travel essentials for men that can make travelling a breeze.
We tried to keep it at as packed and as comprehensive as possible to make sure you find something that you'd love to get for yourself.
With that, we wish you well for your adventures and travel expeditions.
Tip:  You might also be interested in checking out the best travel gadgets for long flights here.