Gruyères is the perfect destination for a day-trip getaway from Geneva. This little medieval village is a beautiful walled town packed with tons of charm.
Whilst there are many things to do in the town during the day, you'll love walking along the cobblestone streets. Gruyères has little shops and quaint homes which makes the experience of visiting a bit more intimate for you.
Despite the fact that Gruyères is a laid-back little town with little-to-no nightlife, you will get an amazing look at the town during the day.
While you are planning your day trip to Gruyères, there are restaurants, stores, museums, and the castle that you can visit.
Also named Canton of Fribourg, this hillside town is a majestic manicured landscape with amazing fairytale storybook features.
Is Gruyères Worth A Visit?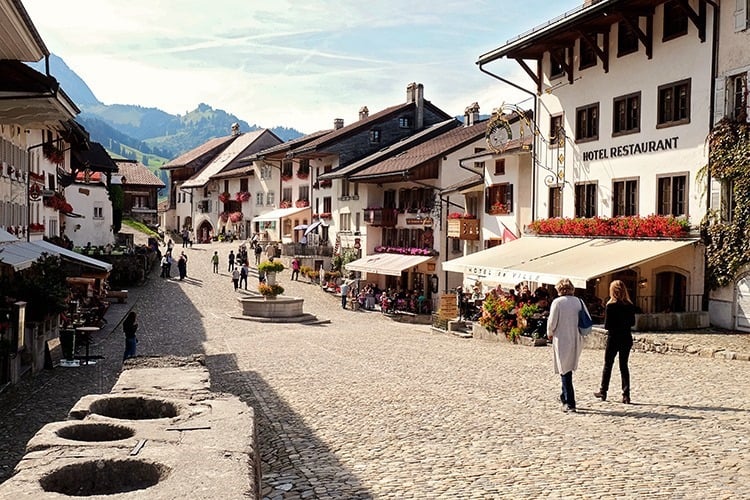 Yes, Gruyères is definitely worth a visit. You can easily spend a half-day or a full day here.
The first reason why this gorgeous town is worth a visit is that it is the cheese capital of Switzerland. If you love cheese you will definitely enjoy classic dishes like raclette and fondue.
Another reason why you would enjoy a visit to this village is that it is a well-preserved medieval town. With the cobblestone streets and the beautiful surrounding rolling hills, this town is definitely picture-perfect!
And lastly, for those that love the Alien movies, you will enjoy strolling through the HR Giger Museum where you can see paintings and sculptures.
---
What Is Gruyère Switzerland Known For?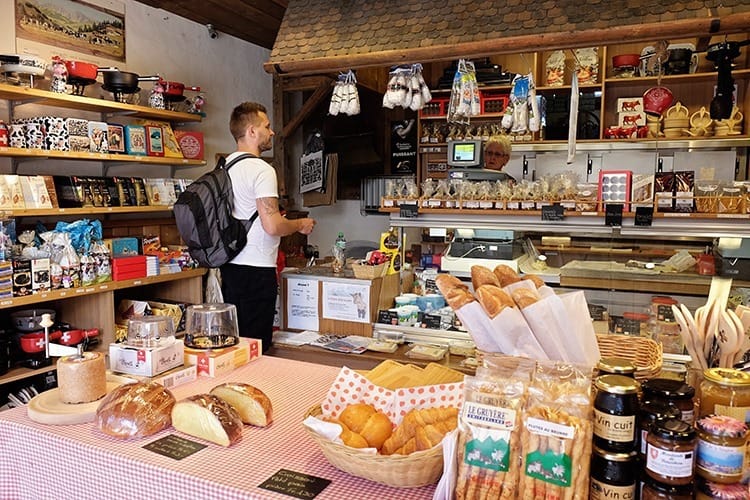 Gruyères is known for its cheese which is used in a number of gourmet dishes around the world. It is also known for its picturesque medieval town center and of course the HR Giger Museum.
---
Best Time To Visit Gruyères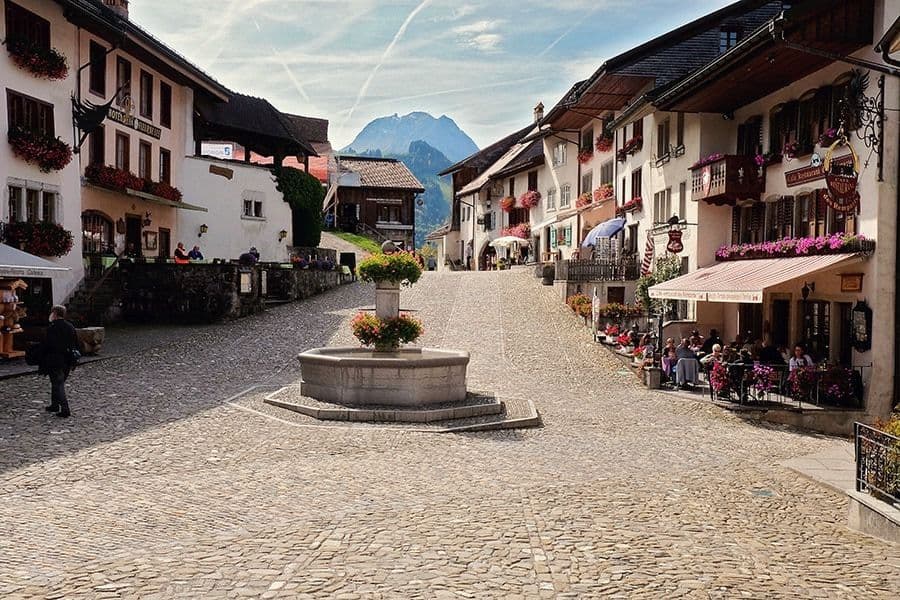 We think that Gruyères has a bit of magic during each and every season of the year, but we do much prefer to visit this town during warmer months.
The warmer months in Switzerland are from June to August.
---
How To Get To Gruyères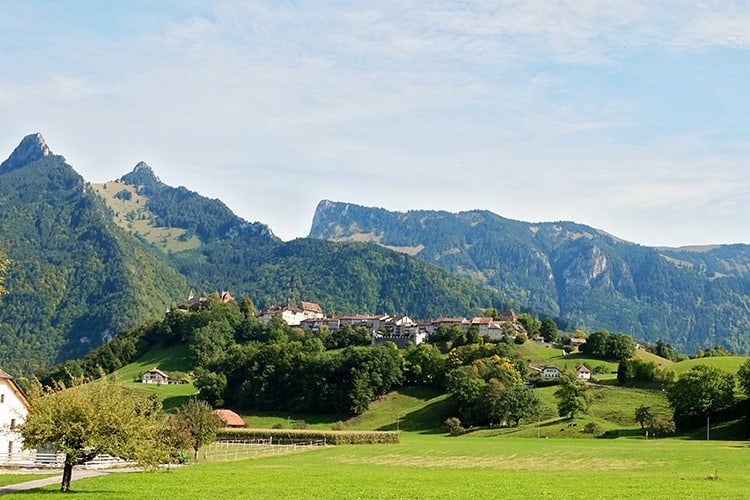 Gruyères is a tiny little town that is explored on foot.
If you're driving, you will find ample parking at La Maison du Gruyères and from there you can walk into town.
During the busy months, you might find that you need to stop at the bottom of the hill and walk your way up.
You can also take public transportation (train or bus) to the town. Take a train to Buille and transfer to take the train to Gruyères-Gare/Pringy or use the local bus system.
If you are traveling from Geneva, you can check out this site here for booking a taxi instead.
---
What To Eat In Gruyères
Since Gruyères cheese is popular worldwide, of course, you will want to get a taste of the real thing at its home base.
You should try the village specialty dish, known as Moitie-Moitie, which is a dish made with the popular Gruyères and another locally sourced cheese named Vacherin from the Fribourg area.
---
Things To Do In Gruyères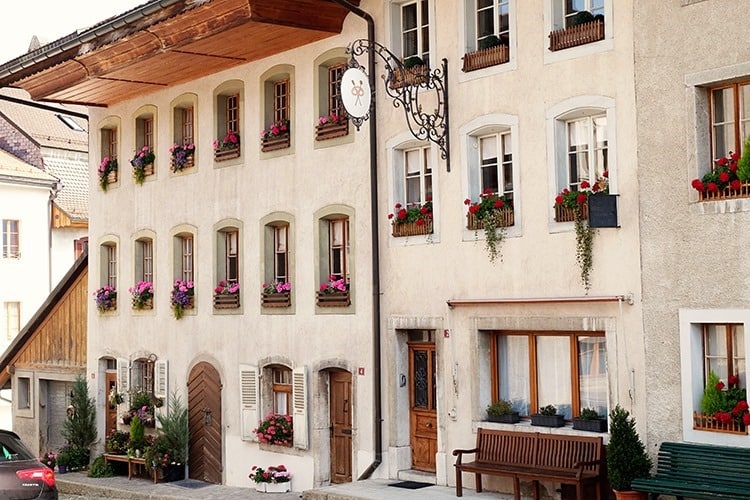 While you are in Gruyères, there's much to see and do. Here are a few ideas of what to do in Gruyeres during your visit:
The village boasts several charming boutiques with a variety of local village crafts, specialty dishes, and unique souvenirs on sale.

While in Gruyères you can visit the Gruyères Cheese Factory otherwise named La Maison du Gruyères.

You can explore the Medieval Gruyères Castle. The views from up on that level are to die for!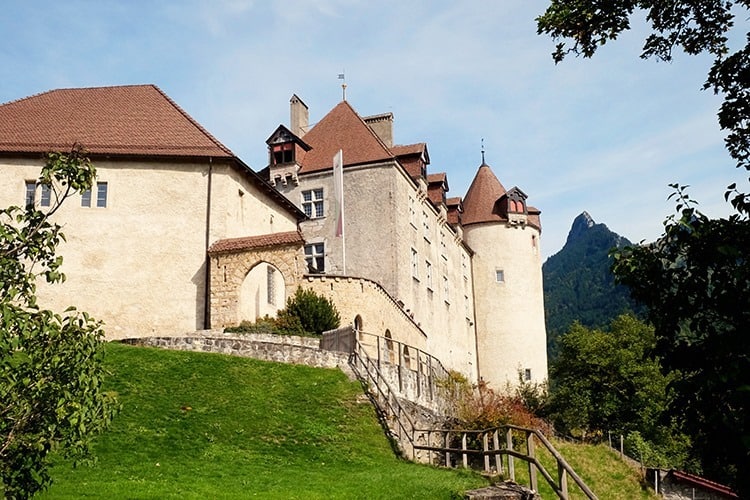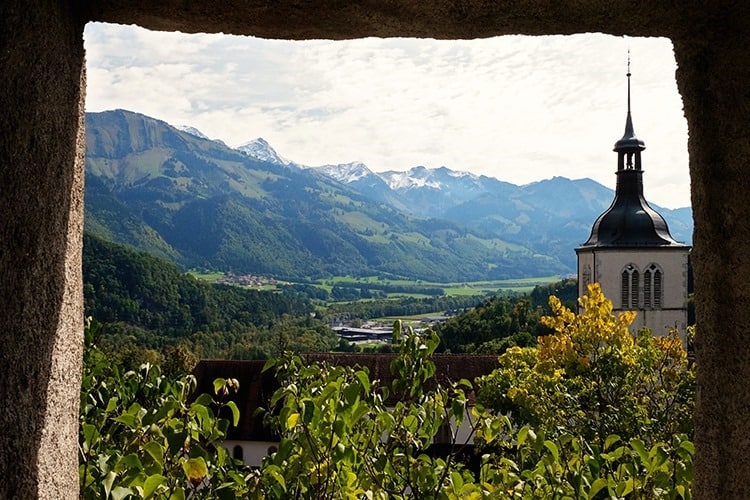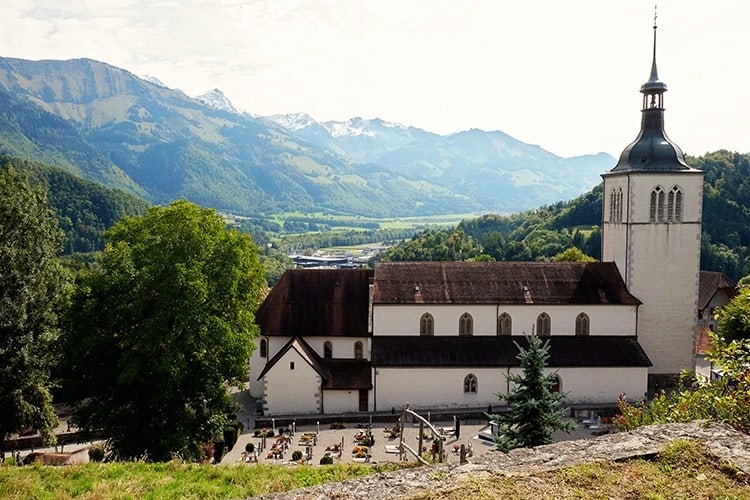 Savor traditional Swiss dishes such as Fondue and Raclette at specialty restaurants. (Do be prepared for some inflated prices though)

For more cultured things to do, you can visit the HR Giger Museum. (This was Andrzej's favorite activity of the day!)

Visit the Tibetan Museum which houses an array of sculptures, drawings, paintings, and religious and ritual items that are significant to Buddhism.
---
Visit the Chocolate Factory
If you're a lover of chocolate (and let's face it, who doesn't love rich Swiss chocolates?), the Cailler Chocolate Factory is accessible with a short 5-minute walk from the Broc train stop.
Enjoy a tour of the factory, relax at the café, and grab some delicious souvenirs from the chocolate shop on the way out.
---
Visiting Gruyères Summary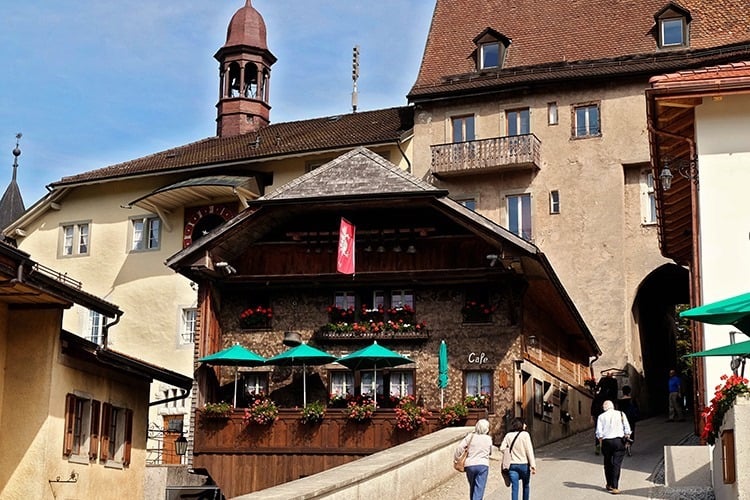 It won't take you long to explore the beautiful little town of Gruyères and in my opinion a half day there is plenty.
The beauty of this little town lies in simply wandering around the beautiful streets, as well as relaxing at one of the many restaurants, so make sure your trip includes a lunch break.
You can easily book a tour from Geneva to visit Gruyere. We chose to rent a car so we could drive ourselves and add a few more destinations into our day trip.
Have a wonderful time in Gruyères! x
Further Reading: