Are you looking for the best hot springs in Switzerland? You'll be glad to know that this landlocked country is home to some of the most spectacular natural hot springs in Europe.
Switzerland is truly a nature lover's dream. It is best known for its stunning nature, iconic mountain peaks, captivating waterfalls, and endless trekking opportunities.
Rich in thermal springs, Switzerland is a must-visit destination to enjoy hot springs, also known as mineralbad and leukerbad, especially if you visit in winter – nothing like hopping in a hot pool after a day out skiing!
If you're ready, let's dive right in!
Overview Of The Best Hot Springs In Switzerland
One of the reasons why you should visit Switzerland is because of their world-class spas and hot springs!
You will find hot springs and thermal spas throughout Switzerland, some of them with amazing views of the mountains, while others are more family oriented or offer an upscale spa experience.
Don't expect naturally-shaped, open-air hot pools – all hot springs in Switzerland are in spa complexes, with whole cities built around them.
Here are the best hot springs in Switzerland- don't miss these on your next vacation!
Bogn Engiadina Scoul
Mineral Baths & Spa Rigi-Kaltbad
Zurich's Thermalbad & Spa
Termali Salini & Spa, Locarno
Thermal Baths in Ovronnaz
Baden Thermal Baths
Leukerbad-Therme, Leukerbad
Panorama Resort & Spa
Tamina Thermal Spa
1. Bogn Engiadina, Scuol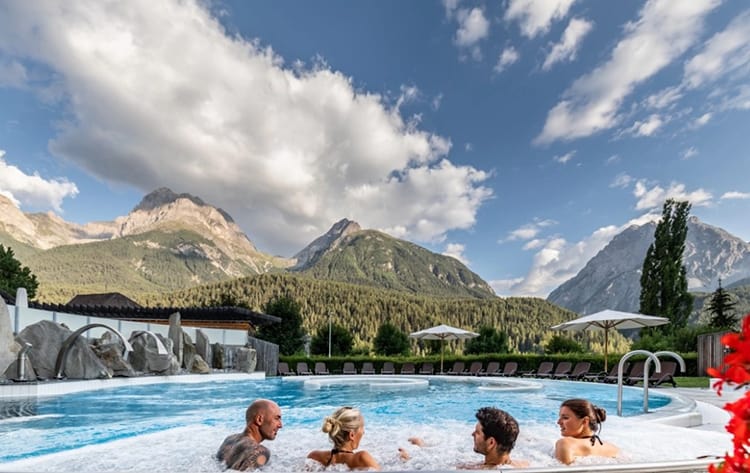 Located in the east of the country, close to the Italian border, Bogn Engiadina Hot Springs is a charming and relaxing complex in the small mountain town of Scuol.
While there are multiple pools, a sauna, and multiple relaxation areas in this spa, the highlight is the outside thermal pool. This naturally heated mineral pool overlooking the Grison mountains is one of the most scenic hot springs on this list.
It is open year-round, and especially stunning in winter, as you can bathe in the steaming hot pool while everything around you is covered in snow.
For complete relaxation, try out their signature Roman-Irish bathing ritual. It takes you through a multiple-step cleansing experience from hot to cool pools, scrubs, and more!
---
2. Mineral Baths & Spa Rigi Kaltbad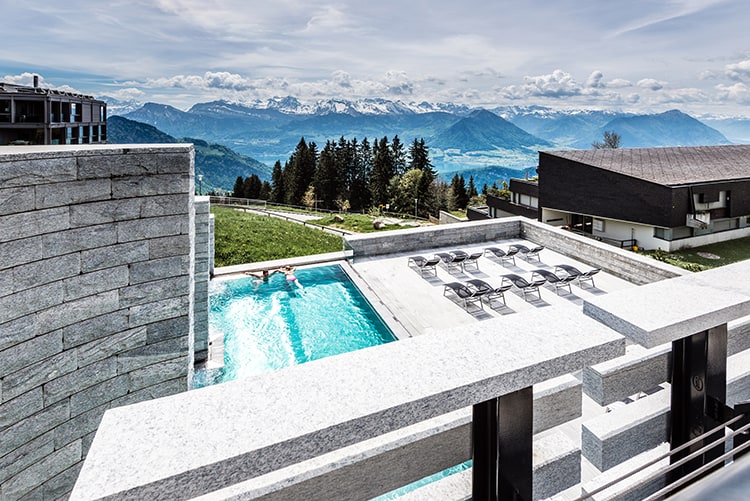 Just a short drive from Lucerne (the most beautiful city in Switzerland to visit), you'll find Rigi Kaltbad hot springs. Bathing culture in these mountains dates back to Roman times. The spa resort overlooks the lake, with incredible mountain views.
This complex is divided into multiple outdoor and indoor mineral baths and spa areas. The highlight is the naturally heated outdoor pool which you can swim to from the inside pool. Perfect for snowy days!
The spa area is only open for those over 16, so it is something to keep in mind if you come with children. Some of the signature experiences are crystal baths and herbal saunas.
While the mineral baths are a separate complex, they partner with Hotel Rigi Kaltbad for guests who want to spend more time in this relaxing environment.
A truly memorable way to experience this spa is to purchase a combo train and spa ticket. The scenic cogwheel train leaves from Vitznau and takes you to the top of Rigi Kulm where you can hop off, have lunch, and enjoy views overlooking Lake Lucerne, the Swiss Plateau with the Bernese Alps, and the Glarus Alps beyond.
Next, the train will take you to Spa Rigi Kaltbad (your entrance fee is included in this ticket) where you can enjoy the rest of your time.
Click here to purchase your combo train and Spa Rigi Kaltbad ticket.
If you want to stay for longer, you can also save some money by purchasing this 2 day Spa Rigi Kaltbad pass.
---
3. Hürlimannbad & Spa Zurich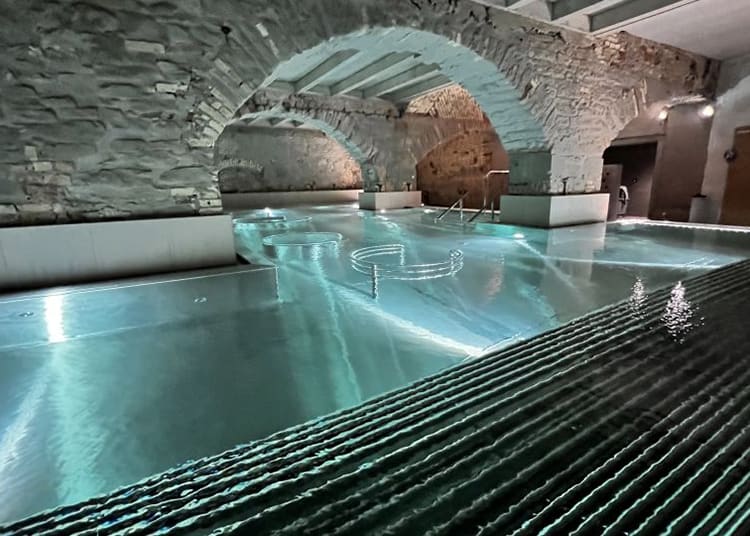 You don't need to travel far out into the countryside for the best hot springs in Switzerland, and Zurich's Thermalbad & Spa is the perfect example.
Zurich is one of the most beautiful places in Switzerland to visit. If you are looking for the best hot springs near Zurich, then this is our top choice!
Located in the heart of Zurich you will find this natural hot spring complex. It is the best place to escape the crowds and a must-visit spot in the city.
The incredible rooftop pool is one of the most unique rooftop pools, filled with naturally heated mineral water, and with a panoramic view of the city. Not many things match the experience of enjoying the city lights from a steaming hot pool.
You'll be spoilt for choice with a series of indoor pools and wellness packages in this spa. One of the most popular experiences is the Roman-Irish Ritual (much like in Bogn Engiadina). It takes you through 10 different stations to cleanse your body, from warming to scrubbing and cooling.
Zurich's Thermalbad & Spa is a no phones allowed zone, so you're in for a completely relaxing experience.
Grab your entrance ticket to the Thermalbad here.
Tip: Find out what's on our 7-day itinerary for your Swiss Vacation.
---
4. Termali Salini & Spa, Locarno
What makes Termali Salini unique is that all the baths are natural saltwater baths fed by rock salt deposits within the mountains.
As Switzerland is landlocked, it is truly a unique opportunity to enjoy the saltwater benefits in this Mediterranean-themed spa.
You can enjoy an outdoor pool overlooking Lake Locarno, or one of many indoor pools with varying temperatures. Relax in a Turkish bath or sauna, or book a massage in the wellness center.
Click here to purchase your day pass to visit the natural bathing facilities in this wellness center.
---
5. Thermal Baths in Ovronnaz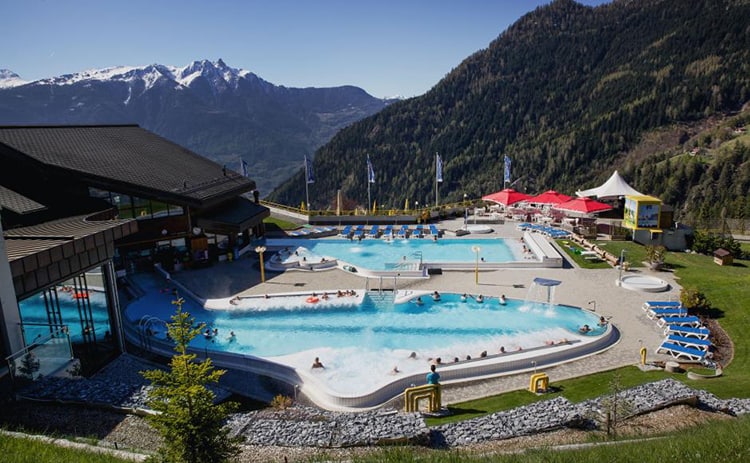 Set in the south of the country, in the Bernese Alps, this is a perfect thermal resort for those who want to warm up after a day of skiing as it is situated just 2km from the ski lift.
You can choose between two outdoor mineral water pools, both pleasantly warm at 32 to 35℃. The spa offers a range of wellness packages from massages to hammams and saunas.
These thermal baths are also great in the summer, as the outdoor pool has an incredible view of Rhone Valley with plenty of hiking opportunities.
Grab your Ovronnaz Thermal Bath tickets here.
---
6. Baden Thermal Baths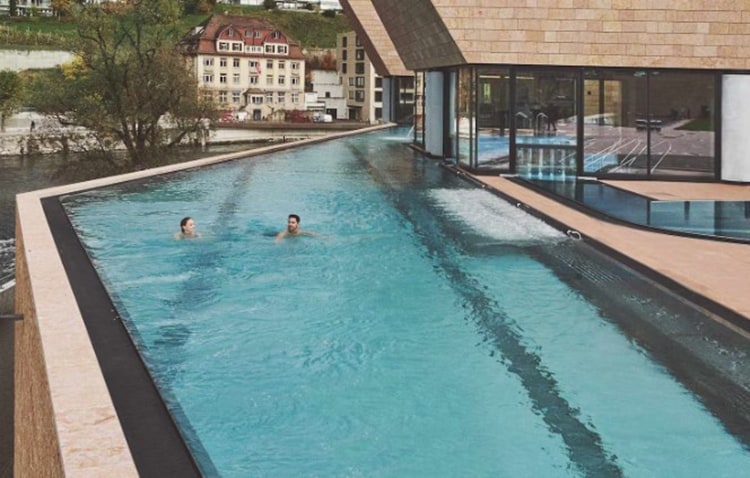 People have been enjoying Baden Thermal Baths for centuries, as it is one of the oldest European spa destinations. It is home to 18 mineral-rich sulfurous hot springs, whose healing properties were celebrated since Roman times.
Baden thermal springs have the highest mineral concentration in Switzerland, and it is believed they help with skin conditions, relax muscles and relieve stress.
You can enjoy this healing water in 5 resorts around the city, with the most popular being FORTYSEVEN° Wellness-Therme. As the name indicates, the water here reaches a temperature of 47℃.
Baden is located just a short train ride from Zurich, and it is popular with locals as a place to relax and detox.
---
7. Leukerbad Therme, Leukerbad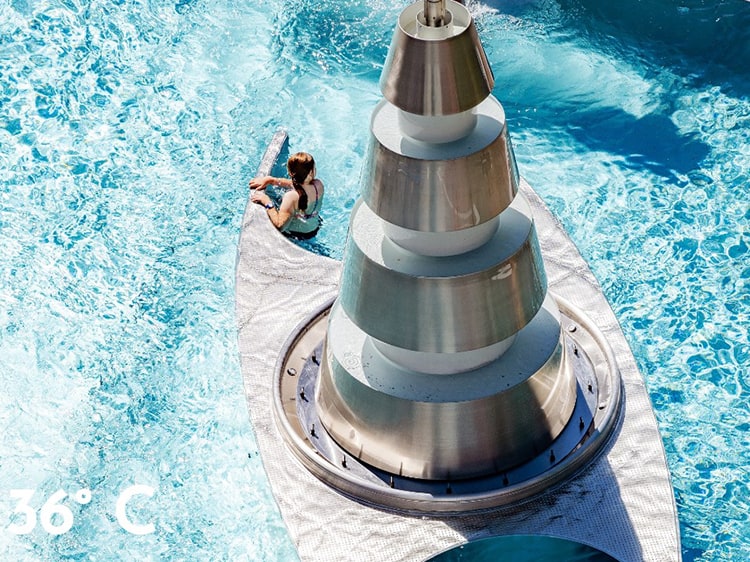 Leukerbad is an iconic thermal resort, especially loved by families with kids for its large pools with slides and designated children's pool. It is the largest spa resort in Apls, with 10 different thermal baths.
Leukerbad Therme offers a complete wellness experience with a sauna, steam rooms, cold water pools, Japanese-style hot baths, and more!
It is worth noting that sauna facilities are "no clothing allowed" type. If you don't like the idea of walking into a room full of strangers while naked, you might want to avoid this one!
You can stay right next door to the wellness center. Hotel Alpenblick offers free admission to the thermal baths and the Gemmibahn Cable Car. Click to book your stay here.
---
8. Panorama Resort & Spa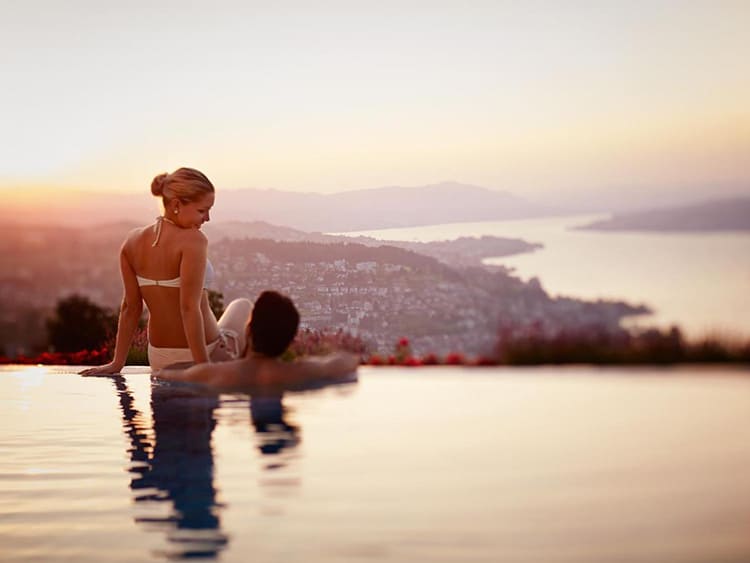 This thermal spa is called Panorama for a reason. Situated in the countryside, overlooking lake Zurich, it is a perfect weekend getaway destination close to Zurich.
The resort features multiple indoor spa facilities and an infinity-edge outdoor thermal pool. The outdoor pool overlooks the lake and the mountains, with incredible sunset views.
If you want to extend your stay and enjoy the thermal pools longer, the resort is part of the Panorama Hotel.
Click here to book your stay at the Panorama Resort & Spa.
---
9. Tamina Thermal Spa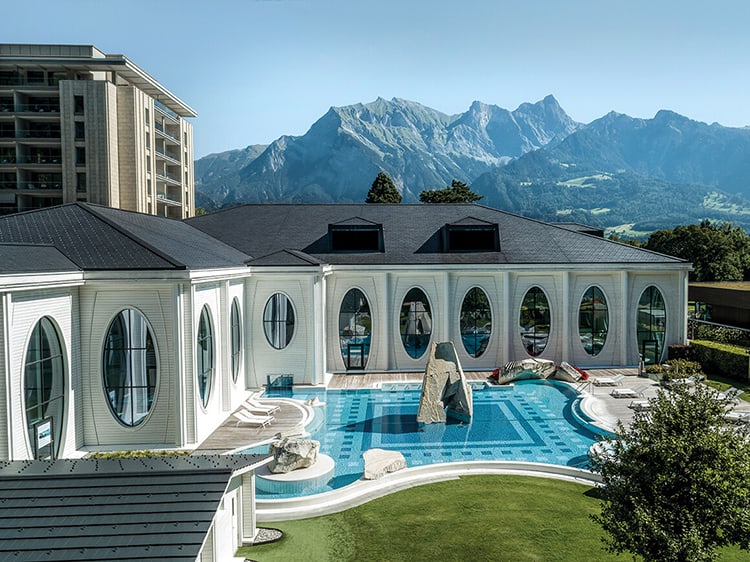 Tamina Thermal Spa in Bad Ragaz, close to the Liechtenstein border, is one of the best-known natural hot springs in Switzerland. The area has been a popular spot to enjoy the healing properties of mineral water since the middle ages.
You can swim in a large outdoor hot pool overlooking the scenery or one of many indoor pools with hot or cold water. You can also enjoy one of their unique wellness rituals – mineral salts ceremony and sauna ceremony.
As Tamina Spa is close to the ski resort, it is especially popular during the skiing season to relax sore muscles after long days in the snow.
---
Summary Of The Best Hot Springs In Switzerland
That concludes this list of the best hot springs in Switzerland. Were you surprised to learn just how many there are in this small European country?
Families with children will love Leukerbad Therme with its slides and large thermal pools, while couples will prefer Rigi Kaltbad Spa Resort and its wellness packages.
From unique thermal baths in the heart of Zurich to thermal pools in the Grison mountains and Alps, there is a hot spring for everybody in Switzerland.
So, what are you waiting for? Get out there and explore this beautiful country!
Reading to keep reading about Switzerland? Here are all our blog posts that will help you to plan your trip to Switzerland.
Find out why is Switzerland is regarded as a beautiful country what is the best season and month to visit Switzerland.
Before you go. Do you have your insurance sorted out yet? Check our recommended companies to find the most suitable Swiss travel insurance.