Travelling with toddlers can get extremely difficult, especially if you do not plan and prepare adequately.
We are not talking about the flight and hotel bookings, or the best route for a road trip. You need some accessories to ensure a pleasant and comfortable experience for you as well as your toddler. But how do you find the perfect toddler travel gear?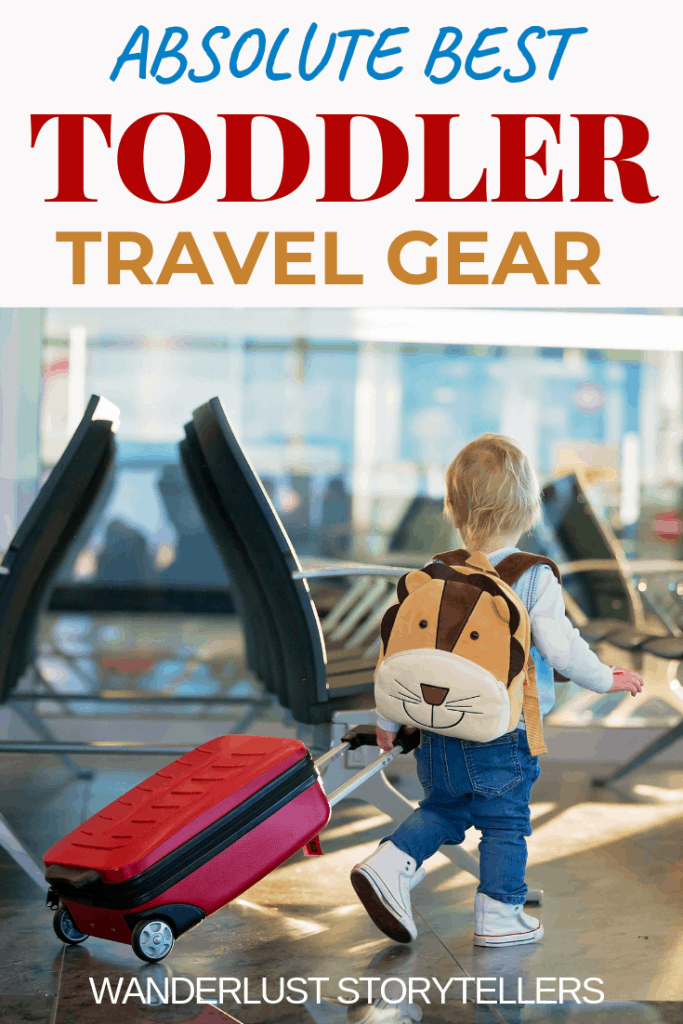 There are a plethora of toddler travel accessories out there. But you need not worry, for we have handpicked over 30 of the best travel accessories for toddlers.
Each of our recommendations can add significant convenience, comfort, and safety to your next travel plan with your toddler.
Best Travel Accessories for Toddlers [Kids Luggage, Bags and Organisers]
Here is our list of some of the best kids luggage, bags and organisers to make life a touch easier.
1.
JetKids by Stokke BedBox
Stokke is a very well known baby and toddler brand so their JetKids Ride On Suitcase is one of our favorite toddler travel accessories. 
What makes this travel suitcase so great is the built in flight bed. The suitcase transforms in 5 quick and easy steps  once the seatbelt is switched off on the plane.
The suitcase also has space for your toddlers essentials so you can pack them away for easy access when not being used as a ride on through the airport.
The suitcase as front swivel wheels that makes it super easy to pull along and steer.
>> YES! My toddler would love this – Buy it Now
__________
2. Melissa & Doug Trunki
Melissa & Doug is one of the most reputed brands when it comes to products for toddlers. Trunki is a durable and lightweight suitcase for kids. It is available in two color options –  Terrance (Blue) and Trixie (Pink).
Your toddlers can use it as a riding toy or for storing luggage, and it can hold up to 75 lbs (which should be more than enough to store your toddler's belongings for a trip).
We only recommend this one for older toddlers as a one year old might still be too little for it. So if you are not sure this is the right pick for your toddle, then we have other fabulous ideas of kids luggage on wheels here.
>>> YES! My toddler would love this – Buy it Now
________________________
3. Travel Organizers with Laundry Bag
Have you ever found packing your luggage to be stressful? Shacke offers a pack of four space-saving packing cubes that allow you to organize and pack all your essentials in a systematic way. You will no longer have to wrestle with your suitcase to fit in everything you need!
Each of these travel organizers is made from high-quality nylon. The pack is available in nine different colors and comes with a laundry bag.
We typically pack all our clothes and items for all three (Andrzej, myself and our toddler) of us into one suitcase, so I really LOVE to use a specific color for each person, that way I can pull out the right cube of clothes for any of us quickly.
I also love using the cubes to keep toys (here is our list of the best travel toys for toddlers) and snacks organized for the plane trip. And when she was in diapers, we used a cube as our diaper caddy as well. You can read through all our packing cubes reviews here.
>>> YES! This is super handy – Buy it Now
________________________
4. Mancro Backpack Diaper Bag
We absolutely love the Mancro Backpack Diaper Bag for travel purposes. Featuring 114 easy-access compartments, this backpack will let you keep all your toddler essentials in an organized manner. We use it on the plane and whilst exploring.
We especially liked its included changing pad, stroller straps, and padded straps that make it excellent for traveling. You need not worry about any quality-related red flags, as it comes with a lifetime warranty.
After something a bit more girlie? We have a great guide on recommended traveling diaper bags here.
>>> YES! This is a super handy item – Buy it Now
________________________
Best Travel Gear for Toddlers to Get Around Easily
Next, I wanted to talk to you about items that makes it easier to explore. So let's get right into it.
5. Lightweight Baby Stroller with a Gate Check Bag
Perhaps an essential accessory for traveling with a toddler is a lightweight Stroller. You can choose from three styles of the gb Pockit+ baby stroller. We especially liked the lightweight and collapsible design of this stroller, which allows you to store it in overhead compartments on trains and planes.
If you are going to get a baby stroller, it makes sense to get a gate check bag to store it and keep away dirt and germs. Some airlines will have large clear bags, but they typically don't have them at the Gate itself, so this bag is great if you wish to keep your stroller all the way to the gate.
This bag from Minne Baby is airline certified and is available in black.
>>> Buy the Stroller from Amazon here
>>> Grab the Stroller Storage Bag from Amazon here
________________________
6. Tula Ergonomic Carrier
For people who want to travel with a toddler, having a carrier is a must! Tula is one of the few brands that manufacture special carriers espesially for toddlers (rather than babies), so this carrier is brilliant!
Tula's Ergonomic Carrier is available in 22 color and style options. It is made of 100% cotton, making it comfortable and machine-washable.
We especially liked how this carrier can be used for both back and front carries. Your toddler's body development will not be impacted, thanks to its thoughtful, m-position seat.
>>> YES! My toddler would love this – Buy it Now
________________________
7. Clevr Premium Backpack Hiking Child Carrier
The Premium Backpack Hiking Child Carrier from Clevr is made for the adventurists. When you want to go hiking but cannot leave your toddler behind, this carrier comes to the rescue! It features a hip belt and padded straps to ensure safety without compromising on comfort.
We especially liked the thoughtful inclusion of a sunshade visor and stand. You get multiple pockets for convenient storage, including an extra-large pocket for diapers.
>>> YES! My toddler would love this – Buy it Now
________________________
Toddler Travel Gear for Plane Trips
Next up is the all-dreaded plane trip. Talk about anxiety and nervous feelings! Fortunately the older your child gets the easier this bit gets. Our little one just turned 3 and life is already getting easier when we get on that plane.
Tip: You might be also interested in checking out what are the best toddler toys for airplane here.
Here are some of our favorite items to help ensure that the planet ride is an enjoyable experience for all.
8. 'Tux' Kids Travel Pillow and Travel Blanket Set
Roamwild offers a three-in-one accessory that functions as a blanket, a comfortable pillow, and a penguin toy. This is so brilliant, because the Tux can be used to transform any armrest into a pillow for your toddler, making it ideal for a plane, coach, train, and car travel.
You need not worry if your kid spills something on it as it is washable and straightforward to maintain. Simply handy! You can also find a list of other travel blankets for airplanes here.
>>> YES! My toddler would love this – Buy it Now
________________________
9. Child Airplane Travel Harness or Convertible Car Seat with Volkgo Travel Bag
If you are taking a flight with your toddler, aged one year or older, you should get a safety harness. It takes less than a minute to install and can fit into small bags. You can use it with almost all standard airplane seats. You can read our full CARES harness review here.
You can also opt for Safety 1st Jive 2-in-1 Convertible Car Seat (find a different portable car seat on our best travel convertible car seat guide here) when traveling with a toddler on a car or a plane. It can be used in rear-facing mode for toddlers weighing less than 40 pounds and front-facing mode for toddlers weighing up to 65 pounds.
A car seat is great if you little one will be spending a lot of time sleeping on the plane – whilst the CARES harness mentioned above is a bit uncomfortable for sleeping purposes. 
If you are buying the convertible seat, we recommend getting the Volkgo Travel Bag with it. It is an effective and easy way to travel with your convertible seat. Also, it is made from nylon, making it water-resistant.
>>> Buy the CARES Harness Here
>>> Buy the Lightweight Travel Car Seat Here
>>> Grab the Car Seat Travel Bag Here
________________________
10. Travel Foot Rest Pillow for Kids
We recommend you to get the foot travel pillow for kids from Maliton if your toddler is going to be in the car or plane for an extended period. This inflatable pillow can be placed in the leg rest area to offer a relaxing flat position for your kid to sleep.
Whilst you won't be able to use the pillow on take-off and landing (and sometimes the airhostesses might ask you pop it away), for us it really has been an absolute life saver. 
>>> YES! My toddler would love this – Buy it Now
________________________
11. Fun N' Fly Foldable Travel Tray
The next recommendation we have is ideal for people who will be traveling on an airplane with their toddlers. It is a multi-purpose play space that fits perfectly on nearly all standard airplane tray tables.
It can fold and unfold in mere seconds. The fabulous thing about this table is that it has the side barriers, so it is great for toys and crayons etc. I got so sick of playing pick-up in the planes, so this truly is fabulous to make life easier. And you can wash it and reuse it as many times as you want.
>>> YES! This is handy – Buy it Now
________________________
12. Fire HD 10 Kids Edition Tablet
The next product on our list is not just a travel accessory, rather a full-fledged tablet. The Fire HD 10 Kids Tablet serves as the perfect tool for young minds to indulge in more than 20,000 famous games, apps, books, videos, and other educational content.
A 2-year worry-free guarantee backs it. You also get a kid-proof case, which comes in three colors – yellow, pink, and blue.
The tablet is really helpful to kill time waiting in airports, or to give you some downtime on the plane to catch a few breaths.
>>> YES! My toddler would love this – Buy it Now
________________________
13. Anble Kids Headphones
For toddlers who are fond of listening to music, there can be no better travel accessory than the Anble Kids Headphones. It features a standard 3.5mm jack, which is compatible with nearly all popular smartphones. 
We especially liked its 93 decibel volume restrictor to ensure hearing protection for toddlers. And did we mention that it has a sharing interface on the right side?
>>> YES! My toddler would love this – Buy it Now
________________________
Best Travel Toys for Toddlers
Travelling with a toddler can be stressful and tiring. Having toys that you can travel with helpo make the journey, short or long, so much easier and fun for all.
Below is our top pick of the best travel toys for toddlers.
14. Sesame Street Elmo's On The Go Letters
The Sesame Street On the Go Letters has a carry case with 26 letters helping your toddler not only have fun but to learn the alphabet.
By playing with the On the Go Letters your toddler will learn letter recognition as they snap each letter back in place in the carry case.  
If you want to start spelling words you can use the space at the bottom of the case to place and spell words.
>>> YES! My toddler would love this – Buy it Now
________________________
15. 
Buckle Toys Blu Whale
The Blu Whale Soft toy from Buckle toy offers comfort as well as development and educational aspects.
The Blue Whale helps your toddler develop fine motor skills, color recognition, problem solving skills and hand eye coordination.
The whale a zipper pocket, embroidered numbers & shapes, and six colorful buckles with different clasps.
>>> YES! My toddler would love this – Buy it Now
________________________
16. Story Time Finger Puppets
Story Time Finger Puppets are a great toy that helps develop creative play and the imagination.
With 20 different puppets, 14 animals and 6 people family members, there are endless stories that can be created to pass the time when travelling.
The puppets are made from soft cloth felt and fit securely on your toddlers fingers but are also suitable to fit on adult sized fingers so you can create stories with your little one as well.
>>> YES! My toddler would love this – Buy it Now
________________________
17. 
Montessori 
deMoca Quiet Book Toy
The Montessori deMoca Cloth Book is a soft cloth book created to help develop your toddlers fine motor skills.
With 9 different activities your toddler will learn colors, shapes and even how to use snaps and buckles.
Made from cloth materials you can wash this book whenever it needs a clean and it even comes with its own zippered washing machine bag to ensure the books keeps its shape during washing.
>>> YES! My toddler would love this – Buy it Now
________________________
18. Suction Cup Pop Up Fidget Spinner Toys
Fidget spinner toys are such great toys that all kids love to play with and keep them occupied for hours!
These suction cup pop up fidget spinner toys are great as they can suction on to the table on the plane when seated to keep your little one entertained during a flight.
They stick on any flat surface so even if you are not flying you can still use them if there is flat surface.
The suction cup fidget spinners are also small and compact enough to slip into your carry on bag and take up very little space so are great as a travel toy for toddlers.
>>> YES! My toddler would love this – Buy it Now
To read more about great toys for traveling browse our tried and test best airplane toys post.
________________________
Best Toddler Travel Gear for Sleep-Time
Next up is some fabulous nifty toddler travel items to help with sleep and nap time.
19. BabyBjörn Travel Crib Light or The Shrunks Toddler Travel Bed
Depending on your toddler's age, you can choose to buy one of these two accessories.
You can get the BabyBjörn Travel Crib for toddlers up to two years of age. It can be set up very quickly and folds back conveniently, making it ideal for travel. You can also find our guide on the best travel cribs for your research here.
If your toddler is older than 2, you can opt for the Toddler Travel Bed by The Shrunks. It comes with a powerful electric pump for inflating it quickly. We especially liked the guard rails on the sides of this bed to prevent toddlers from rolling out.
________________________
20. Portable Window Blackout Blind Shades
The worst thing is when you arrive in a hotel or Airbnb and they only have sheer curtains. You already know that your toddler will be awake at the first sign of light.
Fortunately you can take this fabulous product along with you. AmazonBasics offers the Window Blackout Blind Shades to block out sunlight and UV rays, thereby ensuring that your kid sleeps quietly during the day.
It is made from 100% polyester and features Velcro edges, which allow it to fit several window sizes. It adheres with suction cups, so you can stick it on to any window YEAH!
>>> YES! My toddler needs this – Buy it Now
________________________
Toddler Travel Accessories for Car Trips
For those who will be spending loads of time in the car on a road trip. Here are some fabulous items to help keep the peace in the backseat. 
21. Shynerk Baby Car Mirror
Shynerk offers the Baby Car Mirror, which is an effective way of keeping your toddler under surveillance. It pivots a full 360 degrees to ensure that you have the best viewing angle.
I'm sure you all have one in your car at home, but this one is fabulous to pack and take along. We especially liked how easy it was to attach it to the headrest of the backseat of our car. You need not worry about your toddler getting harmed by it in case of a mishap because it is crash tested and safety certified.
>>> YES! My toddler would love this – Buy it Now
________________________
22. Lusso Gear Car Seat Organizer
Nobody wants to clean a mess of toys, books, and spilled food on vacation. Traveling with a toddler in a car can be a messy affair, especially when they have a complete arsenal of things to throw around. Lusso Gear offers the Car Seat Organizer, which prevents this most efficiently.
It consists of nine storage compartments for various toddler-favorite products. We especially liked the ergonomic handles that make it easy to carry.
>>> YES! My toddler would love this – Buy it Now
________________________
23. Kinder Fluff Car Sun Shade
Kinder Fluff's pack of four car sun shades is a must-have if you plan to embark on a road trip with your toddler. It consists of two transparent and two semi-transparent sun shades for your car windows. You also get a free storage pouch.
We especially liked the fact that you can install it quickly and easily without any adhesives or suction cups. They are so easy to pack, take up little room and honestly will help your little one to sleep better during the car trip.
>>> YES! My toddler would love this – Buy it Now
________________________
24. Car Seat Tray
Keeping kids occupied with toys, books, or food more oft than not is an arduous task. EcoZen Lifestyle offers a multi-purpose travel tray that can be used in cars and planes.
Your child will be busy with his toys, books, and food with the help of this exceptional tray. Its side and front pockets allow for convenient storage of various things.
>>> YES! My toddler would love this – Buy it No
________________________
Best Toddler Travel Beach/Pool Items
Off on a summer holiday with your toddler? Plan on spending loads of time in the pool or beach? Here are some fabulous toddler travel beach and pool items to take along.
25. ALVABABY Waterproof Wet Bag
With our next recommendation, we are adhering to optimal waste disposal standards. You cannot throw away a used diaper on the move and storing it for future disposal can be a hassle.
ALVABABY offers a waterproof wet bag that is a much better alternative than plastic bags. You can conveniently keep wet waste or wet clothes in this bag.
>>> YES! This is handy – Buy it Now
________________________
26. Speedo Kids' Classic Swim Vest
Toddlers typically can't swim well yet and often they aren't always aware of how dangerous water can be, so best to ensure that they are safe when surrounded by water.
Speedo offers the Classic Swim Vest for toddlers in two sizes – medium for ages 2 to 4, and large for ages 4 to 6. You can choose from seven different color options. It features an adjustable buckle strap and a full front zipper.
Your toddler will not be harmed by the sun's harmful UV rays, thanks to its UPF 50+ protection.
>>> YES! My toddler would love this – Buy it Now
________________________
27. Bigib Toddler Kids Swim Water Shoes
One of the significant concerns that parents have after their toddlers go swimming is the risk of slipping down and getting hurt. Bigib offers swim water shoes that are non-slip and dry quickly to ensure that your toddlers do not face that predicament.
Just recently on our trip to Malta, we watched a little child run around the pool and in no time at all he was face planting on the floot. Even though we told our little once to walk slowly as a result, she still managed to slip as well. 
These shoes are just so fabulous for little ones who love to run. They are also great when you are visiting beaches that have lots of shells, coral or rocks on them.
You can choose from 13 fun and exciting style options for these unisex shoes. You can also find a list of other toddler water shoes here.
>>> YES! My toddler would love this – Buy it Now
________________________
28. Cocosand Baby Sunglasses with Strap
Protecting your toddlers eyes from the harsh sun rays when at the beach or pool is just as important a protecting your own.
We love the Cososand Baby Sunglasses that offer UV400 protection. The sunglassess come with a strap to help keep them on your little one when out and about.
The sunglasses come in a variety of colors for you to choose from.
They are made from soft and comfortable material that are lightweight and won't squeeze the ears or nose of your little one when they are wearing them.
>>> YES! My toddler would love this – Buy it Now
________________________
29.
Monobeach Pop Up Baby Beach Tent 
This pop up beach tent is not only a great sun shade but can also double up as a small splash pool to keep your little one cool when at the beach.
It comes with its own carry bag and folds up small and compact making it easy to store and carry when out and about.  You also get 4 pegs to ensure that you can secure the tent in the sand or ground when using at the beach or even in the park when having a picnic.
The pop up tent has a sun protection rating of 50+ UPF ensuring that your little one will have extra protection when sitting inside this great pop up beach tent.
>>> YES! My toddler would love this – Buy it Now
________________________
Best Travel Items for Toddlers to Keep them Safe
We all know that toddlers are super busy little people. And boy do they love to have their own way. So it can be really tricky to move through crowded areas when your toddler wants to run this way or that
These products will help give your child a touch of freedome, whilst still keeping them within safe distance.
30. Blisstime Anti Lost Wrist Link or Skip Hop Toddler Leash and Harness Backpack
If your toddler has a knack for running around and getting lost, you can use the Anti-Lost Wrist Link from Blisstime to prevent that from happening when you are traveling. It comes in three color options – rose red, orange, and blue.
Instead, you may choose to opt for the Toddler Leash and Harness Backpack from Skip Hop. It allows you to ensure that your child does not get lost in a crowded place. You can detach the leash from the backpack when it is not required. It is available in five different and fun styles.
>>> YES! The Anti-Lost Wrist Link is Perfect – Buy it Now
>>> The Skip Hop Leash Backpack is Fabulous! Buy it Now!
________________________
31. The Stair Barrier Portable Baby Gate
It can be scary to have a toddler climb stairs unaccompanied by an adult. If you were traveling to a place where your toddler might encounter stairs, it would be wise of you to get the Stair Barrier Portable Fabric Gate. It ensures the safety of your child by preventing her from climbing stairs.
It is available in two size options and 11 different colors.
>>> YES! I love this – Buy it Now
________________________
32. Jolik Child Motorcycle Safety Harness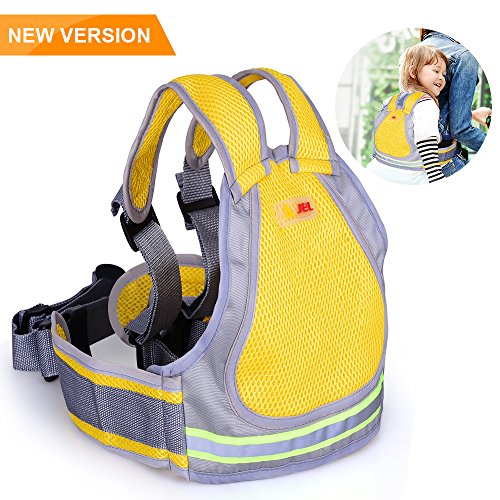 Jolik offers the Child Motorcycle Safety Harness for parents who want to take their toddlers along when they go for a ride. Its belt length can be adjusted to fit most motorcycles, snowmobiles, and ATVs. It can be used for kids aged 2 to 12 years.
Really helpful when you visit scooter-heavy countries such as Vietnam, Thailand and Bali. I hate seeing little kids on motorcycles with no protection, this is worth every single dollar (and don't forget to take a bike helmet along as well!).
We liked the thoughtful inclusion of a reflective patch to ensure the safety of your child in darkness.
>>> YES! I love this – Buy it Now
________________________
Other Must-Have Toddler Travel Essentials
And if thought we were out of items, you were wrong. There is even more. Some nifty ideas for making mealtime more enjoyable as well as just some generally fabulous products to have on have. 
33. Munchkin Brica Travel Booster Seat or Zicac Portable Booster Seat Cushion
Anybody who has traveled with toddlers will agree that one of the most common issues they face is the low height of chairs in public places. Not all restaurants have high chairs and things just get to complicated when you try to keep them on your lap whilst eating.
Depending on your toddler's age, you can choose from these two seat boosters. You can also find some other fabulous recommendations for a  travel high chair.
Munchkin's Booster Seat works best for toddlers aged 1 to 3 years. We especially liked its built-in storage space for diapers and bottles.
Zicac's Booster Seat is better suited for toddlers aged three years or above. It features a high-density sponge and two straps to ensure that it stays securely in place on chairs.
>>> YES! The Booster Seat is Fabulous – Buy it Now
>>> Click Here to Grab the Booster Cushion
________________________
34. BabyBjörn Smart Potty or Gimars Portable Reusable Potty Training
One of the recurring tasks that the parents of a toddler have to do is changing diapers. It may not be convenient to do that while traveling, so you should use these two products. We recommend the Smart Potty for car journeys and the Reusable Potty Training for planes and trains.
The Smart Potty takes up negligible space and is very easy to clean. Its splash guard eliminates the chance of spills.
The Reusable Potty Trainer has six pieces of silicone pads that are non-slip, easily foldable, and washable. It can be used to help your toddlers learn how to use lavatories.
>>> YES! I need the Smart Potty – Buy it Now
>>> YES! The Reusable Potty is Perfect for my Toddler – Buy it Now
________________________
35. Papablic Portable Baby Bottle Warmer
Wouldn't it be wonderful if your toddler could get warm milk on the go? Papablic's Portable Bottle Warmer does just that! It features a waterproof seal and vacuum insulation, which keeps water or milk hot for an entire day.
It comes with a 100% money-back guarantee and can easily fit in most standard diaper bags.
>>> YES! My toddler would love this – Buy it Now
________________________
36. OXO Tot Drying Rack with Bottle Brush
Cleaning up of a toddler's essential products like bottles, nipples, or breast pump parts can feel like a tiring chore, especially while traveling. OXO provides a compact cleaning solution that consists of a firm and soft-bristled brush and a detail cleaner.
It opens up to form a drying rack with flexible tines and ventilation holes to enable quick drying.
>>> YES! My toddler would love this – Buy it Now
________________________
37. ChooMee SoftSip Food Pouch Top
When traveling with toddlers sometime you have to do meals on the go. With the ChooMee SoftSip Food Pouch tops your little one will be able to have a mess free meal from any food pouch.
Simply screw off the food pouch plastic top and place the soft tops over the top to make mealtime comfortable for your little one.
The ChooMee SoftSip tops are made from silicone and are 100% BPA free. They are also dishwasher safe which makes it easy to clean after use.
>>> YES! My toddler would love this – Buy it Now
________________________
38. Munchkin Snack Catcher
A toddler has a small stomach, which means they need to be fed small meals frequently. Traveling with toddlers becomes so much easier if you get this pack of 2 snack containers from Munchkin. You can choose from two color combinations – blue and green, or pink and purple.
These containers fit most of the standard cup holders in cars and strollers. We especially liked these spill-proof containers because they are made from BPA-free, dishwasher-safe materials.
>>> YES! My toddler would love this – Buy it Now
________________________
Final Words
Toddlers can get extremely cranky while traveling; the best travel gear for toddlers pays huge dividends. The ideal accessory will differ with different modes of transport. Likewise, it varies with the age of toddlers.
We have incorporated various products in our recommendations to ensure that there is something worthwhile for everyone's needs.
You could benefit from focusing on ascertaining the best travel items for toddlers, in terms of optimal utility from the accessories you buy.
Did you know that we also have other helpful guides? Browse our best travel accessories for kids guide, our best baby travel gear or general travel gear guide here.
Till next time, travel safe!