Switzerland is a marvel of nature, with its stunning landscape and fantastic weather.
It comes as no surprise that many want to plan a trip to this Alpine wonderland, but it's easier said than done.
To help you out, we have prepared this comprehensive Switzerland travel guide that will help you make the most of your time in beautiful Switzerland.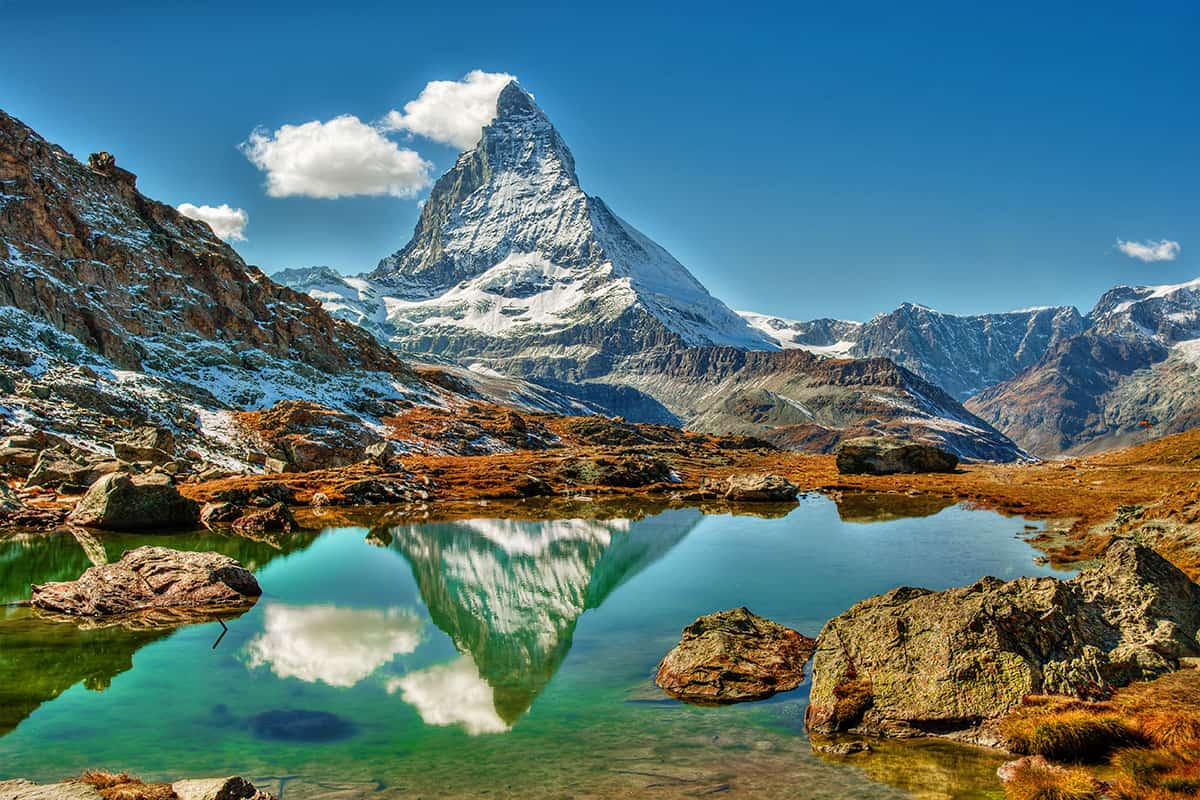 You do not have to take our word for it, but Switzerland is a great experience for everyone.
Whether you are traveling there for a couples retreat or on a family trip, this central European country is a fantastic destination.
What's more, traveling to Switzerland with the whole family makes for a fun, educational experience that will leave you with pleasant memories for years to come.
To help you prepare for your Swiss holiday, you can read about the most beautiful places in Switzerland to include on your itinerary.
P.S. You can find all our best posts about Switzerland at the end of this blog post.
What Is The Best Month To Go To Switzerland?
While you're not wrong for thinking winter is the best time to visit Switzerland — you know, for the snowsports — the other months are just as good an option.
1. Summer: June To August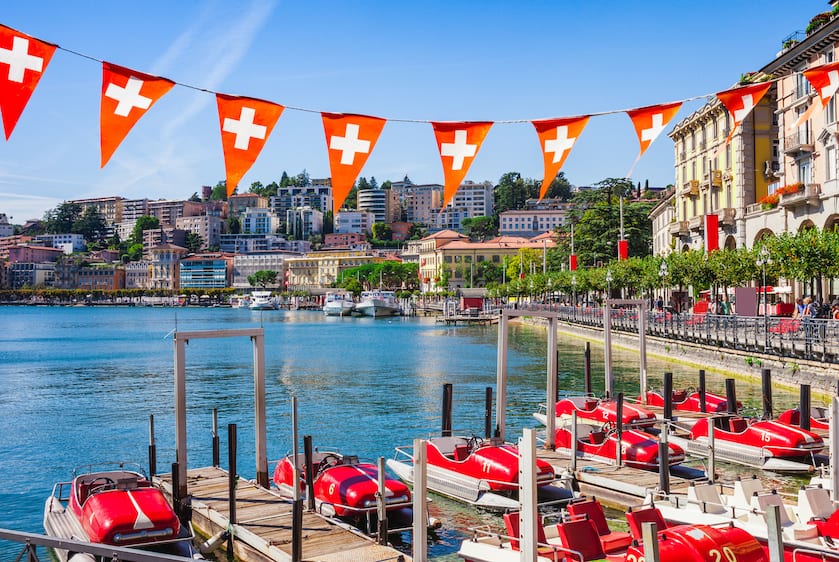 This is when Switzerland has its warmest and driest weather. Summer in Switzerland is perfect for a day spent hiking a trail or going boating.
During this time, you will enjoy pleasantly mild weather and beautiful rays of sunlight.
Switzerland's breathtaking summer scenery is famously lush and green too.
That said, there is one disadvantage to visiting Switzerland in the summer, and that is the crowds.
That is a lot of people staying in hotels, hiking the trails, and eating up all the cheese at various Swiss restaurants.
All these tourists drive up demand for accommodations and flights, resulting in you paying more for your Swiss stay. Plus, there's added foot traffic.
But that should not sway you from visiting Switzerland in the summer. It may take meticulous planning on your part.
However, you can still enjoy Switzerland's beauty by visiting lesser-known places such as the stunningly blue Lake Saoseo in Grisons and Flims in Graubünden.
Tip: Click here to book your E-Bike Tour in Zurich and enjoy cycling on a lovely summer's day.
---
2. Fall/Autumn: September To November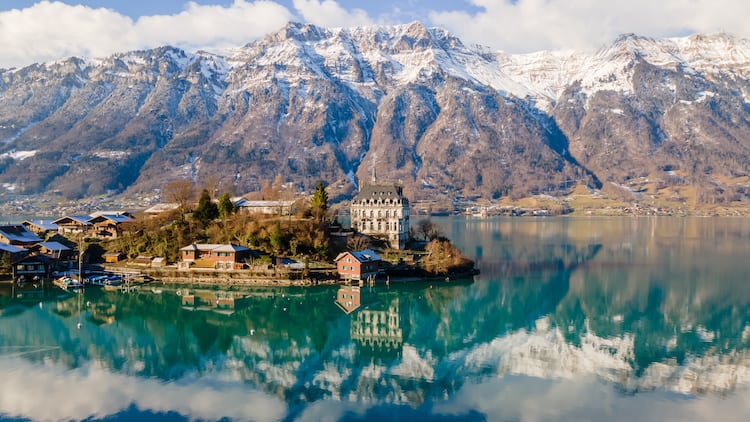 Unlike summer, fall in Switzerland draws fewer crowds. You can take advantage of lower prices and more space to move around, especially with the kids.
Autumn falls within the shoulder season. This is right between the high and low travel seasons.
As mentioned earlier, fewer crowds typically mean lower fares, which can really be appreciated by those traveling on a budget.
But in the fall, Switzerland offers you so much more than fewer crowds and lower prices.
It is a splendid time to go for family strolls and witness the changing colors of the trees from green to shades of orange, yellow, and red.
The result? A stunning display of forests, mountains, and countryside covered in a delightful patchwork of colors.
Apart from the mild weather, you will also get to enjoy sumptuous traditional Swiss foods featuring pumpkins, game meats, and chestnuts.
Hearty meals made from these ingredients, including red cabbage with caramelized chestnuts (rotkraut and marroni), give you a chance to enjoy the rich flavors of fall.
Lastly, and keeping up with the chestnut theme, are the interesting fall festivals throughout Switzerland.
The Chestnut Festival in Ascona is one of them. The festival involves gentlemen roasting sweet chestnuts over an open fire.
With stalls selling souvenirs and small baked treats on the Ascona lakefront, you cannot help but delight in this Swiss-Italian love affair.
---
3. Winter: December To February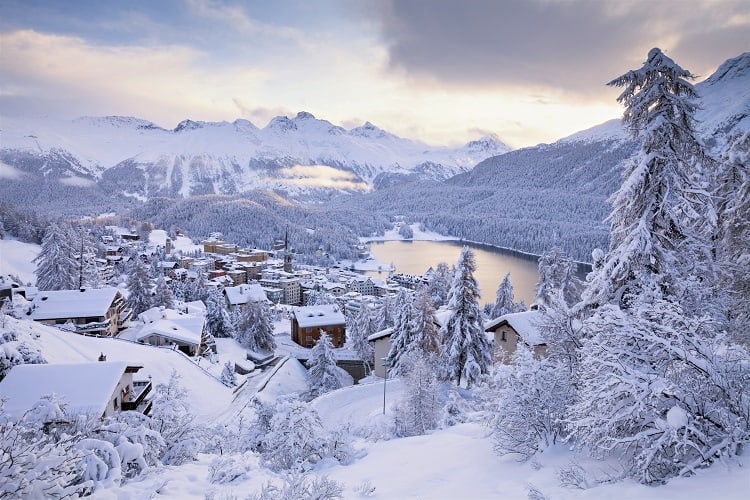 Winter in Switzerland offers you that picture-perfect skiing adventure for which Switzerland is famous.
The winter months from December to February are perfect for celebrating a white Christmas and playing winter sports like skiing, tobogganing, and winter hiking.
In addition to the snow blanketing the ground for sports, you will also get to breathe in crisp, cool air into your lungs that is sure to invigorate you.
Another beautiful side of Switzerland you will witness is its snow-covered mountains.
You can appreciate how stunning Switzerland's alpine scenery is, especially during this time.
This is when the country turns into a winter wonderland, with majestic peaks, glaciers, and breathtaking frozen lakes as far as the eye can see.
Read More: Winter is a great time to visit some of Switzerland's best hot springs for warmth and relaxation.
---
4. Spring: March/April To May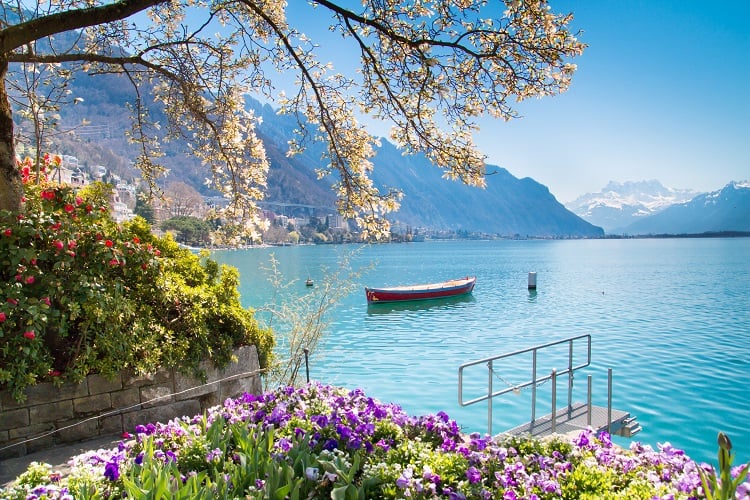 Much like visiting Switzerland in the fall, springtime is part of the shoulder season, making it more affordable and slightly less crowded than summer.
But aside from parting with fewer Swiss francs, what exactly does Spring in Switzerland offer you? Let's start with the beautiful combination of blossoming nature, warmer temperatures, and farmers' markets.
Visit Switzerland in spring and witness the Swiss landscape transform with the arrival of blooming flowers and vegetation.
While on a hiking trail, you will see the hillsides and meadows come alive with pretty flowers such as tulips and daffodils.
Additionally, the days become longer and warmer, allowing you to bask in Switzerland's beautiful scenery and partake in fun outdoor activities.
You will have your pick of anything from cycling to water sports, which is always a treat. If you visit the more mountainous regions of Jungfraujoch in spring, you can still enjoy some winter sports.
Lastly, spring offers you the perfect weather to explore a variety of farmer's markets.
Support the local farmers by purchasing their fresh local produce, such as sweet strawberries and white asparagus.
---
How Many Days Is Enough For Switzerland?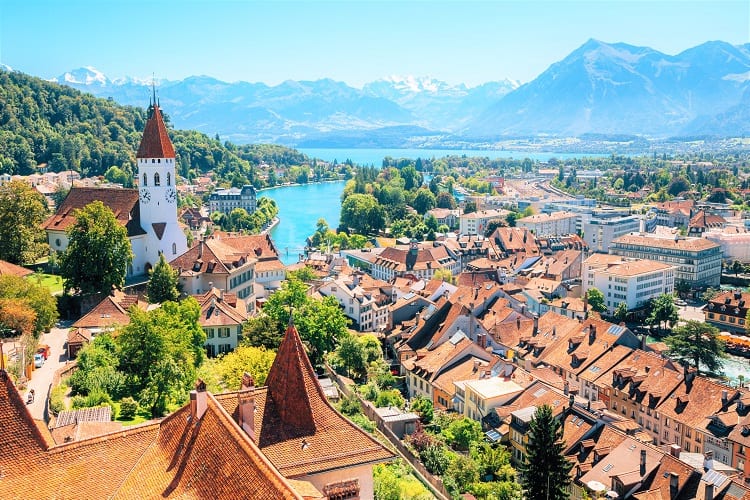 This honestly depends on what you plan to do as well as your budget.
However, if you want to get a good sense of Switzerland and come away feeling like you have thoroughly explored the country, 7 to 10 days is ideal.
In a week-long itinerary, you'll get to visit popular Swiss destinations like Zurich, Lucerne, Interlaken, and Geneva.
You can also explore the beautiful cities in Switzerland on an enlightening tour while visiting various landmarks. Plus, you will also have a little bit of time to rest (just a little).
If you were to squeeze in extra activities, then 10 days would be more appropriate. With those additional three days, you will have more time to visit lesser-known areas like Lugano, Zermatt, or the Valais region.
Alternatively, you can enjoy more day-long tours in any of Switzerland's well-known cities or find some fun activities for the little ones to enjoy.
---
Is Switzerland Expensive To Visit?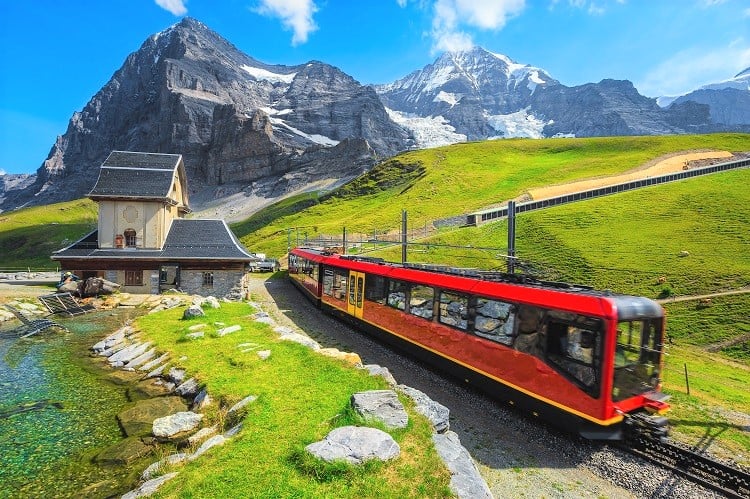 Generally speaking, Switzerland is an expensive country to visit. This becomes more apparent when you consider other European destinations like Greece.
That said, there are ways you can stretch your money a bit further.
What Is the Cheapest Month to Go to Switzerland?
If you want to save money, consider traveling during the shoulder seasons (fall/autumn and spring).
These are the months of September through November and March through May.
It also helps to stay in budget-friendly accommodations like hostels or VRBO rentals.
And when you need to go out to eat (and not prepare food at a hostel), eat at local cafés and markets instead of high-end restaurants.
You can also save money by purchasing the Swiss Travel Pass, which offers all-inclusive travel packages by train, bus, and boat.
---
How Much Should I Budget For A Trip To Switzerland?
When looking at the documents required for visiting Switzerland, you'll need sufficient financial resources for the duration of your Swiss stay.
To get a Swiss visa, you must prove you have at least $107.36 (CHF100) per day while you are in the country.
This does not take your travel plans or additional travelers (like a partner and children) into account.
So, we recommend budgeting more than this to be on the safe side.
---
What Should You Not Miss In Switzerland?
Switzerland is home to a number of unmissable attractions. Have a peek at some of them below.
Bern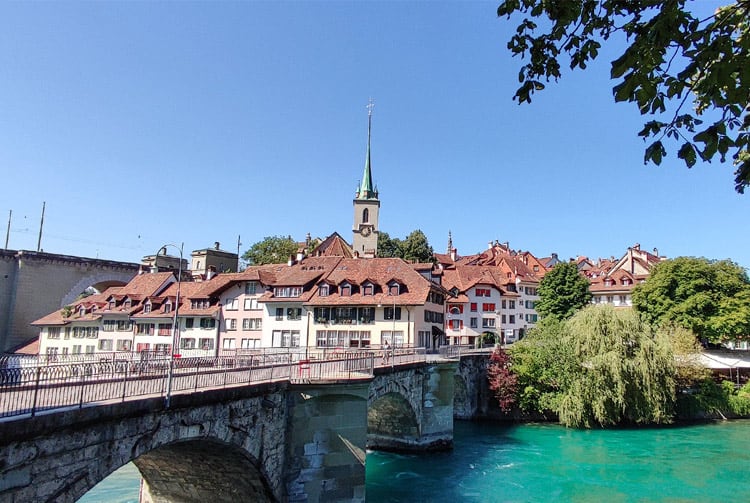 While Switzerland does not officially have a capital city, the charming city of Bern (or Berne) is known as its de facto capital.
Bern is also Switzerland's political center, as it's home to the Swiss parliament.
It boasts a well-preserved medieval old town that has earned the prestige of being a UNESCO World Heritage Site.
Do not miss the iconic Zytglogge clock tower or the stunning views from the Rose Garden.
Tip: Click here to book your tour of the Zytglogge clock tower in Bern.
---
Zurich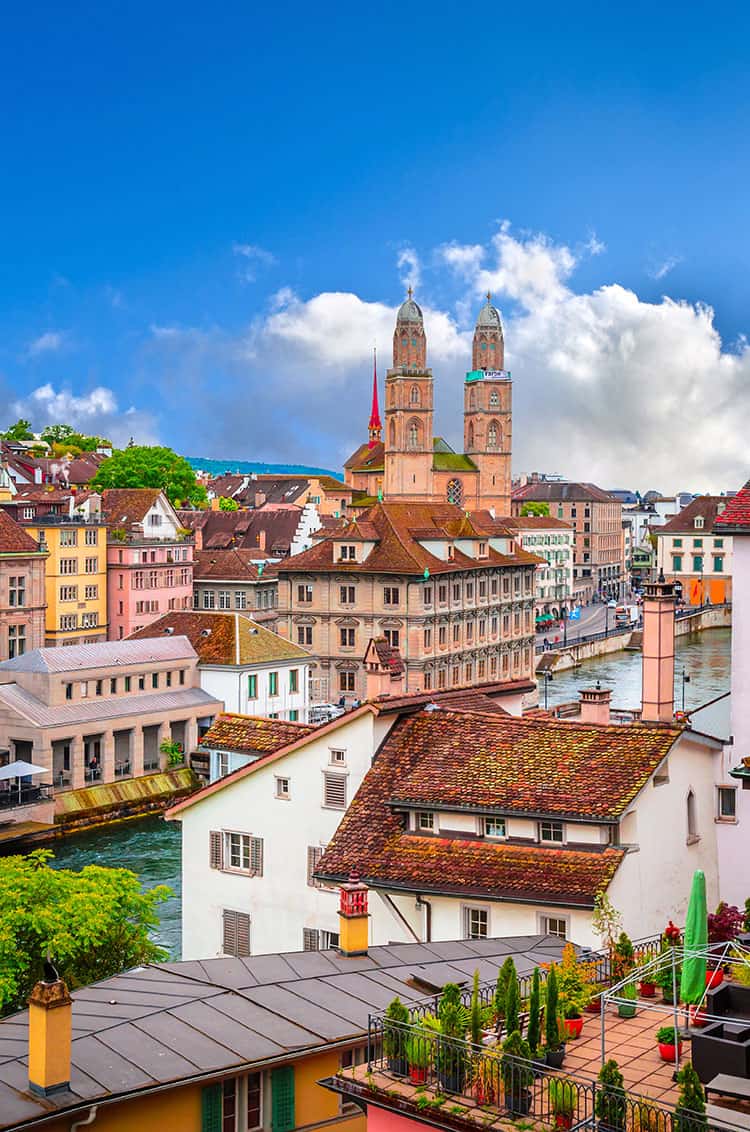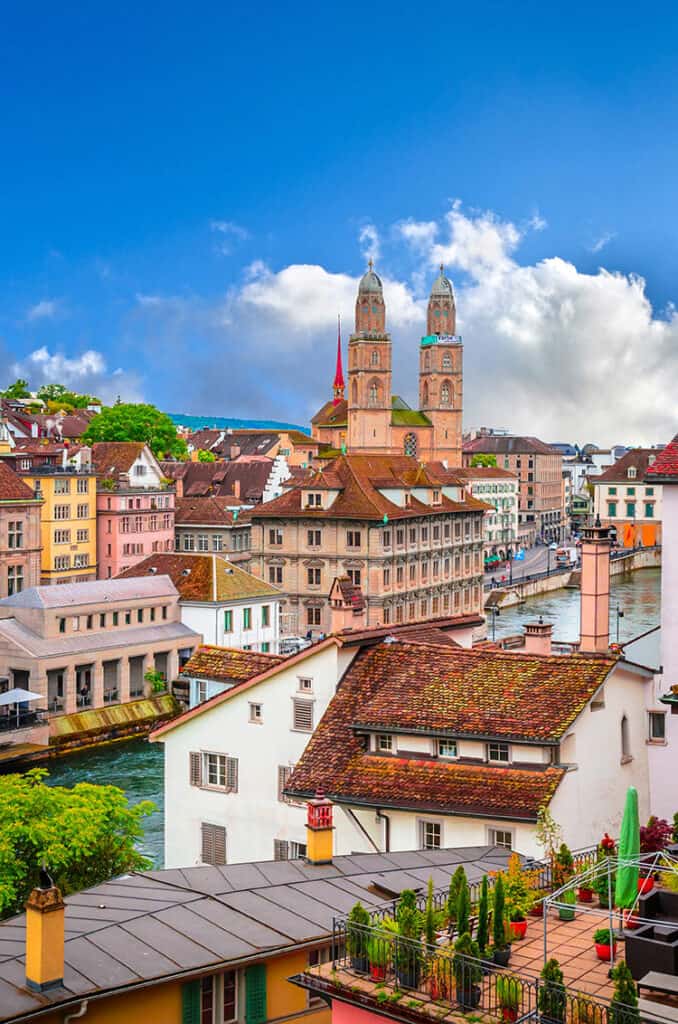 Don't miss out on Switzerland's largest city. Zurich is a bustling metropolis that is home to world-class museums, such as Kunsthaus Zürich.
With its unique boutiques and thriving culinary scene, Zurich offers you plenty of opportunities to shop and dine to your heart's content (which may distress your budget, but who is checking?).
For something less financially taxing, consider a stroll along the Limmat River, where you can take in stunning views of the Swiss Alps.
---
Interlaken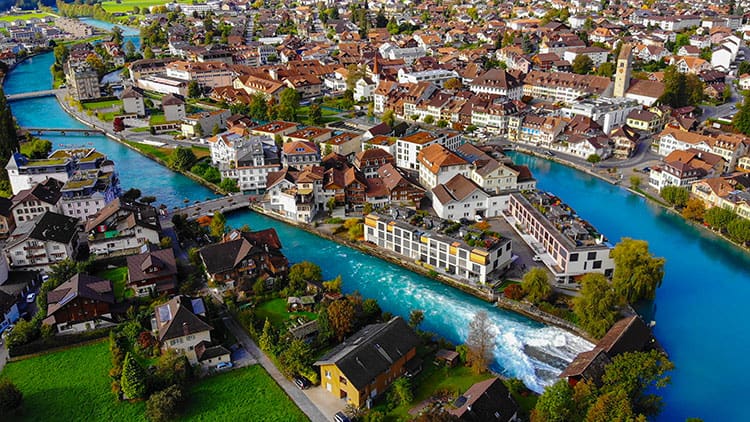 This idyllic town is nestled between two lakes and offers easy access to some of Switzerland's most stunning natural scenery.
From hiking and biking to skiing and snowboarding, there is no shortage of outdoor activities for the whole family to enjoy.
---
Zermatt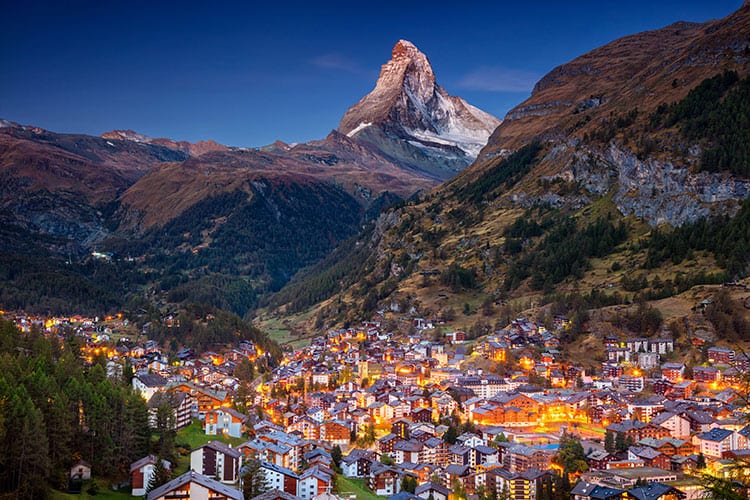 This car-free mountain resort is famous for its stunning views of the Matterhorn and its excellent terrain for skiing and snowboarding.
Why not take a family ride on the Gornergrat railway for an unforgettable panoramic view of the Swiss landscape?
Tip: Click here to book your ticket for the Gornergrat railway ride.
---
Lucerne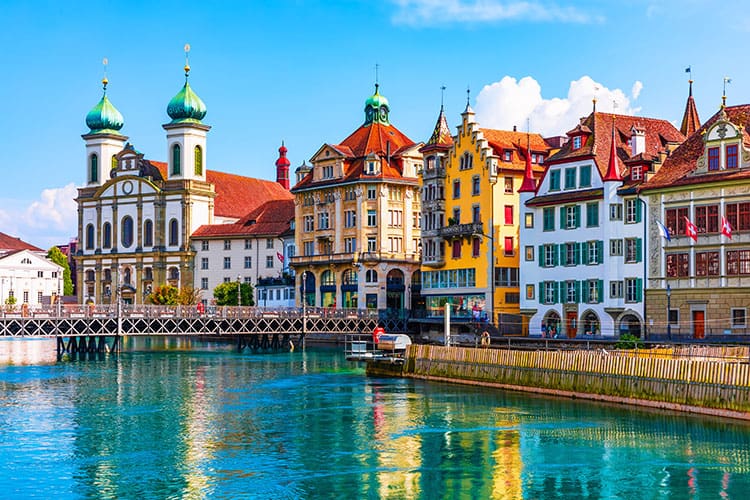 Noted as one of Switzerland's prettiest places, you will find this charming city on the shores of Lake Lucerne, offering you stunning views of the surrounding mountains.
While here, don't miss the iconic Chapel Bridge, one of Switzerland's most photographed landmarks.
---
Switzerland With kids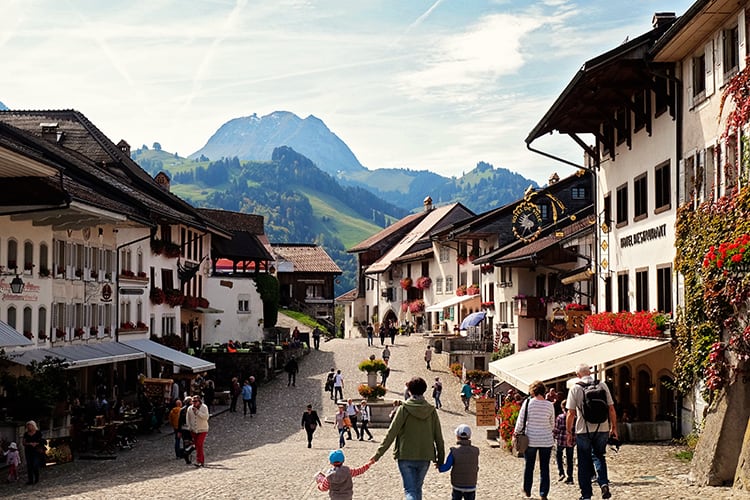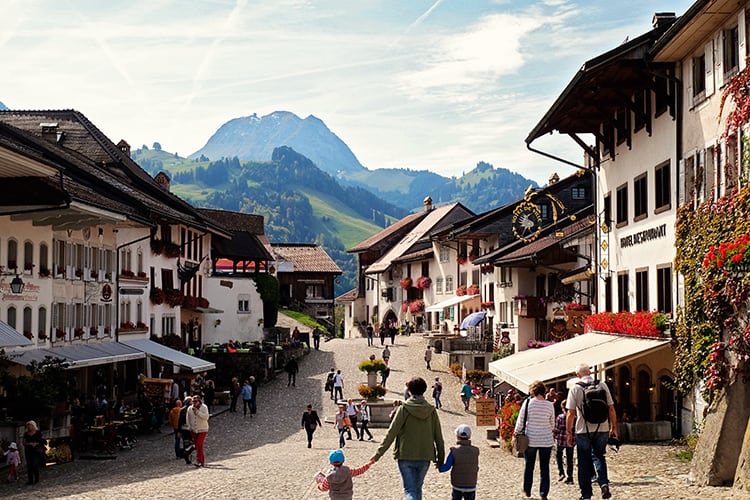 Switzerland is an easy European country to travel to with kids (although a pretty expensive one too). That said, it is a safe and convenient country to travel around.
You can easily rent a car, together with a child seat, in order to travel around on your own schedule while keeping your little one safe.
Plus, a lot of the cities and towns are fairly flat, making it easy for you to maneuver a stroller around.
With many of the best attractions in Switzerland being outdoors, the flat surfaces can make things much easier for traveling families.
If you are looking for a place to stay, you do not have to feel like you are out of luck in terms of family-friendly accommodations.
There is a wide range of gorgeous family-oriented hotels in Switzerland, some of which offer kids' clubs and/or free kid-stay deals.
Read More: You can find all our other favorite European countries to visit in our Europe Travel Blog section here.
---
How To Plan A Trip To Switzerland
Now, this is the moment we are sure you have been waiting for! It is time to get started on planning your trip to Switzerland.
1. Establish Where You Will Go And For How Long You Will Stay
The first step in planning your trip to Switzerland is deciding where you will be going and for how long you will be staying.
Switzerland has many stunning areas to explore, so it is important to research and decide which areas you find most appealing
. You might want to include some of the beautiful villages in Switzerland.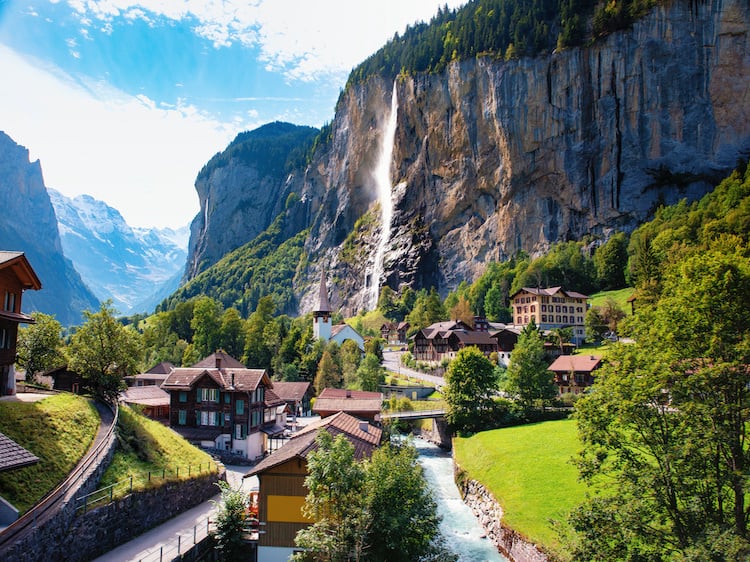 Once you've figured this out, take some time to think about the time of year you will be visiting, your budget, and your interests when making your decision.
---
2. Determine Where You Will Fly Into And Out Of
You will also need to determine where you will fly into and out of. Switzerland has several international airports, so it pays to consider which is most convenient for your travel plans.
It also helps to look into other transportation options, such as trains or buses, to make your travel plans smooth sailing.
---
3. Purchase Travel Insurance
No one thinks they need insurance until something unforeseen happens.
Before leaving for your trip to Switzerland, it is important to purchase travel insurance to protect yourself (and your family) in case of any unexpected events.
It is equally essential to carefully read the policy to understand what is and is not covered and to consider purchasing additional coverage if necessary.
Whenever we travel, we like to use Safety Wing travel insurance. They have fantastic offers that suit every traveler, so they're definitely worth a look through.
---
4. Book Your Hotel Room
Once you have decided on your itinerary and travel dates, it is time to book your hotel room.
Switzerland has a wide range of accommodations, from budget-friendly family hostels to luxury hotels.
That said, it is important to consider the location and amenities—especially if you are traveling with kids. In addition to the above, price is another thing to consider.
Lastly, make sure to book well in advance, especially if you are traveling during summer (peak season).
Tip: Check Reviews & Availability at any of these hotels in Switzerland.
---
5. Determine How You Will Get Around
Thanks to its well-developed public transportation system, you will find getting around Switzerland easy and convenient.
Their transportation network includes trains, buses, boats, and trams.
It helps to purchase a Swiss Travel Pass or other transportation cards to save money on fares. Also, plan your route in advance to avoid getting lost or missing connections.
Tip: For added flexibility, consider renting a car with a reputable service provider. Click here to see prices for car rentals.
---
6. Plan Your Itinerary
Planning your itinerary can be lots of fun or daunting, depending on your situation.
When drafting your itinerary, decide what activities and sights you want to see during your trip to Switzerland.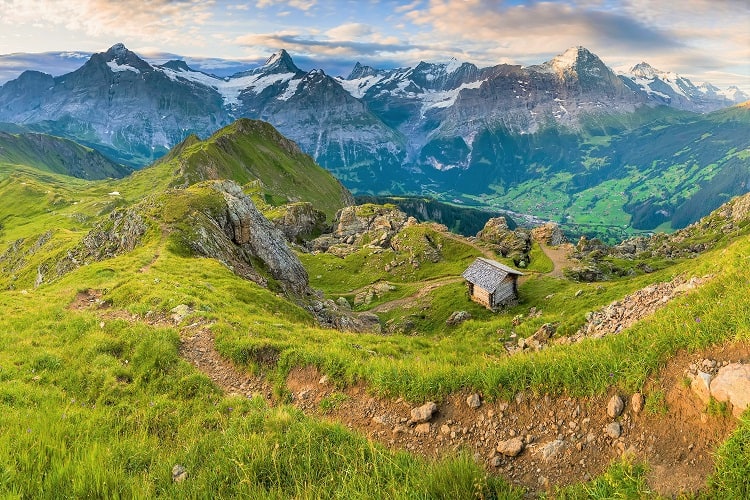 If you have children, you may want to rope them into the decision-making process or ask for their input.
Consider factors such as the time of year, your budget, and your interests when planning. Be sure to include some time for relaxation and enjoying the beautiful Swiss scenery.
Tip: When traveling (in general but with kids, specifically), remember to leave some flexibility in your schedule for unexpected opportunities or changes in your plans.
---
Switzerland Travel Basics: FAQs You Need To Know!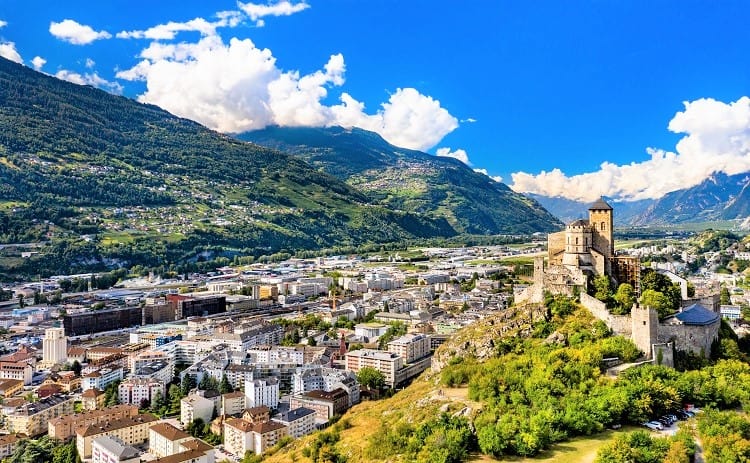 Before you rush to book a flight to Switzerland, here are a few things to expect when traveling there.
1. What Language Do They Speak In Switzerland
Switzerland has three official languages. These are German, French, and Italian. That said, the most widely spoken language is Swiss-German, a dialect unique to Switzerland (and some communities in Northern Italy).
However, you will not have to worry much if you are an English speaker. About 45% of the Swiss population speaks English, with most of them residing in the large cities of Zurich and Geneva.
---
2. What Is The Currency In Switzerland?
The official currency used in Switzerland is the Swiss franc (CHF).
---
3. How Many International Airports Are In Switzerland?
As a developed country, you will find plenty of airports that help tourists and locals travel.
Currently, there are seven international airports in Switzerland, with Zurich Airport, Basel Airport, and Geneva Airport having the most traffic.
To avoid the stress of arranging last-minute bookings, try to choose an airport ahead of time and choose one that is closest to where you will be vacationing.
---
4. What Are Switzerland's Visa Requirements?
If you are visiting Switzerland for less than 90 days, you will need a Schengen visa.
However, if your Swiss dream trip lasts longer than that (over 90 days and within a period of 180 days), you will be required to get a national visa.
---
5. Are International Driver's Licenses Accepted?
Yes, you will be able to use your international driver's license to drive around Switzerland.
---
6. Is Switzerland Safe?
Switzerland is renowned for its safety. In fact, you will regularly find it on a top-20 list of the safest countries in the world.
That said, crime exists in Switzerland. Thankfully, these are mostly petty crimes involving theft. These are reportedly most common in Switzerland's large cities — think Zurich or Geneva.
Much like traveling anywhere, it helps to pay attention to your surroundings to avoid being a victim of petty theft or any type of crime, for that matter.
---
7. What Is WiFi Like In Switzerland?
Thanks to Switzerland being widely connected, you can enjoy free public WiFi practically across the country (excluding remote areas or those charming villages).
Stay connected while sending emails in a café or your hotel room.
Prefer being connected 24/7 while on the go? Snap up a European eSim for your travels.
---
8. What's The Credit Card And ATM Situation In Switzerland?
Although Swiss ATMs accept foreign bank cards and most stores accept credit cards, having a little cash on hand is always good.
We find it especially useful for paying for little things here and there, like toll roads or the metro.
---
9. What Plugs Do They Use In Switzerland?
There is nothing quite as frustrating as trying to charge something in your hotel room and discovering that you don't have the right plugs.
But rest easy, as we will help you avoid this altogether.
Switzerland uses type C and type J plugs. The former has two round pins, and the latter three.
Also, keep in mind that Switzerland uses a 230V supply voltage and a 50Hz frequency, so ensure any small appliances you bring along match these.
This will help you avoid unpleasant surprises, such as an iron that takes an eternity to straighten your clothes, and so on.
That is why we highly recommend this universal travel adapter.
---
Find all of our Switzerland Travel Guide Blog Posts Below
You can read our Switzerland travel guides on what to do in Switzerland below: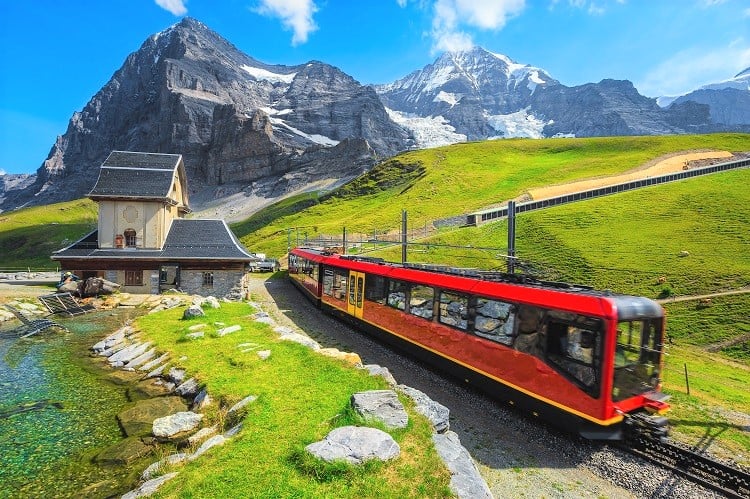 Switzerland is quite a small but also very diverse country in the heart of Europe. It is known for its breath-taking mountain landscapes, its clean, … CONTINUE READING