Wondering about travel insurance for Switzerland?
When planning your trip to Switzerland, peace of mind should be your top priority.
While it's always better to be prepared, worrying about potential mishaps is the last thing you want.
That's where Switzerland travel insurance comes in – your ultimate protection against unexpected hurdles.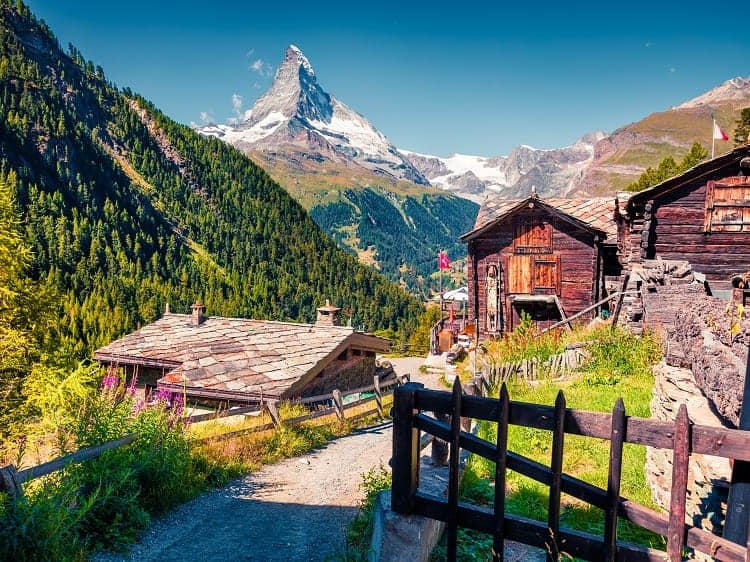 Navigating the realm of travel insurance plans, however, and selecting the right plan can be a daunting experience if you're unsure of what to consider.
Fear not! This article aims to demystify Switzerland's travel insurance options, unraveling its intricacies for your convenience.
With a variety of plans available, you can easily find the right coverage tailored to your needs.
From covering medical expenses all the way to potential trip cancellations, there's an insurance plan waiting just for you.
🏆 BEST TRAVEL INSURANCE FOR SWITZERLAND
Don't have time to read the whole article?
We love using Travel Insurance Master where you can select to get quotes directly from insurance companies.
Find the best insurance to cover you.

So, before you embark on the breathtaking journey through Switzerland, ensure you have the perfect cover to support you along the way!
In this article we will present you with the top three Swiss travel insurance options, offering you a simplified selection process to find the one that best fits your needs.
Enhance your travel experience with ease and peace of mind.
Quick Guide: Travel Insurance for Switzerland
After a quick list of the top travel insurance for Switzerland? Here are the best companies:
Best insurance comparison site
Compare plans to get the best deal
Easy to navigate the site
The best insurance for long-term travelers
Designed for digital nomads
Travel and medical insurance
---
Travel Insurance for Switzerland: 3 Best Companies
When comes to purchasing Switzerland travel insurance, there are three top insurance companies in Switzerland that we highly recommend.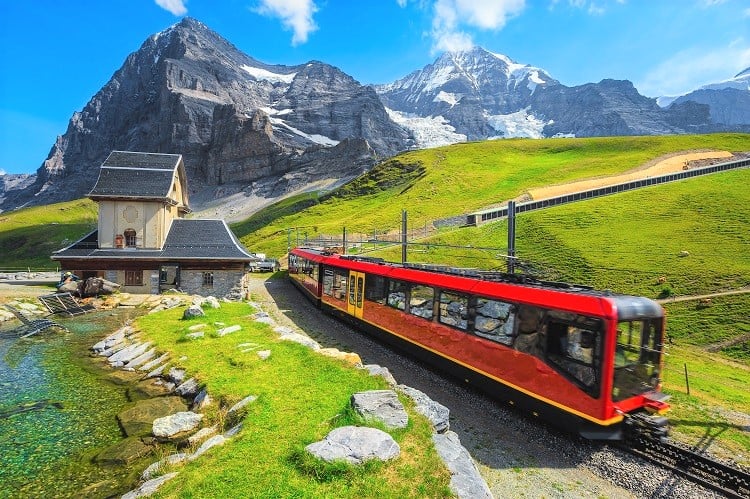 Each company has its own unique advantages, catering to different needs.
While numerous insurance providers exist, these three options are suitable for any traveler, eliminating the need for unnecessary complexity.
We all know that travel insurance is more crucial than ever, right?
But let's face it, navigating through all the complexities can be overwhelming.
That's where Travel Insurance Master (TIM) comes to the rescue.
This website is designed to help you find the perfect travel insurance plan that offers the best value.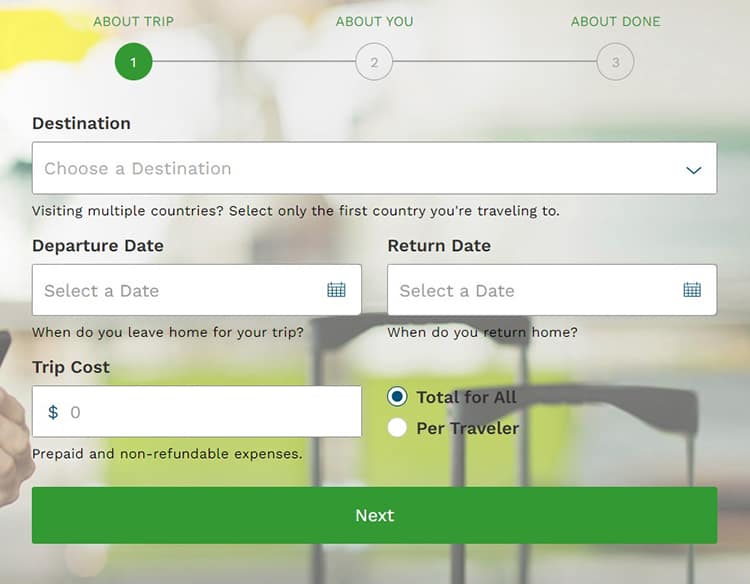 With just 3 simple steps, you'll be able to swiftly enter your trip and traveler details.
Their website will then promptly scour and present a range of plans, allowing you to make side-by-side comparisons and discover the most valuable coverage.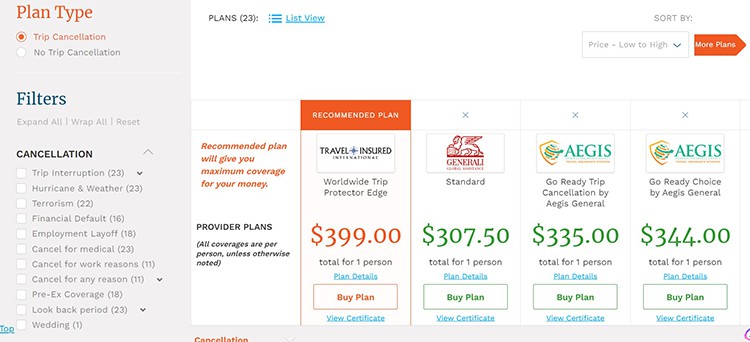 When we are planning our trips, we always recommend remembering to utilize the various filter options available on the left-hand side of the website.
Customize these filters to tailor your trip to your preferences.
We recommend selecting a plan that includes the Cancel for Any Reason option (CFAR), coverage for pre-existing medical conditions, and rental car hire.
Additionally, don't overlook the importance of considering potential flight delays or luggage delays and/or loss.
Whether you're looking for general travel insurance offers or adventure activities insurance, rest assured that you will find the best deal here.
Are you a digital nomad? If the answer is a resounding yes, then this company is the one for you.
SafetyWing travel insurance is a travel and medical incident insurance tailor-made for digital nomads.
Whether you're already abroad or planning home trip visits, or are chasing long-term travel insurance, these guys got you covered.
What we like about this particular insurance company is that it is unlike the traditional travel insurance policy.
Yes, this insurance operates like a convenient monthly subscription.
This way you can travel with peace of mind whilst embracing the freedom of the digital nomad lifestyle.
Tip: When it comes to prices, depending on the coverage that you're after and the length of travel, it might be wise to compare prices between the Travel Insurance Master and the SafetyWing and see who comes cheaper.
World Nomads Switzerland travel insurance is a great option.
With two plans to choose from, the Standard and Explorer Plan, it's easy to get coverage that fits your needs.
Yes, you can save money with the Standard Plan, cutting down on some options, but…
We personally recommend the Explorer Plan; it covers pretty much everything, so there wouldn't be any trip interruptions.
In addition to covering typical medical treatment expenses, baggage delays, and theft of personal belongings, this plan also provides coverage for out-of-pocket hospital costs, treatment costs (medical costs), alternative therapies, as well as rental vehicle return and excess.
Plus, it only takes 5 easy steps and you're all set.
Make sure you check out World Nomads Switzerland travel insurance before packing your bags and feel secure on your journey.
Best Switzerland Travel Insurance Comparison Site
In our opinion, the Travel Insurance Master (TIM) is the best comparison site to find travel insurance for Switzerland.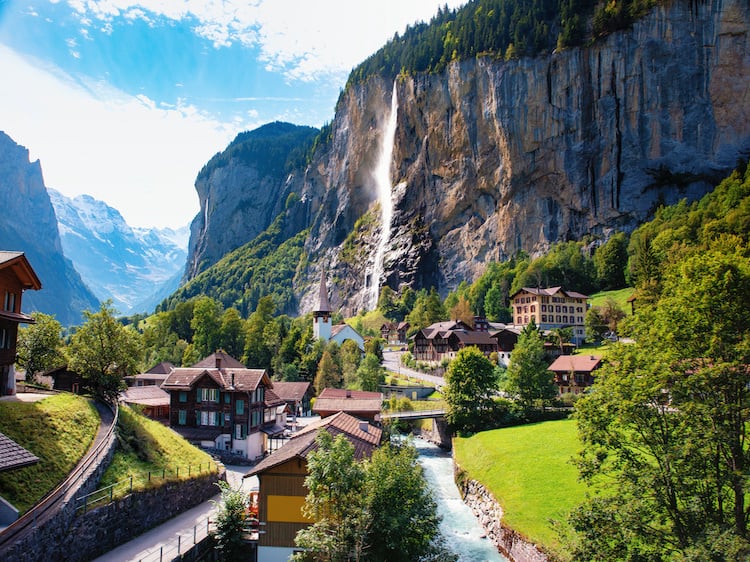 Whether you're looking for specialized health insurance in Switzerland for foreigners or an adventure insurance package you are sure to find the plan that will best suits your needs.
Not only do they offer the best deals and prices, but they also allow customers to tailor their insurance plans.
Their services are reliable and user-friendly – making it easy to find your perfect Swiss holiday cover.
What's more, they offer additional benefits such as 24-hour emergency assistance in case of an emergency situation, and free cancellation coverage (trip cancellation insurance) if your trip is canceled due to unexpected circumstances or CFAR (Cancel For Any Reason).
With so much on offer, it's clear why the Travel Insurance Master is the go-to source for all your travel needs when it comes to Switzerland!
What is a Travel Insurance with Cancel for Any Reason
Cancel For Any Reason (CFAR) coverage is an additional insurance option that can be added to your regular Switzerland travel insurance plan.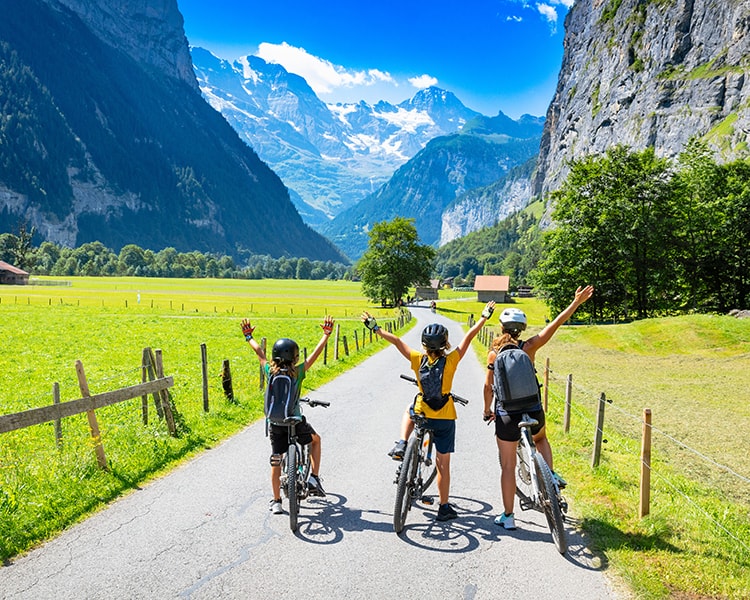 With this type of travel insurance coverage, you can cancel your trip for any reason and receive a partial refund of your trip costs.
CFAR coverage allows you to protect yourself from losses due to unforeseen circumstances, such as a global pandemic or natural disaster, or if you simply change your mind about the trip.
With Travel Insurance Master, it's easy to find out which companies offer CFAR coverage so you can make sure that your trip is completely protected.
Frequently Asked Questions for Swiss Travel Insurance
Here are some of the most important frequently asked questions about travel insurance for Switzerland:
Do I Need Travel Insurance for Switzerland?
If you're asking: "Is the travel insurance required for Switzerland?" thank the answer is, of course, yes.

Yes, it is important to get travel insurance when traveling to Switzerland.

Swiss health care is expensive, so if you fall ill or are injured while traveling, it can be a financial burden without insurance.
What insurance is required in Switzerland?
Being a part of the Schengen Area, Switzerland requires its citizens and tourists to have travel medical insurance coverage that meets the conditions of visa requirements (visa issuance) and entry into Switzerland.

The travel medical insurance must be valid for the duration of your stay in Switzerland and must include a minimum coverage of 30,000 EUR or equivalent per person for any medical emergency expenses.
How Much is Travel Insurance to Switzerland?
Travel insurance to Switzerland can vary in cost, depending on the company you choose.

Comparing plan prices is the best way to get a good idea of how much it will cost.

We love to use the Travel Insurance Master website makes it easy to compare plans and prices from different companies all in one spot, giving you the most comprehensive and up-to-date information.
Where Can I Buy Travel Insurance for Switzerland?
Travel insurance is vital for trips, including Switzerland.

Consider these three options: Travel Insurance Master offers comprehensive coverage at competitive prices, SafetyWing provides extensive coverage at a lower premium rate, and World Nomads specializes in coverage for extreme sports and adventure travel activities.
Is Switzerland a Schengen Country?
Yes, Switzerland is a member of the Schengen countries.

The Schengen Area is an area of 27 European countries (including 22 EU countries) that have abolished passports and any other type of border control at their mutual borders.
What are the requirements for travel insurance for my Swiss Schengen visa?
Travel insurance is a necessary requirement for obtaining a Swiss Schengen visa.

It should provide a minimum coverage of €30,000 for medical emergencies expenses, medical repatriation costs, healthcare costs and emergencies during your stay.

Proof of purchased insurance and a copy of your policy (insurance certificate) is essential when submitting your visa application.
Is travel insurance compulsory for Switzerland?
Travel insurance is absolutely a must if you are applying for a Schengen visa.

Without travel insurance, your visa application will likely be rejected and it could take some time to reapply.

It's also important to make sure that your travel insurance provides coverage in Switzerland because many policies don't cover all Schengen countries.
Final Thoughts on Travel Insurance for Switzerland
When planning a trip to Switzerland, travel insurance becomes a vital aspect to consider, especially if you will be traveling in December to Switzerland and will enjoy winter sports!
With Travel Insurance Master, you gain access to a platform where you can effortlessly compare premium coverage plans that align with your budget and travel requirements. And that's why we love it.
🏆 BEST TRAVEL INSURANCE FOR SWITZERLAND
Don't have time to read the whole article?
We love using Travel Insurance Master where you can select to get quotes directly from insurance companies.
Find the best insurance to cover you.

No more second-guessing, as this site allows you to conveniently compare policies side-by-side, empowering you to choose the perfect one for your needs.
With Travel Insurance Master, you can travel with confidence, knowing you're safeguarded against any unforeseen emergencies or accidents during your Swiss adventures.
Travel Tips for Switzerland
Switzerland is a beautiful and diverse country with so much to offer for travelers.
Check out some of our travel tips for Switzerland:
Popular Switzerland Travel Destinations
Switzerland boasts an abundance of breathtaking destinations to explore and experience.
When embarking on your travel plans, be sure to delve into our article on the 22 most beautiful places in Switzerland. It's an invaluable resource to uncover the true gems of this incredible country.
Check out our recommendations for beautiful Swiss cities to visit, our tips for beautiful Swiss villages to visit, and places to see in Switzerland in the summer months here.
You should definitely consider adding these Swiss travel destinations to your list.
Alternatively, you can visit our complete Switzerland Travel Guide and find everything you need to plan your trip.

Things to Remember When Traveling to Switzerland
When planning for a Switzerland vacation, here are a few things to remember:
Money
The official currency of Switzerland is the Swiss Franc.
Switzerland is definitely famous for its high costs, but it also offers unbeatable experiences that totally make it worth it.
With careful planning and budgeting, you can enjoy the beauty of Switzerland without breaking the bank.
Planning your itinerary gets simpler when you figure out how many days you'll be staying and the places you'll be visiting.
To help you out, take a look at our itineraries: 7-day Swiss summer itinerary from Zurich, a 5-day Swiss itinerary from Geneva (no car needed), and a 4-day Swiss itinerary from Lucerne.
Speaking the Language
Switzerland is a cool multilingual country, with four official languages: German, French, Italian, and Romansh.
And guess what? You can see each of these languages written in their distinct form all over the place – from street signs to restaurant menus.
It's pretty amazing how Switzerland embraces such a wide variety of languages.
But no need to worry, when we were there, we had no problem speaking English only.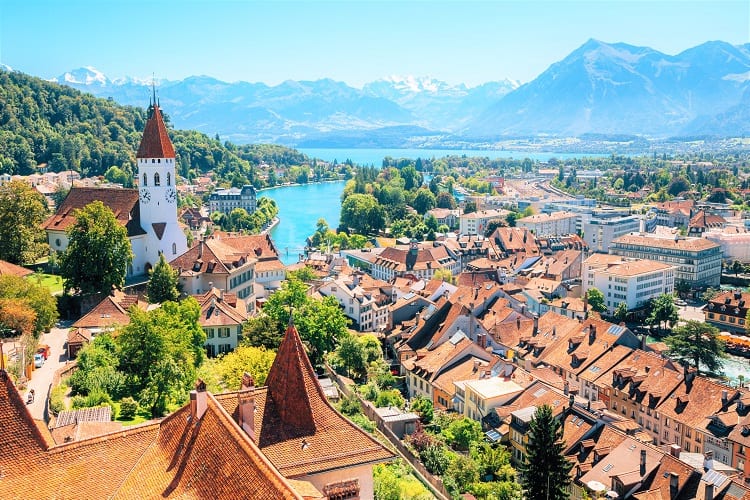 How Safe is it to Travel to Switzerland?
Traveling in Switzerland is super safe.
The country boasts one of the lowest crime rates in Europe, and law enforcement is always on top of things, ensuring the safety of tourists and locals alike.
Culture and Public Transport
Switzerland is one amazing country filled with culture and history.
You can totally soak it all in by checking out the numerous museums, galleries, and monuments spread across the nation.
And let me tell you, public transport here is top-notch!
The rail services are super efficient, connecting major cities, towns, and even small mountain villages.
It's a breeze to explore this beautiful country thanks to its clean and reliable public transportation system.
Oh, and don't forget those scenic cable cars that offer unforgettable views of the Swiss Alps!