From the rolling farmland of the Bernese countryside to the snow-capped peaks of the Swiss Alps, Switzerland is an outdoor lover's dream.
While you can't possibly squeeze in everything there is to do in Switzerland in 4 days, you can see the top highlights of this beautiful country.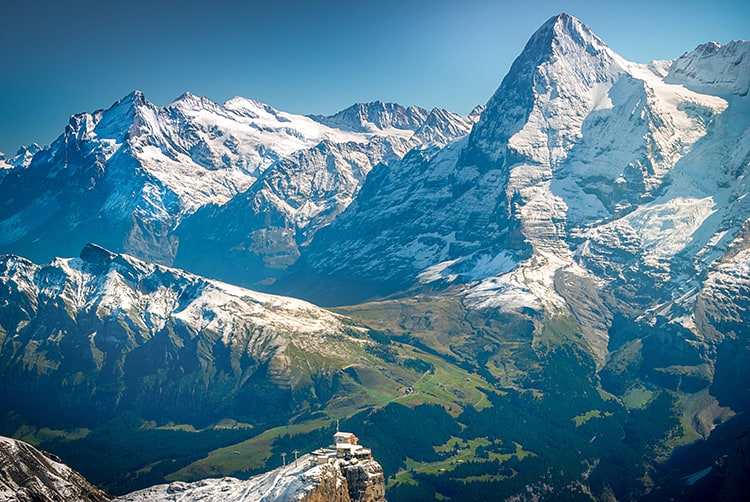 We spent 10 days traveling through Switzerland and absolutely fell in love with its natural beauty, the charm of its medieval cities, and the efficient transportation system that makes getting around so easy.
We've narrowed down our top experiences in Switzerland to bring you this epic 4-day Switzerland Itinerary!
The best way to explore Switzerland is by train. The public transportation has excellent infrastructure, connecting even the remotest valleys.
Tip: For our 4-day trip in Switzerland, I recommend the Swiss Travel Pass. With this pass, you can use most buses, trains, and boats for free (which saves a lot of money!).
Switzerland Itinerary: 4 Days from Lucerne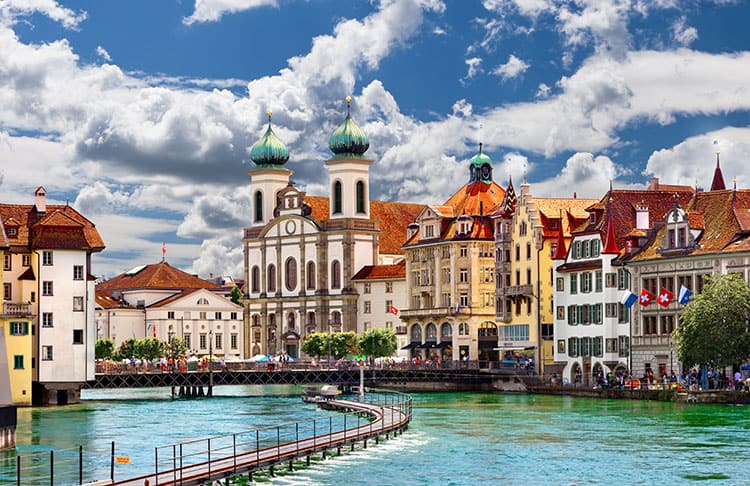 For this itinerary, you will start in Lucerne (one of the most beautiful cities in Switzerland). If you are an international visitor, you could choose to fly to Zurich.
But instead of exploring Zurich, we will head straight to Lucerne as it is a much prettier city to explore.
Day 1 – Lucerne & Mount Pilatus (Overnight in Lucerne)
Day 2 – Explore Interlaken & Hike Harder Kulm (Overnight in Interlaken)
Day 3 – Day trip to Schilthorn & Lauterbrunnen (Second Night in Interlaken)
Day 4 – Zermatt
Day 1: Explore Lucerne & Visit Mount Pilatus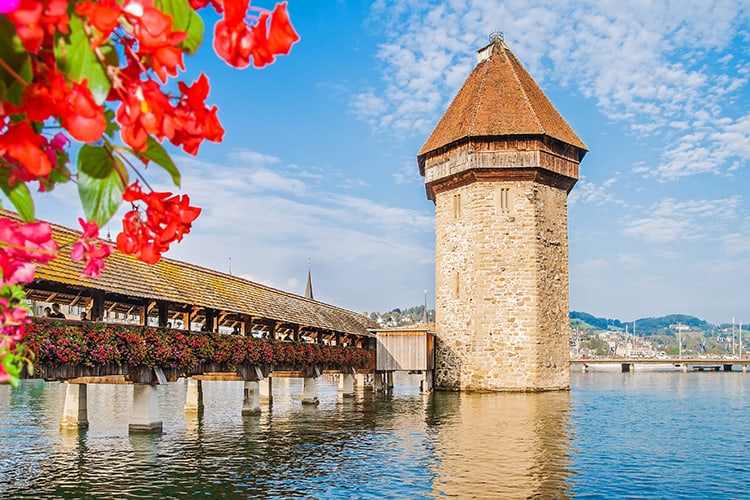 Lucerne is one of the best cities to visit in Switzerland in the summer months, but it is also a beautiful city to visit during other seasons too.
Here is all you need to know for your first day in Switzerland:
How to Get From Zurich Airport to Lucerne:
If you are traveling internationally, the easiest way to get to Lucerne is to fly into Zurich.
From Zurich, take a 1-hour train ride to Lucerne. I highly recommend that you make your way to Lucerne the night before so that you have a full day to explore Lucerne and Mount Pilatus.
For this Switzerland 4-day itinerary, it makes sense to purchase a Swiss Travel Pass, which includes train and bus travel in most cities, as well as discounts on a select list of activities.
If you are traveling with a Swiss Pass, there is no need to reserve train tickets in advance.
Alternatively, you can rent a car and explore every stop on this 4-day itinerary for Switzerland by car.
Overview of Lucerne: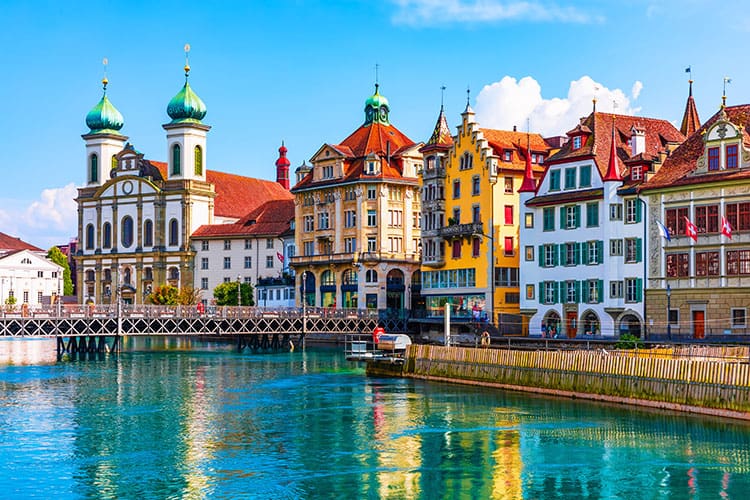 Situated along the Reuss River and Lake Lucerne and surrounding mountains, Lucerne is one of the most charming cities in all of Switzerland.
With its medieval towers, picturesque Old Town painted with intricate frescos, historic buildings, and surrounding natural beauty, Lucerne feels like a quintessential Swiss town.
It's perhaps most famous for Kapellbrucke (or "Chapel Bridge") a wooden pedestrian bridge adorned with colorful flowers that spans the Reuss River.
Highlights & What To Do in Lucerne:
The highlight of your visit to Lucerne is taking a day trip to Mount Pilatus, a 7,000-foot peak that reaches high into the clouds and offers spectacular views of the surrounding snow-capped mountains.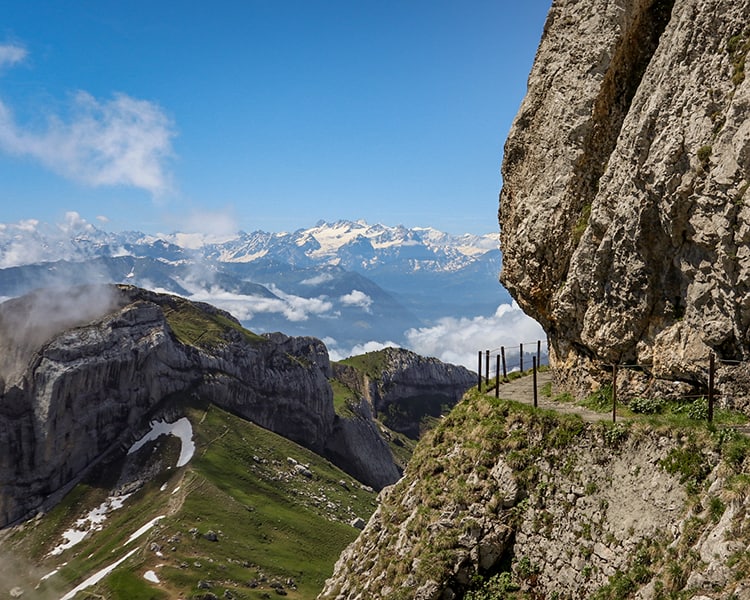 Getting there is an adventure in and of itself, including a boat trip across Lake Lucerne, a steep funicular railway journey up to Mount Pilatus, and a ride in an enormous gondola to get back down.
Thanks to the super efficient Swiss transportation system, getting there is actually a breeze despite the several steps involved.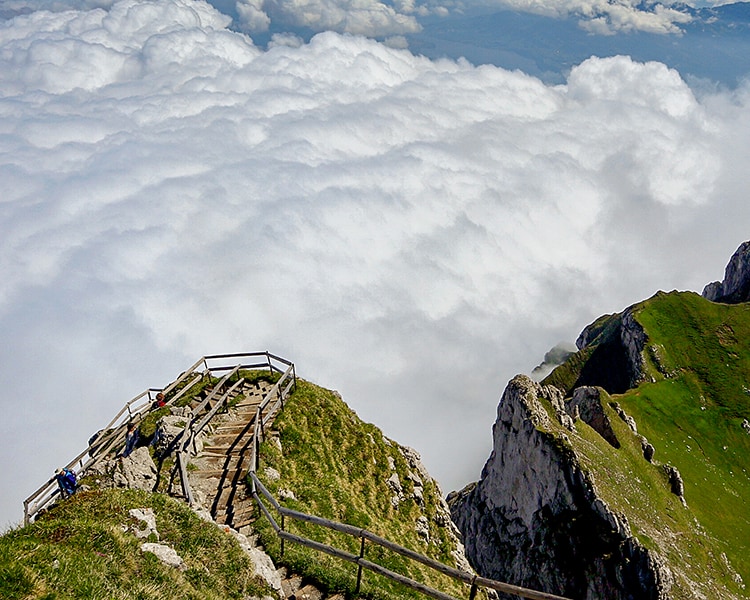 Once you arrive at Mount Pilatus, you can soak in the stunning views from several viewpoints, take a short hike to Tomlishorn or Oberhaupt Peak, or enjoy lunch with a view at the Pilatus Kulm Restaurant.
On your way back from Mount Pilatus to Lucerne, we highly recommend stopping in Frakmuntegg to go tobogganing, a fun activity that is sure to be a hit with the entire family!
Expect the trip from Lucerne to Mount Pilatus to take about 5-6 hours in total. Spend the rest of the day wandering the charming streets of Lucerne.
Walk across the town's two iconic bridges: Kapellbrucke and Spuerer Bridge and stroll along the Reuss River.
Climb one of the 9 towers on the Musegg Wall, visit the enormous Lion Monument, see the Town Hall Clock Tower, and admire the fresco-painted buildings in Old Town.
Where to Stay in Lucerne:
You will need to stay overnight in Lucerne after your first busy day of our itinerary.
Hotel Des Alpes is a beautiful hotel located right on the Reuss River and the heart of downtown Lucerne, with views overlooking Kapellbrücke from the balconies.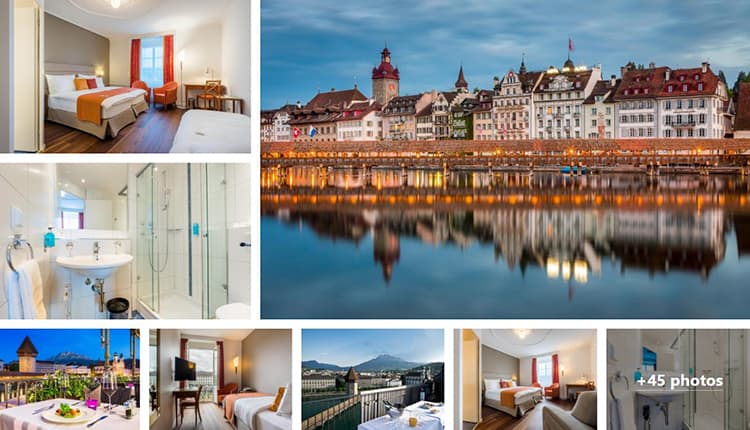 Double room rates start at $200 per night and range up to $430 for river-view rooms on weekends during the summer.
Rooms are small but clean and comfortable and you seriously can't beat the location!
---
Day 2: Explore Interlaken & Hike Harder Kulm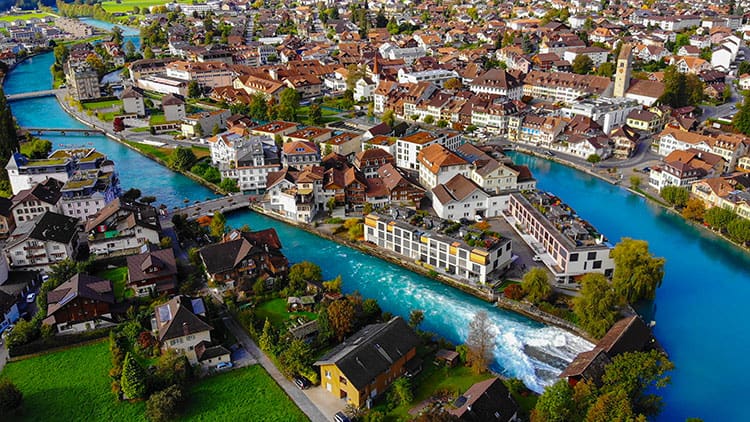 Here is all you need to know for your day in Interlaken:
How to Get from Lucerne to Interlaken:
To get to Interlaken from Lucerne by train, it's about a 2-hour train journey. This scenic train ride is covered by the Swiss Pass.
By car, the drive takes 1 hour.
Overview of Interlaken: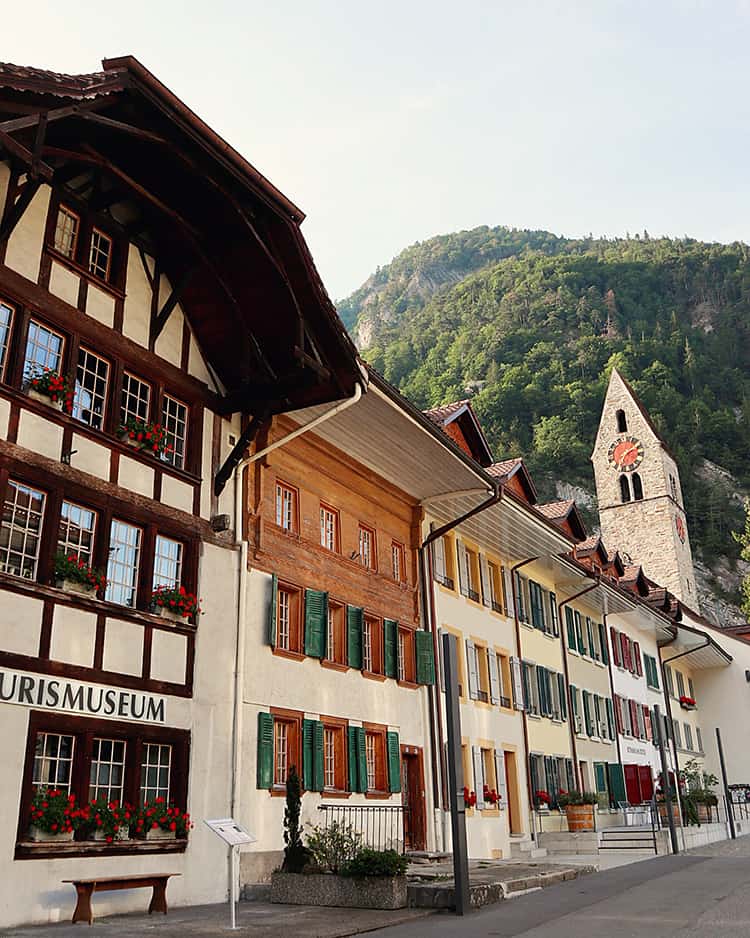 The town of Interlaken, which literally translates to "between lakes," is sandwiched between two stunning blue lakes, Lake Thun and Lake Brienz.
Often referred to as the "adventure capital of Switzerland,"' Interlaken earns the title as a hub for a wide range of adventure activities, including paragliding, hang-gliding, and base jumping.
When in Interlaken, get out of your comfort zone and try something new!
If adrenaline-pumping activities make you feel queasy, you can opt for less risky outdoor adventures like enjoying some hiking trails and trying out some kayaking.
Highlights & What to Do in Interlaken
As the adventure capital of Switzerland, there's no shortage of exciting outdoor activities to do in Interlaken.
Kick your day off with a rush of adrenaline by going paragliding in Interlaken. Your guide will drive your group up to Beatenburg where you will set up your parachute on an open hillside.
Then you take off and soar through the clouds over Lake Thun before landing in the center of Interlaken.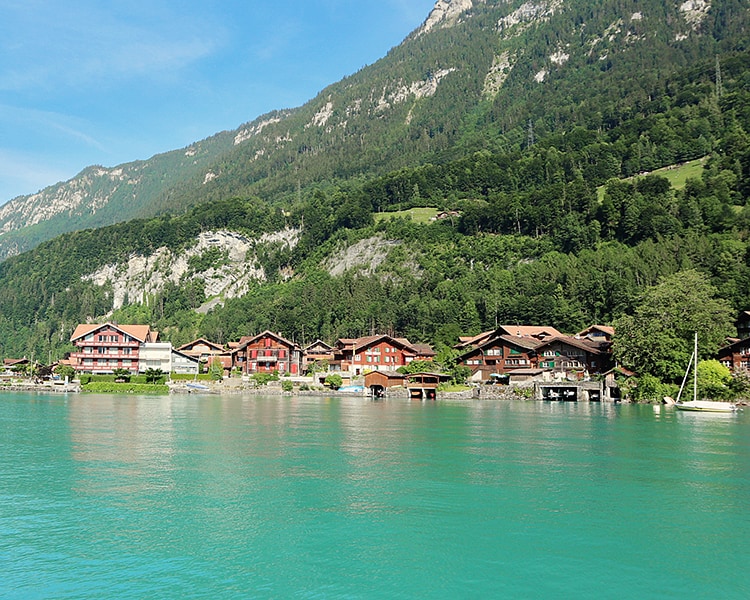 It's an exhilarating experience that's sure to be the highlight of your 4 days in Switzerland itinerary!
In the afternoon, take a hike to Harder Kulm, known as "Interlaken's Mountain" for a stunning bird's-eye view of the bright teal waters of Lake Thun and Lake Brienz.
You can also see the beautiful snow-capped mountains from up there too!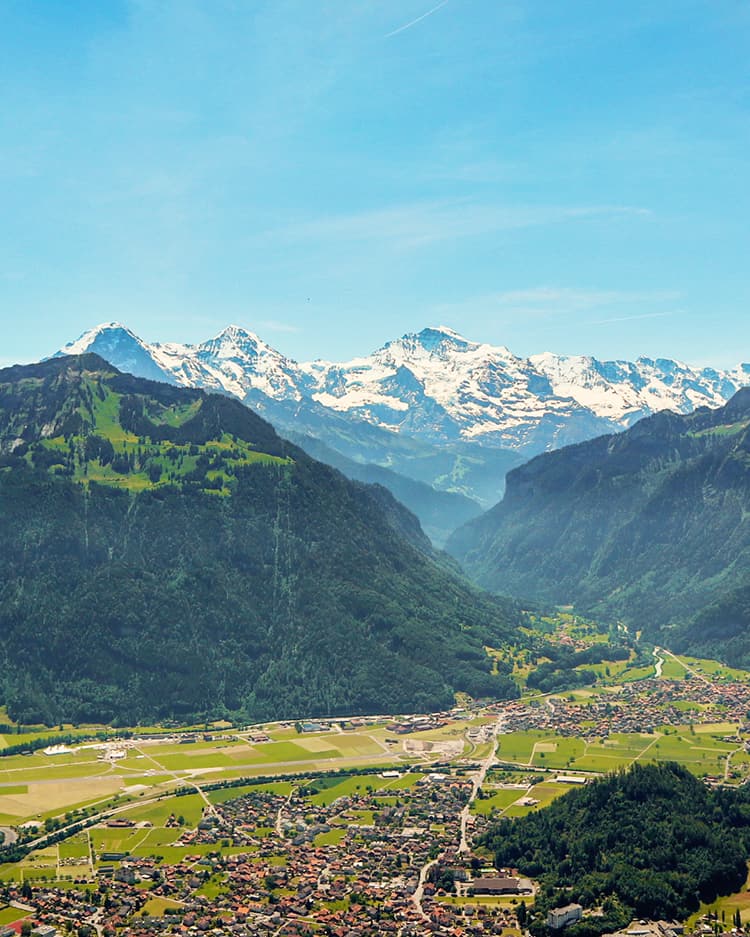 Alternatively, rent kayaks from Mountain Surf on Lake Thun and spend a couple of hours exploring by water.
In the evening, enjoy a boat ride across Lake Brienz and soak up even more mountain views.
Where to Stay in Interlaken: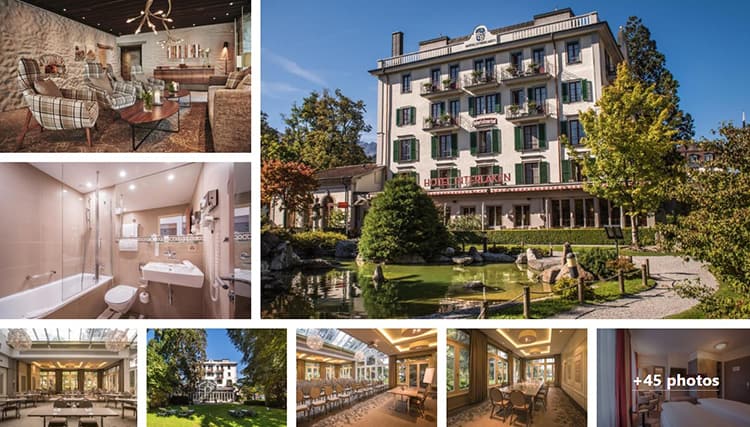 Located in the heart of Interlaken, Hotel Interlaken offers rooms of various sizes ranging in price from $150 to over $400. You will book a room for 2 nights.
The hotel features a beautiful Japanese Garden, an onsite Taverne restaurant, and some rooms with balconies.
---
Day 3: Day Trip to Schilthorn & Lauterbrunnen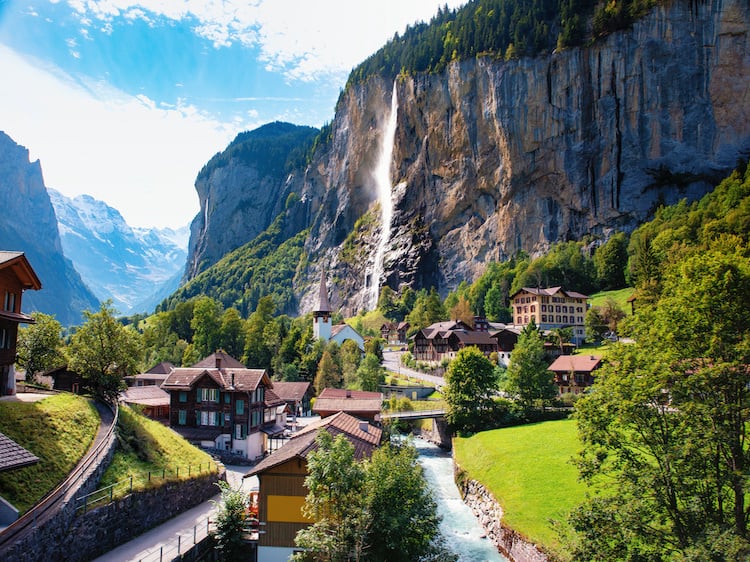 Today you will take a day trip to Schilthorn, after which you will return to sleep another night in Interlaken.
How to Get From Interlaken to Lauterbrunnen & Schiltorn:
Similar to the journey to Mount Pilatus from Lucerne, getting to Schilthorn from Interlaken requires a few different means of transportation.
But fear not because the Swiss transportation system once again makes it super easy to get around.
First, you'll take a 30-minute train ride from the Interlaken Ost station to Lauterbrunnen. Explore the cute little mountain town before taking a short gondola ride to Grutshap.
From Grutshap you can either hike or take a train to Murren, where you will catch another gondola up to Schilthorn.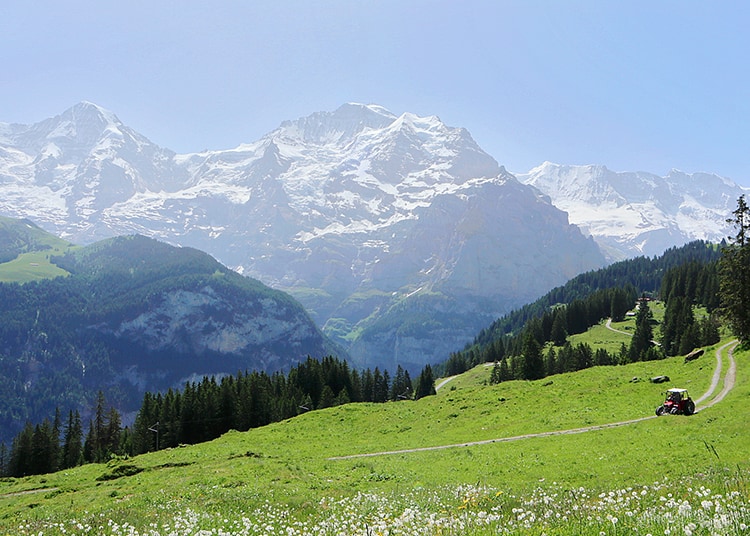 After soaking in the beautiful views from Schiltorn, you can return back to Interlaken exactly the way you came.
Alternatively, turn the trip into a loop by walking to Gimmelwald, taking a gondola to Stechelberg, and then walking or taking a bus through the valley back to Lauterbrunnen.
Overview of Schilthorn:
On day three of our 4-day Switzerland itinerary, take a day trip to Schilthorn, one of the tallest peaks in the area at a height of 9,744 feet.
From the top of Schilthorn, you'll enjoy stunning panoramic views of Switzerland's big three peaks: the Monch, the Eiger, and the Jungfrau region.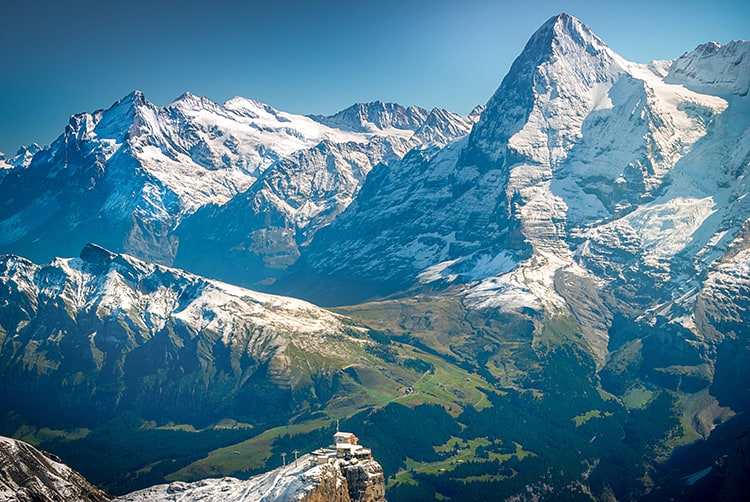 In addition to its incredible views, Schilthorn is famous for being the primary filming location for the James Bond movie "On Her Majesty's Secret Service".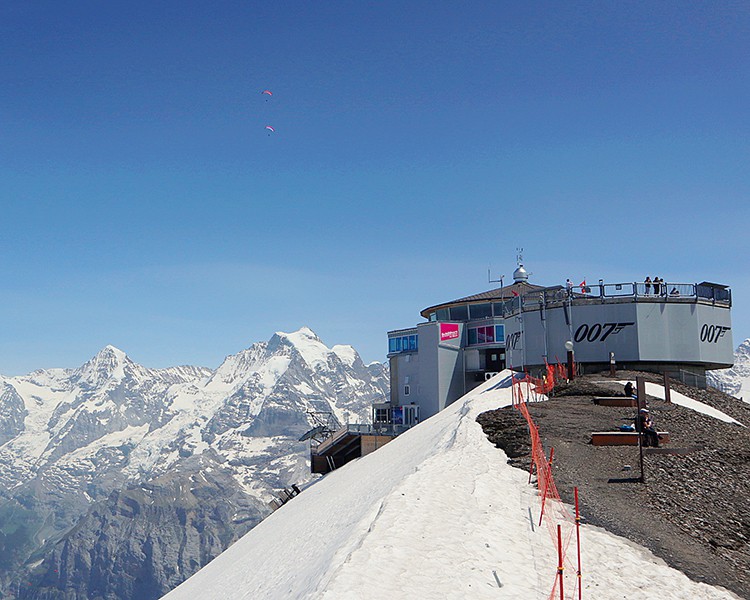 Along the way from Interlaken, you'll have the option to stop to explore a few quaint little Swiss villages, including Lauterbrunnen, Murren, and Gimmelwald.
In our opinion, this is one of the most beautiful areas of Switzerland, where snow-capped peaks tower over grassy meadows and cows graze blissfully unaware of how good they have it!
It's certainly a can't-miss activity on your 4-day Switzerland itinerary.
Highlights & What to Do in Lauterbrunnen & Schilthorn
On the way to Schilthorn, we recommend hiking from Grutshap to Murren. This 2.7-mile hike is mostly flat, making for an easy walk through green alpine meadows with views in every direction.
Murren is a cute little Swiss town perched high in the mountains that cannot be accessed by car.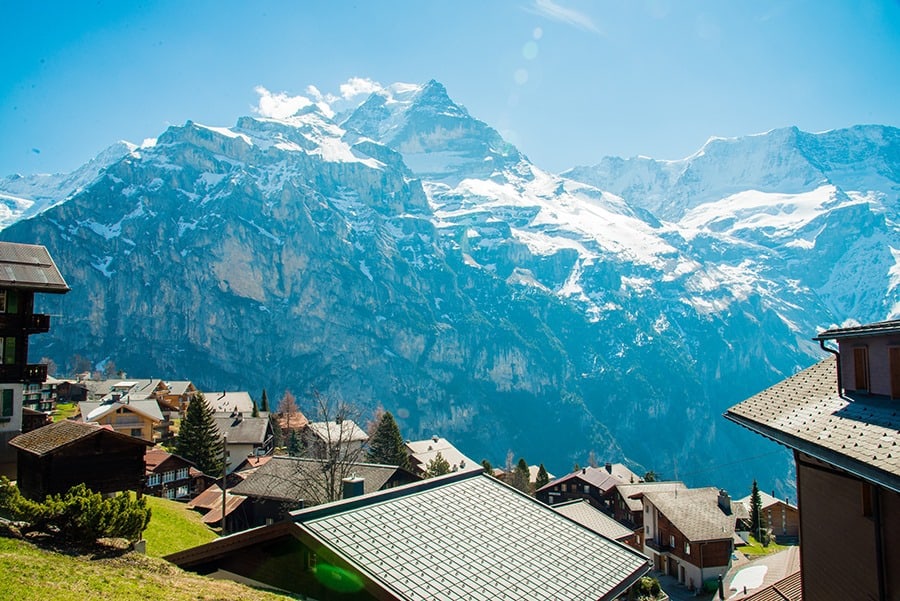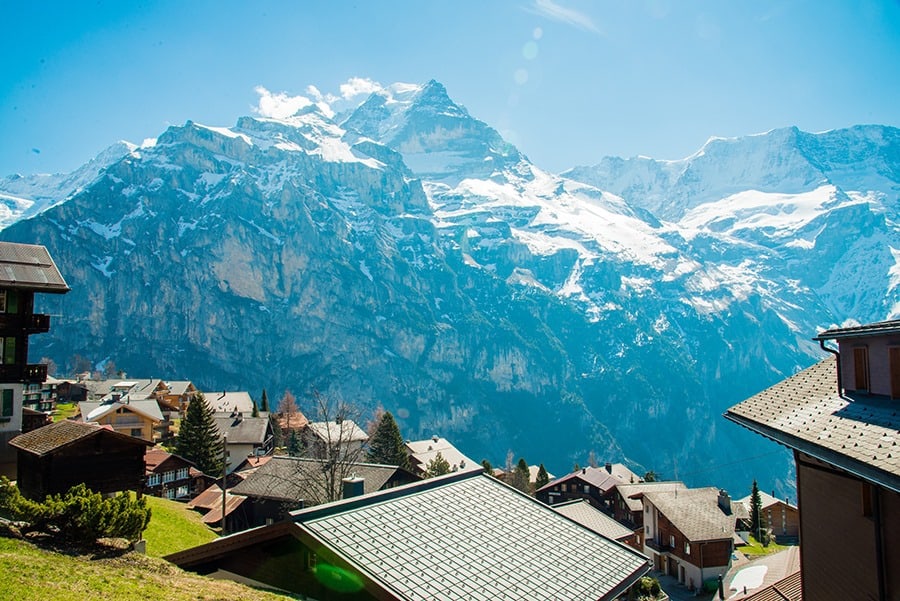 Be sure to make a pit stop at the Berg station along the way to Schilthorn from Murren to tackle the Thrill Walk, an obstacle course that clings to the sheer edge of a massive cliff.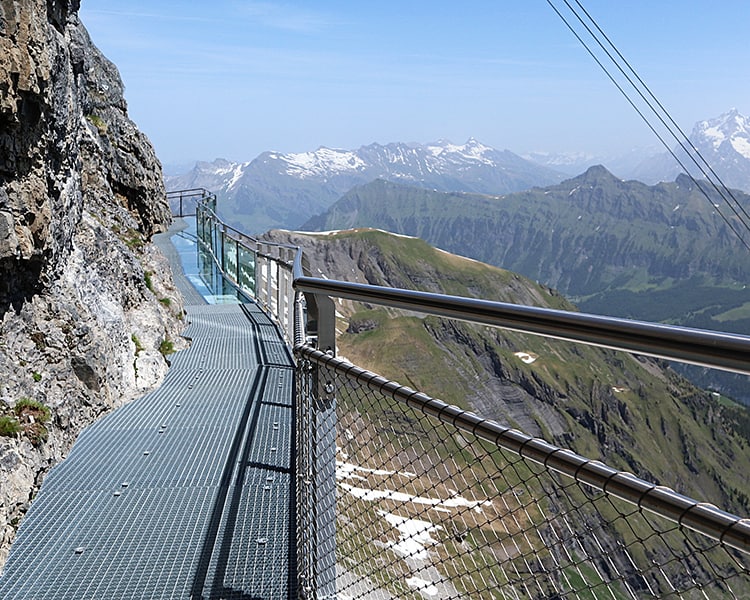 If you have a fear of heights, you'll likely want to skip this one.
Otherwise, it's a fun and ever-so-thrilling adventure to climb through.
When you arrive at Schilthorn, take some time to soak in the 360-degree views, enjoy lunch at the Piz Gloria rotating restaurant, and visit the James Bond interactive exhibit.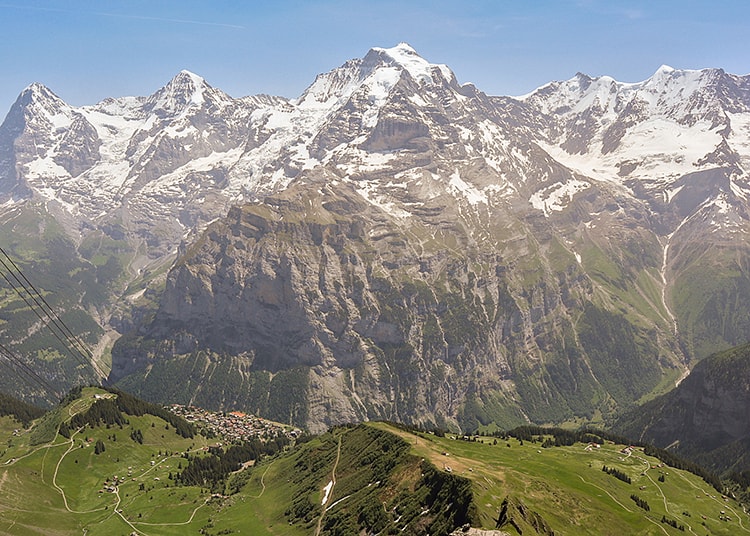 On the way back, we recommend hiking 2 miles from Stechelberg to Lauterbrunnen.
The hike leads through the Lauterbrunnen Valley, home to over 72 waterfalls that cascade over the massive granite cliffs on either side of the lush valley.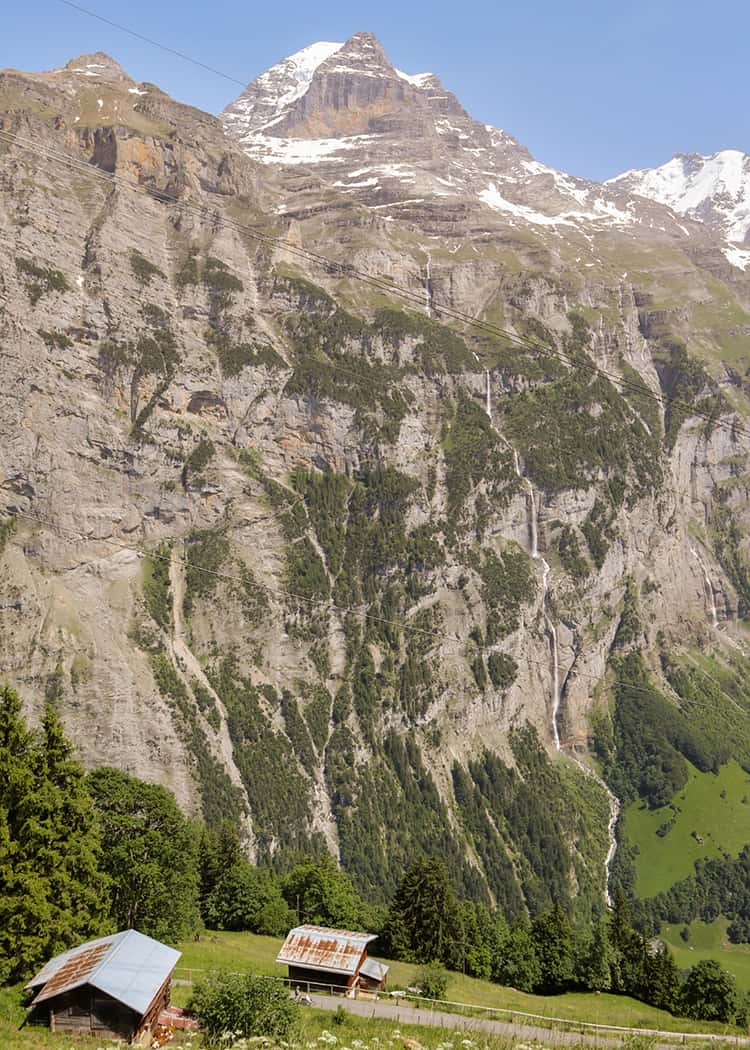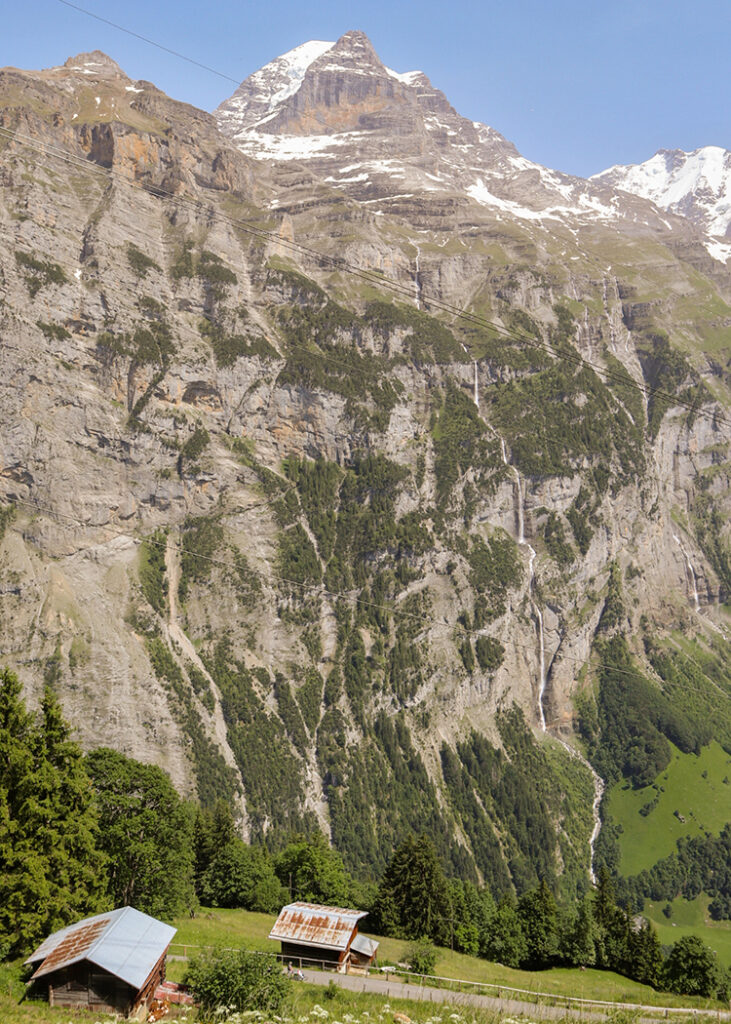 The most notable waterfall in the Lauterbrunnen Valley is Trummelbach Falls, a set of 10 glacier waterfalls carved inside a cave on the side of the mountain.
Where to Stay in Interlaken:
For this day trip, we'd recommend spending another night in Interlaken.
It's also possible to stay in Lauterbrunnen, but since it's just a short train ride, it's easier to just make Interlaken your home base for day 2 and day 3 of this 4-day Switzerland itinerary.
---
Day 4: Zermatt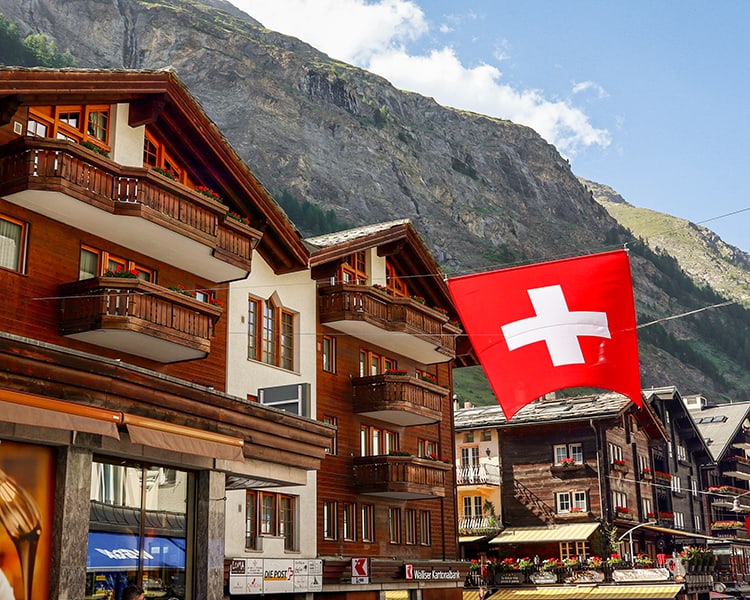 Here is all you need to know for your last day in Switzerland:
How to Get From Interlaken to Zermatt:
To get to Zermatt from Interlaken, take a 2-hour train ride that is covered by the Swiss Pass.
If you are renting a car, you cannot drive to Zermatt. You'll have to park at the park and ride in Täsch and take a bus into the carless smaller town.
Overview of Zermatt: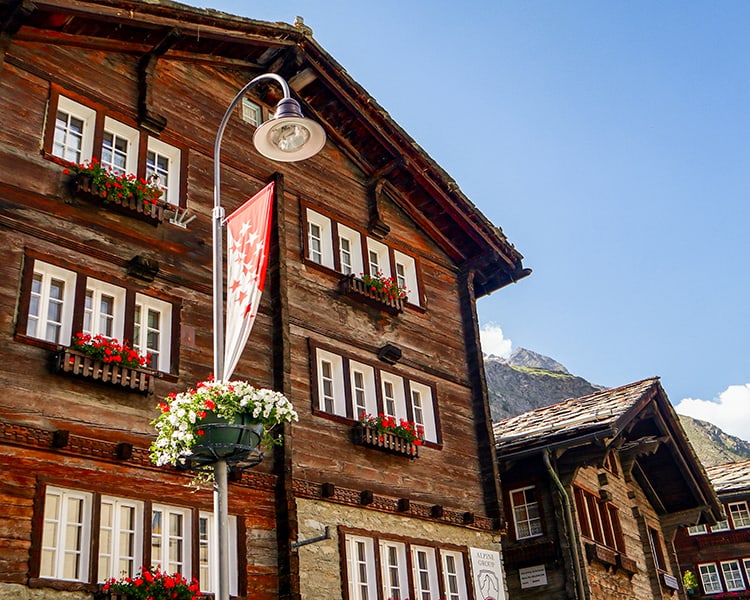 Zermatt is a tiny mountain town that sits at the base of Matterhorn, Switzerland's most iconic peak that you may recognize as the logo on the Toblerone chocolate box.
In Zermatt, the towering Matterhorn can be seen from nearly everywhere throughout the quaint ski-resort town.
Seeing the Matterhorn is a highlight of this 4-day Switzerland Itinerary!
The small town of Zermatt is a really nice spot to base yourself for visiting the Matterhorn.
Cars are not permitted in the town of Zermatt, allowing its narrow streets to always be bustling with pedestrians and giving the town a uniquely quaint vibe.
Highlights & What to Do in Zermatt:
For the best views of the Matterhorn, we recommend doing the 5 Lakes Hike, a 6-mile loop that passes by (you guessed it!) five lovely alpine lakes.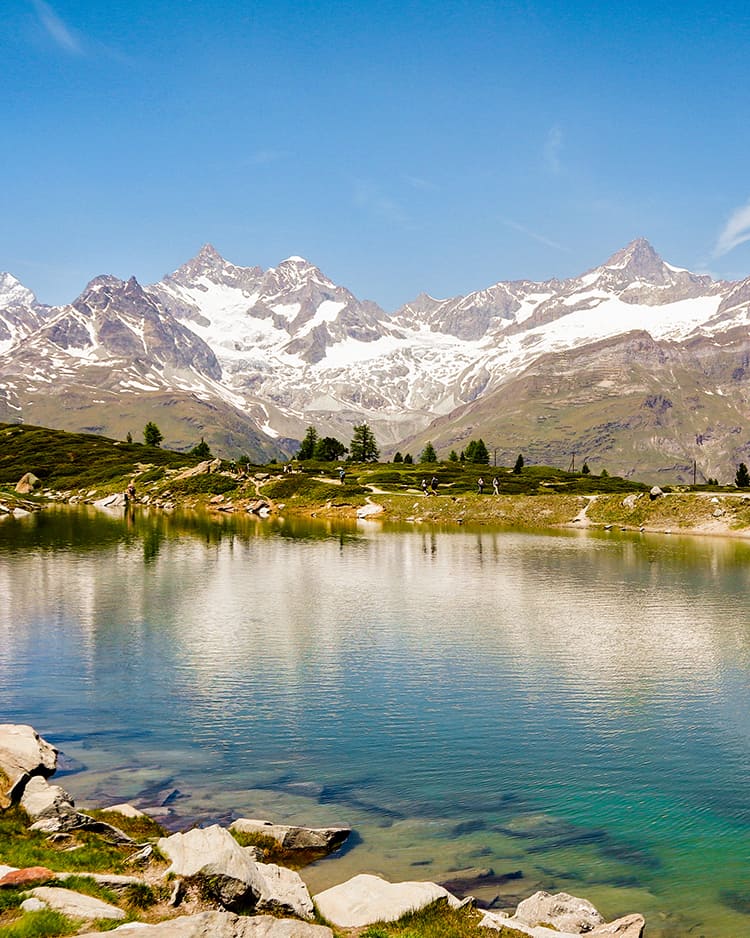 What makes this hike so special is that the Matterhorn can be seen in the background at each lake.
Lake Stellisee is particularly stunning, and if you visit at the right time, you can catch a mirror image of the iconic peak reflected over the still waters.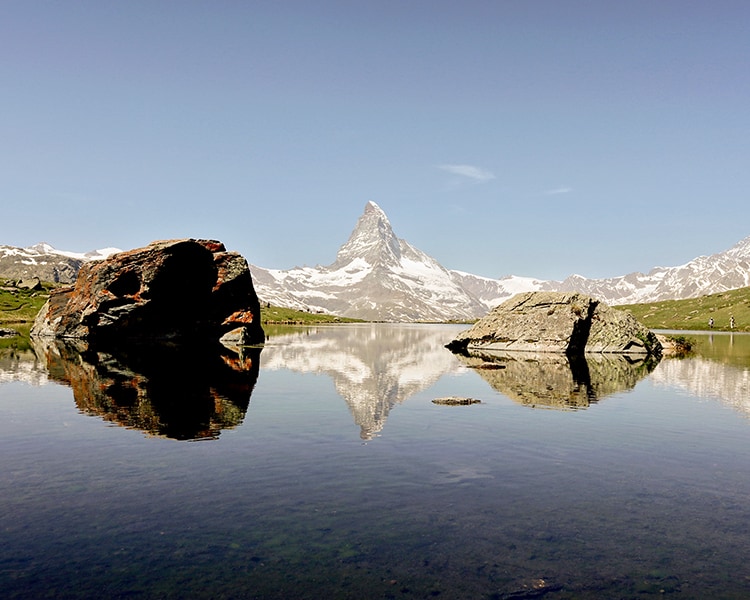 Although it doesn't get you up close to the Matterhorn, in our opinion, this hike has the best views you can find of the jagged mountain.
To get up close to the Matterhorn, take the train up to Matterhorn Glacier Paradise from Zermatt.
The train ride to get there is amazing, and once you arrive at Matterhorn Glacier Paradise, you'll be treated to a spectacular 360-degree view.
It's also worth spending some time popping into the little shops around the town of Zermatt.
The lack of vehicle traffic makes it a particularly pedestrian-friendly town, with restaurant seating often spilling out onto the streets.
Where to Stay in Zermatt:
You will need to overnight in Zermatt as you have a busy day ahead. So best to plan your departure for the next day.
The Matterhorn Lodge Boutique Hotel & Apartments is a beautiful alpine lodge with stylish, modern rooms in the heart of Zermatt.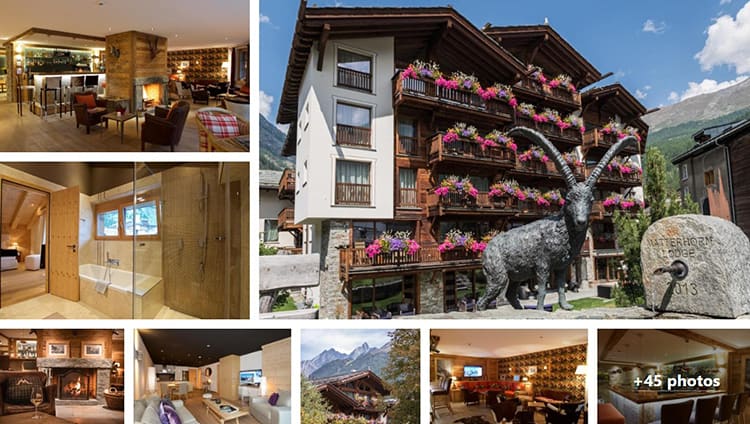 The lodge offers rooms with kitchens and kitchenettes and some even have Matterhorn views!
---
The Best Time to Visit Switzerland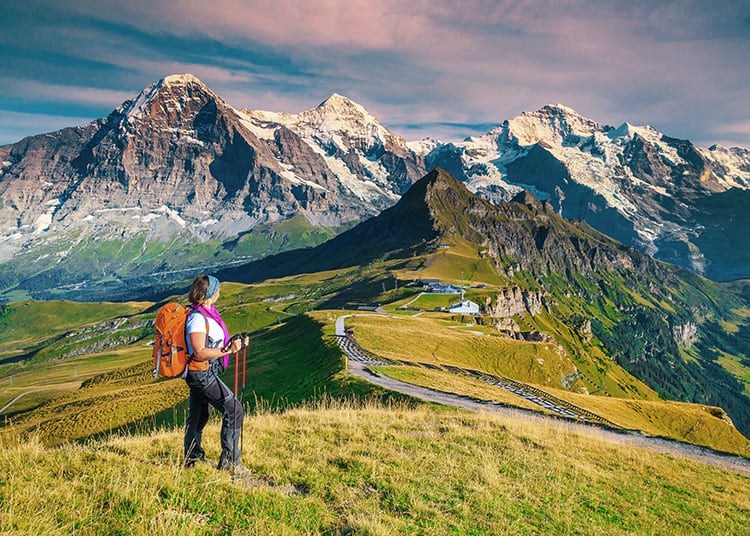 Summer (June To August) is a popular time to travel to Switzerland for good reason. The mild weather makes it an ideal season for outdoor activities such as hiking, camping, and boating.

The downside of summer in Switzerland? The crowds.
Tourists flock to the country during this season which results in higher prices for hotels, restaurants, and flights.
This may take away from the peacefulness one would hope for when visiting a place like Switzerland.

However, if you plan ahead and book your tickets well in advance, you should still be able to find reasonable accommodations even during peak season.
Additionally, if you're looking to avoid the height of summertime prices, consider visiting before June or after August—this way you can still enjoy most of the sunny days without paying extra for them!
---
Best Way to Get Around Switzerland
Now that we have outlined the perfect itinerary, let's swiftly touch on navigating this captivating country.
1. Public Transport
Switzerland's public transport system offers a seamless and cost-effective way to discover this beautiful country.
With the Swiss Travel Pass, you can enjoy unlimited and discounted access to trains, buses, and boats, allowing you to effortlessly explore over 41 cities, conquer majestic mountain peaks, and embark on captivating lake cruises throughout Switzerland.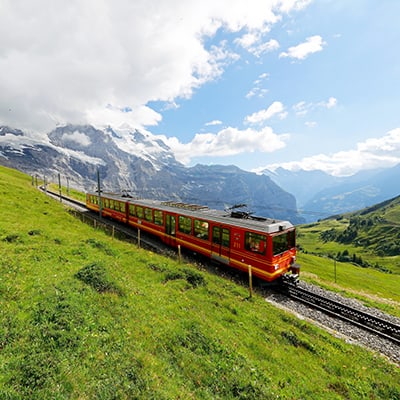 BEST WAY TO GET AROUND ON PUBLIC TRANSPORT
Save money and make life a lot easier with a Swiss Travel Pass. Allowing you to simply hop on trains, busses, and boats in most destinations.
Experience the freedom of travel, unrestricted by the hassle of booking individual tickets or excessive transportation expenses.
Get your Swiss Travel Pass effortlessly online, unlocking a world of convenience and affordability.
2. Rent a Car
As a family of five with young children, our visit to Switzerland presented us with the challenge of accommodating our one-year-old.
To ease our travel experience, we opted to rent a car, granting us the freedom to come and go as we pleased, without having to wait for trains or buses to arrive.
Discover Cars quickly became our trusted source for car rentals in Switzerland.
This comparison site effortlessly gathers the most competitive prices from leading rental companies across the country, ensuring a seamless and hassle-free booking process.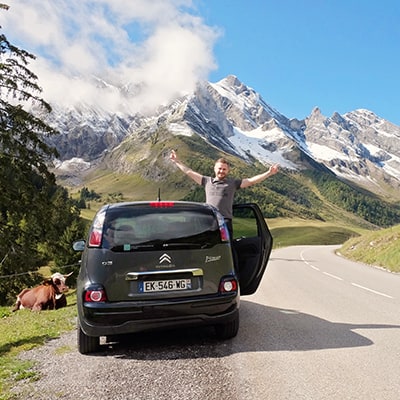 BEST RENTAL COMPANY IN SWITZERLAND: DISCOVER CARS
I recommend and use Discover Cars. They search through all rental companies to find and offer only the best deals.
---
FAQs About Visiting Switzerland in 4 Days
Here are some answers to some of the most commonly asked questions about traveling around Switzerland for 4-days.
1. Is 4 days enough in Switzerland?
The short answer is no! With so much to do and see in Switzerland, you could easily spend 2 weeks traveling here and not see it all.

However, 4 days in Switzerland is enough time to give you a little taste of this beautiful country, and possibly leave you itching to come back for more!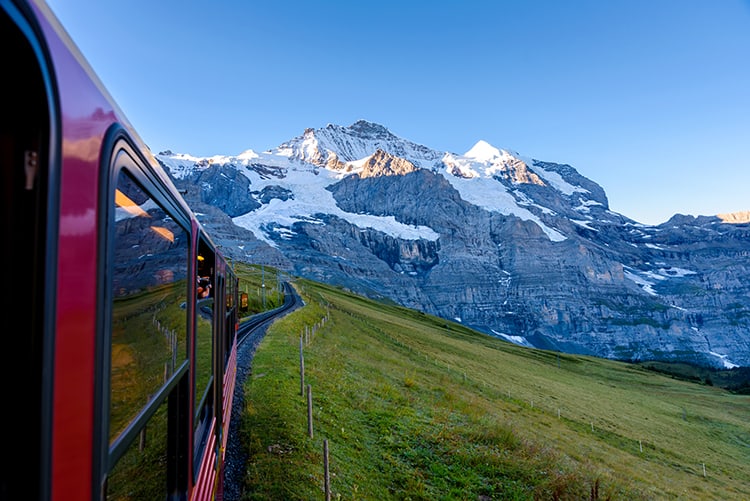 2. How much money will I need for 4 days in Switzerland?
Switzerland is notorious for being a very expensive place to travel.

Obviously, exact costs vary depending on your travel style, but we'd budget about $300 per night for accommodation and $50 per person for food if you plan on mostly eating out.

If you're traveling by train, a Swiss Pass will set you back $330 for 4 days.

Traveling on a budget is possible, but you'll need to stay in hostels and cook some of your own meals rather than eating out.
3. What is the cheapest month to visit Switzerland?
The cheapest time to visit Switzerland is during the winter, from December to February.

However, many of the mountain peaks and hikes included in our itinerary are not accessible at this time of year.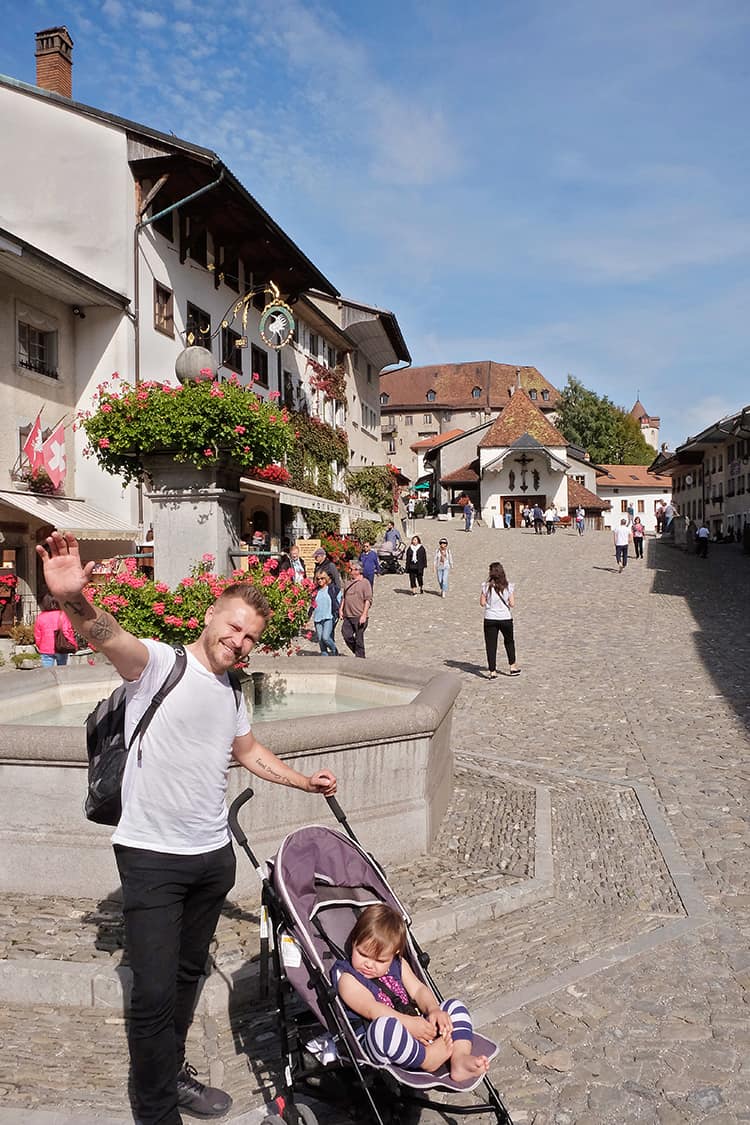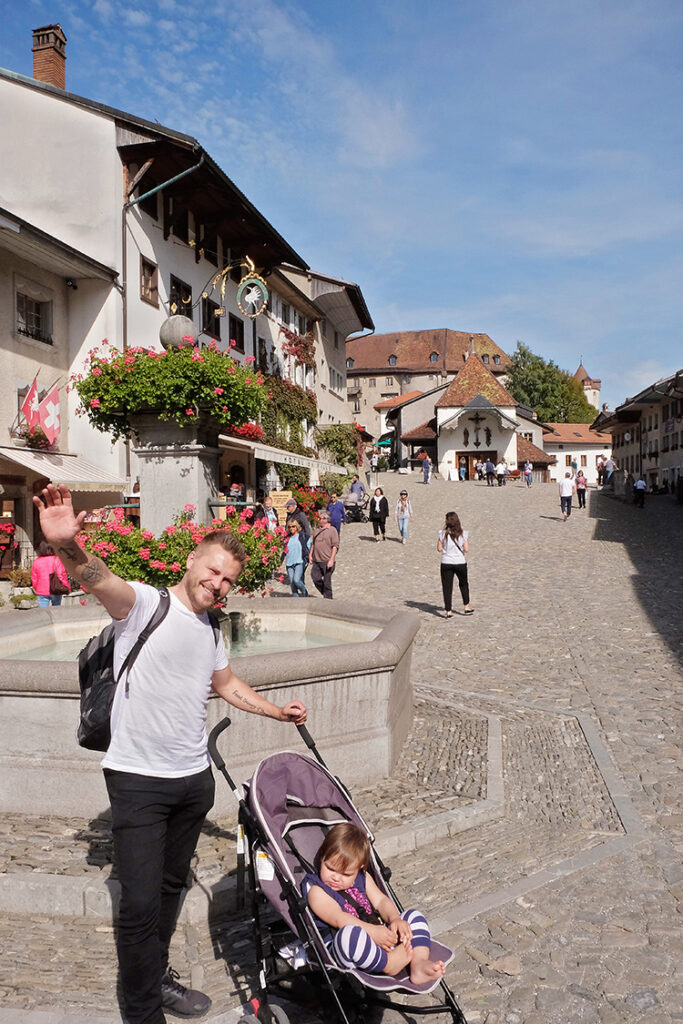 4. Is it better to rent a car in Switzerland?
Renting a car in Switzerland means you can travel at your own pace and makes it a little easier to get between cities.

That being said, the train system in Switzerland is timely, efficient, and easy to navigate so renting a car is certainly not necessary.
5. What is the best time to visit Switzerland?
The best time to visit Switzerland for the hiking and outdoor adventure activities included in our 4-day Switzerland itinerary is during the summer, from late May through September.
---
Final Thoughts On Our 4-Day in Switzerland Itinerary
And that concludes our 4-day Switzerland Itinerary. We hope you're feeling inspired to plan an amazing adventure in Switzerland using our itinerary as a guide.
If you have any questions about planning your trip, please feel free to let us know!
Looking for more itineraries? We also have a 5-day trip to Switzerland itinerary starting in Geneva and ending in Zurich.
Guest Blog Post Written by Sarah from Two Outliers.
Further Reading:
Here are some of our other blog posts that you might be interested in when you plan your vacation in Switzerland: