Have you been wondering about the best weekend trips in Europe? I've got you covered!
Weekend trips in Europe can be a truly magical experience. From the sunny beaches of Greece to the rolling hills of Italy, our travels have taken us through many European destinations.
But of course, we cannot have covered every destination in Europe for this list so we have had a little help!
All of the 35 best European weekend breaks have been hand-selected by experienced travel bloggers who know all about the best spots for a weekend getaway.
All of the destinations are places that are within easy reach and offer incredible experiences that you'll always remember.

Ready for your next adventure? Keep reading and find out our selection of the 35 best weekend trips in Europe – perfect for those looking for an exciting escape!
---
35 of The Best Weekend Trips in Europe
With 35 best cities for a weekend trip in Europe to choose from, it can be difficult to pick the right one.
From culture-filled Prague to historical Rome, our list of must-see European cities offers something special for every type of traveler.
1. Paris, France
Paris is one of the most romantic getaways in Europe.
With its iconic sights like the Eiffel Tower, winding cobblestone streets, and charming cafes, it's easy to see why Paris is a top destination for couples looking for an unforgettable weekend.
Whether it's exploring the City of Light together or snuggling up during a picnic in one of its many public gardens, Paris offers endless activities and memories that you'll keep forever.
For those dreaming of a weekend Europe trips full of romance and adventure, look no further than Paris!
Here are some of our top recommended tours when in Paris:
How to get to Paris
Traveling to Paris is a breeze with two major airports: Charles de Gaulle and Orly.
Both are conveniently located near the city center and connected by RER trains. Tickets for the train cost around €10.
Where to stay in Paris
The Idol Hotel has all the amenities you want, with impeccable service.
Conveniently located near Opéra Garnier and Pigalle for when you are out and about sight seeing.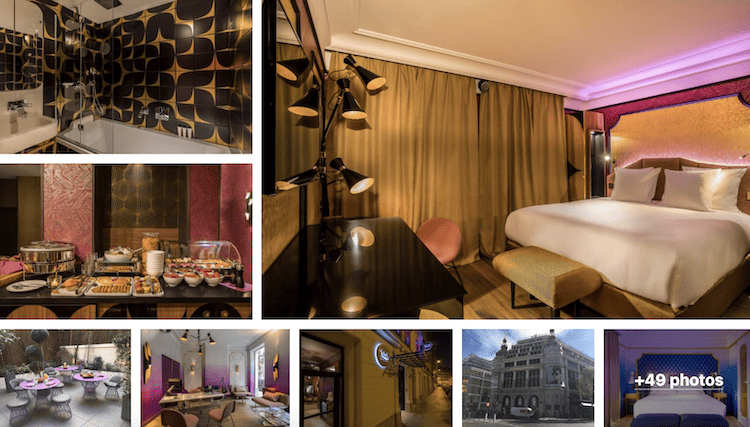 When back at the hotel enjoy the sun terrace or indulge in room service with a minibar stocked with snacks for you and the kids!
---
2. Venice, Italy
Venice is one of the best cities for a weekend trip in Europe.
With its winding canals, fascinating architecture, delicious food, and beautiful art and culture, it's no wonder why Venice tops many lists of best weekend destinations in Europe.
From the sweeping views from San Giorgio Maggiore to the bustling Piazza San Marco and historic churches throughout the city, Venice is an unmissable destination.
Must-see sights of Venice include Rialto Bridge, the San Marco Piazza, and the famous Bridge of Sighs.
It's no surprise that millions of visitors flock to this unique city each year, it truly has something for everyone!
Here are some of our top recommended tours when in Venice:
How to get to Venice
Venice has the small Marco Polo Venice Airport, where you can take a bus or boat into the city.
The best way to arrive is by train to the Santa Lucia Train Station, located on the northwestern edge.
There's also a bus terminal and parking garages nearby at Piazzale Roma.
Where to stay in Venice
The B&B Ca' Bonvicini is a lovely B&B in the heart of Venice! Situated in a tranquil yet convenient location near all attractions.
Just a 7-minute walk from the renowned Rialto Bridge, this property features spacious Venetian-style rooms, some with canal views.
Countless piazzas, restaurants, galleries, and bars are just steps away in any direction!
---
3. Cinque Terre, Italy
Cinque Terre, Italy is the perfect city for a weekend trip in Europe.
It offers stunning views of the Mediterranean coastline, crystal clear waters, and vibrant villages that are sure to engage and delight any traveler.
For anyone looking for an exciting and unique cultural experience, Cinque Terre can provide.
With its picturesque beauty and vibrant cuisine, it's no surprise that this destination is one of the most popular stops on European city trips.
Spend your weekend exploring these five pastel colored villages and you'll be sure to make memories that will last a lifetime!
Here are some of our top recommended tours when in Cinque Terre:
How to get to Cinque Terre
The closest airport to Cinque Terre is Pisa. Trains offer the easiest transportation option within and to Cinque Terre. Trenitalia also provides direct connections to La Spezia from Rome and Florence.
Once in Cinque Terre, the Cinque Terre Express train runs between La Spezia and Levanto, stopping at each village in Sestri Levante.
Where to stay in Cinque Terre
Nestled amidst vineyards and olive trees, high above Levanto, the gateway to Cinque Terre, is Al Terra di Mare.
Certain rooms boast panoramic valley or sea views, alongside a private balcony or terrace.
Hotel Al Terra Di Mare is located 2.3 km from Levanto center and 2 km from the train station.
---
4. Rome, Italy
Rome is a city that offers something for everyone.
From the art and architecture to the food and culture, it's easy to see why it's one of the best cities in Europe for weekend trips.
Whether you're looking for an artsy getaway or an adventure-filled trip, Rome has it all.
With its stunning monuments, delicious cuisine, vibrant nightlife, and rich history.
So if you're looking to escape the hustle and bustle of daily life for a few days – Rome is the perfect destination.
Here are some of our top recommended tours when in Rome:
How to get to Rome
To reach Rome, the most convenient options are by plane or train. Rome has two airports: Fiumicino (Leonardo da Vinci) and Ciampino.
The main international airport is FCO. Both airports are about 30-40 minutes from the city center.
From the airport, you can easily take a train or Metro into the city center.
Where to stay in Rome
Hotel Cristoforo Colombo is set in Rome's EUR district and close to Rome's GRA Ring Road, offering complete convenience for all your shopping needs.
If you are visiting in the summer months, the outdoor pool is also wonderful for the kids!
---
5. Lake Como, Italy
Lake Como is a beautiful destination that offers one of the best Europe weekend breaks.
The picturesque setting features postcard-perfect views and a unique atmosphere unlike anywhere else in Europe.
Whether you're looking for a peaceful escape or an exciting adventure, there's something to suit every taste.
With plenty of activities and attractions, from relaxing boat trips to thrilling cable car rides, Lake Como is the perfect option for your next Europe weekend break.
Here are some of our top recommended tours when in Lake Como:
How to get to Lake Como
To reach Lake Como, take a train from Milan Centrale Station or Milan Nord Cadorna to either Como San Giovanni (Como's main station) or Como Nord Lago. The closest airport is in Milan.
Where to stay in Lake Como
Located on the northwestern shore in the small town of San Vito, Casa Olea Hotel offers humble lodging.
Windows offer picturesque views of the surrounding landscape, blending curated shapes and sizes. Relax in a bath while admiring a private garden or gaze at the dimly lit Chiesa San Vito under the moonlight.
---
6. Zakopane, Poland
Zakpoane is an incredible city to visit on a weekend getaway, particularly for those looking to explore Europe.
From the stunning architecture of the old town, to the vibrant culture and lively nightlife, Zakpoane offers something truly special that you won't find in many other cities.
It has hundreds of restaurants to choose from so you're always spoilt for choice.
Whether you want to join a pub crawl or explore the city's galleries and monuments, this European city is sure to fill any traveler's itinerary with a wealth of activities and sights in Zakopane.
Here are some of our top recommended tours when in Zakopane:
How to get to Zakopane
Zakopane is located about a 2 to 2.5-hour drive South of Krakow and there are a number of ways to get there, including taking public transport such as a bus or a train ride.
Alternatively, you can choose to drive there directly or take a day tour.
Where to stay in Zakopane
Radisson Blu Hotel & Residences is a short walk from Krupówki, the city's main street.
The onsite spa offers modern spa facilities, including steam and Turkish saunas.
Guests can enjoy skiing and cycling activities in and around Zakopane.
---
7. Hallstatt, Austria
Hallstatt is a small Austrian village located in the Salzkammergut region near the mountains.
It is known to be one of the most beautiful and charming places on Earth, with its traditional alpine houses, crystal clear lake, and breathtaking views of the snow-covered mountains.
Hallstatt is also considered as a great place for weekend trips because it offers plenty of activities such as exploring salt mines and the ancient churches.
Take a boat ride across Lake Hallstatt and visit the nearby Dachstein Ice Cave – all of which guarantee an unforgettable experience.
So if you're looking for one of the best European weekend trips, add Hallstatt to your list!
Here are some of our top recommended tours when in Hallstatt:
How to get to Hallstatt
You can reach Hallstatt by either road or rail. If you prefer driving or taking the bus, the major starting points are Vienna, Salzburg (Hallstatt is a really easy day trip from Salzburg), and Munich.
There is a train station at Hallstatt, but the train journey is a lot longer than the journey by car or bus.
Where to stay in Hallstatt
Seehotel Grüner Baum is located right next to the lake and has been running for a while now.
Many of the rooms are located right next to the lake and it is recommended to book in advance. There's a free shuttle to the town too!
---
8. Zakynthos, Greece
Zakynthos (or Zante) is one of the most beautiful and stunning islands in Europe.
With its pure white beaches, unspoiled nature, and crystal clear blue waters, it's no wonder that Zakynthos is one of the best weekend breaks in Europe for a relaxing getaway.
From boat trips to the famous Blue Caves to discovering local taverns, there are plenty of activities to enjoy on this idyllic Greek island.
And if you're looking for something more laid-back, Zakynthos also offers some of the best sunsets in Europe – perfect for taking a moment to appreciate life's simple pleasures.
So if you're looking for the perfect weekend break in Europe that combines relaxation and adventure, head to Zakynthos!
Here are some of our top recommended tours when in Zakynthos:
How to get to Zakynthos
Zakynthos is known for its convenient airport. You can fly from Athens, about a 1-hour journey, or take a ferry from Kyllini in mainland Greece, which takes around 1 hour and 15 minutes.
Where to stay in Zakynthos
Ionian Hill Hotel is a short 5-minute walk from the beach, Ionian Hill is located on the outskirts of Argassi in Zakynthos.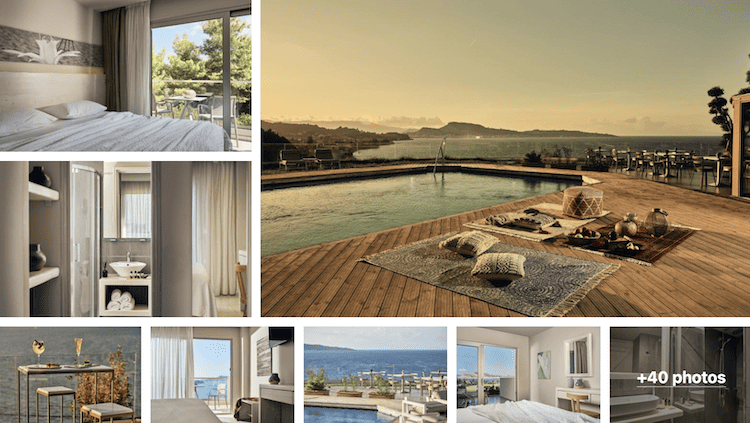 With accommodations offering balcony views of the garden or Ionian Sea, the property includes a pool and snack bar.
---
9. Santorini, Greece
Santorini is a stunningly beautiful island in the Mediterranean Sea, the perfect destination for a romantic weekend break with your significant other, no matter what time of year you visit Santorini.
With its white-washed villages, picture-perfect sunsets, and cobalt blue waters, it's easy to see why this iconic Greek island is continually rated as one of the best weekend breaks in Europe.
Santorini offers time to relax on secluded beaches or exciting adventures exploring winding streets and vibrant markets.
Here are some of our top recommended tours when in Santorini:
How to get to Santorini
Santorini has an international airport and can be reached by plane from Athens and various European cities. The island is also connected to Athens by ferry.
To reach Santorini from other islands like Mykonos and Paros, the ferry is the sole direct connection option available.
Where to stay in Santorini
Whether you are looking for the best hotels in Santorini with pools, or just want an amazing hotel on the beach there is a hotel for all travelers!
Kalestesia Suites is perched atop Akrotiri Hill, just 350 meters from Akrotiri village and 800 meters from the main square.
Offering stunning views of the volcano, Caldera, and Santorini, some rooms even boast their own heated plunge pools!
---
10. Taormina, Italy
Taormina is one of the best European weekend trips for people looking to explore the beauty of the Italian coast
With its stunning views of Mount Etna, charming cobblestone streets, and elegant restaurants, it's easy to see why so many travelers choose to spend their weekends in this picturesque town.
With a variety of activities to do in Taormina, from exploring ancient ruins to taking part in outdoor sports, there's something for everyone who visits Taormina.
Here are some of our top recommended tours when in Taormina:
How to get to Taormina
Getting to Taormina is easy as there are frequent direct flights from major cities across Europe, making it a great choice for a quick getaway!
Where to stay in Taormina
Hotel Corallo, situated in Taormina Mare, offers enchanting views of the Bay of Naxos and Cape Taormina from the guestrooms and the restaurant.
Steps away from the hotel, you can relax on the beautiful beach of Baia di Villagonia when not exploring the area.
---
11. Corfu, Greece
Corfu is one of the best weekend getaways in Europe for many reasons.
The beautiful beaches, stunning views, and plentiful activities to do in Corfu make it an ideal getaway spot.
The island has a unique blend of cultures, which can be appreciated through its fascinating architecture, rich cuisine, and local customs.
Spend your days exploring the old town or just sitting back and sipping on a glass of ouzo!
With its vibrant nightlife, delicious dishes, and amazing outdoor activities, Corfu is truly one of the best weekend getaways in Europe.
Here are some of our top recommended tours when in Corfu:
How to get to Corfu
To reach Corfu from mainland Greece, you can take a ferry or a plane.
There are flights to Corfu from various European countries, as well as seasonal ferry connections with 3 ports in Italy and a year-round ferry connection with 1 port in Albania.
Where to stay in Corfu
Dreams Corfu Resort & Spa is in the charming town of Gouvia, right on the Corfu Island seafront.
It's perfect for families and couples seeking an all-inclusive Mediterranean getaway. Rooms range from double and family rooms to suites and bungalows.
This resort has a dedicated beach and offers a variety of water sports, there are 2 pools, including a family-friendly pool.
---
12. Nice, France
Nice is a small city on the French Riviera that punches well above its weight when it comes to quick getaways in Europe.
Located just 40 minutes away from Monaco, Nice is an ideal destination for those who want to experience all of the glamour and grandeur of the Riviera without spending too much time getting there.
Its beaches are perfect for sun-soaking, while its historic city center is full of idyllic cafes, restaurants, and shopping streets lined with art galleries and boutiques.
With a host of cultural activities in Nice including incredible music festivals and modern art installations, Nice offers something for everyone looking for quick getaways in Europe.
Here are some of our top recommended tours when in Nice:
How to get to Nice
With an international airport just 8km from Nice's center, flying is the fastest and easiest option.
A regular 20-minute bus service connects the airport and the city, ensuring quick arrival at your destination.
Where to stay in Nice
Aparthotel AMMI Nice Massena is located just 200 meters from Place Masséna and a quick 3-minute walk from the beach and the famous Promenade des Anglais.
The hotel is only a 15-minute walk from Nice Ville Train Station.
The nearest tramway stop is just 100 meters away, and the old town is within a 5-minute walk from Ajoupa.
---
13. Florence, Italy
Florence, Italy is a must-see for a weekend trip in Europe. With its breathtaking architecture, rich history, and Mediterranean climate, it's easy to see why Florence is one of the best weekend trips in Europe.
Another great reason why Florence is great for a weekend trip is its small size, which means you can easily experience a lot within just two days!
Our kids loved that we could see a lot all within close proximity which means they did not have to walk too much when exploring.
From admiring the beauty of the iconic Duomo to exploring the Piazzas to dining on delicious Italian food or the best Gelato, Florence is the perfect destination whether traveling as a couple or as a family to Florence.
If you are a food lover, learn how to make your own gelato (and pasta, pizza) in a Florence cooking class.
So if you want to have an amazing European getaway make sure to add Florence to your list!
Here are some of our top recommended tours when in Florence:
How to get to Florence
Getting to Florence is quite convenient and the popular choices are by plane, train, or car.
Florence has its own international airport (Amerigo Vespucci) and Pisa International Airport is just 50 km away.
Alternatively, Florence is a major high-speed railway hub with regular train connections throughout Italy. It is also located on the A1, the main Italian motorway connecting Milan and Naples.
Where to stay in Florence
The 4-star iQ Hotel Firenze features modern and spacious rooms with an onsite Pizzeria and Cocktail Bar serving gourmet pizzas, appetizers, and cocktails.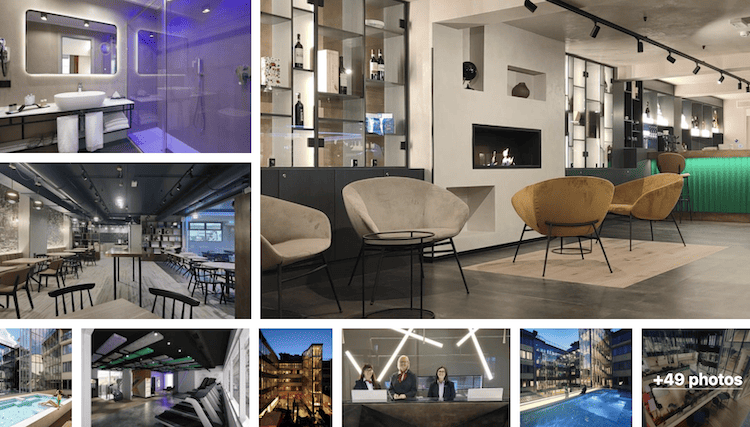 It is conveniently located within a 10-minute walk from Florence Cathedral, Santa Maria Novella Station, and nearby attractions such as Accademia Gallery and the Uffizi Gallery.
The hotel also offers a fully equipped fitness area, an indoor boutique Spa, and an outdoor plunge pool.
---
14. Amsterdam, Netherlands
Contributed by The Spicy Journey
What attracts people towards Amsterdam, one of the most popular destinations in Europe, are the romantic canals, museums, parks, Dutch cuisine, Heineken beer, and the tulips!
There are also many exciting day trip opportunities to Zaanse Schans, Giethoorn, the Hague, Rotterdam, and other beautiful destinations in the Netherlands and Belgium.
What's even more exciting is that it is completely feasible to cover all the major attractions within a weekend trip to Amsterdam and even see the countryside with the help of the Amsterdam and region travel card.
Here are some of our top recommended tours when in Amsterdam:
How to get to Amsterdam
Amsterdam has one of the busiest international airports in Europe so travellers can fly into Amsterdam directly.
The Amsterdam airport is located 10 miles from the city center and you can take a local train or bus to reach the city center from the airport.
The city also has excellent train connectivity to the rest of Europe and the United Kingdom.
Where to stay in Amsterdam
Mövenpick Hotel Amsterdam City Centre is located at the edge of the river IJ, one tram stop from the Amsterdam central station.
The hotel is also within walking distance of most of the sights in Amsterdam, making it the perfect base to explore the city.
The hotel's fitness center, spa, restaurant, and amazing breakfast are an added bonus.
---
15. London, United Kingdom
Contributed by Linda on the Run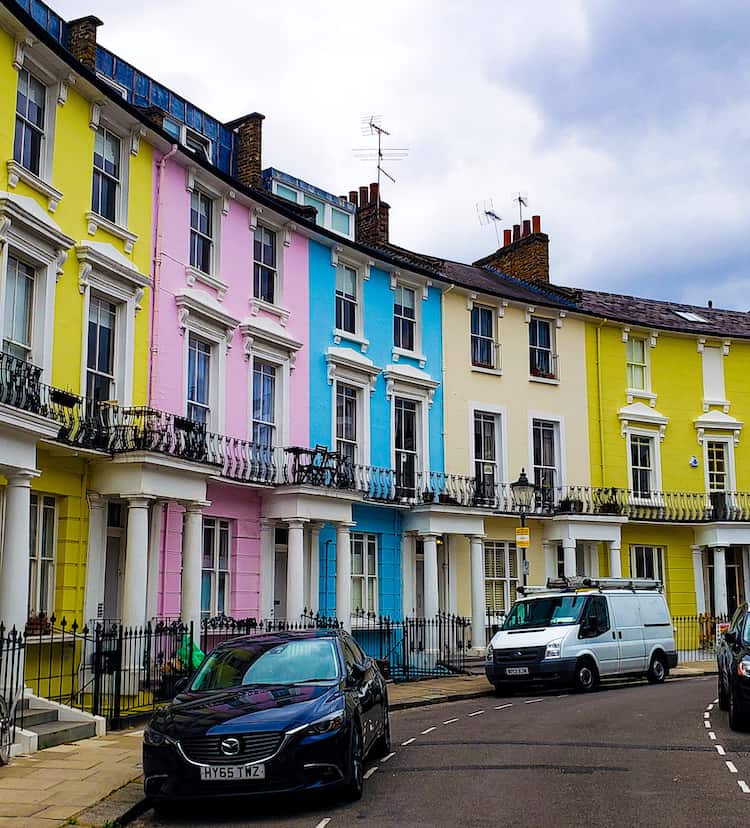 "Planning the best weekend trip in Europe? If so then head to London.
Not only can you quickly and easily access top attractions using the Tube but you will never run out of things to do during your London itinerary.
So, start with a visit to Trafalgar Square and the National Gallery. Next, see where the Royals were crowned at Westminster Abbey. Also, take a photo in front of Big Ben and then walk along the Thames to the Tower of London.
Once here, see the Crown Jewels and where Anne Boleyn lost her head before walking across Tower Bridge to Borough Market. This landmark has been around since the 12th century and is an amazing place to enjoy a London food tour.
Here are some of our top recommended tours when in London:
How to get to London
To get to London you can fly into Luton, Heathrow, Gatwick, Stansted, etc. Our top tip is to try to fly into Heathrow and take the Piccadilly line into central London.
Where to stay in London
The Tower Hotel London is an incredible place to stay with sweeping views of Tower Bridge right from your room.
Refined accommodations include in-room coffee makers as well as complimentary breakfast and all-day refreshments.
>>> Check out our post for London Hotels with rooftop pools and views!
---
16. Munich, Germany
Contributed by Big World Short Stories
Munich is the capital of the largest German state Bavaria. It is a perfect destination for a weekend trip due to its size and cultural and historic heritage.
Some of the main attractions that you can explore within 2 days in Munich are the Neuschwanstein Castle and the BMW Museum.
Here are some of our top recommended tours when in Munich:
How to get to Munich
Munich Franz Josef Strauss Airport (MUC) is the closest international airport to Munich. The easiest way to get from the airport to the city center of Munich is by train.
There are 2 train lines S8 and S1 connecting Munich airport and the city center. The trains leave every 10 minutes and take about 40 minutes to bring you to the city center.
Where to stay in Munich
The best area to stay in Munich is called the Altstadt (the old town). The most famous and luxurious hotel in Munich Altstadt is the Hotel Bayrischer Hof.
This iconic hotel has hosted many celebrities including Michael Jackson.
The rooftop terrace of the hotel overlooking the entire city is a great place to go dining or just enjoy a drink with a great view.
---
17. Prague, Czech Republic
Contributed by Nats Travel
Being based in the heart of Europe, Prague is a great weekend destination. Easy and fast to reach from any European country.
You can visit Prague at any time of the year, and you will always find things to do there.
Prague is perfect for 2 days sightseeing important landmarks of the historic city. Walk on Wenceslas Square, and continue to the Old Town Square to see the Astronomical clock and Church of our Lady Before Tyn.
Head towards the Charles Bridge, the most important landmark in Prague from where you will have a stunning view. End your walk in Prague Castle.
Here are some of our top recommended tours when in Prague:
How to get to Prague
Traveling to Prague is straightforward. If you are coming by plane, you will fly to Vaclav Havel Airport. From the airport, you will take a bus and then a metro to get to the city center. It takes about 30-40 minutes to reach.
If you are coming by train, you will come to the main railway station (Hlavni Nadrazi) which is located inside the city. From there you can take a metro, tram, or walk depending on where is your hotel located.
Where to stay in Prague
When choosing a hotel, the best choice is the city center close to all the sights. You will love THE MANES Boutique Hotel Prague.
This modern hotel is close to the Vltava River where you can also find a kids' playground on the island located on the river. Historical sights and public transportation are nearby.
---
18. Zurich, Switzerland
Contributed by Arzo Travels
Switzerland´s main city is easy to reach and located in the heart of Europe. However, this is not the only reason to spend a weekend in Zurich.
There are tons of things to do and see in Zurich. Starting from a walk around Lake Zurich, strolling one of the most expensive shopping streets in the world – Bahnhofstrasse to exploring the old town.
Visit one of the many museums (including the very cool Lindt chocolate museum), or go on a day trip to see the impressive Alps in the nearby Lucerne or Bern regions.
And Zurich has the best nightlife in the country, while the after-drinks start after 5 pm, the nights are long with many bars and clubs to choose from.
But do not assume Zurich is only for adults who like to enjoy long nights – it is also a wonderful family-friendly city that offers plenty of outdoor and indoor activities for people of all ages.
Here are some of our top recommended tours when in Zurich:
How to get to Zurich
The train station is well connected to other cities in Europe and once at the train station you are actually already in the heart of the city and can start exploring.
If you get to Zurich International Airport, then take a train (there are a number of trains departing to Zurich Train Station – Zurich Bahnhof) which will get you to the city center in just 12 minutes.
You could also rent a car at Zurich airport, but thanks to the fantastic public transportation in Zurich, there is actually no need to.
Where to stay in Zurich
Staying in the city center is definitely the best area to choose from as most attractions are located within walking distance.
One of the best hotels in the city is right on the shores of Lake Zurich in the center is the luxurious 5-star hotel Baur au Lac.
This is the perfect location to rest after some busy hours of exploring Zurich.
---
19. Malaga, Spain
Contributed by Ipanema Travels
Whether you are looking for the winter sun or want to combine beach and culture, Málaga is the perfect destination for a weekend trip in Europe.
Located in Andalusia, this Spanish city offers world-class heritage sites, art museums, cozy restaurants, and lots of Southern charm.
When in Málaga visit the Roman Theatre and the Alcazaba Fortress, together with the Gibralfaro Castle. For the best views of the city, take a tour of the cathedral roof.
Famous for being the birthplace of the modernist artist Pablo Picasso, Málaga won't disappoint those who love art either.
You can visit Museo Picasso Málaga and the birth house of Picasso, as well as the Pompidou Centre, and the Carmen Thyssen Museum.
Here are some of our top recommended tours when in Málaga:
How to get to Málaga
Getting to Málaga is pretty easy, as the city has its own international airport.
This is also one of the reasons why Málaga is a popular travel destination in Europe.
From the airport, you can take either the express bus line or a taxi to get to the city center. The transfer time is about 15 minutes.
Where to stay in Málaga
Hotel Boutique Teatro Romano is located in the heart of the city and this hotel won't break the bank.
With comfortable, yet tastefully furnished rooms and beautiful views of the Roman Theatres, this hotel is perfect for a short stay in Málaga.
---
20. Brussels, Belgium
Contributed by World Wild Schooling
Brussels, the heart of Europe, is a perfect destination for a weekend getaway with its blend of history, culture, and cuisine.
One of the best things to do in Brussels is to stroll around the Grand Place, a UNESCO World Heritage Site.
You can also try a tour of the city's art and history and taste Belgian chocolate and waffles. Don't miss the Atomium, an iconic symbol of Brussels.
Here are some of our top recommended tours when in Brussels:
How to get to Brussels
It's easy to reach the two airports in Brussels. Brussels Airport (BRU) is the closest at around 20 minutes by train or car.
Most budget airlines fly to Brussels South Charleroi Airport (CRL), which is about an hour by bus or car.
Major train stations, Brussels Central and Midi, offer high-speed trains that connect Brussels with major European cities.
Where to stay in Brussels
You can stay at Hotel Amigo, a 5-star hotel right next to the Grand Place.
Its charming interiors and superior service make it a great choice for a weekend in Brussels.
Enjoy its proximity to major attractions and restaurants.
---
21. Barcelona, Spain
Contributed by Waves and Cobblestones
Barcelona is the perfect destination for a weekend getaway in Europe! It's got it all: beautiful beaches, delicious cuisine, stunning architecture, and top-notch museums.
Some of the top attractions in Barcelona are the amazing buildings designed by renowned architect Antoni Gaudí.
Enjoy a rooftop concert at Casa Milà or explore the colorful mosaics of Parc Güell.
You don't want to miss La Sagrada Familia! This magnificent basilica has become an iconic symbol of Barcelona.
Here are some of our top recommended tours when in Barcelona:
How to get to Barcelona
Fly to Barcelona via the Barcelona-El Prat Airport. This international airport is only about 13 kilometers from the center of Barcelona, and it's easy to take public transportation if you don't want to rent a car.
Where to stay in Barcelona
Stay at the Hotel Jazz. This hotel has a great location in the heart of historic Barcelona.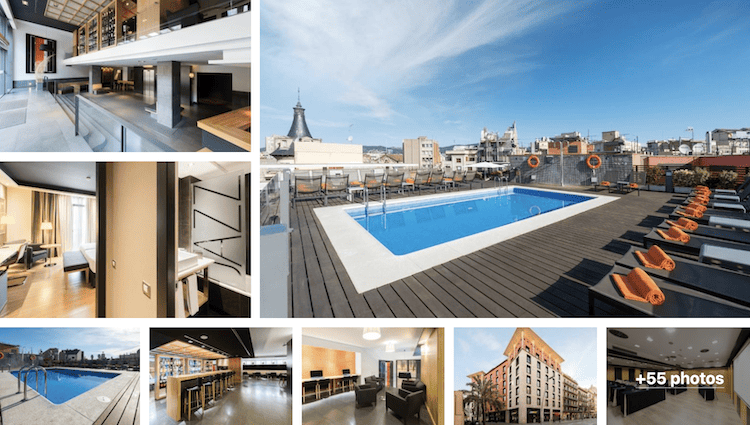 You'll love the rooftop terrace, where you can take a refreshing dip in the pool or enjoy a cocktail after a day of sightseeing.
---
22. Dubrovnik, Croatia
Contributed by Not About The Miles
If you are looking for an exciting weekend getaway in Europe, consider 2 days in Dubrovnik! Known as the Pearl of the Adriatic, the Croatian city is compact but captivating.
If you enjoy history and architecture, pop into the beautiful Franciscan Monastery and the Dubrovnik Cathedral; or walk the famous city walls.
Take a boat trip to the little island of Lokrum, or go sea kayaking. Spend some time at the beach. Take the cable car to the top of Mount Srd for panoramas.
Here are some of our top recommended tours when in Dubrovnik:
How to get to Dubrovnik
Dubrovnik has an international airport and it is easy to fly in from many places in Europe, including hubs like London.
From the airport, the old town is about a 30-minute drive, and you can take a taxi or the airport shuttle bus.
Once in the old town, you can walk everywhere!
Where to stay in Dubrovnik
The Pucic Palace is a stunning boutique hotel located right in the old town, very convenient for sightseeing and walking to restaurants.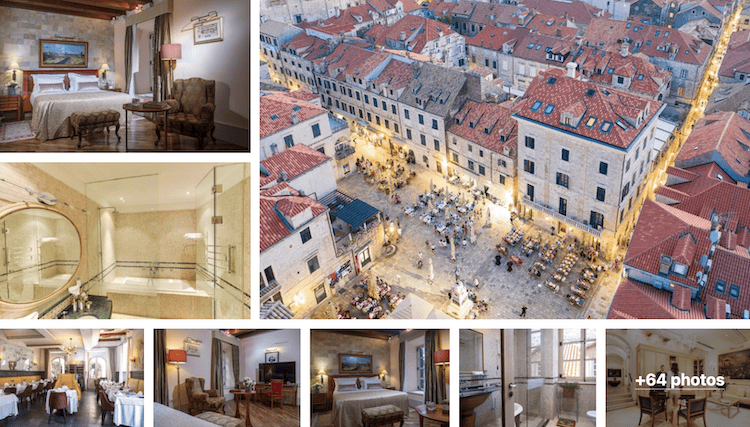 It's a gorgeous place to base for your Dubrovnik weekend!
---
23. Lausanne, Switzerland
Contributed by Happy Little Traveler
Lausanne is a beautiful Swiss city located on the northern shores of Lake Geneva. Thanks to many attractions, wonderful views, and easy access it's a great spot for a weekend trip in Europe that will steal your heart.
There are quite a lot of things to do in Lausanne, but if you want to get the best out of your weekend there, be sure to take a lazy walk along the Ouchy promenade and admire stunning views over the Alps.
Also, stroll around Lausanne's charming old town and visit the famous Olympic Museum.
Here are some of our top recommended tours when in Lausanne:
How to get to Lausanne
The closest airport to Lausanne is located in Geneva, only 60km away. It offers train and bus connections to the city.
It's also quite easy to arrive in Lausanne by train from many places in both Switzerland and France.
Where to stay in Lausanne
For a pleasant stay, you can choose Mövenpick Hotel, which is located just a few steps from the main city attractions.
But what's most important is that this hotel offers rooms with unforgettable views over Lake Geneva and the Alps.
---
24. Lisbon, Portugal
Contributed by 24Hours Layover
Lisbon is a fantastic destination for a weekend trip due to its rich history, vibrant culture, and stunning landscapes.
It's compact and easily walkable, which is great if you love exploring a city on foot. Plus it's certainly possible to see the best bits in just one weekend!
Visit historic sites like Belem Tower and Jeronimos Monastery, and make sure to check out the Alfama neighborhood and the scenic Miradouros, all of which make for great places to take photos in Lisbon.
Then in the evening check out a Fado performance or relax on a sunset boat cruise!
Here are some of our top recommended tours when in Lisbon:
How to get to Lisbon
Lisbon is very well-connected and easy to get to. Lisbon's International Airport is 10 kilometers from downtown.
The airport has a metro station which will take you to downtown Lisbon in 20 minutes. If driving from Lisbon Airport to the city center, the journey takes around 20 to 30 minutes.
Lisbon is also well-connected to major cities in Portugal and neighboring countries through train services. The main train station is Santa Apolonia, located in the city center.
Where to stay in Lisbon
For an absolutely stunning hotel, stay at the Be Poet Baixa Hotel.
Situated right amongst the action, it's the perfect place to stay for a weekend in Lisbon!
---
25. Madrid, Spain
Contributed by It's All Trip To Me
Planning a trip to Madrid is always a good idea. With countless colorful neighborhoods to explore and laze around at quaint cafés and lively bars, Madrid is one of the most vibrant cities in Europe, the perfect place to spend a weekend away from home.
When visiting Madrid for just a couple of days, jump on the hop-on-hop-off bus for a chance to see more of the city in less time.
Moreover, if you're traveling to Madrid during the weekend, you're in great luck! El Rastro, the city's most famous flea market, takes place on Sundays alone.
Here are some of our top recommended tours when in Madrid:
How to get to Madrid
Madrid's international airport connects the city to several other destinations within Europe and elsewhere. The drive from Barajas Airport to the city center takes less than half an hour.
Where to stay in Madrid
If you're spending only a couple of days in Madrid, it makes sense to book a hotel in a central location.
B&B Hotel Madrid Centro Plaza Mayor is only steps from the iconic Plaza Mayor and within easy walking distance from the city's other major attractions.
The impeccably clean rooms and the friendly staff render this hotel the perfect accommodation option for a weekend trip to Madrid.
---
26. Budapest, Hungary
Contributed by Flying Fluskey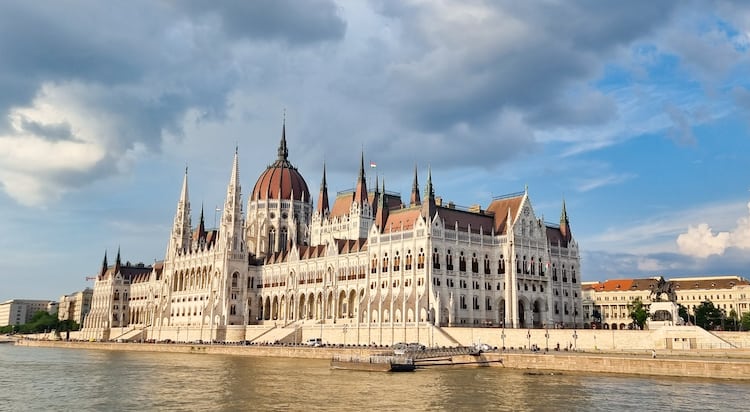 Budapest is an easy weekend trip for the whole of Europe as it sits right at the center.
The city straddles the mighty Danube River and is packed with years of fascinating history to discover.
Budapest is full of natural hot springs that have been turned into divine public bathing pools. The baroque style Szechenyi Baths is the most popular and for good reason.
Spend an afternoon exploring the Buda Castle complex on top of the hill and another on a food tour enjoying Hungarian classics.
Here are some of our top recommended tours when in Budapest:
How to get to Budapest
From Budapest Ferenc Liszt Airport, catch the cheap and efficient 100E Airport Express bus that takes around 45 minutes into the city.
Alternatively, there are shared transfers run by MiniBUD or pricy private transfers.
If arriving by train from across Europe, there are many mainline terminus stations that connect to the Metro, giving easy access to the whole city.
Where to stay in Budapest
When staying in Budapest, stay on the Pest side of the river. The Jewish District is full of great options, and for the best value, book an apartment.
However, for a truly luxurious experience, the Anantara New York Palace Budapest Hotel has a beautiful lobby, plus, you can have breakfast in the iconic New York Cafe as standard.
---
27. Istanbul, Turkey
Contributed by Mog and Dog Travels
Stretching across two continents and offering fascinating historical attractions, a lively nightlife scene, and mouth-watering cuisine, Istanbul is ideal for a weekend getaway.
A perfect weekend in Istanbul should always begin with an indulgent Turkish spread breakfast. Known as serpme kahvaltı, it can feature up to twenty different dishes!
You can walk off your breakfast by exploring some of Istanbul's beautiful architecture.
Don't miss the spectacular ancient mosaics in the Hagia Sophia mosque, the handpainted tiled interior of the Blue Mosque, or the underground Basilica Cistern.
If you like shopping, head over to haggle with local merchants at the Grand Bazaar, the largest covered market in the world.
Istanbul has a breathtaking skyline, so make sure you book a spot at one of the many rooftop bars and restaurants that offer stunning panoramic views of the city. Alternatively, visit the extraordinary Galata Tower, which offers a 360° view of the whole city.
Finally, treat yourself to a luxurious scrub and soap massage at a Turkish bath, a pampering experience that is like no other!
Here are some of our top recommended tours when in Istanbul:
How to get to Istanbul
Istanbul has two airports: the newly built Istanbul International Airport (IST) and Sabiha Gökçen (SAW) aırport.
Both are served by an airport metro service, regular shuttle buses that operate 24/7, and taxis.
Journeys by shuttle bus or metro from IST or SAW into Istanbul city center take around 1-1.5 hours.
Where to stay in Istanbul
There are many different areas to stay in Istanbul but for a weekend trip, the lovely area of Galata is the best choice.
Surrounded by charming cafes, shops, art galleries and museums, it's an ideal base.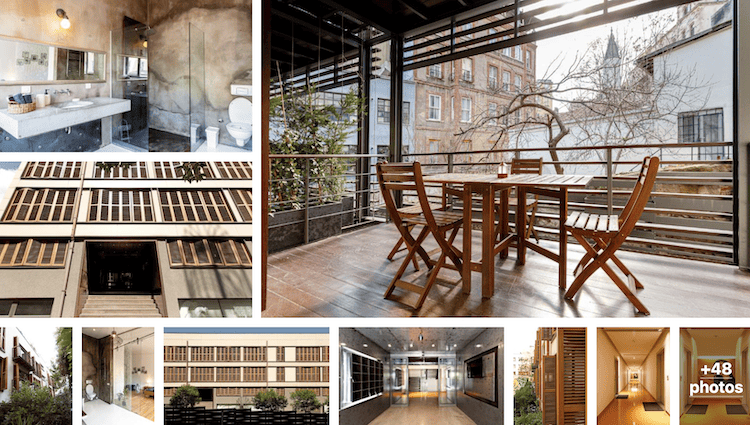 NOA Luxury Apartments offers reasonably priced, spacious, chic apartments with fully equipped kitchens, a balcony or garden, free Wi-Fi, and a private gym.
---
28. Dublin, Ireland
Contributed by Backpackers Thailand
If you're looking for a fun weekend full of cultural activities, tasty food, and exploring historic sites, make sure you add Dublin to your to-do list.
When you're in Dublin, don't miss the chance to explore Trinity College with the Book of Kells and the EPIC (Irish Immigration Museum).
Take a stroll through the lively Temple Bar district with nice restaurants and bars.
Visit the historic Whitefriar Street Church. It houses the remains of St. Valentine! The famous St. Patrick's Cathedral, named after the patron saint of Ireland, is another must-see landmark.
But the highlight of your trip has to be a visit to The Brazen Head, the oldest pub in Dublin. The live music and mouthwatering food will leave a lasting impression.
Here are some of our top recommended tours when in Dublin:
How to get to Dublin
You can easily fly to Dublin from all the major European cities, the US, Canada, and the Middle East. The airport is located 30 min away from the city center (you can take a taxi or a city bus).
Where to stay in Dublin
Stay in the charming Trinity Townhouse Hotel and indulge in spacious rooms and the captivating interior of the Georgian period.
All the top attractions are located just a short walk away.
---
29. Porto, Portugal
Contributed by Random Trip
There is a city in the north of Portugal with plans for all types of travelers and budgets: Welcome to Porto!
You may also know it as Oporto but the Portuguese name is actually Porto.
Porto is a perfect weekend destination, as in 2-3 days you can admire its many religious buildings like its cathedral (Se do Porto) or its beautiful tile-covered churches (Capela das Almas or Santo Ildefonso).
You can also admire the amazing views of the city from its marvelous viewpoints from Torre dos Clérigos or from Dom Luis I bridge.
Buy some artsy souvenirs from the small galleries at Rua Miguel Bombarda (for example at Ó! Galeria) and jump on a river cruise on a "Ravelo", the original boats used to transport Port wine barrels.
Don't forget the amazing gastronomy! The iconic dish in Porto is Francesinha, a sandwich filled with various meats, smothered in cheese and a flavorful spicy sauce made with tomato and beer. It's typically topped with a fried egg and served with crispy french fries on the side.
There are also vegan and vegetarian versions. You will find Francesinhas in most restaurants, and if you ask local people about it, everyone will tell you which restaurant cooks their favorite one.
Here are some of our top recommended tours when in Porto:
How to get to Porto
Getting to Porto is easy, as it has an international airport with low-cost flights connecting it with several cities in Europe.
The airport is 15km away from the city, and easily connected with buses, subway, and taxis or an Uber.
If you are already in Portugal, there are trains and buses connecting Porto to most places in Portugal and/or Lisbon.
Where to stay in Porto
Oporto Home – River Front: This modern and beautiful apartment is located right in the Ribera, one of the most visited areas in Porto.
It has amazing river views and also Gaia views (the other side of the Douro River, where Port wine wineries are located).
You will be located within walking distance of the most interesting places and also near lots of restaurants.
Or why not check out the best hotels in Porto with a pool if you love having a pool for a dip at the end of the day!
---
30. Tenerife, Spain
Contributed by Alexander of Tenerife Is
Tenerife is a superb destination for a short trip. Firstly, the flight from London takes only 4 and a half hours. If you are already in Madrid the flight is only 3 hours.
And with so many low-cost carriers flying to Tenerife you can often get very cheap plane tickets.
Tenerife has great weather absolutely all year round, so any month and any date will be a great choice for a trip.
But that is not all that is great about visiting Tenerife. There is such a huge variety of activities in Tenerife that any traveler, families with children, couples, and elderly people will be happy with their journey.
You can laze on the beach, go on excursions to colorful villages and towns, have fun in the largest water park in Europe Siam Park, or look at the stars at the foot of the volcano Teide.
Here are some of our top recommended tours when in Tenerife:
How to get to Tenerife
There are two airports in Tenerife – the south airport and the north airport. If you plan to vacation in the south, where the sunny weather is the most stable, you should fly to the southern airport. It takes only 15-20 minutes by cab from the airport to the southern resorts.
Where to stay in Tenerife
Before I moved to Tenerife, I flew to vacation there with my family. I love the family friendly hotels in Tenerife. My all time favorite hotel is Bahia Principe Fantasia.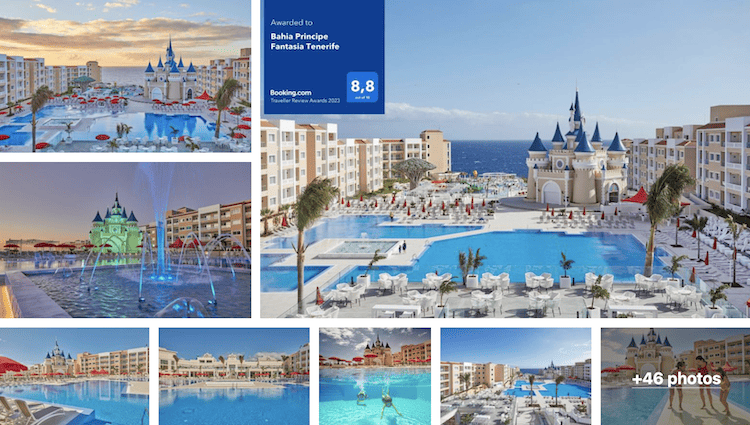 This Tenerife resort, inspired by fairy tales, captivates both children and adults. With an incredible water park, swimming pool, and exhilarating slides, it's perfect for families.
Plus, there's a fantastic kids club offering fun activities like cooking classes, and exciting excursions.
It's a great opportunity for children to have fun and learn while staying here.
---
31. Kotor, Montenegro
Contributed by My Wanderlust
Kotor, Montenegro is one of the most beautiful places to visit in Europe that can be a great weekend getaway to escape to a real wonderland.
The charming town with the maze of winding lanes dates back to the 3rd century BC, and still today, you can admire the numerous historical buildings (especially churches and palaces) in various architectural styles.
But the real highlight of the place and one of the best things to do in Kotor is the ruins of the St. John's fortress towering above the city.
It's a bit of a challenge to get all the way to the top, with over a thousand steps to climb, but the views you will see are totally worth the effort.
This is probably the most iconic panorama in Montenegro and certainly one of the most beautiful landscapes you will ever see, where rocky mountains meet turquoise water.
Since Kotor Old Town is rather small, you can see everything in one day and spend the rest of your weekend trip either relaxing at the beach or visiting one of the nearby interesting places.
Here are some of our top recommended tours when in Kotor:
How to get to Kotor
The nearest airport is in Tivat, around 10 km away from Kotor. You can also fly to the more popular Podgorica airport, from where it's around 2 hour drive to Kotor.
Where to stay in Kotor
To make your trip even better, you should stay in one of the historical palaces in Kotor Old Town, such as Historic Boutique Hotel Cattaro, a former Rector's Palace.
This way, you can get a taste of Kotor's rich past and enjoy fine accommodation in the heart of the town.
---
32. Reykjavik, Iceland
Contributed by Europe in Winter
Reykjavik, Iceland's effortlessly cool capital, might not be the first European weekend trip you think of – but it's actually ideal.
You can visit Reykjavik in winter or any other time of the year for an amazing experience!
Once you reach the city, you'll find a plethora of museums covering everything from Icelandic whales to Vikings and attractions, such as the immersive FlyOver Iceland experience and Hallgrimskirkja, Reykjavik's main church – from the top you can take in an incredible city view.
It may be geographically isolated, but the capital has an effervescently hip vibe, with chic cafes lining the streets and a gorgeous waterfront – perfect for a stroll.
Explore the city independently or embark on a free walking tour to learn more about Iceland's history and culture.
Here are some of our top recommended tours when in Reykjavik:
How to get to Reykjavik
With links to main European cities and the East Coast of America, it's easy to reach from either – and once you get to Keflavik Airport, there's an easy coach connection (around 45 minutes) to the capital.
Where to stay in Reykjavik
Skuggi Hotel oozes Nordic charm. With modern bedrooms, a fresh Icelandic breakfast served each morning and a prime city center destination, it's the ideal place to stay on a quick break to the capital.
---
33. Rouen, France
Contributed by Normandie Lovers
Located in northern France, Rouen is a wonderful city, full of history from the Medieval times. You can easily discover it over a weekend.
What should you plan? Simply walk around, admire the half-timbered houses, learn about Joan of Arc and her trials, marvel at the Gros-Horloge, and be speechless in front of the huge cathedral.
The old town is so fascinating that a guided tour will help you better appreciate all the buildings that are all around you, as well as their stories.
What a perfect weekend to travel through time!
Here are some of our top recommended tours when in Rouen:
How to get to Rouen
To get there, you can land in Paris and rent a car. The drive is 1h15 to 1h45 long. Or you can reach Rouen by train. The station is in the center, just a 10 minute walk from the old part of town.
Where to stay in Rouen
Plus, to make your stay even more special, the Hôtel Litteraire Gustave Flaubert is centrally located and will surround you with the words of this famous local author.
---
34. Sofia, Bulgaria
Contributed by A Social Nomad
This multicultural city has centuries of history in a small space, much of the center is pedestrianized, with a cosmopolitan, Mediterranean outdoor lifestyle in the summer months.
The best way to explore is to take a walking tour of the city.
There are mosques, cathedrals, and synagogues within a city block, and finding out how that all came about is key to understanding Sofia.
The highlight of Sofia is the Alexander Nevsky Cathedral, one of the world's largest Orthodox Cathedrals, but the smaller UNESCO World Heritage Boyana Church has magnificent medieval frescoes. Visit on a trip that combines the stunning Rila Monastery.
Here are some of our top recommended tours when in Sofia:
How to get to Sofia
With an international airport that serves both national and budget airlines, Bulgaria's capital city, Sofia is well connected as a great weekend getaway. There's even a metro connecting the airport to the city center, that also runs to the bus and rail terminals too (the overnight train from Istanbul is also a super way to get here).
Where to stay in Sofia
The four-star Rosslyn Central Park Hotel is in a perfect location for exploring Sofia.
Rooms have WiFi, minibars and satellite TV, an airport shuttle is available and the hotel is just 3 minutes from the National Museum of Culture.
---
35. Cork, Ireland
Contributed by Amber Everywhere
Cork is Ireland's second city and the perfect place to visit for a weekend trip in Europe.
The city is full of lively pubs and great restaurants, so you can sip a quiet glass of wine at Meades 126 or party the night away at Bodega.
Get an overview of the city by taking a walking tour of Cork, ideally one that includes most of the city's main landmarks. Afterward, take in the views from Elizabeth Fort or ring the bells at Saint Anne's Church.
Here are some of our top recommended tours when in Cork:
How to get to Cork
Cork has an international airport about 20 minutes from the city center. Alternatively, you can fly into Dublin and drive or take public transit down to Cork. The drive takes about 3.5 hours.
Where to stay in Cork
Stay at the Imperial Hotel Cork City. This beautiful hotel is located in the center of everything, just steps from all of the action on Oliver Plunkett Street.
The rooms are tastefully decorated, and there's a wonderful spa onsite, in case you decide to splurge on a massage or facial during your stay.
---
FAQs About The Best Weekend Trips in Europe
Here are some answers to some of the most commonly asked questions about the best cities for weekend trips in Europe.
---
Final Thoughts: Best Places to Visit in Europe for a Weekend
Europe is the perfect place for weekend getaways. From the vibrant city of Lisbon to the picturesque town of Cork and finally, to the beautiful city of Zurich, there are many great places to visit in Europe for a weekend trip.
From beach resorts to mountain retreats, you can find something no matter your budget or destination preference.

Our travels have taken us to Greece, Italy, France, Spain, and other European countries. We've put this complete guide of the best quick getaways in Europe with other travel bloggers who have visited some of these destinations.
From all our travels, we've learned so much about what makes these places unique and special.

No matter where you go in Europe, there will be something exciting and interesting waiting for you.
Whether it's grabbing a bite from an unusual street food vendor in Lisbon or taking in the views from atop a mountain peak in Switzerland, you'll have an unforgettable experience.
So grab your passport and get ready for an amazing weekend!
More Articles to Help You Plan Your Weekend Trip to Europe: