If you are coming to Florence Italy for the first time you may find yourself overwhelmed by all your choices in terms of activities, sites, accommodations, and even neighborhoods.
Florence is so densely packed with historic monuments, cultural activities, and great food and drink that it is easy to get lost in it all and if you are visiting for the first time, it can be tricky to choose the best area in Florence to stay at.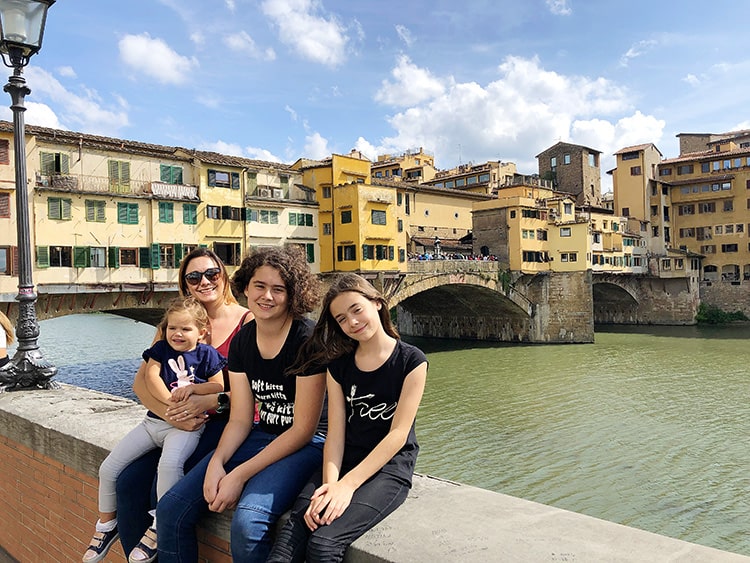 This post has been written by Louisa from Eating Around Italy. She has traveled to and lived in Florence for 15+ years, giving her expert knowledge of the city and its neighborhoods.
She has traveled as a student, tourist, and writer and now resides in Florence, so she has all the local insider info.
In this article, she shares her insights into how best to choose the right neighborhood for you while traveling in Florence. No matter your agenda, your time schedule, or your interests, there is a place for you.
She will cover the best areas to stay in Florence for first-time travelers, the pros of each one, what to see, and her top recommendations for places to stay in Florence.
Best Area to Stay in Florence for First-Time Visitors
Florence is one of the best European cities to visit. It is a cultural and historical marvel, bursting with magnificent art and architecture.
Whether you are visiting Florence on a European weekend trip or for a longer stay, it is important to choose the right neighborhood to stay in.
So with that in mind, let's look at the best places to stay in Florence.
1. Centro Storico or Historic District (Close to Ponte Vecchio, The Duomo & Uffizi Gallery)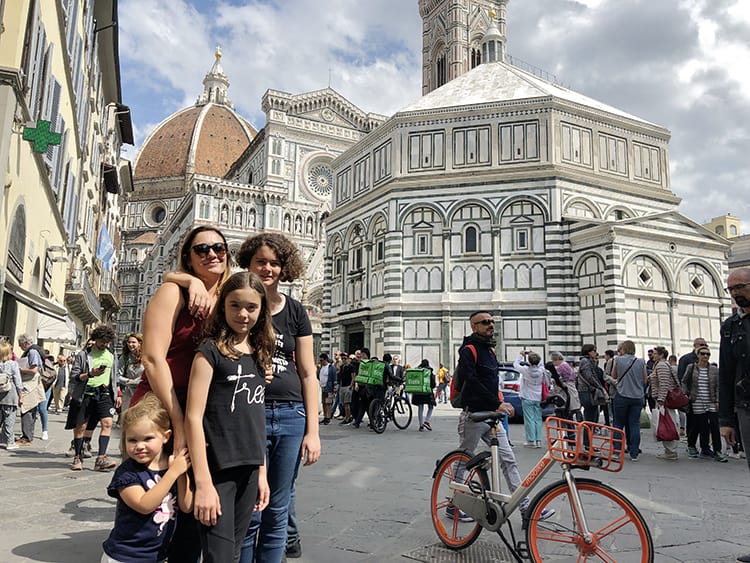 Location in Florence: Right in the center of Florence where all the main attractions are.
Best For: It is the best neighbourhood for tourists who have a short amount of time in Florence and art lovers who want to be closest to the grandest tourist attractions, monuments, and sites of the city.
Attractions and Sights Close by: Ponte Vecchio, The Duomo, Uffizi Gallery, Palazzo Vecchio, Bargello Museum, Piazza della Repubblica, Basilica di San Lorenzo.
Don't Miss: The Firenze Card, a multi-museum and site pass valid for 72 hours granting you access to many of Florence's most popular tourist attractions.
If this is your first time in Florence and you are an art enthusiast or you have limited time, you will want to stay in the historical center known as centro storico.
This is where the most famous and iconic monuments, art museums, and Renaissance sites are located, all within a short walking distance from each other.
Here you will find Florence's most famous Cathedral, the Cattedrale di Santa Maria del Fiore.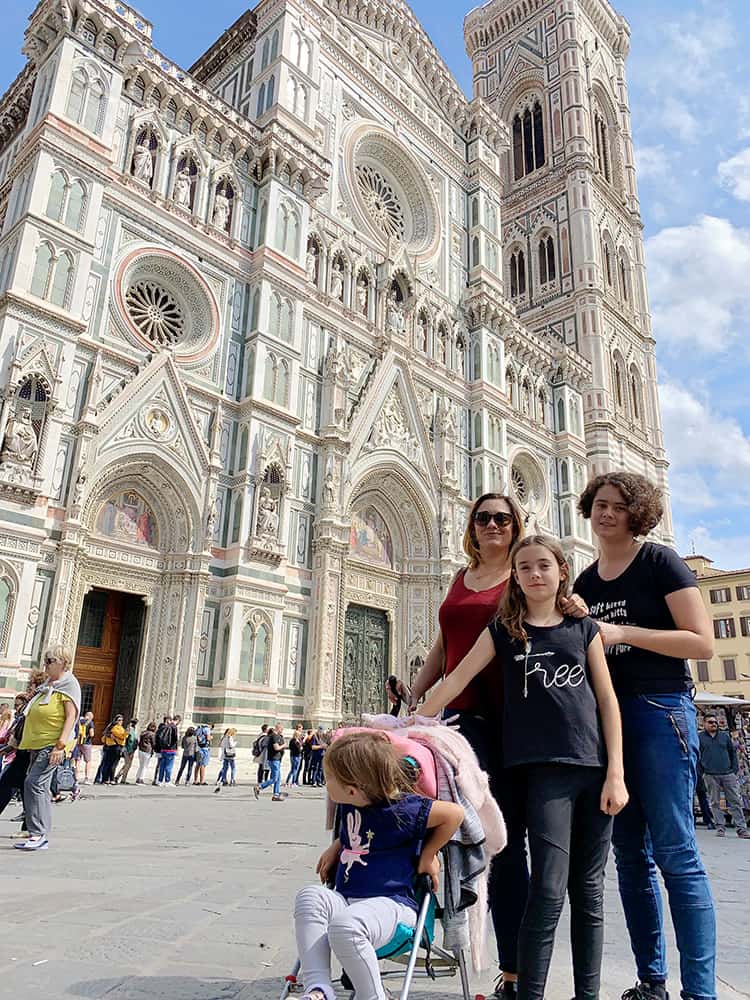 The whole Duomo complex, including the Baptistry of St. John, the Museo dell'Opera del Duomo, and Giotto's bell tower are stunning sights that deserve at least half a day to visit.
The best way to experience this complex is on a tour. Buy your spot on this popular skip-the-line group tour here.
Just a short walk away, you will come to Piazza della Repubblica, marked by a carousel, and Piazza della Signoria, home to many iconic sculptures including the Fountain of Neptune, La Loggia dei Lanzi and Palazzo Vecchio (head up the tower with stunning panoramic views of the Florence Cathedral), the town hall.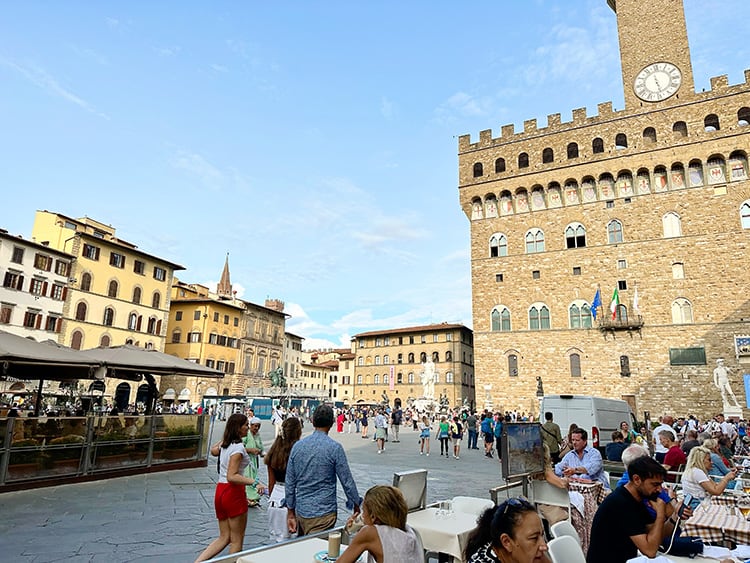 The Uffizi Gallery is located here as well, another Florentine sight that deserves at least another half day. Make sure to purchase the skip-the-line entry ticket online here. There is an amazing view of the Ponte Vecchio from the upper level.
Other famous sites are the Ponte Vecchio, The Galleria dell'Accademia (home to Michelangelo's David), and the Bargello National Museum (sculpture museum).
Tip: If you want to see Michelangelo's David, make sure you purchase your skip-the-line entrance tickets online here.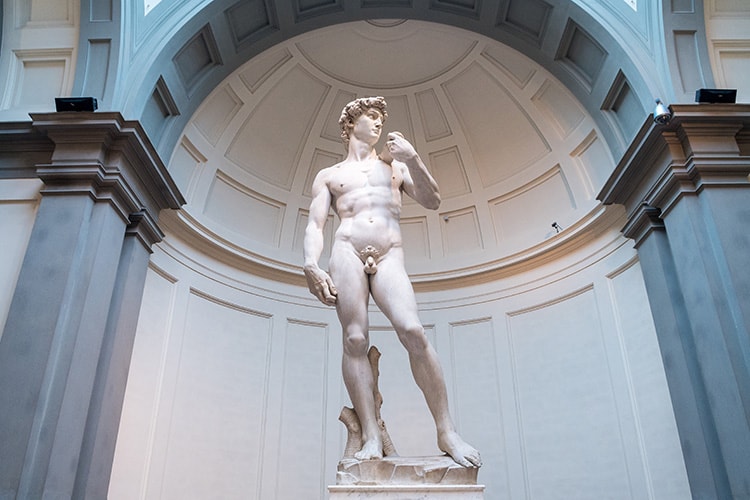 All you could ever want to do in Florence is just at arms reach, making it the best neighborhood to stay in Florence for anyone with less time on their hands.
Although flooded with mass tourism on the main drags (Via dè Tornabuoni), Via dei Calzaiuoli, Via Roma, and Ponte Vecchio), the small side streets interlinking the historic district are a great refuge from the sun and the crowds.
Filled with authentic small shops, hotels, bars, food windows, and restaurants, these streets are where you want to be after you have walked the most popular streets once.
– Why This Area is Ideal for Your First Trip: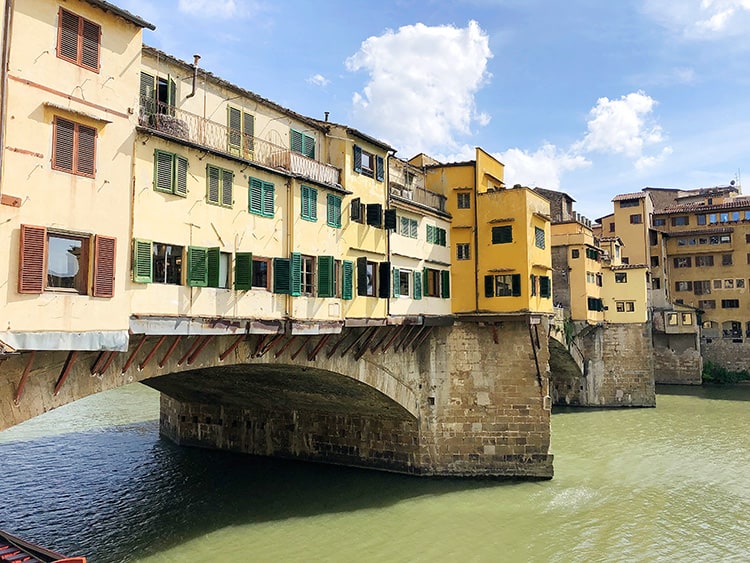 The area in Florence most densely packed with iconic monuments and sights
Easy to navigate and top attractions in one small area
Best mainstream shopping (Via dei Calzaiuoli), haute couture shopping (Via dè Tornabuoni), and gold and jewelry (Ponte Vecchio)
Best opportunity to climb up and see the city from above (Duomo, Giotto's Bell Tower, Rinascente Terrace, Uffizi cafe, Palazzo Vecchio).
Lots of tours for you to join, from cooking classes in Florence, to walking tours, and wine tours to Tuscany from Florence – it's all here!
– Best Hotels to Stay in the Historic District: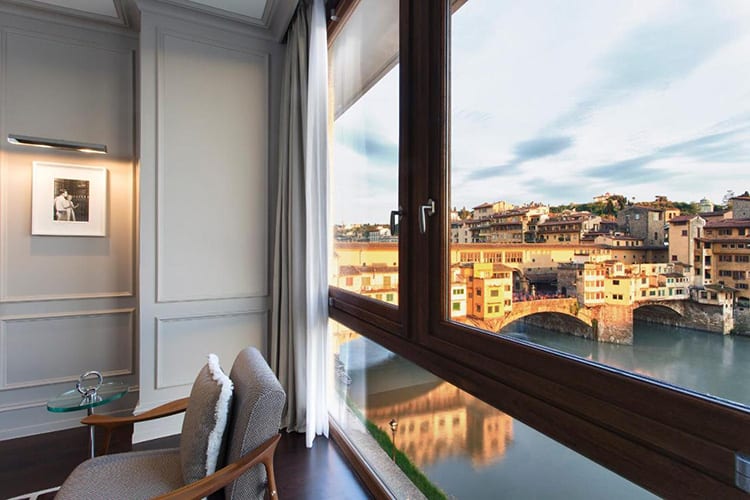 Luxury: Portrait Firenze – with rooms overlooking the Ponte Vecchio and a beautiful terrace along the river, this is one of Florence's finest luxury hotel experiences offering a variety of room options including a rooftop suite and impeccable amenities. Check prices here.
Mid-Range: Antica Torre Hotel – centrally located, this boutique hotel has its own bar and restaurant, making it easy to chill out and relax in the evenings without compromising quality. Check prices here.
Budget: Martelli 6 Suite & Apartments – This hotel/apartment rental is wonderful and offers different booking options. Some rooms have a small kitchen and others a spacious living area. Located near Mercato Centrale, close to Duomo, it offers comfortable accommodations for budget travelers. Check Prices here.
Families: Hotel Croce Di Malta – strategically located close to the train station, this hotel is perfect for families. Included in your stay is an on-site swimming pool and outdoor garden, ideal for relaxing with children. Check prices here.
---
2. Santo Spirito (Quiet area close to Palazzo Pitti & Boboli Gardens)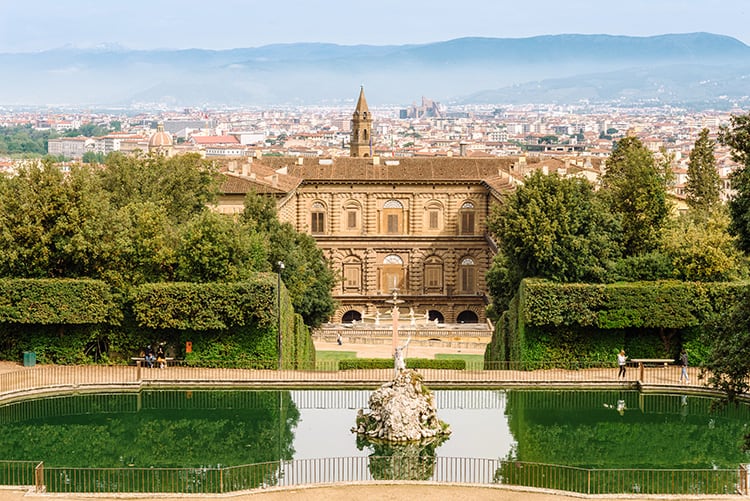 Location in Florence: Walk across the Ponte Vecchio from the historic center to find this neighborhood. Walking distance to all the main attractions.
Best For: This area is a good choice for artists or visitors who are looking to stay in a local neighborhood and love good food, drink, and nightlife.
Attractions and Sights Close by: Palazzo Pitti, Boboli Gardens, Bardini Gardens, Piazza Santo Spirito and its Basilica, Natural History Museum, Santa Felicità Church.
Don't Miss: Piazza della Passera for great gelato, bars, and small, authentic restaurants.
Santo Spirito has the best of both worlds: it's full of cultural activities and sites to visit yet still centered upon authentic Florentine life.
Located literally just over Ponte Vecchio, the Santo Spirito neighborhood is already much more quiet and cool than the city center with small streets creating plenty of shade and local residents tending to their own day-by-day business.
The most popular area Oltrarno is Piazza Santo Spirito, marked by a simple yet elegant church and many bars, restaurants, and cafes.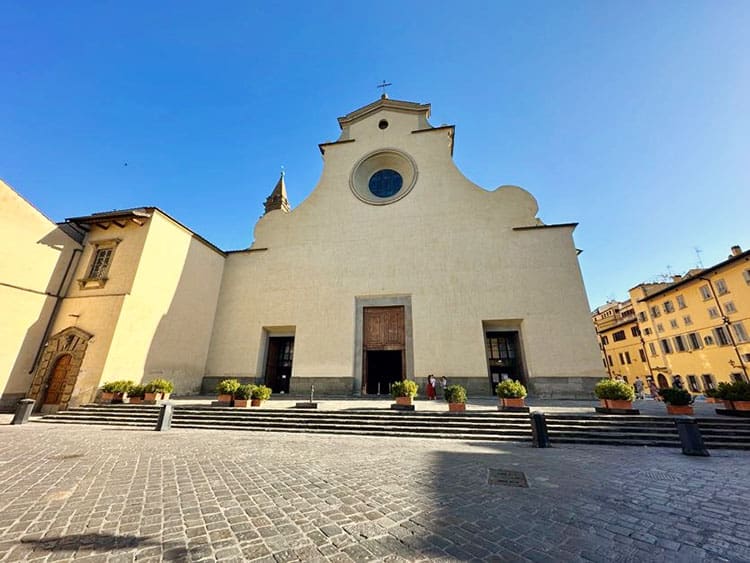 There is always a different market on the schedule in the square with vendors selling home goods, textiles, fruits and vegetables, antiques, and vintage clothing.
You can spend a whole evening in this square, popping in and out of cafes for aperitivi, coffee, and small bites, side-by-side with students, artists, and locals.
While very quiet in the day, Santo Spirito picks up quite a bit at night, bringing out various crowds of all ages.
Starting at around 7:00 p.m., locals start to pour out of their offices and into the square to meet friends before supper.
A great way to experience the night vibe is by booking this early evening food and wine tour in the Oltrarno neighborhood.
And it doesn't stop there: life in the piazza goes on well into the night, especially on the weekends.
Other things in this area you should see are Palazzo Pitti and the Boboli Gardens.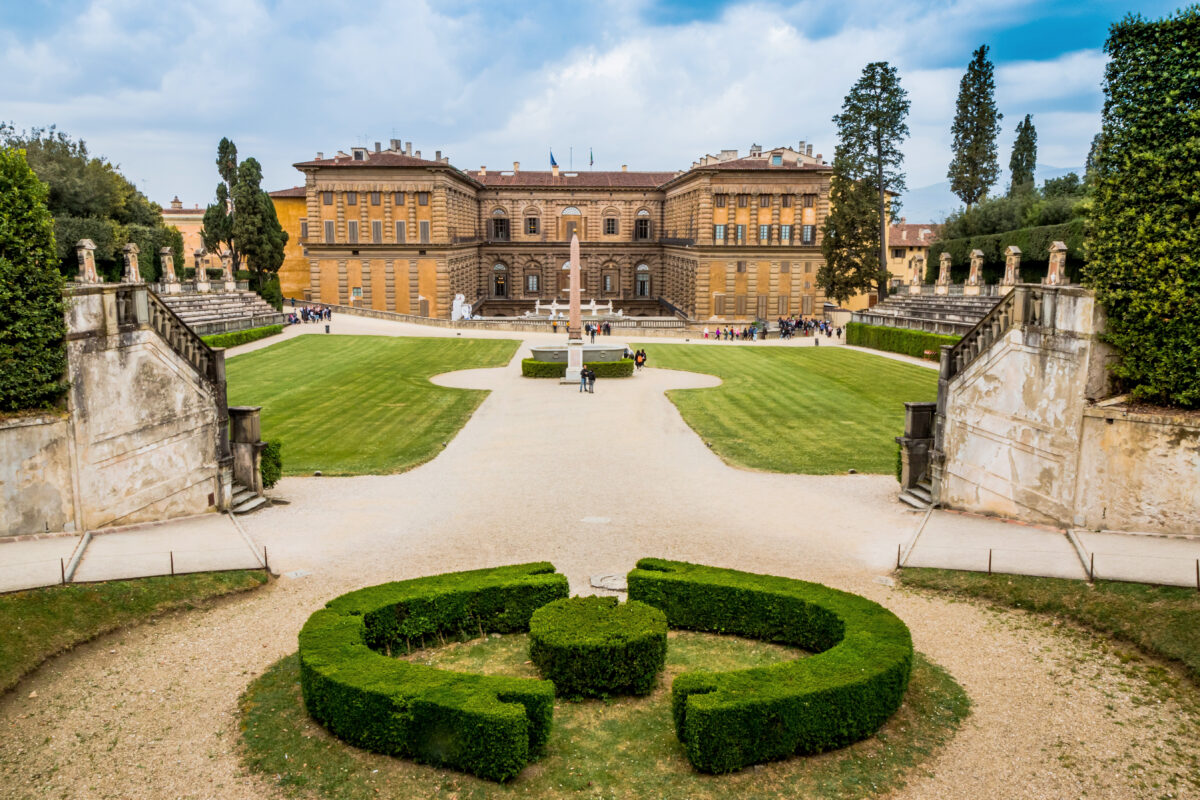 The best way to experience the Palazzo Pitti is by booking this skip-the-line guided tour of the Palatine Gallery in the Pitti Palace. Another alternative if you wish to visit both the Pitti Palace and Boboli Gardens is to purchase this combined Boboli Garden & Palatina Gallery Guided Tour.
Just down the road from Palazzo Pitti, the vibe quickly changes from souvenir shops, touristy storefronts, and bars to narrow, cobblestone streets filled with artisans and workshops.
– Why Santo Spirito is Ideal for Your First Trip:
Santo Spirito is one of the neighborhoods where the locals live in Florence, creating an authentic experience
Full of artists and workshops
A great shopping experience in small, one-of-a-kind stores in small streets between Palazzo Pitti and Piazza Santo Spirito.
Amazing restaurants, gelato, pastry shops, bars and fun nightlife
– Best Hotels to Stay in Santo Spirito: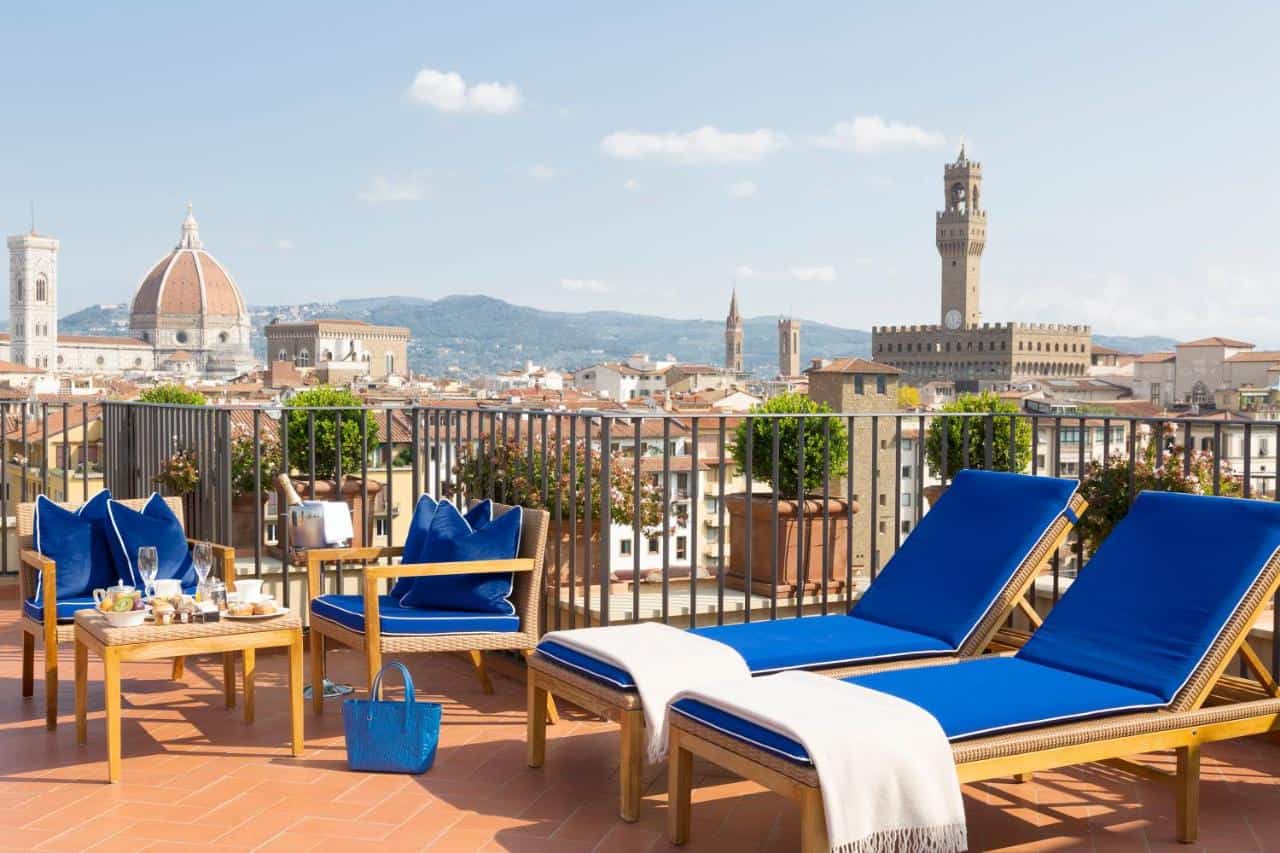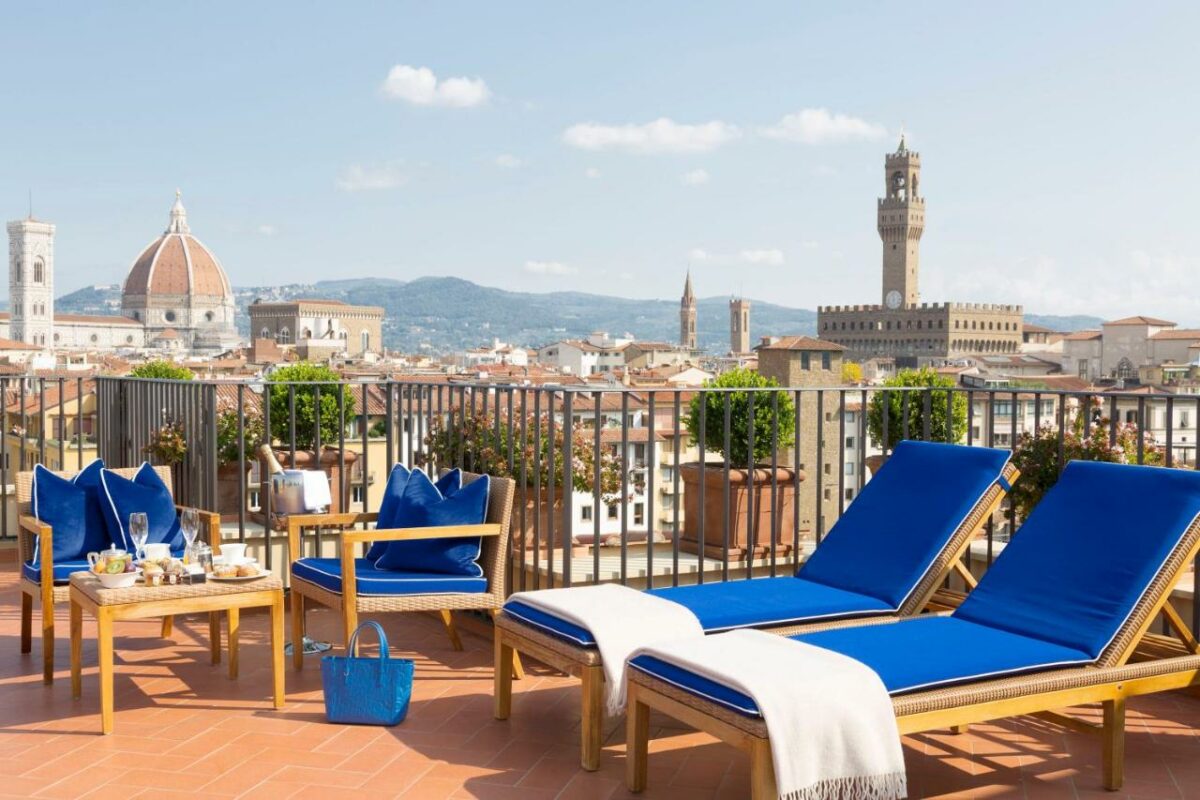 Luxury: Hotel Lungarno – located just a few steps from Ponte Vecchio along the Arno River, this hotel has all you want, including an amazing restaurant and outdoor terrace. Step out your door and you are on one of the best streets for eating and drinking. Check prices here.
Mid-Range: SoprArno Suites – This boutique accommodation offers stunning rooms with great attention to detail. If you are looking for a one-of-a-kind experience, book here. Check prices here.
Families: Medici Soderini – Located right on the Arno River, this hotel offers comfort in a prime location close to Ponte Vecchio, Palazzo Pitti, and Santo Spirito at just the right price for families. Check prices here.
---
3. Santa Croce (Family area close to Sant'Ambrogio Market)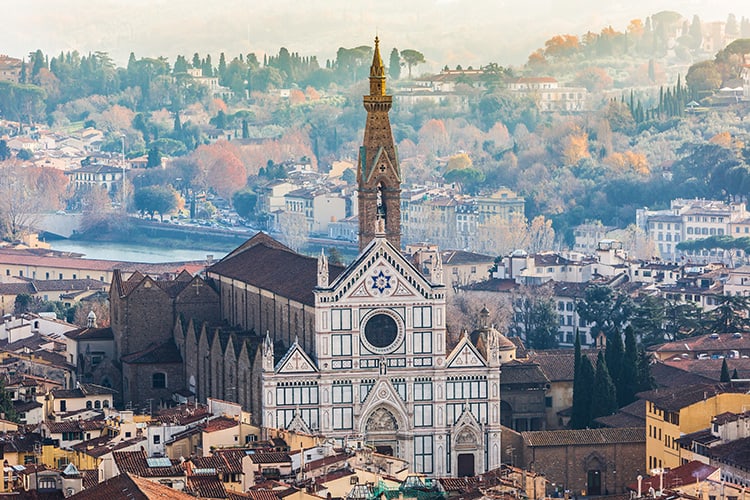 Location in Florence: This neighborhood is right next to the historic center – a short 10-minute walk will get you to all the main tourist attractions in Florence.
Best For: Families looking for a safe area with authentic vibes and fewer crowds.
Attractions and Sights Close by: Sant'Ambrogio Market, Pazzi Chapel, Basilica Sant'Ambrogio, and Santa Croce Church.
Don't Miss: Giardino di Borgo Allegri and Piazza Massimo D'Azeglio parks for kids. Check out Biblioteca delle Oblate (library) for an air-conditioned kid's section and a rooftop bar with a view of the Duomo.
The Santa Croce neighborhood is very centrally located, close to the historic center, yet with a very family-friendly vibe full of quant squares and small roads with limited access to cars.
The district is littered with small sandwich shops, bakeries, cafes, and bars, all of which are flooded with students and locals alike, making it a wonderful Florence neighborhood to explore.
The Basilica of Santa Croce is the main tourist attraction within this area, followed by the Pazzi Chapel and the open-air market of Sant'Ambrogio.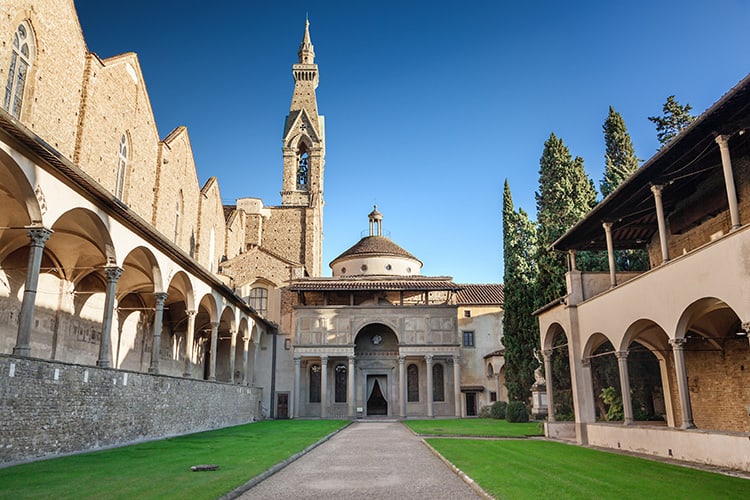 The Church is one of the most important in Florence, including the crypt with Michelangelo, Galileo Galilei, and Macchiavelli at rest and a cooling cloister.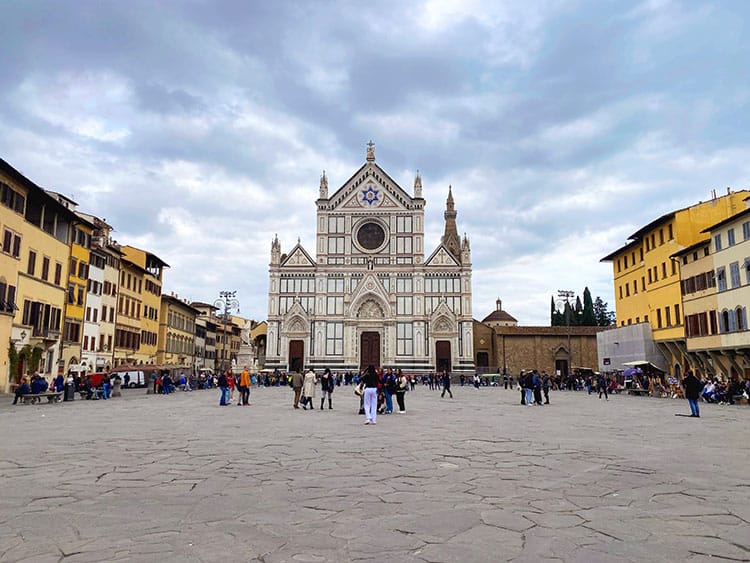 Inside, the church is elaborately decorated with gold, detailed frescos, and important sculptures. Enrich your visit by booking this guided tour of the Santa Croce Church (includes a tour of Santa Croce Square and the church's interior, crypt, and cemetery).
Just around the corner from the Church, several artisans have their workshops restoring furniture and antiques which they then sell to locals and at markets such as the Mercato delle Pulci, right next to the Sant'Ambrogio open-air market.
The market of Sant'Ambrogio beats with life as locals do their grocery shopping every morning Monday-Saturday.
Good to know: Because this market caters to the Florentine residents, every vendor is extremely reliable with reasonable prices.
Spend a whole morning browsing food items, baked goods, and local specialties, all the while snacking on Italian specialties such as schiacciata, taralli, and seasonal fruits.
Not sure where to start with tasting local foods? I recommend you book this street food in Sant'Ambrogio market tour. They know where the best food, snacks, and drinks are located in the market.
No matter the square you are in or what street you find yourself on, you are bound to run into authentic cafes, restaurants, and bars, making Sant'Ambrogio the best area in Florence to stay for those who love food and to socialize at restaurants.
For great people-watching, grab a table at Cibreo or Gila outside of Sant'Ambrogio or choose one of the cafes outside the large, open square of Santa Croce.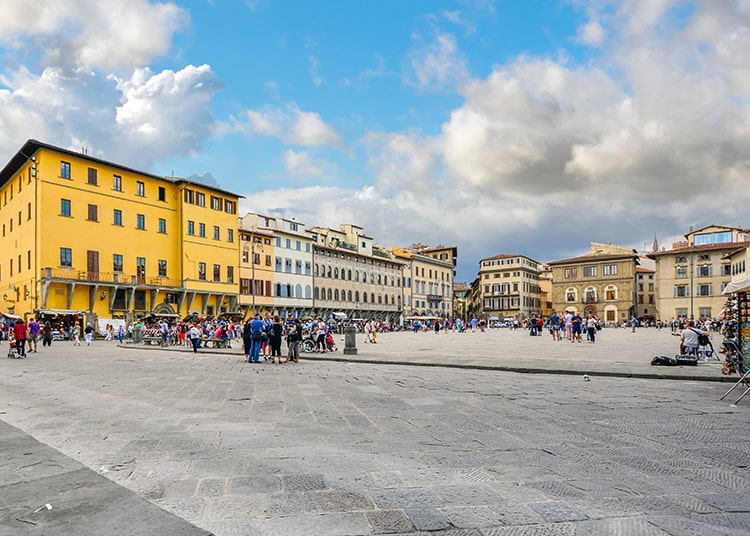 Tip: Grand squares such as Santa Croce are perfect for families with children because as you sit and enjoy a coffee, the kids can run freely and play in the square without worrying about cars (note there are some exceptions such as trash vehicles, police, etc. with the main road running parallel to the church facade).
– Why Santa Croce is Ideal for Your First Trip:
Very family-oriented neighborhood with parks and markets close by.
A short 10-minute walk from the historic city center with main tourist attractions.
Away from tourist traps and massive crowds.
Close to the Viale (the main traffic ring around the city center) with a bike path to follow all the way around the city and along the Arno River.
Lots of great cafes and bars on limited-traffic roads (Borgo la Croce, Piazza dei Ciompi, Sant'Ambrogio).
Great antique and souvenir shopping from the antique market Mercato delle Pulci and Sant'Ambrogio outdoor market.
– Best Hotels to Stay in Santa Croce:
Mid-Range: Plaza Hotel Lucchesi – this hotel is centrally located with a bar, restaurant, and roof-top pool! The rooms are elegant with a clean style. Because this hotel has a dinner and bar option, it's best for those who like to stay in after a long day and turn in early. Check prices here.
Budget: Boutique Hotel La Casa di Morfeo – this boutique hotel sets itself apart by its rooms, decorated and designed to increase balance and harmony. Located on one of Florence's most authentic roads in this area, you won't have to go far to find some of the best local restaurants and bars. Check Prices here.
Families: La Maison du Sage – with spacious rooms and beautiful views of Santa Croce, you can't find a better hotel for families in such a convenient location. This hotel offers several suite options for large families with rooms for up to five guests. Check prices here.
---
4. San Niccolò (Small neighborhood on the way to Piazzale Michelangelo and Fortezza)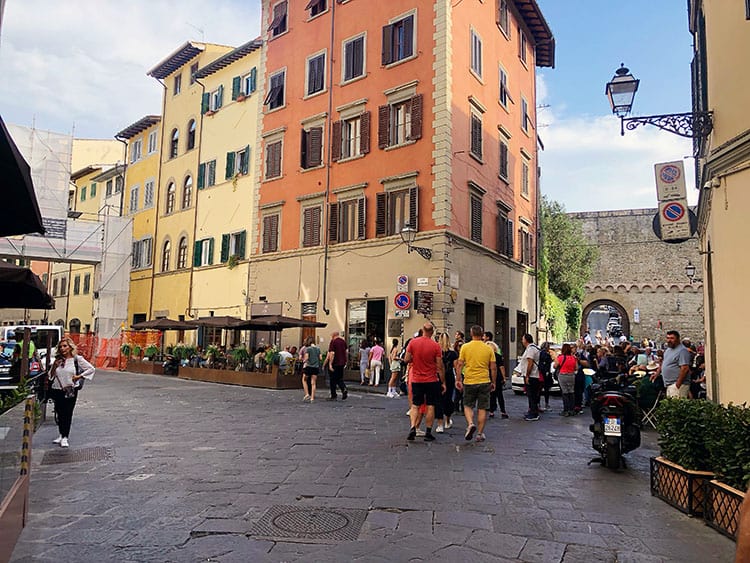 Location in Florence: Just a short 10-minute walk from Ponte Vecchio.
Best For: Nature lovers and other travelers who like to be surrounded by green areas, away from the busiest tourist areas.
Attractions and Sights Close by: Bardini Museum and Gardens, Fortezza, Piazzale Michelangelo, San Miniato a Monte, Torre di San Niccolò, Rose Garden, and Iris Garden.
Don't Miss: Enoteca Fuori Porta, famous for its crostone, large slices of bread topped with whatever cheese, meats, and vegetables you like and broiled until crisp and melted, and extensive wine list.
Located in Oltrarno, just a short 10-minute walk from Ponte Vecchio, San Niccolò is perhaps one of the cutest and best neighborhoods to stay in Florence.
Although quite small, San Niccolò is buzzing with life no matter what time of day.
The morning is a hustle and bustle of locals trying to get out the door for their standing breakfast at one of the bars while the evening brings out the lively locals.
Look up and you will see nonne hanging their laundry and students peeking out from small windows as they catch a breath of fresh air.
Tourists trickle in throughout the day in search of authentic eats or to enjoy the small artisan galleries.
Many tourists venture into this neighborhood because you can get some wonderful views over Florence city from here. One favorite spot to get some views is at the Bardini Gardens.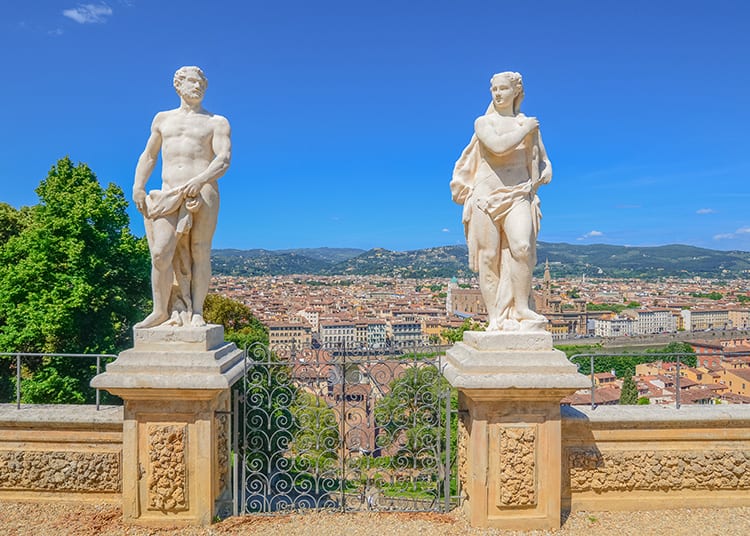 Another popular photo spot is at the Rose Garden, where you can get a wonderful photo of the roses and the Florence Cathedral.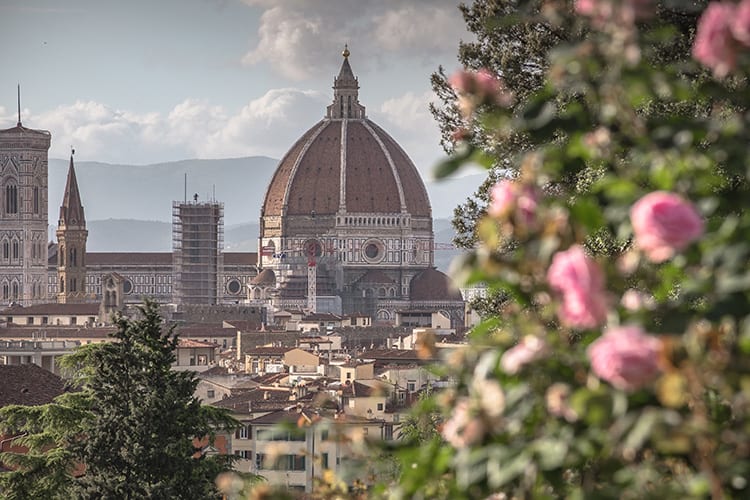 The heart of San Niccolò is at the intersection of three cobblestoned crossroads, opening into a small square lined with wine bars, sandwich shops, restaurants, and cafes.
Other popular places in this neighborhood include Fortezza, San Miniato a Monte, Torre di San Niccolò, and the Iris Garden.
At sunset, follow the crowds to the terrace at Piazzale Michelangelo where you can get the best sunset views of the city.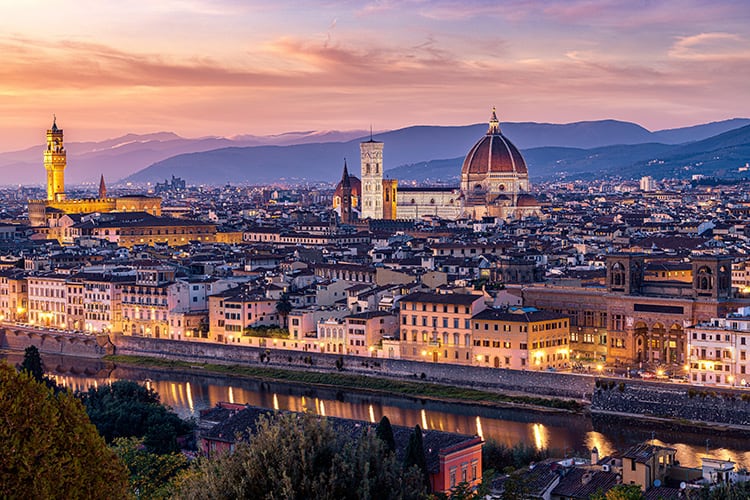 This is where you want to be if you want an intimate setting and a neighborhood that you can really get to know, even if you just have a couple of days.
It's much more quiet than other neighborhoods, making it perfect for folks who like to turn in early.
– Why San Niccolò is Ideal for Your First Trip:
Slightly off the beaten track yet close enough to Ponte Vecchio and Oltrarno.
Unique neighborhood that is easy to navigate and feel comfortable and safe in.
Full of small artisan shops, artists, and authentic little nooks for aperitivo and light lunches.
– Best Hotels to Stay in San Niccolò: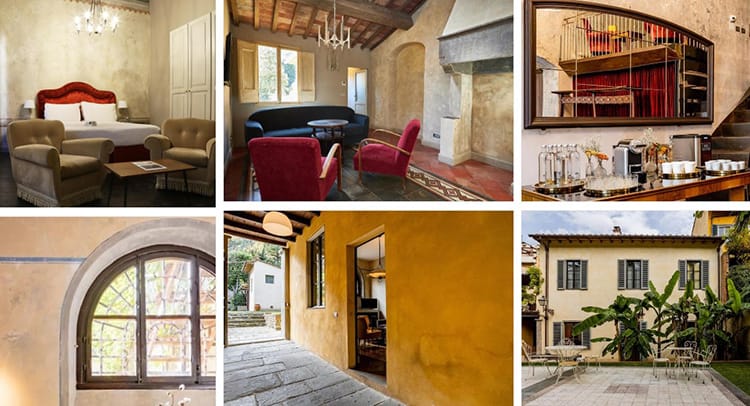 Mid-Range: Palazzo San Niccolò – Luxury in the center of this cute neighborhood is ideal for travelers who enjoy comfort with authenticity at your fingertips. Close to many authentic restaurants just outside the entrance. Check prices here.
Budget: Hotel Silla – This hotel is located right on the Arno River in a beautiful 16th-century building. Each stay includes a large buffet breakfast and access to their rooftop bar, famous for their cocktails. Check prices here.
Families: FourdArno Bed & Breakfast – these clean-cut, simple yet beautifully lit rooms are best for families. Located between the center of San Niccolò and Ponte Vecchio! Check prices here.
---
5. San Frediano (Cool residential area free of tourists)
Location in Florence: About a 15-minute walk from Ponte Vecchio.
Best For: Visitors who are looking for a unique and cool local neighborhood, literally untouched by tourism.
Attractions and Sights Close by: Cappella Brancacci, Chiesa di Santa Maria del Carmina (Piazza del Carmine), Piazza Tasso, Chiesa di Santa Monica (church)
Don't Miss: Borgo San Frediano, famous for being one of the coolest and hippest streets in Florence
San Frediano is a step beyond Santo Spirito in Florence in terms of authenticity and locals.
Being a bit further out, about a 15-minute walk from Ponte Vecchio, the distance keeps most tourists at bay, making San Frediano one of the best neighborhoods in Florence.
This is really one of the residential neighborhoods of Florence with a lot of cool artisan workshops, studios, and storefronts.
There really isn't space for tourist attractions or tourist traps. Rather, you will have to work overtime if you are looking for cultural attractions.
Come here and stay if you have a bit of extra time in Florence. It's very quiet in the evenings in terms of nightlife but has really cool restaurants.
Oozing with authentic Florentine trattorias, osterias, and bars, you will also come across some international flair as well.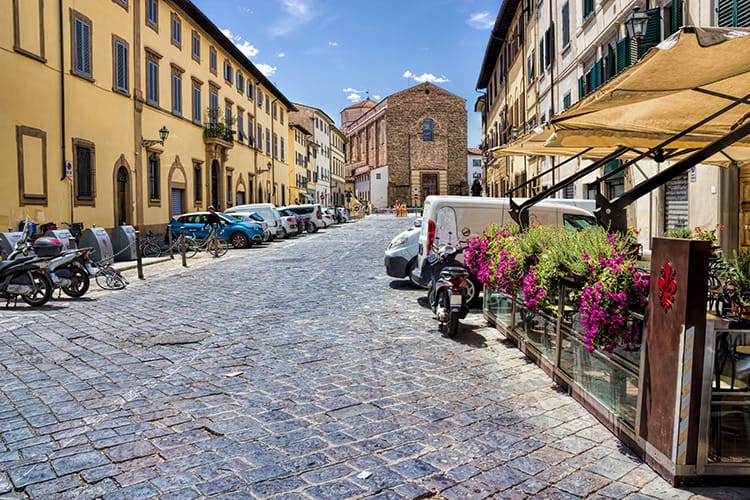 If you want pizza, they have it, street food is easy to find and the bakeries are some of Florence's best-held secrets.
If you are in the market for artisan shoes, leather goods, handmade paper, or other treasures, look no further.
Most noted in San Frediano is the church of Santa Maria del Carmine in Piazza del Carmine, famous for some of Florence's most beloved frescoes by Masaccio e Filippo Lippi.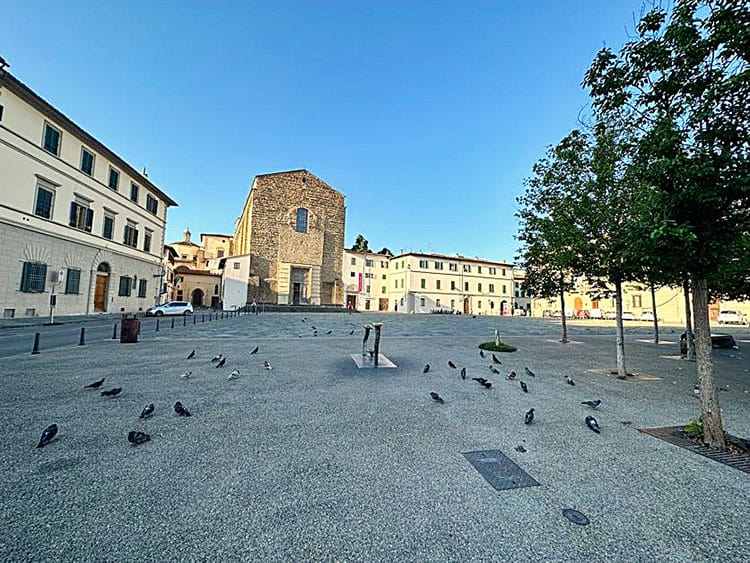 This is one of the city's most beautiful undiscovered tourist attractions, just another reason San Frediano is one of the best places to stay in Florence.
– Why San Frediano is Ideal for Your First Trip:
Coolest most undiscovered neighborhood in Florence
Every storefront, restaurant, bar, etc. is exceptional and authentic (no need to research restaurants because they will all be amazing)
Amazing spot to meet local Florentines
See artisans at work and check out antique shops
Lower prices compared to the city center
– Best Hotels to Stay in the San Frediano District:
Mid-Range: AdAstra – a family-run boutique B&B in an ancestral family mansion, overlooking Florence's most beautiful and largest private gardens of the Torrigiani family. Check prices here.
Budget: Soggiorno Alessandra – this hotel is very basic but it has all the necessities and amenities you need to enjoy yourself. Located close to the river and central train station, it's easy to get! Check prices here.
Families: Oltrarno 1881 Apartments – Choose this hotel for large families with various apartment options. Each room has its own small sofa and seating area. Some rooms even have a small cooking area, perfect for families who like to cook while traveling. Check prices here.
---
Final Thoughts On The Best Neighborhoods to Stay in Florence For First-Timers
Where to stay in Florence will be determined by your goals and interests.
After learning a bit more about what each area in Florence has to offer, it's much easier to choose where to stay in Florence.
If you want to spend most of your time knee-deep in art, choose places to stay in Florence within the historic center.
For authentic and more local vibes, check out the neighborhoods of Florence such as San Frediano and Santo Spirito.
For quiet evenings and an intimate setting, look into San Niccolò.
And finally, for larger families with children, stick to Santa Croce which is still close to the city center yet is buzzing with other children, fun markets, and parks.
Guest Blog Post By: Louisa Loring of EatingAroundItaly.com