Corfu is the perfect place to delve into a treasure trove of different vacation types, with everything from gorgeous garden scenery to idyllic beach atmospheres.
Also known as Kerkyra, this green slice of Greek oasis is a top holiday destination for travelers looking to experience the essence of Greece in full throttle.
Unsure what to do in Corfu? We'll guide you through the best adventures to add to your itinerary for an unforgettable epic summer family destination you'll cherish forever.
10 Top Things To Do In Corfu
Whether it's an exciting day trip or simply lounging in the sun on the island's best sandy havens, there's a tapestry of activities in Corfu waiting to be enjoyed.
Corfu Activities & Attractions
From stoic religious sites to vibrant villages, the intricate streets of Corfu have something for every kind of traveler.
Take a look at a few key places and activities to add to your itinerary:
1. Explore Corfu Old Town
With its stunning Venetian architecture and charming cobbled roads paved with historical significance, it's easy to see why this space is a UNESCO World Heritage Site.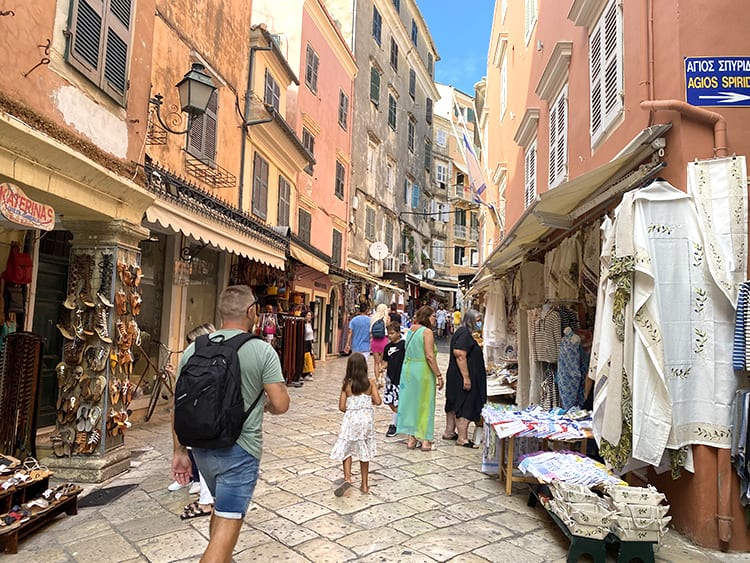 Also known as Kerkyra, Corfu Old Town is a wonderful space to explore the nooks and crannies of the simple pleasures of Greek island towns.
If you're looking for a picturesque city landscape and its surroundings, you'll enjoy the trip to the Old Fortress in Corfu.
We think this enchanting space is the best place to fully submerge yourself in views of the Ionian Sea around the island.
In these streets, you'll also find remnants of past lives dotted along the road by its wide variety of architectural styles while enjoying the best things to do on Corfu.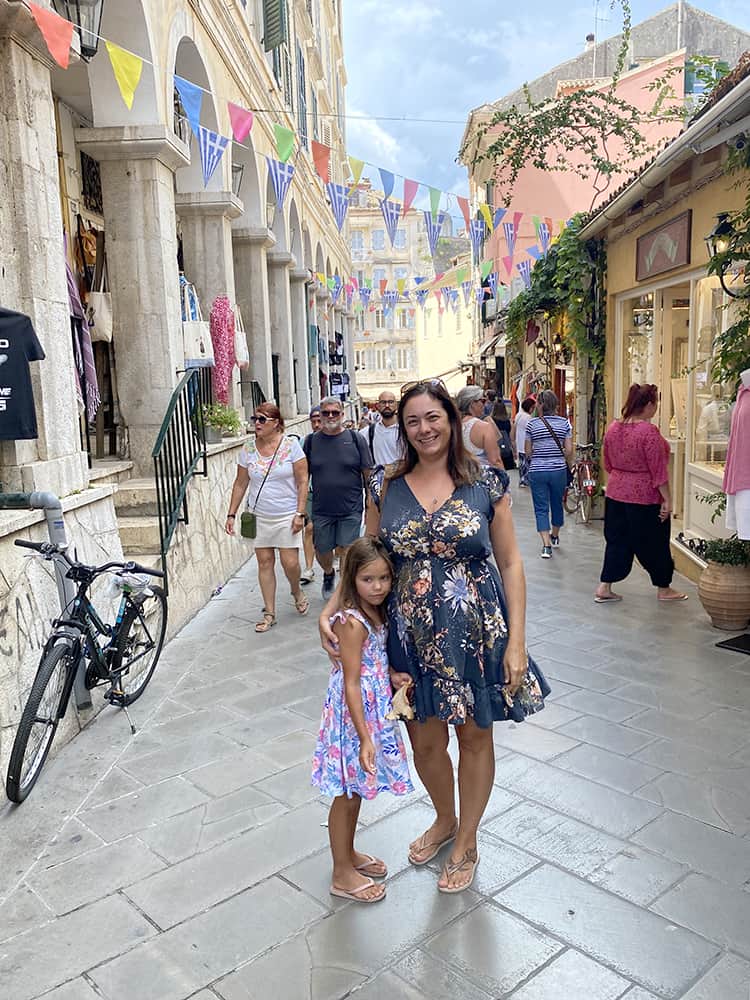 Music lovers will rejoice as the Old Fortress hosts a marvelous live jazz music experience that is sure to be a magical soundtrack to this Corfu adventure.
This hidden gem is the perfect opportunity to watch the day melt into the evening with the sound of waves and melodies wafting in the air. Click here to book your jazz experience in Corfu Old Town.
2. Go To Paleokastritsa Beach
Paleokastritsa Beach is one of the top places to visit in Corfu. Its sparkling sands and turquoise bays are embedded with a sense of mythical wonder and natural beauty.
How fitting for the country of mythology, right?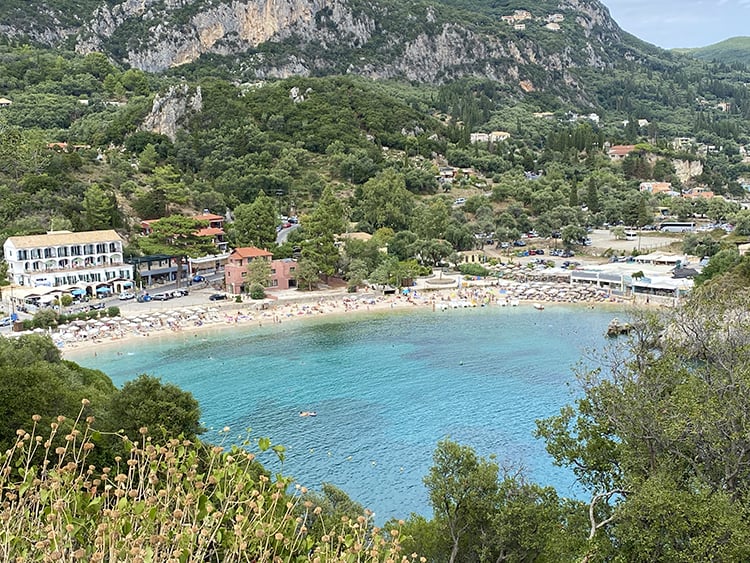 While Paleokastritsa's origin is famed for its historical significance, such as its ties to the city of Phaeacians, today you'll find a dynamic dose of hotels and beach bars.
Around these captivating cliffs, you'll also find a variety of water sports to indulge in if you're looking to dive into the adventurous side.
A popular activity is renting a paddle boat to tread the waters in style.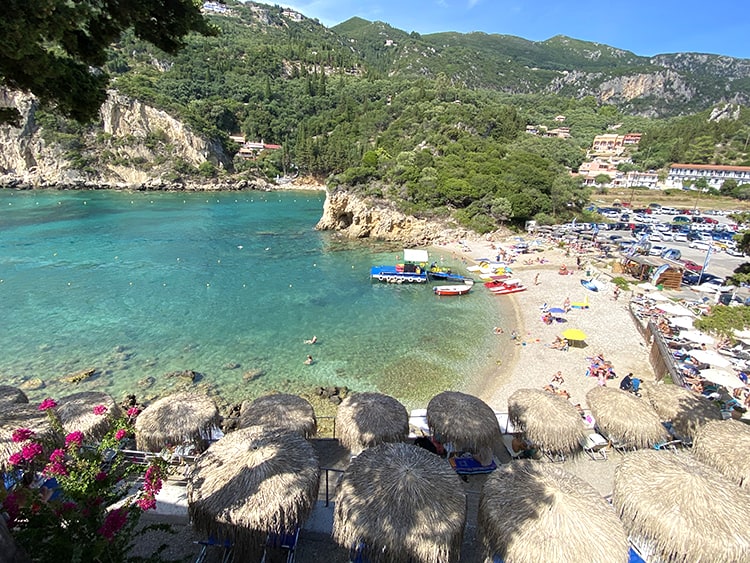 On this adventure, you'll be able to look at the crystal clear waters of this island with its surrounding green mountain scenery.
Read this list if you want more of the best beach places in Europe.
3. Visit The Monastery Paleokastritsa
With a blanket of green gardens and spectacular cliff scenery, the Monastery Paleokastritsa is a wonder to explore after a day at the nearby beach.
This holy building is dedicated to Panagia, also known as the Virgin Mary.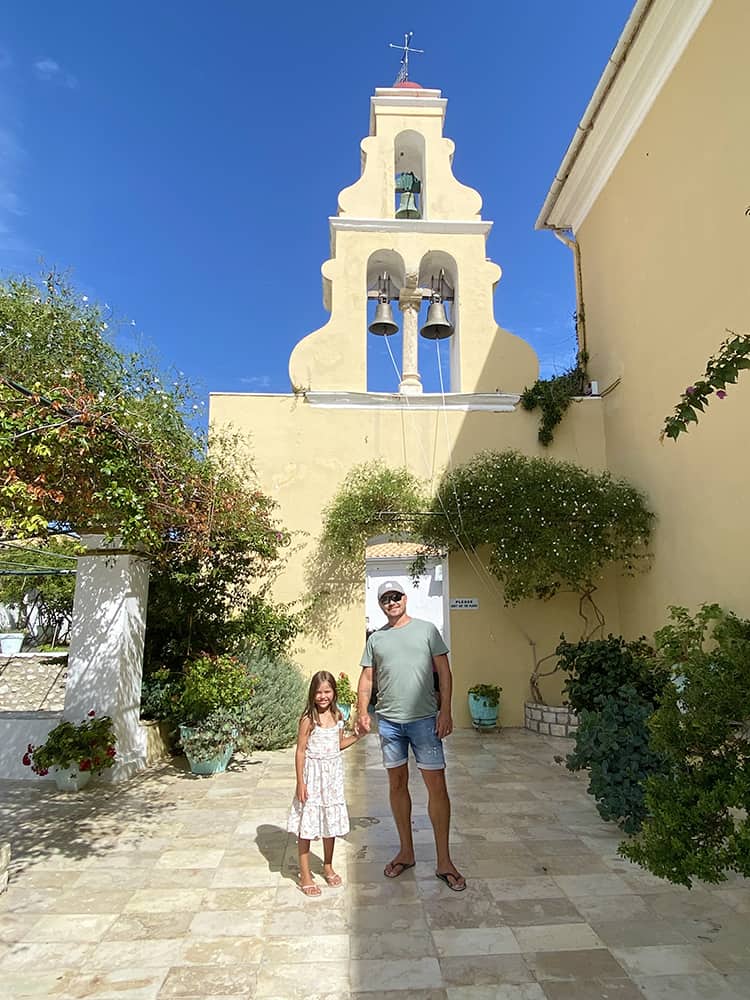 The trip on the road to the monastery is an exceptional sight. You'll trek through its steep trail and find a network of olive and Cypress trees to marvel at.
You'll also find a shop on the grounds that sells olive-infused products where you can purchase the ultimate souvenir of your travels.
The inner courtyard is a picturesque place to experience the effortless beauty Corfu is known for. It has colorful walls and striking bougainvillea which were an amazing sight to see.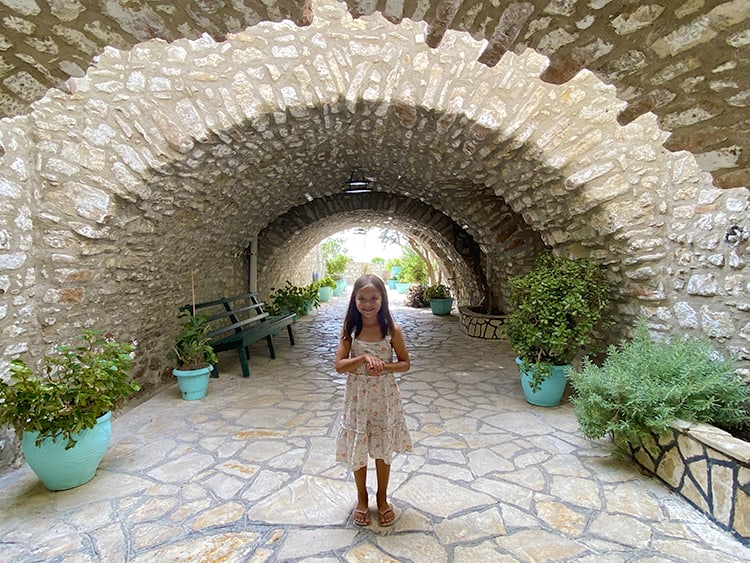 In this area, you'll be able to visit a tiny museum with a massive collection of religious artifacts and learn about this sacred space's history.
While this landmark does not have an entrance fee, you may leave donations at one of Corfu's best places if you wish.
Tip: The road to the monastery can be tricky to navigate as it's allocated for pedestrians and vehicles. So, be sure to be aware of your surroundings while huffing and puffing up this hill.
4. Absorb Porto Timoni Viewpoint And Beach
Porto Timoni Beach is a must-visit space, and not just because it looked like a beach scene straight out of our Greek island fantasies.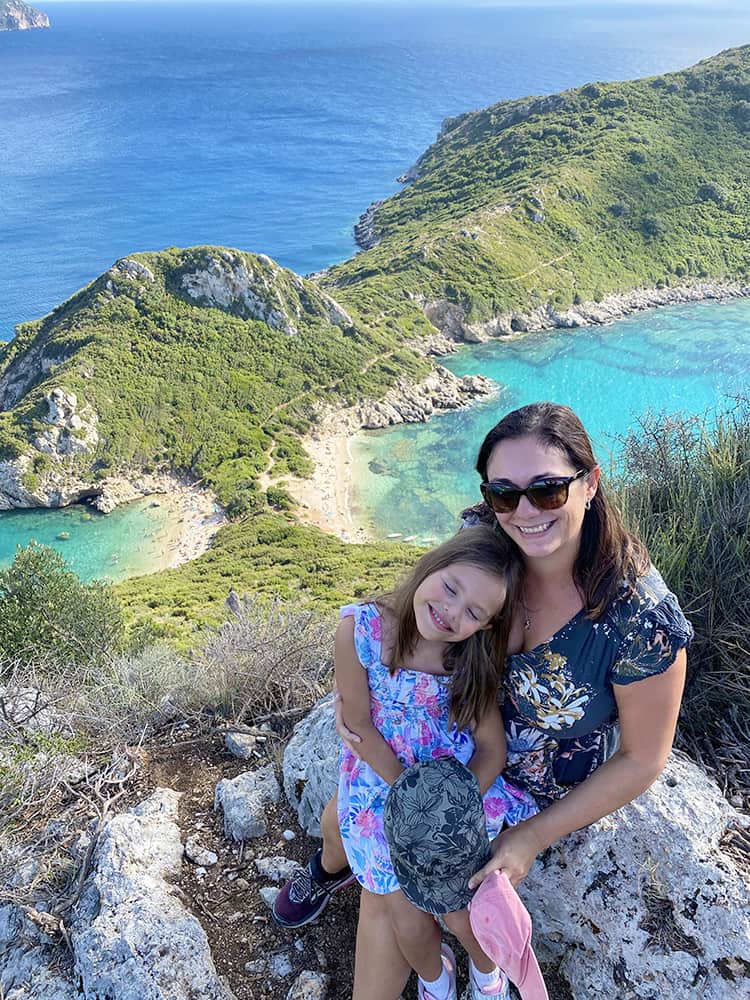 This is also where you'll be able to capture a picture that'll spark some real travel envy on social media.
With two tiny sand slivers in a blue lagoon of warm sea, you'll have to embark on a short hike to enjoy these natural pleasures.
There are two paths to get to this beach, and both take at least a half hour to complete (depending on fitness levels).
These trails, however, are known for their rocky and uneven conditions, so a good pair of walking shoes are needed to make the journey without blisters.
The viewpoint of Porto Timoni can be found on the second trail, usually marked with a red flag. This will lead you to the upper part of the mountainous terrain.
Here, you'll be able to capture sweeping swirls of color from its contrasting natural scenery (from golden sands to ever-green landscapes).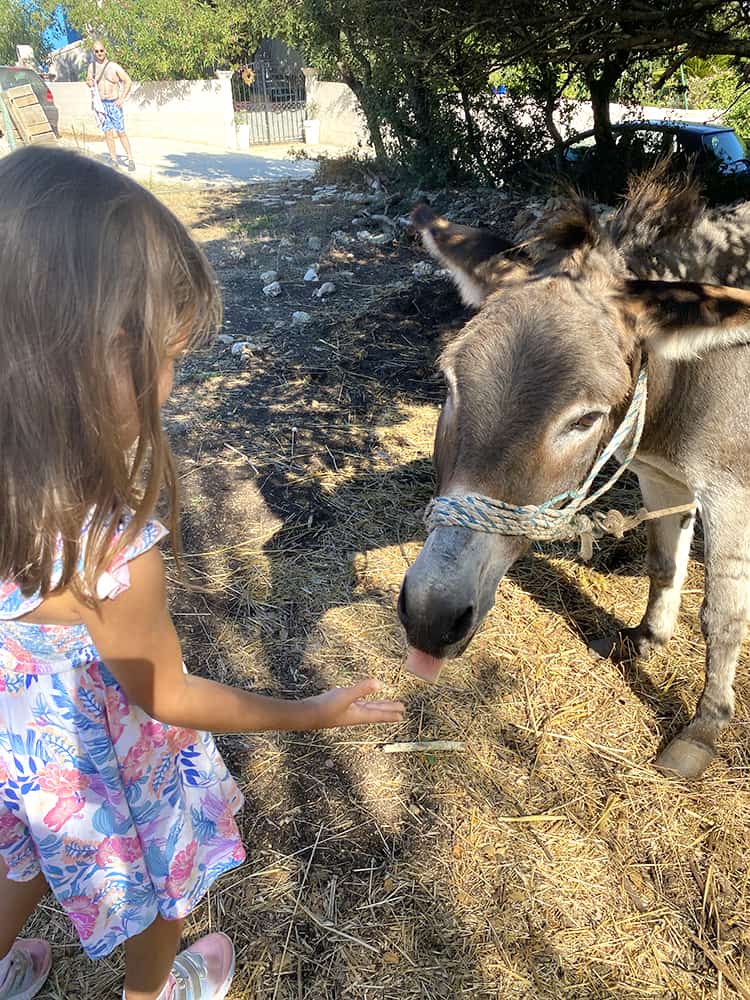 Be sure to pack in your necessary equipment, as this small space of sand does not have a shop to purchase any beach survival stock, such as sunscreen.
As the beauty of this remote beach is well-known, you'll have to try and secure a spot in the early morning before the afternoon rush kicks in.
5. Go To Vlacherna Monastery, Kanoni
A quaint religious space located in the middle of the sea near Kanoni, Vlacherna Monastery is a seemingly floating fortress constructed in the 17th century.
With a short walk on the pedestrian walkway attached to the mainland, you'll be able to enter the small church (no longer an active monastery).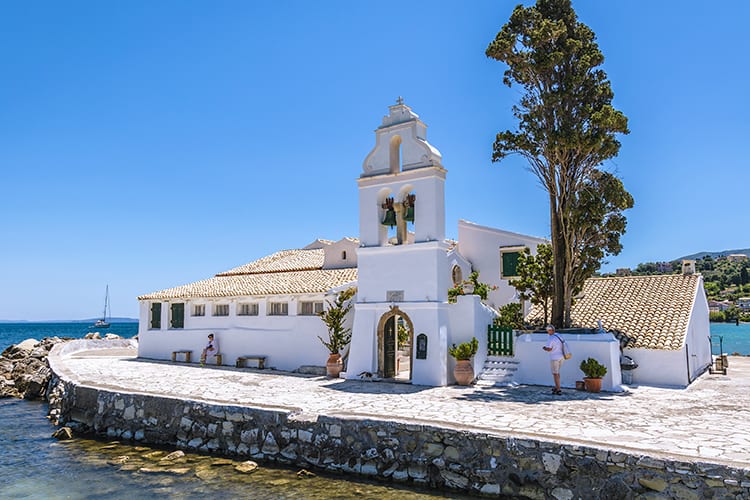 Vlacherna Monastery is also located near the Corfu Airport Ioannis Kapodistrias, so this excursion is the perfect adventure to take right before or after a plane ride.
With the solitude of a devout space and the flights taking off and landing nearby, you'll experience a fascinating contrasting scenery.
6. Walk On Bataria Beach
From the blue beach umbrellas to the soft crunch of pebbly sand beneath your feet, Bataria Beach is a beautiful place to visit for the quintessential Greek vacation experience.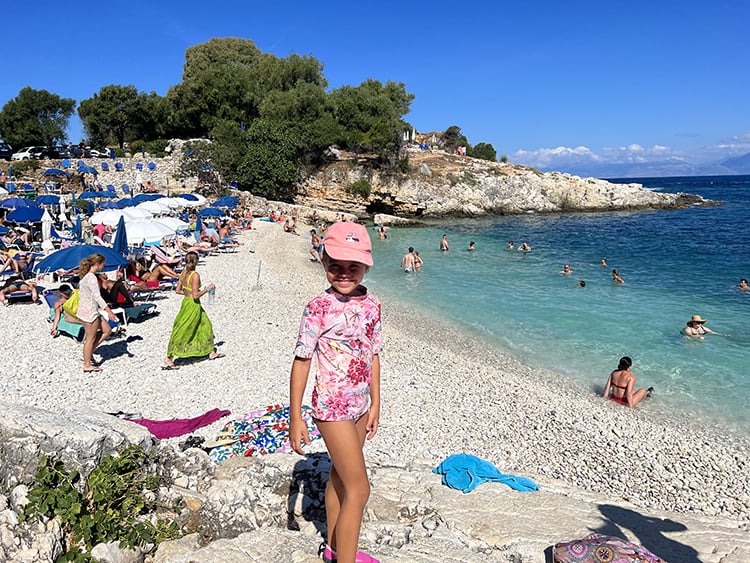 Another Corfu adventure near Kassiopi, this beach might be small, but it packs a punch in the tremendous terrains on view.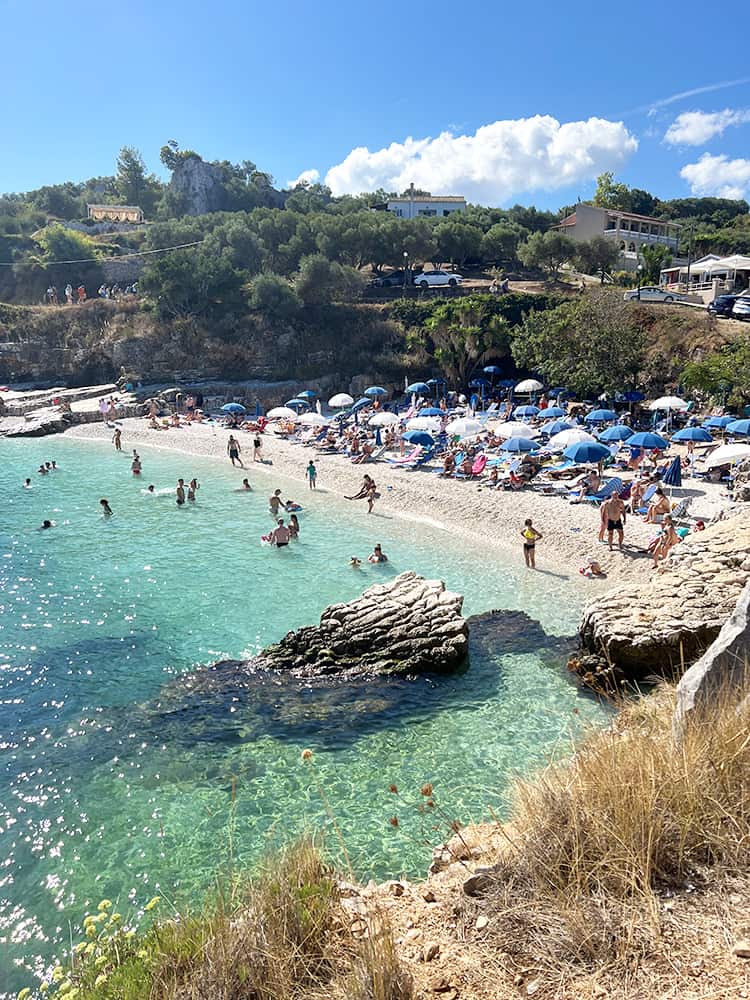 Many tourists find the sands of Bataria Beach quite uncomfortable to master due to their rocky texture. Still, you'll be able to rent sandals on the premises to ensure a comfortable walk or bring your own.
7. Venture On An Antipaxos And Paxos Day Trip
If Corfu doesn't fulfill your insatiable appetite for island life, a trip to the nearby islands of Antipaxos and Paxo is sure to leave you satisfied.
Antipaxos and Paxos both take about an hour and a half to get there by ferry from Corfut's well worth the hype due to the marvelous sea journey.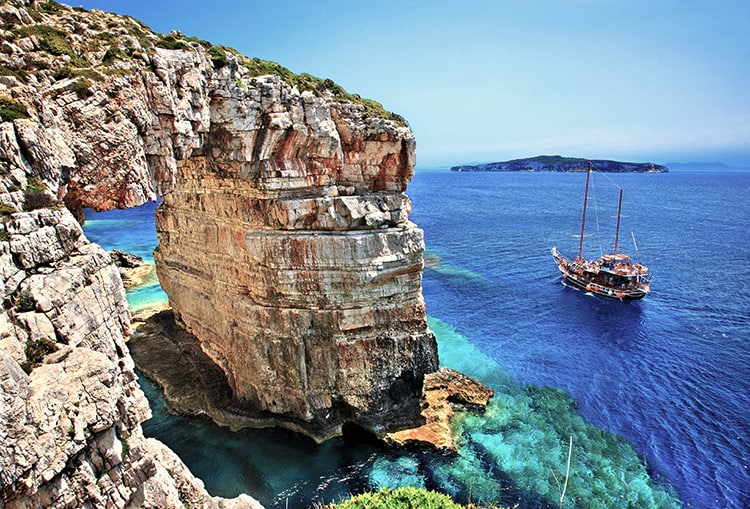 Paxos is a wonderful destination if you want to get away from the hustle and bustle of big Greek islands.
This island has a wide range of activities to experience, which includes the white-dusted chalk cliffs of Erimitis Beach.
While it might seem like a place where boats float in mid-air, the waters of Antipaxos are a liquid surface made to look into the mysteries of the ocean floor.
This is why this island is great to add to your itinerary. It's a spectacular spot if you wish to snorkel and dive your way through the shallows of a Greek island.
Tip: Antipaxos does not have any hotels in the vicinity, so be sure to book your return ticket well in advance to avoid spending the night on the beach.
8. Enjoy The Natural Phenomenon Of Canal d'Amour
Corfu has many beaches to enjoy, but Canal d'Amour offers a different experience from the rest due to its seemingly otherworldly features.
Its name translates to "Channel of Love" in French, which makes it a wonderful place to take a loved one.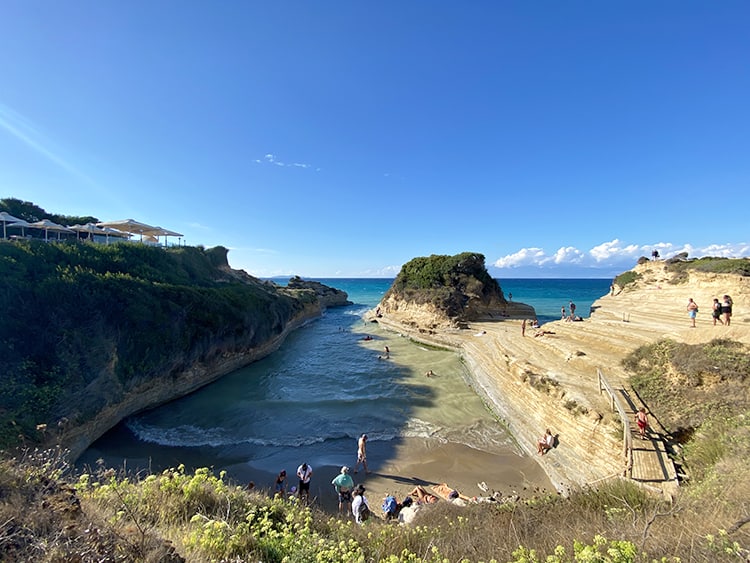 Legend states that lovers that embark on a swim in the canal will stay in love for the rest of their lives. So what better way to add a touch of eternity to a honeymoon trip?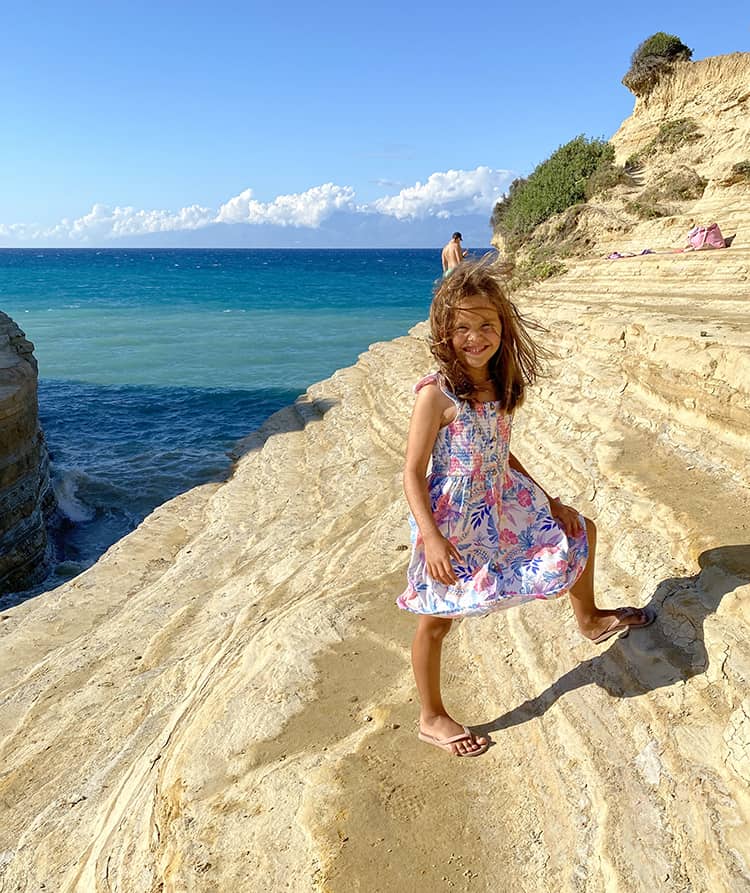 With a mix of green and blue waters surrounded by curved rock formations, this stunning spot is the ultimate space to enjoy the unfiltered beauty of what nature has to offer.
9. Spot Patterns In The Cape Drastis Cliffs
If you're looking to go cliff hunting, Cape Drastis and its wacky shapes and sizes will have you covered.
This exciting structure, however, is best visited in optimal weather conditions, as some factors might be unfavorable when traveling to these remote destinations.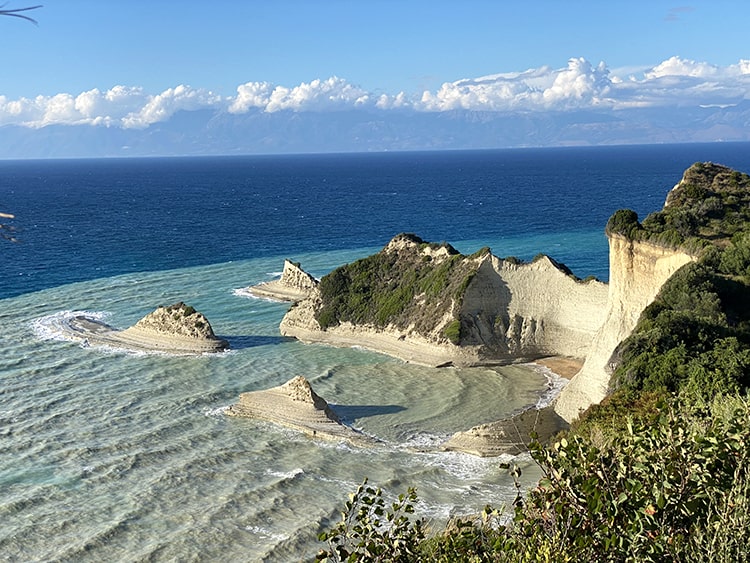 This includes wind trajectory (if you don't enjoy a mouthful of sand from the treacherous blows).
The structure's viewpoint is well worth the trip, as the height allows a well-rounded look at what captivating Corfu has to offer.
10. Visit The Garden Village – Afionas
A step away from the sandy shores and monastery marvels the Garden Village at Afionas has the feel of jumping straight out of a Greek vacation movie.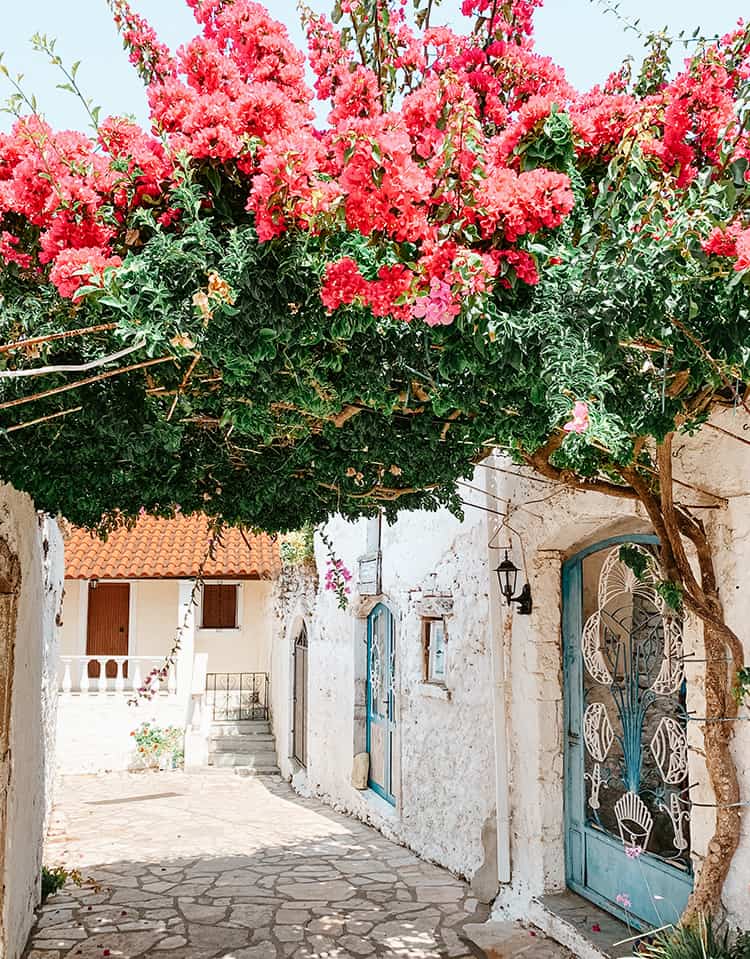 From the charming cobblestone streets to the colorful potted plants peppering the streets, this vibrant location will provide a suitable candidate for retirement.
Corfu Attractions – FAQ
While it might be an intriguing option to jump headfirst into the unknown, things to do in Corfu, Greece, are best explored with as much information as possible.
This way, you'll be able to make an informed decision by weighing out all your options to determine which Mediterranean island is the one for you.
1. Is Corfu, Greece, Worth Visiting?
Yes, Corfu has an abundance of activities and sights to enjoy in its stunning surroundings.
From adrenaline-fuelled water sports to sunbathing your day away, you'll be able to experience all the emotions of a successful vacation.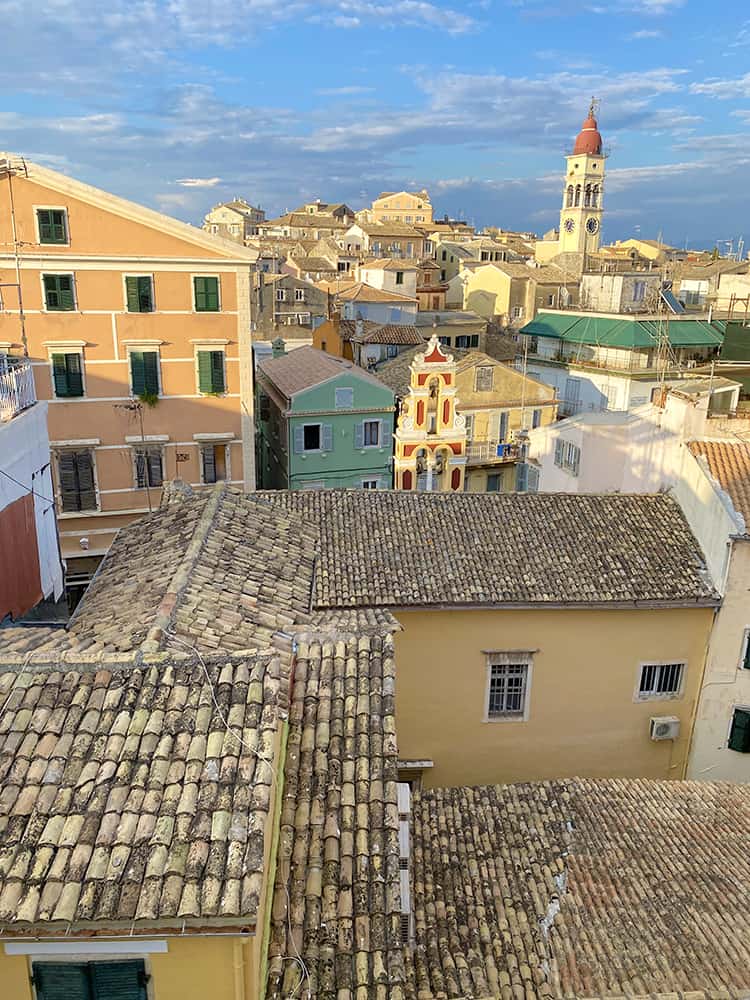 2. How Many Days Are Enough For Corfu?
Due to its size and transportation times to get to certain attractions, we suggest reserving a minimum of one full day to explore the bays of this island.
If you're looking to add a day trip or two, you'll need to extend your stay to experience the hidden depths of Corfu's enthralling spaces.
3. Do I Need A Car On Corfu?
While it can be beneficial to rent a car if you're looking to travel the island on your own terms and time, you can explore the island best by foot.
This is increasingly relevant if you're planning to spend a lazy vacation on the sands of Corfu.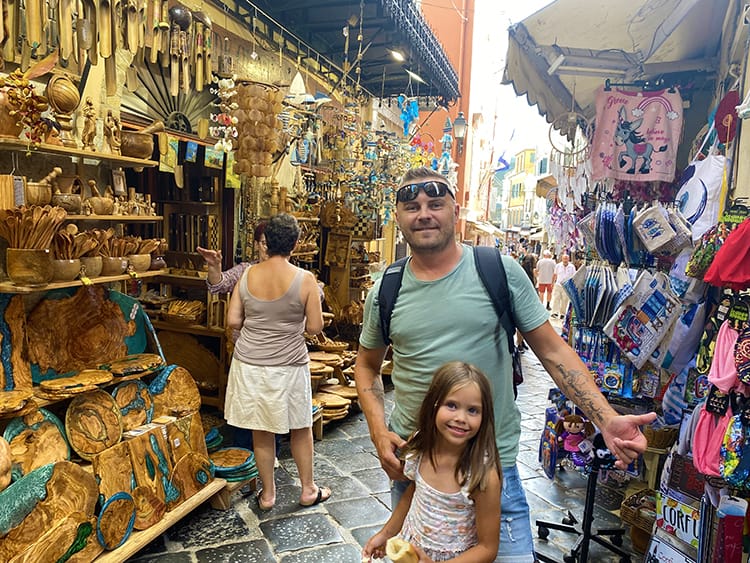 4. What Is The Best Time To Visit Corfu?
While the Greek islands are famous for their mild weather and all-around beach vibe, Corfu can have more favorable conditions in certain months.
During the high season, between June and August in summer, you can expect seas of tourists making their way to beaches to cool off from the heat.
The ultimate time to visit the tranquil waters of this island is during its shoulder seasons, which are April to late May.
If you're looking for a less crowded season later in the year, you'll find that September to late October is a great time to stay and visit Corfu's best places.
This is where you'll be able to tread these majestic beaches without stepping on a tanning body or two.
While you can expect a chilly day and the occasional downpour, this season is well worth the sporadic weather hindrances.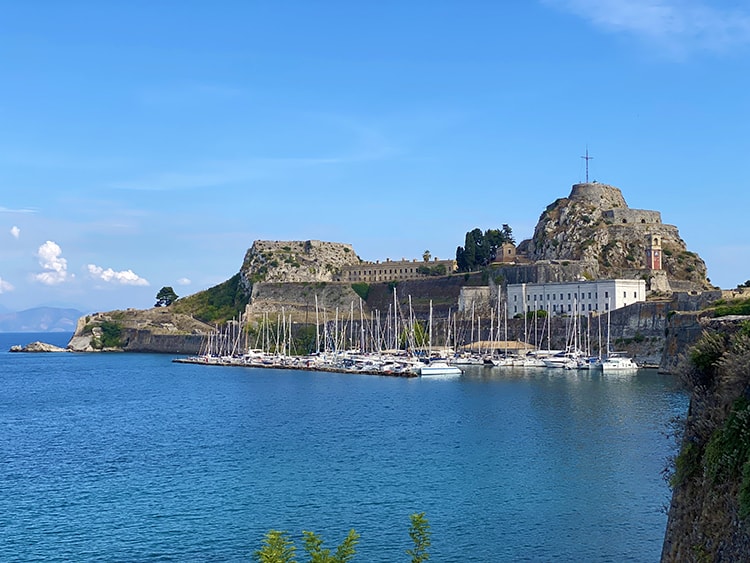 5. Which Part Of Corfu Is Most Beautiful?
Corfu Town is one of the most popular and striking parts to explore as the air seems electrified by the movement of people and its stunning natural surroundings.
6. Where to Stay in Corfu?
We have just the place for you here. How does an all-inclusive resort, that has a kids' club, relaxing pools, and plenty of optional things to do sound?
Check out the all-inclusive family-friendly Corfu Dreams Resort here.
Final Thoughts On Corfu Things To Do
Whether you're craving a sandy sanctuary or a getaway filled with cultural splendors, the best things to do in Corfu will have you covered.
From the blues of the warm seawater to the refreshing green slices of forested areas by white sands, Corfu is a colorful wonderland that will creep into your summer-loving heart.
Corfu is one of our top recommendations for where to visit in Greece for your first trip. And I just know you will love it!
Looking to charter Corfu, along with other islands, for an adventure like no other?
Take a look at these incredible Greek destinations to sail to make sure you'll have a smashing time in these tranquil waters.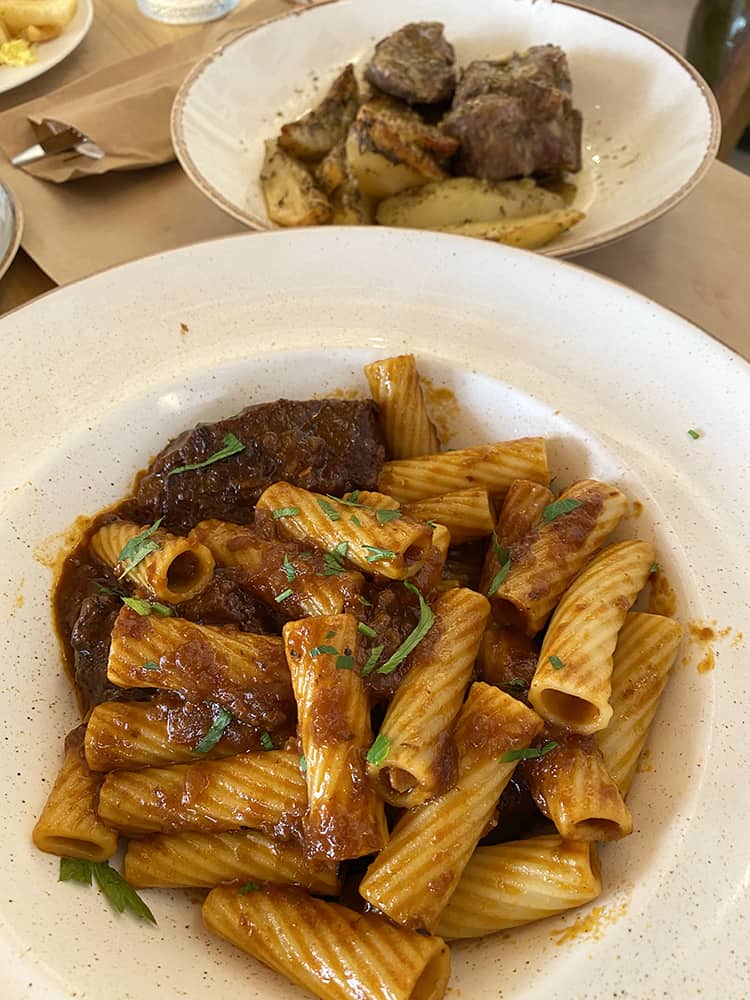 After More Places To Check Out In Greece?
Here are some of our other recommendations for your next trip to Greece: