Taormina is a beautiful town in southern Italy on the east coast of Sicily. Perched on a hill overlooking the Mediterranean Sea, it's set in a picturesque location with captivating views.
It's characterized by quaint alleyways, beautiful buildings, and serene shorelines. This town offers all the necessary components for an enchanting Italian vacation. In actual fact it is one of our favorite destinations in Sicily!
Here is our list of what to do in Taormina!
Taormina Things To Do on Your Italian Vacation
If you're planning a holiday in this Sicilian town, here are the top 10 things to do in Taormina, Italy.
1. Teatro Antico di Taormina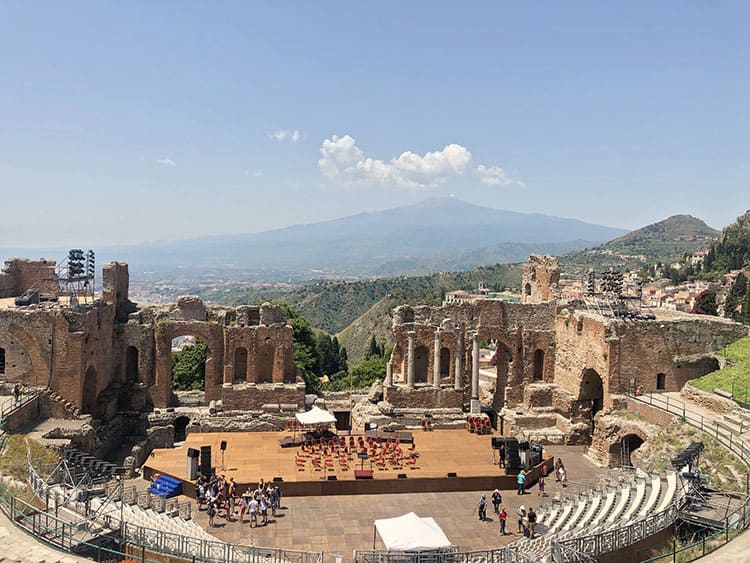 The Ancient Theater of Taormina is one of the most iconic Taormina, Sicily landmarks. This ancient Greek theater was carved out of rock in the third century BC. Today, it's remarkably well preserved and still hosts musical and opera performances.
It also offers spectacular panoramic views of the city below as well as the Calabrian coast. This is a must-see when you visit. Take in the beauty of the ancient ruins and visualize the glorious past of this grand edifice.
The site can get super hot, so best to visit here early in the morning or later in the afternoon!
Click here to book your walking tour of Taormina for a great introduction to the city and a guided introduction through this historical site. 
2. Isola Bella
Catch the funicular down from Taormina to the beaches that lies down below. Head down to Spiaggia Isola Bella which is a short walk away from the funicular. Isola Bella is a small island just off Taormina in a bay on the Ionian Sea. Nicknamed The Pearl of the Ionian Sea, the island is surrounded by sea caves.
Although the shoreline is a bit rugged and maybe not as suitable as Mezzaro beach for young kids, the water is a breathtaking shade of blue and the views are picturesque. This makes it very popular with sun worshipers.
The water is also great for snorkeling so make sure to bring your water shoes. Umbrellas and sun loungers are available for rent and you can purchase food and drinks from the club that looks after the rentals.
If you're looking for relaxing things to do in Taormina, Sicily, this is a great place to unwind with the sound of the waves.
3. Piazza IX Aprile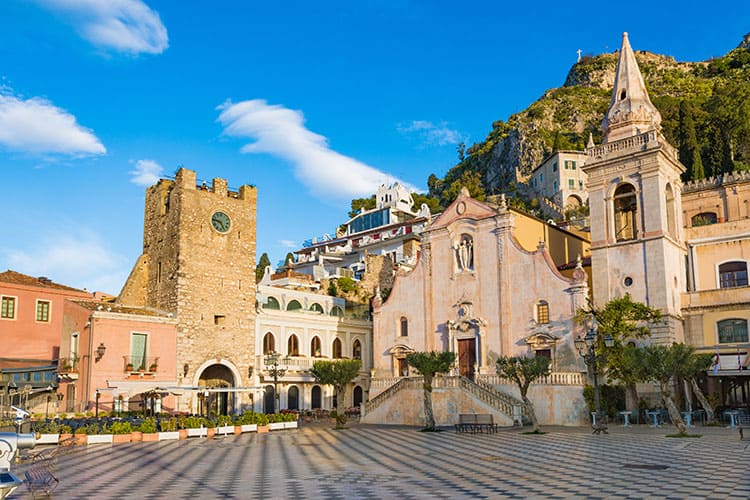 Piazza IX Aprile is the main square of Taormina. This is where you'll find one of the best viewpoints in town. With a large expanding panoramic terrace offering sweeping views of the Ionian Sea below, this is a magical place to visit, especially at sunset.
Two historic churches also sit in the square: the Chiesa di San Giuseppe and the Church of Saint Augustine.
4. Castelmola
Castelmola is a quaint village located just 3 miles from Taormina. It's known for its ancient medieval castle. It sits on top of Taormina and offers spectacular sightseeing points. You can look down onto the Ionian Coast and Mount Etna.
This village is less touristy than Taormina and is a great place to shop and visit a local restaurant. You can hike to the village from Taormina, although, be warned, it is a bit of a steep climb. For an easier option, you can drive up or take the public bus. A half a day here is more than enough to explore.
5. Mount Etna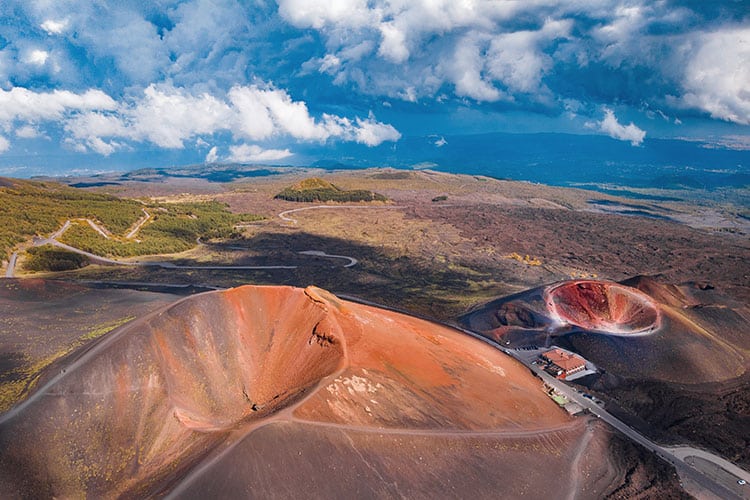 Mount Etna is an active volcano 35 miles from Taormina. It offers plenty of hiking trails that weave through lava caves, ancient woodlands, and craters.
A tour of Mount Etna is the best way to discover the volcano. You'll benefit from a guided excursion with a local tour guide. You'll also learn lots of insightful information and receive a better appreciation of this towering symbol of Sicily.
Click here to book your tour of Mount Etna and explore the splendor of this region's natural landscape.
6. Alcantara Gorge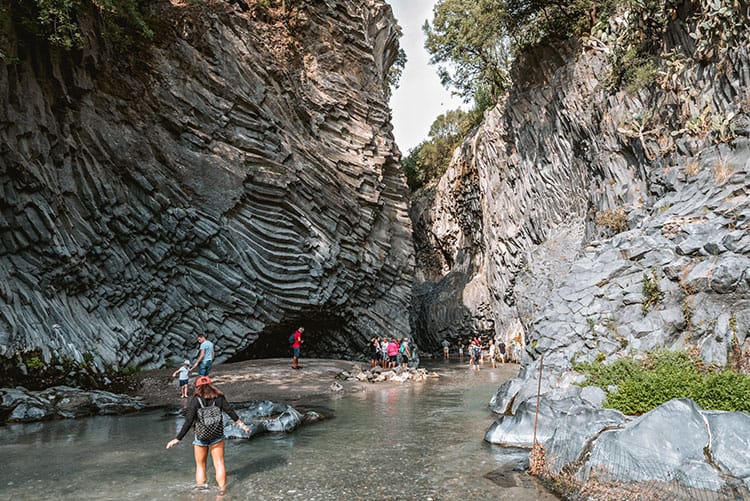 Alcantara Gorge is located on the side of Mount Etna. It was formed as a result of lava flow from the volcano that carved out the gorge and created a beautiful channel. It's filled with the clear waters of the Alcantara River and surrounded with raw, unspoiled landscape.
There is a small beach where you can swim and sunbathe. The water is a bit on the cool side, but this can be quite refreshing during summer. You can reach this site from Taormina in about 40-minutes by bus or car.
Want to visit Alcantara Gorge and Mount Etna on the same day? Click here to book your combo tour of Mount Etna and Alcantara Gorge.
7. Aeolian Islands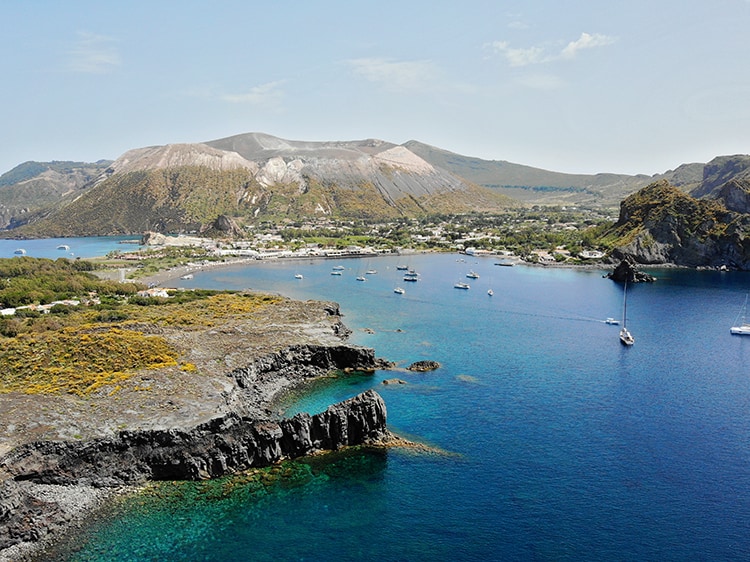 The Aeolian Islands are a volcanic archipelago of seven islands in the cobalt-blue Tyrrhenian Sea. They're a little piece of paradise with crystal waters that offer ample aquatic activities. Local eateries, shops, and hotels are also found on the islands.
Lipari is the largest and most popular, however, each island offers its own unique charm and enticement. If you have some extra time on your hands when you visit Taormina, a day trip to one (or more) of these idyllic islands is a must.
We spent 3 days around the Island and loved boating around Stromboli, Panarea and Salina. Also highly recommend exploring the smelly Vulcano Island for a truly unique experience!
8. Try out a Traditional Granita at Bam Bar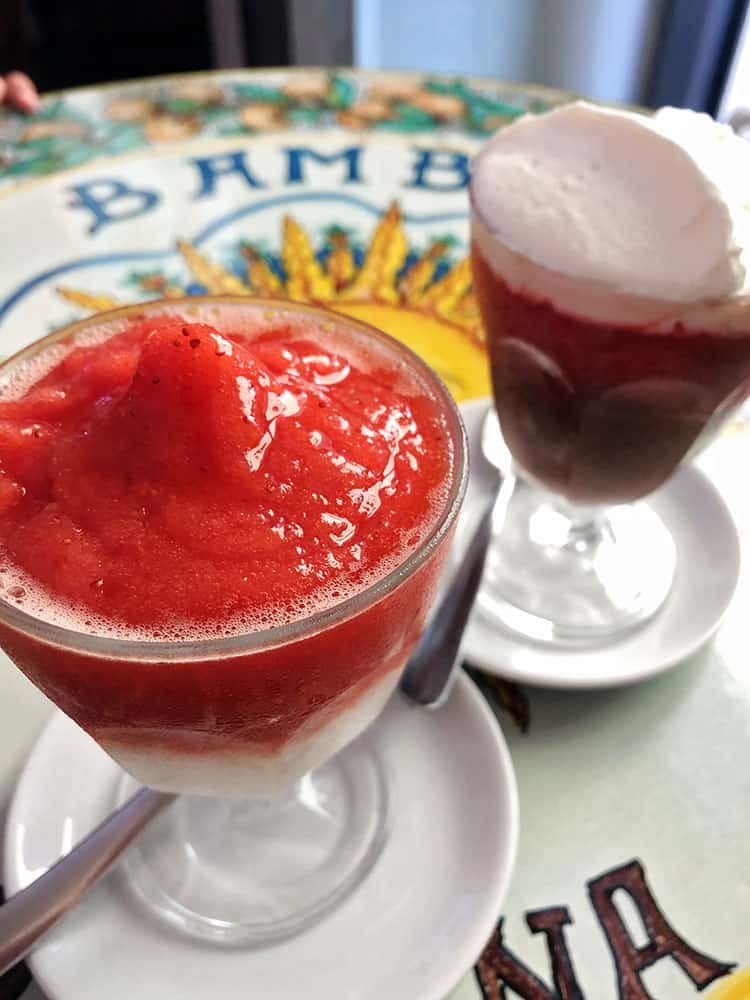 Bam Bar is a cozy cafe just off the town's main street. It's the best place to go in Taormina, Italy to enjoy an authentic Italian Granite.
This refreshing frozen dessert originated in Sicily. It's a sweet treat made from sugar, water, and various flavorings. At Bam Bar, you can order it in various flavors. Popular choices include lemon, raspberry, pomegranate, and almond.
9. Enjoy a Sicilian Cannoli at Minotauro Pastry Shop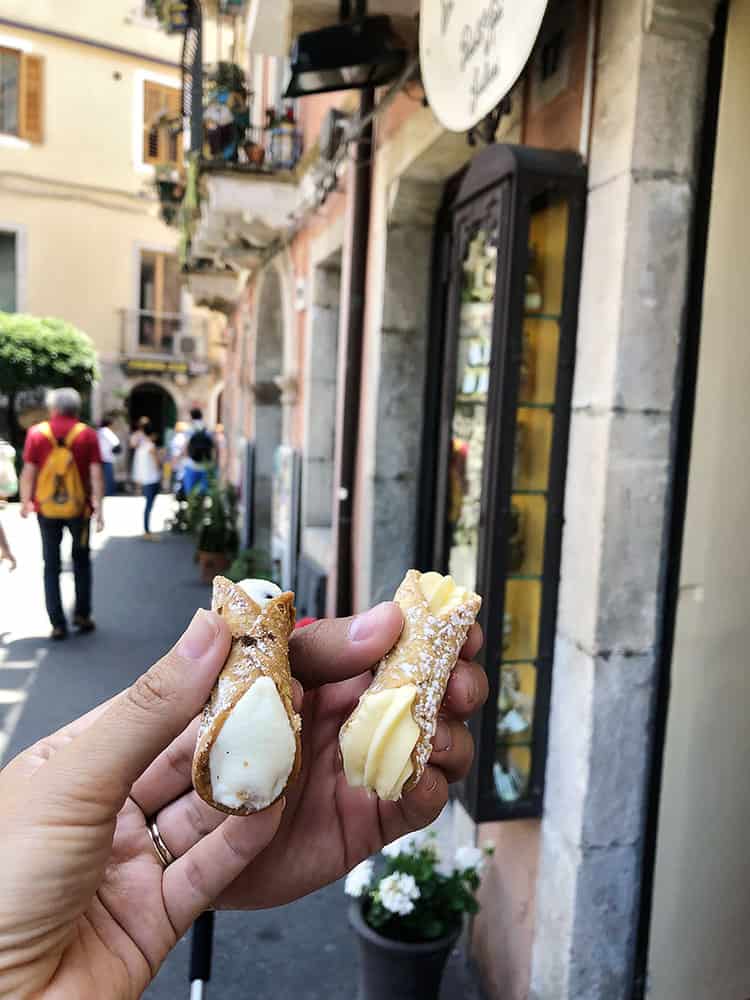 Indulging in a Sicilian cannoli should be added to everyone's list of Taormina things to do. This is another Italian delicacy that originated in Sicily. This tube-shaped fried pastry is filled with a deliciously creamy filling.
For the best in town, head to Minotauro Pastry Shop. They make lovely homemade cannoli's in many different flavors.
Click here to book your Taormina food and wine walking tour to indulge in even more of Taormina's cuisine.
10. Mazzaro Beach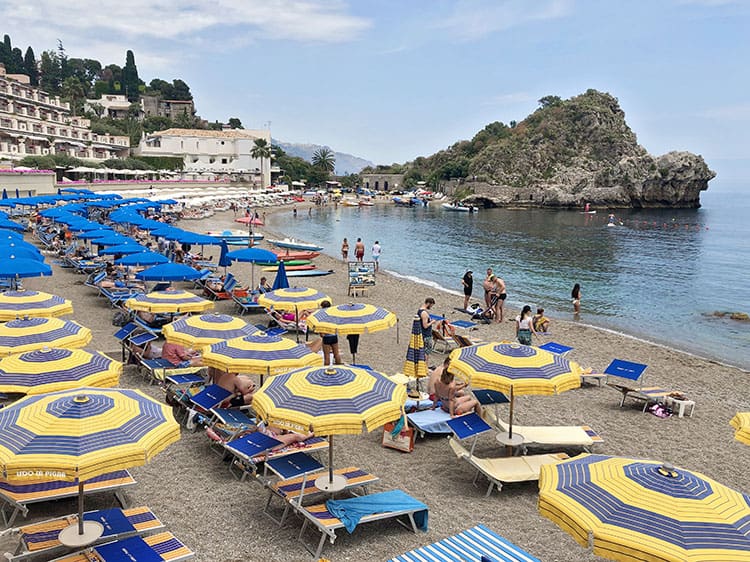 Mazzaro Beach is a small, popular pebble beach in Taormina (just head down from the town to the beach on the funicular). It's set in a bay just north of Isola Bella. Guests can rent umbrellas and beach chairs and spend the day relaxing next to the clear blue waters.
This is a fun beach for swimming, boating, or just relaxing. Just offshore is a small cliff that is a popular area for cliff diving. Along the seafront, you'll find a few small beach bars and cafes. This was our preferred beach for our little one.
Final Thoughts on What To Do in Taormina
If you're looking for Italy travel inspiration, Taormina is a jewel of Sicily, and definitely worth visiting. This beautiful Italian town is a wonderful destination worth visiting year-round. Taormina tourism kicks into high gear during the warmer months. This is a great time to visit if your ideal vacation included lots of sunshine and sunbathing.
However, the temperatures remain pleasant and comfortable even during winter and fall. An added bonus is that accommodation will be more affordable during Taormina's shoulder seasons.
If you're planning a trip to this charming Italian town, this guide will help you discover all of the must-see sites, as well as a few hidden gems.