Looking for the best airlines to fly to Europe? We got you covered.
How can we determine the top airlines for flying to Europe?
The answer is simple: through our extensive experience of traveling to and from Europe, we have had the opportunity to try out various airlines.
Over the years, we have taken numerous flights, both with and without our children, to various European destinations such as France, Italy, Malta, Greece, Germany, Poland, and more.
Based on our firsthand experiences, we have decided to create this blog post to share our insights and help you make an informed choice when selecting an airline.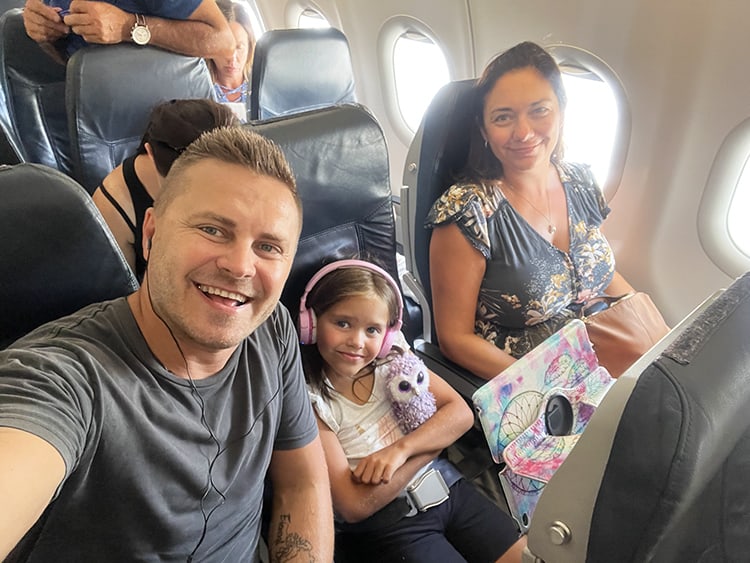 So, let's get into the post.
From the Eifel Tower in Paris to the Colosseum of Rome, there are endless destinations across Europe that attract travelers from around the world.
Whether you're flying to Europe on a business trip, a long vacation, or looking for quick getaways in Europe, picking an airline is one of the most important factors.
There are a lot of airlines to choose from, and depending on where you're traveling from and what sort of amenities you want to have when flying, some airlines may be better than others.
🏆 BEST FLIGHT INSURANCE
Did you know that not all travel insurance companies cover your flights?
We love using Travel Insurance Masters where you can select to get quotes from insurance companies that cover flights, flight delays, and baggage issues.
Find the best insurance to cover your flights here.

Quick Guide: Best Airlines to Fly to Europe
After a quick list of the top airlines to fly to Europe? Here are the best carriers:
Direct flights to major cities in Europe
Over 200 destinations around the world
First class, premium, and economy
Direct flights to most European cities
Bit more pricy then most carriers
2 First class, business, and economy
Over 91 destinations
More fare options than most carriers
First class, 2 business, 4 economy
---
17 Best Airlines To Fly To Europe
In this list, we'll take a look at seventeen of the best airlines to fly to Europe and give you a rundown of their pros and cons so you can pick the book flights that fit your travel needs.
The largest airline carrier in the United Kingdom ranks top of our list of best airlines to fly to Europe.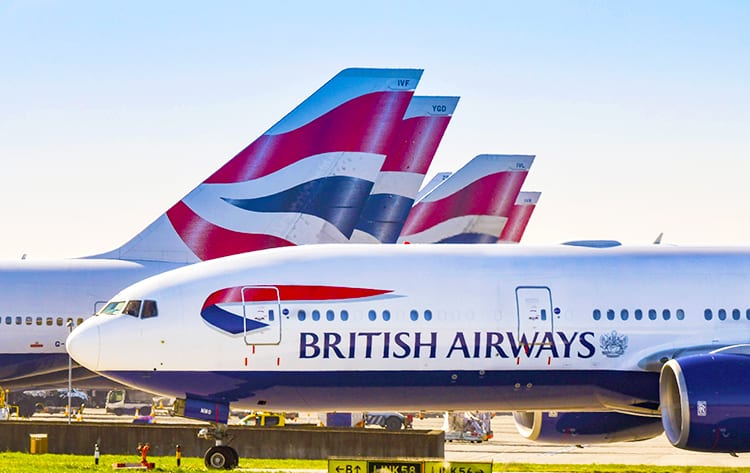 British Airways flies to over 200 destinations around the world including many major cities in the United States like Miami, Philadelphia, Seattle, Denver, Chicago, and San Francisco, making it a great choice for transatlantic flights.
British Airways has destinations to cities across Europe, so chances are that no matter where you are flying you'll be able to find convenient flights.
Travelers coming from Asia or South America may find British Airways slightly less convenient, but they still reach many of the major cities and it's possible to get connecting flights to smaller cities with one of their partner airlines.
One place where British Airways truly shines is its in-flight comfort experience.
In 2019 the Airway revamped some of its seating and improved all of the seating in the first class, premium economy, and economy cabins.
A drawback you'll want to be aware of is that additional fees can sometimes add up when flying with British Airways.
Seat selection and checking baggage beyond the "Hand Baggage Only" policy can add up (unless you pay the extra cost of booking a flexible fare).
---
Emirates is the fourth largest international airline, making it one of the biggest airlines to use to fly to Europe.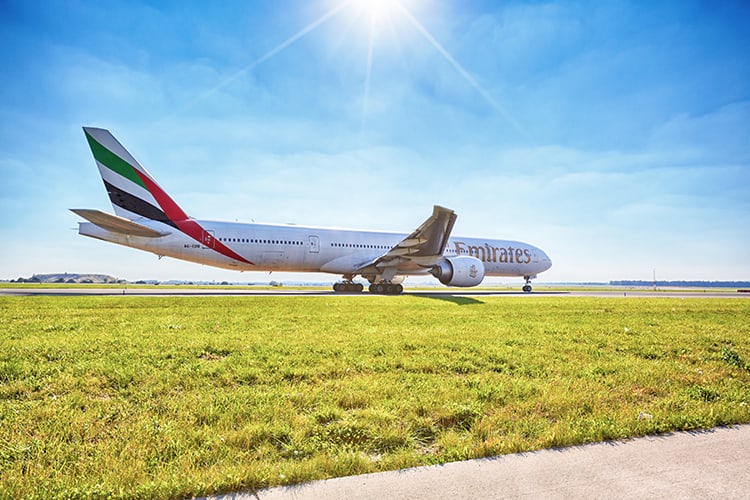 It's easy to find direct flights on Emirates to most major cities in Europe from the United States, North Africa, the Middle East, and much of Asia.
It's a bit more expensive than some airline options, but they do have four different fare types starting at economy, then business, and then two different first-class ticketing options.
Their loyalty program, Skywards is also better than some airline rewards programs at helping passengers get benefits like priority boarding, lounge access, and redeeming miles for flights.
The food and general comfort of Emirates set it apart as one of the best international airlines, and they've made a name for itself with its enormous double-decker A380.
First class on these massive planes is literally next-level since you have to go up an elegant staircase to reach the first-class cabin!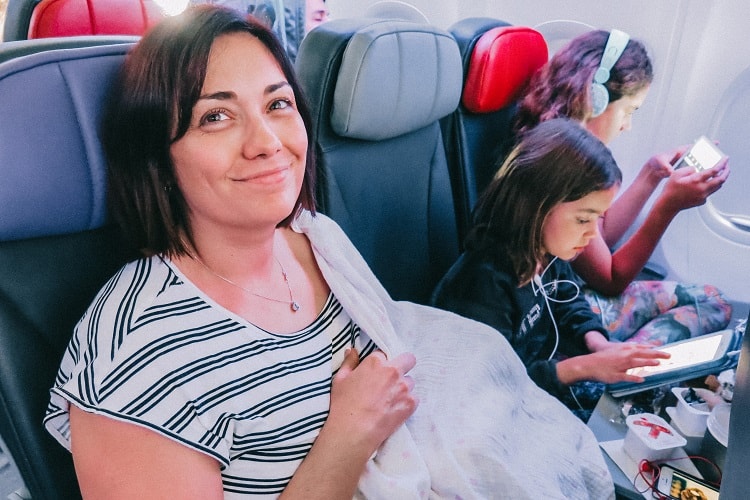 The overall great service on Emirates flights definitely sets it apart from other airlines.
Baggage allowances for Emirates are based on weight for the most part, although flights to and from the United States are on a piece concept with 1 or 2 bags permitted depending on your ticket type.
Additional fees are something you'll need to watch for though.
There's no set price for ticket changes or cancellations which instead depend on destination and type of ticket, so it's very important to read the terms and conditions when booking to make sure you don't end up with a nasty surprise.
---
Coming in behind Emirates is the other Emirati airline, Etihad Airways.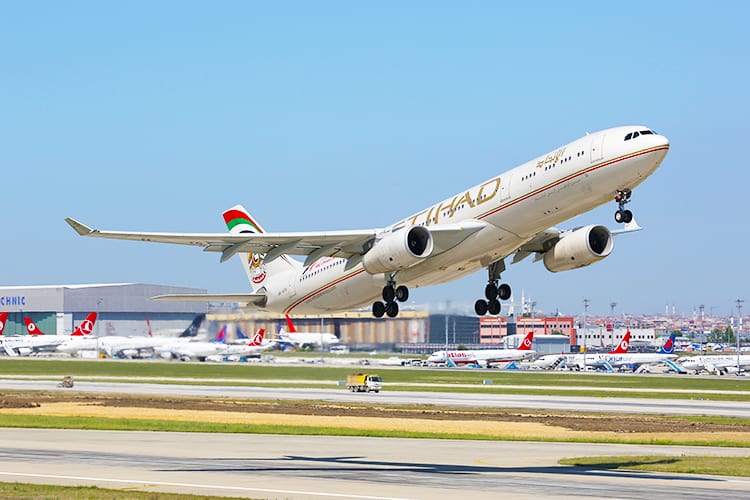 Compared to Emirates, it doesn't have as many routes available, but considering the 91 destinations to the Americas, Europe, the Middle East, the Pacific, and Asia, it certainly lives up to its tagline "from Abu Dhabi to the World."
Etihad also has more fare options available than some carriers with 4 choices for economy, 2 for business class seats, and 1 for first class.
The range of ticketing options makes it easier to find a flight to fit your budget, just be sure to check for the features and restrictions which come with each including whether it's refundable or if date changes are permitted.
Perks like priority boarding, seat selection, and additional bags are all added on as you go up in terms of the type of ticket.
Some features like upgrading meals or adding on additional luggage are also allowed for some of the economy tickets.
A big pro is that for any international flight, any of the seven fare options all include carry-on and checked baggage.
The permitted weight of your luggage will depend on the type of fare you purchase.
Etihad has gotten good reviews for its excellent service.
In economy class, the basics of blankets, pillows, complimentary meals, and beverages, and 90MB of free Wi-Fi are included.
If you're looking for luxury, then first-class offers a chauffeur-driven Mercedes-Benz, and an onboard shower if you're flying in their A380.
---
Most of the flights on this Australian airline come out of the Pacific, Australia, and parts of Southeast Asia.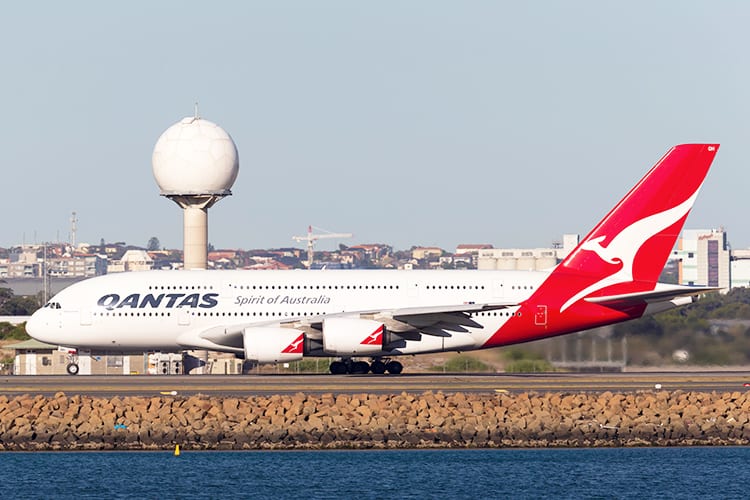 London is the primary European destination for Qantas, but they are a part of the Oneworld alliance for connecting flights to other locations.
Qantas is currently the only airline with a direct flight from Sydney to London, so if you'd rather spend 20 hours on a long-haul flight instead of making multiple stops, this is the airline for you.
It's known as being a somewhat cheaper option than other airlines, so if you're looking for the best deal on tickets, then Qantas may be the way to go.
However, there are always some caveats that come with cheaper prices like the less-than-ideal legroom on some of their older aircraft carriers.
Luggage is calculated based on the type of fare you purchase, with options for upgrading for additional baggage allowance on all tickets.
Be sure to read the fine print and double-check the weight of both your carry-on and your checked bag so you don't end up with an additional charge at the airport.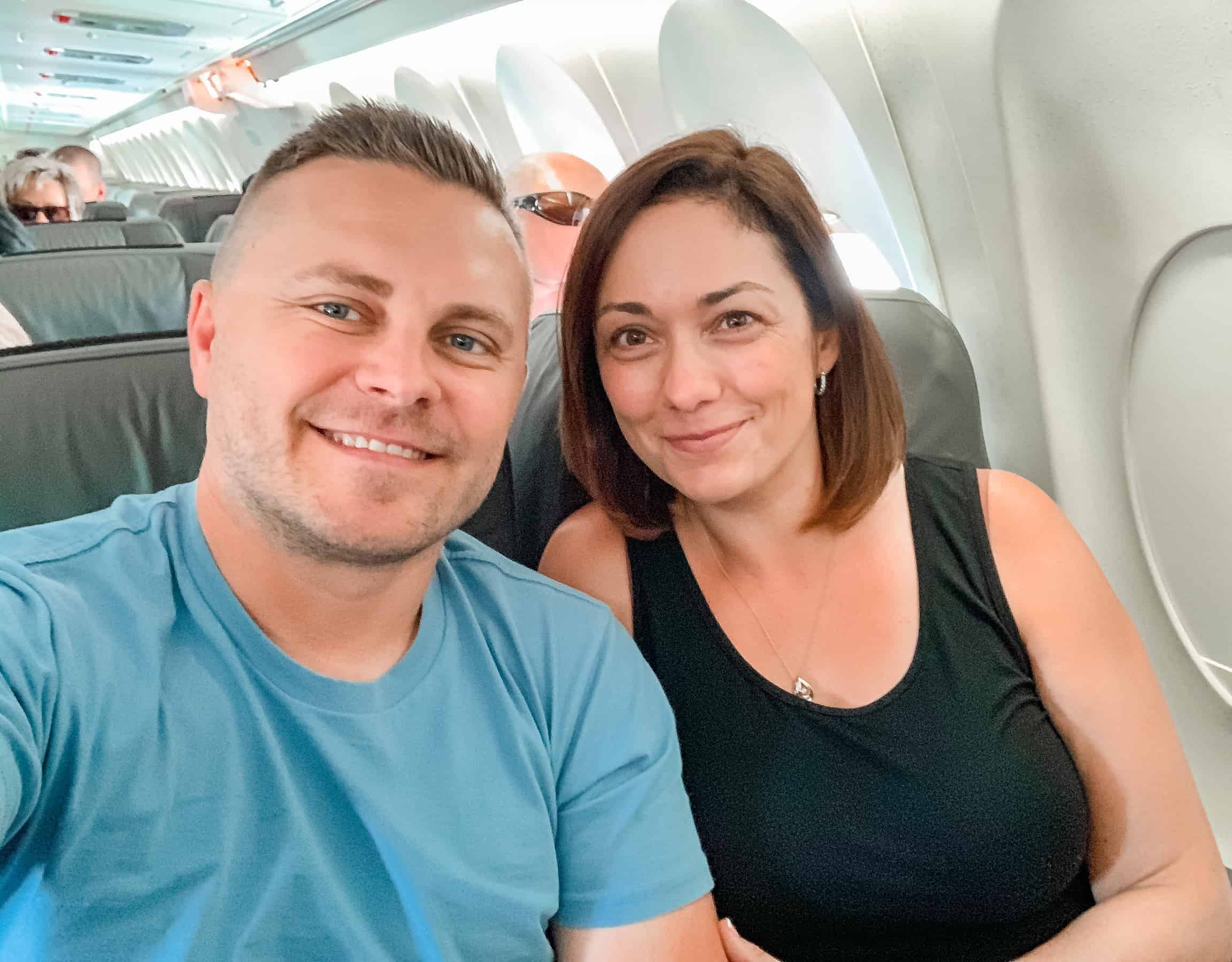 Qantas does have a new A380 fleet that offers Premium Economy seats so you can enjoy an upgrade from standard economy seating without the high price tag of a business class seat.
With additional legroom, two USB charging points per seat, and extra storage space, this is a good option if you're looking for a bit more comfort without sacrificing a decent price for a plane ticket to Europe.
---
Qatar Airways stands out for its exceptional customer service and high-quality amenities, even in economy class.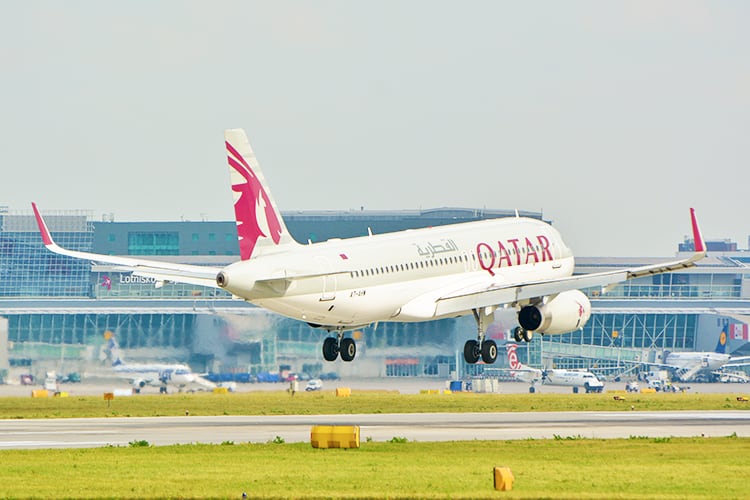 Although tickets are often a bit more expensive than other airlines, many travelers agree that the extra legroom, wider seats, and in-flight features are well worth it.
In addition to the comfortable seats, Qatar does a good job of providing food and entertainment options.
If you get hungry between the complimentary meals, unlimited snacks, and beverages are available if you ask the flight attendants.
If you are looking for airlines with free WiFi you will be happy to know that Qatar does have inflight WiFi, and seats all have their own USB outlet to keep your device powered up.
The biggest downfall of this middle eastern airline is the price.
The economy already comes with a higher price tag than many airlines, and business class is usually completely out of the question for budget travelers.
In terms of the convenience of flying to Europe, Qatar has emerged as one of the primary airlines thanks to its service to over 50 cities across Europe.
There are direct flights offered to many major cities across the Middle East, Asia, and Australia as well as some flights to the United States.
---
Hong Kong's airline Cathay Pacific provides good service for flights to Europe especially if you're travelling from Australia or Asia.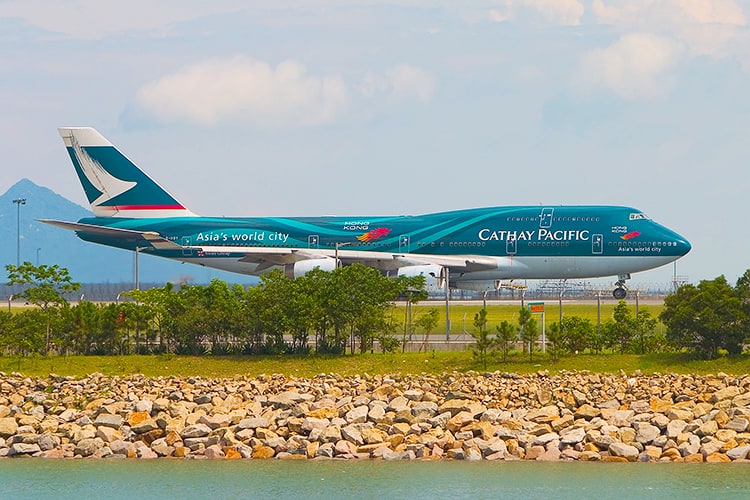 In a cost-to-quality ratio, Cathay Pacific does a good job of providing decent amenities without being overly expensive.
It's also earned a reputation for being a more kid-friendly airline and will provide kids with special meals and activity packs to help keep young ones entertained during long flights.
Although Cathay Pacific doesn't fly direct to as many European cities as some other airlines, it still covers the major airports.
However, for travelers coming to or from Asian countries, Cathay is a great option for all the connections it offers.
Cathay Pacific also scores points for comfort with decent room for economy class and above-average meals compared to some other airlines.
Baggage allowance varies depending on the length of the trip and ticket class, so be sure to check the rules when you google flights with Cathay Pacific.
Tip: Check out our flying with kids survival tips here.
---
France's primary airline offers lots of international and domestic flights around Europe.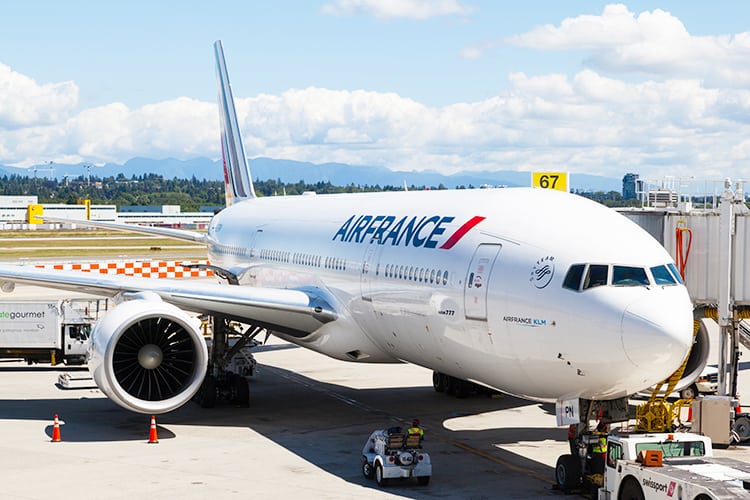 If you're planning on visiting multiple destinations in Europe during your travels, this is a good airline to pick thanks to all the connections and discounts you can get when grouping flights together.
Air France is also part of the SkyTeam alliance, so if you're a member you can get miles with Delta Airlines or other alliance members or use SkyTeam lounges which makes long waits at the airport much more enjoyable.
One place where Air France really shines is the food.
Airplane meals usually don't have a good reputation, to begin with, so the variety of options Air France offers on their menu comes as a bit of a surprise to some travelers.
There's also an above-average selection of both alcoholic and non-alcoholic beverages available.
Baggage allowance is based on which cabin you're traveling in and the type of ticket you bought.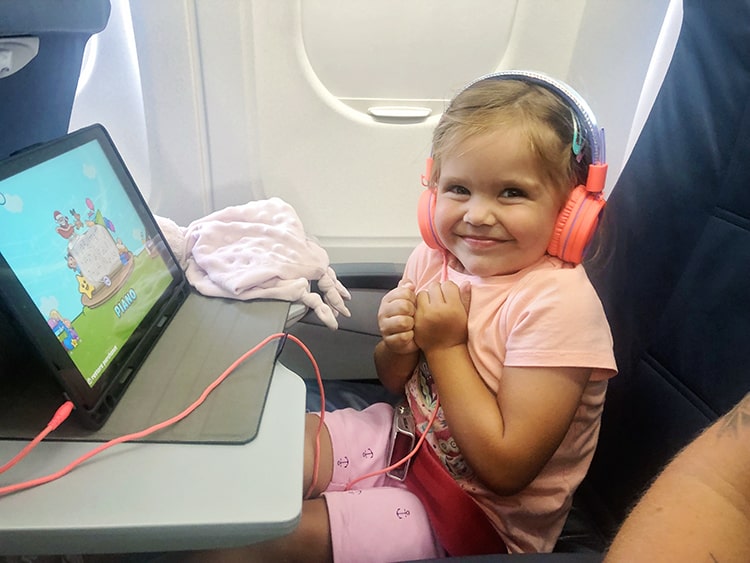 The cheapest economy tickets only allow for a personal item and one hand baggage item, while all the way up to first class in La Première cabin you can have 3 checked bags.
As long as you are careful about selecting the right type of ticket and following the baggage allowance guidelines, Air France is good about not tacking on hidden fees to your trip.
---
Lesser known than some other Middle Eastern airlines like Qatar and Emirates, Turkish Airlines still certainly deserves a place on the list of best airlines to fly to Europe.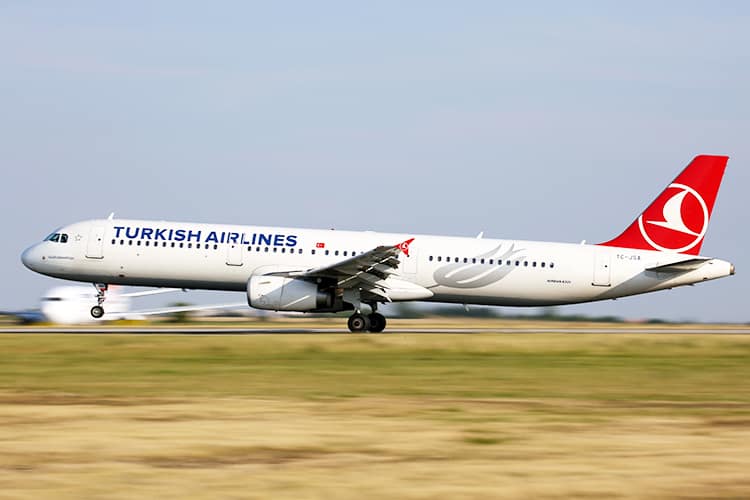 A lot of people don't realize this, but Turkish Airlines actually flies to more countries than any other airline – currently over 120!
They also have connections to a lot of smaller cities, especially in Eastern Europe and the Middle East.
From their hub in Istanbul, Turkish Airlines offers lots of connecting flights between locations that currently don't have direct service.
Since Istanbul is only a short flight from most places in Europe, this makes it a very convenient option and means that you won't need to recheck bags like you usually need to when switching airline carriers.
The food on Turkish Airlines is also way above par, and on many of their long-haul flights there is even a chef on board (even though there's no "cooking" it's still nice to get a meal that looks and tastes gourmet).
Even basic economy seats on international flights have good legroom, and Turkish Airlines has been gradually renovating their business class seats for additional comfort.
Turkish Airlines offers both refundable and non-refundable tickets, and any of their tickets can be canceled without incurring a charge within the first 24 hours after booking.
---
Swiss International is a decent airline that can compete in terms of price with some budget airlines without actually being considered a "low-cost" airline.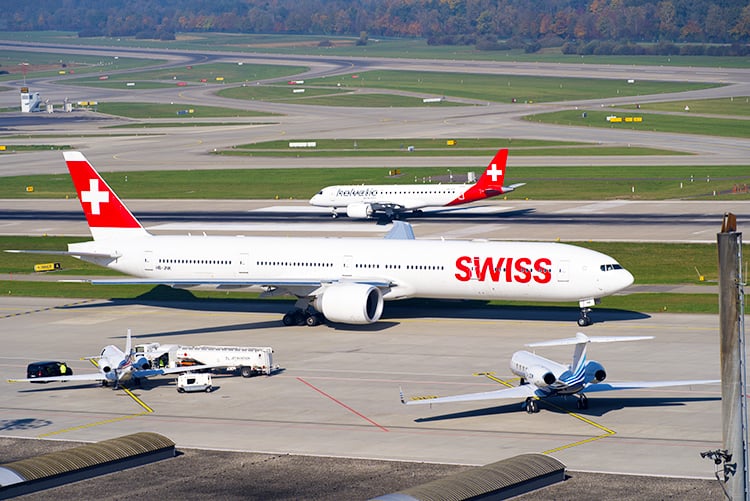 Amenities and comfort aren't on par with some of the other airlines on this list, but generally, the all-around experience is still good.
Especially if you're on a shorter flight or traveling between European cities, Swiss International has a good quality-to-price ratio.
They also have a decent number of international flights, mostly to the Middle East and North America, along with some major cities in other parts of the world.
Baggage allowance is based on the type of ticket, and if you're okay traveling light you can find good economy light fares for just a carry-on.
From there, baggage allowance increases depending on your fare. Remember to be cautious when packing for all types of baggage you'll want to make sure you adhere to the weight limits.
Swiss International tends to have a strict policy about luggage weight and will quickly tack on an additional charge even if your bag is only slightly over the limit.
Swiss International has experience dealing with lots of skiers, and they won't hesitate to charge extra for heavy ski boots or make you check these items when you reach the terminal!
---
Lufthansa is one of the most popular European airlines, and they do a good job of providing a decent all-around experience.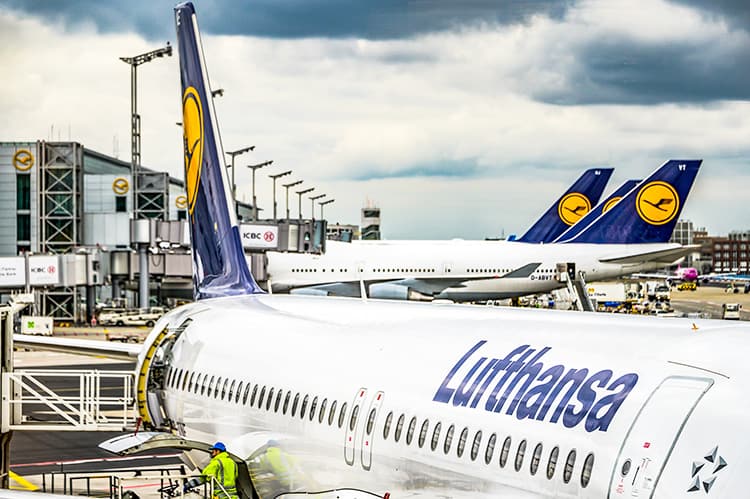 They fly to over 73 countries and have direct connections to 20 major cities in the United States.
They are also a part of Star Alliance, so you can often find partner airlines if you need a connecting flight to your final destination.
This airline has been known to charge some additional fees like seat selection for economy and premium economy, but if you're flying business class then you don't need to pay extra for seat selection.
One free checked bag is also included for all passengers on any intercontinental flight regardless of ticket fare, which is great for travelers flying from outside of Europe!
First-class flights with Lufthansa have great reviews in terms of comfort and food, plus if you happen to be flying out of Frankfurt the Lufthansa First Class Terminal is a traveler's dream come true!
Economy class seats don't have tons of legroom, so if you're tall business or first class might be a better option especially if you're on a long-haul flight.
Lufthansa has a reputation for typically being on time and boarding promptly.
If you don't like waiting around the terminal though, you can upgrade for priority boarding when you purchase your tickets.
---
Particularly for Canadian and North American travelers looking for flights to Europe, Air Canada is a great option.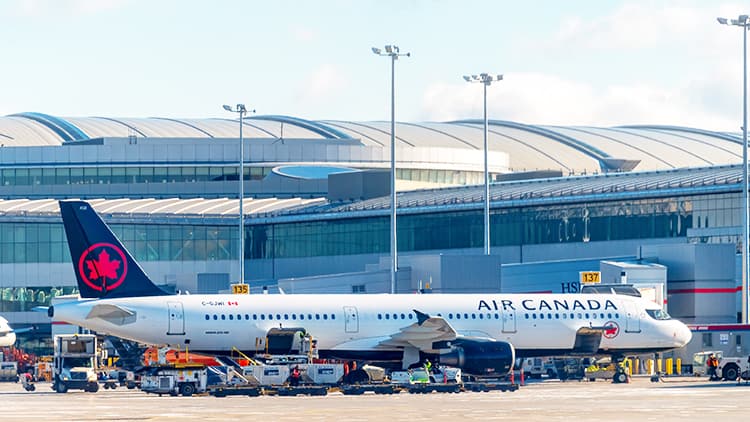 As Canada's largest airline, it provides direct flights to many European cities from all over Canada and North America, as well as some connecting flights to other destinations.
All international flights have relatively comfortable seating even in economy class with touch-screen entertainment, USB ports, and fairly good legroom.
Their business class has even more perks, and if you happen to be flying out of their main hub in Toronto, their airport lounge for business class passengers has received top marks.
The luggage policy is fairly straightforward and calculated based on your fare type.
Be warned though that charges for oversized luggage will add up quickly, so make sure you're within the weight limits!
Meals and beverages are complimentary on long-haul flights, although food options tend to be fairly mediocre in comparison with some other airlines.
Air Canada does have a good reputation for customer service though, both in the terminal and during the flight itself.
---
American Airlines is one of the biggest airlines in the United States and offers trips between Europe and North America, as well as lots of places in the Caribbean and some South American countries.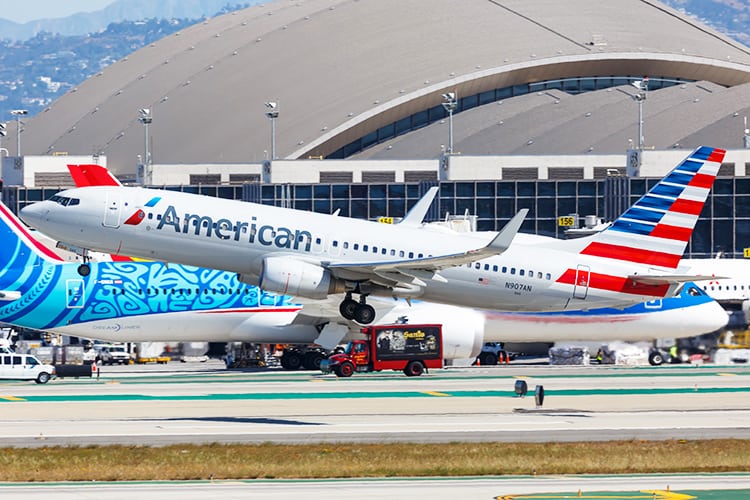 There are eight different classes offered on American Airlines, and if you're okay with some restrictions it's easy to find cheap airline tickets in their basic economy level.
However, with this option, you won't be able to pick your seat and you will need to pay extra for checked luggage.
Also, keep in mind that typically only tickets for main cabin fares or higher allow for refunds or cancellations.
One downside to American Airlines is the lack of seat-back entertainment on many aircraft.
Although movies, TV shows, and music can be streamed on personal devices, a lot of travelers have said that they would prefer the convenience of a seat-back screen instead of using their own cell phone or laptop.
---
Delta is one of the major United States airlines and has grown to have one of the largest fleets in the airline industry in the world.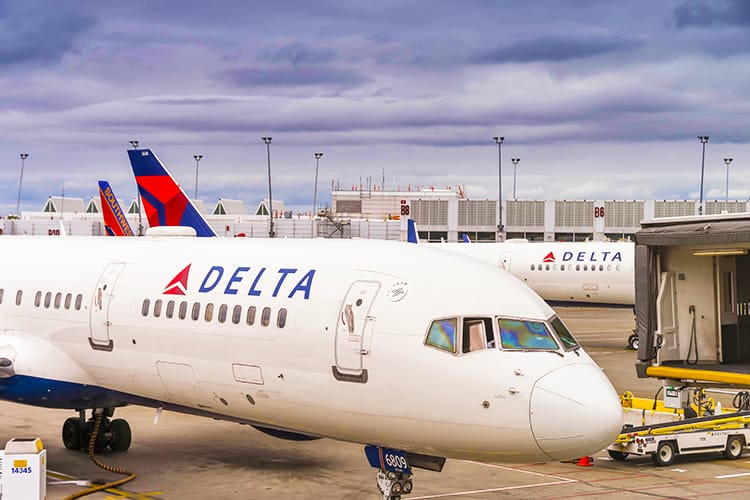 The majority of their flights to Europe are out of the United States, with direct options to many of the largest European cities.
They also partner with a variety of other airlines which offer connections to smaller cities around Europe.
When purchasing your ticket, Delta has several fares available including Delta Premium Select for international flights.
This is a step up from economy class so you can enjoy better food options and extra baggage allowance without needing to pay so much money for Delta First or Delta One seats.
For main cabin seats and above, there's no cancellation fee for flights originating in the United States.
If you go for a cheaper ticket in the basic economy or fly out of somewhere other than the U.S., then you'll face cancellation fees.
Keep in mind that Delta typically has higher fees for baggage than other airlines.
First Class, Premium Select, and Delta One passengers have free checked bags, but other fare types have to pay an additional fee for luggage which depends on size and weight.
---
Singapore's international airline has received top marks for comfort and customer service.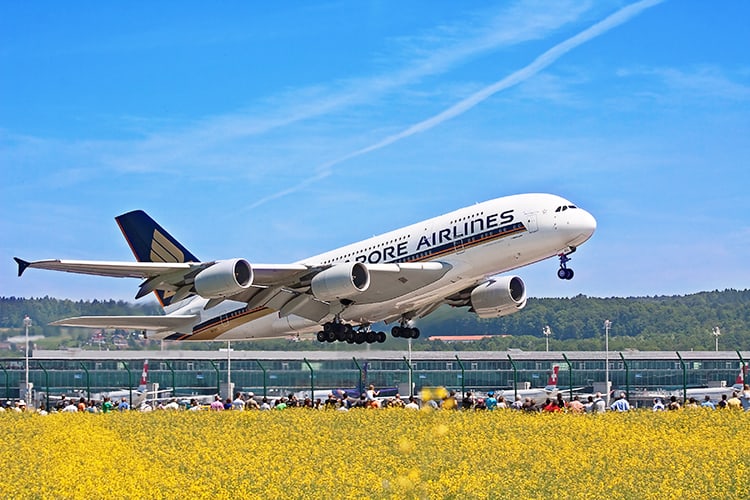 However, since most of the flights are based out of Southeast Asia, it might not be the most convenient airline for some travelers flying to Europe.
The airline is looking to expand its destinations, so it may become more accessible in the future.
If you do happen to be traveling from Southeast Asia, Singapore Airlines is definitely a top pick.
Even economy class feels more luxurious than most airlines and allows for more legroom than most long-haul flights.
Baggage allowances for Singapore Airlines are also very generous, with a 66-pound (30-kilogram) checked bag allowed for the standard economy.
Tickets with business or first class will often have higher baggage allowances.
Meal service is also good, with complimentary meals and beverages offered on international flights.
Singapore Airlines also does a better job of providing meal options for those with allergies or religious dietary restrictions than a lot of airlines.
---
Another British airline, Virgin Atlantic is a good option for flying to Europe, but it doesn't have as many destinations as British Airways.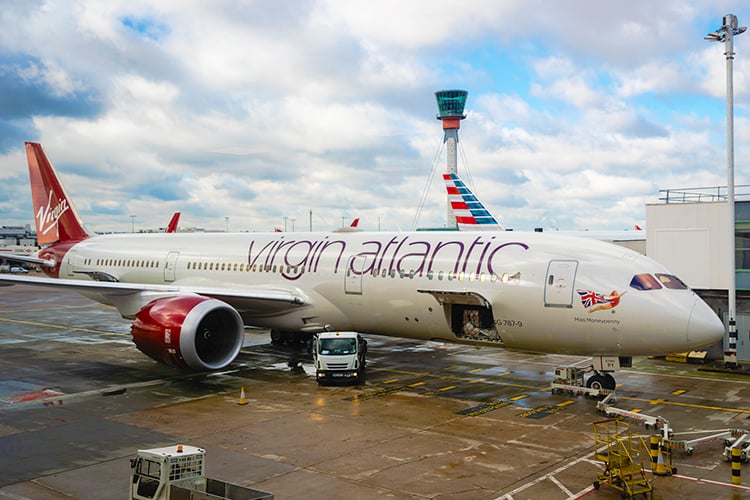 It still covers major cities mainly across Europe and North America, making it a good option for transatlantic flights.
They also partner with Delta, so it's easy to get connecting flights to a lot of smaller cities or if you're a part of the Delta rewards program you can also get points through Virgin Atlantic.
Virgin Atlantic scores points for good in-flight service for meals, and for most long-haul flights they'll actually use real plates instead of the standard plastic ware most airlines use.
Budget travelers will appreciate the option of various economy selections: Economy Light, Economy Classic, and Economy Delight.
Of course, the cheaper options mean that you might not get to bring a checked bag or chose your seat, but it also makes it easier to stay within your budget limit.
In comparison with other airlines, Virgin Atlantic also offers a lot of variety in terms of upgrades.
You can upgrade your baggage allowance, meals, or seats individually regardless of your seat class so you can pick and choose the most important factors for your trip.
Tip: Flying long haul? You might be interested in checking out our post on compression socks for long-haul flights.
---
United Airlines has grown to become one of the leading airlines in the world and one of the major U.S. airlines.
With hubs across the United States in cities like Chicago and Denver, United flies to most of the major cities in Europe as well as some smaller destinations.
They also partner with other airlines making it fairly simple to find connecting flights.
They offer a variety of classes ranging from basic economy, economy, economy plus, first class, premium class, and Polaris business class.
Make sure you're being careful of your selection before you purchase your ticket-some travelers have ended up paying for services they weren't interested in when booking.
While economy options are more affordable, you'll definitely be sacrificing some comfort since there isn't much legroom or space to recline your seat.
If you want more comfort, their premium plus option is good for international flights where you can get extra legroom and double armrests between seats without paying the higher cost of business class.
Cancellation fees depend on your fare type and where you're traveling. You'll definitely want to check the fine print on your type of ticket to make sure you don't end up incurring an unwanted cancellation charge.
When booking your ticket, United has a baggage calculator which comes in handy since factors including your type of ticket and destination will affect the size and weight of baggage allowed.
---
Hungary's largest airline isn't as well known as some of the other major airlines on this list, but it's still worth mentioning for flying to Europe.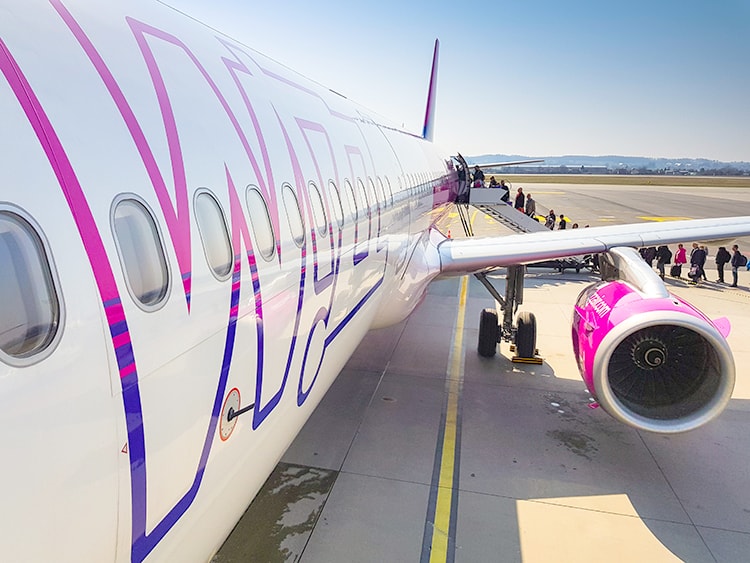 It's one of the best budget airlines for those who travel light and are savvy about dealing with hidden fees.
Luggage, seat selection, and priority boarding can all incur additional charges.
Keeping this in mind, if you're traveling with lots of luggage and don't want to sacrifice your comfort, then Wizz Air probably isn't for you.
Around Europe, Wizz Air flies to most of the major cities as well as some smaller locations.
Currently, Wizz Air doesn't fly directly to the United States, but it does cover other destinations in Asia, North Africa, and the Middle East.
As you might expect from a budget airline, services like food, legroom, and entertainment aren't exactly top-notch, but if you really want to save some money when traveling around Europe, it might be worth the sacrifice.
---
Final Words about the Best Airlines To Fly To Europe
Here you have it! Whether you're in need of a budget-friendly airline offering affordable tickets to Europe or a luxurious long-haul flight, this comprehensive list of airlines will cater to your needs.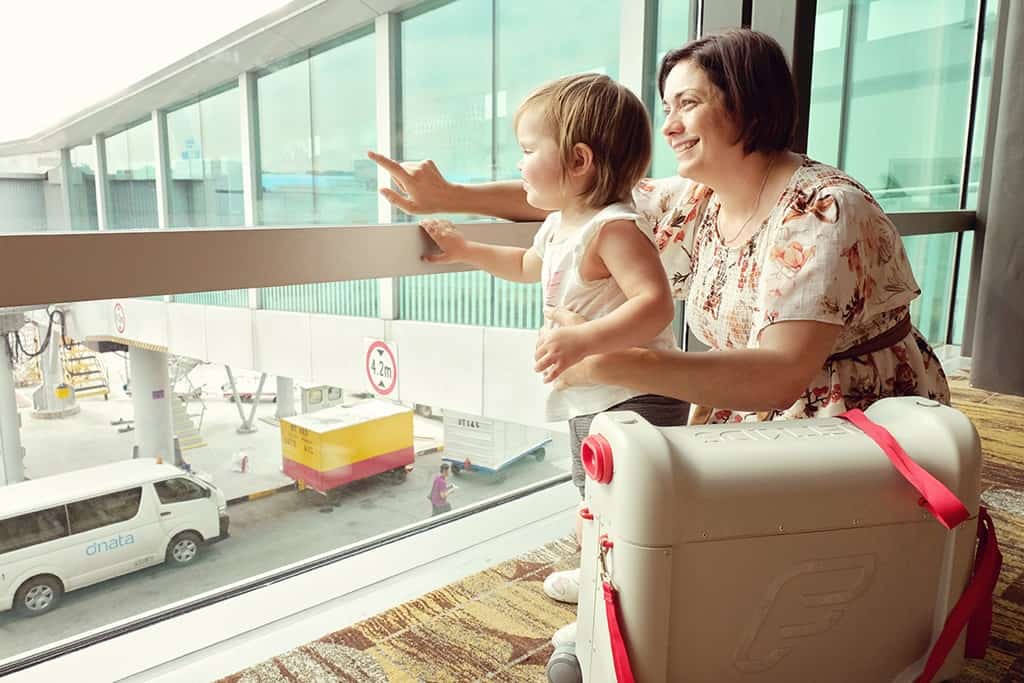 With our extensive experience flying to and from Europe, we understand that air travel plays a crucial role in trip planning, and it can sometimes be a source of stress.
That's why we have compiled this list—to simplify your trip planning process, allowing you to focus on enjoying the sights rather than dealing with airline-related hassles.
🏆 BEST FLIGHT INSURANCE
Did you know that not all travel insurance companies cover your flights?
We love using Travel Insurance Masters where you can select to get quotes from insurance companies that cover flights, flight delays, and baggage issues.
Find the best insurance to cover your flights here.

It's important to note that during holidays or peak summer vacation periods, flights to Europe tend to fill up rapidly.
To secure the tickets you desire for your trip, it is advisable to plan well in advance.
Traveling to Africa? Check out our best airlines in Africa to help you select the best airline for your African holiday destination!
Check this out if you are planning a trip to Italy and just want the best airlines to fly to Italy.
If you are heading to Greece, then make sure to read our best airlines to fly to Greece.