Have you been wondering about the best places to visit in Greece for your holiday? I've got you covered!
Greece is an incredible country with stunningly beautiful islands, picturesque towns, and an abundance of breathtaking views.
But with more than 2,000 islands and 6,000 kilometers of coastline, it can be hard to decide where to go in Greece.

That's why we are sharing 23 destinations that have been hand-picked by travel bloggers who have been all over Greece and decided that you must see these destinations when visiting this amazing country.
From the monasteries on top of mountains to the vibrant nightlife of Mykonos, these are our picks for the absolute best locations in Greece that will leave a lasting impression.

If you're looking for an unforgettable trip filled with ancient ruins and idyllic beaches, then keep reading to discover where to visit in Greece!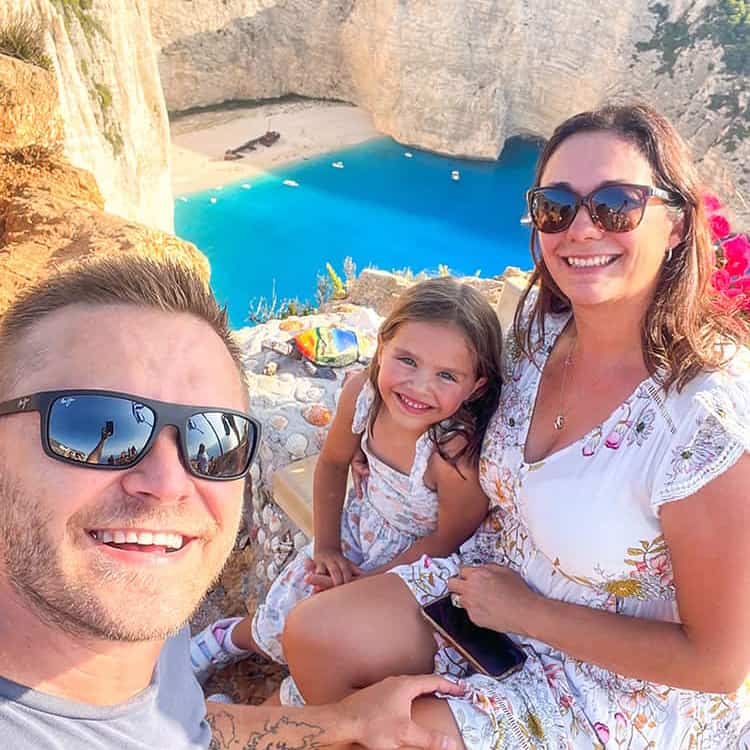 ---
Best Places to Visit in Greece
Below is a list of the best places to holiday in Greece including fun tours to add to your itinerary and recommendations of where to stay!
With so many best places to travel to in Greece, there is definitely a location for you!
1. Santorini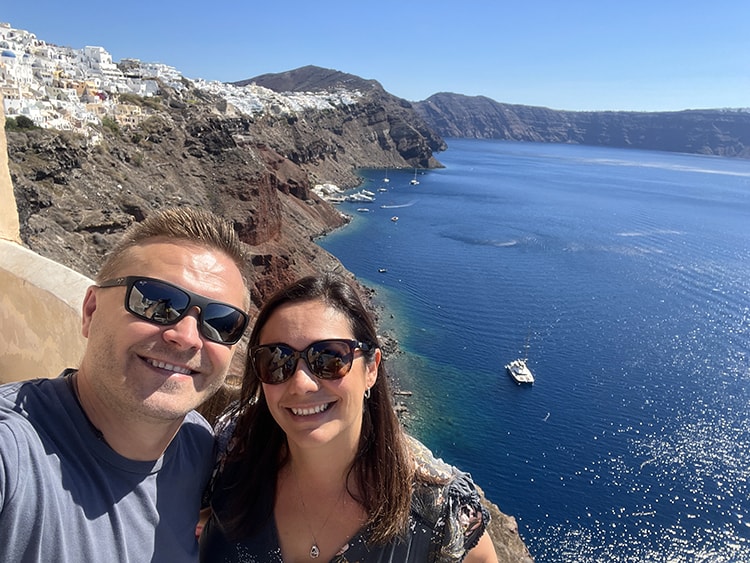 Santorini is one of the most beautiful places to visit in Greece and is ranked as the best Greece destinations, with its beautiful villages, stunning views, and ancient ruins.
The volcanic island offers a great opportunity for travelers to explore its archaeological sites and soak up the sun during its long and hot summer days.
The island is great to visit year-round, but Santorini in September offers travelers a quieter trip.
People can take part in various activities like scuba diving, horseback riding, hiking, visiting archaeological sites, or simply enjoy the tranquility of the place by relaxing on one of its many incredible beaches.
Santorini has countless beautiful hotels with private pools to really indulge and relax, you can find our list of the best hotels in Santorini to help make that important decision of where to stay!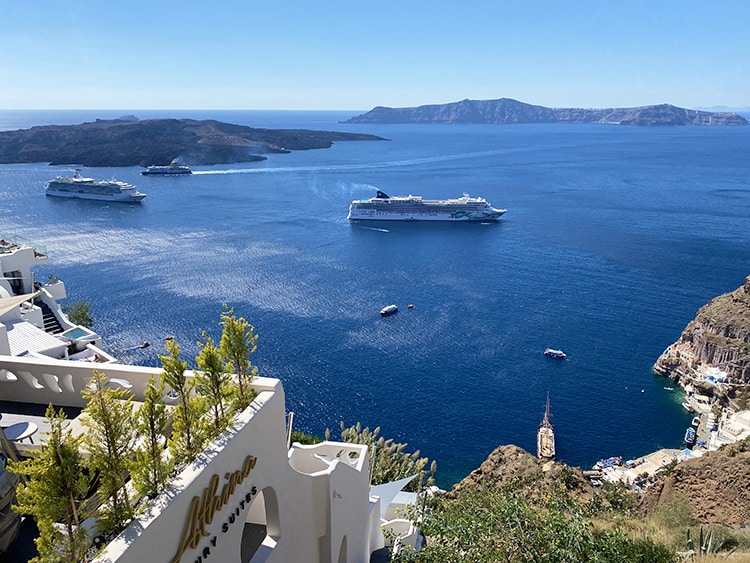 In Santorini, visitors can also sample some of the best local cuisine such as feta cheese and moussaka, or indulge in some shopping at their traditional markets.
Fun Tours to Add To Your Itinerary
Best Time of Year to Visit Santorini
April to June and September to November is the ideal time to visit Santorini for its mild weather and lack of crowds, allowing visitors to explore the island's stunning beaches and archaeological sites without waiting in long lines.
The mild temperatures mean that travelers can take advantage of outdoor activities like swimming, hiking, and even wine tasting with a spectacular view.
Additionally, many hotels offer discounts during these months so travelers can find great deals on accommodation.
Where to Stay in Santorini
Alleys All-Suite Hotel & Spa is the perfect destination for travelers visiting Santorini. Stay in luxury and comfort with 5-star amenities to ensure a truly pampered stay.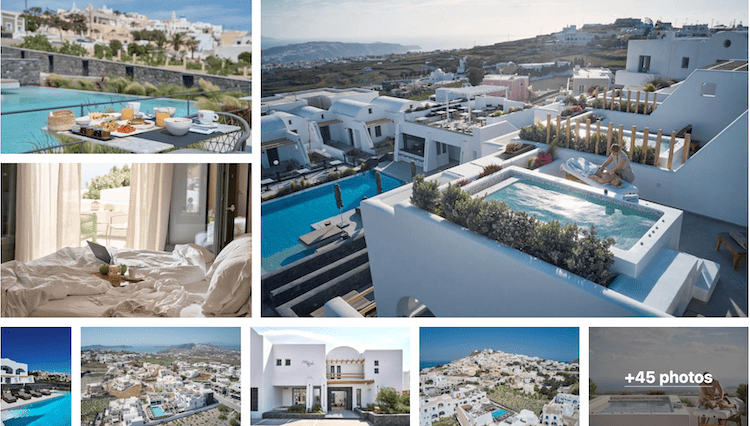 Enjoy the seasonal outdoor swimming pool or take a dip in the hotel's hot tub. Each room features a terrace with stunning pool views, perfect for enjoying your morning coffee outdoors.
Conveniently located only 2.9 km away from Thermis Beach and 5 km from Santorini Port, you can easily enjoy all that the island has to offer!
---
2. Mykonos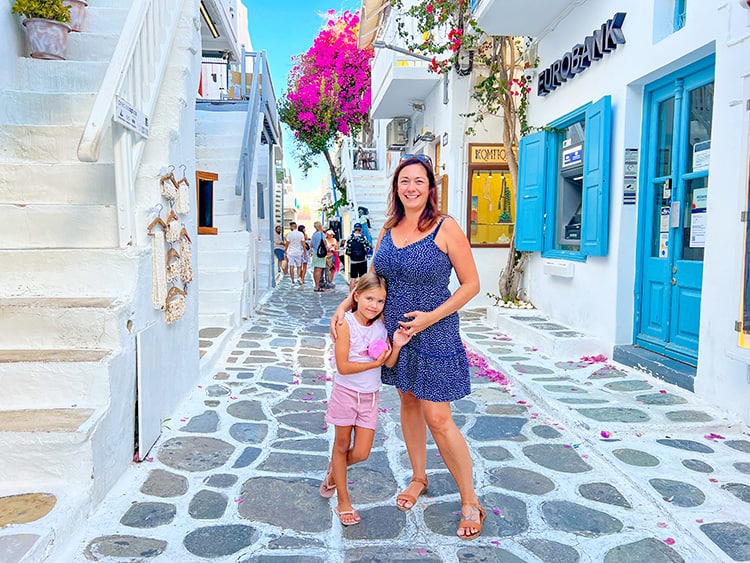 Mykonos is a gorgeous, sun-drenched paradise in the Greek Islands. With its whitewashed villages, stunning clifftop views, and beautiful turquoise waters, it's no wonder why Mykonos is one of the top tourist destinations in Greece.
Visitors can find plenty to do in Mykonos, from enjoying delicious Mediterranean cuisine and shopping at chic boutiques to exploring the island's ancient history and basking in its vibrant nightlife.
If you are wondering when to visit Mykonos for a quiet trip you can check our blog post on Mykonos in September as well as the best places to visit if it's your first time!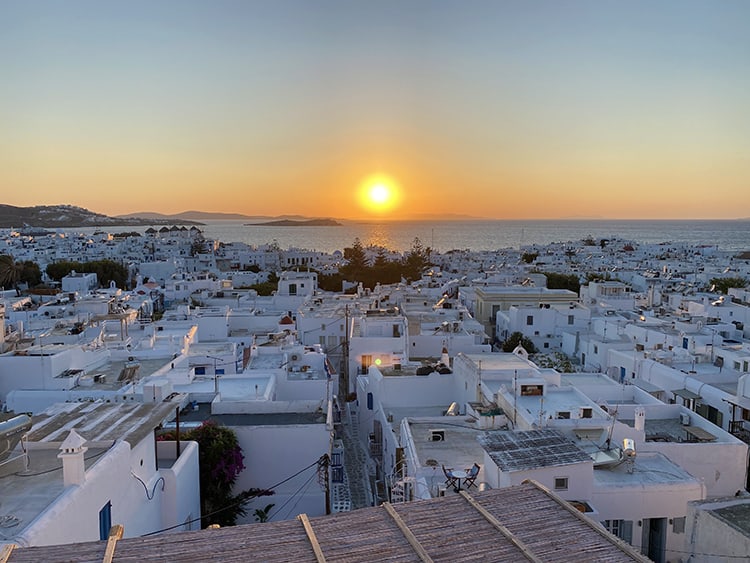 Whether you're looking for a relaxing beach holiday or an adventure-filled cultural experience, Mykonos offers something for everyone!
Fun Tours to Add To Your Itinerary
Best Time of Year to Visit Mykonos
The best time to plan your trip to Mykonos is between June and September. The weather during this time is a balmy Mediterranean mix with hot days, but a cooling breeze from the sea.
The water is warm enough for swimming, meaning you can take full advantage of one of Mykonos' stunning beaches.
Where to Stay in Mykonos
Asty Mykonos Hotel & Spa is the perfect place for travelers visiting Greece's renowned island of Mykonos.
Located in Drafaki, just a short distance from Megali Ammos Beach, the hotel offers guests many amenities including a seasonal outdoor swimming pool and fitness center, bar, and garden.
Some rooms even have balconies with stunning views of the sea!
---
3. Crete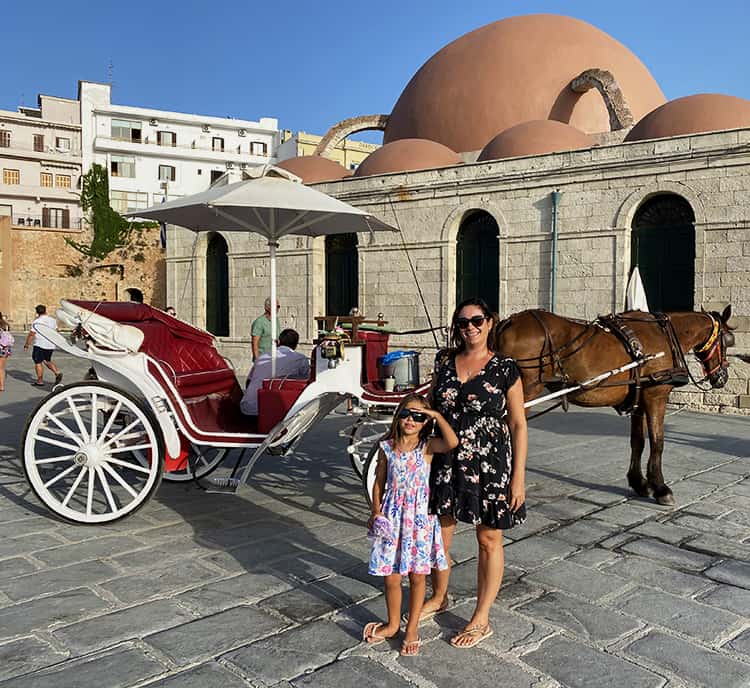 Crete is an amazing place to visit in Greece, offering a wealth of unique attractions and activities for visitors.
The island is blessed with stunning natural beauty, including its picturesque beaches, turquoise sea, and rolling hills.
Crete also has a rich cultural heritage that can be explored through its many villages, Byzantine monasteries, archaeological sites, and museums.
Visitors can enjoy exciting outdoor activities such as sailing, horseback riding, and cycling, there are so many places to visit while on a family holiday to Crete.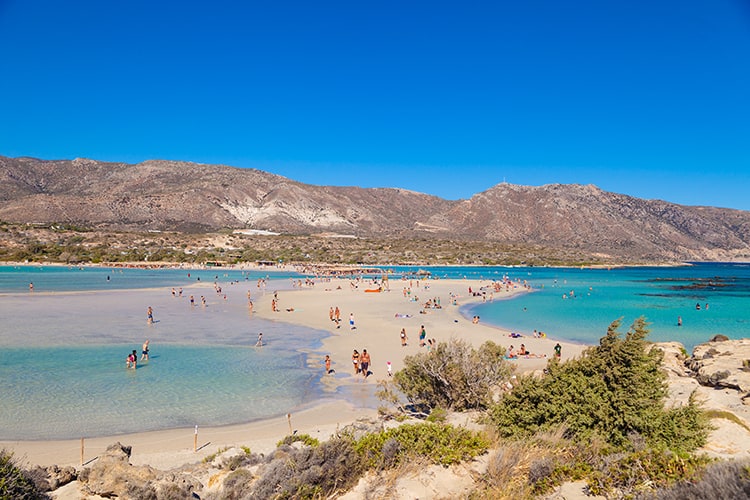 Additionally, the delicious local cuisine is not to be missed!
With so much to do and see in Crete, it's clear why it's one of the most popular destination in Greece!
Fun Tours to Add To Your Itinerary
Best Time of Year to Visit Crete
Crete is a great destination to visit throughout the year, however, the peak season falls in Summer (June – September). During this time, temperatures reach an average of 81.5°F and 85.1°F with hours of sunshine lasting around 9-12 hours daily.
Where to Stay in Crete
Domes Noruz Chania, Autograph Collection is a paradise for travelers visiting Crete.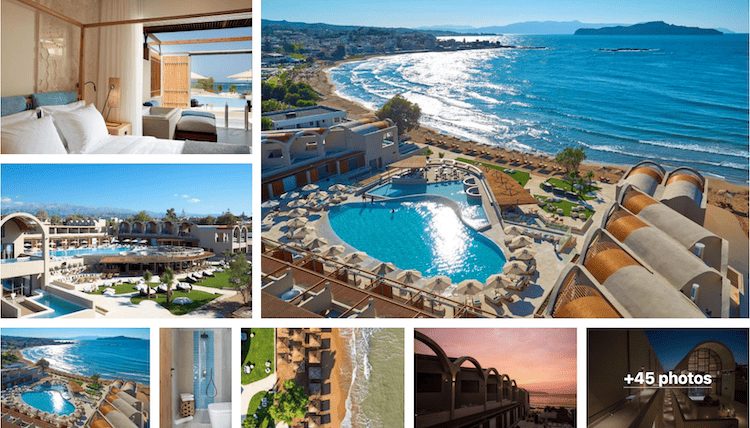 Offering private access to a sandy beach in Agioi Apostoloi and being the first Greek resort to be an honoree for its interior and exterior design.
The hotel has 2 pools overlooking the azure waters and the surrounding islands.
All accommodation types at Domes Noruz Chania have extended outdoor living areas, with outdoor bathtubs and either a hot tub or plunge pool.
---
4. Zakynthos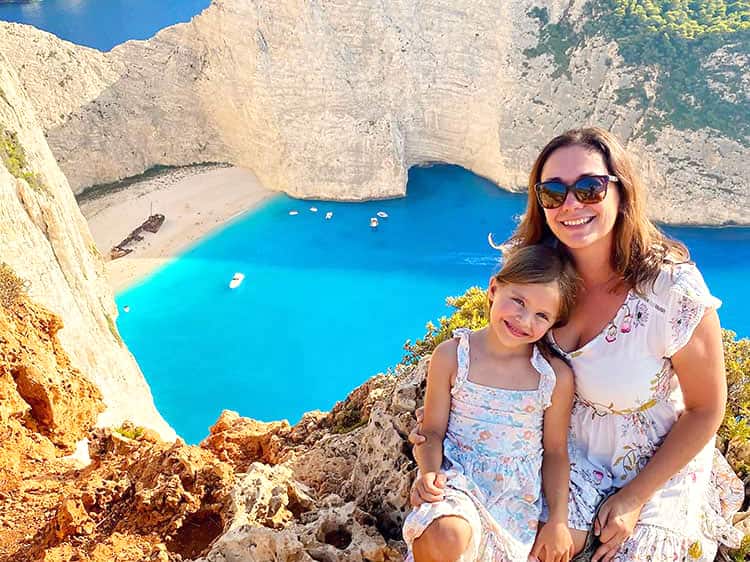 Zakynthos, or Zante as it's often called, is one of the most beautiful and unique islands in Greece.
Known for its stunning natural beauty, Zakynthos is home to some of the most breathtaking beaches in the Mediterranean, surrounded by crystal-clear turquoise waters and dramatic cliffs.
It's also known for its vibrant nightlife and thriving restaurant scene. Whether you're looking to soak up the sun on a beach, explore hidden coves, or experience the vibrant nightlife of Greece, there are always fun things to do in Zakynthos.
You can check out our blog post for the best boat tours in Zakynthos!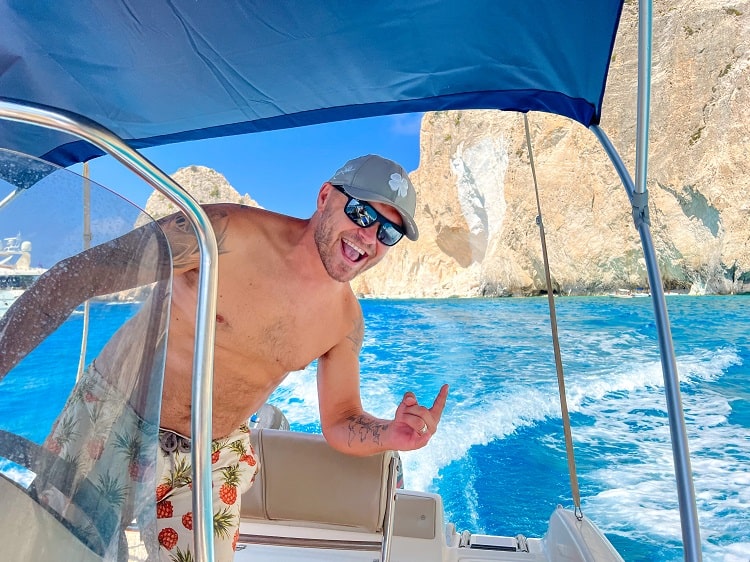 Fun Tours to Add To Your Itinerary
Best Time of Year to Visit Zakynthos
Zakynthos Town has a Mediterranean climate with hot dry summers and mild winters. The best time to visit Zakynthos Town is between June and September when the weather is typically sunny and warm.
Where to Stay in Zakynthos
Zante Maris Suites is the perfect choice for travelers visiting Zakynthos! Located just a 13-minute walk from Tsilivi Beach, it offers a plethora of amenities to ensure that visitors have the best experience possible.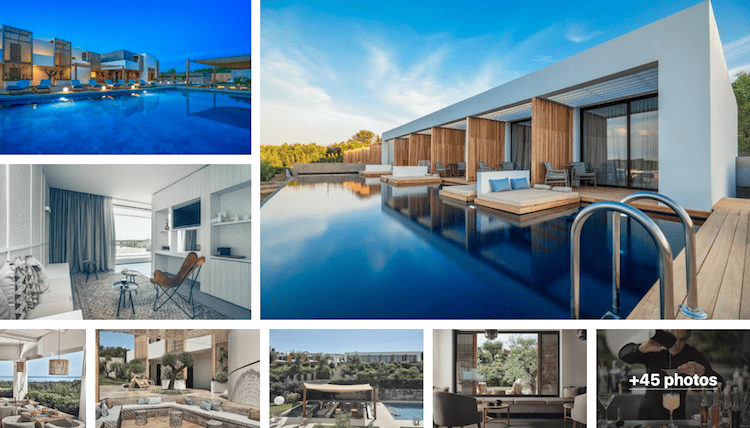 All suites are fitted with air conditioning and some even boast sea views, access to a communal pool, or even a private pool.
Guests can also take advantage of the fitness room.
---
5. Meteora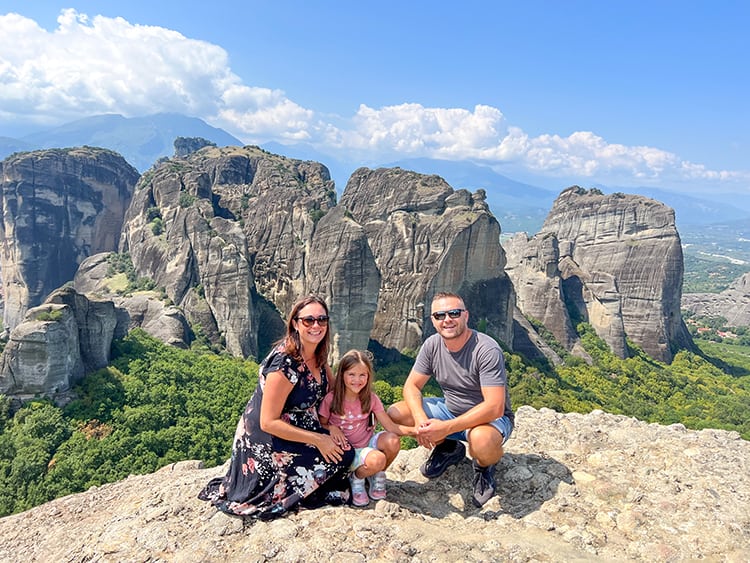 Meteora is one of the most popular destinations in Greece for people looking to experience some of the country's breathtaking views.
Its unique landscape, composed of huge sandstone pillars with monasteries perched atop them, is a sight not to be missed. Meteora is also home to many hiking trails, which offer impressive views and a great way to explore the area.
There are also plenty of charming villages and stunning monasteries in Meteora scattered throughout the site that can be explored.
For an unforgettable experience, take a sunrise or sunset tour and marvel at the magnificent rocks lit up by nature's own light show.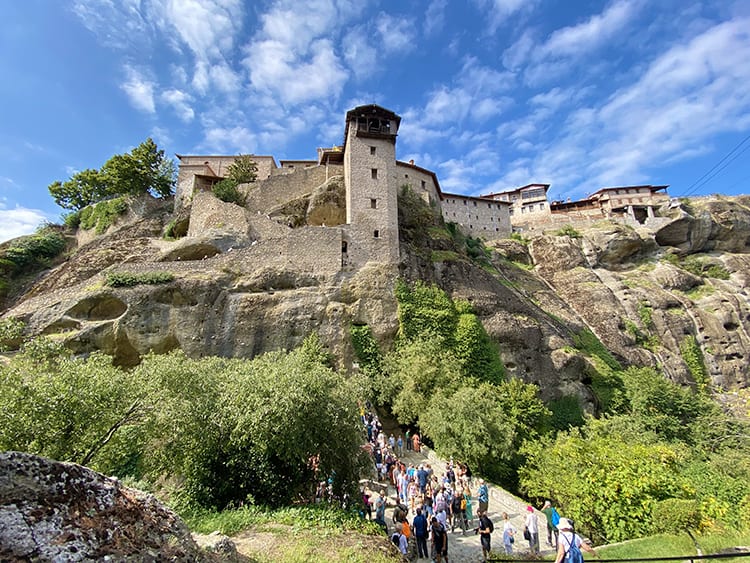 Whether you're looking for outdoor adventure or cultural exploration, be sure to visit Meteora when traveling to Greece.
Fun Tours to Add To Your Itinerary
Best Time of Year to Visit Meteora
September to November offer the ideal timeframe to visit Meteora, as the crowds are less overwhelming.
Where to Stay in Meteora
Divani Meteora Hotel is the perfect destination for travelers looking to take a break from their fast-paced lives and enjoy all that Meteroa has to offer.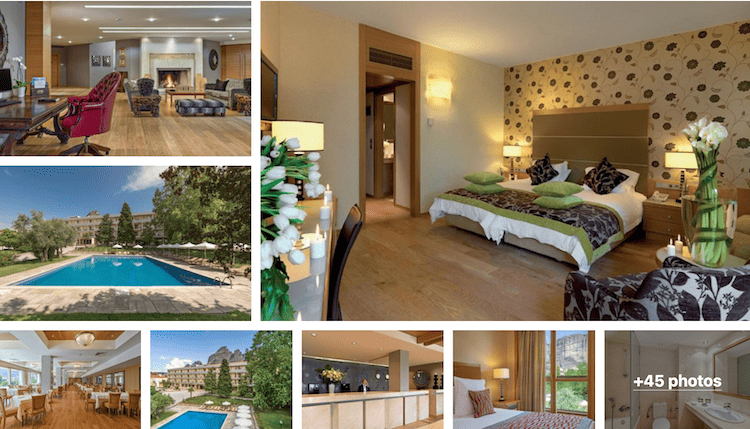 Divani Meteora Hotel has stunning views of the Meteora rocks.
Take a dive in the outdoor pool or lounge around in the recreational area which includes an indoor pool (room temperature), sauna, jacuzzi, steam room, and exercise room.
---
6. Corfu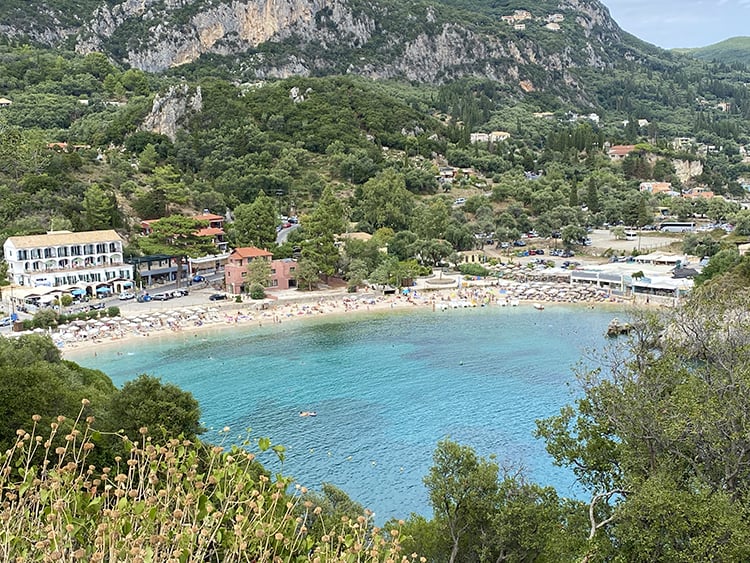 Corfu is a truly special place to visit in Greece.
Its dramatic coastline, lush olive groves, and historic old town make it one of the most beautiful places in the country.
The crystal clear waters beckon visitors to explore its beaches and islands, with plenty of opportunities for swimming and snorkeling.
Corfu also offers plenty of cultural attractions like the Achilleion Palace and Old Fortress to explore.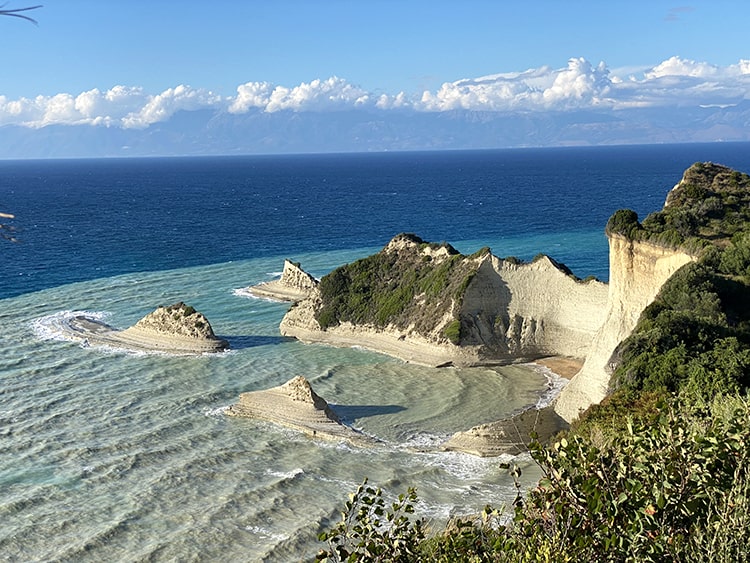 Best of all, the local culture is warm and friendly and you'll be welcomed with open arms.
Whether you're looking for a relaxing beach vacation or an exciting adventure exploring ancient ruins, you can find some places to visit and things to do in Corfu from our blog post!
Fun Tours to Add To Your Itinerary
Best Time of Year to Visit Corfu
The ideal time to visit Corfu is in the Spring (April-May) and the Fall (September-November) for pleasant temperatures and fewer crowds.
Where to Stay in Corfu
Angsana Corfu Resort & Spa provides travelers with an amazing opportunity to explore the natural beauty of Corfu.
With its seasonal outdoor swimming pool, sprawling garden, and fitness center, there's something for everyone here!
Guests can also experience the local flavors of Greek, Mediterranean, and Seafood cuisine at the on-site restaurant.
But that's not all, Kaiser Bridge Beach is only 2 km away from Angsana Corfu Resort & Spa, perfect for a day out exploring! Even closer is Aeolos Beach just 2.6 km away.
---
7. Parga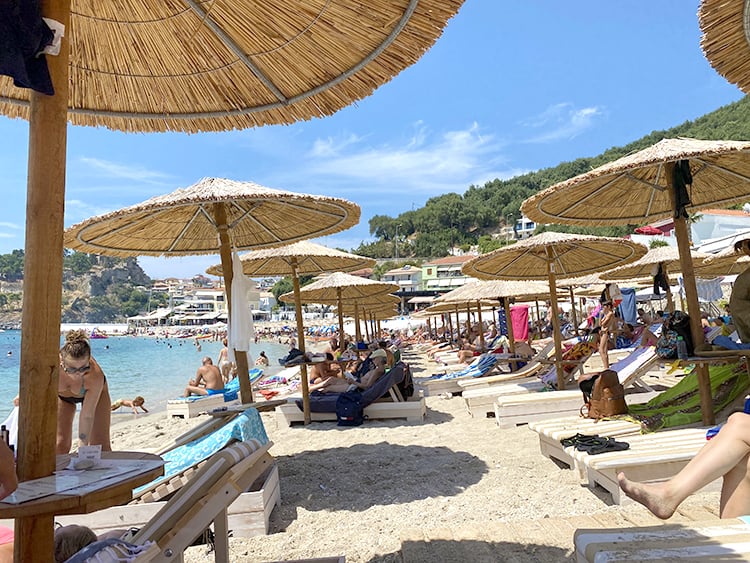 Parga is an idyllic and picturesque Greek coastal town that offers something for everyone to enjoy.
Located in the northwestern part of Greece, Parga is a popular destination for sun-seeking tourists due to its stunning coastline and crystal-clear waters. There are plenty of beautiful beaches to relax on and explore as well, many with stunning views of the mountains in the background.
Sightseeing here is a must, as some of the most important archaeological sites are located nearby.
For those looking for more active pursuits, there are lots of water sports activities available, from diving to canoeing and jet skiing. In addition, visitors can take boat trips around the island or even explore neighboring islands by ferry.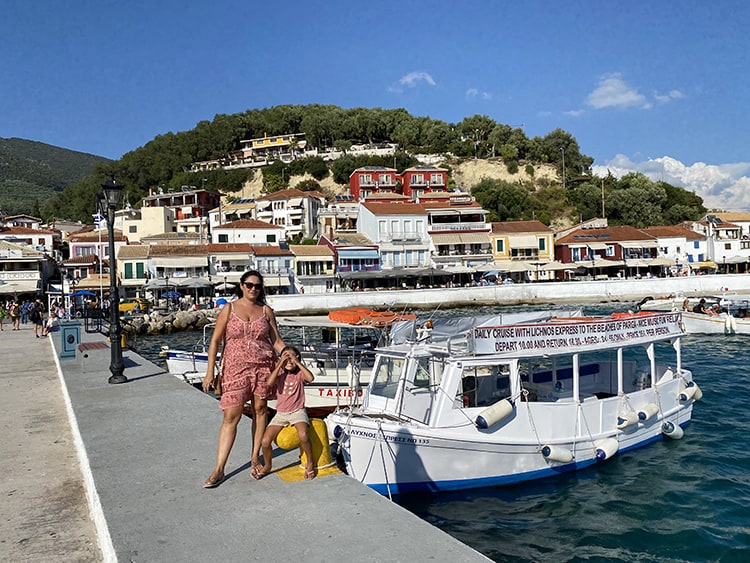 With its rich history, delicious food, and lively nightlife, Parga truly has something for everybody!
For first-time visitors you may find our blog post on the ultimate guide to Parga helpful!
Fun Tours to Add To Your Itinerary
Best Time of Year to Visit Parga
Parga, Greece is a great destination to visit all year round, but especially in the Spring and Autumn. During these times of year, visitors can expect mild temperatures, gentle breezes, and plenty of sunshine.
Where to Stay in Parga
Eterrano Seaside Retreat offers breathtaking views of the sparkling waters and ancient architecture of Parga.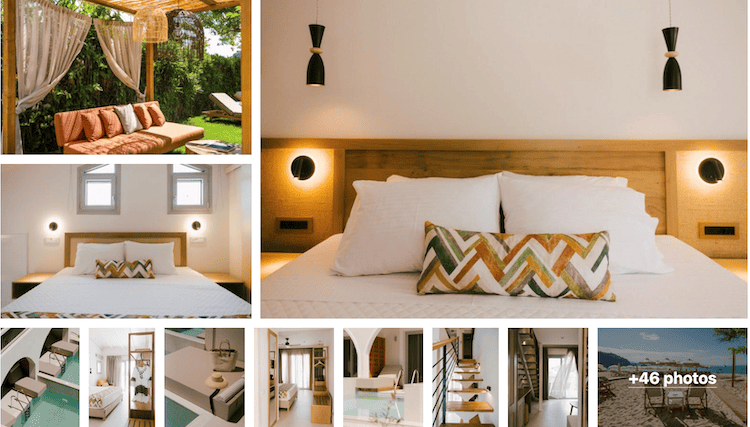 Set 1.9 km from Ai Giannakis Beach, Eterrano is the perfect getaway for couples looking to relax and soak in the beauty of the Mediterranean. Plus, each room has its own terrace, so you can take time away to enjoy a romantic dinner without leaving your private paradise.
And if you're itching to explore more of this stunning city, Piso Krioneri Beach is just 2.3 km away while Castle of Parga is only 1.6 km distant!
---
8. Kefalonia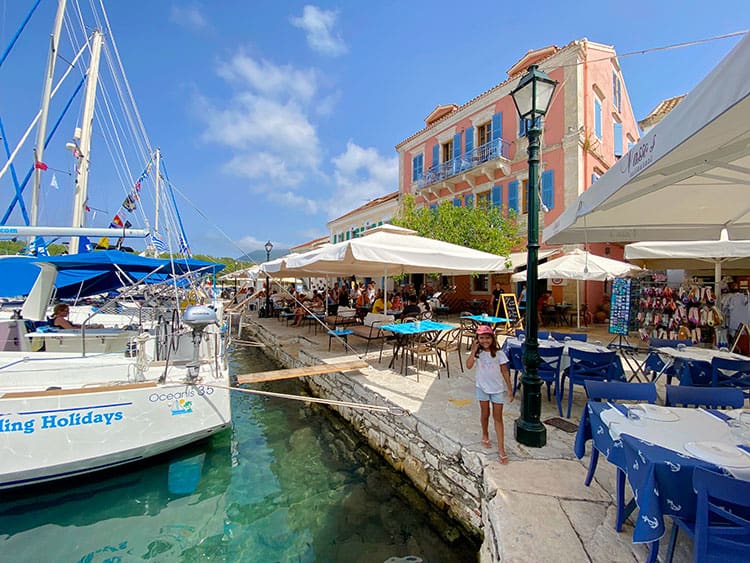 Kefalonia is one of the Greek Ionian islands worth visiting for its stunning beauty and wealth of activities.
Located in the Ionian Sea, it offers many activities like boat tours to explore hidden coves, breathtaking hikes to secluded beaches, and even trips to visit ancient ruins.
Kefalonia is also known for its excellent local food, olive oil and wine production, and unique culture so it's definitely worth a trip!
You may find our blog post on the best things to do in Kefalonia helpful to plan your trip.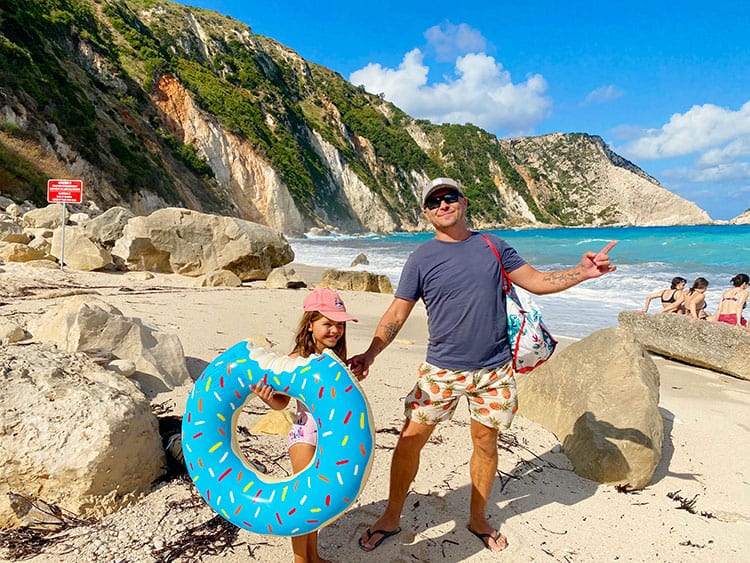 From lounging on the beach to exploring hidden caves, Kefalonia has something for everyone in the family.
Fun Tours to Add To Your Itinerary
Best Time of Year to Visit Kefalonia
The best time to visit is from June to August when you can expect clear blue skies and plenty of sunshine ideal for swimming and sightseeing.
During this period, the days are long and inviting, with temperatures ranging from 70F (in the cooler evenings) to 88F on hot summer days.
Where to Stay in Kefalonia
F Zeen is a luxurious oasis for adults that will make your stay in Kefalonia truly unforgettable.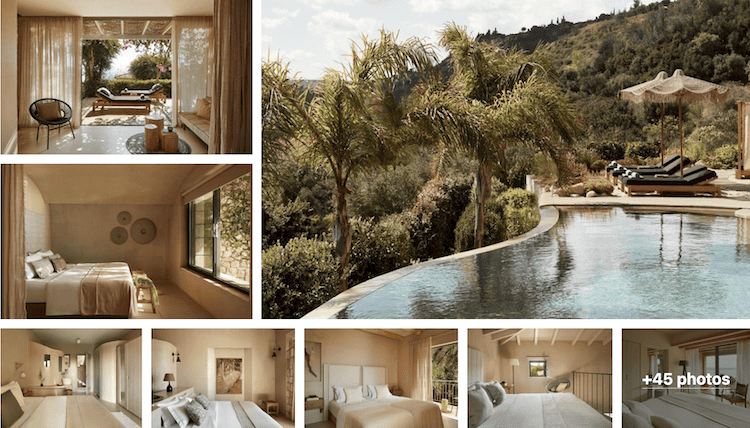 Located just 50 meters from the breathtaking Lourdas Beach and also has 3 swimming pools to enjoy during your stay. All units open up to a comfortable furnished balcony or patio overlooking the stunning Ionian Sea or lush gardens.
In addition, F Zeen features two on-site restaurants so you can easily find something delicious to eat without ever leaving the property. If you're looking for more variety, there are restaurants and mini-markets within 100 meters of the hotel.
---
9. Lefkada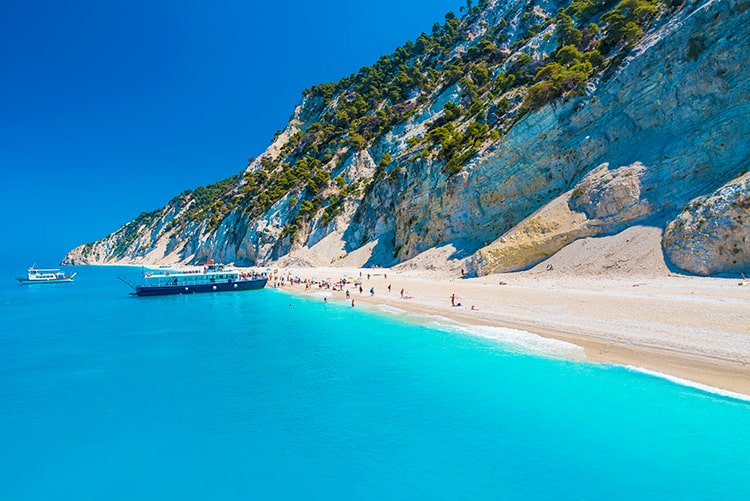 Lefkada is nothing short of paradise. This Greek island has everything from beautiful beaches and stunning views to a vibrant culture and excellent seafood.
Some of the best things to do in Lefkada include exploring its numerous hiking trails, swimming in crystal clear waters, snorkeling, kayaking, and sailing around the nearby islands.
For a more slow-paced day relax on one of its many beaches.
Due to its unique waterfront location, surrounded by the sea on three sides, this place is ideal for bars, cafes, and restaurants. The marina is a must-visit for tourists, with hundreds of boats moored.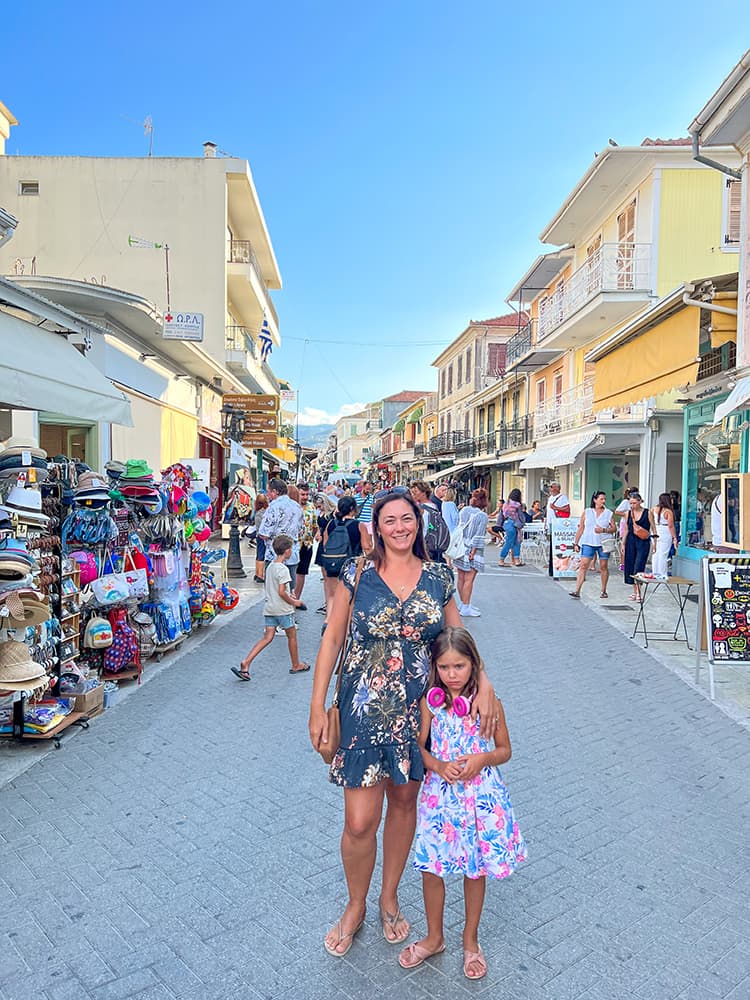 It's also a popular nighttime spot, perfect for enjoying the local eateries and pubs.
There is so much to do in Lefkada it's no wonder why Lefkada is one of the most popular destinations in Greece!
Fun Tours to Add To Your Itinerary
Where to Stay in Lefkada
Crystal Waters is the perfect hotel in Lefkada.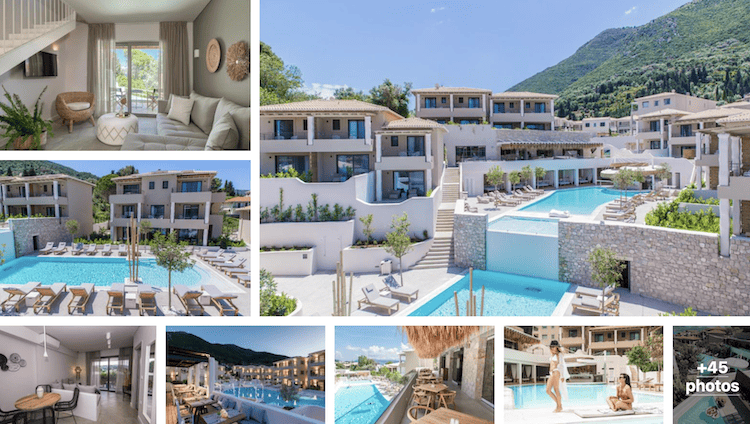 With an outdoor pool, sun terrace, and sun loungers, Crystal Waters in Nikiana is the perfect spot.
The hotel boasts a modern restaurant and elegantly decorated suites with serene views. Each suite features a seating area and a contemporary bathroom with a walk-in shower.
Enjoy delightful Mediterranean dishes at the on-site restaurant for lunch or dinner.
---
10. Rhodes
Contributed by Adventures of Alice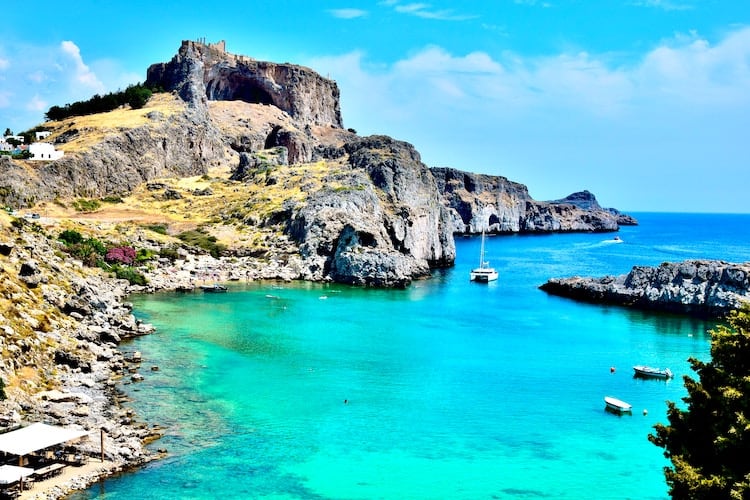 Rhodes was the first place I visited in Greece and it sparked my love for the country.
The island is the largest of the Dodecanese islands and has the perfect balance of beautiful beaches and ancient history, and there are so many fantastic things to do in Rhodes.
Known for its rich history and stunning natural beauty, Rhodes is often referred to as the "Island of the Knights" due to the medieval Rhodes Old Town, which is a UNESCO World Heritage site.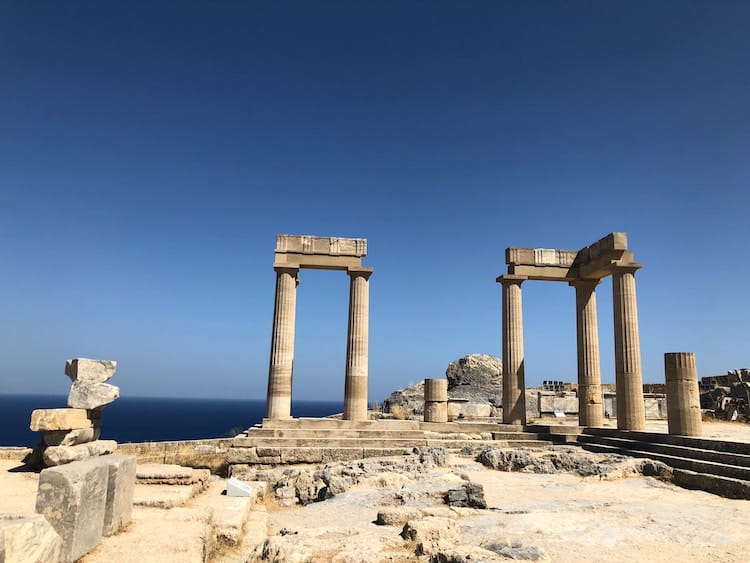 You can literally walk down ancient streets, see well-preserved fortifications, and climb to a stunning Acropolis overlooking one of the most gorgeous bays.
Fun Tours to Add To Your Itinerary
Where to Stay in Rhodes
If you're looking for somewhere cute to stay in Rhodes and love the idea of self-catering, I highly recommend the Kathara Bay Apartments.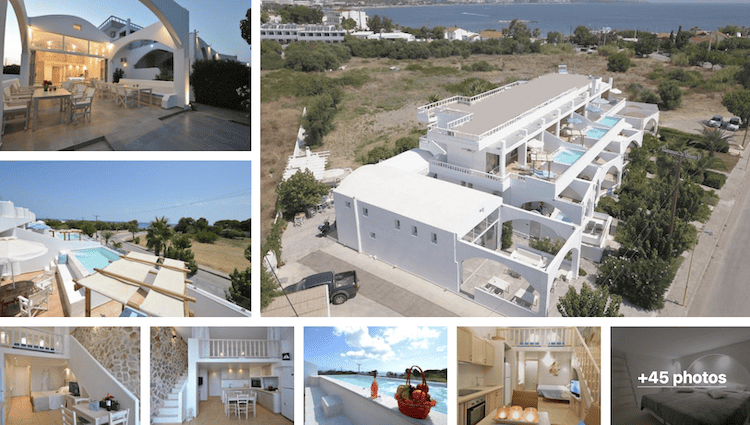 Located in Faliraki, they are private but still within walking distance of the lively town. They also have their own private pool for some of the rooms which, let me tell you, is a bonus!
---
11. Athens
Contributed by Vicki Viaja
Anyone visiting Greece should make sure to visit the marvelous capital city as it is one of the best cities to visit in Greece.
Full of exciting history, fascinating culture, great food, welcoming locals, and picturesque streets, Athens is definitely a must-see for any visitor to Greece.
When you visit Athens there are many day trips that you can take from Athens and one you should do is visit the history-rich Acropolis. This place has a long history and is probably the most essential place in the city to this day.
You can see it from various corners perched high above the rooftops of the city – with that majestic atmosphere that the Acropolis has preserved all these years.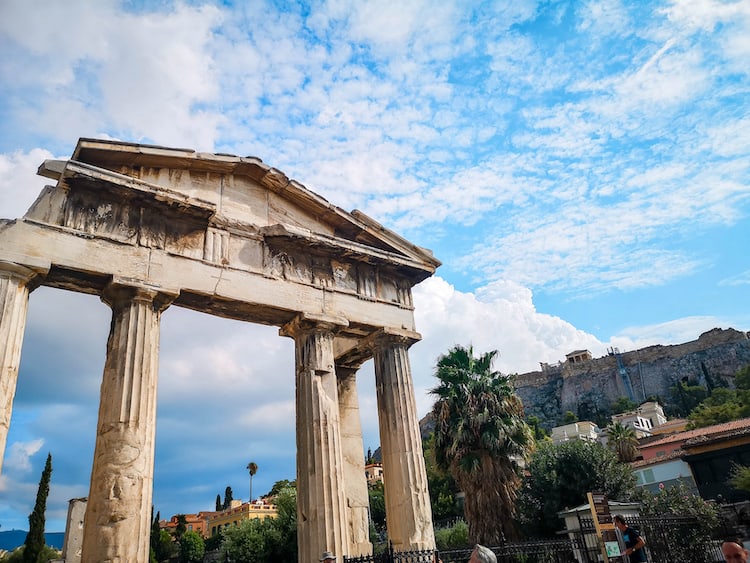 When you're viewing the city's historic sites, a walk through one or more of the surrounding neighborhoods should also be on your Athens itinerary.
A great example of this is the Plaka neighborhood, which is right near the Acropolis and offers some fascinating viewpoints.
Stroll through the narrow, flower-strewn alleys and soak up this unique Greek atmosphere. I especially liked walking around and viewing all those cats living here.
Fun Tours to Add To Your Itinerary
Where to Stay in Athens
Niche Hotel is a 4-star hotel located in Athens, only 200 meters from Acropolis Museum and Akropolis Metro Station.
This popular hotel is also close to Syngrou/Fix Metro Station, the Temple of Olympion Zeus, and the Odeum of Herodes Atticus.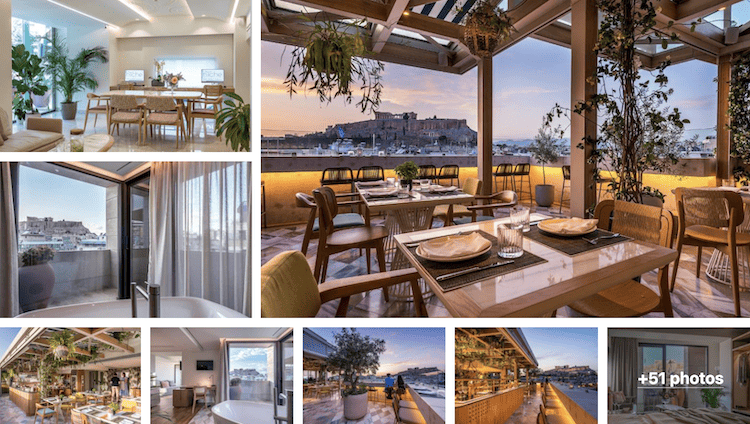 The city center is just 1.2 km away. If views are important to you, be sure to check out the best rooftop pools in Athens.
---
12. Paros
Contributed by North Carolina Travel Guides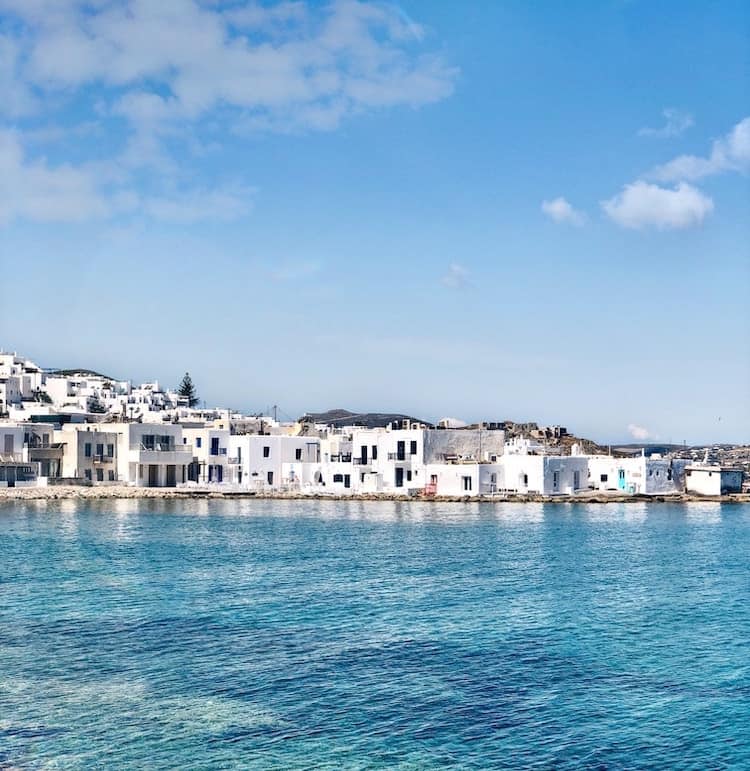 Paros is a Greek island that's part of the Cyclades island group and it's one of the best places to visit in Greece.
What I liked most about the island is that it's much quieter than the famous islands in Greece. Because of this, a visit to the island felt much more authentic.
One of the best things to do in Paros is to explore its nice villages, including Naousa and Marpissa. Naousa is a fishing village that has plenty of shops and restaurants, and Marpissa is a small peaceful village where one can find beautiful Cycladic architecture.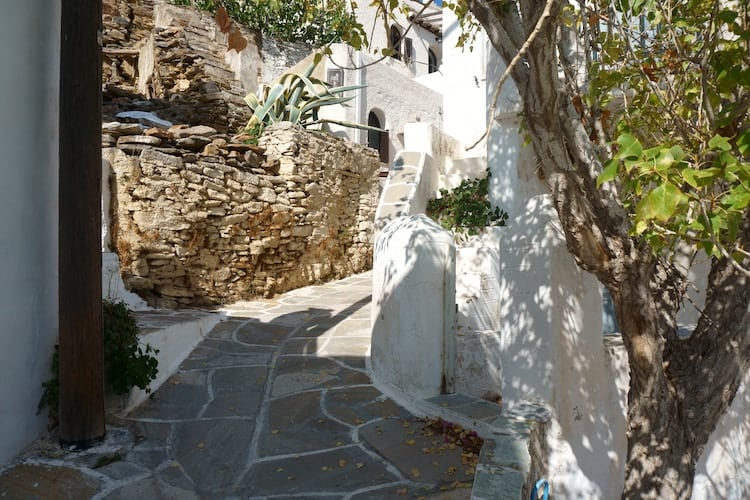 Another great thing to do is to go to Panagia Ekatontapiliani, which is a historic Byzantine church complex that you can find in Parikia.
One thing to do that you shouldn't miss out on is having Greek food at the island's incredible restaurants.
Fun Tours to Add To Your Itinerary
Where to Stay in Paros
One of the best hotels in Paros is the Akrotiri Hotel.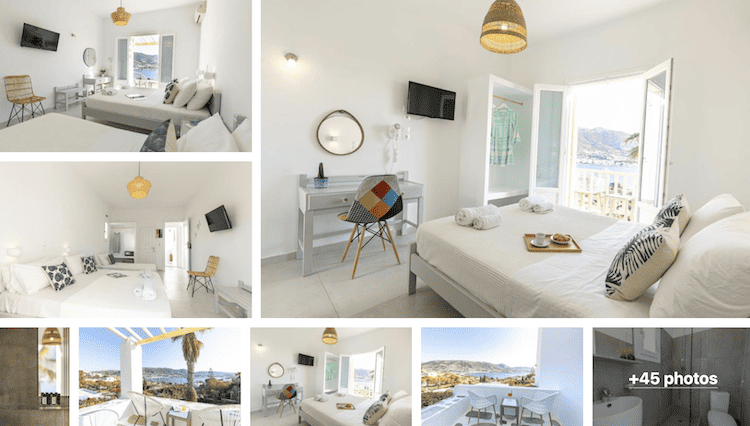 If you stay here, you can enjoy gorgeous views of Parikia Bay. In addition to that, the hotel has a wonderful outdoor pool. You can have breakfast at the restaurant of the hotel and there's also a poolside snack bar.
---
13. Milos
Contributed by Museum of Wonder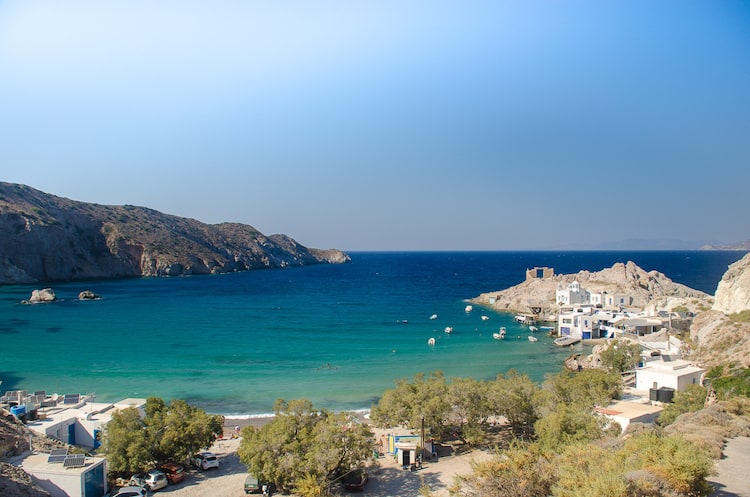 Beautiful Milos is in many ways the Greece people picture before visiting. Quaint whitewashed villages, cerulean blue water, friendly locals, and amazing food.
And best of all – it's still miraculously flying under the radar.
Where Milos truly shines and what sets it apart from the other Greek islands is its beaches.
Milos has some of the best beaches in Greece and that is the reason why you should come. We are suckers for a good stretch of sand and clear blue water, and Milos delivered.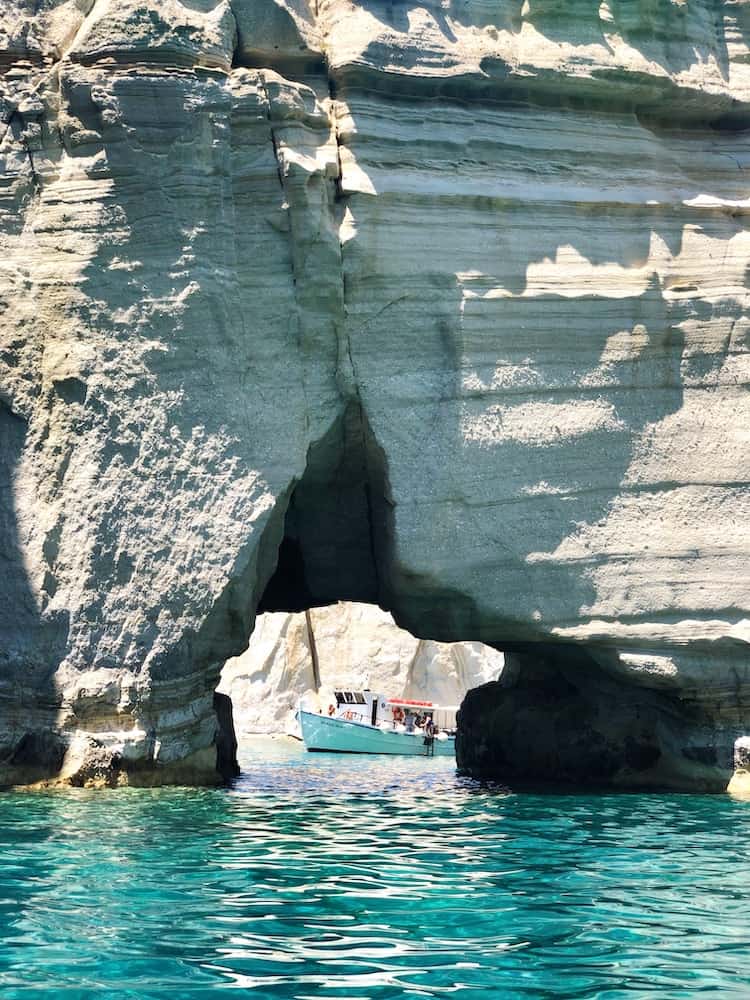 But we cannot stay on the beach all the time (or can we?). Besides stunning beaches, Milos strikes the perfect balance between sightseeing and relaxing.
Fun Tours to Add To Your Itinerary
Where to Stay in Milos
The best place to stay in Milos is the village of Adamas. This is where the ferry docks, there are a few waterfront tavernas and it's easy to explore the island from here.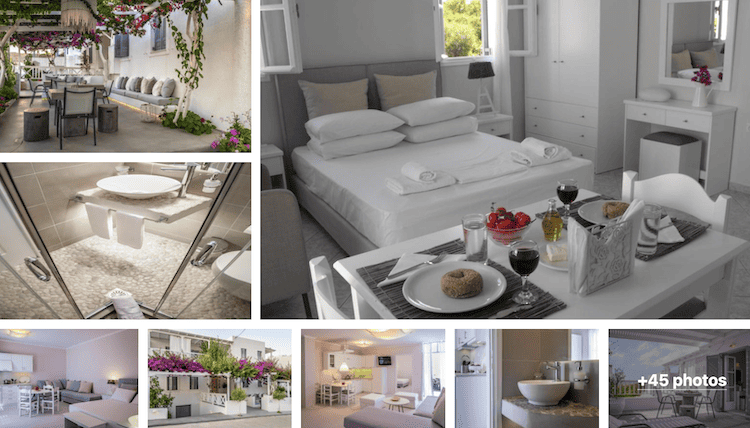 Milos Bay Suites near Papikinou Beach is centrally located near all but remains quiet. It's under a minute's walk to the beach and or the restaurants.
---
14. Naxos
Contributed by Pazook Travel Journal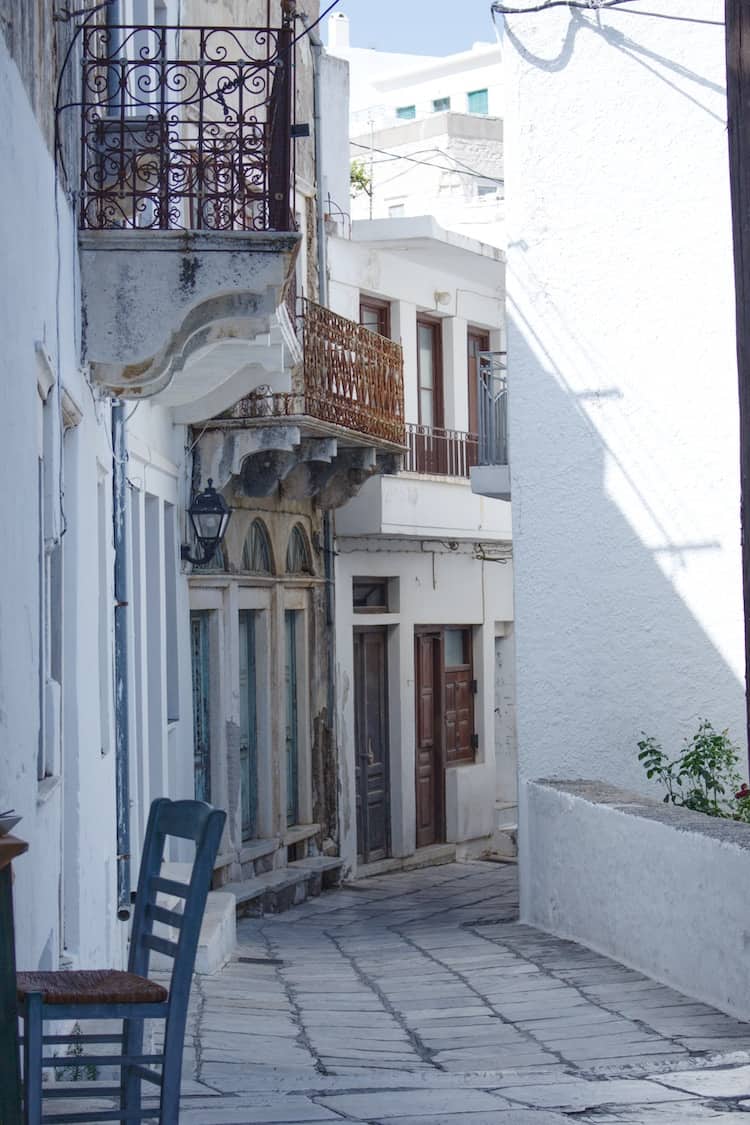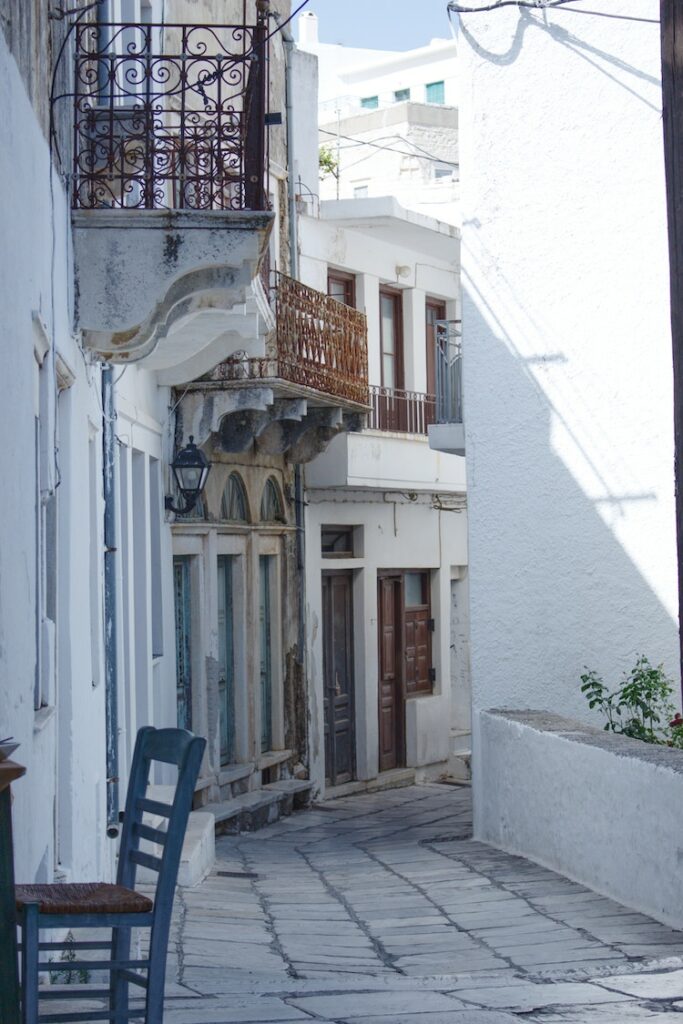 Naxos is the largest of the Cyclades islands but still has significantly fewer tourists than other islands in the Aegean Sea, and it remains one of the most cost-efficient places to visit in Greece, too!
The island is most well known for its bustling port city (called the 'Chora'). In addition to many places to each, you'll also find an imposing Venitian castle overlooking the port, countless neoclassical buildings, and narrow cobblestone streets lined with gyro stands and coffee shops.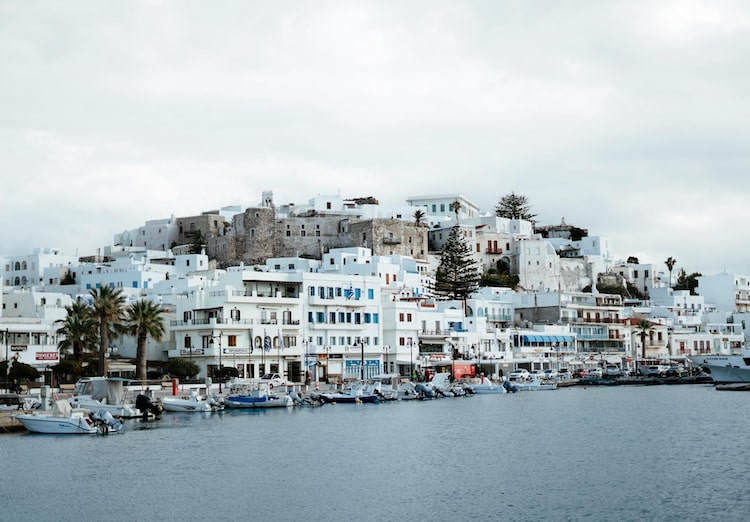 Naxos is also famous for the Apolla Temple ruins, the iconic Byzantine Footpath, and a few beautiful beaches that line the island's east coast. You can even go beach hopping if you have your own transportation!
Fun Tours to Add To Your Itinerary
Where to Stay in Naxos
The most popular place to stay on the island is near Chora, but smaller villages and beach towns, such as Chalki and Agia Anna, provide a more remote stay in Naxos.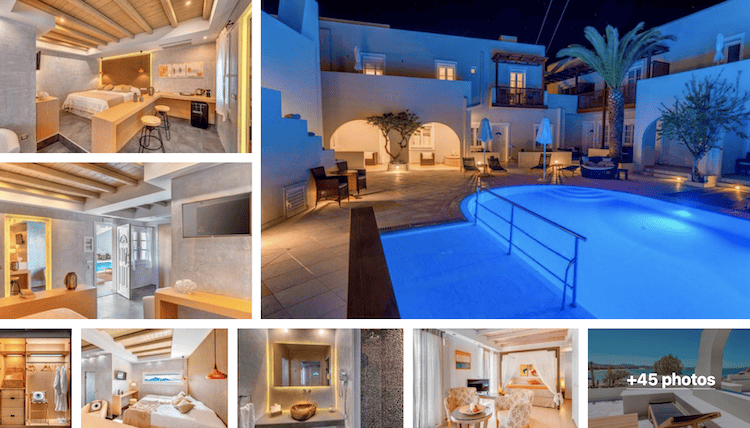 Nissaki Beach Hotel is gorgeous, with world-class service and surprisingly great rates. The hotel sits on Agios Georgios Beach, which is a great place to relax away from the crowds, but you'll still be close enough to Chora to access lots of shopping and restaurants!
---
15. Monemvasia
Contributed by Around The World With Me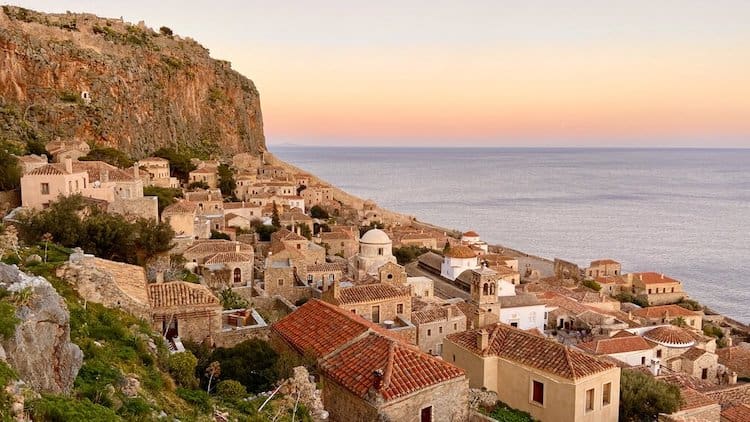 One of the most underrated destinations in Greece is the walled medieval village of Monemvasia.
Hidden away on a small island on the Peloponnese Peninsula about 4 hours from Athens, Monemvasia is a picturesque, car-free village that should be on any Greek road trip itinerary.
The light brown stone masonry buildings of Monemvasia have been wonderfully restored, giving the town a historic charm. The city is small, making it easy to see in one day.
The main activities in Monemvasia are walking the historic streets and hiking around the island.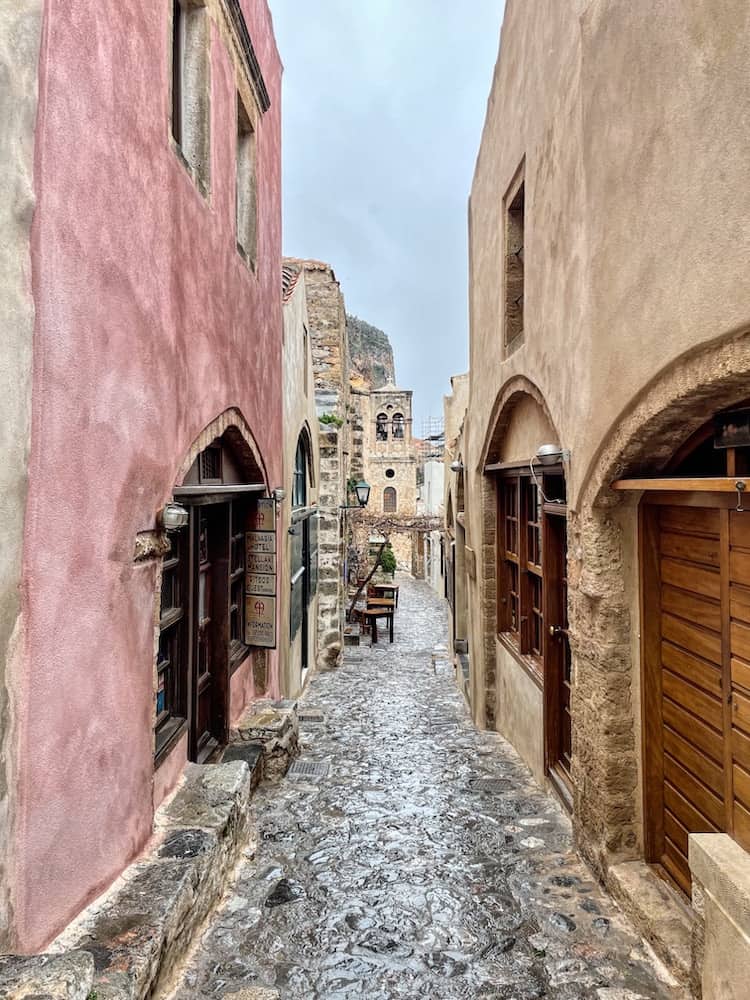 For an amazing view of the village from above, hike the stairs up to the Hagia Sophia Holy Orthodox Church at the top of the mountain.
Along the way, there will be some pretty epic views. My favorite viewpoint was from along the dirt trails on the rugged mountains.
The streets of Monemvasia are full of little gift shops and cute cafes. Enjoy a fine glass of local wine as you sit on the terrace overlooking the Aegean Sea.
The old village was just so charming that I didn't want to leave!
Fun Tours to Add To Your Itinerary
Monemvasia is easy to explore on your own, but should you wish to combine it with a long day trip from Athens or a multi-day trip around the Peloponnese, there are a few options:
Where to Stay in Monemvasia
There are a few hotels and numerous lovely guest houses in Monemvasia. My personal recommendation is to stay at Pablito House, a rustic holiday home with multiple rooms for rent.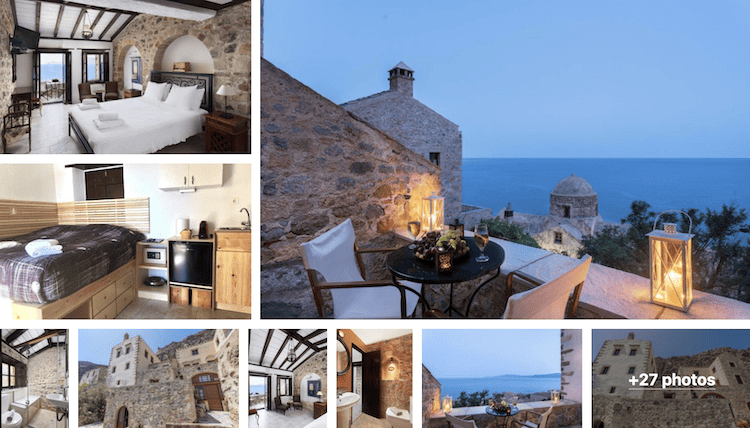 The location is amazing and the views from the terrace can't be beat.
---
16. Ios
Contributed by LooknWalk Greece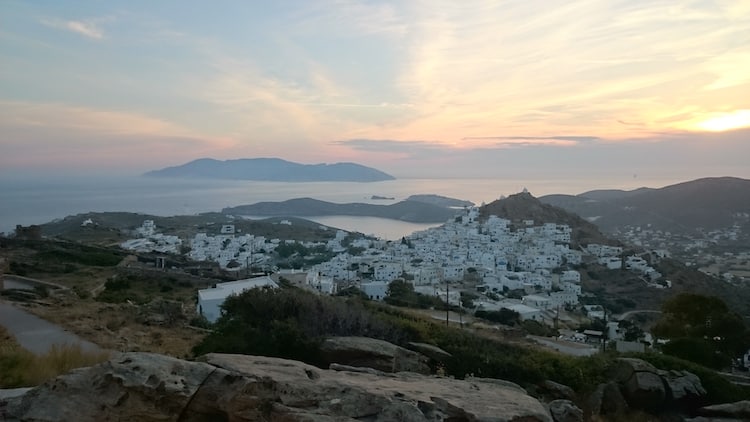 Part of the Cyclades and located close to Santorini, Ios is known as a party island. While this is true during the peak travel season, if you visit in late spring or early autumn, you'll be delighted with a laid-back island atmosphere.
Whether you travel as a couple, with a group of friends, or solo, there's plenty to do here.
I chose Ios as a wedding anniversary destination and had a lot of fun. Since we enjoy being active, we particularly enjoyed exploring the Bronze Age Settlement of Skarkos.
Visiting the small Archaeological Museum of Ios added a lot more information and context, especially about the relationship between Ios and Santorini.
Another enjoyable outing was visiting the ruins of the Venetian Castle. The hike is not hard and the views from the top are exquisite!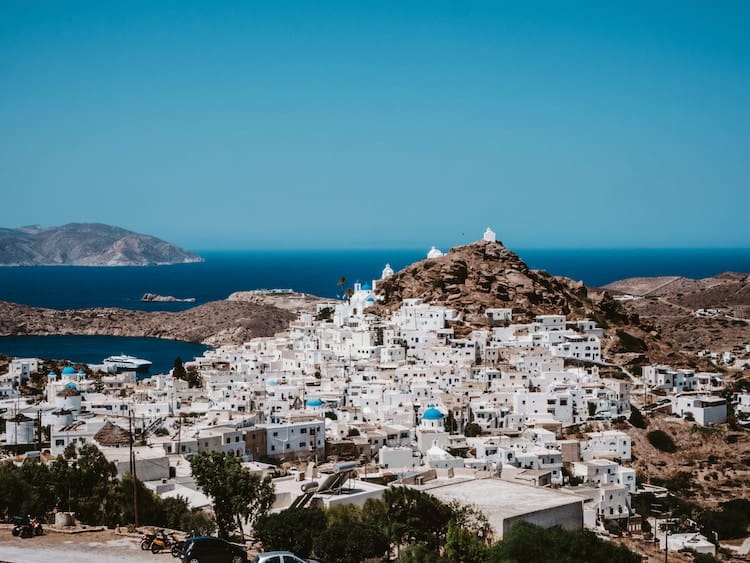 No trip as a couple is complete without experiencing lovely sunsets. The easiest spot to access is in the port, but the most magnificent view was from the Gaitis Museum, close to the Odysseas Elytis Theatre.
We couldn't help but explore a few beaches, too. We loved the hike from Mylopotas Beach to Klima Beach, complete with a picnic!
Many beaches dot the island, so there's no shortage of places to explore and soak up the sun. Or enjoy some water sports.
Tavernas abound and in just a few days we found our favorite in the port: The Octopus Tree! For some super fresh seafood, head to Drakos Taverna, close to Mylopotas Beach.
Fun Tours to Add To Your Itinerary
Where to Stay in Ios
No matter your budget, there are plenty of accommodation options to choose from. We opted for the budget-friendly Galini Pension, located close to the port.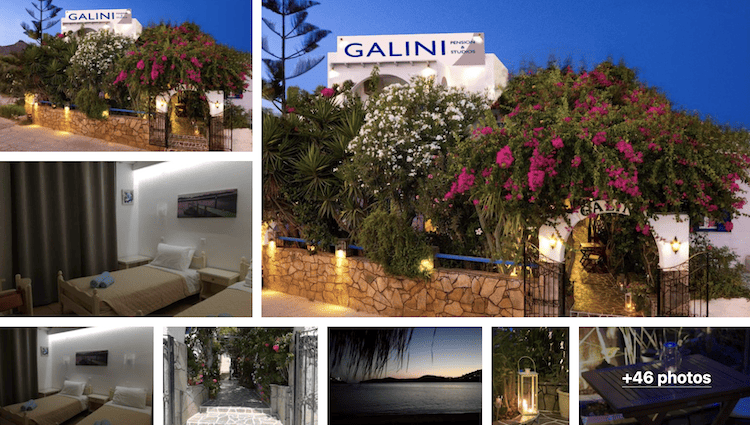 ---
17. Nafplio
Contributed by Can Travel Will Travel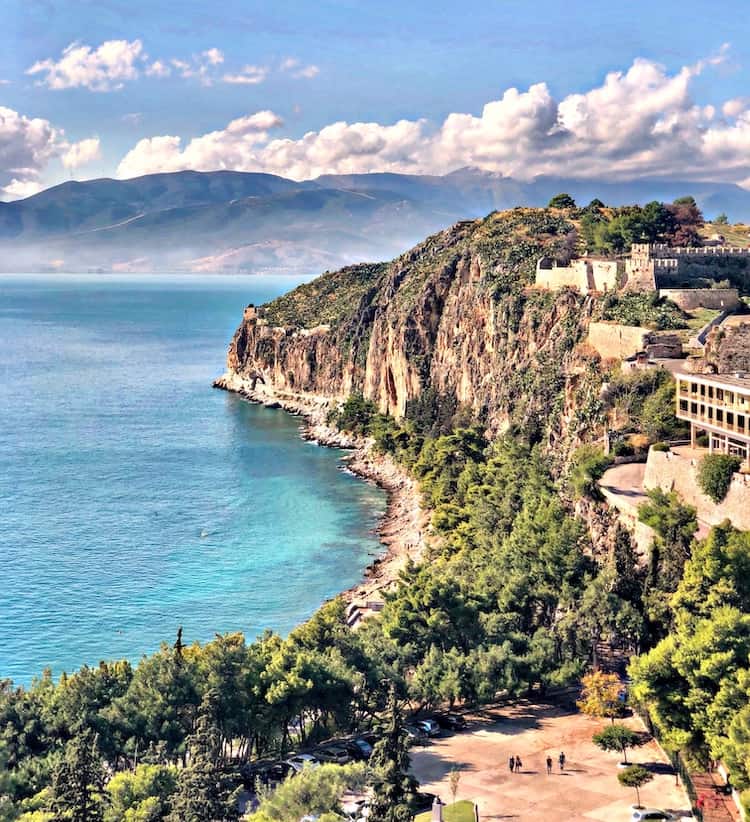 Nafplio is a charming coastal city in the region of Argolis in eastern Peloponnese. It's known for its beautiful coastline, deep history, distinct architecture, and stunning scenery.
There are many things to do in Nafplio. The highlight is climbing the steps up to Palamidi castle which towers over the city with a breathtaking 360 view of the city and coast.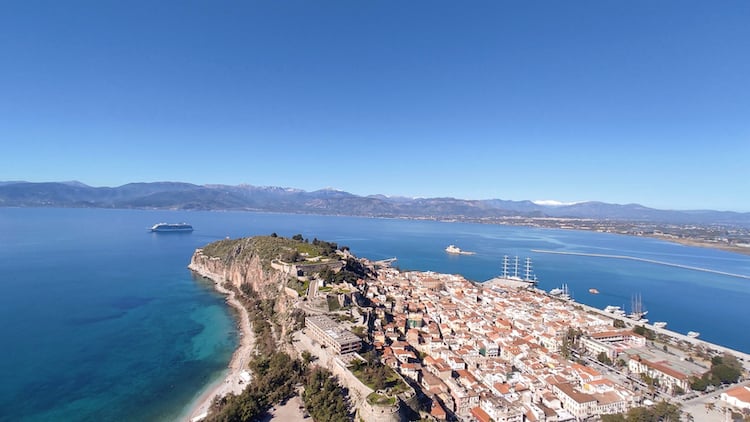 What I particularly love about Nafplio is how it retains its traditional Greek character, exploring the narrow cobbled streets of the old town, is one of my favorite things to do.
Fun Tours to Add To Your Itinerary
Although there are lots of things to do in Nafplio independently, I also recommend these tours:
Where to Stay in Nafplio
I love to stay at Kastello Hotel in Nafplio. Once an old mansion, Kastello has lovely comfortable and clean rooms, with wooden floors and are decorated with hand-picked furnishings.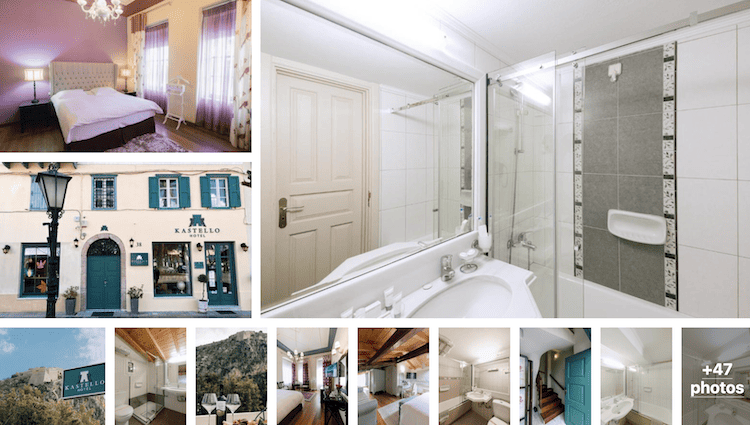 Some of the rooms even have a balcony with a great view of Palamidi Castle.
---
18. Epidaurus Theatre
Contributed by The Orange Backpack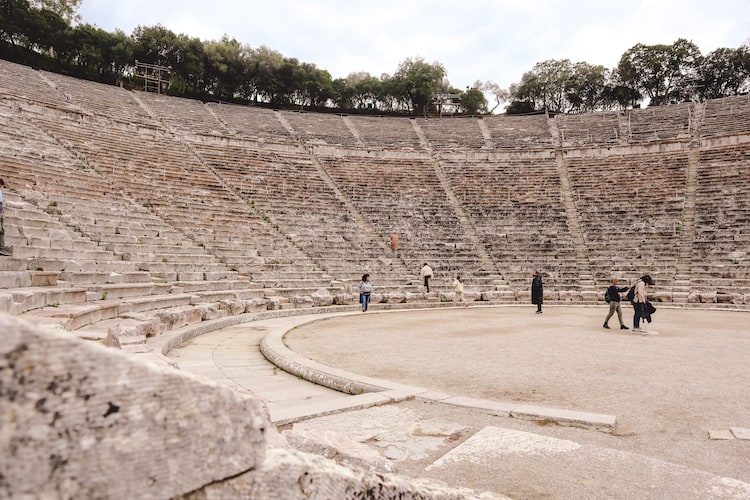 The Theater of Epidaurus stands as an unparalleled jewel among Greece's ancient theaters. Constructed in the 4th century BC, this theater has miraculously retained its original form, making it a captivating window into the past.
The theater's centerpiece is a 20-meter diameter circular stage surrounded by 55 semicircular rows of seats, accommodating up to 12,000 spectators.
This theater was intimately tied to the veneration of Asklepios, the demi-god of medicine, and it served as the venue for music and theatrical festivals dedicated to him.
Even today, during the summer months, you can witness performances within the Theater of Epidaurus. It's here that the remarkable acoustics of the theater truly shine.
Sound from the center of the stage effortlessly reaches every corner of the auditorium without any need for amplification. If you're lucky, your guide might demonstrate this acoustic wonder during your visit.
Your ticket to the Theater of Epidaurus also grants access to the Epidaurus Museum and the ruins of the Sanctuary of Asklepios, both of which are worth exploring. Inside the museum, you'll encounter an impressive collection of sculptures and decorations unearthed during excavations.
Beyond the museum lies the Sanctuary of Asklepios, often overshadowed by the fame of the Theater of Epidaurus. However, it's a hidden treasure worth discovering.
While you may need a dash of imagination to picture the ancient complex in its prime, informative boards provide valuable context, and aerial photographs, which you can also explore on Google Earth, reveal the intricate layouts of the old structures.
Where to Stay in Epidaurus Theatre
To immerse yourself in the rich history of Epidaurus, consider staying in Nafplio and embarking on a day trip to this remarkable site.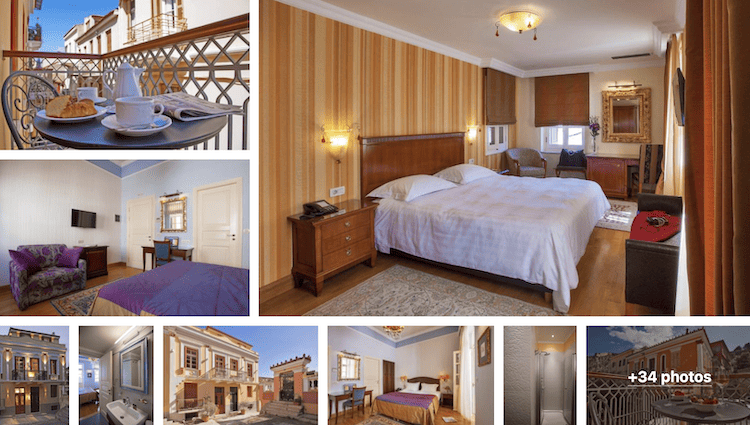 The Aetoma Hotel in Nafplio offers comfortable accommodations for your stay.
---
19. Kos
Contributed by Many Other Roads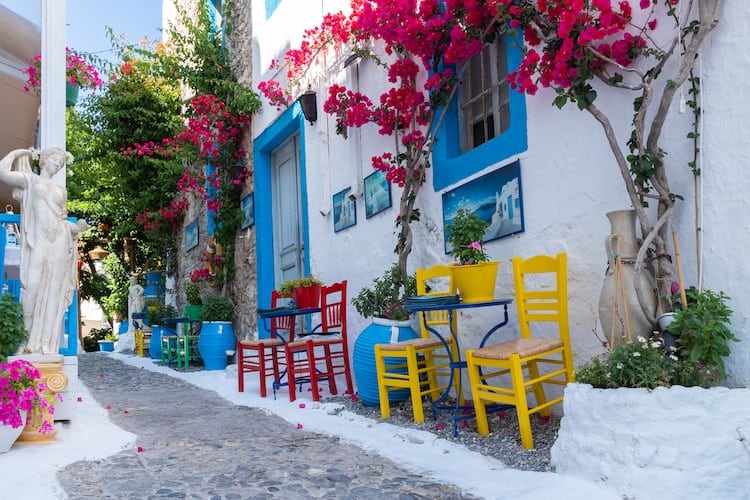 Are you planning a trip to Greece and wondering where to go? Look no further than the island of Kos!
Located in the Aegean Sea, Kos may not be as well-known as other popular Greek islands like Santorini or Mykonos, but that's part of its charm.
With the most amazing beaches, vineyards, tavernas, and more, you have the best of Greece without the crowds.
I particularly loved how easy it was to explore the Island, even if it was just for a day.
Fun Tours to Add To Your Itinerary
Kos has some amazing things to do. To avoid missing out, these are the top tours you should book in advance:
Where to Stay in Kos
Whether you want a beachside property or something with mountain views, Kos Island is full of the most amazing places to stay.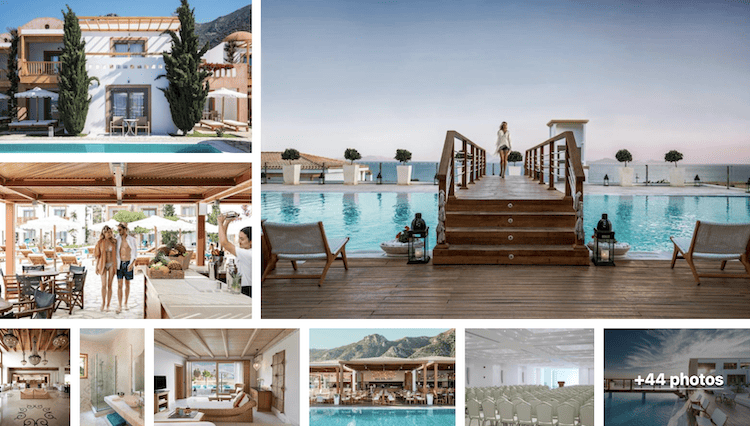 For the ultimate vacation, book to stay at the Mitsis Blue Domes Resort & Spa. With multiple pools and a super relaxing spa, It is the perfect place to relax.
---
20. Aegina
Contributed by Offbeat Greece
Part of the Argo-Saronic archipelago and a short ferry ride from Piraeus, Aegina is one of the best Greek islands to visit on a day trip from Athens.
Famous for its pistachios, Aegina also boasts impressive relics such as the Temple of Aphaia, the Tower of Markellos, and the solar clock on the Aegina Town church.
My big time favorite is the old Aegina town with its quiet streets and its lively fish market where you can taste fried barbounia, baby tuna, and lovely traditional dishes.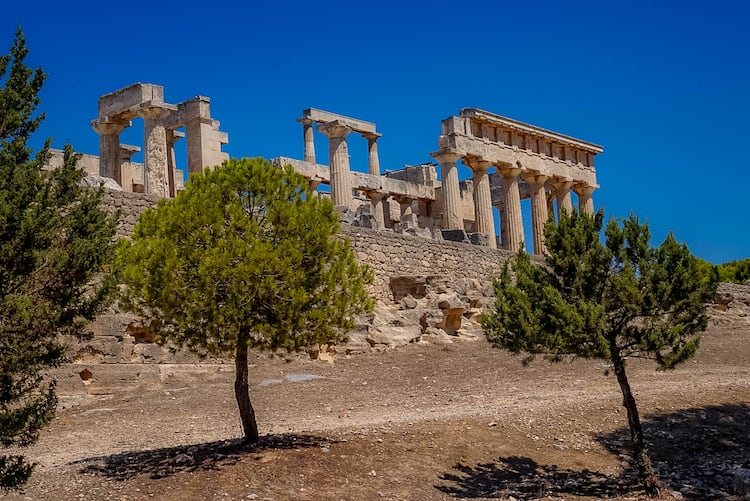 The best things to do in Aegina include visiting the Orthodox monastery of Saint Nektarios, is spending one day on the islet of Moni.
Spend time wandering the charming streets of Aegina Town, visiting the Temple of Aphaia, and hiking to the top of Mount Oros.
Fun Tours to Add To Your Itinerary
Where to Stay in Aegina
LaLiBay Resort & Spa is one of the best and newest hotels in Aegina for adults only!
Located between Marathonas and Perdika, this 5-star hotel features a heated outdoor pool, a private beach, and a wellness center.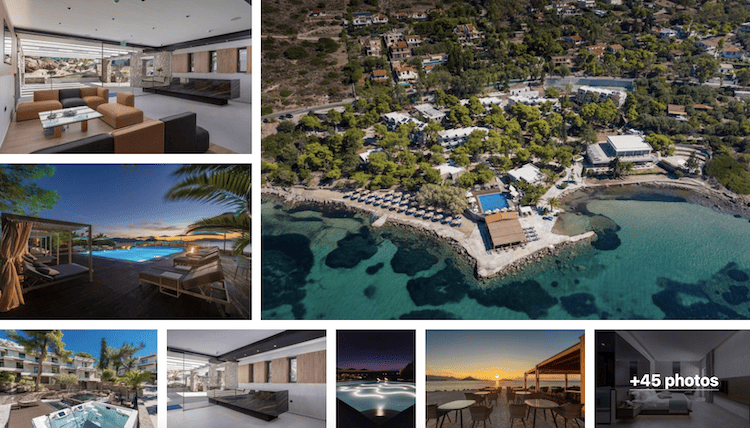 The rooms boast a modern, minimalist look, beautiful and comfortable at the same time. The generous garden and the beach bar are perfect spots to find shade during the hottest hours of the day.
Everything in LaLiBay concurs to make you feel pampered and spoiled.
---
21. Kastoria
Contributed by Wander-Lush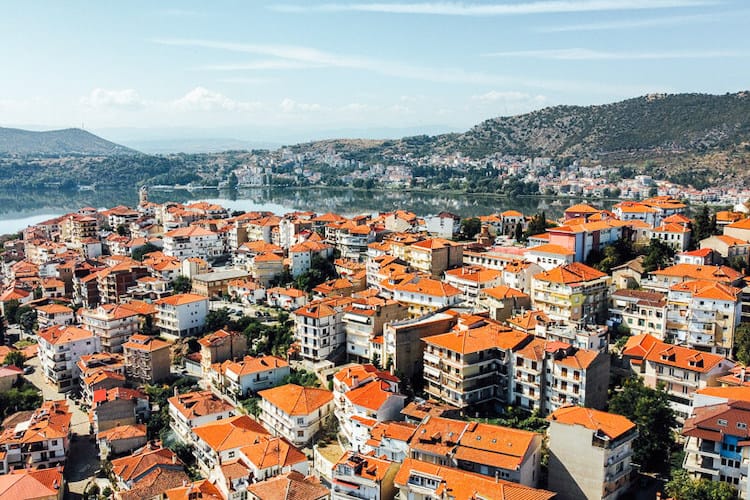 Once a bustling trade town famed for its furriers, Kastoria is a peaceful small city in northern Greece brimming with historical landmarks and charming architecture.
Its waterfront setting on Lake Orestiada, framed by limestone mountains, adds to its beauty.
Layers of Ottoman, Albanian, Jewish, and Greek influences can be found in Kastoria's streets. The city has more than 70 Byzantine and post-Byzantine churches, many of them hidden down labyrinthine laneways on the promontory.
My personal favorite is the Holy Church of Saint Paraskevi of Dragota, which has vivid exterior frescoes and sweet wooden doors.
The Byzantine Museum of Kastoria is a must-see if you want to learn more about the churches, and their wealthy benefactors and architects. It houses an extensive collection of illuminated icons.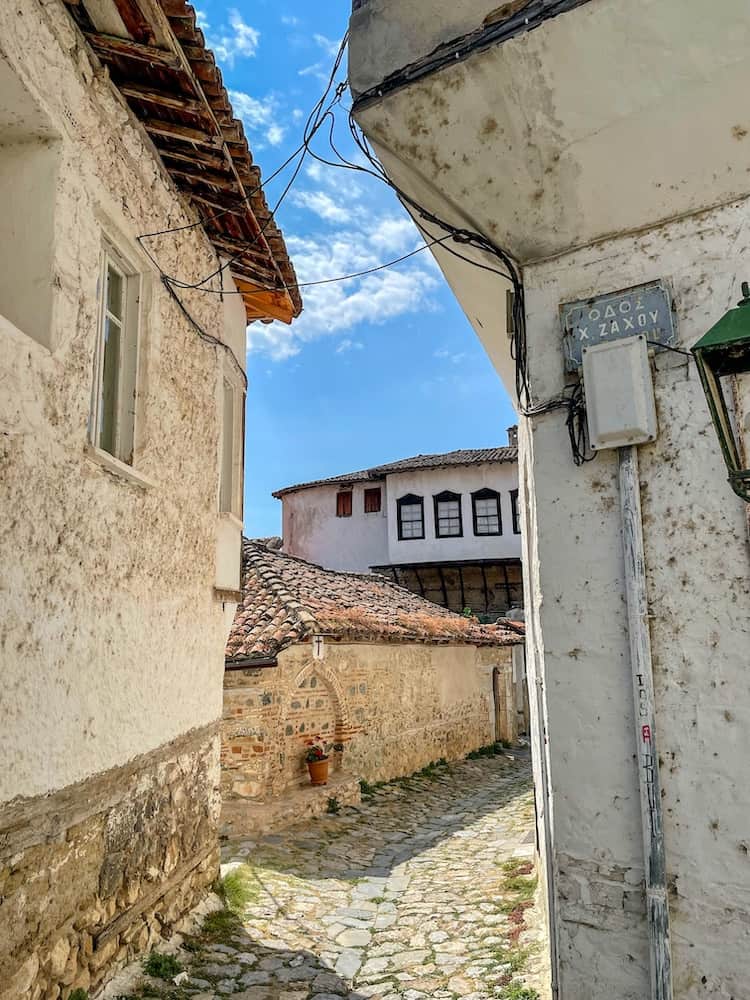 If you're interested in architecture and street photography, you will love Kastoria. I enjoyed many afternoons wandering the old Doltso and Apozari quarters hunting for historic mansion houses.
Tsiatsiapas Mansion is one of the largest and has been fully restored. It is now a museum, with the lavish interior paintings and woodwork the star attraction. It is absolutely worth the 3 Euro entrance fee.
The wild, green part of the peninsular beyond Katoria's city limits is ringed with an 11-kilometer-long footpath, which takes around 2.5 hours to navigate by foot.
I decided to hire a bicycle from one of the local outfitters and cycle around at sunset, stopping at various viewpoints, caves, and monasteries along the way.
Fun Tours to Add To Your Itinerary
Where to Stay in Kastoria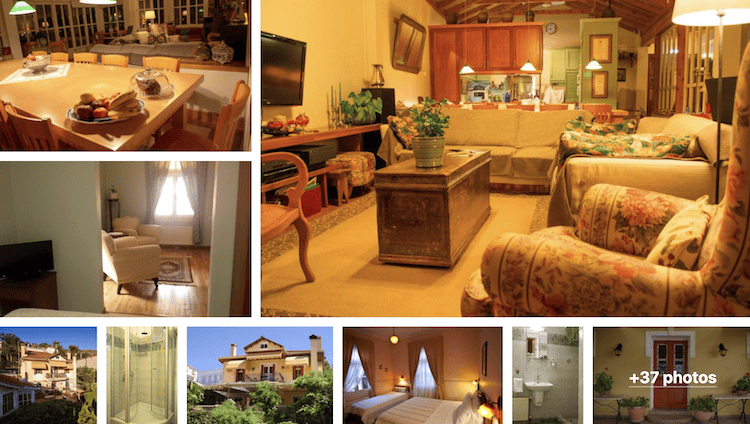 Venetula's Mansion is a sweet bed and breakfast in the historic Doltso neighborhood. The traditional house offers well-appointed rooms and lake views from the garden.
---
22. Delphi
Contributed by Travelwithme24x7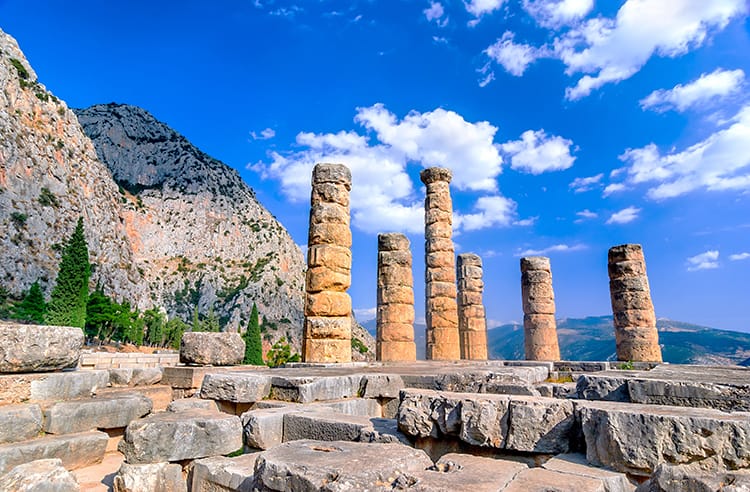 The short road trip to Delphi & Meteora from Athens is worth doing as it passes through farmlands, rustic Greek villages, and mountains. There are many unique things to do on Delphi And Meteora Tour From Athens.
The distance to Delphi from Athens is 110 Miles, and you can cover it within 2 to 3 hours if you drive nonstop.
There are many scenic stopovers between Athens and Delphi. You can stop at Pieras, the port city of Corinth, for a historical tour; many mountains overlook the Temple of Olympian Zeus and Mount Parnassus.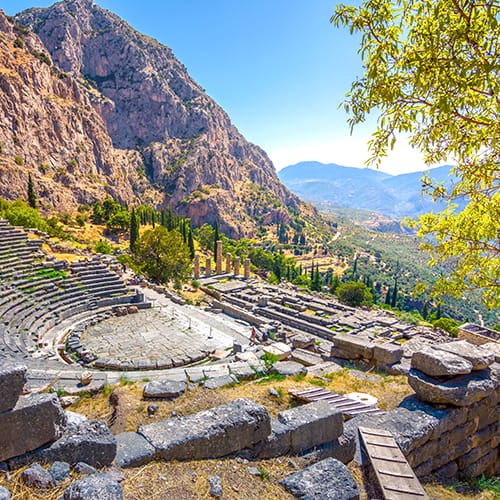 Delphi is the site of the ancient oracle of Delphi, which was dedicated to Apollo. The temple was built in 6 BC by the Romans, who took over Greece after Alexander the Great died.
It is located at more than 1,600 meters (5,250 feet), so it's a good idea to visit in any season with spectacular views.
Fun Tours to Add To Your Itinerary
As Delphi is near Athens, many guided full-day tours operate from Athens to the ancient historical sites of Delphi.
Where to Stay in Delphi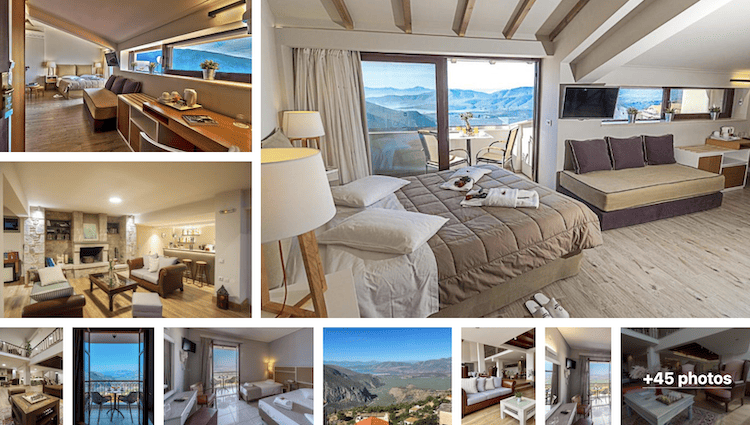 Fedriades Delphi Hotel is conveniently located a short walk from the famous Archaeological Museum. With stunning views of the Corinthian Gulf and the valley of Pleistou, the Epikouros Restaurant offers a variety of Greek and Mediterranean dishes.
And for guests who are musically talented, you can even play on the piano in the hotel lobby!
---
23. Thessaloniki
Contributed by Solo Passport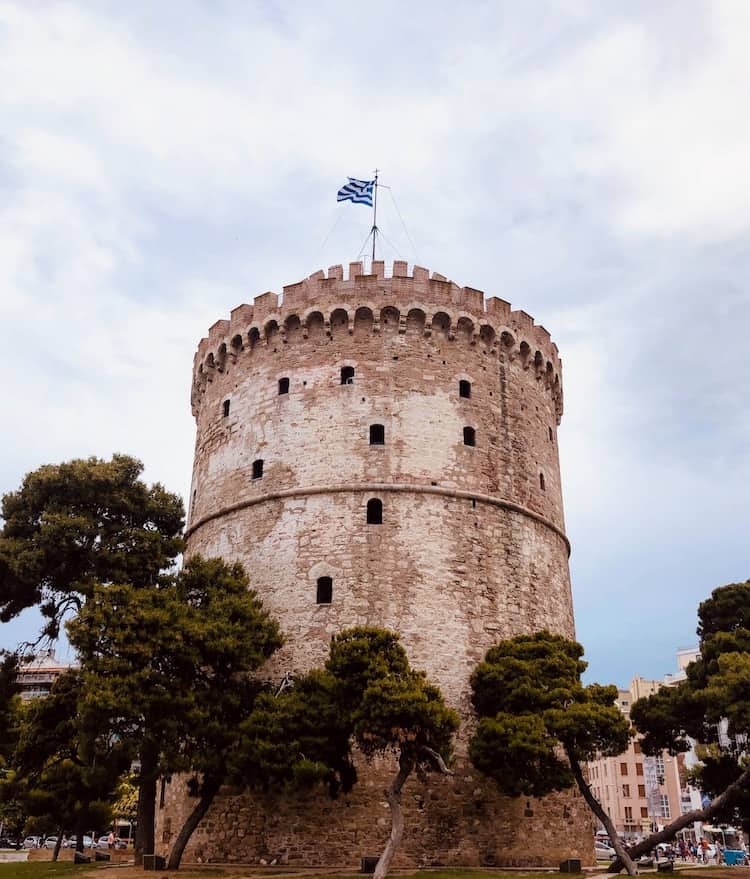 Thessaloniki, the second largest city of Greece, boasts of many historical and ancient monuments. The city holds more than 15 UNESCO World Heritage Sites and is rich in history and culture.
Every corner of the city has a story to tell and is beautifully decorated by ruins and old buildings. You will need at least 2 to 3 days to explore and cover the highlights of the city.
There are many notable structures and buildings, including the White Tower, Archaeological Museum, Upper Town, Galerius Arch and Rotunda of Galerius.
I specifically loved walking under the historical Arch of Galerius which was built to commemorate the victory of the Romans over the Persians.
Fun Tours to Add To Your Itinerary
From Thessaloniki, you can take some of the popular tours:
Where to Stay in Thessaloniki
The best place to stay in Thessaloniki is Noa Hotel. Centrally located in the Ladadika District, this 4-star hotel is close to many attractions, including the busy Aristotelous Square.
The hotel is right next to many restaurants and bars.
---
FAQs About About the Best Places in Greece to Visit
Here are some answers to some of the most commonly asked questions about the best destinations in Greece.
1. Where should I go for the first time in Greece?
If you're looking for a magical yet classic experience of Greece, then there's no better place to go than Santorini, voted as one of the top destinations in Greece.

The famous island is renowned for its breathtakingly beautiful, white-washed buildings and stunning architecture perched atop high cliffs overlooking the Aegean Sea.
2. How many days in Greece is enough?
The answer depends on your preferences and goals. For a relaxed holiday, spend at least two weeks in Greece. To explore more, stay for several weeks or even a month. Three days are enough to visit major city attractions like Athens or Thessaloniki. To fully experience Greece, spend at least a week soaking up everything the country offers.
3. What is the number 1 tourist attraction in Greece?
The Acropolis of Athens, is Greece's top tourist attraction and is a must see in Greece. It sits on an elevated rocky outcrop overlooking the city. With famous monuments like the Temple of Athena Nike, Parthenon, and Erechtheion, it offers historical significance and stunning views, making it a must-visit spot.
4. What month is the best time to visit Greece?
The best time to visit Greece is in the late spring and early autumn months, from April to June and September to October. This is when temperatures are milder than in the summer yet still warm and sunny enough for you to enjoy outdoor activities.
5. Should I go to Santorini or Mykonos?
Santorini and Mykonos are two of the most beautiful spots in Greece and they both offer visitors a unique experience. Santorini is known for its stunning sunsets, crystal-clear waters, quaint villages, stunning cliffside views, and vibrant nightlife.

Mykonos offers its own beauty with secluded beaches, charming towns, spectacular windmills, and plenty of entertainment.
6. What are the top three travel destinations in Greece?
Greece offers some of the most beautiful and iconic travel destinations in the world. The three top places to see in Greece should definitely include visiting the Acropolis of Athens, exploring the ancient ruins of Delphi, and relaxing on the gorgeous beaches of Santorini.
7. Which Greek island has the best beaches?
Greece boasts stunning sandy beaches, each island offering a unique coastal paradise. For the best island to visit in Greece, look no further than Mykonos. With crystal clear waters, white sands, and dramatic rocky coastlines, Mykonos is a beach lovers nirvana.
---
Final Thoughts on The Best Places To Go in Greece
From the Acropolis in Athens to walking along the cobblestone streets of Santorini, Greece is a country that offers travelers many beautiful sights and experiences.
There are so many popular places in Greece from Mykonos which has stunning beaches and its lively nightlife to Meteora which has breathtaking landscapes, to Corfu for its rich culture and history.
Whether you're looking for an all-out party or a tranquil getaway, each one of these amazing destinations will certainly make your stay in Greece truly unforgettable.
So pack your bags, book your flight, and prepare to have the time of your life!