Whether visiting attractions or enjoying a gelato (or three), Europe with kids is the perfect opportunity to build memories with your quickly sprouting squad.
When looking to travel to Europe with your family, you have a whole host of attractive options.
From the captivating coves of Croatia to Spain's vibrant and spicy culture, Europe has a tapestry of terrific experiences hidden within its folds.
Traveling without your young clan often leaves you with a heavy heart, so you shouldn't have to choose between adrenaline-fueled adventure and quality family time.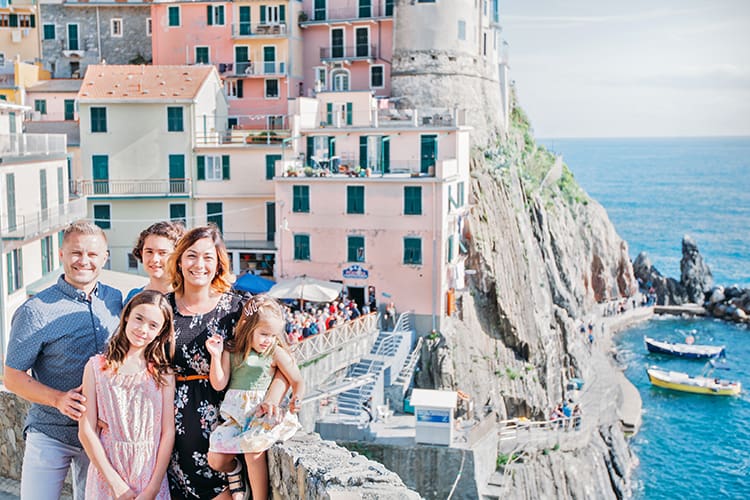 An exciting swirl of country hopping and family fun time has the potential to up your travel game to the next level by planning a Europe holiday.
So to compile a helpful list of the best places to visit with kids in Europe, we called on the help of well-traveled families to share their expertise in traveling with their kids around this beautiful continent.
Asking them for their opinions and collating the results to bring you the 15 best destinations to travel Europe with kids!
Here are the best places to travel in Europe with kids.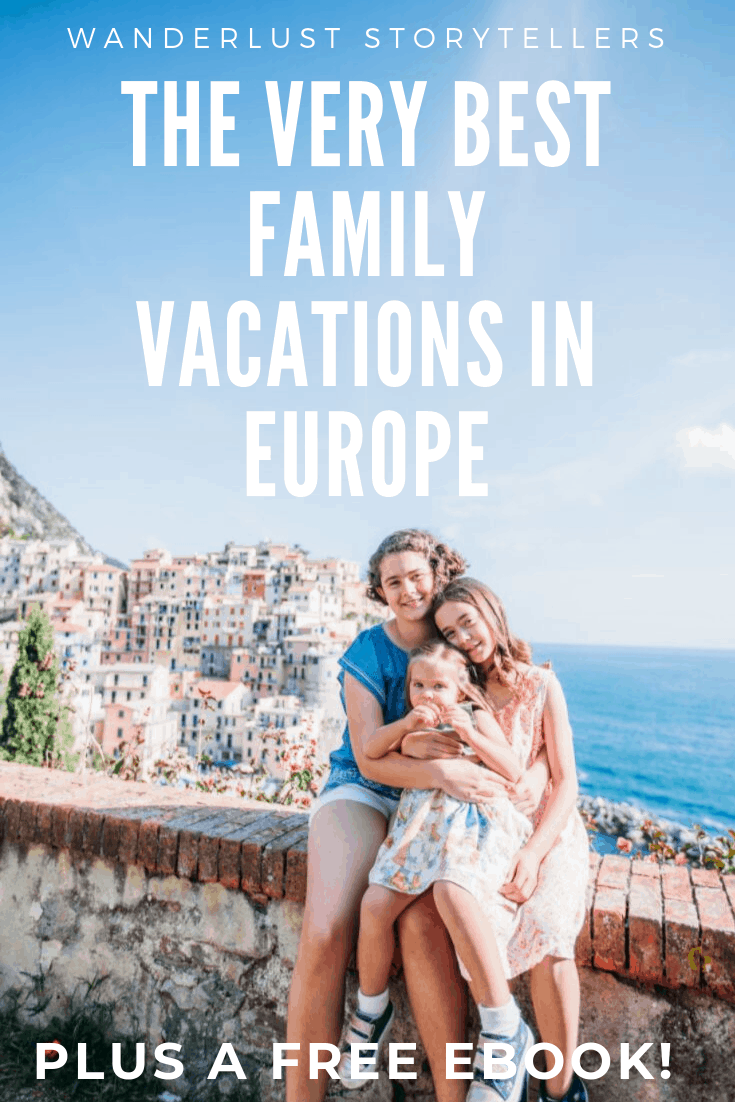 Europe is a wonderland of green fields, lush mountains, blue seas, and much more.
It's also a very family-friendly destination with many of the best cities to travel to in Europe with kids! The transport is easy, and generally, language is communicable.
We find that the absolute best family holidays in Europe are always the ones that we find to be a joy to travel around with the children!
These places and cities offer so many fun and exciting activities and outings to do as a family that you may want to consider on your next European family vacation!
Need help determining which European locations are kid-friendly and provide enough stimulation for your bouncing bundles of joy?
Let us guide you through the best places to travel in Europe with kids to ensure your family vacation goes off without a hitch.
Want a beach holiday in Europe? Read our post on the best family beach holiday destinations in Europe!
So, what are you waiting for? The enchanting call of the best cities to visit in Europe with kids awaits!
---
1. Sweden with Kids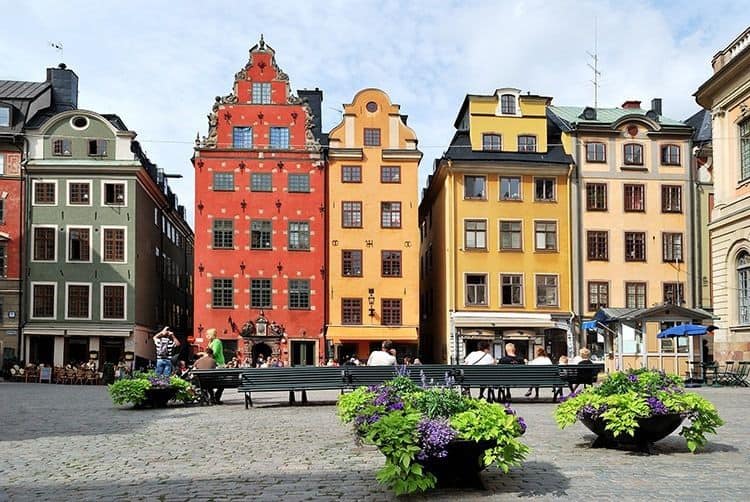 Sweden, especially Stockholm, was voted one of the best places in Europe for kids! It's popular among families for a good reason.
There are many different attractions, scenic gardens, and parks to visit, and it's a stroller-friendly destination and one of the best European family vacations!
Where to Go with Kids in Sweden:
There are loads of museums and galleries for great educational visits and many zoos and amusement parks to keep the kids entertained across various cities in Sweden; however, Stockholm is one of the best European cities to visit with kids!
Here are some of our favorite things to do in Stockholm with kids:
Stockholm Kids Attractions:
Where to Stay with Kids in Stockholm:
The best family-friendly hotel to stay at is the Radisson Blu Royal Viking Hotel. They have a family room that sleeps 2 adults, plus 2 kids on the fold-out bed, plus they can add an extra cot or bed as well.
It's also an English-speaking country, so you'll have no problem communicating your needs and getting them met on this European vacation with kids!
If you are looking for the best way to move around town, you can book your Stockholm taxi here!
---
2. Austria with Kids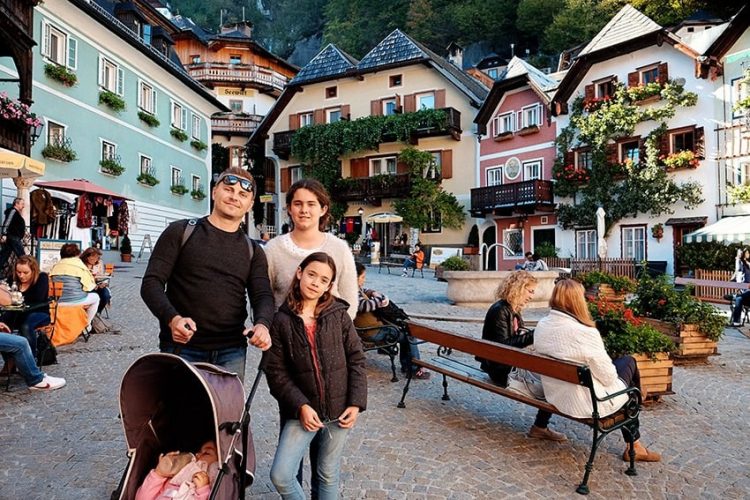 If you are looking for a great country to visit with kids, it's hard to beat Austria.
We spent 2 weeks road-tripping through Austria on a big European trip that included Poland, Austria, and Germany.
Austria is great for kids as it has the oldest amusement park in the world, salt mines to explore, the world's most extensive ice caves, and dinosaur parks (plus more!).
Where to Go with Kids in Austria:
Austria has many interesting things to do, and fun places to visit that will excite the whole family!
A country characterized by mountain villages, baroque architecture, fascinating history, and rugged alpine terrain.
Some of the best destinations to visit with kids are Vienna, Salzburg, Hallstatt, Innsbruck, and Wolfgangsee Lake.
My (mother of the family) favorite thing to do in Austria was visiting Hallstatt, the town is just as beautiful as the pictures show.

My eldest who was 12 really loved the Salt Mine Tour (with the longest underground slide) at Hallstatt.

My middle child who was 10 really loved the Wolfgansee Lake boat tour and cable car to to the top of St. Gilgen's.

Jolene Ejmont (Family Travel Blogger)
From the world's oldest amusement park to the world's largest ice cave, here are the best things to do in Austria in Europe with kids:
Vienna Kids Attractions
Salzburg Kids Attractions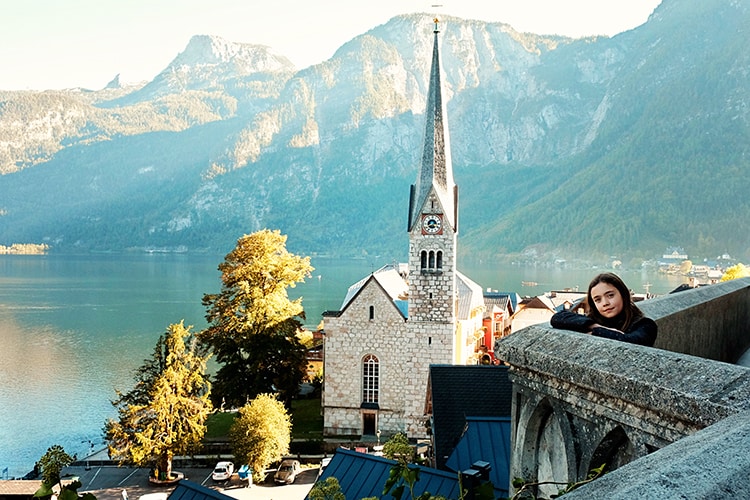 This means that there are various ways to keep your children entertained no matter how old they are. No wonder this country is a hot favorite as one of the best places to travel in Europe with kids!
The best time to visit Austria is in April and May or September and October. The weather tends to be mild, it's not as crowded as the busy summer months, and hotel rates are generally cheaper during this time.
Where to Stay with Kids in Austria:
---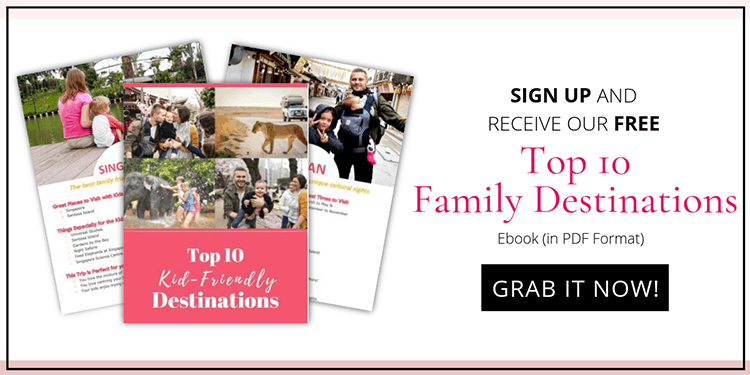 3. Croatia with Kids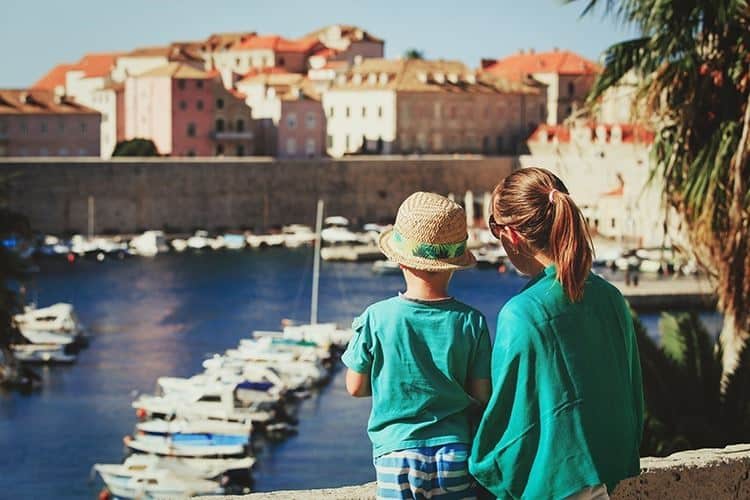 Not many people realize just how family-friendly Croatia is, but honestly, it is one of the best countries for family vacations.
The best time to visit this country is in June or September when it's not as crowded or hot.
Croatia is one of the best places in Europe with kids because, throughout Croatia, you will find that there are strong family values which makes it a very welcoming country for those that are traveling with children.
Where to Go with Kids in Croatia:
Croatia has many safe beaches and hiking trails that suit all abilities, as well as a handful of interactive museums, ancient towns, and fortresses that will make the kids feel like they're in a fairytale!
Some of our favorite destinations in Croatia include both Dubrovnik and Split. Here are some ideas of what to do in both of these:
Dubrovnik Kids Attractions
See the scenery of marine life, and discover amazing caves from a sea kayak! Book your 3-hour tour here.
Explore the Old Town walls and castles in the historic center!
Split Kids Attractions
Many people will go above and beyond to ensure that your and your children's needs are met throughout your time here.
Your kids will love their trip through Croatia, and without a doubt, I can confidently say that it is one of the best places for kids in Europe.
Best Family-Friendly Hotels in Croatia:
---
4. The Netherlands with Kids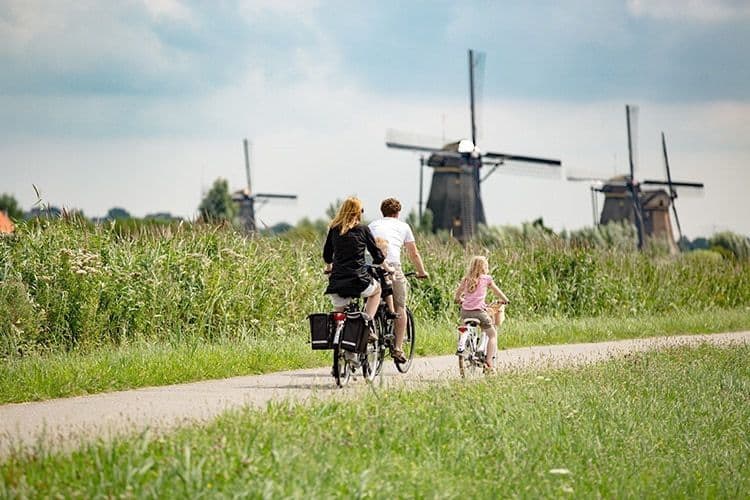 Holland is one of the best places in Europe to visit with kids and has numerous attractions that will make your family vacation fun and unforgettable! From zoos to historical squares and lively markets!
We love how children are often catered to, and you can easily find someone who speaks English if you need assistance.
Where to Go with Kids in the Netherlands
Public transportation is incredibly efficient, so you can easily explore the country and see many attractions.
But of course, we know that most of you would be keen to explore Amsterdam, so here are some of our favorite kids' attractions in Amsterdam.
Amsterdam Kids Attractions:
It's a good idea to purchase a Museumkaart because it will allow you to access a lot of different attractions and skip the lines often.
We believe that the Netherlands is one of the best places to travel Europe with kids, whether they are young or older! You can find more info on what to do with kids in Amsterdam here.
Best Family-Friendly Hotel in Amsterdam:
The best hotel for families is the Anantara Grand Hotel Krasnapolsky Amsterdam.
It is located right in Dam Square and has beautiful family rooms. This hotel is all about the handy location to see the highlights for first-time visitors.
---
5. England with Kids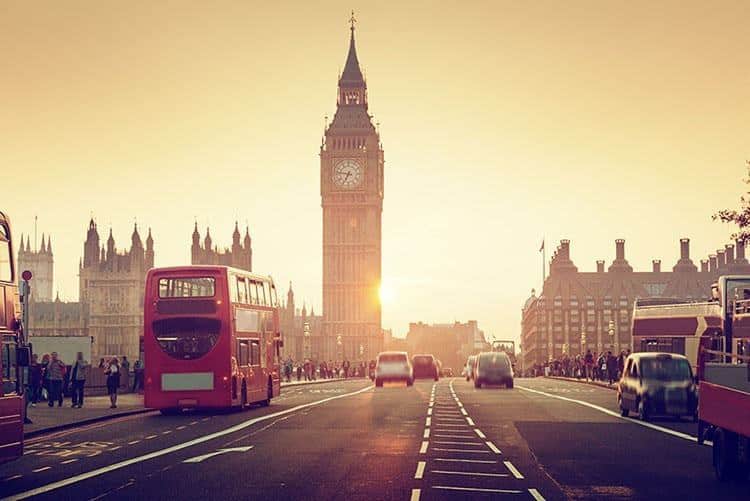 Another one of the top favorite countries proudly takes up its place on the best places to visit in Europe with a kids list.
The locals speak English, there are efficient public transportation systems in place, and the locals are very friendly.
All our favorite features tick the boxes as one of Europe's best places to visit with kids.
Where to Go with Kids in England:
We love visiting London with our kids. There's also so much for kids to do, including going on a Harry Potter Tour, riding the tube to a local market, visiting Legoland, or taking a trek to see Big Ben.
Here is a list of our favorite kids' attractions:
London Kids Attractions:
Because there are so many attractions and sights to see throughout the country, you may have to save some of the sights you wanted for your next trip, as there won't be enough time to do it all.
Family-Friendly Hotels To Book In London:
Further Reading: Plan your trip with the help of this comprehensive England Travel Guide by The Trusted Traveller.
---
6. Italy with Kids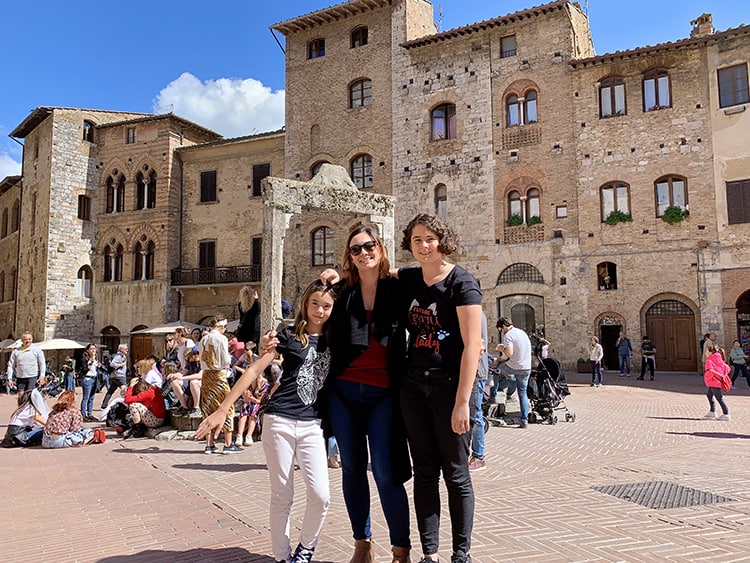 Italy was a favorite of ours when traveling around Europe with kids.
In fact, we love Italy so much that we spent 3 months living and traveling around the country with our 3 kids. It was such a fantastic experience!
Tip: If you are visiting with a young child, you will find our guide on visiting Italy with a baby or toddler helpful.
With a beautiful Mediterranean coastline, ancient ruins, and famous art and historical influences, there is so much to discover for the whole family!
Where to Go with Kids in Italy:
Italy is a large country that can take up to 12 hours to travel from one side to the other, so you may want to choose a particular part of Italy to visit with your family in Europe.
We spent three months traveling around Italy with our kids, and there are so many beautiful places to visit.
Whilst we (my wife and I) really enjoy the old towns in Italy, our kids much prefer to be on the beach.

As parents we loved cities like Rome, Florence, Matera and Lucca.

Our eldest daughter really loved Cinque Terre. She was 13 on this trip and we visited Cinque Terre in the off-season (which is better for families as stress-levels can go up with too many people around).

My middle daughter (who was 11), really loved the Puglia region. We spend days on the beach, we did an animal drive-through safari experience and the pace is just more laid back.

The easiest destination to visit with our toddler (she was 2) was Sicily. The beaches there are more suitable for little kids.

Andrzej Ejmont (Family Travel Blogger)
For a beach holiday head to Sicily or Puglia. If it is your first trip, you might like to stick with the bucket list destinations such as Rome and Florence.
Here are some ideas of what to do in each:
Rome Kids Attractions:
A lot of travelers enjoy the Colosseum as it's unique. Make sure you take your children to the Spanish Steps as long as they are up for a bit of a climb.
Further Reading: Grab some super helpful tips for families traveling to Rome with Kids, and check out how to create an incredible Rome 2-Day Itinerary for your family here.
Florence Kids Attractions: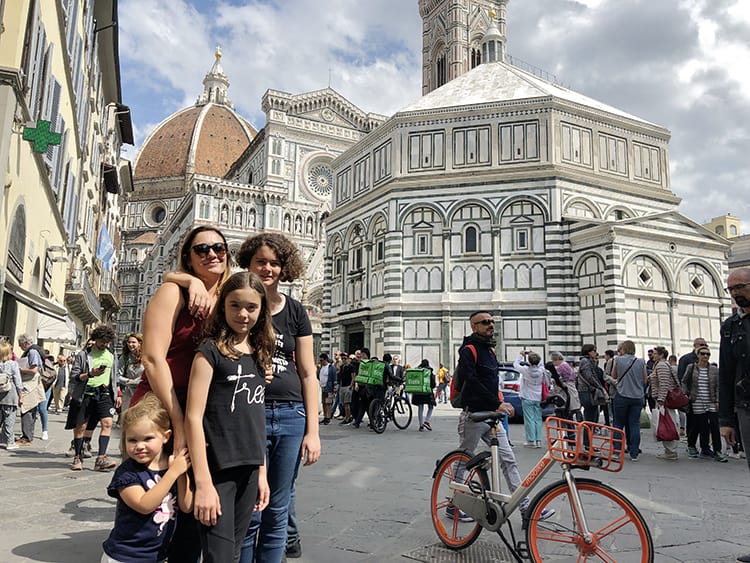 Grab more ideas of what to do with kids in Florence here.
Family-Friendly Hotels To Book In Italy:
Many families make Italy their top choice for travel each year. No matter how old your children are, there's much to do here.
It might be my pick as the best place in Europe for kids – but don't just take my word for it, book your trip and try it out for yourself!
---
7. Greece With Kids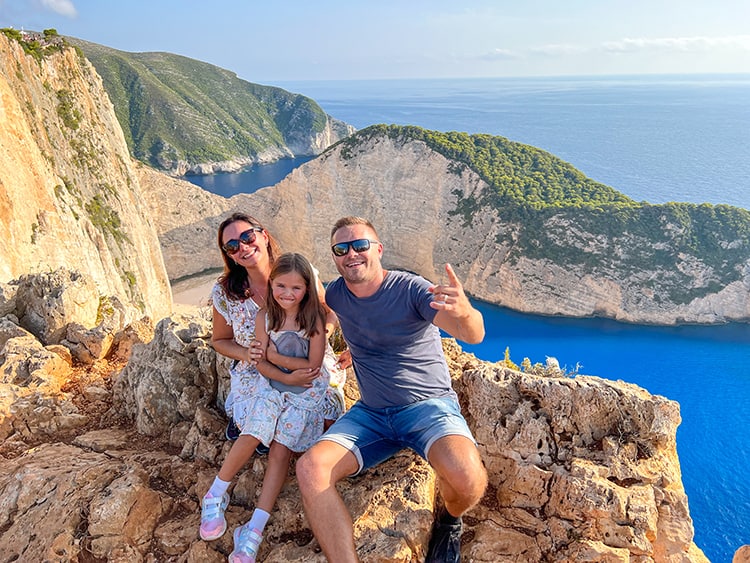 Greece is a friendly nation that adores kids so much that transportation is offered free of charge in certain cities.
This country is also home to many attractions catering to various interests, with beaches, museums, historic ruins, and majestic monasteries.
In fact, Greece has 18 UNESCO world heritage sites that are worthy of a visit – a great way to get some history lessons into your travel days.
Honestly, Greece is just such a relaxing destination to visit. We never felt judged (even when Avie wasn't behaving perfectly), and people were genuinely friendly.
We spent 5 weeks island hopping in Greece with our youngest who was 6 years old, and it was honestly one of the best European family holidays we have had.
My best tip when traveling with younger kids to Greece is to visit popular destinations such as Mykonos and Santorini in the off-season.

We visited over 7 islands in Greece and had a ball on all of them as a family, but the islands with the best beaches for little kids are probably Corfu, Kefalonia and Crete.

Andrzej Ejmont (Family Travel Blogger)
Where To Go In Greece:
While there are dozens of hidden gems in Greece, we'd recommend a classic family vacation to Athens for its long list of fun attractions.
The Greek Islands are of course an obvious alternative or addition to Greece.
An excellent choice from the Greek Islands would be Crete, the largest island in the country. Both boast an unending list of activities suitable for the whole family.
Looking for more ideas? Here is a list of some great places to visit in Greece for your first trip.
Athens Kids Attractions:
Have fun touring the city of Athens atop the Happy Train, which travels between Ermou Street and Syntagma Square.
Explore the ruins of the Acropolis. We recommend bringing a carrier as strollers will struggle to navigate the area.
If your kids are fascinated by Greek Gods and Goddesses, take them on a treasure hunt in search of statues, museums, and temples dedicated to them.
Crete Kids Attractions: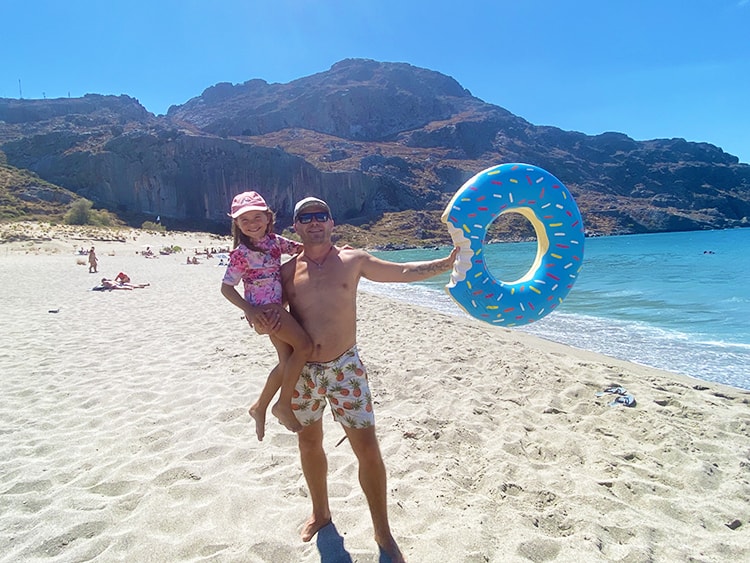 Enjoy unique pink sand on the shores of Elafonisi Beach, along with its clean, shallow waters.
Discover hundreds of marine life at the CRETAquarium Thalassocosmos.
Head to the Knossos Palace for its fiction-like ruins and paintings. Grab your Knossos Palace tour tickets here.
Greece is the perfect family holiday destination, with beaches, interactive museums, scenic views, and fun attractions like waterparks.
It's also great for introducing your palates to some of the best Mediterranean cuisines.
Family-Friendly Hotels To Book In Greece:
Athens: The Athens Connection Apartments are very well located and will offer your family the space they need to breathe. They have 1 or 2-bedroom apartments available to book. Check out our recommendations for the best hotels in Athens with rooftop pools here.
Crete: Crete is a pretty big island, but if you want to base yourself in Chania, this is where we personally stayed during our trip there – Casa Anthos.
---
8. Belgium with Kids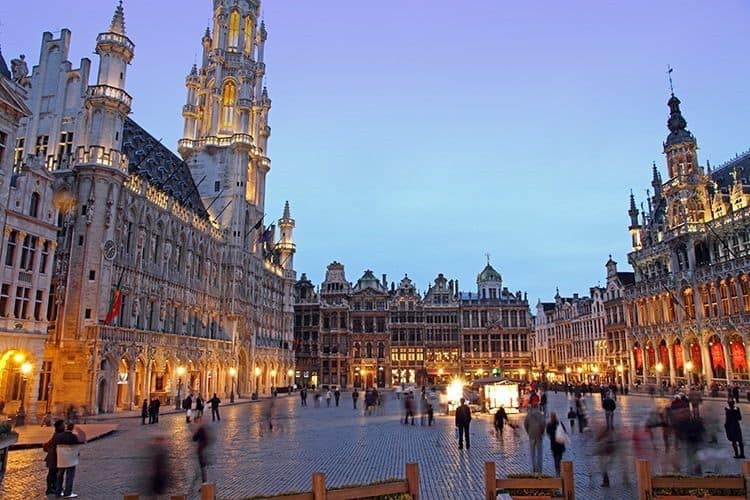 Known for its waffles, how could families not love Belgium?
This country is smaller than other European countries, but what it lacks in size, it makes up for in culture and food.
Where to Go with Kids in Belgium:
Belgium is a great country to explore with kids, as you can quickly move around by train. We adore Brussels and Bruges.
Here are some suggestions for kids' attractions in both of these beautiful cities:
Brussels Kids Attractions:
Families must visit Brussels to check out the Grand Palace or the Tintin Boutique (to pick up some comic books).
Take the kids to see the amazing Atomium. Grab your admission tickets here.
Bruges Kids Attractions:
Family-Friendly Hotels To Book In Barcelona:
Brussels: The Radisson Collection Grand Place Brussels offers a comfortable and luxurious stay whilst exploring. They have family rooms available that can sleep up to 5 people.
Bruges: The Martin's Brugge hotel has an unbeatable location, so handy for explorations. They have family rooms that can sleep up to 6 people.
Traveling Tip: The best way to get around Brussels is by taxi. You can book your Brussels taxi here.
---
9. Spain with Kids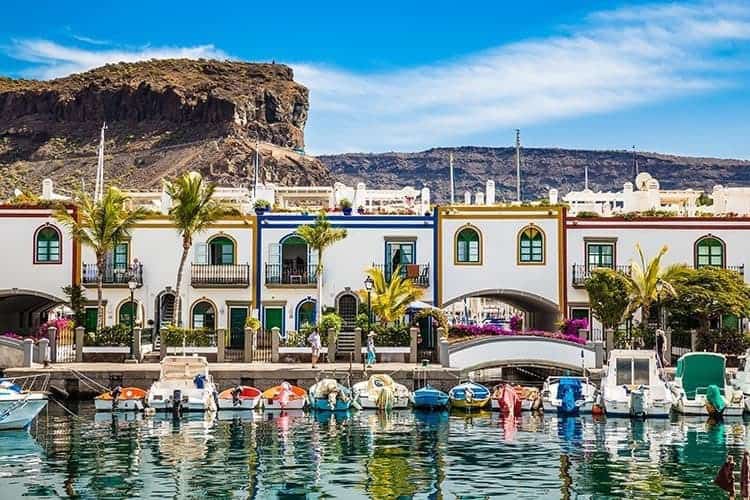 Looking for one of the best family destinations in Europe for a summer holiday?
This country isn't just for adults. Children can have a great time here too. It has a rich history and plenty of places to explore.
Where to Go with Kids in Spain:
Spain is a beautiful country with so much to offer any traveler. Thanks to the country's high-speed trains, you can access many destinations quickly, but Barcelona was one of our favorites for the kids!
Barcelone is such a big city, so it offers sights, attractions, and activities that your entire family will enjoy.
Barcelona Kids Attractions:
Visit the zoo and entertain the kids with a dolphin show! Grab your tickets here.
There are many parks for the younger kids, and beaches if your children need a little downtime.
Families can also enjoy a lot of historical treasures, including Isabella's Alcazar and Sagrada Familia.
Family-Friendly Hotels To Book In Barcelona:
The Hotel Paxton Barcelona has family-connecting rooms. It is situated in the best-rated area in Barcelona and has a review score of 8.3/10.
---
10. Germany with Kids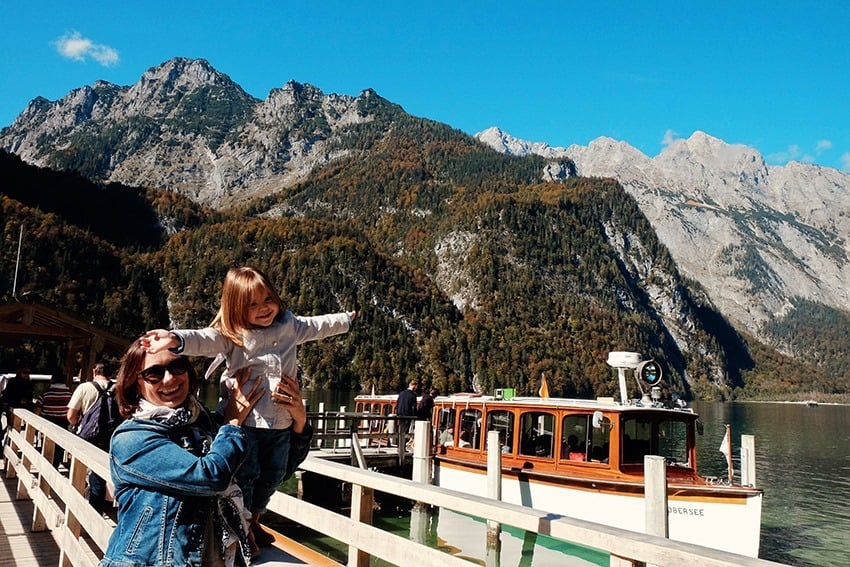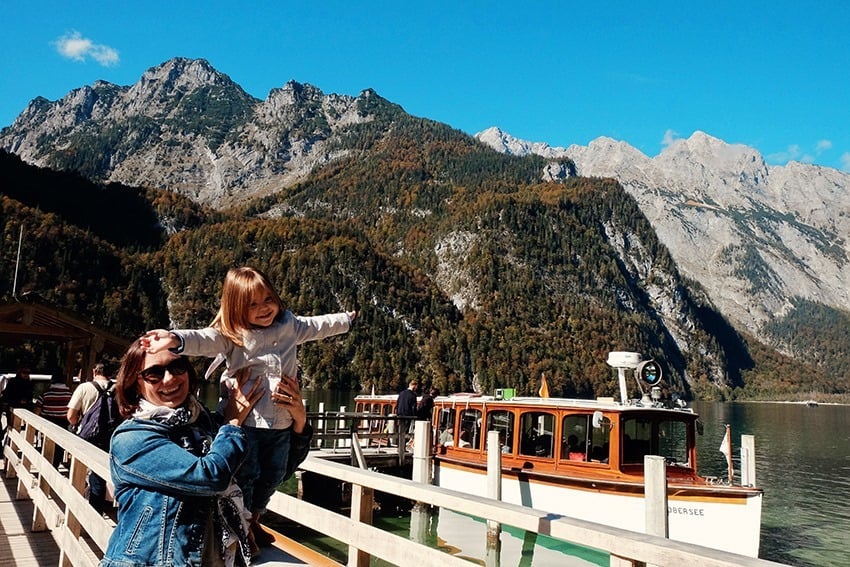 Germany is one of our favorite family destinations in Western Europe.
One of the main reasons why Germany is a great destination to travel to with children is that it has affordable public transportation.
This means that you can save money by not having to rent a car and can splurge on some of the many activities here.
Many people speak English in this country and are happy to help tourists with whatever they need.
The winter months are the best time to visit Germany with children, as travelers can visit the memorable Berlin Christmas markets.
Where to Go with Kids in Germany:
Families will love the interactive museums and informative outings to keep the kids entertained while exploring the best places to travel with kids in Germany!
You can start by planning your trip around popular destinations such as Berlin and Munich.
Berlin Kids Attractions:
Explore the many sights and landmarks in Berlin on a Hop-On-Hop-Off tour.
Take the kids to the Legoland Discovery Center!
Visit the Berlin Zoo and Tierpark
Munich Kids Attractions:
Kids will love the fantastic fairytale-like castles from Munich! Book your day trip here.
Explore the beautiful parks and incredible architecture of the churches and cathedrals.
Germany is one of the best places in Europe for kids, with its otherworldly charm with castles and medieval towns and all the mythical parks and safe outdoor areas to explore.
Family-Friendly Hotels To Book In Germany:
Berlin: The Schulz Hotel Berlin Wall at the East Side Gallery has over 16 000 reviews on Booking.com. It is in a great location and has some lovely family rooms available to book.
Munich: The Arthotel Munich is one of the most popular hotels. In a great location to explore Munich and it has quadruple rooms for small to medium-sized families.
---
11. Denmark with Kids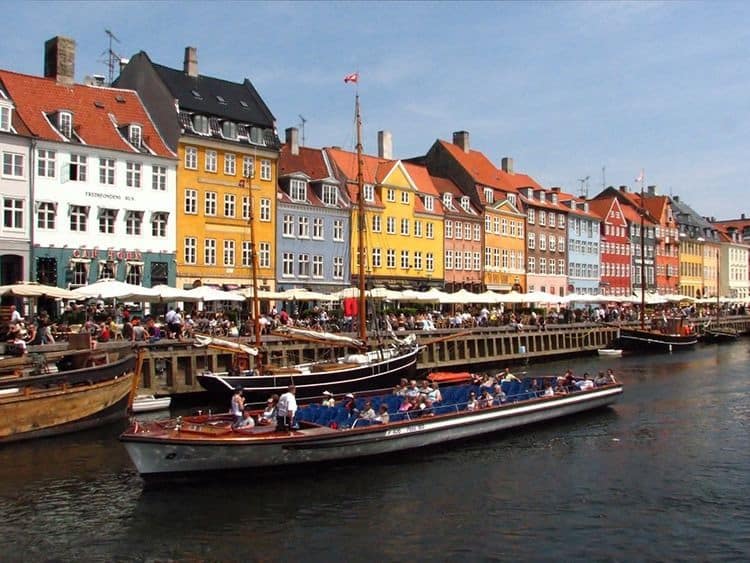 Denmark is often forgotten about when planning family travel to Europe. It's a shame as it's very family-friendly.
The public transportation system is highly efficient, making it easy to see many sights while you are here.
Many businesses will go out of their way to accommodate families, and children in Denmark are rarely made to feel unwelcome by the locals!
Where to go with Kids in Denmark:
Copenhagen is a great city to visit with little ones as there's a lot to do.
The Tivoli Gardens was one of our favorites and had theatres, gardens, and plenty of rides to keep children entertained. We can also recommend Odense.
Here are some ideas of what to do in each of these destinations.
Copenhagen Kids Attractions:
Odense Kids Attractions:
Navigate the charming streets and lovely green parks all around
Take the kids to Odense Zoo to see all the animals and shows
Enjoy the museums
Denmark is filled with theme parks, amusement parks, zoos, and child-friendly beaches, making it one of the best places to visit in Europe with kids.
Family-Friendly Hotels To Book In Denmark:
---
12. France with Kids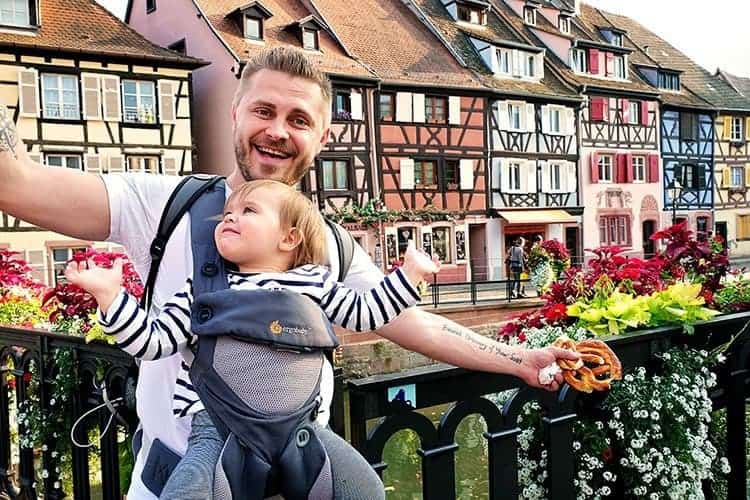 Being one of the most popular countries for all travelers, it should be no surprise that France is an excellent place for families to visit in Europe!
We spent a month road-tripping around France with our youngest child. She was only one year old.
However, as a word of caution, while we list France as one of the best places to take kids in Europe, I didn't find their culture welcoming to babies and toddlers (find our post with helpful tips on visiting France with a baby here).
This country is perfect for older kids, though!
Make sure you venture away from Paris when visiting France. Paris is actually one of my least favorite destinations in France.

I found Nice really great to visit with our little one as you can enjoy some beach time, relax in the old town and release some energy at the play parks.

I personally absolutely love the Loire Valley (gorgeous French Chateux) and the Alsace region (the cutest towns you have ever seen), so definately look into those as well.

Jolene Ejmont (Family Travel Blogger)
Where to Visit in France with Kids:
France has many alpine villages, breathtaking architecture, gardens, and outdoor activities, making it an excellent place for a European family vacation!
Of course, you can't go to France and not visit Paris (the beautiful City of Light), but we also love places such as Nice and Colmar for family trips.
Paris Kids Attractions: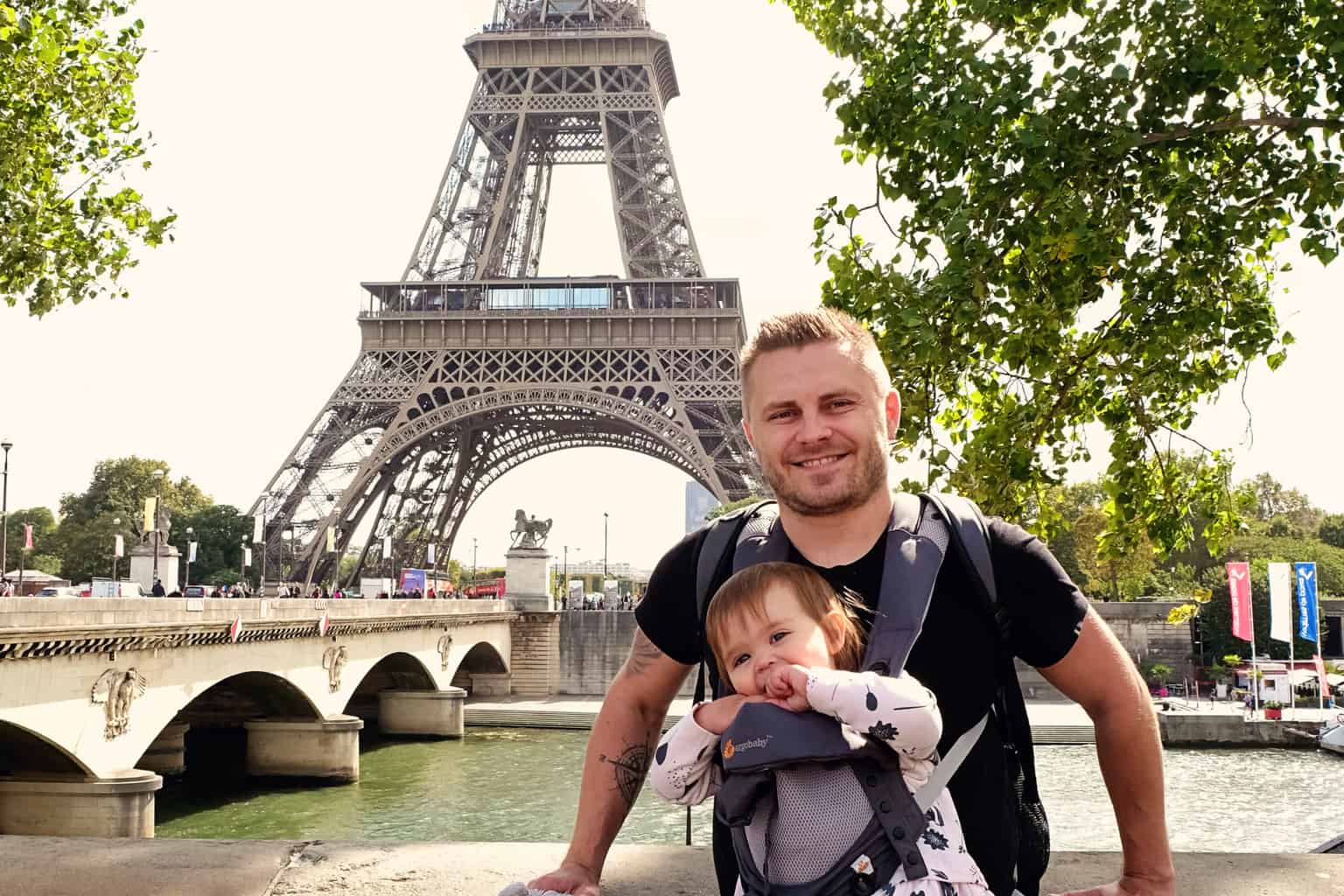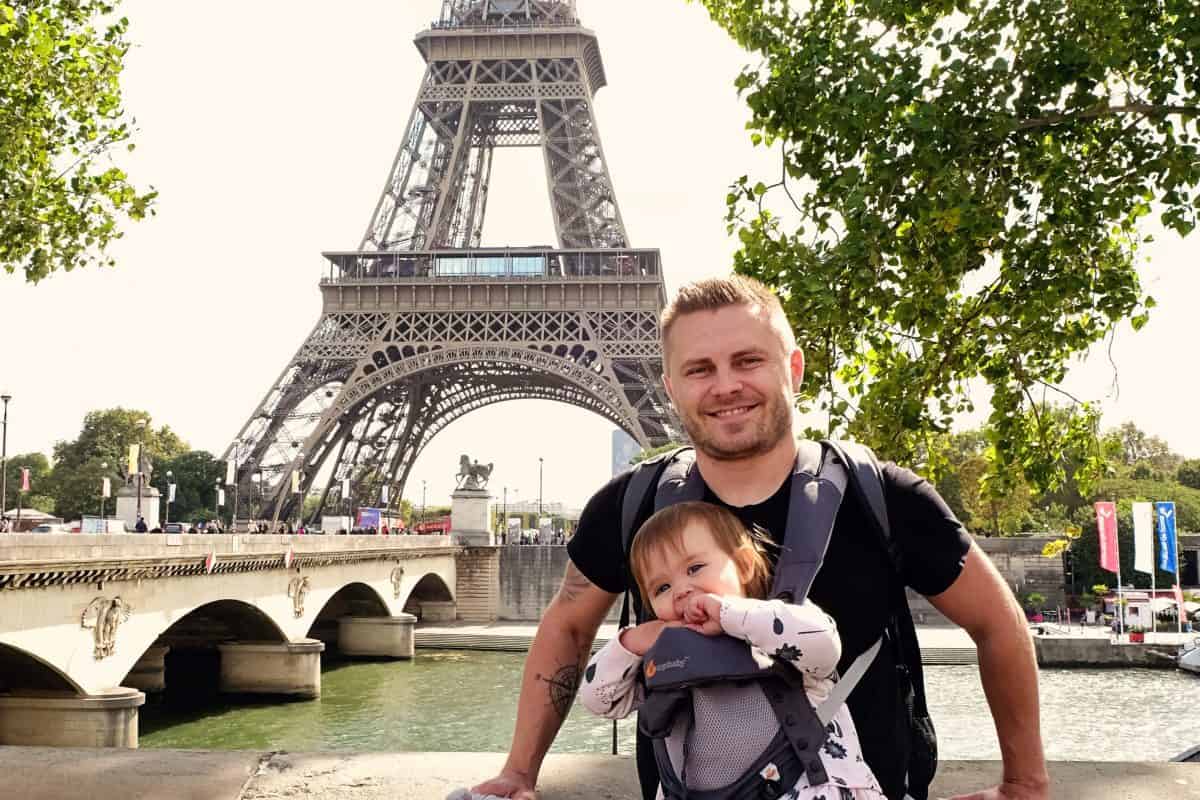 Kids will create memories they cherish forever as they find themselves in awe looking at the Eiffel Tower, enjoying the exhibits at The Natural History Museum, and being amazed at the Paris Catacombs.
Further Reading: Thinking of visiting Paris with a little child? Here is a helpful post on what to expect when you visit Paris with a baby or toddler.
Tip: Despite having a decent public transportation system, you may walk a lot. Make sure you plan for plenty of breaks and wear comfortable shoes.
Where to Stay with Kids in Paris:
Find more space at this Aparthotel in the center of Paris.
The Citadines Saint-Germain-des-Prés Paris has an apartment that sleeps up to 4 which is perfect for families. It also has a fully-equipped kitchen.
Find our choice of the most family-friendly hotels in Paris here.
---
13. Poland With Kids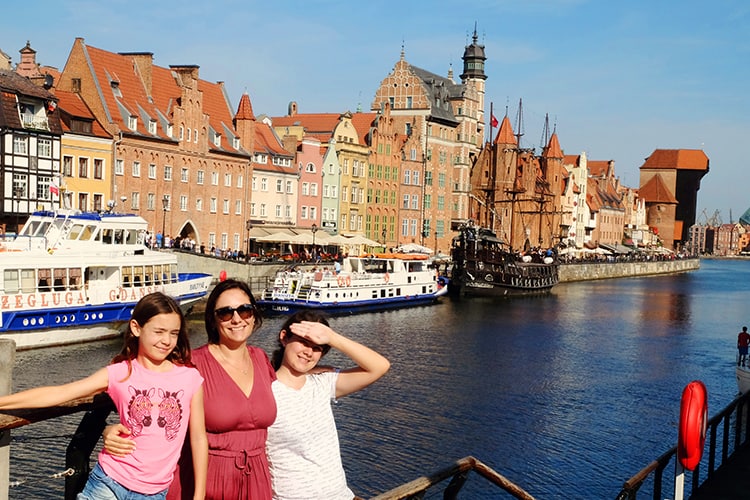 Despite its storied past, this European nation is more than just a historophile's playground.
Poland and its alluring cities have a ton of attractions suited for all types of tourists, including children of all ages.
We spent 3 weeks road-tripping through Poland with our three children.
My favorite destination in Poland was Gdansk. Gdansk is stunning, such a beautiful city with so many wonderful things to see.

Our children much prefered Zakopane. We loved hiking in the National Park, together with a cable car ride up to Mt. Kasprowy Wierch for some insane views.

They also enjoy some activities like a rope course at Mt. Gubalowka.

Jolene (Family Travel Blogger)
Where To Go In Poland:
Poland has a myriad of attractions suited to both parents and kids.
From museums detailing the nation's history to cooler places like gardens and zoos.
During your Poland travels, we'd recommend the obvious pick of Warsaw and the less-touristy and peaceful Wroclaw.
Warsaw Kids Attractions: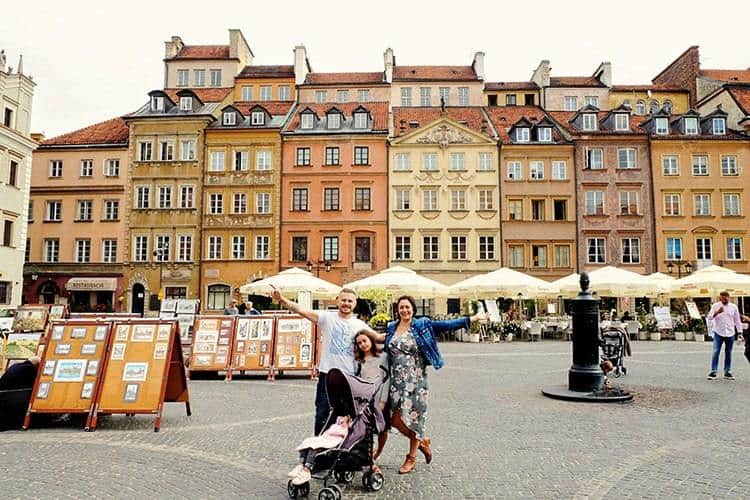 Rebuilt after WWII by the locals, the Old Town is an incredible area with energetic squares that often host fun events. While walking around the quaint town is great, we'd recommend making your way around this area via segway. Grab your segway tour tickets here.
Head over to the Copernicus Science Centre to interact with over 450 interactive exhibits.
Discover over 3000 animals at the Warsaw Zoological Garden.
Further reading: Find out what the best things to do in Warsaw are here.
Wroclaw Kids Attractions: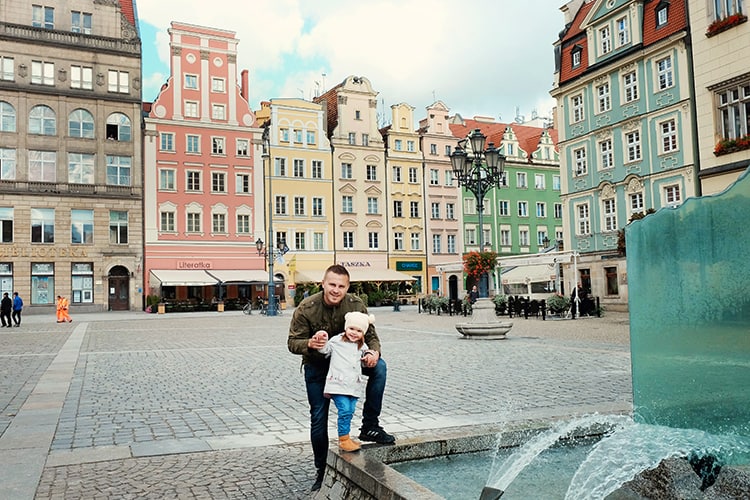 Take the kids on a gnome hunting trip where they'll search for dwarf and goblin statues.
Walk in the Old Town while marveling at architectural wonders like the Wroclaw Cathedral and learning about the city's past. Grab your Old Town tour tickets here.
Enjoy an exciting light show at the Wroclaw Multimedia Fountain.
For some more in-depth recommendations, check out our guides on things to do in Warsaw and things to do in Wroclaw.
Family-Friendly Hotels To Book In Poland:
---
14. Portugal With Kids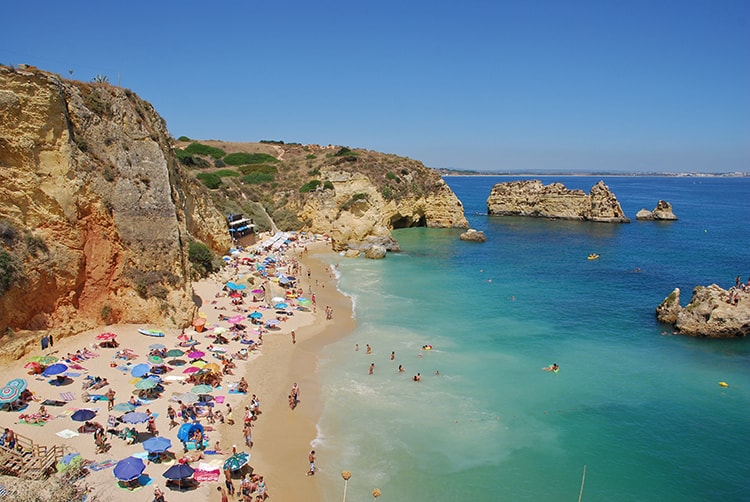 The Mediterranean nation of Portugal is a great European destination when traveling with kids, as it has some of the friendliest locals anywhere.
Not to mention, it has dozens of attractions that kids of all ages will enjoy.
Where To Go In Portugal:
While a relatively small nation, Portugal has no shortage of destinations or attractions suited for families. Of the charming country's cities, there isn't a place we'd recommend more than Lisbon.
The Portuguese capital city has amenities to match its big-city status but also has a certain charm you wouldn't expect of a metropolitan.
Also, the locals are warm and have a positive attitude toward kids—what's not to love here?
Many restaurants in these cities have high chairs for younger kids, they're walkable and have efficient public transport.
However, we recommend bringing a baby changing pad as both cities don't have many of these. Lisbon is also hilly, so opt for a carrier over a stroller.
Lisbon Kid-Friendly Activities:
Take the kids to the Lisbon Oceanarium to watch their eyes grow in awe while they discover over 8000 sea creatures. Grab oceanarium entrance tickets here.
Visit the Lisbon Zoo, which features a petting zoo for young kids.
Head to the top of São Jorge Castle for picturesque city views.
Where to Stay with Kids in Lisbon:
For large spacious 2-bedroom apartments look no further than the luxurious Legendary Lisboa Suites. Their apartments can fit up to 6 guests so great for larger families.
---
15. Czech with Kids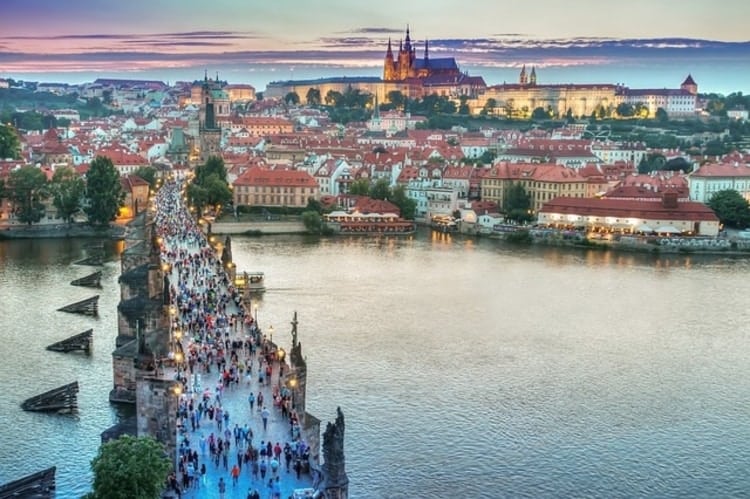 Czech is one of the most fascinating countries to visit with kids in Europe. It's full of historical sights, impressive castles with complex infrastructure, and many medieval museums to explore!
After the endless stream of exhibitions and walking gets to the kids, it's also a great place to find some fun child-specific attractions!
Where to go in Czech with Kids:
Czech is a country of many wonders, but one of the best European cities for Kids has to be its capital, Prague. Children often travel free or for a discounted price and have cheaper admission fees to many of the attractions!
Prague Kids Attractions:
Visit Prague Castle and explore its fairytale-like wonder! Grab your small group tour here.
Visit Mořský Svět, the country's giant water tank filled with lots of fish!
Check out the National Technical Museum, an oversized room stuffed with huge locomotives and old-fashioned cars.
The kids will love the Prague Zoo. It's a well-tended zoo with an extensive collection of exotic animals.
Visit the toy museum at Prague Castle to see barbies, toy cars, and antique European and American toys.
Where to Stay with Kids in Prague:
Typically completely forgotten about, Czech deserves a spot on the best places to go in Europe with kids' listicle.
---
Best Places To Travel To Europe With Kids FAQs
Here's a quick breakdown answering all the frequently asked questions about traveling to Europe as a family.
1. Is Europe Child-Friendly?
For the most part, Europe is child-friendly, boasting destinations with numerous kid-friendly attractions, child-adoring locals, and affordable transport costs, with some even offering free transportation for kids.

In some cities, you'll find child-focused amenities like changing tables, and high chairs in restaurants, and you'll rarely have to worry about crime.
2. Where To Go On Your First Family Trip To Europe?
Wondering what the best European country to visit with kids is?

If you're going abroad for the first time, our top recommendation would be Italy.

The locals here adore children, and the large country offers many activities for kids of all ages.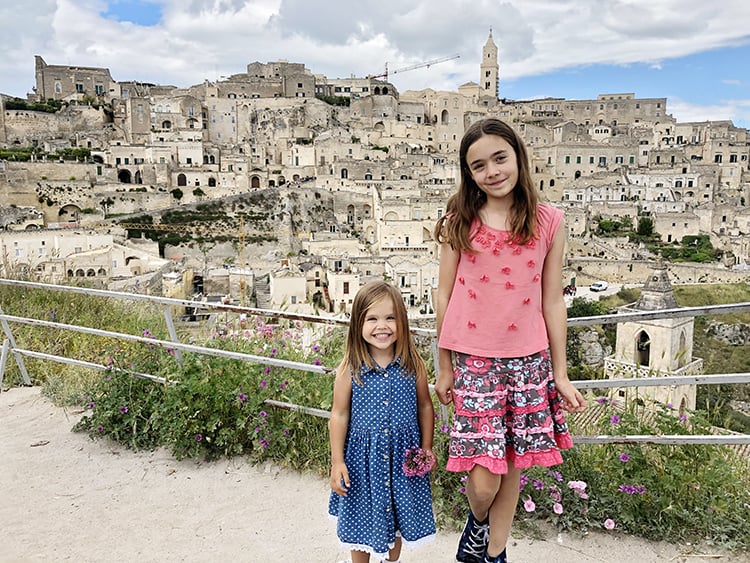 Another great option is Spain, where you're likely to run into a local ready to flash a smile.

Not to mention, this country is filled with fun attractions like trips to the beach, food tours, and architectural masterpieces.
3. Best Place To Travel With A Baby In Europe?
If you're traveling in Europe with a baby, you'll want to go to Austria.

While the attractions are impressive, our favorite thing about Austria is its baby hotels loaded with fun amenities like water slides, swings, and the like.

As alternatives, we recommend Italy and Spain. Both are home to friendly locals and child-friendly attractions. 

In Rome, for example, you'll find hotels at the ready with cribs, diaper-changing mats, and the like.

Spain is relatively flat, meaning you can push your baby in a stroller, and breastfeeding is accepted.

Here is a list of the best baby travel gear to make your next trip easier and smoother.
4. Where To Go In Europe With Toddlers?
We'd choose Italy here, more specifically Tuscany if you have a stroller that can handle its cobblestone streets, although a carrier is also a good idea.

A few restaurants have high chairs, but diaper-changing facilities are rare, so we'd recommend bringing portable high chairs and changing pads.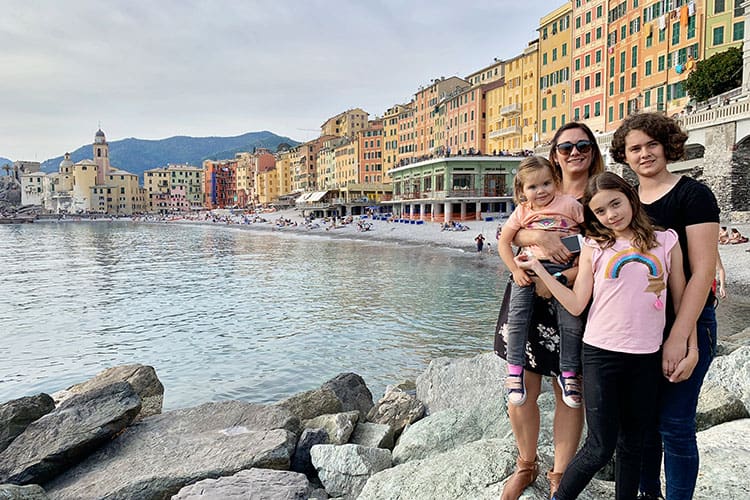 Furthermore, Spain has friendly locals, stroller-friendly terrain (except in Park Guell and Alhambra), and affordable local transportation. Unfortunately, Spain doesn't have many restaurants with high chairs, so we recommend bringing your own.

Denmark has efficient public transport, while Copenhagen has many restaurants with high chairs. The city also has diaper-changing facilities in libraries, cafes, and museums—with SMK offering a complimentary pram.

For the Netherlands, Amsterdam is suitable for toddlers as you'll find diaper-changing facilities in most public restrooms, high chairs in restaurants, and efficient public transport. 

Here is a list of the best toddler travel gear to make life easier for your trip with your busy little one.

5. Best European Cities To Visit With Teenagers?
For the best family European holidays with a teenager or two, you might like to focus your trip around one of these fun cities.

Amsterdam has attractions like the Van Gogh Museum, the fabulous Straat Museum, and the swing at A'Dam Toren for teenagers.

Barcelona is home to the 4D Gaudi Experience, several beaches, and the PortAventura theme park for some teenage fun.

London is a great European destination for teenagers for its museums (Museum of London), movie locations (think Harry Potter), and famous Instagrammable streets.

Rome has famous historic locations, Instagrammable attractions, and awe-inspiring street art sure to wow your teen.

With its fantastic food, many shopping opportunities, and the globally-renowned Louvre or Eiffel Tower, Paris will keep most teenagers happy.
---
Summary of the Best Family Holiday Destinations in Europe
I know that was probably a bit of a mouth full, and I thought it might be a good idea to quickly give you an easy-to-scan list of the best European countries to visit with kids, which were mentioned above:
Sweden
Austria
Croatia
Netherlands
England
Italy
Greece
Belgium
Spain
Germany
Denmark
France
Poland
Portugal
Czech
Hopefully, one of those kid-friendly European countries made your heart feel excited.
---
Final Thoughts on Your Next European Family Vacation
Europe is a continent that is full of magic and awe-inspiring places that you don't need to be an adult to appreciate! These were some of the best European vacations with kids.
From the magnificent castles to the cultural ebbs and flows of each incredibly unique place, there is just so much hidden in the mountains and valleys of this vast continent.
These fantastic destinations were easy to explore with children and offered safe environments and efficient transport systems, making them some of the best places for family vacations in Europe!
You can also visit Europe all year round – here is an excellent post about when to visit Europe.
---
Wondering Where to Stay on Your Europe Holiday with Kids?
If you want accommodation, check out comparison websites like Cozycozy. The website compares accommodation options all in one place using 100+ providers like Airbnb, booking.com, Vrbo, and other big names.
This way, you can find the best accommodation according to your budget and needs, such as family-friendly accommodation from guesthouses, hotels, b&b, hostels, treehouses, and houseboats, you name, and you find it.
__________________________________
You Might Also Be Interested In:
Best weekend destinations in Europe
Best holiday destinations for teenage families
Best Holiday Destinations in Asia for Kids
6 Action-Packed Family Adventure Holiday Ideas
Check out the best luggage for kids here
__________________________________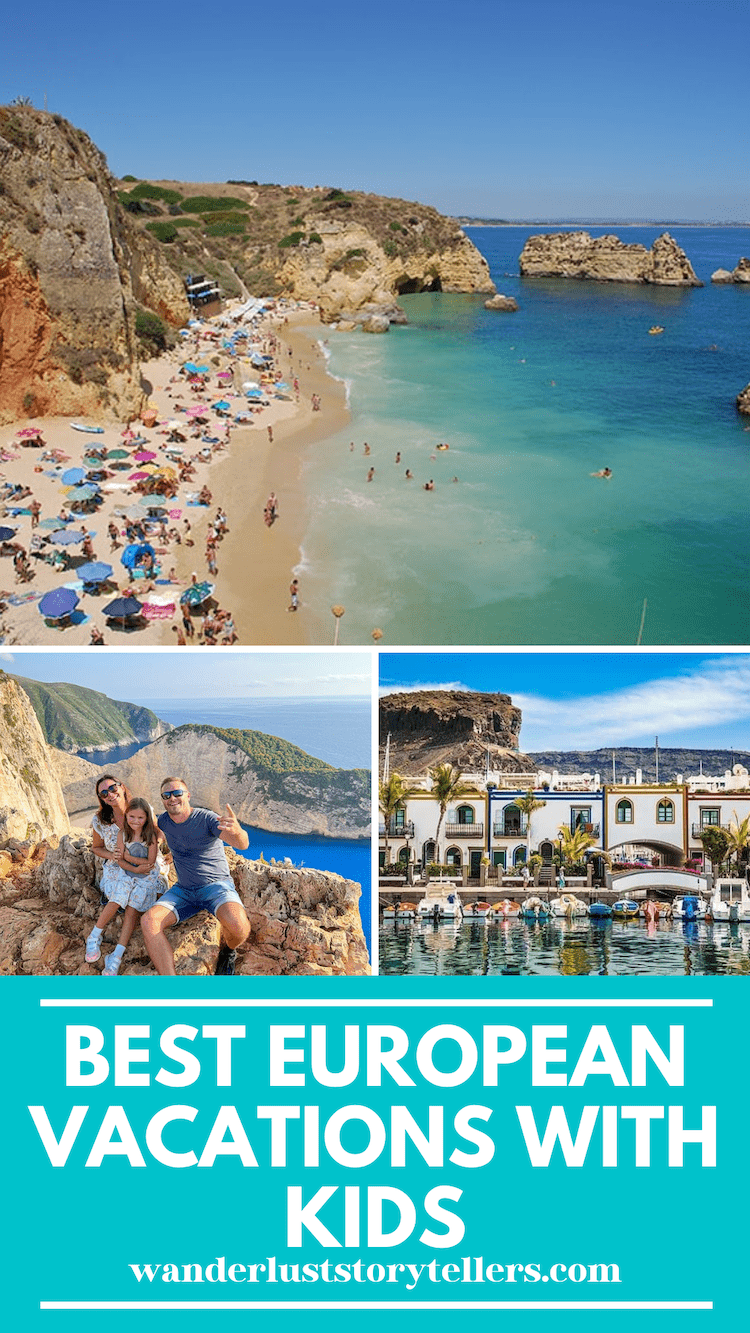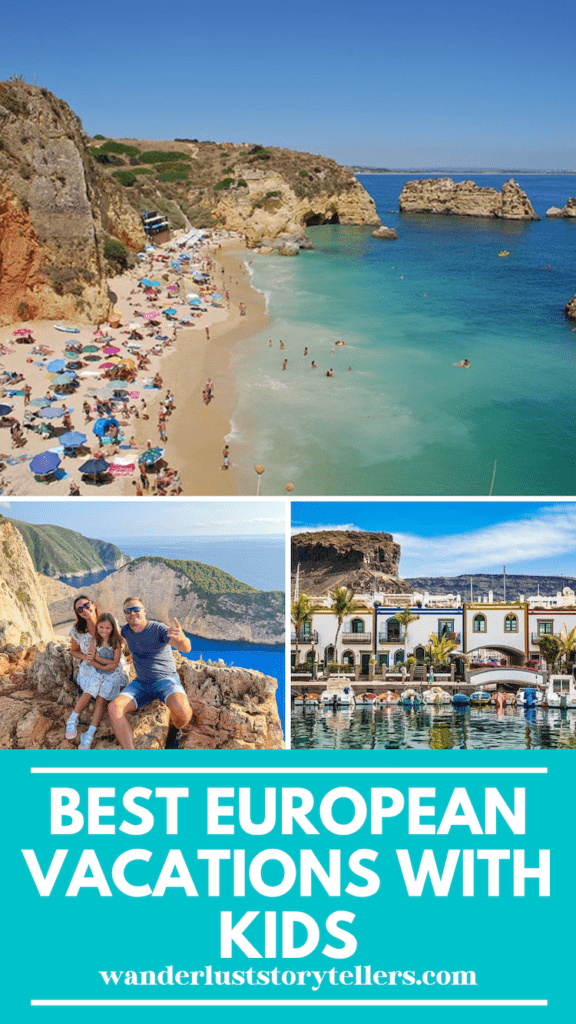 Leave us a Comment:
Have you been to any of the best European family destinations on our list? Did you have a fabulous time there?
Do you have any recommendations on the best family vacations in Europe that you can add to our list?
When will you go on your next Europe holiday with kids?