Are you planning a trip to Zakynthos, and would like to explore the island's stunning coastline?
Whether you're wanting to visit sites like the Blue Caves or the famous Shipwreck Beach or simply spend the day out on the water, the island of Zakynthos has plenty of boat trips to suit your taste.
We have rounded up the best Zakynthos boat tours that will take you on amazing adventures around the island.
From exploring the hidden, most beautiful beaches and sea caves to swimming with turtles or taking in the sunset, these boat tours offer something for everyone.
So, get ready to set sail and discover the beauty of Zakynthos in Greece from a totally different perspective.
Quick Tip: Want to know what else to do in Zakynthos, check out our 3-day itinerary for Zakynthos.
Quick Guide: Best Zakynthos Boat Tours
After a quick list of the top Zakynthos boat tours? Here are the best tour:
Tour Length: 4.5 hours
Glass bottom boat
Swim or snorkel in Blue Caves
1-hour swim at the Shipwreck Beach
Private Boat Tour
Tour Length: 4.5 Hours
Visit Shipwreck Beach and Blue Caves
Snorkel and swim at various spots
---
The 15 Best Zakynthos Boat Tours
Here are the best Zakynthos boat tour options. Your only task is to choose one!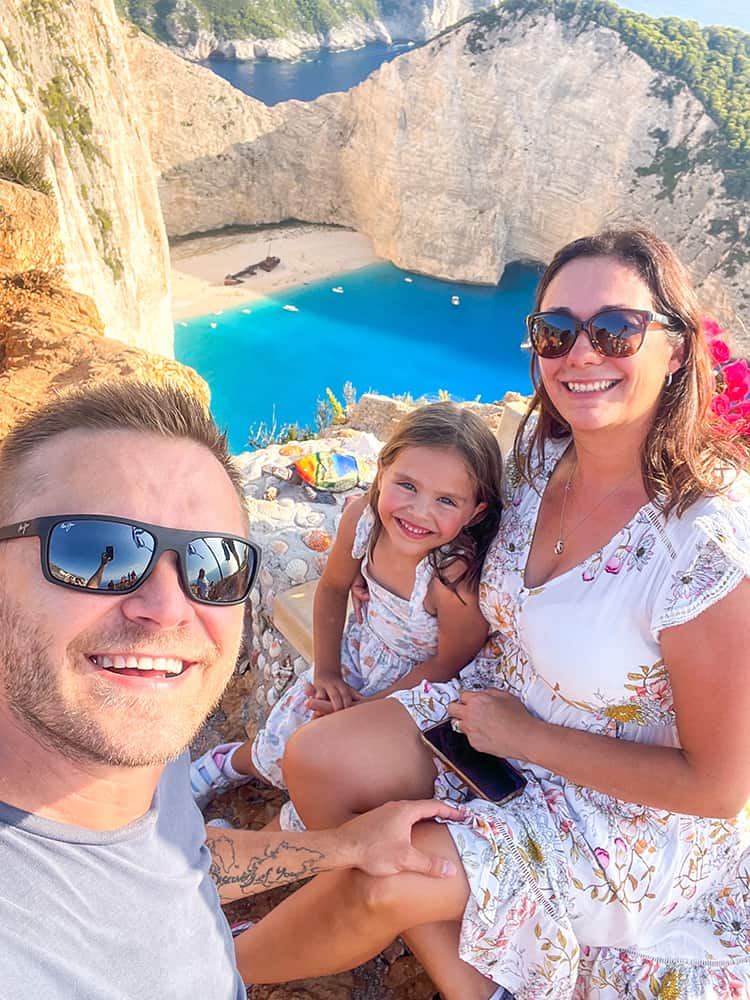 Rating: 4.5 Stars
Length: 9.5 Hours
Pickup Included: Yes, from Zante town. More than 13 km from the town may incur an extra pickup fee.
View on GetYourGuide
This full-day tour of North Zakynthos offers you the chance to view the famous Navagio (shipwreck beach) from both the ocean and the viewpoint above, a visit to the Blue Caves, some great photo opportunities, and a visit to the 2000-year-old Olive tree. 
Who is this tour suited to?
This Zante boat tour is perfect for those who would like to see the Blue Caves and shipwreck beach but would prefer not to spend an entire day on a boat.
It is a full-day tour, however, time on the boat is limited to visiting the Blue Caves and Shipwreck Beach.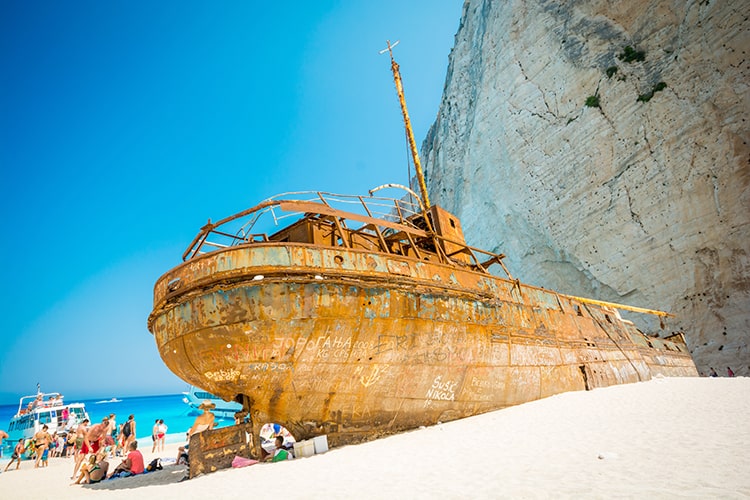 "This was a great day out with our guide Theodore who was friendly and helpful, giving us lots of information about the area and answering all our questions…

…The minibus tour was great but the highlight of the trip had to be the boat excursion to Navagio (shipwreck) beach where you get to spend an hour before being taken to the blue caves.

I was amazed how far they took the boat into the caves, we were lucky that at one of the caves the water was not too choppy and we were able to take a quick swim here too…

…After the boat trip there is a quick lunch stop at a local taverna which was okay – my wife says her prawns were amazing.

A quick stop at the oldest olive tree on the island and then back to be dropped if at our accommodation.

A thoroughly good day and I felt it was great value."

GetYourGuide Traveler from UK (Read More Reviews) ⭐️⭐️⭐️⭐️⭐️
Why you will love this tour:
You will begin the day by being collected from your accommodation in an air-conditioned minibus, before making your way to Bohali's panoramic viewpoint which provides fantastic views of both the city and the coastline.
Your guide will explain the day's itinerary here which will include:
A swim at Xygia Beach whose waters contain both sulfur and collagen. The healing properties of this water are held in high esteem by the locals, and you get the chance to see it for yourself.
A glass bottom tour that includes a visit to the famous Blue Caves and the opportunity to swim or snorkel in the blue waters
Your boat trip will continue to Shipwreck Beach (Shipwreck Cove) where you will have an hour to swim, relax and take in the rusted hull of the Panagiotis which ran aground in 1980
After your boat ride you will have time to have lunch at Agios Nikolaos (at your own cost) before reboarding the mini-bus and heading up to the viewpoint over Navagio Beach, also called a "Smugglers Cove".
Finally, you will visit the 2000-year-old olive tree in the village of Exo Chora, before visiting an Olive Oil factory where you can learn about their production process, and then finally heading back to your hotel.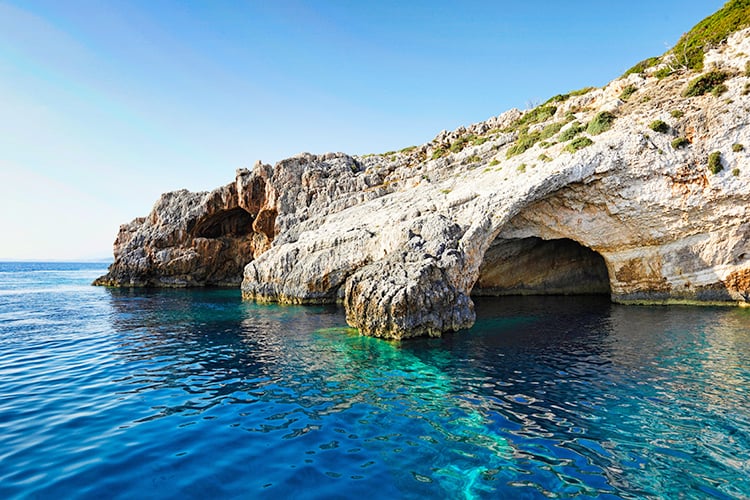 This tour offers you some great photo opportunities at:
Markris Gialos Beach is known for its rocky coastline,
the viewpoint over Navagio Shipwreck Beach,
the wreck on shipwreck beach &
Bhali lookout
Please note:
Snorkeling is possible however you will need to bring your own snorkeling gear.
Boat fees are not included and at the time of publishing are around 15 euros per person.
There is time for lunch at Agios Nikolaos after you get off the boat, however, that is at your own expense.
Please bring your swimsuit & towel
Pickups from more than 13 kilometers from Zante Town will incur a 25€ fee each way
Boat trips to Navagio (Shipwreck) beach are weather dependent and there are occasions when it may not be possible to land on the beach.
This tour does have 2 possible times over the summer period. You can choose from an 8 am start or have a sleep-in and do the 11 am tour.
This tour is also available as a private tour with an option to share the boat portion of the tour with other guests or alternatively to have a completely private boat ride as well.
You can choose this option during the booking process.
---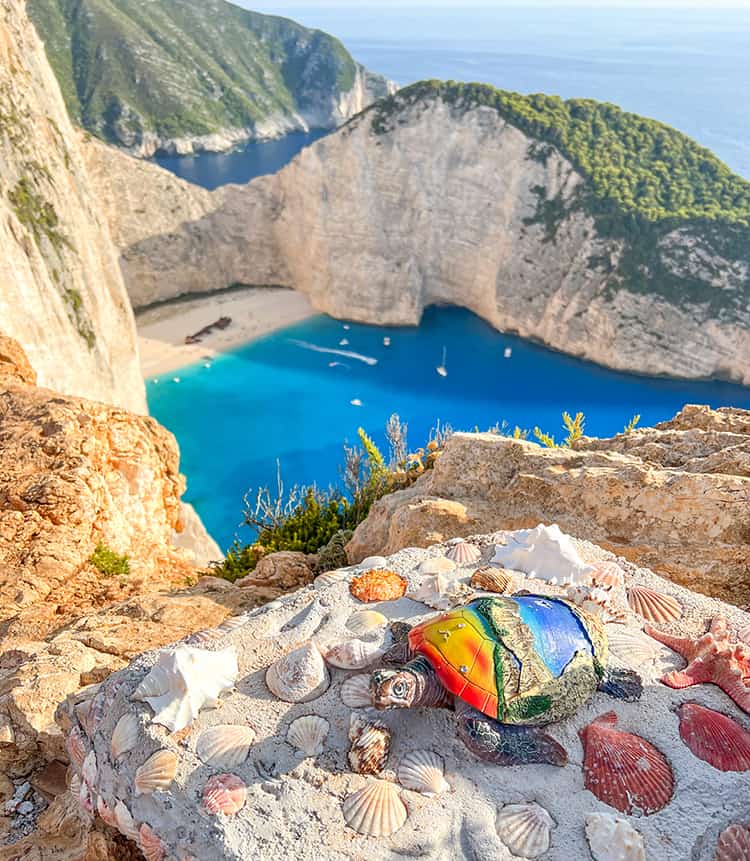 Rating: 4.5 Star Tour
Length: 7-9 Hours
Pickup Included: Yes – add your pickup point at the time of booking. Or join at a designated meeting point in Zante Town.
View on Viator
Visiting multiple Zakynthos destinations, this adventure tour will visit the famous Shipwreck beach, giving you a chance to swim in the crystal clear waters surrounding the island and for those photographers among you, take some beautiful landscape and coastal shots.
Who is this tour suited to?
Suitable for families, couples, or friends alike, this full-day tour hits all the best sites of Northern Zakynthos.
You will need to be confident in getting on and off boats and walking stairs to and from the sulfur beach.
The bus has infant seats available and almost all of the tour is stroller accessible.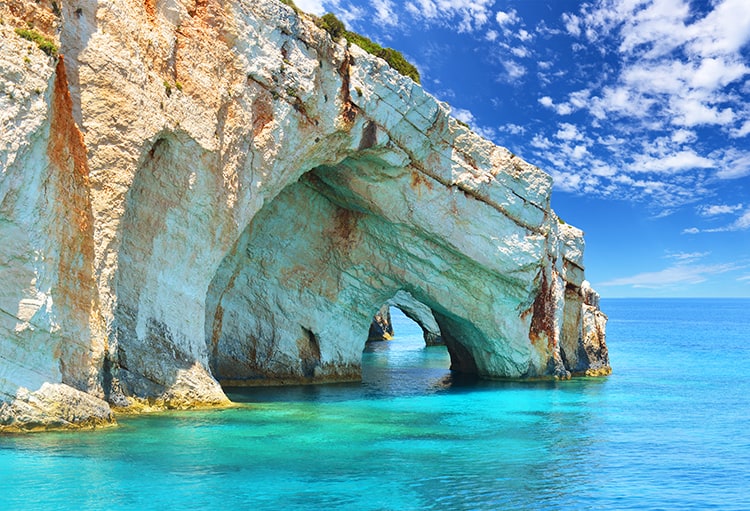 "Spiros was an incredible tour guide! My partner and I could not have asked for a better way to explore the island.

We were able to learn about the island, while also having an abundance of free time to swim at Shipwreck beach and jump off the boat near the blue caves.

The mix of the bus and boat was definitely a bonus because we were able to see the island from two different viewpoints.

Overall, we had a great time and I would definitely recommend doing this excursion, especially if it is your first time in Zakynthos."

KATELYN D. (READ MORE REVIEWS) ⭐️⭐️⭐️⭐️⭐️
Why you will love this tour:
This full-day tour combines a visit to the famous Navagio shipwreck, the chance to swim in the island's crystal-clear waters or go snorkeling in the Blue Caves, before sitting back and relaxing in sulfur-filled hot springs.
The tour starts with your boat trip to the famous shipwreck beach where you will have an hour to walk the beach and take photos with the wreck.
From there the boat will navigate the tight spaces of the Blue Caves before you have the chance to swim in these crystal clear waters.
You will then have time for a relaxing lunch (at your own expense) before reboarding the bus where you will head up the hill to the lookout offering breathtaking views down over the iconic Navagio shipwreck beach.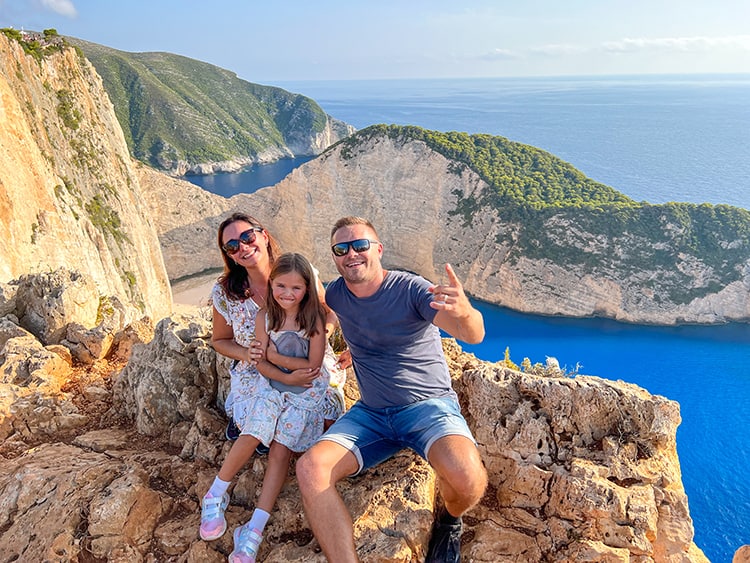 Heading down the coast, you have a photo opportunity at Makris Gialos Beach before stopping at Xigia Beach where you'll have a chance to soak in the rejuvenating collagen and sulfur-filled hot springs.
Cameo Island is the last stop on the tour for those wishing to take photos of the island and its famous wooden bridge in the background.
A comfortable air-conditioned vehicle will take you to each location, providing you with a seamless and stress-free travel experience.
Please note:
You will need to bring your own swimming and snorkeling gear.
A towel is also required.
Child seats are available but you will need to notify the tour operator prior to the day.
Navagio Beach landing is weather dependent. If the boat is not able to operate because of bad weather an alternate itinerary will be followed.
The tour operates with an 8:30 or 11:00 am departure.
---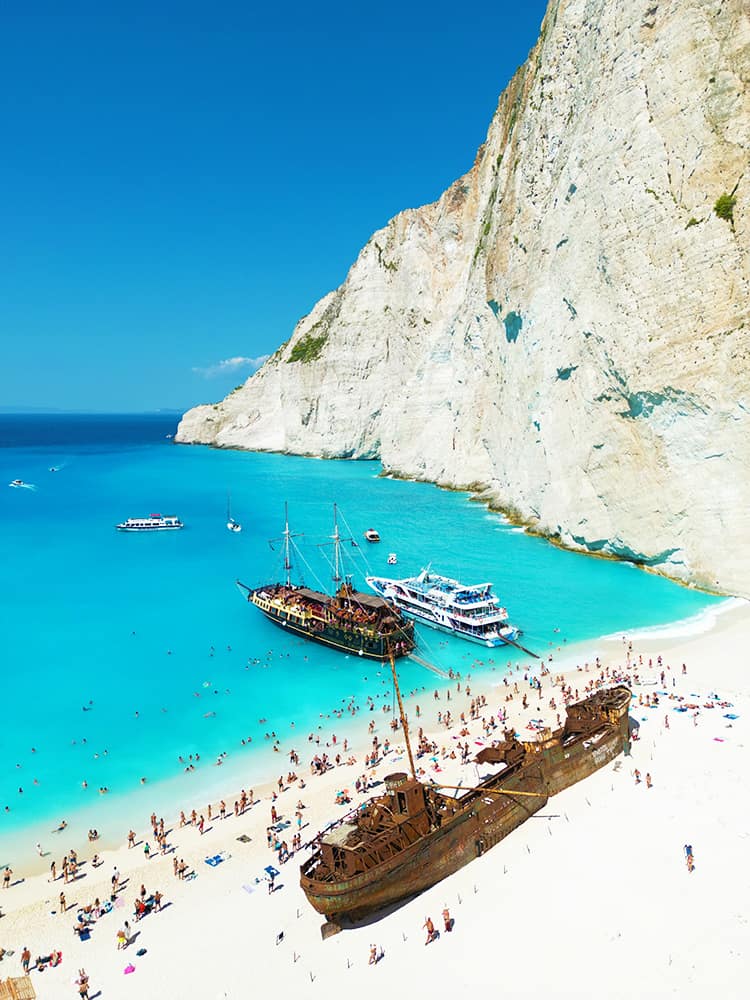 Rating: 5 Star Tour
Length: 4.5 Hours
Pickup Included: You will have to make your own way to the departure point, however, the tour company can provide transfers on request.
View on Viator
Do you have a group or family and are looking to experience the most famous Zakynthos sites by boat?
This private boat charter will give you the chance to visit both the Blue Caves and Navagio Beach spending time at both locations.
Who is this tour suited to?
This private boat tour is ideal if you have a large family or a group of friends and would like to spend a few hours seeing Zakynthos' most visited destinations.
Capable of taking up to 8 passengers, this speedboat is very cost-effective if you have a group and have your own transport to get to the meeting point at Kavo Psarou Port Zakynthos.
"5 stars! Captain Leo was accommodating, adventurous and very responsive.

We had a wonderful day with amazing sights and plenty of time lounging at a gorgeous private beach.

The boat was the perfect size — small enough to maneuver into caves, but large enough to fit four large adults comfortably.

Would recommend Serene Private Cruises and Captain Leo to anyone looking for a private boat tour of Zakynthos!"

TRIPADVISOR REVIEWER (READ MORE REVIEWS) ⭐️⭐️⭐️⭐️⭐️
Why you will love this tour:
This Zakynthos shipwreck tour leaves from Kavo Psarou Port on the northeast of Zakynthos about 25-minute drive from Zante town.
The boat is comfortable for up to 8 passengers, with seating at the rear and a lounging area at the front of the boat.
Being an experienced skipper means you can sit back, relax and enjoy your day visiting the Blue Caves and shipwreck beach.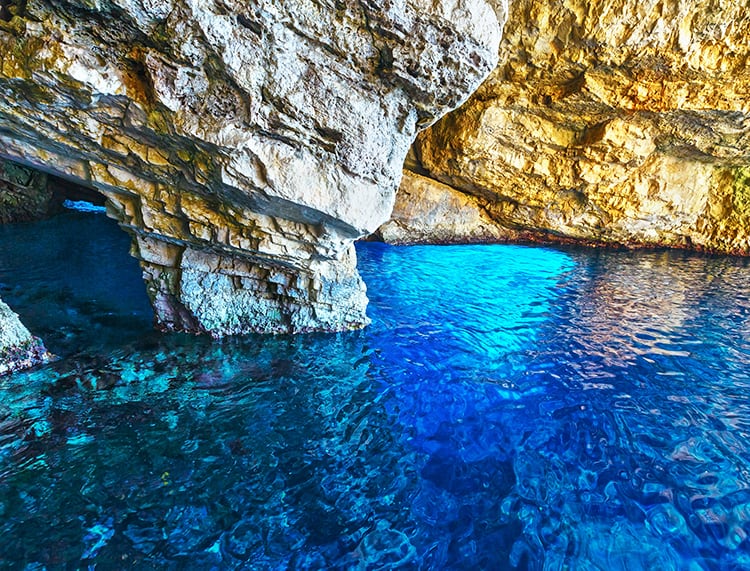 Motoring along the coastline, you have the opportunity to swim and snorkel at beaches only accessible by boat.
The amount of stops and the time spent at each depends on you.
The skipper will help you to choose the best places that are most suitable for your group.
Blue Caves and Navagio Beach are the highlights of this tour, however, the coastline between the two offers multiple places to stop and snorkel should you choose to.
Safety is of utmost importance and life jackets for both adults and children are supplied.
Please note:
This private boat tour is all-inclusive. Provided for you are;
Snacks
Bottled water
The use of Snorkelling equipment
All Fees and Taxes
Fuel
USB PORT (should your phone need to charge)
An experienced Skipper
Fresh water shower for after your swim
Sun canopy
Swimming ladder for easy access into and out of the boat
2 engines for safety
Life jackets for kids and adults
Choose from an 8 am, 9 am, or 1:30 pm departure time on booking.
---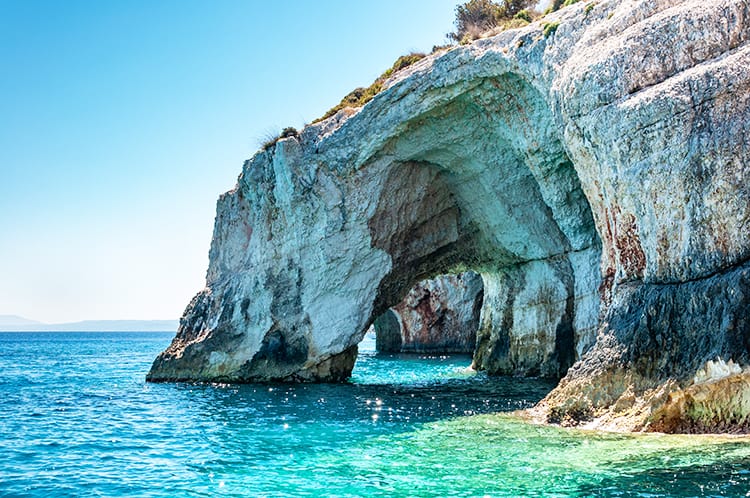 Rating: 4.3 Stars
Length: 3 Hours
Pickup Included: Yes pickup is offered from accommodation within 12km of Laganas Beach (which will include most hotels in Zante Town).
View on GetYourGuide
Offering guaranteed sightings of turtles, this 3-hour glass bottom boat cruise is a must-do for all animal lovers visiting Zakynthos.
Visiting the National Marine Park, Cameo Islet, and Marathonisi Island, this is one of the best turtle-spotting Zante boat tours on offer.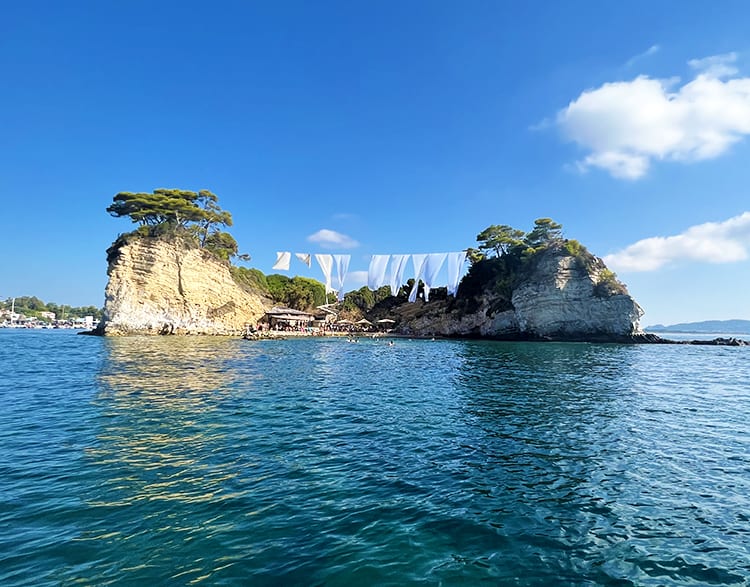 Who is this tour suited to?
At only 3 hours this shorter duration tour is suitable for those who would love to see the marine park without spending an entire day on a boat.
A 10 am start time means you can eat your breakfast at leisure, spend some time out on the beautiful waters surrounding Zakynthos and be back in time for a later lunch.
It was a great trip! We were picked up from our hotel and taken to the port, where our captain Stella welcomed us on the boat.

We were fortunate to spot the first turtle 5 minutes into the cruise.

After a few minutes of watching the turtle, we went for a ride around the coastline.

We had a 20-minute stop for swimming. After, we headed to the turtle-shape island Marathonisi to see the caves and for another swimming stop (1h), this time at the beach.

We still had a few minutes left on our way back, so Stella showed us Laganas beach. We were very lucky to spot another turtle!

When the cruise was over, we were dropped off at our hotel.

Our guide Stella told us a lot about islands and her skill behind the stere was very impressive!

GetYourGuide PARTICIPANT (READ MORE REVIEWS)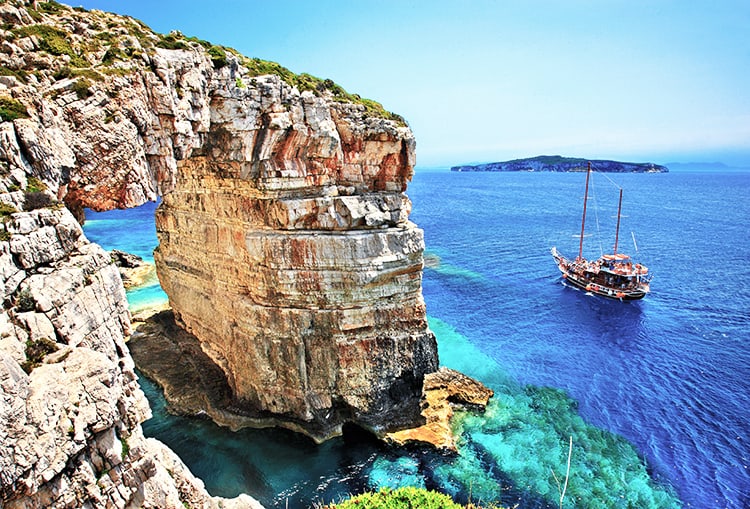 Why you will love this tour:
It isn't often that a wildlife-focused tour offers guaranteed sightings.
Knowing that you will see turtles up close is the main attraction of this 3-hour tour.
Along with turtle sightings and the opportunity to swim with the turtles in their natural habitat this glass-bottom boat tour also
takes you through the National Marine Park for a chance of viewing some other underwater coral and fish life,
Stops at the famous Cameo Islet for a chance to take photos with the bamboo bridge,
Explores the Keri Caves passing under the famous Kamara rock arch,
Time on Marathonisi island to swim and enjoy the beach
On returning to Laganas Beach you might like to have lunch at the many restaurants that line the beach before taking the local bus back to Zakynthos.
Alternatively, you could grab a taxi for around $10.
Please note:
Your accommodation pickup (up to 12 km from Laganas Beach) is included as is your boat ticket.
You will need to bring your swimwear, hat, sunglasses, sunscreen, towel, and a camera for turtle photos.
---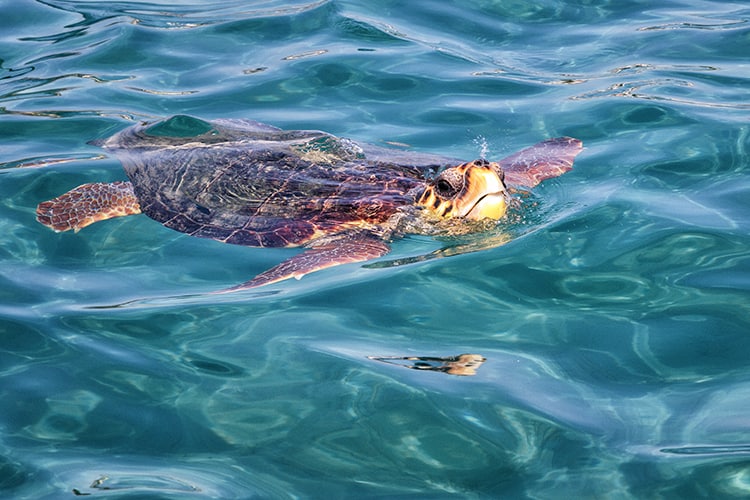 Rating: None Yet
Length: 3 Hours
Pickup Included: Yes
View on GetYourGuide
Leaving from Agios Sostis harbor at the western end of Laganas beach, this is one of the best Zakynthos private boat tours you will find and is perfect for turtle spotting, visiting Marathonisi, Keri Caves, and Mizithres rocks.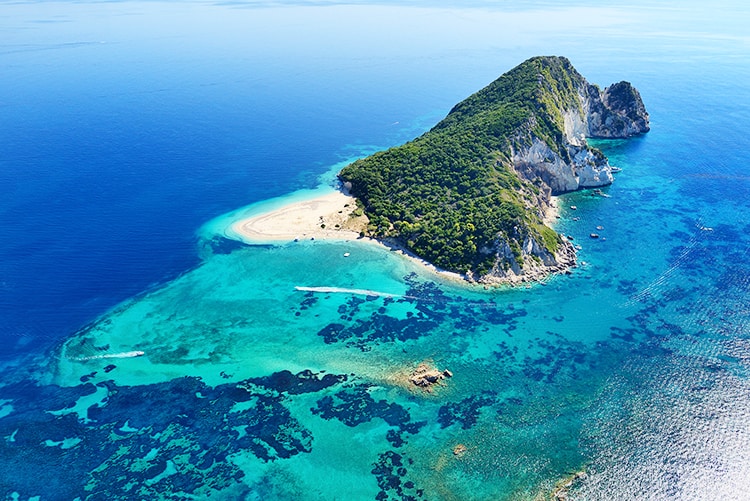 Who is this tour suited to?
If you have a group of friends or are a family, this tour is perfect for you.
Taking a maximum of 6 passengers, this private tour will mean you can choose where you would like to spend your time.
If you would like to swim with the turtles and watch them in their natural habitat with no time restraints – this tour is for you.
Why you will love this resort:
Offering multiple departure times, this private turtle-watching tour is available for departure at 9:00 am, 12:00 pm, 3:00 pm, or 6:00 pm.
Once aboard the boat, your skipper will take you to the National Marine Park in Laganas Bay searching for Caretta Caretta (or loggerhead) sea turtles.
As this is a private cruise you control the destinations and time spent at each for the entirety of the tour.
After your turtle spotting and possibly swimming adventure, you will proceed to the Keri Caves and Mizithres Rock, a popular destination in this area.
Here the boat can pass under the rock arch and stop in a safe area where you can swim and snorkel in the clear blue water for as long as you wish.
Marathonisi the turtle-shaped island is another destination you will want to visit.
Loggerhead turtles nest here and while it would be rare for a clutch to hatch during daylight hours, there is the possibility of this happening.
Don't forget to ask your experienced skipper if you can visit the timber bridge that connects the mainland to Cameo Islet for a photo opportunity, or alternatively visit the small but quaint beach bar on the island.
Please note:
As this is a private boat and tour, everything is included for your 3 hours in Laganas Bay.
Included are:
Hotel pickup and drop-off
Snorkeling equipment
Underwater photos
Snacks and Refreshments
Life vests
Children's Life Vests
Local boat skipper
You need to bring:
Swimsuit
Towel
Sunscreen,
Extra water
---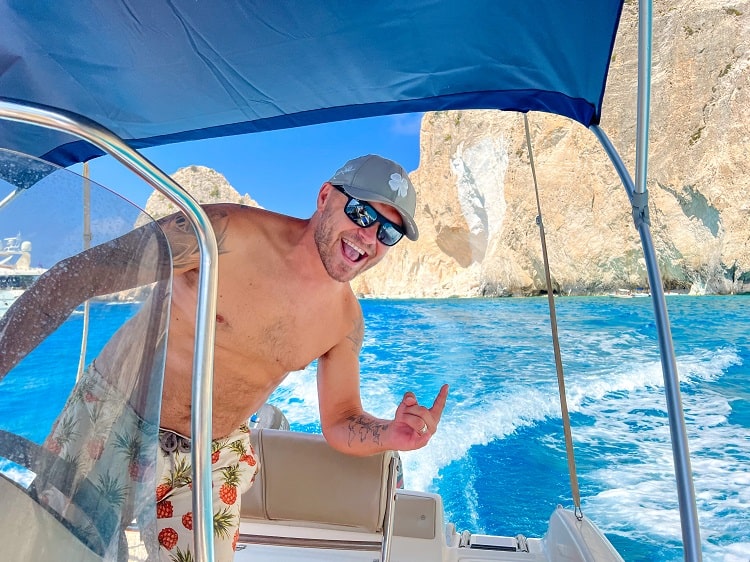 Rating: 5 Stars
Length: Between 1-12 Hours (your choice)
Pickup Included: Yes pickup can be arranged, or you can make your way to Planos to pick up your boat.
View on Viator
Do you have experience and are comfortable driving a boat yourself? If so this boat hire is for you.
With multiple-sized boats, and the ability to choose from different durations, this tour will give you complete flexibility over your itinerary for the day.
Who is this tour suited to?
If you would like to plan your own day out cruising the Zakynthos coastline, this would be one of the best Zante boat tours you can do.
Whether you are a family, a group of friends, or even a honeymooning couple, this boat hire from Zakynthos town is perfect for both privacy and flexibility.
If you are experienced and comfortable with boats, you can take the boat out without a captain.
If you would prefer to relax and spend the day on your own terms, you could spend the extra 50€ and have an experienced skipper drive you exactly where you wish to go for the day.
"The tour operators and the captain they assigned to us for our private boat "Mario" were all excellent.

Mario was patient with us, showed us North side of Zakynthos Island with multiple stops to take swims and snorkel.

Also stopped at Shipwreck beach and waited for us patiently.

Amazing and unique experience of Zakynthos made even great by a great team."

ATIF S. (READ MORE REVIEWS)
Why you will love this tour:
Having ultimate flexibility and privacy while exploring the coastline of Zakynthos is possibly the best feature of this tour.
You can choose from a 5.3-meter-long vessel with a max of 8 people, or the larger 6.2-meter boat which can take up to 12 guests.
These numbers do include the skipper if you choose to use one.
Both boats are set up for a relaxing and comfortable day cruising the coastline with all the safety equipment required (including a second engine and life vests).
The boats are easy to maneuver with steering wheels and responsive throttle controls and come with sand anchors for anchoring up.
You will receive a 20-minute introduction to the boat and its features before leaving the harbor which includes the use of all the onboard safety equipment.
Once you are out on the water, both boats have canopies to protect you from the sun or a front-mounted bed for the sun worshipers in your group.
You are free to explore the coastline and visit any of the well-known tourist sites that Zakynthos is famous for.
Having the boat to yourselves means you can stop where and when you like, swim for as long as you like, and have the utmost privacy while you do so.
Maps are included and the office staff will be happy to give you recommendations on secret spots, the best beaches and of course swimming locations.
Please Note:
Should weather mean your boat hire has to be canceled you will be offered an alternate date or a full refund.
Fuel is an extra cost and is charged at approximately 2.50€/litre. Your boat is supplied with a full fuel tank and is refilled upon your return. You will be responsible for the cost of any fuel that is used.
Snacks, lunch, drinks, and water are your own responsibility.
---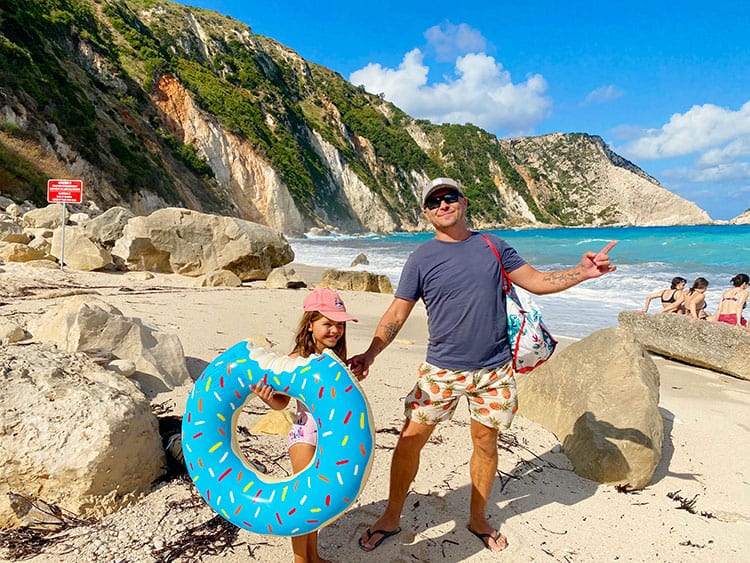 Rating: 3.7 Stars
Length: 10 Hours
Pickup Included: Yes, however, pickup can be from the areas of Agios Sostis, Lagana, Kalamaki, Argassi, Tsilivi, Tragaki, Alykanas, and Alykes and Zakynthos town.
View on GetYourGuide
Experience the island of Kefalonia on this full-day tour from Zakynthos town.
Using the local ferry, this tour will take you to Kefalonia where you will explore many locations on this beautiful island by bus and boat.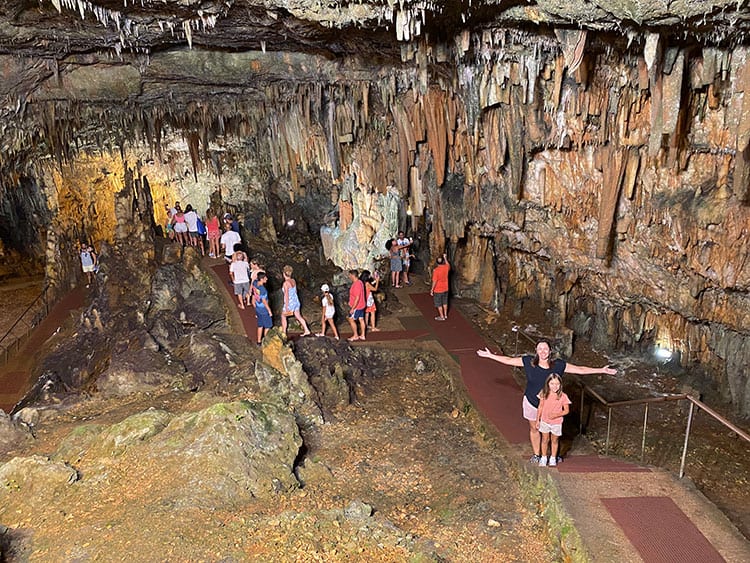 Who is this tour suited to?
Almost anyone can enjoy this full-day tour of Kefalonia. Explore the lakes and caves, small villages and towns, and stunning beaches over the course of the day.
Suitable for singles, couples, or families this tour is suitable for everyone.
There are 118 steps down into Drogorati Cave so if you are unsteady on your feet you might like to relax and sit out this part of the tour.
This is a tour around Kefalonia. It contains lots of transportation, via ferry, bus and even more bus.

It focuses on the sights, skipping swimming and beach-strolling.

This must be understood. If you know this, you will have a wonderful time, like I did.

I especially wanted to do it like this, as I have spent my other days on the beach and in the sea.

No need to do it again here. For me the highlights were the visit to the monastery (I love beautiful churches) and Melissani lake (simply, it is magical), the rest was just bonus (do not miss the Kefalonian meat pie for lunch).

Our Guide explained us history, culture and many more, without getting boring, did it in two languages, I enjoyed listening both explanations.

GetYourGuide Tour Participant (READ MORE REVIEWS)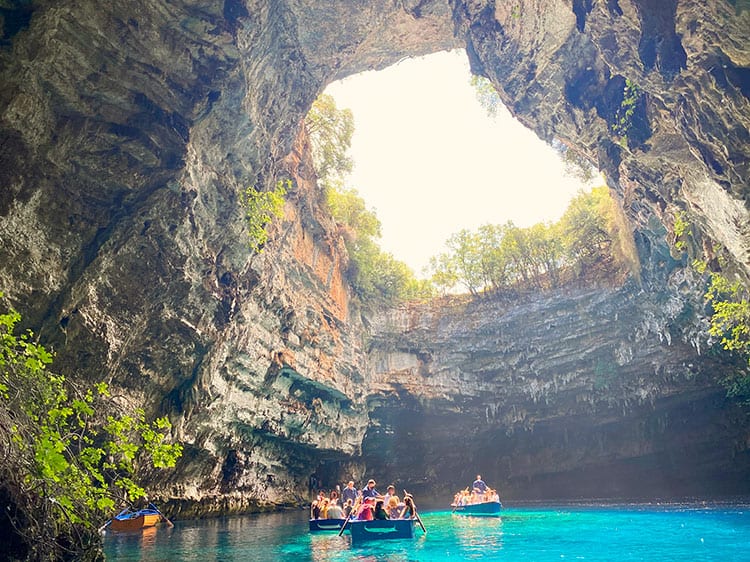 Why you will love this tour:
The ferry ride is only 1 hour so the perfect time to grab a coffee and watch the disappearing coastline of Zakynthos.
Stops on this whole-day tour include:
The monastery of St. Gerassimos is situated at the base of Mount Ainos.
Drogorati Cave with stalactites and stalagmites that are estimated to be 150 million years old.
Melissani Lake and the cave where you will board a boat to explore the interior of the cave and the colors reflected onto the walls from the water below.
Lunch is at the pretty coast side town of Agia Efimia from where you drive to Myrtos Bay, one of Kefalonia's most famous beaches.
The capital city of Argostyoli is the final stop with enough time to explore this quaint city, get some refreshments, or shop for souvenirs.
You will reboard the bus in Argostyoli which delivers you back to the ferry terminal for the trip back to Zakynthos.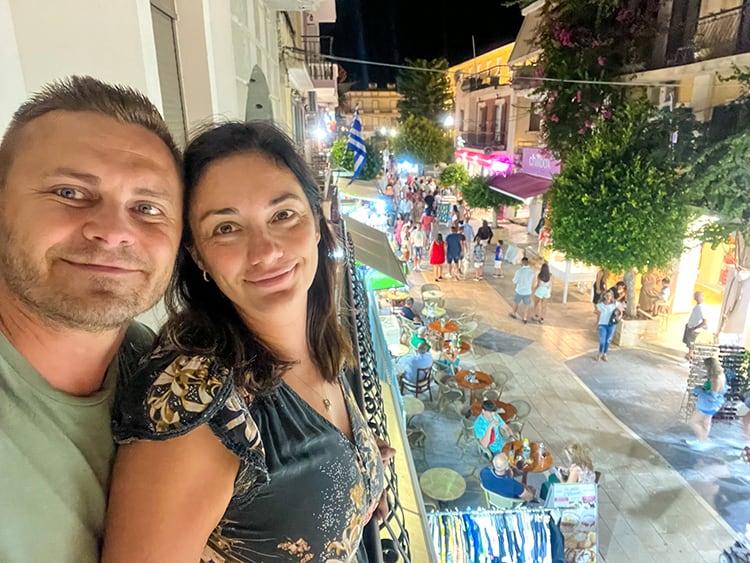 Arriving at 7 pm, you will be just in time for dinner at one of the town's restaurants, or take advantage of the transfer back to your accommodation.
Please Note:
An expert tour guide is supplied for the full tour.
Ferry tickets are included however entrance to Drogorati Cave and Melissani Lake is at your own expense.
You are responsible for the cost of food or refreshments during the day.
There are 118 steps down into and back out of Drogorati Cave however you are able to rest at the top if you prefer.
Pickups outside of Zante Town can be up to 1.5 hours ahead of the tour start time which means that it may be a 14-hour day for you if you include transfer times.
This is a full-day tour enabling you to see the best Kefalonia has on offer and is a long day.
There are no swim stops as the operator does try to give you as much time as possible in the caves and lakes on the tour, however, it is one of the best Zante boat trips to Kefalonia.
---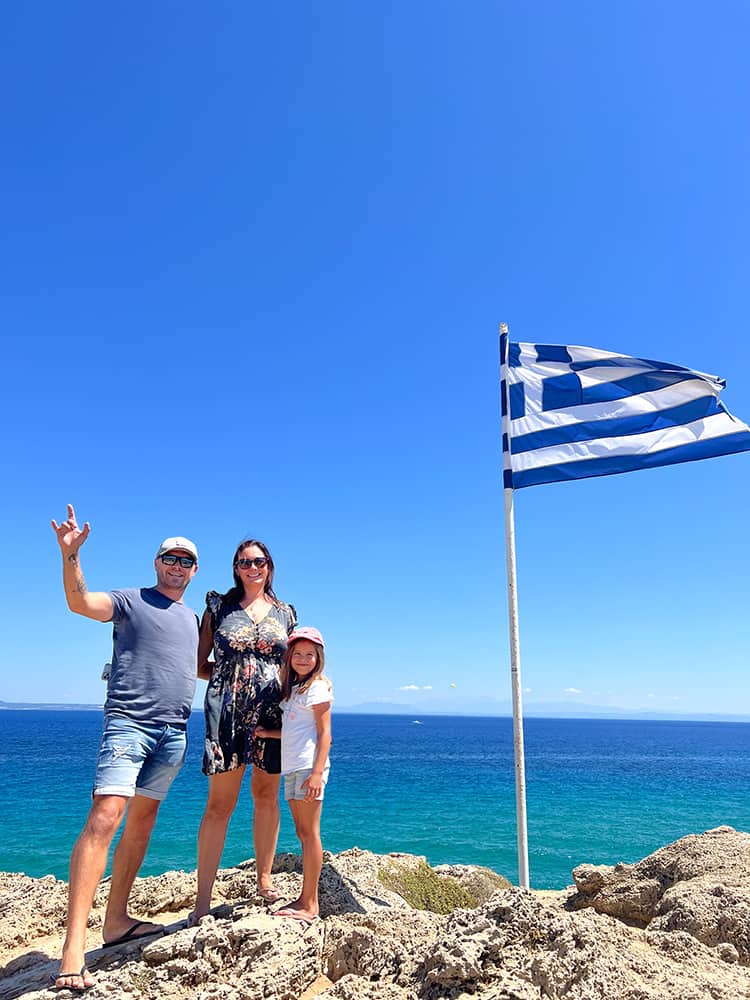 Departing From: Zante Town
Length: 8 Days
Pickup: No pickup is available. Please make your own way to the designated meeting point on the morning of departure.
View on Viator
If you would like to see more of the Ionian Islands, consider doing a sailing trip to visit the seven main islands.
The area is known for its sparkling blue seas, white sand beaches, caves, lakes, and historic towns.
Visit Zante, Kefalonia, Atokos, Ithaca & Corfu on this 8-day sailing trip to and from Zante.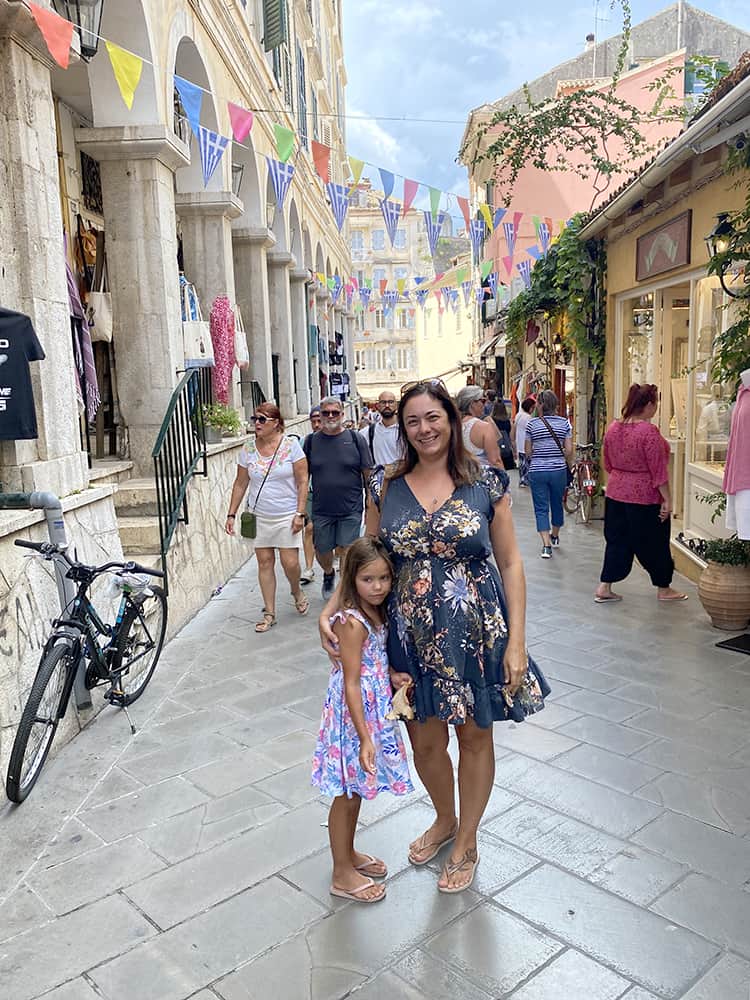 Who is this tour suited to?
This sailing trip is more suited to couples or close friends as the boat has 7 double & triple cabins hosting up to 16 guests.
While you could book multiple cabins for a family adventure, it would not be suitable for small children.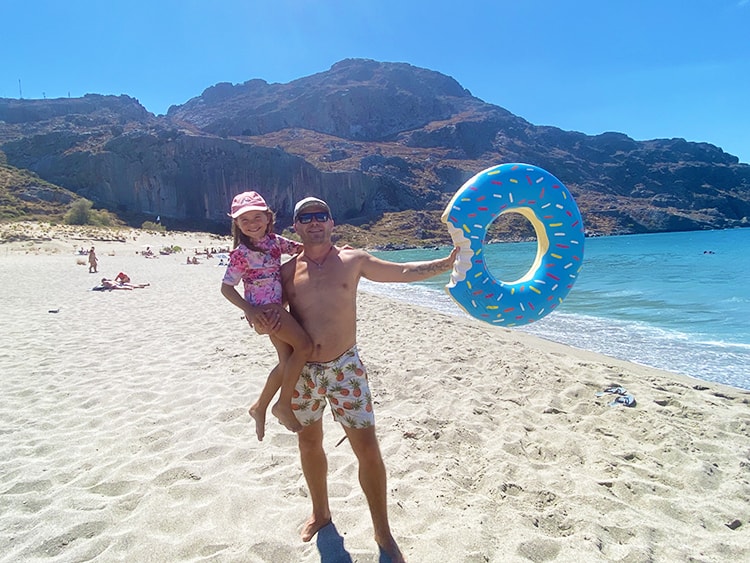 Why you will love this resort:
Departure is on the evening of the first day so you will have time to do a full-day tour of Zakynthos before you board. 
The tour visits multiple coastal towns and villages where you can dine on freshly caught seafood that the Ionian islands are known for.
Sailing often takes place in the evening so you have the days to spend swimming, snorkeling, exploring the historic towns, or taking advantage of any day tours on offer.
Making stops on Crete, Kefalonia, Ithaca, Meganisi, and Zakynthos, this tour allows you to see less tourist-focused destinations and towns while giving you the chance to experience the beautiful coastline of this island group.
From small seaside towns to some of the best beaches in the region, this 8-day tour of the Ionian Islands offers a fantastic overview of this region.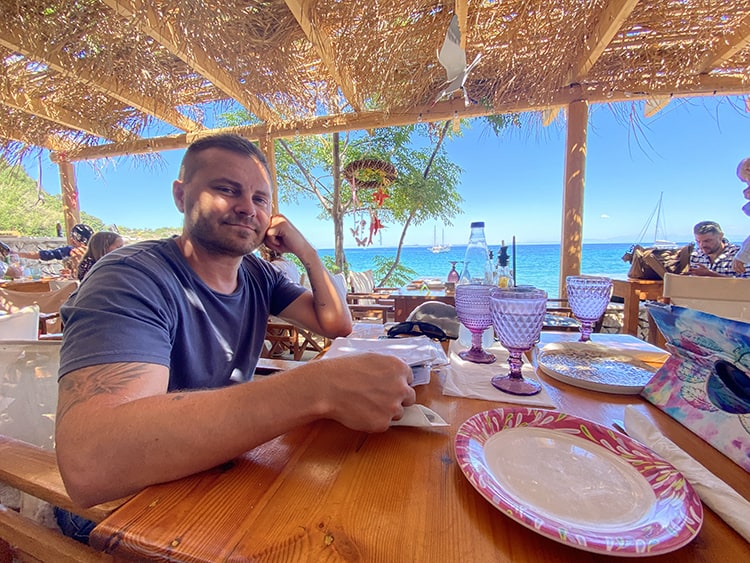 This Zakynthos yacht tour enables you to walk the streets of historic towns, swim on deserted beaches, eat some fabulous Greek food and experience a different sunset every night.
Please note the inclusions of this tour:
Experienced local tour manager who will help you to book local day trips and tours
Ensuited cabins
WiFi on board & the following meals:

6 Lunches
2 Dinners &
6 Breakfasts
Exclusions:
Other meals (outside of what is mentioned above) are at your own expense as drinks.
---
FAQs
Here are some answers to some of the most commonly asked questions about the Zakynthos boat tours: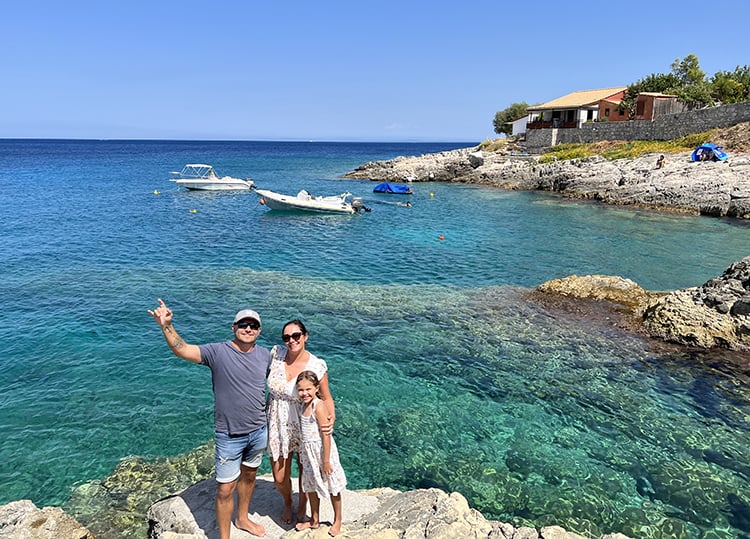 What top attractions are a must-see in Zakynthos?
Zakynthos is a beautiful island located in the Ionian Sea, and it's known for its crystal-clear waters, stunning beaches, and natural wonders.

One of the most popular attractions in Zakynthos is Navagio Beach, also known as Shipwreck Beach, which is known for its picturesque landscape and the rusted remains of a shipwrecked freighter that has been stranded on the beach since 1980.

Another must-see attraction is the Blue Caves, which are natural sea caves carved into the cliffs that line the island's coastline.

Visitors can take a boat tour to explore the caves and admire the stunning shades of blue and turquoise of the water.

Cameo Island is another popular spot that's worth a visit.

This small and charming island is connected to the mainland by a narrow strip of sand, and it's a perfect place to relax and soak up the sun.

Finally, the island's capital, Zakynthos town, is also a must-see.

It has a rich history and is home to many beautiful buildings, including the Venetian Castle, the Solomos and Kalvos Museum, and the Saint Dionysios Church.

The town also has a lively nightlife, with many bars and restaurants to enjoy.
What are the best tours in Zakynthos?
Zakynthos offers a wide range of tours that allow visitors to explore the island's stunning natural beauty and experience its rich culture and history.

One of the most popular tours is the Glass Bottom Speed Boat Shipwreck Beach and Blue Caves & Viewpoint, which takes visitors on a thrilling boat ride to see the island's famous shipwreck and the stunning Blue Caves.

The tour also includes a stop at a viewpoint that offers a breathtaking panoramic view of the coastline.

Another great tour option is the Full Day Small Group Tour to Navagio Beach, the Blue Caves & View Points.

This tour takes visitors to some of the most beautiful and iconic spots on the island, including the famous Navagio Beach, the Blue Caves, and several stunning viewpoints.

For those who prefer a more private experience, the Private Speed Boat Trip to Shipwreck Beach & Blue Caves is an excellent choice.

This tour allows visitors to customize their itinerary and enjoy a personalized experience with a knowledgeable guide.

The tour includes stops at both Shipwreck Beach and the Blue Caves, as well as other scenic spots along the coast.

Overall, whether you prefer a group tour or a private excursion, there are plenty of options in Zakynthos that offer an unforgettable experience.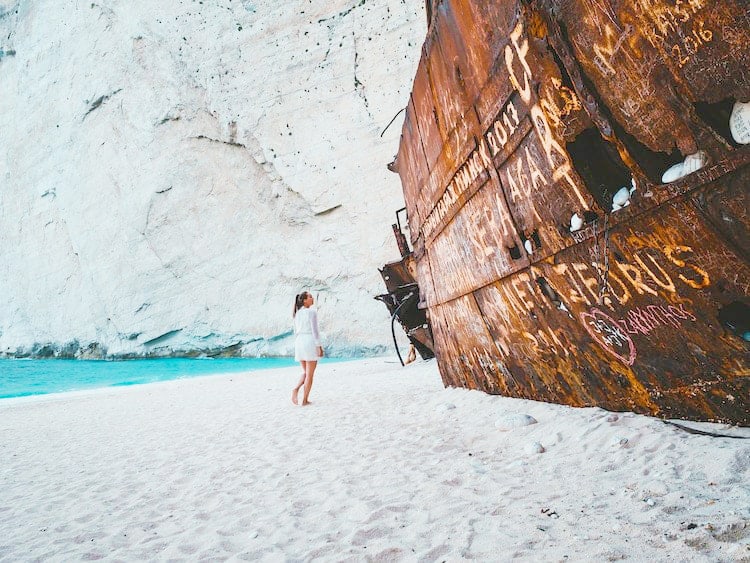 What's the best way to see Navagio Beach (Shipwreck Beach)?
The best way to see Navagio Beach, also known as Shipwreck Beach, is through a boat tour.

There are both private and large group tours available, depending on your preference.

A boat tour allows you to get up close to the iconic shipwreck and explore the crystal clear waters and stunning cliffs that surround the beach.

Swimming at the beach is also an option if you prefer to get closer to the water.

Another option to see Navagio Beach is to visit the viewpoint at the top of the cliff.

This viewpoint offers a panoramic view of the beach and its surroundings, and it's a great option for those who prefer to stay on land.

The viewpoint can be accessed by car or on foot, and it's a popular spot for taking photos.

Ultimately, the best way to experience Navagio Beach depends on your personal preference.

A boat tour is ideal for those who want to experience the beach up close and take a dip in the turquoise waters.

On the other hand, swimming at the beach is a great option for those who want to fully immerse themselves in the beauty of the beach.

Finally, the viewpoint is a great option for those who prefer to enjoy the beach from a distance and take in the breathtaking views of the coastline.
What is the best time to visit Zakynthos?
The peak tourist season in Zakynthos is from June to August when the weather is the hottest, and the island is crowded with tourists.

During this time, the beaches and restaurants are bustling with activity, and there are plenty of events and festivals taking place.

If you prefer a quieter experience, the shoulder seasons of May and September are a great time to visit.

The weather is still warm and sunny, but the crowds are thinner, and the prices are more reasonable.

The off-season from October to April is the quietest time on the island, and many businesses close down during this period.

However, the island's mild winter climate makes it a great destination for winter sun-seekers, and there are plenty of cultural events and festivals to enjoy during this time.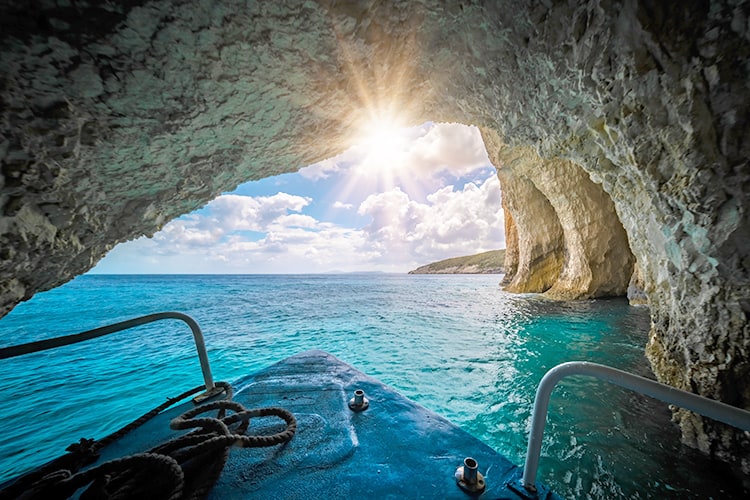 Why is the water so blue in Zakynthos?
The water around Navagio Beach, also known as Shipwreck Beach, often has an electric light blue color due to the numerous sulfurous caves around the beach.

The sulfur that is present in these caves can radiate into the water when the sea level rises, creating a beautiful blue glow.

This phenomenon is especially visible during the early morning and late afternoon hours when the light hits the water at a certain angle.

Visitors to Navagio Beach can take advantage of this unique photo opportunity and capture stunning images of the blue glowing water, adding to the already impressive beauty of the beach.
---
Final Thoughts On Zakynthos Boat Tours
Whether you wish to spend a few hours on a glass bottom boat visiting the turtles of Marathonisi or a full-day tour of the best Zakynthos coastline has to offer, these are some great day trips on and around Zakynthos.
Many of the day trips mentioned above have accommodation pickups, and air-conditioned transportation and allow you to see sites like The Blue Caves, Navagio Beach & the 2000-year-old olive tree, along with the opportunity to swim and snorkel in the Ionian Sea.
In case you are staying around here for a bit longer, and you are interested to read more, you might want to know more about what to do in the Ionian Islands.
We would definitely recommend that you check out Lefkada.
We can also help you plan a luxurious vacation in Greece, or give you some Greece vacation first-timer tips too.