Of all the breathtaking islands in the Ionian Sea, Zakynthos (or Zante) has been one of our personal favorites.
The island has plenty of natural beauty, from rolling mountains to soft sand beaches.
Although this island paradise may be small, it's not short of fun and exhilarating Zante activities to enjoy with the entire family.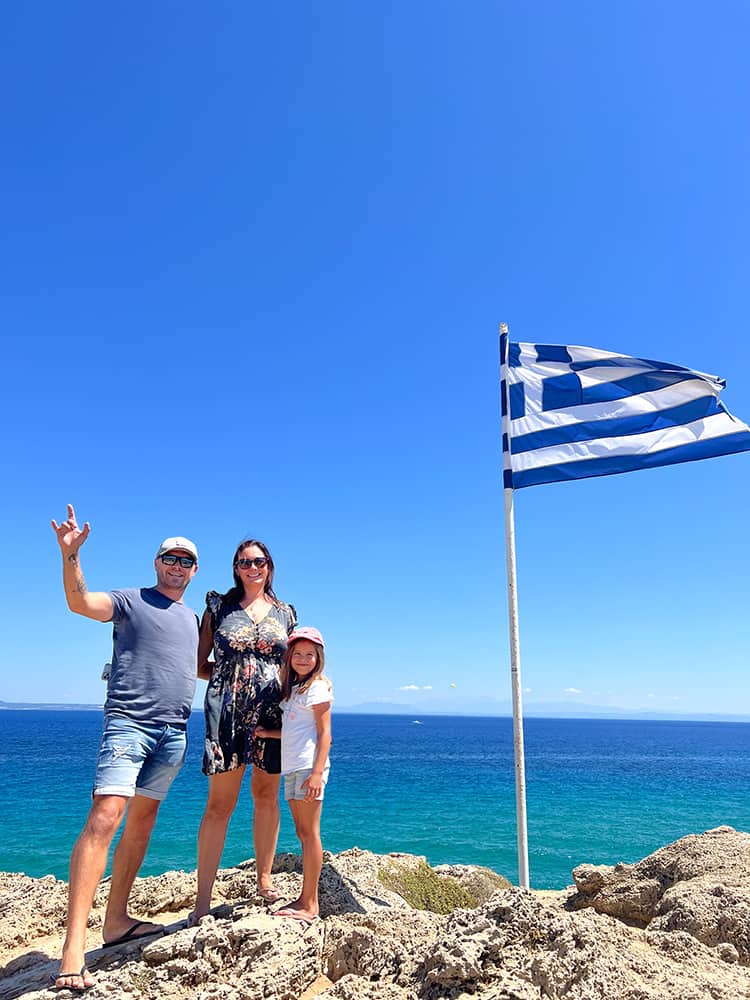 As the island grows in popularity as a holiday destination, so do the exciting opportunities the island has to offer.
Carry on reading to plan your ultimate 3 days in Zakynthos itinerary.
With this guide, you'll find out why this fantastic island made it onto our list of the top destinations to visit in Europe with kids.
3-Day Zakynthos Itinerary
Although three days may not seem like a lot of time, as the island is relatively small, you can easily see everything that makes Zakynthos special.
---
Day 1: Visit The Top Zante Attractions
To start your itinerary, we'll take you on a journey through the best Zakynthos things to do and see.
Morning & Lunch: Take In The Views At Porto Limnionas
We recommend getting an early start on your first day in Zakynthos by visiting the famous Porto Limnionas.
It is about a 50-minute drive from the port of Zakynthos, you'll wind through the beautiful hillsides of this lovely island.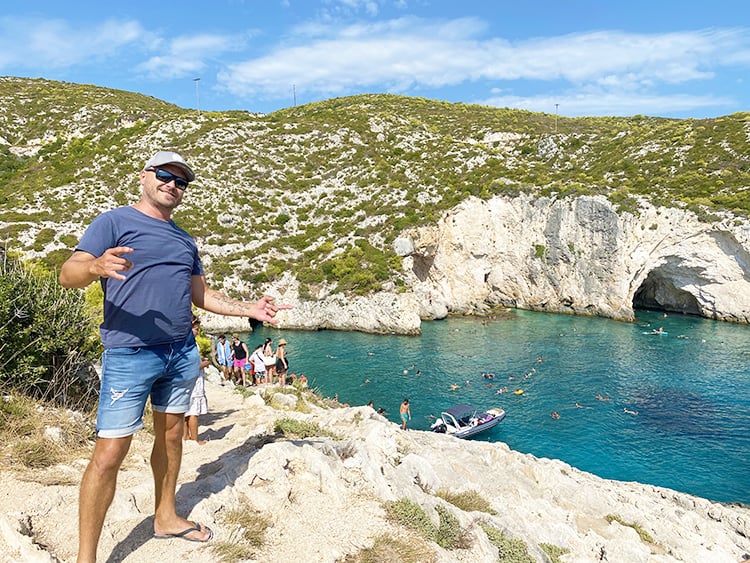 The waters here are very calm and ideal for families, but there isn't any sand. Instead, there are enormous flat boulders, so if you have water shoes, we recommend bringing them with you.
With gentle waves, an inflatable or pool noodle could come in handy and allow you to relax in crystal clear waters.
The ocean cuts into the island and has several caves where the adventurer can swim and snorkel.
As far as restaurants go, Porto Limnionas Taverna is the best in the area, with delicious food and fantastic ocean views.
The tavern also offers loungers at an additional charge of $5 per person daily.
Early Afternoon: Admire The Beauty Of Shipwreck Beach
Aim to leave Porto Limnionas and get to Port Vromi (30 minutes away) before 3 pm as the last boat tour leaves at this time.
Join a boat trip from here to Shipwreck Beach and enjoy the wind blowing through your hair as you take in the gorgeous views of Zakynthos.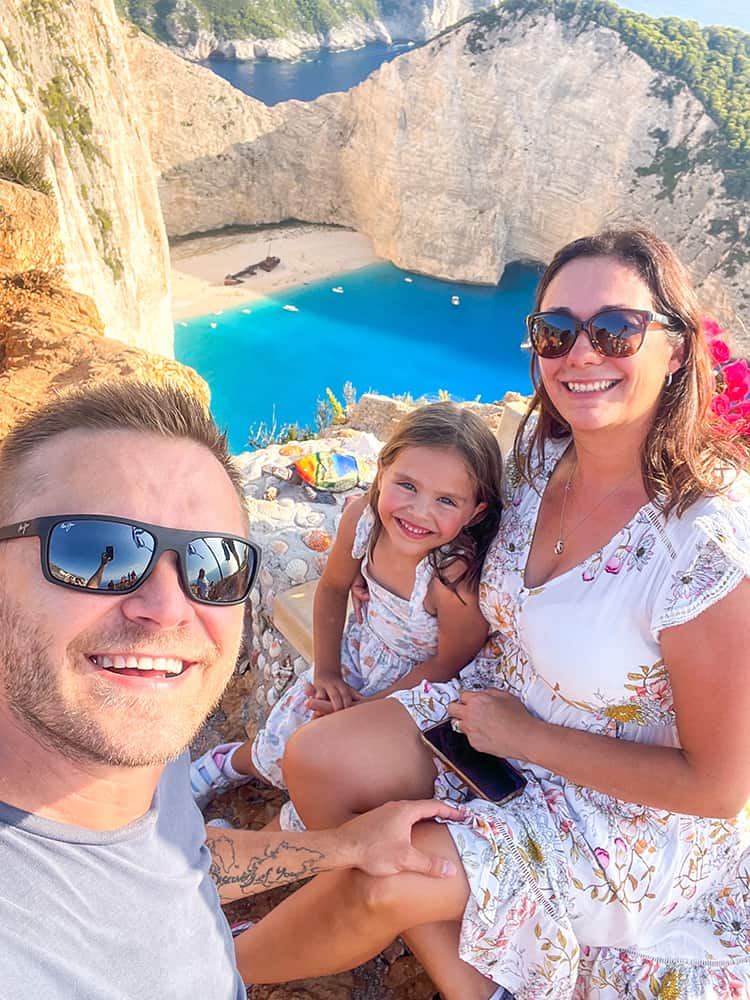 Shipwreck Beach, or Navagio Beach, is one of the most beautiful places in the world.
Aside from the iconic shipwreck in the center of the beach, towering sandstone cliffs surround this beach to create breathtaking scenery.
You can only access the beach by boat, which adds to its exclusive feeling and means it will never be overcrowded.
Click here to book your tour from Porto Vromi to Shipwreck Beach.
Late Afternoon & Early Evening: Hike Up To Shipwreck Beach Viewpoint
Between swimming in the lovely water and exploring the nearby caves, we recommend taking a hike up to Shipwreck Beach Viewpoint.
From here, you will get unforgettable views and fantastic photo opportunities to freeze this moment in time.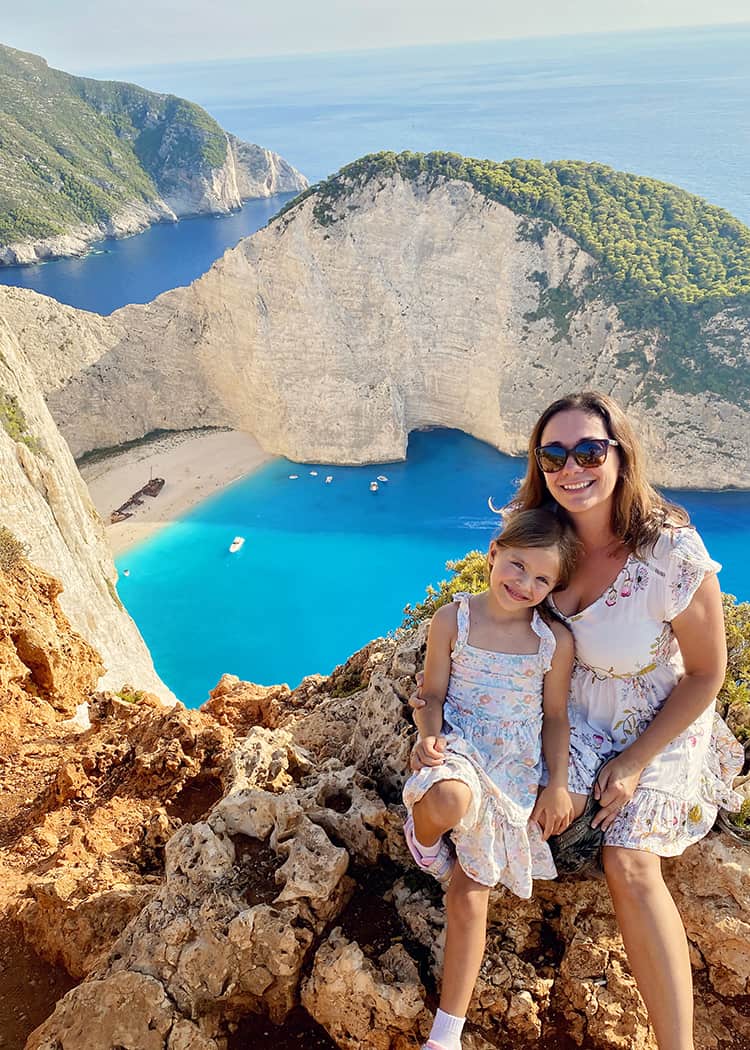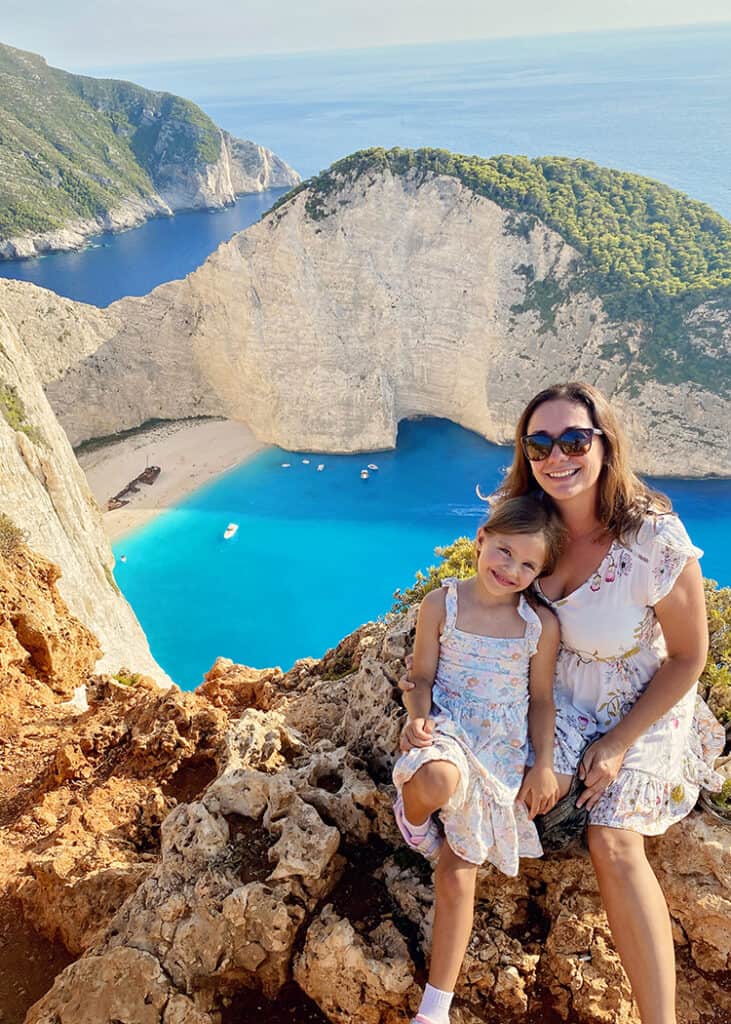 It's fairly easy to find the path, but if you can't, follow other people, as they will most likely be heading there.
Visit Shipwreck Beach Viewpoint around 6 pm, and you'll catch an awe-inspiring sunset.
We took proper walking shoes with us, and we are so glad we did, as some parts of the walk are steep.
In the end, Shipwreck Beach Viewpoint is the perfect place to end a lovely first day in Zakynthos.
---
Day 2: Enjoy A Relaxing Day At Zakynthos' Best Beaches
There's nothing better than relaxing on a beautiful beach, and Zakynthos has plenty you can enjoy.
Day two is about relaxation and enjoying the sites of the Southern part of the island.
Morning: Relax At Your Beach Of Choice
With such a variety of pristine beaches to pick from, it can be tough to choose where to enjoy your second morning on the island.
We suggest taking your pick from these Zakynthos beaches in Vasilikos: Porto Zoro, Banana, Plaka, or Agio Nikolaos Beach. Of the choices, we prefer Plaka Beach.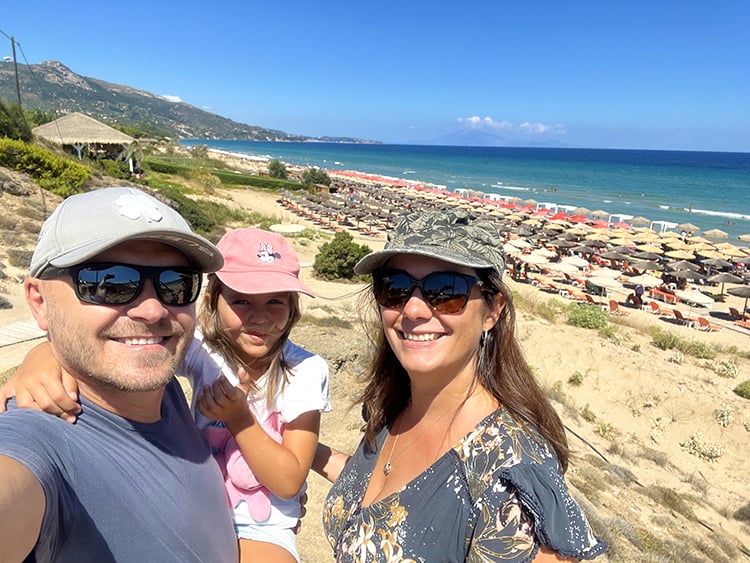 Plaka has soft golden sand and lovely warm and shallow water, making it the perfect spot for families.
The beach isn't highly developed, but it does have sun loungers and umbrellas for you to use.
There is also a statue of Poseidon along the rocks by the beach, which makes for an incredible photo opportunity.
Lunch Time: Visit A Landmark And Enjoy Greek Food
After a lovely morning soaking up the sun on your beach of choice, pop past the Chapel of Agios Nikolaos.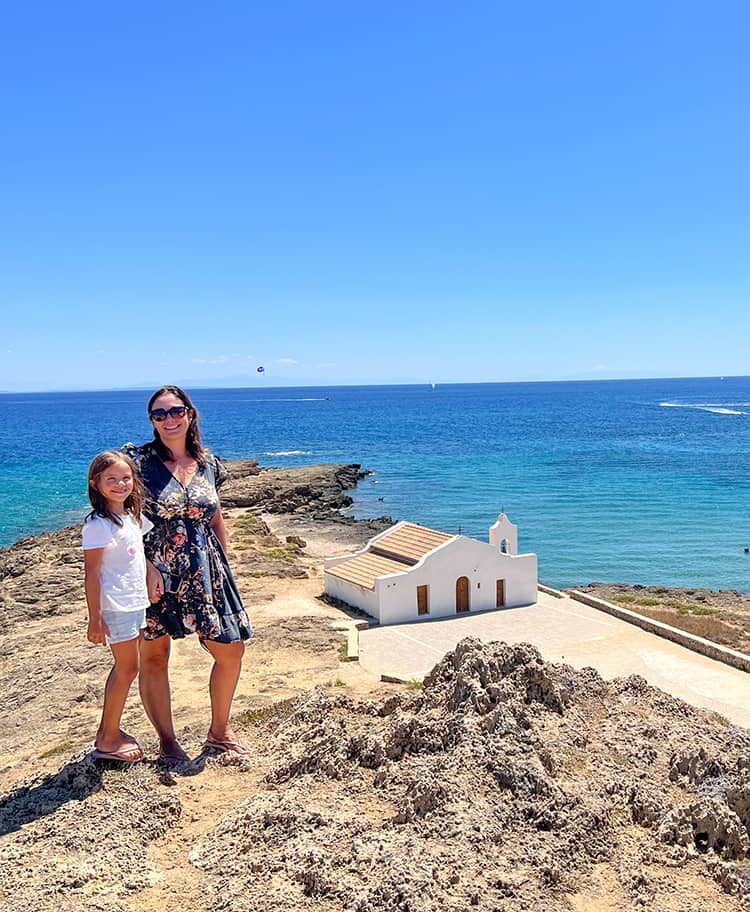 The chapel has breathtaking views of the ocean and St Nicholas Beach.
Although you can't enter the chapel, you can walk around the beautiful building and admire its Cycladic Architecture.
After admiring the views at the Chapel of Agios Nikolaos, have a memorable lunch at Nikos Beach Bar.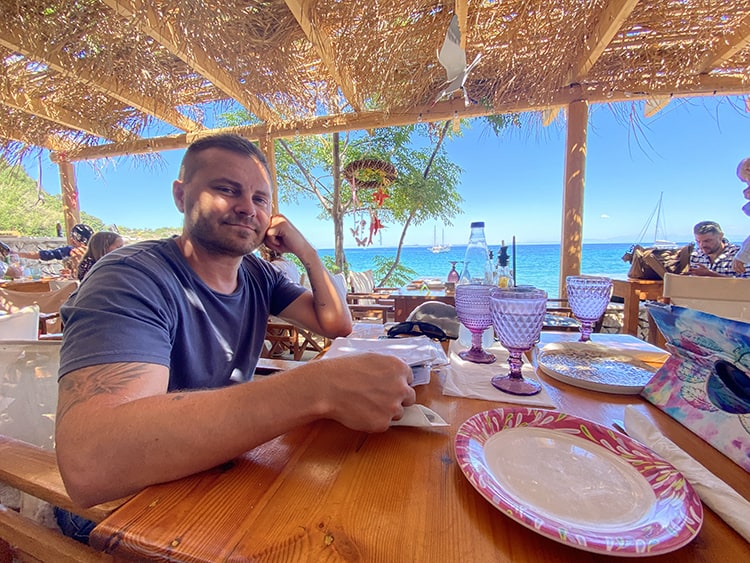 The Greek Cuisine here is terrific, but you will need to be patient as the food takes a while when they are busy.
Afternoon: Explore Gerakas Beach
After a divine meal at Nikos Beach Bar, spend the rest of your day enjoying the sun and views at Gerakas Beach.
This is the southernmost beach on the island and provides soft sand and calm waters for swimming.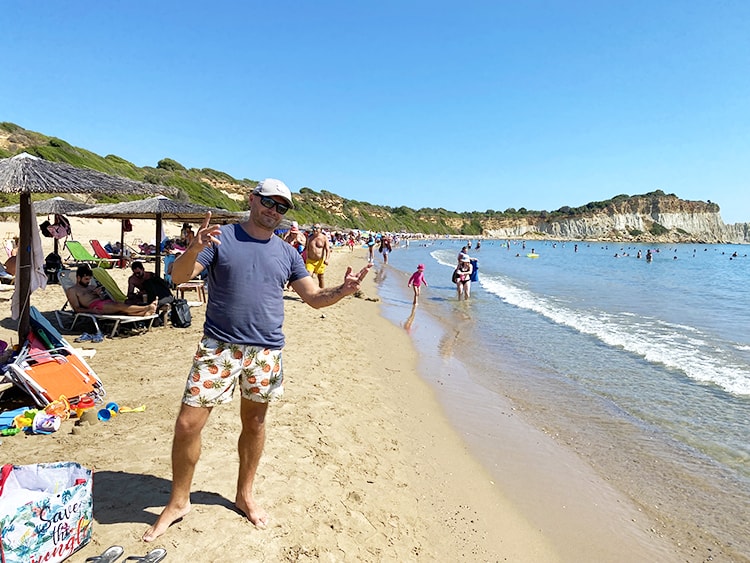 Explore the southern area and take a walk to Jason's Bite, an iconic part of the coastline that looks like a giant has had a nibble out of the hillside.
On the north side of the beach, white sandstone mountains form a beautiful landscape that will live long in your memory.
Aside from these unique features, Gerakas Beach is a place of relaxation, comfort, and sun, so don't forget your sunscreen.
At the end of day two, you would've seen the best bits of the island's southeast region.
Tip: If you are looking for a fun activity with the family after spending the day on the beach, go to Laganas Go-Karts for a slightly different family adventure.
---
Day 3: Explore Keri Village
Day Three is all about exploring the beautiful waters of Keri Village.
Morning: Hire A Boat And The Explore The Wonders Of The Ocean
For your third and final day, head to Keri village.
For an unforgettable morning adventure, hire a boat for 3-5 hours and explore the magnificent caves and waters of the Ionian Sea.
We recommend hiring a boat from Fun at Sea, which provides excellent services and value for money.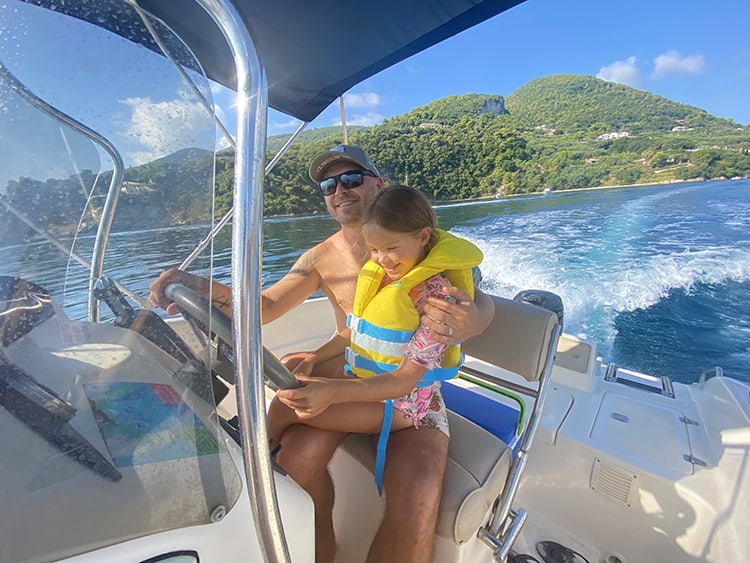 On your boat tour, explore Cameo Island, which is well-known as a haven for turtles.
We didn't see any turtles from the boats, but you may be luckier than we were.
However, to see these majestic animals in all their glory, it's best to jump in the water and go snorkeling – trust us, it's a mesmerizing experience.
After exploring Cameo Island, work your way around the southern tip of the island to Mizithres.
From towering rock formations to inviting sea caves, Mizithres is a wonderland full of exciting things to see at every turn.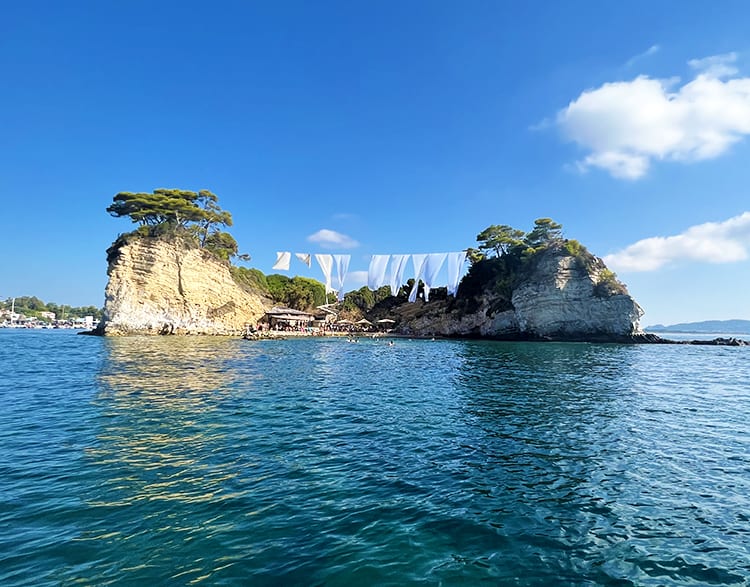 End your unforgettable boat hire at Marathonisi, a small island east of Keri Village.
The water here has beautiful shades of blue that are hypnotic.
We had a fantastic time snorkeling through these crystal clear waters, admiring the diverse marine life in these waters.
Tip: To make the most of your time in this beautiful country, learn about the other incredible places you can visit when you charter a yacht in Greece, or book one of the best Zakynthos boat tours.
Late Lunch: Fill Up On Authentic Greek Cuisine
After a busy day of adventuring through the Ionian Sea, you'll be hungry, so we suggest heading to the Keri Lighthouse, Zakynthos' best restaurant in the area.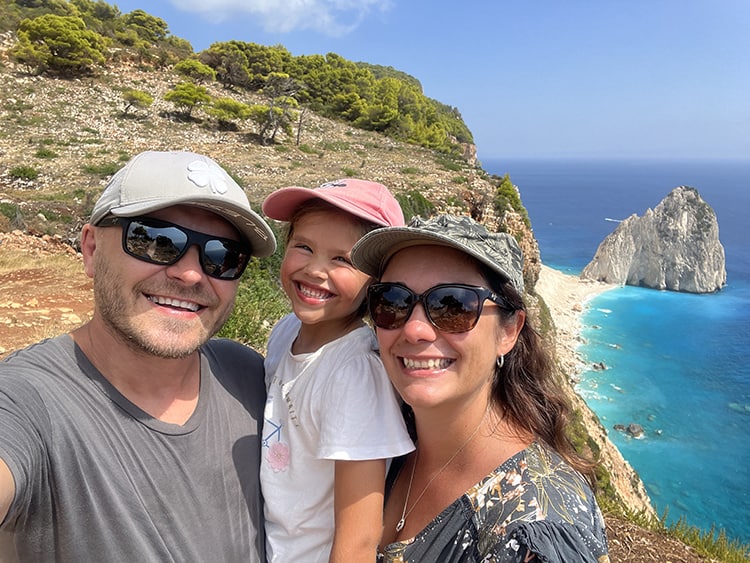 The food here is not the best we had during our time at Zakynthos, but the views of Mizithres make up for it.
After a wholesome meal, drive down eastwards towards Mizithres.
There are two breathtaking lookout points along the way and each offers an unforgettable view of Mizithres.
Don't forget to take some photos as memorabilia of your fantastic adventure through Greece.
Top Tip: If Keri Lighthouse is busy, they will seat people who want lunch before those who just want a drink, and you will also get a better table.
Afternoon: Enjoy The Local Nightlife
On your last night in Zakynthos, we suggest having a relaxing meal and exploring the streets of the town you are staying in.
So much of your time on the island has been about exploring the beautiful landmarks that it's easy to forget about the town you return to each night.
This is a lovely way to end off an unforgettable Zakynthos vacation.
---
FAQs About Zakynthos, Greece, You Need To Know
Here are answers to some of the top questions that you might have about Zakynthos:
1. How Long Do I Need To Go To Zakynthos?
As the furthest towns on Zakynthos are only a 1 hour and 20 minutes drive from each other, it's not difficult to see everything in a short period.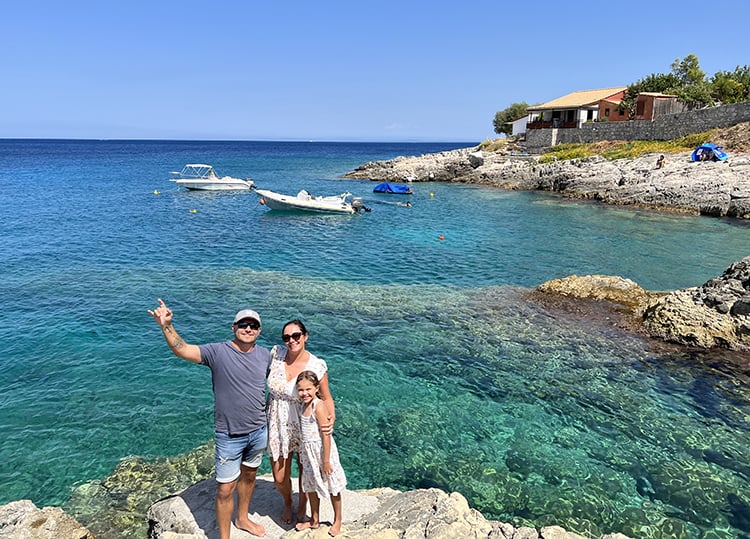 We recommend visiting Zakynthos for three days, as you won't have to rush your time on this glorious island.
2. Do I Need A Car To Get Around Zakynthos?
Unfortunately, public transportation does not go to every part of the island.
You can use a taxi for the more hard-to-reach places to visit in Zante, but prices can often rack up.
For these reasons, it can make your life a whole lot easier if you rent a car.
Where Should I Stay In Zakynthos?
Of all the places on this island, we recommend using Zakynthos Town or Vasilikosas (if you want to be close to the beach) as your base.
We stayed in Zante Town.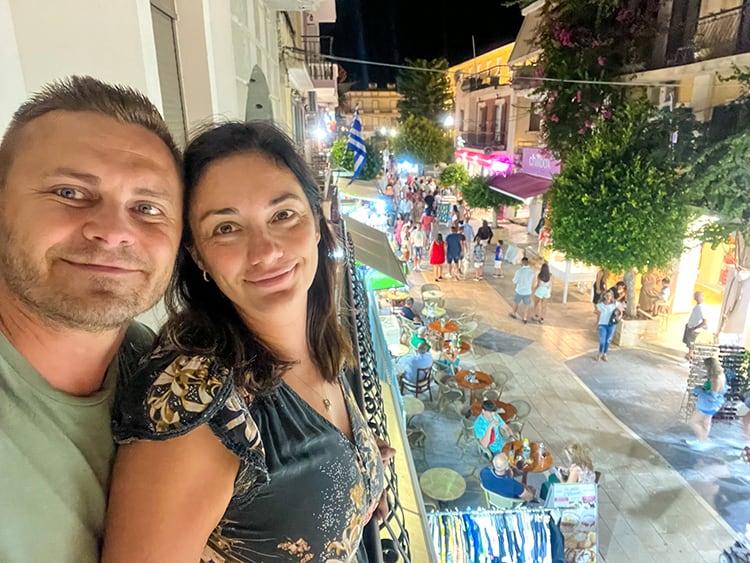 It has something for everyone, from luxury accommodations to affordable vacation homes, as well as budget-friendly lodgings.
It's also the island's hub, and in a central position, so you have easy access to transportation and the rest of Zakynthos.
Check out current prices for accommodation in Zakynthos Town here!
How To Get To Zakynthos
One of the really nice things about Zakynthos is its airport. You can fly into Zakynthos International from Athens, which will take approximately 1 hour.
You can also catch a ferry from Kyllini in mainland Greece to Zakynthos, which takes around 1 hour and 15 minutes.
---
Final Thoughts On The Best Things To Do In Zante
Of all the islands in the Ionian Sea, Zakynthos is one of the most mesmerizing. It is also a perfect island to visit on your first trip to Greece.
Whether you intend on enjoying a relaxing family holiday by the beach or exploring its iconic landmarks, Zakynthos offers something for everyone.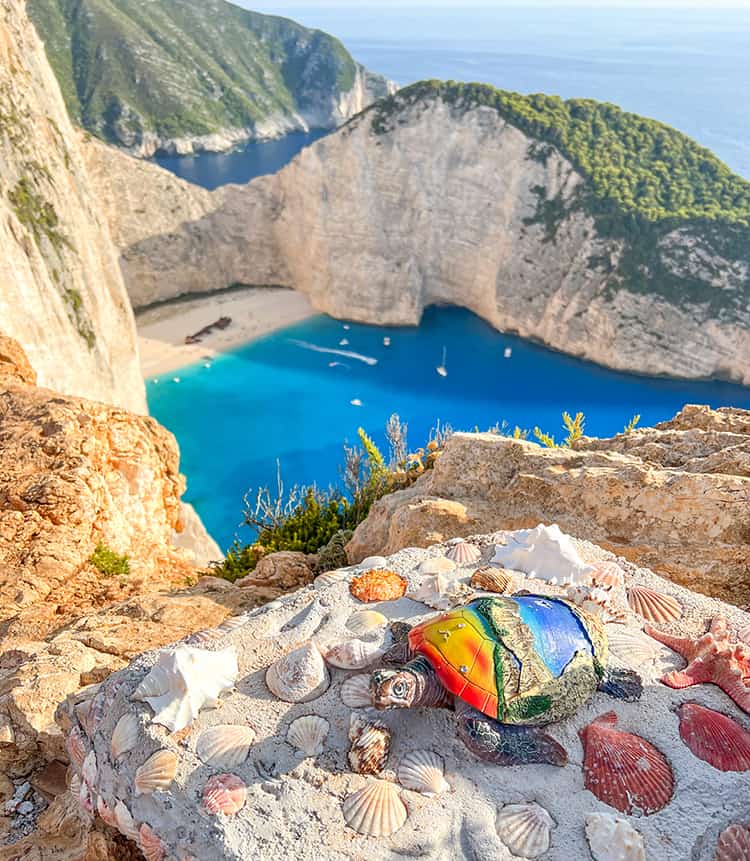 We had an amazing time on Zakynthos and rate it as one of the top island destinations in Greece.
We hope our first-hand experience and detailed 3 days in Zakynthos itinerary will help you have a fantastic time just like we did.
---
Additional Information for Greece Vacation
Check out what else we have about Greece here:
Inspired to book a beach family holiday? Read our list of the best beach holidays in Europe for families to help you pick your next destination!