Thinking of visiting Santorini in September and wondering whether it's a good idea.
This little island in Southern Aegean is beautiful at any time of the year. But September might just be the best month to visit Santorini.
With its rugged volcanic stone terrain contrasting the beautiful white houses and azure waters, Santorini is one of the best family summer destinations.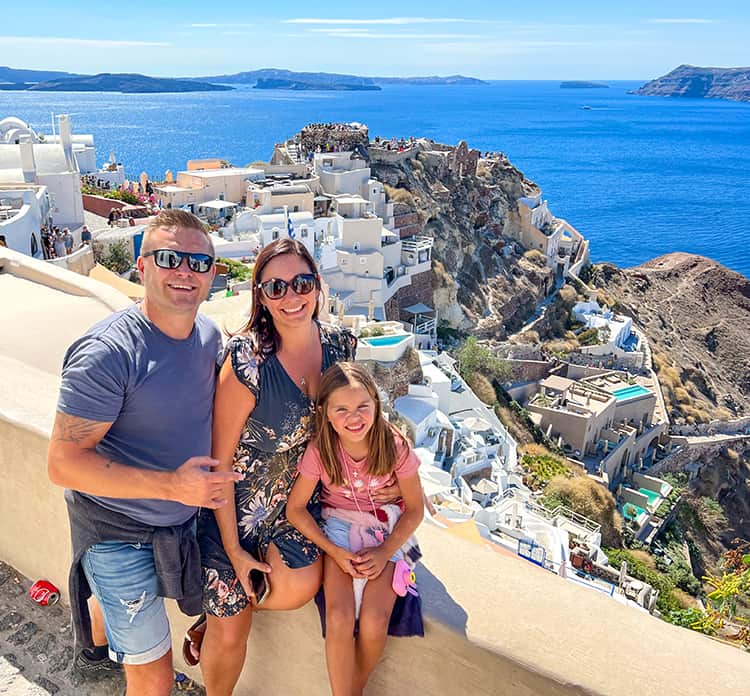 Unfortunately, this little island is packed during summer, which may make for a less fun experience.
We visited Santorini around the middle to end of September, so we know a thing or two about what to expect.
We'll delve into this Greek island's weather in September, along with our experiences with flights, accommodation prices, and crowd sizes.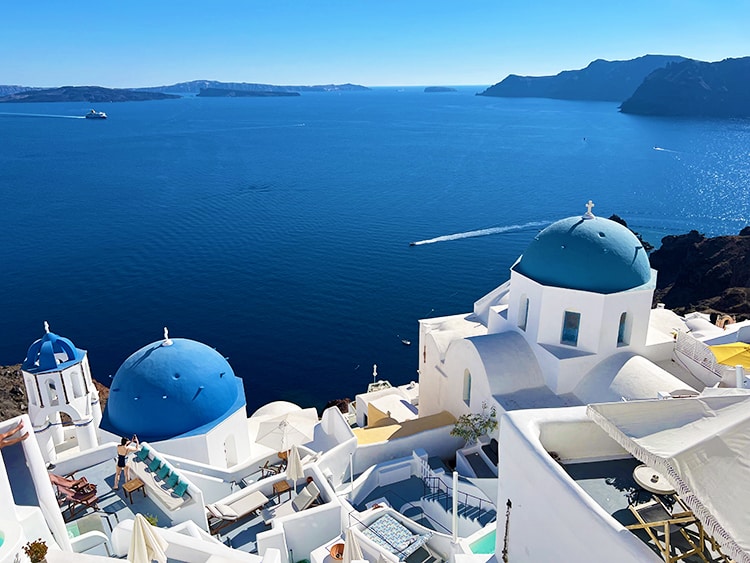 We also left a few suggestions for some of the best restaurants and activities to add to your September in Santorini itinerary.
Traveling To Santorini In September
There are two main ways to reach Santorini; by plane and ferry. Below we discuss what you can expect from each mode of transport.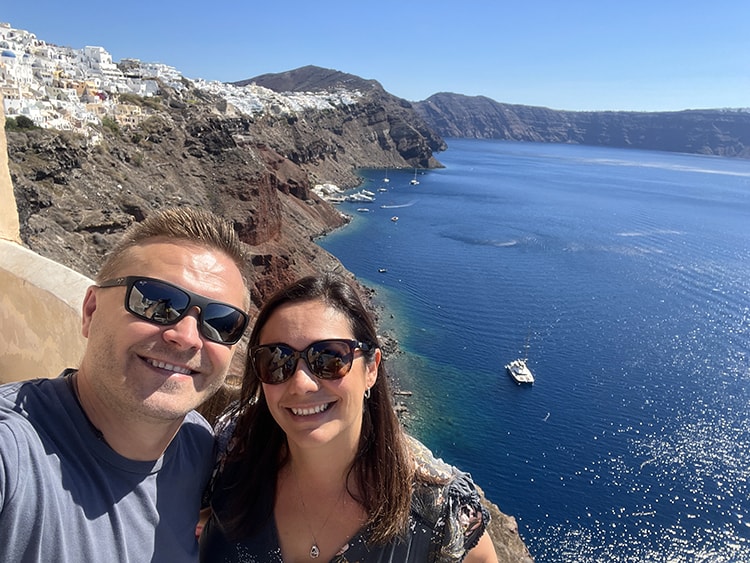 Flights To Santorini
As September directly follows the high season months, it's still buzzing with travelers. We found the flights pretty full, so we wouldn't recommend waiting until the last minute to book a seat.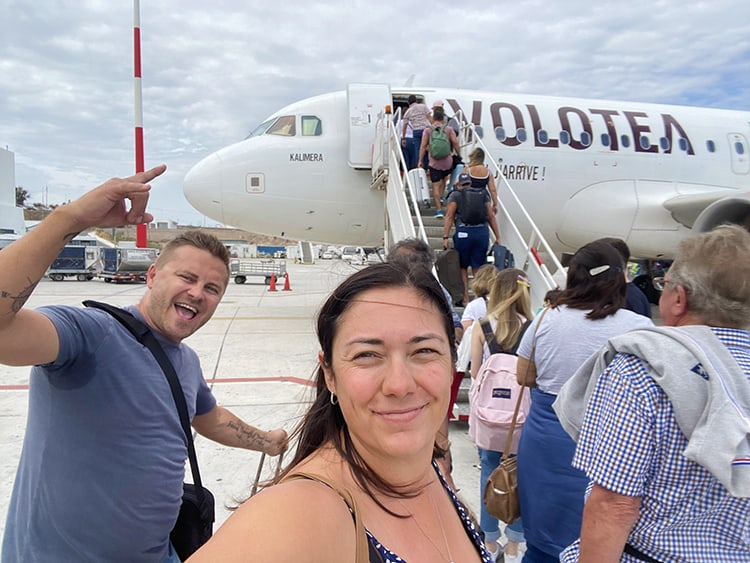 Flying to Santorini from Athens may be pricier than taking a ferry, but it's a faster option that will save you valuable time.
Tip: As you are most likely coming to Santorini via Athens, you might be interested in checking out some of our recommendations for the best Athens hotels with rooftop pools, which have a view of the Acropolis.
Ferry To Santorini
Our ferry ride to Santorini had plenty of empty seats. So we'd say you'll still have a good chance of getting a seat if you have to purchase your ticket closer to your date of travel.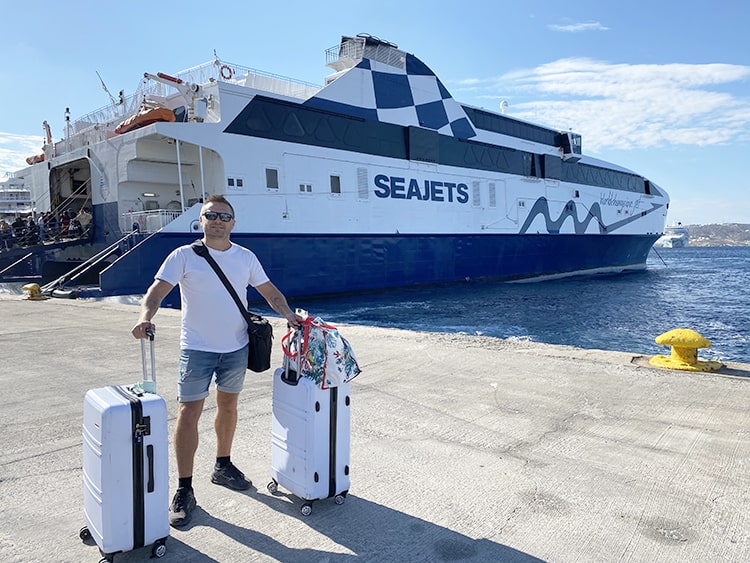 Ferry rides from Athens usually last around 4-5 hours. It's an affordable and scenic alternative to flying, but it might not be the best choice if you struggle with motion sickness.
Car Rentals On Santorini
If you're traveling to Santorini in September, you won't have to worry too much about pre-booking your rental car. We managed to find rental cars available the next day.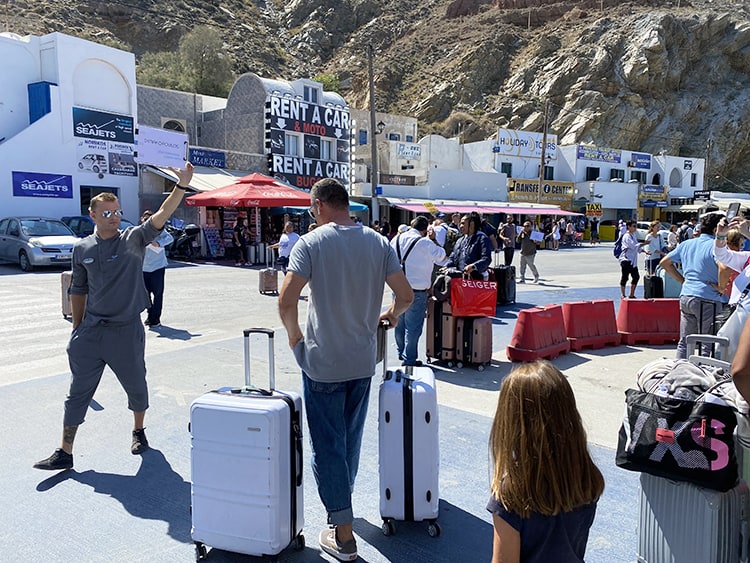 This may be more likely during the latter half of September, as the island can still be quite busy during the beginning of the month.
Santorini September Accommodation Prices
The great thing about visiting Santorini as the peak season dies down is that the accommodation prices also start to drop.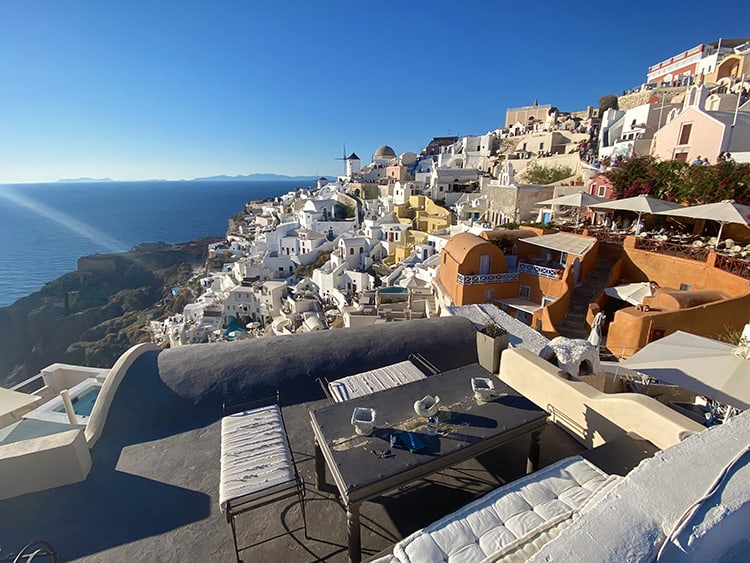 This is especially true near the end of September, after the Santorini International Music Festival, which usually takes place in the first weeks of the month.
Compared to August prices, September average hotel costs can drop between $10–$700 depending on whether you're staying at a luxury resort or more affordable accommodation.
You're more likely to find lower prices near the end of the month. And, with hotel rooms opening up as tourists leave, you'll have a greater chance of finding a room with an ocean view or porch.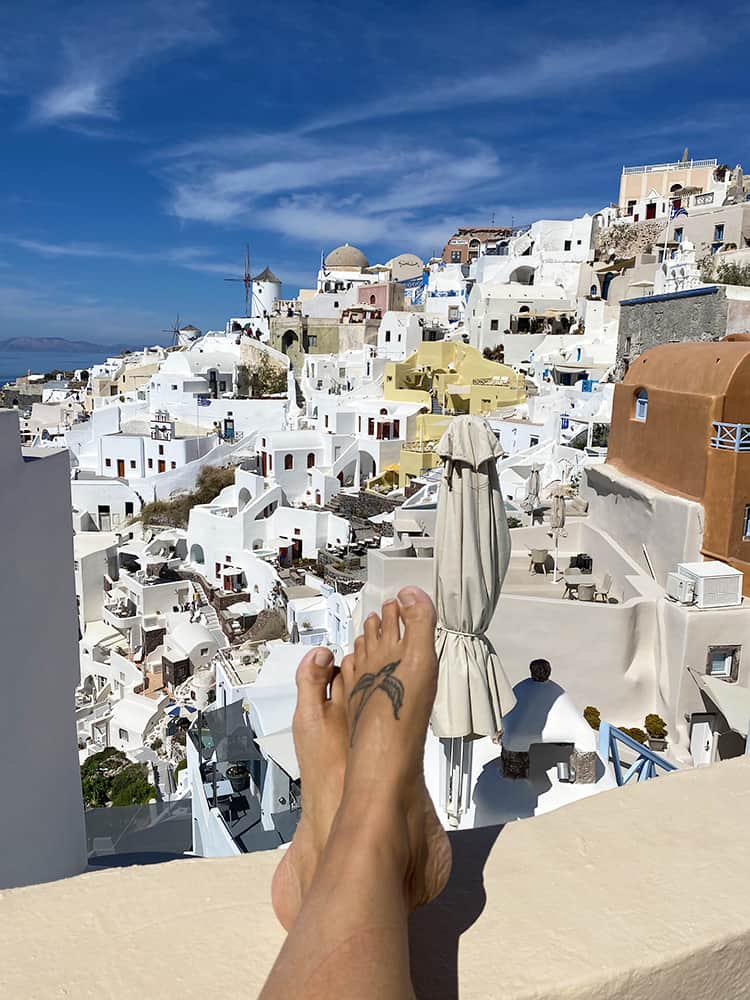 In terms of Airbnb, we were able to negotiate our rental price. This definitely would not be possible during the months of June to August.
Weather in Santorini in September
The months between April and October are all on the warmer side, with temperatures peaking around July and August. So the Santorini weather in September still feels like summer.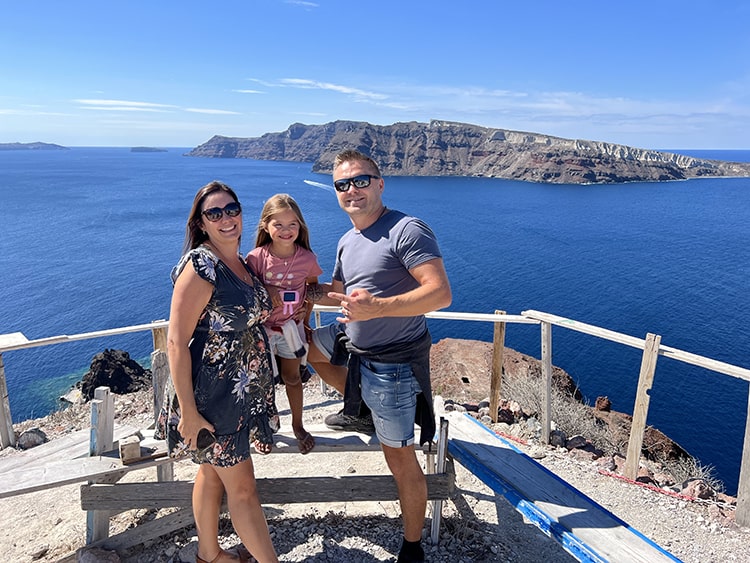 The days are hot and dry, and you can expect very little rain. You also won't have to worry too much about icy nights and can expect about 11–12 hours of daily sunlight.
Let's take a deeper dive into the September weather in Santorini.
Average Temperature In Santorini In September
The temperatures in Santorini in September range between average lows of 66°F/ 19°C and highs of around 77°F/ 25°C. Occasionally, temperatures may drop as low as 63°F/ 17°C and reach as high as 86°F/ 30°C.
Can You Swim In Santorini In September?
You can absolutely swim in Santorini in September. Ocean temperatures peak around August, reaching around 75°F/ 24°C. In September, the water is still quite warm — warmer than in July, actually!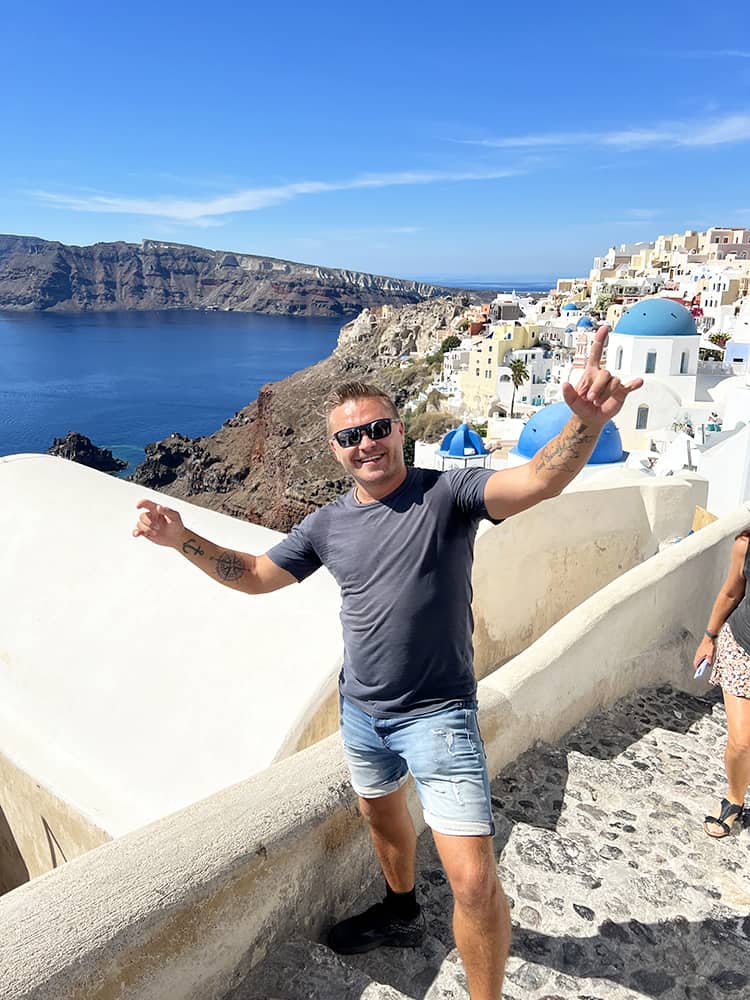 Average water temperatures in September sit around 74°F/ 23°C. So you'll still be able to catch some sun rays on the beach, swim in crystal clear waters, and enjoy all sorts of water activities.
A Note On The Meltemi Winds
The only thing that might hinder your chance of swimming in Santorini's aquamarine waters is the Meltemi winds.
This yearly wind comes from the north and is active between June and September. It can make days feel a bit cooler but also make the ocean really wild.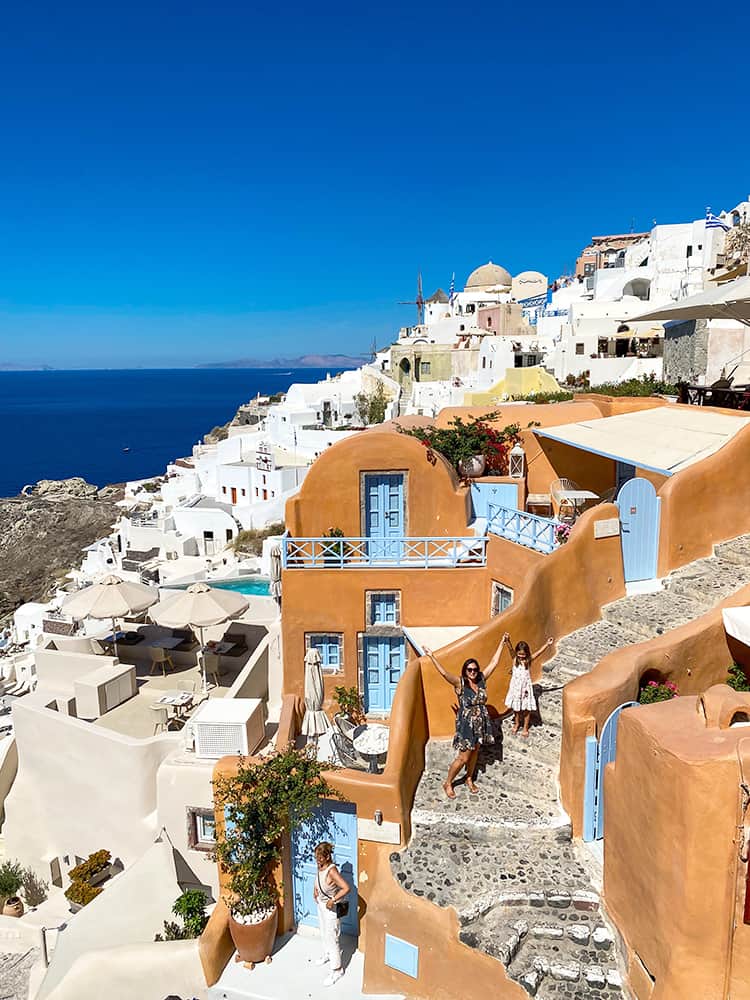 If these winds are especially powerful, smaller ferries and boat trips can be canceled.
The winds can last for as long as a few hours or up to a few days. If you'd still like to enjoy swimming and water activities, try to head to the southern end of the island, at beaches that provide cover from the wind.
Some good options include Perissa, Perívolos, and Vlychada beach.
Does It Rain In Santorini In September?
There are occasional showers in Santorini as the winter months approach. But this island barely experiences enough rain in September to ruin your plans for the day.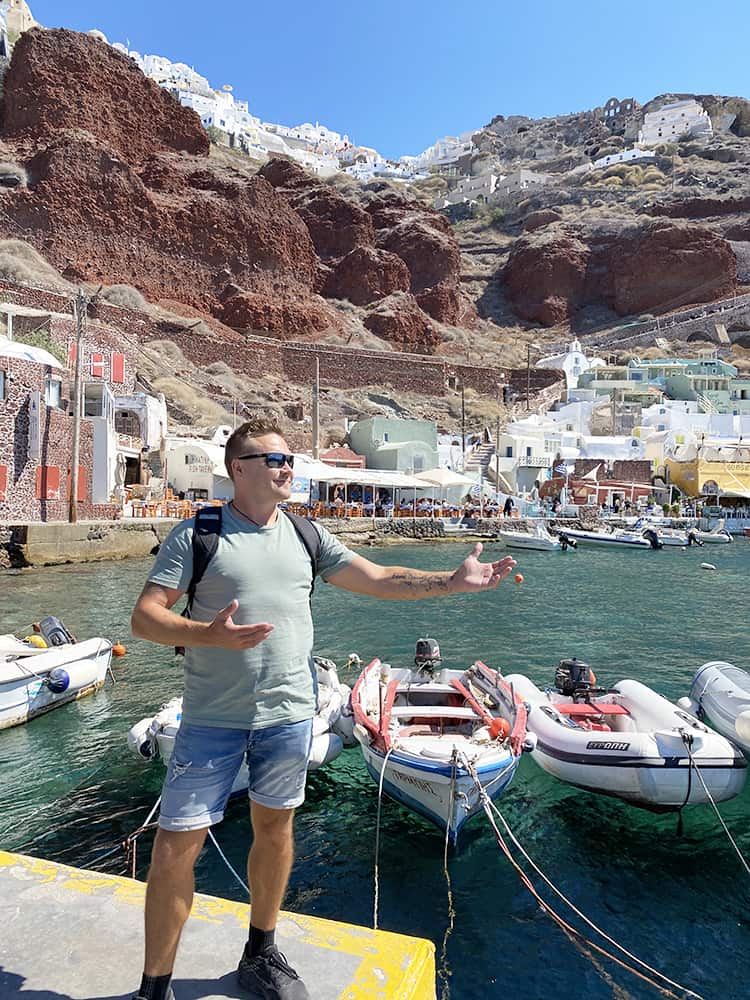 In September, Santorini receives about 0.3–0.6 inches of rain, if any.
What Clothes To Take To Santorini In September?
Since the Santorini September weather is still warm, you'll want to pack light clothing like t-shirts, shorts or light pants, dresses, and sandals.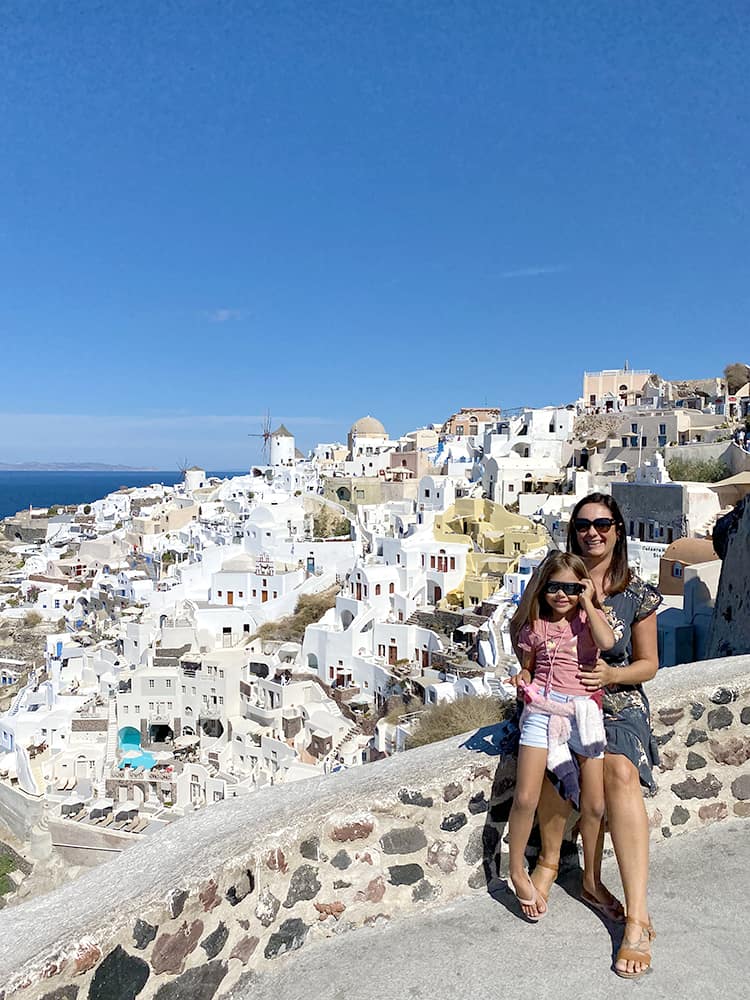 You'll also want to pack a warm sweatshirt or jacket, as early mornings and evenings can get chilly — especially near the end of September.
How Busy It Gets: Is Santorini Crowded In September?
The high-season tourist crowds tend to fall away by mid-September after the Santorini International Music Festival and Ifestia.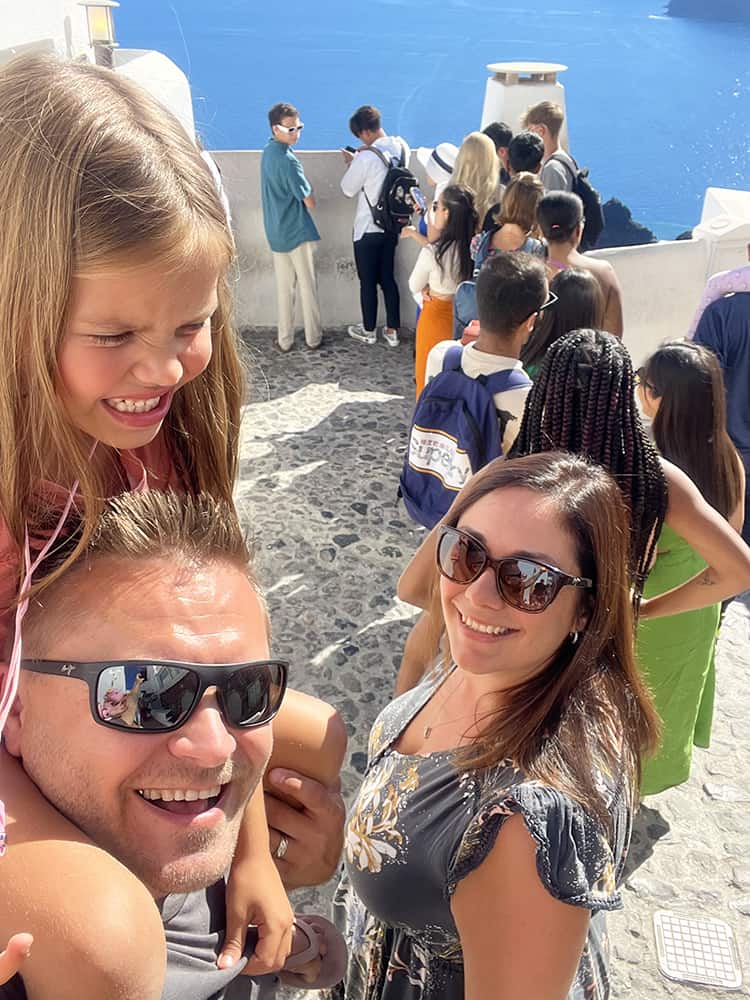 The firework show of Ifestia usually takes place on the third Saturday of the month.
As there are plenty of reasons to visit Santorini in September, there are still many tourists. But, you'll perhaps have fewer people wandering into your photos or lining up near Santorini's top attractions.
We found the mornings to be quite peaceful, with the streets and attractions becoming busier around 11 am.
After lunch, things would quiet down for a few hours, then pick up again around sunset.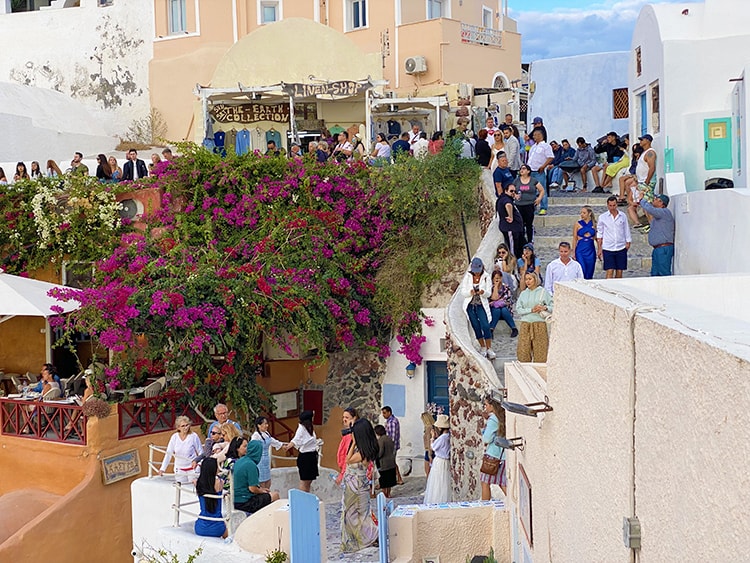 So, if you'd like to avoid long queues, head to your planned sights and photo spots before about 10:30 am or after lunch.
Things To Do In Santorini In September
Now that you know what to expect from Santorini's weather, crowds, and prices, let's have a look at some of the top things to add to your September itinerary.
Restaurants In Santorini In September
Santorini is still buzzing and busy in September, and all restaurants, hotels, and shops are open.
Because the island is less busy during this month, you won't have to make reservations for most restaurants and bars.
Below are some of the best restaurants to visit in Santorini, from Oia to Vlychada.
Pitogyros – Oia
This restaurant in Oia offers possibly some of the best gyros and souvlaki on the island.
The no-frills Greek food spot has a few tables and chairs. But the best way to enjoy their food is by ordering it for takeout and finding a spot to munch your meal and enjoy the sunset.
The portions are excellent, the prices fair, and the food is so good you'll want to return for more.
Tip: Try to avoid the restaurant right after sunset, as the queue can get quite long.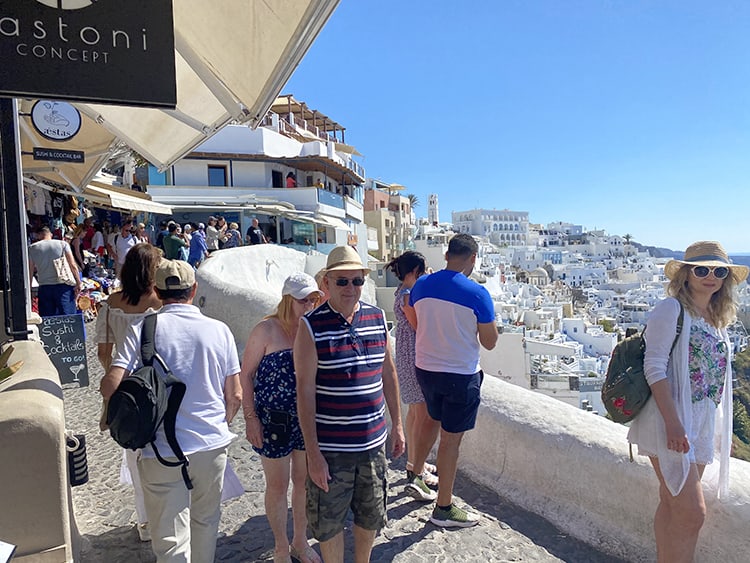 Selene – Fira
If you're looking for a fine-dining restaurant with impeccable views and romantic energy, the elegant Selene in Fira is your answer.
This serene restaurant is set in an 18th-century Catholic Monastery. Here, equal effort is put into the service and food to create an unforgettable dining experience.
With a Michelin-starred chef overseeing the menu, and a Master of Wine curating the wines, this spot does run a bit pricey. But you definitely won't regret booking a table here (well in advance, to be safe).
To Psaraki – Vlychada
This little restaurant near the Vlychada marina is all about using seasonal local produce and creating authentic, "honest food."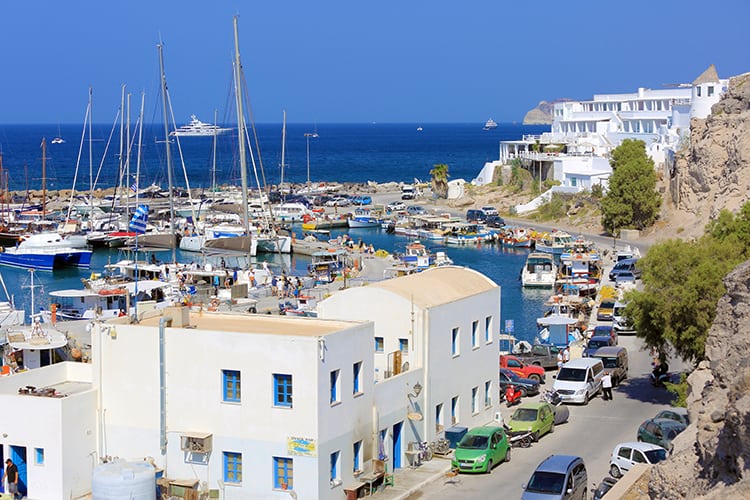 Psaraki is one of the best places for fresh seafood dishes and comforting Greek food. Be sure to try the grilled swordfish and tuna carpaccio on your visit.
Tip: If you want an ocean-view spot on the terrace, book your table ahead of time. While September may be a bit quieter, the terrace spots (naturally) fill up first.
Santorini Tours And Activities In September
All tours in Santorini are still running in September, with the exception of the occasional cancellation of water activities if the wind is too strong.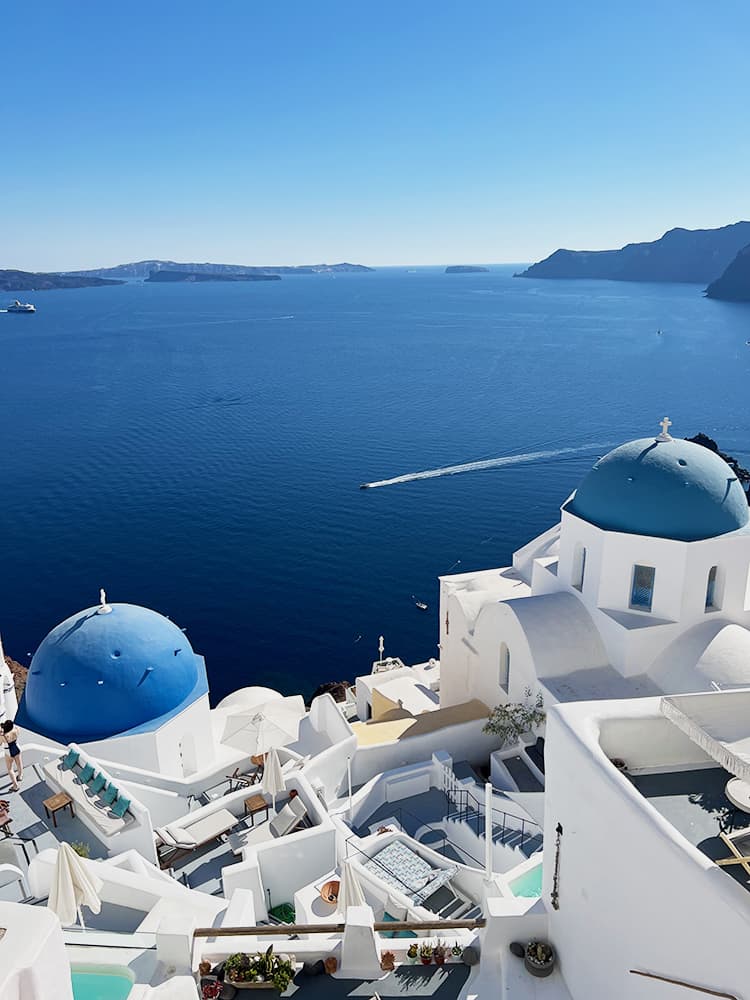 Here, we'll delve into some of the top attractions and tours to look forward to in September.
Cruise To Santorini's Volcanic Islands
With sunny weather and warm temperatures, September is the perfect time to go on a cruise to the small volcanic islands around the caldera.
Take a boat trip along Santorini's coast, stopping to hike up an active volcano, swim in hot springs, and explore some of the island's prettiest villages.
>>>Book your cruise to the volcanic islands here
Enjoy The Waters On A Catamaran Cruise
The weather in Santorini, Greece, in September is perfect for lounging about on a catamaran and drinking up the sun and some good Grecian wine.
Be sure to bring your bathing suit along for swimming, snorkeling, and beach breaks. Some cruises even offer wine and beer, with a complimentary meal prepared on board.
We recommend taking a sunset cruise for breathtaking views of the island villages soaking up the last rays of the day. Here is a great post about how to find the best Santorini Catamaran cruise.
>>>Book your luxury caldera cruise with a meal here
Visit the Santorini Wineries
The yearly Vedema, or vine harvest, kicks off around the beginning of August in Santorini, stretching into September.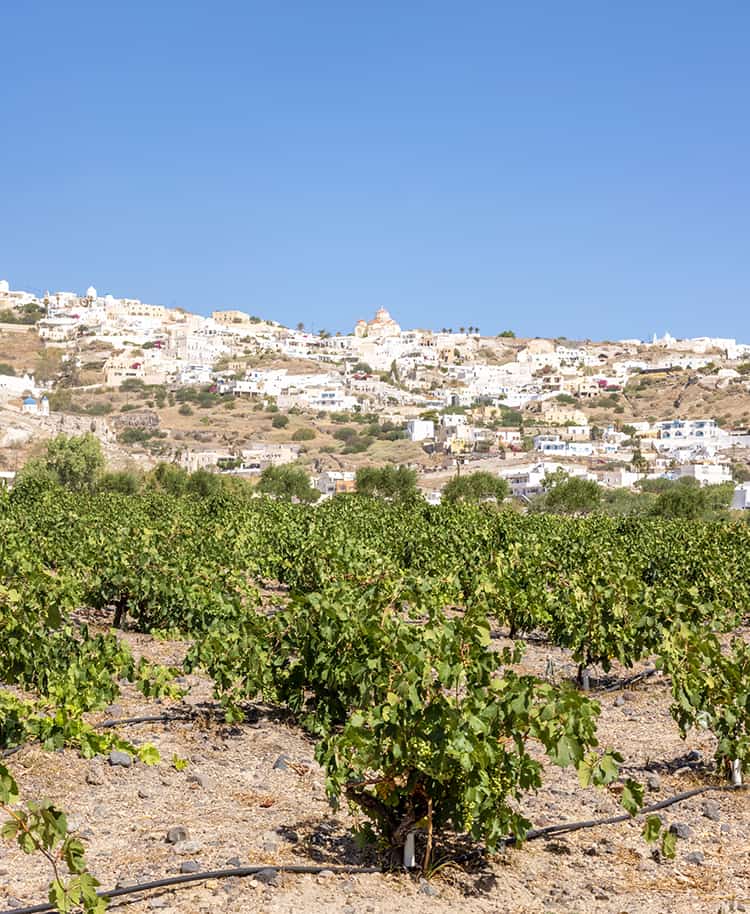 With the vineyards and wineries abuzz, September is the perfect time to go wine tasting on the island.
Consider taking a wine-tasting tour to visit some of the top wineries and learn more about Santorini's wine and its varieties.
>>>Book your guided wine-tasting tour with pickup here
A Note On Cruise Ships In September
During our end-of-September visit, we saw about 2-3 daily cruise ships bringing in tourists to the port of Skala. The numbers may be even higher on certain days.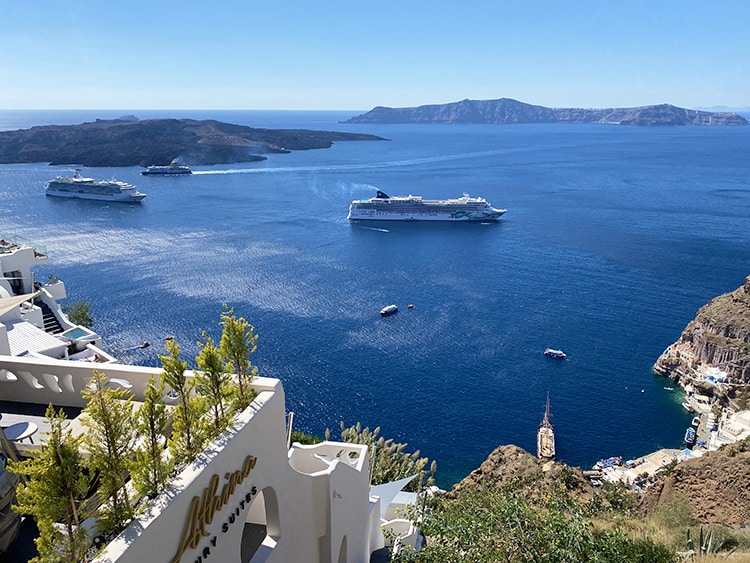 This is still relatively less than the peak tourist season when you can expect around 3-5 ships docking near the island every day.
So, Is September A Good Time To Go To Santorini?
As you've probably concluded by now, September is a great time to visit Santorini.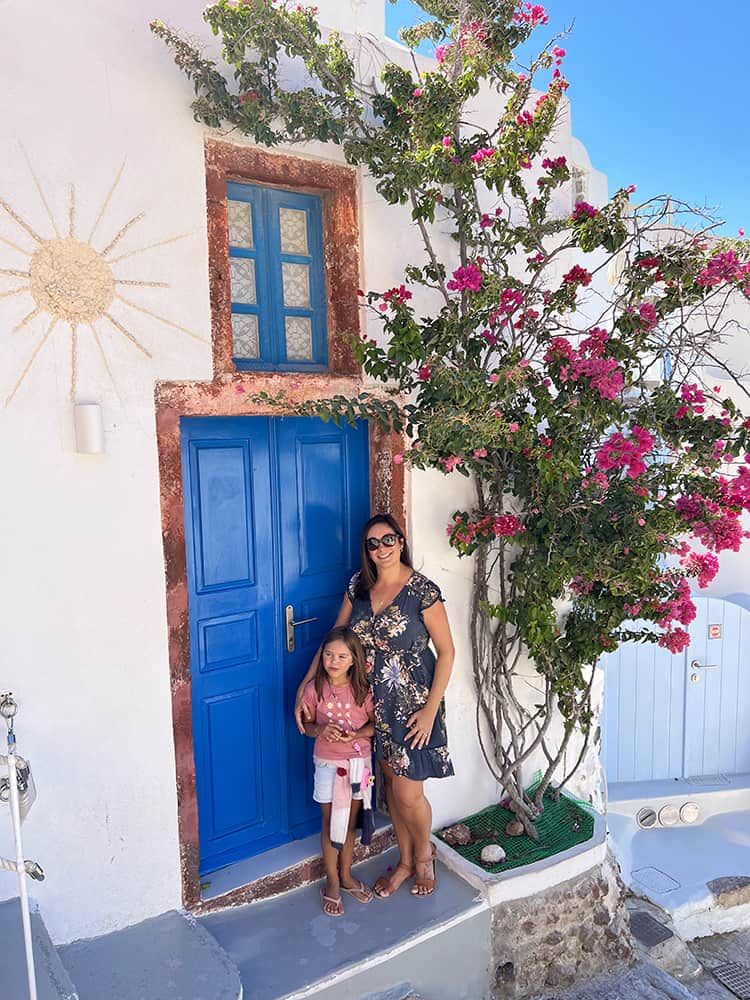 When it comes to Santorini's Weather, September offers all the sunny warmth you'd get in peak tourist months like July and August.
But, while the weather maintains its summer energy, tourist crowds start to dwindle, and the island starts returning to a calmer pace.
September also features an abundance of festivals, and all restaurants, accommodations, and attractions are still open.
So you won't miss out on any of the fun. In fact, you may just enjoy your time more, as spaces will be less crowded.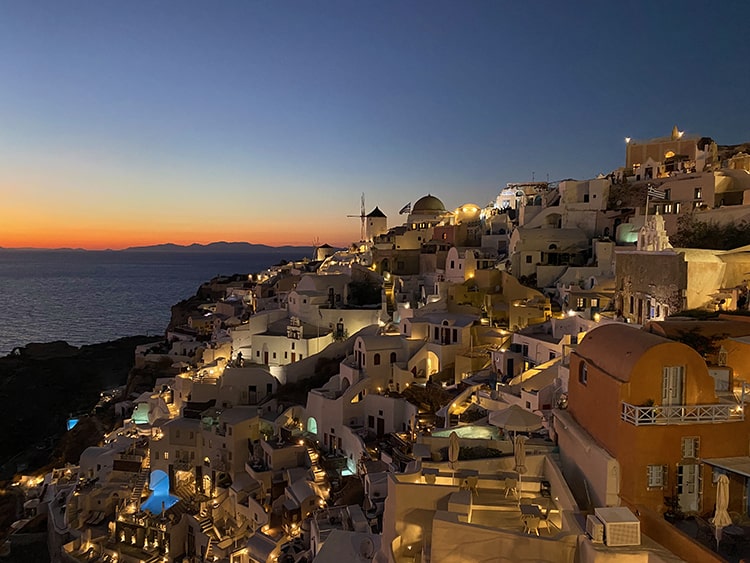 Looking for less popular but equally beautiful spots in Greece? Have a look at our guide to some of the best-hidden gems Greece has to offer.
Additional Information for Greece Vacation
Check out what else we have about Greece here: