Crete is one of those places that few people think of when visiting Greece. There is one thing you should know about this island paradise – it's a must-visit.
Imagine taking in the views of breathtaking turquoise waters as you stroll through Rethymnon's Old Town.
The white sand beaches begin to reveal themselves as you admire the Venetian architecture that makes up this beautiful city.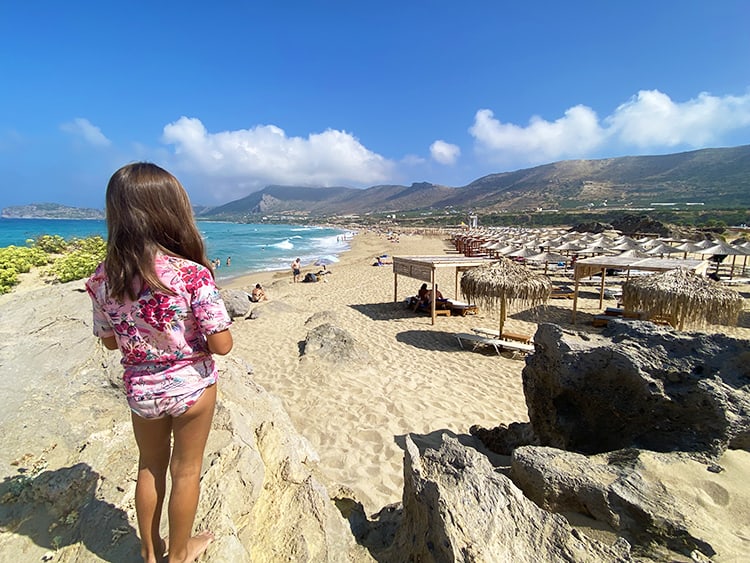 Can you picture it? Well, at Crete, this and so much more await you. Stick around to learn about the best family holiday to Crete, from where to stay to what to do.
By the end, you'll understand why this is one of the top coastal family destinations in the world.
So grab your beach towels and get ready to explore Crete.
Things To Know For A Family Holiday In Crete
Before diving into the top destinations on this iconic island, you need to know a few things.
Which Part Of Crete Is Best For Families?
From our experience, we recommend the cities of Chania, Rethymnon, and Agios Nikolaos.
All these destinations have a vast range of fun activities to do with kids, and they are usually slightly quieter than other major cities.
Is Crete Safe For Families?
Crete is an extremely safe destination for families. It's one of the safest islands in Greece, making it a fantastic destination for everyone.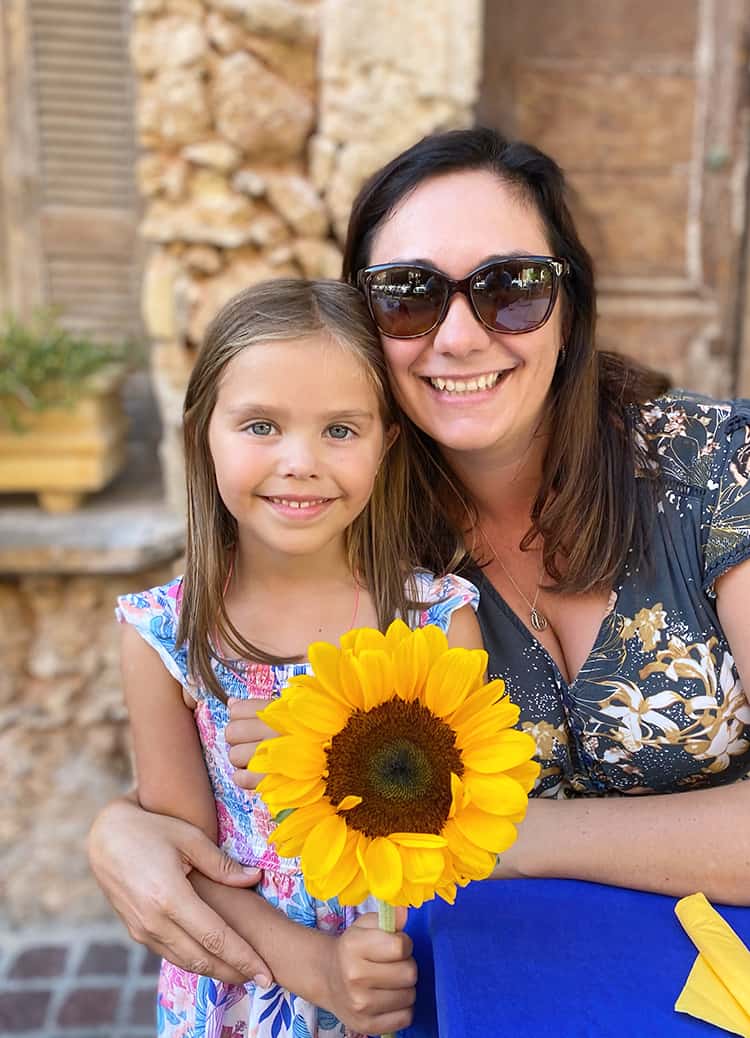 That said, we also recommend staying on the side of caution, especially when visiting a new country.
Is Crete Good For Toddlers?
The short answer is yes, it's the perfect destination for families with toddlers. It's relatively quiet compared to other Greek islands and has plenty of gentle beaches for children.
Best Time For Crete Family Holidays
The best time to go on family holidays to Crete is in June. There are fewer people as the peak holiday season is from July to August, and the waters are lovely and warm.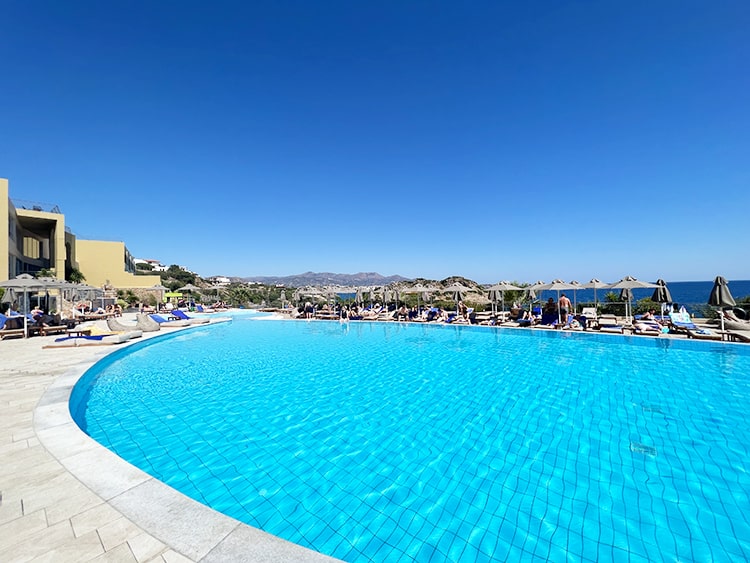 Top Tip: While planning your ultimate trip, find the top hidden gems of Greece that you must add to your itinerary.
Chania: A Fantastic Crete Family Holiday Destination
This is the second largest city on the island – after Heraklion – and provides a fantastic starting point for lovely holidays in Crete.
What To Do In Chania With Kids?
Time to start exploring the eternal city of Chania, from the historic Old Town district to the breathtaking beaches.
Explore Chania Town
The first thing you need to know about Crete is that it gets really hot during the day. So we recommend exploring the city around late afternoon or early night time.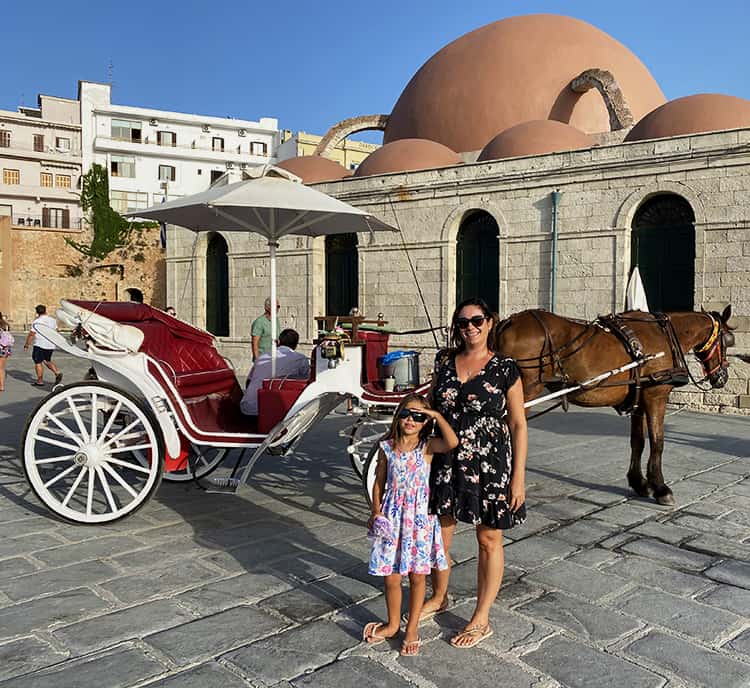 There are some amazing things to see here, but our top pick is the Venetian Harbor. It dates back to the 14th century and has a lovely promenade with loads of eateries.
The Aroma Cafe is a particularly nice restaurant we recommend visiting.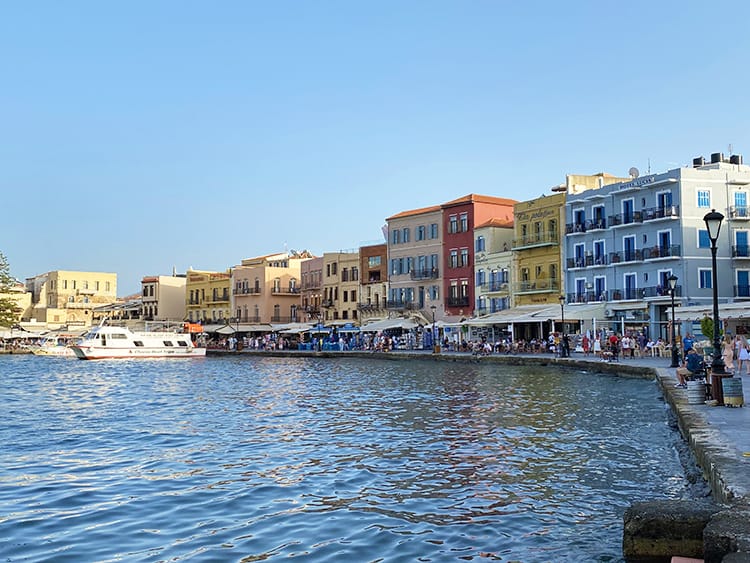 You can also find the iconic 19th-century Lighthouse that dominates the city's coast.
A walk to this lighthouse will take around 15 minutes, but it's a fantastic way to get panoramic views of the Venetian Old Port.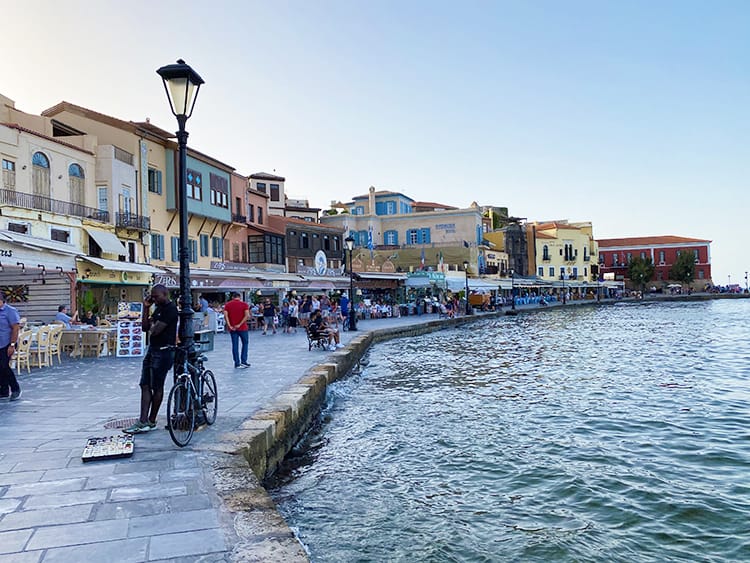 Next, you should wander through the glorious pedestrian streets and admire Venetian-style architecture in Old Town.
There are four distinct regions in Old Town – Kastelli, Topanas, Jewish District, and Splantzia District – each with a unique charm.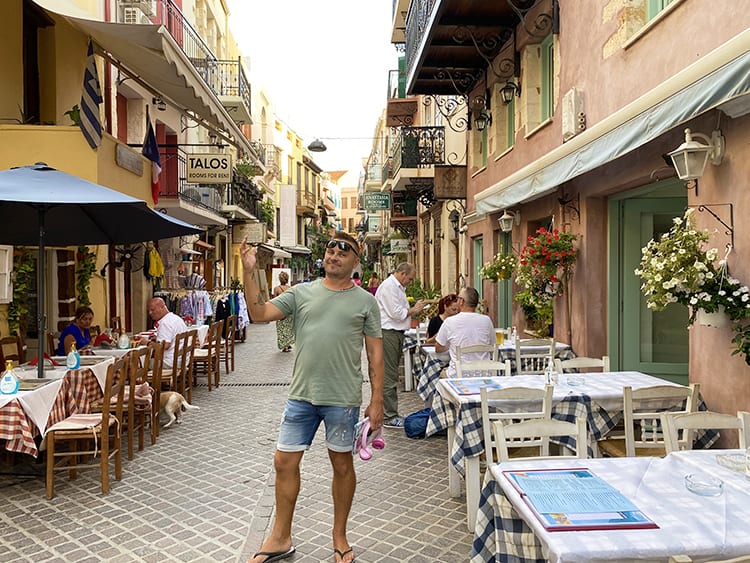 For an exciting way to learn about the history of Crete for kids, visit Minoans World 3D Museum.
You won't just be learning about Greece, but you and the young one will have a particularly thrilling experience in a 9D movie.
Top Tip: A great way to see the town is on a horse carriage for roughly £20 ($19.97).
Beaches To Visit In Chania
The most noteworthy beach in Crete is Elaphinisi, with its light pink sand and azure-blue water.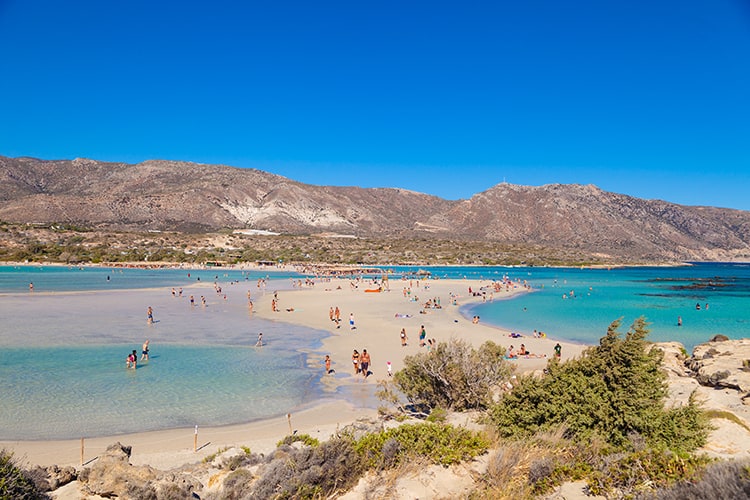 Elaphinisi gets very busy during the day, and it's a one-hour and 37-minute drive from Chania.
Abalos Lagoon is another stunning beach that Chania is well known for. It's a one-hour drive or boat ride from Chania, but – like Elaphinisi – it gets incredibly crowded.
Although these are beautiful beaches, they aren't necessarily the best for families.
We spent some time at Falasarna Beach, which has more accessible parking and is an hour's drive from Chania.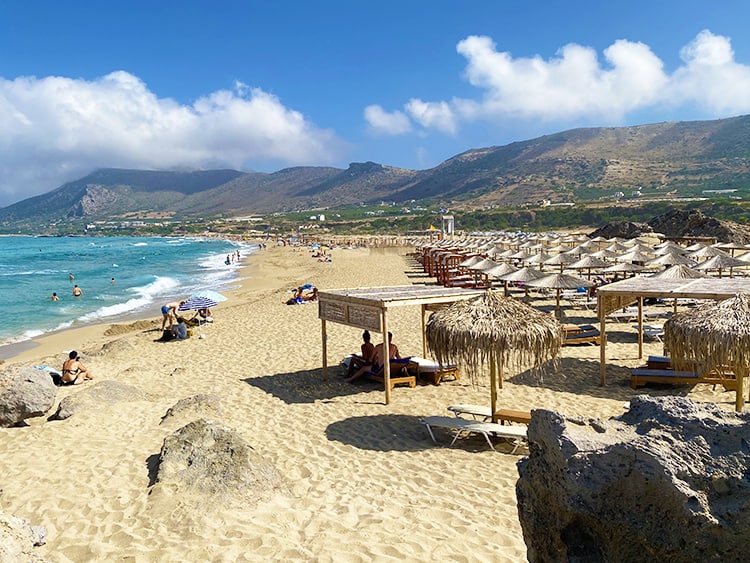 The sun loungers here are affordable, and there are food services on the beach. Strong waves mean it's ideal for older kids but too rough for little ones.
Another fantastic option near the city (a 20-minute drive) is Kalathas Beach. The beach isn't as mesmerizing as Falasama, but the shallow waters make it great for families.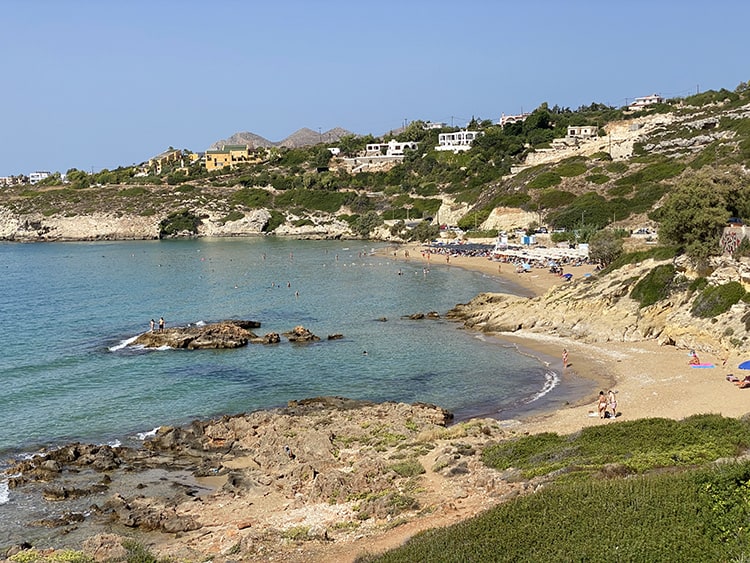 There are also sun loungers available, and we suggest going to Lena Beach Restaurant for a bite.
Top Tip: Take a short 8-mile drive to the Botanical Gardens of Crete for a fun day outing.
Where To Stay in Chania
There are some amazing resorts in Crete for families, but picking the ideal one can be challenging. Here is a list of our top options in Chania, so you can have a relaxing family vacation.
Casa Anthos
We stayed at Casa Anthos, and trust us when we say it was a fantastic choice. Casa Anthos is in the center of Old Town, so you're never far from the city's top attractions. You can also admire the city from the apartment's patio.
Check prices for Casa Anthos here!
Arkadi Hotel
The Arkadi Hotel is a beautiful lodging no more than 650 feet from the Venetian Port. The hotel also has a kid-friendly buffet.
Check prices for Arkadi Hotel here!
Odos Oneiron Boutique Hotel
Odos Oneiron is in an old 17th-century Venetian building in the heart of Chania. It's close to all the main attractions and has everything from a sun terrace to car hire services.
Check prices for Odos Oneiron here!
Rethymnon: A Top Family Holiday Crete Has To Offer
The next destination on this list is Rethymnon, a quaint town with plenty of soft sand beaches.
What To Do In Rethymnon With Kids
Although Rethymnon is a small coastal town, there is still plenty for you to see and do.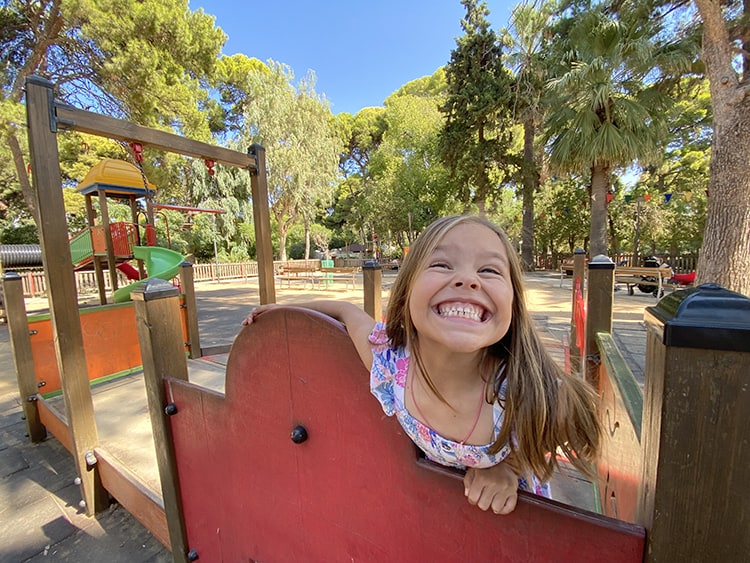 Explore Rethymnon Town
Possibly the best part of town to wander through is Old Town. The pale pastel buildings paint a pretty picture, and the serene Venetian Harbor adds to the magical feeling of Rethymnon.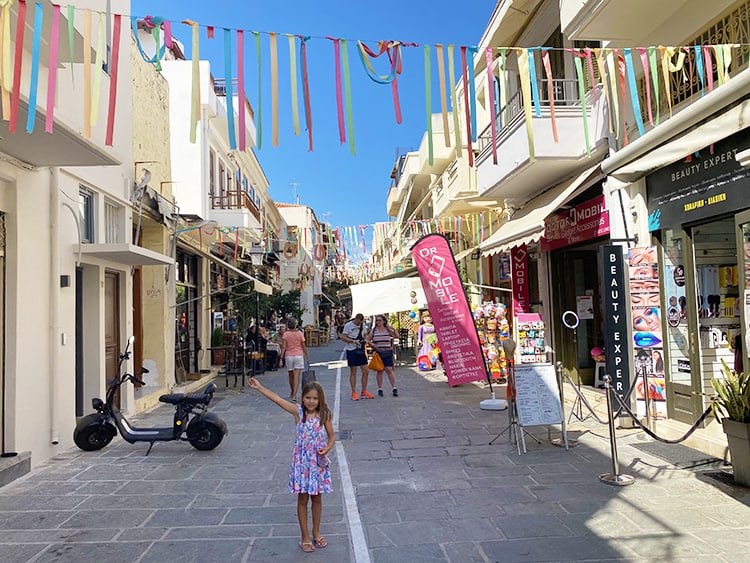 Built in 1626, the Rimondi Fountain is one of the city's highlights in Petichaki square.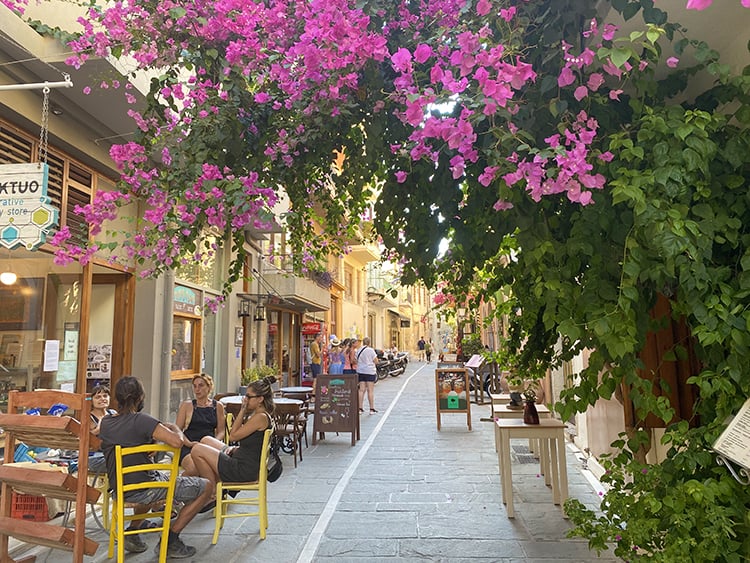 We also highly recommend walking to the Venetian Fortezza for an unforgettable sunset opportunity.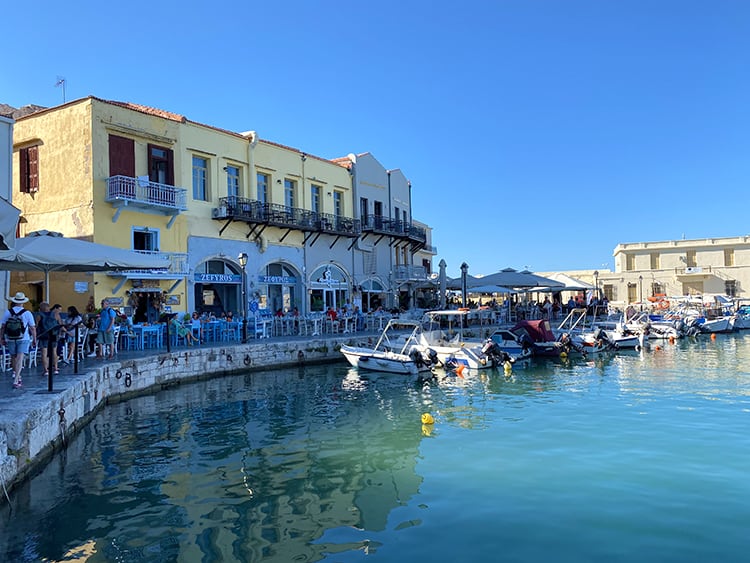 For a fun day out with your loved ones, you can also visit the Limnoupolis Water Park, which is only an hour's drive away. This is a seasonal activity open in summer between May and October.
Another fantastic thing to explore in the city is the Arkadi Monastery, a UNESCO European Monument of Freedom.
You can discover breathtaking architecture and Arkadi's participation in the Cretan Revolution of 1866.
Click here to book your tour from Rethymnon to see Arkadi Monastery.
Day Trip To Lake Kournas
For a fun family day trip, take a short 37-minute drive to Lake Kournas. This beautiful inland body of water changes from turquoise to a deep blue the deeper the water gets.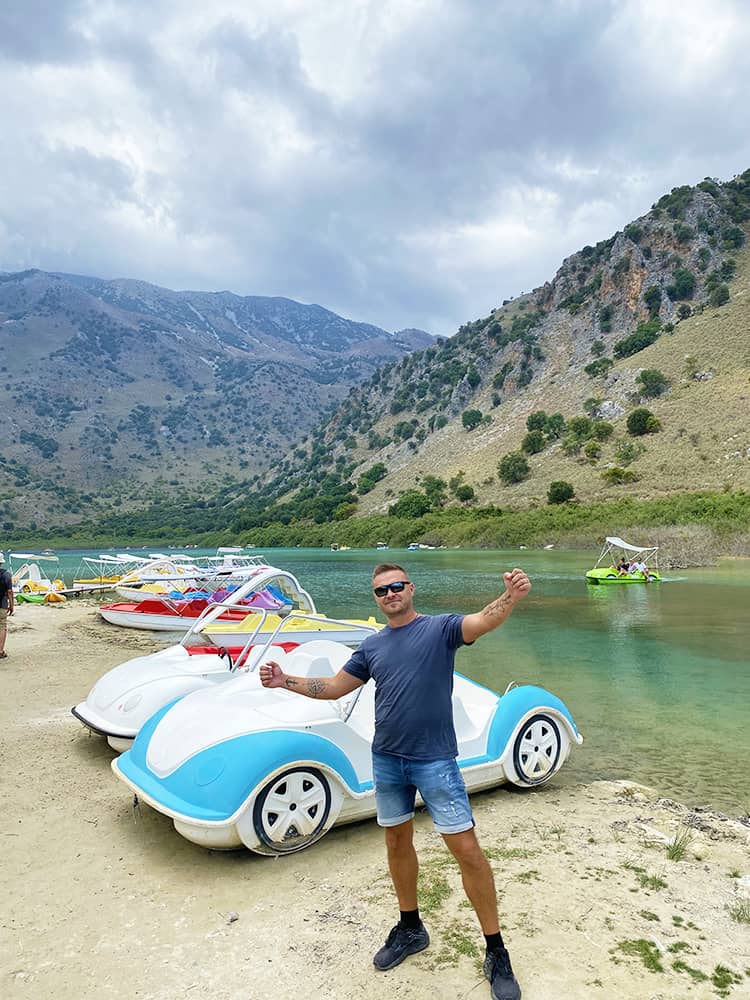 You can rent pedal boats for €7 ($6.99) per hour or a canoe for €4 ($3.99) per hour.
This is a great way to experience this serene lake. The water is very calm and shallow, so it's perfect for families with toddlers.
There are plenty of eateries along the beachfront, but we recommend The Beautiful Lake. They serve divine food at a very reasonable price.
Overall, Lake Kournas is a great place to visit for the day. We guarantee you won't be disappointed.
Click here to book your tour from Rethymnon to Lake Kournas.
Beaches To Visit In Rethymnon
Rethymnon is a beach paradise, so you can imagine there are plenty of places to wind away the day. Matala Beach is one of the top spots, but it's an hour and 30-minute drive from Rethymnon and can get very busy.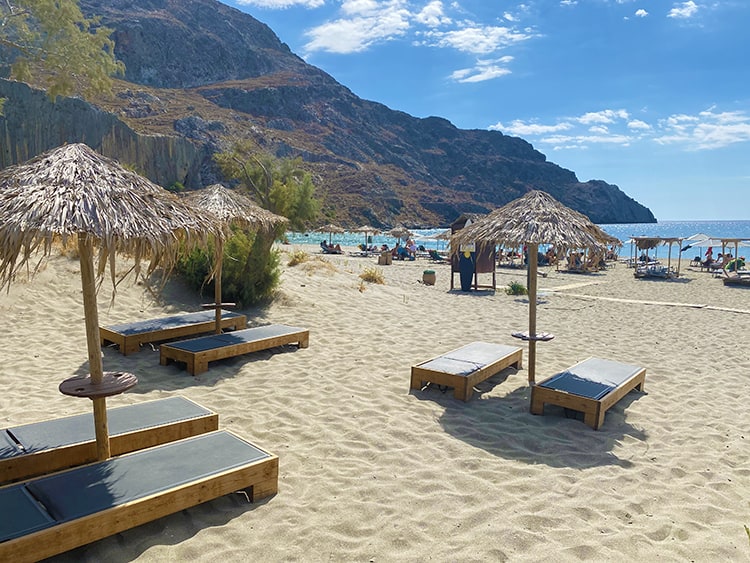 We recommend Plakias Beach, as it's only a 47-minute drive from town. The waters are very calm, so it's perfect for toddlers.
We recommend you visit Beach House Plakias for food, as you can also use the complimentary sun loungers when you order from them.
If you have older children that can handle a fair amount of steps to get to the beach, then Preveli Beach is an excellent option. It's a 50-minute drive from Rethymnon, and the water is slightly deeper, but the views at Preveli are magical.
Where To Stay in Rethymnon
Here are some of our top choices for where to stay in Rethymnon
Orestis Downtown Home
We stayed at the Orestis Downtown Home in the heart of Rethymnon Old Town.
It has everything, from a balcony with city views to a large lounge and dining area, so it's ideal for large families.
Check prices for Orestis here!
Aegean Pearl
This inclusive resort is perfect for families looking to relax in Rethymnon.
It's 1.7 miles from the city center and has two kids' pools, a play area, a lovely buffet, and spacious rooms.
Check prices for Aegean Pearl here!
Archipelagos Hotel
For a lovely stay right on the Koumbes beachfront, we recommend the Archipelagos Hotel.
The rooms have lovely modern finishings, and the terrace with a sun lounger is a fantastic spot to end your days.
Check prices for Archipelagos here!
Agios Nikolaos: The Best Resort In Crete For Families
Last but certainly not least, we have the lovely town of Agios Nikolaos, a short hour's drive from Heraklion.
What To Do In Agios Nikolaos With Kids
Let's jump right into the top things to do in Agios Nikolaos for an enjoyable vacation.
Explore Agios Nikolaos Town
Agios Nikolaos is a wonderful town to explore, and the best way to start is with a gentle stroll around Lake Voulismeni.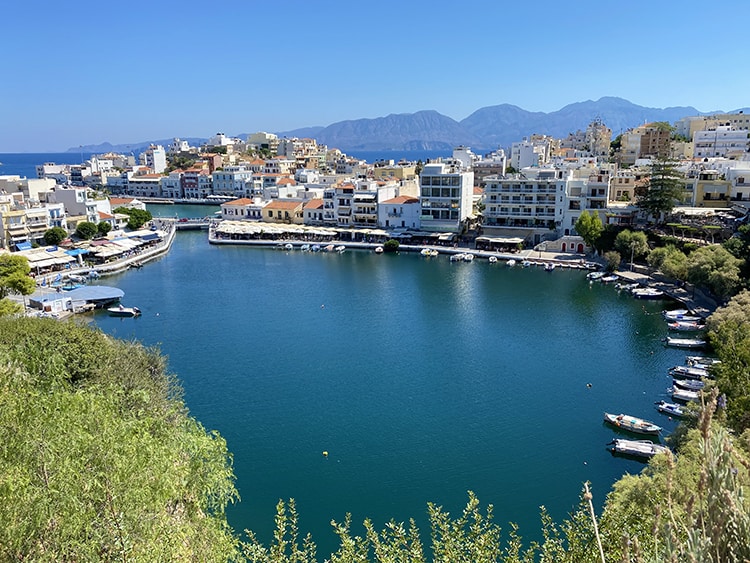 This is a prime part of town to explore, with steep rocky cliffs on one side and picturesque cafes on the other.
But if you're searching for a fun day with the family, we recommend going to the Lasithi Plateau, just inland of the city.
It's a gorgeous array of green fields. Another hidden gem is the Dikteon Cave, which has magnificent stalactites and stalagmites.
Another great thing to do with the family is to spend the day on Kitroplatia Beach.
It's one of the best beaches in the city, with umbrellas and a breathtaking view of the rolling Thripti mountains to the east.
Click here to book your tour from Agios Nikolaos to Diktean Cave.
Day Trip To Star Beach
This is a great idea for a fun-filled day with the kids, as the Star Beach Waterpark has everything you need and more.
It's also only a 40-minute drive to Agios Nikolaos.
While you relax, the kids can play in the pools and enjoy the water slides and sports, or you can all mozy down the lazy river.
The restaurant is also great, with local ingredients making some delicious Mediterranean cuisine.
Day Trip to Vai Beach
Another fantastic option for a day outing is relaxing on the palm-lined beach of Vai.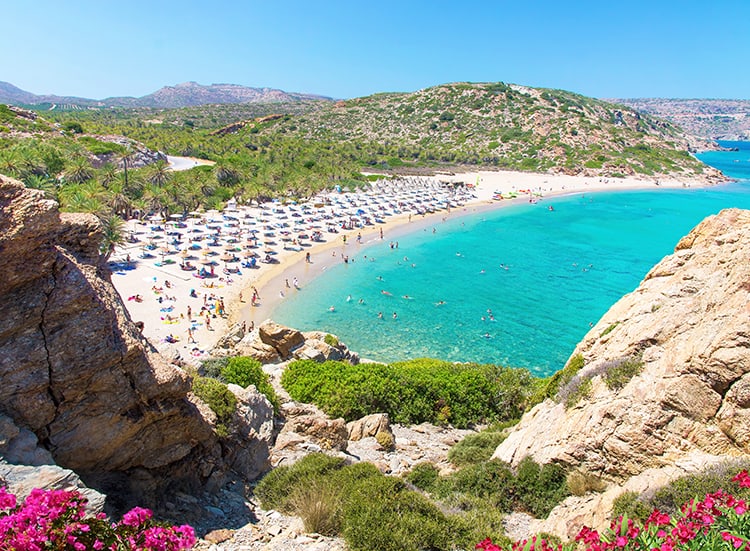 It's an hour and 45-minute drive from Agios Nikolaos, but it's one of the best beaches to visit when in Crete.
It's not a super-developed beach, so we suggest packing a nice lunch, but the waters are calm, and it's lovely to visit for a day.
Enjoy The Resort
We stayed at the Blue Marine Resort and Spa, which is one of the best all-inclusive family resorts in Crete.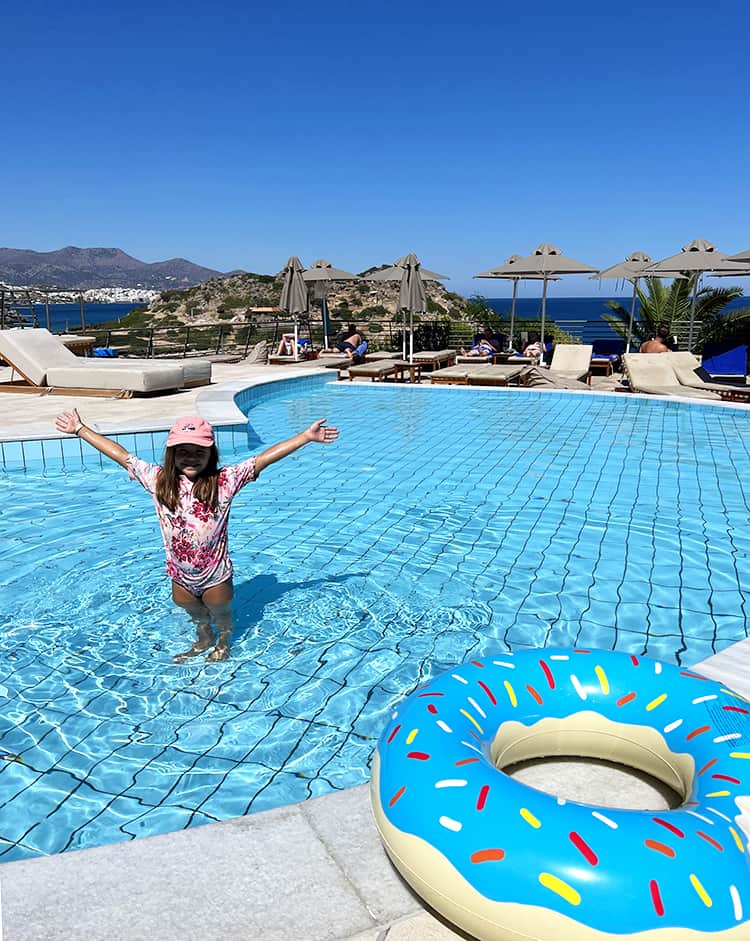 It has a beautiful pool and an adorable beach for relaxing between exploring the city.
Although you may choose a different resort, we highly recommend you spend a day or two just enjoying the luxuries of your resort of choice.
Where To Stay in Agios Nikolaos Town
Here are our top choices for where to stay when in Agios Nikolaos.
Blue Marine Resort and Spa
This is possibly the best family resort in Crete, with its quaint fish-shaped pool and all-inclusive package.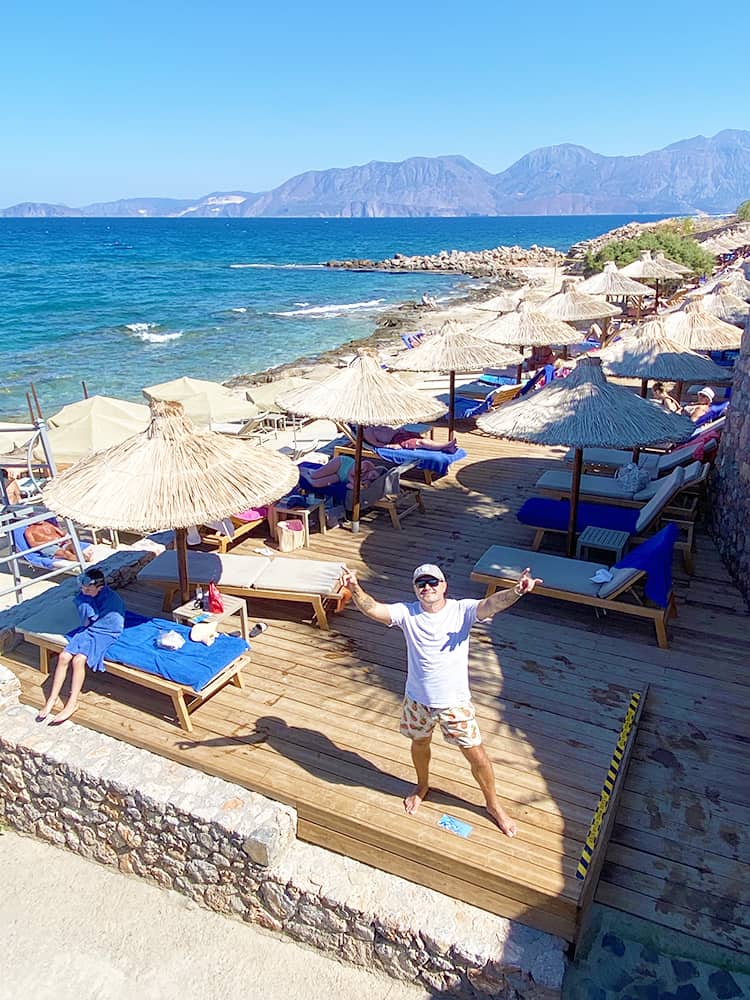 The rooms are lovely, and the restaurants on-site provide delicious meals for the whole family.
Check prices for Blue Marine here!
Daios Cove Luxury Resort And Villas
For a luxury stay in Agios Nikolaos, look no further than Daios Cove. This is another one of the top Crete family resorts that offer private access to Vathi Kritsas Beach.
Check prices for Daios Cave here!
Miramare Resort And Spa
If you're looking for a cheaper resort option that still offers fantastic services, stay at Miramare.
Private access to Almiros Beach is a bonus, and the kid's pool means you can relax during your vacation.
Check prices for Miramare here!
Final Thoughts On The Best Family Holidays In Crete
We hope you have plenty of inspiration for your family holiday to Crete. Greece is honestly one of the most kid-friendly places in Europe that we have visited. And Crete is probably one of the most family-friendly of the Greek Islands.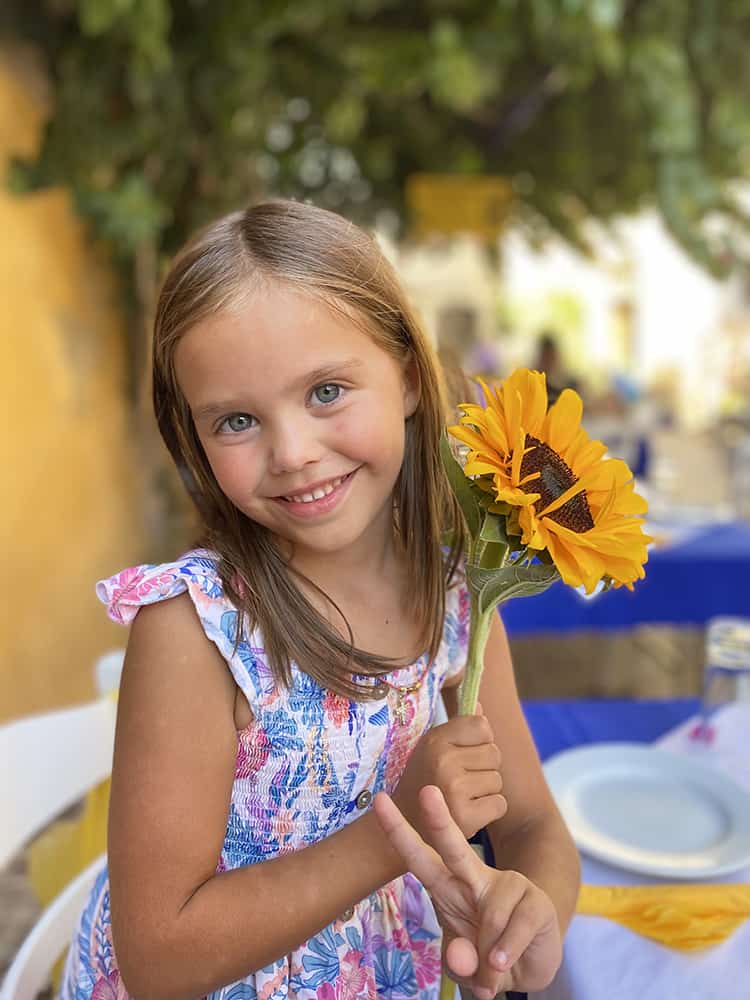 Now that you have all the answers to pressing questions and know about the best locations and must-visit attractions, it's time to finalize your bookings for an unforgettable vacation.
Here is a list of the best beaches in Europe for families if you are inspired to book a beach holiday.
Additional Information for Greece Vacation
Check out what else we have about Greece here: