Exploring Southern Italy by car is a great way to see all that the country has to offer while spending time with your family. A Puglia road trip will take you to several gorgeous towns that offer breathtaking views and white sandy beaches.
You'll be transfixed by the winding streets and whitewashed buildings. Puglia showcases ancient towns and some modern hubs that'll keep your family busy for hours.
Some of these towns have incredible histories that will fascinate your kids, like Alberobello's gnome-like houses. And in summer, the beaches will provide endless enjoyment for both kids and adults.
Tip: Eliminate any boredom for your kids on the road trip with a travel activity book.
---
9 Best Puglia Towns to Explore | Puglia Road Trip with Kids
In the Puglia region, you'll find plenty of unique towns with magnificent ocean views. During your road trip, you'll be able to experience the best of both inland and coastal areas.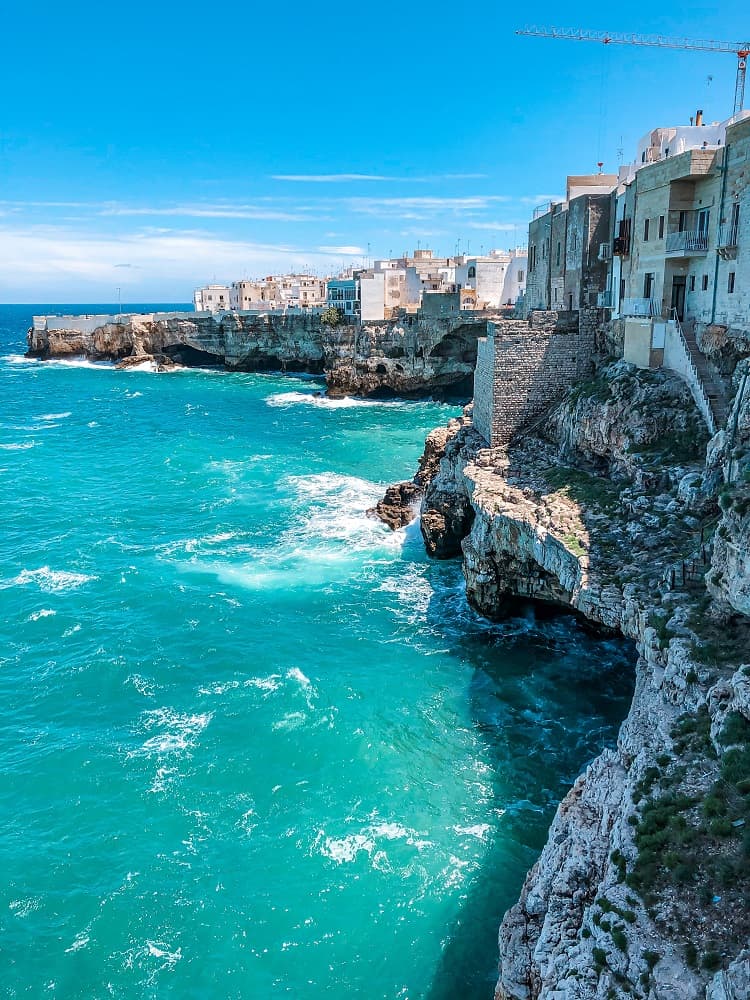 From ancient castles to hidden caves, each town has something special that your kids will remember for the rest of their lives.
---
1. Ostuni
Ostuni, or the White City, is known for its olive oil. Built on top of a hill, this gorgeous town is a must-visit for your family. There's plenty of things to do in Ostuni besides admiring the whitewashed buildings.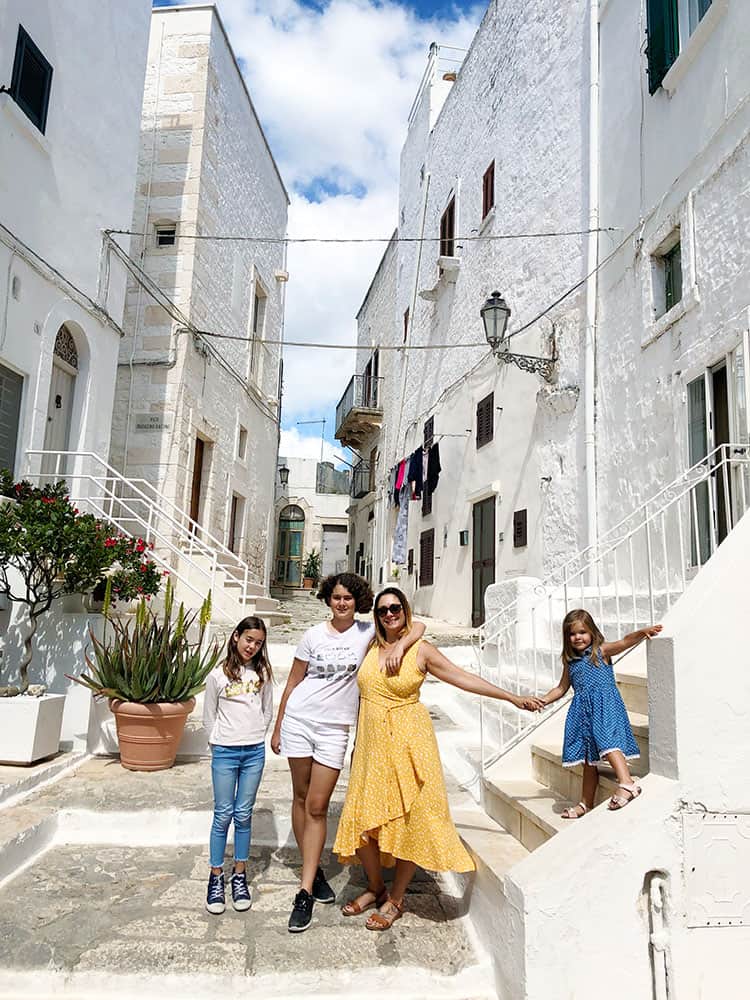 This historic town is filled with winding, maze-like streets, so we recommend booking a guided walking tour. Not only will you be able to see the town but you'll hear all about its exciting history.
Make sure to pop Ostuni on your list of where to go in Puglia.
Click here to book your tour in Ostuni of the White City.
---
2. Otranto
Otranto, Puglia is a gorgeous coastal town that's definitely worth a visit. It's located at the eastern-most point of Italy.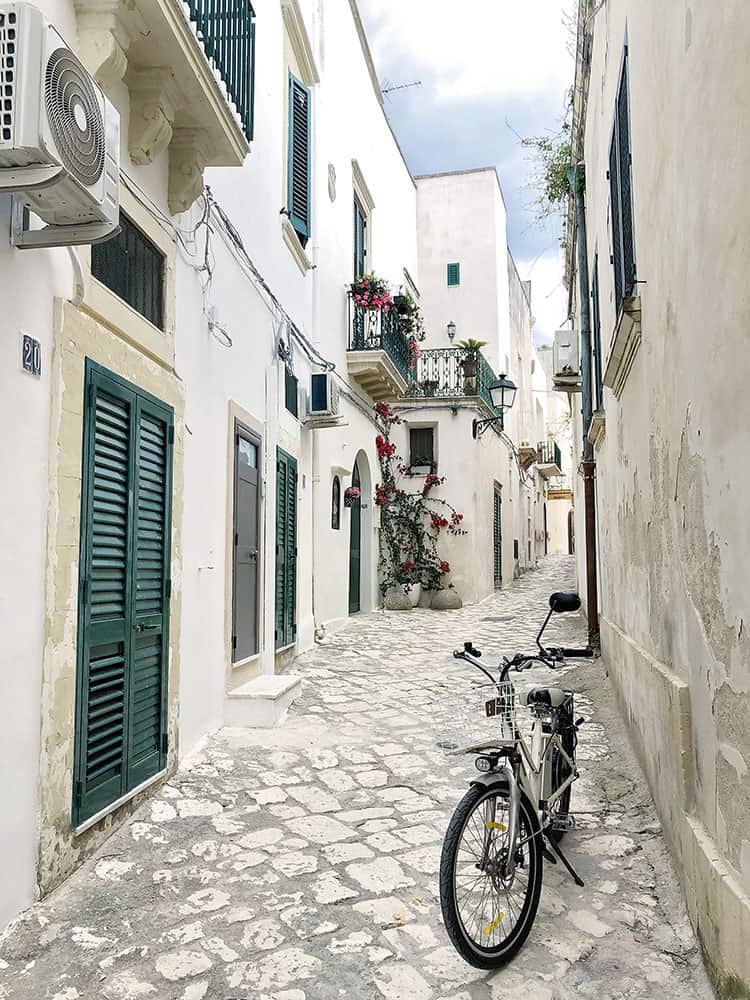 The 11th-century Otranto Cathedral boasts incredible mosaic flooring and a stunning rose window. It's also home to the imposing Aragonese Castle.
Besides the historic architecture, Otranto also offers incredible sea views and sandy beaches. A guided walking tour around the town is a great way to see everything.
Click here to book your tour to see the streets of  Otranto on foot.
---
3. Gallipoli
Another unmissable Italian coastal town is Gallipoli. The city is divided into two parts, a modern area on the mainland and an old town located on an island. You'll only be able to reach the island via a 16th-century bridge.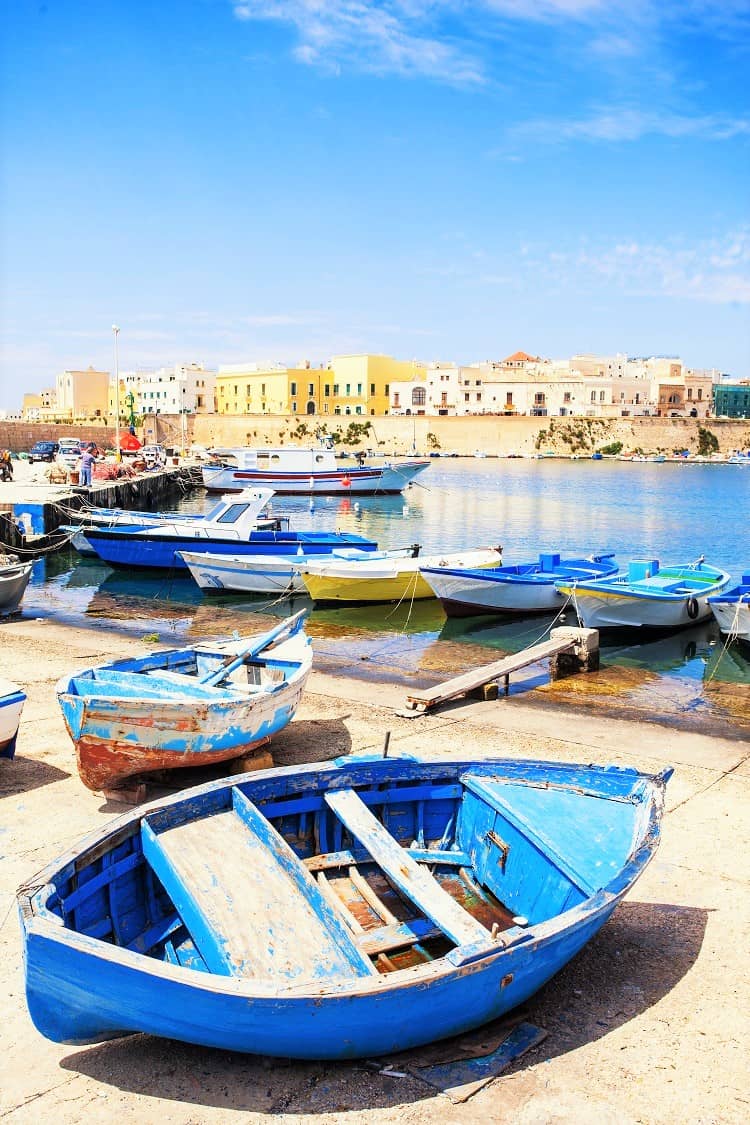 This beautiful city has some fantastic beaches as well as a waterpark, Splash Acquapark – great fun for the whole family.
---
4. Alberobello
This little town is best known for its whitewashed buildings with cone-shaped roofs. These houses or Trulli are a Unesco World Heritage Site and definitely worth seeing.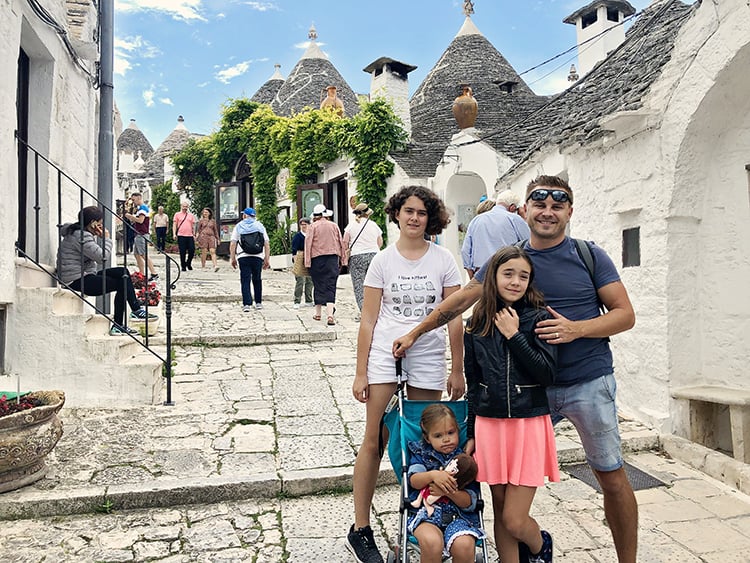 These enchanting houses offer great photo opportunities and your kids will love them.
It's popular for tourists and one of the best cities in Southern Italy. Exploring this town on foot offers a charming experience and it's even better with a knowledgeable tour guide.
Click here to book your tour to see the Tulli of Alberobello.
---
5. Martina Franca
Martina Franca is known for its Baroque architecture. Your kids will love exploring the winding alleys and posing for pictures in front of some of the picturesque buildings.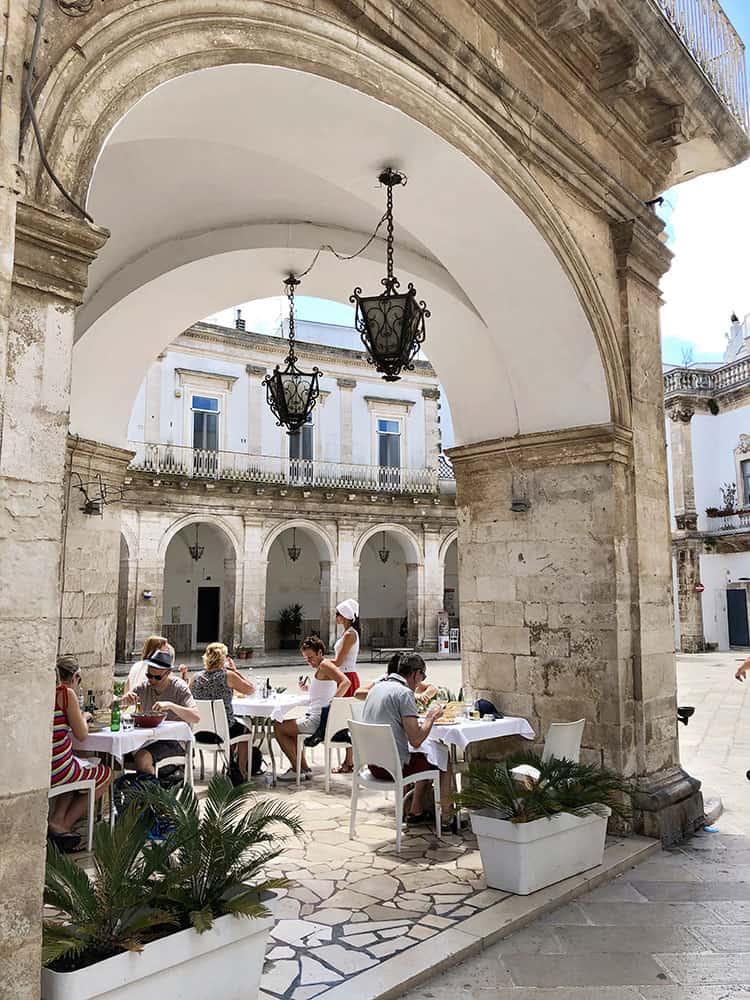 Once a fully-walled town, this ancient Italian gem should definitely be on your Puglia itinerary. Here you'll find some buzzing cafes, stunning piazzas, and the beautiful Basilica di San Martino.
If you're feeling adventurous, you can even try a local specialty, capocollo.
---
6. Bari
If you're going to travel Puglia, you should definitely stop in its capital city, Bari. Located on the coast, the city is home to some stunning sea views.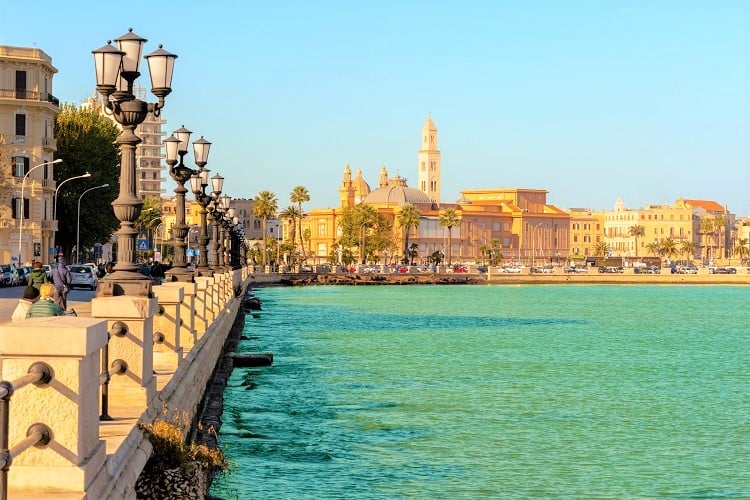 The local food scene is delightful.You'll have trouble choosing between all the family-run restaurants. If you're still hungry for more, the markets are great for stocking up on snacks for the road.
The old town, promenade, and ancient buildings will leave you breathless and are best explored on a bike-rickshaw.
Click here to book your tour to explore Bari on a bike-rickshaw.
---
7. Polignano a Mare
Located on a cliff, Polignano a Mare offers awe-inspiring views, especially at sunset. It is famous for its cliff-diving and mouth-watering ice cream. The town also has some marvelous caves and beaches, the most famous being Cala Porto.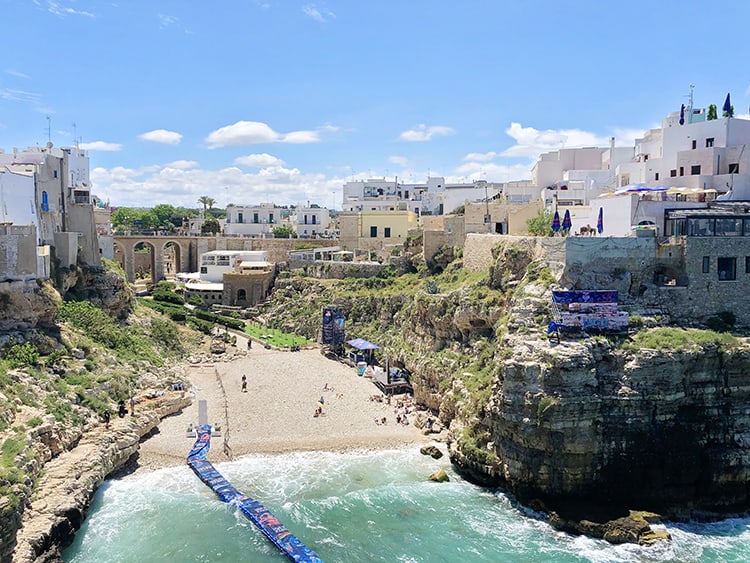 Exploring the town on foot is a great way to experience this town's enticing history. It's delightful in summer. A great place to stop for a cup of coffee and a scoop of Italian ice cream.
---
8. Vieste
Beautiful beaches are just one feature of Vieste. This seaside town is located inside Gargano National Park. It boasts enchanting forests and picturesque white stone houses. You can even scuba dive in the Adriatic Sea.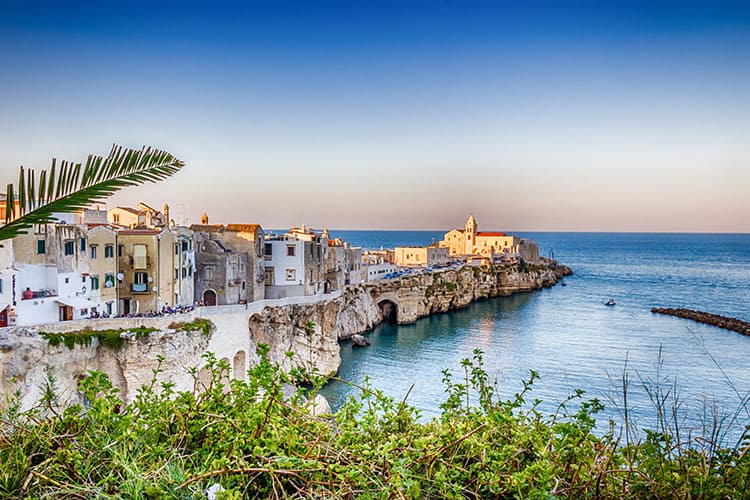 It's the perfect place to sit back and soak up some Italian sun.
---
9. Gargano Peninsula
Along the coastal cliffs on Puglia, you'll find the Gargano Peninsula. This is a great place to take photos. There are some stunning places to stay in town as well as restaurants that serve hearty Italian food.
One of the best things to do here is to take a boat ride and see some of the most precious treasures of Gargano. Your kids will be delighted by the sea caves.
Click here to book your tour to see the caves of Gargano by boat.
---
Best Time to go on a Road Trip in Puglia
The best time to take a road trip in Puglia is during the warmer months. Between May and September, you'll be able to bask in the Italian sun and take full advantage of the beaches.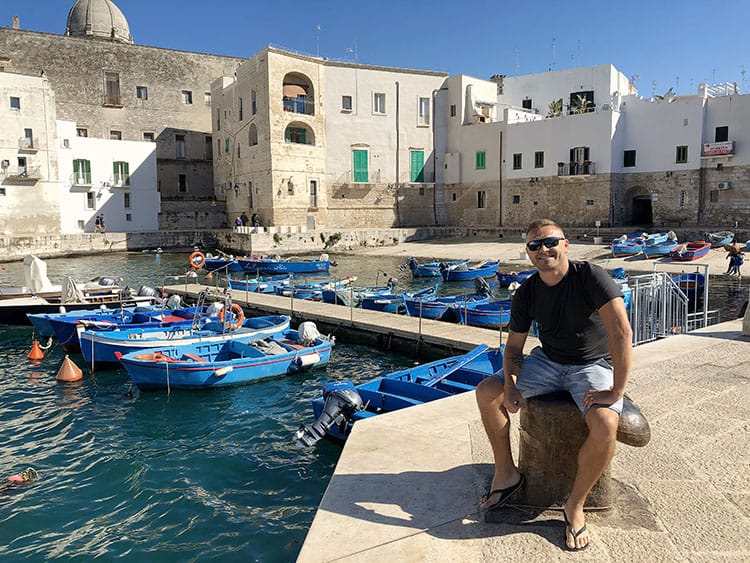 The region can get quite hot in July and August. While these months are less ideal for bike and walking tours, they are perfect for beach days. But, it does get quite busy with tourists.
We suggest you plan your trip around May, June, or September. These months are temperate enough to enjoy the beach but aren't as busy as the summer months, allowing you to fully enjoy your road trip.
---
Tips for a Successful Puglia Road Trip
A successful road trip to this region does require some advance planning to make sure you don't miss anything. Here are a couple of tips that'll make your Puglian road trip unforgettable.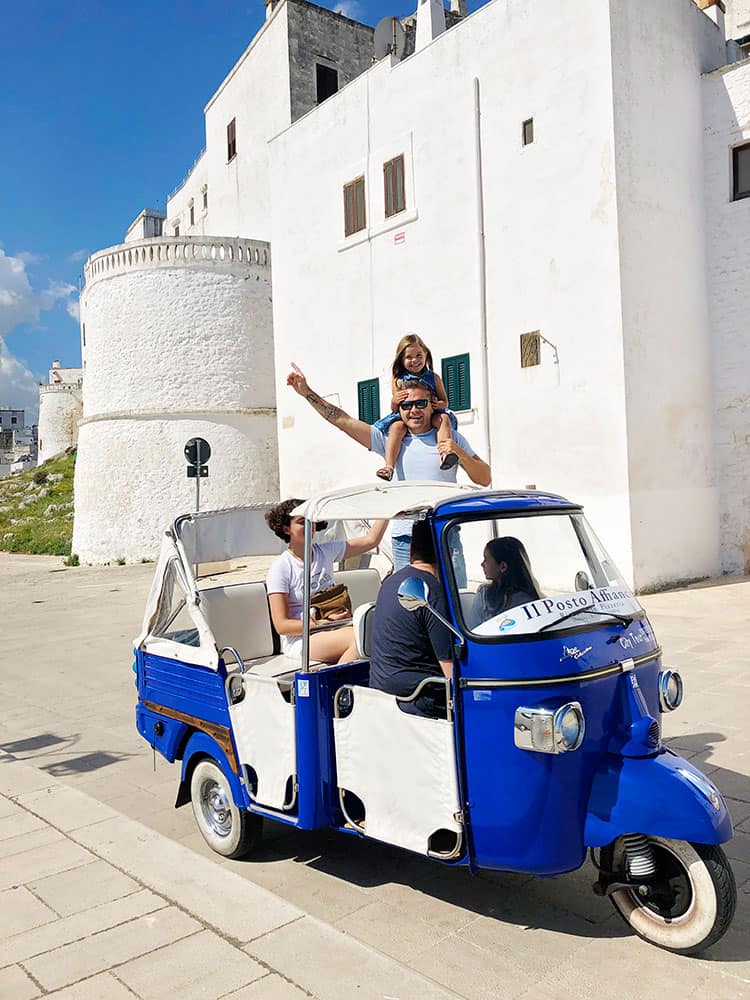 Rent a Car with GPS
While using a map of Puglia adds some nostalgia to your trip, the best way to travel the area is with a GPS.
When renting a car, make sure you get one with a navigation system. This will make your journey a lot smoother while allowing you to take in the gorgeous Italian towns.
Get An International Driver's Permit
Driving around Puglia requires an international driver's permit at all times. You can easily collect an international driver's permit from your home country's Automobile Association (AAA). Just make sure to do this before you leave.
Drive with a Limit
Be mindful of speed limits in Italy. If you're caught speeding you'll receive a pretty hefty fine.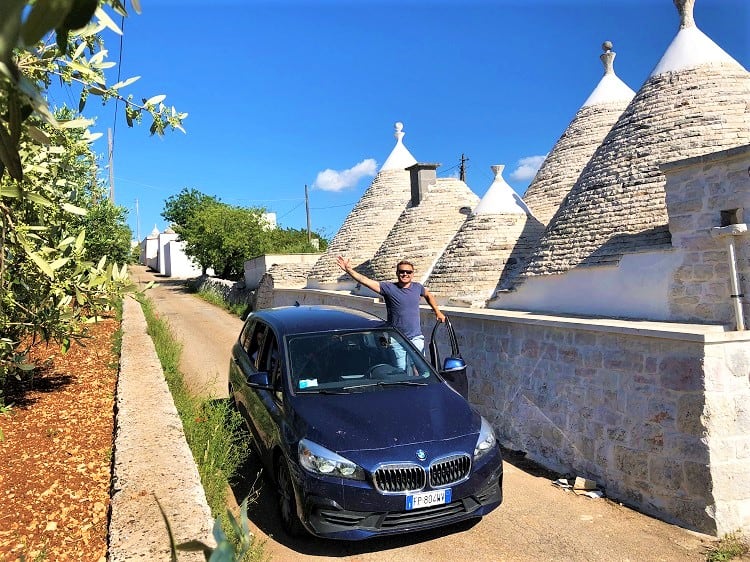 If you happen to do a little wine-tasting on your road trip, it's a good idea to be aware of Italy's strict drink-drive limit.
Avoid Driving in Old Towns
Many of the historic areas in Italy have limited traffic zones (ZTLs) that restrict driving in specific areas. Driving in one of these can result in a fine from both the city and the rental car company. For your own peace of mind, it's better to avoid driving in old towns.
Rather park your car in one of the town's parking lots and tour the city on foot.
Have a Backup Sim Card
Getting an international sim card is super useful on your road trip. It's a great alternative to using a Puglia map to get around the towns. It will also help you to find places to park your car and the best places to eat and drink.
---
Where to Stay When Driving Around Puglia
Besides having a great road trip itinerary, it's also a good idea to find out where to stay. There really is so much to see in this region and spending a night in any of the coastal or inland towns will afford you a lot more time.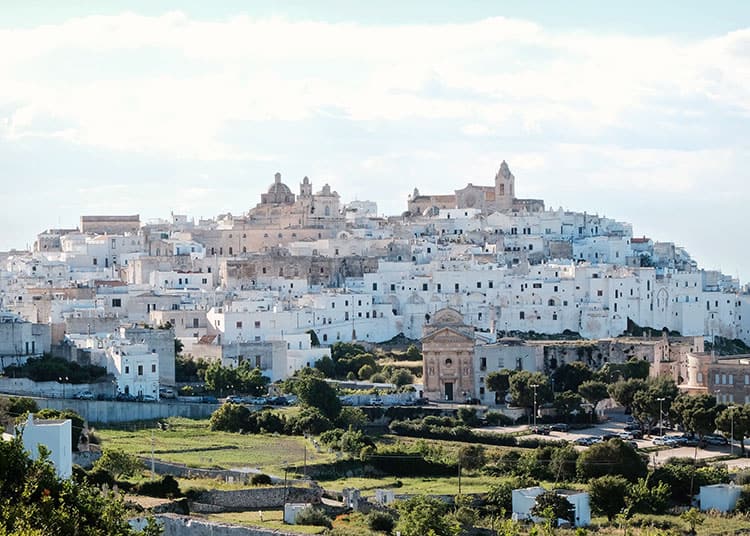 A great place to stay in as a base is Ostuni. You'll easily be able to do day trips to all the other towns. And, you won't have to worry about dragging your luggage around with you the whole time.
Finding a family-friendly place to stay is essential if you're traveling Italy with kids. Here are a few of our favorites.
---
1. Casa Josephina Ostuni
– Rated 10/10 –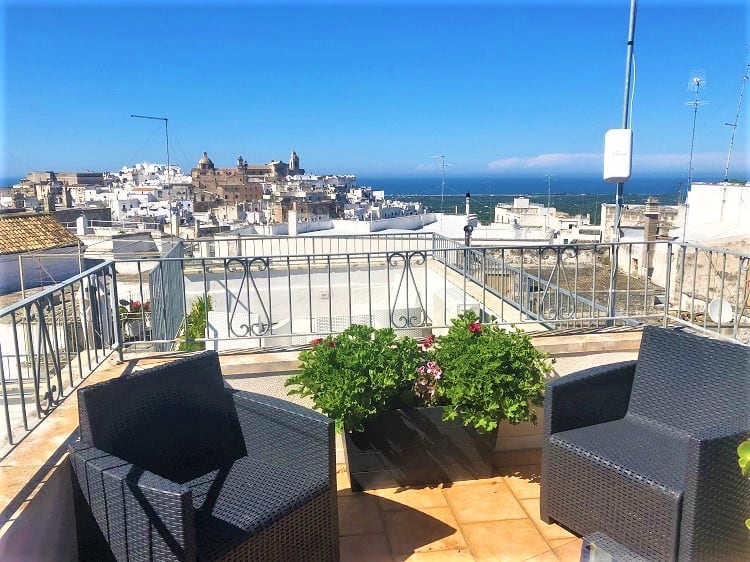 This gorgeous Ostuni rental is the perfect home base for you and your kids. This 18th-century townhouse is mere minutes from the city center and has everything you need.
This is where we stayed and we loved it! The house is 3 levels, not including the roof-top. There is plenty of space and the owners were awesome!
Why Should You Stay Here?
Sea and city views
Enough room for the whole family
Excellent facilities
---
2. Aurasia Alla Marina
– Rated 9.1/10 –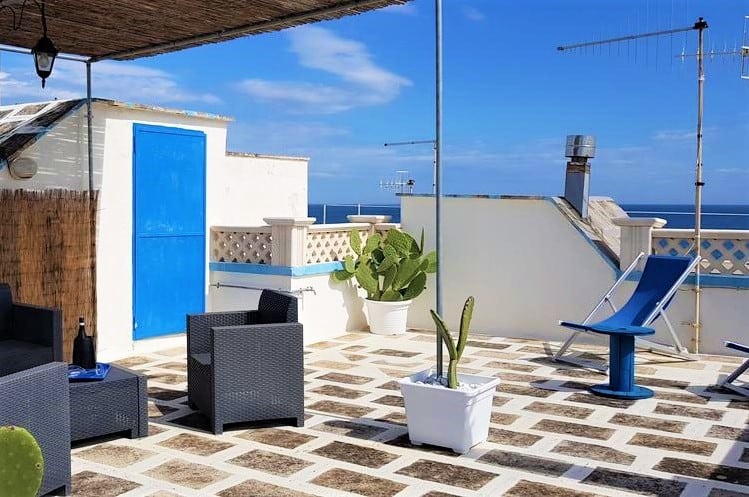 Aurasia Alla Marina is a comfy vacation home that is right on the beach. It's the perfect place to come home to after a busy day and even has a parking spot.
Why Should You Stay Here?
Steps from the beach
Super cozy
Terrace with ocean views
Check out the current prices for the Aurasia Alla Marina here!
---
3. Relais Trulli Le Icone in Ostuni
– Rated 8.4/10 –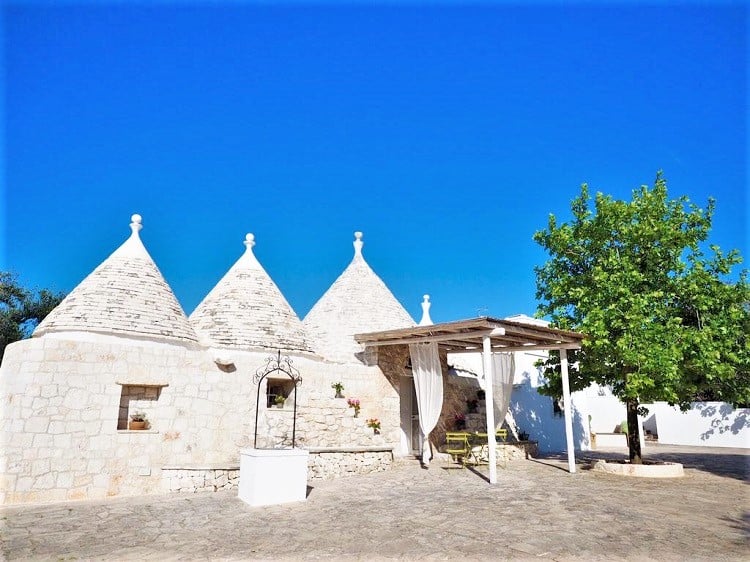 The Relais Trulli Le Icone is in a great location and it's kid-friendly. This gorgeous B&B has a hot tub, barbeque area, and plenty of room for your family to relax.
Why Should You Stay Here?
Daily Housekeeping
Sun deck
Place to park your car
Check out the current prices for the Relais Trulli Le Icone here!
---
To Conclude Your Puglia Road Trip
Southern Italy is filled with some amazing cities that will provide a memorable experience for your whole family. With a little bit of planning, you'll be able to have the ultimate adventure.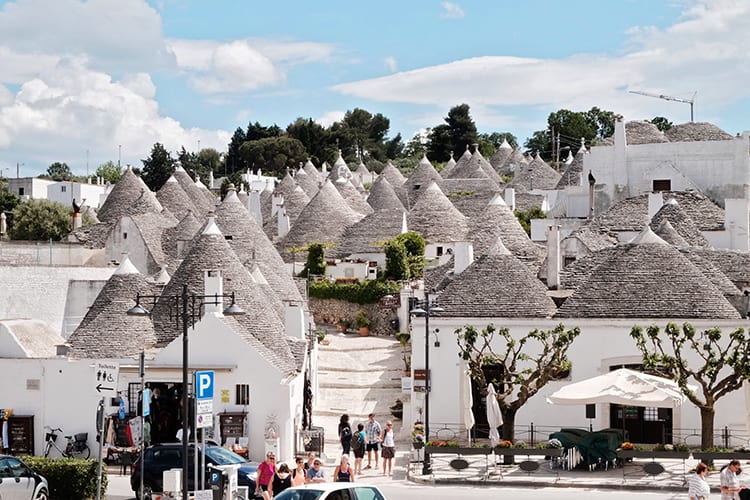 There's so much worth exploring in Puglia. The ancient towns, incredible beaches, and magnificent views will make road-tripping all the fun in the world.