When it comes to family beach vacations, Europe is the perfect destination for a memorable and enjoyable getaway.
With its beautiful shores and stunning scenery, there are plenty of European beaches that offer families a wonderful experience.
From Portugal's Foz do Lizandro Beach to Manta Rota in Algarve, we have rounded up some of the best beaches in Europe that are perfect for kids of all ages.
Whether you're looking for a beach with plenty of amenities or one with calm waters perfect for swimming, these 30 beaches in Europe have something to offer everyone.
So grab your sunblock and get ready to explore the stunning European coastline!
30 Best Beaches in Europe for Families
A vacation to Europe does not mean that you sacrifice great sand and sea locations.
With our list of the 30 best family beach holidays in Europe, you will feel like you have been on a fantastic beach holiday.
We also provide recommendations on some of the best family hotels in Europe by the beach.
1. Zakynthos Beaches in Vasilikos, Greece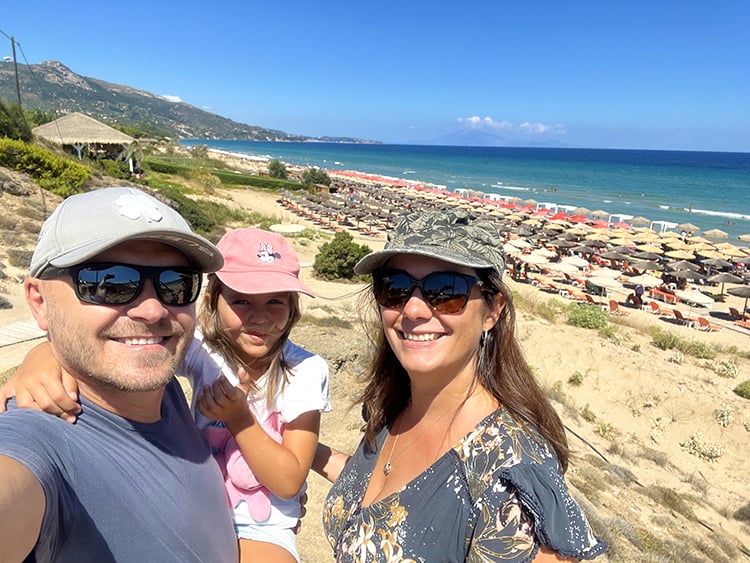 The Zakynthos beaches in Vasilikos are the perfect spot to take your family this summer.
Think crystal clear waters, beautiful white sand, and plenty of sunshine, it's a beachgoer's paradise!
The shallow waters make swimming with little ones easy and safe, while the surrounding area offers plenty of activities for the whole family.
From nature trails to horseback riding, you can find something for everyone in Vasilikos.
Our favorite beaches are Porto Zoro, Banana, Plaka, and Agio Nikolaos Beach. Our top favorite is Plaka Beach.
This unique spot shines above the rest. Not only is it a beautiful stretch of white sand surrounded by turquoise waters and lush vegetation, but it also has plenty to offer its visitors.
It's the perfect spot for a relaxing swim, water activities, or some fun-filled beach games.
While soaking up the sun you can also take in stunning views of Porto Zoro, Banana, and Agio Nikolaos beach from Plaka's cliffs.
The beaches in Zakynthos are well equipped with toilet and shower facilities.
You can find designated areas at most of the beach spots with toilets, showers, and changing cabins.
So you don't have to worry about having to go back to your hotel after swimming – just rinse off and change and head to the nearby taverna or restaurant for that sundowner.
There are also a variety of restaurants and tavernas nearby, so there's no shortage of delicious food to fuel up on before hitting the beach again!
If you are driving on the island there is plenty of parking nearby when you visit the Zakynthos Beaches.
Most of them are paid and usually charge between €2 – €5 per hour. However, there are also some free parking spots available.
The best times to visit this Mediterranean island are between June and September when the weather is drier and warmer.
A great place to stay is at Alegria Villas which is highly recommended for families.
So grab your sunscreen and head to Zakynthos this summer – we promise it won't disappoint.
Tip: You might be interested to check out one of the boat tours in Zakynthos to see the Shipwreck Beach and Blue Caves.
---
2. Kefalonia Beaches, Greece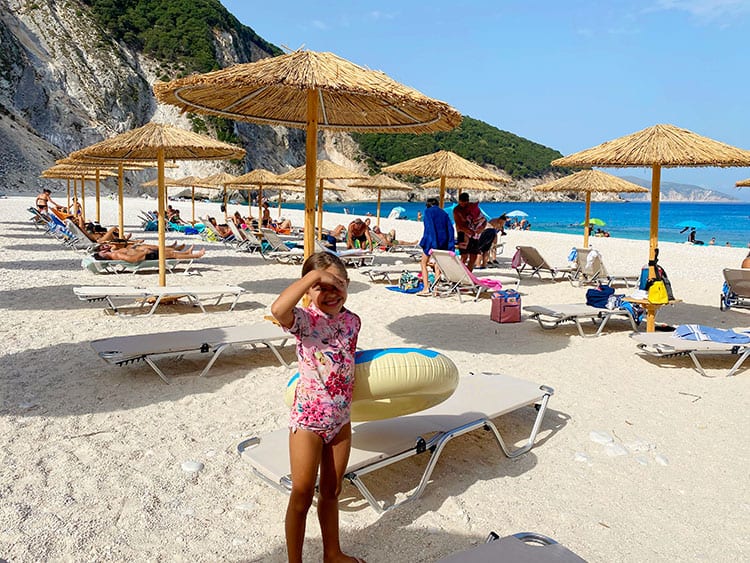 Kefalonia is not only the biggest Greek island, but it is also one of the most beautiful.
Kefalonia's beaches, Myrtos, Xi Beach, and Antisamos, are simply stunning making them the best beach places in Europe.
With miles upon miles of white sand and crystal clear waters, the scenery here is sure to take your breath away.
That's why so many people come here to relax on the beach and enjoy some quality time with their families.
The beaches in Kefalonia are also incredibly safe, so you don't need to worry about your little ones.
The waters are shallow and the currents are gentle, making them perfect for swimming and playing in the sand.
Plus, there's no shortage of sun loungers and umbrellas to provide shade when needed!
Your family will also not be lost for ideas of what to do when in Kefalonia.
No matter what your family enjoys, there's something for everyone at the beaches in Kefalonia.
From kayaking and snorkeling to sailing and windsurfing, you can find plenty of activities to keep you busy.
When it comes time to relax, there are lots of beachfront restaurants and bars where you can enjoy a delicious meal or a cold drink.
The beaches also offer toilet and shower facilities close by which is especially great for families.
If you are driving, there are some car parks with limited spaces so be sure to get there as early as possible if you want to get a parking spot!
So if you're looking for a family-friendly vacation spot with plenty of fun activities and stunning scenery, Kefalonia's beaches are the perfect place to go!
---
3. Beaches on Crete, Greece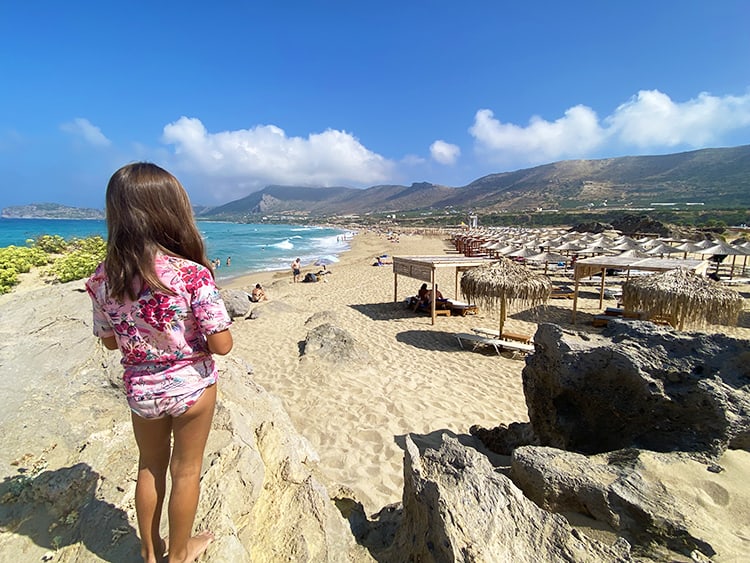 Crete is a great place for a family holiday. It has some of the most family-friendly beaches in Europe, namely Elaphinisi, Abalos Lagoon, Falasarna Beach, and Kalathas Beach.
Each of these stunning locations offers something special for families looking to create the perfect holiday experience.
Elaphinisi is a tiny island connected to Crete by a long sandbar, making it ideal for exploring with small children.
It also has crystal clear waters and a beautiful beach that's great for swimming and building sandcastles. There's also a hut where you can rent a kitesurfing kit.
At Abalos Lagoon, families can take part in a variety of activities such as kayaking, paddle boarding and even bird-watching.
The tranquil waters are excellent for swimming and snorkeling, while the nearby wetlands provide plenty of opportunities to spot wildlife.
Falasarna Beach is renowned for its white sand, clear waters, and stunning views of the Mediterranean.
It's surrounded by a rugged landscape, making it an ideal spot for exploring and discovering hidden coves.
Kalathas Beach is home to some of the clearest waters in all of Crete, making it the perfect place to relax and unwind while taking in breathtaking views.
Some of the beaches do have a few sunbeds and beach umbrellas, toilets, and even lifeguards in season.
However, the toilets are often found to be dirty and you may opt to use the toilet in the local cafe instead.
There are plenty of great places to eat at the beaches in Crete. Whether you're looking for a light snack, a traditional Greek meal, or something more exotic, there's sure to be something that satisfies your taste buds.
From cozy tavernas and beachside shacks to high-end restaurants offering stunning views of the Mediterranean Sea, there's something for everyone.
Be sure to try some of the delicious local seafood dishes, like grilled octopus and calamari, as well as classic favorites like moussaka and Greek salad.
---
4. Taormina Beaches, Italy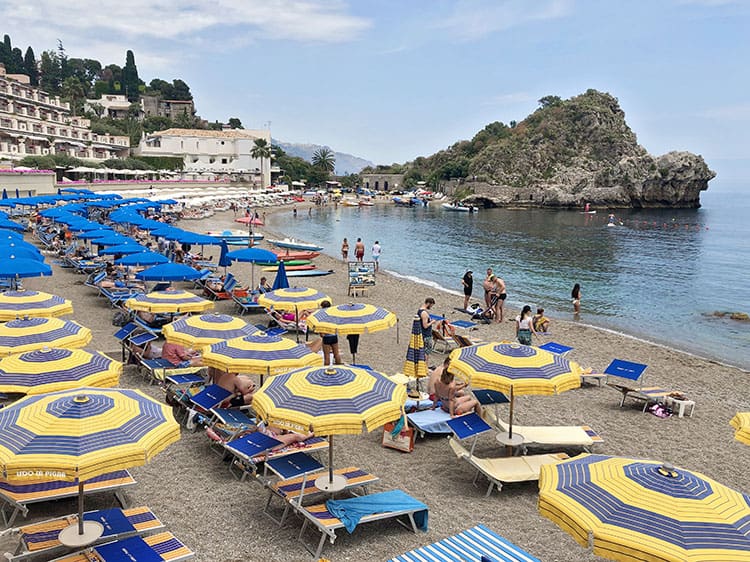 Taormina on the east coast of Sicily, Italy is one of the less busy beaches in Italy however this does not make it any less worth visiting.
Taormina Beaches offer some of the most breathtaking views in Sicily. With crystal-clear waters, you and your family can soak up the sun in style!
Taormina's main beach Lido Mazzaro is equipped with plenty of amenities that make it a perfect spot for family fun.
Take a dip in the waves, or just relax and enjoy the stunning scenery.
Both Mazzaro Beach and Isola Bella Beach are not sandy beaches as they are rocky and the shore is pebbled.
It is a good idea to take water shoes with you so that your kids can still have fun splashing in the water.
For sandy beaches, where you can build sand castles, head to Giardini Naxos. This stretch of coast has beaches that are a mix of sand and pebbles.
There's also a range of restaurants nearby to grab a bite to eat after a long day of beach fun. For a family-friendly place to stay, The Lemon Tree in Taormina is a great option.
With its picturesque backdrop, Taormina Beaches offer an unforgettable experience for your family!
---
5. San Vito Lo Capo in Sicily, Italy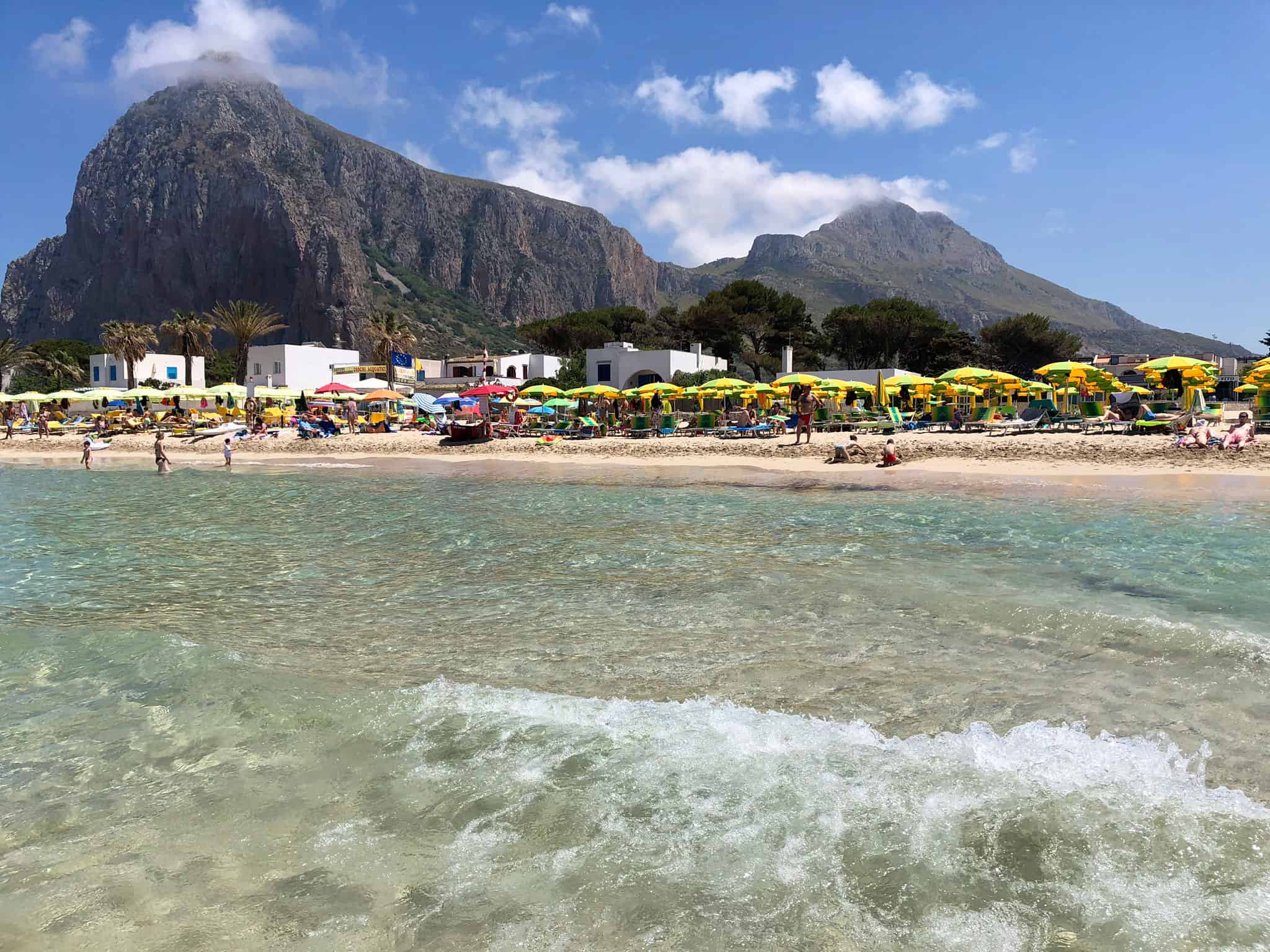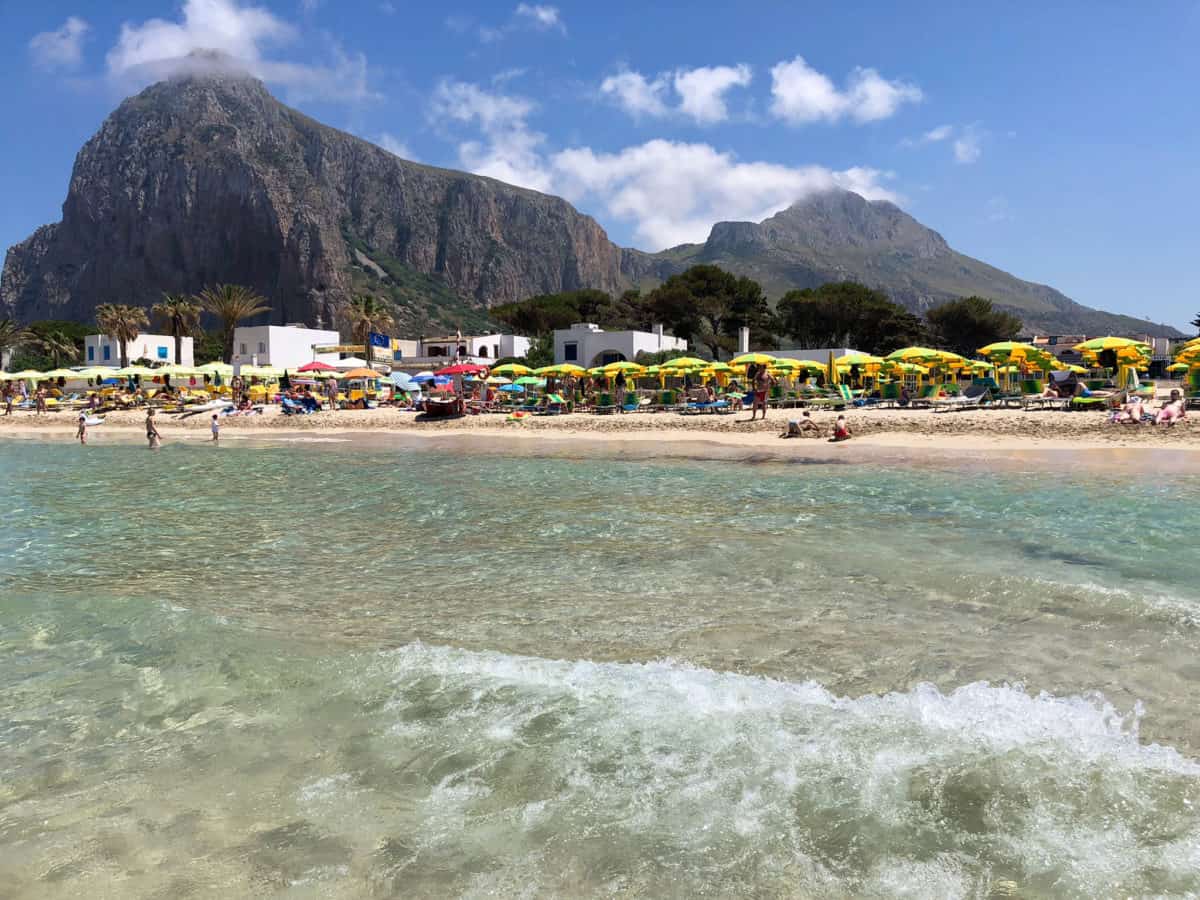 San Vito Lo Capo in Sicily is a fantastic spot for a family vacation! This gorgeous seaside town has something to offer everyone.
From its stunning white sand beaches and lush green hills to its friendly locals and vibrant culture, no one would be disappointed here.
Families can enjoy swimming at the beach or exploring the nearby nature reserves, while those looking for a more relaxed holiday can take advantage of the many restaurants and cafes that line the streets.
There are also plenty of activities to do, like boat tours, scuba diving lessons, or horseback riding.
And with its close proximity to Palermo, it's easy to explore some of Italy's most famous landmarks.
So if you're looking for a place to take the family on holiday, San Vito Lo Capo in Sicily is definitely worth checking out. It has something for everyone!
Plus, the town of San Vito Lo Capo also offers some great accommodations and services, so parents can kick back and relax while their kids explore all that this place has to offer.
No matter what kind of vacation you're looking for, San Vito Lo Capo has something special to offer your family.
---
6. Nice Beach in France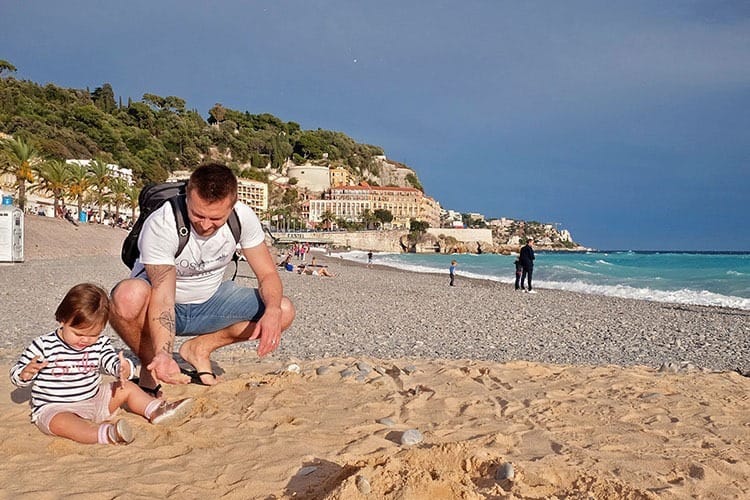 The beaches in Nice, France are a great place for the whole family. Whether you're looking to relax or take part in an array of activities in Nice, it's perfect for all ages.
The beaches in Nice boast shallow water, making it ideal for children to play safely while parents keep watch from a few steps away.
Most beaches have shower and toilet facilities. A few beaches like Beau Rivage, Forum, and Fabron beaches have indoor hot-water showers that you can use for a small fee.
If you do not fancy every day at the beach, the surrounding area also offers plenty of attractions and activities to enjoy.
We loved the fact that you can hire bikes to cycle the area or even enjoy a boat ride.
Parking at the beaches however is not as easy or cheap. If you can walk from your hotel accommodation we would suggest this rather than driving and trying to find parking close by.
There are even several beachside cafes and restaurants that serve delicious treats! With so much to do, Nice is the perfect spot for family fun!
---
7. Lefkada Beaches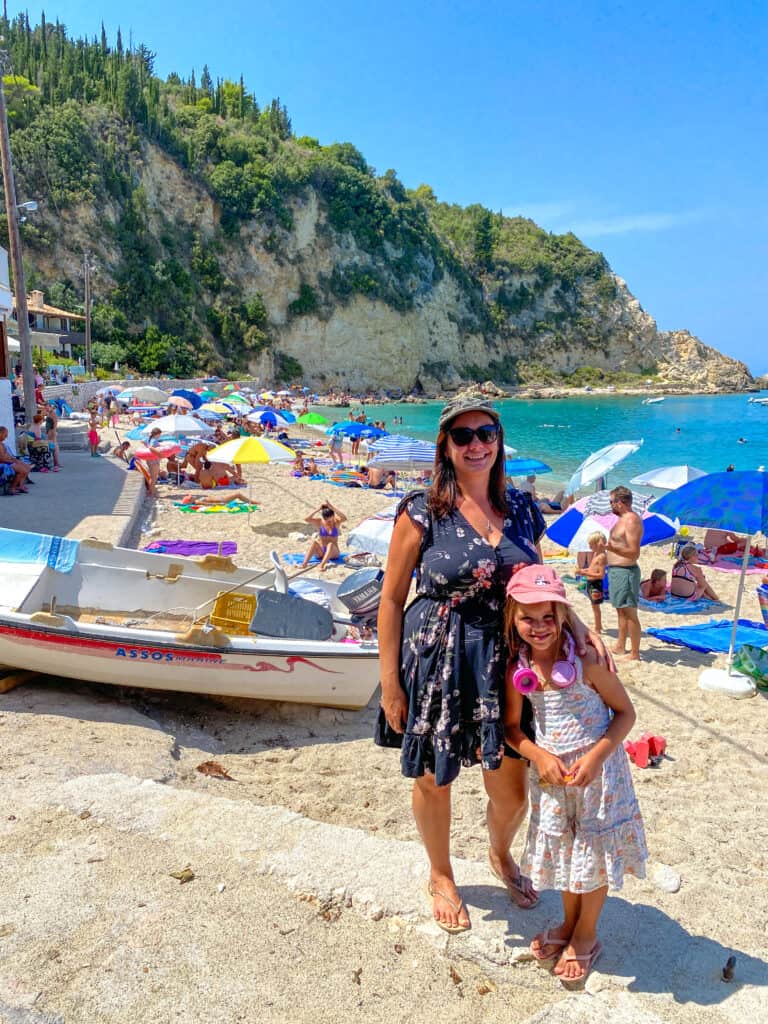 Lefkada Beaches are the perfect place to take your family for a beach vacation!
With its stunning clear blue waters, magnificent cliffs, and beautiful beaches, you and your loved ones will have plenty of fun in the sun.
As a family, we preferred to spend our days at Agios Nikitas Beach or Vasiliki Beach depending on the activities we felt like doing.
Agios Nikitas has crystal-clear waters, sandy shores, and stunning views. It's a great spot for swimming, sunbathing, or just relaxing in the shade with a great book!
Vasiliki is known for its strong winds, which make it a top destination for windsurfing and kitesurfing.
The beach does also have calm waters which are ideal for swimming, scuba diving, and paddle boarding.
With plenty of activities to keep the entire family entertained, you'll never be bored. If you stay at Crystal Waters, when you do not fancy the beach there is a great pool that you can all enjoy.
And when it comes time to eat, you can enjoy some of the best seafood in all of Greece!
---
8. Corfu Beaches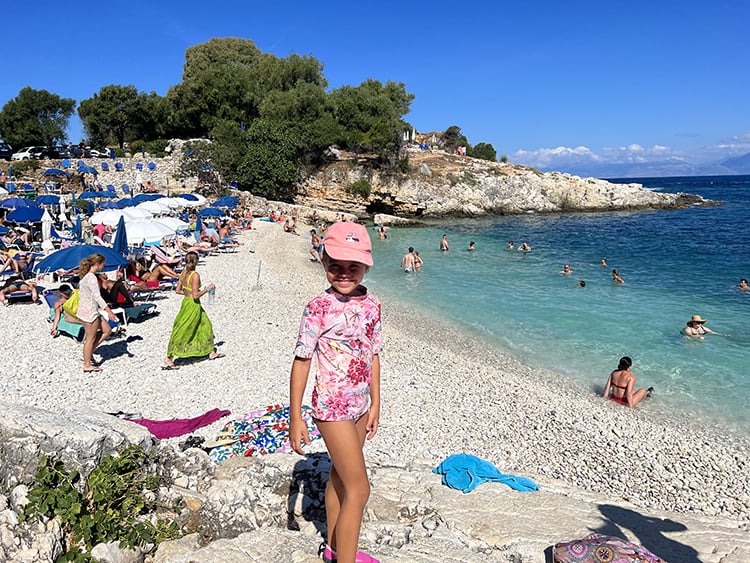 Corfu is a wonderful destination for a family vacation. The island has some of the best beach resorts in Europe for families.
Paleokastritsa and Bataria Beach are great for families because they offer both a variety of activities and comfortably shallow waters.
Paleokastritsa has six main beaches with clear waters, making it ideal for swimming and snorkeling.
The sheltered bays make for calmer waters that are perfect for younger children.
The stunning cliffs provide plenty of shade. On top of that, it's filled with activities such as paddle boarding, kayaking, and parasailing.
There are toilet and shower facilities perfect if you are planning on spending the day at the beach.
Bataria Beach is known for its long stretches of golden sand and calm waters. The beach is surprisingly shallow which makes it a great spot to bring younger kids.
There are no toilets or food outlets at Bataria Beach so make sure to bring snacks along. It is also easy to find parking at Bataria Beach so is the perfect spot if you are driving in Corfu.
There are a variety of restaurants so you don't have to worry about running out of snacks or drinks during your day in the sun.
Stay at the Akrotiri Resort Hotel. It has stunning views over the bay and family-friendly facilities.
---
9. Kamari Beach, Santorini
Contributed by Places of Juma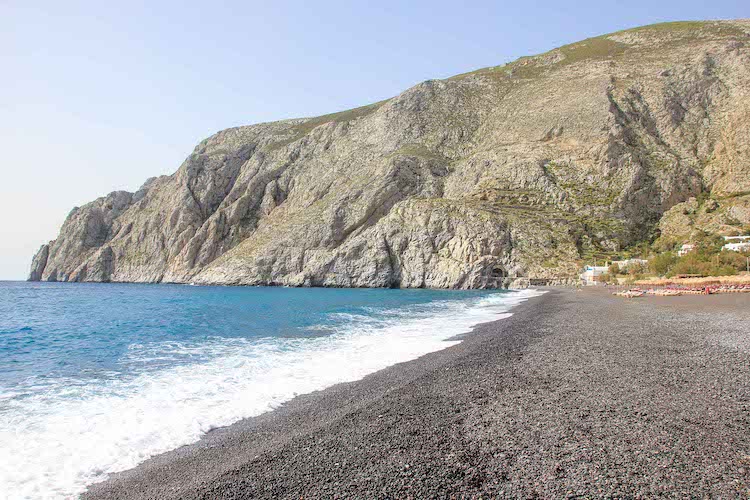 Kamari Beach is a fabulous tip for a family vacation in Santorini, Greece. Located in the south of the island, it is one of the few beaches on the island that is perfect for a family vacation.
It has fine black pebbles and crystal-clear waters that are perfect for swimming and snorkeling.
On some days there are a few waves, which is great fun, especially for older children.
The best time to go is the early season, from April to May. At this time the temperatures are wonderful and there are no crowds yet.
In general, Kamari Beach is well organized. There are plenty of sunbeds and umbrellas for rent, showers, changing rooms and toilets, a promenade with numerous restaurants and bars, as well as some bakeries and grocery stores.
Just behind the complex is a bus stop that will take you to other places on the island of Santorini. Free parking is also available.
Children generally do not need water shoes for swimming, but the dark sand can get quite hot in the summer.
If you are traveling with younger children it may be worth getting water shoes for your toddler.
At Kamari Beach, you will find great family-friendly accommodations in all price ranges.
Highly recommended for families with kids is Hotel Matina, a small family-run hotel with a pool, good breakfast and just a few minutes walk from the beach.
---
10. Great Yarmouth, UK
Contributed by Norfolk Local Guide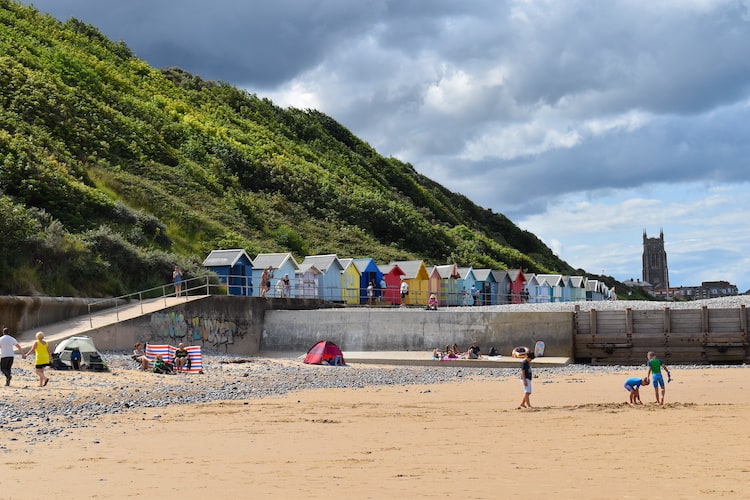 Great Yarmouth Beach in Norfolk is perfect for families looking for a fun day out on the east coast of England.
Great Yarmouth's Central Beach is a large sandy beach that stretches from Britannia Pier to Wellington Pier along the Marine Parade (aka The Golden Mile).
With its clear water and lifeguards on duty from April to September, the kids can enjoy swimming and other water activities.
While the water and sand at Great Yarmouth Beach are wonderful, it's the promenade that makes it special.
With various shops, cafes, and family-friendly attractions like the Sea Life Centre, Pleasure Beach, and the Great Yarmouth Eye, there is something for all ages to enjoy.
The Pleasure Beach is a traditional amusement park that our kids love.
You will find several car parks along Marine Parade, and there are ramps down to the beach.
The beach can get quite busy during the peak season, so it's best to arrive early to secure a spot and lay out your beach blanket.
Alternatively, you can hire a beach hut for the day on the promenade by the Sea Life Centre.
If you plan on spending more than a day in Great Yarmouth, the Furzedown Hotel is a good value, family-friendly hotel, just a short walk from the beach.
---
11. Srebrna Beach on Vis Island, Croatia
Contributed by Travel Melodies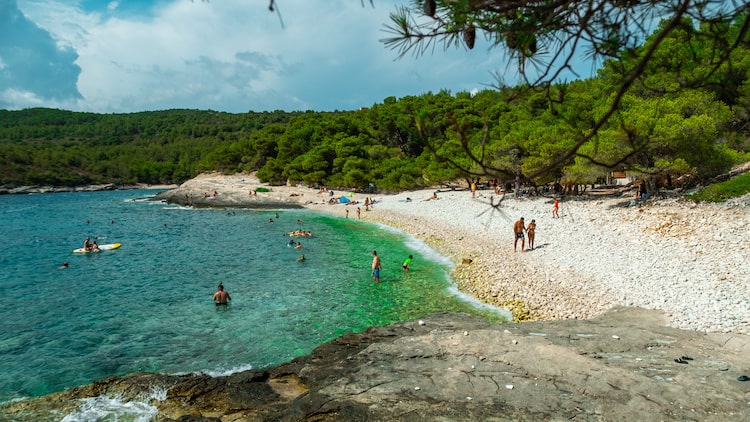 Located on the southeastern side of the Island of Vis in Croatia near the sleepy town of Rukavac in Srebrna Bay, Srebrna is a natural pebble beach.
It's given the moniker Silver Beach because of the glowing silvery-white color of its rocks in the moonlight.
These beautiful white limestone pebbles thrown by the ocean waves on the fossil carbonate rocky shore makes Srebrna Beach special and unique.
The beach is vast and spacious, and lush pine trees provide shade from the scorching sun. The rocks on both sides of the beach shelter it from the strong winds.
The sea here remains crystal clear, calm, and snugly warm throughout the year. Naturally, it's a top choice for families with kids visiting the island.
Our daughter loved it here. She didn't want to leave. You can find the basic amenities of changing rooms and public toilets at Srebrena Beach.
There are safety markings in place to safeguard swimmers from ships.
Although there are no fancy restaurants, there's a little cafe nearby if you want to have snacks and drinks.
September and October are the best months to visit the beach as the weather is pleasant to indulge in swimming and sunbathing.
You can easily reach Srebrna by car. It's about 10 km from Vis town and 18 km from Komiža. The parking lot is about 200 meters away from the beach.
There are some amazing accommodation options in Rukavac, but it's best to base yourself in the old town of Vis so you can easily explore all the sights the island has to offer.
Hotel San Giorgio is a beautiful family-friendly property in Vis town.
Don't forget to pack water shoes to enjoy this unique rocky beach to the fullest!
---
12. Foz de Lizandro Beach, Portugal
Contributed by Ericeira Family Adventures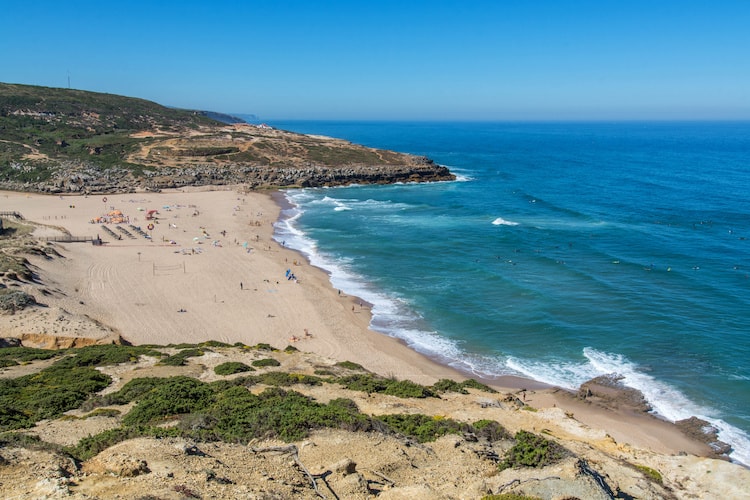 Foz do Lizandro Beach is the perfect destination for families looking to have an unforgettable holiday.
Located in Ericeira, the only World Surf Reserve in Europe, this beach is a stunning strip of fine golden sand with a small estuary opening up to the sea.
During the summer months from June to September, the sea is especially calm, making it the perfect spot for your kids to play and explore.
Teens will especially enjoy a day surfing on the main beach, while younger children can splash around in the shallow warm waters of the lagoon created at low tide.
The large parking lot at Foz do Lizandro Beach provides easy rental car access to its boardwalk, which is lined with great restaurants, a surf school, showers, and bathrooms.
To make your stay even more convenient, consider staying in Ericeira village a 15-minute walk from Foz do Lizandro beach.
An excellent option is the Villa Gale Hotel, providing modern accommodation with traditional Portuguese charm and a beautiful view of the ocean.
With its large strip of beach and convenient amenities, Foz do Lizandro Beach is definitely worth considering for your next family getaway.
---
13. Manta Rota Beach, Algarve
Contributed by Travel Around Ireland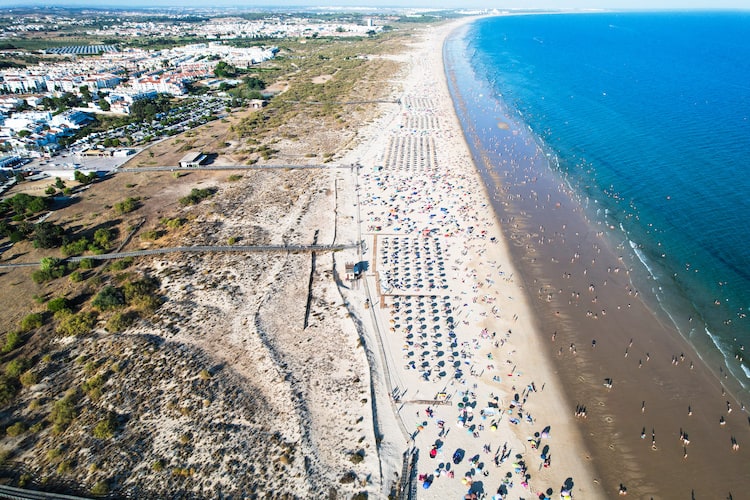 Our favorite family-friendly beach in the Algarve is Manta Rota on the eastern side.
Located about halfway between Tavira and Vila Real de Santo Antonio, this long sandy beach is part of the beach border of the Ria Formosa, a natural park that runs all the way from Faro to VRSA.
The beach is accessible from Manta Rota village and requires no ferry crossing, unlike other beaches along this part of the Algarve which means you can visit it at any time of the year.
It can get very busy during July and August when many Portuguese families from the North come to this part of the Algarve for their summer holidays.
But the months on either side are perfect for families looking for a sandy beach.
The beach has a large car park beside it, and two restaurants with toilets for beachgoers which are open throughout the summer.
Manta Rota Beach also has lifeguards on duty during the summer between mid-June to mid-September. During this time you can rent sunbeds and parasols.
The beach is accessed from the car park via a boardwalk and just watch your kids on this as some of the boards are uneven. You will also find showers at the end of this boardwalk.
Manta Rota is a small town with plenty more bars, cafés and restaurants and there is a hotel in Altura, not too far away.
Tavira or Monte Gordo, a short drive away, also has hotel options for families including the Vila Gale in Tavira.
Our son loves the long sandy beach and gentle waves of Manta Rota, our local beach, and I'm sure yours will too.
---
14. Kingsbards Beach in Fife, Scotland
Contributed by Global Mouse Travels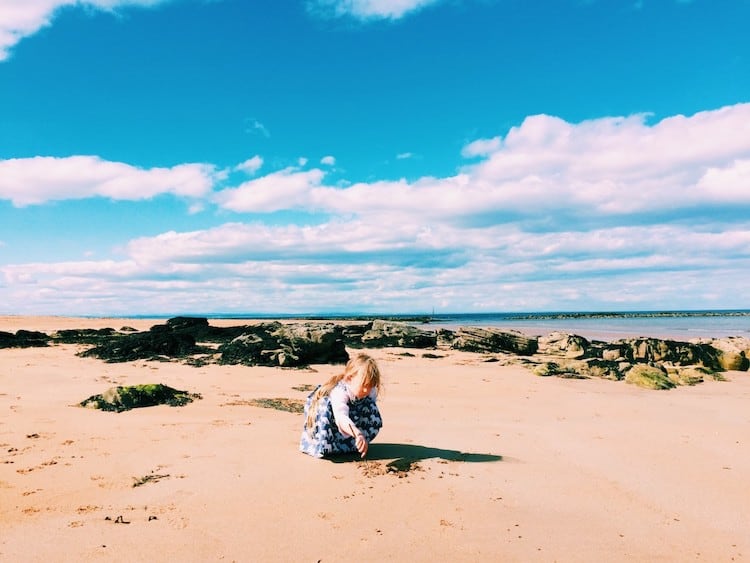 Fife in Scotland is an absolutely beautiful region of the UK and has some simply stunning beaches. Kingsbarns is one of the best.
Here the sand stretches on for miles and there are plenty of nearby villages to stop for ice cream or tea.
Close to St Andrews, this two-mile expanse of gorgeous sand is perfect for sandcastle building and also rock pooling.
Children will love finding everything from sea anemones to starfish and crabs dotted up and down this beach.
Fossil-loving kids will also enjoy the opportunity to find plenty of fossilized remains of plants at low tide, many from 335 million years ago.
This is a beach that has plenty of space so never feels too busy. There are toilet facilities and free parking here too.
If you're planning a trip to Fife with kids then a visit to Kingsbarns will bring them lots of happiness.
Stay nearby at the Fairmont St Andrews for some family fun and luxury accommodation.
---
15. Grenen Beach in Skagen, Denmark
Contributed by Family Hotel Expert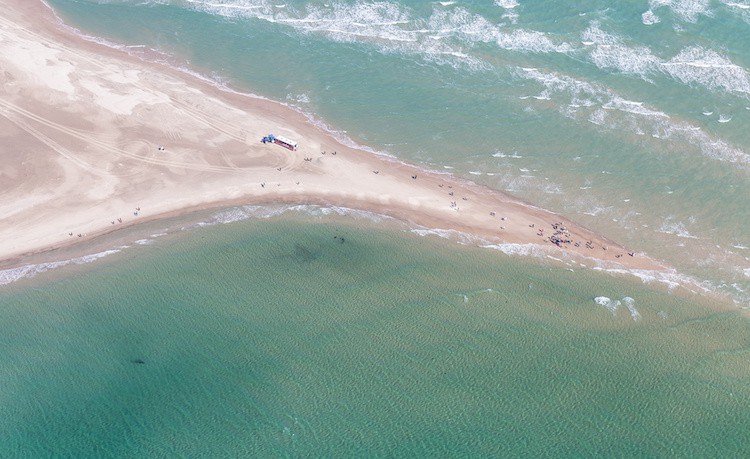 Skagen is a beautiful area of Denmark. Situated at the very tip of the country and a holiday hot spot for families.
The land thins here so that the east and the west coast are only ever 10 kilometers apart. If you visit Grenen you can even stand with one foot on each coast.
The beaches in this area are absolutely beautiful, some with white sand and clear waters.
There are a few beaches here so depending on what you're looking for, paddling or water sports, there will be something to suit your family.
Make sure to pack a baby water carrier if you are traveling with a baby to help keep your arms free.
Grenen Beach is also a great spot to watch seals and our eight-year-old spent the longest time watching these beautiful creatures on our visit.
While you can certainly paddle here and enjoy the sand through the summer, in winter it is dramatic and interesting.
Seeing the two seas Skagerak and Kattegat coming together is amazing for children to witness.
If you're planning a family holiday to Denmark there are a large number of places to stay nearby.
In particular, there are some great self-catering cottages or the Skagen Harbour Hotel comes highly recommended.
---
16. Beaches of Le Marche, Italy
Contributed by Smudged Postcard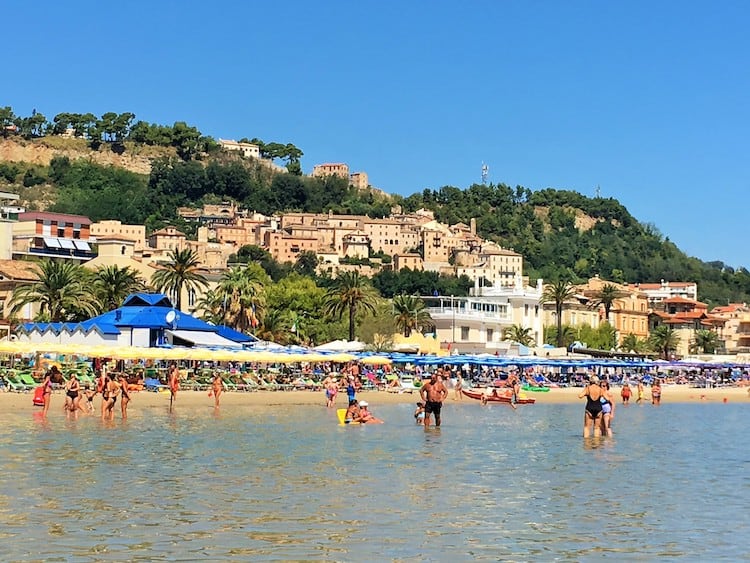 The beaches of the eastern coast of Italy, specifically the region of Le Marche, are perfect for families.
Without a doubt, August is the best time to visit the beaches of Le Marche when they're packed with local Italian families enjoying la dolce vita.
There is a great atmosphere, and the beach clubs and promenades are full of life.
Grottammare is a particularly appealing beach along the Marche coast. It has a long stretch of sand and the sea remains shallow for quite a distance – as well as calm – making it ideal for little children.
The beach is backed by bars and restaurants, play areas, showers, and toilets.
The seaside town of Grottammare also has a charming historical center on the hillside, perfect if you fancy a change of scene or somewhere interesting to head to for dinner.
One of the great things about Le Marche beaches is the proximity of the hills and mountains inland.
Visitors to this region can have the best of both worlds by staying in a rural villa or agriturismo property within day trip distance of the coast.
---
17. Zlatni Rat Beach, Croatia
Contributed by Mindful Travel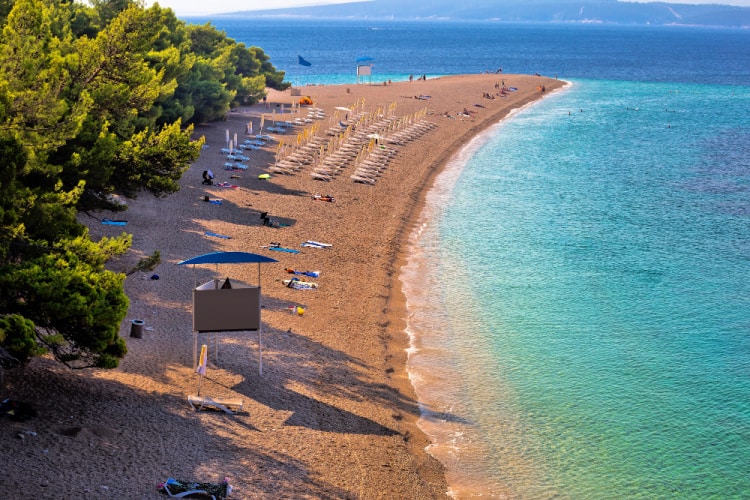 If you're looking for a family-friendly beach that offers fun and safe activities for the whole family, look no further than Zlatni Rat Beach!
Located on Brač island, one of the best islands on Croatia's Adriatic coast. This stunning beach was named one of the most beautiful beaches in Europe and is perfect for families with young children.
With its calm waves and easy access, it's sure to be an unforgettable experience.
Zlatni Rat Beach is located just south of Bol Town, making it easily accessible by car, which makes it ideal for those traveling with little ones who need to take regular breaks.
The parking area near the beach provides plenty of space, so there's no need to worry about finding a spot when you arrive.
Showers and sun loungers and umbrellas are available for rent. If you want to make sure you do have shade whilst on the beach, take along a beach tent. There are also toilets, but there is a fee.
The sandy shoreline stretches out into shallow waters making it a great place for toddlers to play with the sand and get their feet wet without worrying about strong currents or big waves coming up from behind them.
There are also plenty of places around the beach where you can grab lunch or dinner, like Mali Raj, serving traditional Croatian dishes like fish stew and grilled squid.
If needed, there are also toilets and showers located on the beach for your convenience.
Whether you're looking to relax and soak up the sun or explore the stunning surroundings, Zlatni Rat is sure to make your family vacation a memorable one!
---
18. Tropea, Italy
Contributed by Wanderlust with Kids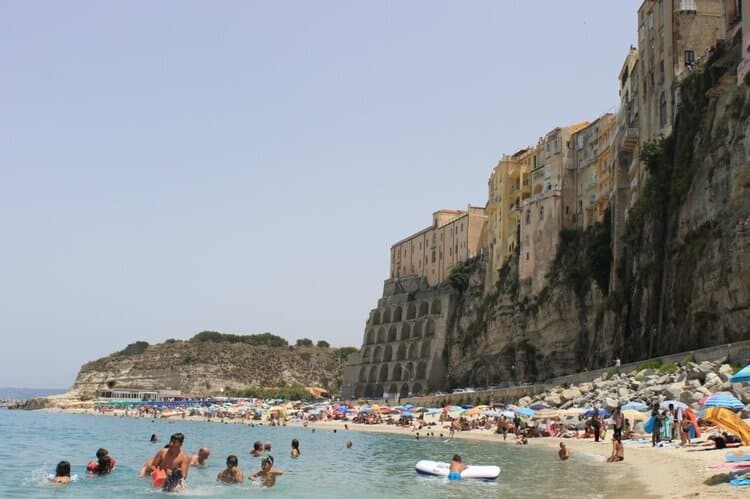 Located in the south of Italy, Tropea is well-known for its beautiful beaches. There are a few beaches in Tropea, but the main beach is one of the best and is a great option for families with kids.
Just down a set of steps from the center of town, the main beach boasts clean, clear water and long stretches of soft white sand.
The water at the beach is shallow, making it a great spot for kids to swim and play. My 3-year-old boys loved jumping and playing in the little waves while trying to body-surf.
The best time to visit Tropea's beaches is during the summer months, from June to August when the weather is warm and the sea is calm.
While it's a popular vacation spot in the summer, there is plenty of room on the beach for families to find a spot.
Umbrellas and chairs are available to rent on the beach, or there are plenty of shops in Tropea selling umbrellas and sand toys, and beach gear for kids.
The town of Tropea is up the steps from the main beach and there are plenty of restaurants and cafes there to enjoy a meal or snack.
There are also plenty of things to do in Tropea if you're looking to take a break from the beach.
Parking is available just outside the center of Tropea, about a 5-minute walk to the beach.
---
19. Menorca Beaches, Spain
Contributed by Le Long Weekend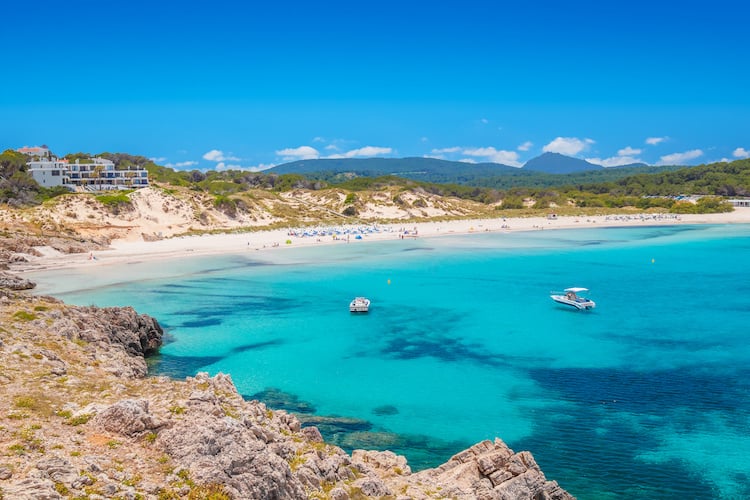 Of the many Balearic islands of Spain, Menorca is ideal for family getaways.
It is easily accessible from major European cities, inexpensive compared to its Mediterranean neighbors, and fairly compact, which makes exploring easy.
But perhaps most impressively, it's home to more than a hundred gorgeous sandy beaches.
Many of these pretty coves are family-friendly, but there are two in particular that our family love.
Son Bou in the South of the island is a 2.5km stretch of languid coastline that's mostly uninterrupted by development.
The water here is shallow and calm, and there are lifeguards patrolling in the summer.
There are also all the facilities you'll need such as a large parking lot, showers, toilets, and water sports on offer.
Just off the sand, you'll find nearby cafes and eateries ready to fill hungry tummies.
On the opposite side of the island, you'll find the tranquil Arenal de Son Saura in the quiet residential area of Son Parc.
My son loves floating about in the super shallow water here, "walking like a crab" on the soft pink-sand seabed, and going on pedalo rides.
There are lifeguards in the summer months, and a building at one end of the beach (near the car park) offers a cafe, toilets, and a tap for rinsing sandy feet.
Both places offers a host of accommodation options nearby, primarily in the form of family-friendly holiday apartments.
---
20. Beaches in Barcelona, Spain
Contributed by Bridges and Balloons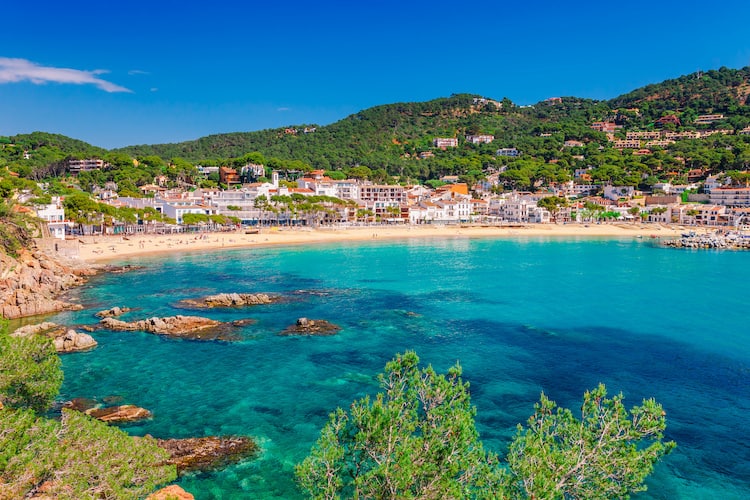 Barcelona is an amazing destination for families, combining the excitement of a historic, cosmopolitan city break with a beach holiday too.
Being on the coast, Barcelona has many beaches within the city and just outside.
The ones closer to the city, like Barceloneta, are manmade and can be quite dirty (both the sand and water) so aren't the best choice for families but they are fun if you just want a beachside walk and a quick dose of sand play.
All of Barcelona's beaches are smoke-free, which is a big bonus and helps with keeping things clean.
For a full day at the beach, it's better to head up the coast a bit to one of the Blue Flag beaches, such as Bogatell or Mar Bella. Or, even better, head out of the city to Sitges, Castelldefels, or further north along the Costa Brava.
We particularly love Llafranc, which has a pretty, enclosed bay and is ideal for paddling and great if you are traveling to Barcelona with a baby.
All of the beaches mentioned have plenty of places to eat and drink, as well as toilets and showers nearby.
The water in Barcelona and Costa Brava is comfortable for swimming from around May to September.
If visiting Barcelona with kids, we recommend staying at Hotel Barcelona Catedral as it's nice and central for sightseeing, plus they have a pool if the kids get tired of the beach.
---
21. La Grande Plage d'Hendraye, France
Contributed by Love Life Abroad
La Grande Plage d'Hendaye, on the Atlantic coast, is the perfect beach for families, especially if you have young children.
La Grande Plage d'Hendaye offers a shallow water beach for quite a while. Kids will be able to play in the water and walk around without being covered in water.
Plus, the waves are small. It's thus perfect for little ones. You may still see some surfers, but not as much as in Biarritz or other beaches.
The beach is wide and large. It's the largest beach in the Basque Country. It's over 3 km long.
During the summer, the water can go up to 23°C, making it one of the warmest in the area.
You'll find paid parking along the beach as well as outdoor showers and restrooms.
Hendaye is one of the many coastal towns of the Basque Country in Southern France, close to the Spanish border.
It's located 30 minutes away from Biarritz and 30 minutes away from San Sebastian in Spain.
It's the perfect home base for exploring the Basque Country. You'll also find a nice castle just outside the city, Château d'Abbadia, it is a great place to stop before or after enjoying the beach.
---
22. Tenby in Pembrokeshire, Wales
Contributed by The Wandering Quinn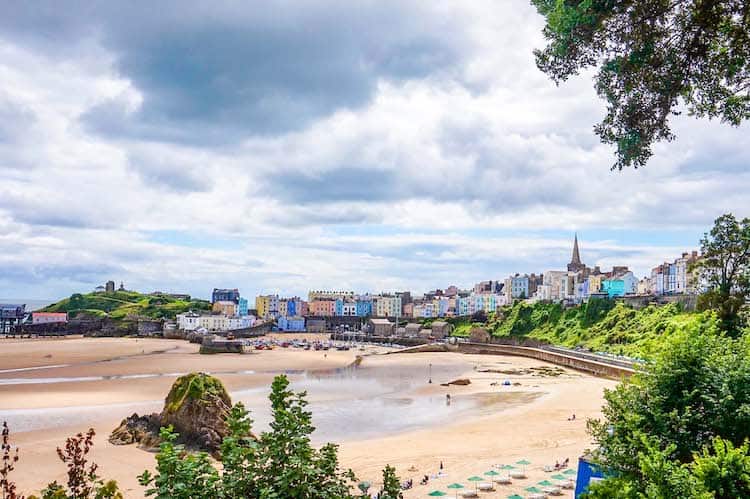 Tenby is located in the Southwest corner of Wales, UK in the area of Pembrokeshire, and has been a family seaside favorite for many years.
It's a 4.5-hour drive from London but there are many beautiful places to visit in South Wales on the way.
Tenby is perfect for families to visit because it is a small, walkable, and very colorful, town surrounded by 4 beaches, all of which are big sandy beaches with safe swimming areas.
The North & South beach are great beaches to start at as they are the biggest.
Due to Tenby being such a popular seaside resort in Wales, the whole town is catered for holidaymakers with plenty of car parks close to the town and beaches, restaurants, and cafes to suit all budgets and a range of accommodations in town and in nearby towns.
Kids of all ages enjoy Tenby as there are big, sandy beaches to play on, boat trips to nearby islands, castles to explore, and quirky shops to look around.
The only negative to holidaying in the UK is the potential bad weather, even in Summer, but if you hire a car you can easily drive the family to a nearby inside attraction.
---
23. Kotor Bay Beaches, Montenegro
Contributed by A Princess Travelling with Twins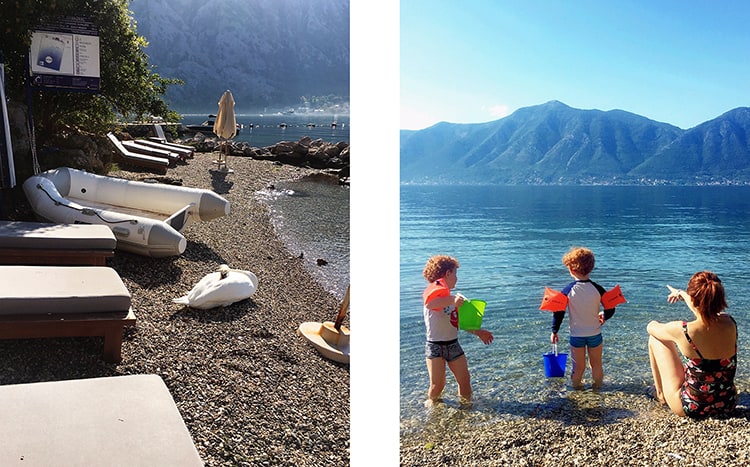 It will come as no surprise that the warm, vast Mediterranean beaches are a paradise for children.
The beaches of Montenegro are no less attractive, but with the advantage of Montenegro being still a nation living a little in the shadow of its more famous neighbors, it is relatively quiet even in the most popular summer months.
The most scenographic beaches are certainly those of the Bay of Kotor.
Imagine calm waters where the mountains sweep down to the sea, at dawn often wrapped in a little bit of fog that creates an ethereal atmosphere.
Some may argue that there are no beaches in the Bay of Kotor, and surely if you are looking for large stretches of sand you will need to look further south than Kotor.
In the Bay of Kotor however you will find enchanting small coves, mainly without sand but with small pebbles leading into shallow and calm waters, where children will love to see the small fish approaching the shore.
Some of these coves offer basic facilities like sun beds and umbrellas, in most cases managed by small hotels and guest houses that you can usually use for a small fee
Usually, it is very easy to park along the road and go down to the beach.
One of the best places to stay in Montenegro is the Casa del Mar Amfora Boutique Hotel. The little stretch of beach is a small paradise, nicely organized, and never crowded.
May to October offers the best weather although the water will be cooler outside of peak summer.
---
24. Porto de Mos in Lagos, Portugal
Contributed by The Algarve Family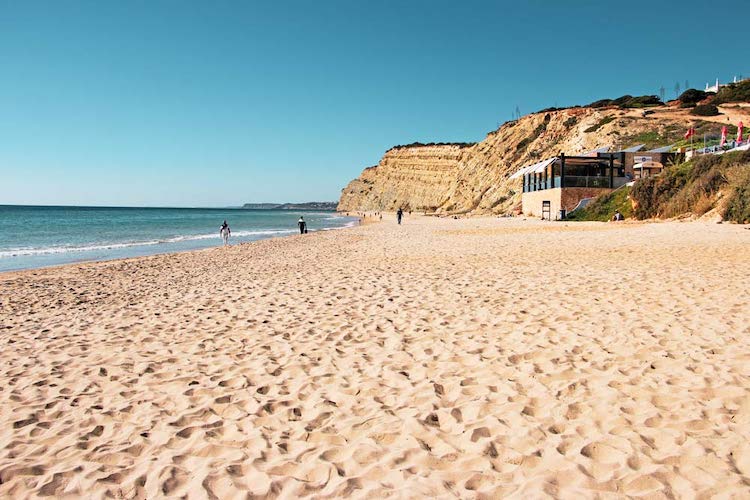 Praia do Porto de Mós is a beautiful beach with soft sand and great facilities, and is a fantastic beach for families to visit.
The second longest beach in the Lagos area has nice facilities and is good for watersports, long walks, or sunbathing.
The beach has a gentle slope and lifeguards are on duty in season, creating safe swimming conditions. We love swimming here in the summer.
Porto de Mos beach is more than a kilometer long backed by high limestone cliffs. There is lots of space for sunbathing and playing games even when it gets busy in the peak season.
Located in a protected bay there are calm conditions in summer most of the time. At these times this is also a nice beach for snorkeling and kayaking in calm water.
Porto de Mos is known to be a great spot to learn to surf when there are waves. Surf lessons are available for all ages on the beach. Surfers are not allowed in the general bathing area.
Guided kayak tours depart from here to the spectacular Ponte de Piedade in season.
Porto de Mos has very good facilities, a large parking area, and two restaurants located very close to the beach.
Public toilet facilities are available. Beach chairs and umbrellas are available in season.
The beautiful Belmar Spa and Beach Resort is located less than 5 minute's walk from the beach.
---
25. Beaches of Valencia, Spain
Contributed by Valencia Revealed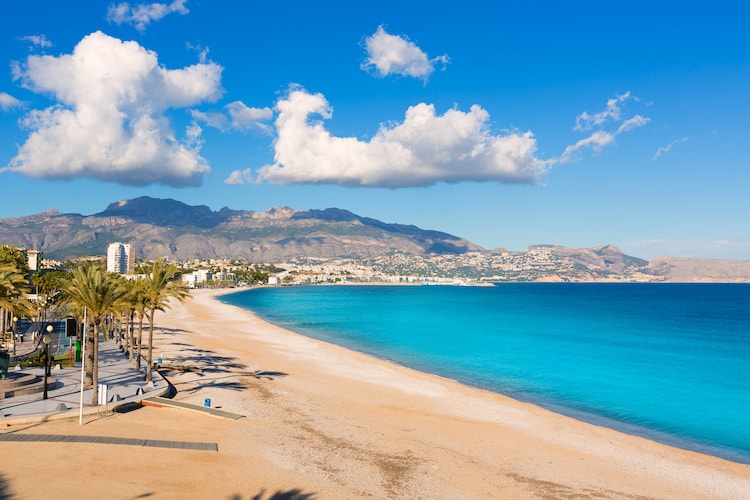 Valencia, located on the eastern coast, is famous for the beautiful beaches that attract tourists from all over the world making it a great family destination in Spain.
With its golden sand and clear blue waters, it is no surprise that it is considered one of the best sandy beaches in Europe for families.
The best time to visit the beaches of Valencia is between June and October when the weather is sunny and warm and the water is perfect for swimming.
Valencia's urban beaches are clean and well-maintained and your family will definitely find plenty of activities to enjoy.
Additionally, most of the beaches have facilities like showers and toilets, making it easy for families with kids.
You will find many restaurants and cafés along Malvarrosa Beach, but Patacona Beach tends to be less busy.
Both beaches have plenty of parking spaces nearby, although if you are staying in the city center, public transport is a much more convenient option.
If you're looking to stay close to the beach, you will find a range of family-friendly resorts and hotels that cater to all budgets.
One of the recommended resorts is the Las Arenas Balneario Resort, which is located right on the beach and offers excellent facilities for families, including a swimming pool and a spa.
---
26. Sounio, Greece
Contributed by World Wild Schooling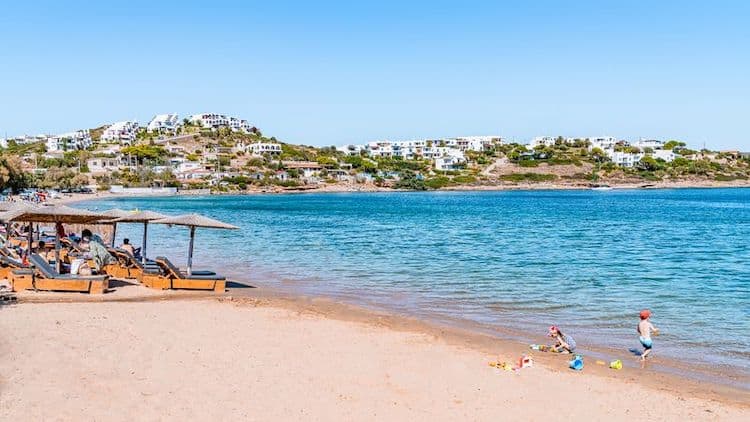 Pountazeza Beach is a hidden gem located near Cape Sounion. If you are planning a visit with kids to Cape Sounion and the famous Temple of Poseidon, be sure to add Pountazeza Beach to your itinerary.
The best time to visit the beach is from May to September when the weather in Greece is warm and sunny.
This family-friendly beach is perfect for kids of all ages, thanks to its shallow waters and sandy beach. Both our kids loved playing with the sand for hours and we were never worried as it's so shallow!
The bay has a narrow opening towards the Aegean Sea, so there are never any waves, making it a safe place for children to swim and play.
Additionally, there is parking right next to the beach, which is very convenient for families with young children.
Pountazeza Beach is an organized beach with sunbeds, umbrellas, and a beach bar serving decent food, such as seafood and Greek salad. The beach bar has a toilet, so you don't have to worry about finding a restroom.
If you need to rinse off, there are free showers available on the beach. If you are like us, always seeking some shade for the kids, the beach has plenty of trees providing ample shadow.
If you want to spend the day in style, you can rent sunbeds with umbrellas.
Nearby, there is also Grecotel Cape Sounion, a luxurious family-friendly resort complete with a kids club, private beach, and pool boasting as one of the best family beach resorts in Europe.
In conclusion, if you're looking for a family-friendly beach with plenty of amenities, Pountazeza Beach near Cape Sounion is the perfect destination.
With its shallow, calm waters, sandy beach, and convenient parking, it's an excellent place for kids to play and parents to relax.
---
27. Galissa Beach in Syros, Greece
Contributed by The Passport Explorers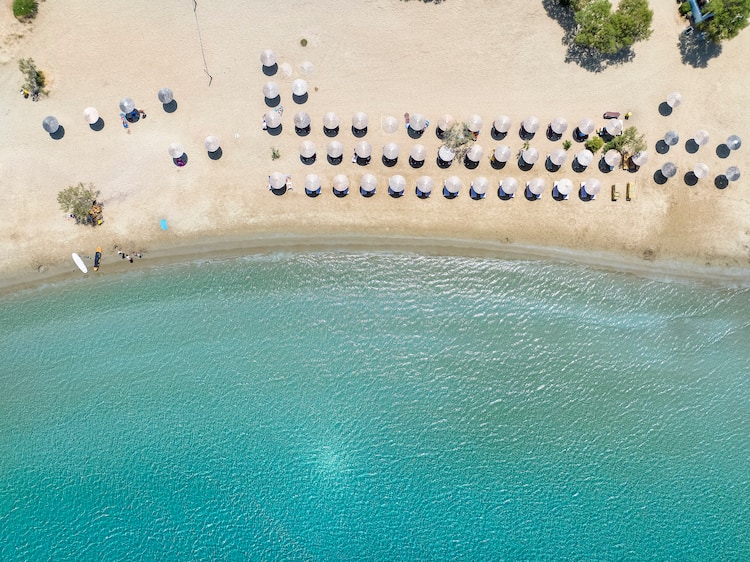 Galissas Beach in Syros Greece is a dream beach for families with young children.
With nice walkways and slatted wooden paths onto the sand, the beach is easily accessible for strollers as well.
My children loved playing in the long stretch of sandy shallow waters, which extends far into the sea with no big drop-offs.
The sheltered bay boasts a sea that is both calm and clear, making it ideal to keep an eye on small children.
During the summer months and into September, you'll find extra amenities at the beach, such as sunbed rentals with umbrellas to provide ample shade from the hot sun.
There are also a few restaurants that line the beach, as well as small food kiosks. Our family's restaurant of choice is aVentoura, which sits right on Galissas Beach.
For easy beach access, I recommend staying at the Dolphin Bay Family Beach Resort, which is situated directly across the street from Galissas Beach, with gorgeous views of the sea.
This resort was a favorite for our kids of all ages, who never wanted to leave the waterslide and looked forward to the free ice cream every day.
---
28. Bournemouth Beach, UK
Contributed by Slow Travel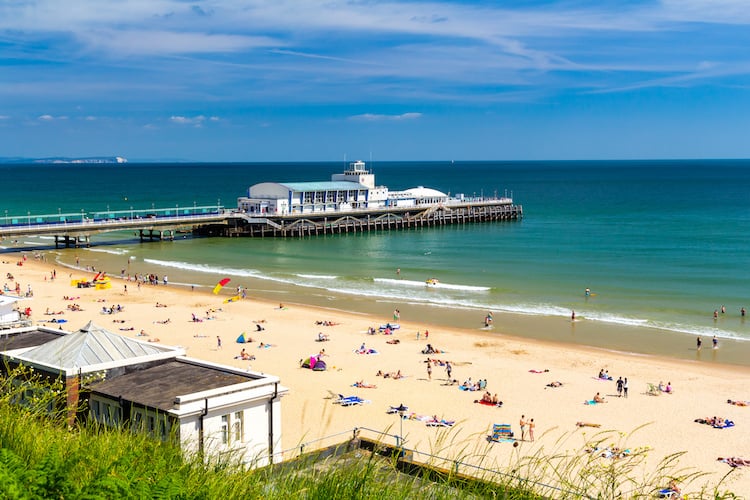 Bournemouth Beach on the southern coast of England is seven long miles of golden, sandy beaches in one of the best climates in the UK, particularly in the summer months.
A popular seaside destination for nearly 200 years, the area is packed with amenities and entertainment for families and kids of all ages.
The beaches are definitely a highlight for children with plenty of space to spread out and perfect for sandcastles, digging holes, and ball games.
The sea is very appealing, clear blue which is shallow enough for paddling and swimming, all under the watchful eye of the lifeguards who have regular stations along the beach.
Behind the beach are rows of colorful beach huts, many of which you can rent by the day or the week and which my kids loved as it gives you a base for all of your stuff as well as somewhere shady to go when you need to.
They are the ideal spot to sit and watch people wandering past, have a BBQ or just enjoy an ice cream in peace.
Bournemouth has a traditional pier which is perfect for when kids are tired of the beach. Filled with arcade games as well as an indoor play center and a zip line and high lines for older kids.
There is a huge choice of restaurants and cafes along the beach, as well as public loos and showers.
Bournemouth is full of hotels, many of which have swimming pools, family rooms, free parking, and all-day kid's menus in their restaurants.
Try the Hotel Collingwood, but wherever you stay, this is the perfect location for a traditional British seaside holiday.
---
29. Santa Severa Beach
Contributed by Travel Connect Experience
The beach of Santa Severa, also known as "castle beach," is one of the most beautiful beaches north of Rome.
The main reason it attracts families with children is the quality of the water, which is spotlessly clean.
During the early morning hours, the water is so flat that it looks like a swimming pool.
The beach has soft golden sand, perfect if you want to pitch a beach umbrella.
There are also beach clubs if you need to rent beach beds, but a large section of the beach is public.
The presence, close to the beach, of the 15th-century Santa Severa Castle, makes the beach profile even more fascinating.
The castle is now open to the public as a museum. Some of the castle courtyards and the toilets can be accessed without having to pay an entrance fee.
The restaurant-bistro, "L'Isola del Pescatore," is a landmark for those who want to have a sandwich or a seafood pasta dish.
Since this location is perfect for spending pleasant vacations in Italy in the summer, consider staying here for a while.
You'll easily find hotels or vacation rentals in nearby Santa Marinella, such as Villino Emanuele.
The best way to get to Santa Severa Beach is by own car. There is an affordable paid parking lot near the beach, but it is not shaded, so equip your car with a sunshade.
---
30. Family Lagoon Pearl Bay, Germany
Contributed by Only In Germany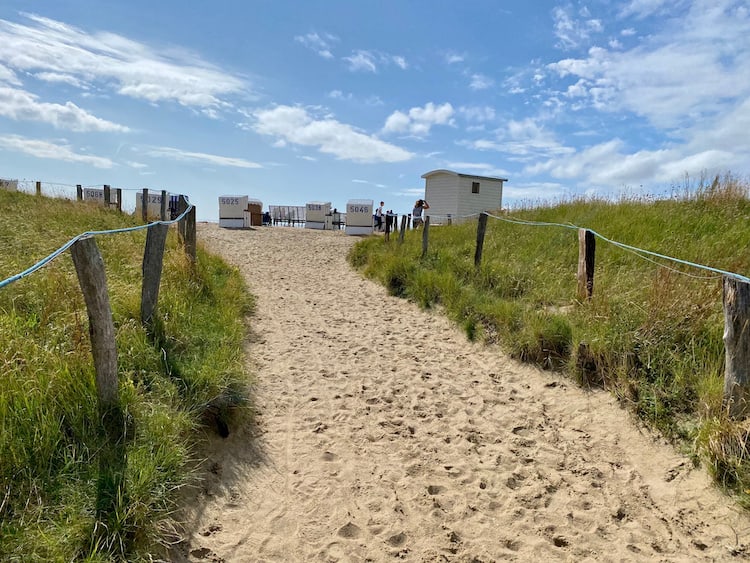 Family Lagoon Pearl Bay, known in German as Familienlagune Perlebucht, is one of the best beaches in Germany. It is a picturesque beach located on the German island of Büsum.
The beach is nestled in a protected lagoon, which makes it perfect for a family vacation.
The best time to visit Family Lagoon Pearl Bay is during the summer months, particularly from June to August when the weather is warm and sunny.
The water temperature is also perfect for swimming during this time, making it a great destination for families looking for a beach vacation.
The beach itself is stunning, with crystal-clear waters and soft, white sand. The lagoon provides a calm and safe environment for children of all ages to swim, play and explore.
There are also plenty of other activities to keep kids entertained, such as building sandcastles, flying kites, and exploring the nearby dunes.
In terms of facilities, there is ample parking close to the beach, as well as clean toilet facilities and outdoor showers.
There are also several restaurants and cafes nearby, which offer a range of delicious snacks and meals, perfect for a family day out.
If you're looking for accommodation close to Family Lagoon Pearl Bay, we recommend staying at the Lighthouse Hotel & Spa.
This family-friendly hotel offers spacious and comfortable rooms, a range of activities for children, and direct access to the beach.
Your kids will love the resort's indoor and outdoor pools, and the nearby playground, while you can relax and unwind in the spa.
Overall, Family Lagoon Pearl Bay is the perfect destination for a family vacation. With its calm waters, soft sand, and range of activities, it's a place that the whole family will love.
---
Best Family Beach Holidays in Europe FAQs
Here are some answers to some of the most commonly asked questions about the Best Beaches in Europe for families.
1. Are beaches in Spain family-friendly?
Beaches in Spain are generally family-friendly. Many of the beaches are well-equipped with amenities such as showers, toilets, and changing rooms, and many also have lifeguards on duty during peak season.

In addition, most beaches in Spain have shallow water that is safe for children to swim in, and many beaches also offer activities and entertainment suitable for families such as water sports, beach volleyball, and playgrounds.
2. Is Spain or Italy better for a beach vacation?
Both Spain and Italy have some of the best beach locations in Europe each with its own unique characteristics and attractions.

Spain has a wide variety of beaches, from bustling urban beaches to secluded coves. The beaches tend to be sandier than Italy's, making them ideal for sunbathing and swimming.

Italy's beaches, on the other hand, are more rugged and rocky, but they offer breathtaking scenery and crystal-clear waters.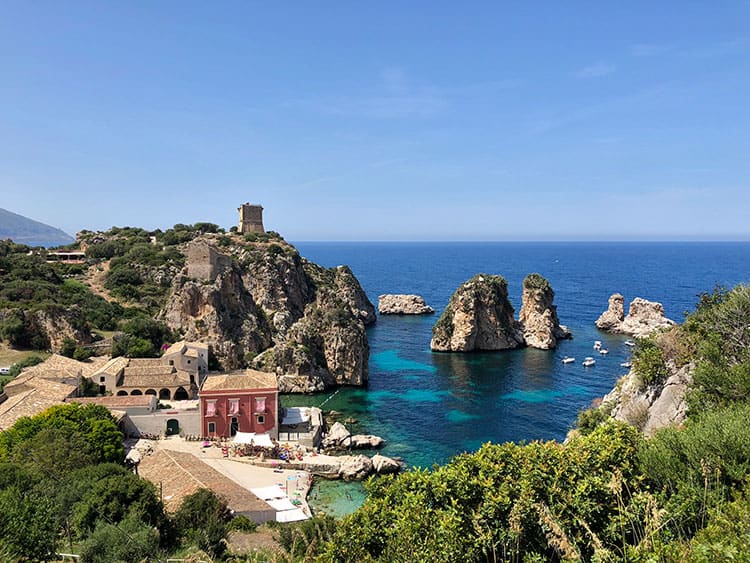 Italy's coastline is also dotted with charming seaside towns and villages, making it a great destination for those who want to combine beach time with cultural experiences.

Ultimately, the choice between Spain and Italy for a beach vacation comes down to personal preference and what you're looking for in a vacation.
3. What is the most visited beach in Europe?
The most visited beach in Europe is La Barceloneta Beach in Barcelona, Spain.

It is a popular destination among tourists and locals alike due to its convenient location, vibrant atmosphere, and wide range of amenities and activities.
4. Who has better beaches Portugal or Spain?
Portugal's beaches are known for their dramatic cliffs, rugged coastlines, and clear waters.

While Spain's beaches tend to be wider, sandier, and more diverse, with a range of options from urban beaches to quiet coves.
5. Are beaches better in Italy or Greece?
The Greek islands, particularly Mykonos, Santorini, Kefalonia, and Crete, are known for their gorgeous beaches, and there are many secluded coves and hidden bays to explore.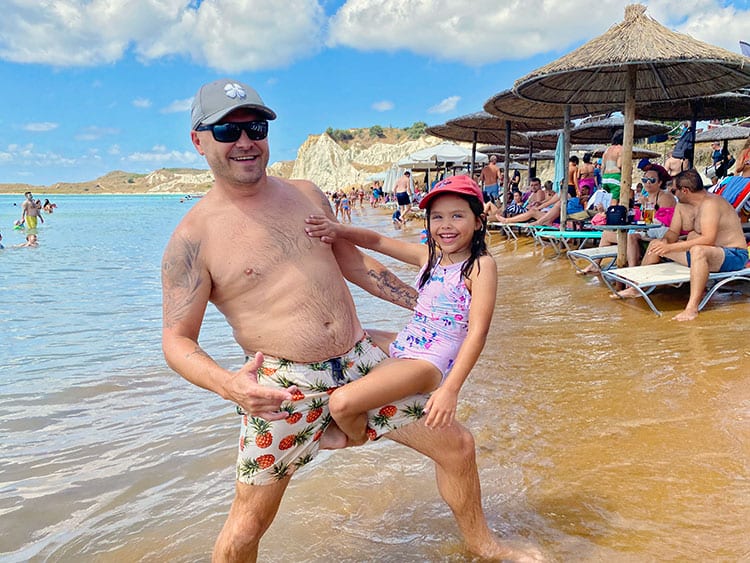 Whereas, Italy's beaches are a mix of pebbles and sand and tend to be rockier although Italy has some stunning scenery so is a great destination to combine sun, sea, and cultural experiences.
---
Final Thoughts on the Best Beach in Europe for Families
This list of the best beach holidays in Europe for families offers something for everyone.
Whether you're looking for shallow, calm waters for your little ones to paddle in or a lively beach atmosphere with plenty of restaurants and cafes.
From Menorca's Son Bou and Arenal de Son Saura to Barcelona's Barceloneta and Costa Brava's Llafranc, there are plenty of beautiful beaches to explore.
These European beach destinations are perfect for family travel and include some of the best beach resorts in Europe for families.
What are you waiting for? Pack your bags and get ready to make some beautiful family memories at one of Europe's best beaches!
Whatever beach you choose, remember to pack plenty of sun cream, and don't forget your swimming costumes and sandals too! Have a great time!