Rome, the Eternal City, is one of the most beautiful and historic places in the world! Something is bound to take your breath away around every corner. Exploring a city that strove for centuries to attain perfection in beauty, sciences, and philosophy is a rare and exquisite opportunity.
With so much to see and do, it's difficult to decide what to visit in Rome! We've put together a Rome in 2 days itinerary so that you can make the most of your trip, even with a short time to spend.
Some of the stops are more off-the-map so that you can experience Rome without throngs of people, while others are classics that simply cannot be missed!
Rome in 2 Days Itinerary
With this packed Rome itinerary, you'll leave the ancient metropolis with sore feet, happy heart and a head full of memories. It is a great way to get a quick look at this beautiful Italian city!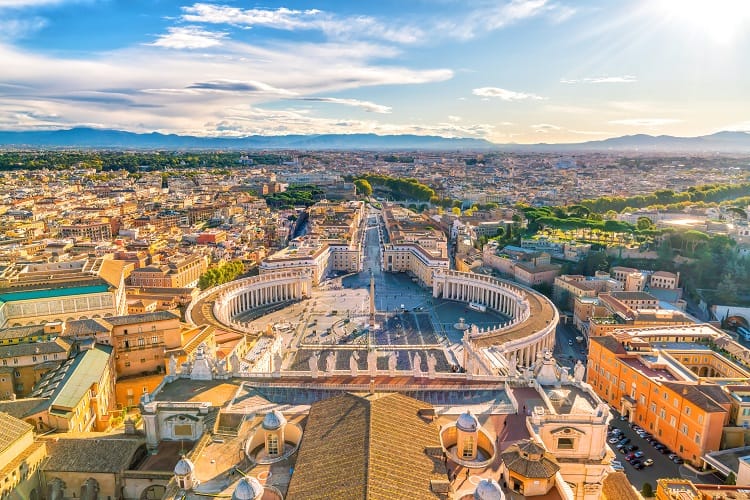 If you're planning to tick off a few Italian destinations on your trip, check out our Italy travel blog for tips and resources!
---
2 Days in Rome – Day 1
When planning a vacation in Italy, it's difficult to decide how many days to spend in Rome. If you can only take off so much time for work, and you want to explore stunning Italy, we suggest you dedicate 2 days to the city!
Doing Rome in two days allows you to cross off the top attractions and most interesting stops. With some of the best of what to see in Rome in 2 days, day 1 is packed with easy to reach stops!
You can easily walk to all of them, making it convenient and comfortable. Just grab a map from your hotel, and map out the stops before you leave in the morning.
1. The Colosseum
The Colosseum is naturally the first stop on the list! Even for those spending one day in Rome, this ancient architectural marvel is a must-see.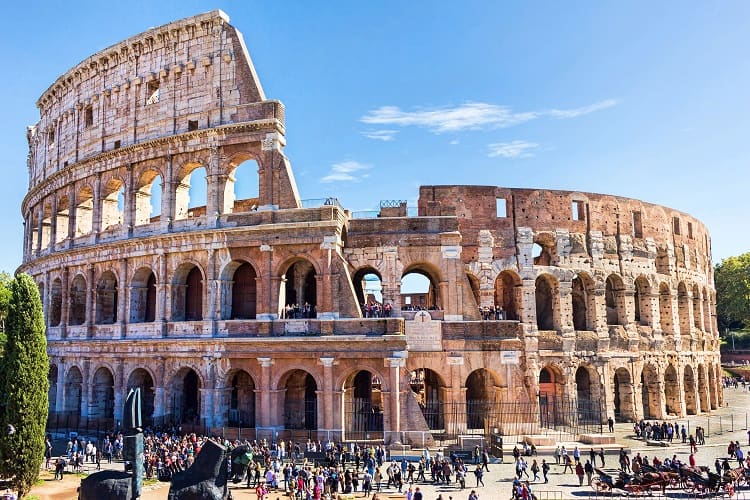 We knew that the Colosseum would be impressive.  We had heard the stories, we had seen seriously amazing pictures on the net and in magazines. But you know what!?
We did not expect it to be as impressive … as magnificent … as perfect as we found this historic place to be. The outside is incredibly striking, but it's the structure's interior that will blow you away.
Be sure to book a guided tour – there is so much you will want to know about the Colosseum's rich history, that it's more than worth it!
Cost: from USD $13
Length of time: ~ 2 hours
Best Selling Tours: Check out the Viator Colosseum Tour here, or get your priority tickets at GetYourGuide Colosseum Tour here.
---
2. Arch of Constantine
The Arch of Constantine lies just outside of the Colosseum, making it the perfect next stop for your two days in Rome.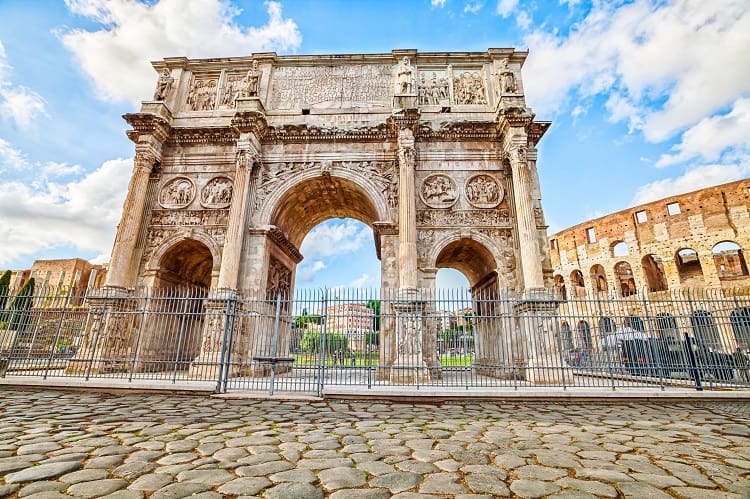 The famous Roman landmark is the largest triumphal arch still standing! It was dedicated in 315 AD to commemorate Constantine's victory in battle.
You can spend a good deal of time admiring the many minute details on the extravagant arch. They didn't hold back in the 4th century! It's a short stop, but well worth it.
Cost: Free
Length of time: 30 minutes
---
3. Roman Forum and Palantine Hill
Your next stop is the Roman Forum! It's a short walk from the Colosseum and the Arch. In fact, it provides great views of them, as much of it was built on Palantine Hill.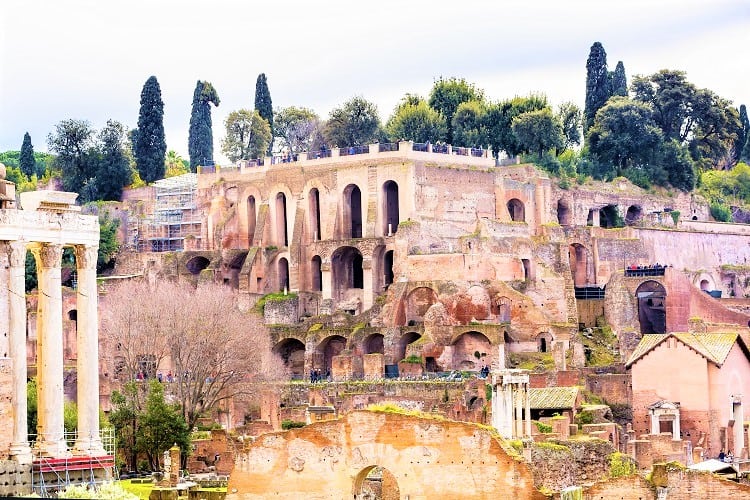 You can, and should, spend hours strolling through the Forum. But the best way to get a grasp on what the Forum could have looked like in its heyday, you can stand on the top of Palantine Hill, and look out over the sprawling forum.
It's a strenuous walk up the hill for some, but it's still early in the day and those views are so worth it!
The enormity of these ruins really does allow you to marvel at the Roman engineering and architectural designs. One feels incredibly tiny against these colossal ruins.
Cost: Included in Colosseum ticket
Length of time: 3-4 hours
Best Selling Tour: You can find a combined tour for the Colosseum and the Roman Forum here.
---
4. Mouth of Truth
Otherwise known as the Bocca della Verita, this landmark is relatively small but incredibly important to the Romans.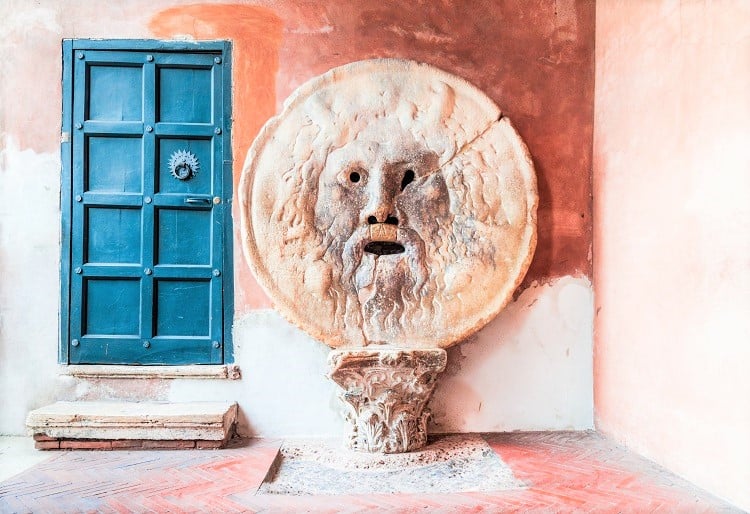 It's been leaning against the wall of a small Italian church since 1631! But there are dozens of legends surrounding the curious marble mask! You're bound to hear one or two while you're there.
Here you have to brave-up and shove your hand in the mouth of this statue which is believed to have been created to portray one of the Roman pagan gods.
The legend goes, that if you are a liar, you will lose your hand. But hopefully, you'll continue on your Rome 2 day itinerary with all your limbs!
The Mouth of Truth hours are 9:30 am to 5:50 pm, so you should get here towards the close of the day.
Cost: USD $3
Length of time: 30 minutes
---
5. Piazza della Bocca della Verità
While you're right here, head over to this incredible Piazza! The green oasis features multiple ancient monuments, like the Tempio di Portuno.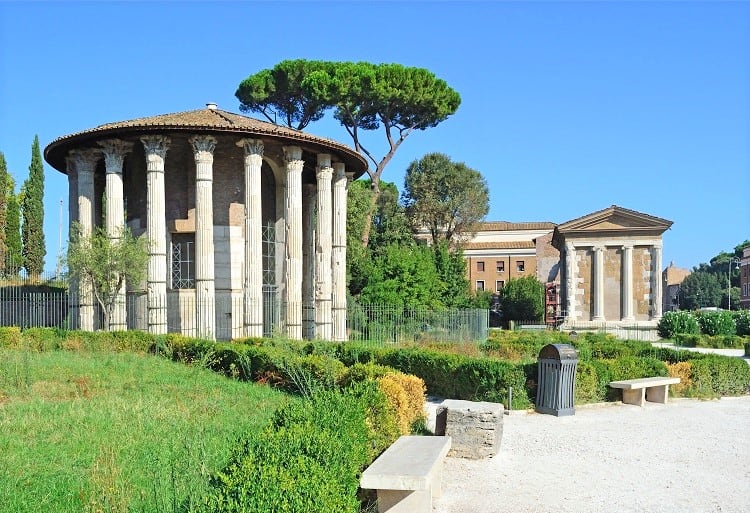 This 3rd/4th-century shrine is just one of the many dotting the Roman landscape! But it's so secluded and beautiful, you will want to spend some time just appreciating the opportunity to see it.
Here, you'll also find the Temple of Hercules Victor! These are two of the earliest examples of Roman architecture, and despite being free to access, they are remarkably well preserved.
You will be here in the evening, so you may even see the monuments lit up and glowing!
Cost: Free
Length of time: 1 hour
What to do in Rome at night?
Strolling around and seeing these monuments light up is one of the very best things to do in Rome at night. If your legs don't feel like they're about to give way, you can even join a tour.
Best Selling Rome Night Tours: 
With 2 nights in Rome, at least one should be spent touring the gorgeous city under the stars.
---
Day 2 in Rome
One your second day in the Eternal City you'll see more of the best of what to see in Rome for 2 days! Your feet may feel a little sore (seeing most of Rome in 2 days on foot can be tiring), but with no time to spare, we suggest you set out early in the morning.
Most attractions open at 8 am. Our first stop, however, is accessible 24/7, so you can get up and out even earlier!
But don't worry, whether you set out at 7 am or 9 am, you'll be able to tick off all the stops on your Rome itinerary for 2 days. The time you spend at each can be easily adjusted!
1. The Knights of Malta Keyhole and Aventine Hill
Strange, isn't it, to put a keyhole on an itinerary? But this stop is one of the most underrated yet interesting things to see in Rome in 2 days!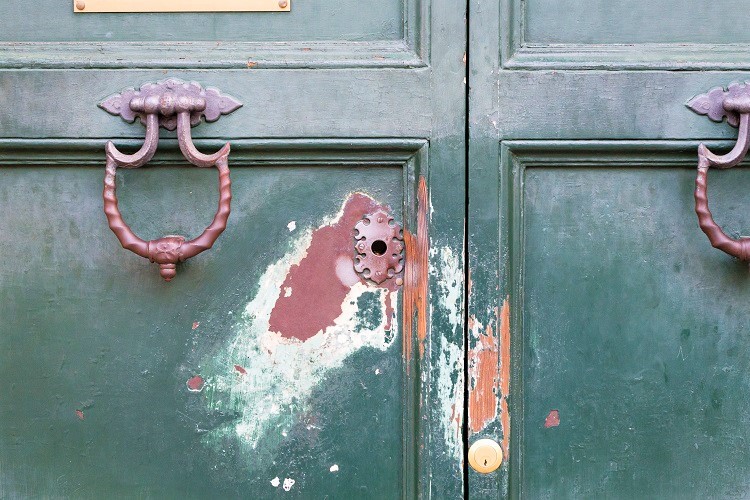 The view you find, with a tunnel of green hedges to help your eye focus on the absolute prize – the beautiful magnificent St. Peter's Basilica, perfectly centered at the end of the garden – is truly stunning!
I had to get another look after hubby had his turn, and if it was not for the mere fact that there were people in line behind us, I probably would have kept staring into this 'magical' keyhole for even longer.
That's why we've put it first on the itinerary. You'll avoid the crowds, and may even have this marvel all to yourself!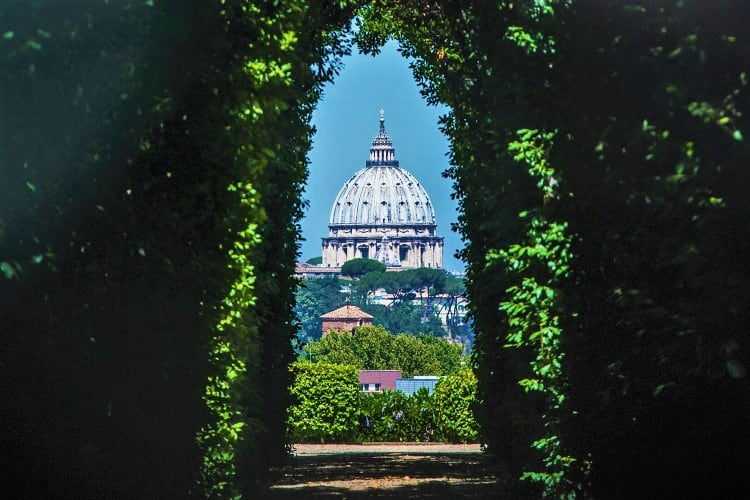 There is more to do here at Villa Malta, with a lovely orange grove garden, some beautiful shady trees and some seats to relax on. It's a perfect way to cool down after standing in the hot sun in the line for the door.
Stroll around the picturesque Aventine Hill to enjoy a greater appreciation for Rome's eternal beauty. You could even make your way here before sunrise, and watch the event from the hill! But that's only for the early wakers among us.
Cost: Free
Length of time: 1 hour
---
2. The Pantheon
The iconic Pantheon is another must-see stop, and one of the absolute best things to do in Rome in 2 days!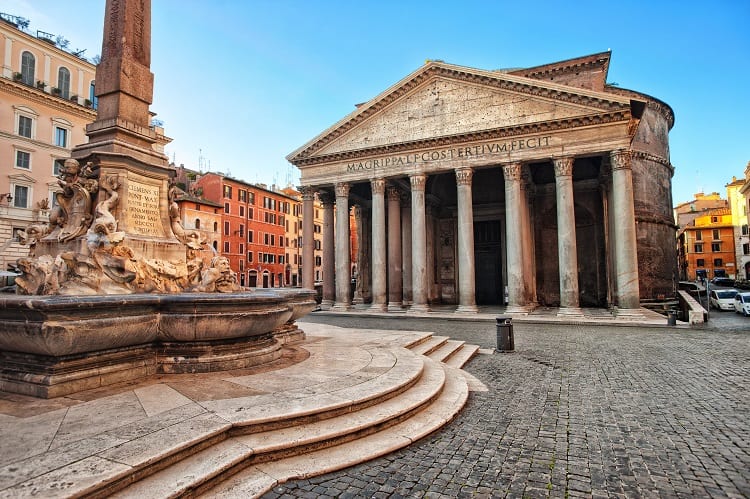 It's difficult to understand the marvel of this site until you are actually standing there under the pillars that seem to be touching the heavens.
Trying to wrap your head around how a dome, with a hole in the top, can stay put decade after decade, without any real support from the building itself. The engineering of this building will blow you away!
The Pantheon is usually busy, but nothing is taken away from its grandeur by the crowds. In fact, appreciating such an icon with others who are just as impressed as you are, can add to the experience! Especially because the lines go very quickly.
Cost: Free!
Length of time: 2 hours
Best Selling Tours:
---
3. Trevi Fountain
This glorious fountain is such a worthwhile stop! Almost 50 meters wide, the massive fountain is the most famous in the world! You may recognize it from iconic movies like Roman Holiday, or La Dolce Vita.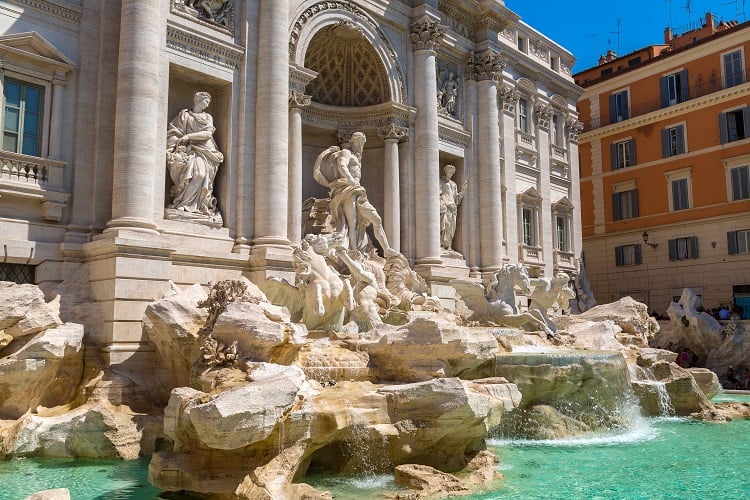 The Baroque monument showcases numerous beautiful sculptures designed by Italian architect Nicola Salvi. You'll feel a strong desire to wade in and admire them from up close, but unfortunately, you're not permitted beyond the fountain's edge.
What you can do, is toss a coin in to ensure you return to Rome! According to the legends, two will help you find love, and three symbolize wedding bells.
Cost: Free
Length of time: 30 Minutes
Best Selling Tours:
---
4. The Spanish Steps
What a glorious city Rome is, that a fountain, a keyhole, and a set of steps are so impeccably beautiful that they would be important stops for travelers from around the world!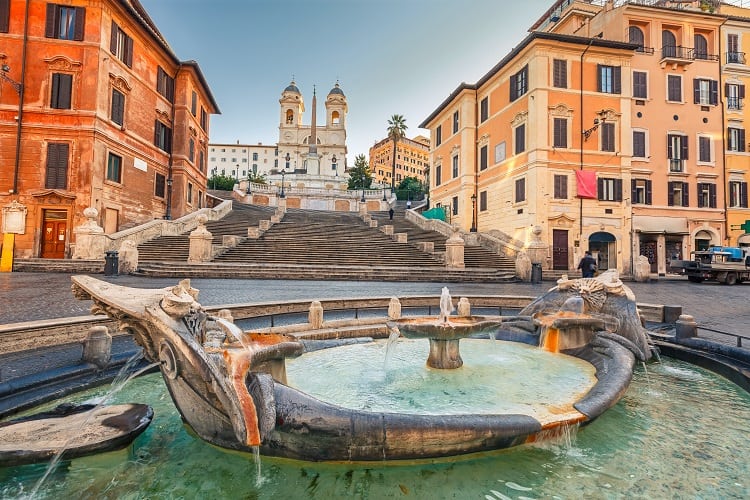 The Spanish Steps are iconic, a meeting place for artists and adventurers for centuries. Take a photo on the Steps, and relax your feet for a while as you listen to buskers and musicians who lend the place a perfectly timeless feel.
You can have a meal here – some pizza with this view goes down really well about now. You can also check out the brilliant English poet John Keats' house! It stands on the right of the steps and is now a pretty fascinating museum.
Cost: Free
Length of time: 1 hour
Best Selling Tour: Spanish Steps and Trevi Fountain walking tour.
---
5. Vatican City and St Peter's Basilica
No one could ever make a list of what to do in Rome in 2 days without the Vatican!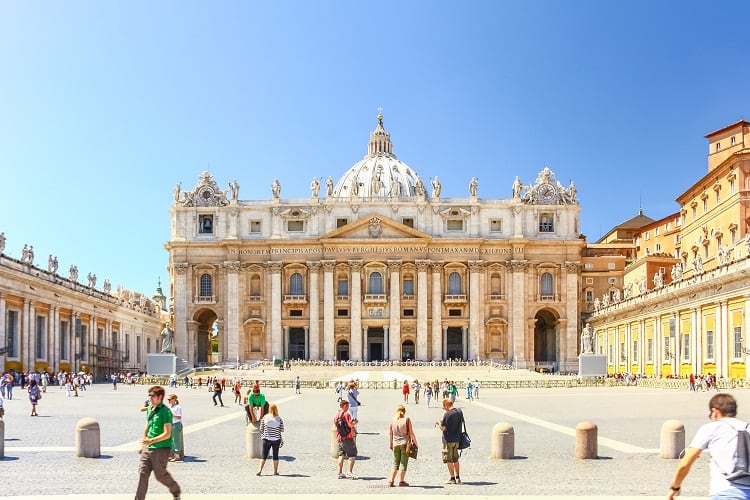 This is the last official stop on our Rome Itinerary so that you can avoid the crowds. The Vatican is open till 6 pm, with the final entry at 4 pm. Plenty of time to explore!
The Vatican is actually a country – but don't worry, you don't need a separate visa. Full of historical and artistic significance, the tiny country will leave you awed.
You could spend a whole day walking through this gorgeous place and admiring the many, many many fascinating artifacts and artworks! The guided tours, however, last 3 hours.
Cost: USD $50 for a skip-the-line ticket
Length of time: 3 hours
Best Selling Tours:
---
Conclusion
This itinerary will help you see all the best when you visit Rome in 2 days and will furnish you with some of your best memories! Leave Rome dreaming of painting the Vatican and battles in the Colosseum, or a magical world viewed through the Keyhole of Malta.
The stops have so much to see between them that you'll be snapping photos every few minutes. So be sure to pack a camera, as well as a good pair of walking shoes and some high SPF suncream!
Do you agree with our stops? What were your favorite places to see in Rome in 2 days?
If you're exploring Rome with your family, check out our post to see which is the best Rome family hotel on your visit to Rome.
---
Further Reading: