France boasts authentic sleepy villages, spectacular cuisines, unequaled wine tasting, Roman ruins, and of course, a rich and enviable history of some of the world's greatest artists such as Picasso, Cézanne, and Gauguin to name just but a few.
From the iconic streets of Paris and the iconic bazaars of Marseille to Cannes, the Mediterranean mecca of film stars, and Saint-Rémy-de-Provence, which is famous for being the birthplace of Nostradamus.
There's no shortage of great places for any adult to enjoy!
The lingering question, however, remains; can you travel to France with a baby or toddler in tow?
France with a Baby or Toddler Travel Guide
Ps. Click here to grab loads of baby/toddler travel tips. Here is a guide full of other ideas of where to go on a holiday with a baby?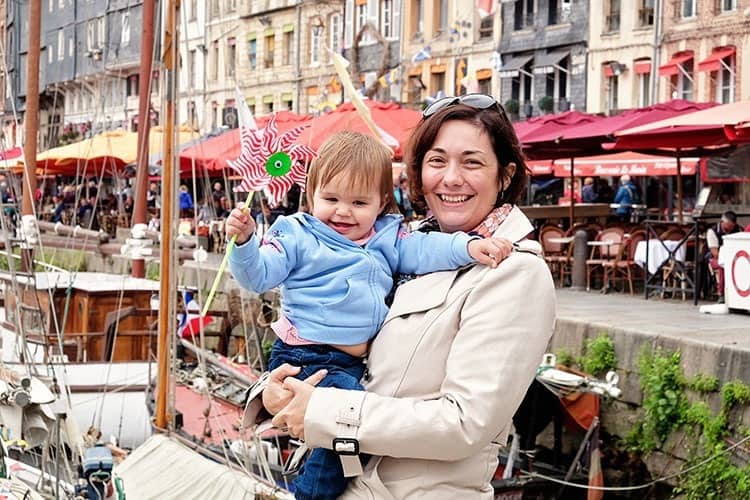 1. When to Go
July and August is the high tourist season in France, prices will double in comparison to other times of the year and popular destinations will be packed.
December to March is skiing season and the French Alps would be quite busy.
You should, however, remember that France is a diverse country and the weather varies from one region to the other.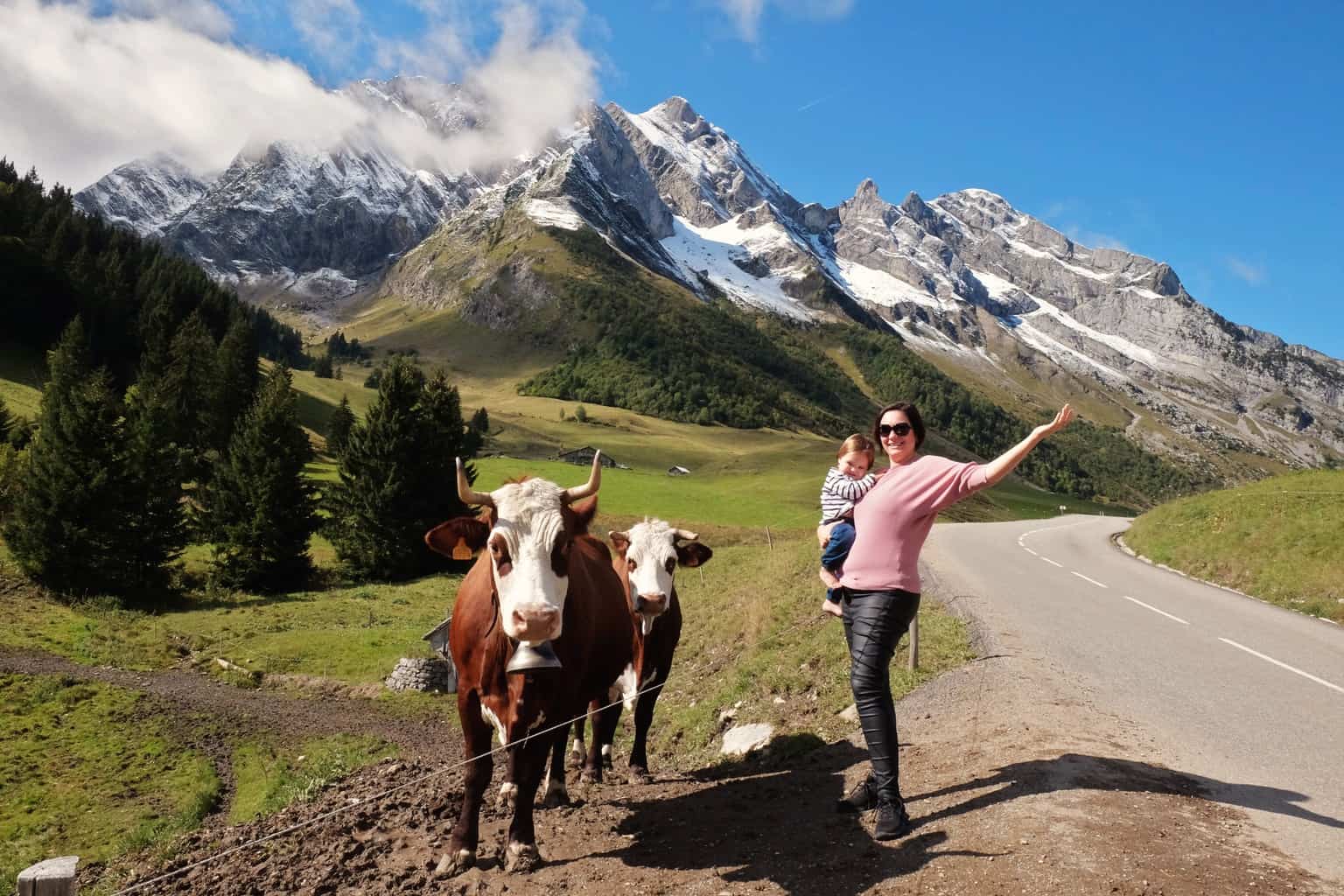 Therefore, choose when to go depending on what you and the baby want to enjoy.
Generally, you can consider going from April to June and September to November.
Remember to reserve hotels and restaurant in advance if you're planning to travel during high seasons periods.
2. What to Bring
Traveling with a baby requires you to bring specific travel baby gear (or toddler travel essentials), and it's no different when visiting France with a baby.
You may deliberate on the things to bring, but your decision should be significantly influenced by the importance of traveling light and also with the things that the baby will need, but are not efficiently available in France.
– Strollers or Carriers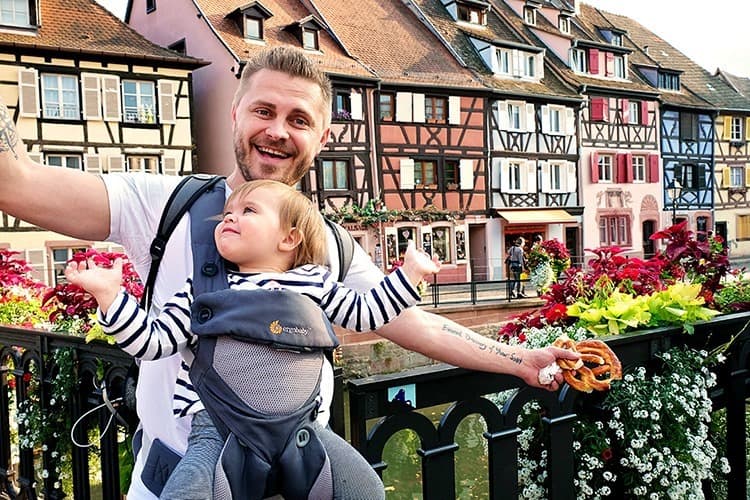 This may be surprising to you, but France is not a stroller-friendly nation. Getting around in many cities in France, especially Paris with a stroller is next to impossible.
Many places including Metro stations, buildings, hotels, cafés and museums have lots of steps so it's difficult to move around with a stroller. Elevators are also uncommon in many parts of France, making it even more difficult to go to tall buildings with a stroller.
Small towns also have beautiful cobblestone roads and alleys, which make stroller rides way too bumpy.
Consequently, you should consider bringing with you a carrier or a sling instead of (or at least together with) a stroller. We also prefer travelling with a backpack diaper bag to balance out the baby on the front.
If you have to bring a stroller with you, consider a lightweight umbrella stroller that you can easily fold-up in compact and overcrowded places.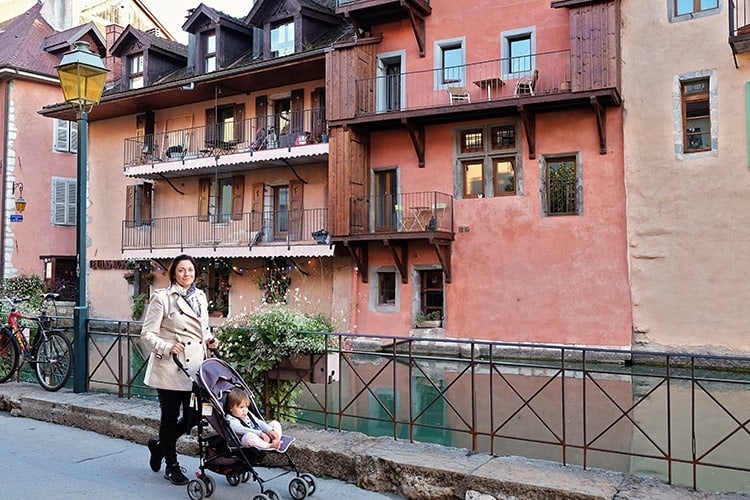 – Car Seats
Taxi's in France will not have a baby car seat (because legally they aren't required to have one).
So if you wish to have baby secure for taxi rides you might like to bring along your own car seat (A problem is that many French cab drivers are rudely impatient and may rush you while you're still installing the seat.)
We hired a car for our France road trip and simply grabbed a car seat from the car hire company.
Here is our guide to help you find the best travel car seat for your needs.
– Baby Formula, Diapers and Baby Food
Avez-vous du lait bébé? (Do you have baby milk?).
This is a question you'll ask a couple of times and the answer will always be encouraging. That's because many French supermarkets are remarkably well-stocked with virtually all baby supplies that you may need or find back home.
– Portable High Chair
You'll be shocked to find out that it's not in the French culture to provide high chairs in restaurants like it is common in North America and other parts of the world.
With that in mind, you should consider carrying with you a lightweight portable high chair for the baby or be prepared to balance your baby on your knee whilst you eat.
– Baby or Toddler Beach Shoes
It is a good idea to take baby beach shoes with you when you go on vacation with your baby (especially since many beaches in France as pretty rocky or full of large pebbles)
These beach shoes will help protect your baby's feet from the hot sand and sharp rocks at the beach.
With baby beach shoes, your baby will be comfortable, safe, and able to enjoy playing in the sand without worry. To help save you time, we have compiled a list of our favorite baby beach shoes (plus shoes for toddlers too).
3. Getting around France
– Metro and Train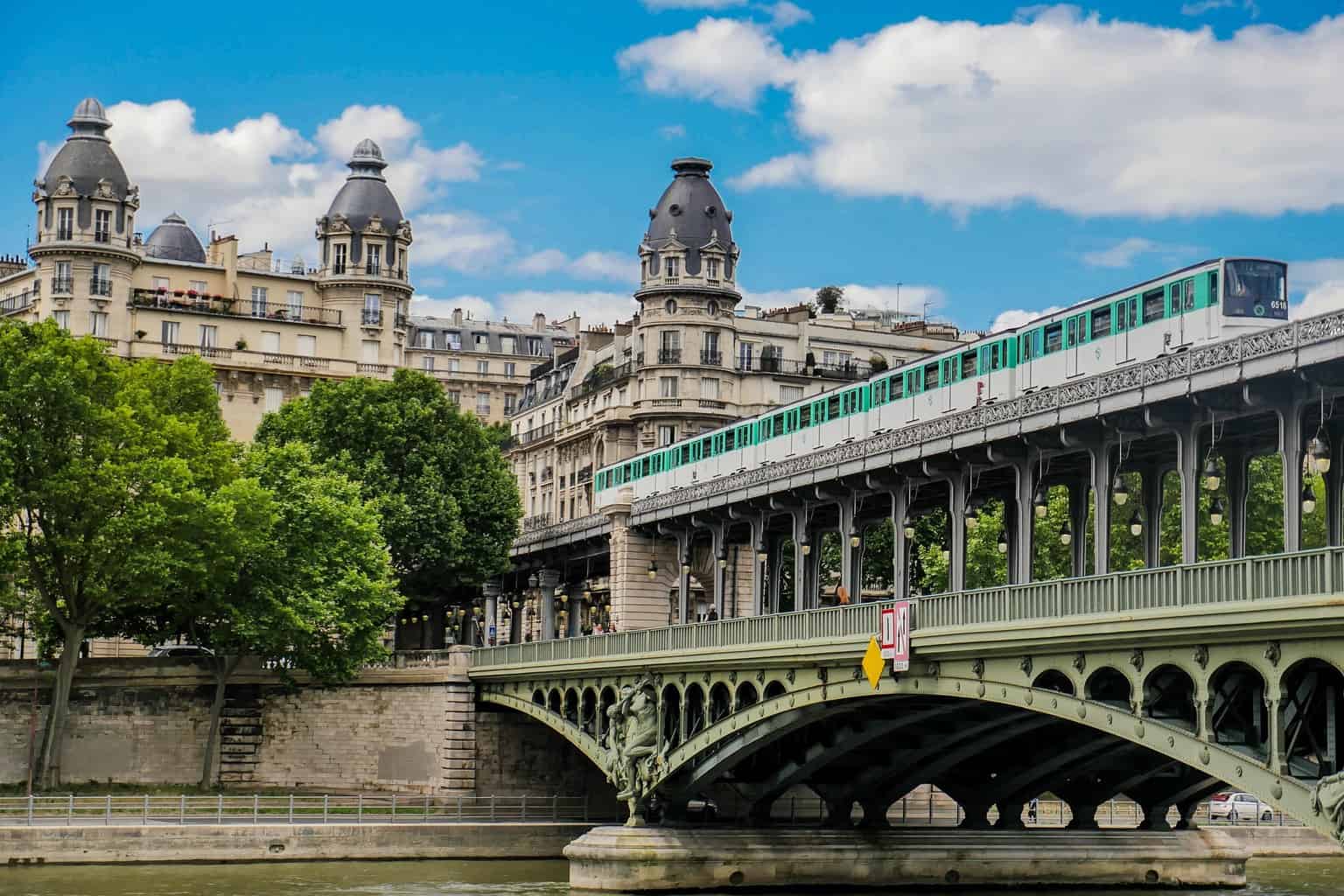 These are some of the good options to consider. They're not only convenient but are also cheap if you want to travel in a large country such as France.
If you are planning on making use of the trains, do ensure that pack light and that you take minimal luggage with you.
– Car Rental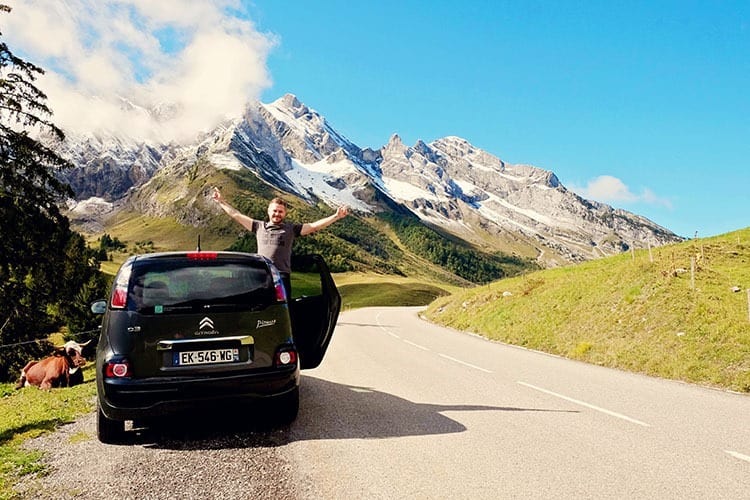 There are numerous car rental companies in France.
We decided to rent a car as it simply makes life so much easier. We dragged our luggage together with our baby onto trains in Japan and found it so tiring and challenging that we decided never to do that again!
Driving in France is really easy. Just be sure to stick to the speed limit – we received two nasty fines when we got back home.
You can compare car rental with Webjet to get an idea of how much it would cost.
– Taxis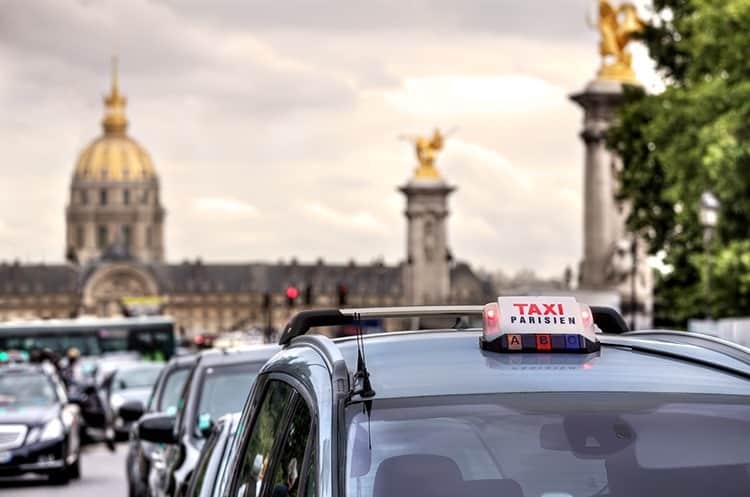 You can as well consider using taxis, but they're very busy and so you should consider booking them in advance. Remember; bringing your baby's car seat is very important.
We weren't fans of using taxis, we thought they were expensive and had some bad experiences with very rude taxi drivers.
So we much prefer using a rental car where we can.
4. What to Expect
– Restaurants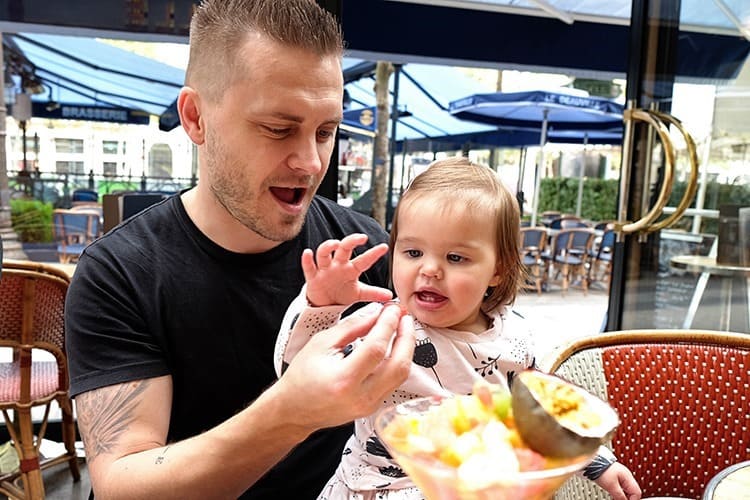 The French are widely known for their love with food and eat out a lot more often. They have some of the best dishes in the world, which you should obviously experience.
However, you should never expect high chairs in almost every part of France. This is where your portable high chair will be of great use.
It is also important to note that the restaurants only start serving dinner from 7 – 7:30 pm which can be pretty late for a little baby.
– Accommodation
There are various forms of accommodation that you can go to in France. They include; self-catering homes, villas, and hotels.
We personally preferred Airbnb homes and villas as are more affordable, more spacious and often comes with a baby crib, a kitchen, and a washing machine. We managed to get baby cribs for all of our Airbnb stays, but the hosts did request extra money for them.
If you choose to stay at a hotel, do check whether the hotel has baby-friendly amenities before making reservations. We often found that the hotels didn't have baby cots available or that the rooms were too small for a cot.
Here is a handy guide if you wish to take along your own portable travel crib.
Also, check if the accommodation has a lift or request a lower level room.
Further Reading:
– Baby Facilities
You'll be surprised that many places in France do not have baby changing facilities. You should be prepared to change your baby in the back of the car or in random spots.
So make sure you have disposable changing mats with you.
– Breastfeeding
You'll rarely see anybody breastfeeding in public, so I would recommend that you bring a cover-up so you can breastfeed more discreetly.
5. Best Regions for Kids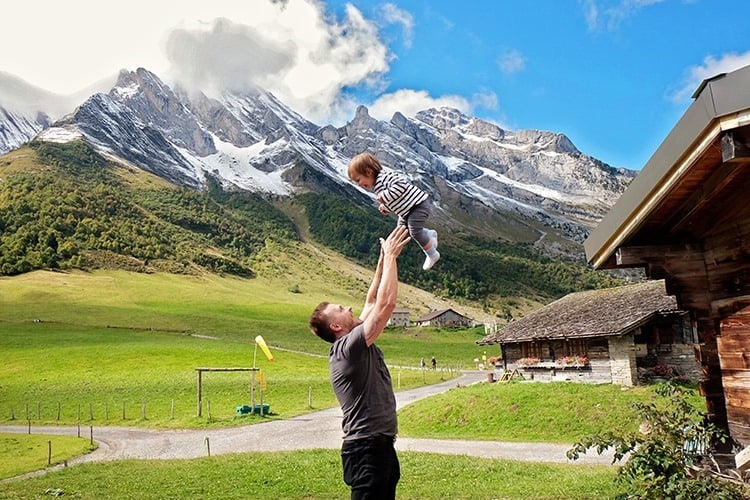 Some of the places that you may want to consider when traveling to France with a baby include, but are not limited to; Normandy, Brittany, Corsica, Monaco, French Riviera, French Alps and of course, the classic French countryside of Provence.
We were much more relaxed in smaller villages or in touristy cities such as Nice.
Going for a memorable holiday with a baby is always tough.
From finding a destination that's safe, baby-friendly, and not too strenuous a journey for the baby to ensuring that it's extraordinary enough to provide you with nice holiday snaps to embarrass your baby with for many years to come.
Fortunately, France comes close to being this destination.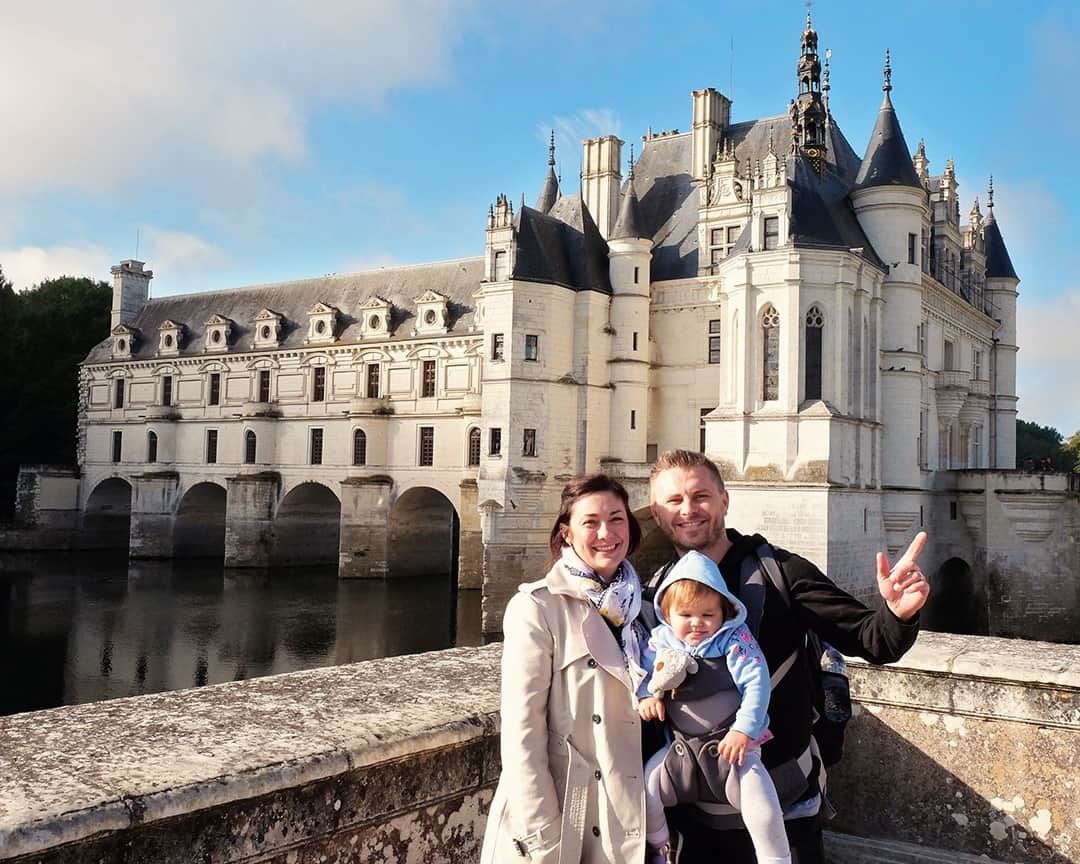 It's unquestionably the most diverse country in Europe. It has the ability to lure many people to its shores with its expansive natural beauty.
From having some of the most celebrated mountains (the French Alps) in the world to having Europe's finest coastlines, France remains one of the world's most distinguished travel destinations if not the most distinguished.
However, before heading out to France with your baby, using the above tips will make your travel much easier and very memorable.
Over to You:
Have to been to France with your baby? Do you have any tips to add?
Tip: