If you are looking for the best châteaux to visit in France, Loire Valley is the perfect place to find them.
Many of our favorite French castles are in the beautiful Loire Valley!
So do yourself a favor and add a few extra days to your France itinerary, so that you can visit at least a handful of splendid castles in Loire Valley, or if you are feeling a little French, 'Les châteaux de la Loire'!
Spanning over 280 kilometers of the longest river in central France, the Loire Valley, or Vallée de la Loire, is home to an astonishing 80 recorded châteaux.
Most of us don't have the time, or luxury, to visit all 80 of these castles.
So, it can be tricky to choose from such a wide selection and to come up with your own list of the best castles in Loire Valley to visit, especially with limited time and knowledge of the area.
Now before we hop into the list, I need to point out that the easiest way to visit these castles is by car.
You can enjoy some tours from Paris if you visiting on a day trip, however, if you are staying for a few nights in order to see most of these castles then we do recommend you rent a car so you have freedom to come and go as you please.
We love using Discover Cars to find our car rentals in France. It is a comparison site so it will pull in the best and cheapest prices for car rentals from all the most popular car rental companies in France.
BEST LOIRE VALLEY CAR RENTAL COMPANY: DISCOVER CARS
I recommend and use Discover Cars. They search through all rental companies to find and offer only the best deals.
So we thought we would help you out. Here is our list of the top 10 best Loire Valley châteaux – hand-picked just for you.
Our Guide to the Best Châteaux of the Loire Valley
Wondering which are the best chateaux to see in the Loire Valley?
If you want to know which castles are our favorites, watch our quick video of our top picks here.
For a personal selection of the best châteaux to visit in Loire Valley, take a look at our list of the top 10 Loire Valley castles.
1. Château de Chambord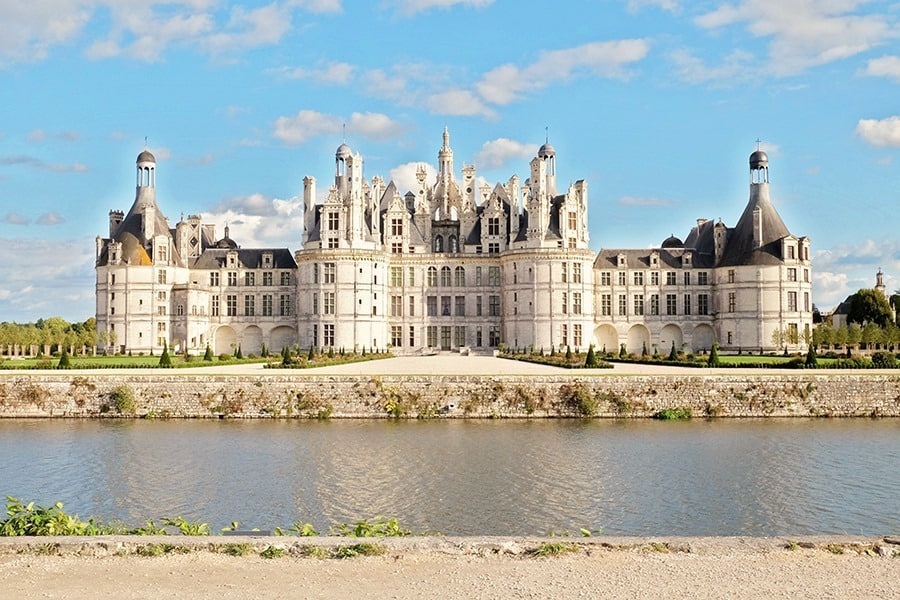 The Château de Chambord may just hold the crown as the best château in Loire Valley!
As the biggest château in France, and the most magnificent, it was constructed by King Francois I in 1519 as a purpose-built hunting lodge (and to impress foreign dignitaries).
A place of rich history and culture, each structural sector is included on a HistoPad, which will automatically use immersive Virtual Reality to give a visual suggestion of how the room would have looked when someone lived there.
Don't miss out on the chance to discover the unbelievable architecture of the castle, which is distinctive of the French Renaissance style.
One of the castle's most memorable features is the intricate double-helix staircase, where you can ascend on one side and never meet the eyes of someone on the other side until you reach the next floor.
From the 800 crowned salamander sigils carved into the stone ceiling to intricately woven tapestries that document kings hunting expeditions, enjoy a glimpse into history at one of the most famous castles in France.
Discover the history of how the salamander became a symbol of King Francois I, along with the motto, "I eat the good fire, I put out the bad".
While the interior is spectacular, the rooftop holds its own! It was designed to look like the skyline of Constantinople with a collection of impressive spires and chimneys.
Take in a panoramic view of this incredible castle from the château's immaculate gardens where you can take a carriage ride across the lawns just like a royal!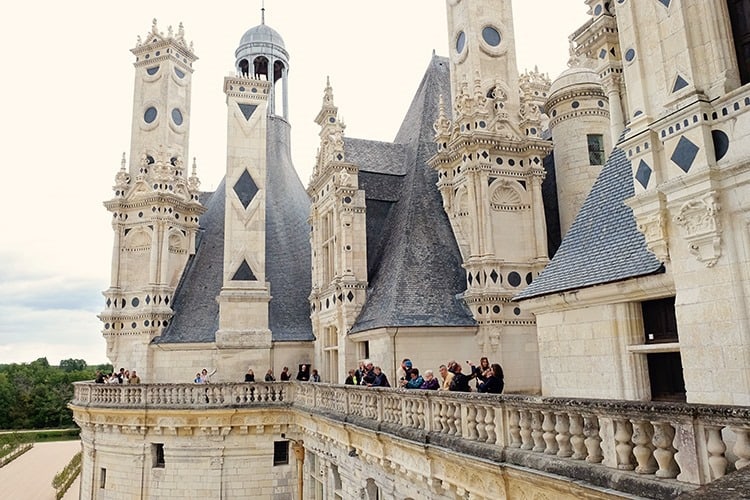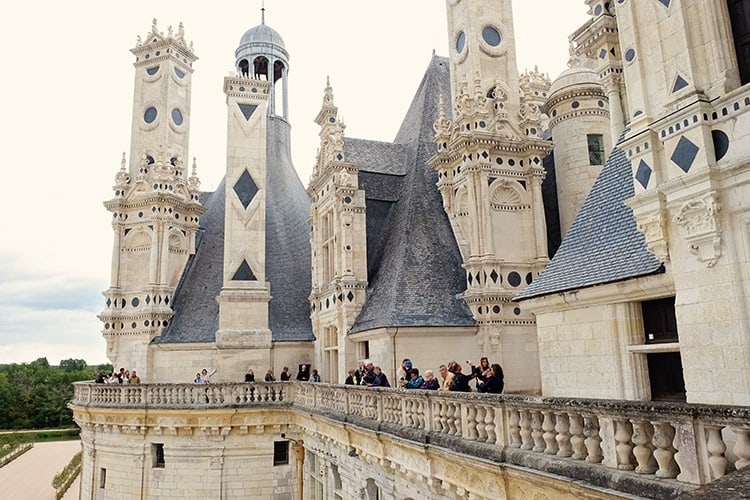 The Château de Chambord is our favorite castle, and possibly the best château in the Loire Valley. It is massive so make sure you allocate enough time to enjoy a stroll.

Make sure you head up the stairs and outside, where you can get a view over the gardens.

We're sure it will impress every single one of you!
Grab more information about this castle in our Chambord Castle Travel Guide.
Stay Near Château de Chambord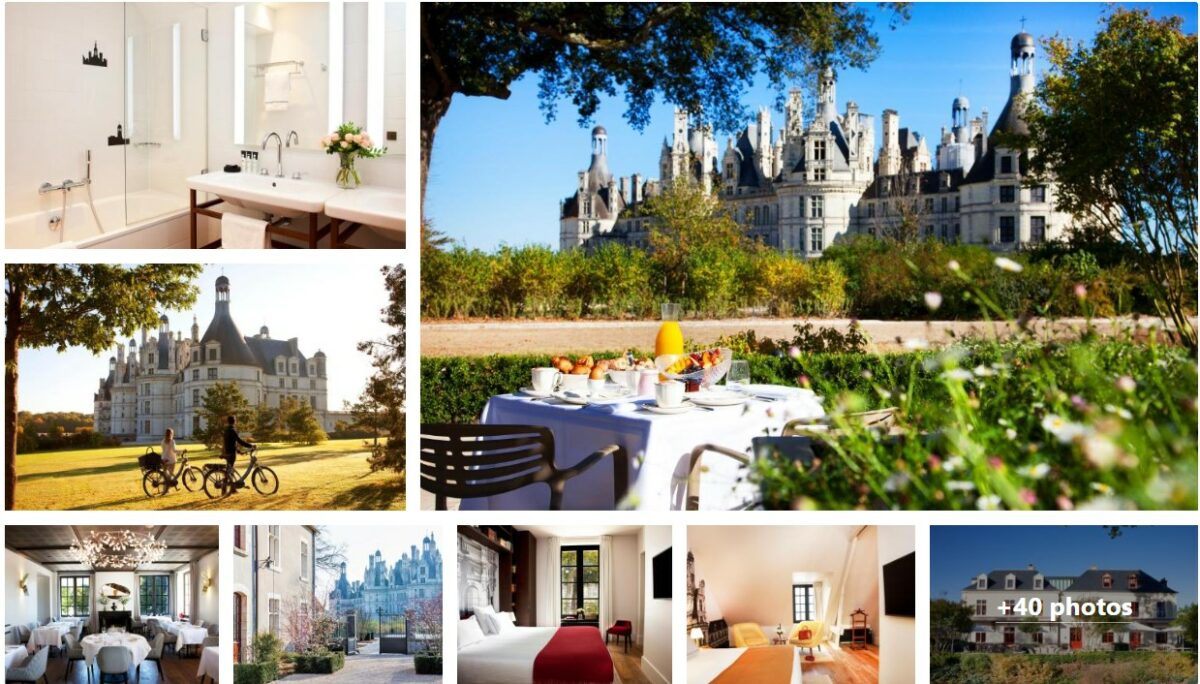 Want to feel like a princess or prince yourself? There is a GORGEOUS 4-star hotel located just 4-min by foot from the castle.
Relais de Chambord is a stunning hotel and what I absolutely love is that some rooms have views of the Chambord castle.
Imagine waking up and opening your curtains and having this castle for a view! Yes, please!
Make your time in the Loire Valley extra special. Check prices and availability at the Relais de Chambord here.
---
2. Château de Chenonceau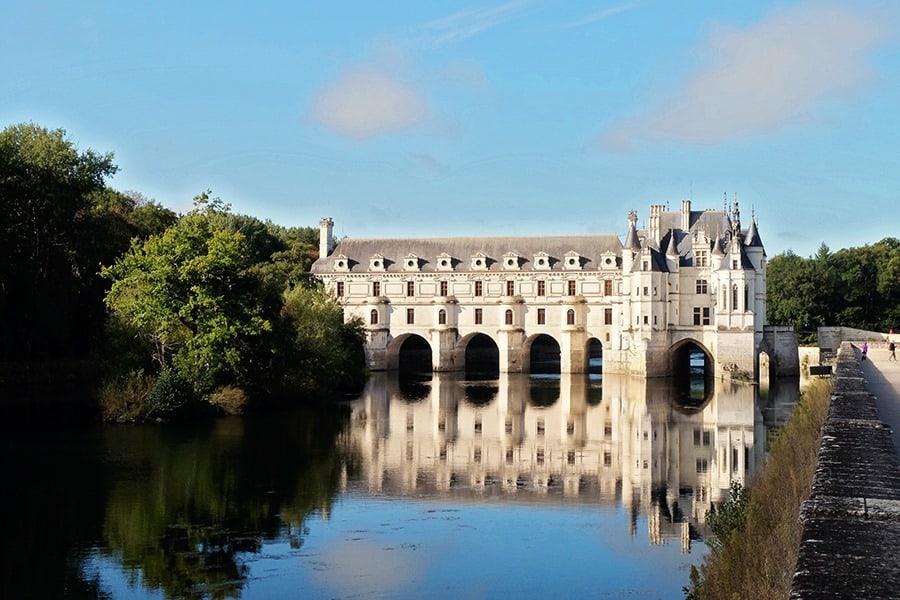 If you plan to awaken your inner history buff, why not make your way to one of the most fascinating mixes of Renaissance and Gothic architecture?
Built in the early 1500s by Thomas Bohier, the château is now a historical site, which greets its visitors every day with floral arrangements from the castle's on-site floral workshop.
The château spans the River Cher on an iconic bridge, which makes for an unbelievable photo.
🏆 BEST WAY TO SEE THE CASTLE
For an easy way to see this castle, simply join this popular tour (rated 4.5 stars from over 1000 reviews) from Paris. On this tour, you will visit the Chambord castle, tour the Chenonceau castle, and have some free time in Blois.
What will attract you the most is the guards' room, with its 16th-century fireplace, decorated by 16th-century tapestries, and a showing of exposed ceiling joists bearing the mark of 'C' for Catherine de Medici.
Subtle touches like this give a glimpse into the castle's history as the 'ladies château' where prominent women have shaped, restored, and protected the historic building for years.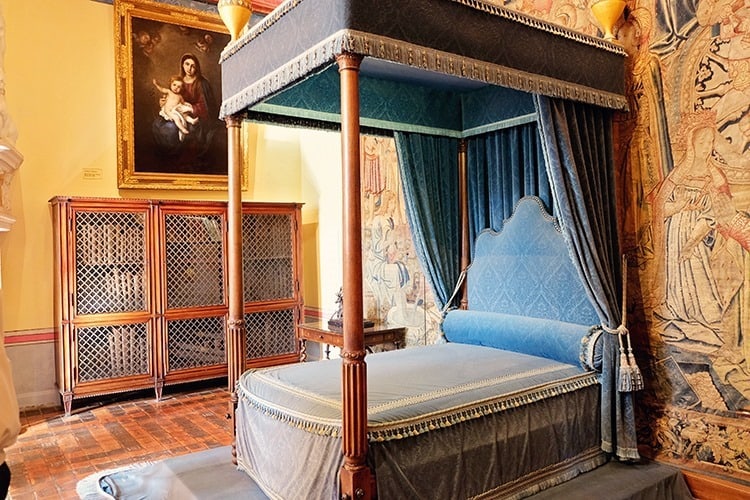 With a vast history, exquisite artwork, and tapestries, as well as gardens that will take your breath away, the château is truly spectacular!
You can secure tickets for this castle online here. You will also need to select a timeslot. (Kids under 7 are free).
If I could allocate a fairy tale princess to each of the castles, I would say the castle above 'Château de Chambord' belongs to Cinderella.

This castle has a tower on the side and I couldn't help thinking about Rapunzel being stuck up their and having to let down her hair.

The next castle on the list 'Château de Chaumont-sur-Loire' in surrounded by beautiful trees and gardens and surely it must belong to Snow White.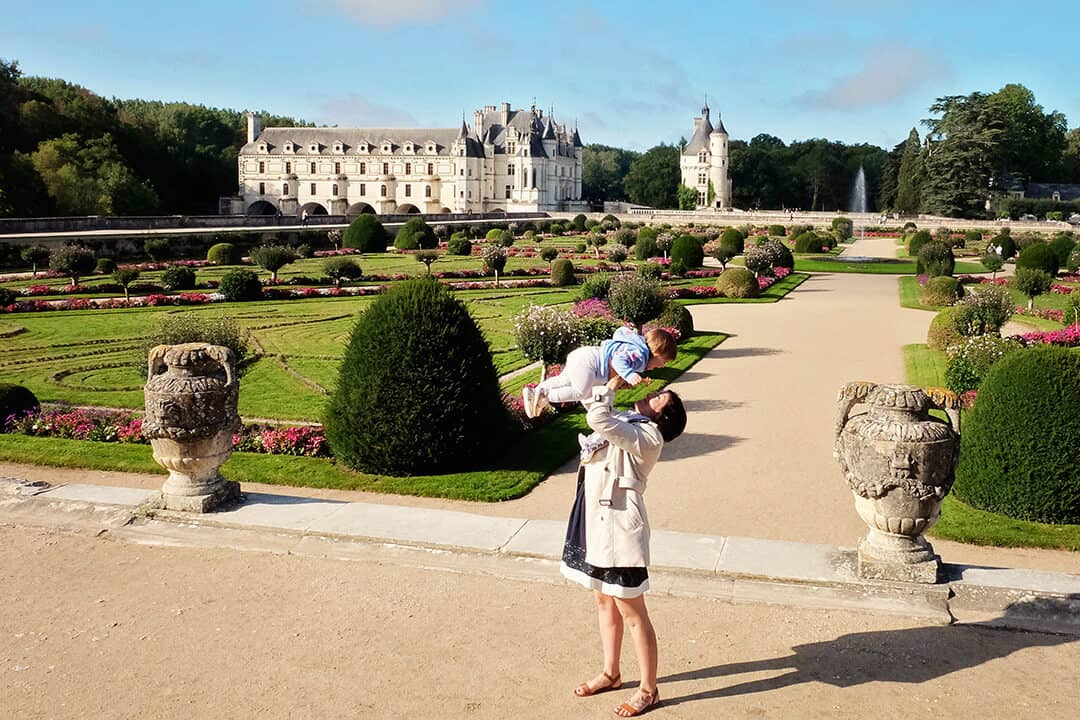 Make sure to enjoy the audio tour inside the castle if you want to learn more about its fascinating history.
If you plan on visiting this beautiful castle, you may find our Château de Chenonceau travel guide useful.
Stay Near Château de Chenonceau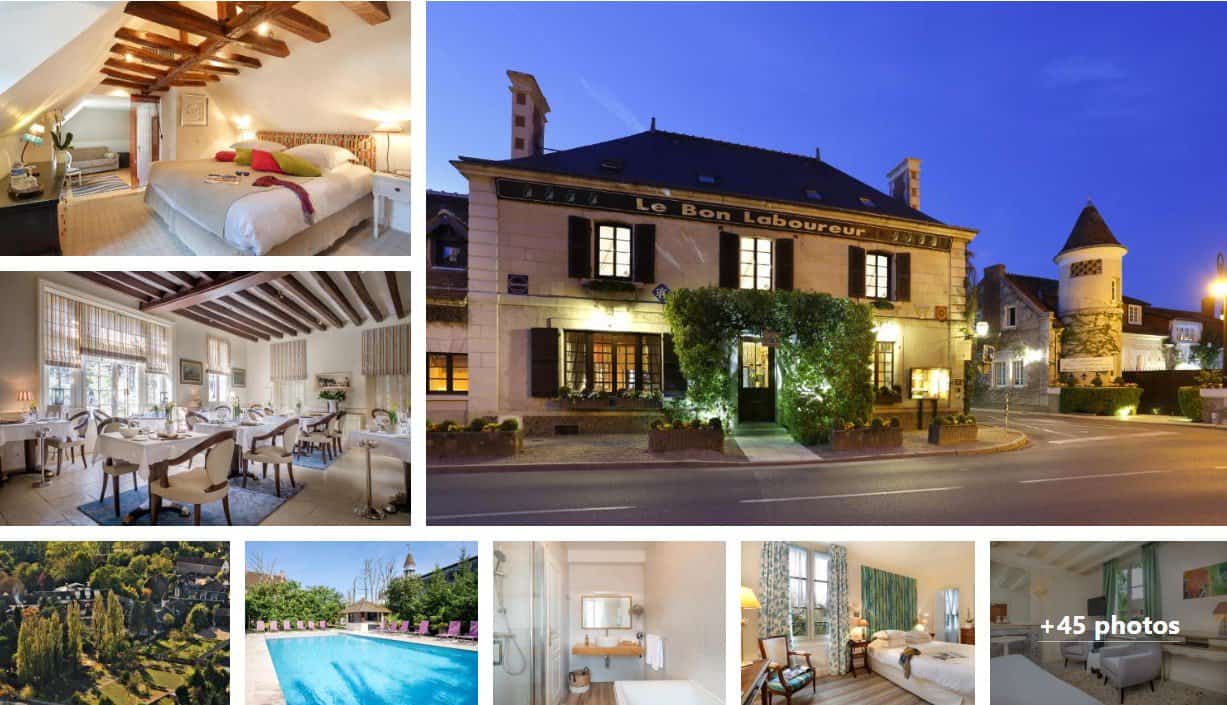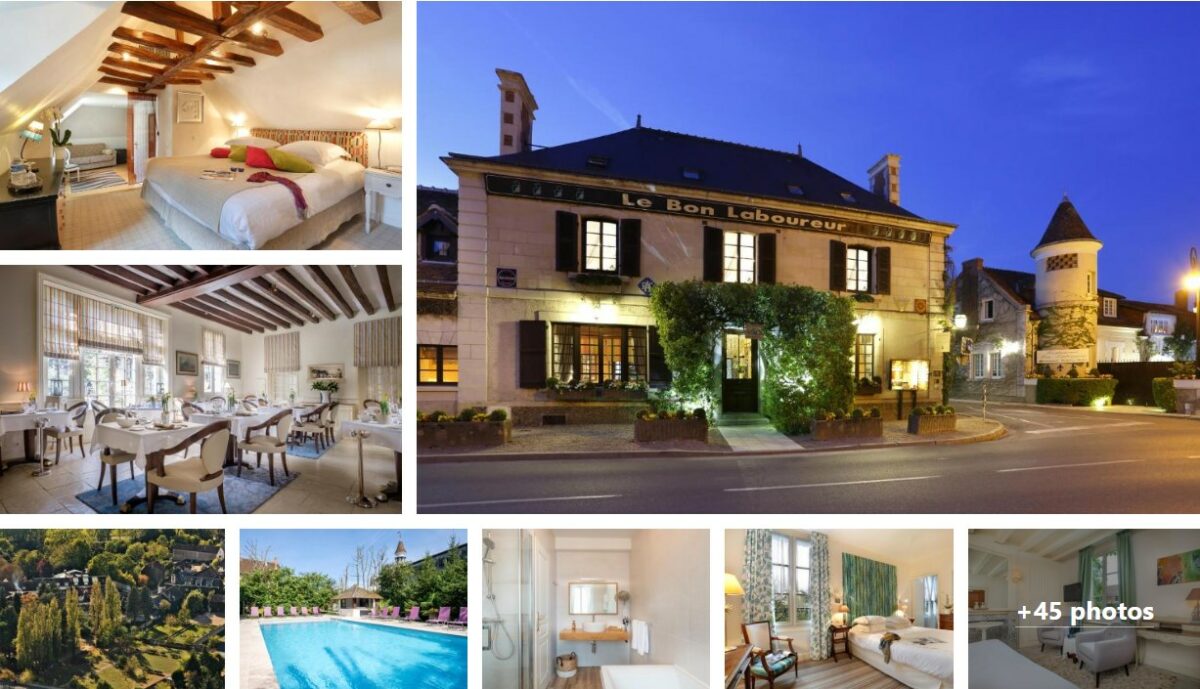 Want to stay close to this princess-perfect castle? Auberge du Bon Laboureur Chenonceaux is located 500m away from the castle.
They promise world-class service to ensure you feel like a true princess or prince.
I love their heated outdoor swimming pool where I can relax after a busy day of exploring. Their Scandinavian baths are perfect for soaking sore feet.
Their rooms are perfect and decorated perfectly. You will love your stay here.
Check prices and availability at Auberge du Bon Laboureur Chenonceaux.
---
3. Château de Chaumont-sur-Loire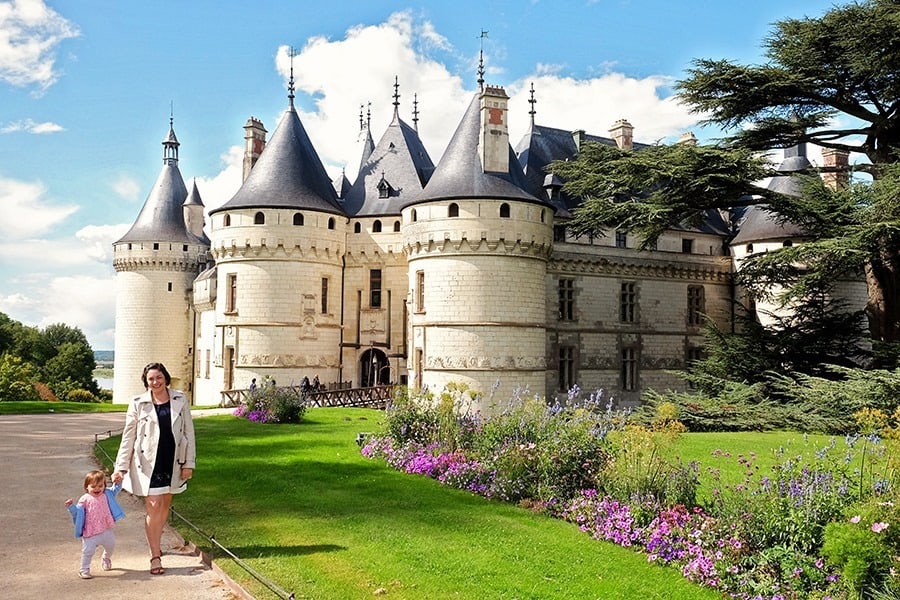 The stunning Château de Chaumont truly looks like a castle on the hill, where it's surrounded by a lush park.
Rebuilt a few years after Louis XI had the château burned and razed to the ground in 1465, the restored chateau is now famous for its yearly garden festival.
The renowned festival is a colorful showcase of garden art and contemporary landscape design.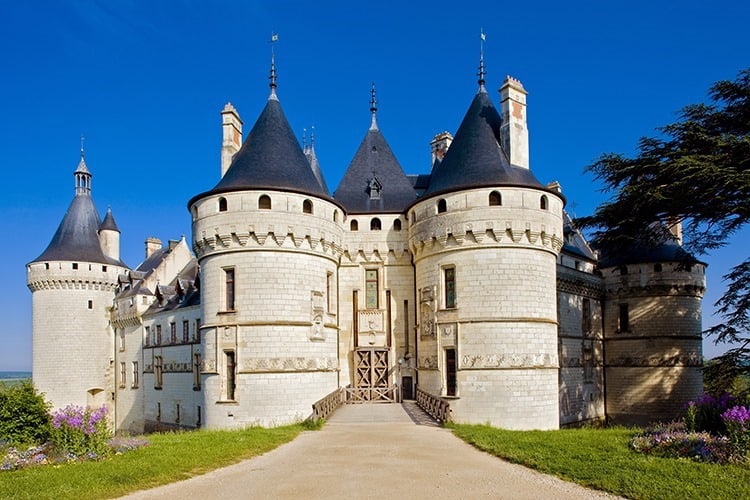 With a breathtaking view of the Loire from the once 'north wing', the Château de Chaumont also hosts works of incredible architecture.
The art gallery in the loft shows what the non-accessible areas look like, and the pepperpot riding school is a stunning piece of engineering for its time.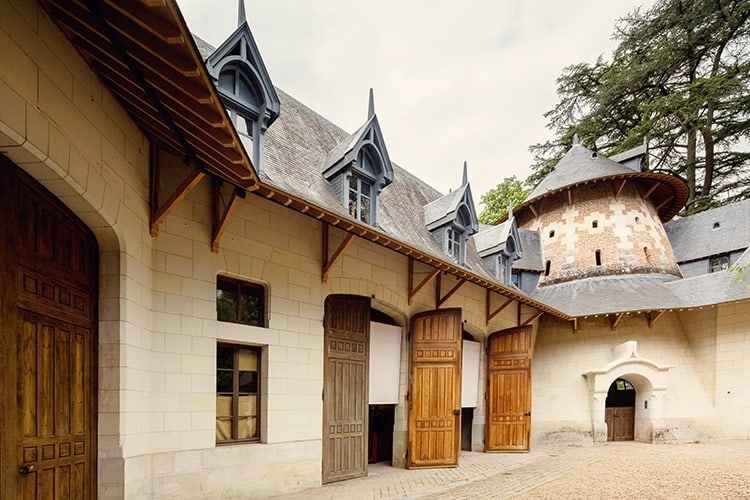 You can also pay a visit to the castle's fascinating model farm, which completes the truly dreamy atmosphere. The château is also home to France's finest collection of Jean-Baptiste Nini's 'one-off' medallions.
This grand home, which once served up banquets for the crowned heads of Europe, is now a museum where you can explore every inch of the incredible estate.
SKIP-THE-LINE TICKETS
Hate standing in long lines to see beautiful castles? We always grab the skip-the-line tickets when they are available!
We absolutely LOVE the fairytale feel of this castle with its glinting turrets. In my opinion the beauty of this castle is from the outside.

The inside was a bit disapointing, so if you are strapped for time, you could skip seeing the castle inside and just come and stroll around the beautiful gardens here.
Click here to see our Château Chaumont travel guide!
---
4. Château de Cheverny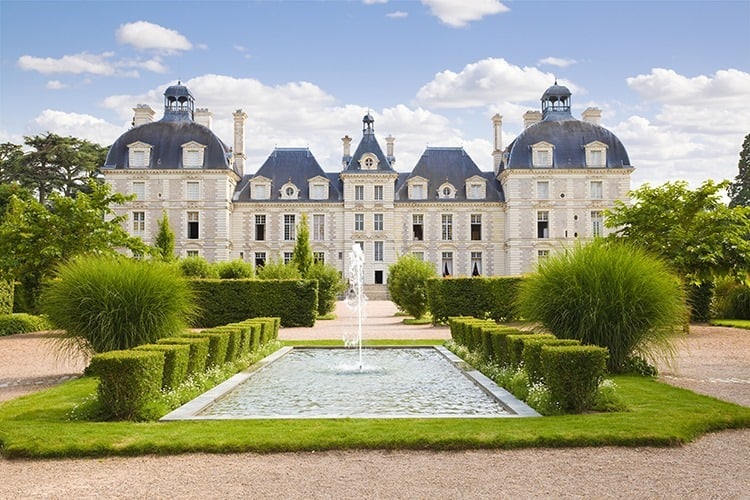 A visit to this palatial château is definitely a must on your trip to France.
The exquisite hunting palace just outside of Blois looks like it comes straight out of a painting, and you can explore storied rooms that have been virtually unchanged for generations.
🏆 BEST WAY TO SEE THE CASTLE
A fantastic way to see this castle is on a tour. There is a fantastic tour from Paris that you can join. You will see three castles: Chambord, Chiverny, and Chenonceau.
Built by the architect Jacques Bougier between 1620 and 1640, it was a pioneer of the French style that had developed during the reign of Louis XIV (or the Sun King).
As one of the first châteaux to become open to the public, the castle is renowned for its unmissable collection of furniture, tapestries, and objects d'art.
Also known as French classicism, the style of Louis XIV developed over three distinct periods coinciding with stages of his life, which were marked by mythology and influenced by flora and fauna.
The château's interior is also a 3D depiction of famous stories including the Chambre du Roi, which is adorned with 5 tapestries portraying the story of Ulysses.
The immaculate dining room also features 34 wooden panels which tell the tale of Don Quixote.
The mesmerizing parks and gardens enclose one of the Estate's unique features, the kennels. It raises numerous French Poitevin and English Foxhound crossbreed dogs, as it is still practiced to hunt with the hounds.
In my opinion, this castle is more about the incredible gardens rather than the castle itself.

What is great about the castle is that they have a restaurant, so its a great one to slot in around lunch time.

They also have gluten-free options on their menu which is nice for those who are gluten-intolerant.

You have the option of three ticket options. We recommend the 3 hour ticket that allows admission to the château, gardens and rides on the electric boats and cars.

Parking is free.
---
5. Château de Sully-sur-Loire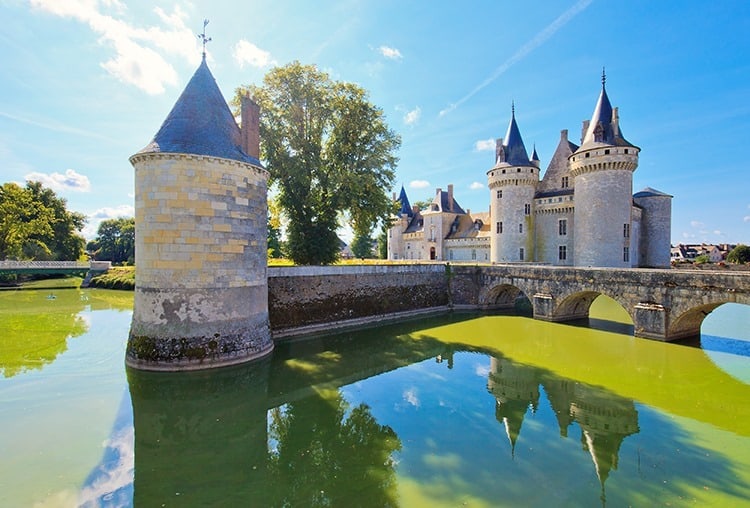 This iconic château rises like an island out of the River Loire, where it sits on a collection of 3 small outcrops.
It is quite remarkable to comprehend how the Château de Sully-sur-Loire is still standing strong today, after being demolished and reconstructed on innumerable occasions since the 18th century.
The Keep, or Grand Château, is the oldest preserved feature at the château as it dates back to the 14th century.
The castle has had a long and remarkable history filled with changes of ownership, war, and fires, and was even occupied by German soldiers during WWII.
It was also the home of a prominent French family, the Sullys, and the first Duke of Sully is represented by a large marble statue in the Outer Courtyard.
Once a defense outpost on the left bank of the Loire in the 12th century, it presently guards some historical treasures.
The most noteworthy of which includes the chemin de ronde (patrol route), the Tenture de Psyché tapestry, the château's 14th-century barrel-vaulted ceiling, as well as the grave of the Sully himself.
The visitor route is well maintained, and it will guide you past an array of historic paintings and tapestries, amidst period furnishings in opulent rooms that once housed French aristocracy.
This castle is just such a total fairy tale style castle and a proper moat. It is truly charming.

I recommend you climb to the highest room and make sure you look up to see the gorgeous original beams.

I recommend you allocate around 1 – 1.5 hours at this château.

You have an option of an audio tour (which we love), but if you prefer to go without, there are plenty of information you can read throughout the castle as well.
---
6. Château de Villandry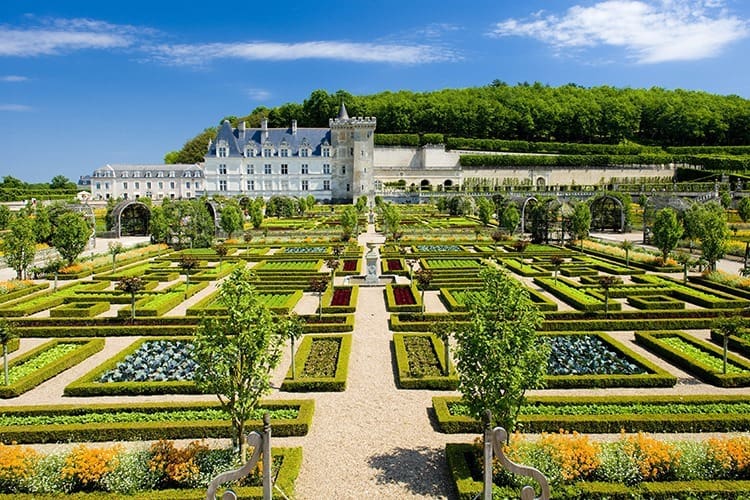 Hailed as the most family-orientated chateau within the Loire Valley, the Château de Villandry is world-renowned for its exceptional gardens, including the spectacular Renaissance Gardens.
The incredibly manicured lawns are like artwork in themselves with exquisite ornamental flower gardens carved into patterns by neat box hedges, a water garden, and orangeries.
The grounds also include a play area for children, vegetable gardens, and terraces for a perfect view of the château.
Built by Jean Le Briton, one of Francoise I's finance ministers in 1536, the château and gardens you see today make for a spectacular sight.
Apart from the well-appointed rooms, the more noteworthy features that might appeal to you are the oriental drawing room and an artwork display in the gallery.
There is also an intricate Louis XV staircase, which has the initials of Michel-Ange de Castellane intertwined into the banisters. But what will really sweep you off your feet is the climb to the top of the tower!
The mark of each new owner can be seen in the castle's interior, each of whom helped make the château one of the most beautiful in Loire Valley.
The dining room has become a 'must-see' with the special touches that have made it the historic monument it is.
You will find free parking close to this castle. This is another castle that might be more about the gardens than about the interior of the castle.

One of the main reason to head into the château is to get to the terrace in order to get the view from higher up over the gardens.

Some of our favorite rooms in the castle is the drawing room, the dining room and the kids bedrooms.

We recommend allocated around 1.5 hours here.
---
7. Château of Amboise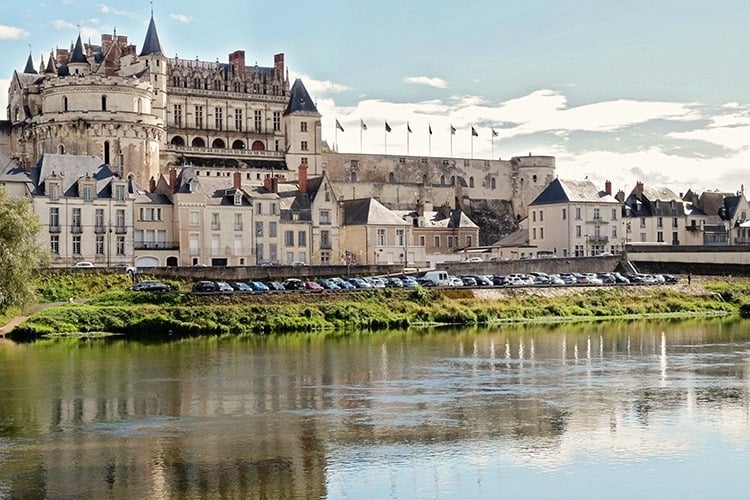 This château looks out over the River Loire, reflecting its enchanting silhouette onto the water.
Built as a strategic viewpoint as early as the Neolithic period (the last period of the Stone Age), the Château of Amboise only saw prominence in the 6th century when King Clovis of France took up arms against the Visigoths.
The castle's own past of rises and falls follows the history of France as the château went from fortress to royal home, to the remarkable figure it is along the French landscape.
If you ever visit the château, you can still see its restoration work continuing to this date, which began in the 19th century. But that doesn't mean that your trip here will disappoint.
Every summer they hold a spectacular show of sound and light called "The Prophecy of Amboise", a multi-sensory show, which brings the court of Charles VIII back to life.
The garden itself almost forms part of the castle itself, and you can pay a visit to the remarkable 3D re-creation in the Orangery where you can discover more of the château's past.
The quaint ruins of the Chapel of St Florentine are another memorable feature on the grounds, which has become famous as the resting place of Leonardo da Vinci.
Make sure to set some time aside to enjoy the town of Amboise whilst you are there and stop in to visit the famous château of Leonardo de Vinci (more on this castle below).
This château's interior is not as richly decorated in historic furniture as some of the other castles on the list.

You won't need much time here, so I recommend you combine a visit to this castle, followed by lunch and stroll in Amboise and then a stop in at Château du Clos Lucé (the residence of Leonardo da Vinci.)
Where to Stay in Amboise
Our preferred base when we are exploring the Loire Valley is Amboise. It is such a pretty little town, it is nice and central to so many of the most beautiful castles and we loved the little restaurants we ate at.
Plus there is an incredible bakery with the best baguettes. We popped over every morning to grab a freshly baked baguette (we stayed across from them and could see them baking early in the mornings).
For a really special stay, I recommend you stay in Le Clos d'Amboise.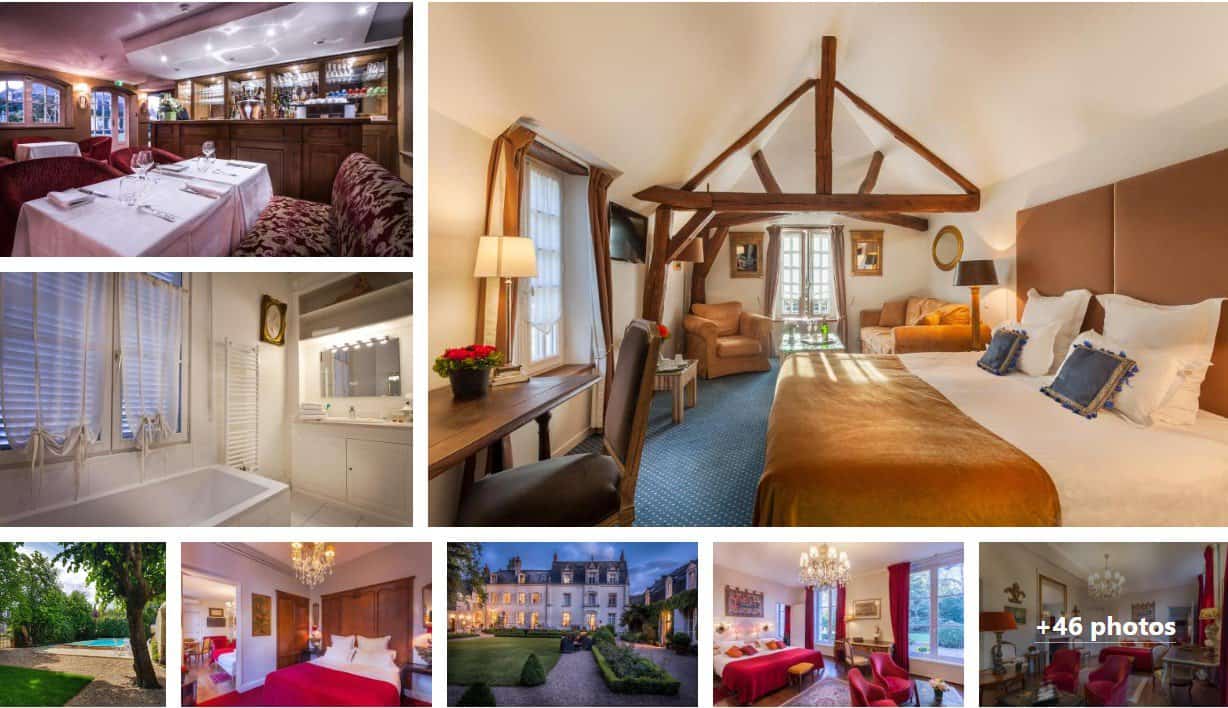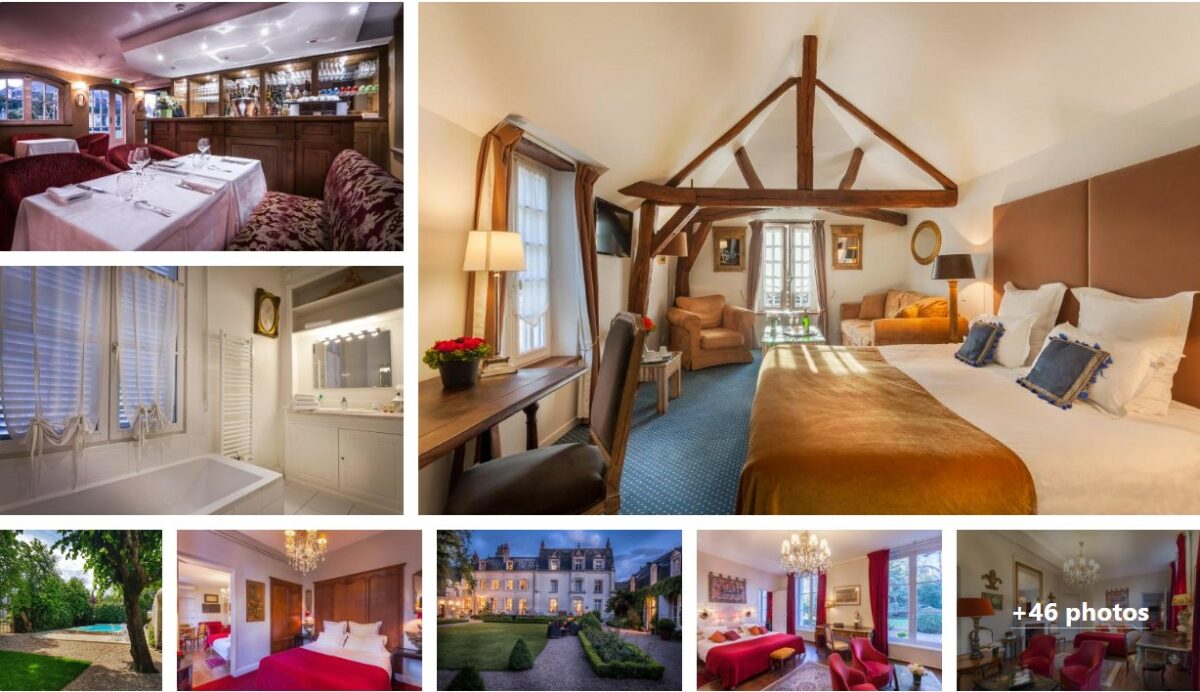 Stay in a mansion from the 17th century. It almost looks like a small castle, doesn't it?
The accommodation is right in the heart of Amboise. The bedrooms are stunning and so elegant. You can also use the outdoor heated pool and enjoy a sauna session or two.
It's a perfect choice for couples and for families as well.
Check prices and availability for Le Clos d'Amboise here.
---
8. Château de Blois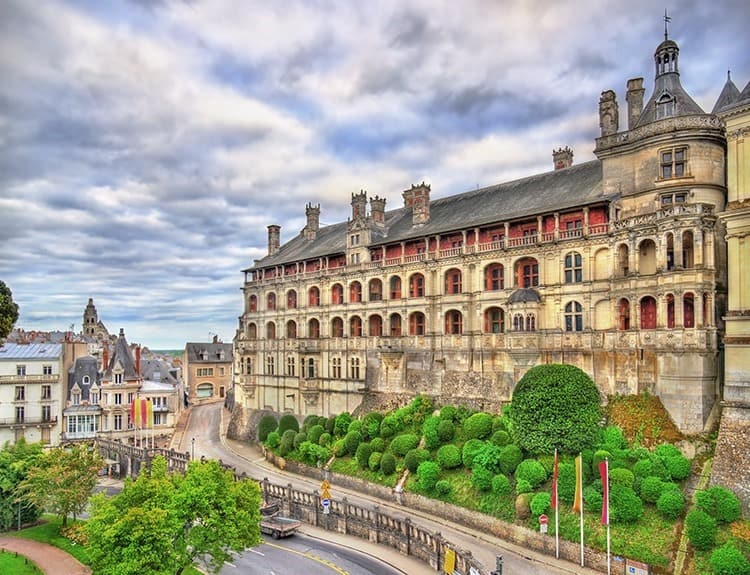 This particularly amazing château takes visitors on a unique tour through the history of French architecture.
The Château de Blois acts as a beautiful illustration of French building styles from the middle ages to the 17th century.
Begin your journey as you walk through the entrance to the château, which is watched over by the oh-so-regal statue of a king on horseback.
Then, experience the breathtaking Stateroom, a riot of color and intricate designs.
You can also enjoy a fascinating walk through the Architecture Rooms which house different examples of original sculptures from across the château grounds.
You can secure tickets for this castle online here. Audio guides are available at entry as well. (Kids under 6 are free).
Special care has been taken in restoring this chateau to its former beauty, with a particular emphasis on returning the floor tiles to their original self.
Four architectural styles collide within the castle walls, from a 13th-century medieval fortress to Gaston of Orlean's Classical Wing.
As a unique feature, late on summer evenings, you may even get a chance to attend the château's own featured 'son et lumière,' which is a melodramatic historical narrative with a light show, and accompanied by classical music.
This château is massive and you could easily spend 3 hours here.

We grabbed the audio tour and found it really interesting, so highly recommend to grab that with you entry ticket.

We also recommend you plan for some addition time to explore the town as well.
Stay Close to Château de Blois
For a convenient option, why not stay at the Ibis Styles Blois Centre Gare? The Blois castle is only a 9-minute walk away from the hotel.
This hotel is a great option if you are visiting the Loire Valley by train. It is located 300 meters from the train station.
Check prices and availability at the Ibis Styles Blois Centre Gare.
---
9. Château d'Azay le Rideau
A hybrid of classical French tradition and Italian décor, the Château d'Azay le Rideau was built on an island in the Indre River. This truly regal château rises like a sentinel out of the water, leaving a shimmering mirror image below.
Under the patronage of King Francois, the château was built on the site of an ancient fortress, but remained incomplete, leaving it with a remarkable but accidental L-shaped exterior.
The castle is a place of war and deep historical significance, which can be seen in the name itself.
Enough to capture your heart and please your eyes, under the care of the French Centre for National Monuments, the château was lovingly restored with a mesmerizing interior and facades, wrapped in tuffeau stone and beautifully ornamented.
SKIP-THE-LINE TICKETS
Hate standing in long lines to see beautiful castles? We always grab the skip-the-line tickets when they are available!
The château is also home to the Escalier d'Honneur, the oldest surviving staircase of its kind in France.
In a true nod to its history, you can also admire a number of artworks depicting French royals along the castle walls.
The incredibly picturesque Château d'Azay le Rideau is an exceptional piece of heritage, that has monumental worth in the field of French historical archiving.
We recommend you allocate around 1 hour to this small gorgeous château.

The indoor area is well worth seeing and you can walk all the way up to the attic.

If you love taking photos, the best one I found is once you cross the river and look back you will get one with a reflection of the château in the water.
---
10. Château du Clos Lucé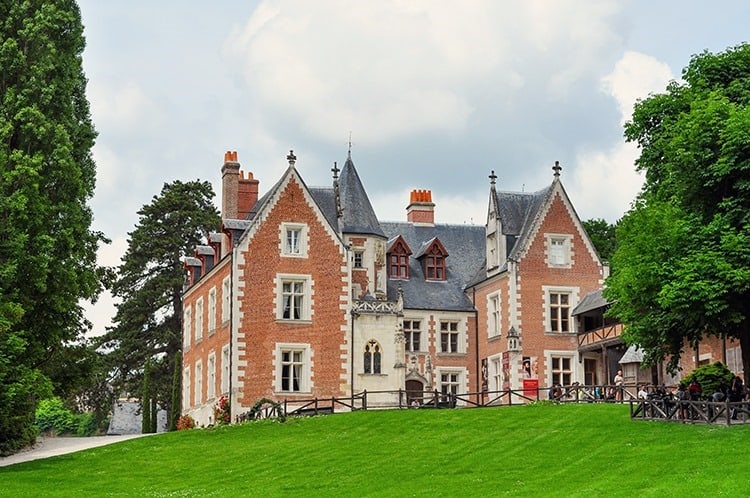 This pink-bricked chateau is straight from a storybook, overlooking lush green lawns. It is famous for being the official residence of Leonardo da Vinci, where he spent his final years creating and building.
Today, the château is a museum that houses 40 models of machines designed by da Vinci.
Leonardo da Vinci spent his final years here (1516 -1519), and the site of the manor dates back to the 12th century when it was surrounded by fortifications, of which only the watchtower remains.
Massive restorations have been made since the 1960s to bring it back to its former glory. You can now catch a glimpse of da Vinci's private life as you visit his bedroom, kitchen, and study, as well as the small chapel displaying frescos by his admirers.
You can also explore da Vinci's artist's studio where an audiovisual production brings the space to life.
Finish off your visit to this gorgeous château with a stroll around the grounds where a stunning pond lies surrounded by centuries-old pines and, of course, the famous Mona Lisa rose.
---
Incredible Loire Valley Tours You Might Be Interested In
After a quick list of some fantastic tours in the Loire Valley? Here are the top picks.
---
How To Get To The Loire Valley
The Loire Valley is a picturesque region in France that can be reached by car, train, or tour.
By Car
The drive from Paris takes between two and three hours on the A10 motorway. Because we were doing a big road trip around France, we decided to rent a car in Paris.
It made exploring the Loire Valley so much easier, as there isn't an easy way to get around all the castles in the region without a car.
We always rent our cars through Discover Cars. They do an excellent job of sourcing the cheapest prices and you can grab both the car rental and insurance through them.
Click here to check car rental prices.
By Train
Traveling by train from Paris to Amboise is an easy and efficient way to explore the Loire Valley.
From Paris, travelers can take the TGV (Train à Grande Vitesse) which only takes two hours, and leaves from Gare Montparnasse in Paris.
The train stops at several major cities in the region, including Blois, Tours, and Amboise.
Grab your train ticket through Rail Europe here.
I still feel that you will need to grab a car rental in order to get to the castles easily though.
So if you don't want to drive from Paris (which is understandable as traffic is hectic), then I suggest you catch the train to Tours and then grab a car rental from there.
By Plane
Flying to the Loire Valley is also an option. The closest airport to the region is Tours Val de Loire Airport located in the city of Tours.
From there, it's only a 45-minute drive by car to Amboise, which is located right in the heart of the Loire Valley.
By Tour
A tour from Paris to the beautiful Loire Valley is an ideal way to experience some of France's most stunning historical castles.
Taking a tour means that visitors can take in the stunning scenery, learn about the historical sites, and visit all of the castles in the region without having to worry about navigating on their own.
Additionally, most tours offer guided visits to the castles and even lunch at some of them.
Browse all the most popular tour options from Paris to Loire Valley here.
---
How Long to Stay in the Loire Valley
So let's talk about how long you should stay in the Loire Valley for. I recommend you visit two castles a day (although you could squeeze three in if you are short on time).
Have a look at the list above and decide which ones you really want to see.
I don't recommend you try to see all ten, trust me you will feel castled-out. I suggest you pick 3 – 5 castles to see.
This means that you should stay for 1 – 3 days. If you wish to include day trips to other cities or towns or see any of the other popular places in the Loire Valley, then you will need more days tagged on.
---
Where to Base Yourself in the Loire Valley
So let's talk about where to base yourself.
I recommend you base yourself in Amboise. Amboise is right in the heart of the Loire Valley which means you have many castles close by.
Of course, it makes sense to visit the Amboise castle and to stop in at Château du Clos Lucé, both of which are in Amboise itself.
Then organize some day trips.
For one day trip, you can head to Chambord Castle (about an hour's drive away).
You can easily combine this castle with a stop at either the Blois Castle (which is on the way to Chambord) or the Cheverny Castle (which is 25 minutes away from Chambord).
For the second day trip head to Château de Chenonceau which is only about 20 minutes away from Amboise.
Then stop at Château de Chaumont-sur-Loire (about 30 minutes away from Chenonceau) before heading back to Amboise.
So let's look at where to stay in Amboise.
Best Place to Stay in Amboise
So first of all, if you are going to be seeing so many castles, why not actually stay in a castle itself?
Chateau des Arpentis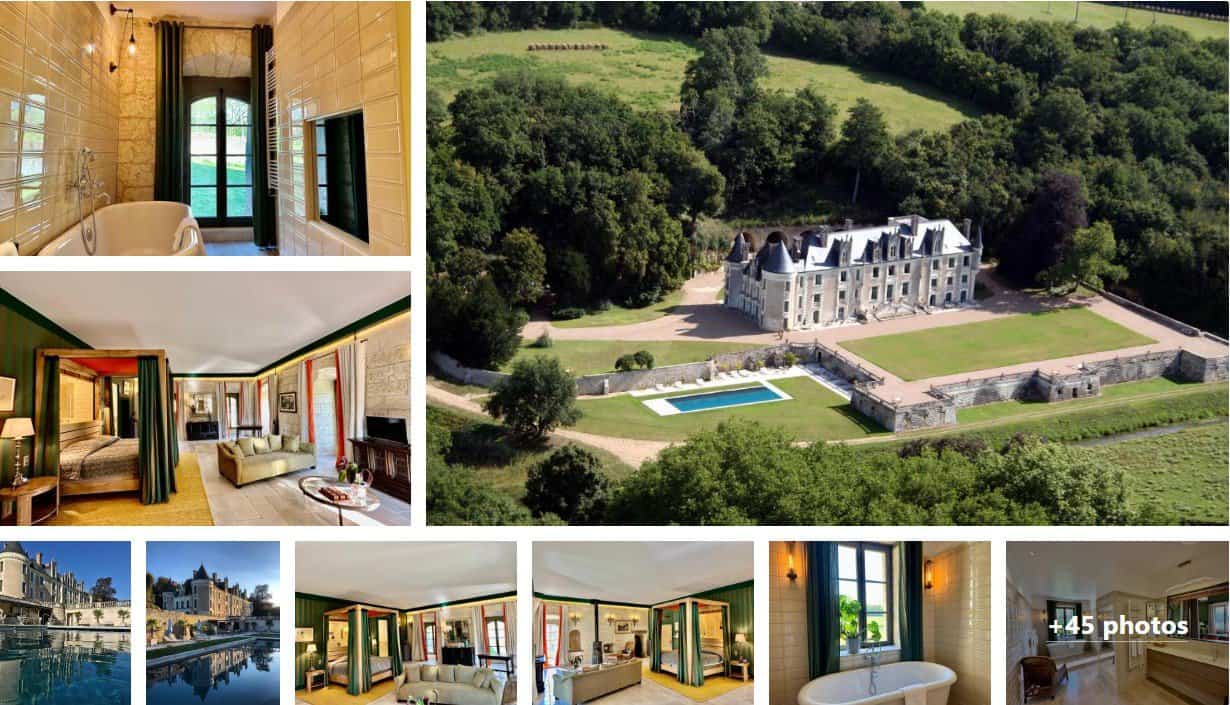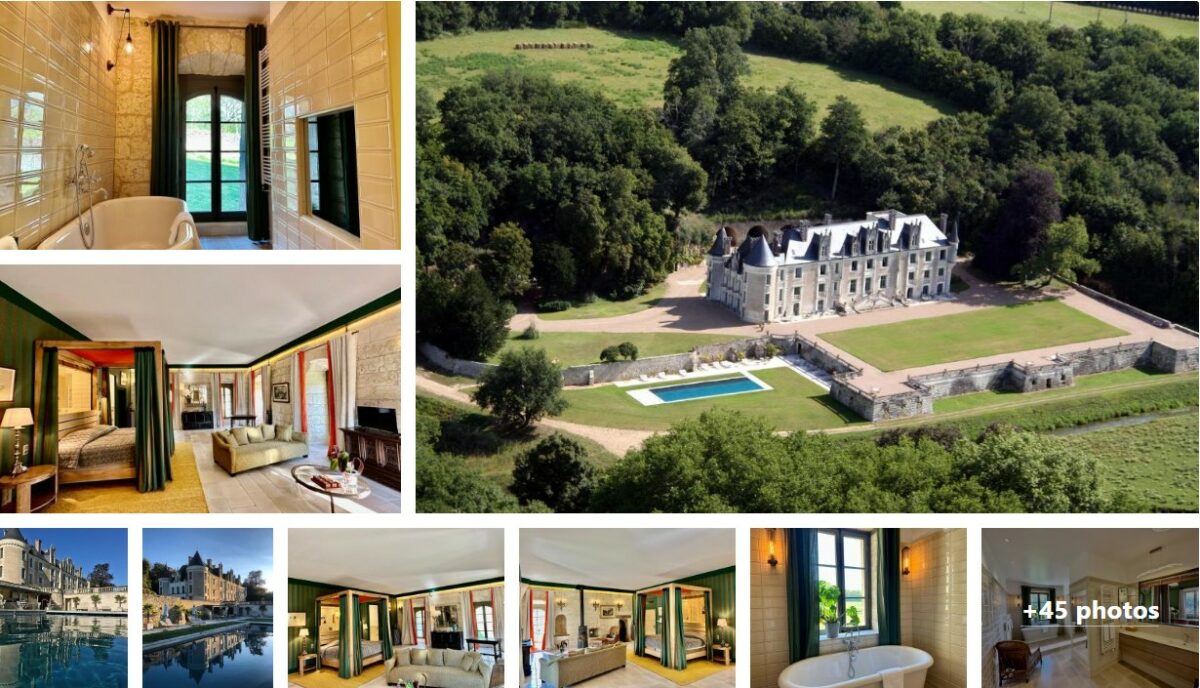 This stay was exceptional. It was such a relaxing and comfortable experience.

Laurent was very friendly and his service was exemplary.

I would definitely recommend this chateau to everyone who wanted something wonderful.

The breakfast was also delicious.

Steven (Read More Reviews on Booking.com) ⭐️⭐️⭐️⭐️⭐️
The castle is just stunning, the rooms are gorgeous and so comfy and you will love the breakfast.
What we love is the outdoor swimming pool – perfect for those who have kids.
They have room for couples, as well as a 2-bedroom apartment for families.
Click here to check prices and availability.
---
Loire Valley Chateaux FAQs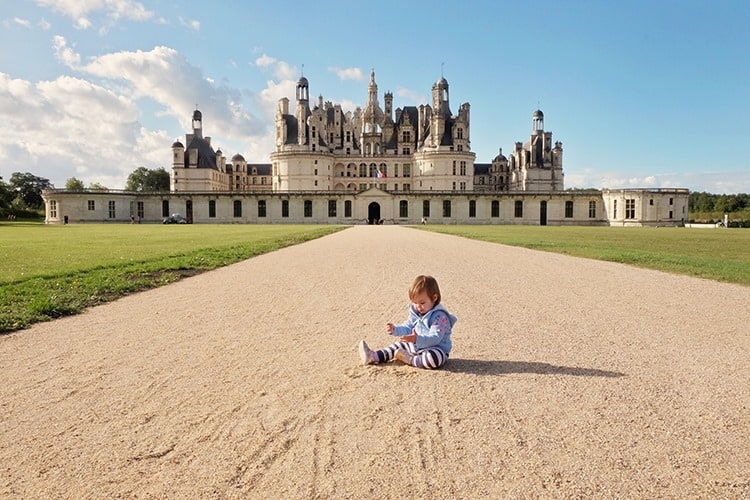 Here are some answers to some of the most commonly asked questions about the best Loire Valley castles.
1. If you only have time for 3 castles, which would I recommend?
My favorite castles are the top three on our list are Chambord, Chaumont, and Chenonceau.
2. What is the most famous Loire Valley chateaux?
The most famous chateau in Loire Valley is the Château de Chambord, which is known for its distinctive French Renaissance architecture and impressive size.
3. Why are there so many châteaux in Loire Valley?
There are many châteaux in the Loire Valley due to the region's historical, political, and cultural significance.

The Loire Valley was once a major center of power for the French monarchy, and many noble families built châteaux in the area to demonstrate their wealth and influence.
4. What is the oldest castle in Loire Valley?
The oldest castle in the Loire Valley is the Château de Langeais, which dates back to the 10th century.

However, the castle has undergone many renovations and additions over the centuries, so much of the current structure is from the 15th century.
5. What is the largest Loire château?
The largest Loire château is the Château de Chambord, which covers an area of over 50 square kilometers and has over 400 rooms, 80 staircases, and 365 chimneys.
6. How many chateaux are in the Loire Valley?
The largest Loire château is the Château de Chambord, which covers an area of over 50 square kilometers and has over 400 rooms, 80 staircases, and 365 chimneys.
---
Final Thoughts On The Best Loire Valley Chateaux
Which do you think are the best châteaux in the Loire Valley?
Exploring the must-see châteaux in Loire Valley is a truly magical experience. From Chambord to Chaumont and Chenonceau, each castle has its own unique beauty that will leave you in awe.
Whether it's admiring the intricate architecture or exploring Leonardo da Vinci's studio, there are countless reasons why these stunning castles should be included on any traveler's list of must-visit places when visiting France for the first time.
So if you haven't already explored them, make sure to add them to your itinerary next time!