Taking your baby to the beach is a fun and exciting experience! But it can be overwhelming to know where to start – and there are so many baby beach items that you can purchase.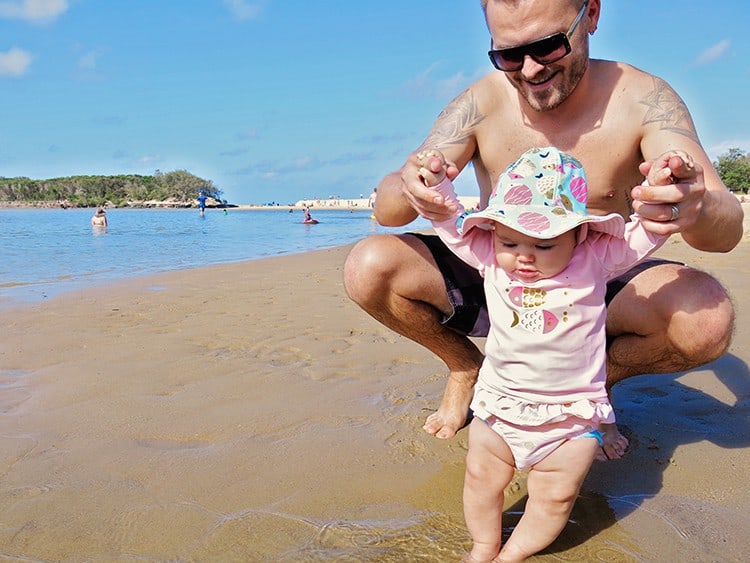 🏆 MOST POPULAR BABY BEACH BUYS
Don't have time to read the whole article? Here are some of our top recommendations:
We are very fortunate to live 5 min away from some beautiful beaches. Our baby has been visiting the beach since she was only around 6 weeks old.
We have also spent many days on the beach whilst traveling with a baby to overseas destinations.
With the right baby beach accessories, you and your baby can have a great time.
Think about how much you can carry while also holding your baby in your arms, so choose just what is necessary for an enjoyable day at the beach.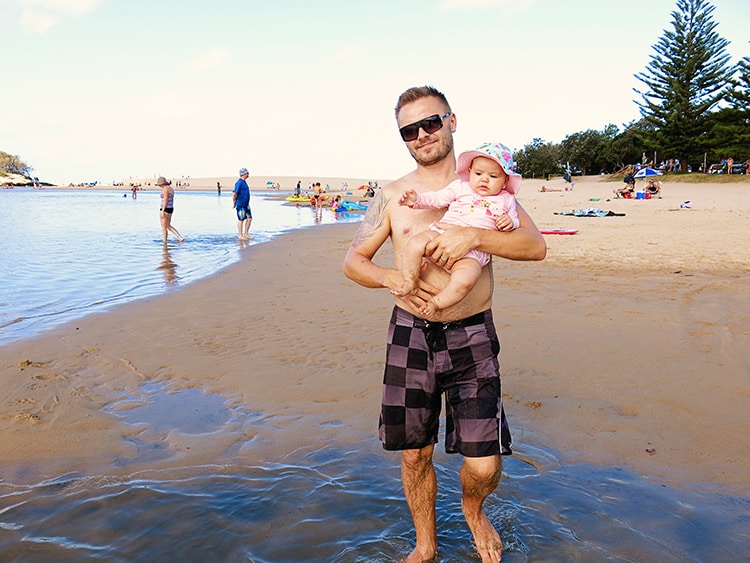 Make your next beach day with your baby an enjoyable and stress-free experience by choosing the best baby beach gear to bring along.
Quick Guide: The Top 3 Best Baby Beach Gear
After a quick list of the top baby beach essentials? Here are our top 3 picks.
---
A List of Beach Essentials for Baby (The Items You

Should

Take With)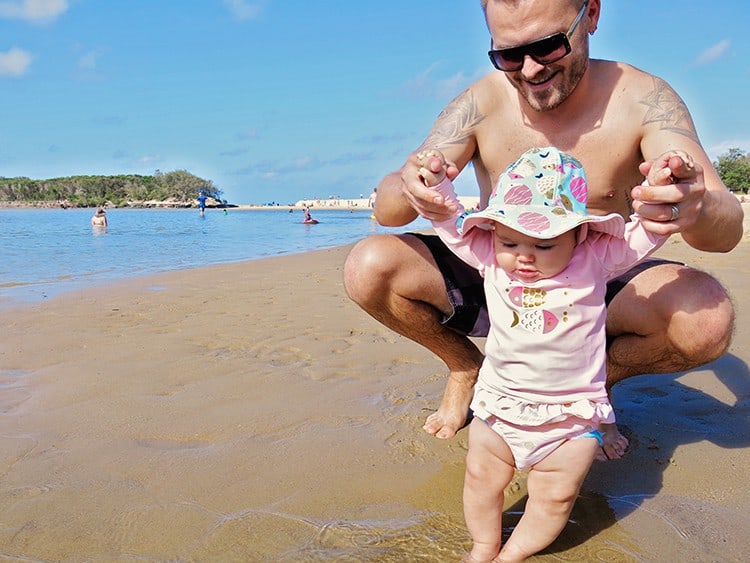 We have broken our baby gear for the beach list up into two handy sections. The first list contains what I see as the essential baby beach supplies that you simply should take with you.
The second list is of optional items, but handy, extra items that you can take with you.
So I highly recommend you scan through that list, but if you don't want to spend too much on the items then I recommend you stick to mostly the items on the first list.
We always have our handy baby beach bag checklist printed out and ready to make sure that we are packing everything we might need.
You can grab our checklist for your beach day for FREE simply by signing up below, then we can send over an email with a download link.
There is just some baby beach stuff that you should never leave home without! These are the 11 most important things to take to the beach with a baby:
1. Baby Beach Bag
A special beach bag for a baby is really essential, especially when bubs is still little!
I don't think you have to complicate things, we simply took along our normal everyday diaper bag to the beach as it already contained all the items we would typically need on an outing.
As the baby got older, we often left the diaper bag in the boot of the car and simply popped spare clothes, diapers, wipes, etc in our family beach bag.
It is important to have one of the baby beach bags that is nice and large and easy to carry around. Pockets are always handy to keep things organized.
If you are on the hunt for a great diaper bag, I suggest you check out our diaper bag guide here.
We also recommend that you grab our FREE baby beach bag checklist below so that you can print it out and have it on hand whilst packing for the day.
Together with appropriate swimwear and a big-brimmed hat, this is one of our top newborn beach gear recommendations. You can find one of our favorite baby beach bags in the link below.
>> Click to see this beautiful diaper bag on Amazon.
---
2. Swim Diapers
Decide whether you want to use reusable swim diapers or disposable swim diapers.
Reusable swim diapers are a more economical and eco-friendly option, designed with waterproof fabric and a snug fit for added protection.
Disposable swim diapers are great for short trips or if you don't want to worry about washing reusable ones in-between uses, and come in a variety of sizes.
We personally do prefer using the disposable type so we can simply throw them in a bin close by when they get soiled, but I know that reusable swim diapers are very popular at the moment too.
>>> Click here to see the most popular disposable swim diapers
>>> Click here to see the best reusable swim diapers
---
3. Baby-Safe Sunscreen
While in the sun you'll want to apply sunscreen to the baby's skin to keep them from getting sunburned or other sun-related illnesses.
Per the sunscreen bottle instructions, make sure to follow the instructions for the best applications for skin protection.
We have tested out a few different brands of sunscreen for our baby and we really think that the best baby sunscreen is the Thinkbaby Safe Sunscreen.
It has an SPF 50+ rating and whilst other sunscreens contain questionable ingredients and known carcinogens, this company has gone out of its way to developing a sunscreen that is truly safe to use on your baby.
You can read all the parents' thoughts on this sunscreen here.
>>Here is the link to the sunscreen on Amazon
---
4 Baby Sun Hat Plus Long-Sleeve Rash Guard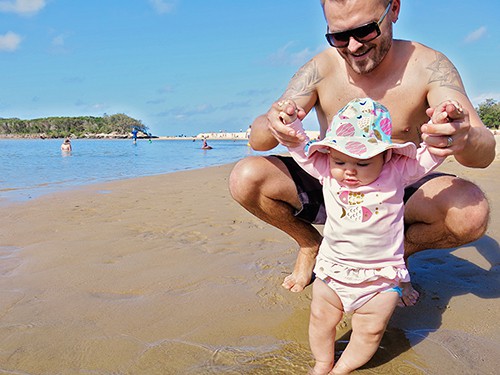 Decent sun hats, rashies, and swimwear that offers sun protection might just be the most important beach necessities for babies.
Since the baby's skin is still in its ultra-sensitive phase, you'll want to bring a hat to the beach to keep the sun from beaming down on the baby's head. Also, it will keep the sun out of their eyes.
Cover-ups and rash guards will keep the baby safe from sunburn and sand rashes and other elements that can irritate the baby's skin while on the beach.
We find that the best baby swim gear will have a UPF rating of at least 30+. Ensure the hat has large flaps and that your baby has a long sleeve rashie.
It really is worthwhile investing in quality and highly protective swim gear for infants – make sure the swimwear has that all-important UPF rating.
>> Browse through some popular rashie and hat sets here
---
5. Beach Wagon
A beach wagon is a great way to carry all your baby and beach items to the beach. Not only can you fit multiple towels, sunblock, and swimsuits, but also any other items like toys or a beach tent.
Beach wagons make it easy to transport everything in one trip with their large capacity, sturdy construction, and wide wheelbase to make them stable on the sand.
Plus, many of them come with cup holders and other features for added convenience! We realized ages ago that it was silly to keep struggling to try and carry everything plus a wiggly baby. So now we just load it all up and pull it along.
BONUS: we leave it packed and ready to go in between beach trips.
>> See the reviews and check availability on Amazon.
---
6. Pop-Up Baby Beach Tent
Looking for some ideas for the best beach equipment for babies?
A baby sun tent is best for protecting your little one from the harsh UV rays of the sun. It also makes a nice little oasis for a private retreat from the beach, while there.
The tent is also great for private diaper changes and taking a quick beach nap.
We absolutely love pop-up-style tents as they are quick and easy to set up. It is important to ensure that the baby beach tent has UV protection as well as stakes to secure the tent down for windy days.
At the very least, do take a baby beach umbrella; we find that the shade at midday under the umbrella can be a bit useless, but it is better than nothing! You can see a list of all the best baby shade tents here.
>>> See prices for our favorite beach tent here. 
---
7. Portable Fan
A portable fan is an essential item for parents with babies at the beach. It can help keep your baby cool and comfortable on hot, sunny days.
The strong air circulation helps reduce the risk of overheating and sunstroke, as well as provides a gentle breeze that can help soothe a baby in between naps.
We find that it is especially important if your baby will nap in a beach tent (which will block a lot of the breeze) or in a stroller.
>> See the reviews and check availability for the fan on Amazon.
---
8. Water-Resistant Baby Beach Blanket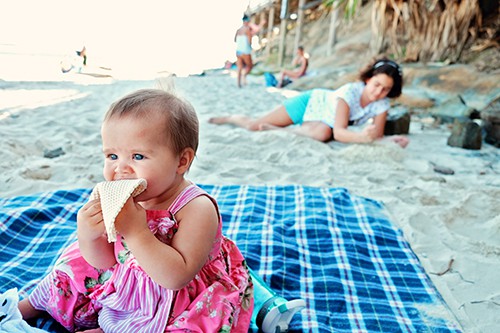 Water-resistant blankets are highly essential when it comes to comfort on the beach.
It's also good to put the blanket under the baby's tent or pool while they're sitting on the hot sand. But it can also just be a great place for them to play.
I promise you that if you pop them on the sand, they will try to eat the sand! So best to keep them on a nice clean blanket I say! 
Any picnic-style blanket with waterproof backing will work just fine, but if you don't have a picnic blanket yet, we found the best beach blanket for your baby: Hiwoss Sand-Free Beach Blanket.
>>> Click here to see a great selection of waterproof blankets
---
9. Baby Beach Toys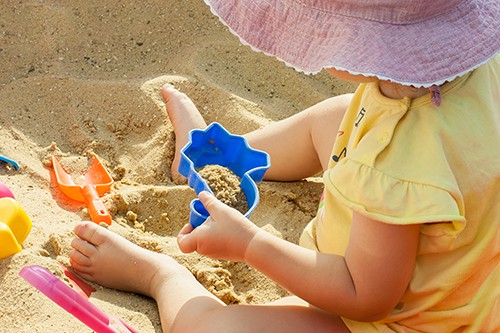 Maybe not essential when bub is still little, but we found that our baby loved to have toys at the beach once she could crawl around.
We mostly brought everyday baby toys from home, that could either be washed or easily cleaned.
We didn't bother with buying any actual sand toys for her until she was closer to 1 year of age. However, if you are after the best baby beach toys, we suggest you have a look at this set here.
---
10. Disposable Tidy Bags
The second last item, on our list of baby beach essentials, that we never leave home without is some disposable tidy bags. We typically just use diaper bags. 
Easy to pop some dirty diapers into seeing as there won't be a bin close by. Also very handy if you have any diaper accidents (swim diapers can be really messy when they get soiled).
Pop your dirty clothes in there and tie them up till you get home to wash.
We also use it for any snacks that don't get finished or that might drop in the sand. So handy!
---
11. Portable Baby Bassinet
What better way to keep your baby safe and sound when resting at the beach than in a portable baby bassinet?
Having one of those handy will ensure that your baby is cozy and protected. We all know that a happy baby at the beach means a happy parent at the beach, right?
>>> Click here to check out prices for this baby bassinet
---
Handy Extra Beach Items for Baby
Items that are not essential but will make life easier!
Here is a list of handy items for what to take to the beach with a baby:
1. Off-Terraine Baby Stroller
A baby stroller that can handle the beach sand can be really handy. We often use our baby jogging stroller on the beach instead of the pop-up baby beach tent.
A stroller is great as the baby will be familiar with it and might fall asleep a lot easier in it as a result.
We don't recommend using a stroller when you need to walk far to get to the ocean though, so if your beach typically has a lot of sand for you to cover to get close to the water, I would suggest you stick to a baby tent. Even all-terrain strollers are still really tricky to use in the loose sand.
Our beach has a narrow section of beach sand, and it also has a cement path along the beach, so we only have the drag the stroller a meter or so before settling down. The best stroller for beach sand is a jogging-style stroller.
Whilst we personally have a Baby Jogger, the BOB Jogging Stroller comes highly recommended as the best stroller for the beach.
>>> See a selection of strollers that are great for the beach
---
2. Wet-Dry Bags
Wet bags are so handy for beach days. I'm sure I don't even have to explain why right? You need these handy bags for those swimmers and wet clothes.
Chuck your dirty bibs or burp clothes in them to keep them separated from the clean items in your bag.
We never leave home without our wet bags!
>>> Click here to see a great selection of handy wet bags on Amazon.
---
3. Small Baby Beach Pool and Bath Toys
Sometimes the beach waves can simply be too rough for a little baby so it can be advantageous to take a small pop-up pool so they can enjoy being in the water (and cool down) just like everyone else.
A baby pool for the beach is brilliant as they dig out a small hole in the sand. The best baby pool for beach use is usually the easy-to-assemble pop-up-style one.
Simply collect some ocean water with a bucket and you are done!
The pool in the photo above is the Early Years Baby Beach Shade Pool, however, our favorite and vote for the best baby pool for the beach is the MonoBeach one.
I really find that they are pretty cheap and really easy to take along to the beach. Have you tried one of these baby pools for the beach?
The best pool toys for babies that we have found is this 8-set piece. The toys are nice and chunky for baby fingers to hold easily and the toys are interactive and fun.
Tip: Bring along their favorite bath toys for extra fun while they're in the pool.
>>> Check out the different types as well as pricing for the shaded beach pools here.
4. Spray Bottles
If you are wondering about how to keep your baby cool at the beach, here is a simple and easy trick for you. Bringing a spray bottle to the beach is advantageous, especially when it's warm out.
With the spray bottle, you can constantly mist the baby to keep them cool.
The spray bottle is also great for keeping the baby from consuming sand while spraying it on their hands to keep them clean.
It is a must-have beach item for babies as it is truly nifty and doesn't cost much!
---
5. Mesh Beach Bag
If you have heavily sandy items to bring back from the beach, just put them in a mesh bag and keep the excess sand from getting to places you don't want it.
Honestly, they take up so little room to pack and once your baby is playing with toys in the sand, they really are so incredibly handy to have.
Mesh bags don't cost much, you can check the price here.
---
6. Beach Baby Carrier
A baby carrier is another really handy item to have at the beach. As it can be way too hard to maneuver a stroller around on the sand, a carrier is great for those of us who have a baby that requires a bit of rocking and movement to fall asleep.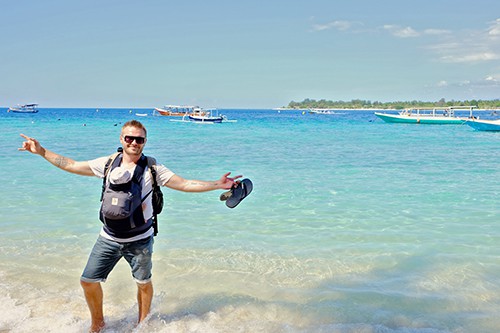 We love our Ergo Baby Carrier, but I wish we had the mesh type as ours got too hot for our baby. This is one of the beach must-haves for babies for sure!
A mesh baby carrier is ideal for hot days or beach days as the material of the carrier is designed with breathable material, so you don't have to worry about whether the baby will overheat whilst in the carrier.
Go for a stroll up and down the beach and I'm sure that in no time at all your baby would have drifted off to sleep.
We always take our carrier with us, but we typically leave it in the car and only go and fetch it if we really need it.
Tip: Check out our guide to finding the Best Baby Wrap Carrier for Summer here.
>> Click here to see the mesh ErgoBaby carrier
---
7. Spout Adapter for Water Bottle
In the event that you've forgotten a bottle at home, the Spout Adapter for a water bottle is a great little accessory to have on you at all times.
Bringing this to the beach will come in handy as you can change the average plastic water bottle into a baby-friendly bottle in just seconds.
Such a great idea, especially as you can't refill the baby bottle when the water is gone. The spout is the ultimate beach item to pack.
>> Click here to purchase the Spout Adapter here
---
8. Food Pouch Spoon Tips
One of the best baby beach products. With these spoon tips, you don't have to bring any extra baby spoons or bowls.
Just twist the spoon tip onto any baby food pouch and Voila!
You can feed the baby without the added mess and worry of cleaning up while on the beach.
So super handy!!!  Love it!  Click here to see the latest prices on these spoon tips.
---
9. Baby Beach Chair
An infant beach seat is super helpful when your baby gets to an age where they get bored lying down all the time.
You can easily pop them in a portable high chair where you can feed bubs some food, or simply use the baby beach seat for the beach as a place to pop a selection of toys on the tray to keep them happy and occupied.
I have seen so many parents use an infant beach chair whilst camping; when enjoying an outdoor picnic as well as at the beach!
They fold down just like a camping chair would. So easy! One of the best baby-at-beach gear items if your baby is a bit older!
>> Click here to various styles and to check the current price
---
10. Portable Baby Beach PlayPen
I must admit that I have never bothered taking a baby beach pack and playing with it on our outings.
However, we have spent many beach outings that involved us simply chasing after our baby, so maybe we should have tried out one of these nifty beach baby gear playpens.
A pack-and-play is actually a brilliant way to give a baby a confined space to play in whilst you might possibly even relax as well. So I'm thinking that it really would be worth the effort to set it up!
Have any of you given it a go? I would love to hear your thoughts! It looks like it could be fabulous baby beach equipment to drag along if your little one is mobile.
>>> Click here to see current prices for the baby beach pack and play
---
11. Baby Beach Float
A baby beach float is brilliant for those of you who have access to a calm ocean. A section of our favorite beach is in a cove, so the beach there is always peaceful with only really small waves.
So we can easily carry our baby over the low waves and then pop her in the float on the calm water (where we can still easily stand).
I wouldn't bother tagging the float along though if you have strong waves, best to leave it at home in that case.
Whilst there are loads of cute floats out there, we personally always choose a more sensible covered baby float. The best infant float has a covered roof that doesn't easily collapse, you can find our personal favorite by clicking the button below.
>> Click to see different infant pool float designs.
---
12. Baby Beach Shoes
Baby beach shoes are essential if your beach has loads of sharp rocks, shells, or coral. And obviously more so when your baby can walk.
We are fortunate to have some beautiful soft sand here where we live so we never bother with shoes.
But on a few of our trips to beaches in destinations such as Gili Islands & Vanuatu proper beach shoes not only for our baby but for the whole family were truly essential.
Tip: Check out our guide to find the best water shoes for toddlers here.
>> Click here to see different baby water shoe designs
---
13. Beach Cooler Bag
Having a good quality beach cooler bag will ensure that you keep your baby essentials, such as formula, milk, and water cool and, of course, protected from the sand.
A good and sturdy cooler bag will also be beneficial for the parents. You can grab some snacks and make it a picnic outing at the beach as well.
>> Click here to purchase a fantastic beach cooler bag.
---
–
14. Baby Sunglasses
Finding the best infant sunglasses is one of the most important things that you can take to the beach for your baby. Looking after the eyes of our little ones has never been more important than now.
These days we tend to spend so much time outdoors, taking your baby to the beach with sunglasses is a definite must.
These sunglasses for babies come with an elastic strap to keep the glasses in place and, of course, are super stylish too.
>> Click here to purchase these non-toxic baby sunglasses
---
Best Baby Beach Accessories Quick List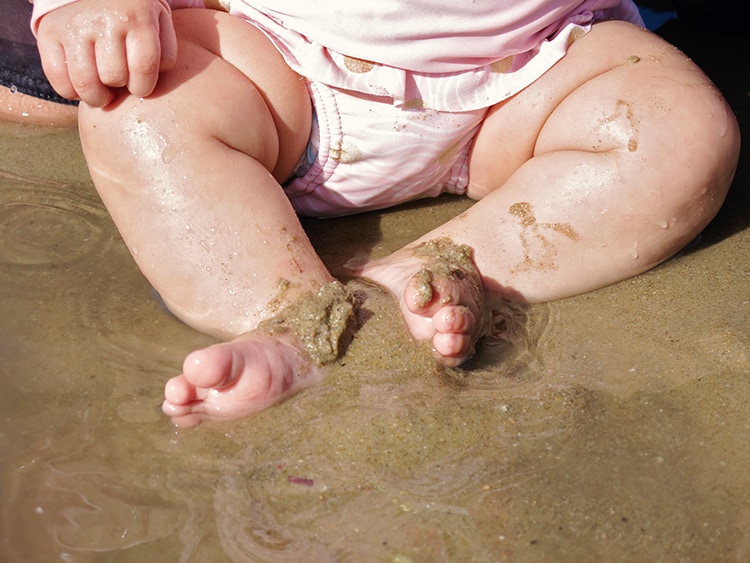 If you are still wondering what to bring to the beach with a baby? Here is a recap of the best baby beach accessories in an easy-to-scan checklist.
Essential Beach Supplies for Baby that you Should Take:
Here is a list of the most important must-haves for a baby at the beach:
Big baby beach bag
Swim diapers
Baby sunscreen
Baby hat & rashie
Beach Wagon
Baby tent for beach
Portable Fan
Waterproof blanket
Beach toys for babies
Disposable diaper bags
Portable baby bassinet
Best Beach Gear for Baby that are Handy, but not Essential:
Here is the list of handy beast beach accessories for babies:
Baby stroller
Wet bag
Baby beach pool with shade
Spray bottle
Mesh toy bag
Mesh baby carrier
Twist on spout adapter
Pouch spoon tips
Beach chair for baby
Portable pack and play
Baby beach float
Baby water shoes
Portable cooler bag
Baby sunglasses with strap
---
Beach Accessories For A Baby FAQs
Here are some answers to some of the most commonly asked questions about babies and the beach.
1. At what age is it safe to take a baby to the beach?
It's generally safe to take a baby to the beach once they are at least two months old. At this age, their immune system is more developed and can better handle different environments.

However, babies under 6 months old should stay out of the sun as much as possible. Also, be sensible about whether they should go into an ocean with big waves as they don't have strong head control yet.
2. How do I keep sand off my baby at the beach?
We typically pop down a sand-free blanket and then add some towels on top to keep our baby off the sand as much as possible.

You could also use talc-free baby powder, simply pop it on the skin and it will be heaps easier to wipe off the sand.
3. How do I keep my 2-month-old cool at the beach?
We highly recommend a portable fan. You can find small fans like this one that operate with batteries.
---
Final Thoughts On Baby beach Necessities
We hoped you found our post on the things to take to the beach with a baby really helpful.
Obviously, you do not need to take all of those baby beach items with you to the beach. So please make sure to take your time choosing, and take only the baby beach gear that you need.
The best beach items for babies or the beach equipment for babies will differ from family to family depending on your baby's personality and age. 
A good starting point is to start with the first 10 items and then pick 2-3 items from the second list that you think will be really helpful.
May you have a wonderful, peaceful, and relaxing trip to the beach with your baby. Remember there are so many benefits to taking your baby to the beach – so it is worth the effort.
Further Reading:
You might be interested in checking out our post about the 10 of the Best BabyTravel Gear Items to Pack for Your Next Holiday. Now, this will definitely top up the information and get you ready for your next trip.
Over to You:
Do you have any other suggestions of what to bring to the beach for a baby?
What do you think of our list of beach stuff for babies?
What would you say is the best beach gear for babies?