Kefalonia is an island paradise with a rustic landscape and picturesque soft sand beaches that spread as far as the eye can see.
As the largest Greek island in the Ionian Sea, you can imagine there is plenty for you to see and do during your time on the marvelous island.
Although large, the island is relatively quiet, and you can enjoy your holiday without being bothered by hordes of tourists.
We found some must-see hidden gems throughout our time here, from the beautiful town of Assos to the magical Drogarati Caves.
These 10 things to do in Kefalonia are perfect if you want to spend a relaxing time on one of the best islands in Greece.
So keep reading to discover the best Kefalonia activities and why the island made it onto our list of the best places to visit on a charter yacht in Greece.
10 Best Things To Do: Kefalonia, Greece
Throughout our Europe travel blog, we couldn't help but mention our amazing time in Greece. A significant reason for our love of Greece was thanks to the breathtaking island of Kefalonia.
While we share our favorite things to do here in this blog post, we also have a helpful video on YouTube for those looking for a 3-day Kefalonia itinerary – click here to watch the Kefalonia video here.
So here are the ten best Kefalonia things to do, with all the essential information, from where they are on the island to what you can expect at each place.
1. Petani Beach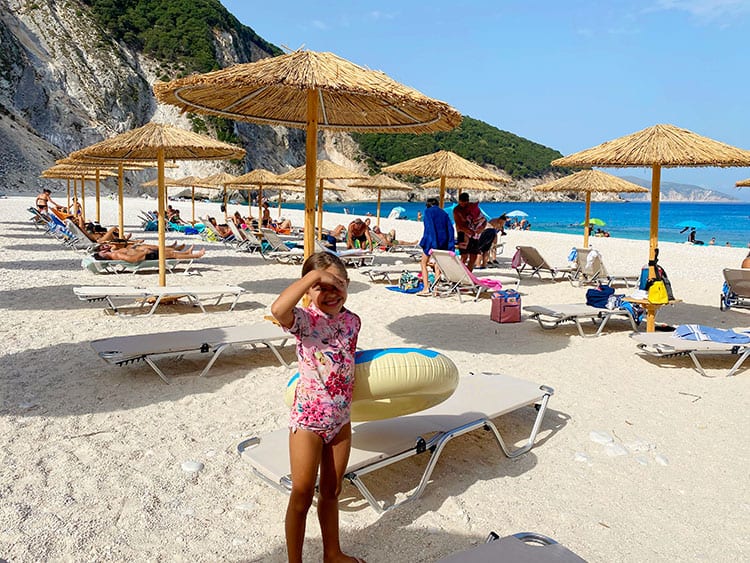 Petani beach is one of the best places to visit for a relaxed day on the coast, and it's only 21 miles from the island capital of Argostoli.
Rising hills of lush greenery perfectly frame the blue Ionian Sea, creating one of the best sunset spots on the whole island.
The white sand beach stretches for half a mile, and there are sun loungers and umbrellas you can rent to take a break from the Ionian sun.
Petani beach can get busy during the tourist season, so it's best to start your day early (arrive before 10 am) if you want to grab some sun loungers.
The waves here get big, so be cautious of the tides, especially if the kids are in the water.
One of the best places to eat at Petani beach is Erasmias, the restaurant has fantastic meals at an affordable price and is right at the center of the beachfront.
---
2. Fiskardo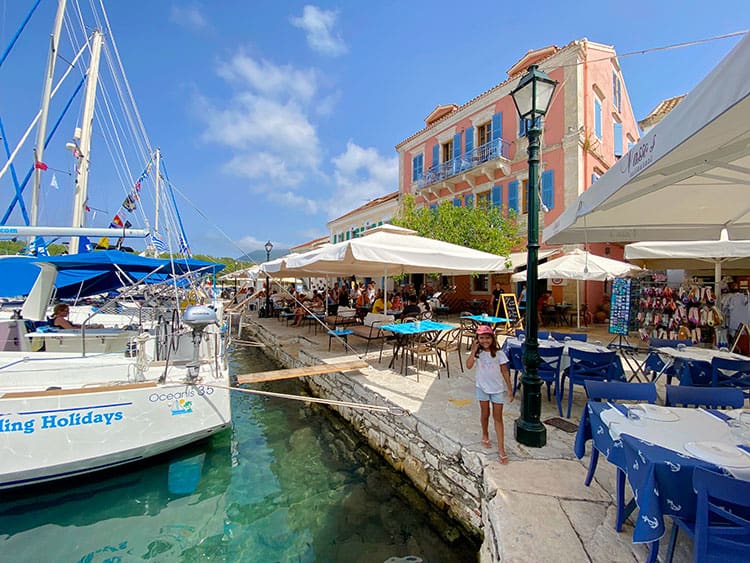 Fiskardo is a delightful little coastal village on the Greek island of Kefalonia. This northern harbor village has a very similar vibe to Assos, with Venetian-style architecture and breathtaking walking streets.
There is plenty to see and do in Fiskardo, from enjoying a stroll along the bay to exploring the many archeological sites along hikes like the Lighthouse Trail.
There are also a couple of excellent beaches you can relax at during the day. We think Foki beach's the best of the bunch. Its shallow waters and gentle waves make it great for families.
You can also ride on a traditional kaiki boat and get some unique views of this picturesque village from the ocean. There's a lot to explore in Fiskardo, including trying all the fantastic food spots in the town.
Odysseas' Taverna is the best place to eat, with great views, affordable meals, and wholesome Greek cuisine that has you coming back for more. Just make sure to arrive before 1 pm as that is when most of the tour groups will arrive (and they fill up the restaurants quickly).
---
3. Assos
For a peaceful day of wandering through small stone-paved streets and soft pastel-colored buildings, look no further than the coastal village of Assos, one of the best places in Kefalonia.
This quaint village is one of the most photogenic places in all of Greece, and with safe streets and friendly locals, you can imagine why it made it onto this list.
When we say it's small, we mean it, with a population of around 100 people.
Assos isn't just home to pretty buildings and friendly people. The stand-out landmark to explore is the ruins of the Castle of Assos. We recommend going to Nefeli-Anait for beautiful views of the turquoise waters of the Ionian Sea and some of the best Kefalonian seafood.
---
4. Melissani Lake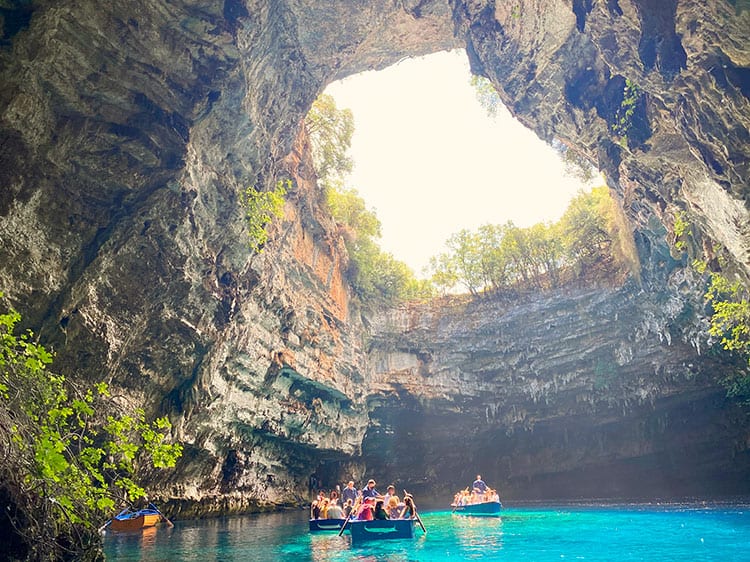 Melissani Lake is one of the many hidden gems in Greece that will leave you in awe of this spectacular country. From the surface, all you will see are thick bushes and trees, but as you get closer, the cave begins to reveal itself, and so too, do the crystal clear waters of the lake below.
The lake is easily accessible with a short 1.2-mile drive from Sami village, and you'll join a unique boat ride in the cave. As the sunlight filters into the two halls of Melissani cave, the water and stalagmites light up to reveal the beauty of this otherworldly landmark.
Unfortunately, you cannot swim in the waters, but joining a boat ride and seeing the cave's towering walls encircle you is an unforgettable experience. Boat tours last between 15 and 30 minutes and cost around $7.11 USD per person, but trust us; it's well worth the experience.
Tips:
The best time to visit this lake is around 11 am – 12 pm, but be aware that everyone wants to visit during those hours to see the light come through the open roof, so it will be busy.
Make sure to bring a hat while you wait in the queue and bring something warm as it can get a bit chilly in the cave.
Pair the visit to the lake with a visit to the caves mentioned below, which is located close by. You can also save money by buying a combination ticket.
Top Tip: Click here to book your tour of Kefalonia where you can see Melissani lake and much more.
---
5. Drogarati Caves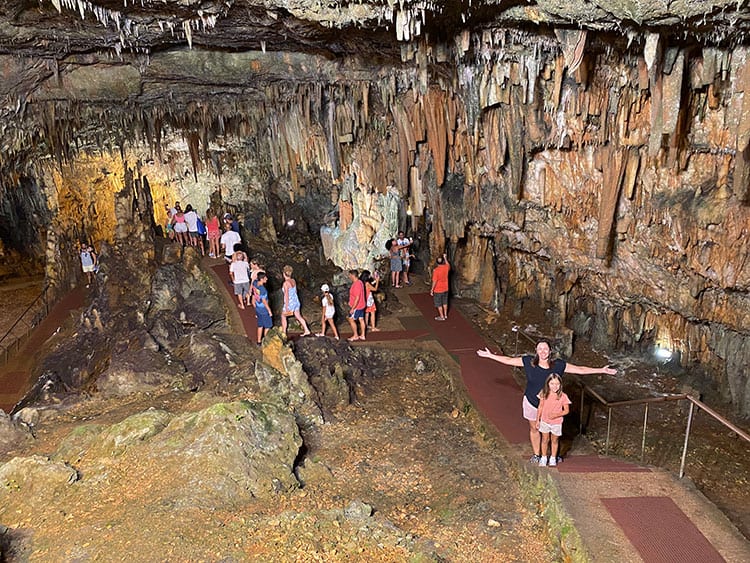 Possibly one of the best things to do in Kefalonia, Greece, is to pay a visit to the mesmerizing Drogarati Caves. The caves are only 2 miles from Sami village, and fairly close to Melissani Lake, so you can go to both of these terrific sites in one day.
Drogarati Cave is a beautiful maze of hallways full of stalagmites and stalactites, creating a world of wonders. One of the unique phenomena of this cave is its constant temperature of 64,4°F, which you'll feel during your time there.
Entrance to the caves costs $5 per adult and $3 per child, but we would suggest joining a Drogarati Cave and Melissani Lake tour. You'll have a fantastic time on the tour and learn some interesting facts about both places along the way.
---
6. Myrtos Beach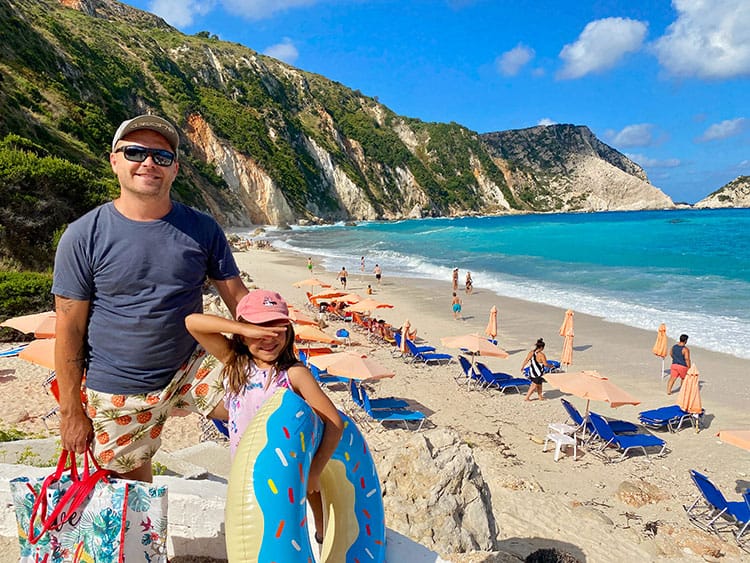 You are bound to have one of your best days on Kefalonia island, Greece, at Myrtos beach, with two mountains framing white sand to create a dramatic landscape.
Myrtos Beach is one of the best beaches in Kefalonia. At Myrtos, you will see some of the most brilliantly blue waters in the world.
During the summer months, you will find sun loungers with umbrellas available to rent – arrive before 10 am if you wish to secure a set of those. A little cafe on the beach also sells some snacks and drinks. The beach has white pebbles closer to the water, so you should bring some comfy water shoes for walking.
As the beach is on the west coast of Kefalonia, you can experience some of the best sunsets on the island. The waters are pretty calm, and the sea deepens gradually, so it's great for families.
Top Tip: Although the waters are the main feature of this beach, you can also go to the Myrtos Cave at the south end of the beach for some fantastic photo opportunities.
---
7. Xi Beach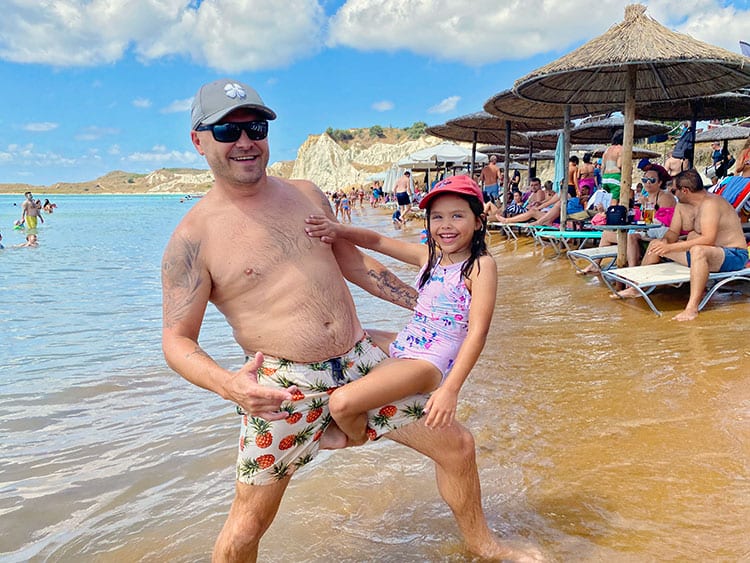 Step away from Greece's classic white sand beaches and onto the terracotta-colored sand of Xi Beach. Unlike some of the hidden beaches on this list, Xi beach is trendy and built-up, with straw umbrellas and watersports available.
The sand is incredibly soft, and the water gradually deepens, so Avalee could have fun in the sea without us having to worry too much.
In the water, you will find some areas that feel a bit slimy under your feet; this is where the clay is located. You will see some people rubbing this clay on their bodies and faces. It is said that the clay has cleaning and detoxing properties. It was pretty fun to try out.
There are a couple of really nice restaurants close to the beach, but Antonello's is the best of the bunch as they make fantastic Greek souvlaki.
---
8. Antisamos Beach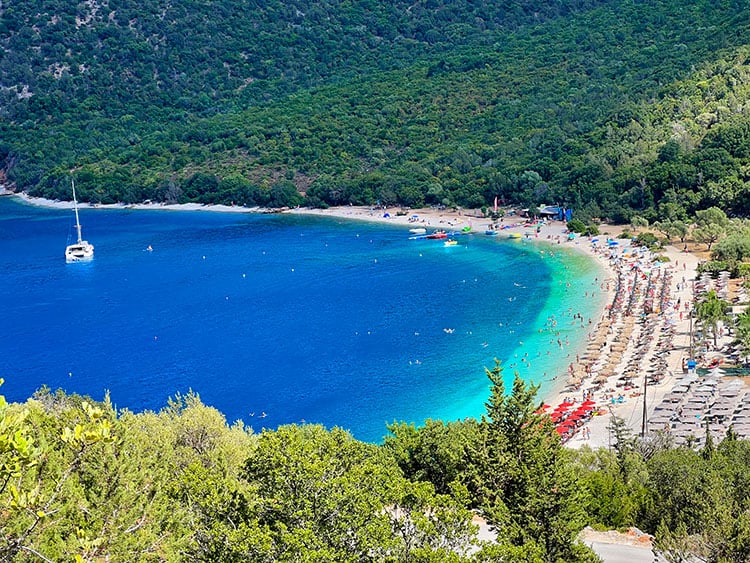 Antisamos is another lovely beach that is a short 12-minute drive from Sami village. The beach has the perfect combination of lush flowing hills and inviting turquoise waters that everyone can enjoy.
The beach has plenty of sun loungers and umbrellas that you can rent. If you want an exhilarating experience, then visit the extreme watersports facility that offers jet skiing and surfing.
Enjoy a fantastic walk along the Antisamos beach, which gives you unparalleled views of the Ionian Sea.
Make sure to bring your water shoes as the beach has large pebbles which is pretty uncomfortable to walk on.
---
9. Ithaca Day Trip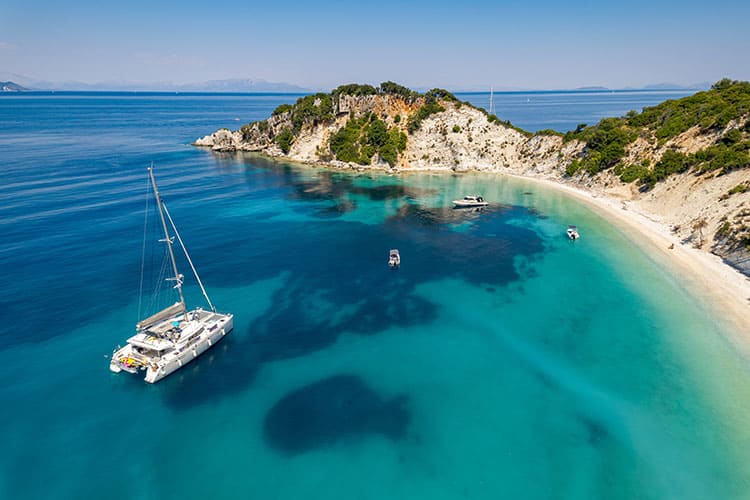 Of all the Greek islands, Kefalonia is probably the best place to set off on a wonderful day trip to Ithaca. This rustic island is full of historical wonder, with plenty of ruins for you to explore and an unlimited number of breathtaking beaches.
We suggest joining a day cruise to Ithaca island, as it's a quick way to get to the island, and most cruises include a delicious lunch. You can enjoy a fun-filled day on Polis beach and explore the historical site of Kathara Monastery. Although there is not a huge amount to see on the island, it's definitely a lovely day trip.
Top Tip: Click here to book your tour of Ithaca island on an all-inclusive day cruise.
---
10. Zakynthos Day Trip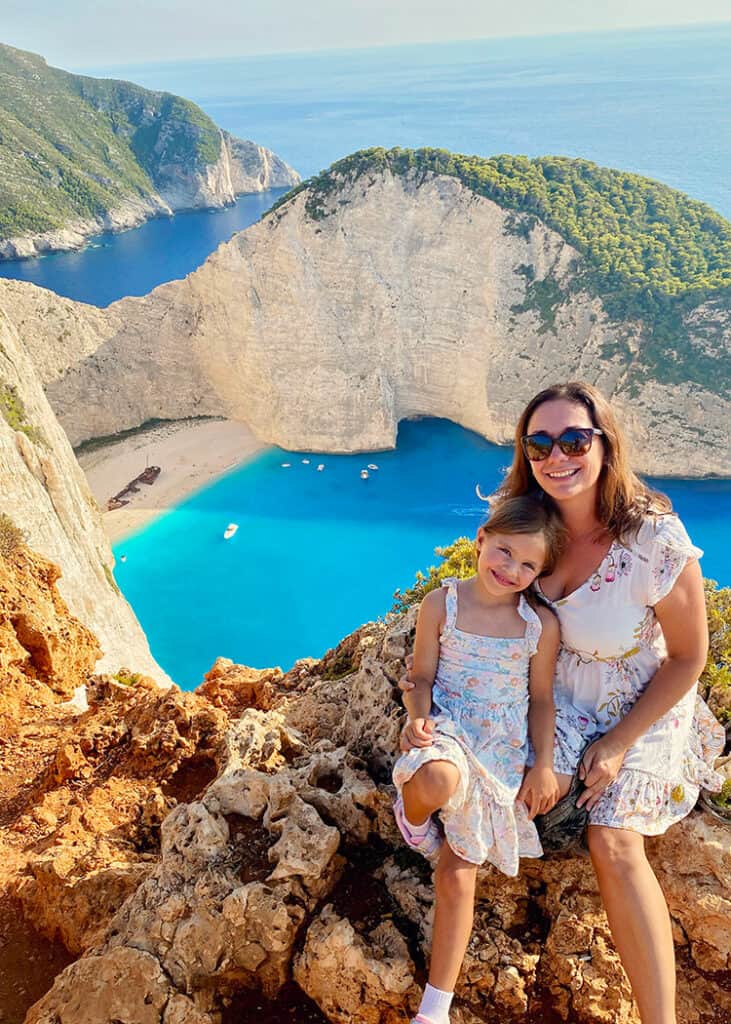 Zakynthos is another stunning island in the Ionian Sea and is well known for its beautiful white beaches and is a haven for sea turtles. You can enjoy an unforgettable Zakynthos boat trip from Kefalonia, which includes stopping by the world-famous swim spot of Navagio shipwreck beach.
During your day trip, take a walk through the stunning Alykanas village, and admire the magnificent blue caves that make this island so popular. While on Zakynthos, take a short hike up to Top View for an unreal perspective of the island.
Top Tip: Click here to book your tour of Zakynthos on a memorable boat trip or check out our blog on the best boat tours in Zakynthos.
---
What To Do In Kefalonia FAQs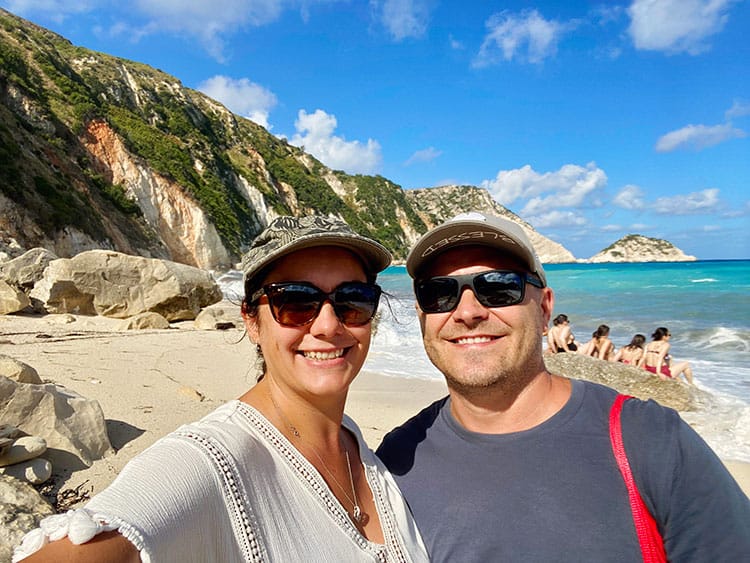 From how many days to spend in Kefalonia to if it's worth visiting, here are all the facts about this glorious island.
1. Is Kefalonia Worth Visiting?
The short answer is yes, Kefalonia is hands down one of the best places to visit of the Greek islands in the Ionian Sea. It is one of the largest, so there is an abundance of beauty and activities to enjoy.
It is also quieter than islands such as Mykonos and Zakynthos, so it's the perfect family getaway in Greece. We spent 5 weeks traveling around Greece; Kefalonia had the most stunning beaches.
2. How Many Days Are Enough In Kefalonia?
We had 3 days to explore Kefalonia, and in truth, it was too rushed. We would recommend spending at least 5 to 7 days exploring the island, as it is the largest of the Ionian islands, and it is better to have the time to enjoy each region.
3. Do I Need A Car In Kefalonia?
Most of the island is accessible via public transportation, but we would still recommend getting a rental car. With a car, you won't waste as much time waiting for public transportation, and because Kefalonia is such a large island, you want to get to your destination as quickly as possible.
---
Conclusion
We had an unforgettable time in Kefalonia, and with such a wide variety of activities to enjoy, you will too. From the picturesque town of Fiskardo to the magical Melissani Lake, it's safe to say Kefalonia is a must-visit when in Greece.
Several islands in the Ionian Sea are notorious for their lively nightlife and audacious parties, and this is why Kefalonia is such a nice change of pace. With calming beaches and a laid-back way of life, you can enjoy a relaxing family holiday on one of the best Mediterranean islands in the world.
Find more helpful blog posts about Greece on our Greece travel blog here.
Check out this list if you are looking for more on the best beach locations in Europe!
---
Additional Information for Greece Vacation
Check out what else we have about Greece here: