When the subject of Greece comes along, many thoughts go directly to ancient legends and myths, like the Greek gods and epic poems of heroes.
For some reason, these seem to have endured through the ages, in part because Greek seafaring culture has been so influential on world language, society, and politics.
Lefkada, Greece, is a living testament to this seafaring culture, offering several Greek hidden gems to experience. The island lies in the Ionian Sea and features seaside villages, beautiful blue sea waters, and beaches, as well as a seaside food culture to savor.
Things to Do in Lefkada, Greece
Lefkada hosts a seaside resort, Nydri (see below), and the main town, Lefkada Town, offers many visitors something special on a day visit. On that note, we simply have to say that there are several reasons to visit and things to do in Lefkada. Here are ten of the best.
1. Embark On A Porto Katsiki Beach Day
If you ever encountered a picture of a Grecian holiday destination in a magazine, chances are it would have been a picture of this beautiful place.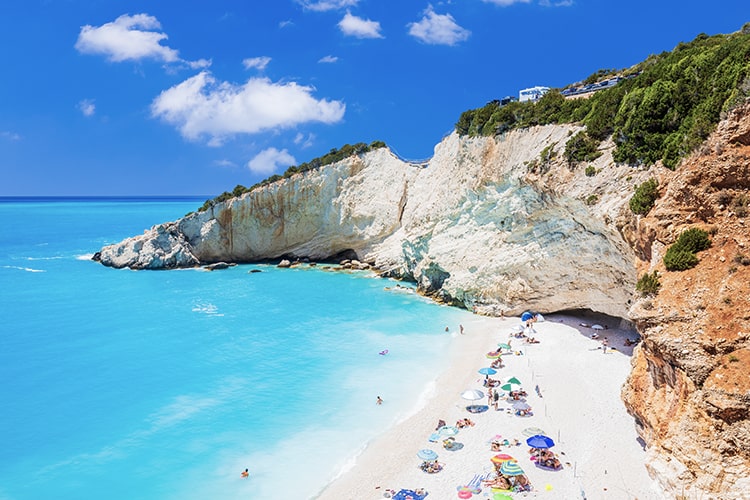 Porto Katsiki, at the south end of the island, is a trendy tourist spot in part because of its beautiful turquoise waters and tranquil setting.
You can reach the best beach on Lefkada itself by walking down a staircase of around 100 steps. The trail winds along the cliffside, emerging onto a beautifully serene shore.
One side of the beach has a cliff so high that the view from the top feels like you're sitting on an actual Olympus-like mountain. We'd recommend visiting this place as it has the best view of the sunset on the whole island.
2. Visit Egremni Beach
Another of the best beaches in Lefkada is also considered one of the finest such attractions in all of Europe. It's on the southwestern coast of Lefkada, about 13 miles from Vasiliki. White sands and crystal blue water attract hundreds of visitors each year.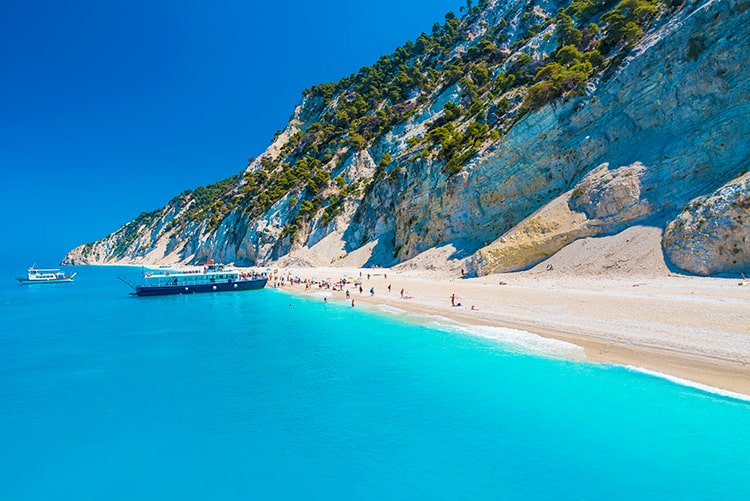 In the evening, the rocks on the beach are bright red, making the visual spectacle even more impressive. You can snorkel or lounge on some of the deck chairs that are provided. Further down, the beach feels a little less touristy, and you can simply try to find a spot on your own.
Bear in mind that if you're driving a car, you will have to park about a mile from the beach itself and walk the rest of the way.
The streets in the village of Athani are narrow and winding. So it can be tricky navigating your car around those of other visitors.
The best idea is to plan for a decent hike down to the beach and back up again. You'll have to navigate a staircase of over 420 steps to get down to the beach level.
3. Lunch In Sivota
You can't go wrong when planning for lunch in the town of Sivota. Naturally, it is known for its wide range of delicious seafood restaurants, marked by a strong Mediterranean influence.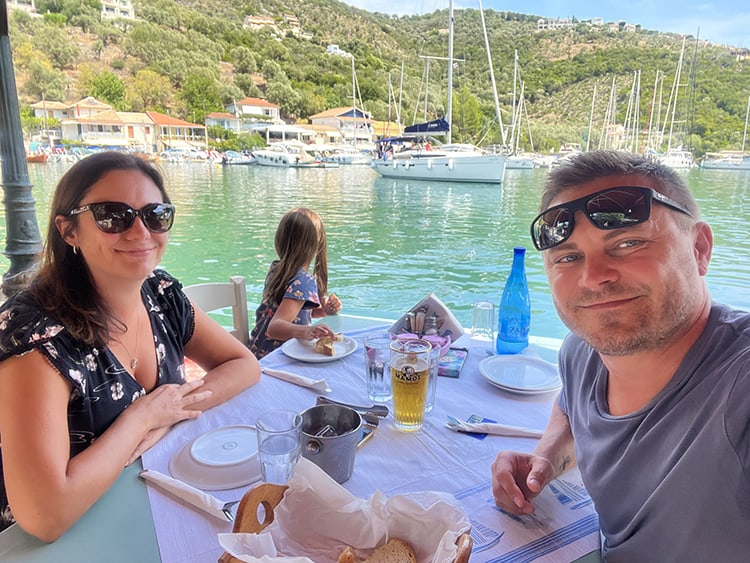 There is something here for every taste, from the traditional Greek Taverna to a more modern Euro-style restaurant setting. Regardless, the food here is excellent, and here are a few specific recommendations: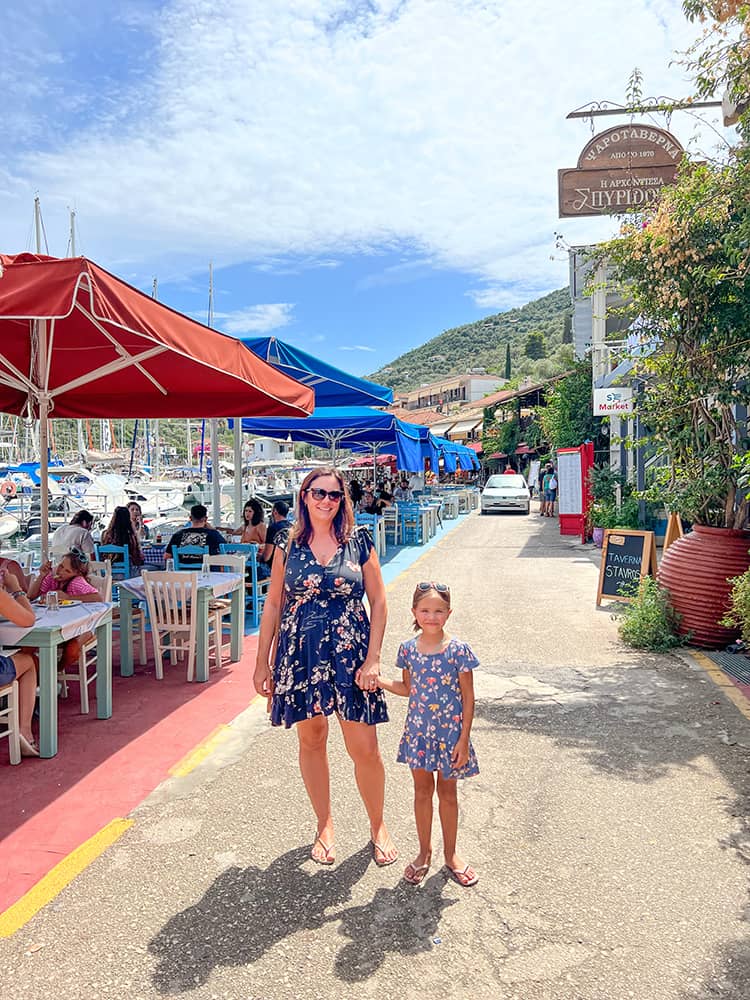 Ionian Taverna – is a good choice for those seeking gluten-free options on a typically tasty seafood menu.
Odysseia Tavern – many options available on one of the most expansive menus in town.
Old Store Restaurant – locally-sourced food set in an old olive factory.
Sivota Bakery Cafe – as the name suggests, the focus here is baked delights like crepes, bread, and pizza.
The 12 Gods Restaurant – has a beautiful harbor setting and delicious, exotic seafood.
Taverna Stavros – another great view across the harbor, especially at night.
Yianna's Family Snack Bar and Restaurant – simple and laid-back, with pizzas a welcome addition to the menu.
4. Lunch And A Dip At Agios Nikitas
A few miles south of Lefkada city is a small village called Agios Nikitas. The beach resort was actually once a fishing village and also offers cafes near the beach as an additional attraction.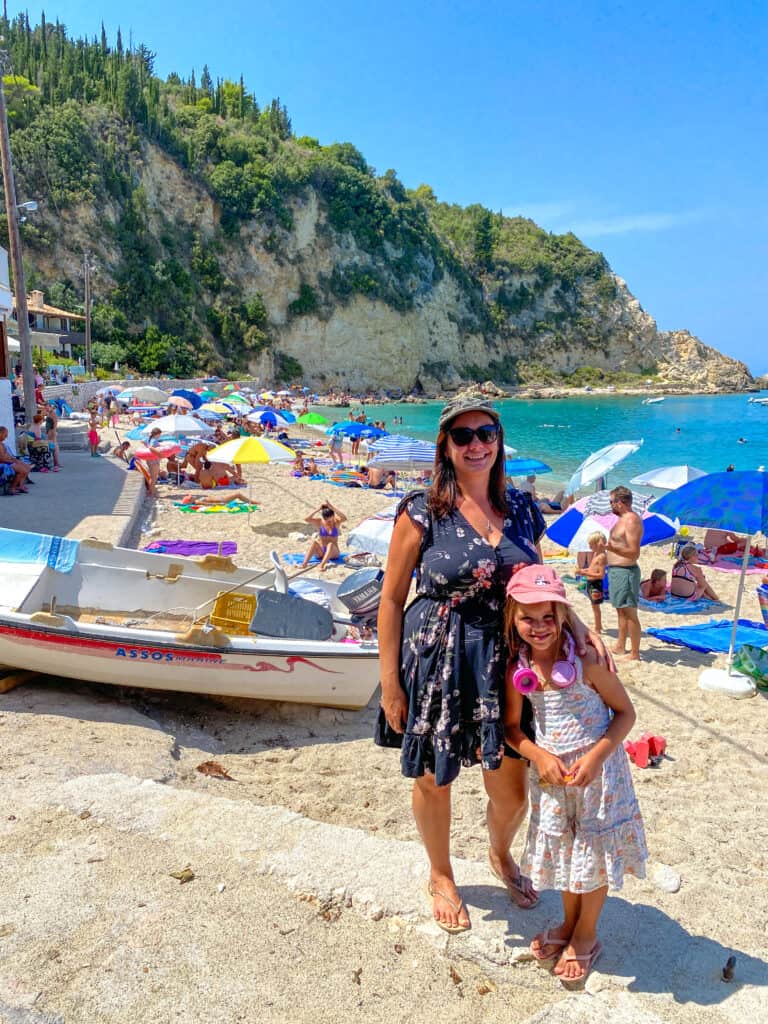 This little town is known for exquisite fresh seafood meals, beautiful blue water, and a fantastic relaxing beach.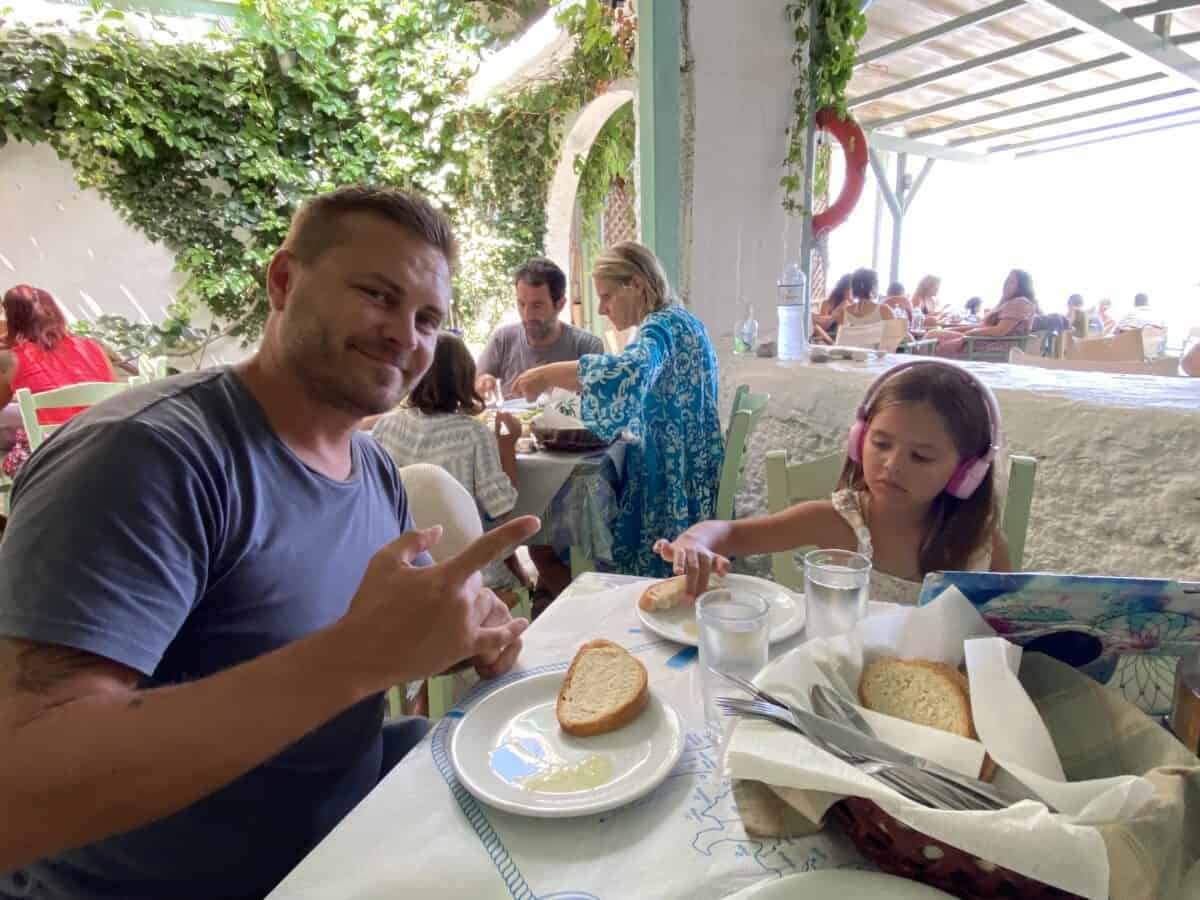 5. Enjoy Dinner And Shopping At Lefkada Town
Most people will start their holiday on the island exploring Lefkada Town. This is the main settlement on the island. It is also an economic and commercial hub.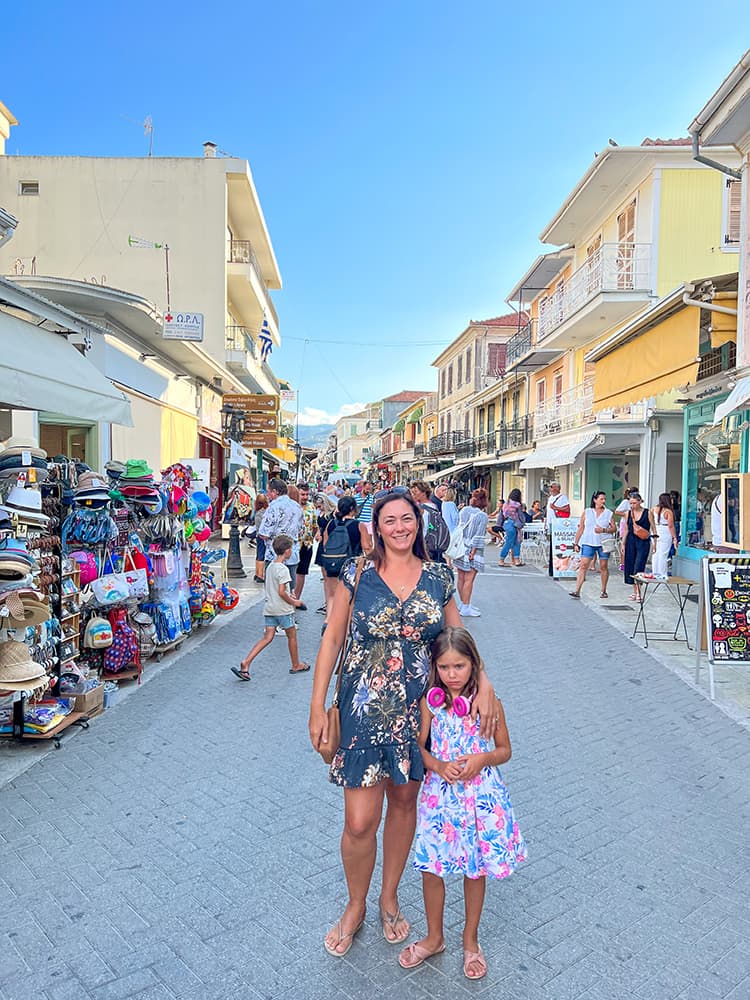 Because of its unique location and with the sea on three sides, it's perfectly suited as a waterfront location full of bars, cafes, and restaurants.
Most tourists make a point of frequenting the marina, where you'll find hundreds of boats moored at any one time. This is also one of the most popular nighttime spots, and you could spend many hours here enjoying the restaurants and pubs.
The combination of beautiful waters and mountains (and of course the atmosphere of the town) make it one of life's great experiences. The setting here is the picture of Greece and its tourist travel offerings.
If you're looking for accommodation just outside the Town, La Casa di Caterina is an excellent choice, less than 1 mile from the beach at Agios Ioannis.
Check out the current prices for La Casa di Caterina here!
6. Take A Day Trip to Fiscardo on Kefalonia
It is entirely possible to organize a day trip to the beautiful Fiscardo in the island paradise of Kefalonia.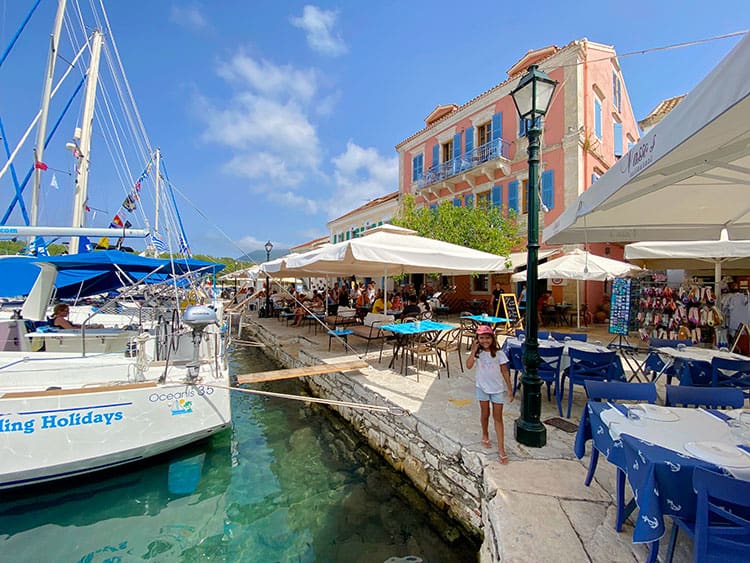 Kefalonia also sits in the Ionian Sea and has been declared by the Greek government "a place of outstanding natural beauty" to be protected by legislation.
Fiscardo is on the north shore of Kefalonia. We highly recommend that you use the entire day to explore the island of Kefalonia itself and plan to spend the afternoon and possibly early evening in the beautiful town of Fiscardo.
7. Beach And Lunch At Vasiliki
If you love windsurfing and such watersports, try the small town of Vasiliki on the south coast. It's about 18 miles from Lefkada town and is a hugely popular spot for windsurfing enthusiasts, especially in summer.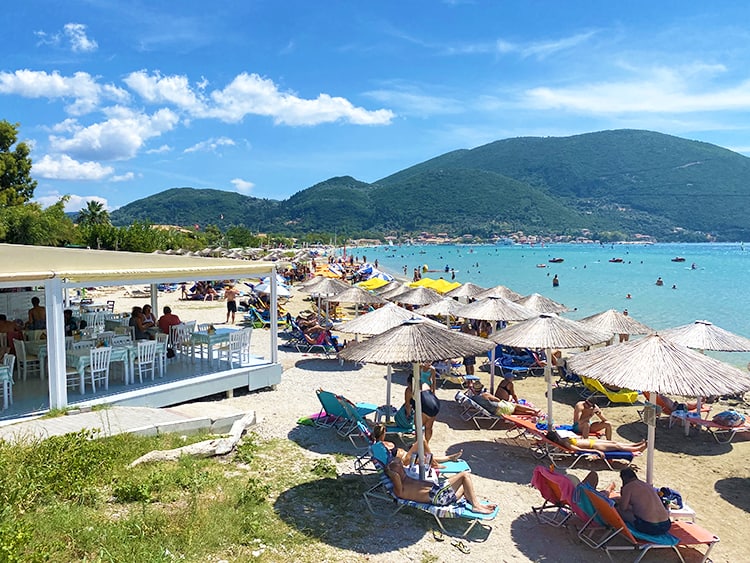 For those who prefer to stay on dry land, Vasiliki is developing a reputation for having a strong mountain biking community as well. And, of course, the food options are typically great, making it a perfect day trip from Lefkada town.
8. Sunset At Doukato Lighthouse For Views
Who doesn't love a great lighthouse? The site for this particular landmark sits atop iconic white rocks, providing a view across the waters to Kefalonia, Ithaca, and several other small islands. Getting to the lighthouse will require a drive of about an hour.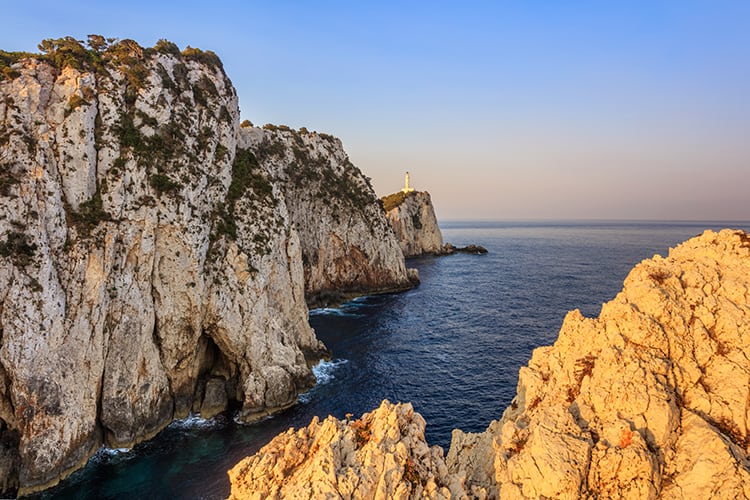 Bear in mind that there's little else at that location beside the lighthouse and the views themselves. The closest village is about five miles away.
The original lighthouse was built in 1890. There are several exciting and beautiful stories attached to this location's history. Some of them may be true, while others may have been embellished through the years to enhance the legend of the island.
One of the most famous stories is that of Sappho of Lesbos. She allegedly committed suicide in 620 BCE, throwing herself off the rocks over unrequited love. For this reason, the area is locally also known as Lady's Leap.
What we also know is that this location used to have spiritual significance for the people that lived here a few thousand years ago.
9. Forgotten Island Cruise
If you come to the Greek islands and have not considered a boat trip of some sort, you are missing the best part of your journey. There are several options for boat cruises around these islands.
Click here to book your Forgotten Island Cruise!
The cruise departs from Nydri and visits Kastos, Kalamos, and Skorpios. It includes visits to several beaches and small villages. A fabulous buffet is included, which you can enjoy onboard your cruise.
The entire cruise lasts a whole day – nine hours. The hosts are sure to provide several swimming stops where you can take a dip and cool off.
10. Hire A Boat From Nydri and Self-Drive Around The Coastline
As mentioned, you could also hire your own boat and navigate your own way around the coastline. Boats under a particular power rating (30 HP and below) require no license in order for you to rent them.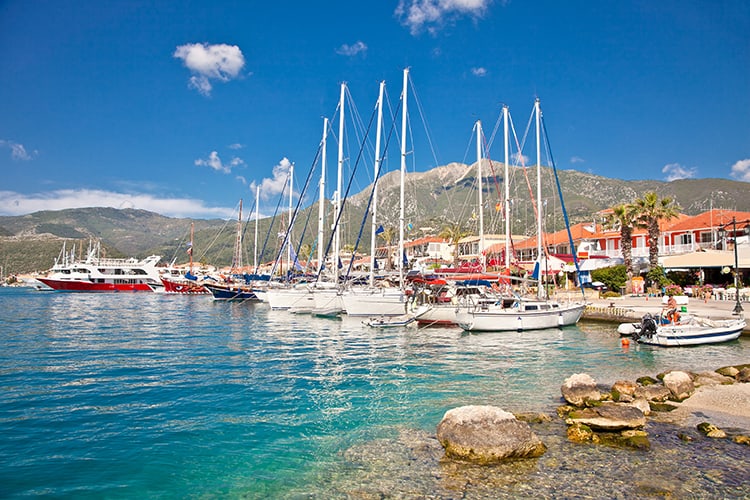 Larger motor boats, speed boats, and ribs all require a certified license.
You can rent a small boat for as little as 80 to 100 Euros per day. This price can drop even lower during the low season. More than likely, you'll undergo a short safety course and be required to provide credit card insurance or similar.
Read here for more ideas of places to visit when you charter a yacht in Greece.
Final Thoughts On Things To Do That Lefkada Has To Offer
There isn't very much to argue against visiting this fantastic island in the Ionian Sea. The best of Greek weather, beaches, and food can all be found here, with the added bonus of terrific sunset views.
The additional plus of being able to self-drive a boat around the coast makes it a unique prospect in Europe. Enjoy the privacy and comfort of your very own home on the water for a few days.
Wondering where to go next? Consider Lefkada Island, Greece, on your next visit to Europe. Or why not check out this list of family-friendly beaches in Europe for more ideas?
After More Places To Check Out In Greece?
Here are some of our other recommendations for your next trip to Greece: