Planning a vacation to Crete in Greece but still haven't decided on a place to stay? Then this is just the place for you!
Nestled near the Agios Nikolaos city center and the Elounda Village, the Blue Marine Resort and Spa Hotel is an amalgamation of Cretan hospitality and elegance.
Hence, we have curated this review-based guide, so you can make the most of your stay here.
Blue Marine Resort and Spa Review
Right off the bat, this high-end resort caught our attention with its convenient location, being just a 10-minute drive from Agios Nikolaos in Crete.
Agios Nikolaos is one of the best areas to stay in Crete. So it is close enough to plenty of restaurants (if you have a car) whilst being far enough away from the busy feeling of a city.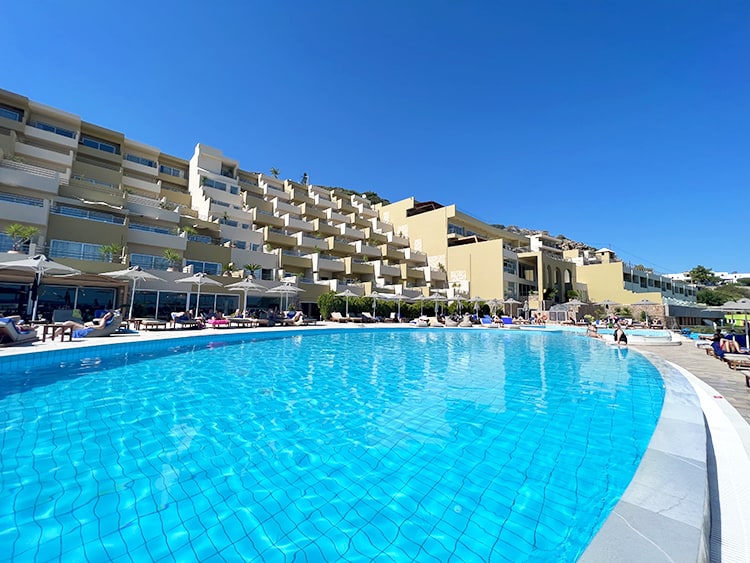 It overlooks Mirabello Bay and the crystal clear waters, serving as the perfect spot for a relaxing family vacation.
Book your stay or check out the prices and availability at the Blue Marine Resort and Spa here.
Superior Double Swim-up Individual Pool Sea View – Room 114
The resort offers eleven types of accommodations, most of which are accompanied by a beautiful view of the sea!
We stayed at the Superior Double Swim-up Individual Pool Sea View room, ideal for three.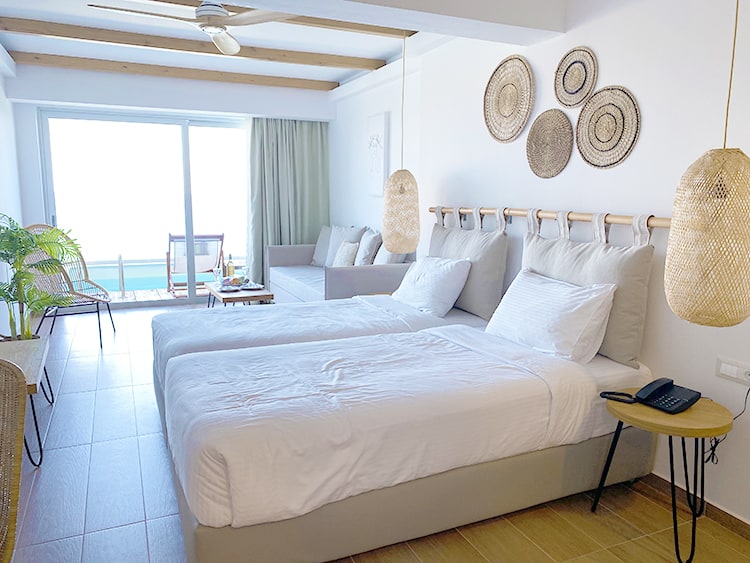 The accommodation was generously-sized, consisting of a bedroom, a bathroom, and a private outdoor pool. There was a furnished terrace with a stunning sea view as well.
Moreover, we were offered an array of facilities, like a big TV, a small fridge, and extra sheets for our 6-year-old. The king-size bed was also accompanied by a couch, allowing us to sleep comfortably.
We further liked how the small plunge pool was a bit further from the main pool, giving us much-needed privacy and an overall peaceful experience.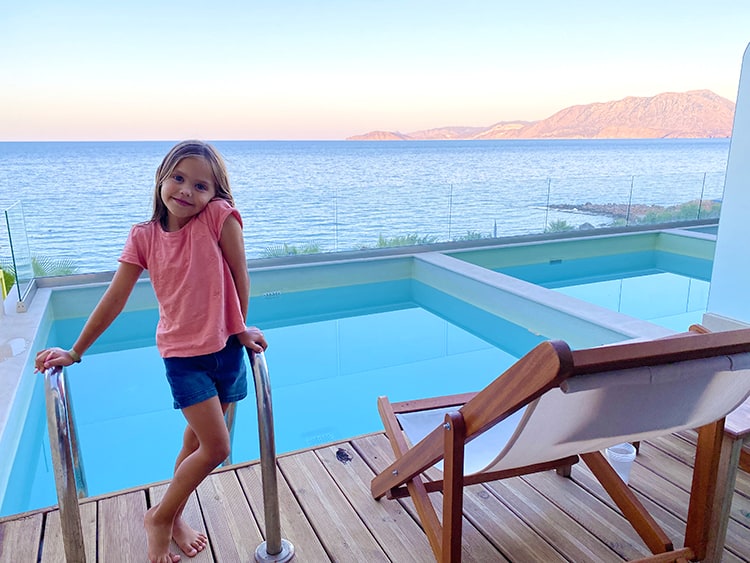 The only complaint we had with the accommodation was the construction of the room. With walls so thin, we could hear other guests shifting furniture in their rooms. Plus, the aircon was noisy, adding to our aggravation.
Amenities
Think of the luxurious service, and you'll find it at Blue Marine!
For instance, the Euphoria Spa Center is where you can experience extravagance and tranquility. The therapists here will treat your senses, leaving you rejuvenated after a long day at the beach!
But if you're more of an adventurous soul, why not try the resort's brand-new Padel tennis court? Or, you could hit the gym to burn the calories from the delicious meals you gulped down during the day!
Here's what we tried during our stay…
Pool
The resort offers a variety of pools to try out, and we really appreciate the integrated kid's pool. The two outdoor swimming pools are quite large, so even with many people around, you'll be able to swim a lap or two comfortably.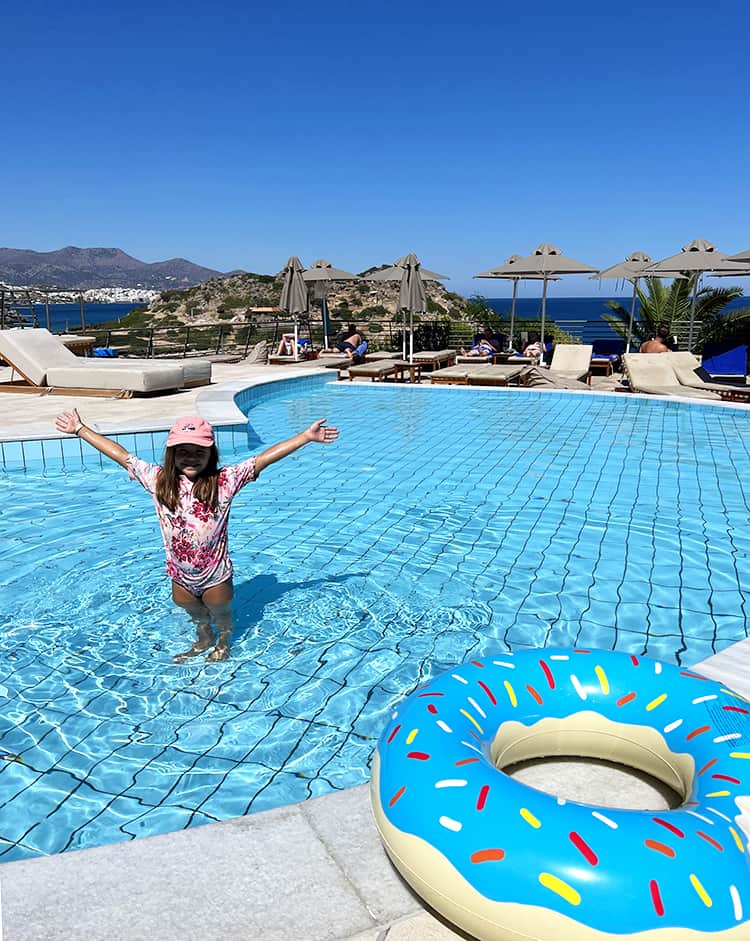 We visited the resort in September, which is not when most people head out for vacations. So, we could spend as much time as we wanted in the pools and relax in the sun loungers.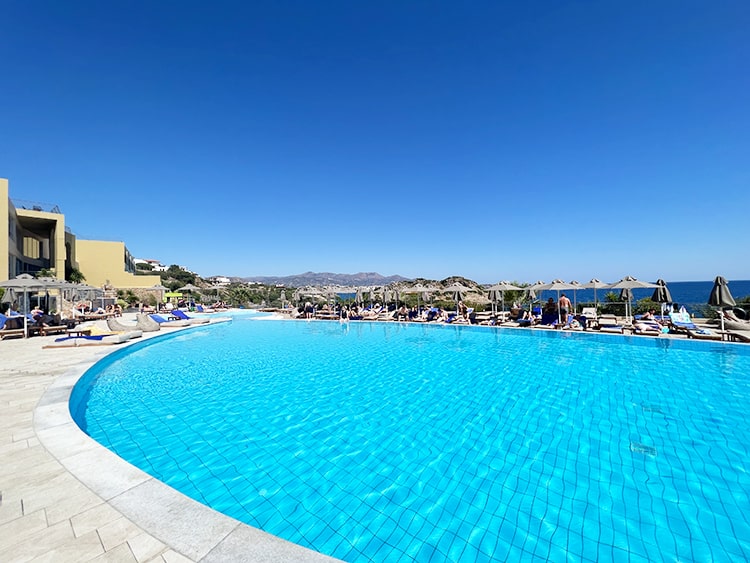 Despite the overall relaxing experience, we must add that the cocktails were a tad bit disappointing. But you could ask the bartender to add a bit more alcohol, and you'll be good to go!
Restaurants
We were spoilt for choice as the resort offers eight restaurants, each delivering a distinct taste and experience.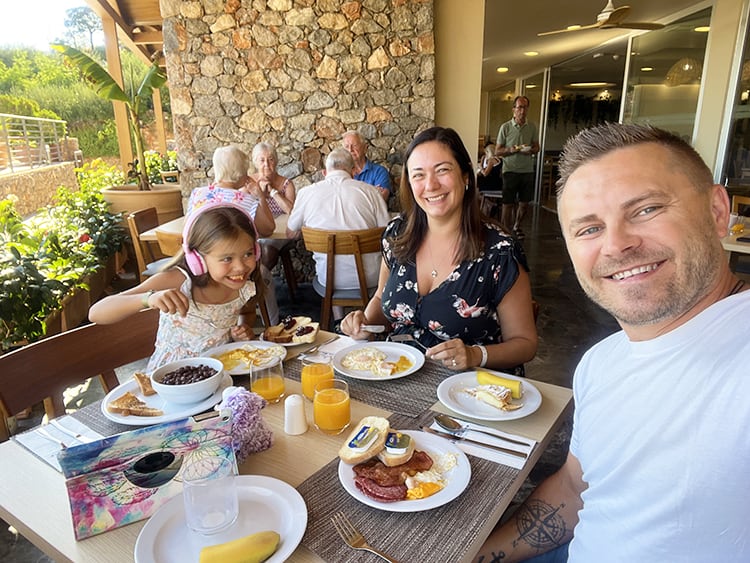 The first one we tried was Blue Aegean Buffet Restaurant, which did not disappoint with its wide selection of freshly-cooked Mediterranean delicacies.
For meals, we visited the Ya Mas Traditional Grill House near the hotel theater, offering a stunning view. We especially loved the steak, which was bursting with flavor on each bite!
Finally, Creperie, a quaint corner serving indulgent desserts, is where we stuffed ourselves with sweet treats before calling it a day.
Other restaurants were Blue Dragon Asian Restaurant, Marino Al Mare Ristorante Italiano, Panorama Bar, Kyma Snack Beach Bar, and Pelagos Pool Bar.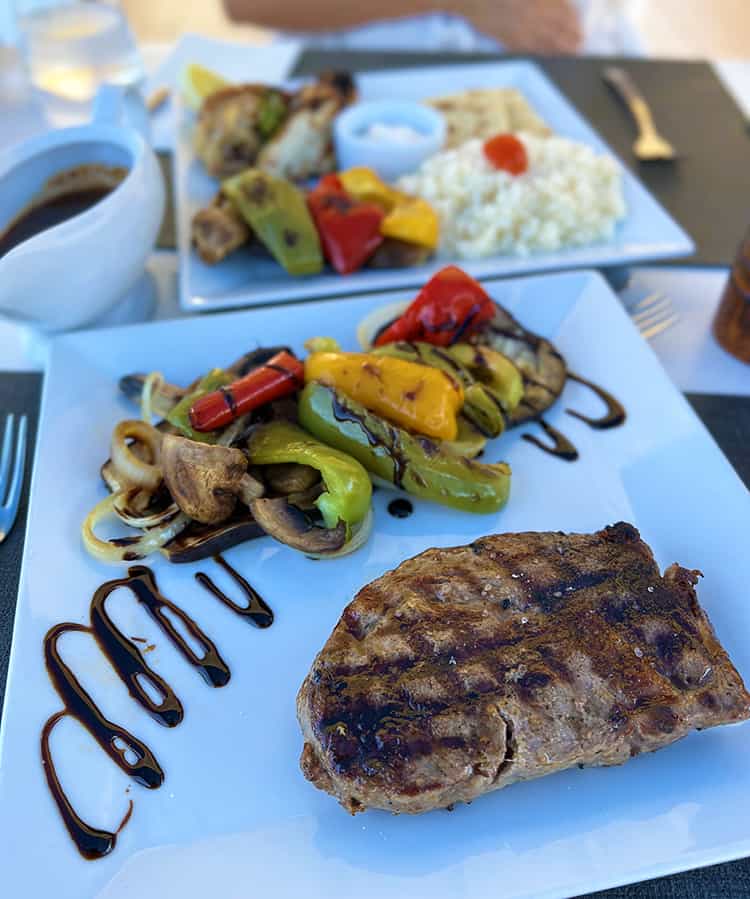 Kids Club
Any resort offering a kid's club wins bonus points from us since we usually travel with our children. This time we had our 6-year-old daughter accompany us, and during our two-day vacation, she visited the club thrice, so that says a lot!
Thanks to the friendly and safe environment at the kid's club, we could get some alone time and relax by the beach.
Our All Inclusive Deal
If you're planning to visit the Blue Marine Resort and Spa Hotel this year, we recommend taking advantage of the Ultra All-Inclusive Program. It includes a host of facilities you can enjoy at a discounted price.
We had also opted for the deal for our visit in September and enjoyed top-notch service.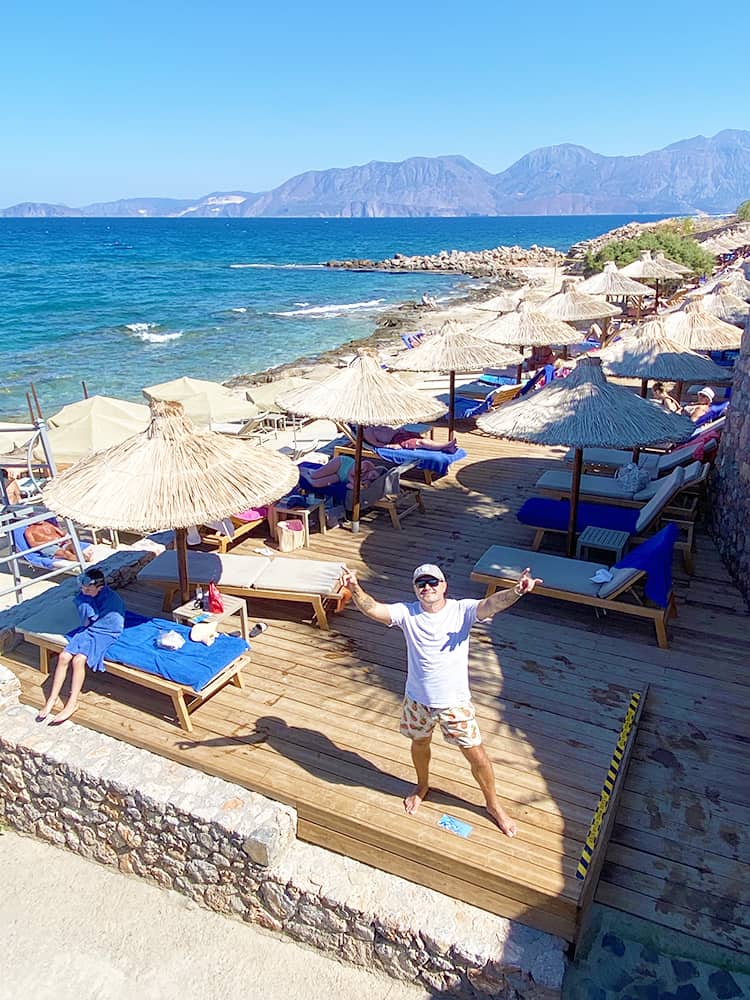 The deal covers four restaurants and bars each, two snack bars, free minibars, water bottles, a coffee machine, and additional F&B offerings.
Moreover, the amenities include the gym, fully-renovated premium rooms, Swim-up suites, and more.
Note that you will be charged for using the Padel tennis court.
Conclusion
Overall, we enjoyed a blissful vacation at the Blue Marine Resort and Spa Hotel. The friendly and helpful staff were at our beck and call and always served us with a smile!
However, we do think that visiting in September added to our positive experience, as many guests have run into issues previously during peak vacation times.
Book your stay at the Blue Marine Resort and Spa here.
Additional Information for Greece Vacation
Check out what else we have about Greece here: