For many, visiting Greece is all about seeing the stunning islands in the Aegean Sea and the historical city of Athens.
But if you turn your attention to the center of Greece, Meteora, one of the nation's most mesmerizing sights, comes into view.
Meteora's distinctive rock formations and monasteries make it a historically fascinating part of the Thessalia Highlands.
The six monasteries of Meteora are frequently called "beautiful pieces of architecture placed in an environment that is as unique as it is breathtaking."
They get numerous visitors yearly yet maintain an air of openness and accessibility.
You're in for a wonderful treat when you visit Meteora mountain in Greece. You'll see the incredible sight of old monasteries perched precariously on slender rock pillars.
Using our Meteora guide, you won't miss a thing on this part of your Greece travel.
Is Meteora Worth Visiting?
This genuinely remarkable part of the planet is one of the most beautiful places we have ever visited.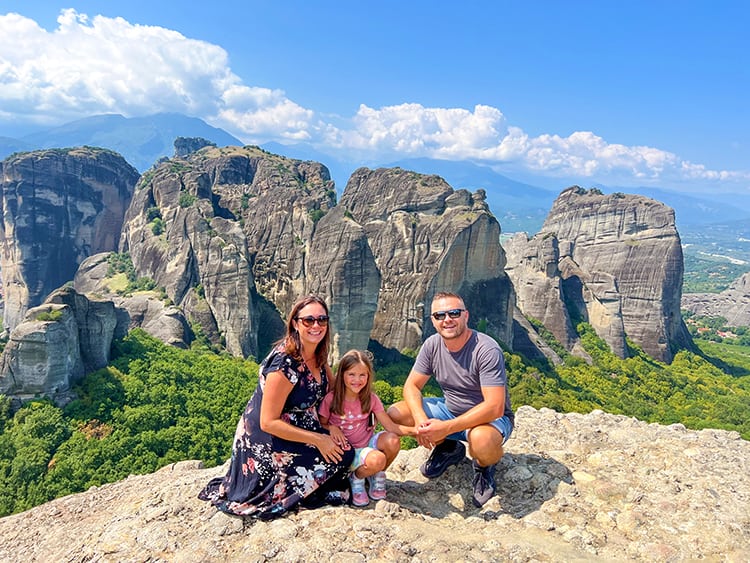 The Monasteries' significant scale, magnificent architecture, engineering, and geology, make them an absolute standout among others.
When you visit the Meteora mountains, you might experience an unsettling feeling of deja vu because it has appeared in several media, including James Bond and Game of Thrones.
Linkin Park also got the name for their Meteora album from Meteora.
We stand by the fact that Meteora is well worth a visit and we recommend anyone visiting Greece for the first time should include at least a day here.
Ideally, you can go for a night or two, but it's also a fantastic day trip from places like Athens for those short on time.
However, if you take your time, it is a place that will continue to astonish you.
Where Is Meteora?
In the heart of mainland Greece, close to the town of Kalabaka, you'll find Meteora.
It isn't the most accessible destination to get to because it's located smack dab in the middle of Greece.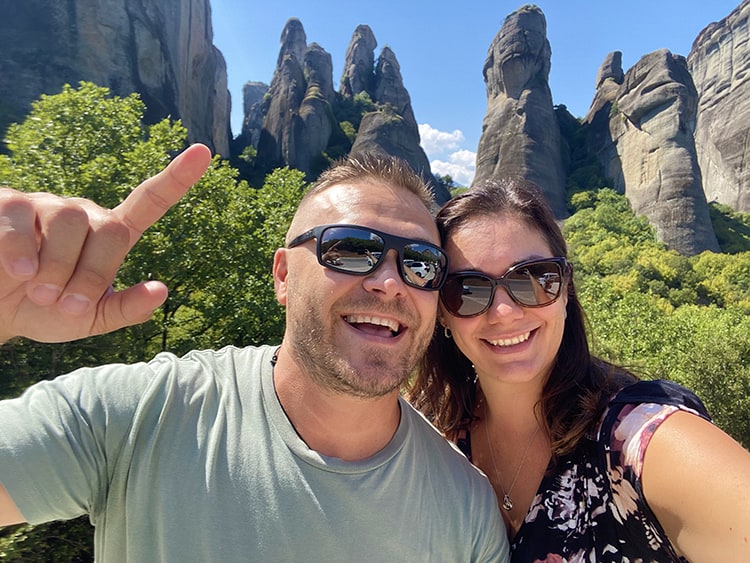 Most people arrive at Meteora via big cities like Thessaloniki or Athens.
Thessaloniki is about 142 miles from Meteora, and Athens is about 217 miles from Meteora.
Your only choices for transportation to Meteora are by bus, car, or train since there are no nearby airports.
How Many Days Do I Need In Meteora?
You can definitely visit the monasteries in Meteora in one day.
However, to get the whole experience, we advise staying for three to four days in Meteora.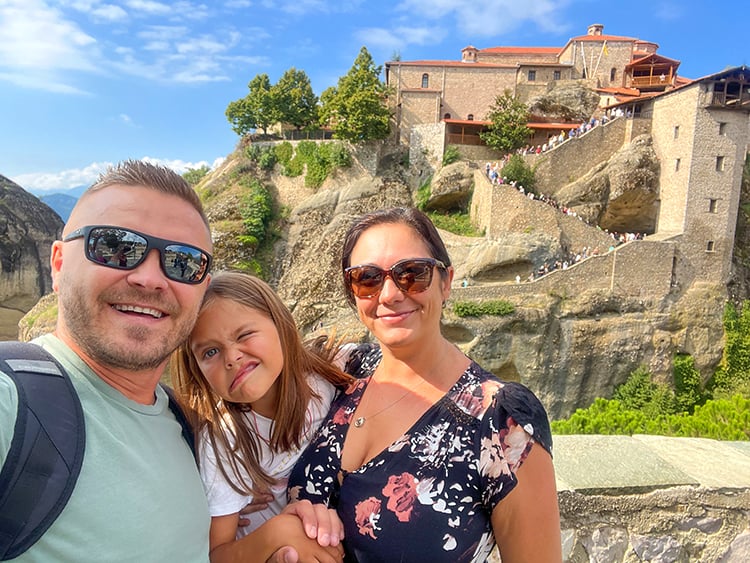 We stayed in Meteora for three nights and two full days. We absolutely loved that we could explore everything at a slower pace.
If you are strapped for time, you can join a day trip from Athens. It seems a bit exhausting, though, due to the traveling.
So we only recommend it for travelers who want to pack everything into their trip quickly.
Also, the monasteries are closed on different days of the week, so you won't be able to visit them all in one day.
Tip: If you are staying in Athens and doing a day trip to Meteora, you might be interested in checking out our list of the best Athens hotels with rooftop pools. Yes, they have a view of the Acropolis too.
Can You Visit Meteora Monasteries On Your Own?
Yes, you can. Of the original 24 monasteries, only six are still in operation, but they accept visitors.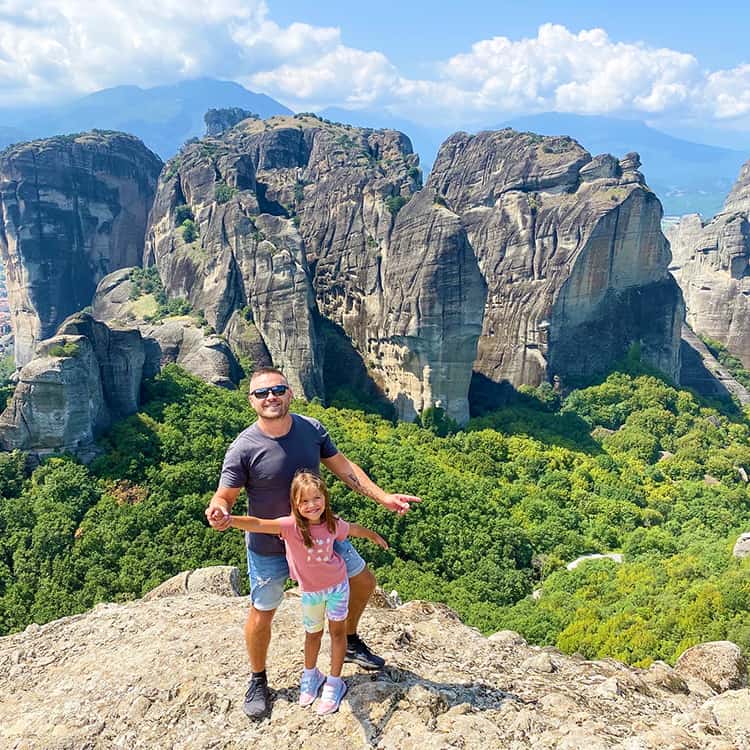 Cost To See Monasteries
Each monastery has a €3 ($2.95) entry fee. To visit all six monasteries, you will pay €18 ($17.73) per person.
You will also need cash to pay the entry fee, as the area's card facilities are pretty scarce.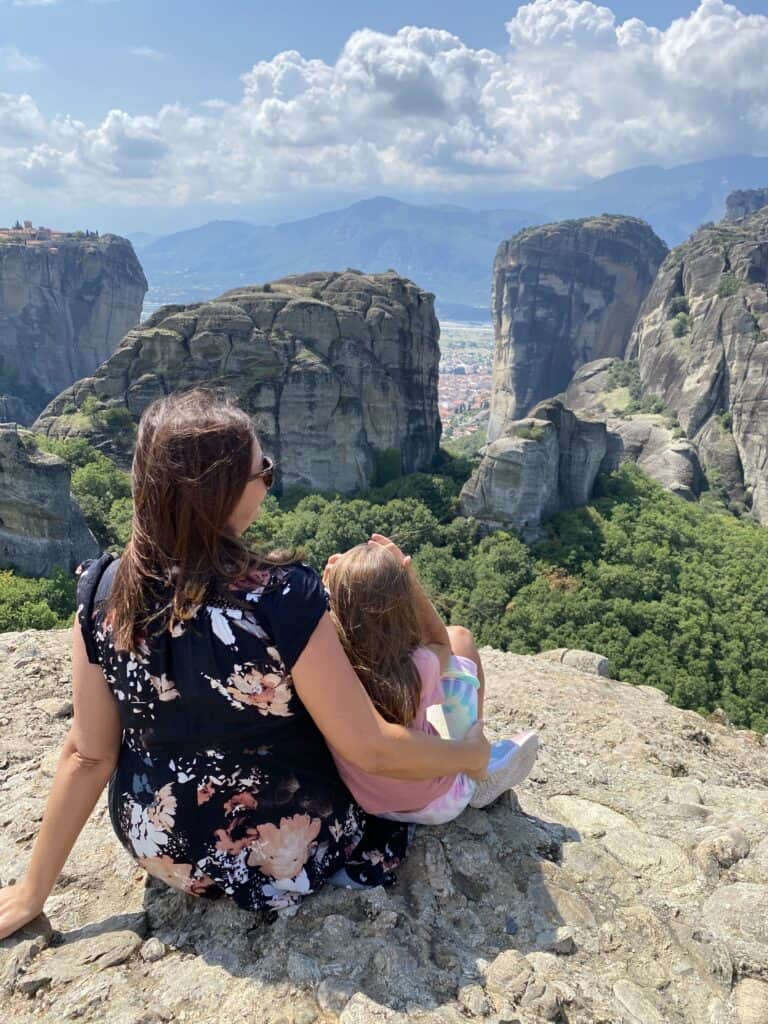 Meteora Monasteries Dress Code
Women must wear long skirts, dresses, or sarongs because the Meteora monasteries have strict dress requirements.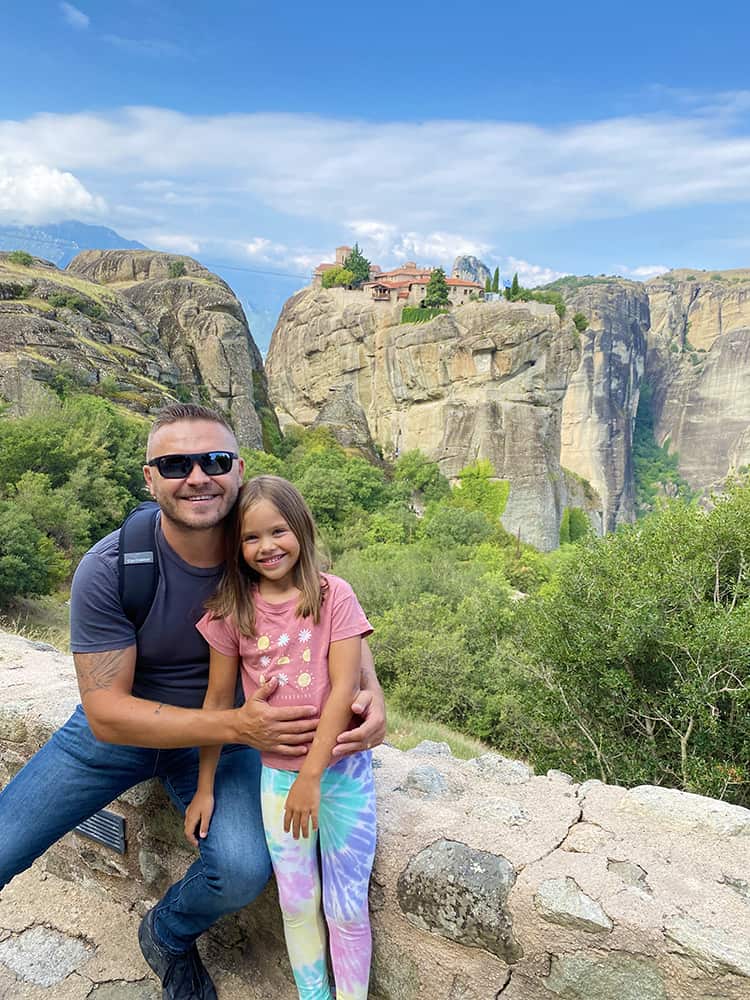 Shorts or pants are inappropriate as it's not enough to cover your knees. However, you can borrow wrap skirts and shawls from the monasteries' entrances.
We noticed that they are stricter about the long skirt and that shoulders should also be covered.
Men should wear a T-shirt or long-sleeved shirt (no sleeveless shirts), jeans, and shoes.
However, we did see a few men who got away with wearing long shorts that ended just below the knee.
Keep in mind that monasteries are places of religion, so you have to act appropriately and with respect.
How Do You Get Up To The Meteora Monasteries?
You can get to and from Meteora in Greece by car. Some roads wind their way around the breathtaking environment across Meteora.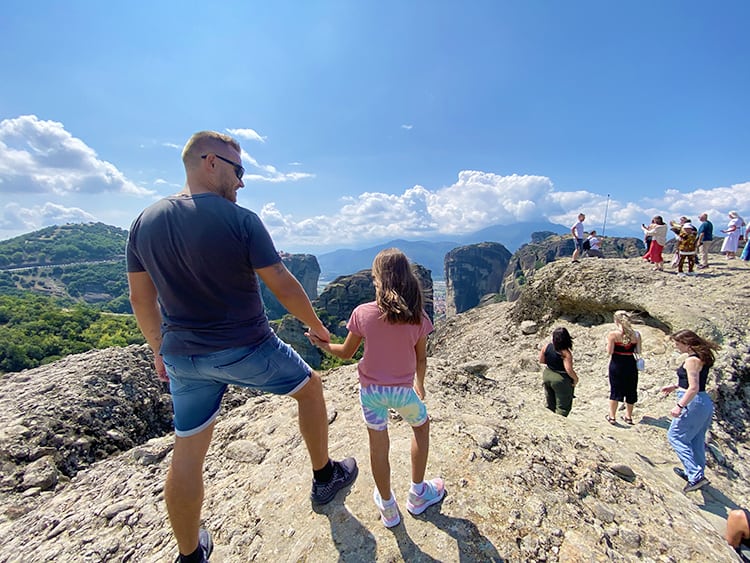 However, during the summer's peak travel season, there is often a shortage of parking spaces outside monasteries.
Getting up to the monasteries is a different story. You will climb several stairs to get up to most of them.
Visiting the monasteries in Meteora will ensure you catch up on all the leg days you have skipped because you wanted to sleep in.
How Hard Is It To Climb Meteora Monasteries?
It's not too bad. We'd say it's around medium difficulty. We are pretty unfit, and we had a six-year-old with us.
However, we all managed to get to the monasteries just fine (albeit wildly out of breath).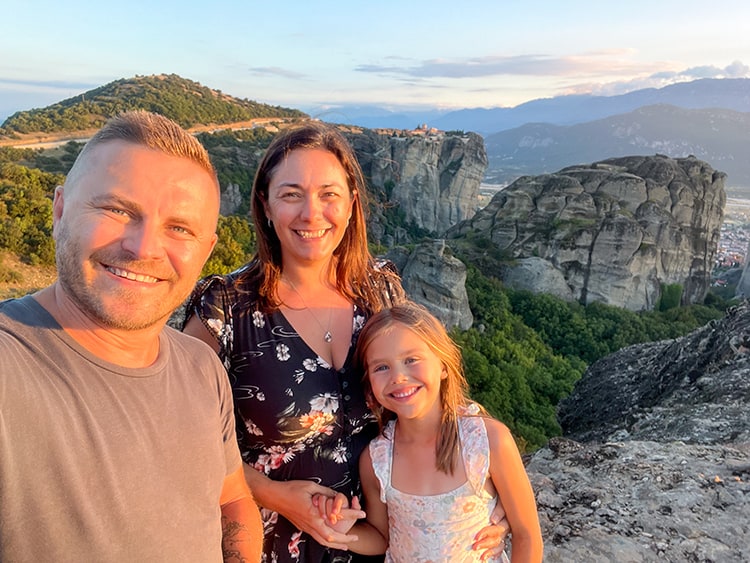 When visiting the monasteries, the essential things to remember are to bring water and wear decent walking/climbing shoes.
We have a list of fantastic sling backpacks in which you can keep your water, clothes, money, etc. while traversing the mountain.
Also, go at your own pace and take breaks when necessary. Trust me, if we can make it, so can you.
Best Monasteries in Meteora
Each of the six monasteries in Meteora has a unique mystery-filled past.
They are all distinctive and stunning, brimming with spiritual wisdom, calmness, and the promise of an unforgettable vacation experience.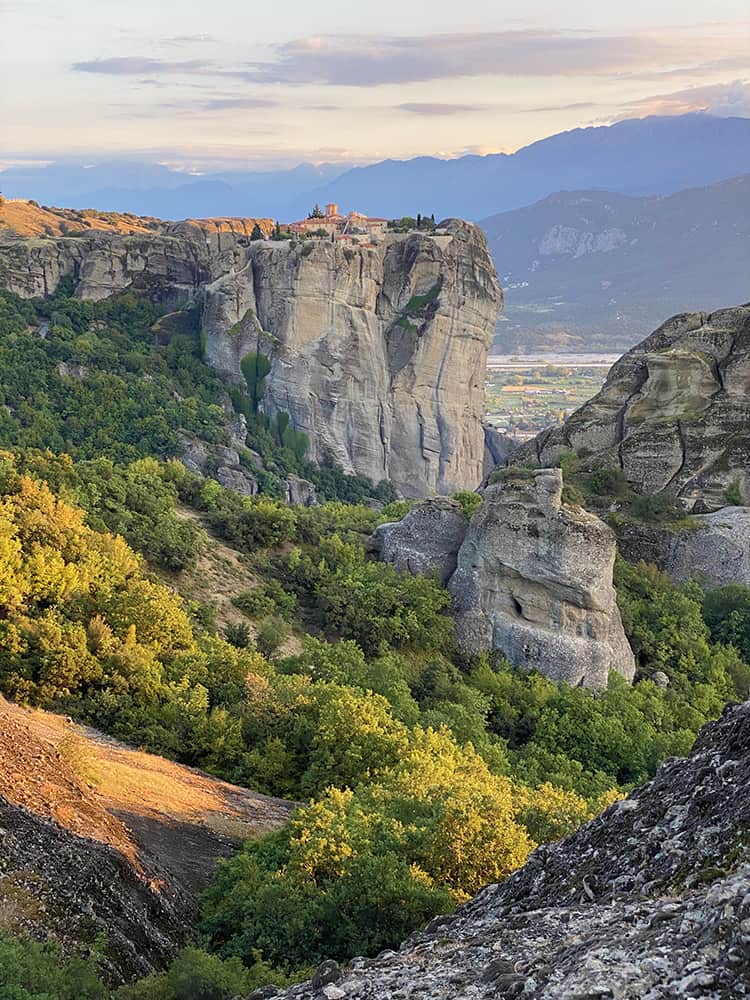 There is an entry fee at each of the major monasteries. Choose a few monasteries to see if you're on a tight budget.
Also, check the schedule in advance of your visit because they are closed on some days of the week.
We recommend you start your day early because the biggest and most visited monasteries, Great Meteoron and Varlaam, quickly fill up with busloads of people.
Let's take a look at these beautiful monasteries.
1. Great Meteoron Monastery
The Monastery of Great Meteoron is the largest and oldest of the Meteora monasteries and it's a striking structure.
It was established by a monk from Mount Athos in the 14th century AD.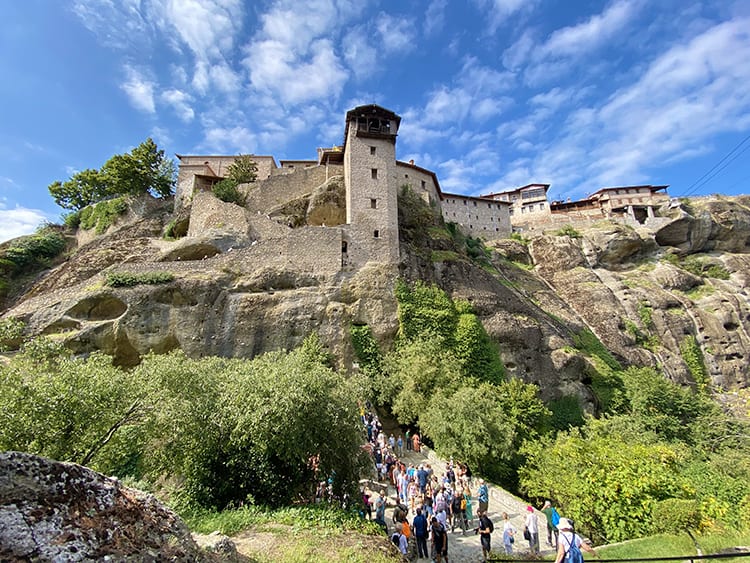 The Great Meteoron Monastery is perched atop a massive stone pillar at a stunning 2,017 feet above sea level, towering over the surrounding monasteries.
The complex comprises numerous structures, and 300 steps and resembles a small village rather than a single monastery.
It has murals of tortured martyrs and depictions of the last judgment in its Catholicon, which is the monastery area where monks pray.
I think even if you are not a believer you will be able to feel the power of the monasteries.
We liked to say a quick prayer ourselves whilst in the churches of the monasteries. There are many reasons why prayer is important.
Fine frescoes and icons from the 14th to 16th century can be found inside the church of the Transfiguration, as well as golden frescos of saints and a museum detailing Meteora's past.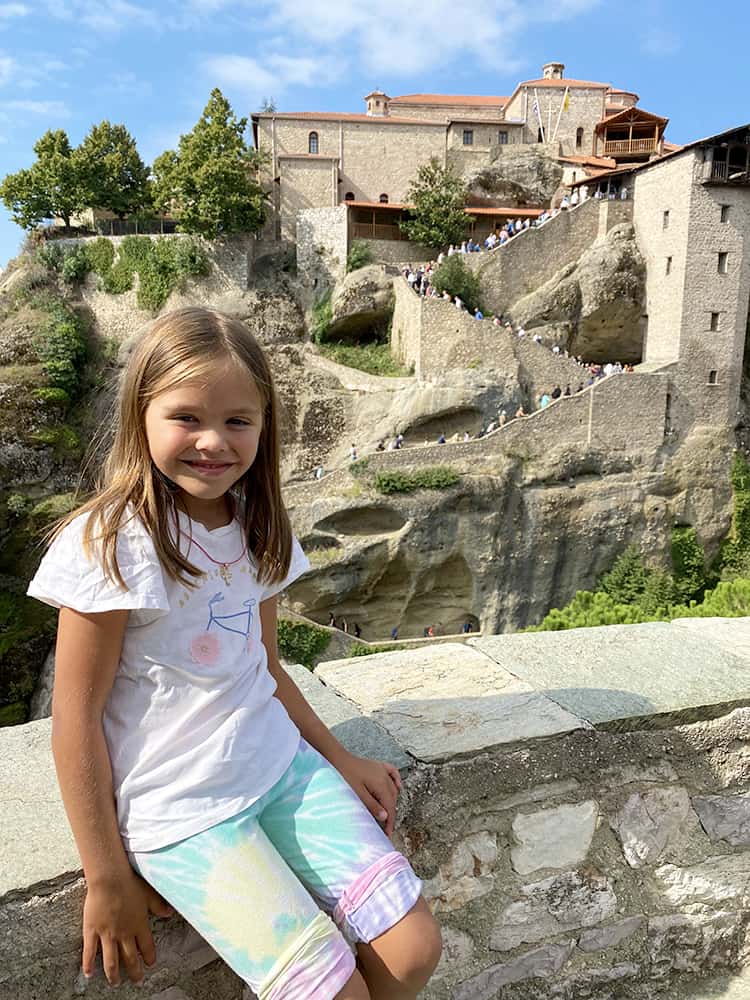 Great Meteoron has three independent museums, including a library with a copy of the Suda. The Byzantine encyclopedia from the 10th century alludes to numerous forgotten ancient sources.
There's also a gallery of modern artwork created by an artist who emulates the aesthetic of the time when the monasteries were constructed.
Opening days and hours:
From April 1st to October 31st, the visiting hours are 09:00 – 15:00. The monastery is closed on Tuesdays.
From November 1st to March 31st, the visiting hours are 09:00 – 14:00. The monastery is closed on Tuesdays, Wednesdays, and Thursdays.
2. Roussanou Monastery Meteroa
The first hermit who made a home on the rock where the monastery is located inspired its name, the Holy Monastery of Roussanou.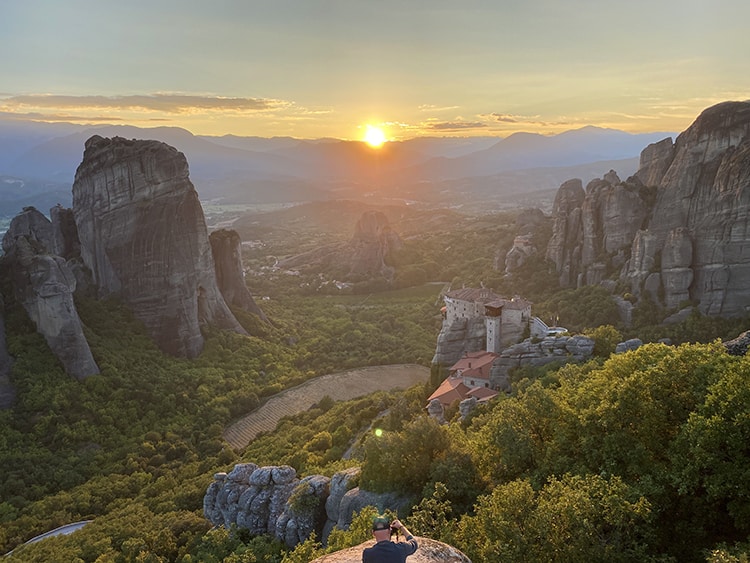 When priest-monk Arsenios served as the monastery's abbot in 1560, exquisite wall paintings known as the Catholicon was created.
At the end of the 16th century, the main cathedral was built, and it underwent decoration in the 1930s.
There's a good reason Roussanou Monastery is Meteora's most photographed structure since it roughly sits in the middle of all of the monasteries.
It also sits on a cliff up 140 steps that stand out the most against the surrounding scenery compared to other areas of Meteora.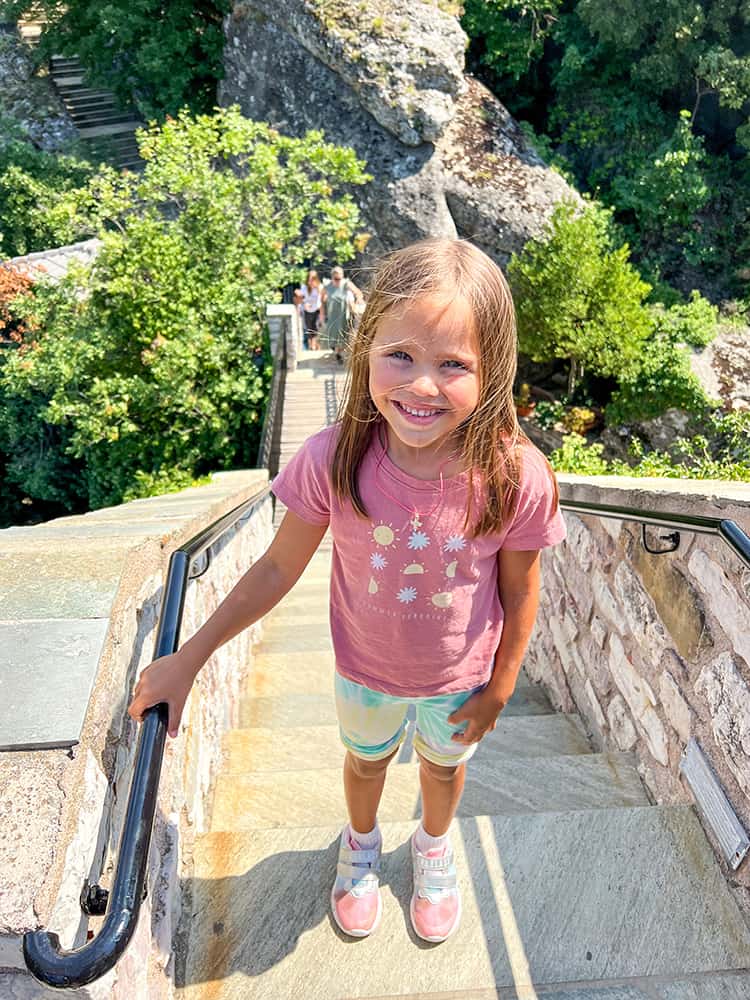 The monastery was severely damaged during World War II, but it was reconstructed and is currently a functioning convent.
St. Barbara, a woman whose life was devoted to Christianity and who was later killed by her father, is honored at the Monastery of Roussanou. She is now the patron saint of coal workers, and the nunnery that bears her name is home to 13 nuns.
Opening days and hours:
From April 1st to October 31st, the visiting hours are 09:30 – 17:00. The monastery is closed on Wednesdays.
From November 1st to March 31st, the visiting hours are 09:00 – 14:00. The monastery is closed on Wednesdays.
3. Holy Trinity Monastery Meteora
The Holy Trinity Monastery, known as Agia Triada, is renowned for appearing in the James Bond film "For Your Eyes Only." It's located all by itself on a stone peak and is the most remote and difficult to get of the Meteora monasteries.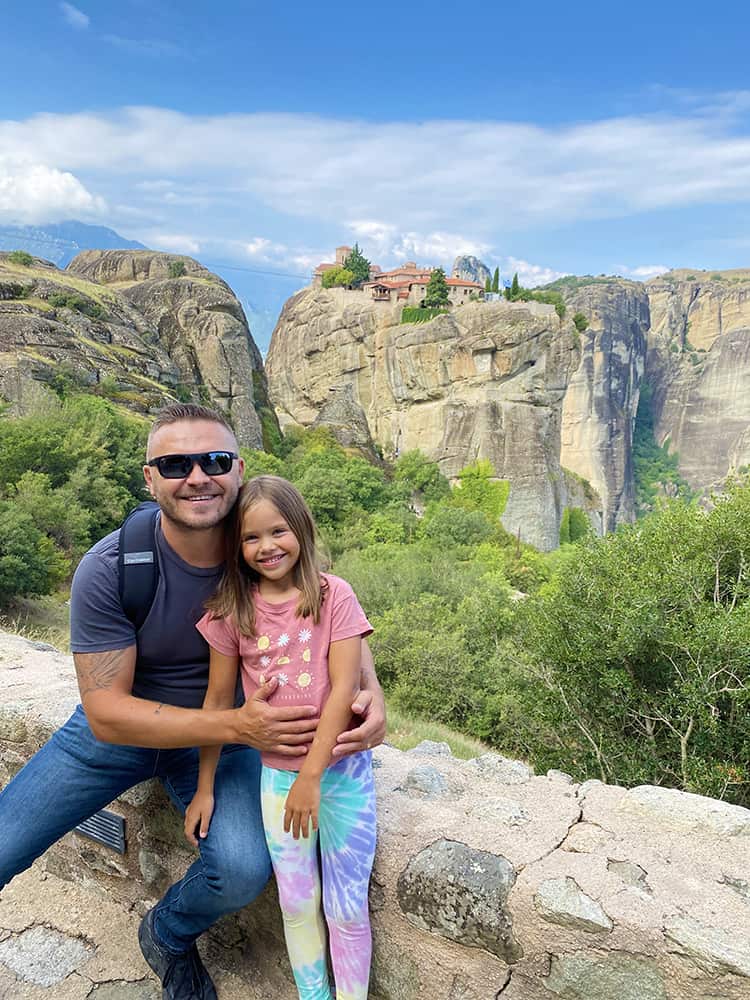 This monastery, accessible through a 140-step stairway, has undergone numerous repairs. It's hardly unexpected that it was utilized as a filming site for the 1981 James Bond film because it's picturesque and has impressive views of Kalambaka.
Since it was constructed in the fourteenth century, only rope ladders have been used to enter the monastery, and baskets have been used to transport supplies since 1925. It became more accessible after 1925 when 140 steep stairs were cut out of the rock.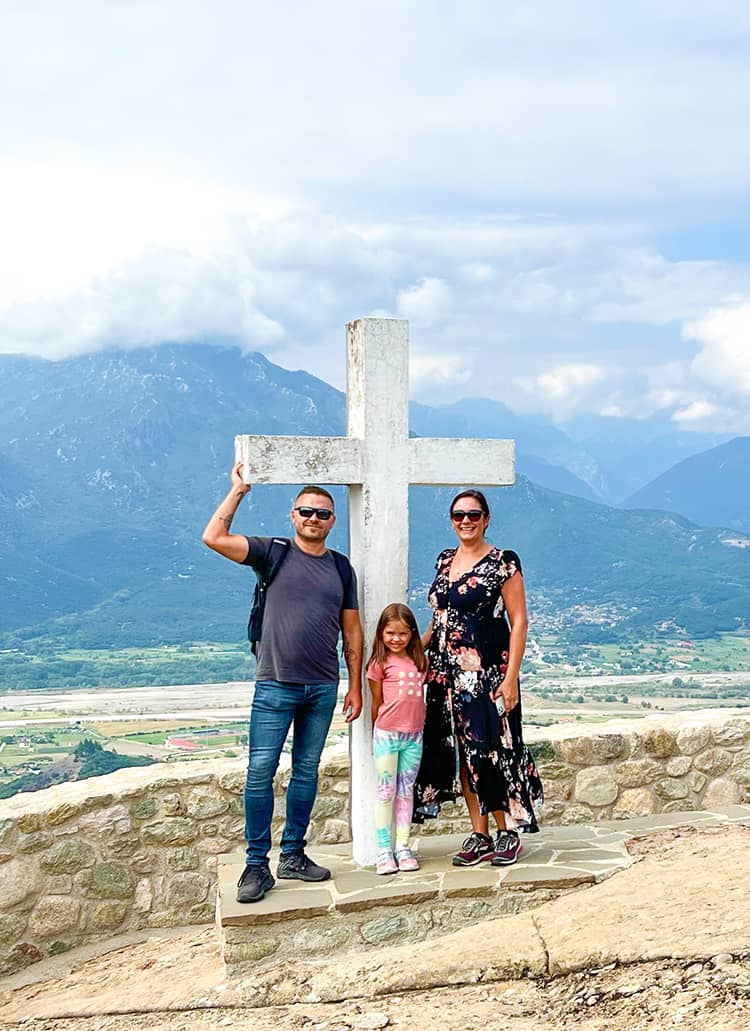 During World War II, the Germans ransacked it and took its riches. The frescoes from the 17th and 18th centuries are worth viewing, and the looters left behind a Gospel Book printed in Venice in 1539.
Opening days and hours:
From April 1st to October 31st, the visiting hours are 09:00 – 17:00. The monastery is closed on Thursdays.
From November 1st to March 31st, the visiting hours are 10:00 – 16:00. The monastery is closed on Thursdays.
4. Varlaam Monastery Meteora
Varlaam, a monk, established this monastery in 1350. Since he was the only person who had ever inhabited the rock, the monastery was left in ruins after his death. In 1542, the opulent monastery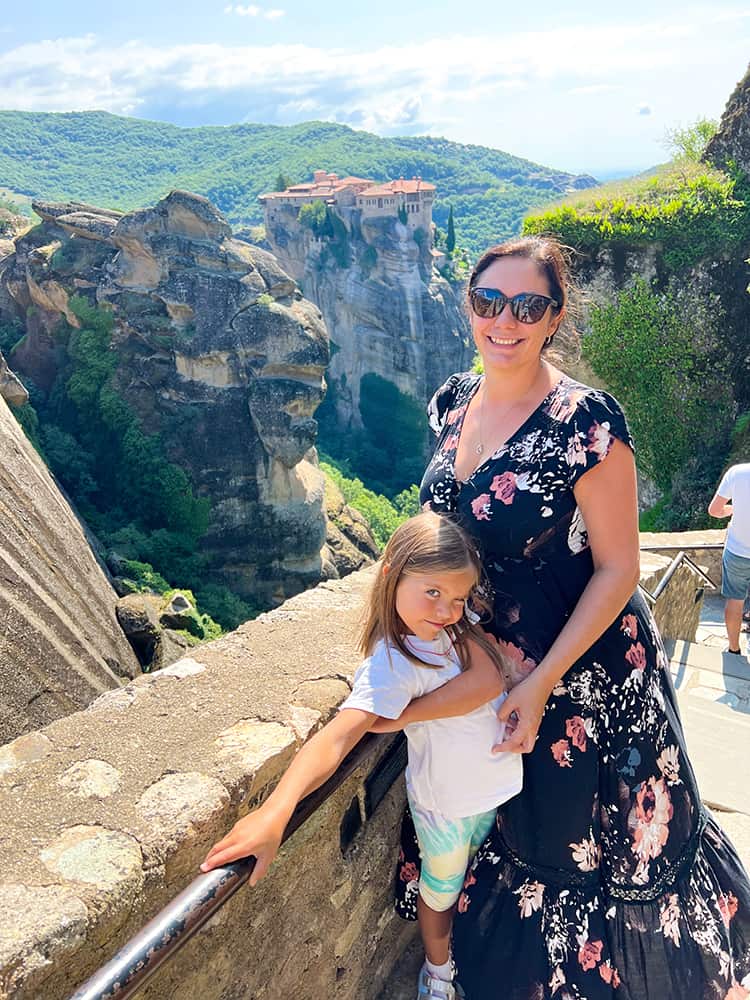 Catholicon was built by priest brothers Hosioi Theophanes and Nectarios the Apsarades in memory of Agioi Pantes.
It is incredible how they completed the structure in just 20 days after spending 20 years using ropes and baskets to collect all the materials on the top. Beautiful murals, an exhibit of religious artifacts, and a great water barrel that formerly held 12 tons of rainfall can all be seen inside the monastery.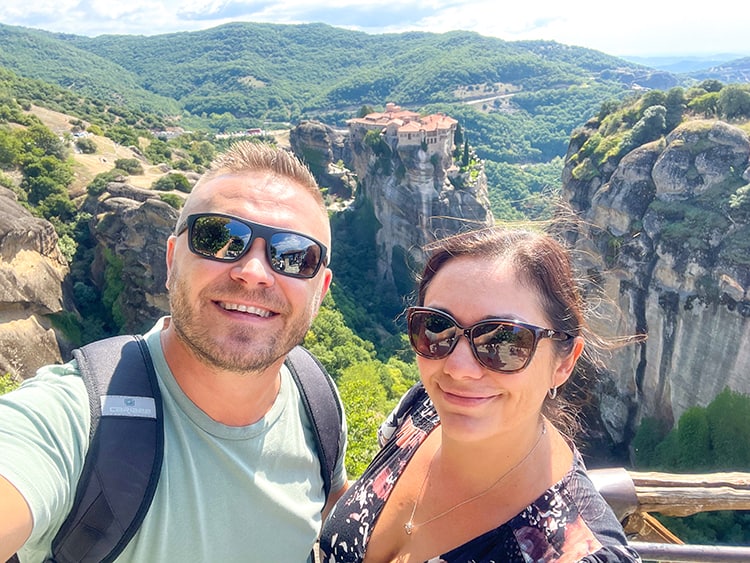 Varlaam is the second largest monastery and is not far from Great Meteoron. You go up approximately 140 steps to reach the monastery. It has the most monks of any Meteora monastery and has a church, refectory, and chapels filled with sacred symbols.
Varlaam gives you the most information about the architecture, engineering, and building of the monasteries and how the monks managed for many centuries without the benefit of modern technology or facilities.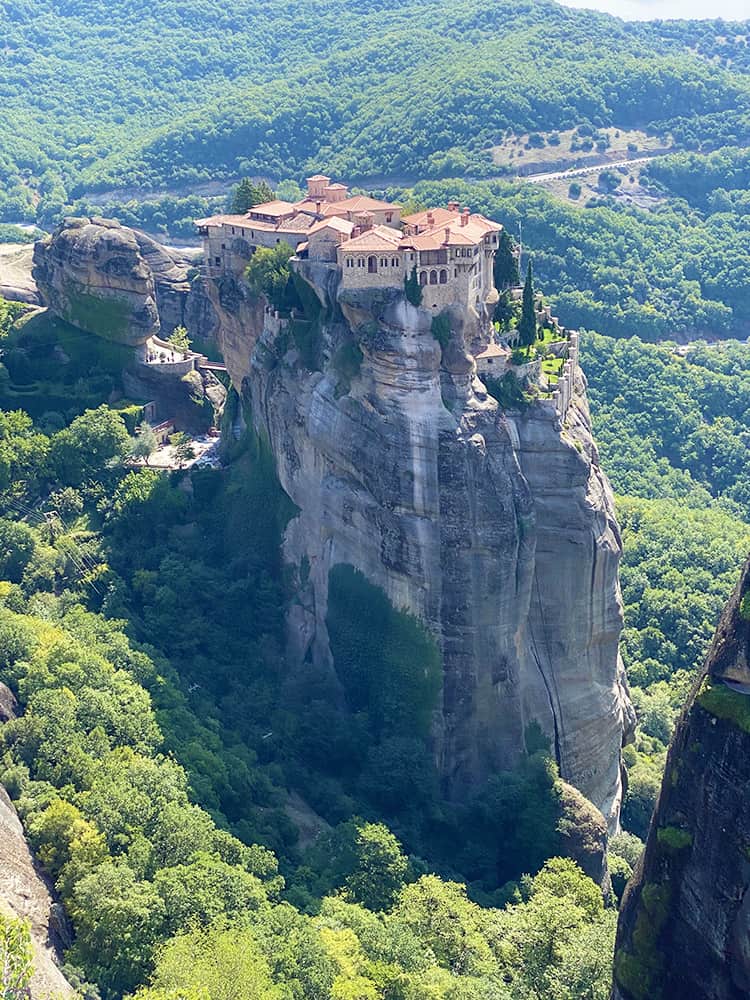 The ancient wine casks and food stores, as well as the winches and nets the monks used to transport supplies, are still visible.
Opening days and hours:
From April 1st to October 31st, the visiting hours are 09:00 – 16:00. The monastery is closed on Fridays.
From November 1st to March 31st, the visiting hours are 09:00 – 15:00. The monastery is closed on Thursdays and Fridays.
5. St. Nikolaos Monastery Meteora
The St. Nikolaos Anapafsas Monastery, one of the oldest, is well known for being the only monastery managed by a single monk. Being the nearest monastery to the settlement of Kastraki, it is conveniently accessible on foot from there.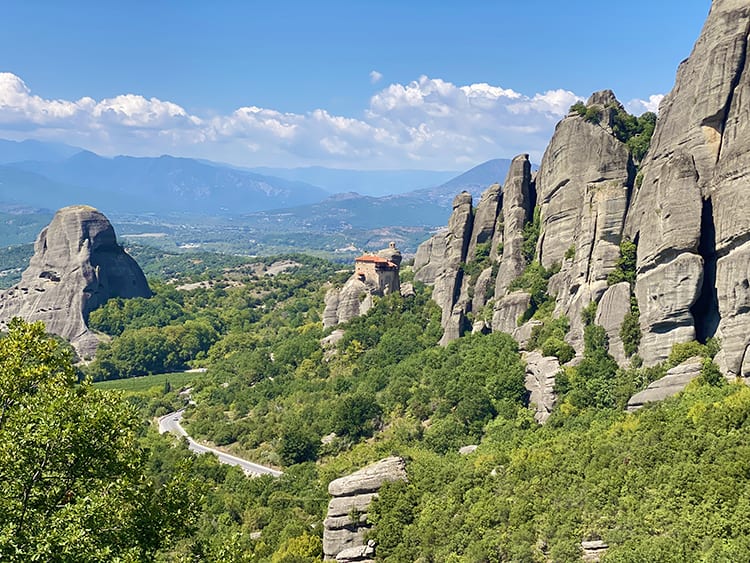 The St. Nikolaos Anapafsas Monastery looks almost like it sprang from the stone pillar it sits upon, making it the lowest-lying of the great monasteries. The Greek word anapafsas, which means "resting," is supposed to have given this monastery its name from its past use. It was a point of relaxation before making the more strenuous ascent to the other monasteries beyond.
Construction would have been challenging due to the site's modest size. The crypt, where the monastery's ancient artifacts and codes were once kept, and the Church of St. Anthony, are located at the monastery's entryway. Each level is constructed vertically, and a short stairway leads to it.
Inside are numerous priceless works of art, including frescoes by renowned painter Theophanes Strelitzas and Theophanes the Cretan. If you keep going, you'll come to a small bell tower and rooftop terrace with views that, because of their low vantage points, are limited to Kastraki and the Roussanou Monastery.
Opening days and hours:
From April 1st to October 31st, the visiting hours are 09:00 – 16:00. The monastery is closed on Fridays and Sundays.
From November 1st to March 31st, the visiting hours are 09:00 – 14:00. The monastery is closed on Fridays.
6. Monastery of St. Stephen's Meteora
The Monastery of St. Stephen is the best monastery for those with mobility challenges because it is the most accessible. A few wide stairs separate you from the main complex, and a modest, sturdy bridge connects it to the parking lot.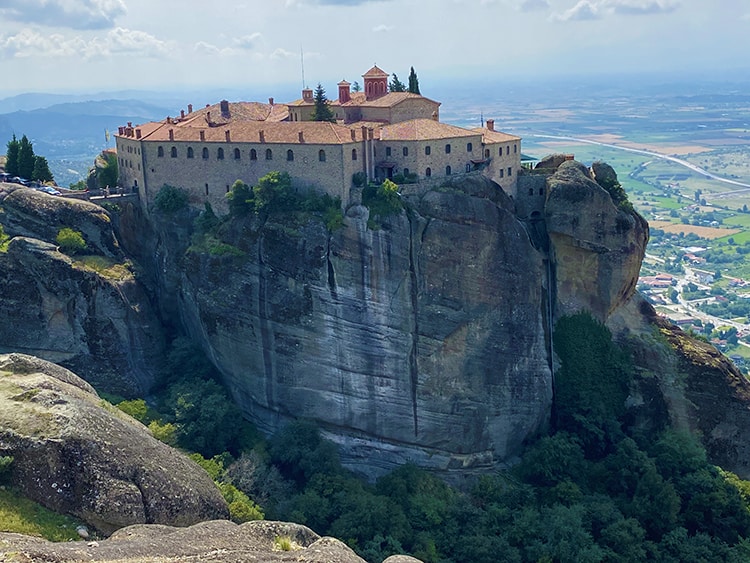 It was built in 1400 and is the only monastery seen from Kalambaka. Nuns now reside in this monastery instead of monks. St. Stephens is a special place to visit because of the nuns' warm welcome. The unusual artifacts in the monastery's religious museum and the lovely grounds also add to its charm.
Additionally, St. Stephen's Monastery contains two cathedrals. The main 18th-century cathedral is dedicated to Saint Charalambos and houses his holy relics. The old 16th-century chapel was severely damaged during WWII and the Greek Civil War.
St. Stephen's is known for the stunning vistas of the entire Valley of Thessaly and the surrounding mountain ranges. It also has a breathtaking garden area that you can easily get lost in due to its beauty.
Opening days and hours:
From April 1st to October 31st, the visiting hours are 09:00 – 13:30; 15:30 – 17:30, Sunday 9.30 – 13.30, and 15.30 – 17.30. The monastery is closed on Mondays.
From November 1st to March 31st, the visiting hours are 09:30 – 13:00; 15:00- 17:00. The monastery is closed on Mondays.
Final Thoughts On Visiting Meteora, Greece
Meteora is a gorgeous area of Greece that can sometimes be overlooked due to the sparkly flair of Athens or the Mykonos.
Visiting this magnificent spot is a once-in-a-lifetime experience, as nothing is quite like it. You definitely won't regret coming here.
Now that you've explored all the majestic monasteries in Meteora and feel ready for a new adventure, perhaps look at some of our other Europe travel guides.

Additional Information for Greece Vacation
Check out what else we have about Greece here: