When it comes to summer holidays in the Mediterranean, Mykonos almost always features in the list of top possibilities.
The island is situated in the Cyclades islands complex on the Aegean Sea.
The island is a top holiday destination primarily because of its beauty, upbeat and vibrant holiday atmosphere, wonderful food, and history.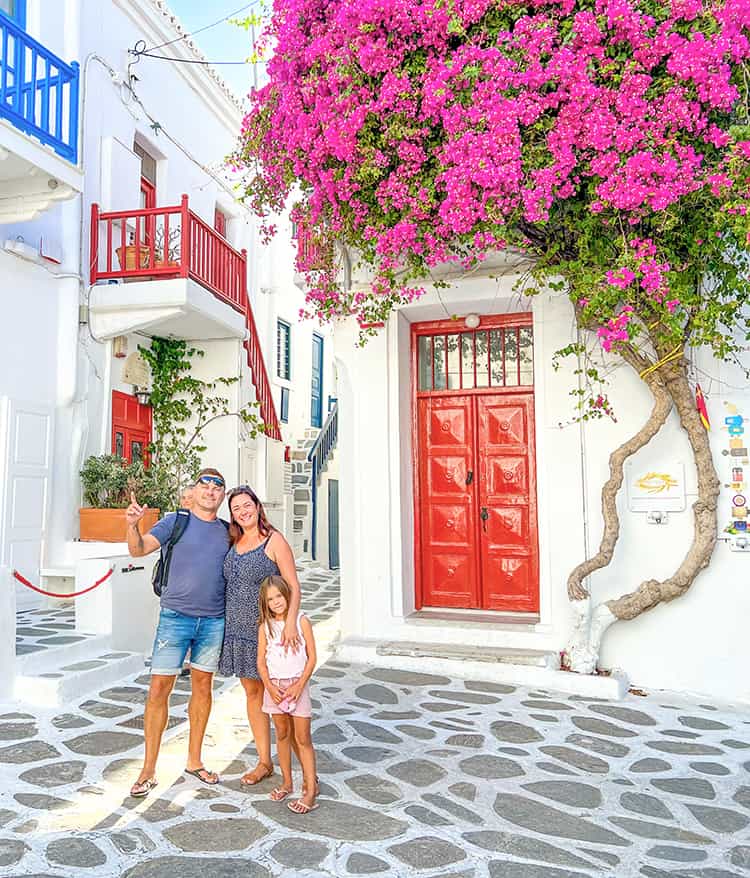 The downside is that it's crowded in the main Mykonos summer months.
The upside is that when September comes along, it's decidedly less so. Perhaps most importantly for some, it's also cheaper!
Mykonos In September
Here's what we found out and what you need to know in order to enjoy a fantastic getaway to Mykonos in September.
Is September A Good Time To Visit Mykonos?
Autumn in the northern hemisphere is among the best times to visit Mykonos. In that sense, it's one of the hidden gems of any proposed Greek holiday.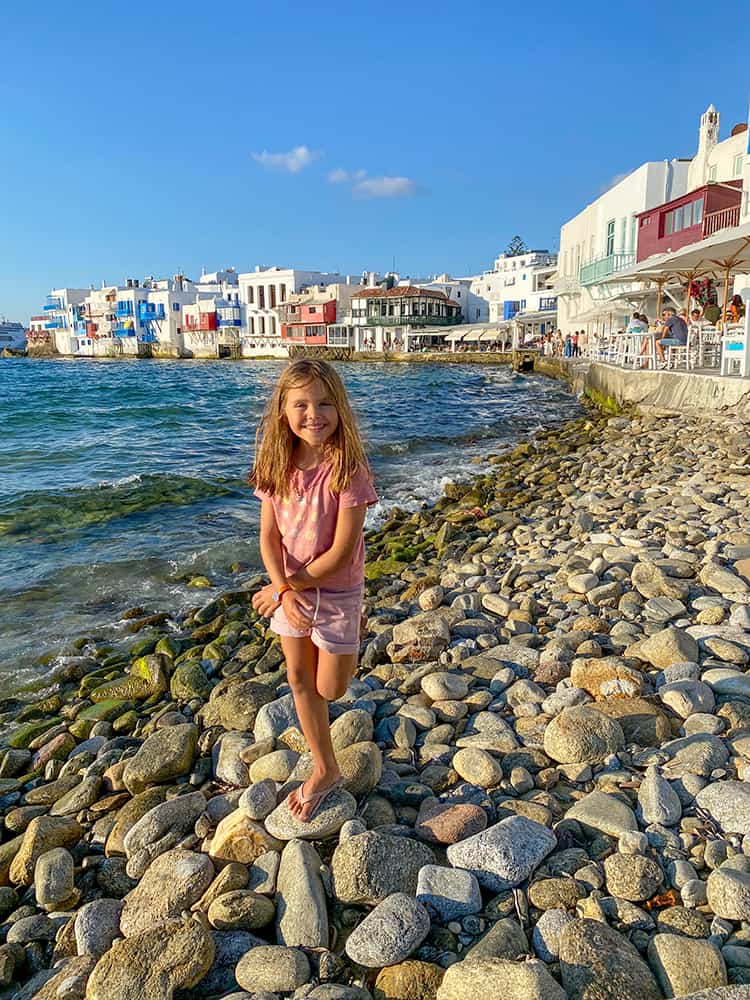 The crowds have started thinning out, but the weather is still absolutely superb. Most services and tours are still running though, and the general atmosphere remains festive.
There seems to be a change of mood as the days get a little shorter. The intense need to party and shop is replaced by a more relaxing Greek island vibe.
Think of this as that golden transition from party to relaxation.
How To Get To Mykonos
First, you need to get there. Because of its popularity and location, this isn't hard to do by air or sea.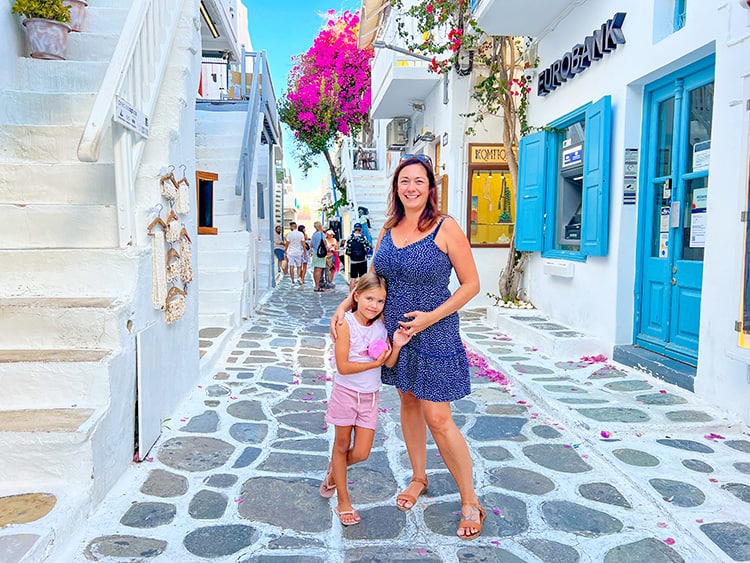 That said, this may also be the best time to travel to Mykonos, with some tickets for both ferries and planes possibly being more available.
Flights to Mykonos
You can get to Mykonos Island National Airport from many European airports. Most major airports will offer flights directly to the island.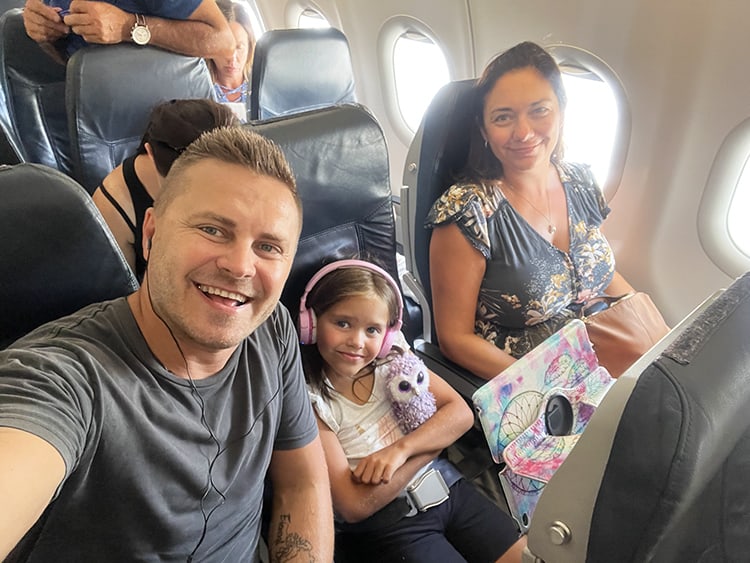 Be aware that Mykonos is a popular destination, and flights are usually in demand. It's best to try to book well in advance to avoid disappointment.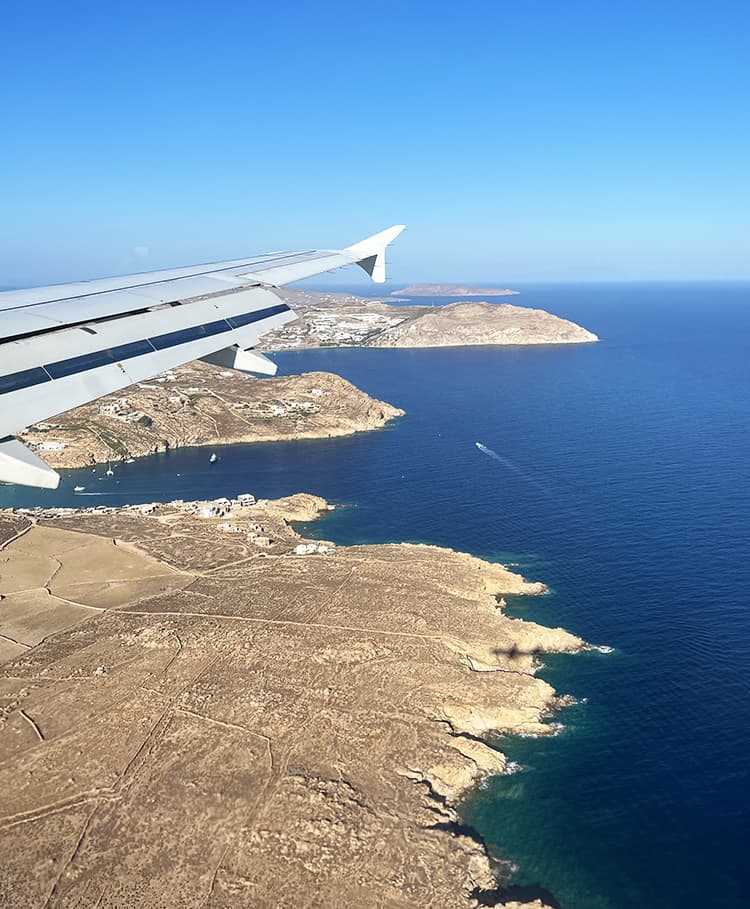 Ferry to Mykonos
It may be easier (and more fun) to opt for a ferry from the Greek mainland. Ferries depart from Athens, Santorini, and Paros, as well as several other islands if you've planned for some island hopping.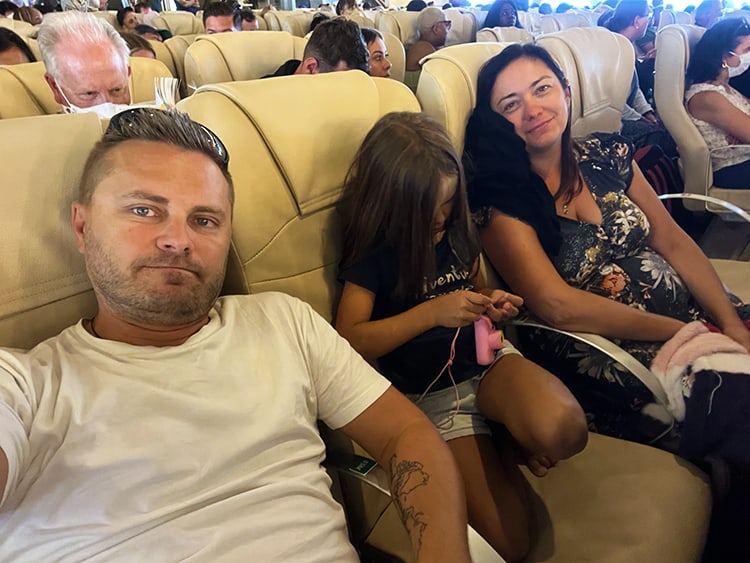 Ferries regularly depart from Santorini, Paros, Naxos, Syros, Andros, Tinos, Samos, Patmos, Chios and Kavala, and Crete. Bear in mind that some times and routes may be seasonal.
If you're traveling with kids like we often do, you may enjoy a ferry ride more, and it feels leisurely as an experience.
From Athens, the ride lasts between three and five hours. Journeys may be shorter or longer, depending on where you are departing from and whether the ferry is a high-speed or standard option.
Tip: If you are traveling to Mykonos via Athens, you might need a place to stay in Athens too. Check out our recommendation of the best hotels with rooftop pools in Athens.
Car Rentals on Mykonos
It may be a good idea to rent a car, at least for part of your stay in Mykonos.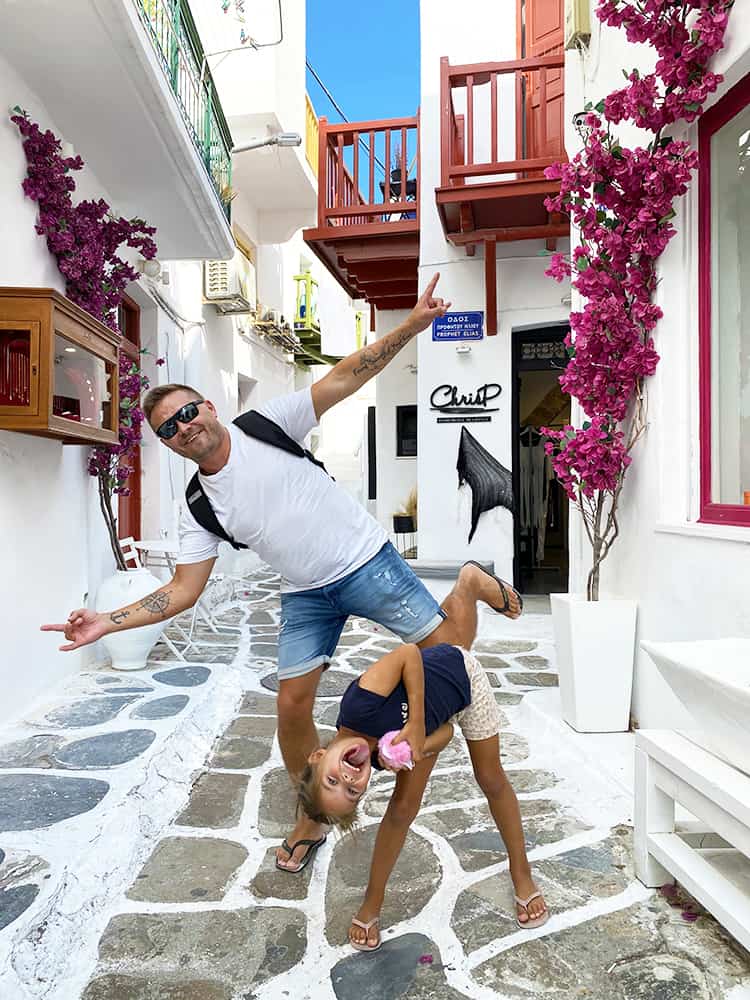 Generally, the public transport options aren't ideal for getting out to more remote parts of the island. There are also very few taxis available for rent.
For the most part, you won't need a car to get to the popular beaches and tourist hotspots. But if you're keen on taking a drive to the outer-lying areas, renting a car is your best bet.
Cars, on average, are available from $160 per day and upwards.
The demand for cars will also drop significantly in September, as there are fewer people on the island in general.
In most cases, any rental you may want to book will be available within 24 hours.
Accommodation Prices
Prices can vary significantly, but it is important to note that they also peak seasonally. To better demonstrate, here are a couple of examples: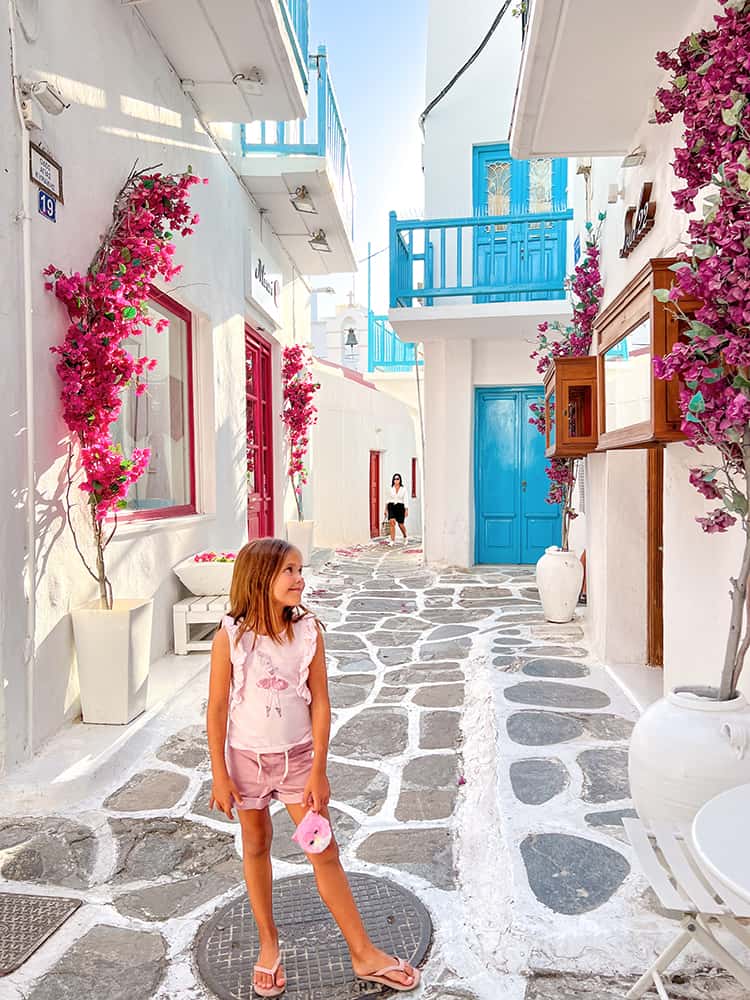 The luxury-oriented Aeonic Suites and Spa accommodation offer a Zoe Junior Suite with a plunge pool and partial sea view at $921 per night in July, for example.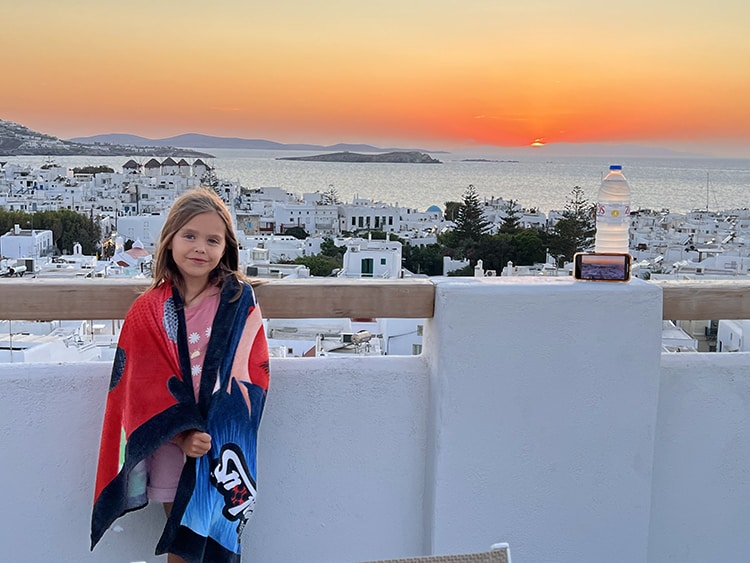 The price starts to come down in price in August, and the same suite can be acquired for $610 per night by September.
Similarly, the highly-rated The Wild offers a double room with a sea view at $587 per night in September.
In July, the same room will cost you $699 per night.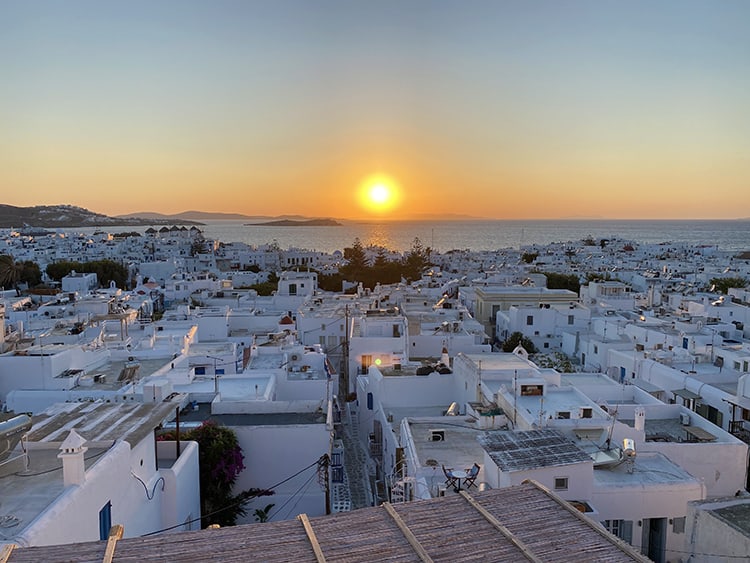 You may also notice a definite spike in Airbnb rates in the summer months.
By September, the rates have either dropped or are somewhat negotiable, especially if you're staying for several days.
Restaurants, Bars & Beach Clubs
Restaurants are an interesting prospect in Mykonos and in Greece in general.
We've noted previously that September is less crowded than the height of summer. Another interesting note about seasonal change is the subtle change around eating times.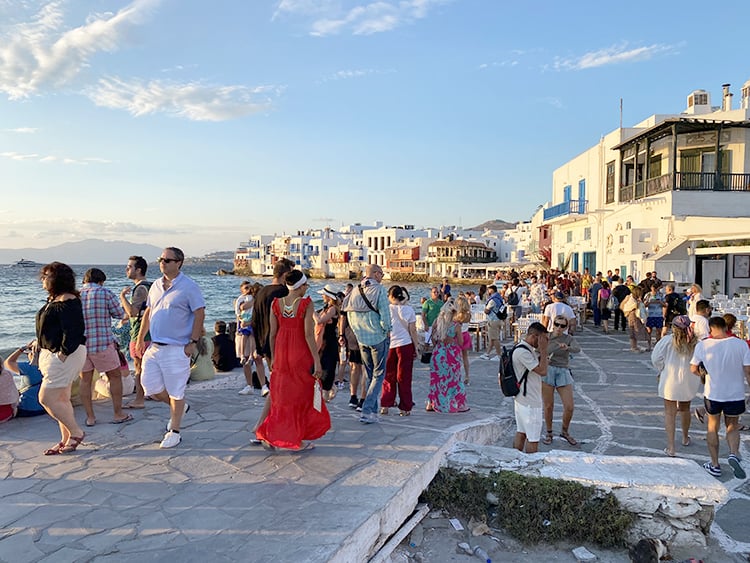 Greek lunches and dinners are served later in the summer, typically at 2 pm and around 9 pm, respectively. As the days shorten, these times begin to drift to earlier in the day.
It's not a rule or anything that rigid, but you can generally expect lunch servings towards midday, and dinners will start to take place around 7 pm or 6 pm.
One big advantage of a September visit is that very few restaurants will require reservations.
In the main tourist season a few months earlier, booking is almost certainly a necessity if you want a spot at your preferred eatery.
Cocktail Bars At Little Venice
You may not need reservations for most restaurants, but the most popular bars and cocktail venues will still be buzzing.
If you're planning on enjoying a golden sunset hour with a cocktail at a water-side bar, you may need to book in advance.
It goes without saying that the island life of Mykonos sunset is still in high demand, even in September.
One of the most popular spots in this regard is Little Venice.
The popular area is on the south side of Chora Mykonos. It's known for its rows of colorful houses, shops, and galleries, which offer a vibrant and exciting place to visit.
You can easily spend an entire day between the beach, walking the alleyways, and visiting the bars and restaurants on the waterfront.
Click here to book a tour of Little Venice.
Are Beach Clubs Open In September In Mykonos?
Some call Mykonos the Ibiza of Greece due to its vibrant beach club culture.
If you're looking for a party on the beach, Mykonos has your fix. Most beach clubs will be open in September.
But Mykonos in October is a different prospect, as some may close down due to low numbers on the tourist front.
Among the most popular are Nammos on Psarou Beach, Alemagou Beach Club Mykonos on
Ftelia Beach, and Cavo Paradiso on Paradise Beach.
If dancing the night away is your thing, you will not be disappointed with either of these or the several other clubs that remain open until the very end of the Mykonos September.
Mykonos Island And Cruise Tours
Most of the tours we looked into were still running at this time in Mykonos.
Given that the tourist numbers have somewhat declined, this was a pleasant surprise.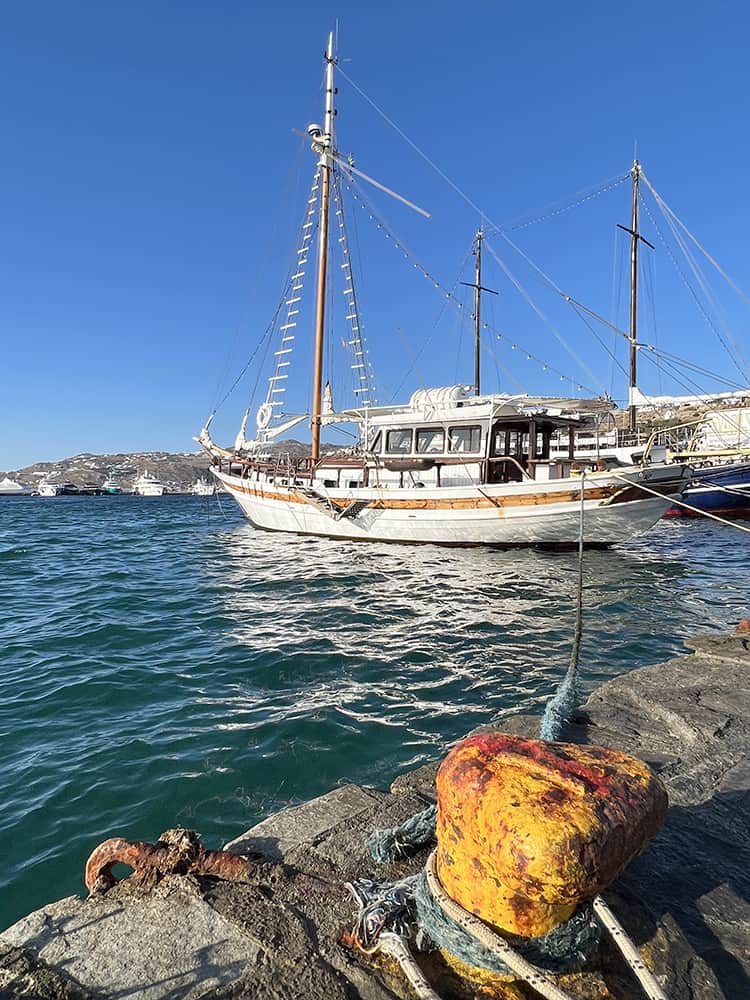 You won't be short of options for anything you may want to do, including cruise tours lasting a few hours to full days.
Mykonos happens to be one of the finest coastal family destinations to visit.
One of the most popular one-day excursions is a south coast cruise tour of Mykonos. Click here to book your tour.
One great idea is to do a one-day sightseeing tour on one of your first days here.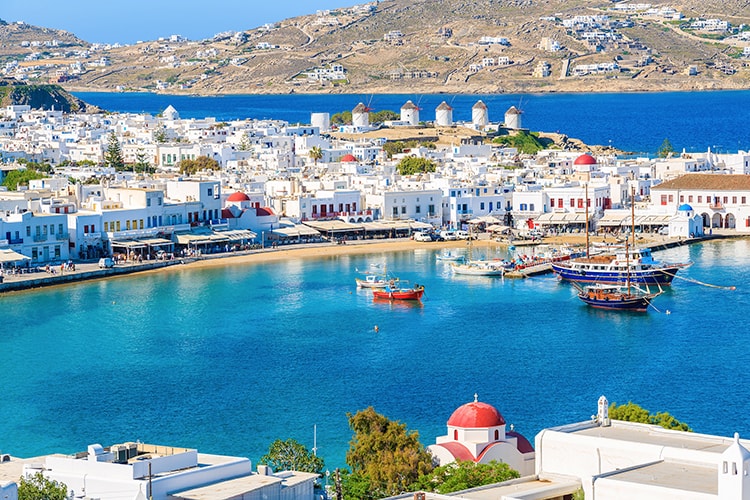 You can get a great orientation early on and spend the rest of your holiday choosing which aspects to experience again or on a deeper level.
Click here to book your tour, which includes a pickup from the airport.
Aside from the numerous catamaran, sightseeing, and food tours, try a "Wildside" jeep tour for a slightly different experience.
With a jeep, you may be able to get up into areas a little less developed and with a sense of adventure to boot. Click here to book your tour.
A Note On Cruise Ships In Mykonos
Mykonos is a popular waypoint for most cruise ship lines in the area. September happens to be a busy port season for Mykonos. In fact, it's one of the busiest, according to island statistics.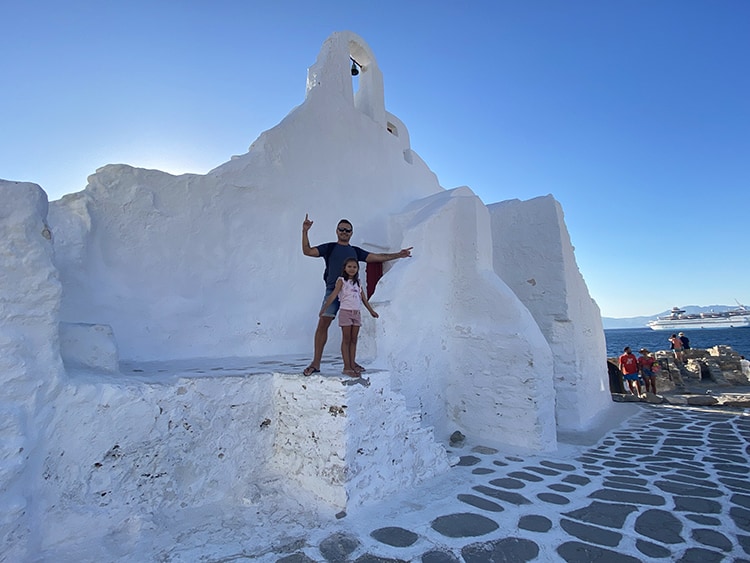 Strangely, that doesn't translate to more tourists in the streets. The main thrust of the holiday season is already over, despite so many cruise ships still being in operation.
The number of tourists walking the streets of Mykonos may be slightly less overwhelming, but day tourists still flood the streets whenever the cruisers dock in the harbor.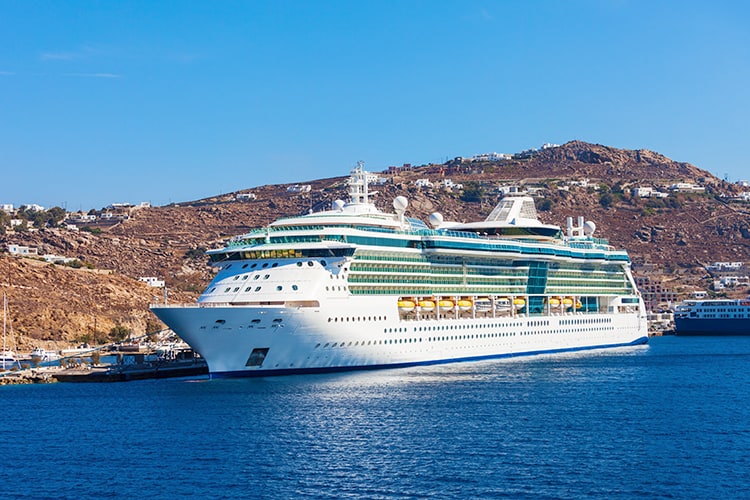 Outside of these times, the streets are relatively quiet and easy to navigate.
On average, three to four ships might stop by the main port in the course of the day.
The main dock is Mykonos Town on the western side of the island. Some smaller ships may dock at Tourlos.
How Busy Is Mykonos In September?
September is the sweet spot for those looking for smaller crowds but with everything still open. You can walk the streets fairly comfortably. You also won't have to book restaurants in advance.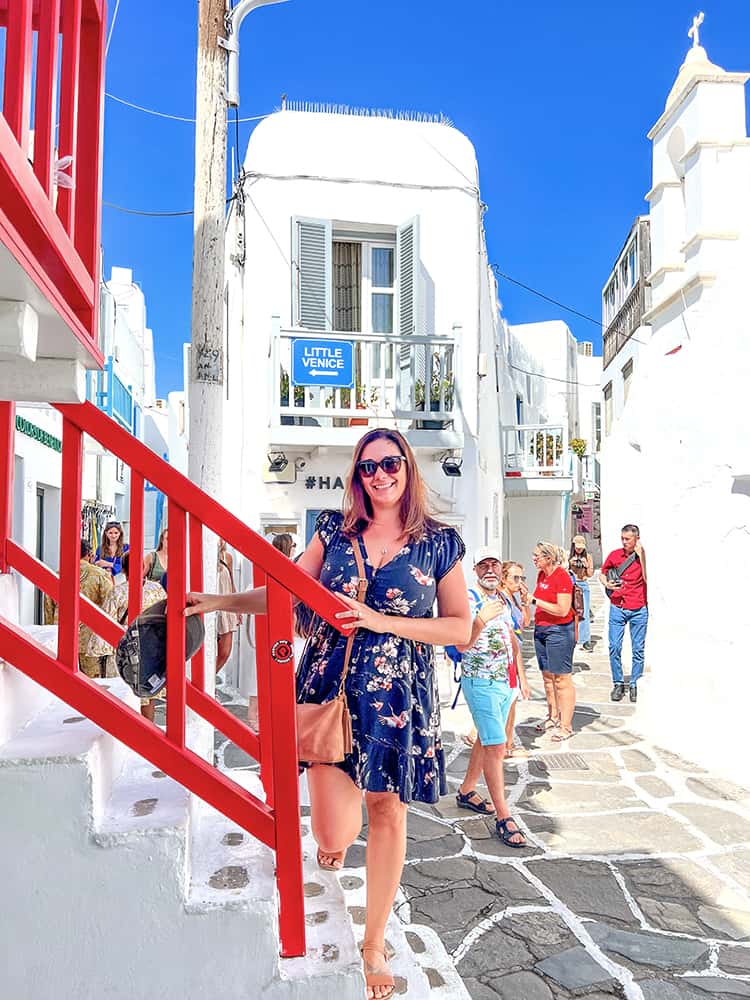 It's quite remarkable to consider that Mykonos Town was so quiet. It felt like we had the town to ourselves a lot of the time.
Mykonos has a reputation for being a huge tourist destination, so this was an incredibly pleasant experience.
The main entertainment areas, like Little Venice, still had a bit of a crowd, but service wasn't obviously affected, and it was far from overcrowded.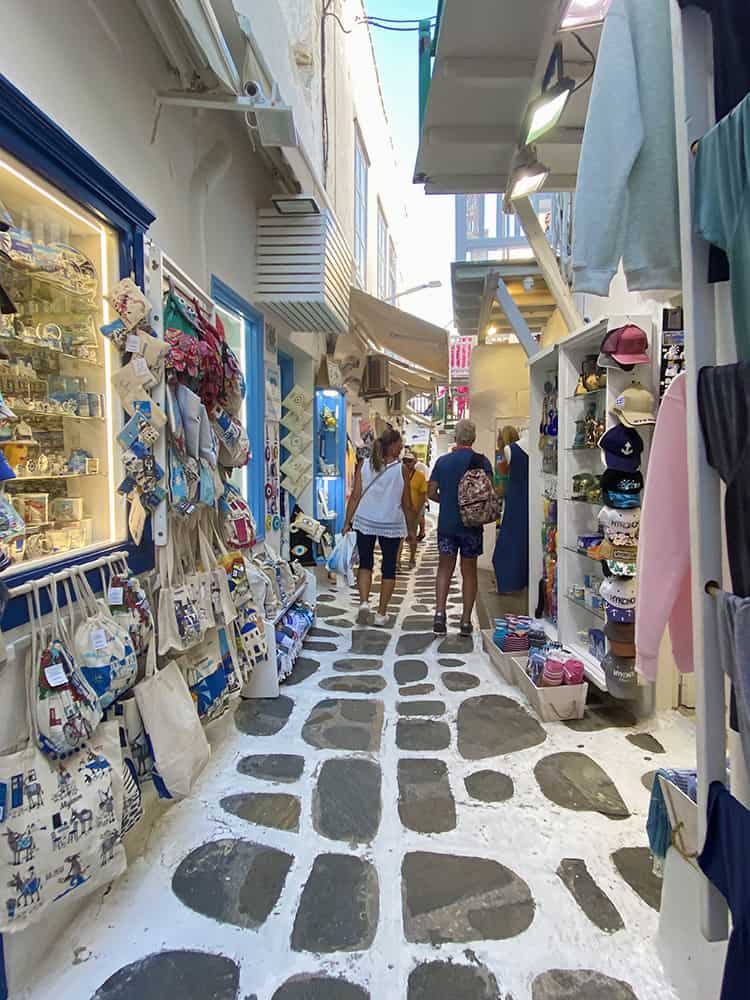 The famous Windmills of Mykonos were also a pleasure to visit. Most visitors here go to experience the legendary sunset, which presents a "golden hour" second to none.
Weather In Mykonos: Is Mykonos Still Hot In September?
Thankfully, Mykonos weather in September is still blissful, with days averaging 80 °F.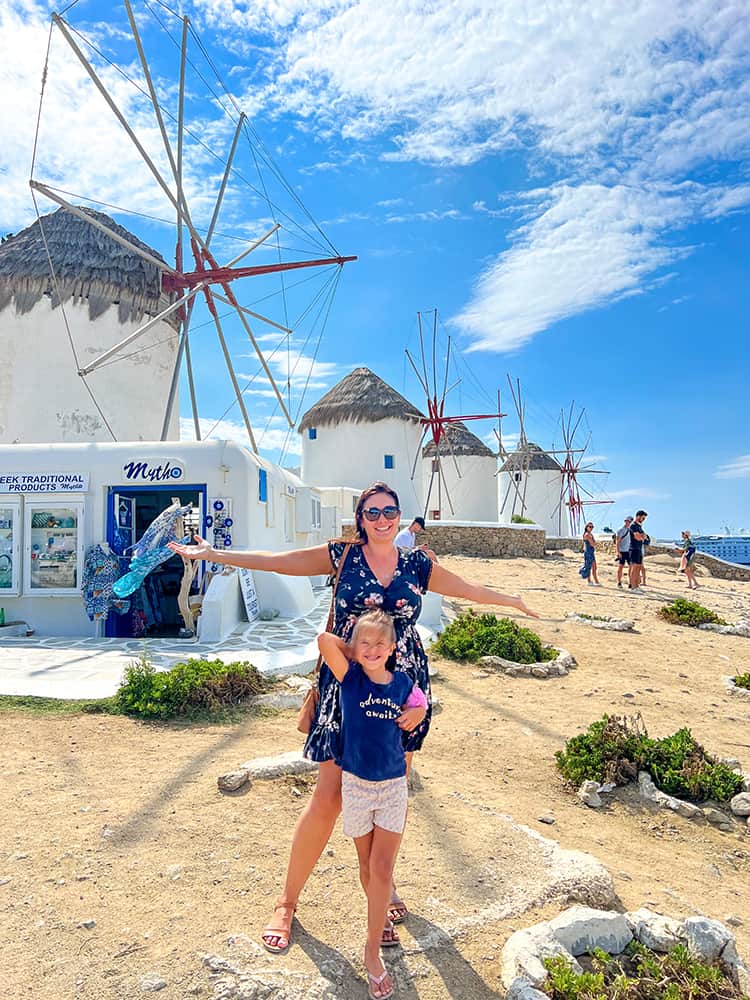 The evenings are very pleasant as well, with many a night not requiring a coat at all (a light cardigan may be required sometimes).
Rain is rare in September. It is, in many respects, the perfect autumn holiday destination.
Is Mykonos Windy In September?
Something to bear in mind is that it can get breezy. The wind isn't cold but can get up to a reasonable clip.
Fortunately, this isn't the windiest month in Mykonos – that's February. Expect winds averaging around 13 mph regularly, sometimes on a daily basis.
Can You Swim In Mykonos In September?
Swimming in Mykonos in September is not only possible; it's highly recommended.
There aren't many places that tempt you into the water quite as much as Mykonos does. The days are warm, and so is the water, at an average of 77 °F.
Many spend all day on the beach, and the late morning is perfect for a pre-lunch cooling dip.
Final Thoughts On Mykonos In September
There are a couple of reasons you may want to consider planning a visit to Mykonos in September rather than at the height of the summer holiday season.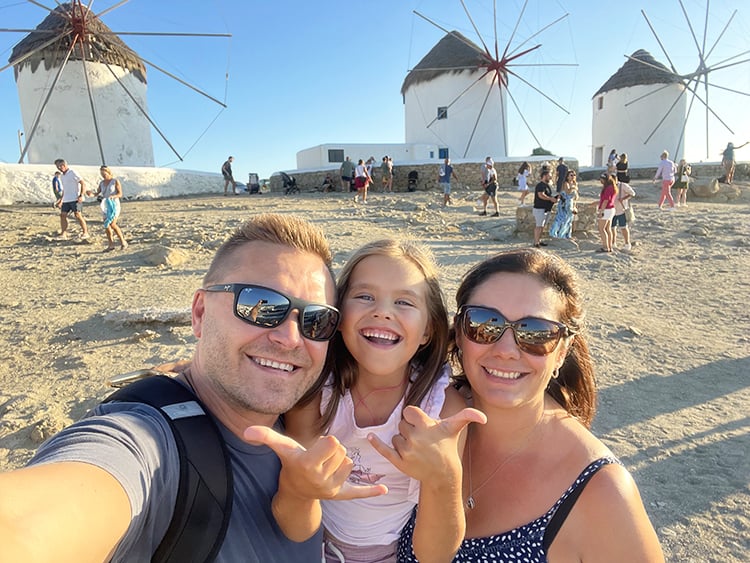 For one, you won't really miss out on the awesome weather in Mykonos in September and the fantastic waters to swim in.
Most of the key entertainment attractions are still operating, including the beach clubs, restaurants, and bars. The big plus is that they won't be overcrowded, and you'll seldom have to wait for service.
You can walk the streets fairly comfortably and enjoy your shopping in relative peace.
Best of all, the savings on your accommodation and transport there can be significant.
Why not consider the big September experience in Mykonos? In a nutshell, it is probably the best time to go to Mykonos.

Additional Information for Greece Vacation
Check out what else we have about Greece here: