When planning a family vacation, it can be hard to find the perfect destination that will keep every member of the party entertained.
From the Canary Islands to the beaches of Mexico, there are so many destinations for families to explore. To make your search easier, we've rounded up the 15 best Dreams Resorts for families.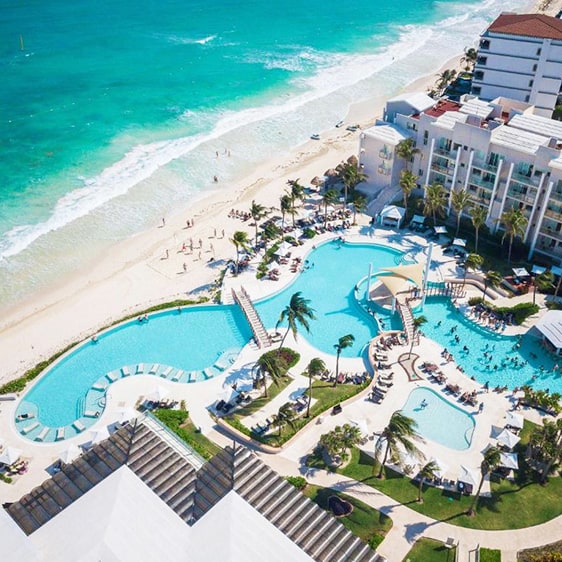 Dreams Resorts are the ideal setting for your perfect beach vacation, whether you're looking for a relaxing getaway or the perfect family adventure experience.
With 5-star all-inclusive everything, spectacular resort spa facilities, and amazing kid-friendly activities, a stay at a Dreams Resort will be the easiest family vacation you'll ever plan.
They promise unlimited luxury, and they take that promise seriously. You'll always keep Dreams Resorts bookmarked and ready to go after your first trip.
Quick Guide: Best Dreams Resorts for Kids
After a quick list of the top 3 all-inclusive Dreams Resorts that are perfect for families? Here are the best resorts.
---
The 15 Best Dreams Resorts for Families
Here is your all-inclusive guide to the best Dreams Resorts for your family. Your only task is to choose one!
The vacation paradise you've dreamed of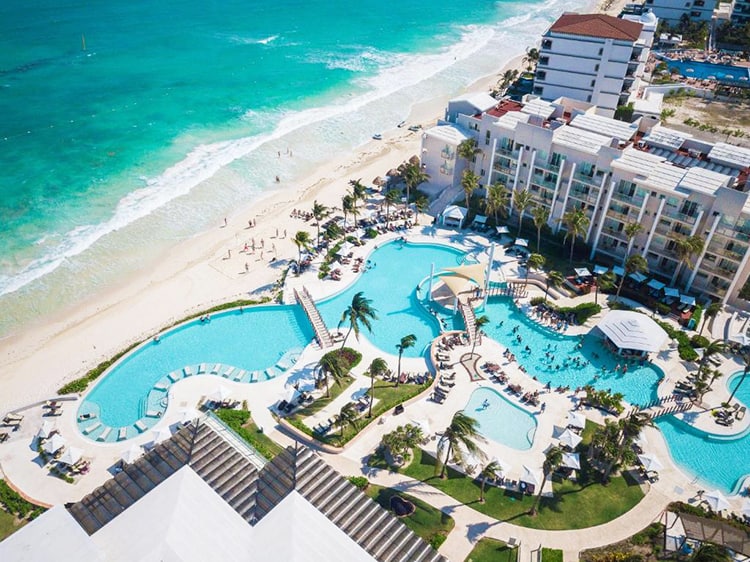 Rating: 8.4/10
Location: Puerto Morelos, Mexico
View on Booking.com
Here you can live in the luxury of a resort with a private beach on the Yucatan Peninsula in Mexico.
You'll have a hydrotherapy spa and free greens fees at the local golf course.
The suites are decorated in bright colors and luxurious fabrics that are a feast for the senses.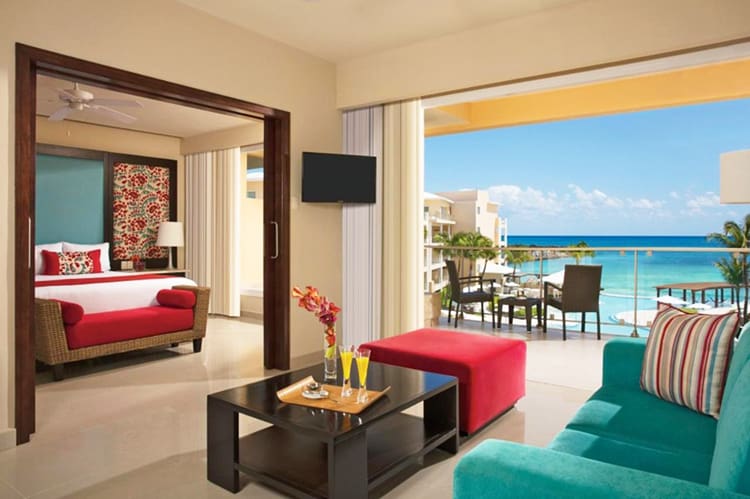 The choice of accommodations ranges from rooms to suites, with tropical or ocean views. Or treat your clan to a Family Suite, with its own hot tub and separate rain shower.
The entire resort is outstanding, staff is excellent!

Rooms were very spacious, clean, quiet and comfortable.

Selection of dining experiences is 5 star … Beach areas were meticulously cleaned at sunrise every day …

Live bands in the evenings were a bonus. Paradise!!!

DANNY (READ MORE REVIEWS)
The resort has 3 pools, one of which is a gorgeous kids' pool. There is of course a kids club and for those after babysitting that is available at an extra cost as well.
On top of that, they have a playground, an indoor play area, board games, movie nights, and more.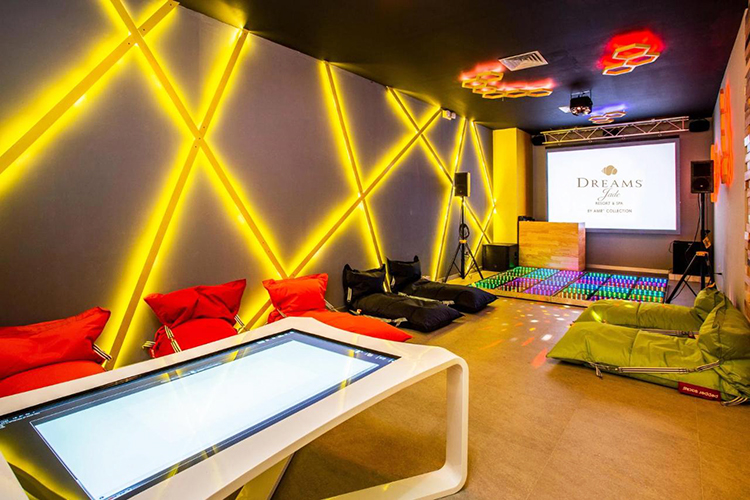 The Core Zone Teen's Club gives teens aged 13 to 17 an opportunity to get away from their parents and to participate in fun activities that are specifically created for them.
TIP: Did you know that Mexico is one of our recommended countries to travel to with a toddler and made it to our list of best summer family destinations to visit?
Why you will love this resort:
Witness newly hatched baby sea turtles make their way to the ocean. Join the resort's efforts in protecting its turtle population.
Kayaking and catamarans for your use, or batting cages to practice your swing.
Staff can arrange for tours of the awe-inspiring Mayan ruins or natural underground cenotes.
They have 9 restaurants for you to choose from for your all-inclusive meals. Their kid meals and kid-friendly buffet help to keep meal times with the little ones fuss-free.
This is a fantastic 5-star resort that is perfect for families with either little kids or teenagers!
---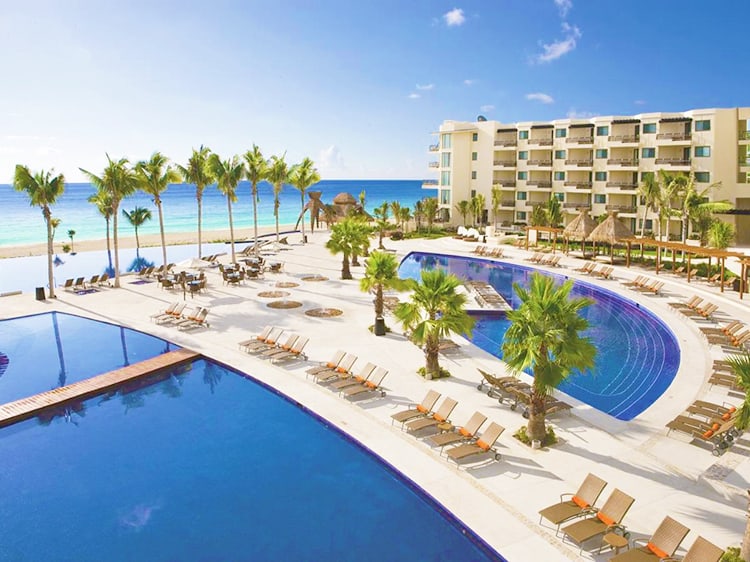 Rating: 8.6/10
Location: Puerto Morelos, Mexico
View on Booking.com
You'll love the exotic flair of the elegant tiled floors and colonial-style decor of this stunning resort.
Enjoy the excellent service and delectable food on the Mexican Riviera. Indulge in a room with a swim-up pool, or one with a whirlpool and a view of the tropical garden.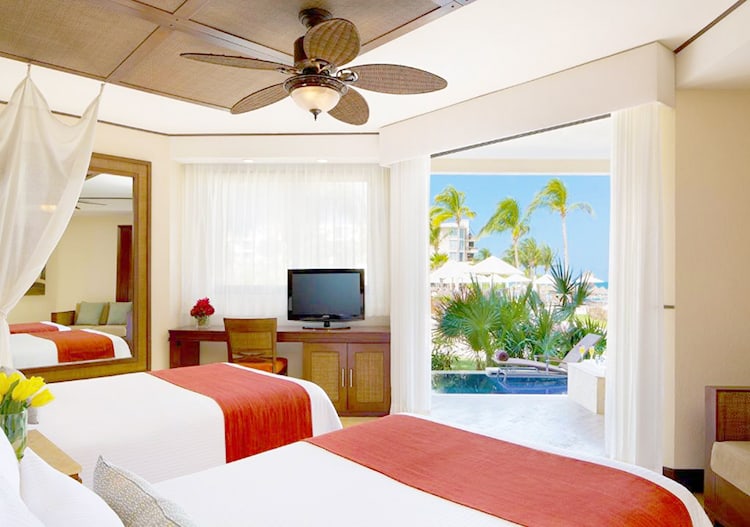 Once you've finished your morning yoga class or workout in the fitness facility, take on your family in a game of beach volleyball, or discover the marine life of the Riviera with a trip to one or two of the famous dive sites nearby.
A wonderful all-inclusive hotel with always friendly and pleasant service and staff… access to the beach very easy and always clean…

The food and its variety excellent, clean and spacious pools…. Highly recommended to enjoy with the family.

We highly recommend enjoying the Asian restaurant with the cooking show.

ALEJANDRO (READ MORE REVIEWS)
The guests of this resort can enjoy discounted access to 3 nearby golf courses or alternatively choose from a selection of full and half-day Riviera Maya tours about local culture and Mayan history.
This resort has 3 pools, including infinity, activities, and a kids' pool, as well as scuba diving, biking, sports fishing, and more.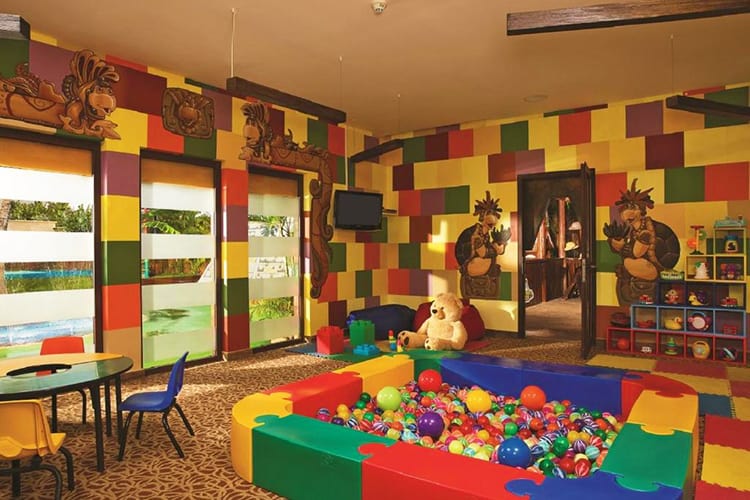 Apart from that you can take advantage of 2 kid's clubs with video games, table games, crafts, a climbing pyramid, and more.
Accommodations have been newly modernized with bright colors and a sleek look. Select your favorite view, and decide between your own plunge pool or an outdoor hot tub.
Why you will love this resort:
Outdoor movies, wine, and tequila tastings.
Classes such as yoga, cooking, and dance.
Deep tissue and hot stone massages to dispel any remaining stress.
---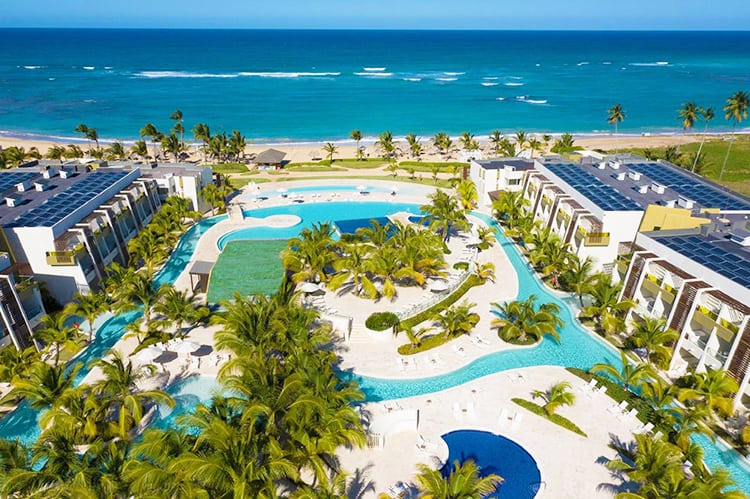 Rating: 8.3/10
Location: Punta Cana, Dominican Republic
View on Booking.com
Unlimited dining, entertainment, beach service and so much more – this stunning Punta Cana beach resort is beyond anything you could have imagined.
The sun-drenched, blissful beachfront settings and endless ocean views at Dreams Onyx Resort allow for a perfect break from reality.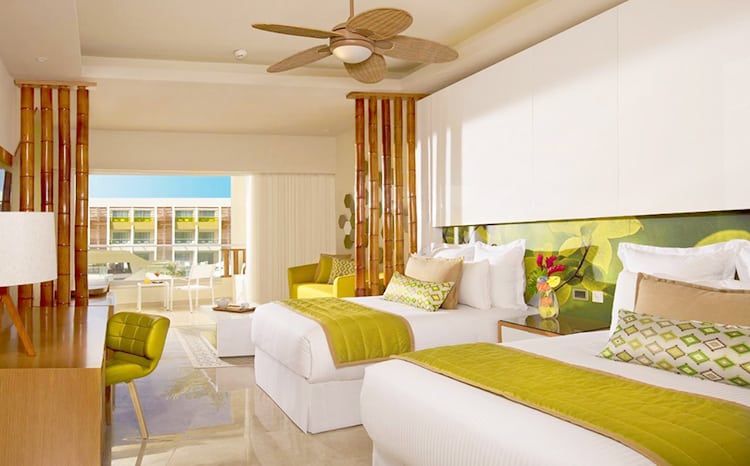 Your stunning accommodation will have luxurious amenities like its own hot tub and a minibar that's restocked daily.
Enjoy romantic moments to yourselves while the kids enjoy their own fun at the fully-supervised Explorer's Kids Club which includes an indoor game room, crafts, and a special treat of a camping experience on the beach.
Teens can get busy here too at the Core Zone Teen's Club, which includes a video game room, basketball court and even a rockclimbing wall.
I came with my family, this being our first all inclusive experience, and we had an amazing time at the Dream Onyx resort, it will forever be memorable trip for the family …

The facilities were immaculate, clean and just so visually beautiful, it becomes more apparent when you walk around the property.

We were very impressed with the level of service offered at both Dream Onyx.

CAMERON (READ MORE REVIEWS)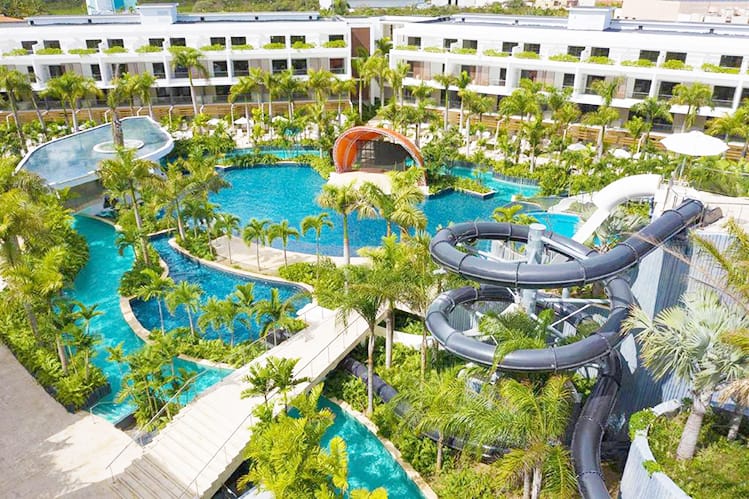 Why you will love this resort:
Family activities like volleyball and tennis.
Theme parties, oceanfront bars, and dance classes.
Fully supervised kids clubs with activities for all ages let you enjoy adult time without worrying about the children.
---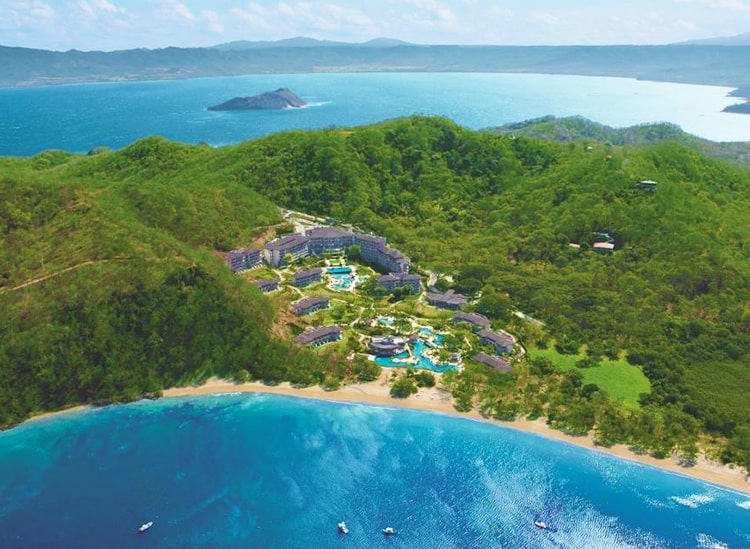 Rating: 8.5/10
Location: El Jobo La Cruz de Guanacaste, Costa Rica
View on Booking.com
A family resort with a world-class spa – just another day in the life of a Dreams Resort.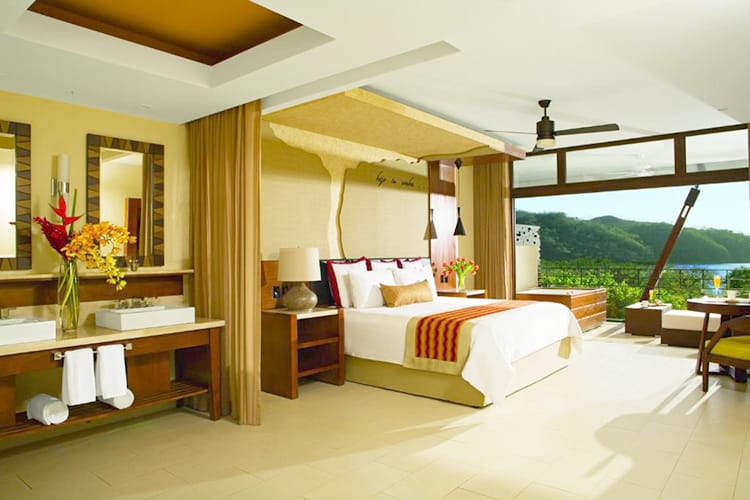 This paradise is on Playa el Jobo, one of Costa Rica's most spectacular beaches.
Set in the perfect location, you can set out on a whale-watching cruise, take an exhilarating white-water trip, or simply sit back on your terrace and watch the monkeys swing by.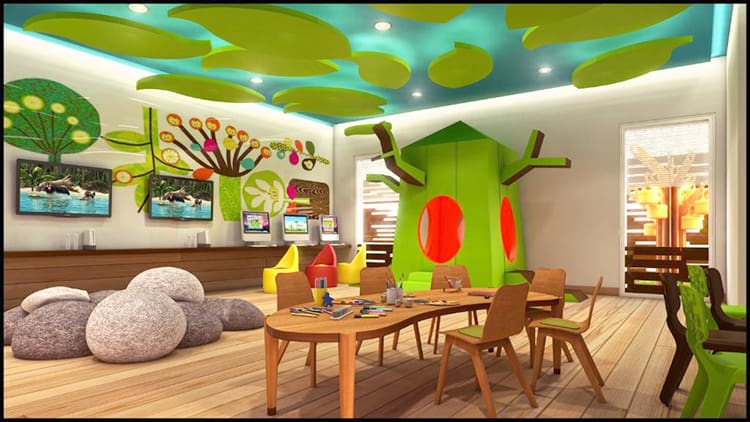 This resort offers 2 kids clubs, one for youngsters with games, crafts, and camping adventure as well as one for the teens with table and video games and social events.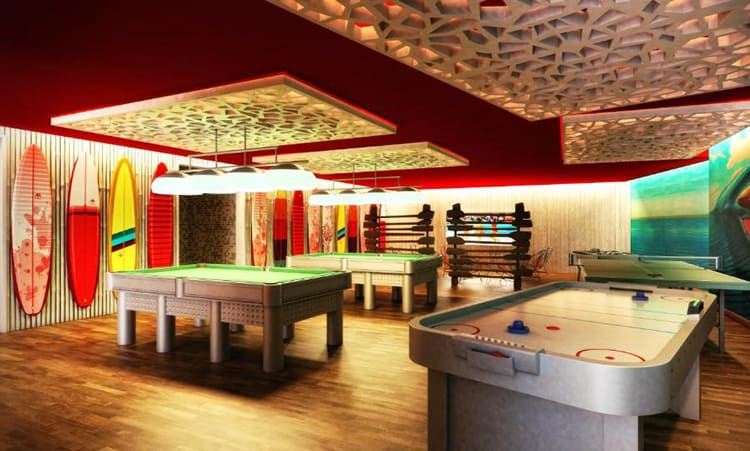 You're also only a 15-minute drive from the Nicaraguan border – more exotic adventure awaits. That's if you have time between your spa treatments and the beach party.
Choose between a room or suite, with garden, pool, or ocean views, all decorated in soothing natural woods.
Tip: Check out our guide to visiting Costa Rica with kids here.
Why you will love this resort:
Half or full-day excursions planned for you to go horseback riding, hiking in the rainforest, white water rafting, and more.
Organized bike tours to help you get to know the area.
Theme nights and parties are planned for your enjoyment.
---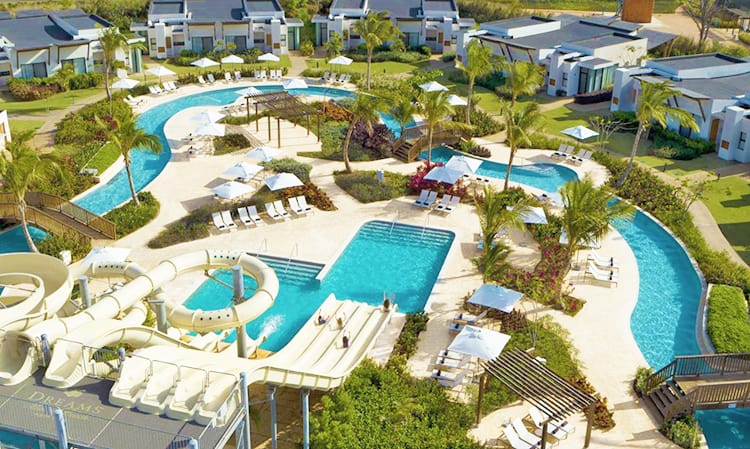 Rating: 8.2/10
Location: Punta Cana, Dominican Republic
View on Booking.com
The very first, and currently the only all-inclusive, family-friendly resort on beautiful Macao Beach.
Enjoy an amazing, luxurious family vacation with no thoughts about preparing meals, planning activities, or cleaning up.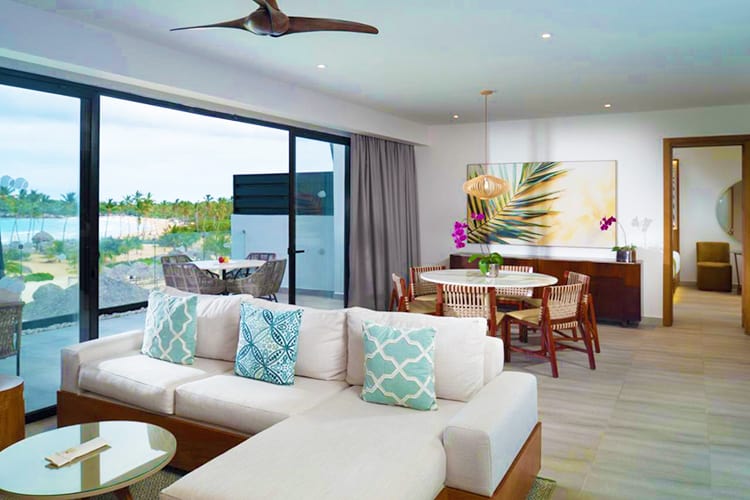 But you will have to choose between the dozen restaurants and the many activities to indulge in each day.
Private balconies, ocean or garden views, and Macao Beach only steps away mean that you have the best of both worlds. Stay in and indulge in some togetherness, or venture out for tropical adventures.
Families can enjoy city tours, fishing at Cap Cana, sunset cruises, or even ziplining.
This resort also has four pools, including a kids' pool, as well as a water park with racer and toboggan slides and a lazy river.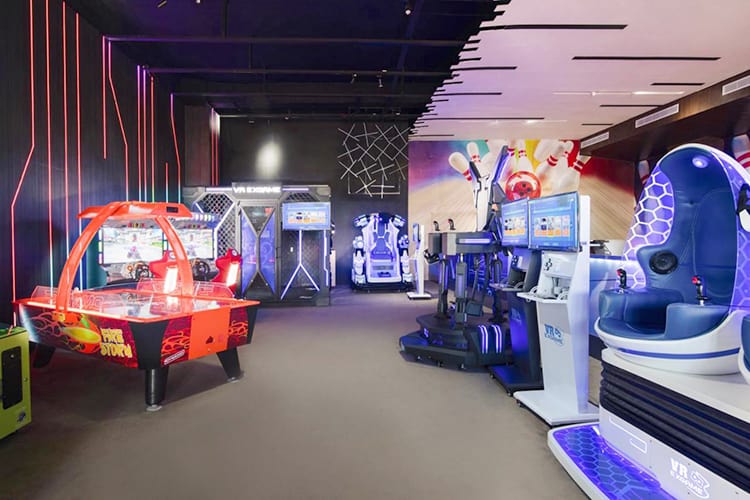 Youngsters can enjoy the kids club with games, crafts, and a camping adventure.
As for the teens, there is an indoor game room, cinema, disco, tightrope, arcades, ten-pin bowling, and tennis court.
Why you will love this resort:
There is a special playground for children, plus a waterpark with racer and toboggan slides.
Billiards is available, as well as an arcade for your teenagers, trampolines, and tightropes.
As well as beaches and swimming pools, the resort also has an amazing waterpark for your whole family, and one just for the littles.
---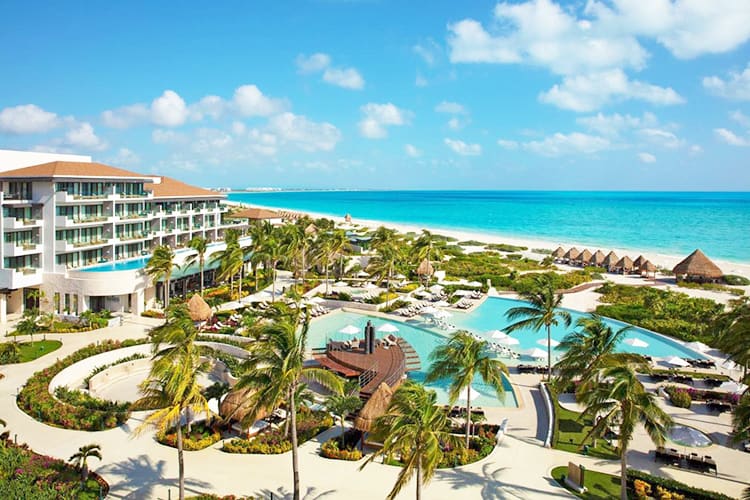 Rating: 8.2/10
Location: Cancun, Mexico
View on Booking.com
This tranquil gated community resort is your home away from home, with your every need satisfied.
You can choose from 22 restaurants and bars, or 24-hour room service if you can't bear to leave your decadent suite.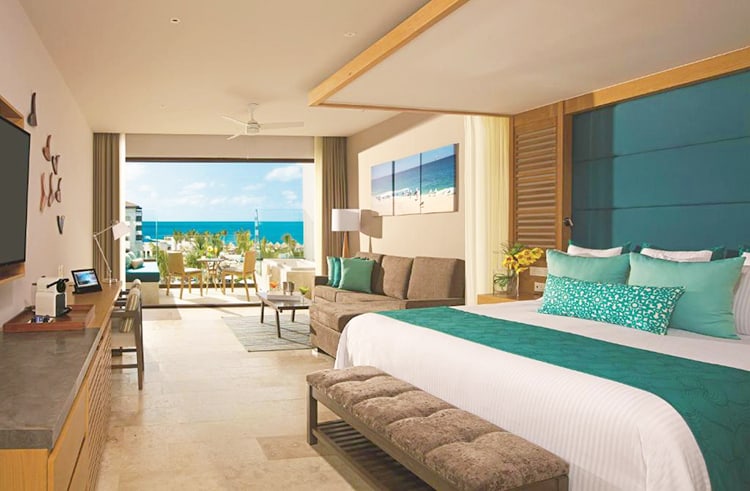 This resort has it all, 4 pools including 2 kids' pools, 6 hot tubs, water slides in the water park, as well as a lazy river.
There is a very well-set-out kids club with big-screen movies, video games, crafting, sandcastle contests, camping adventure, and more.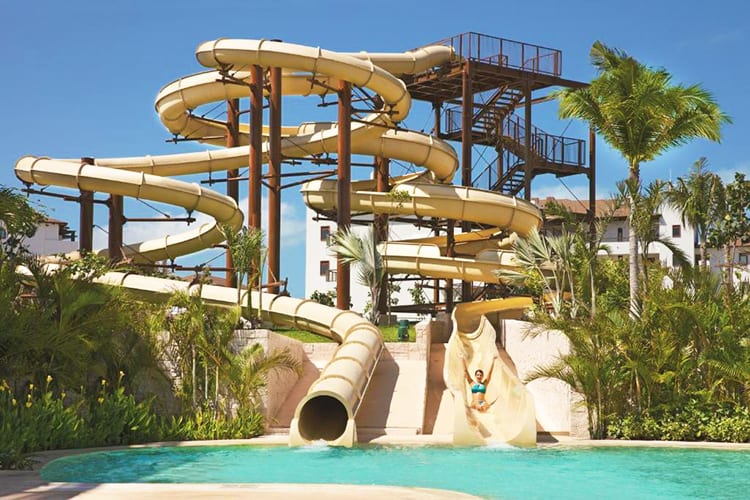 And for teens, this resort has organized disco mixers, bonfires, social activities, games, sports, and more.
Enjoy a suite with your choice of view, queen or king-size beds, and a decadent rainforest shower.
Why you will love this resort:
World-class golf greens, cooking and cocktail classes, plus Caribbean dance and Spanish lessons.
Multiple infinity pools with ocean views, 6 hot tubs, and a special waterpark for the littles.
Even your little furry family members are welcome at Dreams Resorts. Small dogs will have their own food and water bowls, and resort-themed beds and toys.
---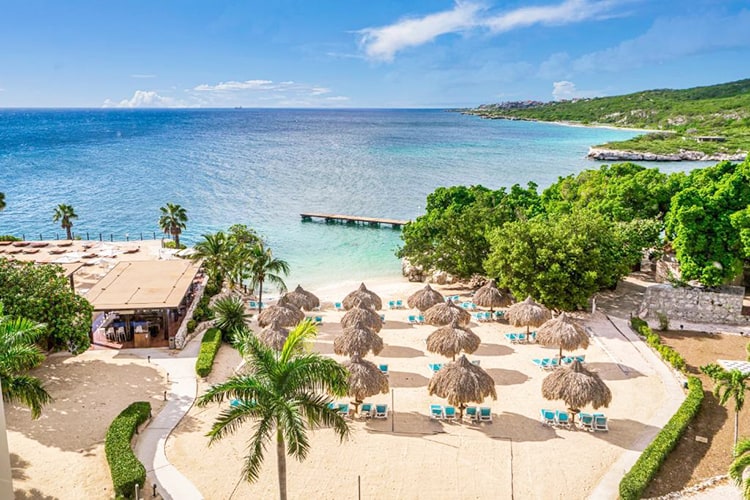 Rating: 7.9/10
Location: Willemstad, Curaçao
View on Booking.com
Located on an idyllic island just off the coast of Venezuela, Dreams Curaçao is waiting to welcome you with first-class service, gourmet restaurants, and a stunning Caribbean backdrop.
Enjoy treatments such as whipped cocoa body wrap, stone massages, and reflexology in your own outdoor treatment room.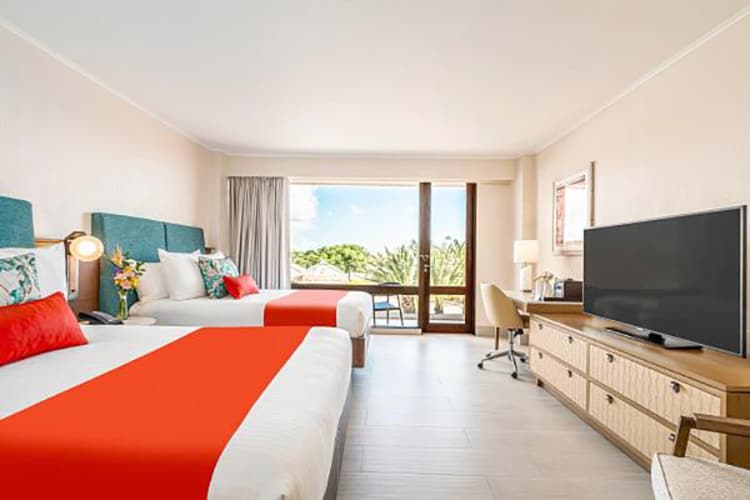 If you are after some activities for adults, there is snorkeling, scuba diving, tours to floating markets, cocktail classes, Spanish dancing classes, movie nights, beach Olympics, and more.
This resort has 3 pools, including a relaxing one for the parents, as well as a kids' pool too.
Meanwhile, the kids are safe and entertained in the Explorers Kids' Club with games, sandcastle contests, and a playground, or the Core Zone Teens Club with Euro-bungee, video games, and more.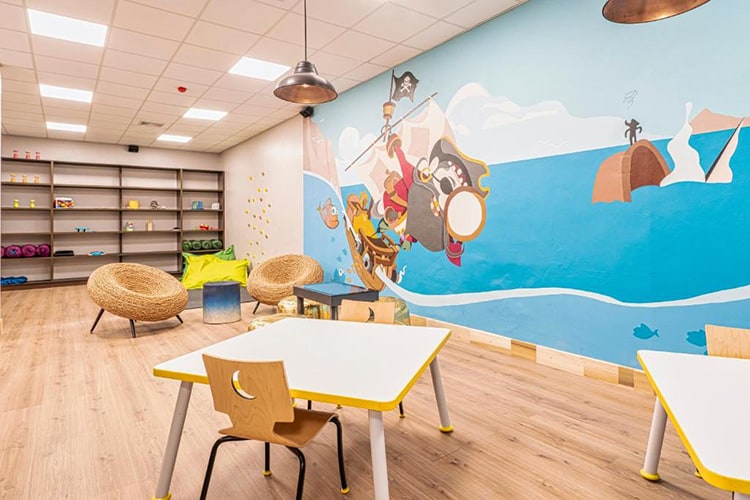 Choose your perfect view – if you can – and enhance your stay with Club Level for upgraded bath amenities and a mini-bar.
You'll also have a pillow menu and personal concierge service.
Venezuela is one of the top destinations to visit in South America, so you can't go wrong here!
Why you will love this resort:
Exciting water sports like world-class diving (for an additional cost), snorkeling, and kayaking.
A floating market in Curaçao's historic capital city of Willemstad to explore.
The resort's Beach Olympics to compete in and the casino to try your luck.
---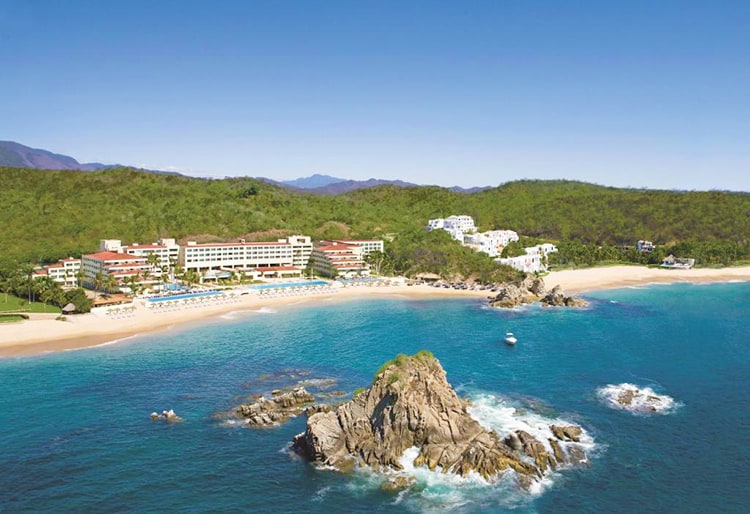 Rating: 8.2/10
Location: Santa Cruiz Huatulco, Mexico
View on Booking.com
Once you see the clear blue waters of Tangolunda Bay here at Huatulco Resort, you might want to spend your entire stay splashing in the surf.
But try to surface at least occasionally for one of their theme nights, beach parties, horse riding, archery, rifle shooting, live musical performances, and so much more.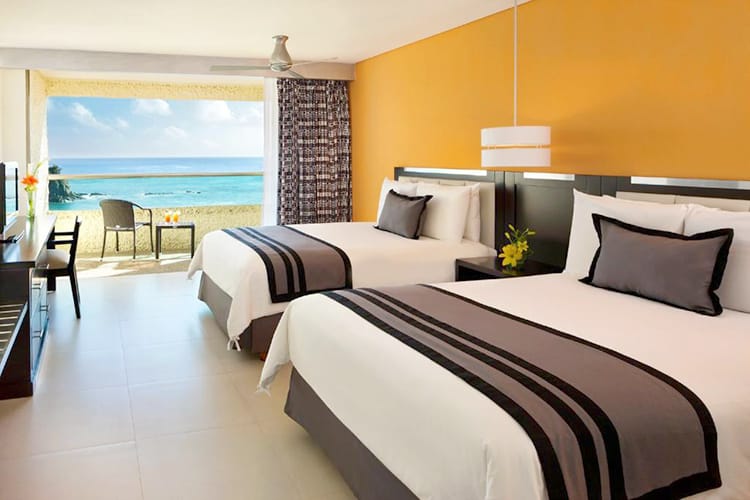 There are plenty of beach-side activities, such as snorkeling, deep-sea fishing, kayaking, and a ton more. Did I mention the 3 infinity pools and a kids' pool too?
There is, of course, a kids' club too, with all the bells and whistles as well.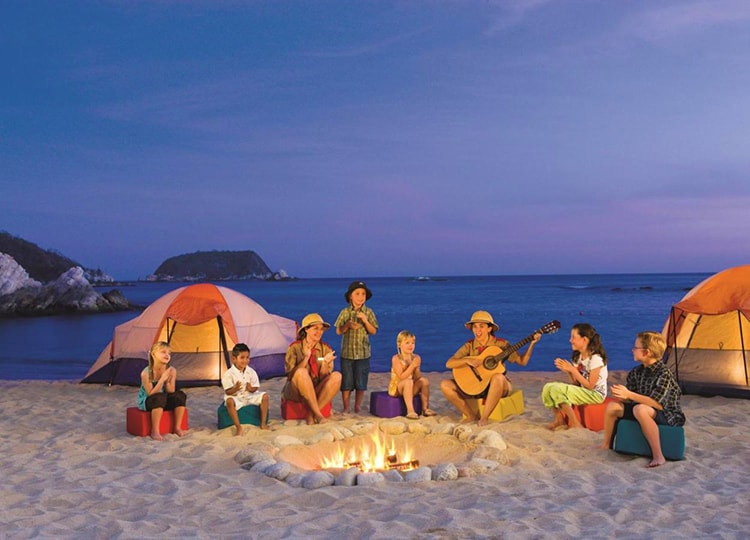 Or you might want to switch it up and take the plunge in the aqua gym. Then reward yourselves with a steak at the Seaside Grill, and have your meal poolside. You might decide that's the way all meals should be eaten.
Dream Huatulco's accommodations are the very definition of affordable luxury, with private hot tubs and exquisite views. Enjoy 24-hour room service and a mini-bar that is refreshed daily.
Why you will love this resort:
Family fun with a giant chess board, beach volleyball, or horseshoes.
Work on your marksmanship with some rifle shooting, or try your hand at archery.
An ocean trampoline, plus catamarans and kayaks that you can take for a spin.
---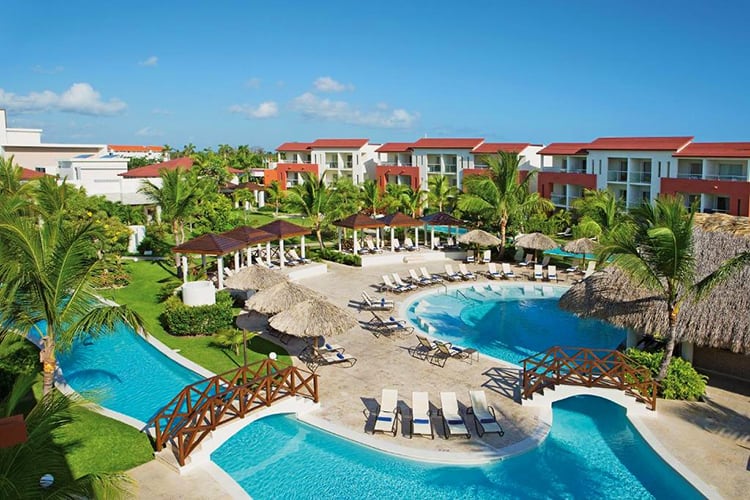 Rating: 8.5/10
Location: Punta Cana, Dominican Republic
View on Booking.com
A private beach in beautiful Punta Cana – that's how many people describe heaven.
This resort is fully packed with things for the whole family. For the parents, there are live musical performances, theme nights, shows, theater, Spanish dancing, and much more.
For kids, there are kids clubs for both young kids and teens with game rooms, crafts, treasure hunts, beach camping adventures, sports, and more.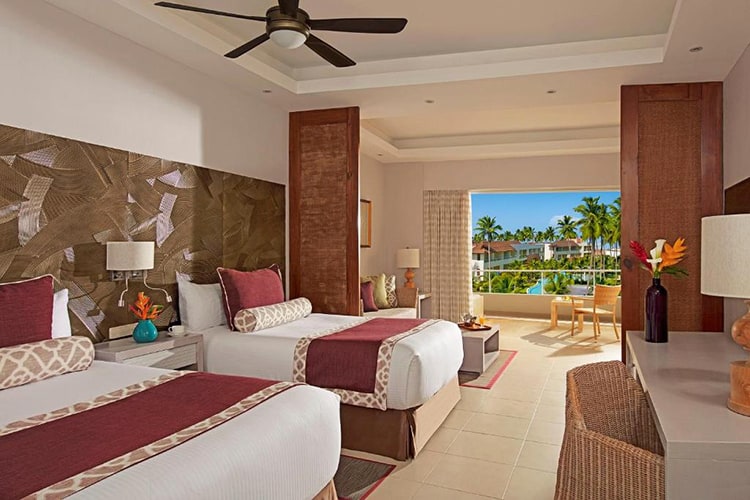 The intro to scuba diving lessons (additional cost) in a resort pool will help if you'd like to spend most of your stay in the beautiful Caribbean Sea.
You can even explore much of the resort while never leaving the lazy river pool that winds through the grounds.
Kids love to stop for the burgers and hotdogs at Tides Pool Seaside Grill on the way by.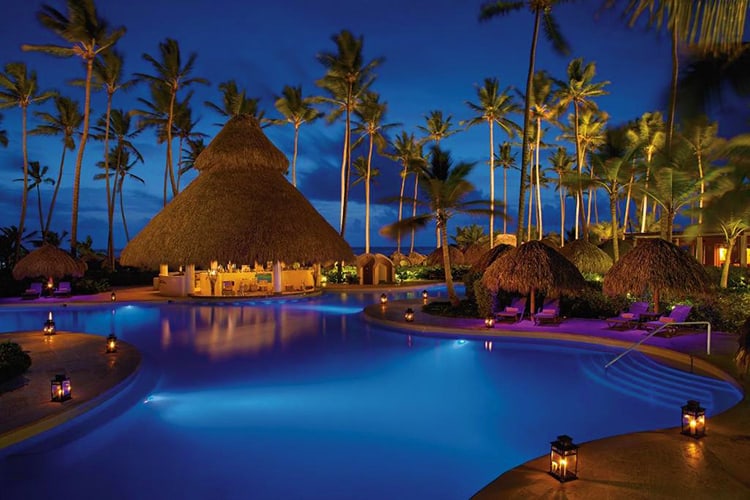 All have the option of gorgeous tropical or pool views, with round-the-clock room service and your own outdoor seating area.
Why you will love this resort:
The opportunity to 'Sip, Savor, and See, a dining experience that allows you to have dinner, and drinks, and enjoy live entertainment at another nearby resort.
Access to the nightclub next door's Secrets Royal Beach Resort.
Dance classes, aqua aerobics, and yoga to get your blood pumping.
---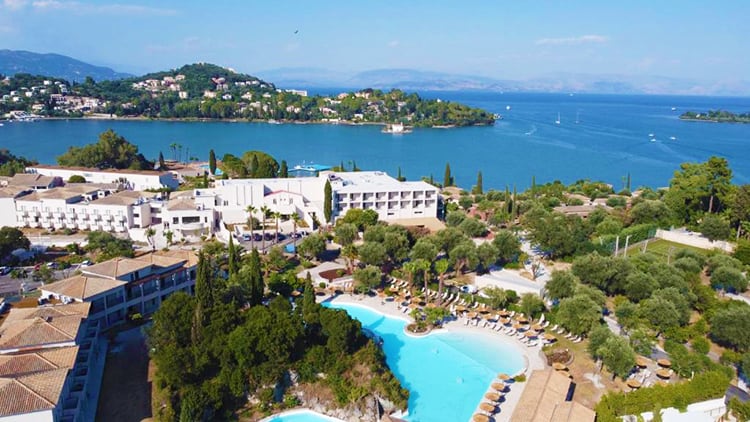 Rating: 8.2/10
Location: Corfu, Greece
View on Booking.com
Dreams' first resort in Greece sits right on the seafront in Corfu Island's lovely town of Gouvia.
This resort is perfect for families and couples whose fantasy vacation is an all-inclusive Mediterranean resort.
You have a selection of fabulous accommodations from double and family rooms to suites and bungalows.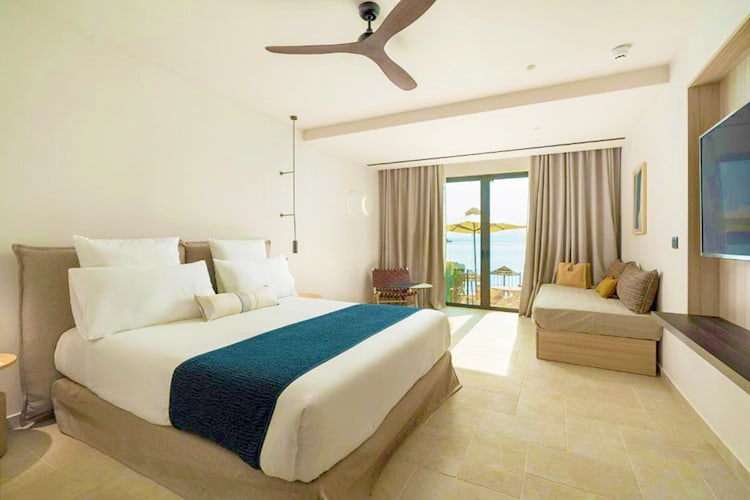 Dreams set the standard for all-inclusive with its Unlimited Luxury®️. Eat, drink, and enjoy the vacation of a lifetime. Spa treatments, activities, and clubs for the kids – you'll never want to leave.
All have Smart TVs and satellite channels, with beer, soft drinks, and water in the minibar. You'll even have an espresso capsule machine.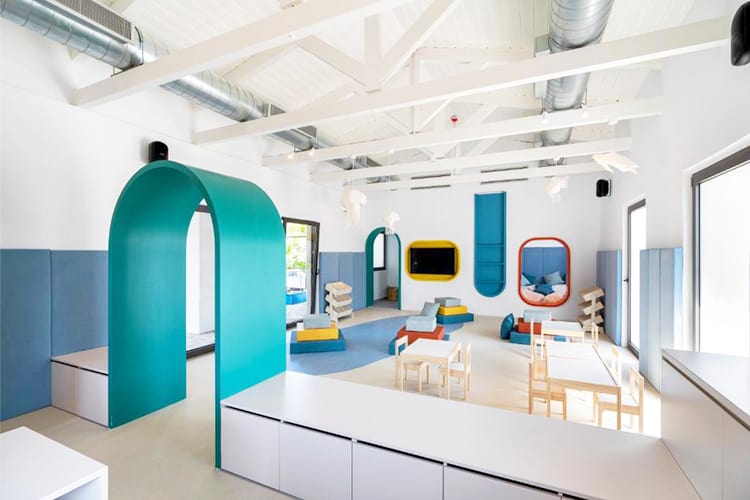 This resort has a dedicated beach and offers a variety of water sports, there are 2 pools, including a family-friendly pool.
Tip: Whilst visiting here, you might want to know what are the best things to do in Corfu with kids.
Why you will love this resort:
A variety of daily sports, bike rentals, and planned outings for the family.
Live music nightly, shows, and theme nights.
Watersports, indoor and outdoor spa treatment rooms, and a gym with indoor equipment and an outdoor multi-sport court.
---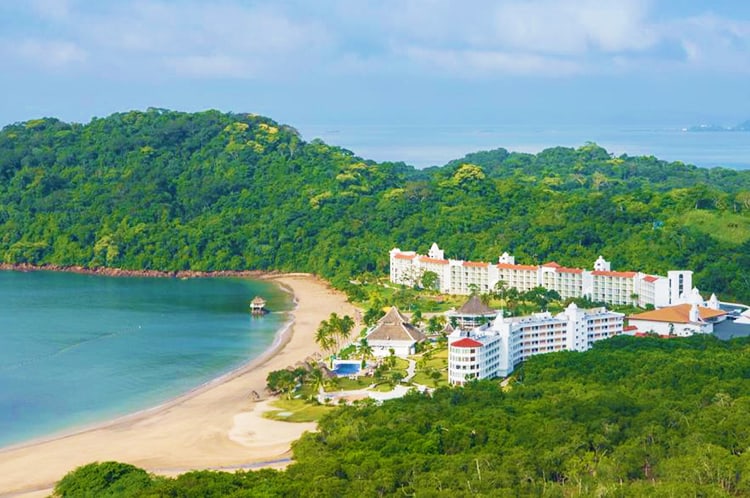 Rating: 8.0/10
Location: El Jobo La Cruz de Guanacaste, Costa Rica
View on Booking.com
This retreat encompasses everything that you want in a tropical destination – urban fun in Panama City, sapphire water and golden sands on the beaches of Panama Bay, and the lush green rainforest background.
You can spend your time here doing as much or as little as you want.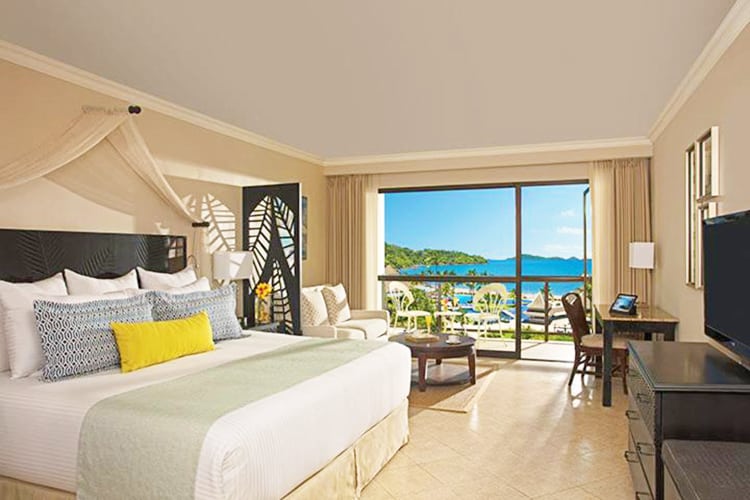 Take the short drive from the resort into Panama City to explore the history, culture, and of course shopping.
Bring the kids, or let the 3-12s make friends and have fun with the Explorer's Club for Kids, under reliable supervision.
There are 3 pools, including infinity, adults-only, and kids one too. This resort also offers theme parties, an entertainment center, there is golf, a battle cage, archery, and a jungle tour.
You can also, depending on the season, enjoy turtle hatching and whale watching.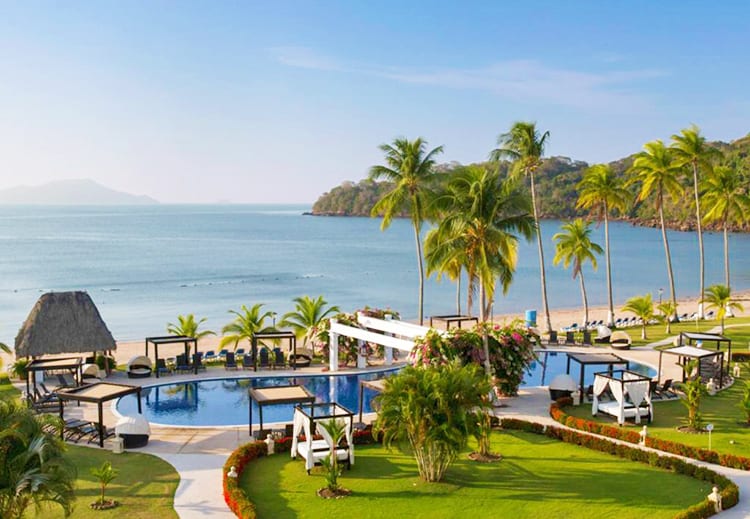 Experience a luxurious escape in rooms filled with wood accents and serene neutral colors.
Enjoy breathtaking views of the ocean from either your private pool or outdoor seating area, making for an unforgettable stay. Relax and unwind as you bask in blissful tranquility.
Why you will love this resort:
Watch the ships travel through the Panama Canal.
Take a jungle tour with your family, or enjoy seasonal whale watching.
Dreams Spa Party – ladies, bring all your best girlfriends and enjoy a selection of pampering spa treatments together.
---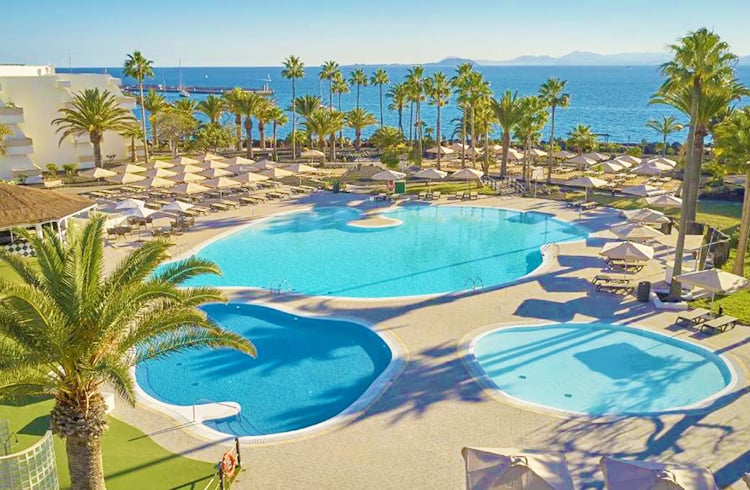 Rating: 8.3/10
Location: Playa Blanca, Spain
View on Booking.com
A getaway to the Canary Islands is a dream come true for any family or couple looking for an extraordinary, exotic vacation.
The perfect luxurious beach resort, with its amazing spa facilities and breathtaking scenery, promises to make your stay second to none.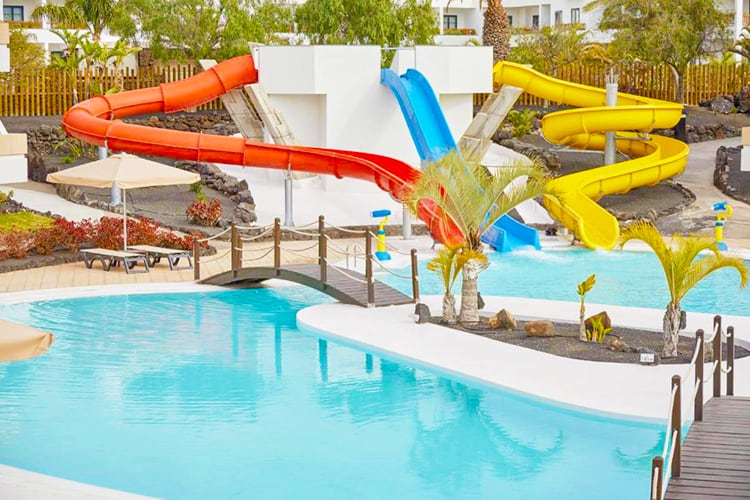 This resort has plenty to do for families, such as spectacular shows, traditional food or wine tastings, dance lessons, archery, and more.
There is also, of course, a kids and teens' club, 9 pools, and a water park with water slides.
Enjoy a sublime experience with breathtaking views and memories that will last a lifetime. Come and discover why the Canaries are one of the most sought-after holiday destinations in Europe.
Travel to paradise for a dream family or romantic getaway that you won't want to end. Soak up the beauty of the resort in complete comfort.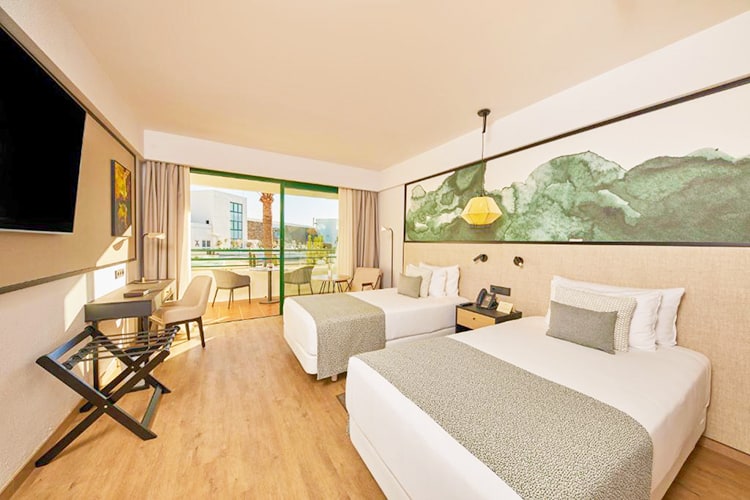 Relax after a day outdoors in your private outdoor seating area before escaping into your plush room or suite, with a rain shower for ultimate refreshment.
For larger groups, opt for one of the spacious family rooms.
Why you will love this resort:
Pilates, yoga, aqua spinning, and an aqua gym are available for you.
Authentic local Paella tasting and wine tasting. Nearby attractions like the unique white-plastered villages with their colorful windows and doors, and the dramatic landscape of Timanfaya National Park to explore.
Evening activities include spectacular shows, a choice of 4 gourmet restaurants, and a heavenly international buffet.
---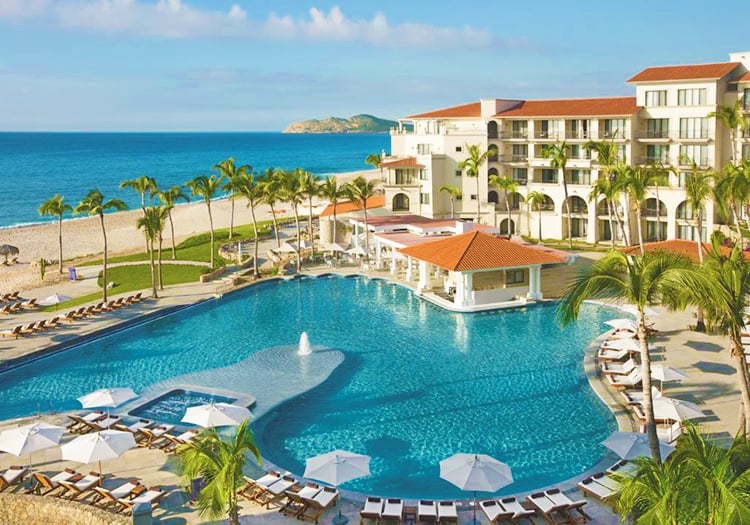 Rating: 7.1/10
Location: El Jobo La Cruz de Guanacaste, Costa Rica
View on Booking.com
Take yourself away to the sparkling Sea of Cortez, where beauty and elegance combine with traditional Mexican architecture.
Whether you're looking for a leisurely beach vacation or one of endless golf on one of eight championship courses, this destination promises something special that will satisfy everyone.
Discover nearby Chileno Beach, a destination that offers the perfect balance of relaxation and fun. Enjoy the many restaurants serving steaks, seafood, and pan-Asian cuisine.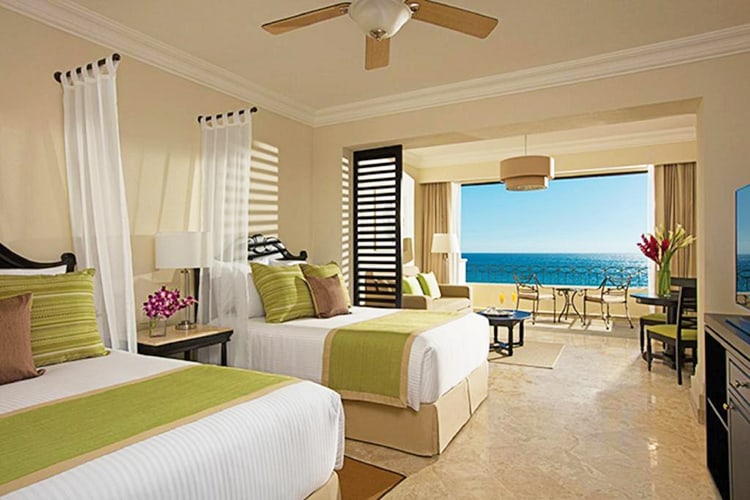 Or take part in tennis clinics, cooking classes, and cocktail lessons – all at this unforgettable location.
You can also find entertainment by joining in on big-screen movies under the stars, live music performances, tequila tastings, theme nights, or sitting around a fire pit.
There is a hot tub and 2 pools, one infinity pool and another kids-friendly pool with a water slide.
This resort offers child-minding services at the kids' club for ages 3-12 years old.
As for the teens, there are plenty of sports on offer, such as tennis, beach volleyball, bocce ball, Euro-bungee, and more.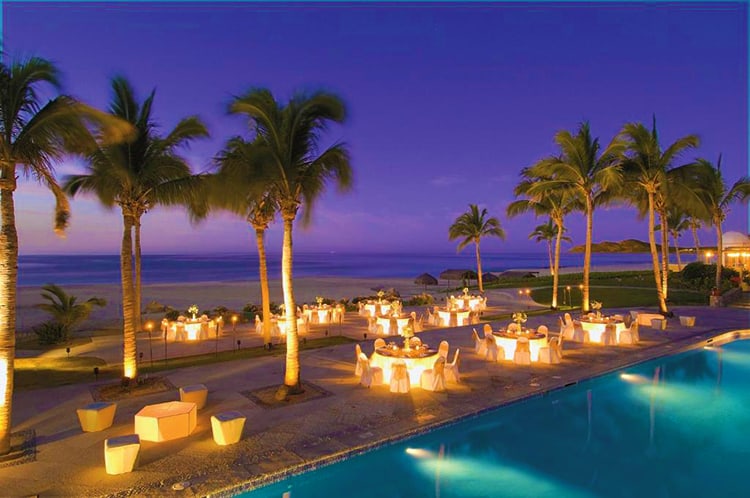 Enjoy the combination of luxurious amenities, modern comforts, and unforgettable views in our beautiful rooms, suites, or family suites.
Each one is equipped with a flat-screen TV plus a balcony or terrace to take in picturesque gardens or ocean vistas.
Why you will love this resort:
8 championship golf courses nearby and resort guests are offered a special rate to play.
Variety of games for you and your family, such as bocce ball, tennis, and horseshoes.
Tequila tastings, big screen movies under the stars, and best of all, a seasonal turtle-releasing event. You and your family can take part in protecting new Caray Green Sea Turtles as they make their first voyage to the sea.
---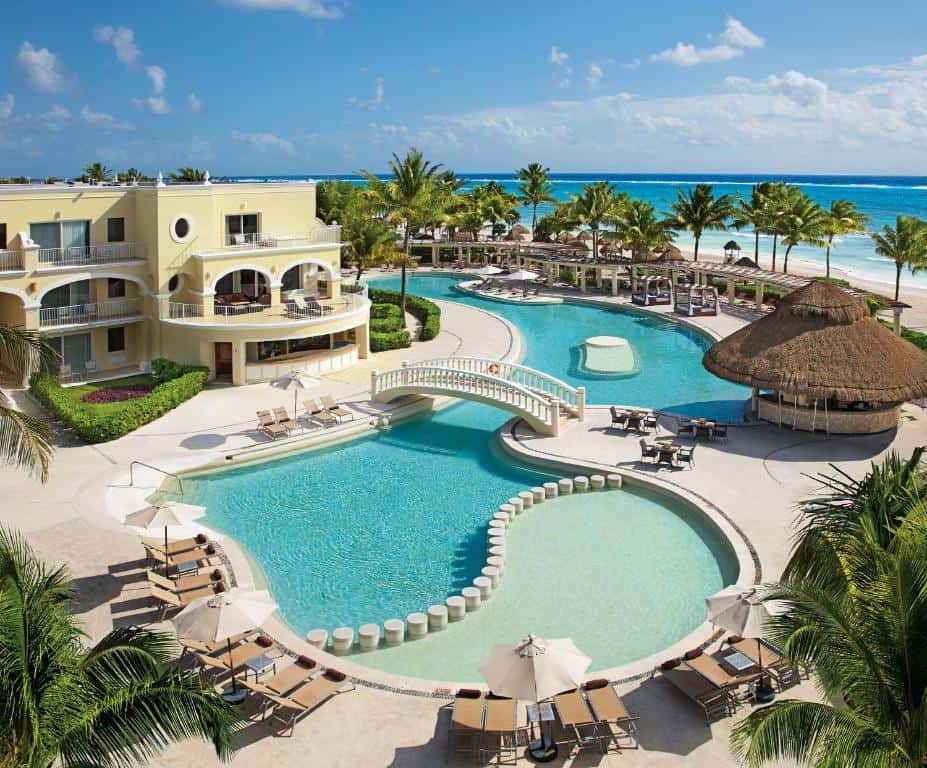 Rating: 7.6/10
Location: El Jobo La Cruz de Guanacaste, Costa Rica
View on Booking.com
At this AAA Four Diamond award-winning resort, take part in rejuvenating yoga sessions, explore the mysterious and ancient Mayan ruins, or discover the Xel-Ha natural aquapark.
Or just relax on the long, idyllic beach. Then take a culinary journey with 16 different restaurants and bars serving unlimited domestic top-shelf spirits at your disposal.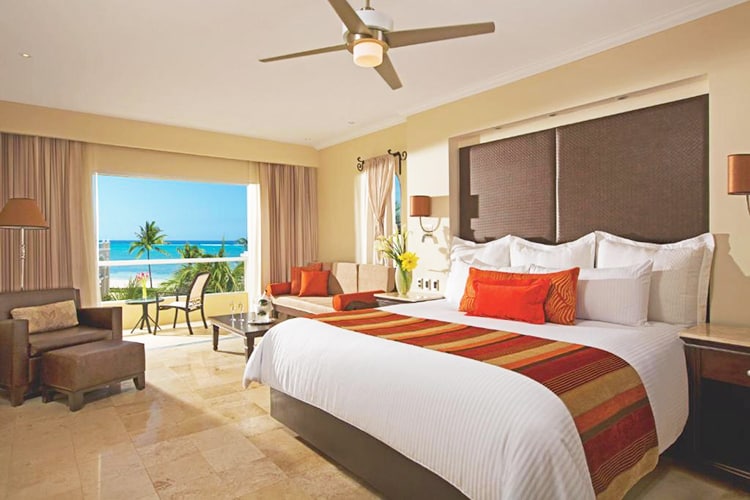 The resort is just 5 minutes from the authentic Mexican town of Tulum.
This resort has 2 pools, a heated relaxing pool, and an activity pool, as well as a water park with 6 slides and a kids' club.
Resort also offers scuba diving and intro courses, snorkeling, kayaking, and catamarans.
Entertainment includes themed nights, shows, and big-screen beach movie nights, as well as dancing, Spanish, cooking and cocktail classes, and more.
Arrange an excursion into town, to the ruins, or enjoy discounted greens fees at the Riviera Maya Golf Club. Or hang out at the spa pantry, learning to make your own spa products from local plants and other natural ingredients.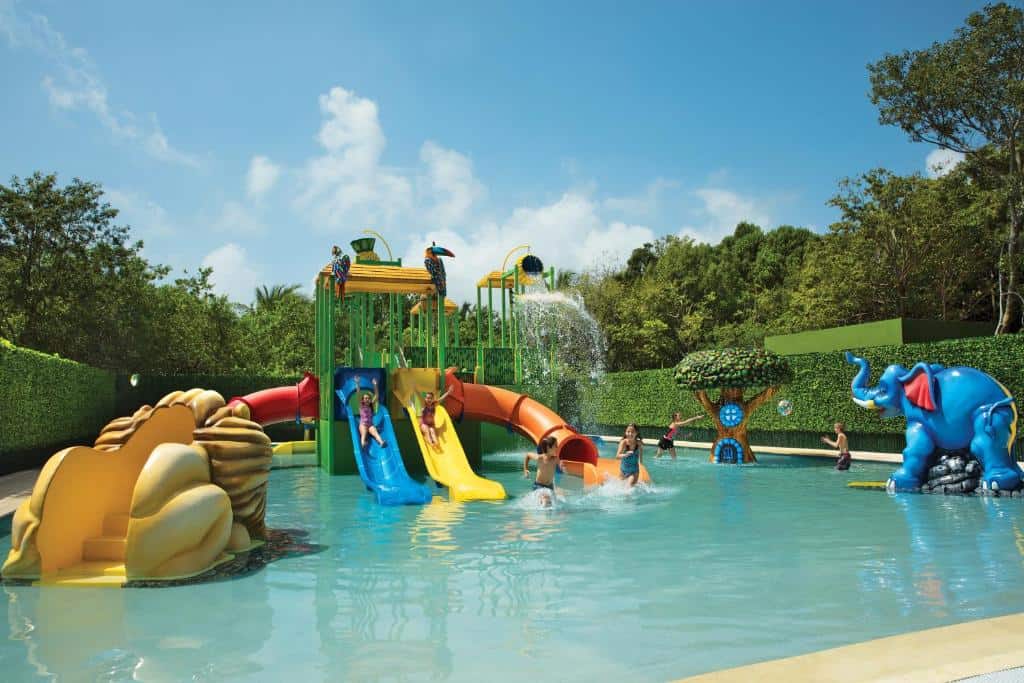 The accommodations are a modern Xanadu where charming contemporary décor awaits you.
Relax in one of the luxurious swim-out rooms or suites, complete with private terraces or balconies. If you're looking for some serene adults-only space, book a suite in the private 18+ garden.
Why you will love this resort:
A spa offering tranquil jungle and beach cabins, and a temazcal, or traditional Mayan sweat lodge, for an authentic spa ceremony experience. As well, Bali beds are available for you at the pool and the beach, for a small fee.
A turtle release program for guests to observe. You kids might vote this the best Dreams resorts for families, just for this experience.
A variety of watersports and experiences, such as diving, 6 waterslides and 2 giant buckets, and a splash park for the littles.
---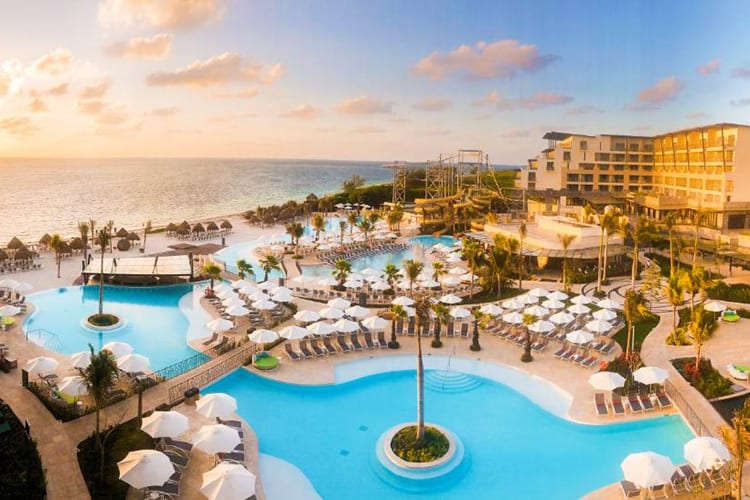 Rating: 7.7/10
Location: El Jobo La Cruz de Guanacaste, Costa Rica
View on Booking.com
Nestled in the heart of the beautiful Riviera Cancun, this luxury Dreams Resort offers a tranquil oasis for guests seeking a blend of modern amenities and natural beauty.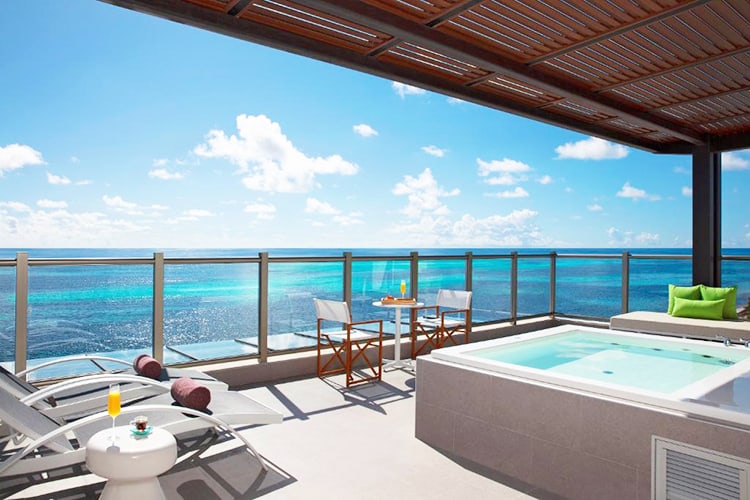 The resort is surrounded by the Mayan rainforest, away from the noise and crowds of the city. The cenote-inspired spa will transport you to another world.
You can join a cave expedition or try ziplining over the jungle. Whether you seek adventure, relaxation, or a combination of both, this luxury resort in the Mayan jungle is the perfect escape.
Entertainment includes musical performances, stage shows, and various classes including dancing, cocktail making, cooking, and more.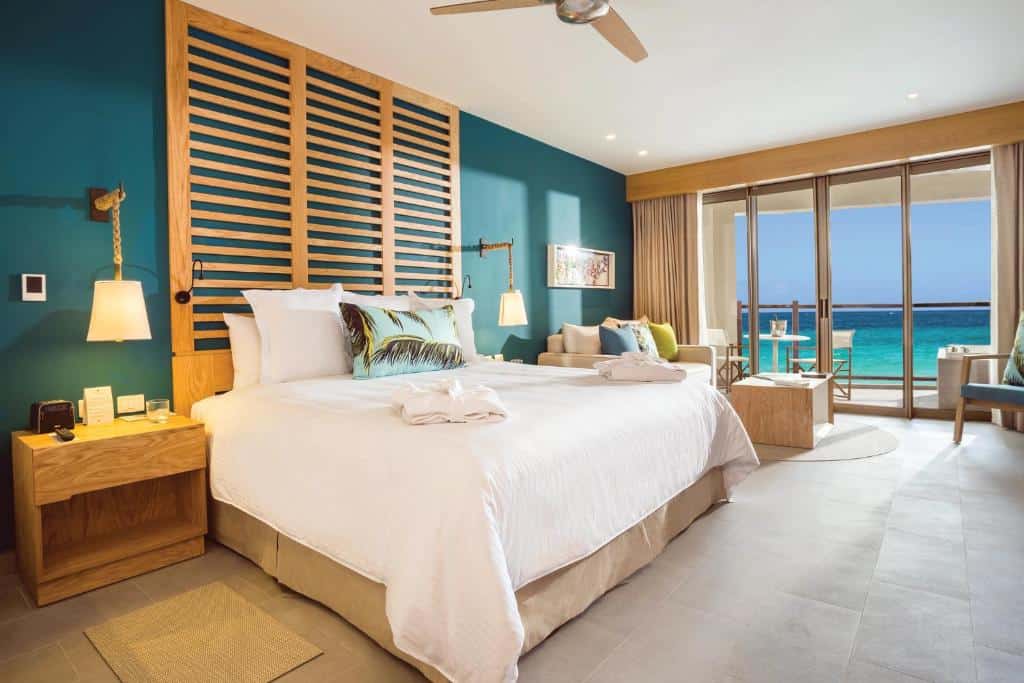 There are also 4 pools and a water park with slides, water rafting, lazy river, as well as scuba diving, snorkeling, kayak tours, and more.
Youngsters and teens will have plenty to do as well when visiting an Explorer's Kids Club and Teens' Core Zone.
The resort boasts spacious suites with private outdoor seating areas and the choice to swim out with direct pool access.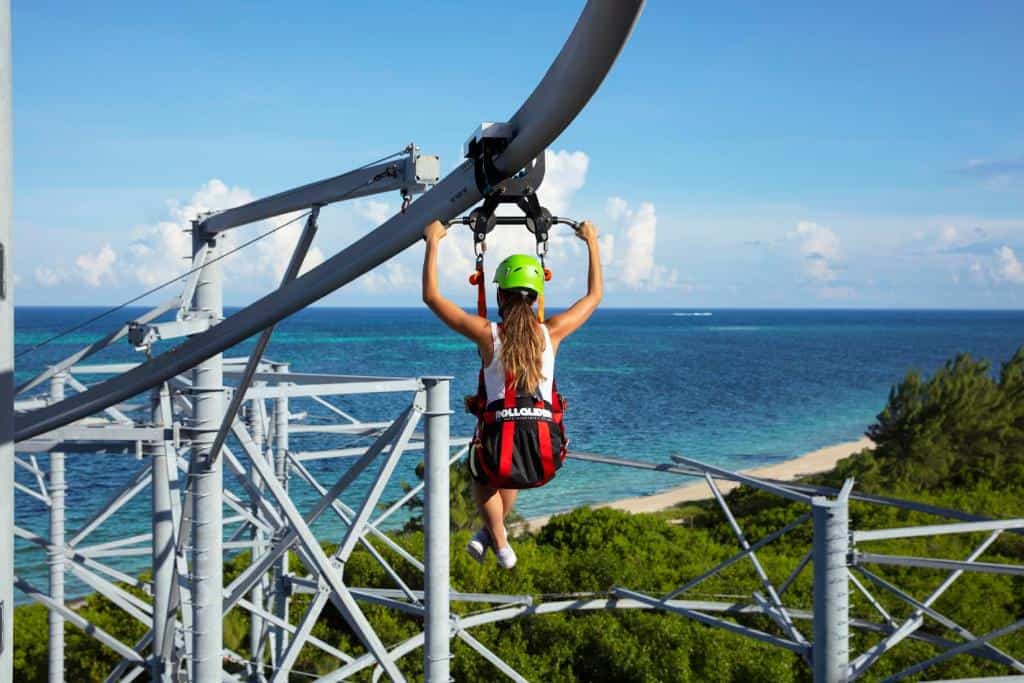 Your stunning view of either the lush tropical surroundings or the clear blue Caribbean Sea is sure to travel home with you in your many photographs. 
Why you will love this resort:
The Rollglider aerial ride, amazing family waterpark, and 671 ft. (204.5 m) lazy river.
Outdoor concerts, dance, lessons, cooking classes, as well as cocktail classes with tequila tastings.
More than a dozen restaurants and bars, including the poolside Barefoot Grill, romantic French dining at Bordeaux, and the favorite coffee and ice cream stop Coco Café/Dolce Ice Cream Parlor
---
Frequently Asked Question
Here are some answers to the most frequently asked questions about staying at a Dreams Resort.
1. Are Dreams Resorts kid friendly?
Absolutely! Dreams resorts all have many activities, especially for families, as well as accommodation choices such as family suites, to give you and your family the ideal place to stay.
Dreams Resorts also have a variety of options for kids who'd like to have a chance to hang out with children their own age, allowing you to have some adult-only time.
Look for Explorer's Club for ages 3-12, and The Core Zone for Teens for ages 13-17, as well as separate child care, at your favorite Dreams Resort, to explore your options.
2. Which Dreams Resort has the lazy river?
The mesmerizing lazy river is a feature at four Dreams Resorts.
Find one at the Dreams Natura Resort & Spa, Dreams Playa Mujeres Golf & Spa Resort, Dreams Macao Beach Punta Cana, and Dreams Onyx Resort & Spa.
3. What is the difference between Dreams and Secrets Resorts?
The spectacular Dreams Resorts are designed as family resorts, with activities, dining options, and accommodations designed as ideal family escapes.
Secrets are all about romance and center around creating the perfect atmosphere for couples.
---
Final Thoughts
Hopefully, this selection of the 15 best Dreams Resorts for families has helped you choose your perfect destination.
With amazing beaches, luxurious accommodations, and activities fit for all ages, these resorts provide a plethora of entertainment and relaxation.
Beyond that, each resort works to guarantee every guest an unforgettable experience.
Whether your trip is tailored towards excitement or seclusion, children or adults, rest assured you'll have the best time of your life at one of these spectacular destinations.
So take your pick—it's time to leave reality behind and start having the dream vacation you and your family deserve!
Still not sure which one to pick? Here are the family favorites: