Do you want to experience the bliss of an island paradise without having to leave the mainland of Greece? Then Parga is the place for you. This cozy nook of Greece offers the peace and scenery of an island getaway for the whole family, with plenty of things to see and do.
Perhaps you already explored and loved some of the things to do in Kefalonia and are now ready to move on to the next Greek adventure. So what's stopping you? Let's get straight to it.
Where Is Parga Town?
Parga Town is a seaside town located in northwestern Greece in the Epirus region. It's 270 miles from Athens, and the closest airport is Corfu, which receives domestic flights from Athens and Thessaloniki.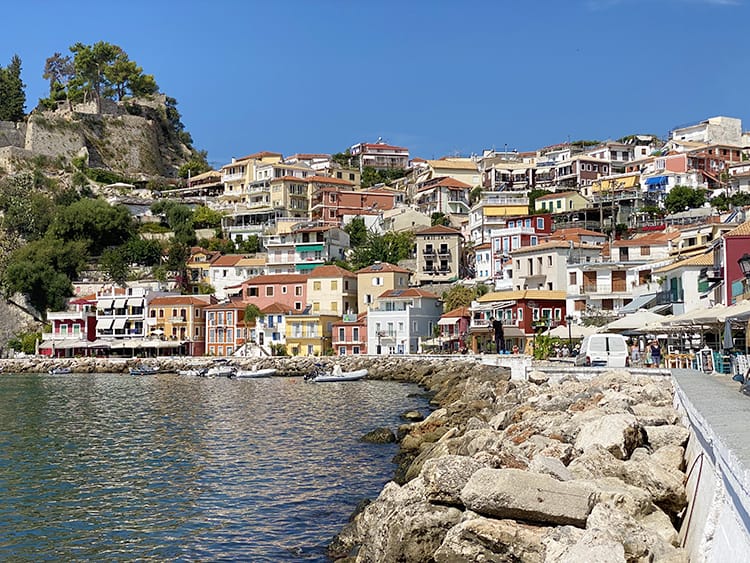 Is Parga Worth Visiting?
The short answer is yes. It's a mainland town, but it has the feel of an island paradise, making it a favorite amongst holidaymakers. It's famous for its incredible beaches, stunning traditional architecture, and natural landscape.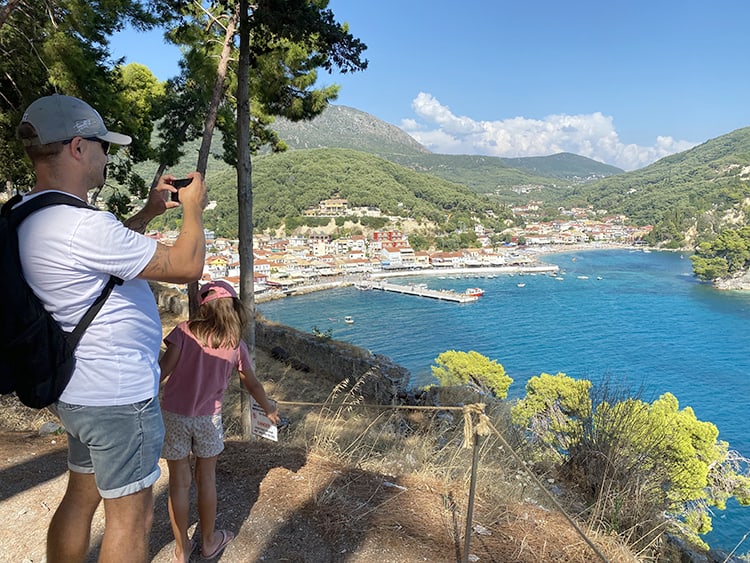 The foliage-covered rocks that jut from the Ionian Sea give it a tropical vibe, and the colorful houses nestled up against the mountain are idyllic. There are even the enigmatic ruins of the Venetian Castle to enjoy. Basically, there's something for everyone in Parga.
What To Do In Parga Town
There's always a multitude of things to choose from when going on vacation, but here are our five favorite things to do in Parga.
1. Venetian Castle Of Parga Town
The Venetian Castle has a long history of defense in Parga, as the eight towers built around the castle attest to. It was originally built in the 11th century by the residents of the town, and it was rebuilt and fortified three times over the centuries by the Venetians.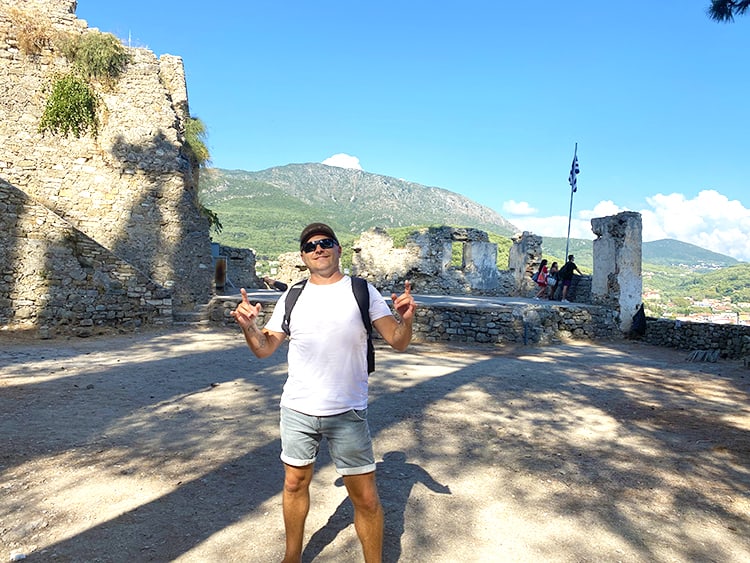 There's plenty to see in the ruins, from arched alleys, warehouses, forts, bastions, and hidden passages — the kids have the time of their lives exploring. Inside the castle, you'll find two main buildings where exhibitions and theatrical performances are hosted. There's even a café selling frappés and waffles, so no need to bring packed lunches.
The castle is easy to reach from the Port of Parga — simply walk up the narrow allies until you reach the top. Be prepared for complaining calves if you aren't as fit as you thought.
2. Explore The Gorgeous Lanes And Alleys
No dingey dumpster-filled alleys here. In Parga, the town is a labyrinth of narrow alleyways — too narrow for even a bicycle, sometimes. Or they may have too many stairs, seeing as the buildings climb up a mountain slope.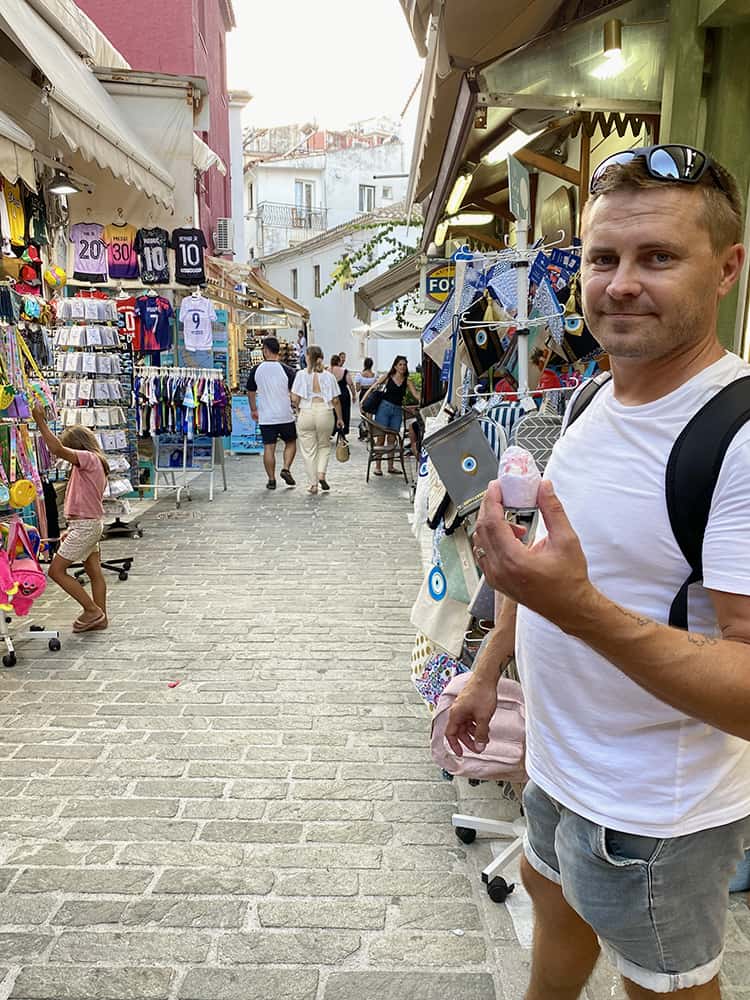 But if you explore these charming allies, you'll discover to your delight small shops, quaint cafés, and traditional restaurants with plenty of local colors. Every here and there, a small square opens up with a handful of tables and maybe a church.
There's no doubt every new alleyway that you happen upon in this honeycomb has something new to offer.
3. Enjoy Some Time On The Beach
Beaches are perfect for family vacations — the kids get to have fun while the adults can relax a little and catch some sun. Valtos Beach is one of the longest sandy stretches in Parga, it's popular with swimmers and surfers alike.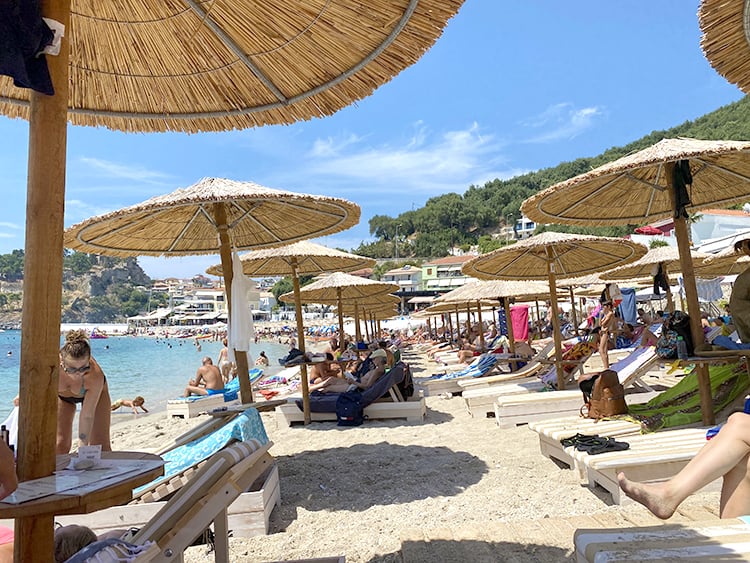 It's on the other side of the hill that's covered with colorful houses and topped by the Venetian Castle. But, it only takes about ten minutes to climb up and down the stairs to reach it. It's pretty cosmopolitan, with restaurants lining the shorefront and sunbeds scattered about for your convenience.
Krioneri Beach sits at the foot of the mountain, and it literally means "the cold one," so be prepared for a refreshingly cool dip.
The mellow lapping of the Ionian Sea next to the loungers and umbrellas that line the sand make an inviting scene, especially as they overlook a pretty little island just offshore. It can get crowded though, so make your way there early.
4. Hop On The Tourist Sightseeing Train
Kids are enchanted by trains, plus who doesn't want to take a break from walking? The Parga Train offers three different destinations. The first is Ali Pasha Castle, also called the Castle of Anthoussa.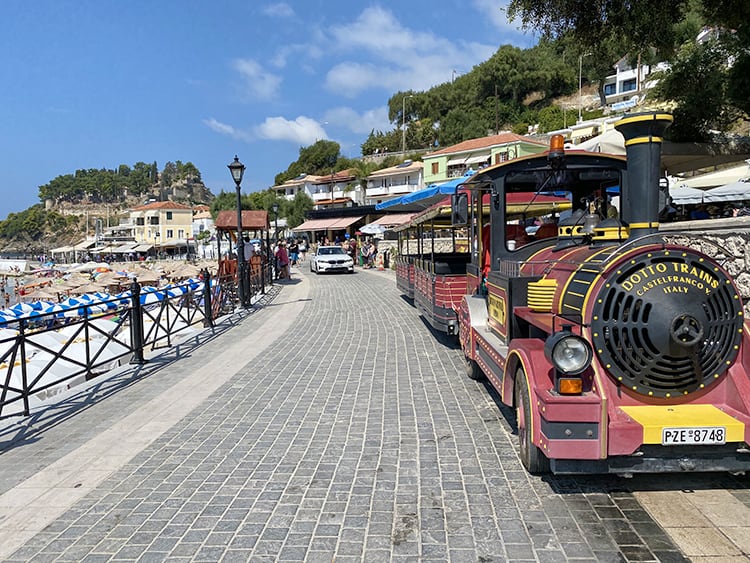 Built in 1814 as a fort, it overlooks the sea on three sides and the town of Parga on the fourth. It's charming in a crumbly fashion and a delightful choice for a family visit.
The second train tour takes you to the Waterfall and Watermill Folk Museum and Café. It's a traditional stone mill in the untouched countryside with old olive and fig trees surrounding the little stream that powers the mill.
The last train tour is of Parga itself and is the shortest of all three. But it's a pleasant way to see the city in a fun and unique way.
Top Tip: Book the train tours here.
5. Stroll Around The Harbor Area
What could be more family-friendly than this? Kids love seeing the fishing boats coming in and out, and we love the bars and restaurants lined up along the promenade. It's a win-win. But this harbor is special; the buildings are all shades of fun, vibrant colors, climbing up into the hillsides in an Italian-esque style.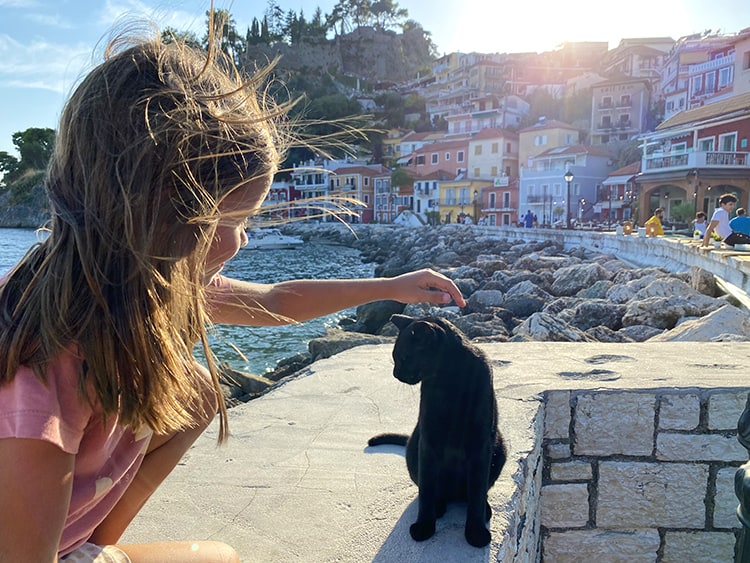 At night, the area comes alive with twinkling lights and live music, and the sunsets are perfect.
Tours To Book From Parga
Vacations can get a little chaotic, so why not remove some of the stress from your vacation by booking a tour or two? They usually have transport sorted, plus they're highly entertaining for the whole family. Here are a few of our favorites we hand-picked for you.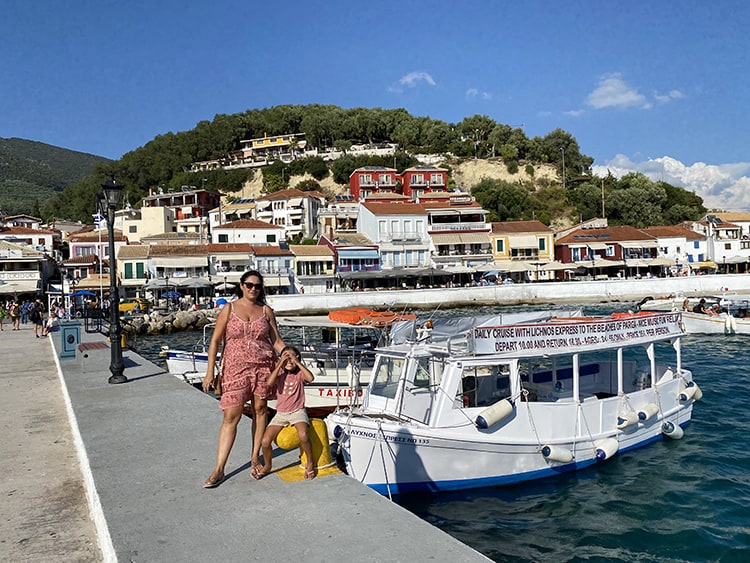 Parga, Sivota, And Blue Lagoon Full-Day Boat Cruise
A full-day boat cruise including snorkeling in paradise — it's a dream come true. Explore the underwater empire of the Blue Lagoon and take in the breathtaking Sivota Islands cave while your guides explain the shipwreck histories of the area. End the tour by strolling the streets of Parga.
Top Tip: Click here to book your tour in Parga to see Blue Lagoon.
Meteora From Parga
Who wouldn't be astounded at the six monasteries impossibly built atop rock pillars? It's a UNESCO World Heritage Site to boot. Don't get stressed about organizing it — rather let a tour company do the work for you so you can relax and enjoy this marvel of architecture.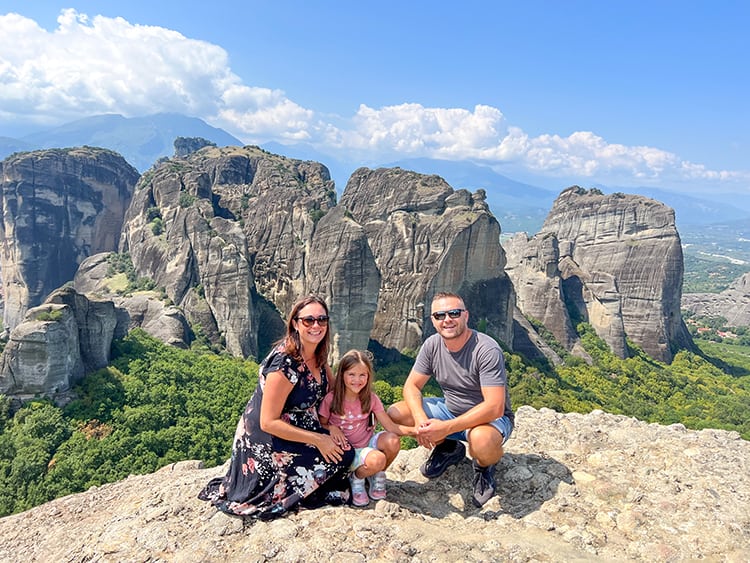 Top Tip: Click here to book your tour in Parga to see Meteora.
Zagoria And Vigos Gorge From Parga
History lovers will be in their element and nature lovers will swoon. Take a tour through the Greek countryside in an air-conditioned bus with stops at Monodendri and the Agia Paraskevi Monastery before stopping for lunch.
Top Tip: Click here to book your tour in Parga to see Zagoria.
Best Restaurants In Parga
There were so many incredible places to eat in Parga, it made us dizzy trying to pick our favorite each night! Most specialized in traditional Greek food, naturally, but some had a more modern fare to offer, and others had rustic plates with scrumptious tastes.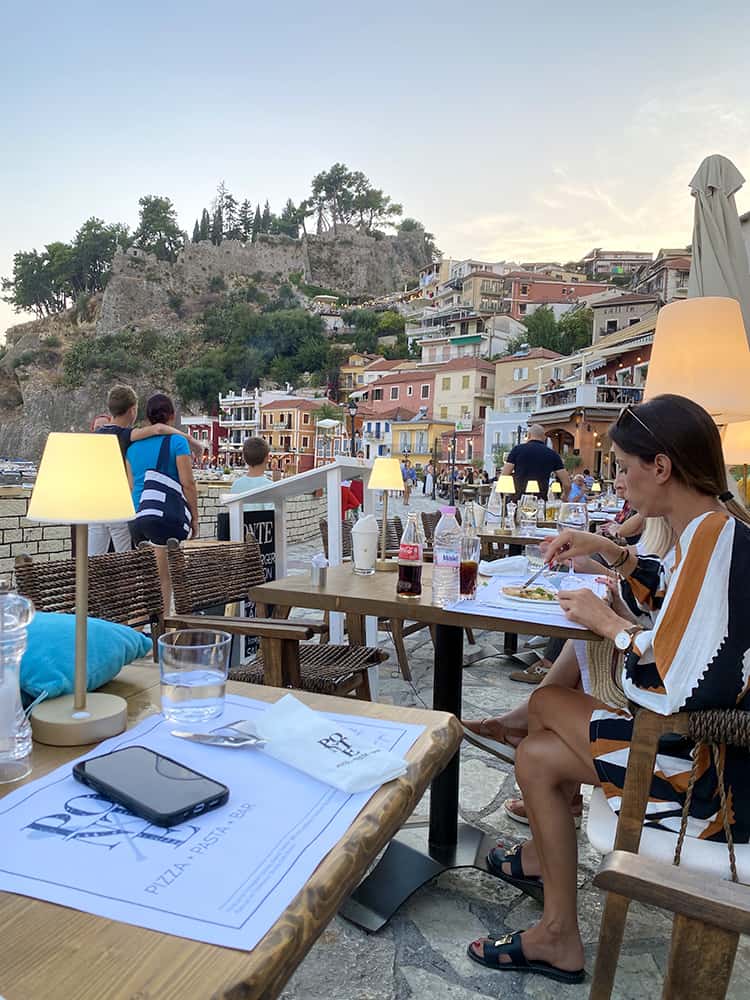 Others just had the atmosphere down to perfection, while some were more kid-friendly. Here are the ones that you just can't miss when visiting Parga:
Delizie
This spot has some Italian classic meals mixed with salads and high-end main courses. The food presentation is astounding, the decor and atmosphere sublime, and the cocktails are delicious.
Sakis
Homey and vibrantly Greek with its blue and white decor and rustic tables, the traditional Greek food is served simply and in hearty portions, so come with an appetite!
Bacchos
This place serves both traditional and vegetarian Greek options and offers high chairs and a kid's menu for the little ones as it's very family-friendly. The portions are huge, so you get your money's worth.
Taverna Petros
It has a hip and modern look in contrast to its authentic traditional Greek menu. Pops of green and warm browns together with its open-plan layout makes it a very inviting space — as does the delicious smell of their rustic food.
Hellenikon
They offer chic, warm decor and equally chic plating of their exquisite modern Greek cuisine. It's a cozy, family-run restaurant tucked away from the crowds, and you definitely need to try it before you leave Parga.
Where To Stay In Parga
There are plenty of places to take your pick from, but our favorite spots were these three properties.
Hotel Maistrali
This colorful and eclectic hotel is full of whimsical and eye-catching decor, plus a garden to make nature lovers drool. The café bar is open all day, and breakfast is made from fresh local ingredients you and your family will love. It's only 160 ft from the beach and 320 ft from the port with delightful seafront taverns.
Check out current prices for Hotel Maistrali here!
Krioneri Beach
With romantic sea views from the balcony and warm interior tones, this apartment welcomes you in a comfy embrace. It's only steps away from the beach, which the kids (and you) will love. Each unit has a kitchenette for easy meals and snacks, and free Wi-Fi for your convenience.
Check out current prices for Krioneri Beach here!
Additional Information for Greece Vacation
Check out what else we have about Greece here: