Have you been wondering about visiting Greece in September? I've got you covered!
Visiting Greece in September is a magical experience and in our opinion the best time to travel to Greece! Our family was excited to explore the country and experience its unique culture.
With our young daughter, we spent two months traveling around the country, from the sunny beaches of Mykonos to the beautiful streets of the capital city, Athens.
We even had a chance to try the delicious food and learn about the mythological history that so many people come here to discover.

Along the way, we found some of the best places to visit in Greece during this time of year.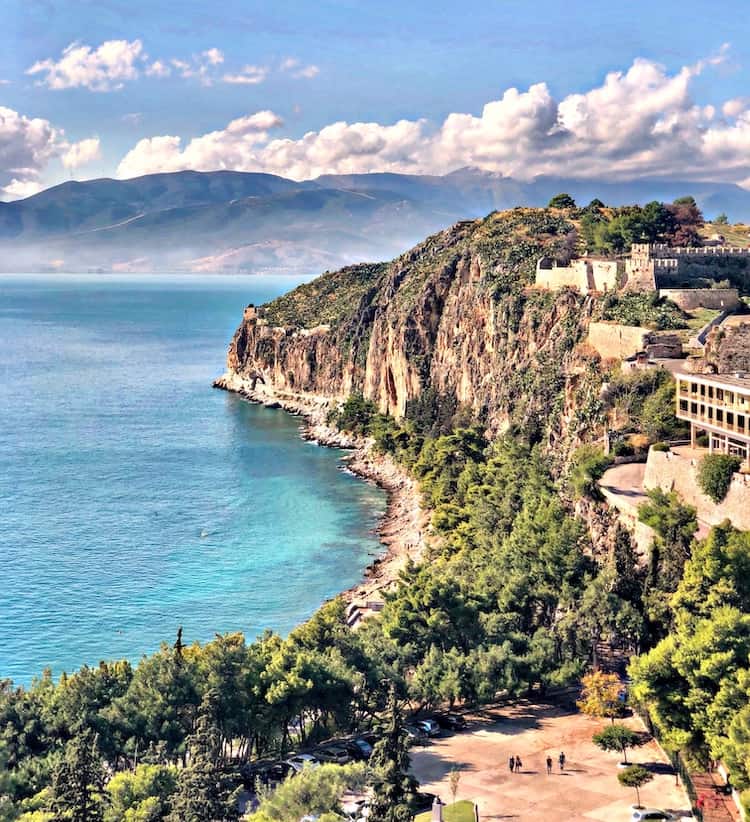 From picturesque islands with crystal clear waters to traditional villages with friendly locals, there is so much to see and enjoy when traveling to Greece in September.
Keep reading to find out our selection of the 10 best places to visit while you're here for your Greece holiday in September!
---
Typical Weather in Greece in September
Greece in September can be a wonderful time to visit, as the weather is generally still quite pleasant even though mid-September is the end of the summer season and the beginning of Autumn.
Late summer days are usually sunny and warm, although you can sometimes experience some cooler temperatures in the early mornings and evenings. If you're lucky you might even get an August-like day in mid-September!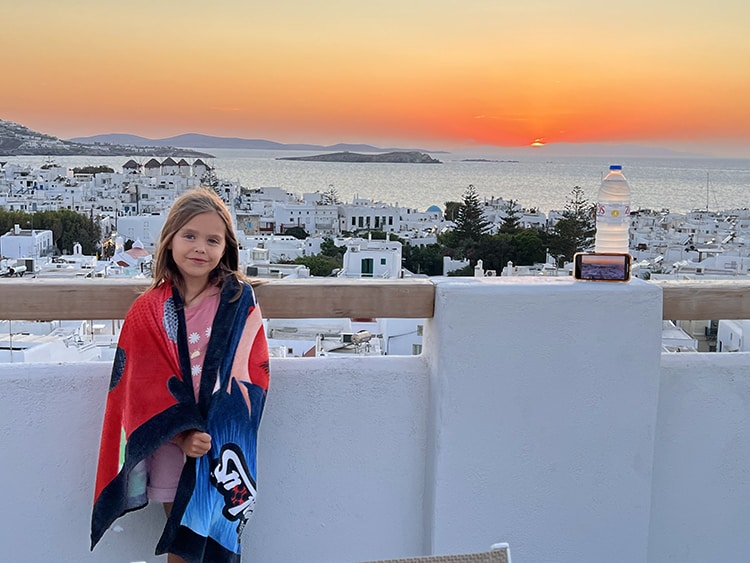 Typical days will start off with some morning fog at lower altitudes, followed by temperatures around 25°C during the day and cooling off to around 15°C at night.
It's the perfect time of year for those wanting to enjoy a beach holiday without the intense heat of July or August.
Average temperature in Greece in September
The average temperature in Greece in September is a pleasant 26°C (78°F) during the day, cooling down to around 17°C (63°F) at night.
Early September offers ample sunshine, minimal rain, and an average daily temperature of 24°C (75°F).
By mid-month, the weather remains sunny with little rainfall, and the average daily temperature decreases to 23°C (73°F).
Is Greece too hot in September?
Greece in September can be quite hot and sunny, with temperatures reaching into the mid-80s Fahrenheit, particularly in the Aegean and Ionian islands.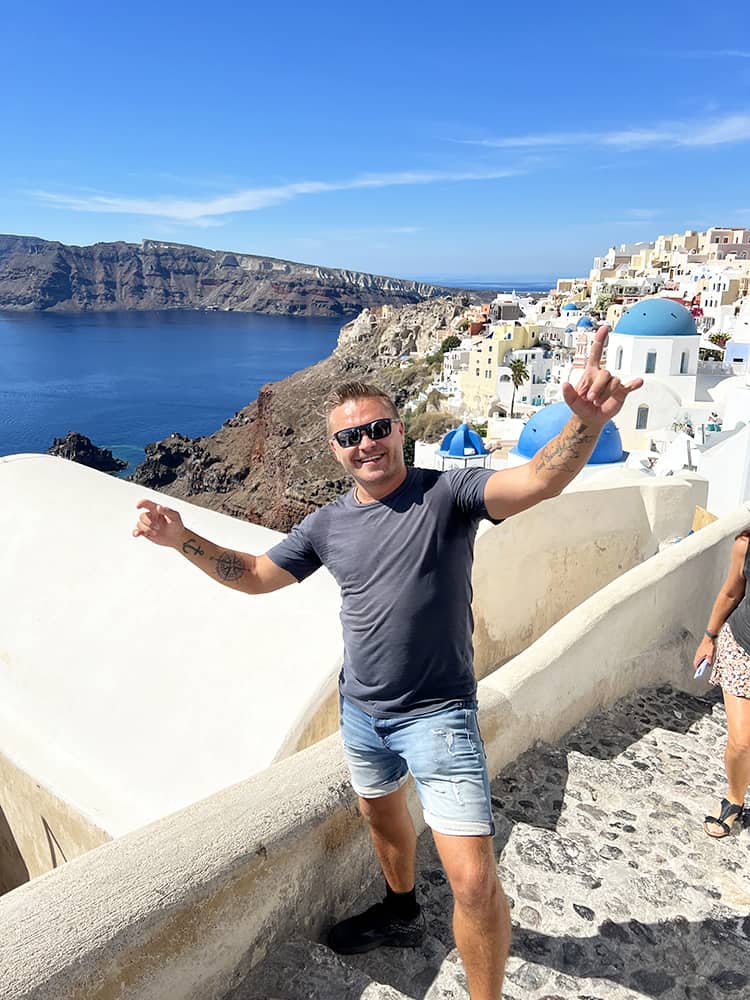 It is certainly a much warmer climate than many other destinations during this time of year.
Does it rain a lot in Greece in September?
Greece in September is notoriously dry and sunny, but that doesn't mean you won't see rain. You can still expect some scattered showers throughout the month, particularly in the north and mountainous regions of the country.
It's always a good idea to come prepared with a light jacket or umbrella just in case.
Can you swim at beaches in Greece in September?
Greece is a great place for swimming, and its many beaches are ideal for taking a dip.
September can be the perfect time to swim in Greece because the weather is still warm enough to make it enjoyable.
The Mediterranean Sea and Ionian Sea temperatures are especially inviting during this time of year, with temperatures averaging around 24°C.
---
Is Greece Crowded in September?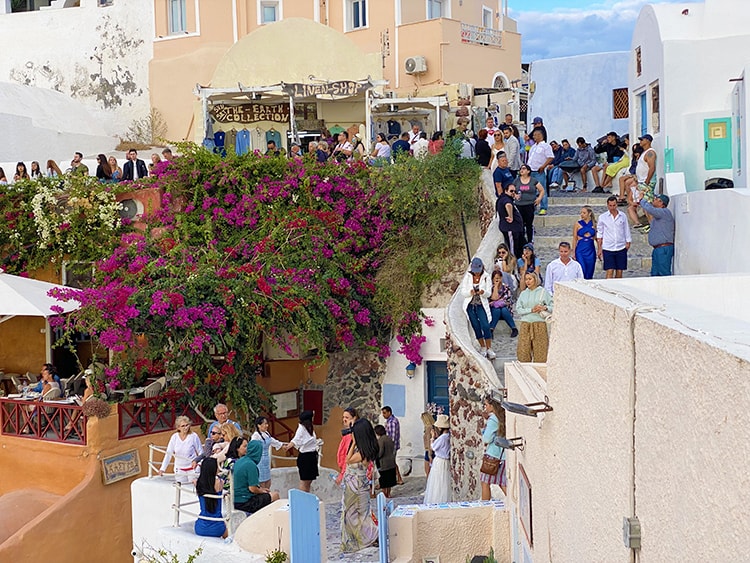 Greece is a popular destination for tourists in the summer months, but it starts to calm down in September and even more so in late September.
That's when you can really get a feel for the culture and atmosphere of Greece without the hustle and bustle of busy beaches and large crowds.
Even though there are still visitors in September, it's much less than peak season, making it an ideal time to visit if you want to experience all that Greece has to offer without the overwhelming influx of people.
---
10 Best Places to Visit in Greece in September
Below is our top pick of the 10 best places to visit in Greece in September from stunning beach locations to cultural city experiences.
1. Athens in September
Athens in September is a beautiful time to visit, with temperatures ranging from 23-30 degrees Celsius. The climate and the city streets are alive with vibrant colors and warm vibes.
One of the best ways to explore the city is to take one of the many sightseeing tours available.
These tours will give you an insight into some of the most iconic attractions of Athens, like the Acropolis or Parthenon guided tour, as well as take you through ancient alleyways and hidden gems.
There are also many day trips from Athens that you can enjoy if you plan on being here for more than a few days.
You can also spend time in parks such as the National Gardens, where you can relax among lush greenery and cool down from the balmy September heat during your journey around Athens.
Another great outdoor activity is visiting some of the beautiful beaches, diving into crystal clear waters for a refreshing swim, or simply soaking up some sun on golden sands.
2. Mykonos in September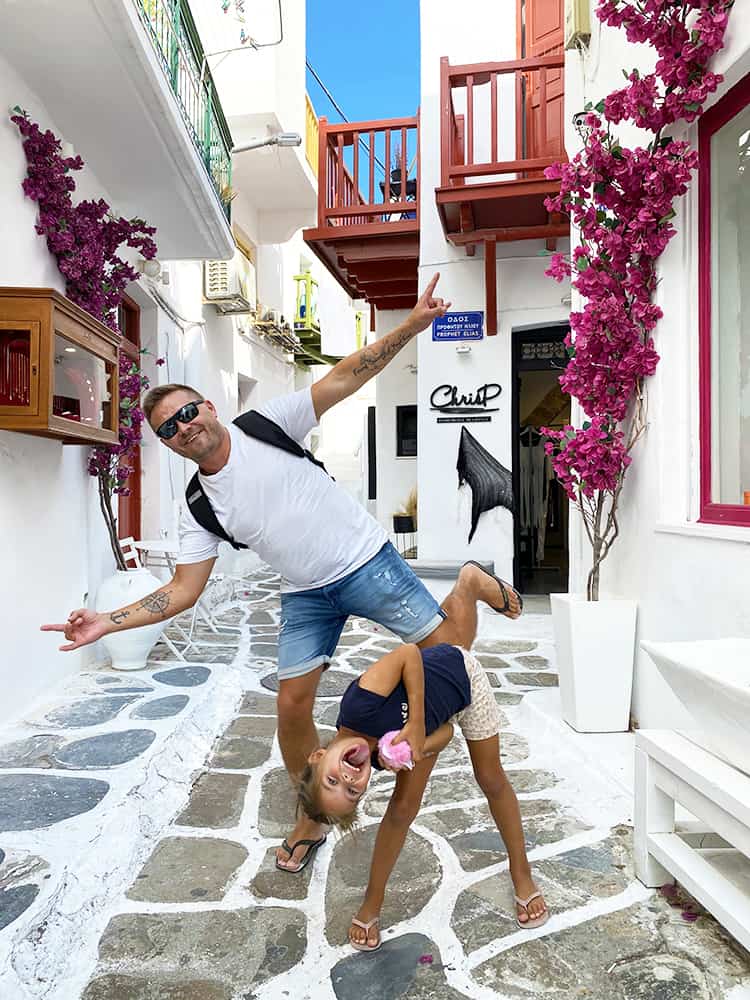 Mykonos in September beckons visitors with its temperate weather and many outdoor activities.
The sea is still warm enough for swimming, which makes it the perfect time to explore the beaches of Mykonos.
During September, some of the best things to do include taking a boat trip and guided tour of Delos Island, visiting Little Venice in the evening for dinner and drinks, or hiking up Mt Kynthos.
On average, temperatures range from 65-80 degrees Fahrenheit (18-26 Celsius), making it ideal for sightseeing during the day and enjoying the sunset at night.
Tour companies in Mykonos also offer fun activities like scuba diving, wine-tasting tours, and snorkeling in September.
3. Santorini in September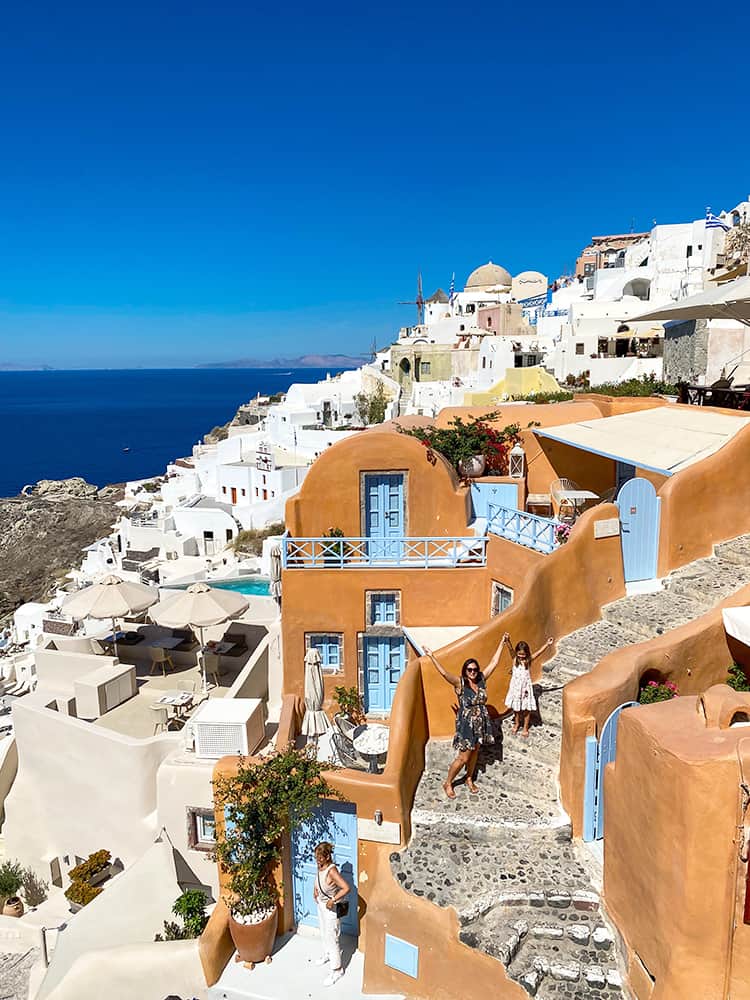 Santorini in September is a great destination for a vacation. The weather during this time of year is sunny and warm with temperatures reaching up to 28 degrees Celsius.
Visitors can spend their days relaxing on the island's stunning beaches, exploring the vibrant streets of Oia or Fira, and visiting some of the incredible archaeological sites.
For those looking for a more active holiday, there are plenty of activities to choose from including sailing around the caldera, taking part in wine-tasting tours, and hiking trails that pass by some breathtakingly beautiful scenery.
Additionally, guided tours are available throughout September so visitors can experience traditional Greek culture and enjoy local cuisine.
4. Zakynthos in September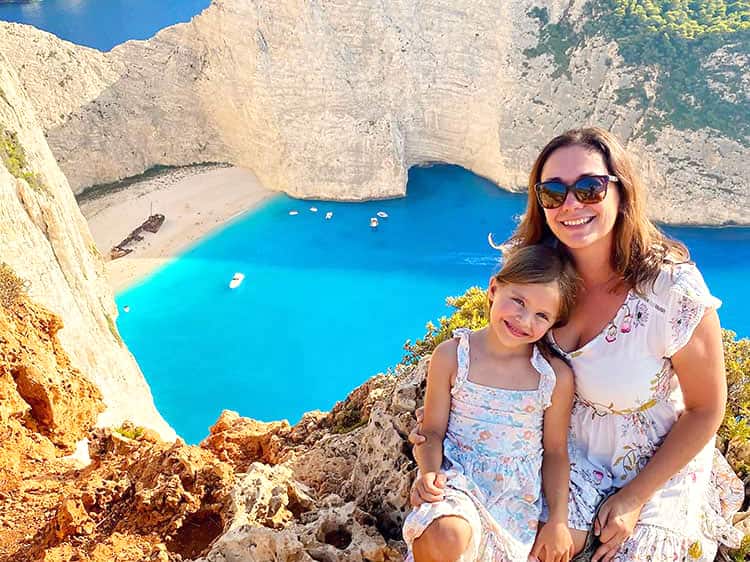 Zakynthos is the perfect destination for a luxury getaway in September. The island boasts stunning blue waters and inviting white sand beaches, making it the perfect spot to relax in the sun.
Plus, Zakynthos offers plenty of exciting activities like exploring Shipwreck Beach, scuba diving, and parasailing!
The weather in September is ideal, with temperatures averaging around 25 degrees Celsius and plenty of sunshine throughout the month.
For those looking for a unique experience, there are several Zakynthos boat tours that will take you around the island to see all its beautiful sights like the blue caves and Navagio Shipwreck Beach.
And if you're feeling adventurous, make sure to check out a local winery or beach club for some delicious Greek wines and lively music!
5. Corfu in September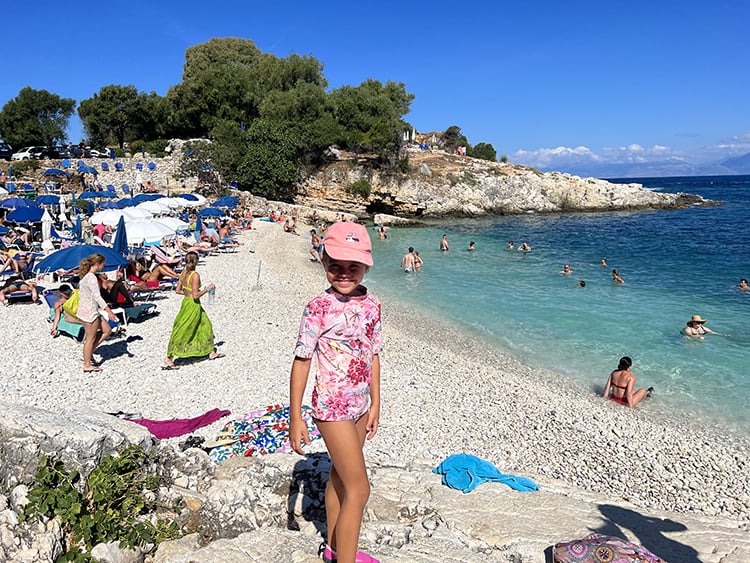 With so much to do in Corfu, September is the perfect time to explore this beautiful Greek island off the coast of Albania.
With its gorgeous beaches, ancient sites and ruins, and vibrant culture, it's an ideal destination for tourists looking to have a unique experience.
The weather in September on Corfu is generally warm and sunny all day long, making it perfect for outdoor activities like swimming or sunbathing or treat yourself to a Corfu Private Yacht Cruise.
The cultural sites scattered throughout Corfu are also a must-see. From the Old Town of Corfu to the Venetian fortresses of Kassiopi and Angelokastro, there's plenty to explore.
There are also several tours available in September that cover some of these sites, such as a Private Corfu Custom Day Tour, giving visitors an even better understanding of this amazing place.
6. Crete in September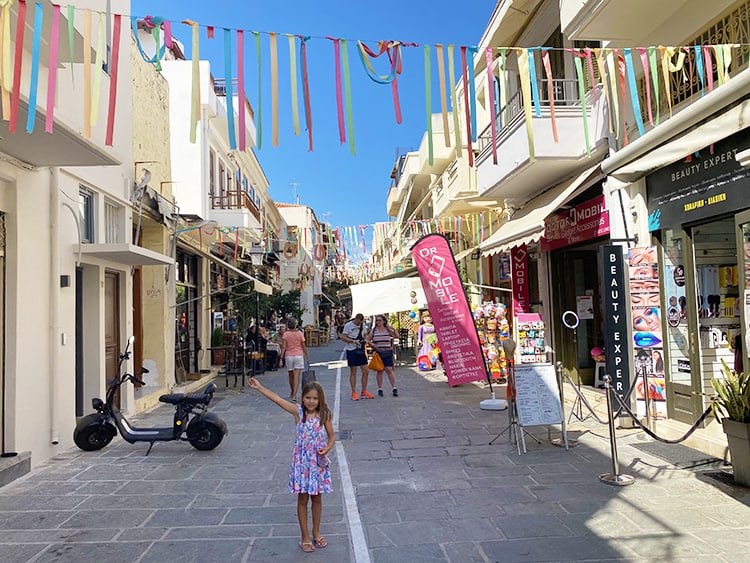 September in Crete is a great time to get away from the hustle and bustle of everyday life and enjoy some of the most beautiful islands in Greece.
From lounging on stunning beaches, and exploring ancient ruins, to sampling some of the finest local cuisine, Crete has so many amazing places to visit on your trip.
The weather in Crete during this month is ideal for outdoor activities with average temperatures between 17-27 degrees Celsius. The sea temperature is also quite mild at around 22-23 degrees Celsius, making it a great time for swimming and sunbathing.
If you're looking for more than just a relaxing beach holiday, there are plenty of adventure tours available for visitors to explore and experience Crete's diverse landscape.
These range from hikes up Mount Ida which is the highest mountain in Crete) to kayaking along the coastlines of Chania or Rethymno.
There are also boat trips that will take you on an exploration of the many hidden coves and grottos on the island.
7. Meteora in September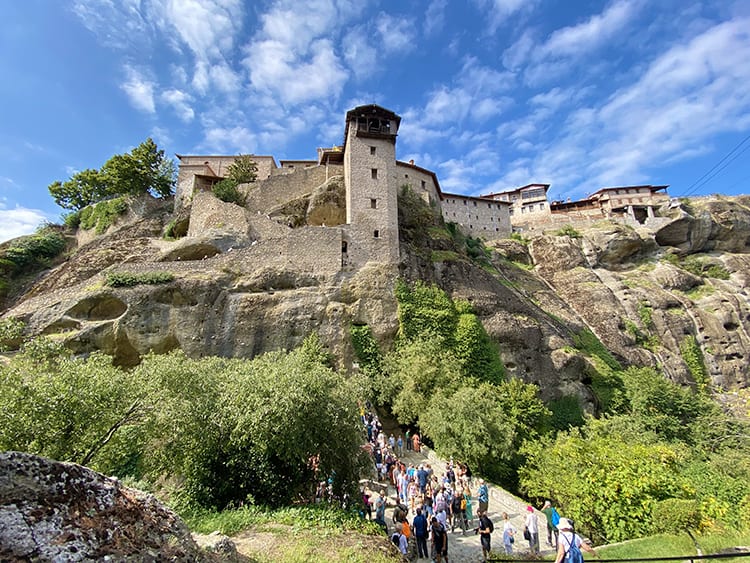 Visiting Meteora is a spectacular sight during the month of September, as the summer crowds have left and autumn colors start to appear.
Hiking is a must, with breathtaking views of the stone towers and surrounding landscapes. For those looking for something a bit more challenging, there are numerous rock-climbing tours available too!

The weather in Meteora in September is also perfect; warm enough to explore comfortably during the day, but cooling down at night.
If you would rather experience Meteora with a knowledgeable guide, there are multiple tours available throughout September.
From short hiking excursions to a multi-day trip taking in all of the highlights of Meteora (including a visit to some of the local monasteries), these tours provide excellent insight into this unique region.
8. Kefalonia in September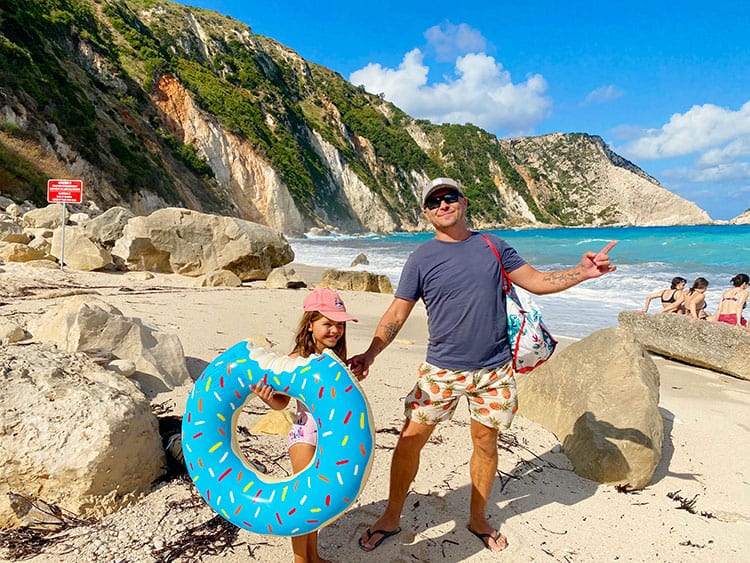 Kefalonia is a beautiful destination to visit in September. Thanks to its Mediterranean climate, the weather in Kefalonia is the perfect time of year to visit to experience all of the things to do in Kefalonia.
The average temperature ranges from 19°C (66°F) to 25°C (77°F). There are plenty of activities and tours available including exploring stunning beaches, taking boat trips around the bay to explore the caves, and joining a day cruise to Ithaca Island.
Enjoy tasty local delicacies such as stifado (beef stew), souvlaki (grilled meat skewers), or karidopita (walnut cake).
During your stay make sure to visit the beautiful towns of Fiskardo, Assos, and Argostoli.
With its glistening waters, golden sand, and amazing views over idyllic coves, you can have an unforgettable experience that you will cherish for years!
9. Paros in September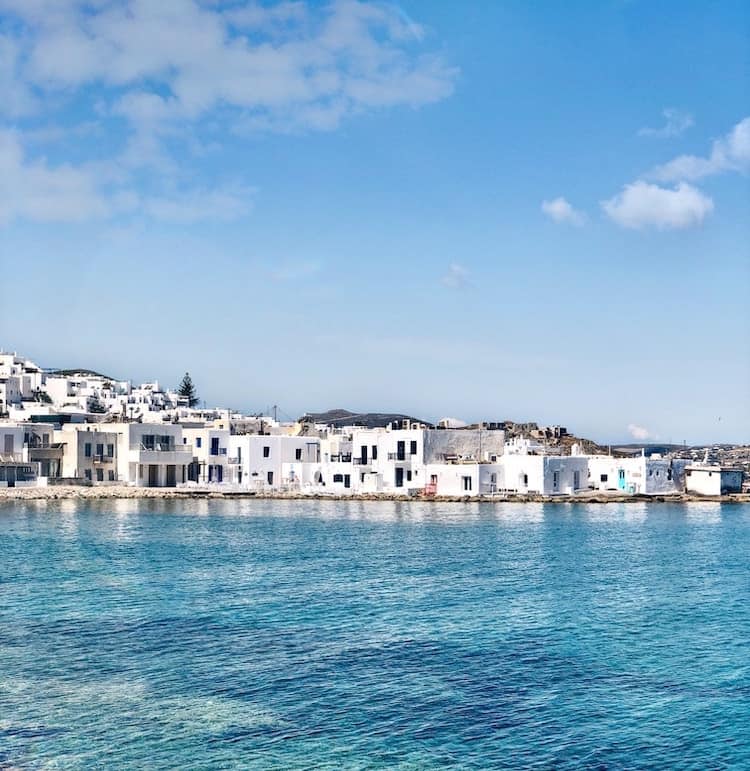 Paros in September is a stunningly beautiful destination to explore with its crystal-blue waters, ancient ruins, and picturesque villages set against the backdrop of the Aegean Sea.
The weather during this time of year is perfect for outdoor activities like snorkeling or boat tours. Temperatures are mild and you can expect up to 13 hours of sunshine per day.

If you're looking for a memorable experience, take one of the island's many boat tours to the beautiful surrounding Cyclades Islands available in September.
You can also explore Paros' culinary scene which features delicious Greek dishes made with local ingredients.
No matter how you choose to spend your day, a trip to Paros in September will be unforgettable.
10. Ios in September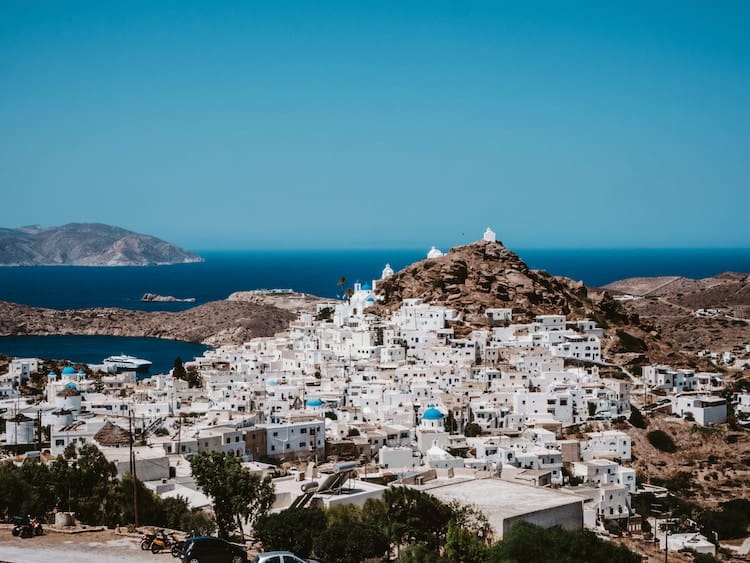 September in Ios is an ideal time to explore the many attractions of the picturesque Greek island.
The weather in September is perfect for exploring; warm sunny days, and temperatures averaging around 25°C.
Enjoy a relaxing day at Mylopotas Beach, or go on a trip to take in the dramatic landscapes of the small surrounding islands. Ios is also known for its vibrant nightlife, with plenty of bars, clubs, and restaurants to choose from.
For those looking for a more cultural experience, there are many ancient ruins and churches scattered throughout the island.
Additionally, there are several recommended tours available specifically during September such as boat trips around Ios, scuba diving, wine-tasting experiences, and guided historical tours of its charming villages and landmarks.
---
Things To Do In Greece In September
Wondering what to do in Greece in September? September is a great time of year to explore the ancient ruins and natural beauty of Greece.
Here are some of the top things to do in Greece:
1. Hiking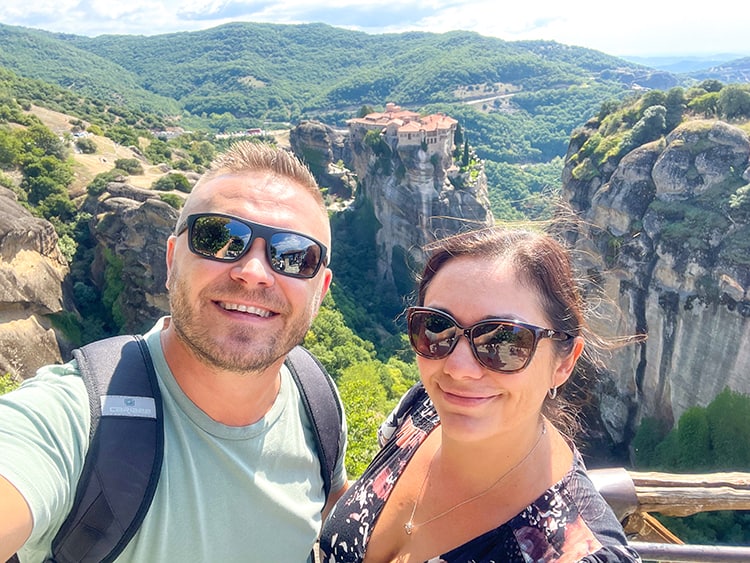 Hiking up Mount Olympus is a challenging yet rewarding experience that offers stunning views of lakes, valleys, and forests from the trails around the peak. Climbing to the summit takes you through lush greenery, wildflowers, rocky cliffs, and winding paths. September is ideal for hiking in Greece with pleasant temperatures and very little rain. For the adventurous, mountaineering routes lead to remote parts of the mountain.
2. Cultural Experiences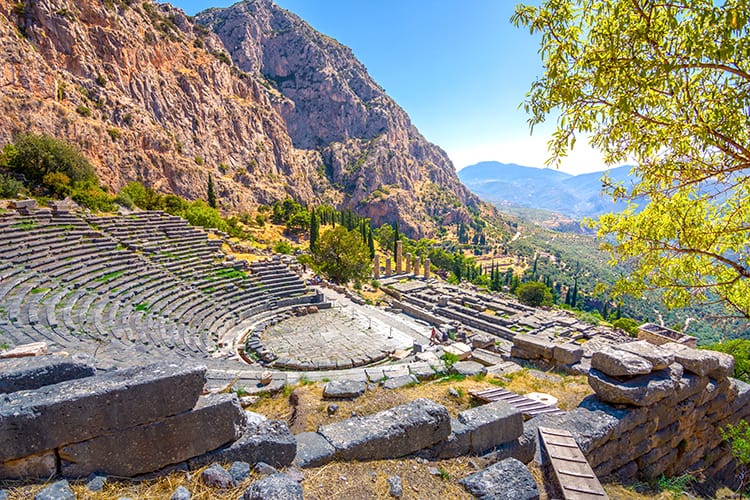 September is the perfect time to visit Delphi. Mild, pleasant temperatures and breathtaking views of the archaeological site make it especially beautiful. Explore the intriguing history of Greek gods and goddesses at this important ancient site.
3. Sailing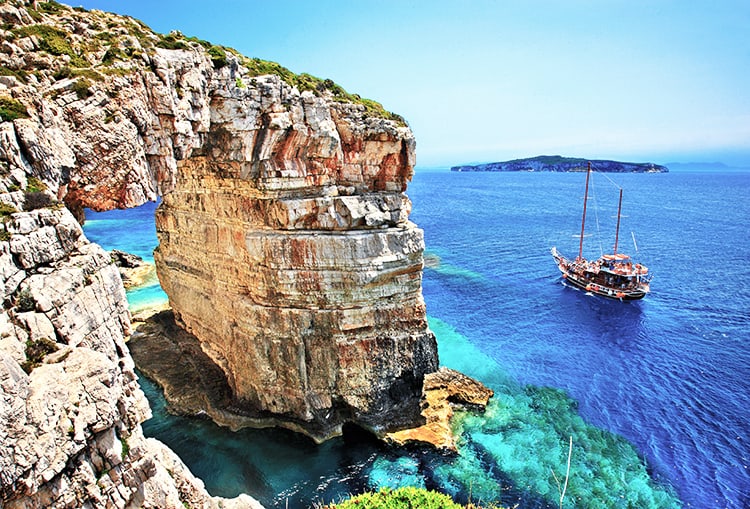 Sailing the Mediterranean Sea in Greece is an unmatched experience. The azure waters, stunning sunsets, and ancient ruins make it a unique journey.
September is ideal for exploration with mild temperatures and longer days. Avoiding the intense summer heat, you'll have more time to discover Greece's rich cultural heritage as you sail through its pristine waters.
So no matter if you choose to spend the days among breathtaking monasteries, lush vineyards, picturesque beaches or simply taking a leisurely stroll through some of the stunning villages dotted around Greece's coastline, you are sure to have a memorable time.
September in Greece is a wonderful time to enjoy both culture and nature!
---
Popular Events in Greece in September
There are a myriad of popular cultural events in September that you won't want to miss when in Greece.
International Music Festival: In September, for two weeks, Santorini harmonizes with top international artists, showcasing classical music and opera.
Aegina Fistiki Festival: Aegina, the Saronic Isle, hosts a 4-day pistachio festival, brimming with music, dance, and all things pistachio.
Festival of Tastes & Traditions of Rhodes: Gourmands, head to Pefkos on Rhodes for a 2-day event celebrating local wines and dishes. Enjoy cooking demos, tastings, music, and dance!
No matter what your interests are, Greece is sure to have something special for you in September!
---
What to Wear in Greece in September
When packing for your trip it is important to consider the Greece weather in September and to pack for the varying weather conditions.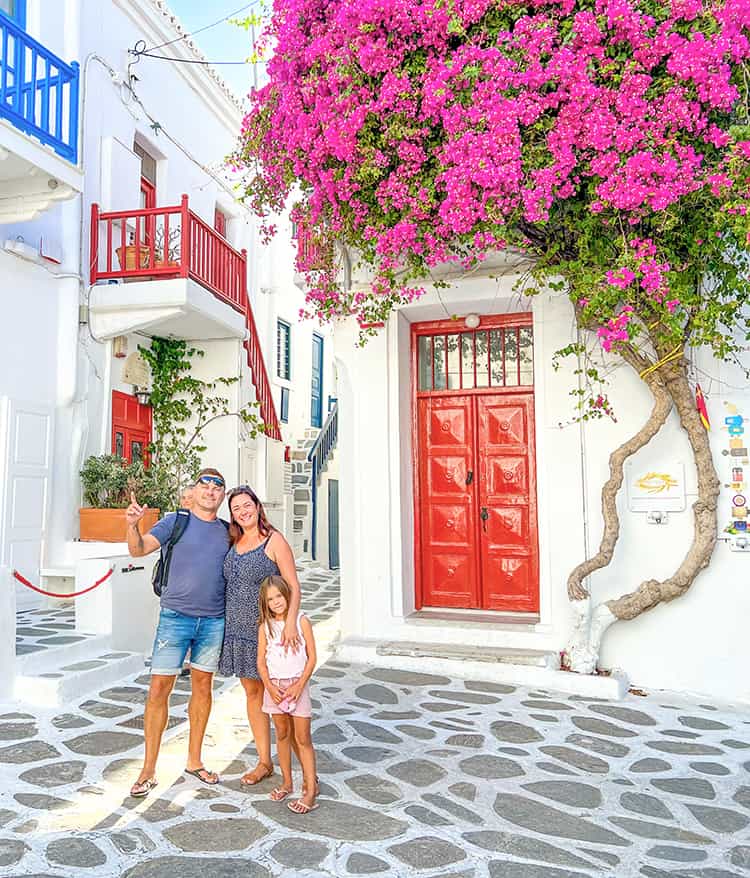 The days are usually warm and sunny with temperatures ranging from 25-32°C while nights can be quite cool, so make sure to bring a variety of clothing that you can layer as needed.
Women should consider light shirts, tank tops, and sundresses along with a few sweaters or a lightweight jacket.
Men can wear light shirts and short-sleeved shirts along with shorts or trousers and perhaps a light jacket.
Don't forget comfortable walking shoes – sandals, sneakers or boots – and plenty of sunscreen!
---
Visiting Greece in September: FAQs
Here are some answers to some of the most commonly asked questions about visiting Greece in September.
1. Which Greek island is hottest in September?
The Greek island that is hottest in September is Santorini. Due to its location deep in the Aegean Sea and its volcanic origin, Santorini remains one of the warmest islands at the end of summer, with temperatures ranging from 22-32 degrees Celsius (71-89 Fahrenheit).
2. Is it better to go to Greece in August or September?
Traveling to Greece in September is often the best option for those who want to experience the warm weather and culture. Temperatures are mild and comfortable, with average highs of up to 27°C (about 81°F).

There are fewer tourists than in August, meaning that you can explore more freely and find more budget-friendly accommodations.
3. Is it better to go to Greece in May or September?
Tourist season in Greece is from Easter to October. Summer is the peak season with crowded Athens and high hotel prices. July and August are the hottest. We think that the ideal time to visit Greece is in September as the peak season has finished so you have fewer crowds and slightly lower prices for accommodation.
4. Is Greece cold at night in September?
September weather in Greece is usually quite mild during the day but can get quite chilly at night.

The temperatures in Greece in September will drop significantly as the sun goes down, so it's a good idea to pack some warmer clothing if you're planning to spend time outdoors during the evening.
5. Is Santorini warm in September?
Santorini is a wonderful Mediterranean island off the coast of Greece and its climate is typically mild in September. The average temperature is about 25°C (77°F) during the day, dropping to around 16°C (61°F) at night.

The weather usually stays dry and sunny throughout the month, but you should be sure to bring a light jacket for evening strolls.
6. Is Greece cheaper in September?
Greece can be a great option for budget travel, and it's even more affordable in September. Prices for lodging, transportation, and activities tend to be lower during this time of year.

Additionally, the tourist season is winding down as September approaches, so there are fewer people visiting Greece at this time. All of these factors come together to make it one of the cheaper months for tourists to visit Greece.
---
Final Thoughts: Traveling to Greece in September
With its stunning beaches, sweeping views of the Aegean Sea, and endless archaeological sites, Greece is an ideal destination for those who want to explore Europe.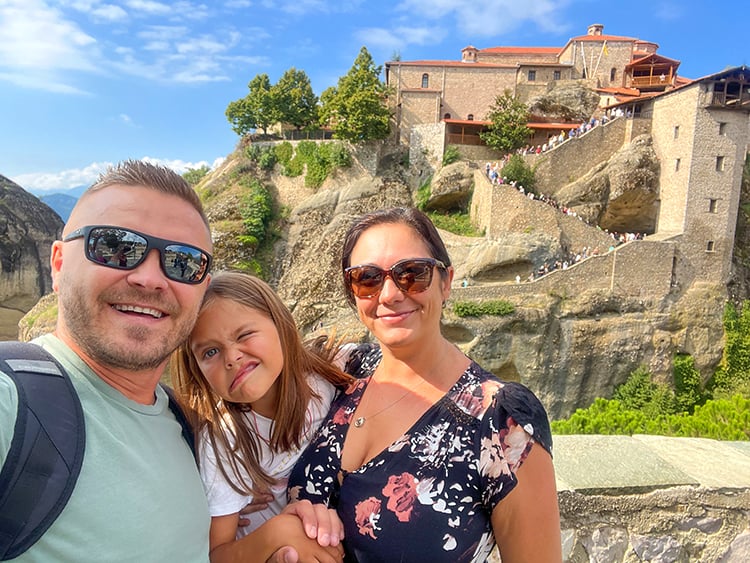 Paros offers some of the clearest waters in the Mediterranean and Kefalonia is home to breathtaking mountain scenery. Finally, Meteora's monasteries are a sight to behold.

We have traveled to many countries for months at a time, so we understand just how magical it can be to find yourself in unfamiliar places for extended periods of time.
Our experience has shown us that when you give yourself enough time in a place like Greece to really absorb its history and culture, it will stay with you long after your plane departs back home.

Holidays in Greece in September are a perfect choice for travelers looking to make unforgettable memories. With stunning beaches, awe-inspiring mountains, and old-world architecture, there is something for everyone here.
Whether you're looking for a relaxing beach vacation or an adventurous exploration of history and culture, September in Greece is sure to be an experience you'll never forget!