A postcard-perfect colorful vertical town set in the shelter of mountains.
Boasting a brilliant contrast of an array of vibrant colors against the dramatic blue of the Mediterranean Sea.
Positano in Italy is definitely Amalfi Coast's most picturesque town and, in our opinion, happens to be the best town to stay on Amalfi Coast.
In our Positano travel guide, we will share our recommendations for the top things to do in Positano, where to stay in Positano as well as where to eat and swim.
But before you read on, why not sign up for our exclusive Amalfi Coast emails?
Grab your FREE Insider Amalfi Coast Travel Guide!
Make your travel planning a piece of cake!
We will send you bite-size pieces of information about how to get to the Amalfi Coast, what to do in each town as well as share our insider tips to make your trip amazing!
–
Positano Travel Guide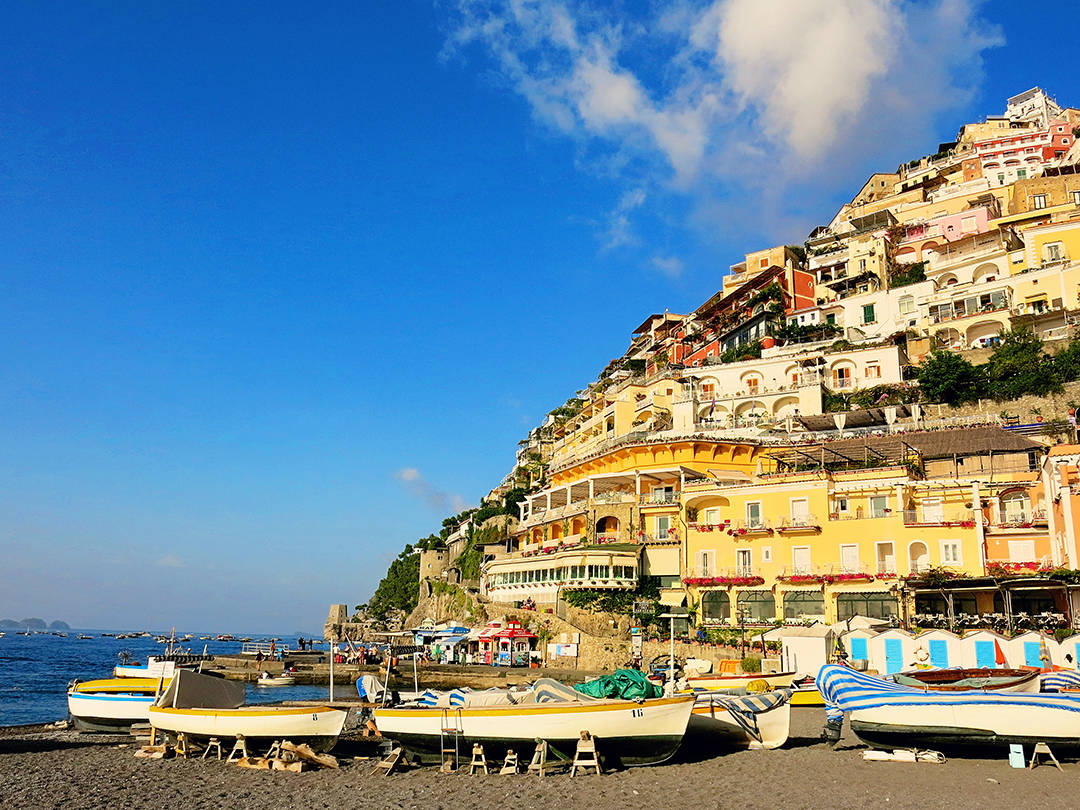 In this spectacular Italian coast town, you will find steep narrow windy roads, cascades of flight upon flights of stairways, and idyllic little alleyways filled with little boutique shops.
With an assortment of water activities and boat tours to enjoy, Amalfi Coast, Positano, certainly has to be paradise!!
Where is Positano?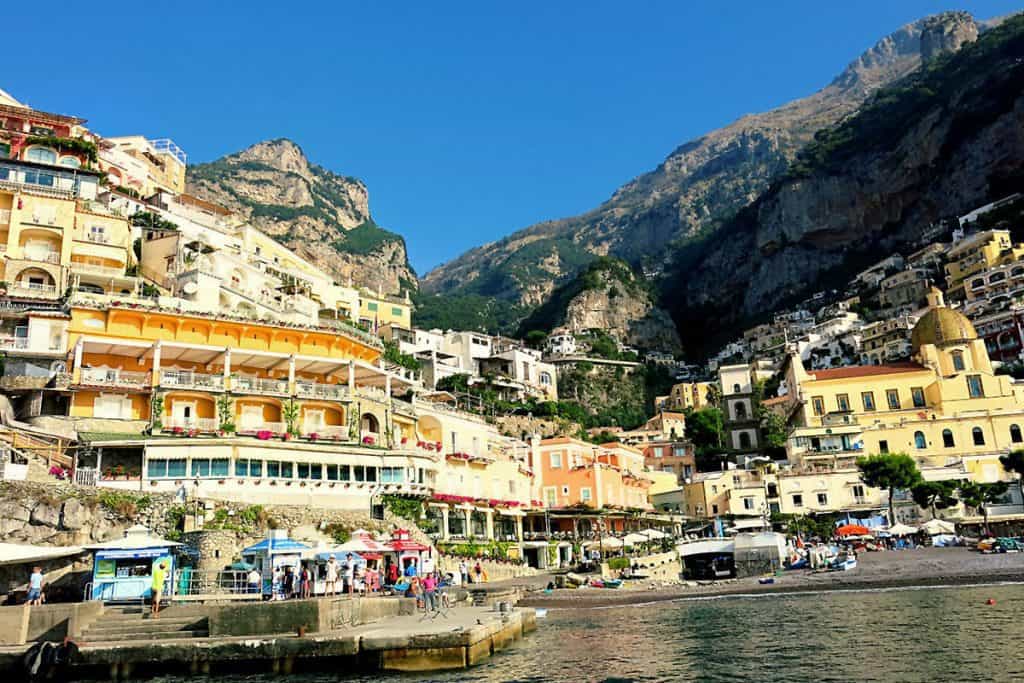 If you are driving from the West, Positano is the first town on the Amalfi Coast that you will come across. It is around 75 min's drive from Naples and about 20 min from Sorrento.
How to get to Positano?
The nearest international airport is at Naples.
The transfer from Naples to Positano can be complicated and/or expensive. Our recommendation for travel here is through a car rental, so you can simply drive yourself. However, if you are not keen to tackle these narrow roads, other choices of transfers include:
By Shuttle Bus:
The Positano shuttle bus operates from both Naples and Rome. They offer a door-to-door service and can also organize a private transfer from Naples to Positano if their service times don't work for you. You will need to make a reservation, so hop over to their site and check out their options!
By Sita Bus:
Limited buses operate between Naples and Positano, but if you are lucky and you arrive at the right time, you might be able to utilize their services. You can check the Sita bus timetables here.
Ferries (Only in summer months)
Another transfer option is to catch the bus/train/hydrofoil from Naples to Sorrento. Then grab the ferry from Sorrento to Positano. That way you can observe the Amalfi Coastline from the water, which is truly a beautiful experience!
Other options for transfer include taxis, and private car hire and during certain periods of the year, you can also take the Naples to Positano ferry.
Top Things to do in Positano
Find below a list of what to do in Positano. We will also share some of our favorite day trip ideas.
1. Laze Around on One of the Positano Beaches: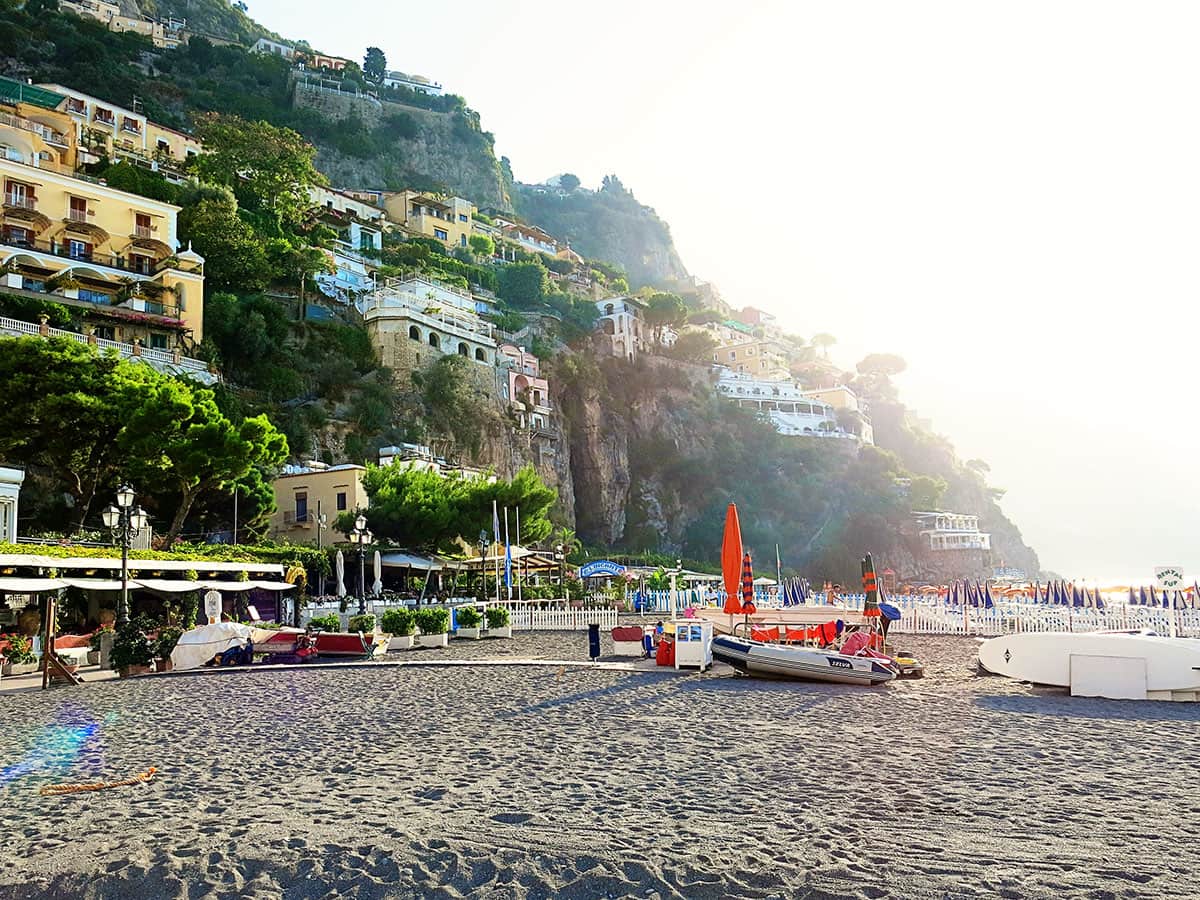 For those who love to take it easy and laze around on the holidays, the perfect spot for you is on one of the beaches in Positano, Italy.
a) The Main Beach: Spiaggia Grande,Positano
The main Positano Beach, Spiaggia Grande, is the heart of Positano. At a mere 300 meters long this beach is also one of the largest on the Amalfi Coast.
It is a picturesque little beach and as a result, it attracts masses of tourists during the day. As we love to 'people-watch', we very happily paid the ridiculous fees to hire one of the beach chairs and relaxed here for a few hours.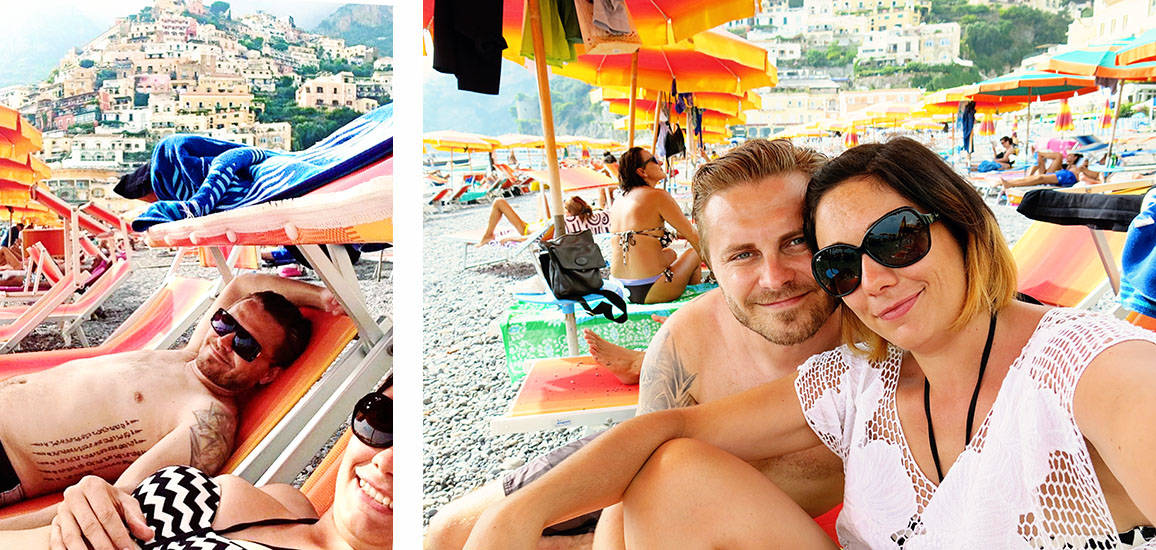 Whilst the water was really a bit too chilly for my liking, you really do have to master your way over those round pebbles decorating the floor of the beach and go for a swim in the fresh Mediterranean waters.
The view of Amalfi Coast, Positano from out there in the water is simply glamorous – so if you have a water-safe camera, make sure you take it in with you.
b) More Secluded Beach: Fornillo Beach
For those of you who love to escape the crowds, and like to be a bit more secluded, the Fornillo beach, which can be reached via a romantic coastal path commencing on the Spiaggia Grande, is the place for you!
A more quiet beach away from the masses of tourists, the perfect place to relax and laze your day away.
Whilst these are the two main beaches of Positano, you can also visit two cute little beaches.
i) Positano's Laurito beach can be reached via a flight of steps which starts in the square opposite San Pietro Hotel. The other beach is Arienzo beach which is a bit further away from Positano.
ii) You can either reach this beach by car or public transport and climb down the 300 steps or you can hop down to the port in Positano and ask around for the Arienzo Beach club boat. The ride is included in your beach chair and umbrella hire price, so it is definitely the easier option.
There are plenty of other Amalfi Coast beaches that are worth checking out if you have more time!
2. Shopping in Positano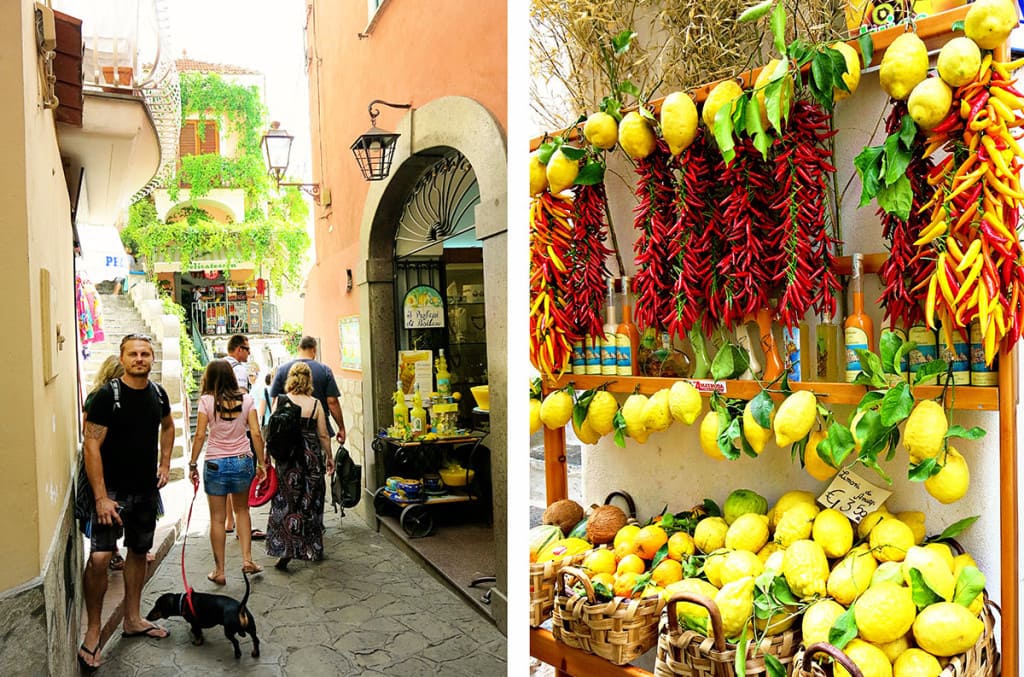 If you like a bit of shopping, why not enjoy browsing the historic center of Positano which is filled to the brim with fashionable little boutique stores?
Here you can get leather sandals made to fit and why not tantalize your taste buds with the freshest lemon-based goods? The Limoncello we had here was by far the freshest and most delicious. And we still have our bottle of chili-infused olive oil that we bought here.
There are also some beautiful art galleries to explore as well.
3. Go for a Hike Along the Path of the Gods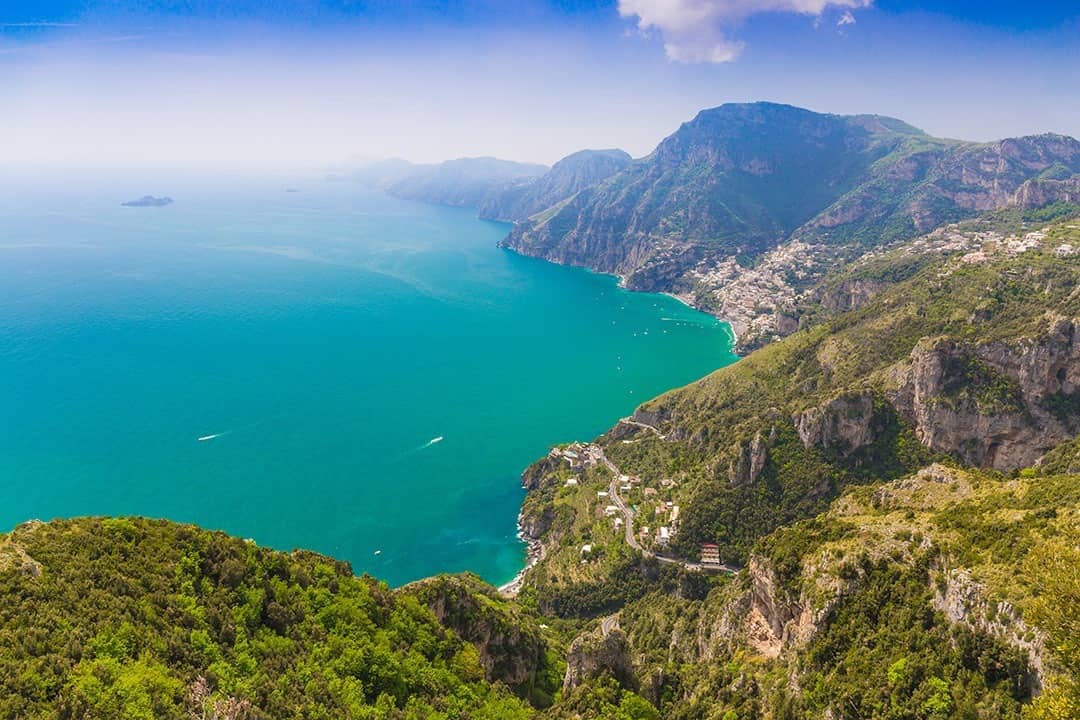 If you are a keen hiker, there is also a breathtaking hike (called Walk of the Gods Positano) that you can take to get a much higher view of the coastline.
We had full intentions of completing this walk as the views truly look spectacular, but the desire to relax got the better of us instead.
If you wish to join a group for this 4-hour hike (people find it tricky to find this path!), then we highly recommend you sign up for the Viator Walk of the Gods Private Tour here.
4. Sunset Cruise
Another popular activity as the sun goes down is to hop on a sunset cruise.
Soak in the famous views on a 1.5 hour cruise from your private boat, enjoying a glass of Prosecco (yumm!!) with light snacks and other beverages. Romance perfection to the max!
5. Visit Santa Maria Church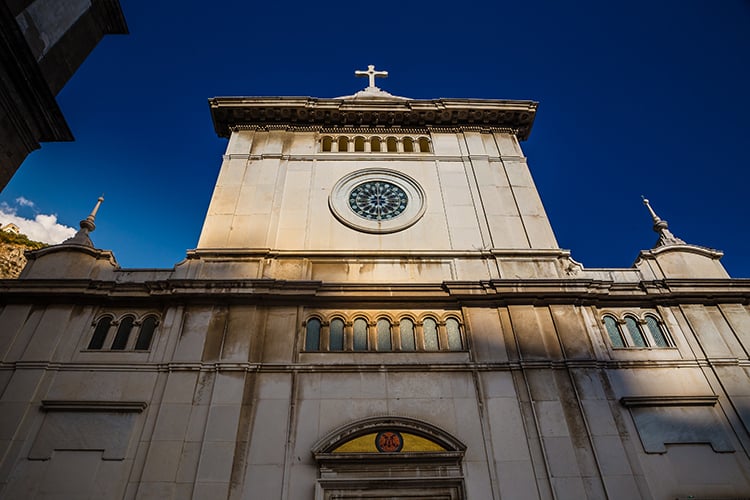 The Church in Positano, "Chiesa di Santa Maria Assunta", is located close to the main beach of Positano. It is free to enter, so feel free to wander inside.
6. Enjoy a Day Trip to Beautiful Capri Island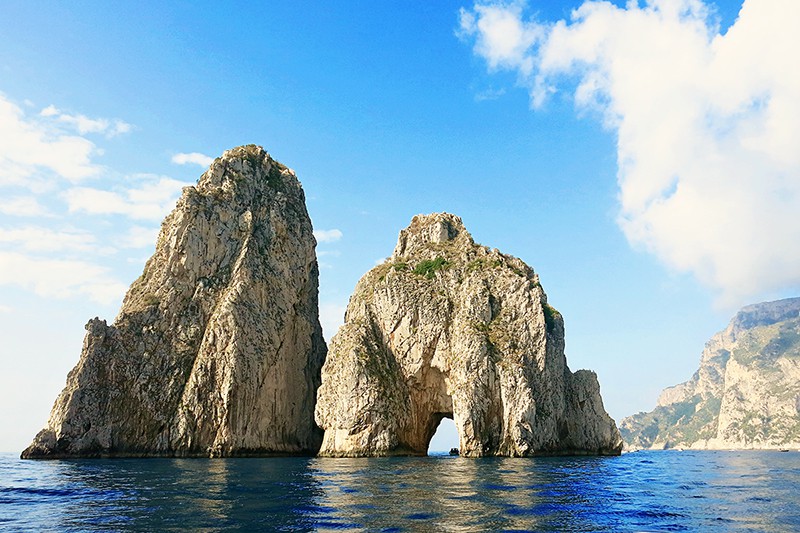 Hop on a cruise from Positano to Capri Island for the day (read about our awesome day on spent on this cruise here or book your own cruise through Viator here).
7. Visit a Nightclub Inside a Cliff!!
What to see in Positano for those after something more unique?
Or maybe you just love dancing? Or maybe just in need of a relaxing drink about your day of explorations?
Music On The Rocks is a really unique nightclub that is located on a cliff. It is pretty interesting to visit as you feel like you are dancing away in an actual cave! You can find the club under Rada Restaurant.
8. Explore the Other Towns on the Amalfi Coast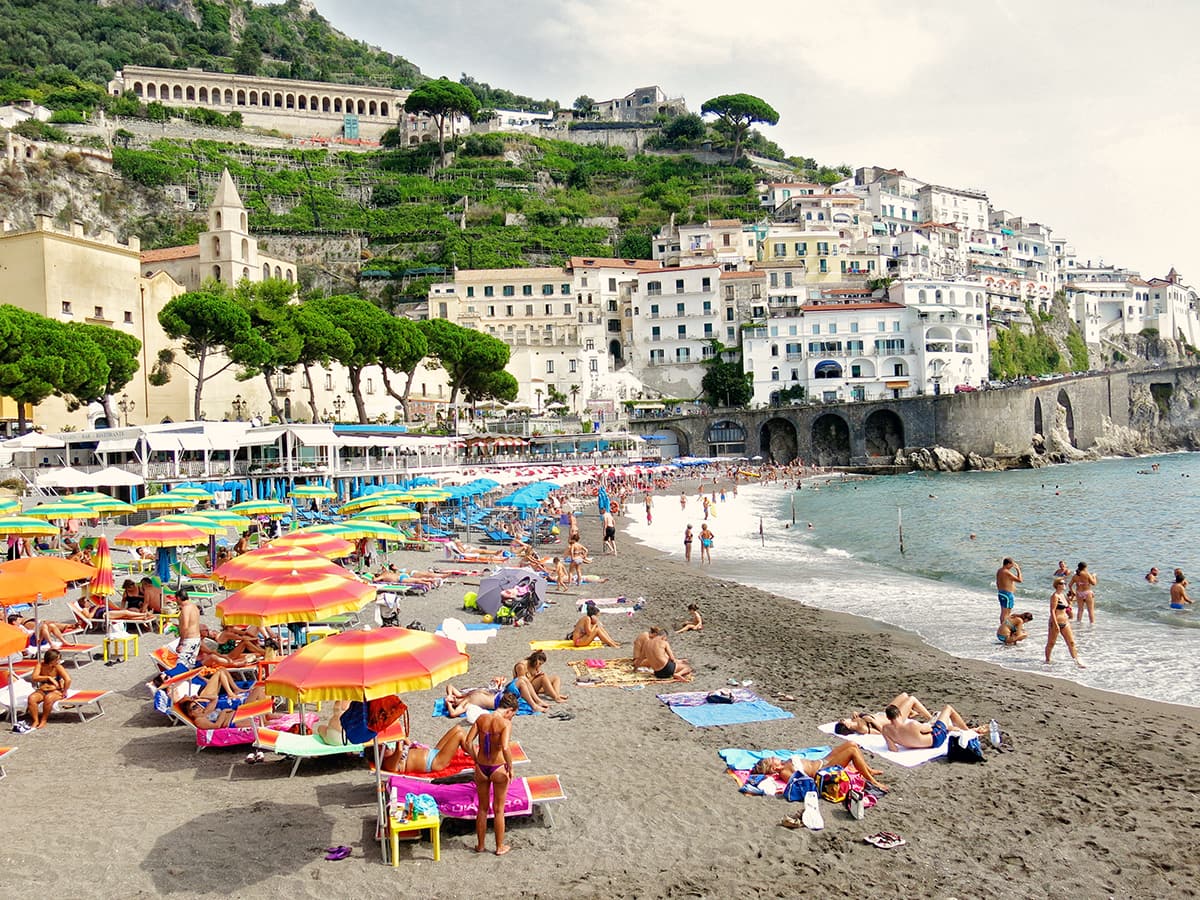 If you have a hire car, Positano is the perfect starting point to explore some of the other spectacular Amalfi Coast Towns, click to read our road tripping around Amalfi Coast post here.
If you don't have a car, you can still visit other towns by either catching the bus or by catching the local ferry.
Amalfi Town and Ravello is definitely worth a day trip!
9. Explore the Grottos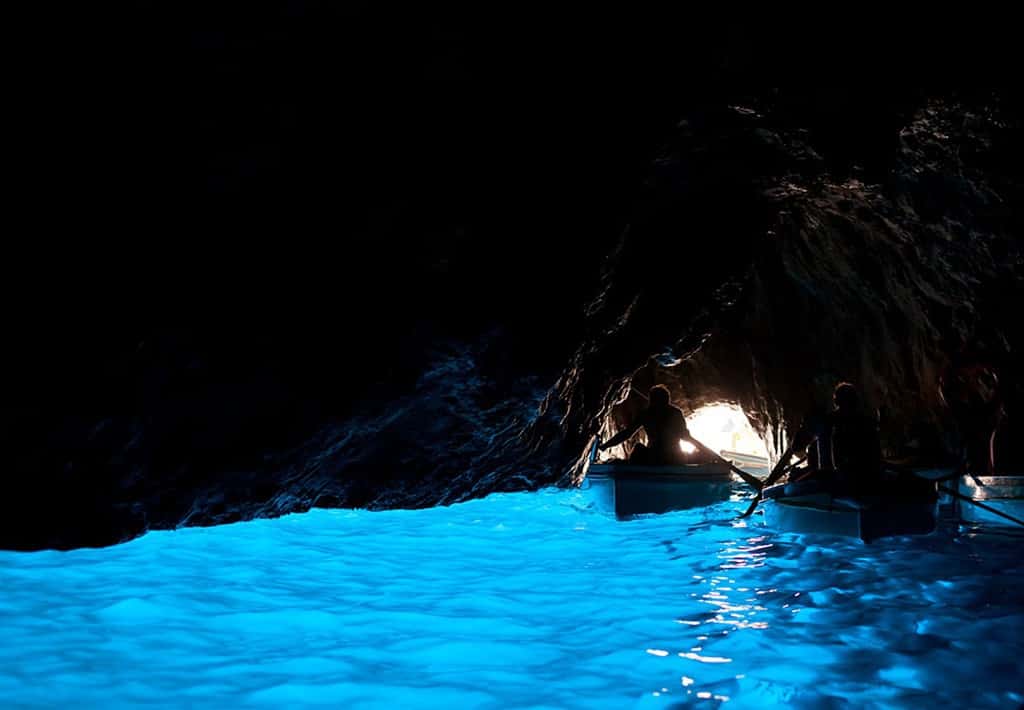 You should visit one of the stunning grottos near Positano. You can either reach them via private or group tours. Choose from the green grotto, white grotto, and emerald grotto. We highly recommend you visit the emerald grotto as part of your day trip to Capri Island. This small group Capri tour we personally love.
10. Organize a Day Trip to Pompeii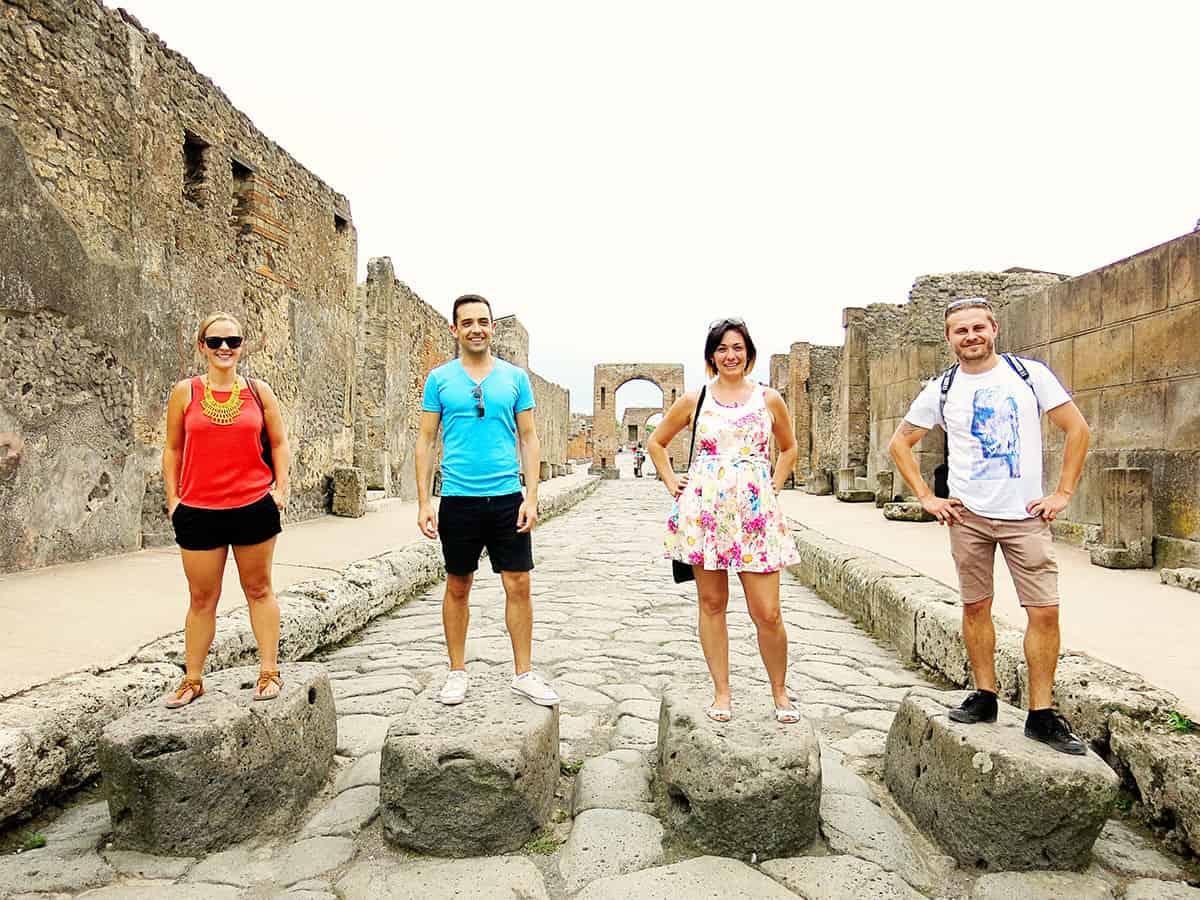 Why not hop over from Positano to Pompeii to discover some of the scandalous secrets that lie at this historic site. We highly recommend that you book an organized tour, so that you can sit back and enjoy the views along the drive. Here is a really popular full day tour to Pompeii via Viator.
11. Enjoy Strolling around at Night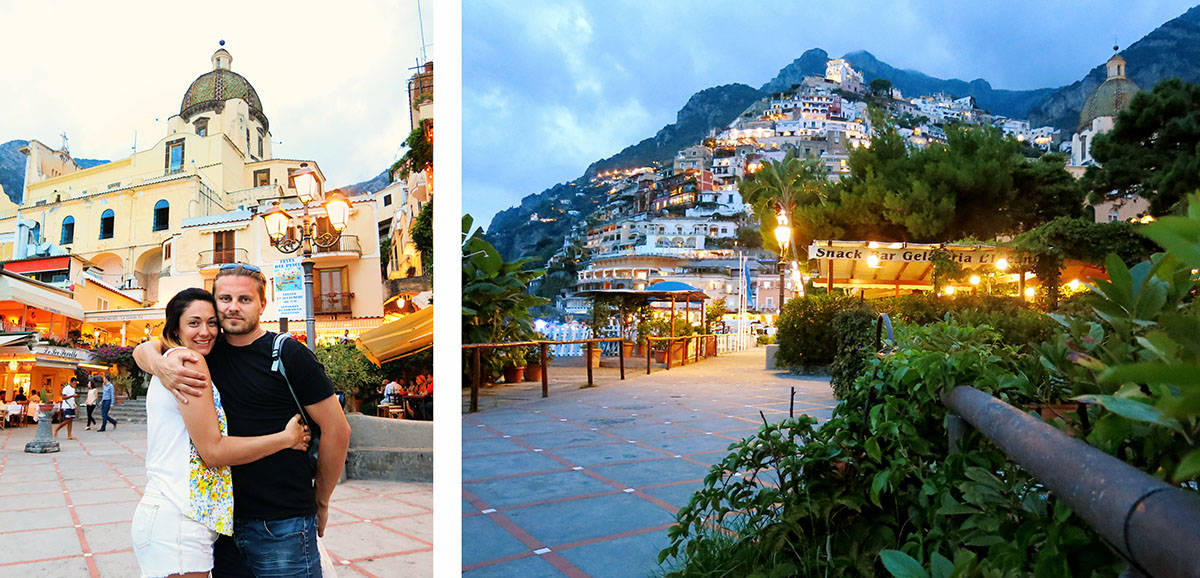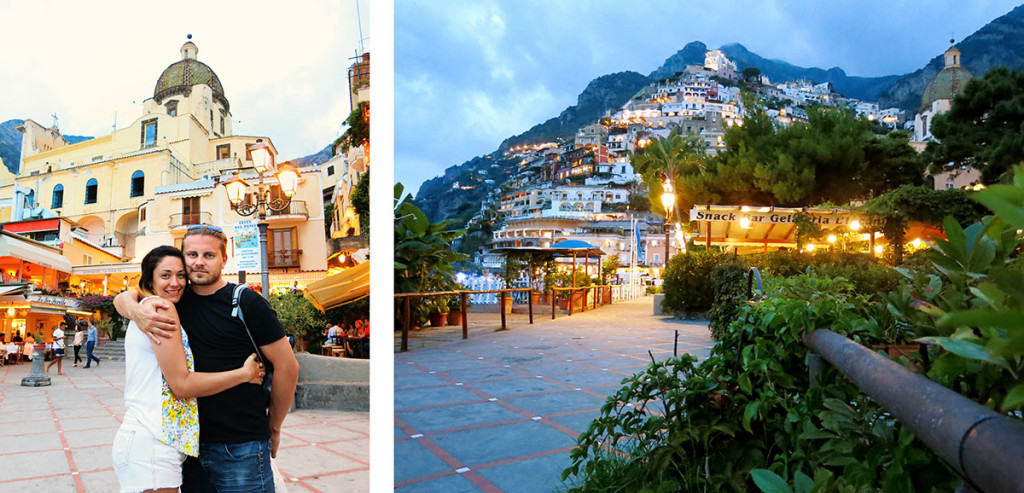 Positano at night holds a magic all of its own. At dusk, the lights around this town bring a new softness to its façade.
The colors grow more mellow and the masses of tourists leave the shores (hooray!). As the sun sets, the whole town glows in the twinkling of thousands and thousands of lights.
Music from the local discotek fills the air and waiters scuttle across busy narrow streets, near-missing the cars as they bring food to fill the hungry tourist bellies.
We love Positano, and for us, it definitely takes a high rank as the competitor for our favorite destination in Italy.–
–
Best Restaurants in Positano
Find below our favorite restaurants that you should try out in Positano.
1. Positano Restaurants on the Beach
a) Da Adolfo, Positano
For a truly unique dining experience why not make a booking at Da Adolfo in Positano.
To get to this little restaurant, you will need to catch the boat with the little red fish on it (from the Positano Pier).
It is a pretty simple restaurant, but the freshly caught seafood grilled up for you, and the view over the private little beach with soon make you feel like you are in your own little private space of heaven!
b) Ristorante Pizzeria L'Incanto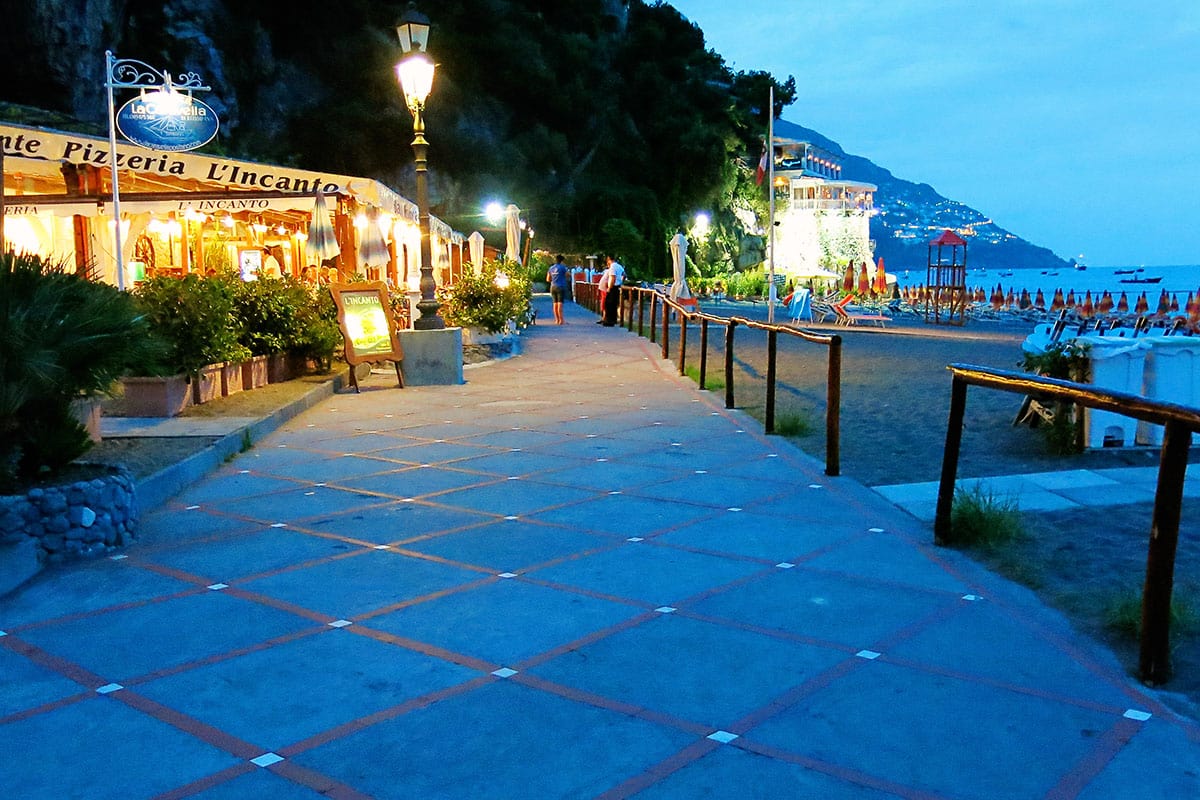 For a completely different view of Positano from the beach looking up at the dramatic rise of the buildings of Positano, give Ristorante Pizzeria L'Incanto on the beach a try.
We really enjoyed the entrees, Andrzej gave the melon and prosciutto a try and I fell in love with their mozzarella and lemon leaves dish. The pasta and pizza were delicious too. Try the spaghetti Positano, I could simply not get enough!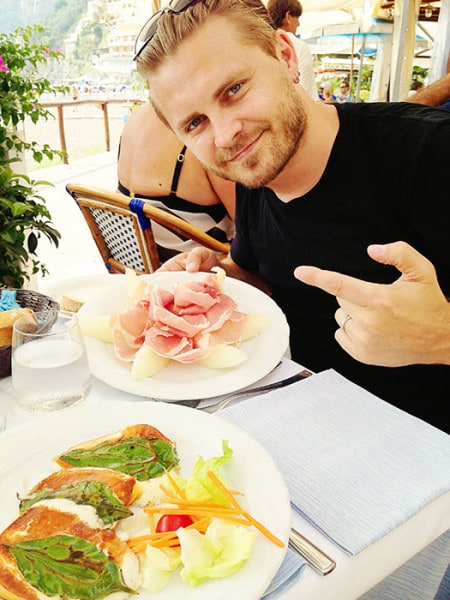 –
2. A

Restaurant

with a View over Positano
a) Da Constantino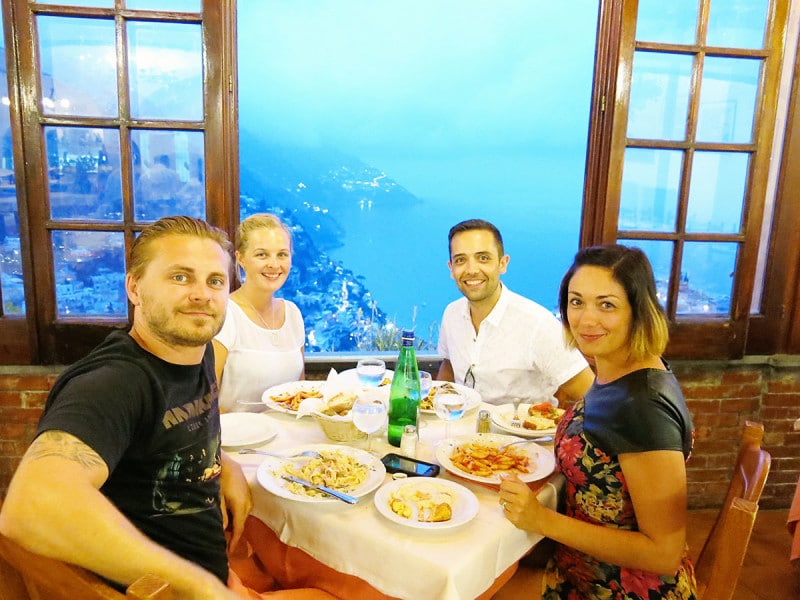 Set up high in the mountains and renown for being one of the few authentic Italian restaurants in town, the food here and the view over Positano is sure to impress.
Pre-book your free shuttle bus and request one of the tables by the windows.
Our tip is to book a time at sunset so you can get lovely daylight photos over Positano as well as enjoy the twinkling lights across the coastline at night.
Booking: Click here to make a reservation at Da Costantino.
b) San Pietro, Positano
The luxurious hotel that has a beautiful outlook over the sea, has two restaurants: the Zass, which has a Michelin star, and the Carlino (reserved for guests) which looks directly out to sea.
Definitely a more expensive treat, but if you are after something special, then this is it!
Where to Stay in Positano:
There are plenty of luxurious hotel options to choose from for your stay in Positano. However our recommendation is to stay at the Villa Mary Suites, we truly believe that it is the best place to stay in Amalfi Coast.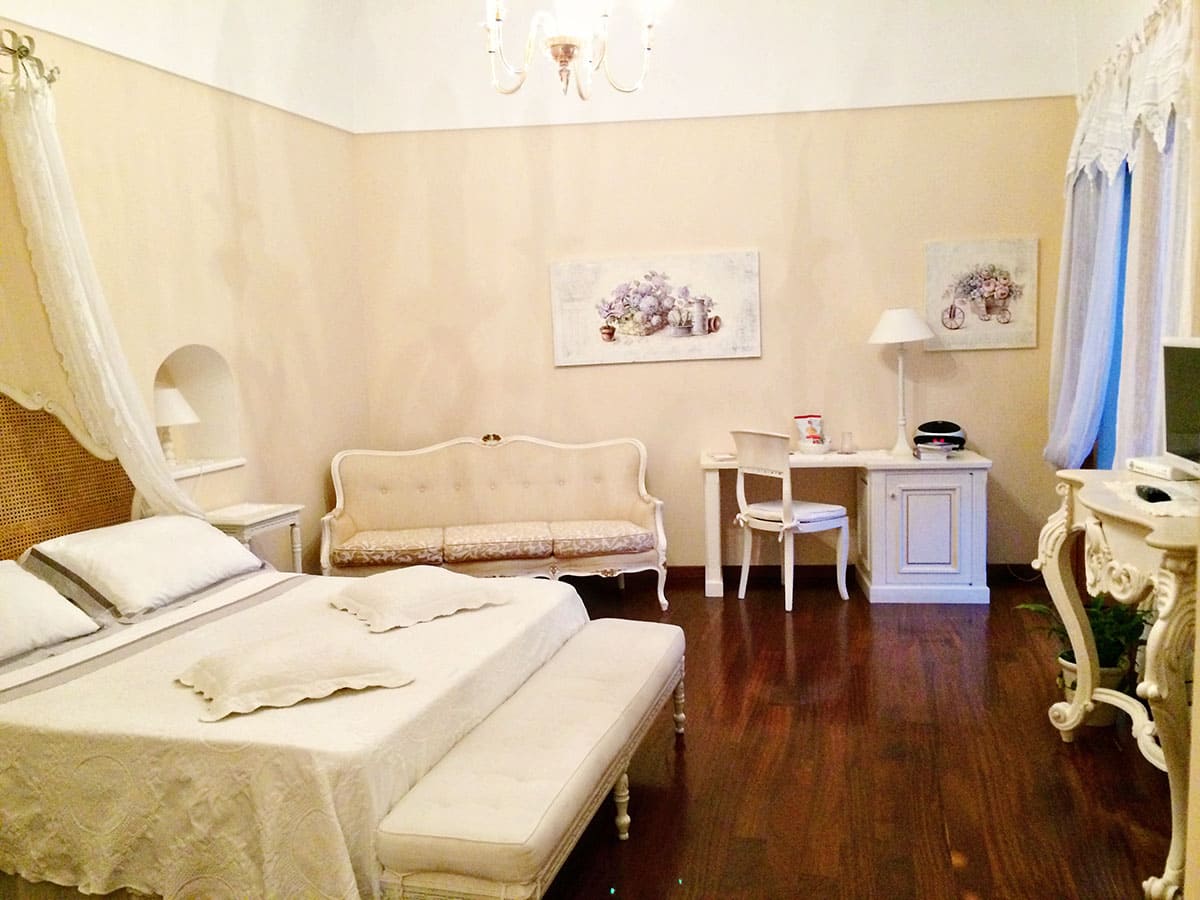 You can read our full review of this Positano accommodation option here or book this gorgeous place through Bookinc.com here.
If you wish to stay at a hotel, you can find a list of some of the most popular and best Positano hotels here.
–
It is said that the name Positano, is linked to a legend.
In ancient times, a Turkish boat became beached just off the shores of what has since come to be known as Positano.
Aboard the ship there was a painting of the Virgin Mary.
The captain heard the painting whisper "posa, posa" ('set me down, set me down') and, obediently, threw the image into the sea. Miraculously, the ship floated.
The locals built a Church on the spot where the painting washed ashore, interpreting the episode as a sign that the Virgin had chosen their town as resting place.

(Quoted from Positano.com)
Positano is definitely a perfect destination.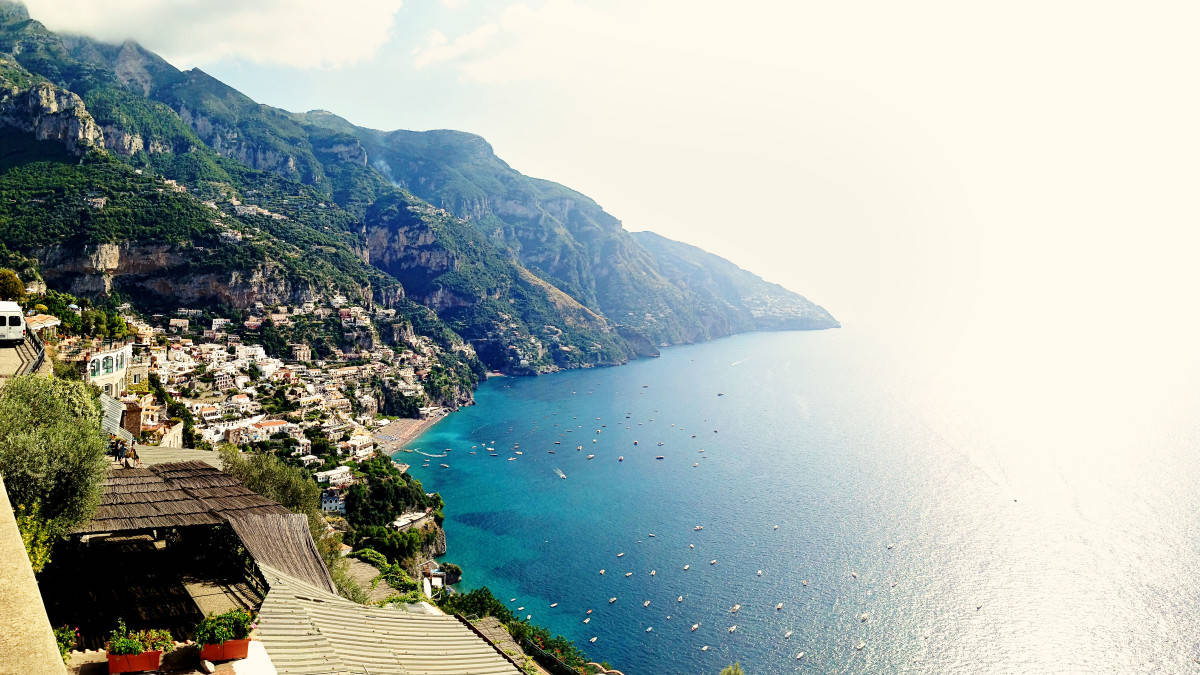 With a slow pace and relaxing and soothing atmosphere, yet with plenty to see and explore, this town offers it all.
It is a dream-like destination, and the memory of your trip and the picturesque scenery will stay with you as you make your return back to 'real' life.
Positano and all the other towns on Amalfi Coast are some of the most beautiful places in southern Italy to visit. We cannot recommend Positano Italy and the Amalfi Coast highly enough.
If you haven't been there yet, go and write it down on your bucket list right now!!! You won't regret it! We sure hope to return one day and spend plenty more days here in Italian paradise.
After more Amalfi Coast Inspiration:
Amalfi Coast Bucketlist Experiences
Which Town should you stay in?
Best Amalfi Coast Town to Explore
Most Popular Beaches in Positano
Where to next?
Prepare yourself for your trip to Italy by reading up on all the things you should know!
Use our list of popular Italy Accommodation choices to help you plan your trip!
Further Reading:
Over to you:
Is Amalfi Coast, Positano, Italy on your bucket list?

What draws you to this enchanting destination?