Venice is a beautiful Italian city, located in the North-Eastern region of Italy. A lot of people think that Venice is a single island, however, it is more accurately described as a lagoon of islands separated by canals and linked by small bridges.
Venice is definitely of the most popular European destinations and we believe it should be on everyone's must-see destination and bucket list of places to see before you die.
We have compiled for you a list of our top 10 attractions in Venice, Italy.  Keep in mind things happen at a much slower pace on this lagoon and you will need to allocate extra time simply to account for all the times you will get lost here.
If you like to be tech-savvy, ensure you download an offline map of Venice on your phone before you go.  And for those of you that love the weight of a proper guidebook, pre-purchase the Rick Steves' Pocket Venice from Amazon before you go.
–
Top 10 Attractions in Venice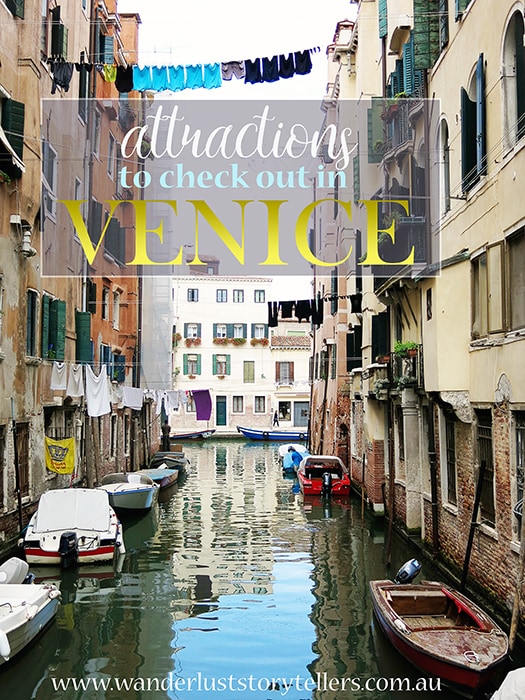 Free things to do in Venice
Your visit to Venice doesn't have to be super expensive.  Whilst accommodation in Venice itself costs a bit more than elsewhere in Italy (see our affordable Venice accommodation find here), there are also plenty of free things to do in Venice to keep you busy!
–
1. Visit the Rialto Bridge, Venice 
To us, the Ponte di Rialto (the Rialto Bridge, Venice) is the true heart of Venice and the sight from this bridge over the Grand Canal is one that will always make my heart flutter in remembrance.  The Rialto Bridge in Venice is the most famous of the 4 bridges that cross over the Grand Canal. The bridge, a stone arch, was constructed between 1855 and 1591 to replace the wooden bridge that was very similar in design.
Today this bridge is one of the most tourist-visited sites in Venice and rightly so.  The atmosphere and vibe and sights here are simply remarkable.  I can't even count how many times we crossed the Rialto Bridge on our visit, and how many photos we took from the bridge over the canal.  One of our favourite attractions in Venice, you simply have to ensure you visit it at all times of the day and night.
Now as a challenge, I'm on that bridge in the photo! Can you spot me?
2. Get lost in the atmosphere at the San Marco Square, Venice 
The San Marco Piazza is world famous for a reason.  It is one massive piazza and the architecture here is simply beautiful. The masterpiece of the San Marco square in Venice is, of course, the San Marco Basilica.  The piazza is lined with several restaurants, most of which have an orchestra playing.  The atmosphere that the orchestra creates here at the square is simply divine.
But beware, if you choose to sit down at one of these 'orchestra' restaurants, you will be charged an additional fee on top of your food and drinks to help cover the costs of the band.
3. Visit the Bridge of Sighs, Venice
The famous Bridge of Sighs, was built out of limestone and dates back to the 17th century.  The Bridge spans the Palace River and connects the Old Prison and interrogation rooms in the Dodge Palace to the New Prison.  It is probably one of the most visited and photographed attractions in Venice, so expect to see a crowd of people.
There are two very different stories as to how the Bridge of Sighs, Venice got its name.
The first suggests that prisoners would 'sigh' as they walked across this bridge realizing that they would never see the outside world again.  The other more romantic tale suggests that if two lovers kiss under the bridge at sunset, their love will be eternal.  So the 'sighs' come from the lovers overwhelmed with the romantic atmosphere.
As you can see in our photo, this river is a very popular route for Gondoliers as a result.
Either way, the Venice Bridge of Sighs is gorgeous and worth seeing.  Whilst we did not do the tour through the Dodge Palace that allows you to actually walk on the bridge, we got some pictures of the Bridge of Sighs from both sides.
4.  Markets in Venice
At San Polo, Campo de la Pescaria, you will find the daily fresh markets in Venice.  This market is beaming with local fresh fish and delicious juicy fruits and veggies.  We bought a supply of fruits to add to our breakfasts whilst in Venice.  If you have the time, make sure you go and absorb the hustle and bustle of a busy market atmosphere here.
Open every day (except Sundays) from 7:30-13:30. (The fish market is only till 12pm)
5.  Explore the history of the Jewish Ghetto, Venice 
The Jewish Ghetto is an area of Venice where all Jews were forced to live from the 16th till the 18th Century.  This is a really interesting area of Venice with a great historic story to tell.  You can still find a Jewish community living here, and lots of little restaurants and bakeries that sell Jewish specialties.
This area was made famous by Shakespear's 'Merchant of Venice' and is also home of the Jewish Museum: Museo Communità Ebraica. If you love learning more about the history of places, it would be worth doing a Jewish Ghetto, Venice tour here.  The tours last around an hour and you can find tour guides at the Synagogue, gift shop or Kosher Cafe.  Definitely an attraction of Venice to check out if you have enough time!
Tourist attractions in Venice that you need to Pay for
Here are a few of the main tourist attractions in Venice that you will need to pay for.  Some of which are very affordable whilst others such as the Venice Gondola Rides will always remain a more expensive attraction.
–
6.  Treat yourself to Venice Gondola Rides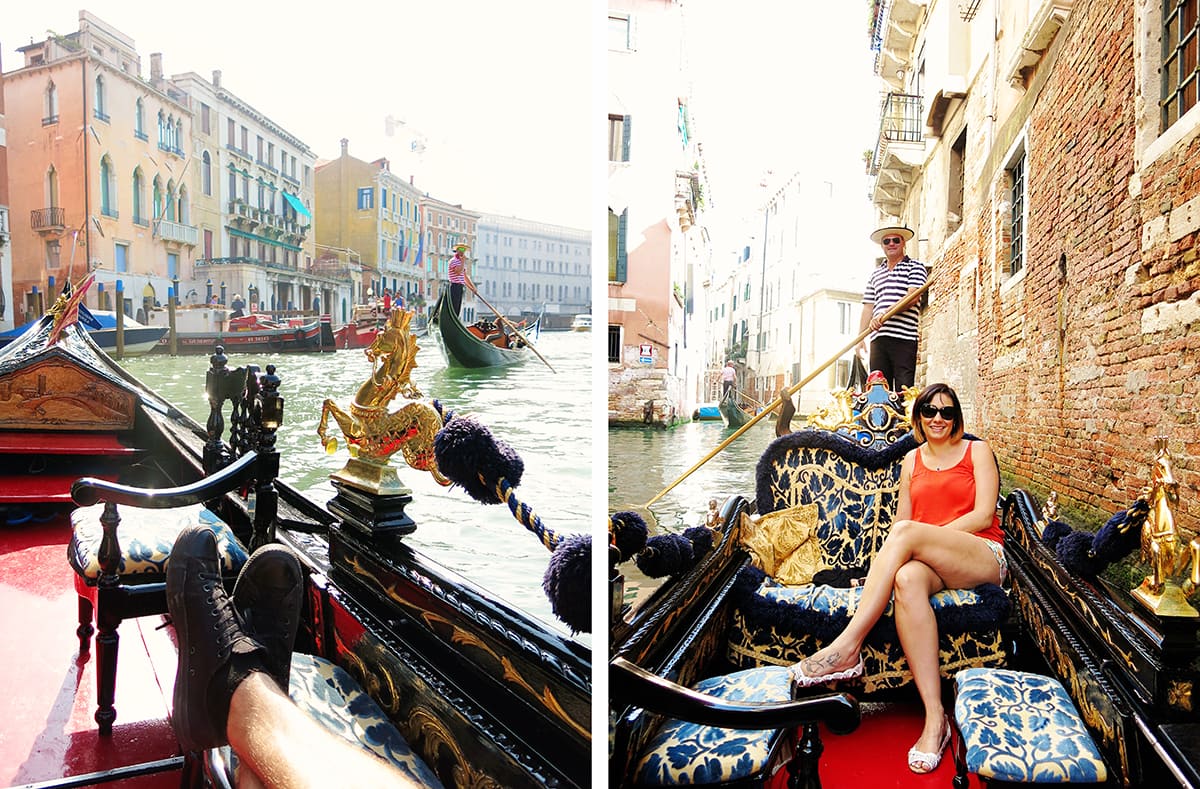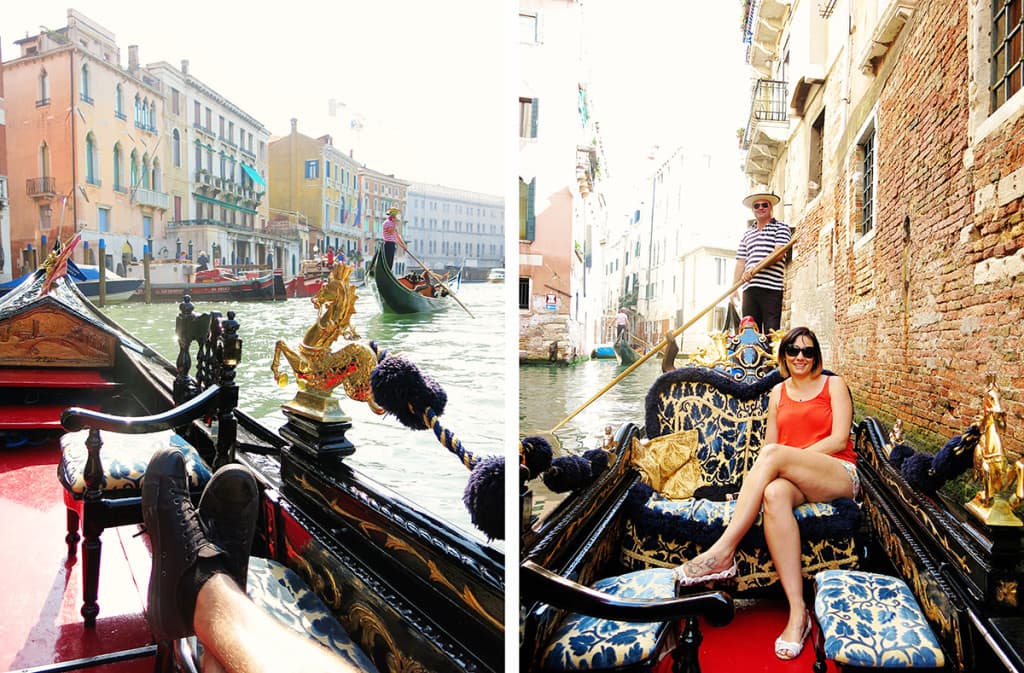 Of all the things we did in Venice, the Gondola ride was our favourite.  We found it incredibly relaxing and we loved the view of Venice and the buildings from low down on the water.  I think your experience of the Gondola Ride in Venice will greatly depend on the area in which you choose to grab one.
We knew that we wanted to experience the ride in quieter areas of Venice so avoided the more popular spots, where the Gondolas on the water are lined up bumper to bumper on the canal.
Venice Gondola Tips: 
You can't negotiate for a Gondola Ride.  Venice has a law that states what the price of the Venice Gondola ride tickets should be at.  The more you pay, the longer your ride will be, the less you pay the shorter.  Whichever way you go make sure you discuss costs and duration length before you get into the Gondola to avoid frustration after. Gondola rides are more expensive at night.
Gondolas can fit 6 people, we did it with just the two of us and could stretch out and relax more as a result, however, you pay for the Gondola, so more people = less cost per person.
You will be expected to pay more if you want a serenaded ride.  We got serenaded for free because our Gondolier was awesome.  However, we never asked for it, it was spontaneous.
You can pre-book your Venice Gondola Ride on this website here.
 Tip:  There is one Venice Gondola 'driver' who is revered on Tripadvisor.  Everyone raves about his services.  While we did not use him, if you want to ensure your Gondola experience is pleasantly memorable, shout Luca an email – [email protected]
7. Venture inside the Basilica di San Marco, Venice
The magnificent Basilica di San Marco's architecture will simply blow you away.  The mellow lighting inside the Basilica gives it a glorious effect from the dark golden interior glow.  Be mindful that Saint Mark's Basilica is a sacred site and therefore, appropriate clothing (shoulders and knees covered) is expected, no photography or filming is allowed and no loud noises are tolerated.
For us, whilst the interior of the Basilica was spectacular, it was the rooftop view over San Marco Square that we fell in love with.  Ensure you climb the steep stairs to the top level, pay the additional fee and get a splendid view over the piazza.  Highly recommend you make an effort to visit this attraction in Venice!
St Mark Basilica Opening Hours:  Open daily from 9:45 am – 5 pm, except for Sundays and Holidays: 2 pm – 5 pm
St Mark Basilica Tickets: Free; however, it costs 5 euros to access the higher level.
Skip-the-line Tickets:  The queue for the Basilica can get very long, and a waiting time of around 45min is normal.  We bought a Skip-The-Line ticket for only 2 Euros, which allowed us much quicker access to the Basilica, and we cannot recommend this option highly enough!
8.  Enjoy the city views from the San Marco Campanile, Venice 
A visit to the Campanile Bell Tower at San Marco Piazza is a must as it gives you a glorious view of the city of Venice.  Beware though as the bells in this tower still ring throughout the day and trust me they are incredibly loud when you stand just a short distance below them!  They certainly emptied the top area of the tower super quickly as we all tried to escape into the elevator
Campanile di San Marco Tickets: 8 Euros p/p; a lift will deliver you to the top of the tower.
San Marco Campanile, Venice Opening Times: Times vary during different times of the year.  However, generally, it opens at 7 am in the morning and stays open till around 7 pm.
9.  Relax on an affordable Grand Canal Cruise 
It is essential that you go for a cruise down the Grand Canal in Venice.  You will enjoy the charm and characteristics of all the buildings lining the canal.  Here you will get a unique view over the palazzo, homes of the wealthy and luxurious hotels. It is fascinating watching all the other boats and Gondolas come and go.
There are multiple photo opportunities here, but instead of being stuck behind a camera we highly recommend you take a sunset cruise and just simply sit back and soak it all in, let every building soak right into your muscles and bones.
There are different options for exploring the Venice Grand Canal:
Vaporetto:  The public water boat is the cheapest way of experiencing the canal.  This is how we chose to do it.  Costs for a one way cruise is only 7 euros p/p. Vaporetto 1, 82, N also 3 and 4 go along the canal.
Gondola:  Probably the most romantic and atmospheric way to experience the Grand Canal, however this experience will come with an expensive price.  Enquire at the Gondoliers lining the Grand Canal to get a quote on a price.
Grand Canal Tours: Viator has different tour options available to experience the Grand Canal, check out their choices here.
10. Popular Island Trips – Murano and Burano
Visit two of the most popular islands around Venice.
The Murano Island is renown for its glass-blowing shops.  Here you can find a multitude of little glass bits and pieces to purchase.
Whilst the Venice Burano Island is well known for its coloured buildings together with its little shops selling various lace items.
You will need to dedicate at least 1/2 a day to visit these little islands.  Public water-busses make their way to these island at regular intervals during the day.
Grab a map and timetable from your hotel reception to organize your own day trip to Murano and Burano.  Or alternatively, you can book a tour through Viator here.
Ensure however that you avoid the 'free' trips on offer to you from various Vendors to these islands.
These trips might be free however you will be required to purchase glass or lace items on the islands in order to ensure you have a return trip to Venice.
After a really unique place to stay?  Why not try a hostel stay in Venice at We Crociferi!
–
Over to you:
Do you have any tips or recommendations to add to our top 10 attractions in Venice?
–
For more posts about Italy: