Italy holds an incredibly special part of our hearts!
Not only did we fall in love even more with each other on our honeymoon to this glorious country, but we also fell in love with the Italian culture, history, architecture, and of course cuisine!
From one area to the next, Italy will keep surprising you with its awe-inspiring beauty, from the ruins and rustic colors of Rome to the sweeping landscapes in Tuscany. 
From waterway treasures in Venice to cliff-hugging playful buildings on the Amalfi Coast! Each is worthy of a visit, make sure you devote enough time to each region when you travel to Italy!
Essential Things To Know When Traveling To Italy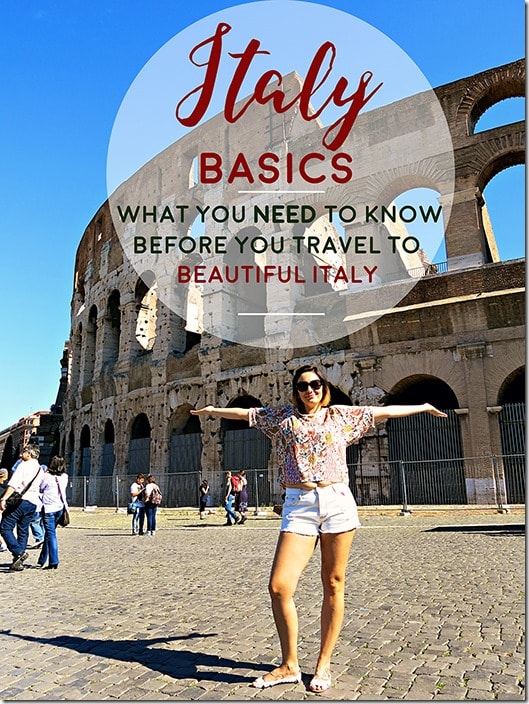 Please Pin Me! Thank You!
1. Italy Travel Advice:
Vaccinations for Italy
Always check with your preferred doctor in regards to vaccinations required for countries you will be visiting, however, according to the CDC site, there are no essential vaccinations required for your travels to Italy.
They do recommend Hepatitis A, Hepatitis B and Rabies for some travellers.
Visas for Italy
A visa is generally NOT REQUIRED for most nationalities visiting Italy (for stays of up to 90 days); however, it is best to check this list to see if you fall into the exempt category or not.–
Is Italy Safe?
We recommend exercising normal precautions to look after your belongings as you explore; just as you would in any other country.
During the high tourist season, there is definitely an increase in handbag theft, picket pocketers as well as car break-ins.  
However, during our Italy holidays, we had absolutely no incidences and felt safe at all times.
As a tip, you might feel safer with a travel money belt (or a money belt alternative) that you can hide away under your clothes to secure valuable items such as passports and larger sums of cash.
Italy Family Holidays:
Italy is a fabulous country to visit as a family!  There is so much history for both adults and kids alike to learn about.  
It is a safe country and if you do some research before you go, it also has the potential to be an affordable family destination! What a truly valuable destination for any family to experience!
We have loads of tips for families traveling to Rome here!
2. Best time to travel to Italy
Timezone
Central European Time (GMT/UTC plus one hour)–
Best times to travel to Italy
We visited Italy in September and thought it was the perfect time to visit! The weather was just a touch cooler and the crowds just a bit less than in high season times.
High Season: July to August – Expect to pay higher prices for hotels, ensure you book ahead of time! You will find large crowds and long queues at all major sights.
Shoulder Season: April to June & September till October – Good weather as well as great deals for hotels and smaller crowds at major sights.
Low Season: November to March – Winter season in Italy means low hotel rates, but can also mean closure of some sights and hotels.
3. Holiday in Italy: Helpful things to know
Map of Italy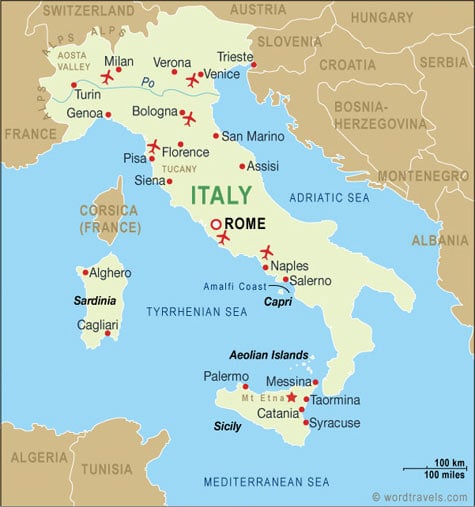 Image Credit: WordTravels
Italian Currency and Access to Money
The local currency used is Euro.
ATM's are readily available in most locations.  Credit card payments are also accepted at most hotels and most restaurants.–

Room Taxes
Expect to pay room taxes per night on top of your accommodation rates. This forms part of the room occupancy tax.
Most hotels/hosts were upfront about this additional cost upon booking, but best to be 'in the know'.
Access to WiFi
If you want to be connected throughout your travels in Italy, we highly recommend you visit The Crowded Planet who shares 6 strategies for getting WiFi in Italy.–
Language Spoken and how well English is Understood
Italian is the traditional language spoken across the country.
English is widely spoken. The only parts of Italy that we found we had to use a lot of sign language to communicate was in small little Tuscan Towns.
Trying to find a chemist there proved to be a bit of a fun adventure!–
Best places to visit in Italy
Milan and the Lakes: Milan! A city that will appeal to those who indulge in fashion, catwalks and shopping!
Head over after to one of the most romantic areas in Italy – Lake Como will fill your soul with peace as you are surrounded by charming villas and villages set right next to the expansive blue waters of the Lake.
Find out what to do at Lake Como here.
Traveling around Milan can get a bit hectic. This is a beautiful city and if you want to visit all of the attractions faster and with ease, why not book your Milan taxi ahead of time.
Venice: Prepare to get yourself hopelessly lost in the little alleyways of one of the most romantic cities on earth.
Enjoy the luxuries and indulgences of everything on a grand scale here.
Sites to visit include San Marco square and Basilica, the Bridge of Sighs and the Rialto Bridge.
Read our post of Top 10 attractions to see in Venice here.
Florence and Tuscany: Visit the city of art and Renaissance with a stop in Florence.
Head into the countryside of Tuscany to experience sights of sweeping landscapes, views of vine-laced farmlands and traditional Italian Tuscan homes standing proudly amongst the rows of cypress trees!
Read about a charming small Tuscan town called Monticchiello on our blog here.
Rome: A city brimming with a mix of historical old and modern new, expect this city to hold visual wonderlands in terms of rustic buildings, golden hues of colour and oodles of tourists.
A city that holds some of the most architecturally impressive buildings in the world, make sure you devote enough time to the explore this city of ancient wonders.
Everyone flocks to Rome in order to see the Colosseum, the Pantheon, the Trevi Fountain and Spanish steps and of course the grounds of the Roman Forum.
For more information on how to see these sites with kids in tow, why not read our post here.
Naples and the Amalfi Coast: Experience the explosive and mind-blowing city of Naples.
A crazy-bustling city of cars and masses of people, where clothing hangs between the alleys from building to building and where an indulgence in some of the oldest styles of pizza is a must!
Visit Pompeii from Naples to see this historic city being uncovered & to hear the stories of the families who were covered by clouds of ash when the volcano erupted.
And then after head to the beautiful landscape of winding coastal roads and cliff-hugging colourful buildings on the Amalfi Coast. Each area so unique and so different!
Read our post on Pompeii here and read more about the must-see destinations on a road trip through Amalfi Coast here.
Sicily: Sicily will reward your taste buds with an explosion of high quality cuisine! An exploration of appetite together with natural scenery and beauty, what is not too love about Sicily.
Sardinia: The perfect island to experience the good life in Italy.
Surrounded by gorgeous blue waters, this island will not only appeal to your appetite but will also awaken your adventurous side as you explore sea caves and secluded coves!
When you travel around Sardinia, the best way to explore around this beautiful place is by using a local taxi. Bonus here, you can book it online too.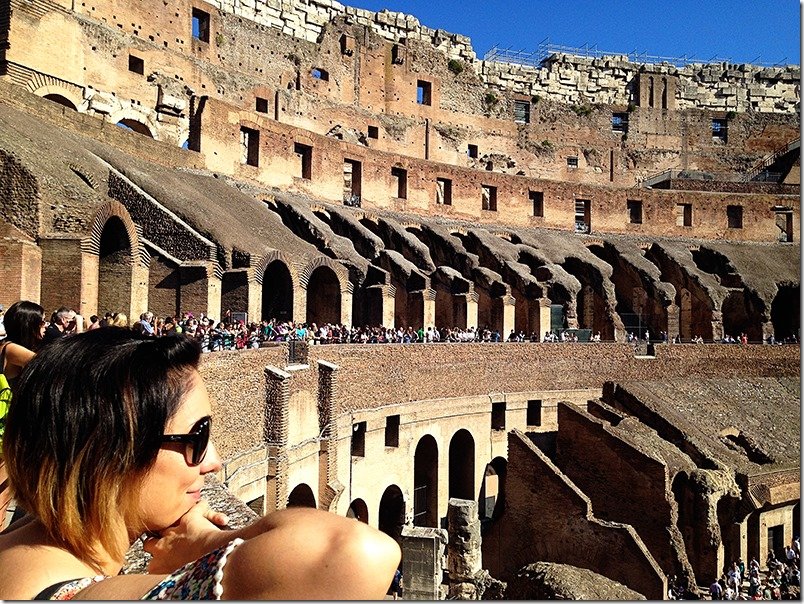 Some typical things to expect whilst traveling around Italy
Gentle bargaining in markets are expected, however is uncommon in stores.
Tipping in restaurants is customary and usually built into the bill, whilst tipping elsewhere is optional. Think about adding a few Euros for tips to drivers, porters, guides and bars.
Expect elaborate hand gestures and passionate emotions openly expressed.
Expect ridiculously crazy driving, where people get annoyed at you if you actually follow the road rules!
For toll roads, expect to be given a toll ticket at the first toll gate, but payment is not required till you exit the highway.
Expect to do a lot of walking, so make sure to take some comfy shoes!
Expect to pick up a few kilos from all the yummy pizza and pasta haha!
Expect to be asked to cover up over the shoulders and knees when entering religious sites.
Some essential Italian phrases to learn
1. Parla Inglese? – Do you speak English?
2. Grazie – Thank You
3. Prego – You are welcome
4. Per favore – Per Piacere – Please
5. Buon Giorno – Good Morning – Good Afternoon
6. Buona Sera – Good Evening
7. Buona notte – Good Night
8. Mi scusi / Scusi – Excuse
9. Ciao – Hello / Goodbye
10. Quanto costa? – How much does it cost?
11. Arrivederci – Goodbye
12. Dov'è ….? – Where is …?
13. Gabinetto/Bagno – Lavatory/Toilet
The Italian Phrasebook & Dictionary
Grab yourself Rick Steves' Italian Phrase Book & Dictionary
, for only around $9 this book will take you a long way! It is almost essential to carry along when you travel to Italy!
Don't forget to get hold of the ultra popular Lonely Planet – Italy Travel Guide book! Who doesn't love a Lonely Planet Guide! Truly helpful when you travel to Italy and packed to the brim full of helpful information on Italy!
_________________________
After even more essential tips for your travels to Italy?
Wondering where to Stay in Italy?
After stories about our travels to Italy?
Click to read the comprehensive, informative stories of our travels through Italy!