With so much captivating history and incomparable natural beauty, every location in southern Italy seems to call out for the attention of visitors. However, even this stunning region has a few highlights that shine even brighter, standing out as the best cities in Southern Italy.
This southern Italy travel blog explores some of the cities and towns in the south of Italy that you simply cannot pass by! We also sneakily added on two islands at the bottom of the post, because they are worthy of a visit too.
Best Places to Visit in Southern Italy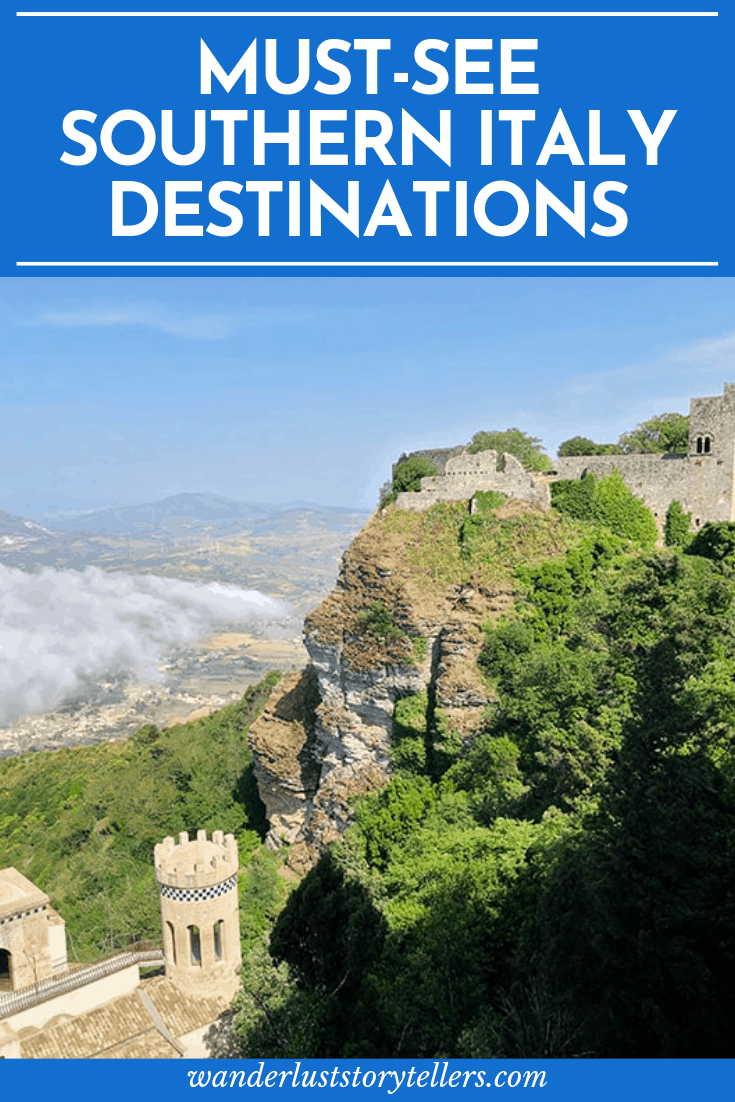 If you are planning a southern Italy trip, then make sure that you add the following destinations to your itinerary. We absolutely love every region of Italy, but there is something so unique and different about these cities and towns in South Italy. We've picked them as the best places to visit in Southern Italy.
1. Matera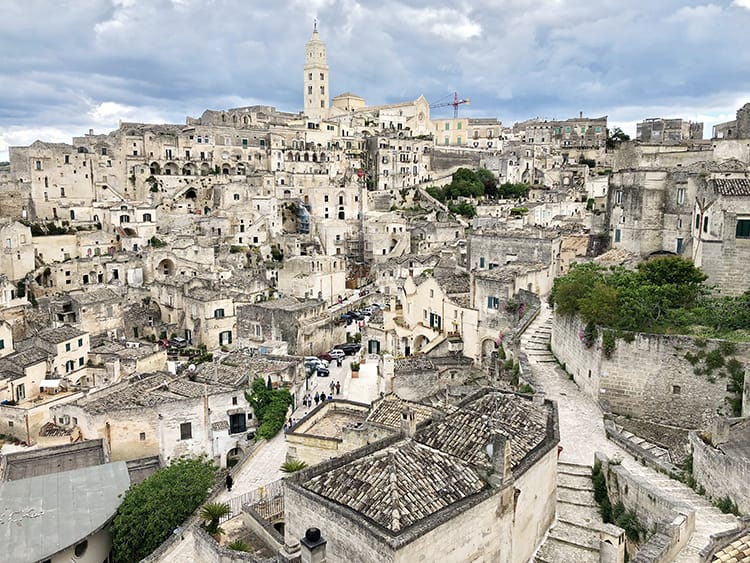 At Matera, you'll discover the magnificent Murgia Timone, a gigantic plateau made of rock. The plateau is dotted with many caves carved into the stone by the people who lived here many, many years ago.
There are plenty of things to do in Matera. While the caves are truly fascinating to see and explore, just as wonderful are the views this site gives you of the nearby ravine and old town. There are countless photo opportunities of this south Italy must-see destination.
Book a Day Trip to Matera from any of the Following Places:
Highly Recommended Tours and Passes to Grab:
We also absolutely loved hopping over to Parco Murgia where you can walk, explore and get wonderful views of Matera from across the ravine. Click here to book a spot on the Parco Murgia tour.
Grab the Matera Smart Pass. The smart pass is a ticket that allows you to visit, at a reduced price, the best 4 attractions of the city of Matera and you can reach the Parco della Murgia Materana with a panoramic bus.
_____________________
2.

Alberobello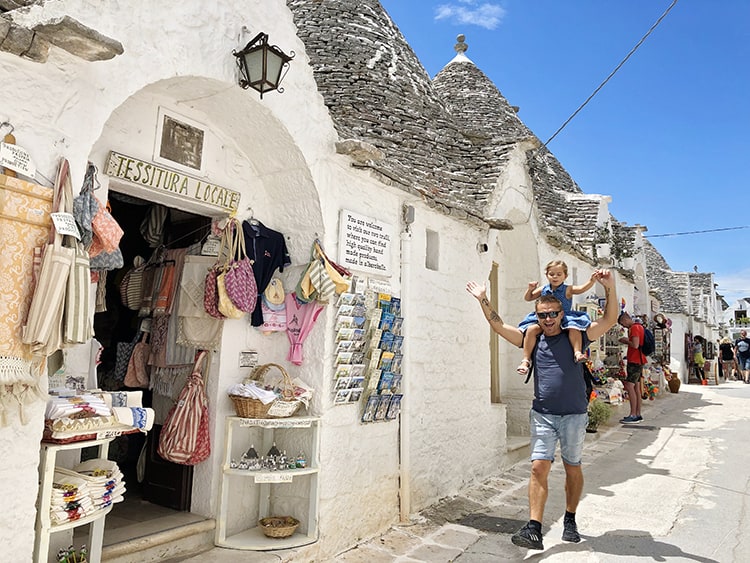 Architecture doesn't get quirkier than the buildings you'll find in Alberobello's city centre. The town is packed with 'trulli' (whitewashed huts constructed of dry stone and topped with cone-shaped roofs).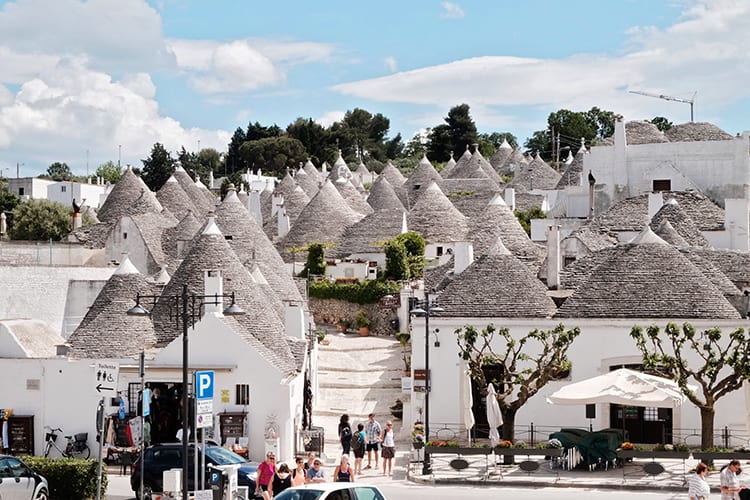 Also take time to sample some of the scrumptious bread this region is famous for – and to taste some delicious local wines, of course! After experiencing Alberobello, you'll be certain that it's one of the best southern Italy towns!
Highly Recommended Tours:
_____________________
3. Polignano a Mare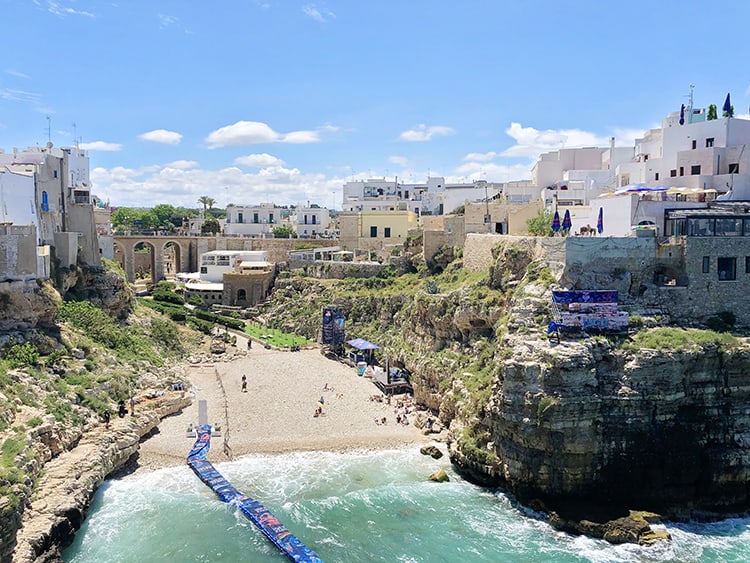 Polignano a Mare is quite literally a clifftop town; the north-eastern outskirts drop away very suddenly into the waters of the Adriatic Sea. Naturally, this placement makes it the ideal location from which to witness stunning views, making the spot a southern Italy must-see.
The town is also well-regarded as having some of Italy's best-tasting gelato, which is the perfect snack to treat yourself to while taking in the gorgeous sights on offer.
Highly Recommended Tours:
_____________________
4.

Erice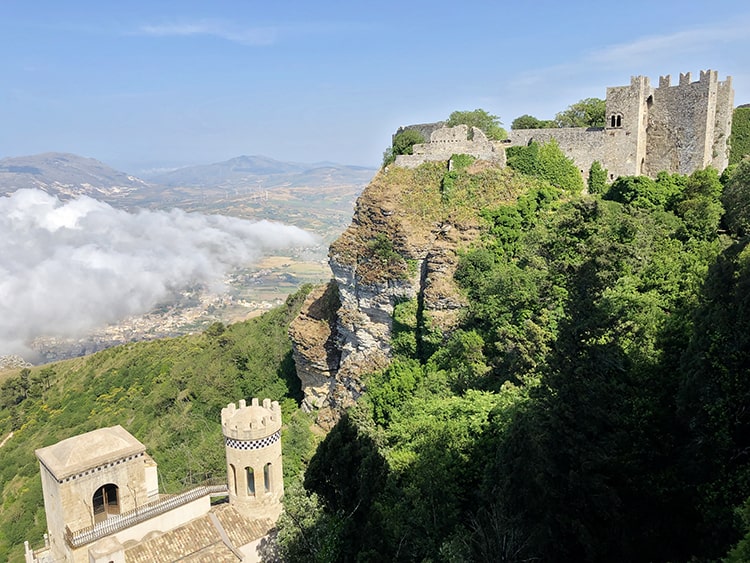 Sitting atop the intimidating Mount Erice near Sicily's north-western shore, this city presents visitors with amazing views in all directions.
When you've finished admiring the sights of the Aegadian Islands, the port of Trapani, and San Vito Lo Capo, explore the wonders Erice itself has to show. Two castles left over from centuries past still stand here, along with fortifications from ancient Phoenician times making it one of the best historic south Italy cities.
_____________________
5.

Taormina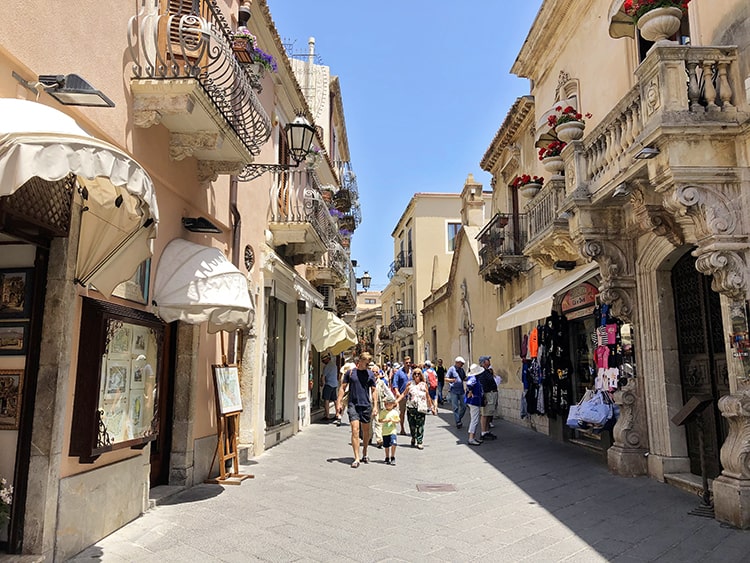 If you've heard of Sicily's Taormina before, chances are you already know the main attraction of this south Italy town: shops and restaurants.
Delicious food fills the streets with tempting aromas while boutiques and stalls of handcrafts will happily supply you with perfect souvenirs – perhaps even a few more than you really need!
Taormina is also home to a striking Greek amphitheatre, lovely gardens and cute cafes.
Highly Recommended Tours:
Recommended Further Reading:
_____________________
6.
Corricella on Procida Island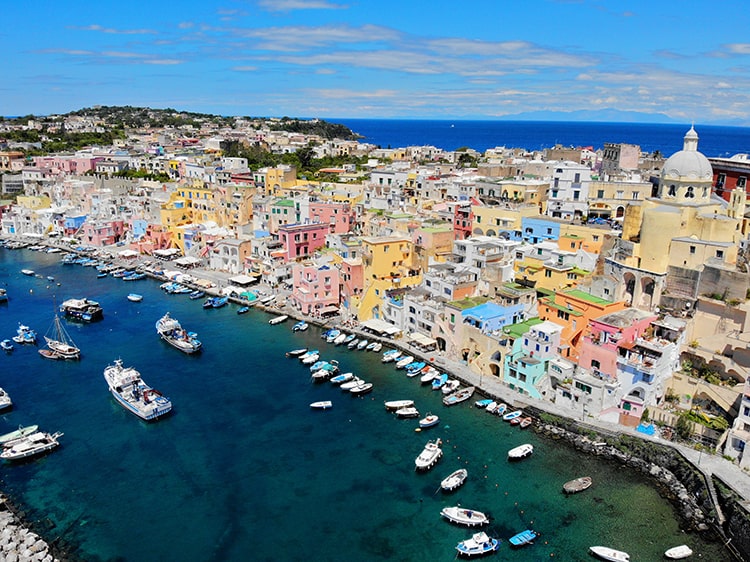 Marina Corricella is the oldest village of Procida Island. When planning what to see in southern Italy, make sure that you add this quaint, charming and romantic spot to your list.
The entire space is arranged in an amphitheatre on the sea and the age-old tradition of fishing in the village creates a relaxing and communal atmosphere. Corricella is renowned for its unique architecture, so take the time to appreciate the arches, domes, terraces and colorful facades.
Highly Recommended Tours:
Blog Post to Read:
_____________________
7.

Amalfi

Coast Towns
A must-see in southern Italy, the charming towns on the Amalfi Coast are unforgettable! Mountains and cliffs frame the sea, creating a wonderful sense of security within the towns. From the pastel-colored homes in Positano to the views from Ravello, the towns on the Amalfi Coast are sure to steal your heart.
If you enjoy breaking a sweat while on holiday, be sure to go hiking in the area as it's known to have some of the most picturesque trails! The Amalfi Coast is a very popular tourist destination and chances are, you've seen the spectacular views of the area across the internet. Now it's your turn to get your own pictures.
Amalfi Coast Resources:
_____________________
8. Sorrento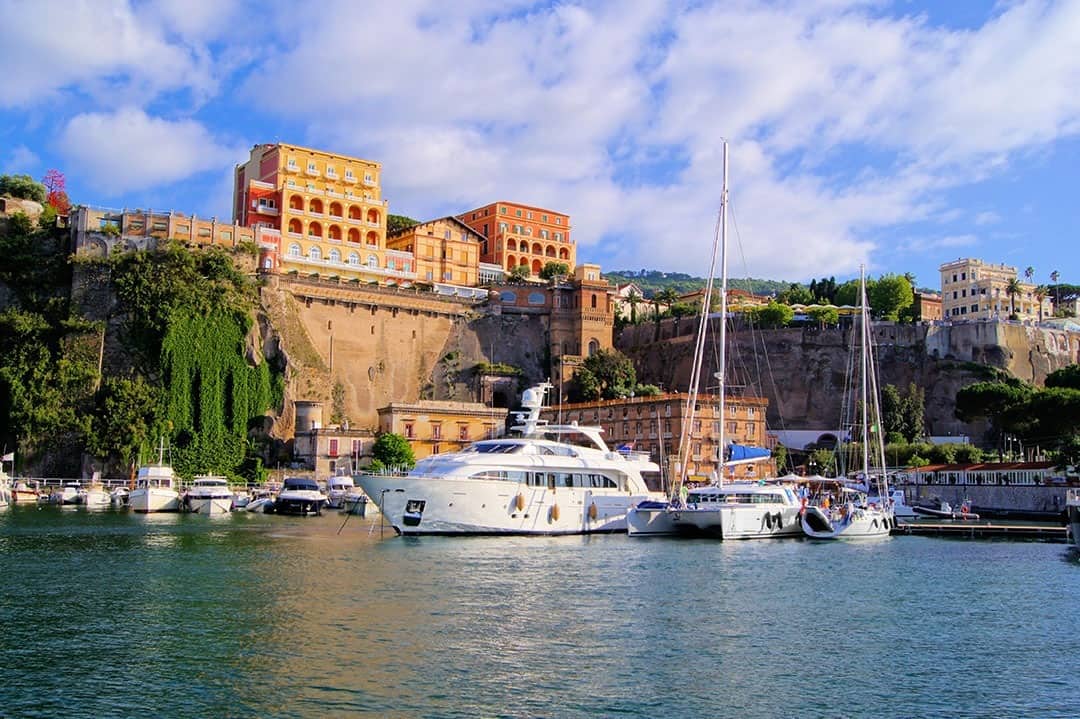 Known as the gateway to the Amalfi Coast, Sorrento has a long-standing reputation for being must-see spot for southern Italy vacations. The town is cloaked in literary romance, having been visited by the likes of Dickens and Tolstoy. You can't help but feel the enchanting atmosphere of the town from the moment you arrive.
Due to its popularity over the years, the town has built an impressive repertoire of high-pedigree hotels and first-class restaurants, all shaped by charming Italian tradition. Take your time shopping at Piazza Torquato Tasso, visit the multiple museums and soak in the view of the Bay of Naples.
Wondering Where to Stay?
Highly Recommended Tours:
_____________________
9. Castelmezzano & Pietrapertosa
Although two separate towns, Castelmezzano and Pietrapertosa are so small, and so close together, that many travelers visit both on a single day trip. Castelmezzano has a reputation as being one of the most beautiful villages in Italy. High up on the hills, above the Basento River, the town is magical at both day and night.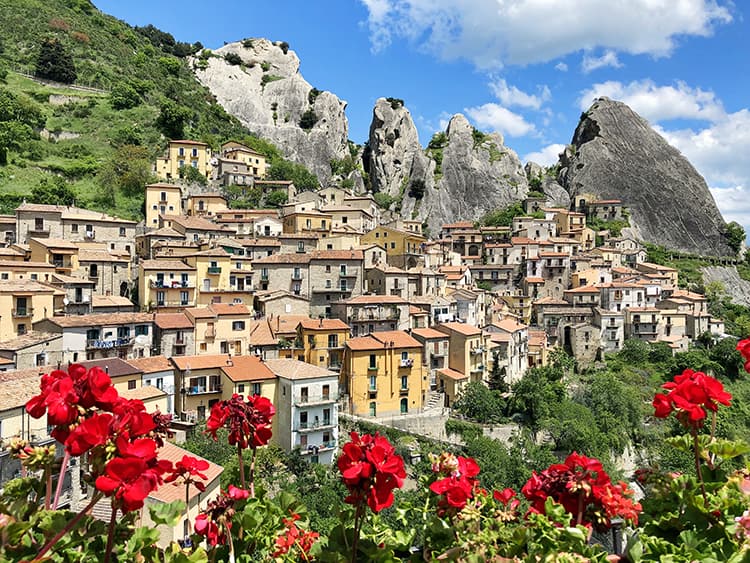 A stone's throw away, Pietrapertosa is a charming hamlet filled with history and culture. The village is built entirely on bare rock, and is full of single-family houses arranged in rows.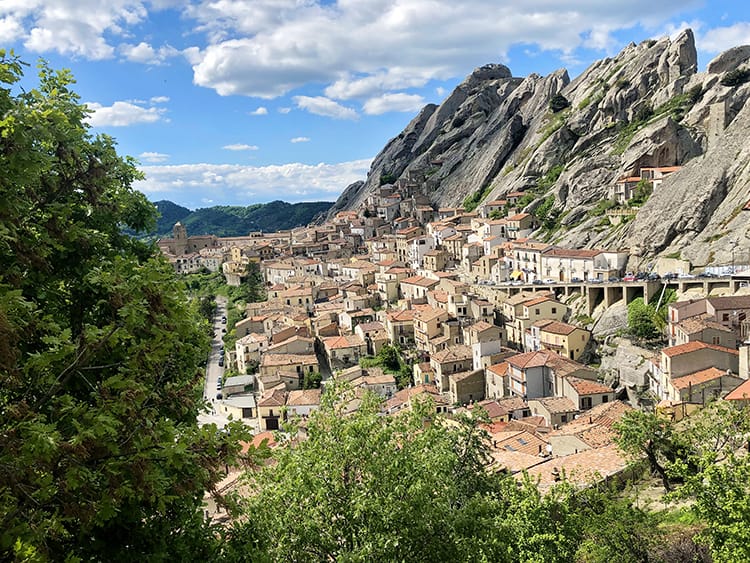 If you're looking for a unique and memorable experience, these two towns are a must-see.
Highly Recommended Tours:
_____________________
10. Pompeii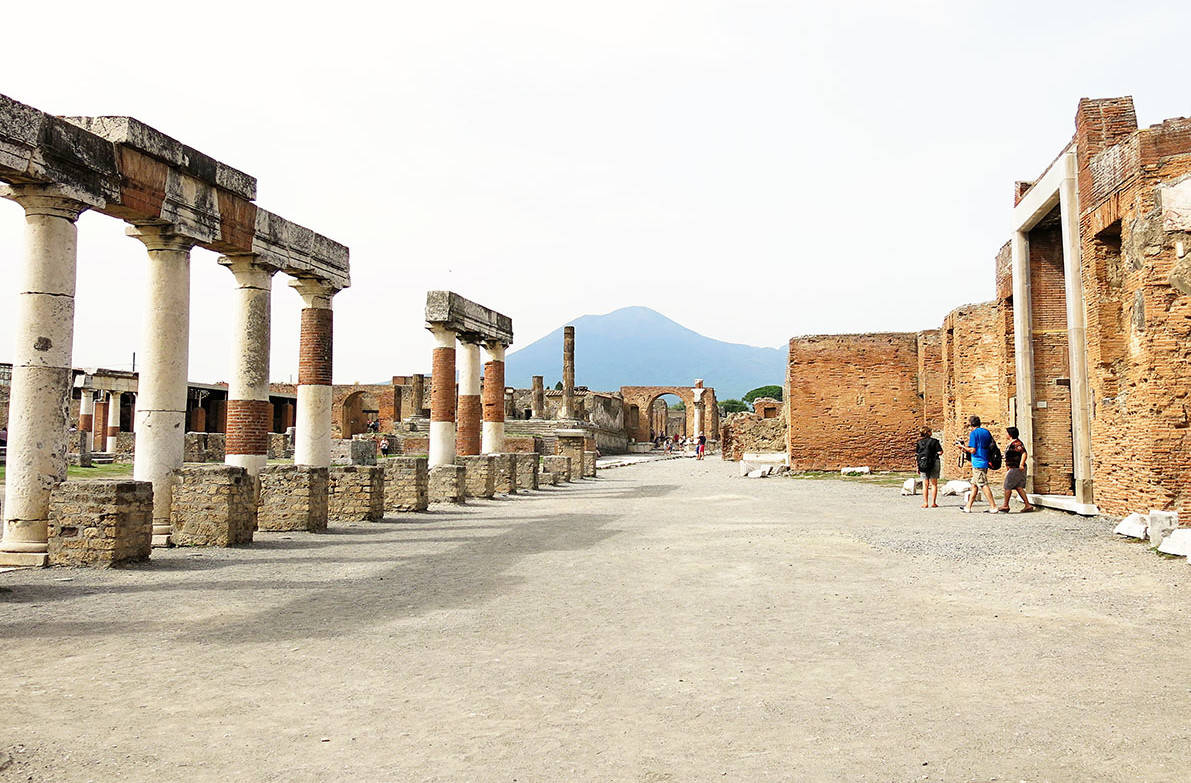 When the famous volcanic eruption took place in 79 A.D, the ancient Roman city of Pompeii was buried under a thick blanket of volcanic ash. Today, these ruins are a huge attraction for travelers from around the world.
Whether or not you are a history lover, a trip to Pompeii is incredibly enriching. A visit to Pompeii's archaeological ruins highlights the most fascinating and best of southern Italy history. Get whisked away to a time long-gone as you explore the beauty of Italy's lost city.  You can read about our time visiting Pompeii here.
Book a Day Trip to Pompeii:
Highly Recommended Tours:
_____________________
11. Cefalu
One of the best cities that southern Italy has to offer, Cefalu offers an incredible combination of experiences for holiday-goers. On the shores of Sicily, Cefalu is home to one of the best beaches in the area, architectural masterpieces and quaint cobble stoned beaches.
Make sure that you take the time to visit the little port and watch the local fishermen going about their daily business. Easy-going and accommodating, Cefalu is the epitome of true Italian culture.
Book a Day Trip to Cefalu:
Highly Recommended Tours:
_____________________
12. Ostuni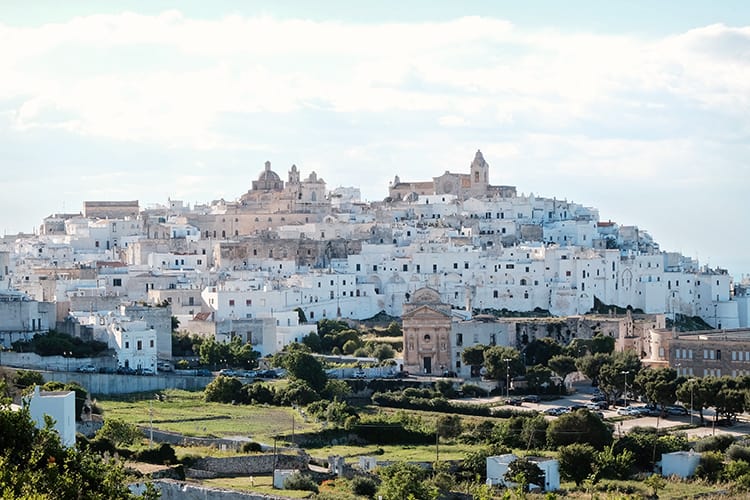 Known as the 'White City", Ostuni announces itself to travelers before even arriving. The city rises high above the ocean and boldly claims its territory by boasting a labyrinth of houses, arches and chapels. It really is quite a sight to behold.
If you are a lover of history, then Ostuni is an essential addition to your itinerary. Take your time getting lost in the alleyways, climbing all of the staircases and discovering all of the nooks!
Highly Recommended Tours:
_____________________
13. Tropea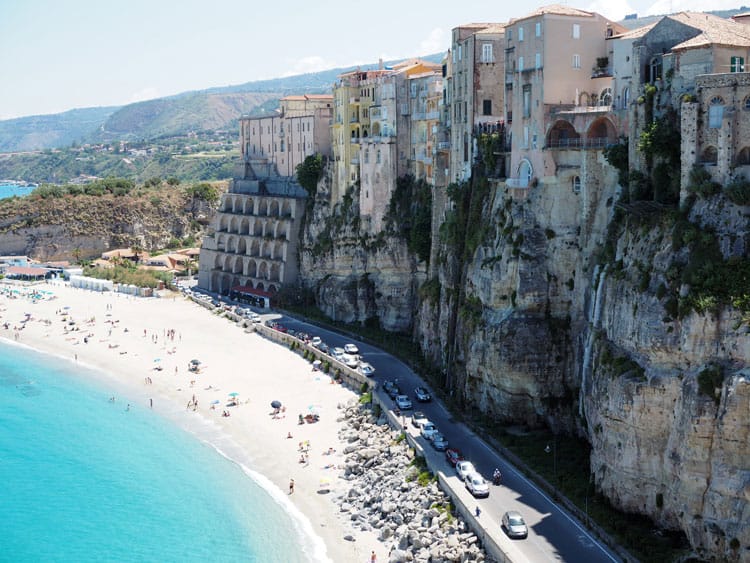 The secret beach town of Tropea is a hidden gem. The rugged, yet picturesque, piece of paradise is one of the best towns in southern Italy to both explore and relax in. Although it can get crowded during July and August, a trip to the haven during May, September and October will provide a surreal experience.
If you do manage to pull yourself away from the tranquility of the beaches, then make sure that you visit the Santa Maria dell'Isola, Centro Storico and the Norman Cathedral for an all-round Italian experience.
Highly Recommended Tours:
_____________________
Other Must-See Places In Southern Italy
Whilst these two additions aren't exactly cities, they are 100% worth mentioning in this post. Both the Aeolian Islands in Sicily and the famous Capri Island are both worthy of your time.
14. Aeolian Islands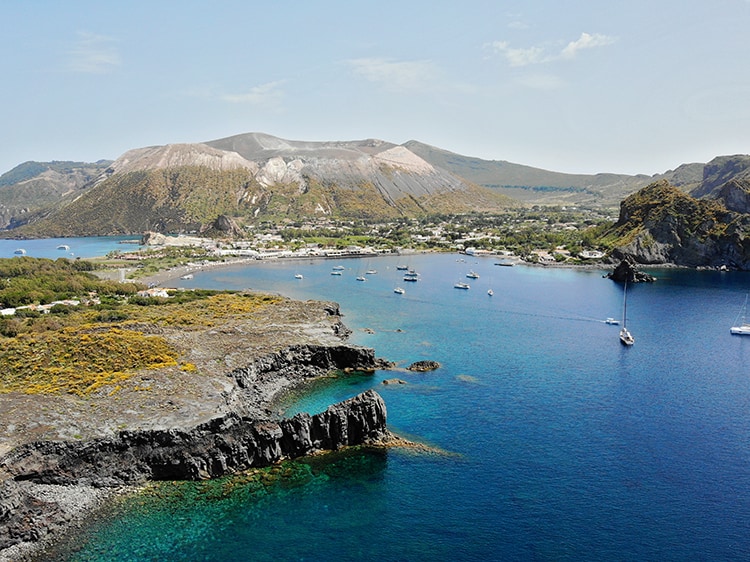 Although not exactly one of the towns in southern Italy, the Aeolian Islands are worth the visit. Located on Sicily's northeastern coast, the Aeolian Islands include the likes of Vulcano, Lipari, Salina, Panarea and Stromboli. The largest, and arguably the most popular, of these islands is Lipari. However, each of the islands boasts uniquely beautiful features.
The seven islands offer travelers stunning waters, opportunities to dive, volcanoes to trek and decadent wine to sip. Regardless of which of the UNESCO-protected islands that you visit, you're guaranteed an unforgettable experience. The Aeolian Islands offer the ultimate trip for those venturing off the beaten path.
Book a Day Trip to the Aeolian Islands from:
Highly Recommended Tours:
_____________________
15. Capri Island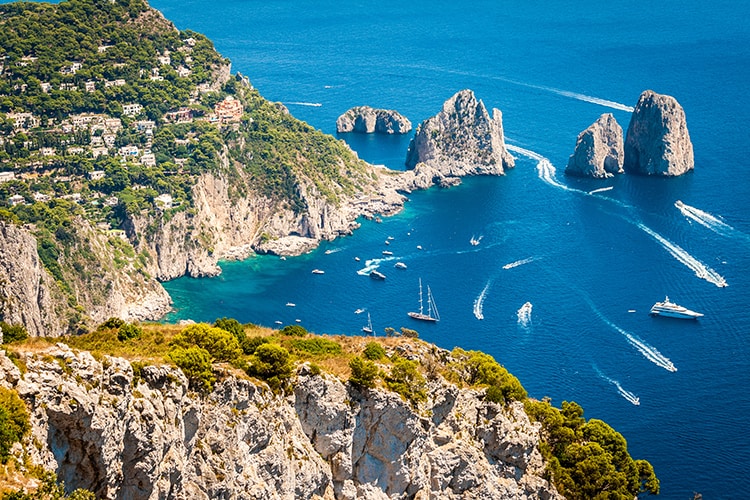 Although more an island than a town, Capri is a must when you visit southern Italy. Located in the Tyrrhenian Sea, Capri is made up of three island outposts. The beauty of the area is breathtaking, with steep cliffs descending into turquoise water.
Be advised that the exclusivity and magnificence of Capri means that the price of visiting is significantly higher. However, one glance at the sublime space, and every penny becomes worth it! You can read about our day trip to Capri Island from Positano here.
Book a Day Trip to Capri from:
Highly Recommended Tours:
_____________________
Final Thoughts On Must-See Southern Italy Cities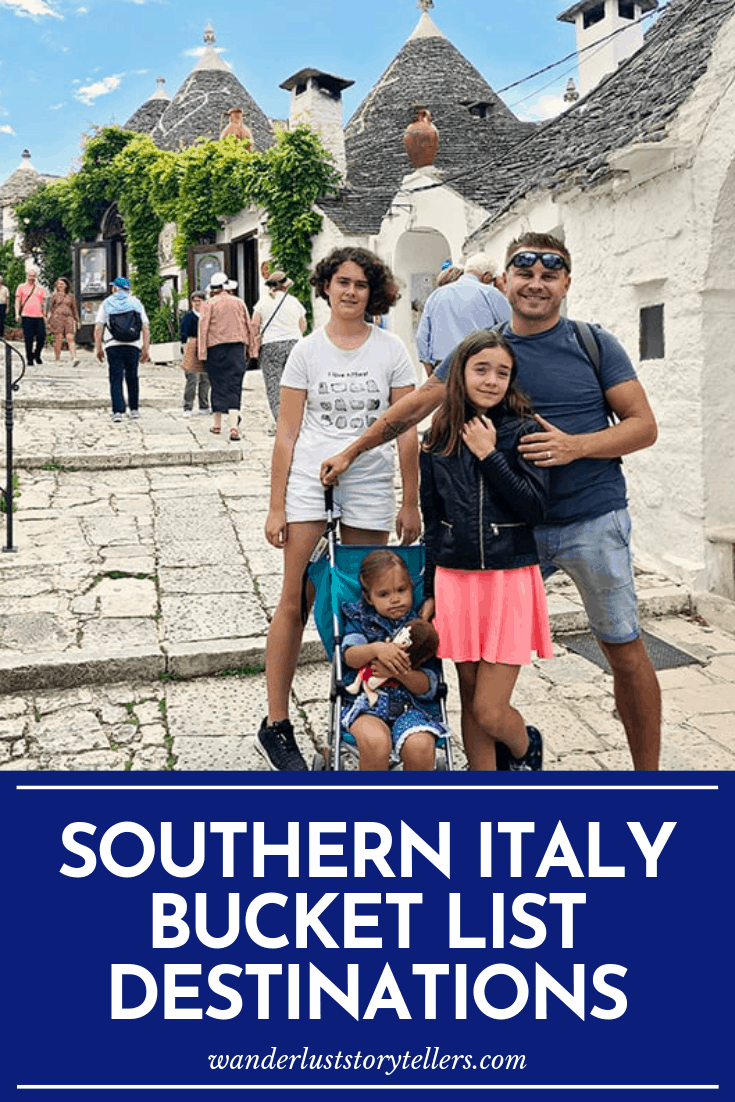 There's no question that any trip to Italy will provide you with plenty of wonderful memories (and even photographs!) to cherish for years to come. While these 15 spots could be considered must-visit towns by many travellers, you should also consider your own interests and preferences.
Doing some independent research into the beautiful cities and countryside of southern Italy will help you truly get the most out of your time here. We love Italy and we can't wait to see more and more of what this country has to offer!
Tips:
Are you looking for the easiest way to get around Sicily? You can save yourself a lot of heartache by simply booking a taxi.
We like to create our own itineraries and go where the wind takes us. But if you prefer to put your feet up and let someone else do the planning for you, check out our friends at Albatross Tours.
Are you traveling Italy and want to know more about the EU visa requirements for Colombian citizens?
_____________________
Over to you:
What are you most looking forward to on your southern Italy vacation?
Which of these 15 south Italy towns do you want to see?
Share your plans and excitement in the comments below!