Have you been wondering which places to visit in Southern Italy? I've got you covered!
Southern Italy is a paradise for travelers.
With its ancient cities, crystal clear waters, and stunning landscapes, it offers something for everyone.
However, even this stunning region has a few highlights that shine even brighter, standing out as the best places in Southern Italy.
During our three months traveling around Italy with our three daughters, we got to experience some of the best that Southern Italy has to offer.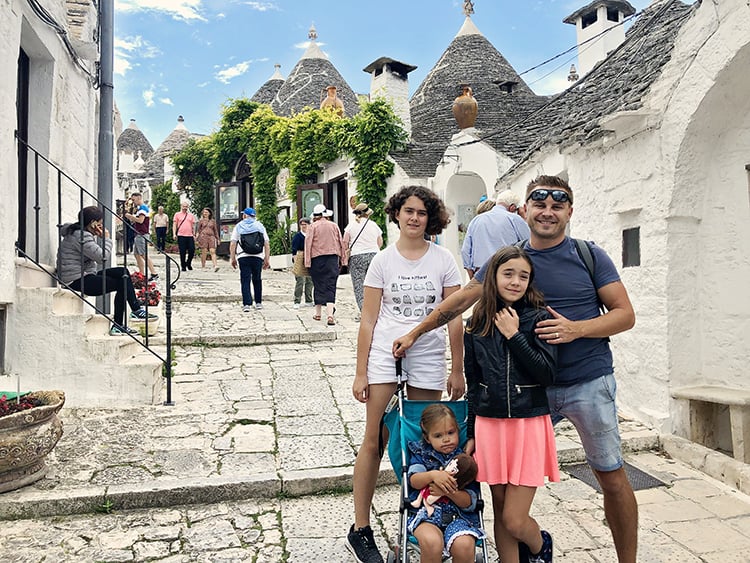 From learning about trulli in Alberobello to hiring a boat and boating around some volcanoes in the Aeolian Islands, we were constantly amazed by what this region had to offer us.
We also had the chance to talk with other travelers who were considering visiting the area and ask them which places were worth including in their itinerary.
It turns out that some of the best spots include hopping between different islands on a boat tour or walking around the alleyways of Matera.
Here is our list of the most beautiful places in southern Italy that you should see at least once in your lifetime.
15 Best Places To Visit In Southern Italy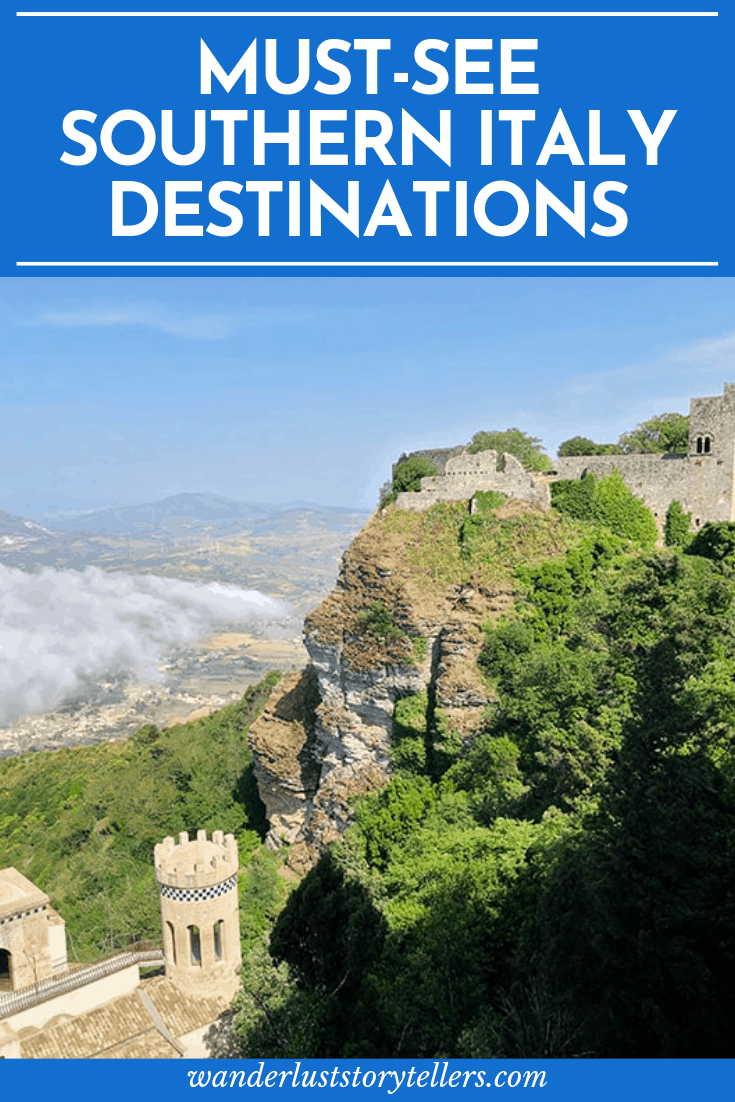 Wondering where to go in Southern Italy? If you are planning a trip, then make sure to add the following destinations to Southern Italy to your itinerary.
Southern Italy is best explored with a rental car. I can't imagine visiting these destinations by public transport! We love renting our cars through Discover Cars.
BEST SOUTHERN ITALY CAR RENTAL COMPANY: DISCOVER CARS
I recommend and use Discover Cars. They search through all rental companies to find and offer only the best deals.
We absolutely love every region of Italy, but there is something so unique and different about these cities and towns in South Italy.
We've picked them as the best places to visit in Southern Italy.
1. Matera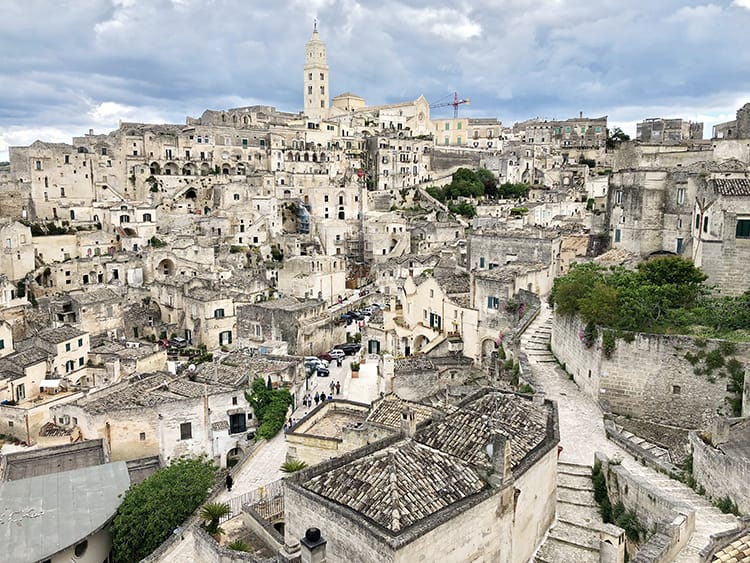 Make sure to visit Matera, it is one of the best cities in southern Italy. It is such a unique destination with its cave dwellings.
Another reason you should visit Matera is that it is a UNESCO World Heritage site.
At Matera, you'll discover the magnificent Murgia Timone, a gigantic plateau made of rock.
The plateau is dotted with many caves carved into the stone by the people who lived here many, many years ago.
There are plenty of things to do in Sassi di Matera.
While the caves are truly fascinating to see and explore, just as remarkable is the views this site gives you of the nearby ravine and old town.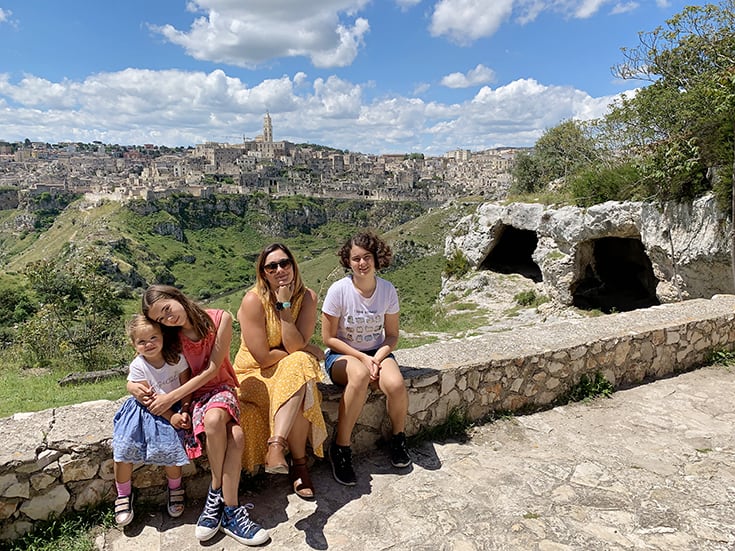 There are countless photo opportunities of this south Italy must-see destination.
Watch our video of our time in Matera with our three daughters here:
Book a Day Trip to Matera from any of the Following Places:
Tours and Passes We Recommend For Your Trip:
Enjoy a 2-hour walking tour of the historic center known as the Sassi – Book your tour here. This is the most popular tour, if you can only do one tour, then this is the one we recommend.
We also absolutely loved hopping over to Parco Murgia where you can walk, explore and get wonderful views of Matera from across the ravine. Click here to book a spot on the Parco Murgia tour.
Where to Stay In Matera:
If you stay overnight in Matera (and we suggest you do! We stayed for 3 nights and it was magical), we highly recommend you book accommodation in the Sassi (the historic part of the city).
We stayed in an incredible cave house in Matera.

It can sleep 4 guests and it was just such an incredible experience, never mind that the views were to die for! Click here to check out the prices on Booking.com.

We loved watching the sun set over the glorious Sassi from our balcony.

However if you prefer a hotel, you can also find some adorable ones in the Sassi as well.
1. Sextantio Le Grotte Della Civita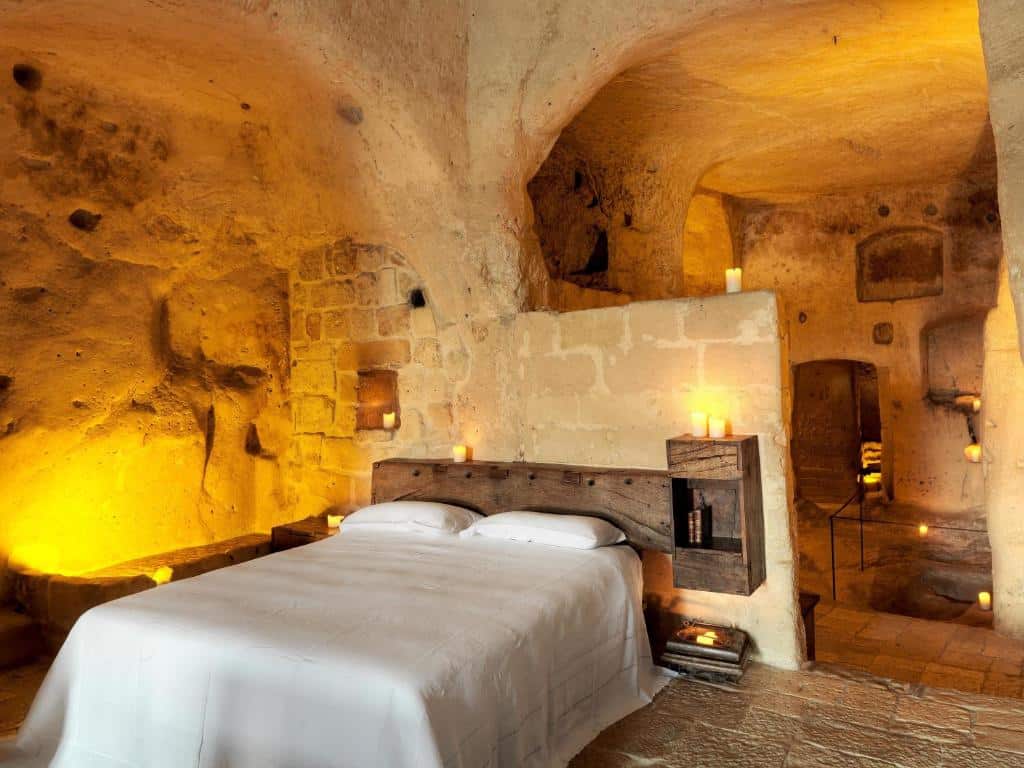 The Sextantio Le Grotte Della Civita is a unique hotel located in a restored 18th-century cave dwelling and offers guests a truly immersive experience in the historic Sassi neighborhood.
The rooms (that can sleep 2-5) are beautifully designed with natural stone walls and feature modern amenities like air conditioning and free Wi-Fi.
Overall, Sextantio Le Grotte Della Civita is a highly-rated and popular choice for travelers looking for an authentic and luxurious stay in Matera.
Check out pricing and availability on Booking.com
If you love a city vibe, some of the other best cities to visit in Southern Italy include Catania, Brindisi, and Bari.
---
2. Alberobello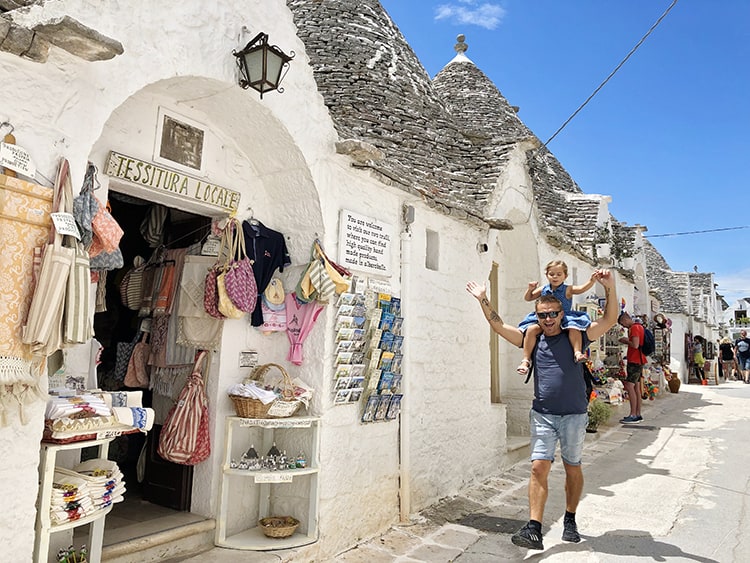 Alberobellow might be super touristy but it is also one of the most beautiful towns in southern Italy and one of the best places in Puglia.
Architecture doesn't get quirkier than the buildings you'll find in Alberobello's city center.
The small town is packed with 'trulli' (whitewashed huts constructed of dry stone and topped with cone-shaped roofs).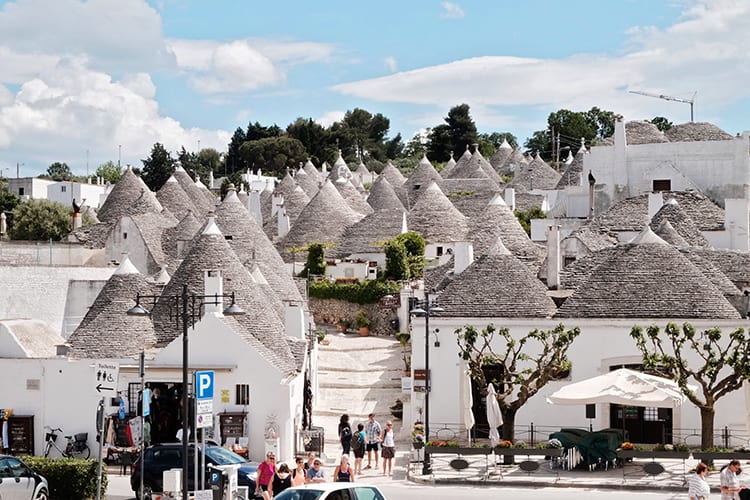 Also take time to sample some of the scrumptious bread this region is famous for – and to taste some delicious local wines, of course!
One of the best things about this gorgeous town is that you can easily explore this town in just a few hours.
The drive from your base town to Alberobello will take you through some picturesque olive groves, so it truly makes for a great day trip from towns such as Bari or Ostuni.
After experiencing Alberobello, you'll be certain that it's one of the best southern Italy towns!
Puglia might be one of the most underrated regions of Southern Italy. We loved our 2 weeks exploring this gorgeous part of Italy.
See our video of Alberobello here:
Tours We Recommend:
Where To Stay In Alberobello:
Some people base themselves in Alberobello, but we found that a few hours of strolling around was enough for us. We much preferred basing ourselves in Ostuni.

So as gorgeous and adorable as Alberobello is, I recommend you only organise it for a half-day or full day trip.

However, if you do wish to stay in a trullo then this is a great place to do so.
1. Trulli Holiday Albergo Diffuso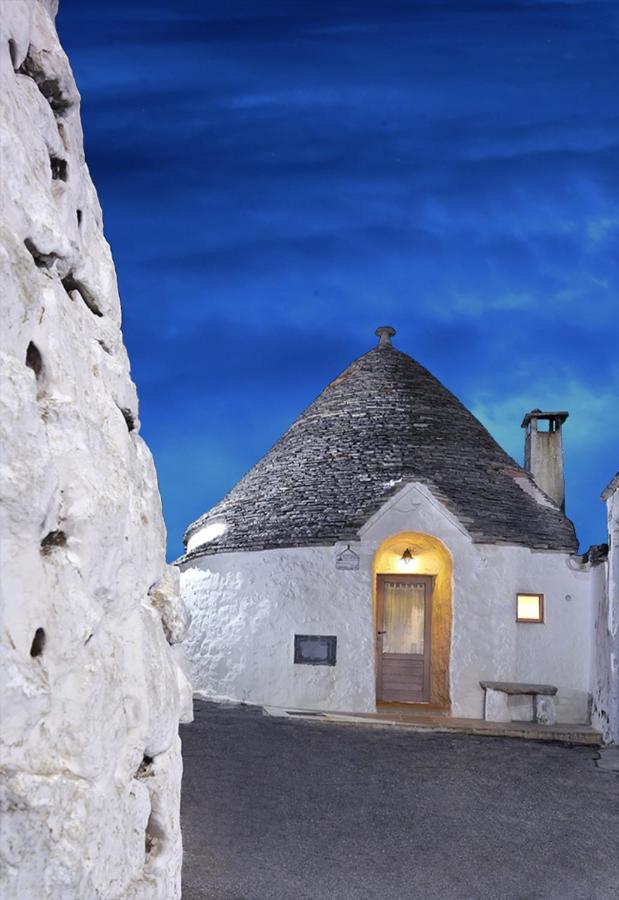 Trulli Holiday Albergo Diffuso is a popular and highly rated accommodation option in Alberobello.
This unique hotel consists of a collection of traditional Apulian stone houses called trulli, which have been restored and transformed into cozy guest rooms and suites.
The hotel is located in the heart of the historic center of Alberobello, making it a convenient base for exploring the town's attractions.
Trulli Holiday Albergo Diffuso has received excellent reviews for its friendly staff, comfortable accommodations, and authentic Italian charm.
Click here to check pricing and availability on Booking.com
---
3. Polignano a Mare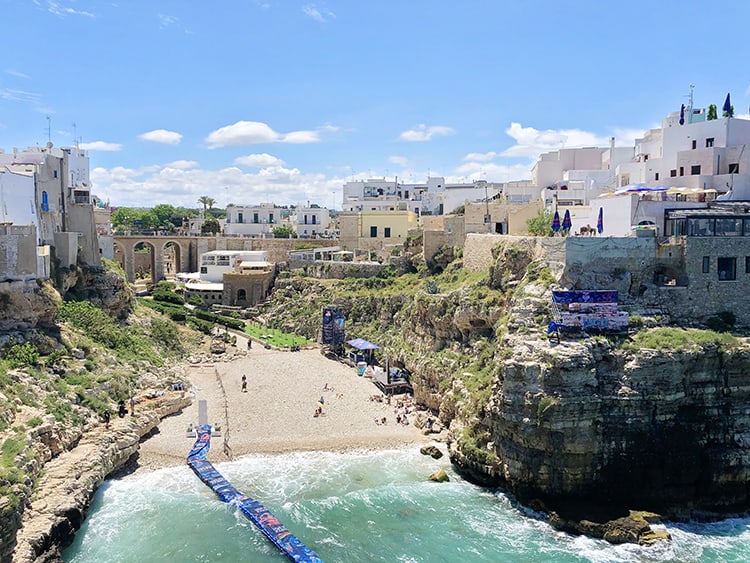 Polignano a Mare is quite literally a clifftop town (but regardless it is still a fabulous destination for those visiting Puglia with kids); the northeastern outskirts drop away very suddenly into the waters of the Adriatic Sea.
Naturally, this placement makes it the ideal location from which to witness stunning views, making the spot a southern Italy must-see.
The town is also well-regarded as having some of Italy's best-tasting gelato, which is the perfect snack to treat yourself to while taking in the gorgeous sights on offer.
Book yourself a romantic meal at the waterfront cave restaurant: Grotta Palazzese. What an unforgettable and unique experience that will be!
It is one of the best places to visit in South Italy if you want to sneak in some beach time as well.
Fair warning: The beach here in the town has large rocks on them. It is uncomfortable to walk on and lie down on.

Our kids didn't seem to mind them as much as we did, but if you have something like a yoga mat, it might be helpful to bring along to make it a touch more enjoyable to lie down on.

I've even seen people bringing those inflatable camping matresses to lie down on!
Tours We Recommend:
Where to Stay in Polignano a Mare
We stayed in Ostuni whilst we explored Puglia. However, I really loved Poligano a Mare. And when I return to Puglia I think I would like to base myself here.
Covo dei Saraceni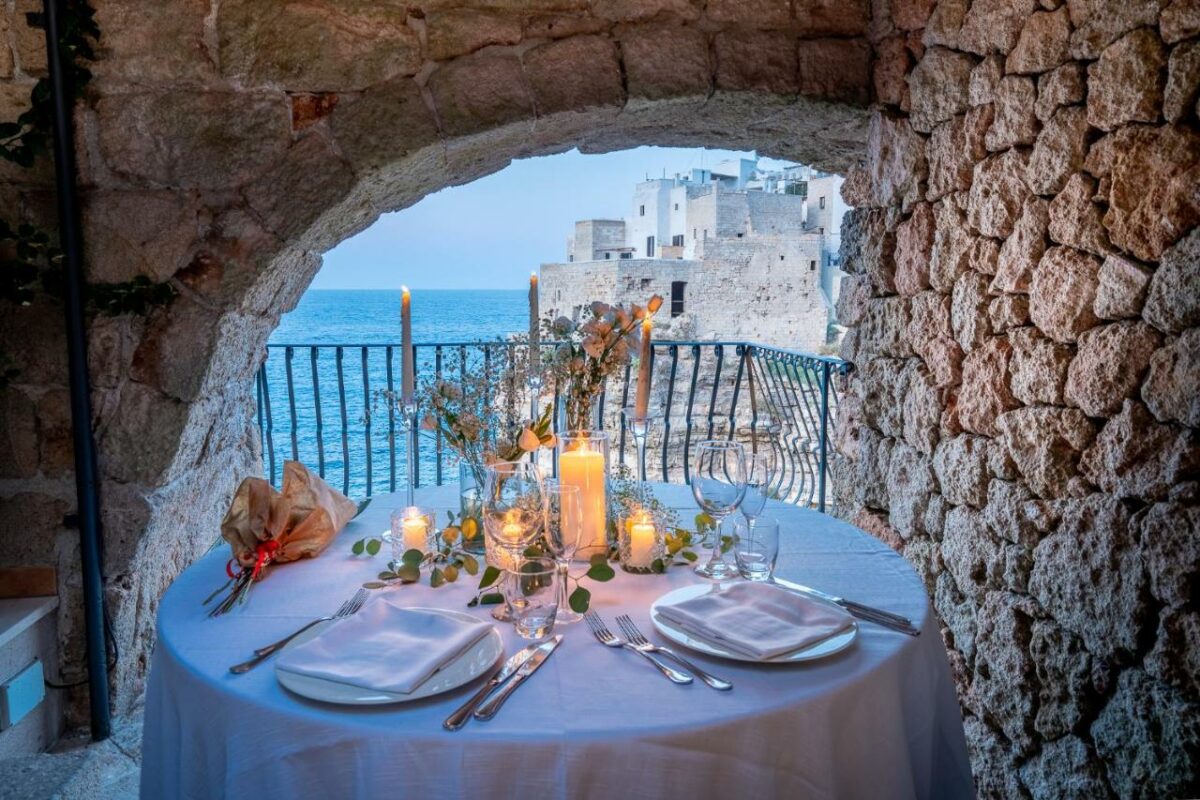 Covo dei Saraceni is a luxurious 4-star hotel in a prime clifftop location above a stunning pebble beach.
Guests can enjoy the most breathtaking views of the sea from the terrace of Il Bastione Restaurant, which specializes in local fish and seafood dishes.
Come summer, it becomes an exclusive outdoor dining experience.
Add to that panoramic views and an amazing coastal setting and you've got yourself a magical Italian escape – all that's left to do is book your stay!
Check here to see if Coco dei Saraceni is available for your stay.
---
4. Erice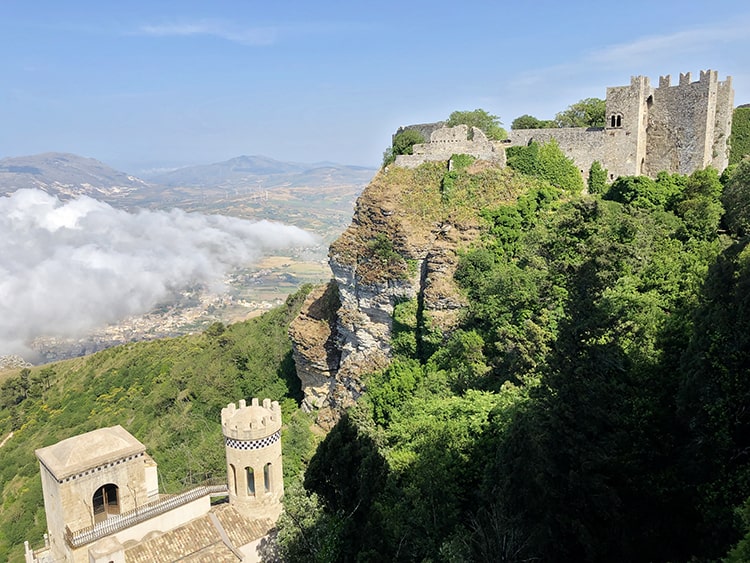 For one of the best small towns in southern Italy, head to Erice.
Sitting atop the intimidating Mount Erice near Sicily's north-western shore, this destination presents visitors with amazing views in all directions.
When you've finished admiring the sights of the Aegadian Islands, the port of Trapani, and San Vito Lo Capo, explore the wonders Erice itself has to show.
Two castles left over from centuries past still stand here, along with fortifications from ancient Phoenician times making it one of the best historic south Italy towns.
Erice is accessible via cable car from the outskirts of Trapani. As you ascend to town, you'll experience sensational sweeping views.
Alternatively, if the weather is subpar, you can opt for a bus to ferry you between Erice and Trapani.
This is a very worthwhile day trip from Trapani. We based ourselves in Trapani and whilst I don't care much for Trapani itself, it does make a great base for some of my favorite day trips in Sicily.
---
5. Taormina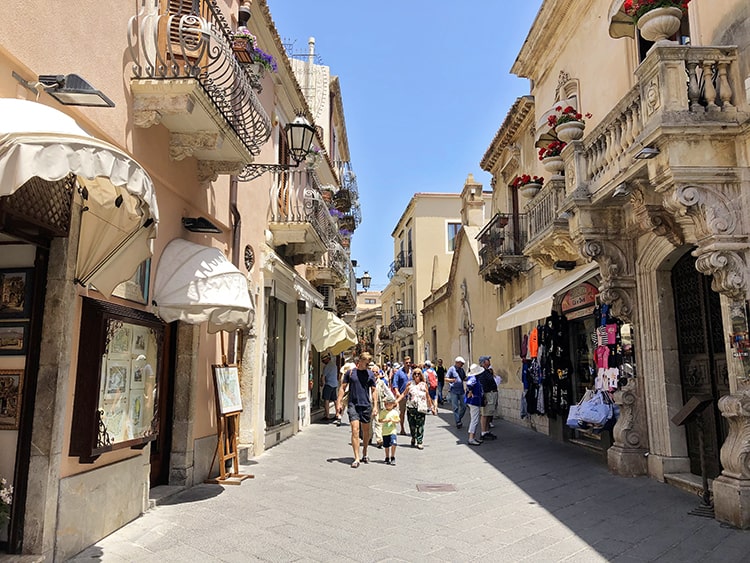 If you've heard of Sicily's Taormina before, chances are you already know the main attraction of this south Italy town: shops and restaurants.
Delicious food fills the streets with tempting aromas while boutiques and stalls of handcrafts will happily supply you with perfect souvenirs – perhaps even a few more than you really need!
Taormina is also home to a striking Greek amphitheater, lovely gardens, and cute cafes.
There are also some gorgeous beaches that you will enjoy at Taormina.
This town is one of our favorite destinations on the island of Sicily. You can read more about what to do in Taormina in our blog post here.
Tours We Recommend:
Where To Stay In Taormina
We stayed in Taormina for 3 nights and honestly, it was not long enough. You could easily spend 7 nights here!

We personally preferred to stay close to the beach as we spent more time on the beach in comparison to exploring Taormina itself.
UNAHOTELS Capo Taormina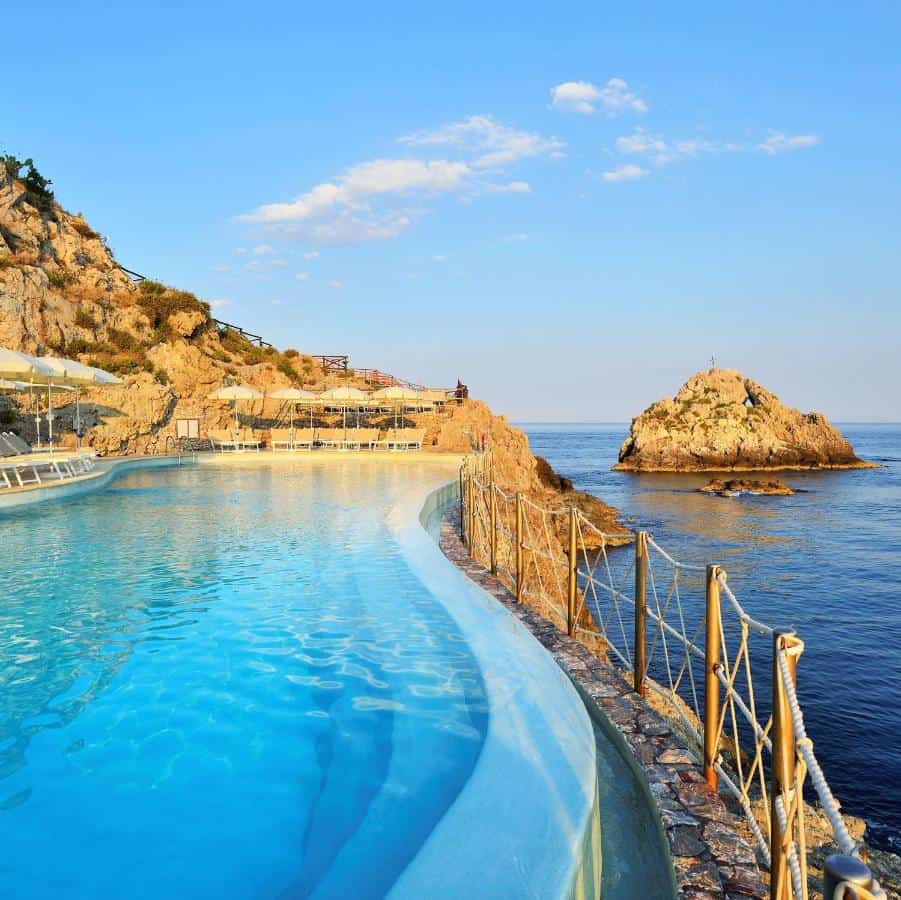 UNAHOTELS Capo Taormina is a 4-star beachfront hotel located right next to the Azure Mediterranean Sea.
With its private beach and unique sea-water swimming pool, this luxurious hotel also offers a free shuttle bus to/from Taormina Center, making it easier for visitors to explore the city.
The balconies in all rooms provide stunning views of either the garden or the sea, depending on whether you choose classic or superior.
Come experience UNAHOTELS Capo Taormina and create lasting memories in one of the most beautiful places in Sicily.
Check here to see if UNAHotels Capo Taormina is free for your stay.
---
6. Procida Island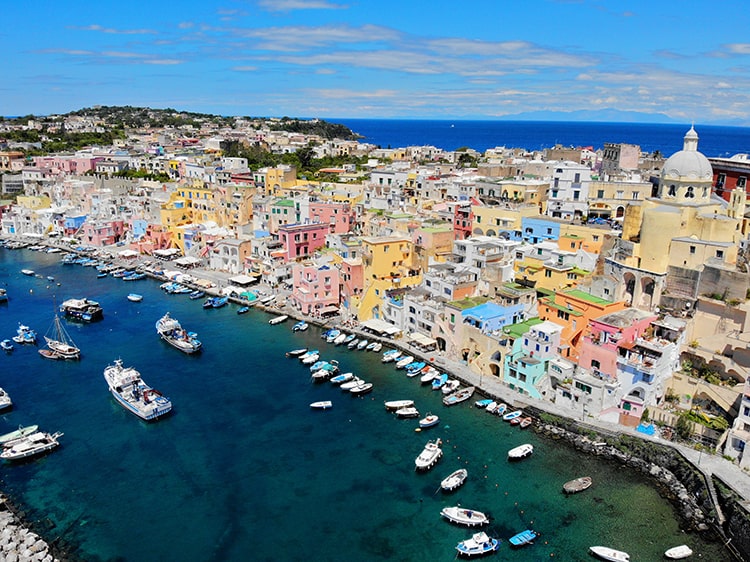 When planning what to see in southern Italy, make sure that you add this quaint, charming, and romantic small island to your list.
We spent 5 incredible nights on Procida Island. We loved visiting during the shoulder season when there were barely any other tourists and we could just immerse ourselves in the normal everyday life of the locals.
Most people visit Procida for a day trip as it is a really small little Island and easy to explore in one day.
Marina Corricella is the oldest village on Procida Island and it is basically where you will find the gorgeous photos that you have seen all over the internet of all the colorful buildings.
The entire space is arranged in an amphitheater on the sea and the age-old tradition of fishing in the village creates a relaxing and communal atmosphere.
Corricella is renowned for its unique architecture, so take the time to appreciate the arches, domes, terraces, and colorful facades.
You can watch our video of our trip to Procida here:
Day Trip From Naples:
Procida Island Day Trip with Lunch (Visit Procida on a day trip from Naples. Explore Procida on your own page, and enjoy an included yummy lunch at a restaurant. Ferry tickets from Naples and back are included.)
Where To Stay On Procida
Many people visit Procida on a day trip. I can't imagine trying to explore this tiny little island with so many other tourists.

We stayed for 5 nights on Procida and while you definitely don't need 5 days, staying for at least one night will allow you to see the quieter more beautiful side of this island.
Il Borghetto Apartments & Rooms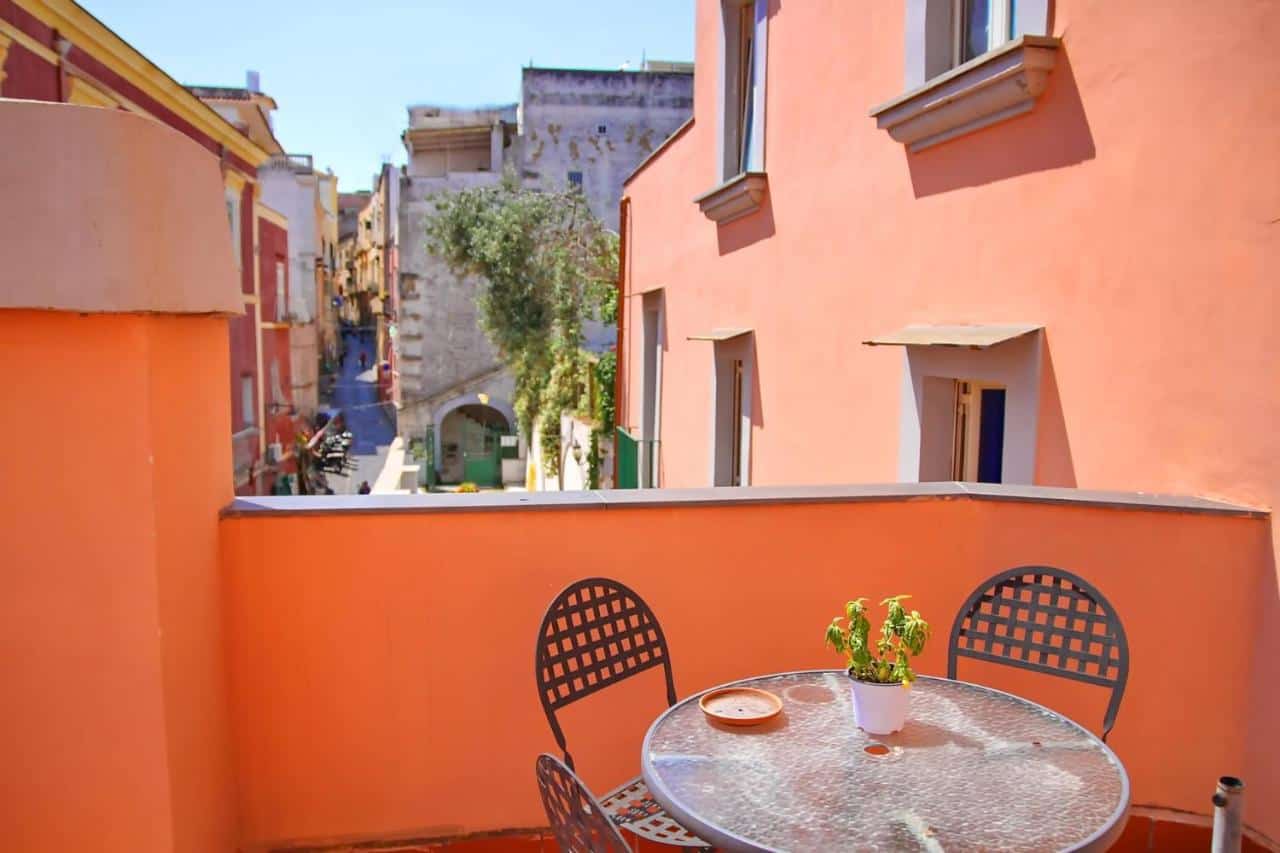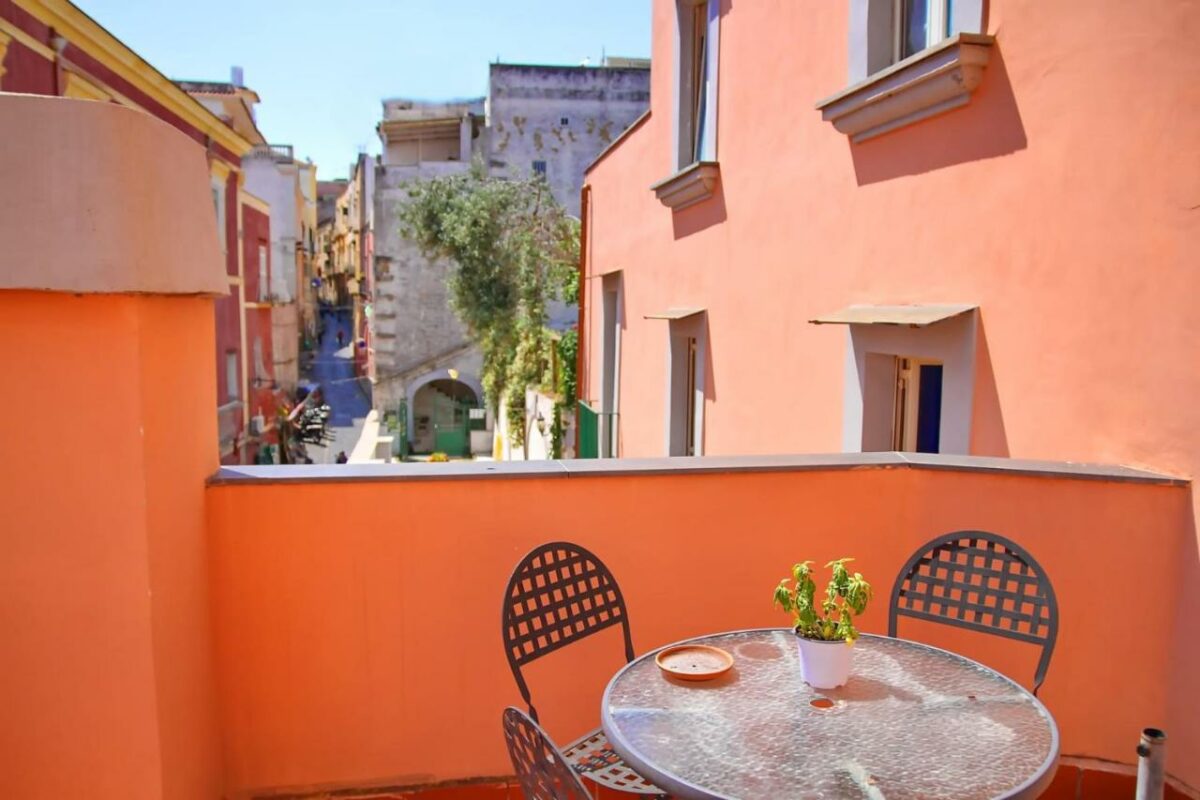 Il Borghetto Apartments & Rooms is the ideal guest home for your stay in Procida.
Located close to the port, restaurants, and shops, this bright, modern, and clean accommodation will ensure you get the most out of your visit to the island.
Plus, their excellent free breakfast served in a beautiful garden makes Il Borghetto an ideal spot for travelers!
See if this guest home is available for your stay in Procida.
---
7. Amalfi Coast Towns
A must-see in southern Italy, the charming coastal towns on the Amalfi Coast are unforgettable! Mountains and cliffs frame the sea, creating a wonderful sense of security within the towns.
From the pastel-colored homes in Positano to the views from Ravello, the towns along the Amalfi Coast are sure to steal your heart.
If you enjoy breaking a sweat while on holiday, be sure to go hiking in the area as it's known to have some of the most picturesque trails (give the Path of the Gods a try)!
The Amalfi Coast is a very popular tourist destination and chances are, you've seen the spectacular views of the area across the internet. Now it's your turn to get your own pictures.
Amalfi Coast Resources:
---
8. Sorrento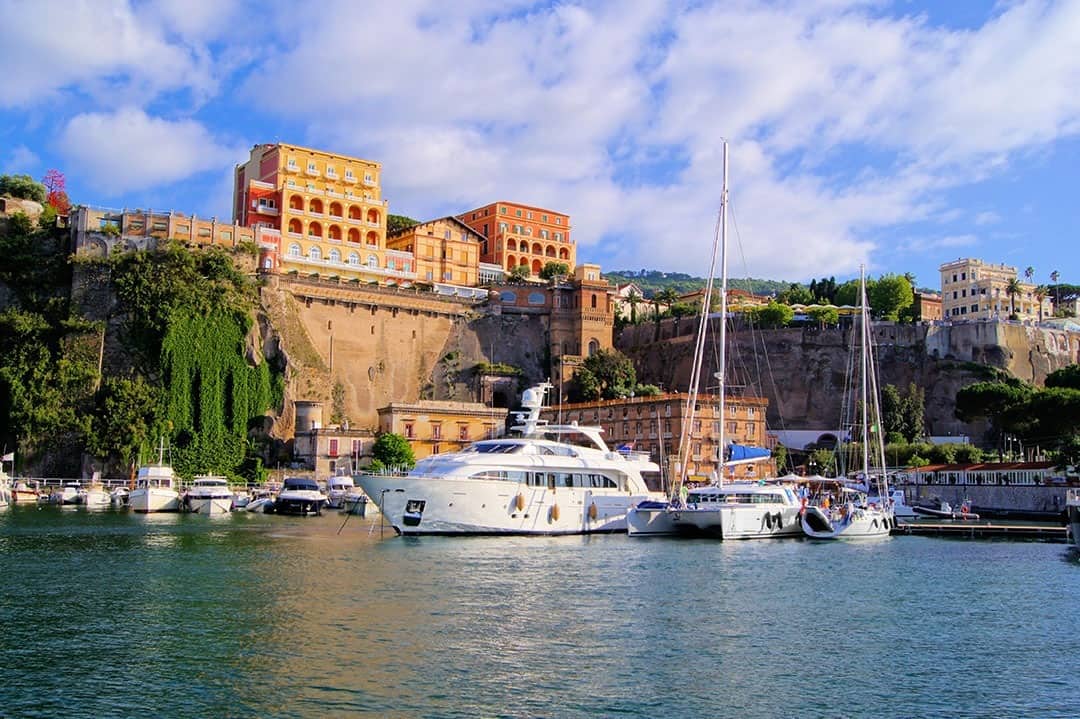 Known as the gateway to the Amalfi Coast, Sorrento has a long-standing reputation for being a must-see spot for southern Italy vacations.
The town is cloaked in literary romance, having been visited by the likes of Dickens and Tolstoy.
You can't help but feel the enchanting atmosphere of the town from the moment you arrive.
Due to its popularity over the years, the town has built an impressive repertoire of high-pedigree hotels and first-class restaurants, all shaped by charming Italian tradition.
Take your time shopping at Piazza Torquato Tasso, visit the multiple museums, and soak in the view of the Bay of Naples.
Wondering Where to Stay?
Tours We Recommend:
Book your full-day boat cruise to the Island of Capri (Explore the stunning beauty of Capri on a boat cruise. Snorkel in crystal-clear waters, discover the Green and White Grottoes, Casa Malaparte, and other island highlights.)
Book your full-day tour to Pompeii and Mount Vesuvius (Take a scenic ride from Sorrento to the stunning ruins of ancient Pompeii. Explore the arena, baths, and shopfronts on a half-day shared or private tour of this fascinating archaeological site.)
Book a full-day Amalfi Coast tour (Experience the stunning beauty of southern Italy with a scenic drive along the Amalfi Coast. Take in breathtaking views of Positano and Amalfi, and explore the heart of this fascinating town.)
---
9. Castelmezzano & Pietrapertosa
Although two separate towns, Castelmezzano and Pietrapertosa are so small, and so close together, that many travelers visit both on a single-day trip.
These are some of the best towns to visit in southern Italy if you want to get away from the crowds.
Castelmezzano has a reputation as being one of the most beautiful villages in Italy.
High up on the hills, above the Basento River, the town is magical both day and night.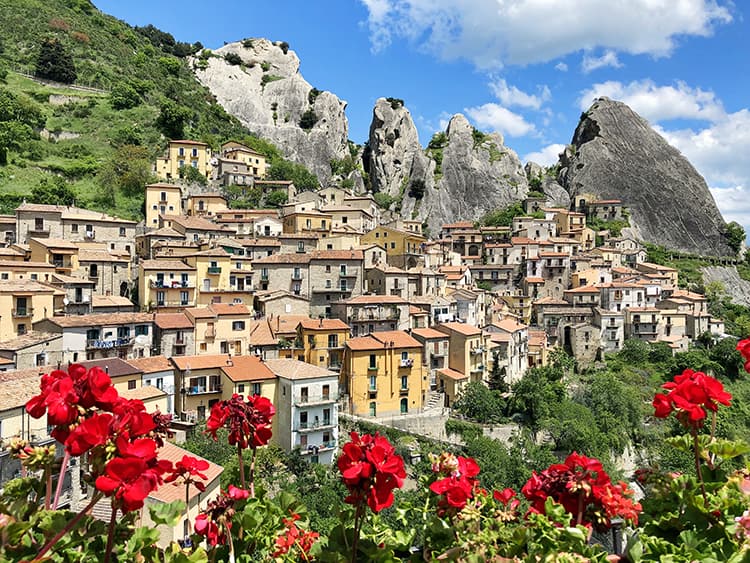 A stone's throw away, Pietrapertosa is a charming hamlet filled with history and culture.
The village is built entirely on bare rock and is full of single-family houses arranged in rows.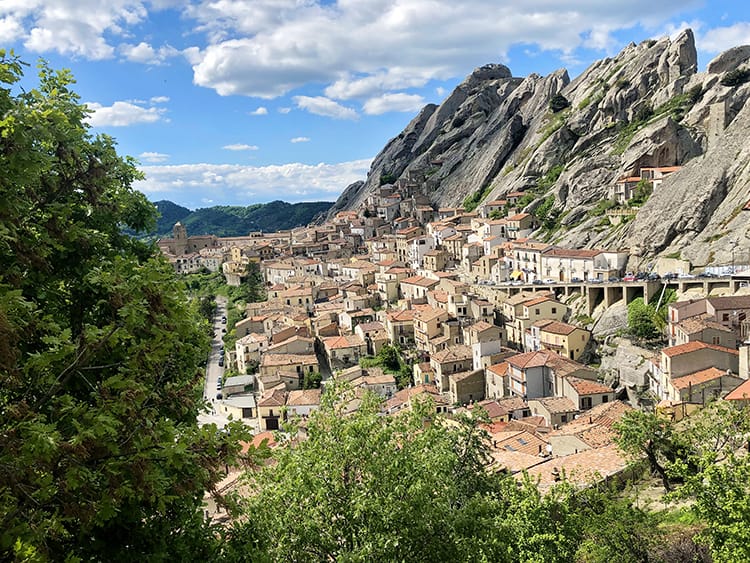 If you're looking for a unique and memorable experience, these two towns are a must-see.
I think it is best to visit both of those towns on a day trip, I wouldn't recommend you stay overnight.
We visited them both from Matera. You easily rent a car from Discover Cars for the day to make it easy for you to get to both towns. It is a wonderful drive!
It was honestly one of my favorite day trips. The towns were pretty sleepy and not much was happening, but they are just so unique and so extraordinary to see!
Tours We Recommend:
The best way to visit these towns is by driving. So if you have a rental car, you can easily visit them from Matera as your base town.
---
10. Pompeii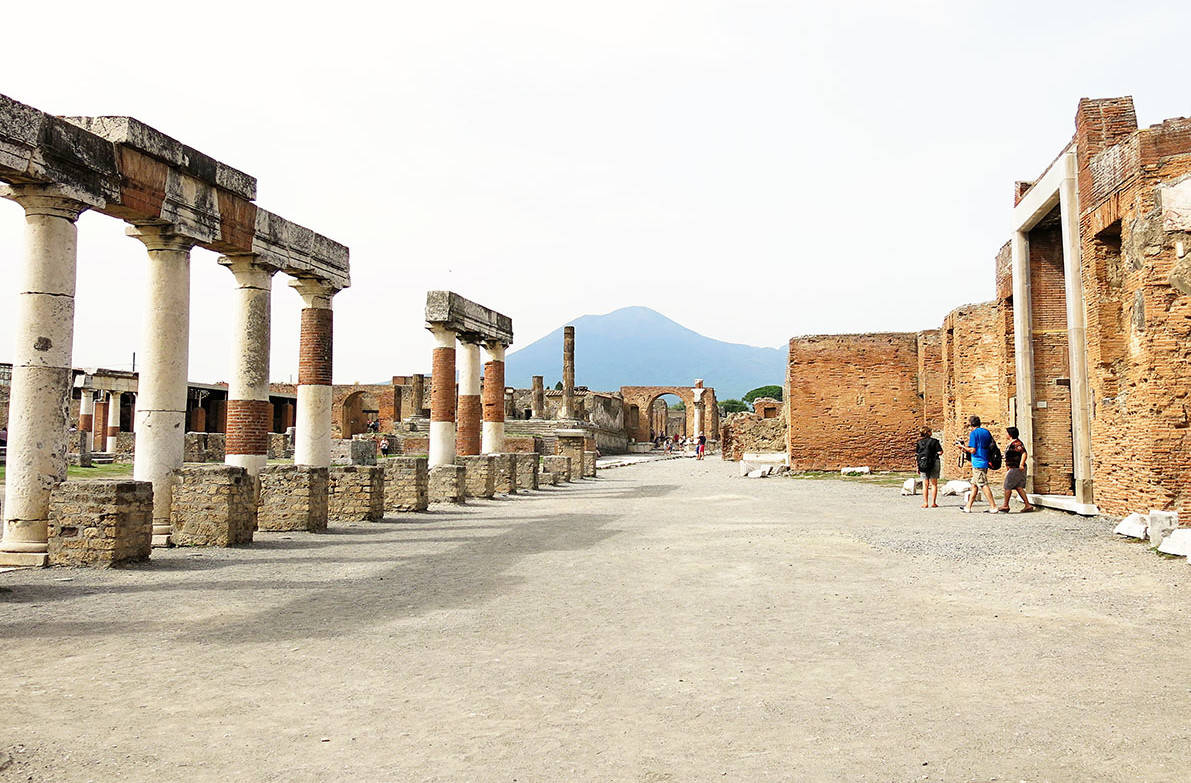 Pompeii is one of the best places to go in Southern Italy if you are a history buff.
When the famous volcanic eruption took place in 79 A.D., the ancient Roman city of Pompeii was buried under a thick blanket of volcanic ash.
Today, these ancient ruins are a massive attraction for travelers worldwide.
Whether or not you are a history lover, a trip to Pompeii is incredibly enriching. A visit to Pompeii's archaeological ruins highlights the most fascinating and best of southern Italy's rich history.
Get whisked away to a time long gone as you explore the beauty of Italy's lost city. You can read about our time visiting Pompeii here.
If you have extra time, you can also easily visit Herculaneum from Pompeii. Car or taxi rides will take you anywhere from 20 to 40 minutes.
Book a Day Trip to Pompeii:
We personally stopped at Pompeii on our drive from Naples to Amalfi Coast.
I wouldn't stay overnight in Pompeii, so I recommend you either do it as a day trip from Naples or perhaps as a stop on the way from Naples to Sorrento or Amalfi Coast.
Tours We Recommend:
---
11. Cefalu
One of the best cities that southern Italy has to offer, Cefalu offers an incredible combination of experiences for holiday-goers.
On the shores of Sicily, Cefalu is home to one of the best beaches in the area, architectural masterpieces, and quaint cobble-stoned beautiful beaches.
Make sure that you take the time to visit the little port and watch the local fishermen going about their daily business.
We mostly spent our days simply strolling around the gorgeous walking streets in the old town, as well as enjoying some lazy days on the beautiful beach.
Easy-going and accommodating, Cefalu is the epitome of true Italian culture.
Book a Day Trip to Cefalu:
Tours We Recommend:
Where To Stay In Cefalu:
We made the mistake of booking an Airbnb on the outskirts of Cefalu.

On the map it looked like it wouldn't take long to get from Cefalu to our accommodation, however, the roads were windy and curving around the mountain and it took longer than we wanted.

Which meant that it felt like 'too much effort' to get to Cefalu and back again.

So I highly recommend you stay close to the beach in Cefalu itself.
Hotel Kalura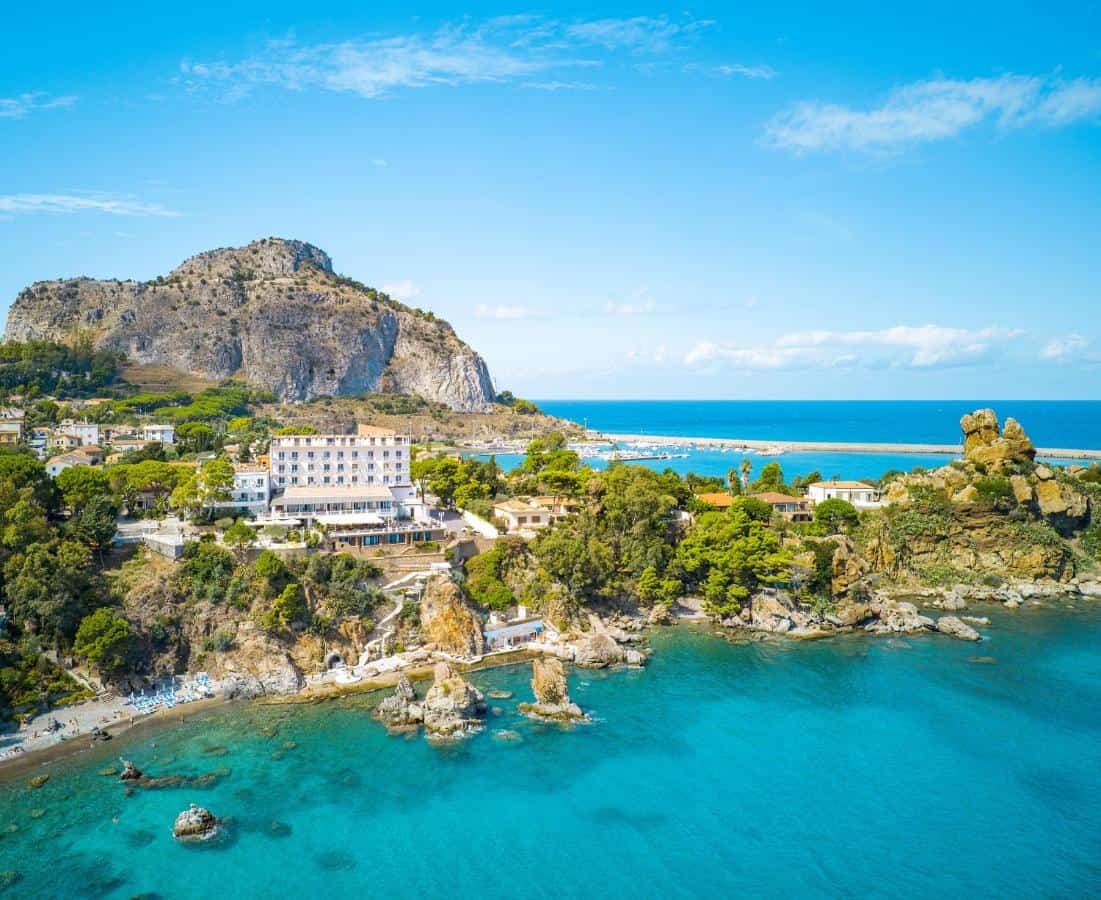 Hotel Kalura is a luxurious 4-star beachfront hotel in Cefalu, with a stunning view of the Rocca of Cefalù.
Guests can spend their days lazing around on the private beach or taking a refreshing dip in the pool. Additionally, there is a tennis court for those who are feeling active.

All rooms at Hotel Kalura are Mediterranean-style and offer balconies with most overlooking the bay.
No matter what room you choose, you'll be able to take in breathtaking views that will make your stay unforgettable.
See if Hotel Kalura is available for your stay in Cefalu here.
---
12. Ostuni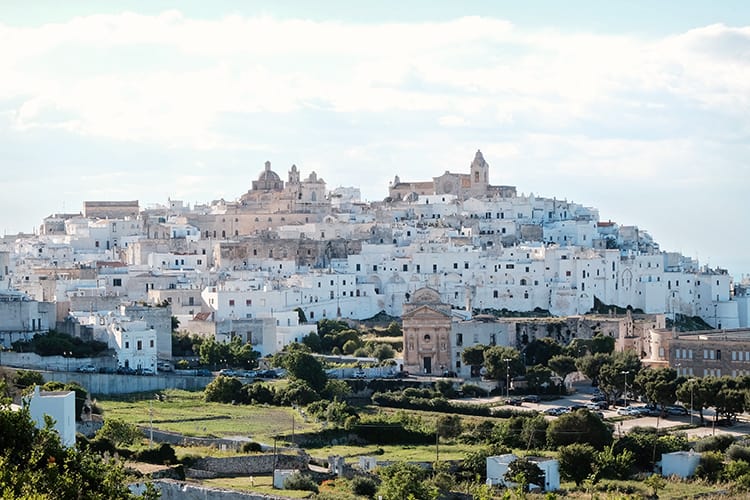 Known as the 'White City", Ostuni in Puglia, announces itself to travelers before even arriving.
The city rises high above the ocean and boldly claims its territory by boasting a labyrinth of houses, arches, and chapels. It really is quite a sight to behold.
If you are a lover of history, then Ostuni is an essential addition to your itinerary.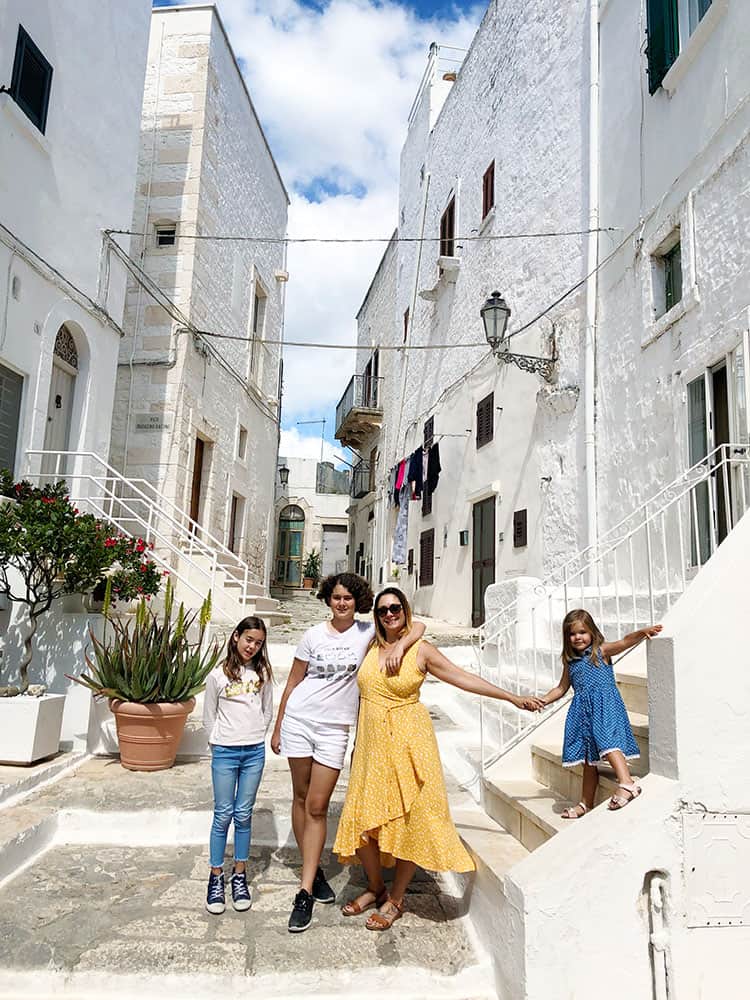 Take your time getting lost in the alleyways, climbing all of the staircases, and discovering all of the nooks!
We actually based ourselves for 2 weeks here in Ostuni, so by the time we left we almost felt like locals.
Our favorite restaurants included Porta Nova (fantastic seafood), Pizzeria Notti Bianche (for Neapolitan-style pizza), and La Pastasciutta (for pasta).
Tours We Recommend:
Book your walking tour with a gelato tasting here (Take a walking tour of Ostuni's historic center with a local guide, visit the Cathedral, and soak in breathtaking views from the highest point. Discover hidden gems and experience Ostuni's full flavor!)
Book your olive oil tasting tour here (Explore Ostuni's hidden olive groves and rich history, while you taste three types of extra virgin olive oil during a unique one-hour tour. Don't miss it!)
Where To Stay In Ostuni:
We personally based ourselves in Ostuni whilst we explored the Puglia region.

We had a wonderful time and it is so central to some of the most popular destinations in Puglia.
1. Hotel Monte Sarago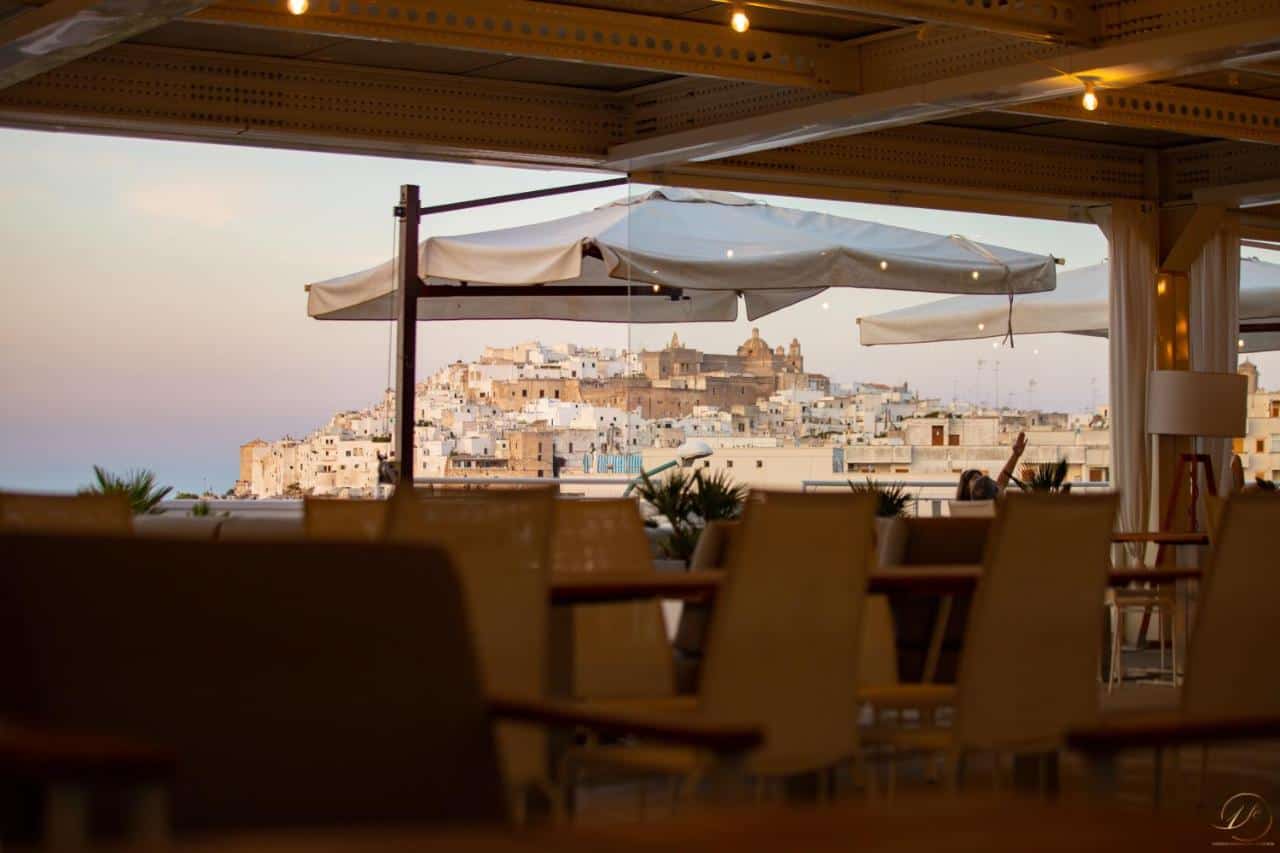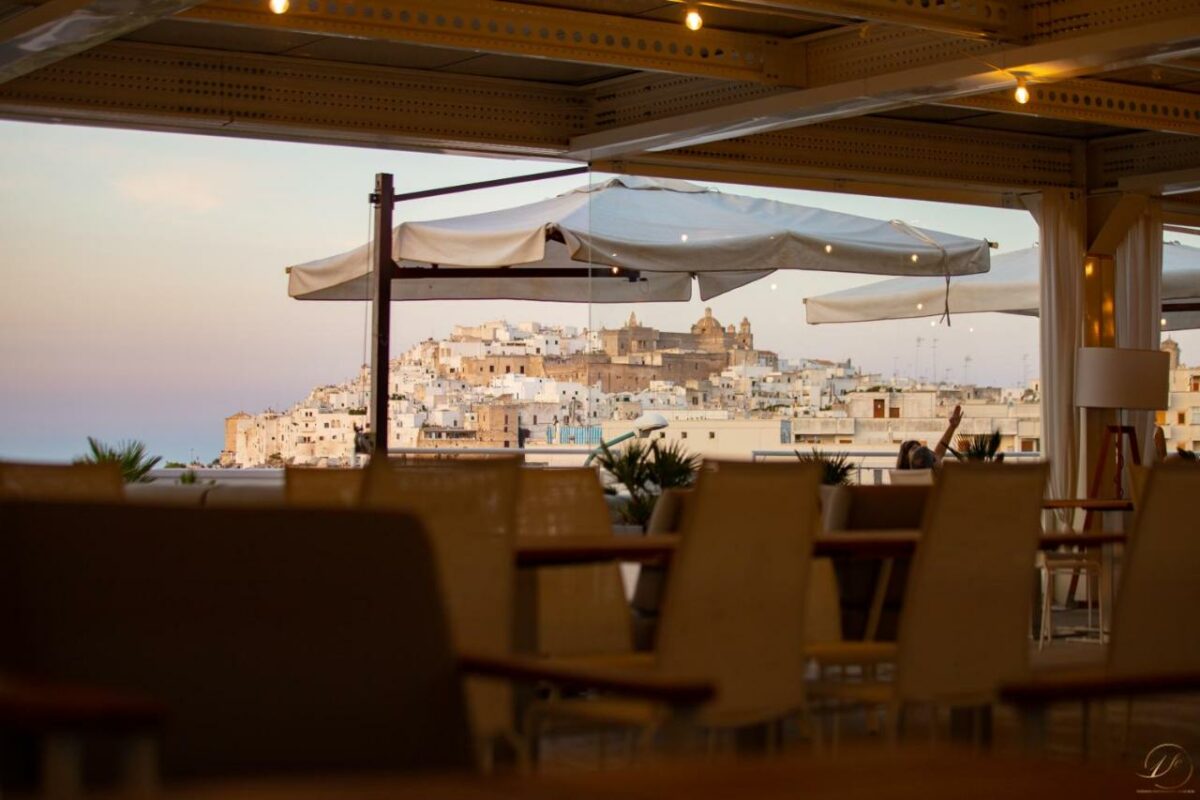 One popular 4-star hotel in Ostuni, Italy is Hotel Monte Sarago. It is located in the historic center of the town and offers stunning views of Ostuni.
The hotel features elegantly furnished rooms, a rooftop terrace with panoramic views, a restaurant, and a spa.
The rooms are spacious, comfortable, and equipped with modern amenities.
Guests have praised the hotel for its excellent location, friendly staff, and luxurious amenities.
See if Hotel Monte Sarago is available for your stay here.
---
13. Tropea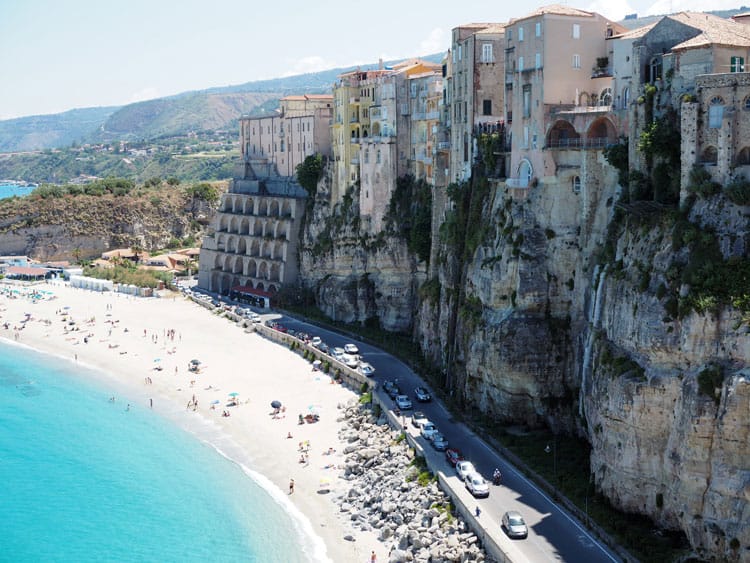 The secret beach town of Tropea is a hidden gem. The rugged, yet picturesque, piece of paradise is one of the best towns in southern Italy to both explore and relax in.
Although it can get crowded during July and August, a trip to the haven during May, September, and October will provide a surreal experience.
If you do manage to pull yourself away from the tranquility of the beaches, then make sure that you visit the Santa Maria dell'Isola, Centro Storico, and the Norman Cathedral for an all-around Italian experience.
Tours We Recommend:
Where To Stay in Tropea:
Wondering where to stay in Tropea? We have you covered! Here is the best hotel to stay in.
1. Hotel Rocca della Sena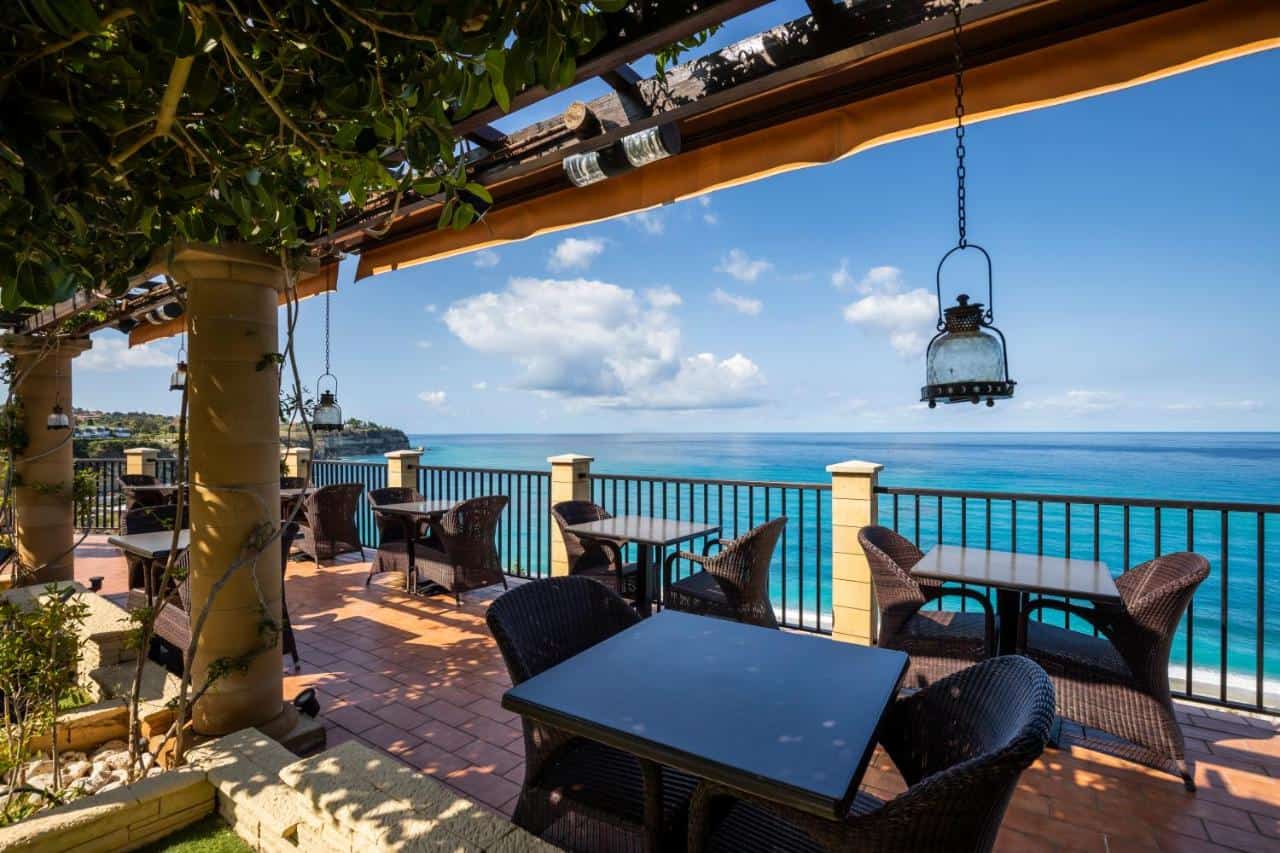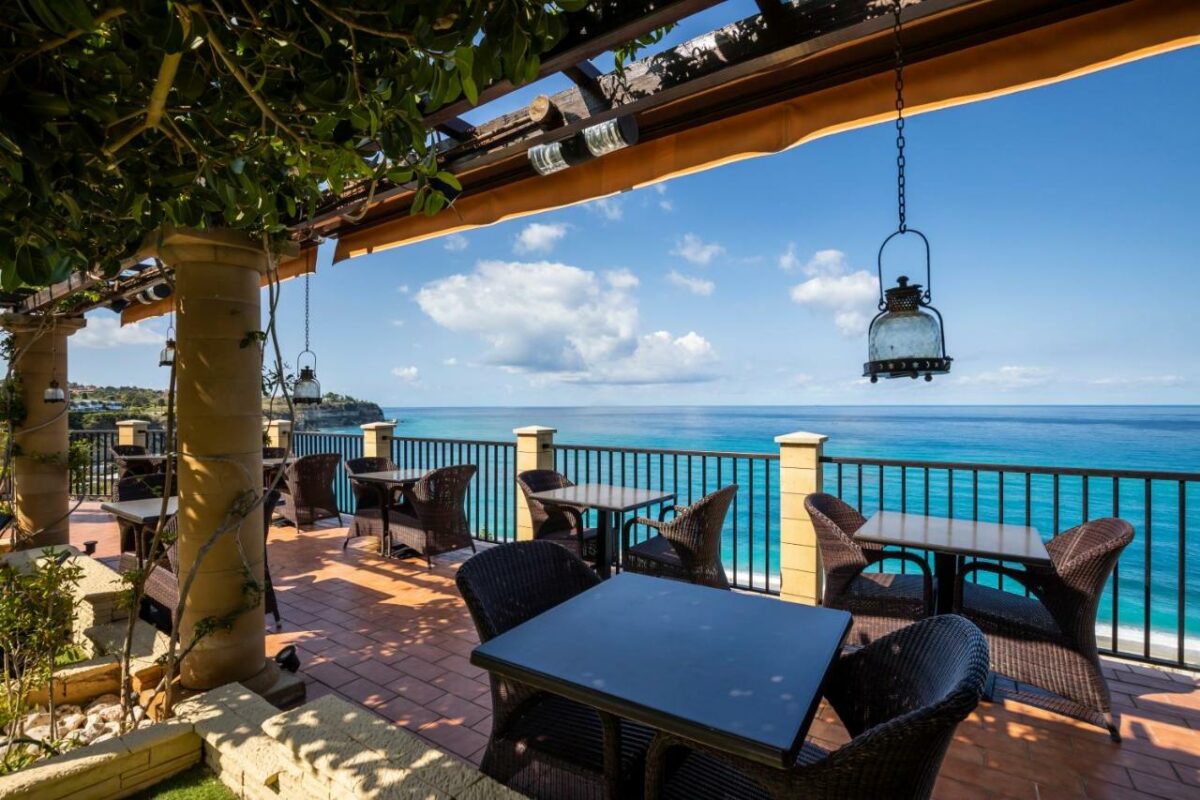 One popular hotel in Tropea, Italy is the Hotel Rocca della Sena. It is located just a short walk from the historic center of Tropea and offers stunning views of the sea and the surrounding countryside.
The hotel features comfortable and spacious rooms, an outdoor swimming pool, a terrace with panoramic views, and a restaurant serving traditional Calabrian cuisine.
It has received positive reviews from travelers and is known for its great location and excellent service.
Click here to see if Hotel Rocca della Sena is available for your stay.
---
14. Aeolian Islands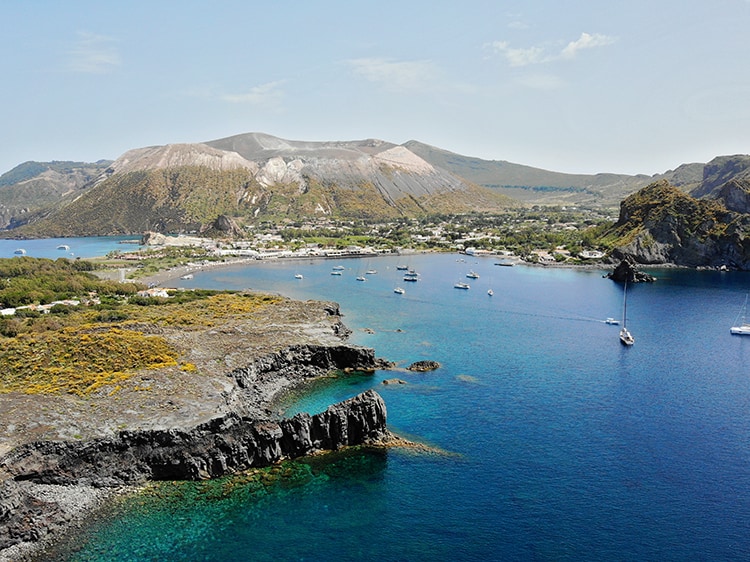 The Aeolian Islands in the Mediterranean Sea are worth a visit. Located on Sicily's northeastern coast, the Aeolian Islands include the likes of Vulcano, Lipari, Salina, Panarea, and Stromboli.
The largest, and arguably the most popular, of these islands is Lipari. However, each of the islands boasts uniquely beautiful features.
The seven islands offer travelers stunning waters, opportunities to dive, volcanoes to trek, and decadent wine to sip.
Regardless of which of the UNESCO-protected islands you visit, you're guaranteed an unforgettable experience.
The Aeolian Islands offer the ultimate trip for those venturing off the beaten path.
You can easily take a boat to get to these islands or you could choose one of the organized tours listed below.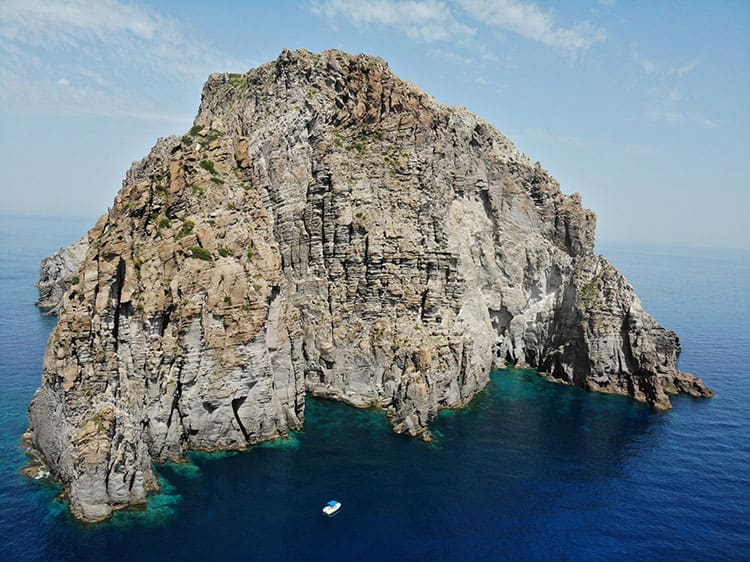 As we were traveling as a family of 5, it was cheaper for us to rent a boat rather than take an organized tour.

And I'm so glad we did as it was an incredible day exploring the islands and enjoying some swimming spots.
Book a Day Trip to the Aeolian Islands from:
Tours We Recommend:
Visit an active volcano! Book your spot on the Stromboli Summit Crater Excursion (Join a guided sunset hike to witness stunning lava explosions on Stromboli. This 5-hour tour ends late at night and requires an overnight stay.).
Where To Stay In The Aeolian Islands:
There are plenty of awesome options of where to stay to explore the Aeolian Islands. We found the most lively island to stay on is Lipari Island.

Saline is another great option as it has plenty of restaurants and bars but also has a beautiful nature aspect to it as well.

We personally enjoy basing ourselves on Malfa. It feels quiet, and local and we love it.
Lipari Island: Hotel Borgo Eolie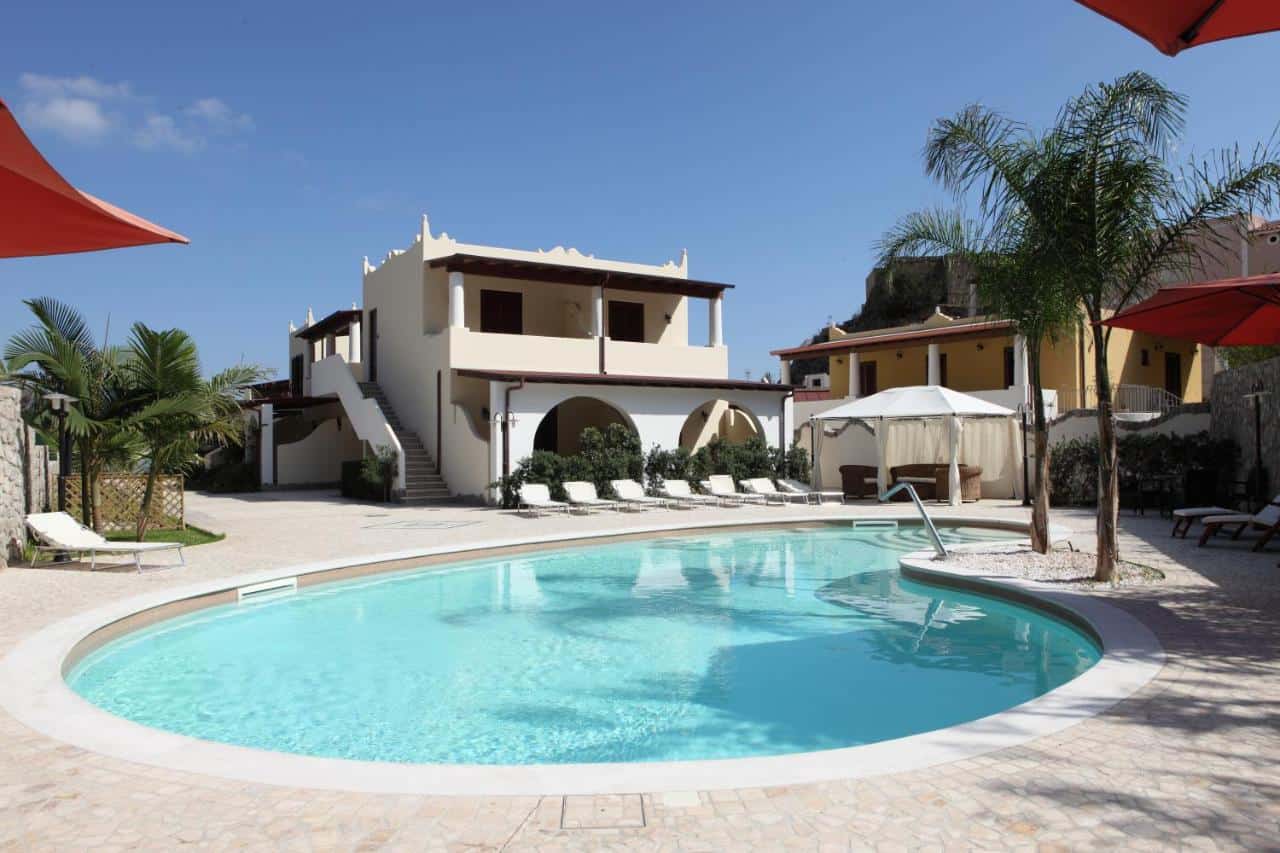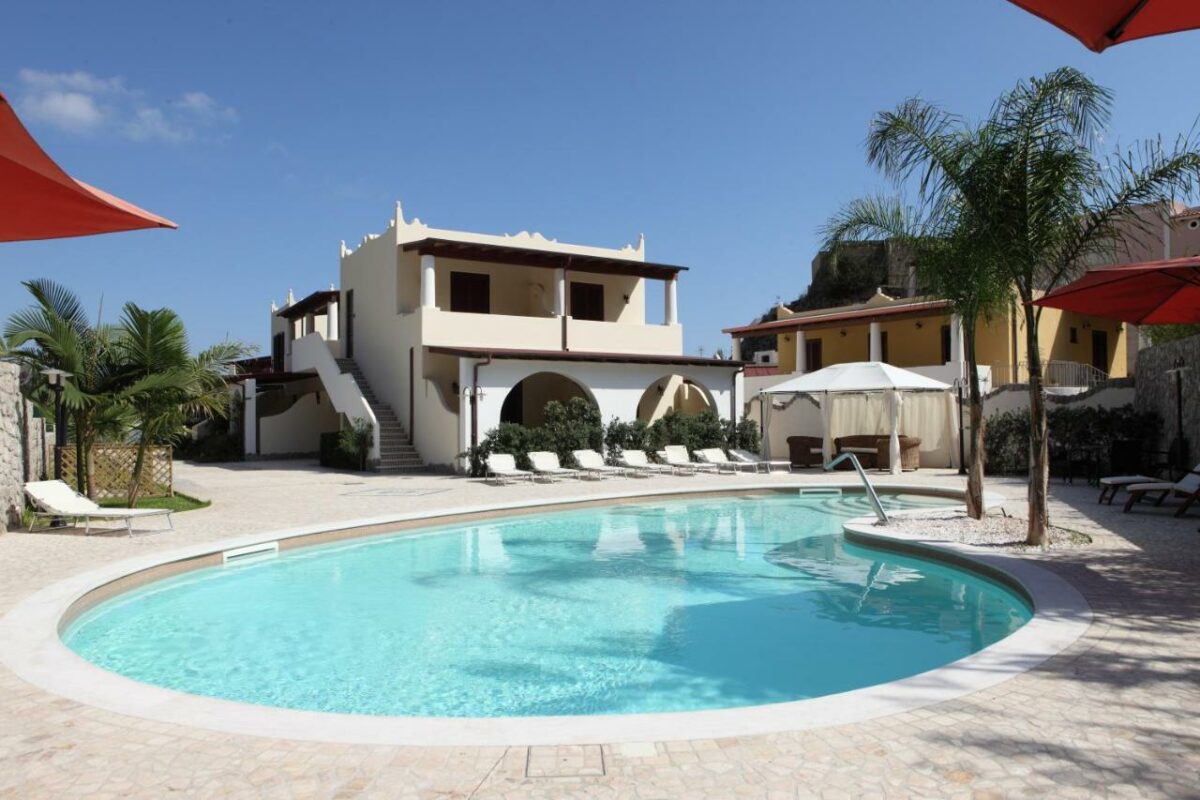 Hotel Borgo Eolie is the perfect place for travelers visiting Lipari Island to get great value for their budget. It is the most popular hotel on the island.
This 3-star hotel offers all the creature comforts of home, with an outdoor pool with hydro-massage, a buffet breakfast in the morning, and even a free shuttle service to/from the Lipari harbor.
They have double, triple, and quadruple room options. The rooms are spacious, although perhaps a bit dated.
Hotel Borgo Eolie is a great and affordable option for your stay on Lipari Island.
Check price and availability on Booking.com
---
15. Capri Island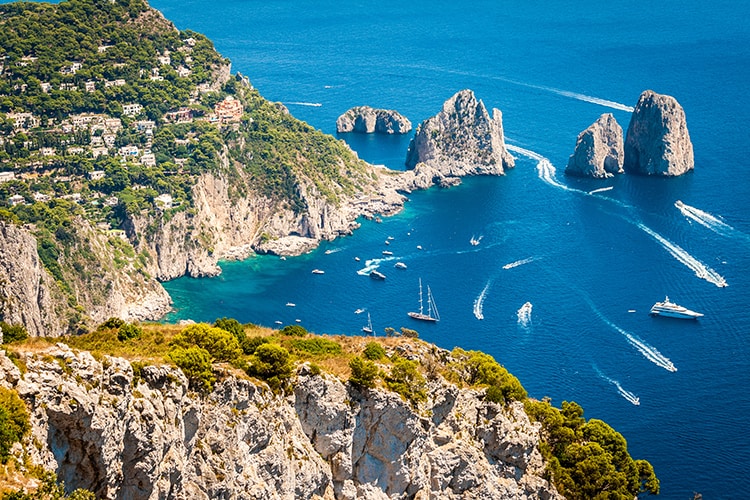 Capri is a must when you visit southern Italy. Located in the Tyrrhenian Sea, Capri is made up of three island outposts.
The beauty of the area is breathtaking, with steep cliffs descending into the turquoise water.
Be advised that the exclusivity and magnificence of Capri mean that the price of visiting is significantly higher. However, one glance at the sublime space, and every penny becomes worth it!
The best time to visit this island is definitely outside of the peak summer months (June-August).
So we highly recommend you book your day trip in May or September if you can – it's the only way to avoid the crowds.
Or treat yourself to a few days in a villa on Capri Island.
You can read about our day trip to Capri Island from Positano here.
Book a Day Trip to Capri from:
Tours We Recommend:
Where To Stay In Capri:
We visited Capri on a boat tour. But we spent so long waiting at the Blue Grotto to get a turn to go inside that we didn't have much time to spend at Capri itself.

I don't feel like I had enough time to enjoy the beaches or really even have a proper explore around.

So if you want some beach time, I highly suggest you stay for a few nights on this romantic island.
1. Capri Palace Jumeirah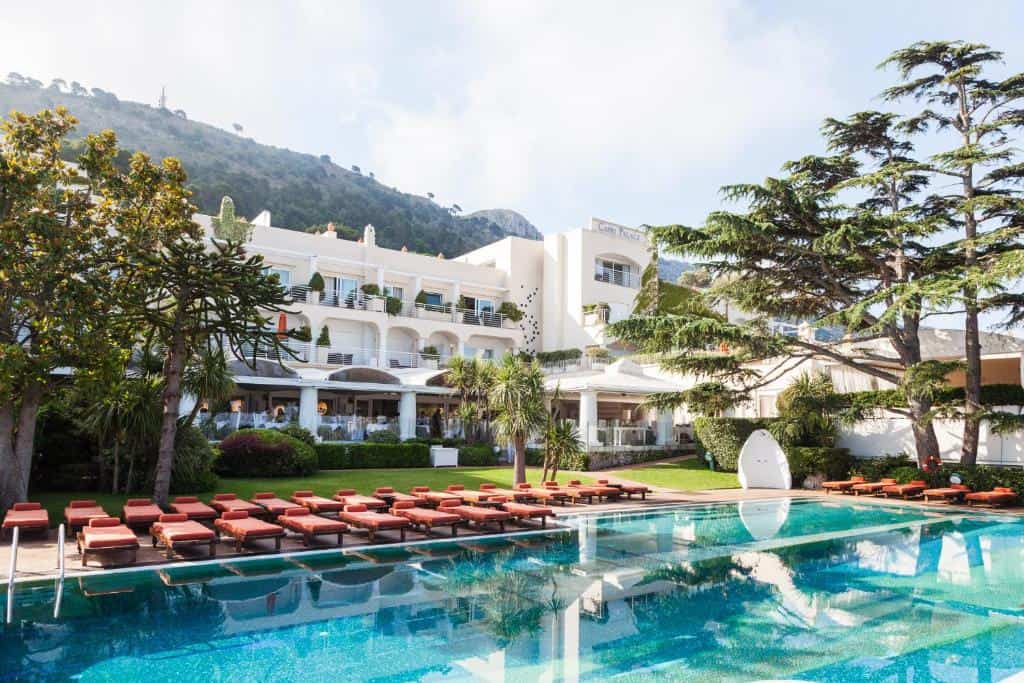 This luxurious hotel is located in the town of Anacapri and offers breathtaking views of the Gulf of Naples.
The hotel features elegantly designed rooms and suites, all equipped with modern amenities.
The Capri Palace Jumeirah also offers a range of facilities including a spa, fitness center, outdoor swimming pool, and several restaurants and bars serving delicious Mediterranean cuisine.
It is a popular choice among celebrities and high-end travelers seeking a luxurious retreat on the stunning island of Capri.
Click here to check prices and availability for the hotel.
---
South Italy FAQs
Here are some answers to some of the most commonly asked questions.
1. Is Southern Italy Worth Visiting?
YES! Southern Italy is one of the best destinations you can choose for your vacation – whether you are traveling solo, with your kids, partner, or group of friends.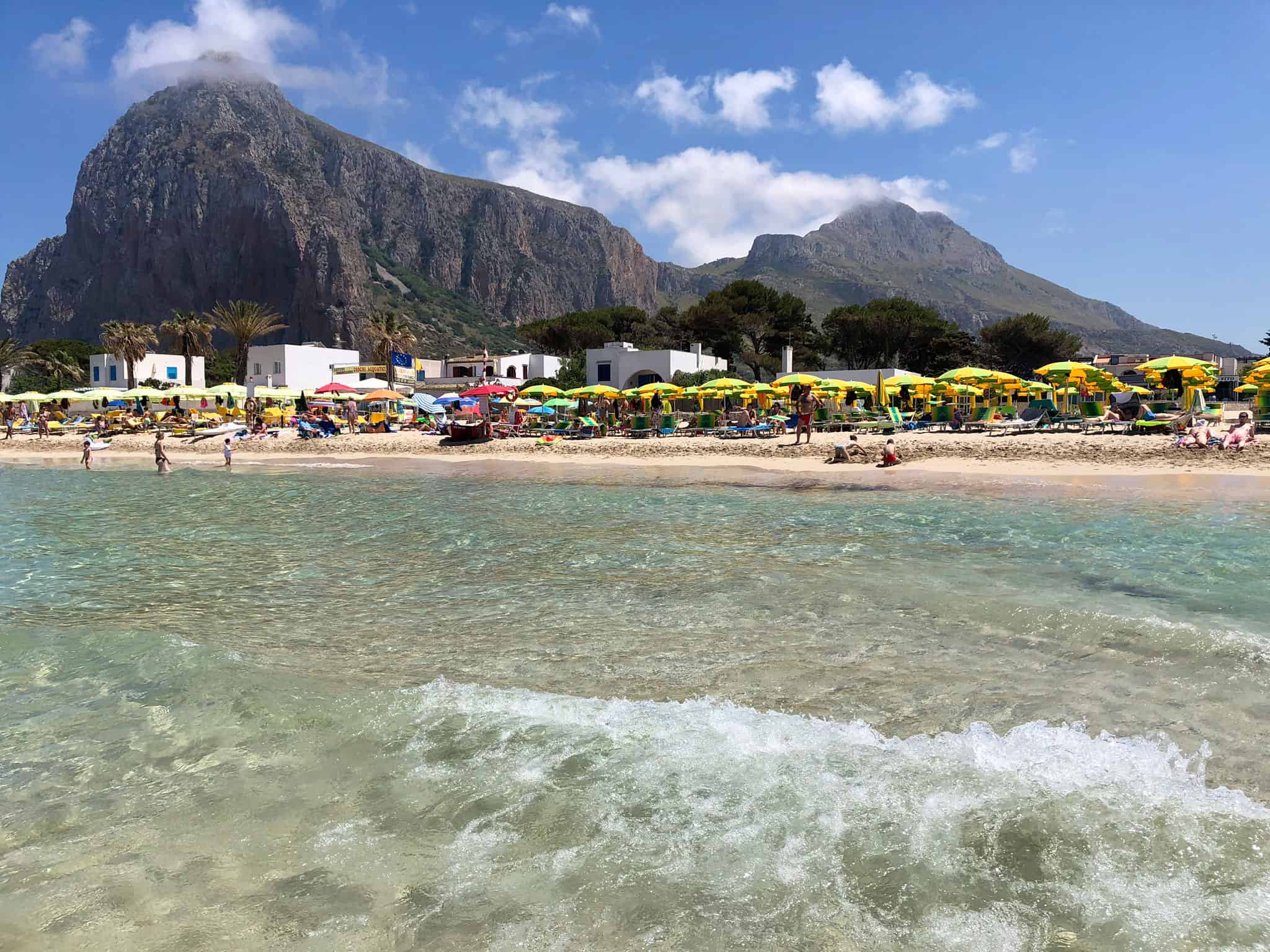 There's something for everyone: wild beaches for snorkeling or fully-equipped ones with shallow waters for swimming in safety, historical city centers with museums, churches, and streets to
2. What Is The Best Time To Visit Southern Italy?
Late spring and early autumn: May, early-June, mid-September, and October.

These months are the best as the climate is warm without being too hot and places are less crowded.
3. How Many Days Do You Need In Southern Italy?
It depends on whether you want to spend your holiday in close-by cities and beaches or take a road trip across a region (or two!)

My advice is to stay 10 days to soak up the wonders that Southern Italy has to offer!

However, one week is already a good amount of time.
4. What Is The Best City To Fly Into In Southern Italy?
Naples if you plan to visit the Amalfi Coast and Matera (alongside all the other places that the regions of Campania and Basilicata offer).

Bari if you will spend your time in Puglia and the surrounding areas.

From Bari, you can easily reach the Gargano area. Besides, the city is decently connected via train to Lecce – the starting point for traveling in magical Salento.

If you have a rental car, you can easily visit Puglia from north to south.
5. Is The South Of Italy Cheaper?
Yes, the south is the cheaper part of Italy – especially when it comes to the delicious southern cuisine!

In Naples, you can eat with no more than 10€ per person (and yeah, I'm talking about the pizza in the traditional pizzeria). The rule applies to the other southern regions as well.

If you travel off-season, you will also find cheap accommodations and activities.

Just keep in mind that, during the summer season, prices are higher everywhere.
6. What Is Southern Italy Known For?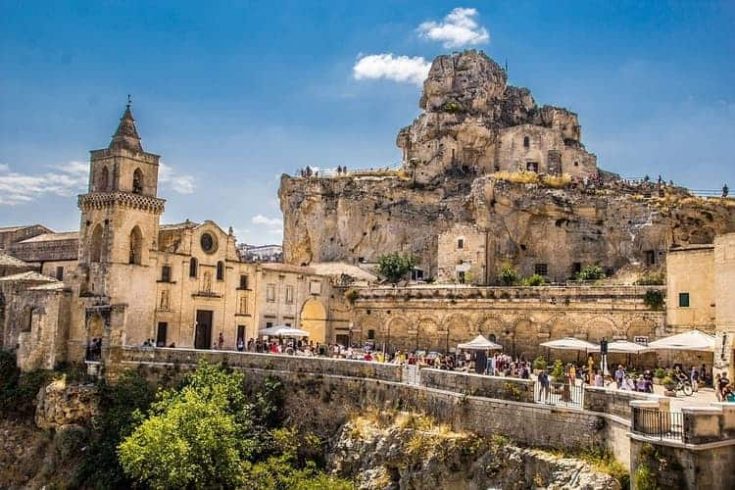 Southern Italy is mainly known for the beautiful Amalfi Coast with the town of Sorrento and the city of Naples with its precious invention – pizza.

However, Southern Italy is popular for many other UNESCO world heritage sites, including Pompeii, Caserta, Matera, and Alberobello.

In southern Italy, you will also find pristine beaches everywhere you go and the unmissable Tremiti Island (in Puglia region).

Last but not least, Southern Italy is world-renowned for its cuisine (which is much more than pizza!).
Final Thoughts On Must-See Southern Italy Cities, Towns & Islands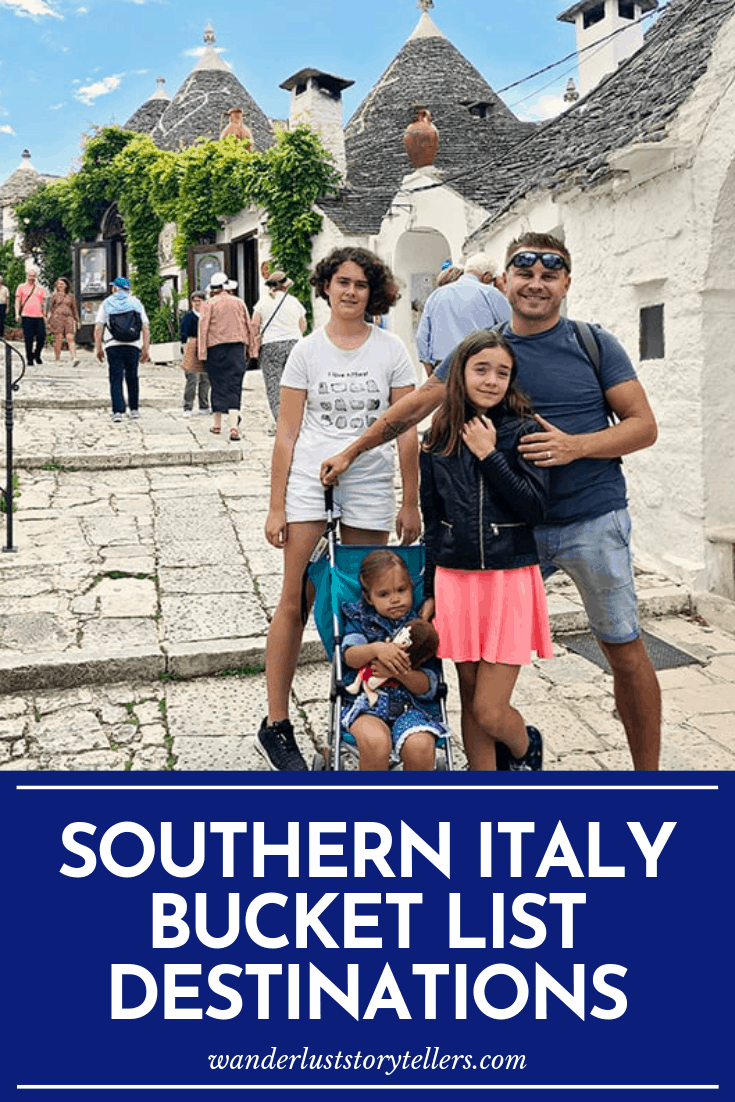 There's no question that any trip to Italy will provide you with plenty of wonderful memories (and even photographs!) to cherish for years to come.
While these 15 spots could be considered as the best South Italy cities, towns, and islands by many travelers, you should also consider your own interests and preferences.
Doing some independent research into the beautiful cities and countryside of southern Italy will help you truly get the most out of your time here.
We love Italy and we can't wait to see more and more of what this country has to offer!
Tips:
Are you looking for the easiest way to get around Sicily? You can save yourself a lot of heartache by simply booking a taxi.
We like to create our own itineraries and go where the wind takes us. But if you prefer to put your feet up and let someone else do the planning for you, check out our friends at Albatross Tours.
Are you traveling to Italy and want to know more about the EU visa requirements for Colombian citizens?
_____________________
Over to you:
What are you most looking forward to on your Southern Italy vacation?
Which of these 15 best of South Italy destinations do you want to see?