The glorious Eternal City called Rome.  A city so incredibly rich in history, from the glutinous Romans and the almighty gladiators to the deep dark secrets of the underground catacombs.  A city so magnificent with Roman ruins from an era long ago, scattered around various parts of the city to remind you of the history of where it all began.  There are so many things to see in Rome, that this city deserves a dedication of at least 2 days of exploration, but even more if you can allow it, as the 2 days of getting around to all the things to see in Rome will be pretty rushed!
Things to see in Rome
Vatican City, Crypts, Catacombs & Bones
–
(Day One)
To read about our second day in Rome, click here!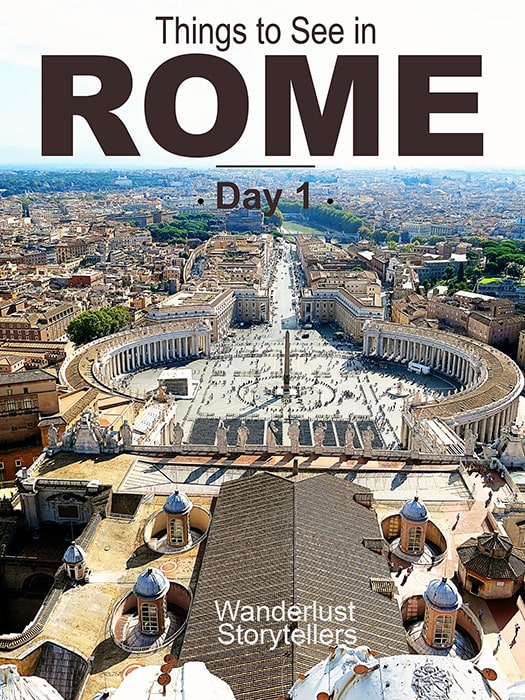 I had high expectations for Rome.  I'm not a city girl by any means or measures, but this was a city I desperately needed to see.  So after flight times of over 22 hours to get from Brisbane to this incredible Italian city, our wanderlust adrenaline set in, kicking the exhaustion to the curb, ready to explore all the things there is to see in Rome. 
A driver from our Rome Airbnb accommodation picked us up, bright and early at 7.10 am from the airport.  And in all honesty, as we were driving and I was eagerly peering out of my window at the sites, I was disappointed.  The high-rise apartment buildings were not what I had pictured in my mind.  Call me naive, but I was expecting ruins from the word 'go'.  I thought I would be able to spot all the things I wanted to see in Rome out of my window.  We were quietly summing up our destination. To top it off, our driver was impatient and nearly drove over an Italian who was crossing the road at less than snail pace; so my first experience of Italians, was being on the receiving end of a disgusting massive spit from the angry pedestrian at my window.  Yep, can you see the excitement drain away as I try now to NOT stare out of my window which is now covered in Italian saliva.
I guess the start to Rome was a blessing in disguise because as we arrived at our Rome accommodation which was brilliantly situated a few streets away from the Roman Forum and the magnificent Colosseum, we found ourselves right smack bang in the midst of the ruins. Here I found all the pictures I had in my head of what Rome was 'supposed' to look like.   Even the streets here were lined with a mix of old and new!  Ah yes!!!  This is what I imaged!  Happy now!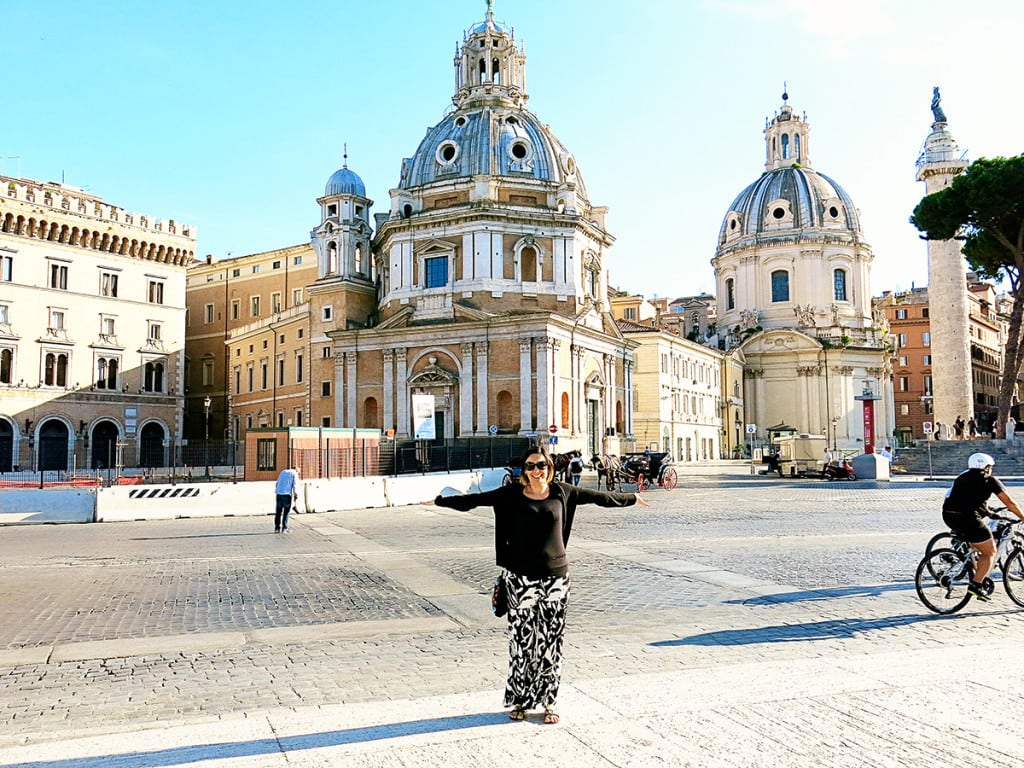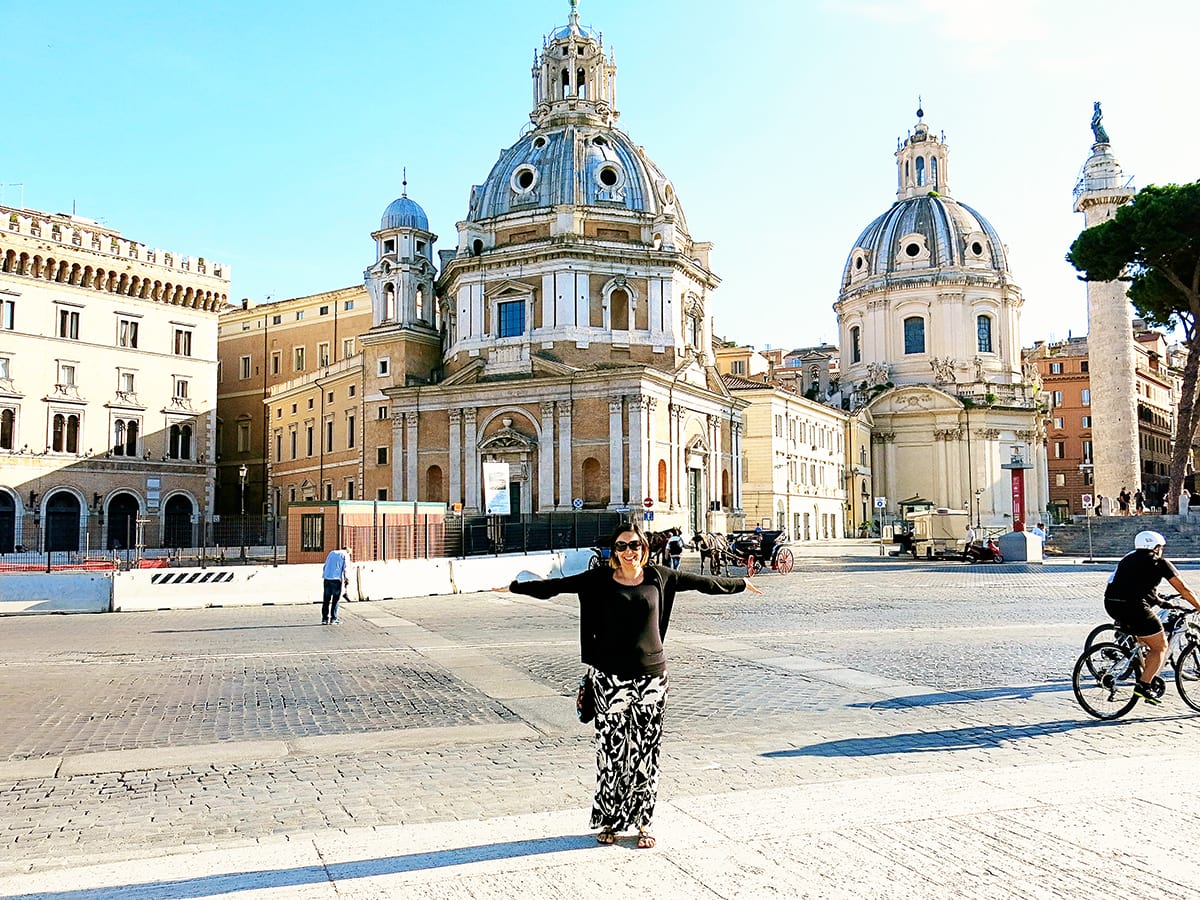 My heart skipped a beat. We dropped our bags at our Roma AirBnB accommodation – Made in Rome B&B  (Use THIS link for your AUD $35 discount, all  you  need to do is sign up for free and make your first AirBnB booking!!) with Max, our host, and without a shower and with very little sleep we hit the streets of the Eternal City.  Ready to explore some of the things to see in Rome!  The plan of action included the Vatican City, the Vatican Museum to see the Sistine Chapel, followed by a late afternoon exploration of the Catacombs of Rome!
Our view from our accommodation balcony. We highly recommended  this B&B!
–
The Vatican City and Saint Peter's Basilica:
Our first destination of Rome tourist attractions to check out was the Vatican City.  We were organised and turned up with pre-purchased tickets in hand.  As we only had 2 days in Rome, we had researched every attraction extremely well and knew exactly what we wanted to see.  So off we headed to find the lift to head up the St. Peter's Basilica Dome.  
Once out of the elevator, you get a gorgeous view of the St. Peter's Cupola from up close.
Once out of the elevator, we prepared ourselves for the stairs!!  And boy was there a lot of stairs!!  Climbing with many other tourists in cramped narrow spaces, all hot, all sweaty, all trying to work their way to the top.  The climb required patience, but once we got to the top of the inside of the dome and walked around the balcony we found ourselves staring at the intricate detail of the beautiful St. Peters Cathedral artwork and was amazed at the magnificence of the inside of the Cupola up close.
Outside we found the view we were chasing, the one we saw on Google, the one we fell in love with even before we arrived.  The view outside gives you a beautiful 360 degree view over Rome and the Vatican City.  My favourite by far is the St. Peter's square.  Here the enormity of the Vatican City grounds really becomes more comprehensible and impressive. After taking way too many photos we decided to walk down the 551 stairs back down, a move we would regret the next day when the pain in the calves sets in!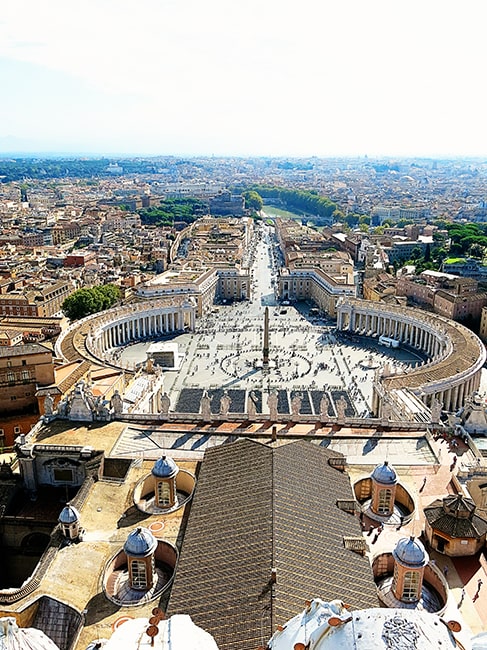 The view is worth the stairs!

As we had pre-booked tickets to do a Walks of Italy Crypts, Bones and Catacombs Tour in the afternoon, we had to move through the interior of the Saint Peter's Basilica fairly quickly, absorbing the amazing colours and details of the rooftops and statues as much as possible.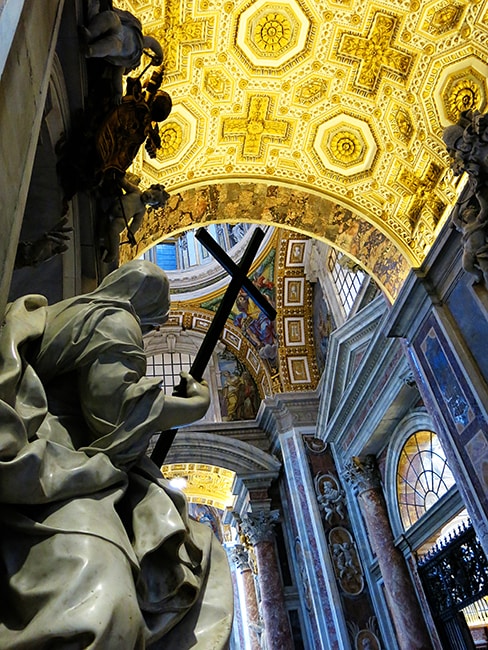 The Vatican tips:
St Peter's Basilica Entrance Tickets: free.
The Vatican Opening times:  Oct – March is from 7am till 6pm and from April – September from 7am – 7pm.
Recommended time at St. Peter's Basilica is 2+ hours, not including the waiting time in the queue.
Vatican dress code:  Wear clothes that cover shoulders and knees as required when you explore sacred sites in Rome.
The metro is located close by for easy access to the Basilica.
You can also take advantage of a transfer by a taxi. This is a faster and more reliable way to move around Rome.
–
Further Reading:
The Vatican Museum & the Sistine Chapel
We zoomed across to the Vatican Museum, which was further away than anticipated, and  made our way straight to the second item on our Rome sights to visit: the world-famous Sistine Chapel!
We definitely underestimated the enormity of the Museum, and found it really tricky to squeeze past the masses of people crammed into small rooms and hallways.  Whilst we missed out on amazing things we could have seen in the museum, it was all worth the rushed effort in order to see the famous Michelangelo ceiling which is located in the Sistine Chapel. We craned our neck up high in order to find the almighty famous painting, 'The Creation of Adam', where God stretches out his finger to Adam's.  PERFECT!  Pity you can't take a photo, you will just have to go and see it for yourself one day!
On the way back out of the museum we enjoyed snapping loads of photos of all the incredible art in the museum.  If you do have the time, it would be great to wander around this museum at a more leisurely pace!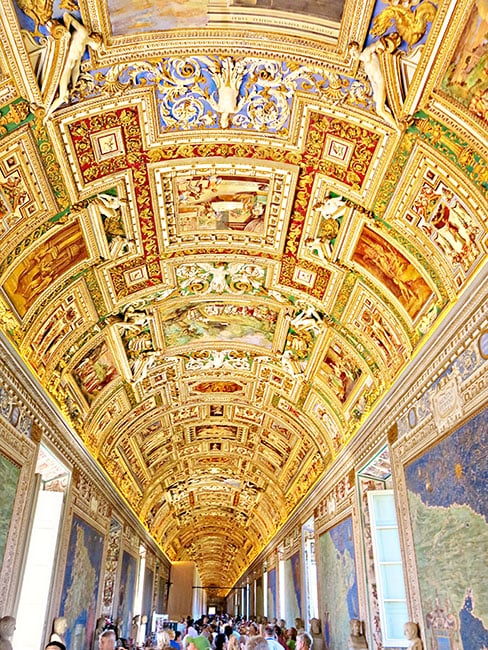 One of the absolutely incredible hallways inside the Vatican Museum.  That roof!!
Walks of Italy Crypts, Bones and the Roman Catacombs Tour:
All the walking and stair climbing had made us hungry.  We couldn't wait to get our first taste of proper Italian cuisine!  We headed over to our meeting point for the the Walks of Italy tour and there at Piazza Barberini we had our first real Italian meal, which probably ended up being one of the best we had for the duration of the entire trip.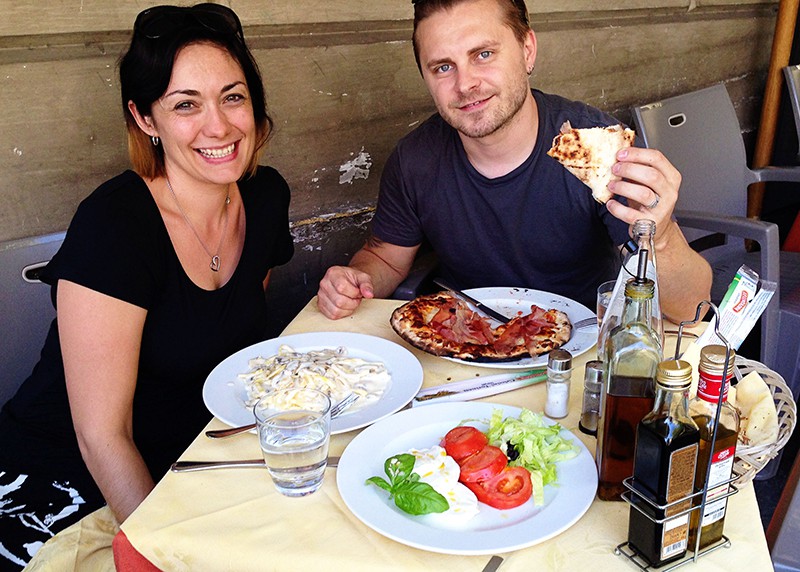 Everything here was handmade, the delicious Prosciutto pizza's base, the fettuccine with the creamy sauce, the mozzarella cheese as part of the Caprese Salad, the bread and even the chilli infused Olive Oil.  We ordered so much that we had no chance of getting through it all and I can still remember the elaborate hand movements of the Italian owner as he tried to understand why we did not devour every single morsel of his delicious food.  Yummy!
After lunch we made our way to the Triton Fountain and met up with our Walks of Italy Tour group.  This tour comes highly recommended by us, we were incredibly blown away by the personal style of the tour, together with the ridiculous amount of knowledge our tour leader had on every aspect of the dark and mysterious practices of the ancient Roman days.  We were about 10 in our tour group and everything was incredibly organised and flowed effortlessly from one site to the other.
We started the tour at the Capuchin Crypt.  There is a very eerie atmosphere as you view the 5 successive chambers of this religious chapel which is decorated with around 4000 bones from Capuchin Monks & Friars, indigent Romans and even children.  The bones have been used to created decorative shapes in the form of rosettes, crosses, coats of arms, crowns, and stars as well as two explicit reminders that time is forever passing by.  The history you learn here is incredibly fascinating. 
The message as you leave this site says it all "What you are now, we once were. What we are now, you will be."   A reminder that death will eventual welcome all.
After the bone crypt, we hopped on a minibus and made our way to one of the quieter more secluded underground catacomb sites, the Santa Priscilla Catacombs. This catacomb dates back to 150 years before Christianity was legalized.  As you wander through the tunnels and listen to the history you will find heaps of interesting thought provoking information, together with the world's single oldest depiction of Virgin Mary, seen nursing the infant Jesus.  The sheer size of the underground cemetery with it's cold and eerie windy tunnel left a lasting impression.  Definitely a tick, on the things to see in Rome!  Unfortunately we weren't allowed to take photos in all these historic sacred sites.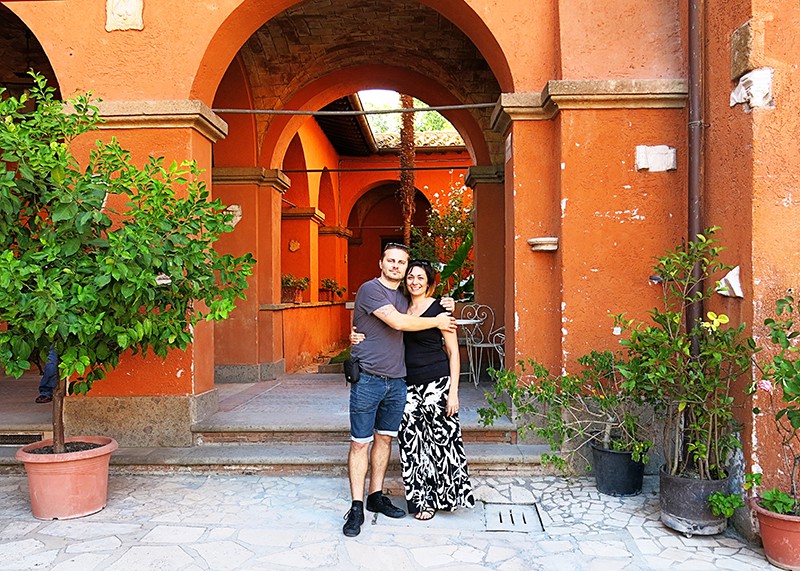 In the courtyard of Santa Priscilla.  You aren't allowed to take photos at the sites.
The tour completed at the Basilica San Clemente.  This is not just any ordinary Basilica, this one takes you underground to a 4th century Basilica, and if that is not impressive enough, you can go down even deeper to reach the 1st century secret temple and apartments to find out more about the rituals carried out there.  It was absolutely amazing to touch the walls of such an ancient building. To be able to get so close to what the 1st century people would've seen in their everyday life. To imagine that all of that is deep below the current streets of Rome.  What an experience!
Overall this 3.5 hour tour was just incredibly interesting.  It covers a lot of history and includes really fascinating sites.  It was one of Andrzej's highlights or Rome, so we truly suggest including it on your list of things to see in Rome.  Whilst we weren't allowed to take photos at the sites, if you are keen, there are photos and a video on their site to show you what is involved at each location – Walks of Italy Tours.
Our apartment at Made in Rome was located amazingly close to the Colosseum and Forum. So at the end of very first day in Rome, we ventured out for dinner and had a Gelato for dessert, whilst watching the light change to night over the Colosseum.  We were exhausted, our feet were aching a little bit and we were grateful for our amazing memories we created during our first day in Rome.
Hint: We used AirBnB for most of our travels in Italy, we highly recommend them – you can get quality gorgeous accommodation for a fraction of hotel prices that are at equal standard. If you use this link you will be provided with a credit (US $25) which you can use on your first booking. Give it a go!
_________________________
Read about what we did on Day Two in Rome here!
After some Essential tips when traveling to Rome with Kids?
–
Wondering where to Stay when you travel to Italy?
_________________________
* This post may contain affiliate links which won't change your price but will share some commission.