To us, Villa Mary Suites is the most perfect, most gorgeous little B&B Villa Mary Suites situated in the most picturesque of all towns on the Amalfi Coast.

We were in 7th heaven staying in this beautiful suite on our honeymoon. Positano was our last stop of what happened to be the most surreal honeymoon of honeymoons. And we left the best till very last!
View from Villa Mary Positano looking out over Positano and the Mediterranean Sea. (Photo Credit: Villa Mary Suites)
After a long drive from Naples, with a stop at Pompeii (read our story here) and tackling the nerve-wracking but gorgeous windy narrow roads that you find on the Amalfi Coast, we were delighted to be greeted with the biggest smile and warmest hug that the Villa Mary Positano owner, Tizianna, had waiting for us.  Her enthusiasm, and friendly loving personality, soon re-sparked our energy banks.
It simply has to be the best of the AirBnB Positano accommodation choices, and at an affordable cost too!
That is the beauty with AirBnB accommodation, you can get the same luxury, beauty, views at much more affordable prices than what you will need to pay at the hotels close by!!
We eagerly went to check out our suite. I was so excited about this find on AirBnB!
I wanted the picture-perfect honeymoon room, with that gorgeous view over Positano and here, at Villa Mary, I found everything my heart desired and much much more.
Outside on the communal terrace of Villa Mary Positano Italy. (Photo Credit: Villa Mary Suites)
Airbnb Positano Accommodation
Checking in to the most Romantic B&B, Villa Mary Suites!
Villa Mary is located in a beautiful renovated 19th century Mediterranean residence. Here you will find a choice of three beautifully decorated rooms, were attention to detail will make your stay memorable. Inside your cupboard you will a fluffy white bathrobe and some slip-on slippers which even has Villa Mary embroidered on it in gold. All the colours here at Villa-Mary are warm tones with golden details to make you feel like you are royalty. Their rooms simply oozes luxury, comfort and peace. We even had better dreams than normal whilst sleeping in this gorgeous bed of our suite Diana.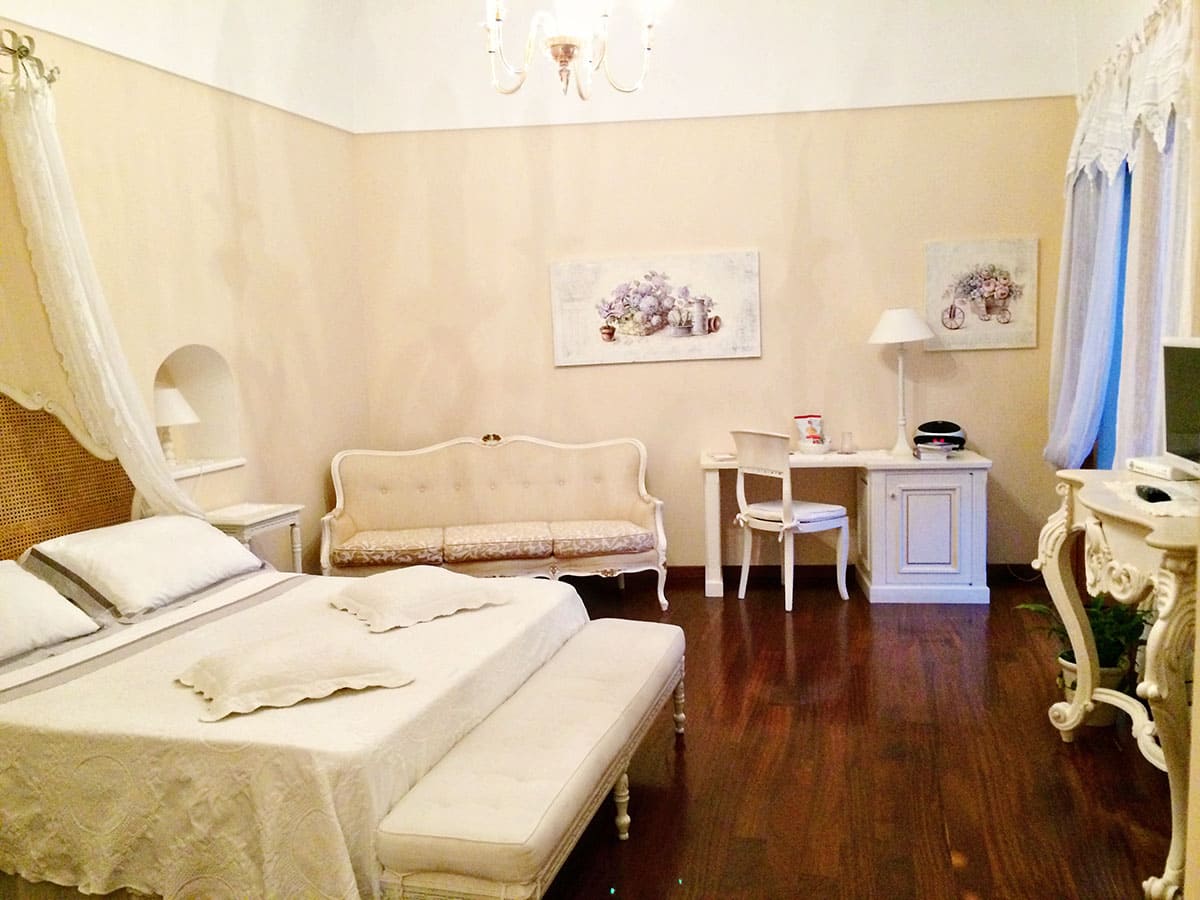 From every window in our Positano Bed and Breakfast room, even from the round window from the bathroom, you could see the beautiful views over Positano, the bay and the Mediterranean Sea. I remember standing and blow-drying my hair, just staring out at the scenery, staring at the colourful steeply stacked buildings that Positano is so well known for. Amazing!
Our recommended AirBnB Positano Accommodation: Villa Mary Suites
The Villa Mary Suites:
There are three beautifully decorated and unique double rooms to rent at Villa Mary. Each is slightly different than the other, each has their own private balcony overlooking Positano, the bay and the Mediterranean Sea.
Inclusions:
Breakfast will be delivered to your room every morning, where you can enjoy it on your private balcony. The rooms are also cleaned daily and you can borrow some beach towels if you wish to head down to the beach.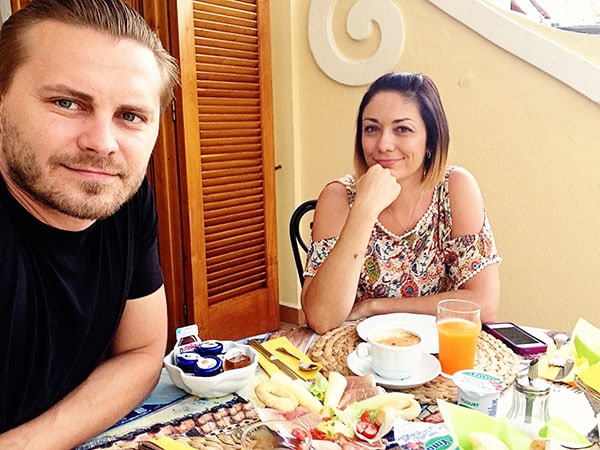 Costs: Rates per room start from only 120 Euros per night (which is a bargain if you compare it to similar style hotel rooms!!).
Location:
Villa Mary is located towards the upper area of Positano. This position gives it a gorgeous panoramic view over Positano and its bay.
The historic center and beach is accessible via a short 15m lovely stairway walk. This walk will give you viewpoints at various heights over Positano and is simply delightful, however we recommend catching the bus back up to the top.
Bus Stop at 30m distance.
Mini Market at 200m distance.
If you have a rental car, Villa Mary has an arrangement with a car garage that is located at the bottom of Positano. She can arrange for them to bring your car up to Villa Mary and therefore it is easy to drive to all the other gorgeous towns located on the Amalfi Coast. Look out for our Road-Tripping down the Amalfi Coast highlight on Wednesday.
The view from street level, opposite Villa Mary's entrance.
Tiziana and Antonio were simply wonderful. They gave us some great recommendations, organised shuttle buses to the local restaurants and was always keen to help where they could in order to make us stay more relaxing. When we sadly booked out of this little Positano B&B, they were there to give us a hug and help carry our bags to the car. They even gave us a stunning print of a watercolour painting of Positano with a sweet little message written on the back. I'm hoping that one day we will get to visit Tiziana and Antonio at Villa Mary Suites again …. and possibly again … and again. This is the place to choose whilst browsing options of where to stay in Positano!!
Please note, we were not sponsored by this B&B and all opinions are our own. We just couldn't help but rave about this incredible experience!