We fell in love with Assisi, Italy. We only spent one night there whilst road tripping from Rome to Tuscany to Venice. One night was enough to fall in-love. One night was not enough to float on the feelings of being in-love; we would have loved to stay for longer. Assisi in Umbria had captured our hearts!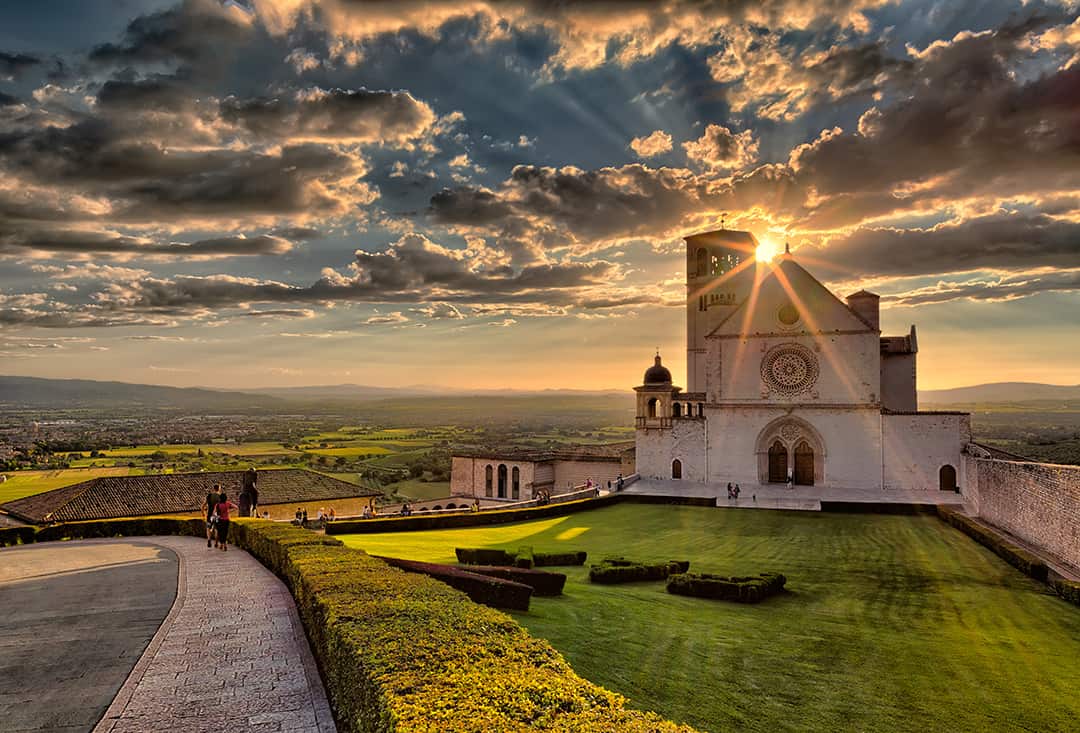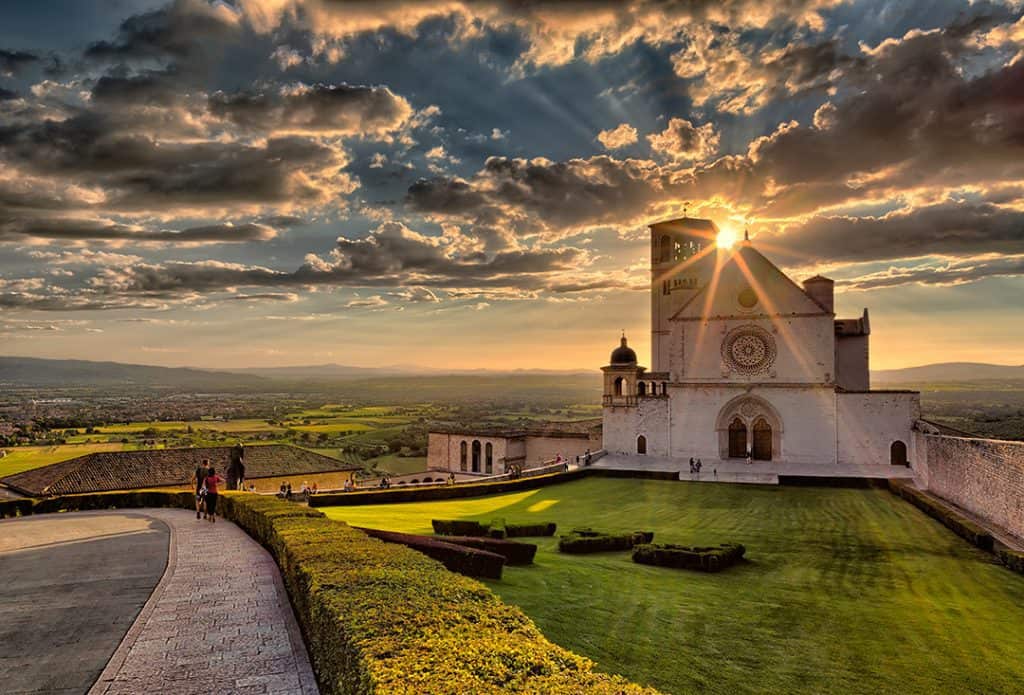 Why you Should Visit Assisi Italy
There is something special about Italian medieval towns. Whilst you are visiting Assisi Italy, you will notice how it is feels like the hills are protectively hugging the town close.
There is something about the larger-than-life gateway arches which you have to enter to get inside.
Something about those cobble-stone lanes, those rugged stone buildings.
There is something about walking around at a leisurely pace, whilst listening to beautiful basilica church bells ding-donging in the distance.
There is something stunning about the simplicity of such a peaceful town which has such a strong religious heritage. There is plenty of reasons why you should visit Assisi Italy!
Here, you can feel the pride of the residents who live here. It radiates around you! In the smaller beautiful little details, you find around corners; on the steps leading up to the doors, and in the pot plants scattered around the town.
Do yourself a favor and make sure you go and explore those picturesque steep and narrow lanes. Make sure you turn that corner and find a new surprise, a new reason to pull out your camera. Try and see if you can count the churches located throughout this town. Enjoy the gorgeous fountains splashed around in the sunny piazzas. See if you can figure out where most of the gorgeous cobble-stone lanes lead to?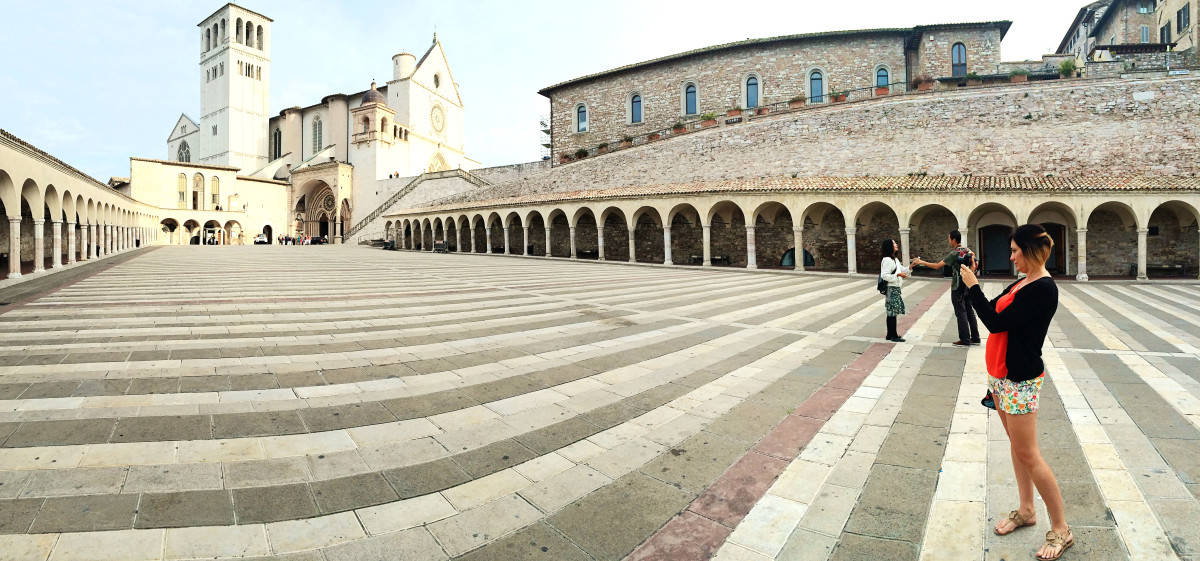 Assisi is a little town perched on a hill in Umbria, right in the heart of Italy. This town is one of Umbria's more famous towns. Most people relate this town to St Francis of Assisi, a 12th-century monk who founded the Franciscan order and brought about a religious revolution.


As a result, for the last 700 or so years, this town is a very important pilgrimage site for Italians. And one of the most well renowned reasons for visiting Assisi is because of the magnificent Basilica of San Francesco d'Assisi.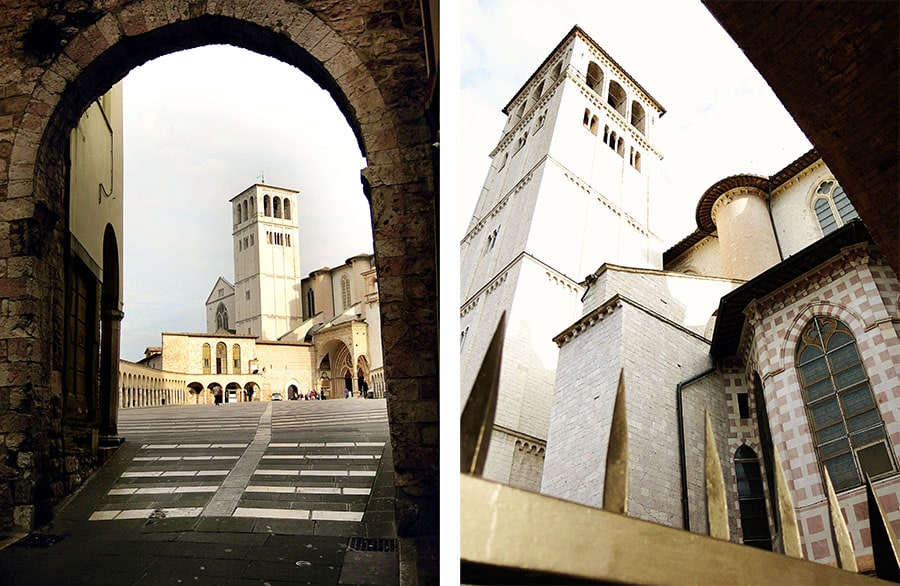 But there is so much more to love about Assisi besides the main Assisi attractions such as the glorious St Francis Cathedral. So many reasons to fall in love over and over. Every corner will overwhelm your senses with beauty.
The beauty of the stunning view over the green valleys below: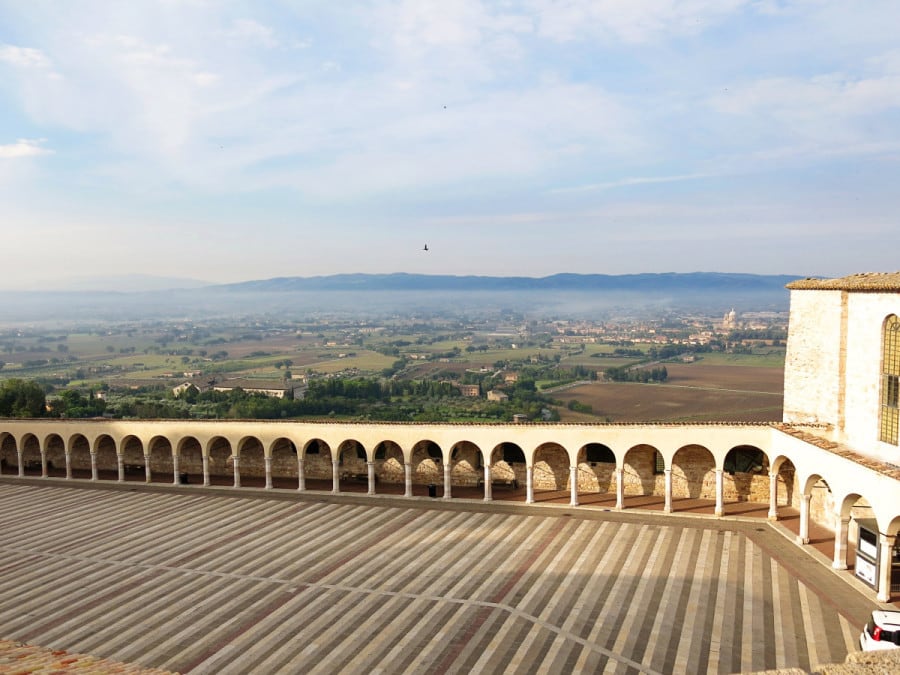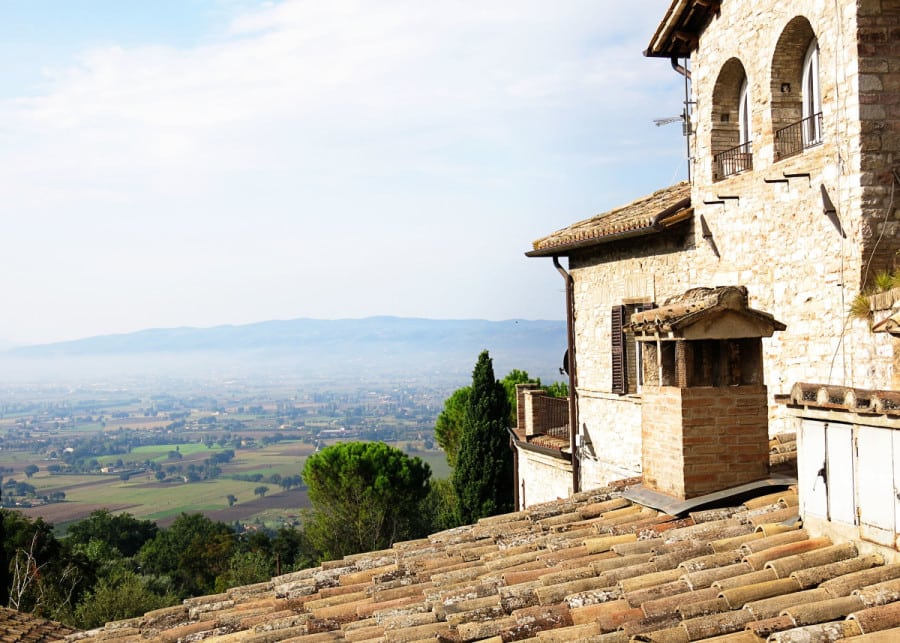 The beauty of the gorgeous cobble-stone lanes. Especially when sunlight is sneakily trying to warm up the little stones: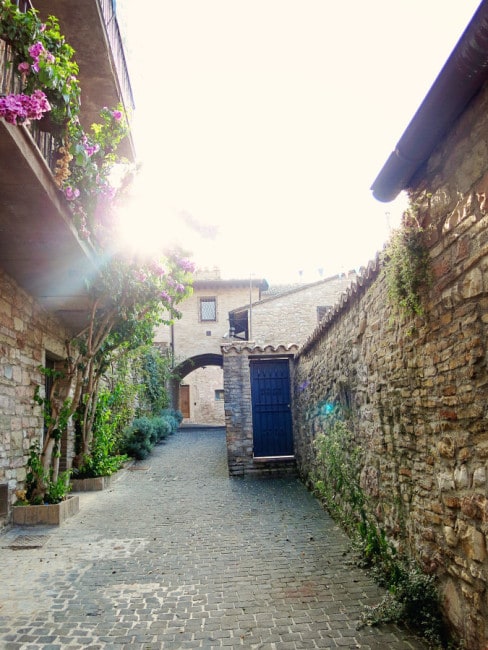 The gorgeous touches of 'Italian' you find. I mean seriously, this gorgeous car is out of a movie about Italy right??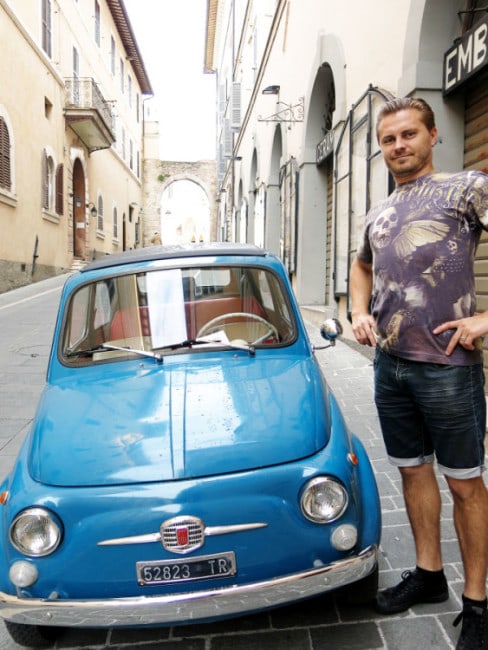 Everywhere you look, beauty will awaken your senses and make you feel alive and at peace.
Where is Assisi and

How far is Assisi from Rome?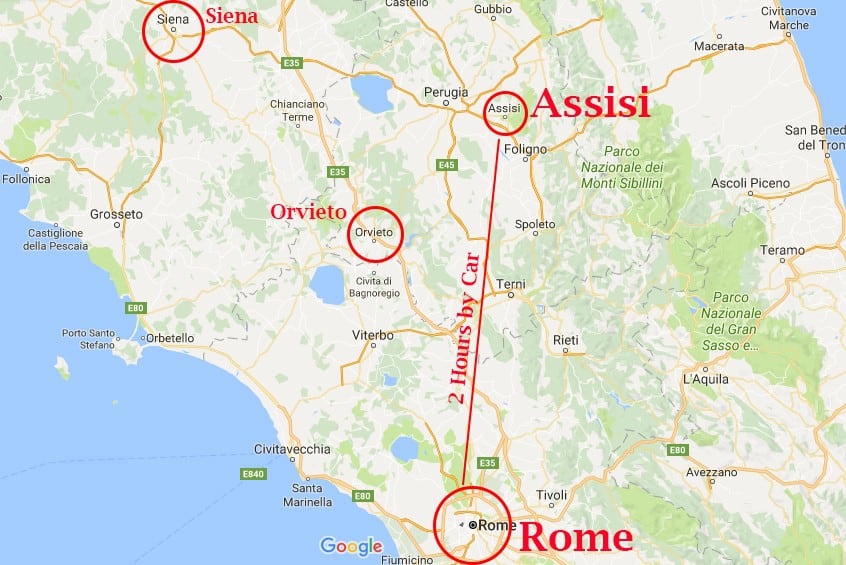 Assisi is a town located in the Province of Perugia in the Umbria region of Italy. The drive from Rome to Assisi will take you around 2 hours. You might wish to check the Assisi weather before you head out to make sure that you have a beautiful clear day.
How to get to Assisi from Rome?
Rental Car:
We highly recommend hiring a rental car and enjoying the 2-hour drive to Perugia Assisi at your own pace. There are plenty of gorgeous places to stop at on the way, our favorite stop on the drive is Civita di Bagnoregio. We prefer renting our cars through Discover Cars, they always offer fabulous comparison prices and their customer service is generally top-notch.
Private Transfer:
For a transfer service that is always reliable and that offers exceptional service, we highly recommend Blacklane! Your transfer from Rome to Assisi will cost you around 300 Euros.
Train:
However, you can also choose to take the train from Assisi to Rome or vice versa. Some trains run direct whilst others include a stop, travel time can be from 2 hours to 2.5 hours and once at the train station in Assisi you will need to take the bus (Line "C") up the hill to the walled section of the town.
Traveling by train is the cheapest option but will take the longest. You can book your train tickets here.
Private Tour:
Lastly, an easy option would be to take a Viator Private Tour: A day trip from Rome to Assisi. This tour would set you back by around 80 Euros. Click here to read more about this tour!
_______________________
–
What to see in Assisi Italy:
If you are wondering what to do in Assisi Italy, you might quickly learn that most people love Assisi because of its important historical background. There are plenty of things to do in Assisi; most of which revolve around cathedrals, monasteries and churches.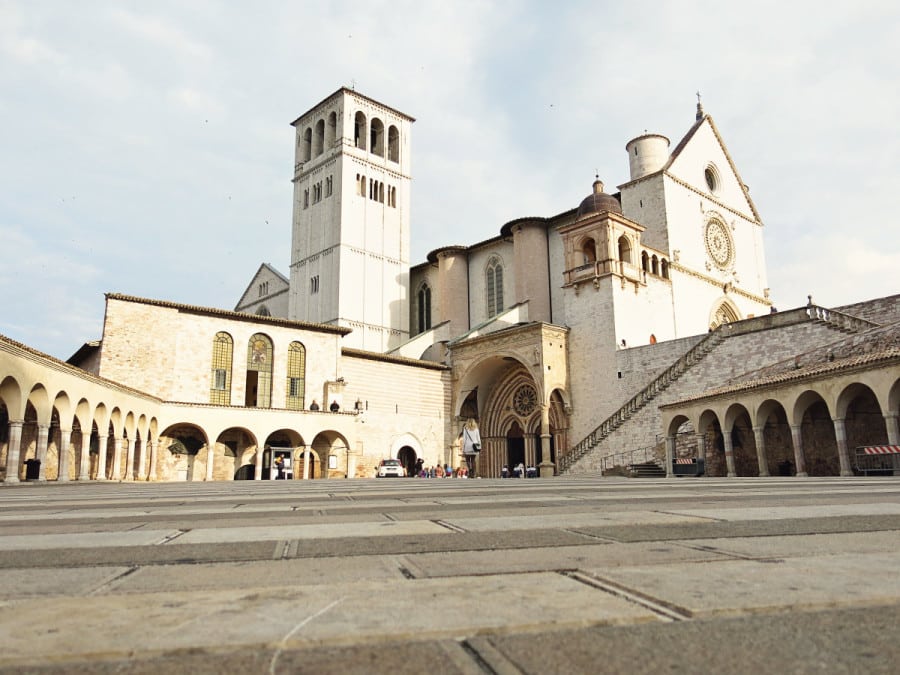 Here is a list of suggested places to visit:
Visit Basilica San Francesco and the Assisi monastery
Explore the Cathedral of San Rufino
Visit Santa Maria Degli Angeli (venerated as the place of St. Francis' death)
Stroll to a picturesque castle, Rocca Maggiore
See the Temple of Minerva
Visit the gothic church, Santa Chiara
Wander around the little lanes and alleys
Find the gorgeous piazzas and fountains and enjoy a bit of shopping
_______________________
–
Best Assisi Italy Restaurants:
La Locanda del Cardinale
Head to La Locanda del Cardinale for a very unique experience where you will enjoy your meal on a glass floor, through which Roman ruins from over 2,000 years ago are visible. The restaurant is pretty posh with modern decor and large crystal chandeliers. The food is on the expensive side, but the meal is one you will never forget.
Osteria Piazzetta dell'Erba
If you love traditional Italian cuisine with a modern spin then this is the restaurant for you! Yummy food and the location is pretty spectacular too.
Le Mandrie di San Paolo
Head to Le Mandrie di San Paolo which is housed in a renovated cottage that was built way back in the 11th century. This agriturismo project produces its own organic olive oil from the olive trees that are on the same property, how cool is that!
_______________________
–
If Recommended Assisi Tours:
Small Group Assisi Tour: See the highlights of Assisi on a 3-hour walking tour with a knowledgeable local guide. Click to read more about this tour here!
Authentic Hands-on Cooking Class in Assisi: Live authentic Italian experiences…taste the flavours of regional traditional cuisine and become a real Italian master-chef for one day, surrounded by the Umbrian green hills. Click to read more about this tour here!
Extra Virgin Olive Oil Tour with Lunch in Umbria: Visit a traditional extra virgin olive oil mill and taste the flavours of regional traditional cuisine surrounded by the Umbrian green hills. Click to read more about this tour here!
_______________________
––
Our List of Recommended Assisi Hotels:
Below you find a list of the best hotels in Assisi Italy. The more premium-priced hotels in Assisi will typically offer you glorious views over the surrounding areas! We had a room with a patio and it was most definitely worth every single dollar!
–
Giotto Hotel & Spa
– 4 Star Hotel –
During our stay at Assisi, we chose to stay at Giotto Hotel and Spa.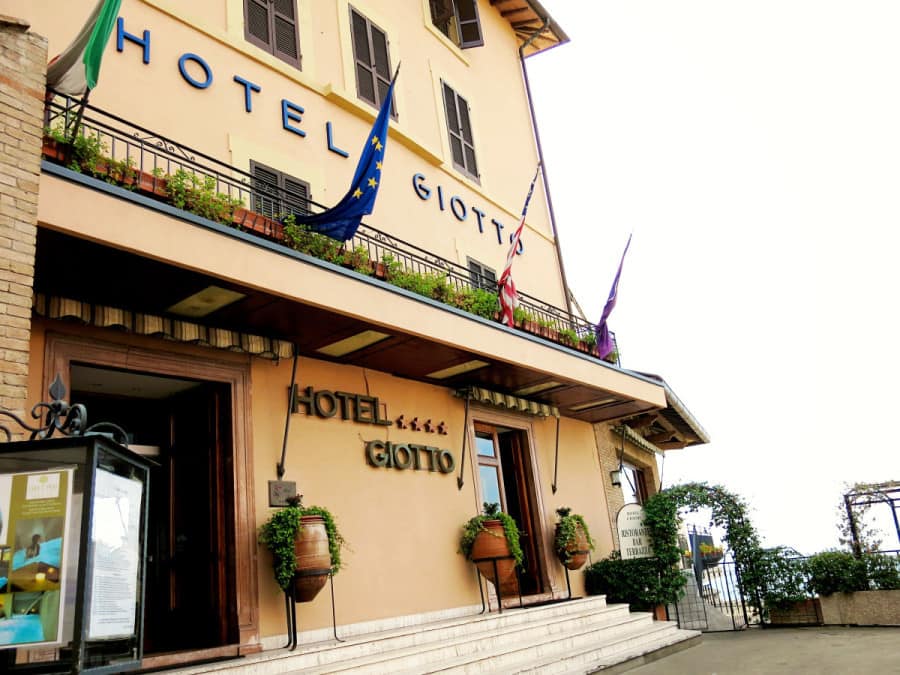 We have hundreds of awesome things to say about Hotel Giotto Assisi! This is our favorite Assisi hotel. It has rooms to suit various budgets and can accommodate families in their larger rooms as well.
We love that it has a wellness center and the panoramic views across to Spoleto and Perugia are definitely spectacular. At the spa, you can indulge in beauty treatments and massages or you can head to the pool which has delightful hydromassage jets, a steam room, and a sauna.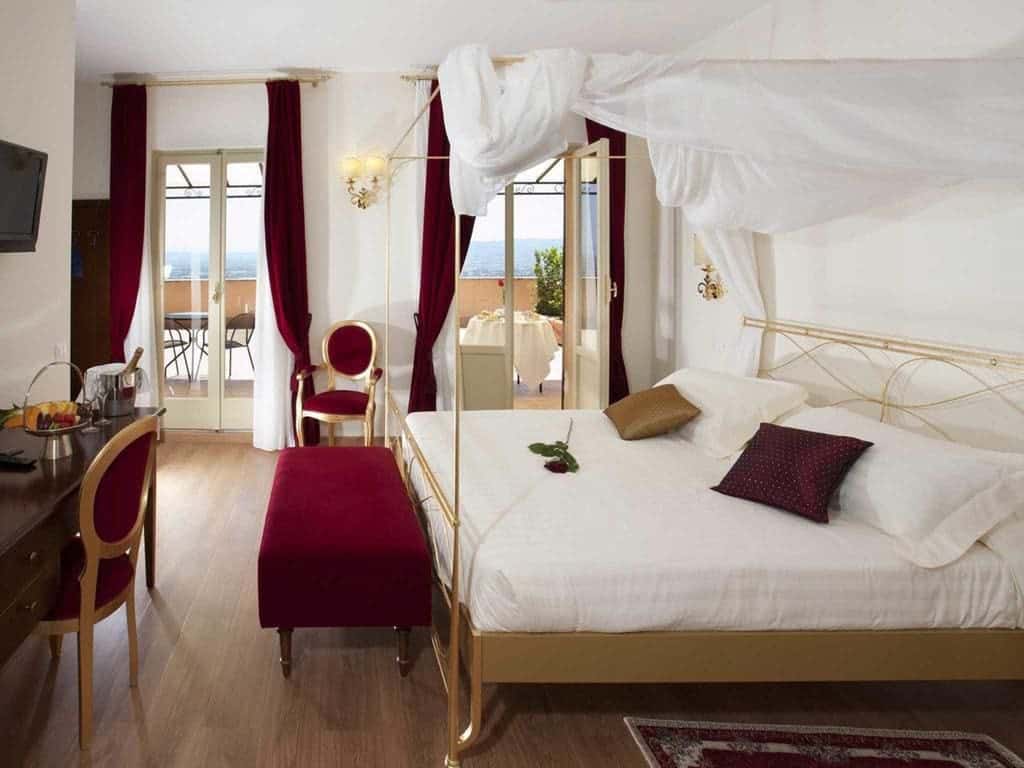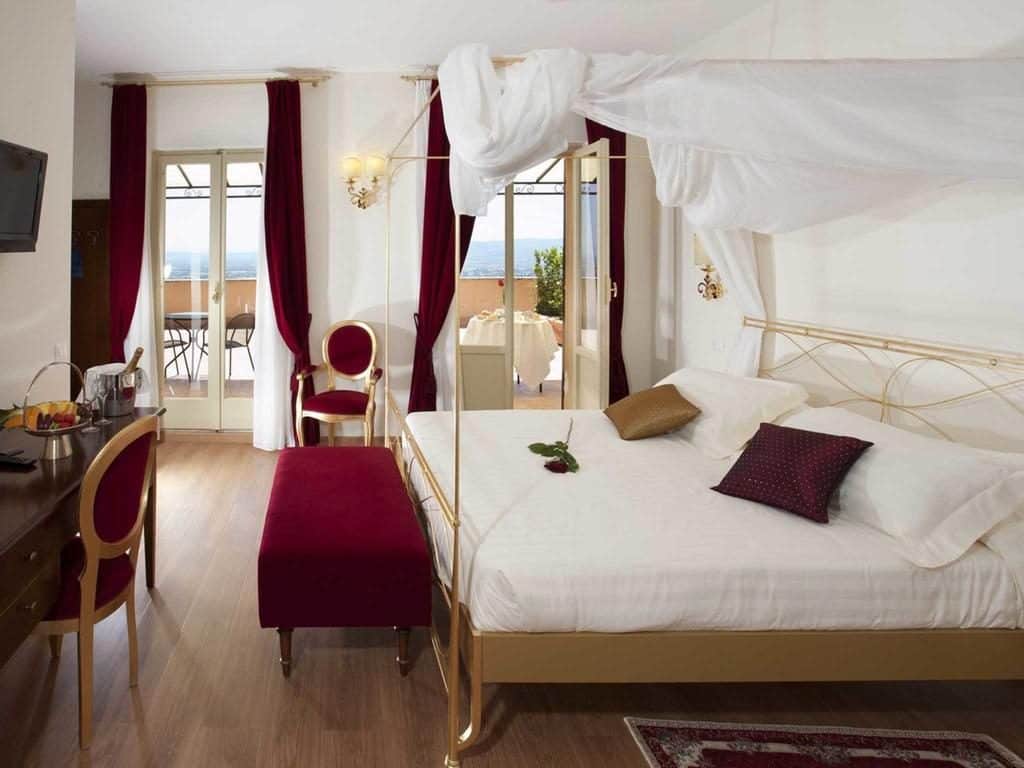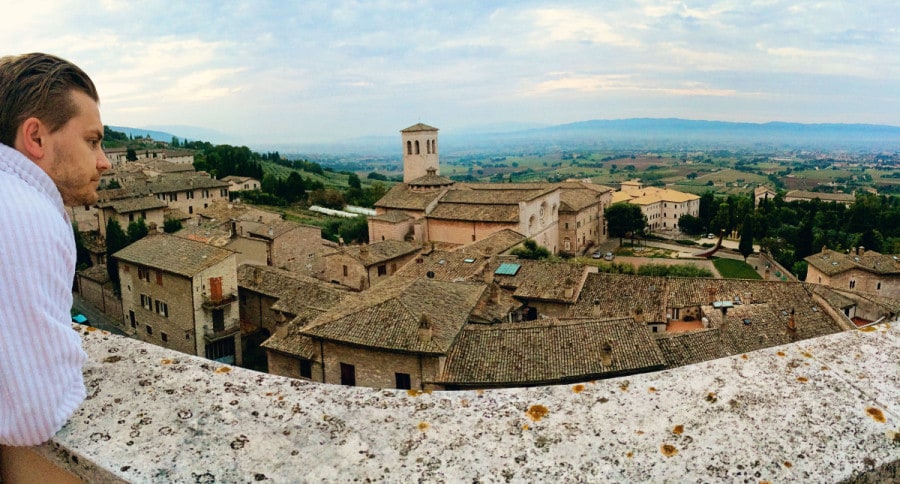 –
What you will LOVE about this Giotto Hotel Assisi:
The staff is exceptionally friendly and helpful with recommendations.
If you book a room with a patio, you can watch the sunrise over the town and the valleys below.
Of course, you got to love a hotel that has spa facilities!
–
Read Our Giotto Hotel and Spa Review | BOOK HOTEL
–
___________________
––
Cenacolo Hotel Assisi
– 4 Star Hotel –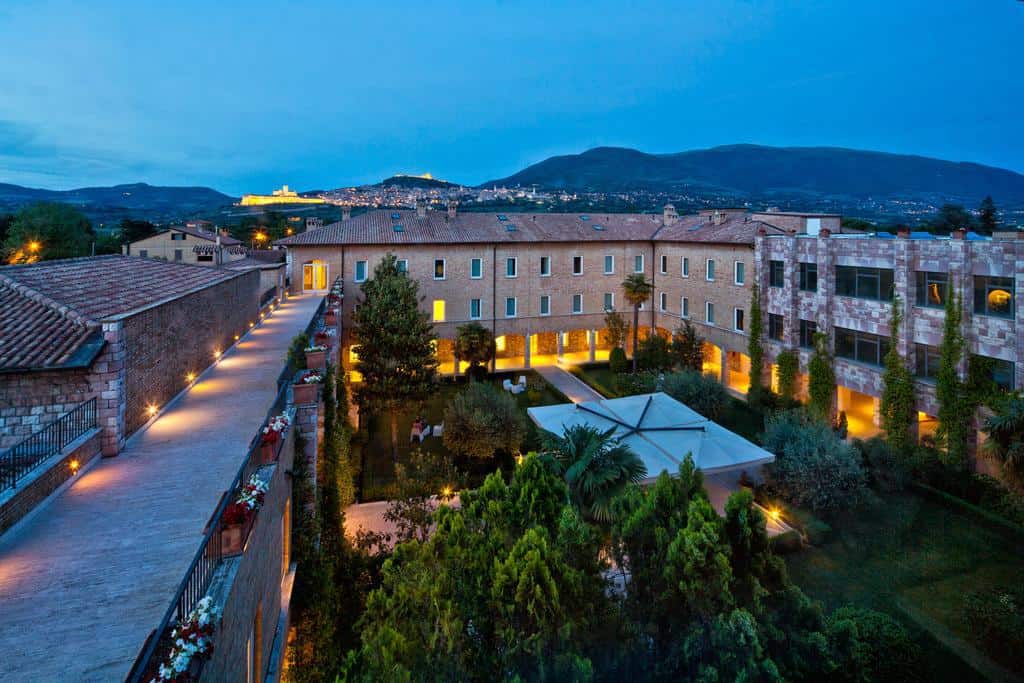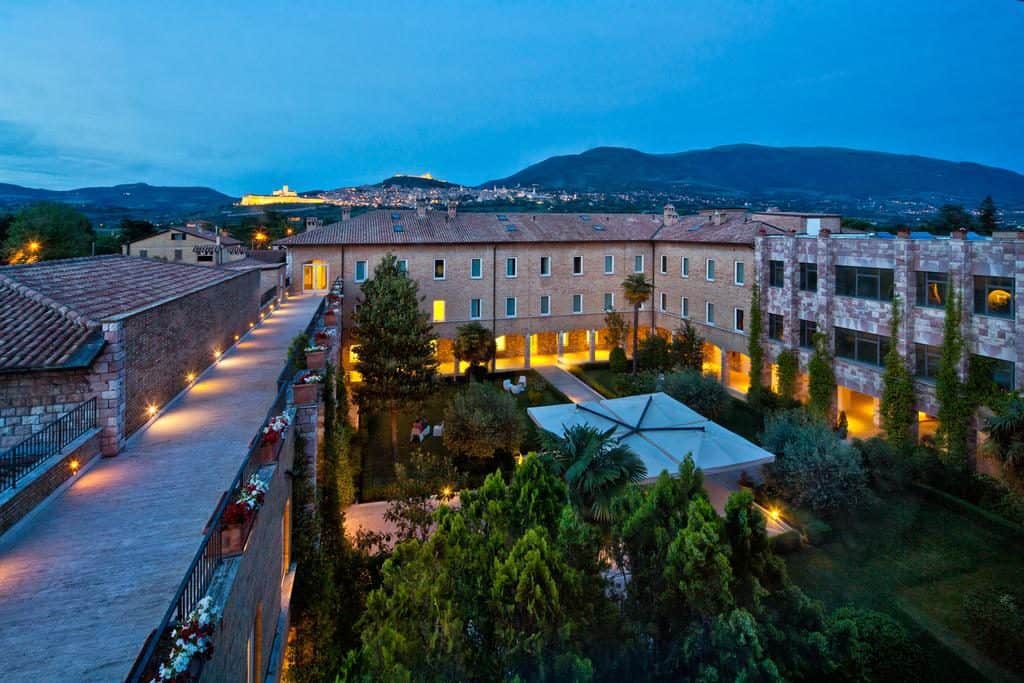 The Cenacolo Hotel is the biggest hotel in Assisi, but it is important to note that the hotel is located a little way away from the historic sights that you will want to visit in Assisi (although the bus stop is really close by). What we really love about this hotel is that it has been built like a convent-style cloister.
The rooms of this 4 star hotel are modern and comfortable and most offer panoramic views over Assisi, Santa Maria Degli Angeli and the nearby Mount Subasio Natural Park.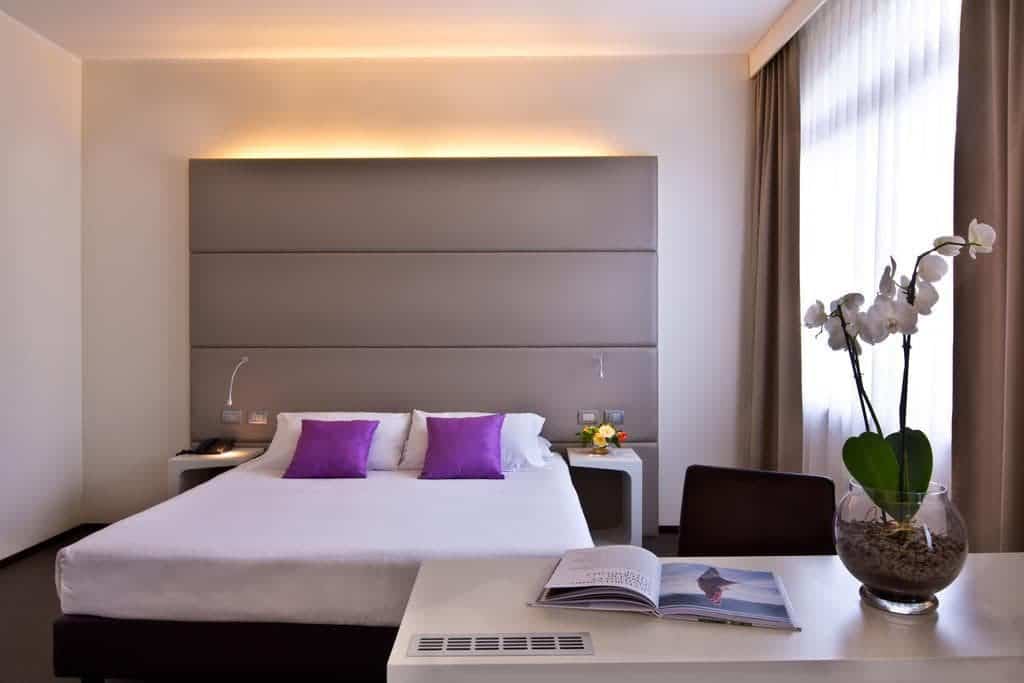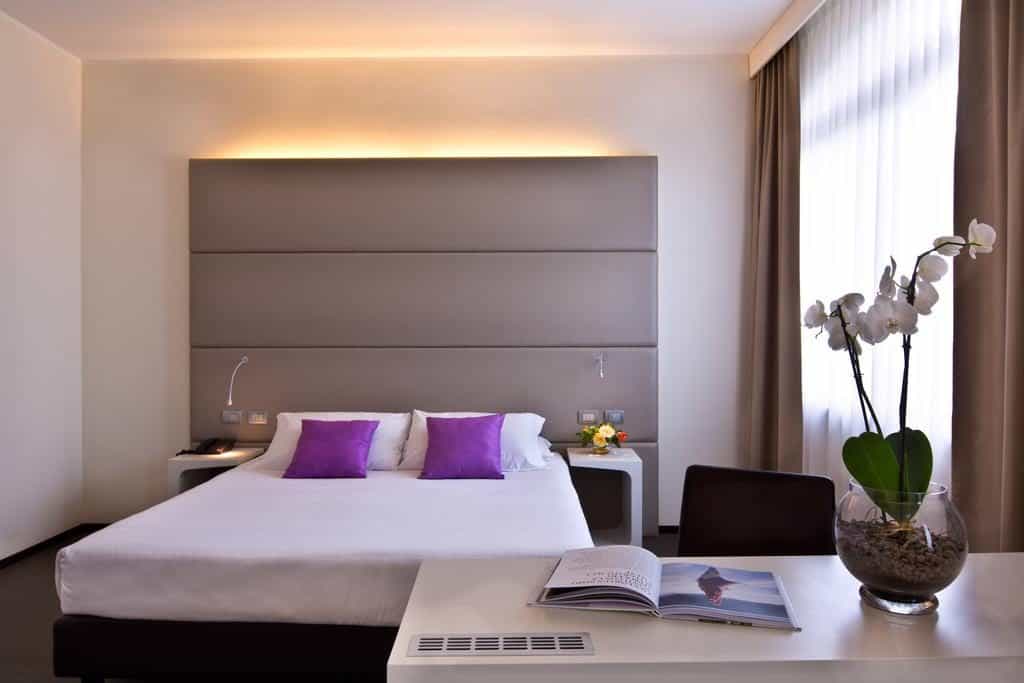 What you will LOVE about this Hotel:
The modern, clean and stylish rooms
The panoramic views from most rooms over Assisi, Santa Maria Degli Angeli and Mount Subasio Natural Park
Great for singles, couples or small families
–
___________________
–
Hotel San Francesco Assisi
– 3 Star Hotel –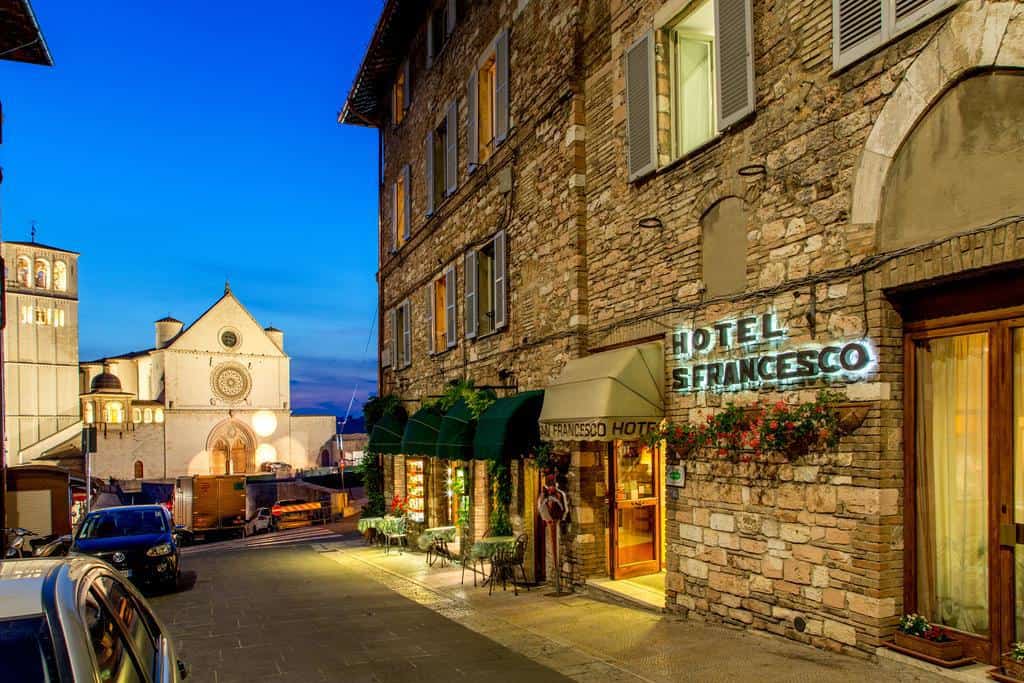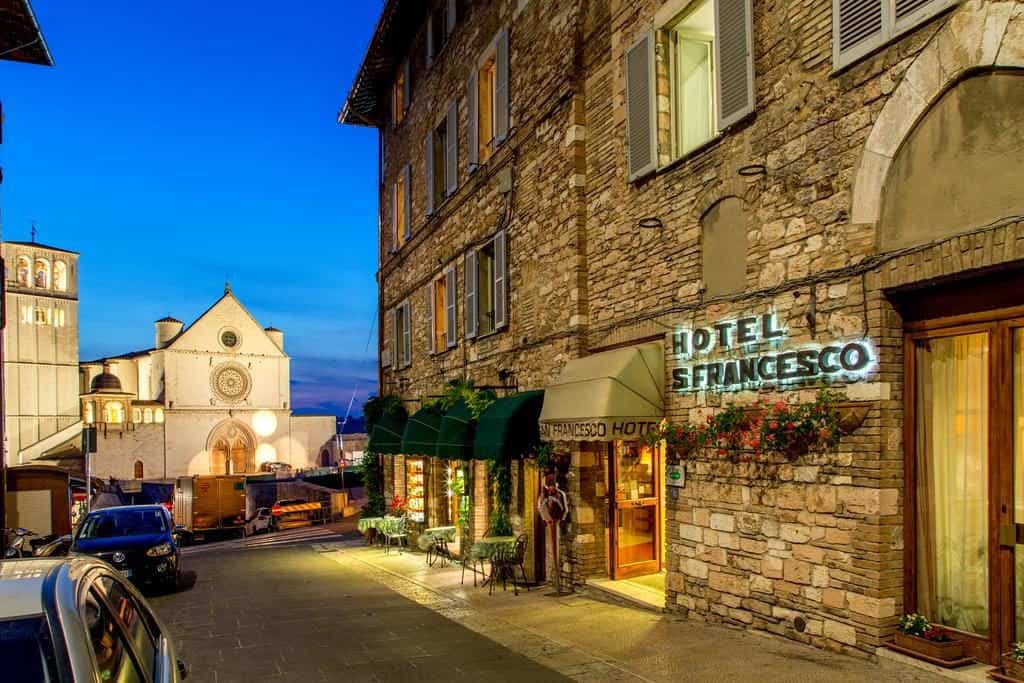 We LOVE LOVE LOVE the location of Hotel San Francesco. It is located right in front of Assisi's Basilica di San Francesco and you can even get views over the basilica from some of the rooms! If that is not enough to entice you yet, then wait till you see the views from the rooftop terrace!
Whilst the room aren't quite as luxurious and modern as some of the other hotels, you will truly enjoy the friendly staff as well as the delicious breakfast.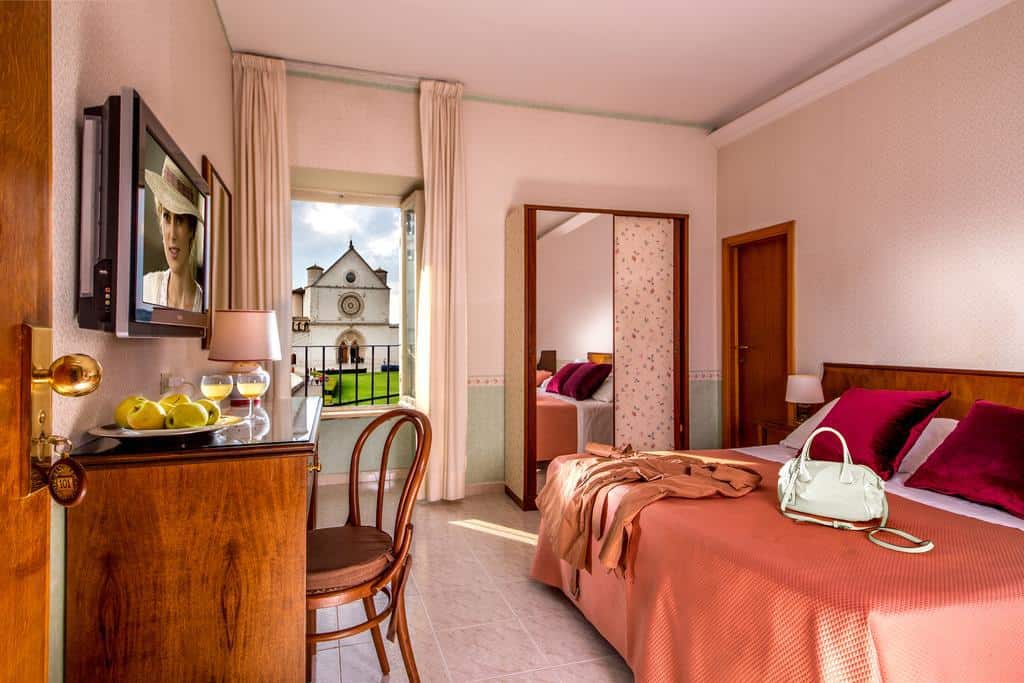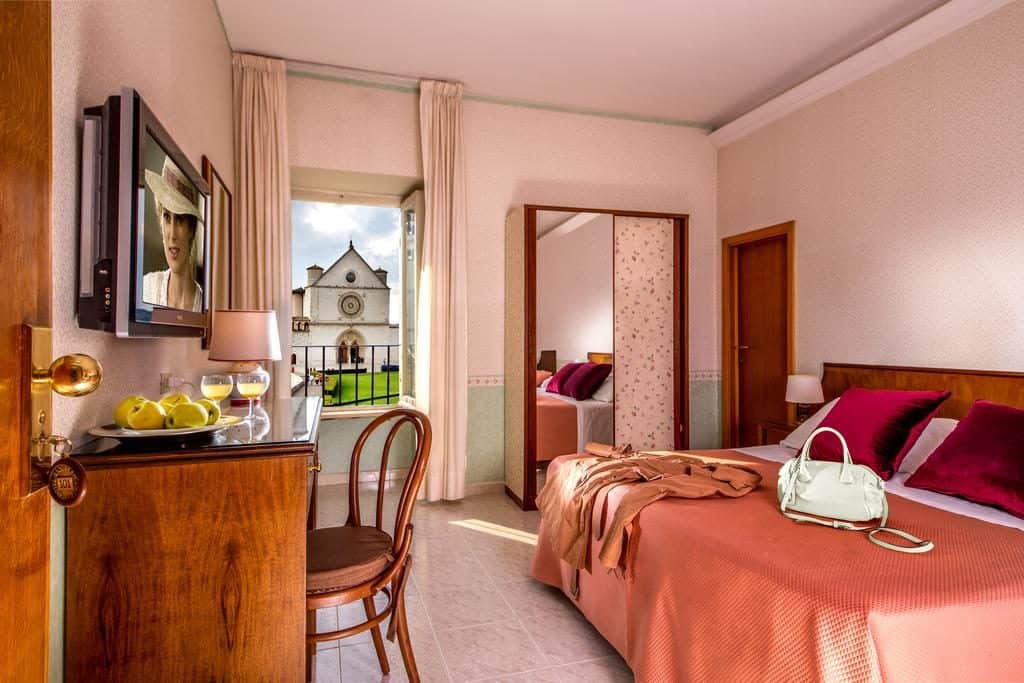 What you will LOVE about this Hotel:
The perfect location, right in front of Basilica di San Francesco.
Sensational views of the church and the Umbrian countryside from the roof terrace.
The friendly and welcoming staff.
–
___________________
–
Hotel Subasio Assisi
– 4 Star Hotel –
This 4 star hotel is a popular hotel due to the fact that it is located just opposite the Basilica of San Francesco d'Assisi. The rooms are all beautifully furnished in a classical style designed with 19th century décor.
There are also 2 open-air terraces from where you can get stunning views over Basilica of Santa Maria degli Angeli. You will find that the staff are all very welcoming, but don't expect too much from the included breakfast.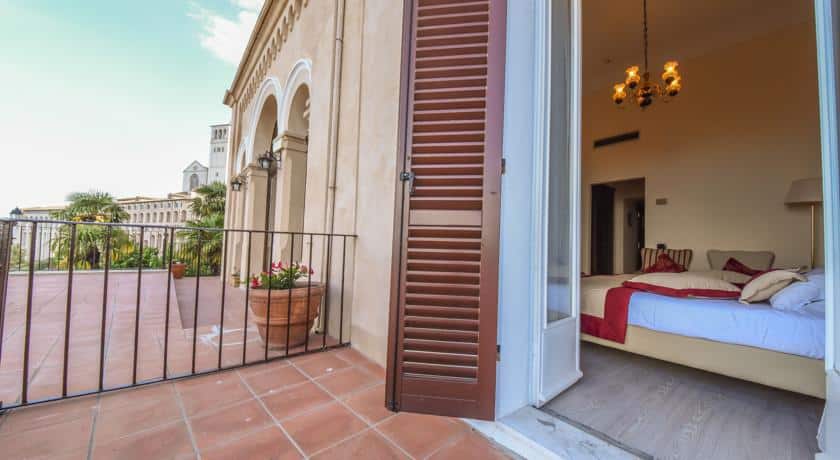 What you will LOVE about this Hotel:
The views from the 2 open-air terraces
The super close proximity to Basilica of San Francesco d'Assisi.
The large terraces that some rooms have on offer
–
___________________
–
As you can see there are plenty of reasons to fall in love with Assisi Umbria, and we are sure that this gorgeous Umbrian town will capture your hearts, just as it did ours. We do highly recommend that you book yourself into one of the hotels in Assisi Italy and that you stay for at least 2 nights.
Where to next?
ROME| VENICE | POSITANO | POMPEII | AMALFI COAST | MONTICCHIELLO
Prepare yourself for your trip to Italy by reading up on all the things you should know!
Use our list of popular Italy Accommodation choices to help you plan your trip!
Over to you:
Are you planning a trip to visit Italy Assisi?
Which Assisi Italy hotels did you find tempting?
Are you planning on visiting the inside of the famous Assisi Basilica
–
Please PIN me! Thank You 🙂
* This post may contain affiliate links which won't change your price but will share some commission. Please see our disclaimer page for more information.