Luxurious, enchanting, picturesque, natural beauty with deep-rooted history; Capri Island is sure to impress.  This rocky Mediterranean island features brilliant views over turquoise waters set in contrast against rocky shorelines.
There is no question why the Isle of Capri is a favorite amongst tourists, however, it wasn't this island that we fell in love with on our second last day in Italy.
It was the Capri Island cruise with Blue Star Positano, spent on the Mediterranean Waters, lazily exploring the shoreline and viewing the incredible natural secrets that are only accessible by boat, that captured our hearts.
A perfect day on a Capri Island cruise with Blue Star Positano!
Our morning started pretty early, heading down to Spiaggia Grande in Positano where we waited for Blue Star Boat Tours to arrive and pick us up.
Over the years we have learned a few lessons, and one of them is that it is never worthwhile choosing the cheaper options when you go on a tour.  Why?  Some boats were loading up to 80 tourists, we might have paid a little more money, but our boat had only 12 passengers.
We made friends with the other travelers, we laughed,
and had Limenchello with our brilliant boat Captain Fabio.  We could stretch out and lie down flat to sun tan on the front deck.
Our entire Capri day trip was incredibly relaxing, laid back, and just filled with serenity.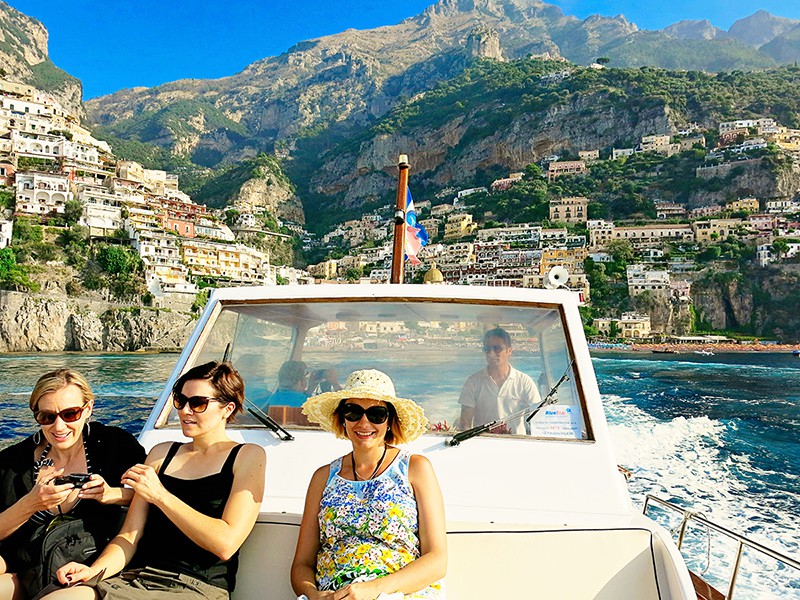 Leaving our beautiful Positano behind, we made our way along the coastline, relaxing on some comfy cushioned seats, simply absorbing the beauty of the Amalfi Coast that you can only see from out here on the Mediterranean Sea.
I don't think it is until you are out on the water on a Isle of Capri cruise that you understand the scale of the Amalfi Coast towns looking pretty small against the dramatic backdrop of the high-rising mountains in the background.
The view is simply mind-blowingly gorgeous!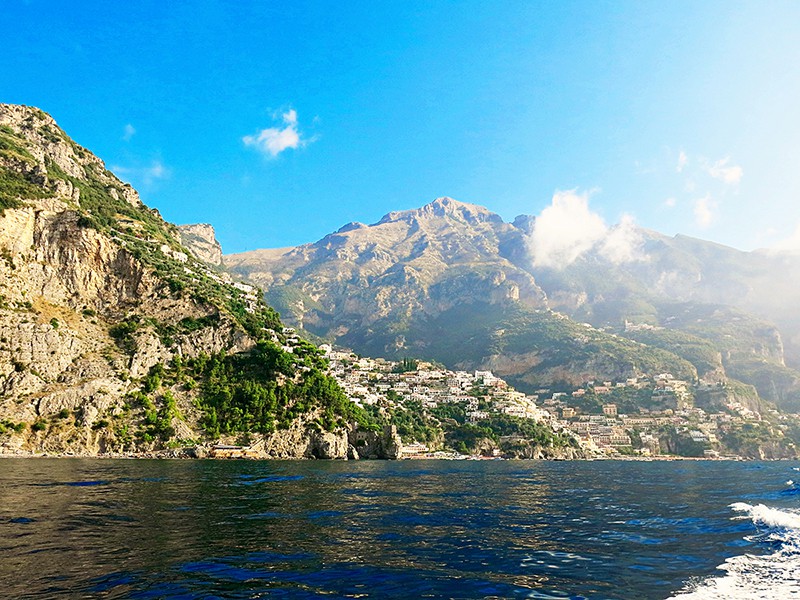 –
OBSERVING NATURAL LANDFORMS ON OUR CRUISE TO CAPRI:
On the cruise to Capri,  you will pass by some gorgeous, privately owned islands; a little jealousy might pop up its head here; and further get to admire the beautiful Li Galli nature reserve.
The rock formations found along the rocky coast, are simply breathtaking and sure to impress too. Every curve and bend of the the land, has another secret to unfold!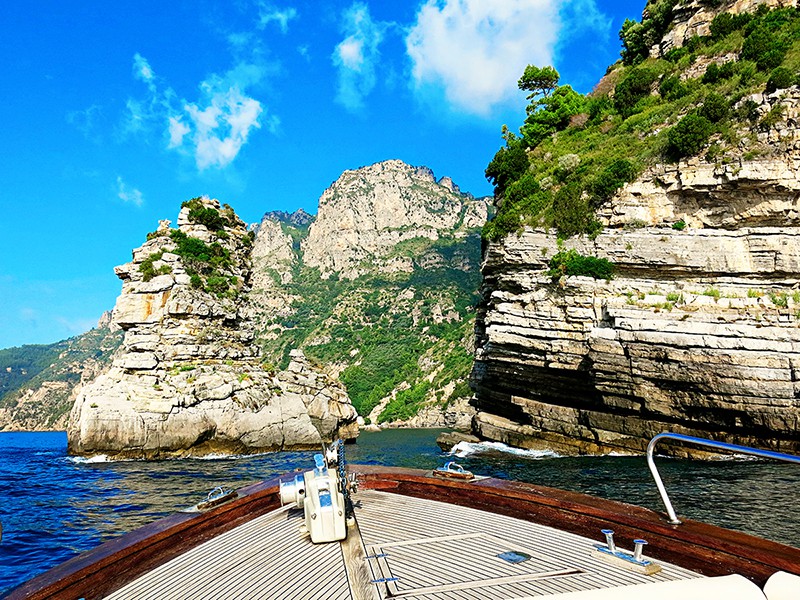 The Captain was very informative, and obviously has a passion for this part of Italy where he works and lives.  His love for this part of Italy and experience and knowledge will take you to explore and fall in love with all the hidden natural secrets found here.
Secrets in the format of various grottos ….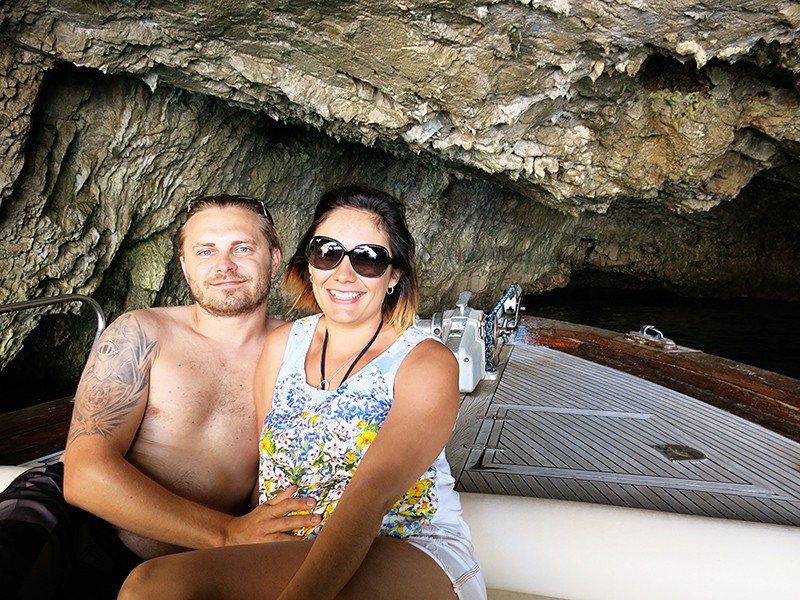 to the incredible orange, coral glowing in contrast to the crystal clear blue water found here ….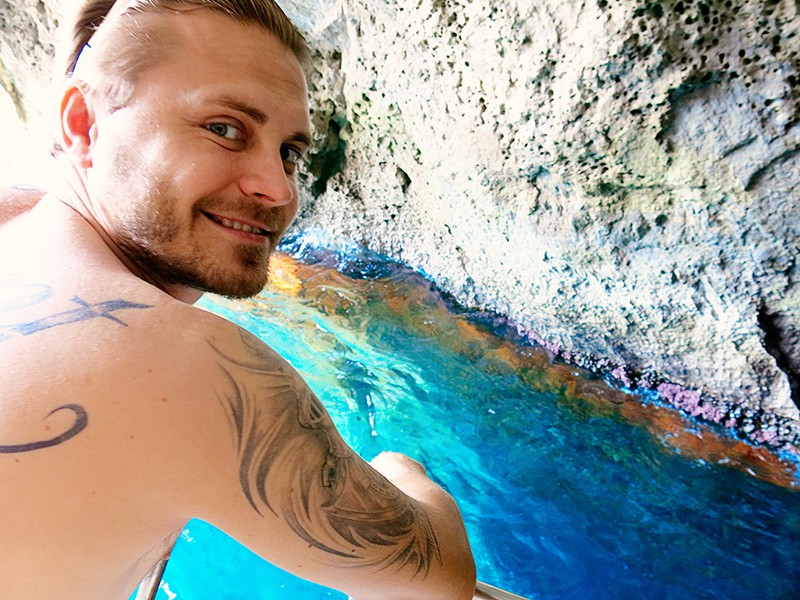 to the landforms and hollows that erosion has painted in the cliffs over millions of years.  Each secret has its own beauty and its own story to tell.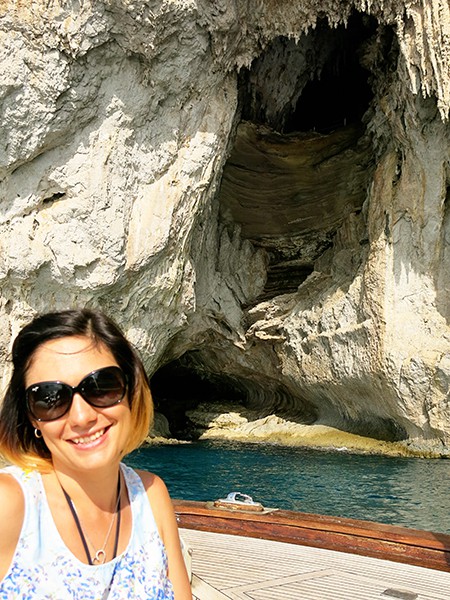 –
SNORKELING AND SWIMMING INCLUDED IN OUR DAY TRIP TO CAPRI:
About halfway towards your destination of Capri Island, the Captain will slow down the boat to a stop, drop anchor and invite you all for a snorkel and swim. With all the gear on board the boat, you will be free to grab some snorkeling gear, or simply choose to float around on one of their noodles or 'floaties'.
With water, so crystal clear it is easy to spot some beautiful fish zipping around, whilst the snorkeling was fun, I think we mostly enjoyed socializing whilst bobbing up and down on our 'noodles' and soaking in the atmosphere. Whilst the waters might be a touch nippy, it was a beautiful way to cool down after soaking in the sunshine on the way here.
A beautiful way to start off the day trip to Capri Island.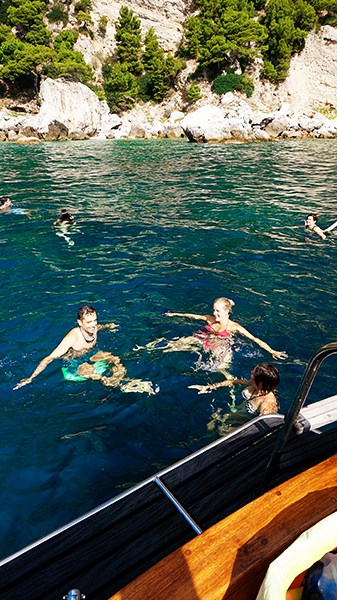 Photo taken by Steven du Preez
THE FAMOUS CAPRI BLUE GROTTO:
All these gorgeous Grottos and rock formations along the way were simply a bonus to see.  What we were waiting for, was the incredibly 'take-your-breath-away' Capri Blue Grotto.  The Blue Grotto is a sea cave set on the coastline of Capri Island.
It is said that this grotto was once the private bathhouse of Roman Emperor Tiberius, and once you are inside, you will understand why this luxurious secluded cave is attached to royalty.
Our wait to enter this Capri grotto was long, around 1.5-2 hours to be exact! There seems to be no reason for the madness that is created by the boats lining up here.
Little rowboats will make their way randomly towards a boat, and help a select few of the passengers from the boat on board, before taking you to pay the fee of around 13 Euros per person for entrance to this cave.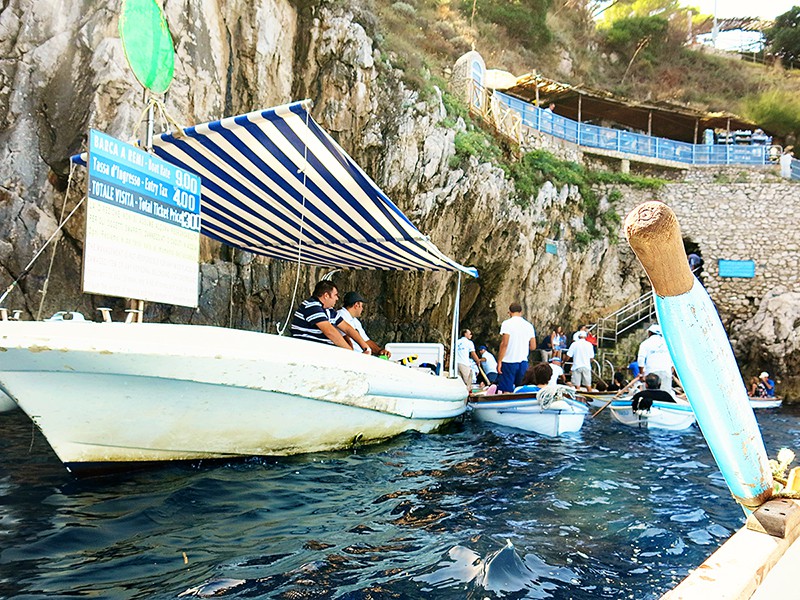 Once you have paid, you line up at the entrance to the Isle of Capri Blue Grotto, lying flat as the entrance is low, and with the next 'surge' they grab hold of a chain and pull you all inside.
And there, that moment, as you sit up, that moment, will take your breath away guaranteed!  The sunlight coming through an underwater cavity in the cave creates an incredible blue reflection that illuminates the cave – it kinda creates a 'glow in the dark sort of effect.
It really is surreal and for us, this unique experience was totally worth the wait.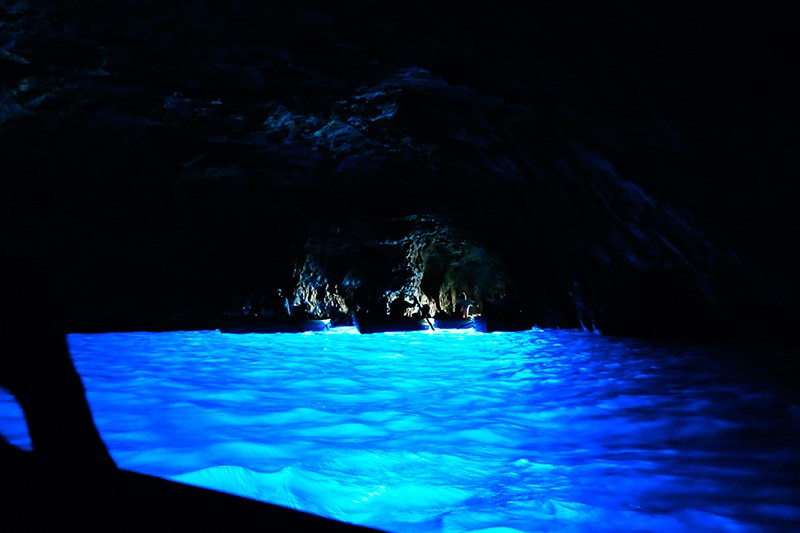 There is a small downside though, or maybe we were just unlucky.  At the end of the tour, the guy that rows the smaller boat will pretty rudely insist on a tip, and if you don't give him enough, he really is pretty pushy about demanding more.  It really did change our mood a little as we did not have any more small coins on us and were treated with disdain after.
So be aware that a tip is required at the end, I believe our guy asked for a 5 Euro tip which we thought was a lot after paying 13 Euros for a 5 min trip into the cave.
But anyway, I guess with travel you gotta focus on the good over the bad, and regardless of this experience, for us, this was an incredible place to visit!
FARAGLIONI ROCKS: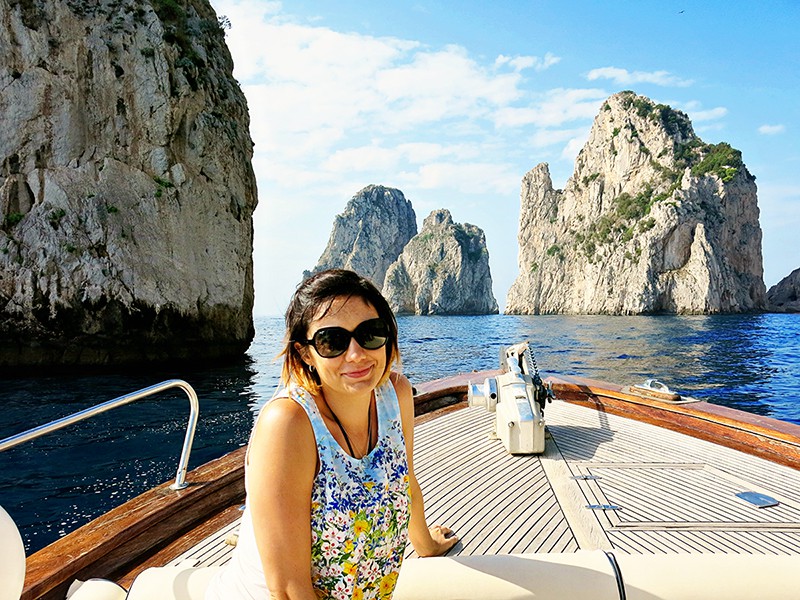 Our next destination was the legendary trio of sea giants.  They are one of Capri's most iconic sites! The Faraglioni di Mezzo (Natural Arch Capri) is characterized by a central cavity, large enough to allow for the passage of a small boat, and believe me, the experience can be quite romantic when the Captain decides to play some 'soppy' Italian love song as he slowly makes his way through this dramatic stone archway.
Of course, as with various different sites in Italy, such as the iconic Bridge of Sighs in Venice, it is said to be good luck if you kiss your sweetheart whilst making your way under this arch!  So of course, we had a smooch, we can all do with any free luck we can get, right??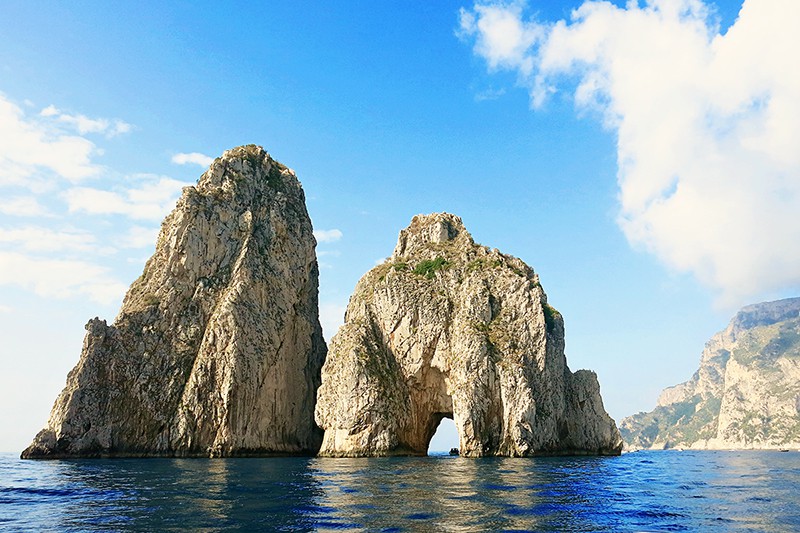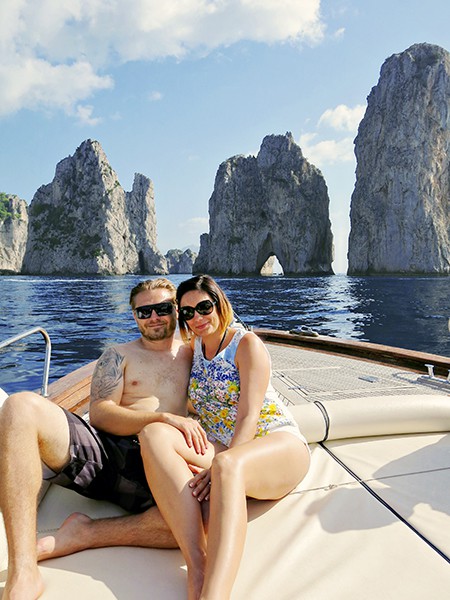 This corner of the Island of Capri was popular amongst the ancient Romans, who built beautiful luxurious villas overlooking the Faraglioni rocks along these shores.  Our last stop for the day before the return boat journey home was of course Capri Island.
ISLE OF CAPRI, ITALY: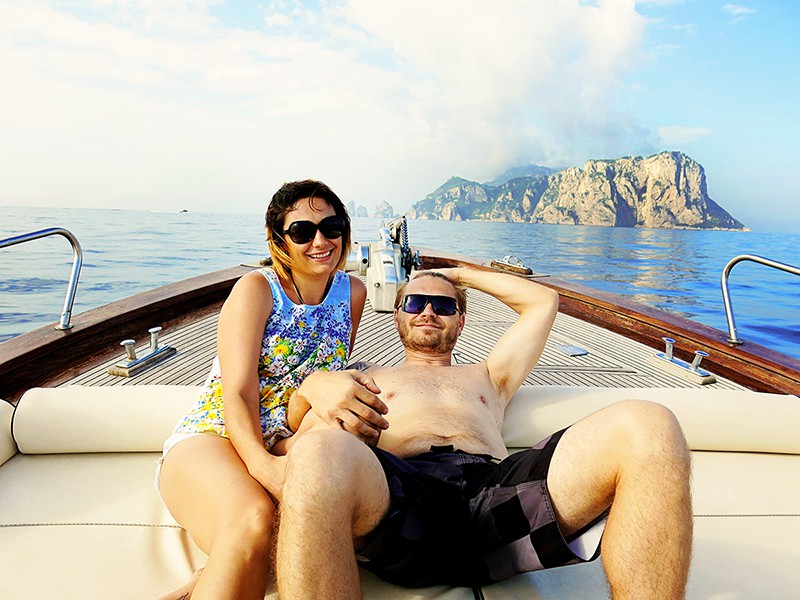 After a big day so far on the water, it will be nice to disembark and stretch your legs at the main port of Capri.
It is time to explore and we love the fact that whilst we were on a Capri Island tour, exploration is done on an independent basis.
With a few hours to explore, we got to visit the main areas of Capri, however, I really feel that the Isle of Capri needs at least double as many hours to explore as there are plenty of things to do on Capri Island.
Down at the port, you will find loads of boats of different sizes together with amazing little restaurants where you can enjoy lunch and wine.  There are also loads of little tourist boutique stores to explore.  We bought a Capri 'Christmas' bauble from one of these stores here.
After exploring the area down here, you can take the funicular railway to the center of Capri.  This little train runs every 15 minutes and makes its way up to the Piazzetta through the island's lemon gardens in just 3 minutes.
You will need to purchase a ticket at the ticket office opposite the tram entrance on the dockside.  From the upper level, you can get an amazing view over the coastline of Capri as well as the Sea beyond.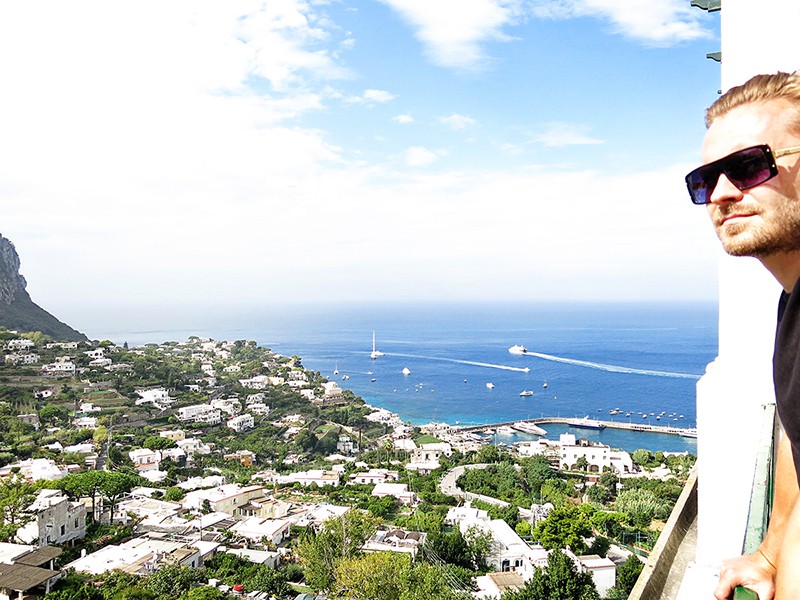 If time permits, other things to do on Capri Island include:
I think if we had more time, we would have fallen in love with this incredible island, however as we only had 2 hours to explore, we merely saw the 'surface' of what this island has to offer.
Before we knew it, it was time to board our Blue Star tour boat and head back towards our gorgeous Positano.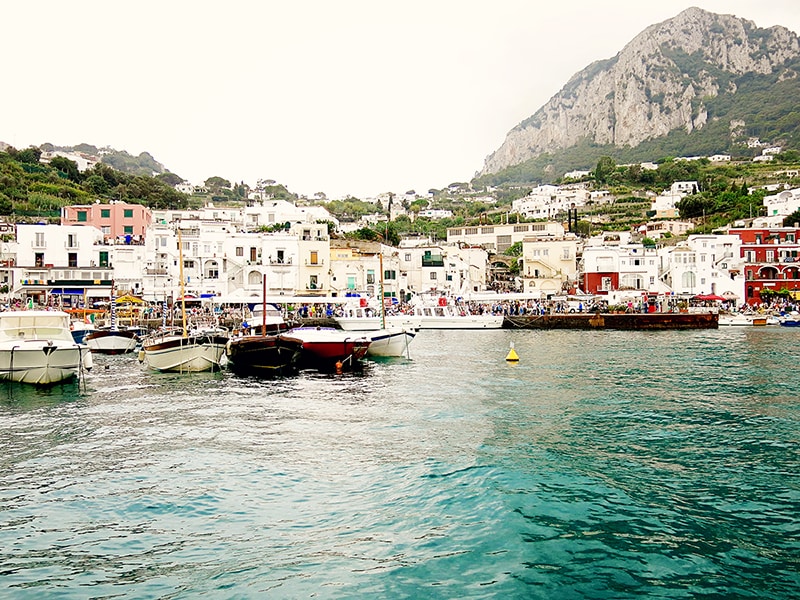 Goodbye, beautiful incredible Capri Island, and hello to our base town in the heart of Amalfi – Positano.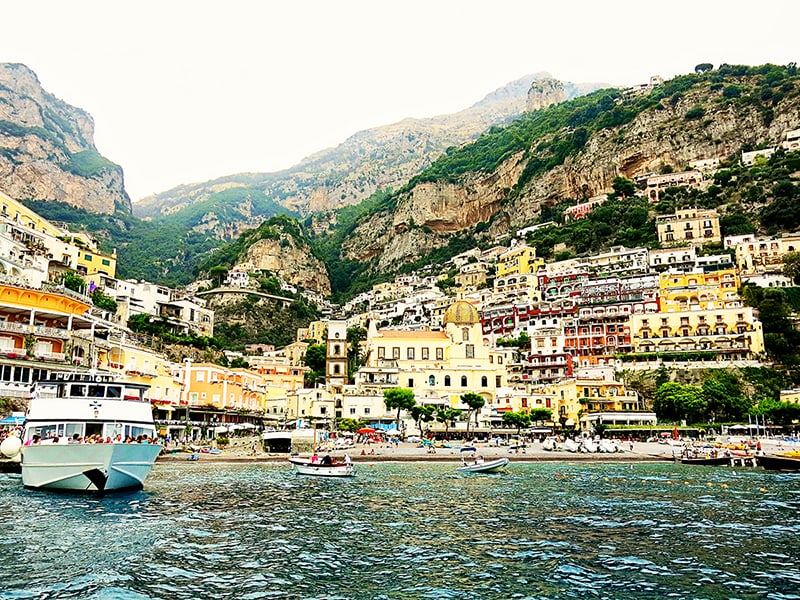 If life is not measured by the amount of breaths you take, but by the moments that takes your breath away then this day has added immeasurable value to our lives.
A day filled with breathtaking moments and views, a day trip from Positano to Capri, so relaxing and serene that we wish we could do it over and over again.  A day heading towards the popular Capri Island, Italy, so well known for its dramatic natural breathtaking beauty.
A day we hope you all get to experience for yourselves one day soon!
Over to you, which moments in life has taken your breath away?  

Is the Ilse of Capri, Italy on your list of places to see?
More information Blue Star Positano Boat Cruises:
Further Reading: