Are you looking for the best beaches in Positano? We've got the insider scoop every traveler wants.
As one of the most picturesque and decorated towns on the Amalfi coastline, Positano, is often considered as the "Jewel of the Amalfi Coast."
And it's no surprise why!
With an Italian seaside setting and precariously-perched pastel houses, the Positano hosts an array of amazingly attractive features that have charmed all its visitors over the decades.
And in no time, Positano had become a favorite summer destination for many.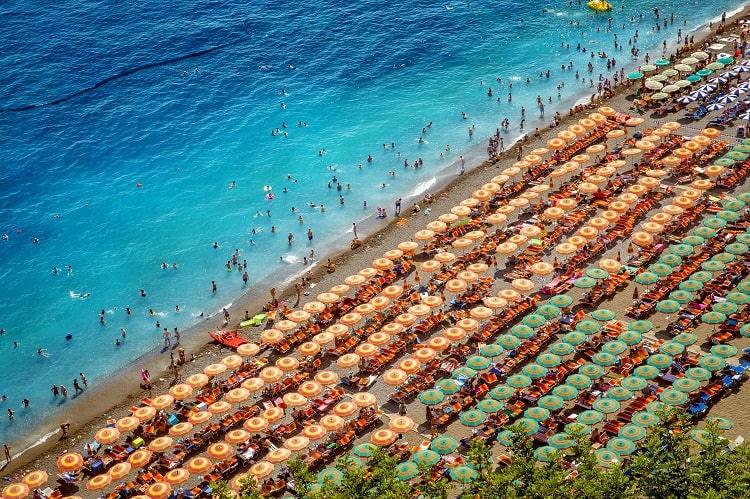 If you too are planning a trip to Positano in Southern Italy, and wish to make the most of your time, then we have just the right insider guide for you.
Best Beaches in Positano Italy
The Positano coastline is home to a lot of fantastic beaches, each with its own set of unique attractions. But we'll talk to you about some of our personal favorites.
So sit back, relax, and let us take you through some of the most majestic beaches Italy has to offer.
1. Marina Grande Beach Positano | Main Beach Positano
The Marina Grande will be able to tick all the boxes in your checklist if you're looking for a more lively and upbeat beach atmosphere.
As Positano's main beach, and perhaps the most cosmopolitan one, the Grande is easily recognizable with all its colorful rows of umbrellas stretching throughout its 300-meter coastline.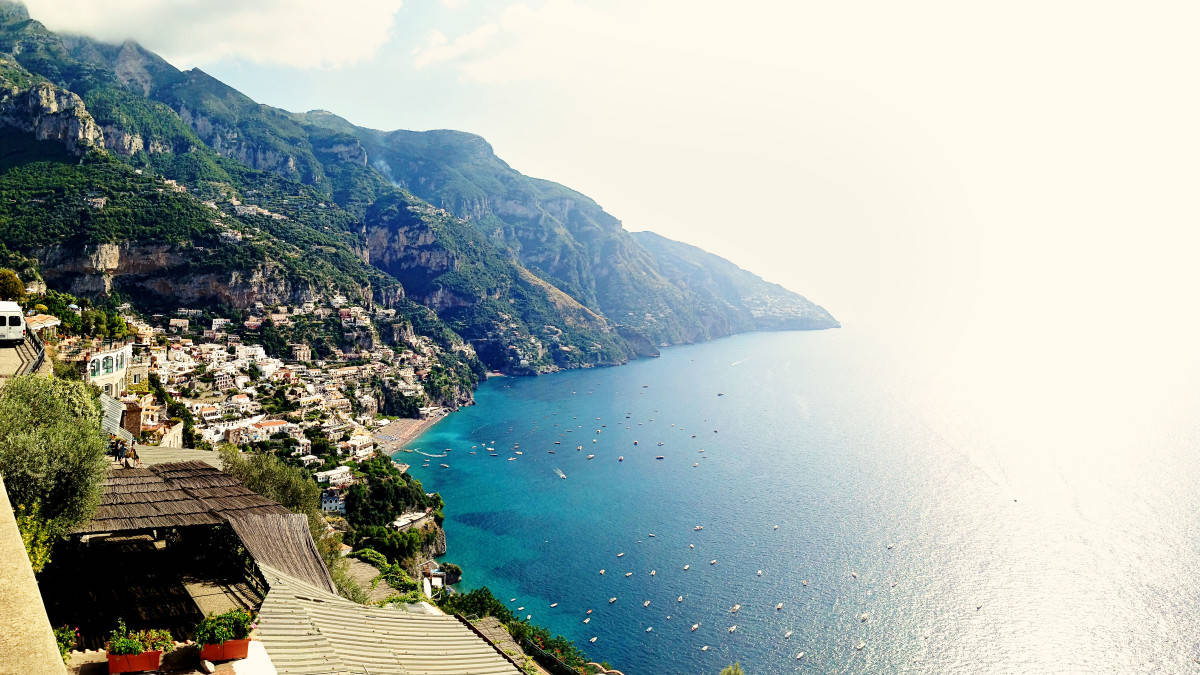 Marina Grande Beach (Main Beach Positano) – the best beach in Positano!
A singular lido called L'Incanto manages a portion of the beach. The L'Incanto not only provides its guests with sun beds, chairs, and umbrellas, but even with changing rooms, showers, and a restaurant as well.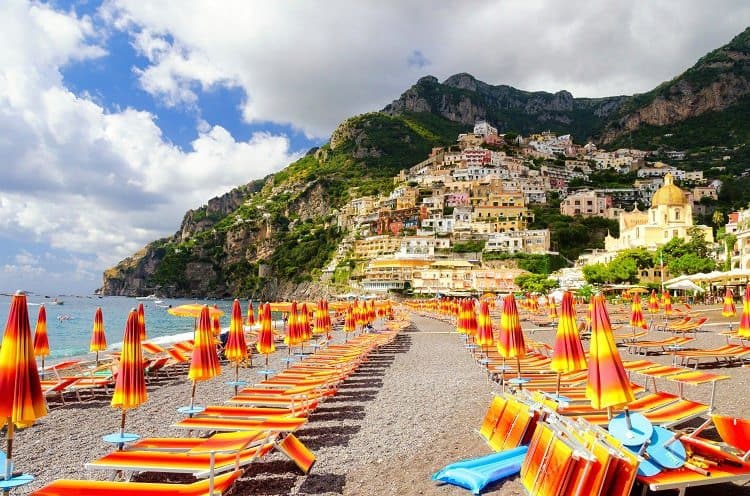 Best views in Positano!
In the middle of the beach, there is the "Spiaggia liberal" which is the free beach of Positano. Where you can enjoy all the benefits of the beach from picnic to sunbathing without paying any rental fees.
This area even offers boat excursions to and from Capri and other smaller coves.
Special Features of Marina Grande Beach:
What truly makes the trip memorable for the visitors is the Scogliera. Present at the end of the beach the Scogliera is a topless terrace that acts as a topless sunning deck by day and as a nightclub by night. The nightclub also known as Music on the Rocks is one of Positano's most famous attractions.
–
2. Arienzo Beach
If you're looking for a bit of exercise while having a fantastic view of the Italian coastline, then the Arienzo beach will be able to put a smile on your face.
Famously known as the "300-steps beach", the Arienzo will make you take a 300 step climb from the Strada Statale to be able to reach its shores.
View this post on Instagram
But this walk down is fantastic in itself.
As the switchback ramps are immersed in greenery, you will be able to have a glance of the some of the most luxurious villas along the coastlines, which are otherwise hidden in the Verdant corners of the mountain.
The Arienzo also gives its visitors a longer beach time. As it faces South West, the beach is able to enjoy the sun longer than all the other beaches in Positano.
The beach is highly coveted and therefore is divided into private and free areas as well.
Special features of Arienzo Beach:
The free section of the beach as well as the lido rents out beach chairs, sunbeds and brightly colored umbrellas to all willing customers.
And if you're not feeling all that excited about the stairs, there is a convenient boat shuttle service from Positano and Praiano as well.
After More Insider Amalfi Coast Tips?
Make your travel planning a piece of cake!
We will send you bite-size pieces of information about how to get to the Amalfi Coast, what to do in each town as well as share our insider tips to make your trip amazing!
–
3. Laurito Beach
For decades now, the Laurito has been a safe haven for locals come every summer.
As one of the smallest islands of the Positano, it has been the place for the locals to escape the noise and crowds of summer. This small cove derives its name from the abundance of wild laurel shrubs that grows throughout it.
View this post on Instagram
The Laurito's pebbled beach is looked after by two independent businesses, one is a small hotel, and the other is a luxurious restaurant. Da Adolfo is an amazing eatery run by a family and are known for their fish delicacies, which they serve on a deck a little away from the shore.
Da Adolfo Restaurant Positano also runs a shuttle gondola which departs every 30 minutes and can be easily recognized from afar because of the redfish sign on the mast.
The gondola is equipped with a sunbed that makes for an ideal spot to relax after a substantial lunch.
Special Features of Laurito Beach:
A lot of visitors flock to this pebbled beach because it is extremely easy to access.
You'll be able to reach Laurito by taking the steps that lead downwards from Hotel San Pietro which in turn is connected with Sita and Flavio Gioia bus lines. But for a more scenic route, you can always avail the Positano dock and hire their shuttle Gozzo.
–
4. Fornillo Beach Positano
A small secluded beach that has survived since the time of Emperor Tiberius, the Fornillo beach is the perfect destination for a romantic getaway.
During Tiberius' reign, the Fornillo was renowned for having a series of furnaces for bread baking.
Hence the name of the beach is derived from 'fornillo' which is a dialect shift for the word 'forno' which is Italian for an oven.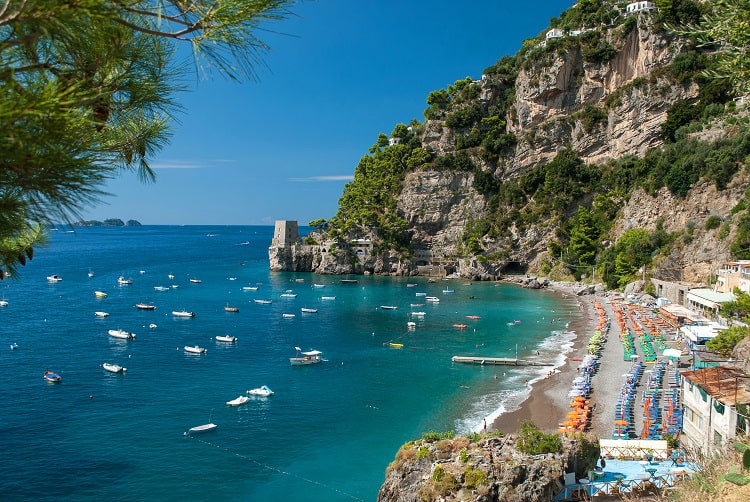 From the beach, you can easily access the neighborhood of Fornillo, by merely availing a romantic pathway that stretches west away from the Positano dock.
It's an amazing place to retreat to if the large crowds and noise make you too claustrophobic.
The beach is looked after by the Fornillo Lido, who caters to a wide variety of customer demands.
From renting out beach chairs to sunbeds and brightly colored umbrellas the lido even offers a wide variety of scrumptious cuisine out on their deck.
Special features of Fornillo Beach:
The Fornillo is quite easy to access from the Positano, it's just a short drive away. And you can either choose to reach it via Strada Statale and eventually take a climb down.
Or just have your car parked in one of the parking spaces that the Fornillo Lido offers.
Tip: If you are looking for where to stay, then check out the Hotel Dimora Fornillo Positano here!
–
Happy Sunbathing!
The Italian coastline harbors many beautiful beaches, but none are as breathtaking and attractive as the ones in Positano.
With each having their distinctive features and unique attractions, the Positano beaches make for the ideal Summer getaway.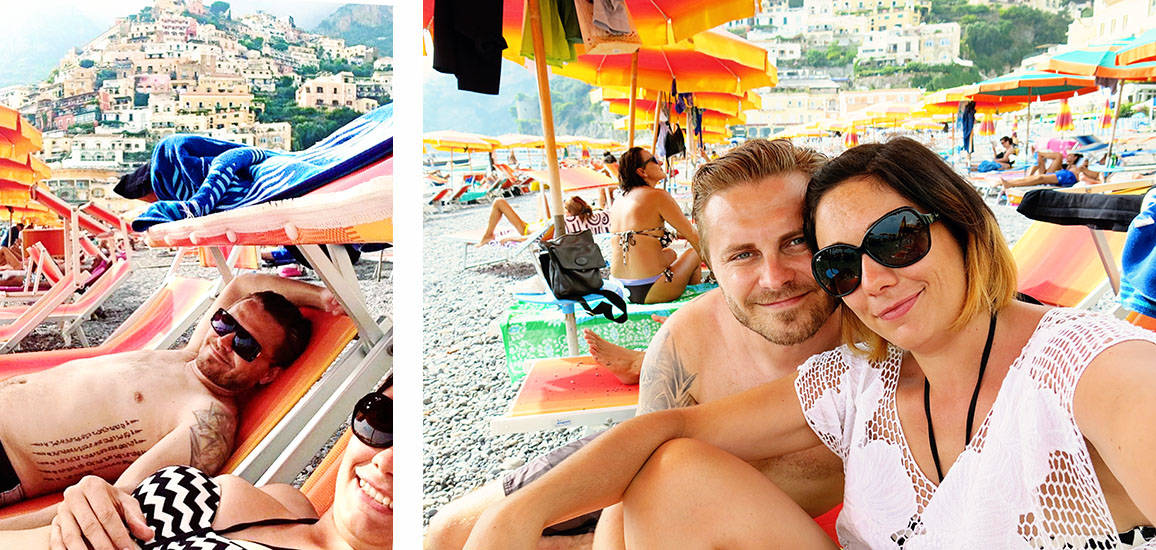 We hope you enjoyed our beach guide today.
Over to you:
Which of our best beaches in Positano, Amalfi Coast got your heart pumping faster?
___________________________________
Further reading:
Do you want to know which are the best Amalfi Coast beaches?

___________________________________
After more Amalfi Coast Inspiration:
–
If you need more info to help you plan your Amalfi Coast trip, sign up for our Insider Amalfi Coast Travel Guide. We will send you bitesize info each day to help you make your travel planning a piece of cake!
After More Insider Amalfi Coast Tips?
Make your travel planning a piece of cake!
We will send you bite-size pieces of information about how to get to the Amalfi Coast, what to do in each town as well as share our insider tips to make your trip amazing!
After more Amalfi Coast Inspiration:
Amalfi Coast Bucketlist Experiences
Which Town should you stay in?
Best Amalfi Coast Town to Explore
–
Where to next?
Prepare yourself for your trip to Italy by reading up on all the things you should know!
Use our list of popular Italy Accommodation choices to help you plan your trip!
Connect with Wanderlust Storytellers!
Be sure to follow us on our social media, so you never miss a post!